Shazam! Check out how this Mid Century Modern (MCM) dresser went from" blah" to "ooh la la"!  Let me walk you through the steps of bringing new life to that old Craigslist furniture.  It really isn't rocket science, folks.  We can do this!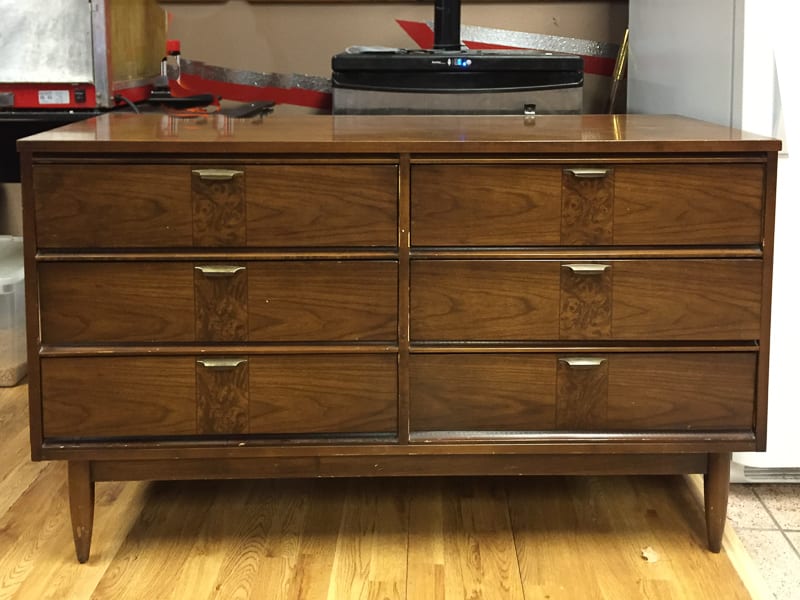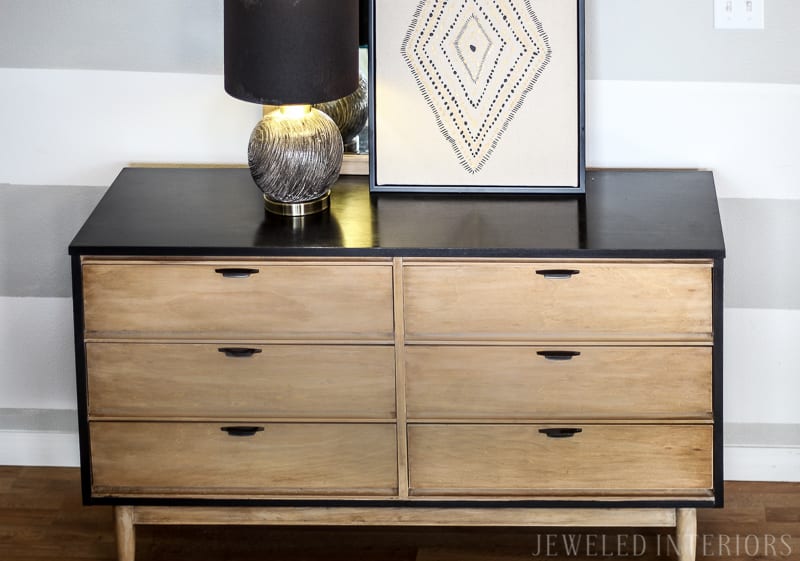 BACK STORY:
Who isn't a sucker for a good cause?
For the last several years I have had the pleasure of fixing up old furniture pieces and donating them to a local charity auction. The best part? All proceeds go towards scholarships for military family members. Gotta love that, right?
I had so many peeps ask me how I transformed this particular dresser that I figured I should give the people what they want…. all the good, the bad, and the ugly details.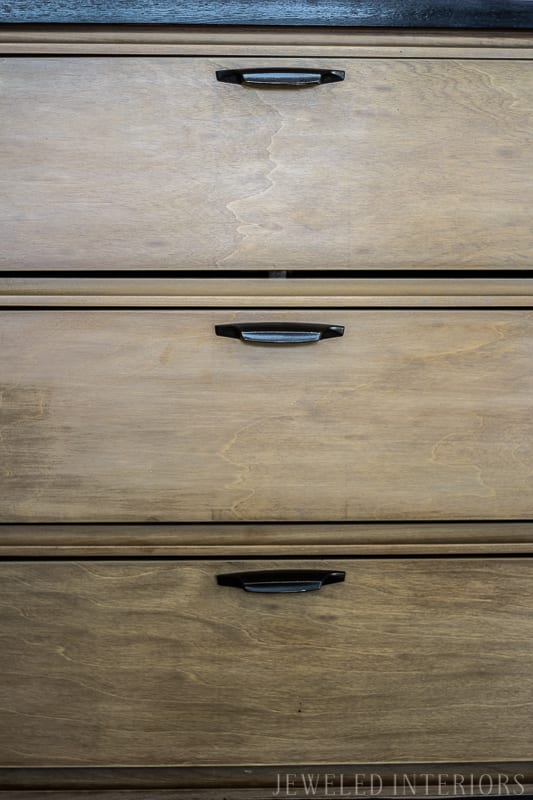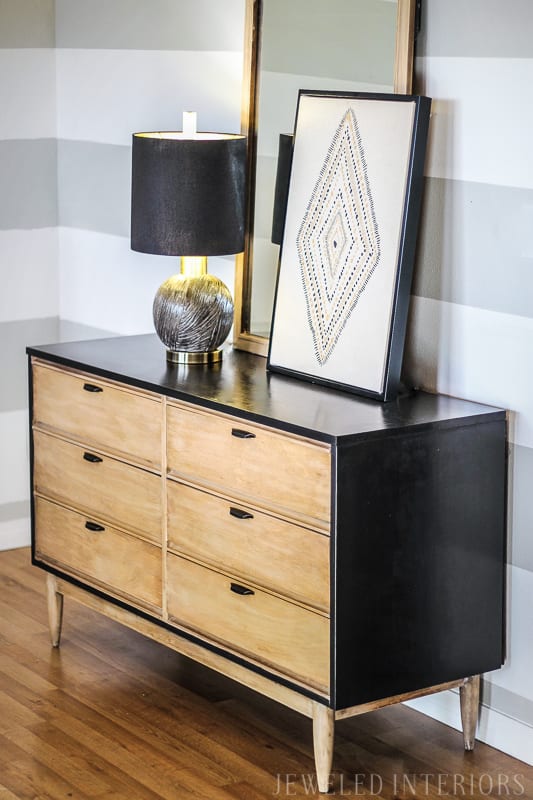 One of my favorite parts about this dresser is how the natural wood grain shows through. It feels wonderfully rustic and modern at the same time.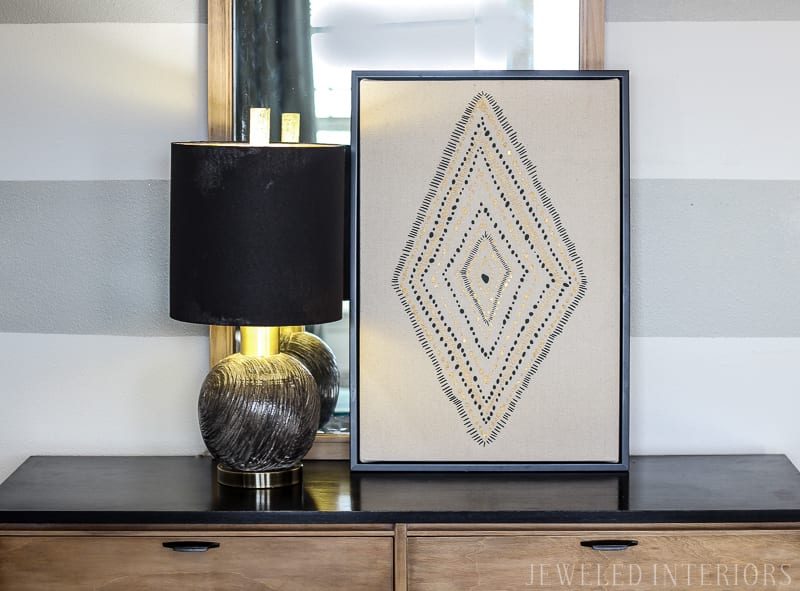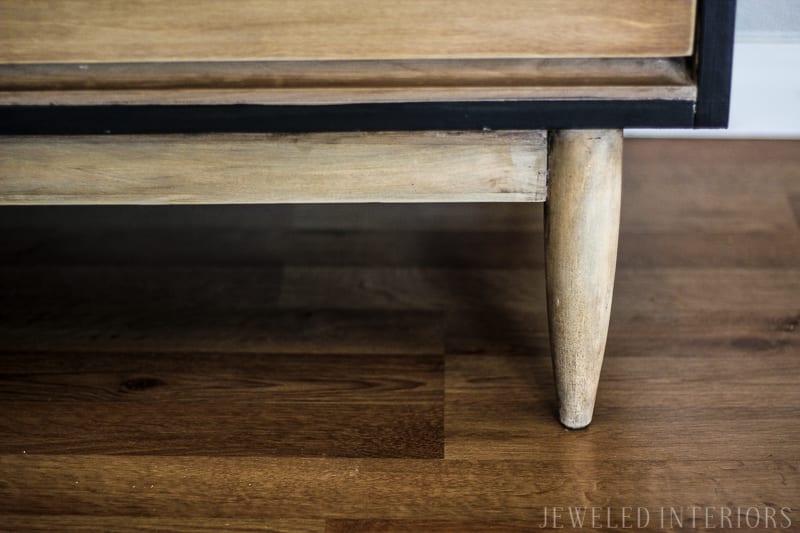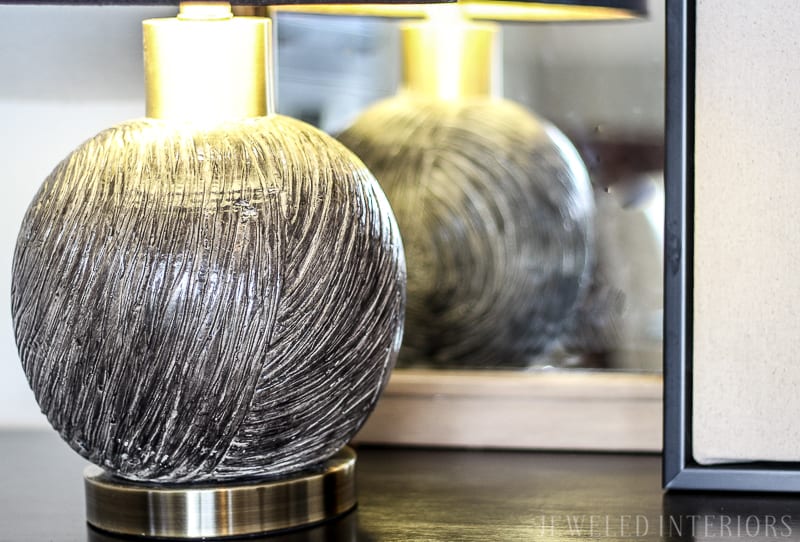 Ok, now that you have seen the beautiful inspiration, I hope you feel PUMPED!!!
The next part is anything but attractive. Take a DEEP BREATH and scroll down to the dirty deets below.
You can't say I didn't warn you!!!!!!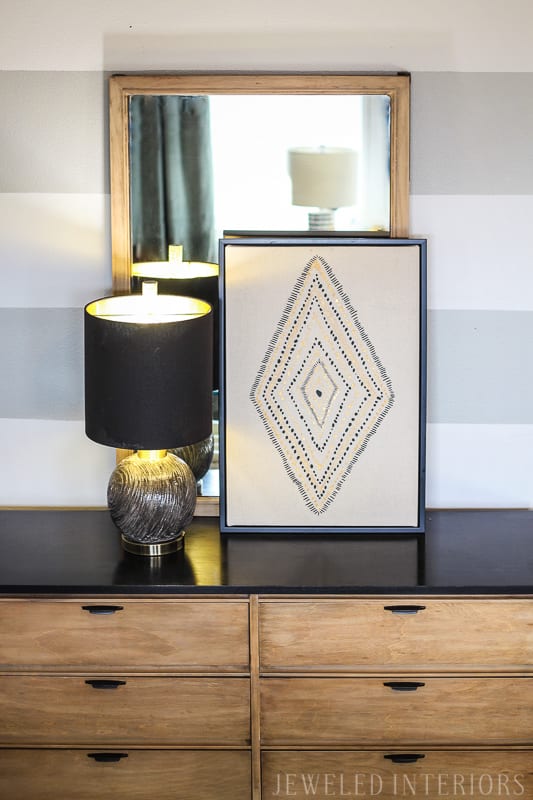 Here is the original mid century modern dresser… A diamond in the rough really.
I could see past the banged-up dark finish. I mean, just look at those clean lines and groovy brass handles.
Sure, it looks like it had been beat up by an ugly stick… The color was depressing and the drawers didn't close properly… but I could hear it calling out "Fix me, fix me."
Don't worry little dresser! Jewel to the rescue!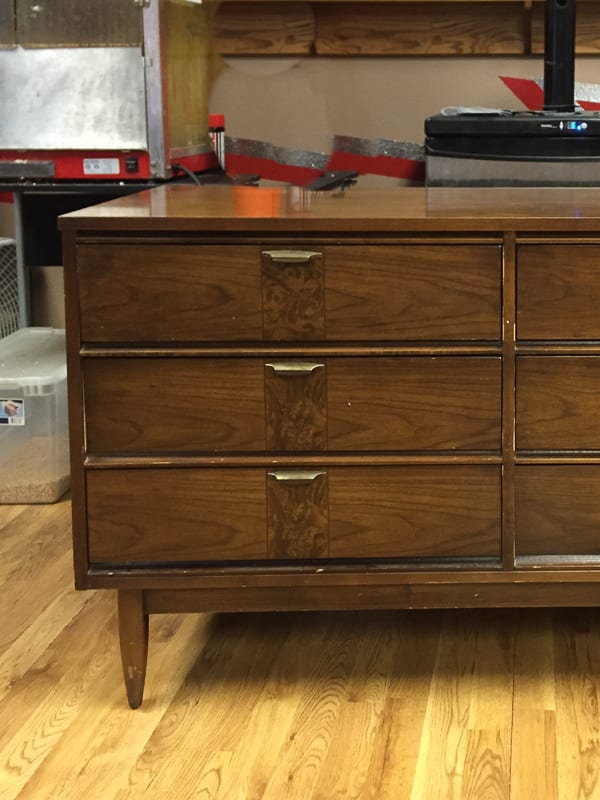 Supply List
Throw cloths to protect your floors!!!
Sand paper of various grits
Citristrip (gel or spray)
Soft brush
Cling wrap
A course brush (plastic not metal)
A plastic paint scraper
Gloves (designed for chemical furniture stripping)
Mask for your face and old clothes
Sanding block
Copious amounts of towels
Warm soapy water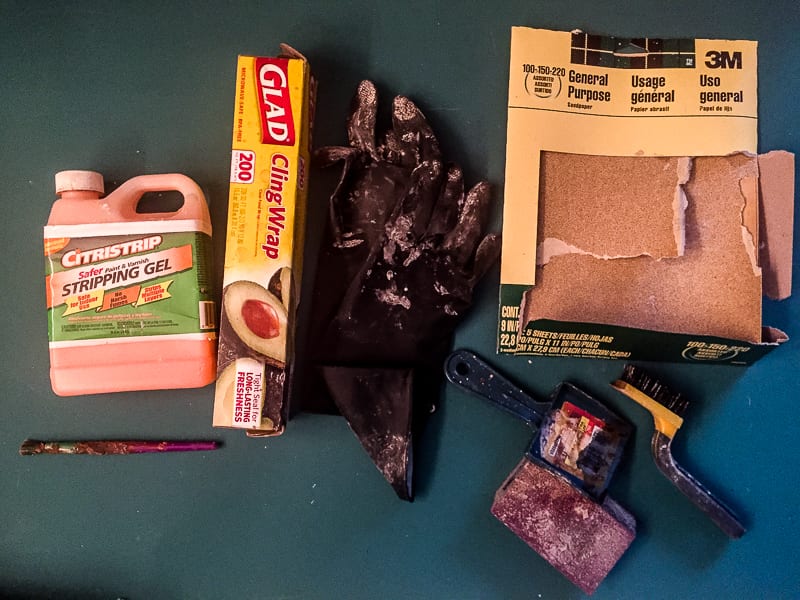 (So how long would a project like this take? I know I sound like a lawyer here, but the answer is…it depends. Speaking for myself, I did this project in my garage in the middle of January (during the worst winter since 1987!!!). Plus, I initially had a hard time picking stain colors. As a result, I had to resand the drawers a couple of different times before I nailed it. Long story short- for me, it took weeks.
HOWEVER, I am confident that with the help of this tutorial (and above freezing temps- YIKES) the proccess would be much quicker and easier.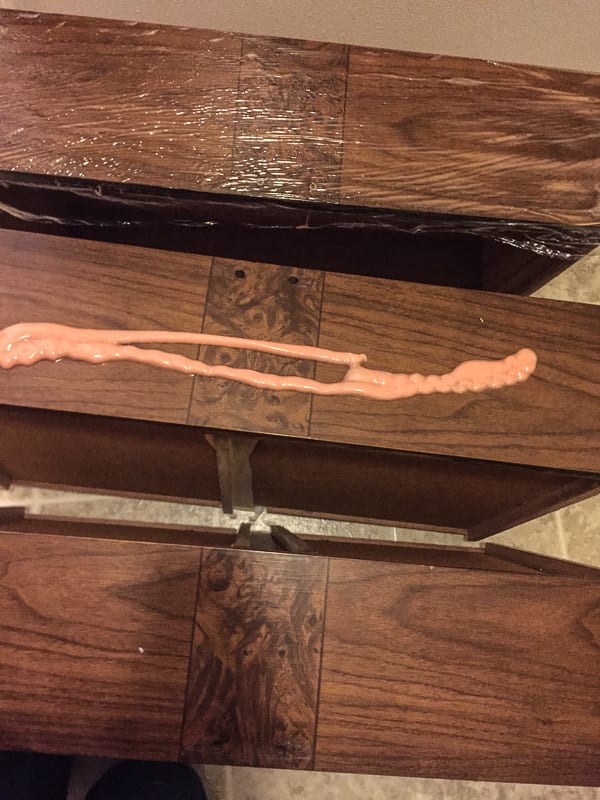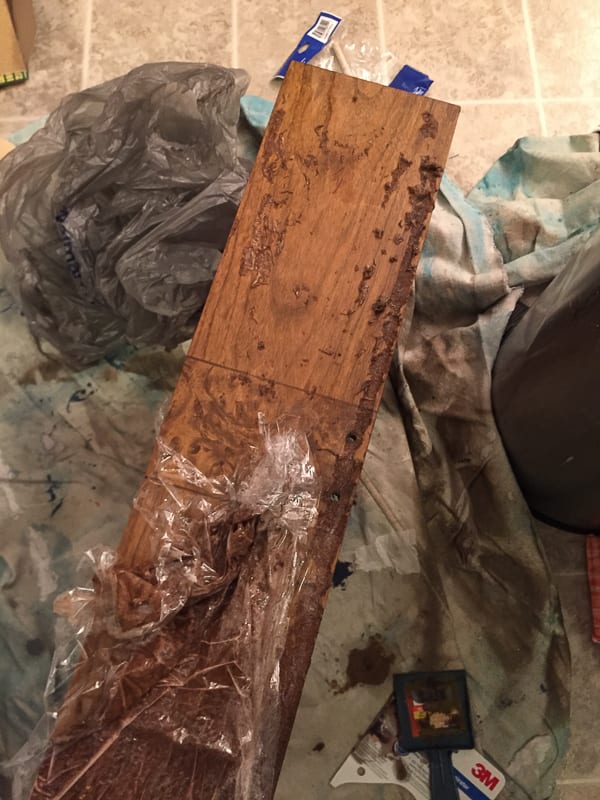 Let's get started, shall we?
Step one Protect yourself and your home. I like Citristrip because if feels less toxic than other paint strippers I have tried. No affiliated links here folks…I'm just a fan. Having said that, I would still recommend applying this outside when possible. I noticed that every time a little flicked up onto my face I got a blister. I wore a ski mask, safety goggles, and a ventalation mask to keep my skin and lungs safe. I looked like a sporty mad-scientist who was about to rob a bank 🙂 Was I being overly careful? Probably.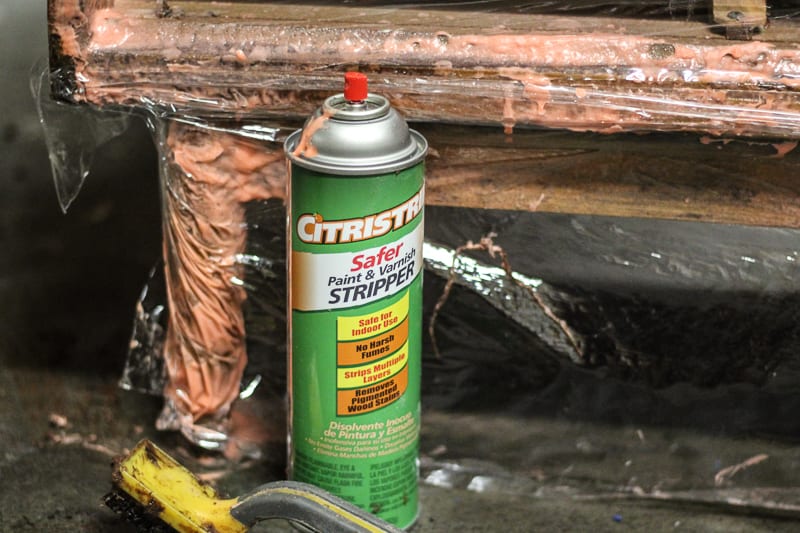 Step 2 Evenly apply the Citristrip to the surface of the furniture. It ain't pretty, but this stuff works! I tried both the spray and the gel. They both stripped well. It was easier to get the spray on evenly, but I think the gel required less product.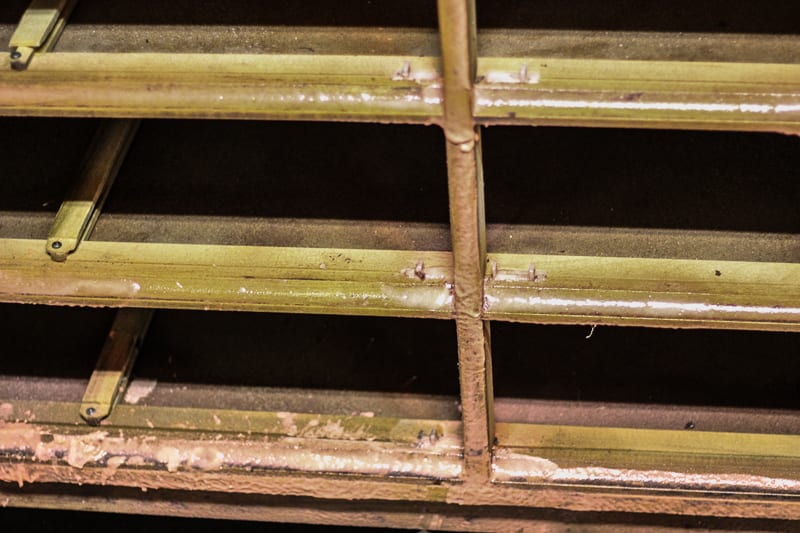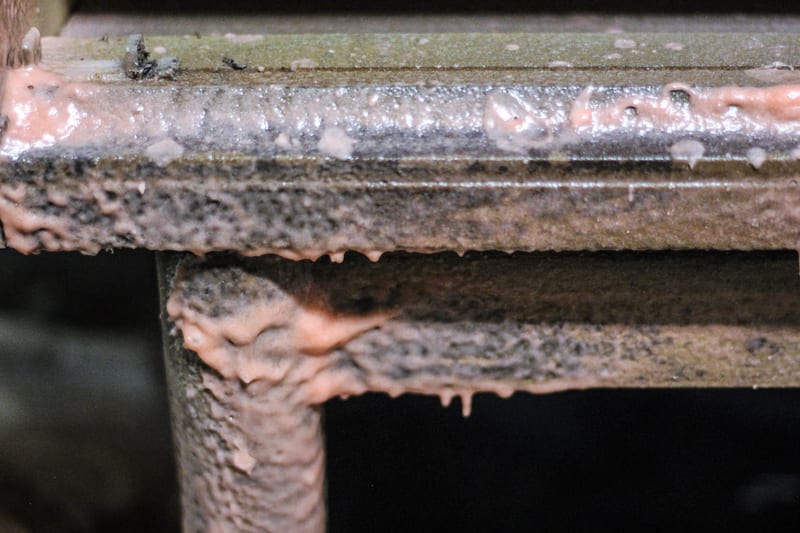 Step 3 This part is cool! Wrap the entire thing in Saran Wrap. Yep, it keeps it from drying out and means you have to buy less Citristrip. Cha-ching!
Check every few hours by scratching on top of the Saran Wrap with your scraper- don't peel back the saran wrap. Try to determine if the varnish and stain are actually coming off. If you are only noticing pink slide around, then you need to leave it on longer. I had to wait over night because my garage was so cold. NOTE: When I left it on too long it dried out and I had to basicly start over.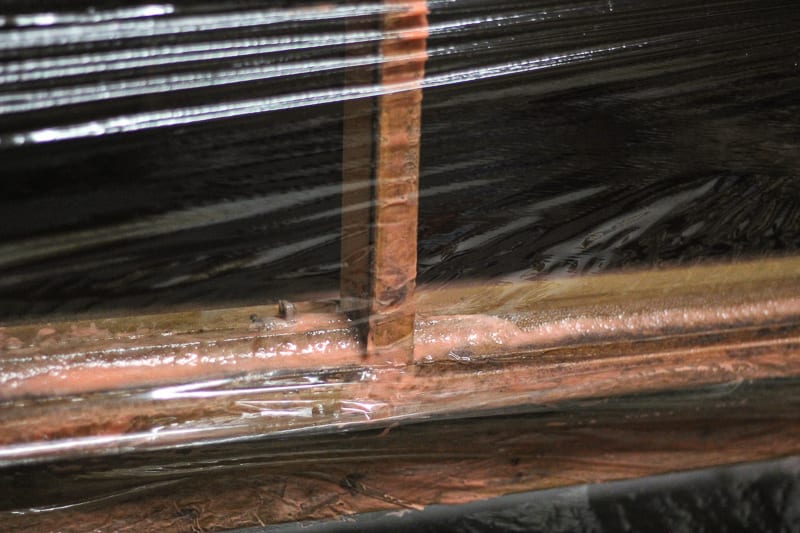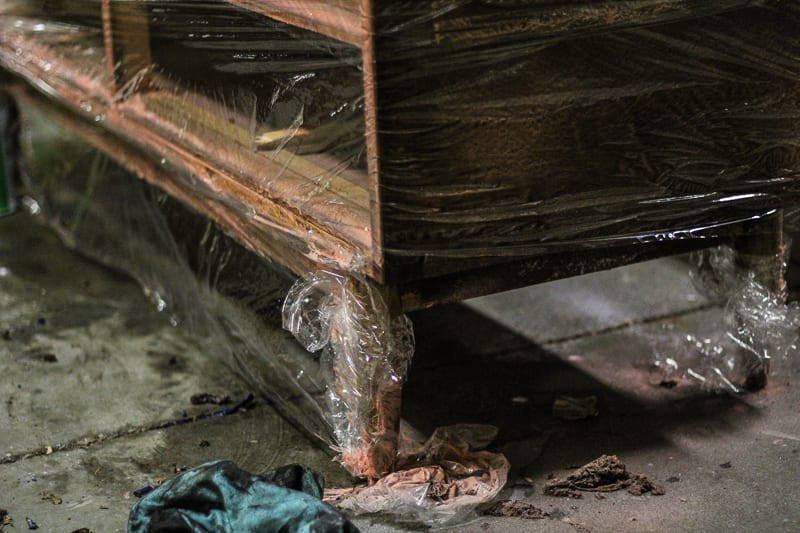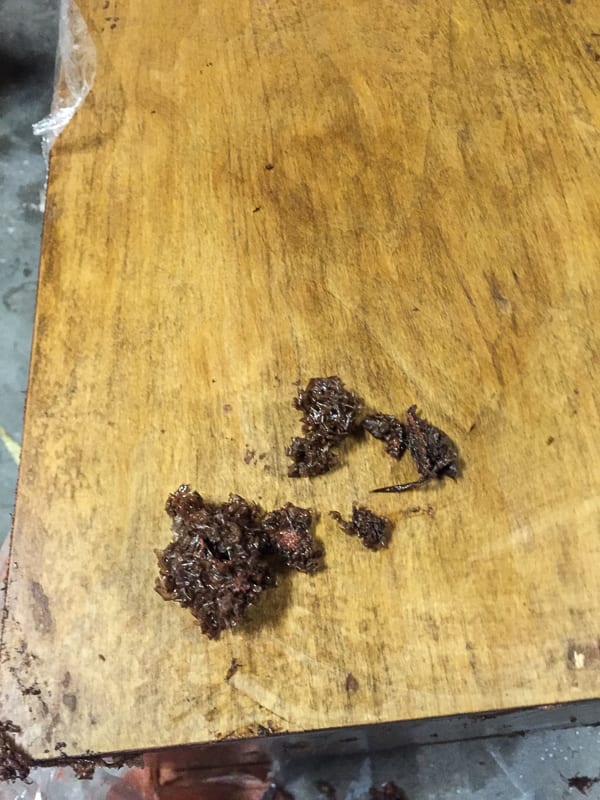 Step 4 Once you notice that you are scraping off the good stuff, then it is time to get to work!
Use your paint scraper and stiff bristle brush to work off the gunk. The stiff brush does a nice job of getting the stains out of crevasses and grooves. You could use Q-tips to get into any details.
I noticed that some areas had started to dry. To combat this I employed the soft brush to spread-out/reapply the remover to drier areas.
Once it was all scraped off I used a mega-load of old towels to wipe. I then used soapy water to wash off the remaining goo.
Step 5 Assess! Because I was aiming to make the drawers so light, I had to repeat this process multiple times to get an even color. It really only took one time to get off enough varnish for the areas I wanted to paint. Nice!
Step 6 Sand down the surface with medium to fine grit sand paper. This can be done when wet or dry. If you want bare wood, then you will need to sand it down to a consistent finish. Any remaining stain will be apparent.
I then made certain that my wood was very dry before moving onto the finish. I brought the drawers inside and let them rest for a couple of days.
Step 7 Select your finish. This sounds easy, but I oscilated between a high contrast black vs gray-toned color scheme. I finally landed on soft black Benjamin Moore paint for the casing and a mixture of driftwood and American stain for drawers. Unfortunately, I first stained and re-sanded the drawers many times…Apparently I love to make more work for myself 🙂
It was all worth it though. I love the color choices I lighted upon.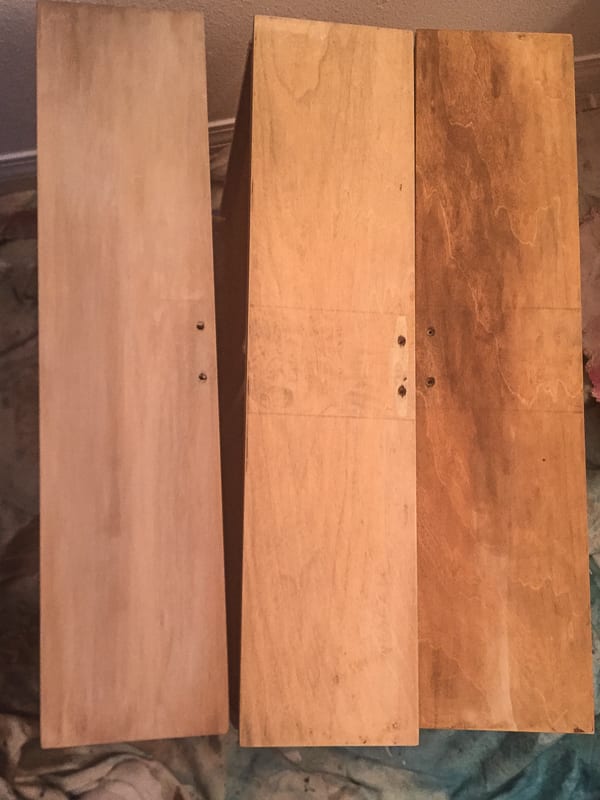 As you can see, I tried several different options for the drawers. I realized by the end that I liked less stain and more of a raw wood look. See bottom drawer.
My technique was to artfully apply very light amounts of each stain separately. I used more Driftwood than Early American.
Then I went back and sanded it all down to a even and consistent finish.
I painted the casing with a craft brush and a Benjamin Moore sample size of Black Beauty 2128-1O. I LOVED the color and quality.
In addition to using a disposable foam brush, I also love a mini-foam roller. I find this technique especially useful for the top of a piece of furniture. I sanded between layers with the finest of grit sandpapers.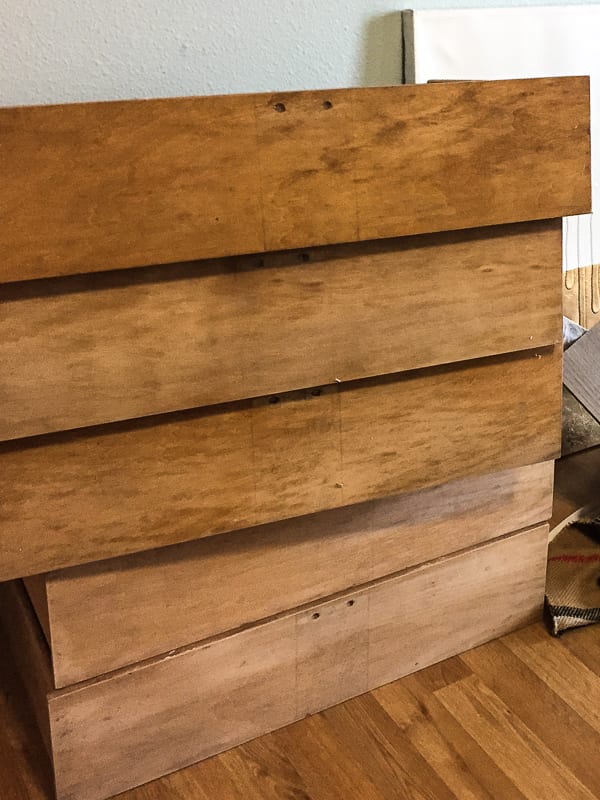 Some folks prefer polycrylic or polyurathane, but I'm a sucker for wax. This stems from my time buying and reselling antiques in England.
I love how easy wax is to wipe-on/wax-off 🙂 Most importantly, I can't get over the rich, patina feel wax provides.
The disadvantage: It isn't very water proof. This doesn't really bother me when I'm finishing a dresser.
After applying the wax it "STINKS" for a couple of days. Time to park it in my garage until it finishes curing.
While the wax was drying I stripped the mirror and painted the lamp base and lamp shade from brown to black. I used the same paint and sealed it with a clear gloss spray paint.
I also took the handles outside and spray painted them in…
I was thrilled with how it turned out! I had a Mid Century Modern crush on this little guy.
Best of all? All of the money raised helped local military families! AWESOME!!! My work here is done!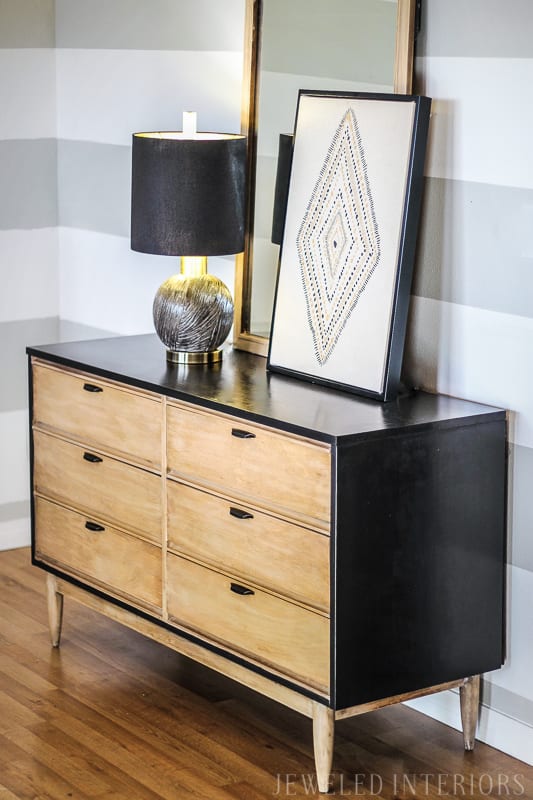 Ok, just one more look at the before pic…
TOTALLY SLAYED IT!!!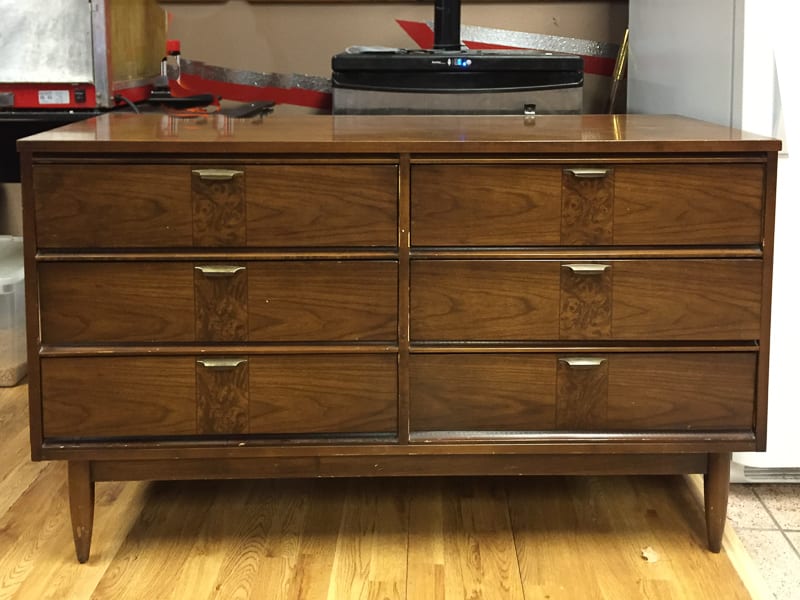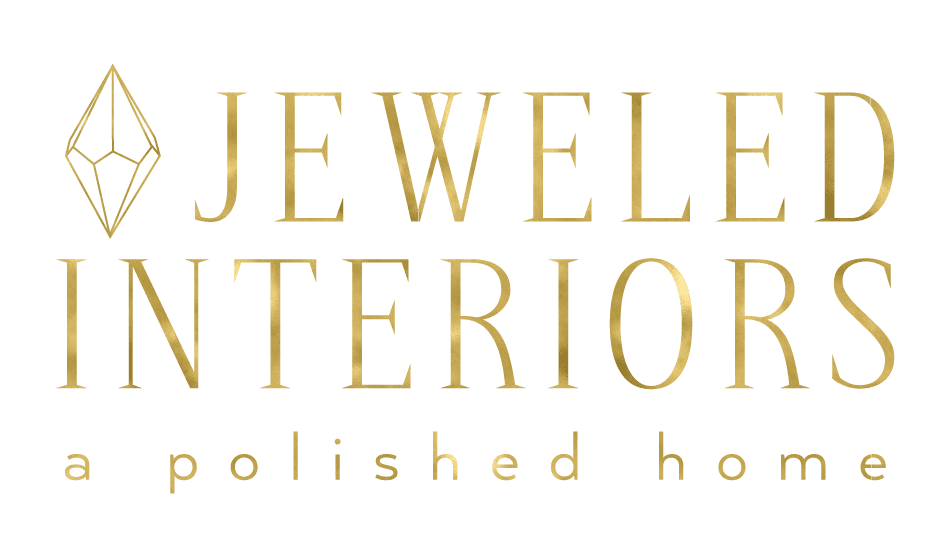 Questions? Comments? I would love to hear from you. Please feel free to leave me a message below.   
Also, Please join me next week as we tour my timeless little girl's room. It's so sweet!      
-xoxo Jewel