Ahhh Pineapples! The symbol of welcome and hospitality which dates back as far Christopher Columbus himself. Early sea captains would bring back this coveted fruit to their families who would in turn serve it to their guests.
It is only fitting that our Officer Spouses' Club picked this as our theme for our annual kick-off event. The trick? We only had $250 to decorate for this 50-60 person party. Check out how we did it!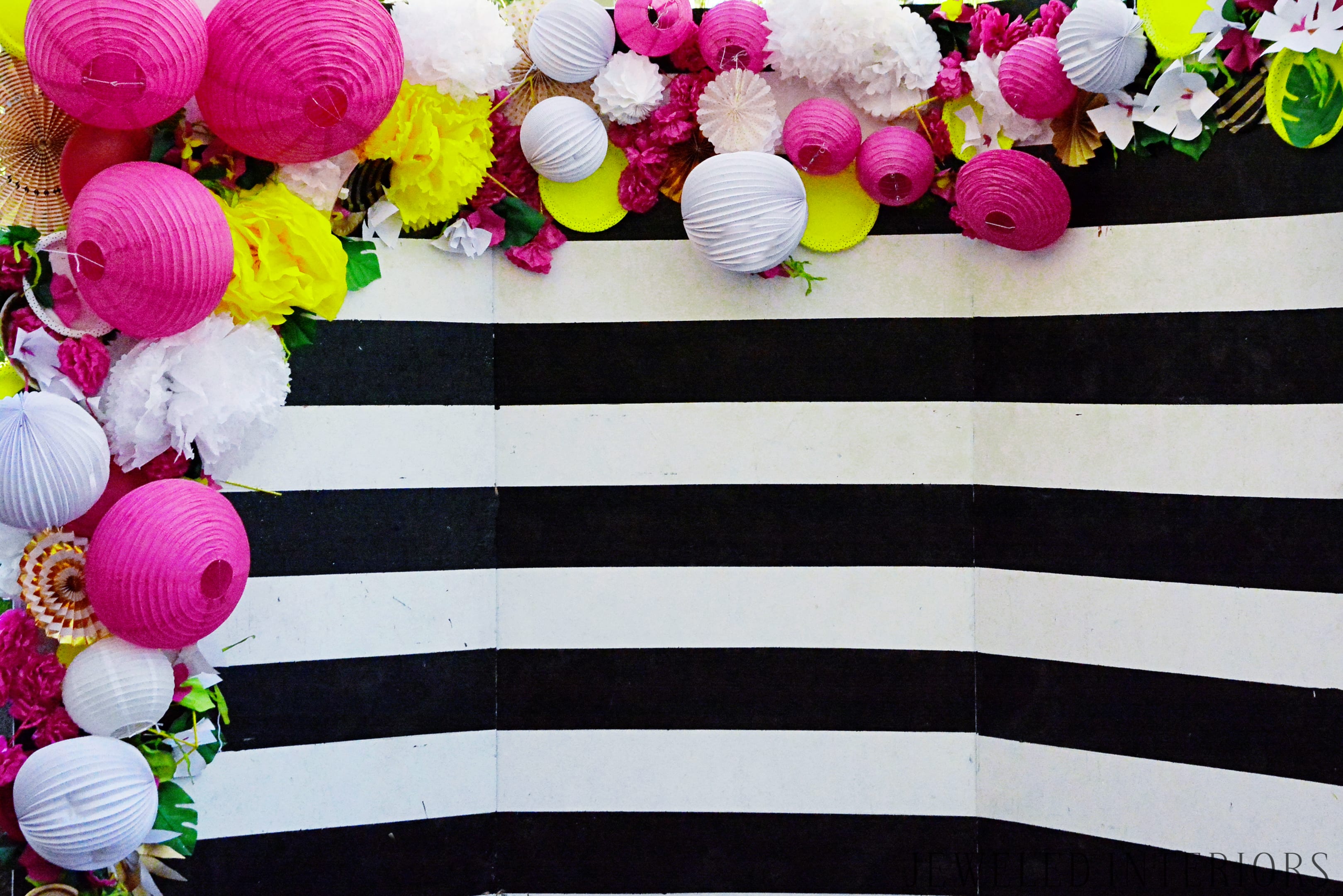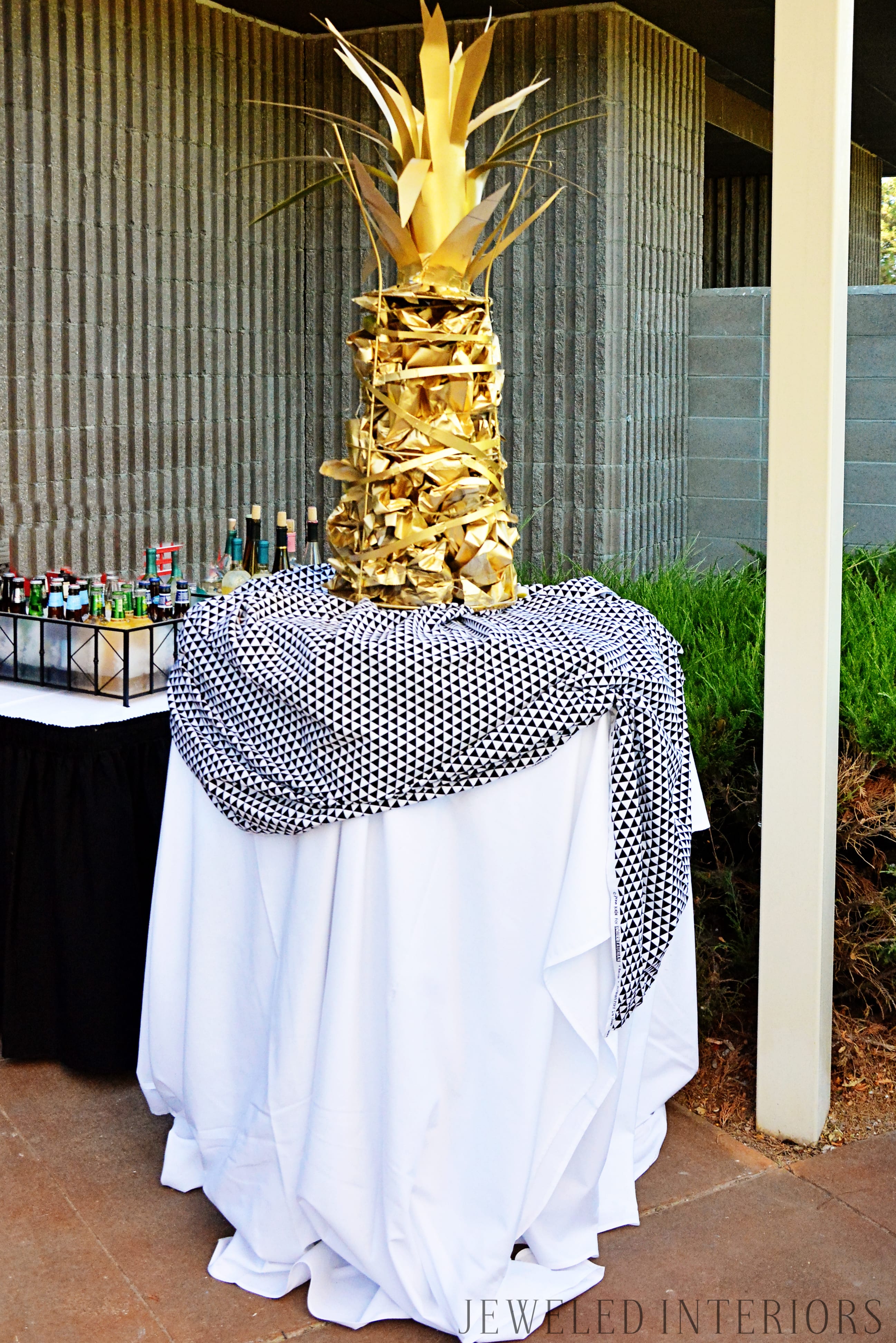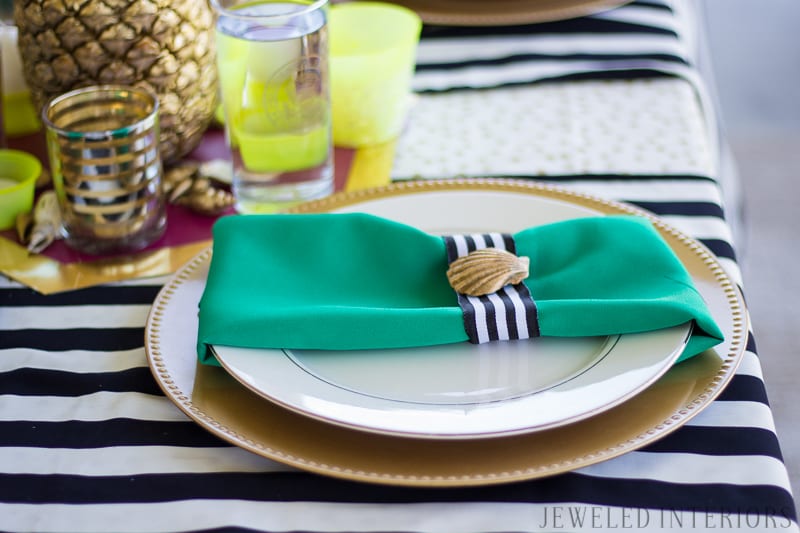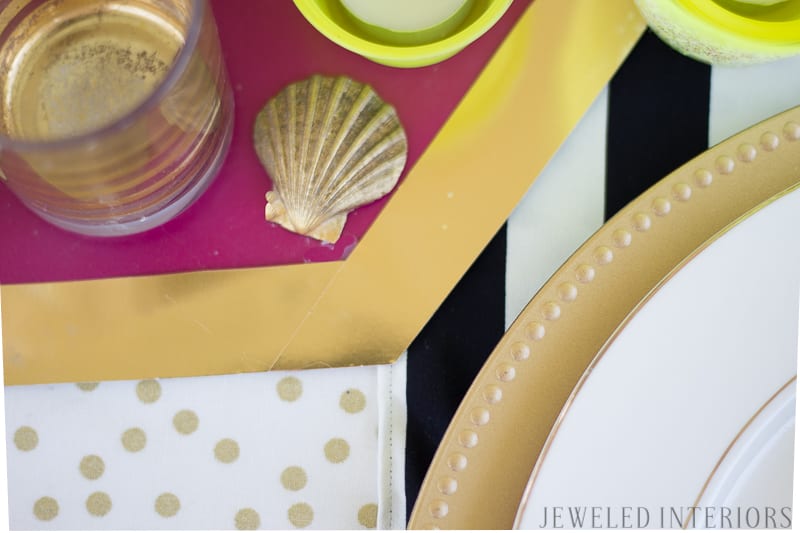 THE DESIGN SCHEME
Gilded Pineapples
Scatterings of Seashells
Preppy Stripes
Flirty Polka Dots
Dashes of Magenta
Pops of Neon
Heavy Doses of Gold
Geometric Designs
Vintage Candlesticks
All of it on the Cheap!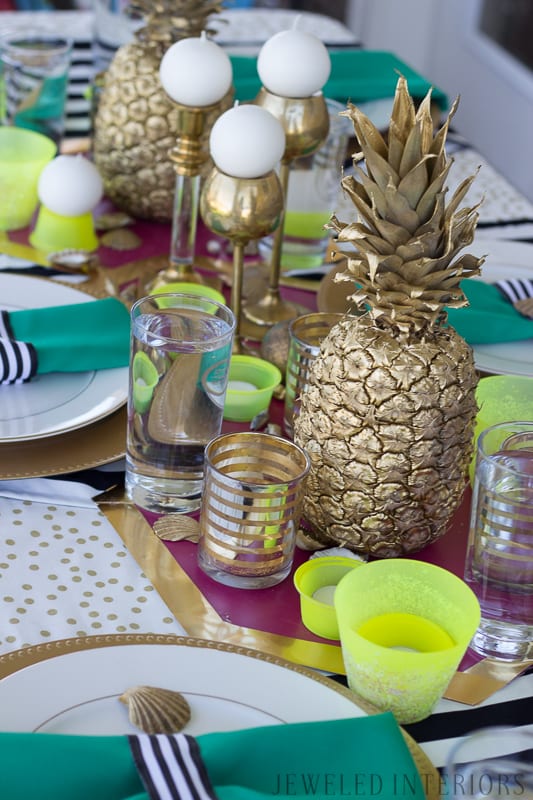 It may not be rocket science, but gold spray paint makes simple things like pineapples and seashells oh-so-glamorous.  I used Rust-Oleum American Accents.  The good news was that no primer was required.  So go get on your mask and spray to your heart's content my friend.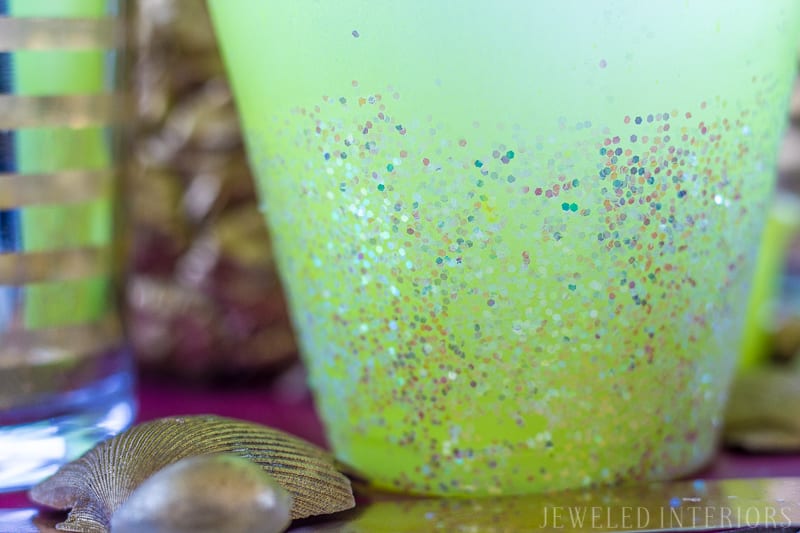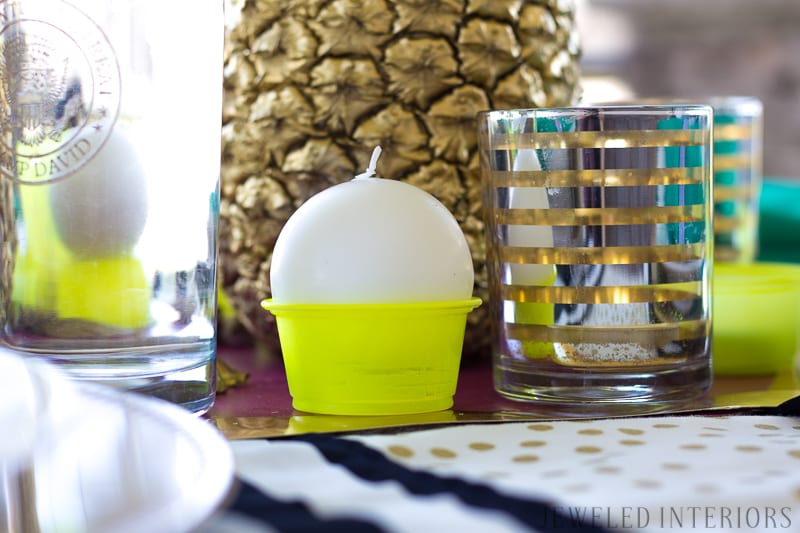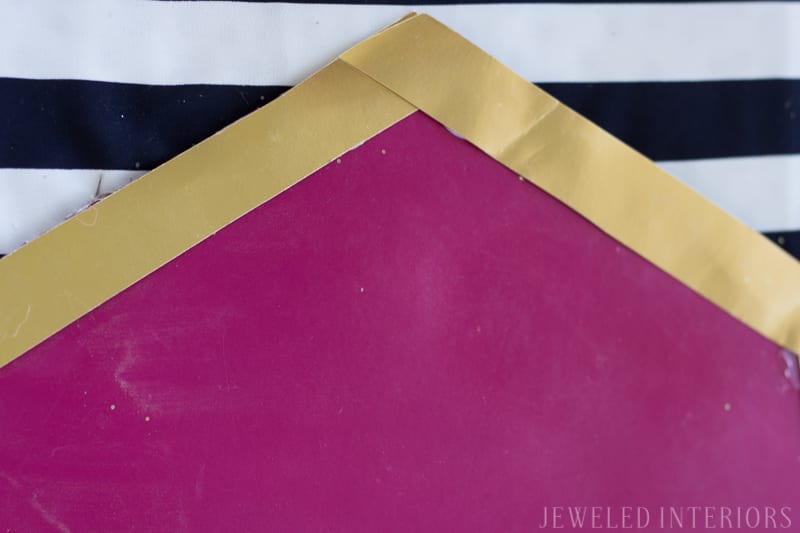 I used these hexagons as runners on some of the tables, and also as filler for the wall and backdrop decor. I love the way they add a femine pop of glam to the party.   To make these groovy shapes I cut out and spray painted cereal boxes.  I then added a one-inch border made of gold poster paper.  A little hot glue action and they were the bomb- for not much dough.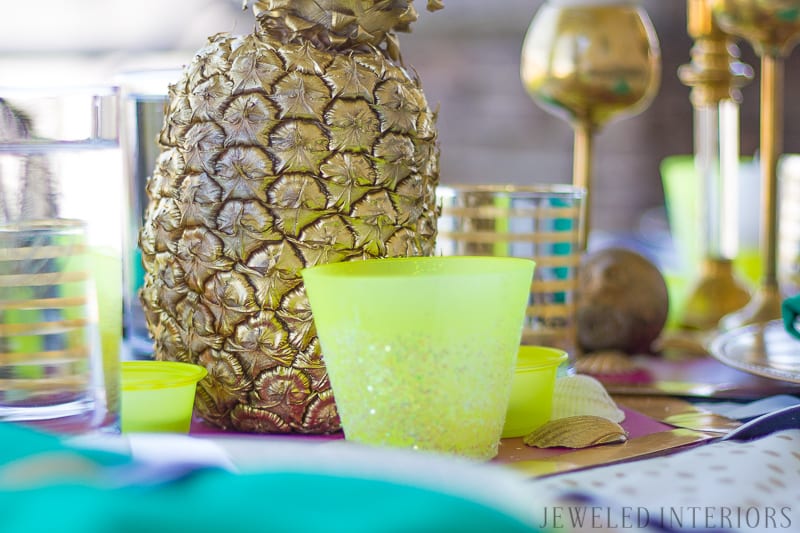 DECORATING ON A DIME: To save money I purchased spray paint and plastic cups, both the drinking and condiment variety 😉 I spray painted the inside with a light coat of this lovely shade of "80's sexy" yellow. It provided the pop of neon I needed without breaking the bank.
Optionally, I smothered Elmer's glue along the outside of the large cups. Then I rolled it in clear glitter. Ta da! Uber cheap candle holders in a custom neon color.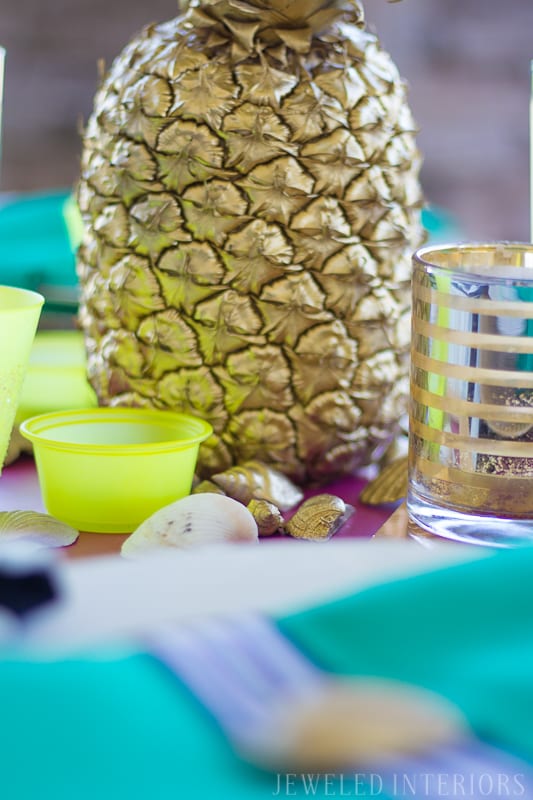 I picked up the sea shells in bulk from amazon.com and painted the pretties gold.
I scored the napkin ring ribbon on sale at Michaels. If you are running low on cash, burlap twine has also worked well for me in the past. Instant texture…very little cost.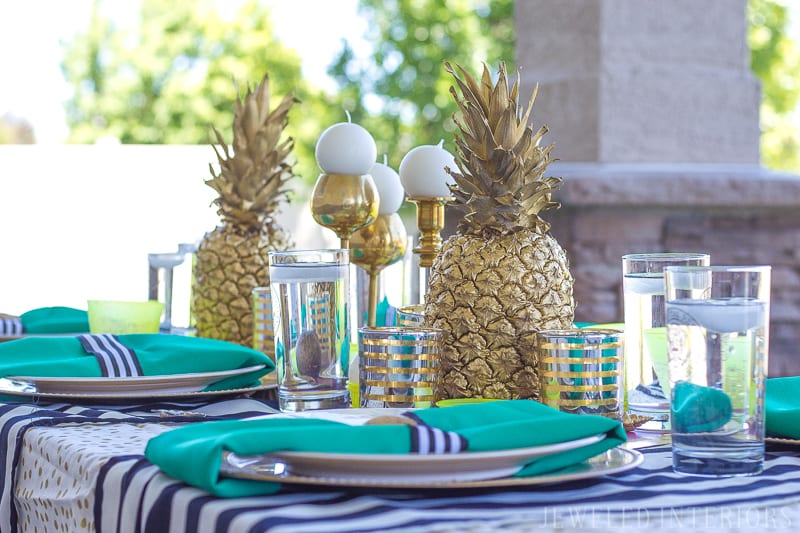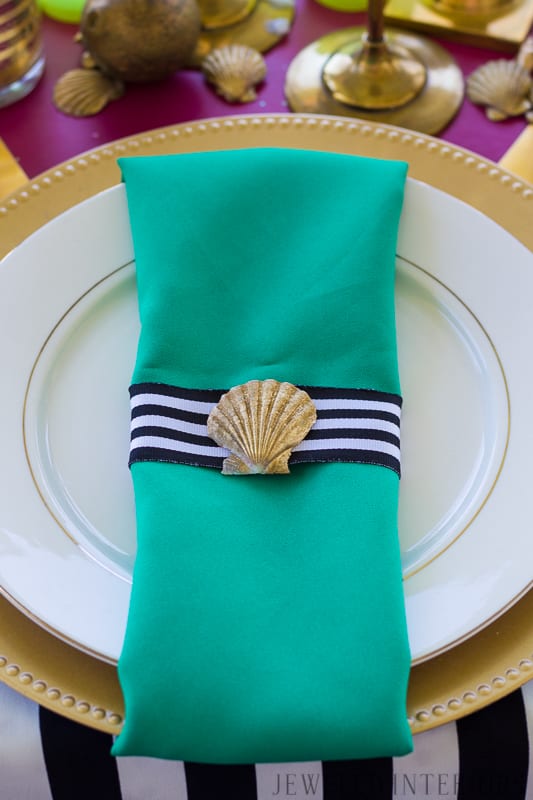 I splurged time and money on the table runners. I picked up perfectly-preppy, striped fabric and hemmed the edges. If I wanted to save, however, I could have achieved a very similar effect by using wrapping paper from Walmart. In fact, I did use the paper version to line the check-in and buffet tables. Ka-Pow!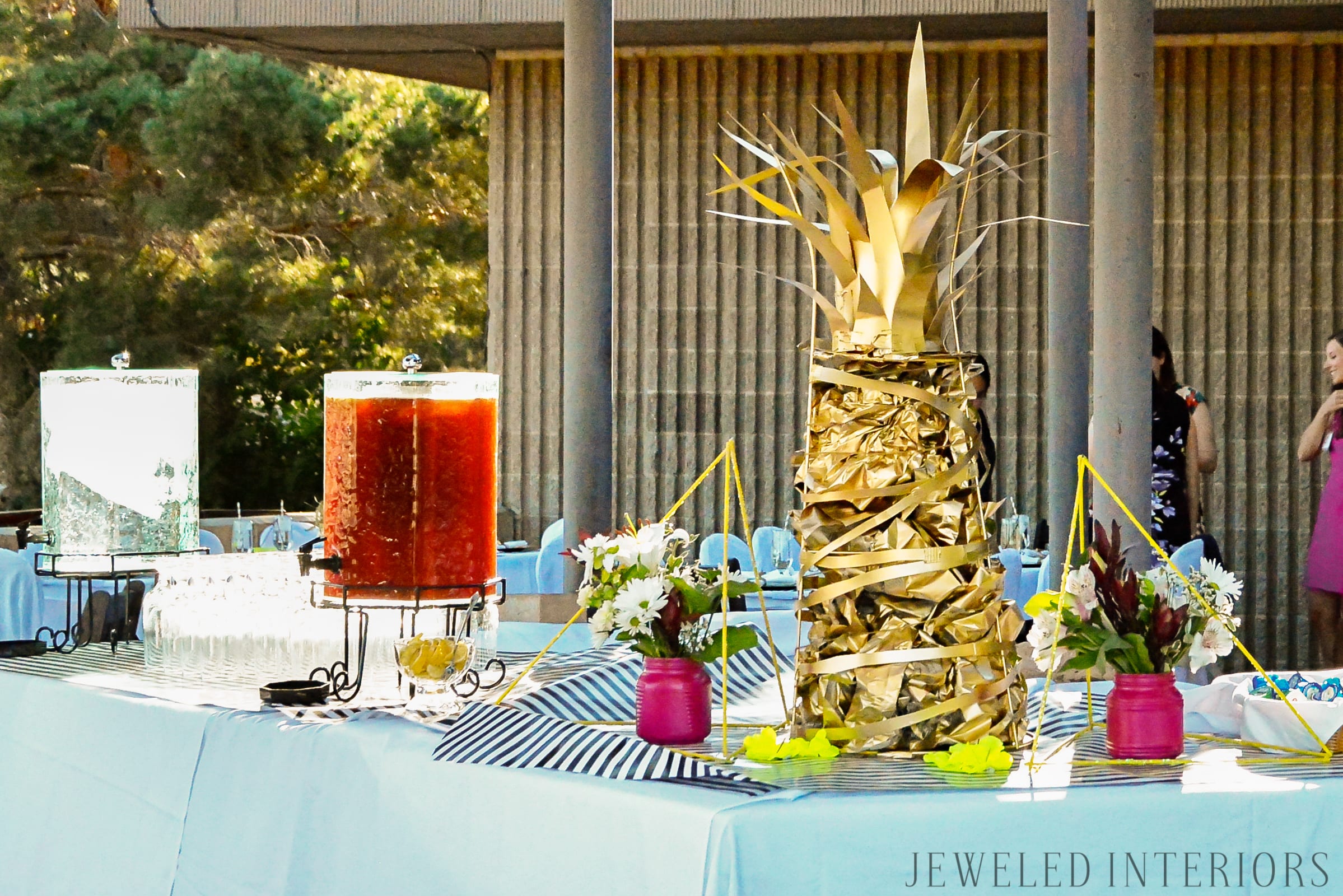 The pineapple welcome doesn't stop there! Obviously the tablescapes are only a part of the over all asthetic of the party. Let me run you through some of the other  inexpensive ideas we used to decorate the two patio areas…Prepare yourself for creative ways to get bang with very little buck!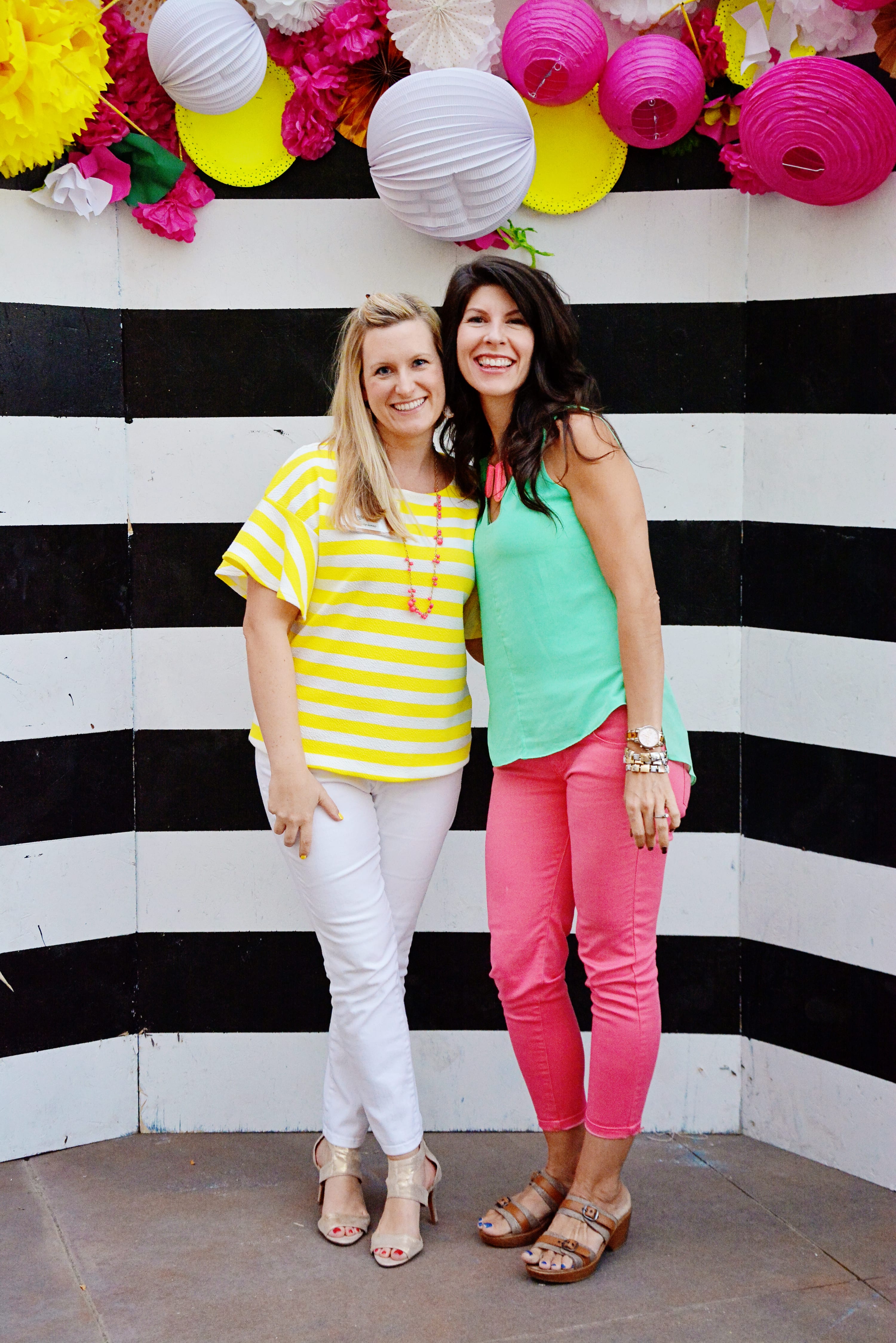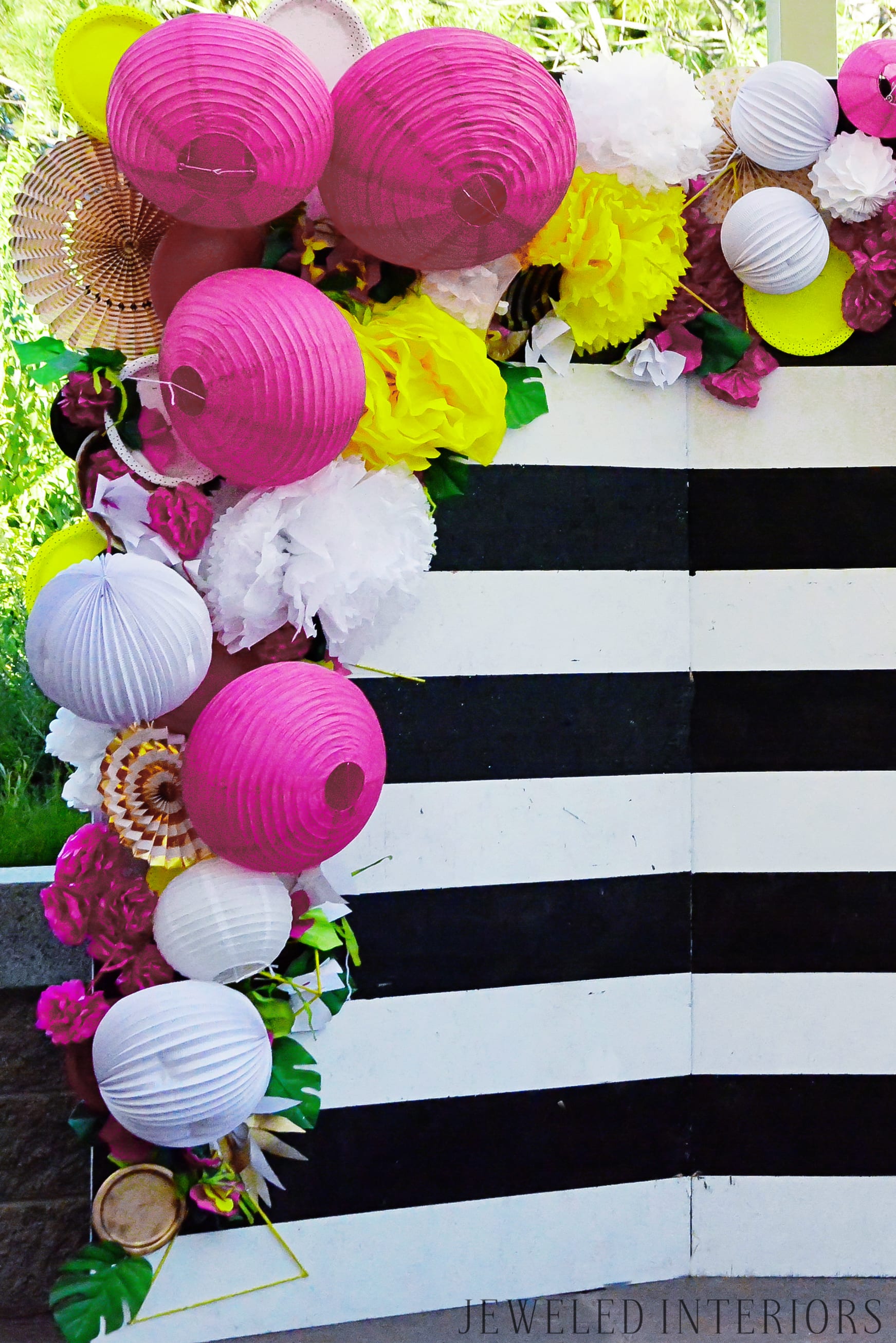 For the backdrop, I simply screwed six hinges to three sheets of plywood. I then primed and painted the board in 12 inch stripes. The top is a combination of chinese lanterns, paper fans, plates, and handmade flowers and poms. The day of the event we took all these paper supplies and stapled them directly to the board.  
Thanks to my beautiful friends, Angie and Jessie, for modeling this high-contrast, brightly colored photobooth backdrop. Lookin' good ladies!
b0bNow, if I had unlimited cash I would have shipped in exotic flowers from Hawaii. Am I right? But this wasn't a wedding, it was a little party to welcome newcomers to our club. Having said that, $250 got us a long way to making the event lovely for our new guests.
We needed a pineapple backdrop for this little vignette. I had an old art canvas and two Walmart door mirrors that I spray painted gold. I took two foam poster boards and "got to cuttin." At the end I simply glued and shaped six pages of scrapbook paper.
To top it all off we used a combination of hand-cut paper flowers, spray-painted paper plates, Dollar Tree garland, and leaves from Amazon.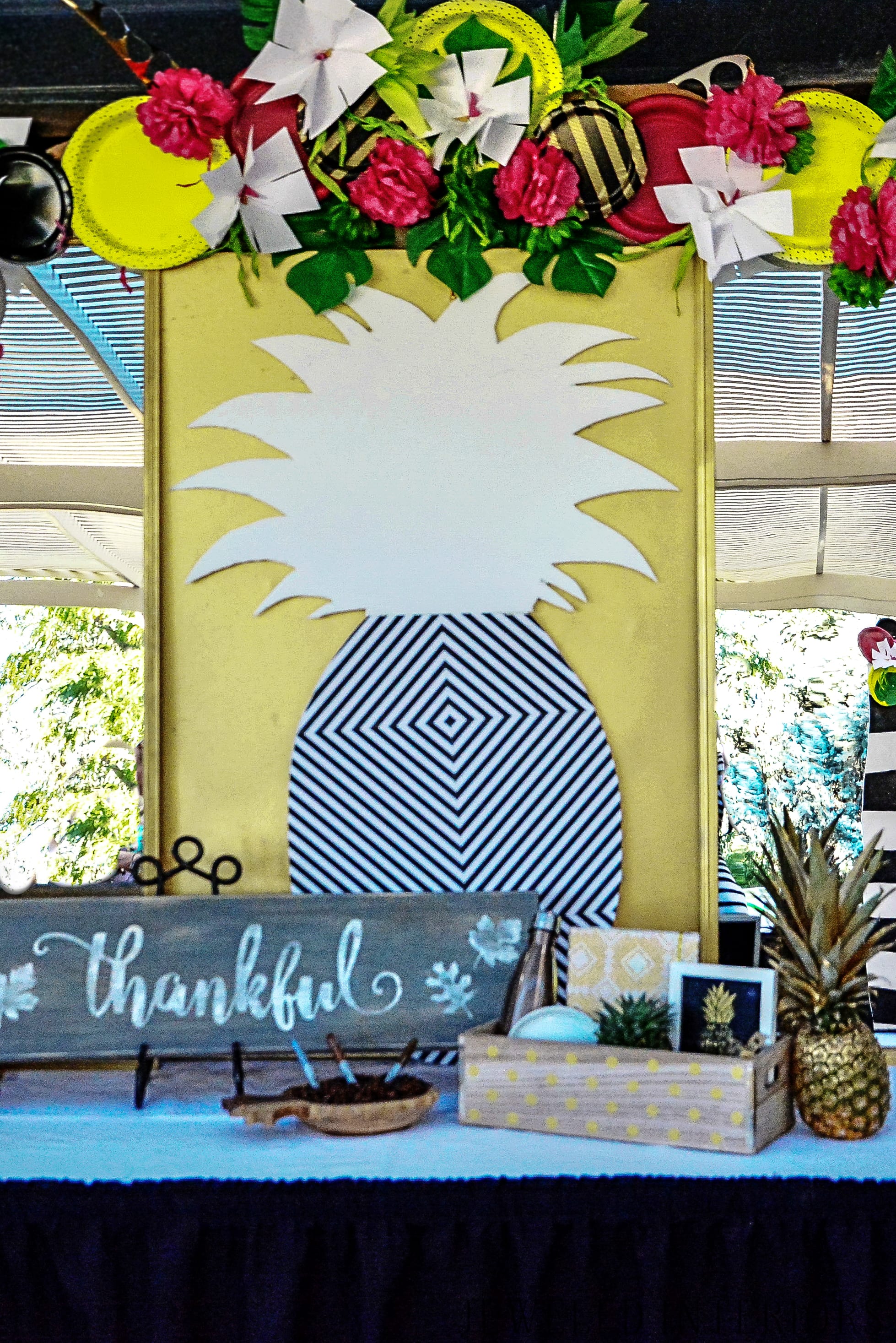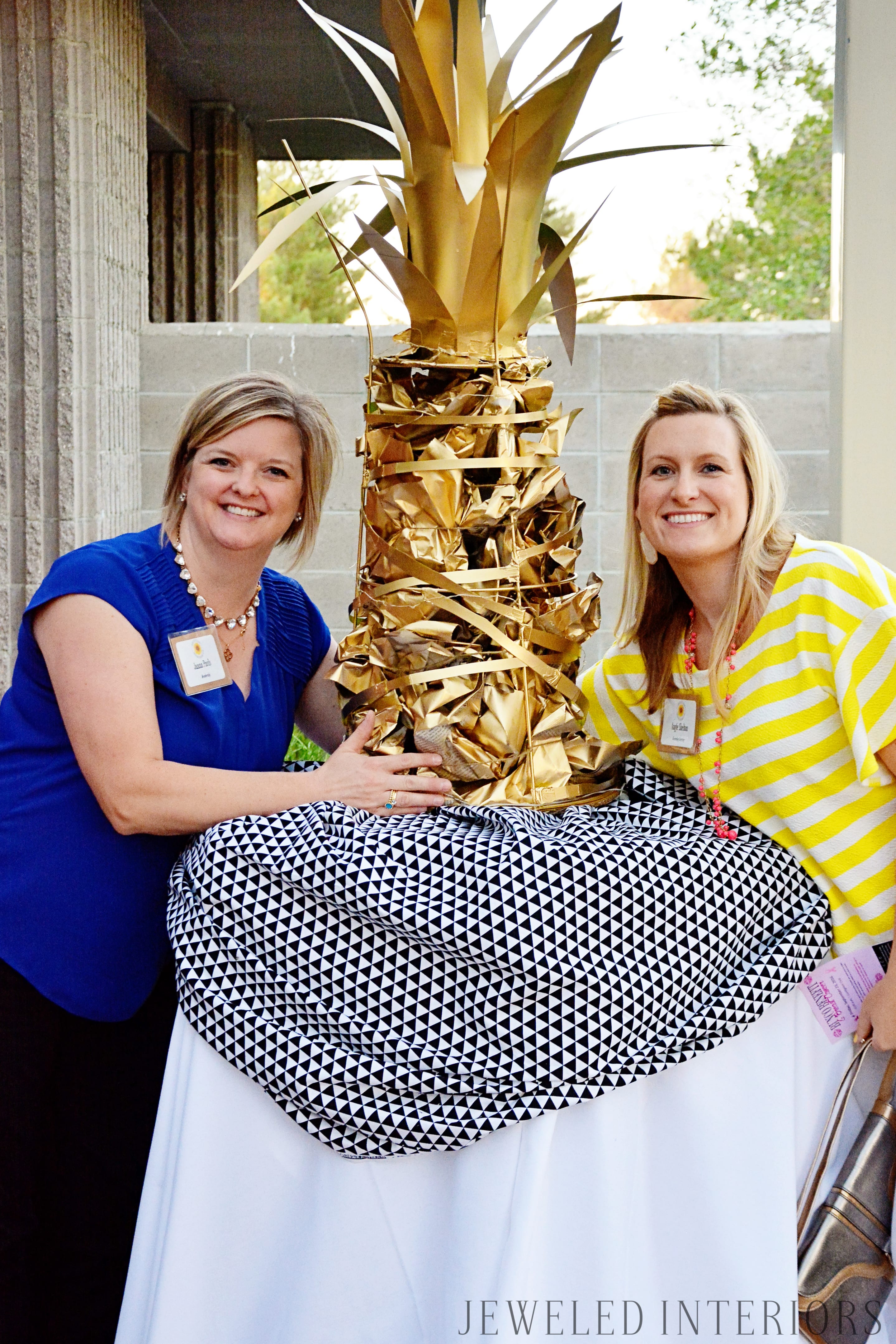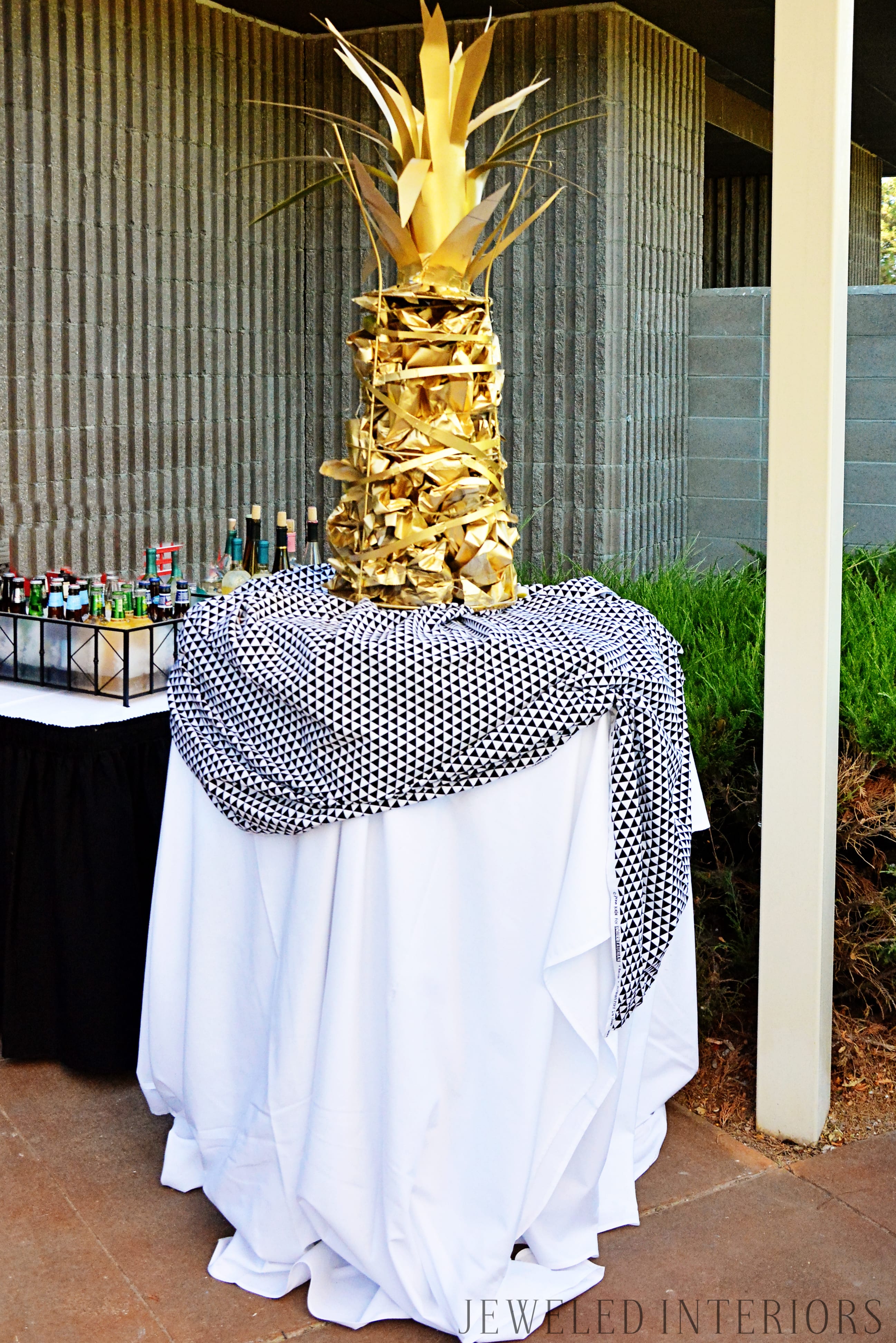 My cute and creative friends, Jaana and Angie, created these pineapple masterpieces out of nothing more than tomato cages, newpaper, duct tape, poster board and gold spray paint! They lovingly refer to each of these creations as their "Pineapple Babies." These were impressive additions to the decor scheme, and less than $15 a piece!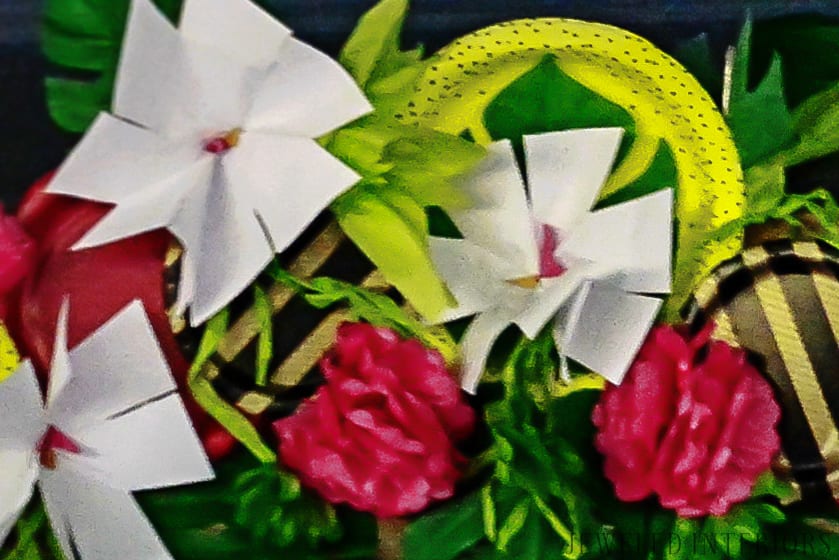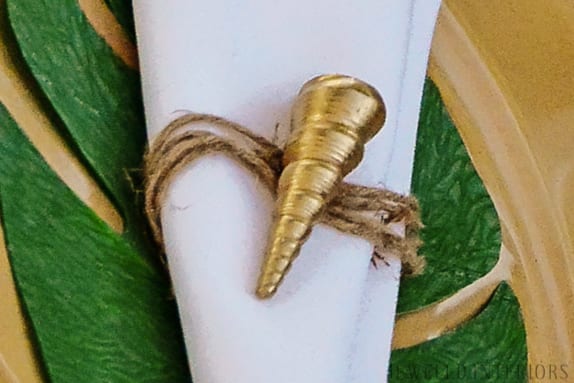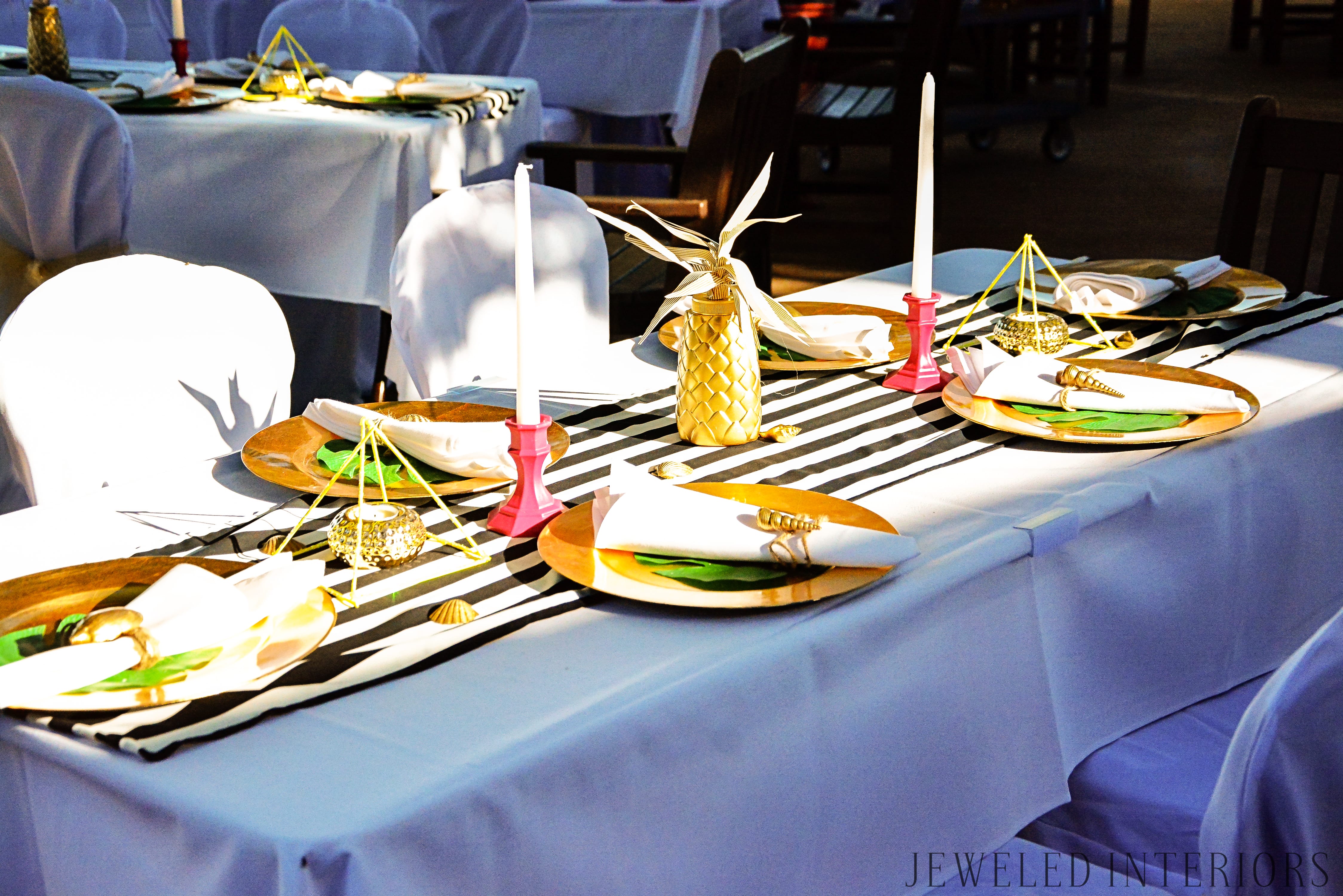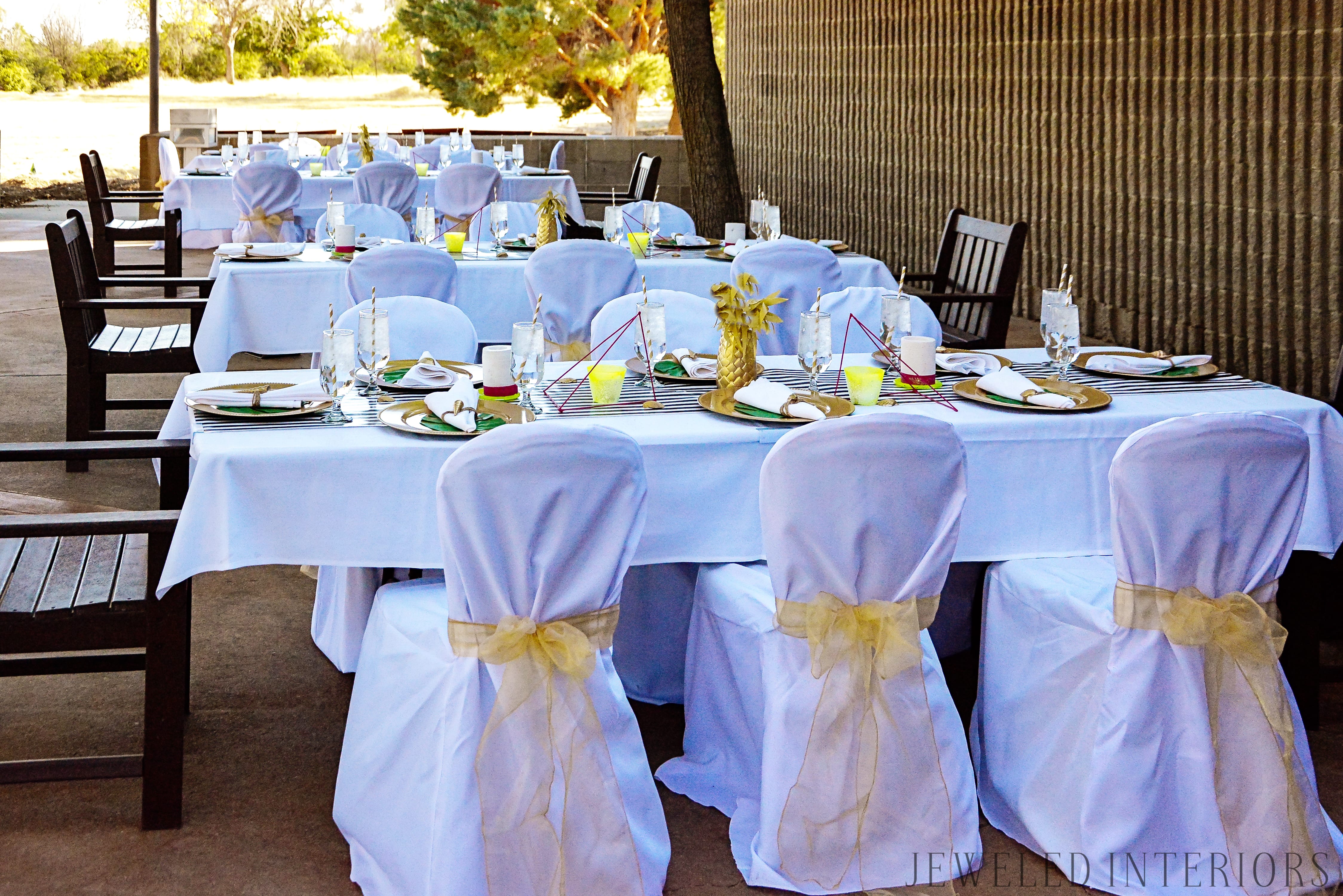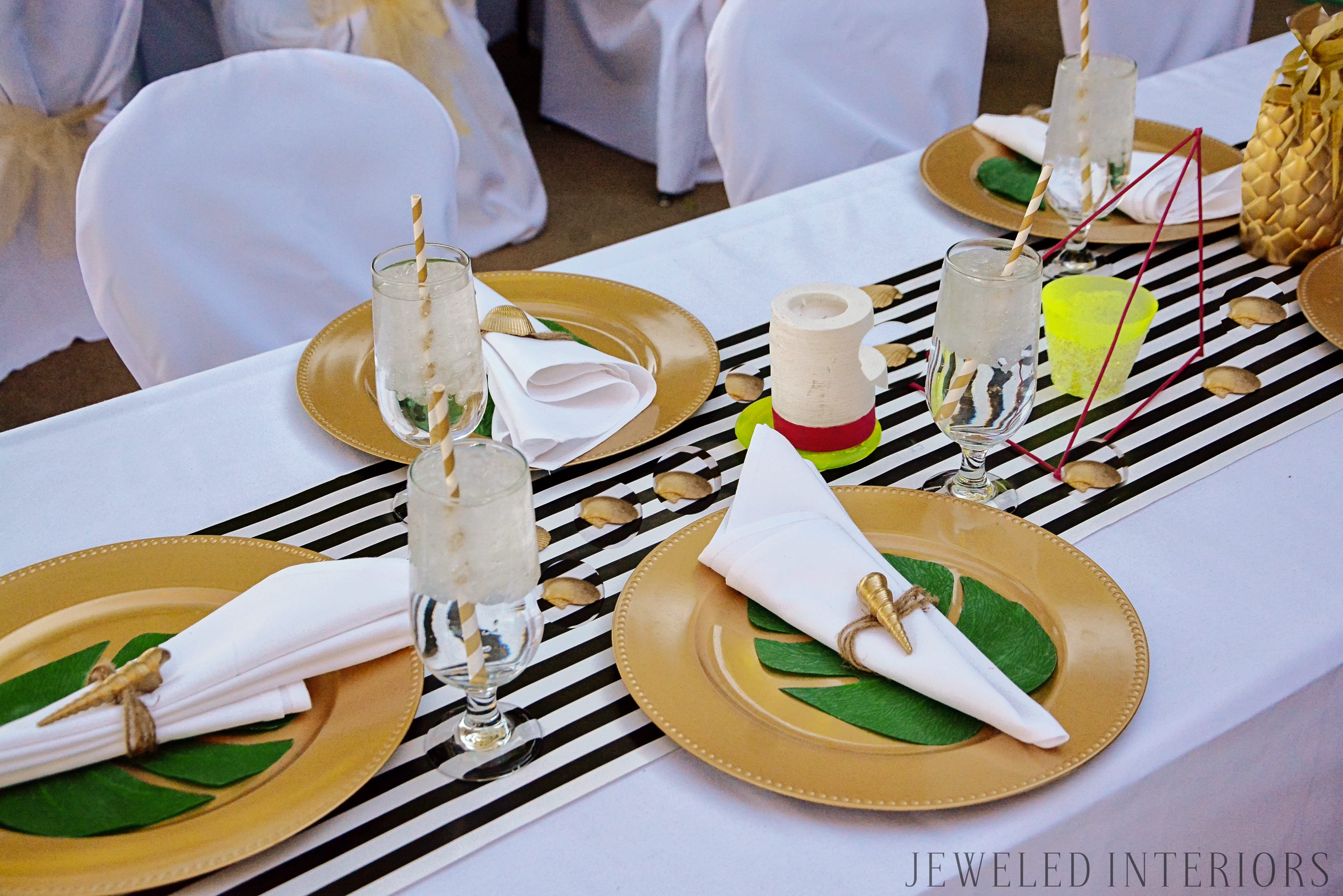 Thanks for joining me on our Pineapple Party recap! It was a fabulously enjoyable evening with a fun, welcoming vibe. It just goes to show that you don't have to spend a fortune to throw a wonderful party.