Not enough bedrooms for your cute kiddos to each get their own room? I hear ya! I want to pass along how I tackled this design challenge in my own home.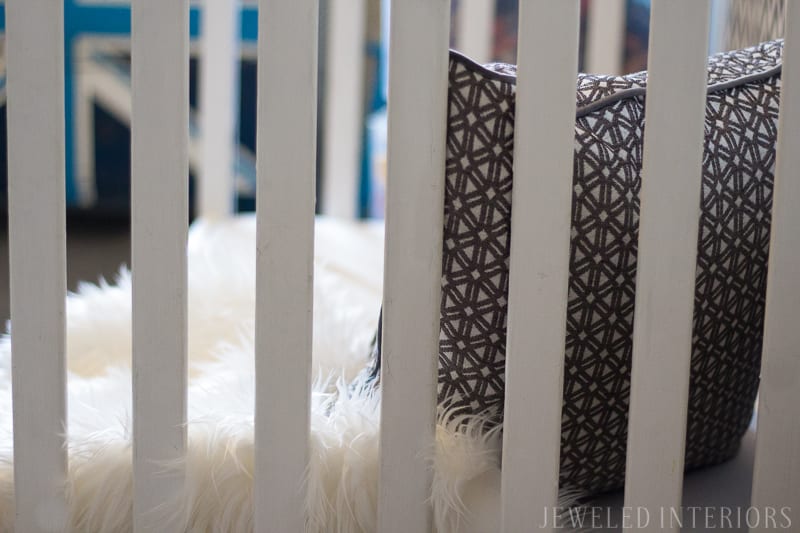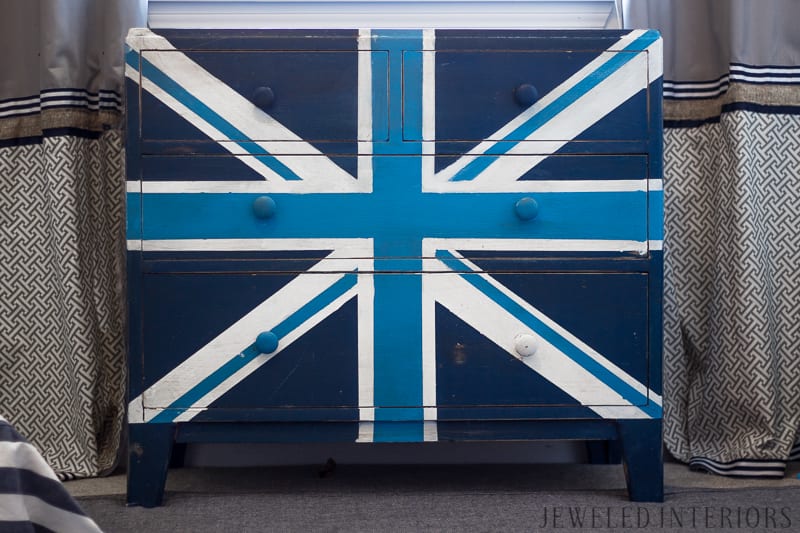 Before I begin, let me first say that our children have loved sharing rooms with each other. Great bonds are formed over late night secrets-swapping sessions or epic light saber battles. I realize that the time is soon coming that it will no longer make sense for our son and daughter to sleep in the same room. Until that day, however, a few simple design tricks make this combination easier on my eyes.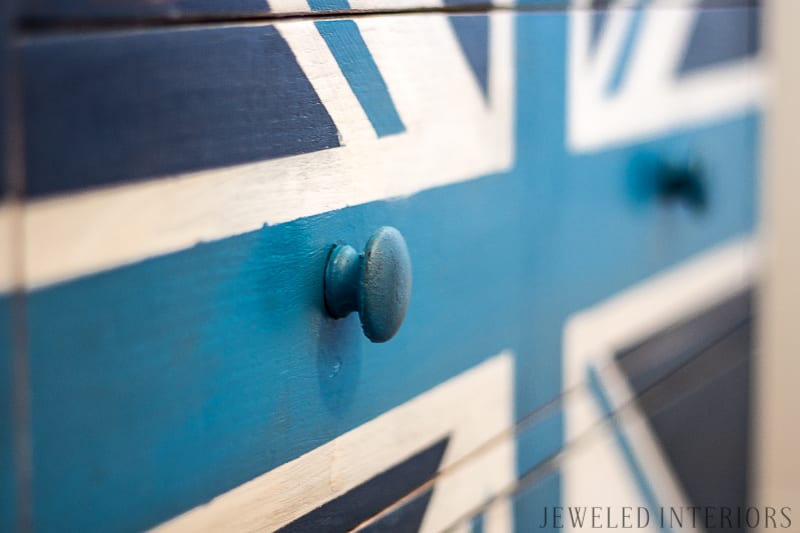 While there are a million different ways to skin this cat, check out the three guiding principles I used to blend a room for both my son and daughter to share.
3 Tips for a Combined Boy and Girl Room 
1. Choose a gender neutral color scheme (but error on the side of too masculine).
2. Designate "His" and "Her" zones of the room.
3. Add special little boy and little girl touches within their designated areas and chosen color scheme.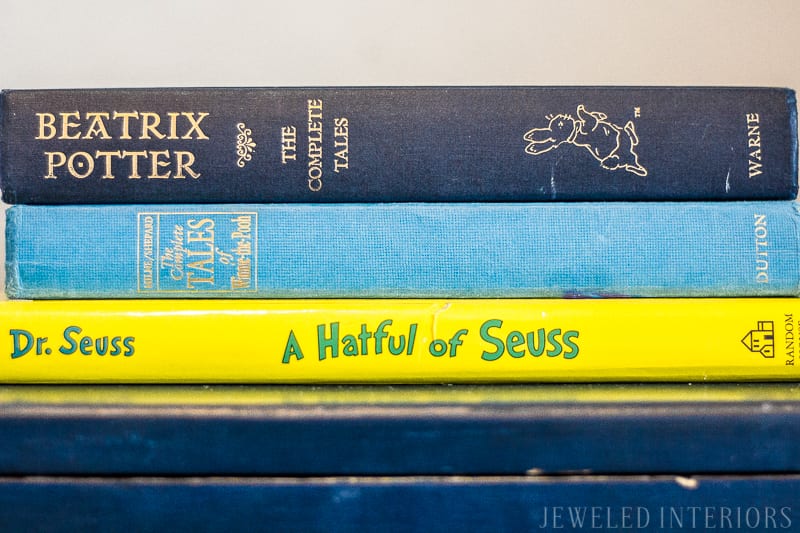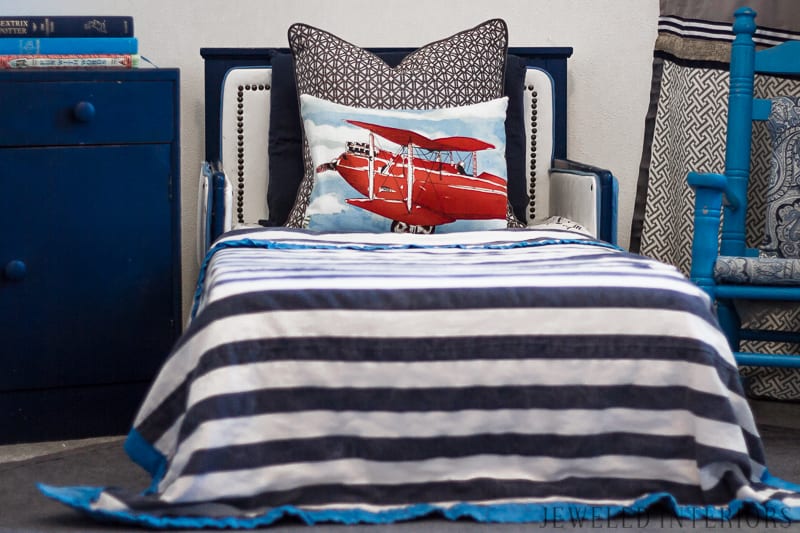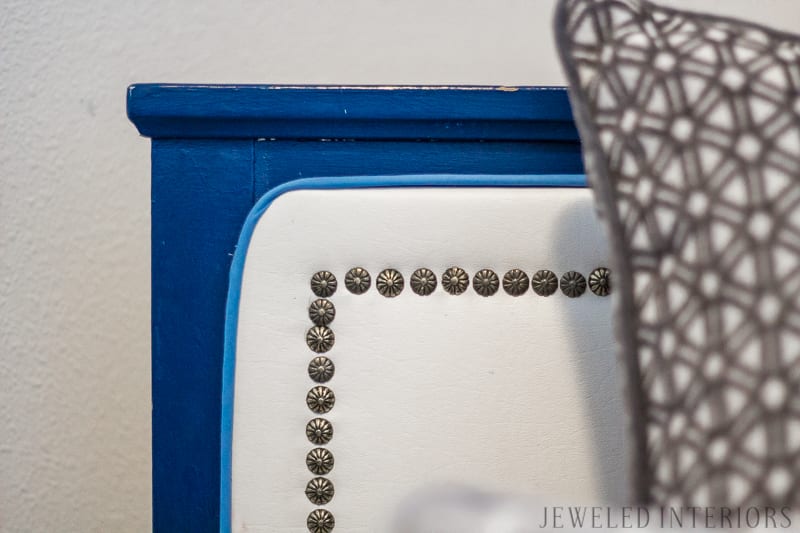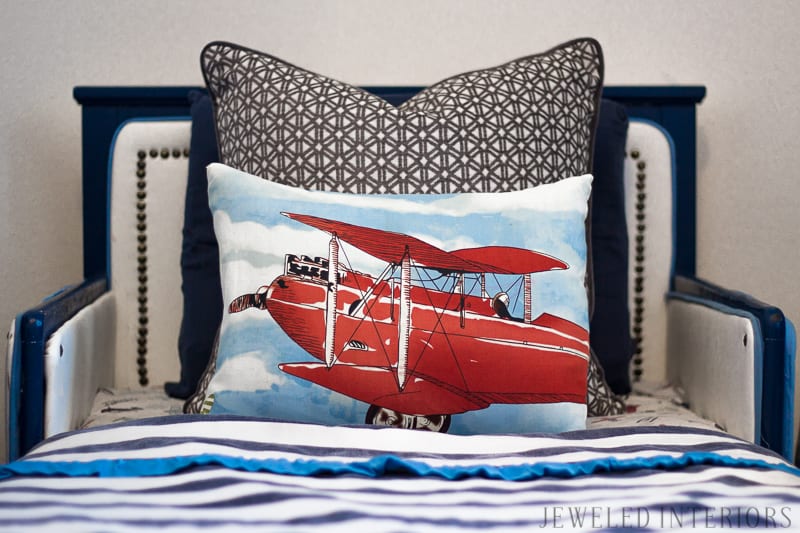 I first upgraded this normal mission-style toddler bed with a coat of navy paint. I then used a jig saw to cut a piece of plywood to cover the slats. A thin layer of batting and faux leather made for an easy upholstery job. Next, I tediously hammered nailhead in a straight (well, almost straight) line.
For more personalization, I covered some cording in fabric that coordinated with the bedding. I stapled this to the outside of the plywood. Bingo! Custom toddler bed!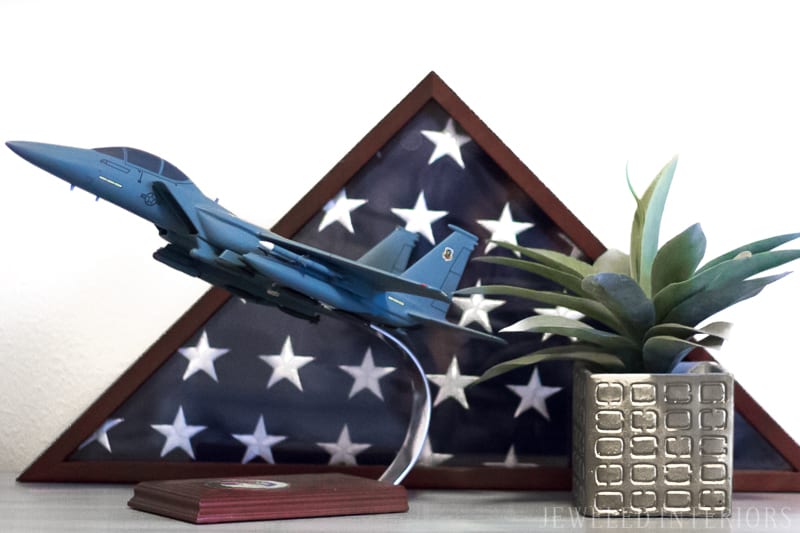 An aviation theme has proven to be a fun idea for my son's zone of the room. Not only has it fueled his imagination as a toddler, I feel like it will be something that grows with him for awhile…(perhaps into adulthood if my husband has any say in the matter :).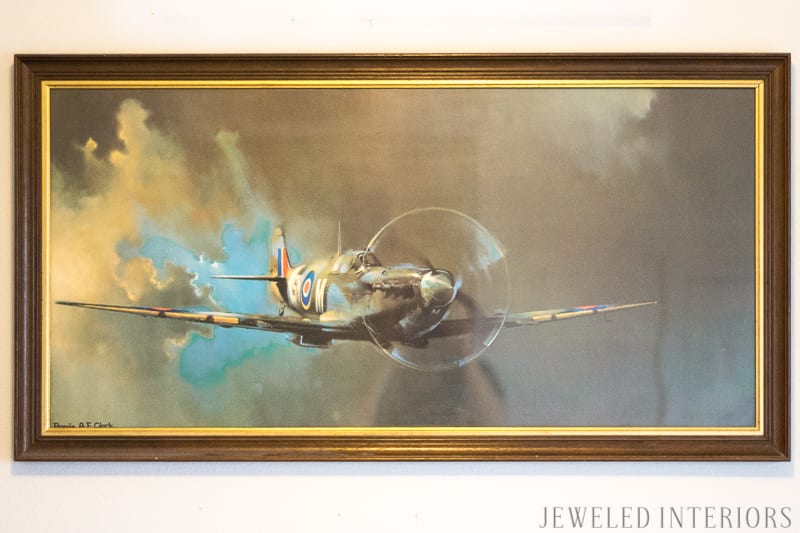 (Above) I picked up this large, framed photo of a WWII Spitfire at a British antique auction. Sometimes this beautiful picture ends up in our office, but currently my son has dibs.
(Below) I found this cross-stiched trio at a local thrift store for three bucks.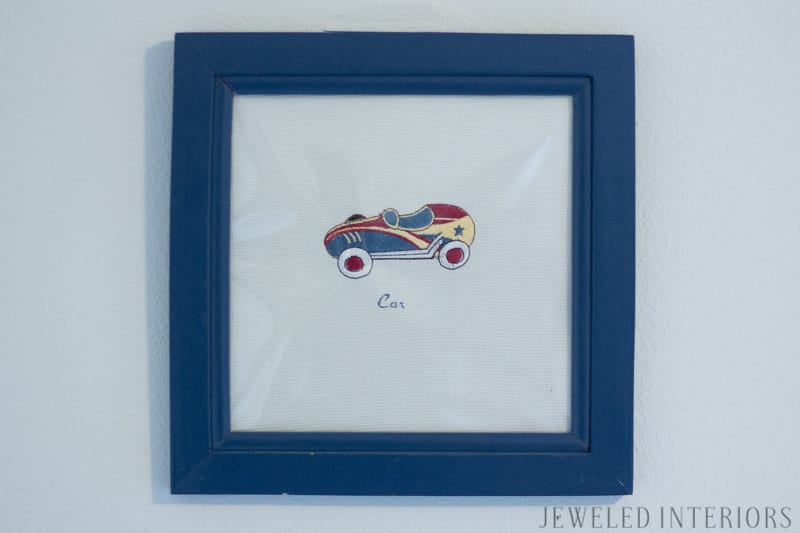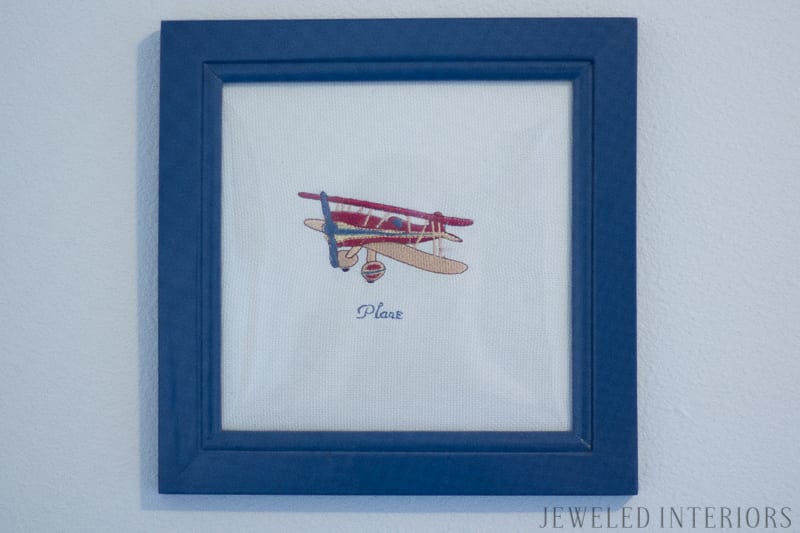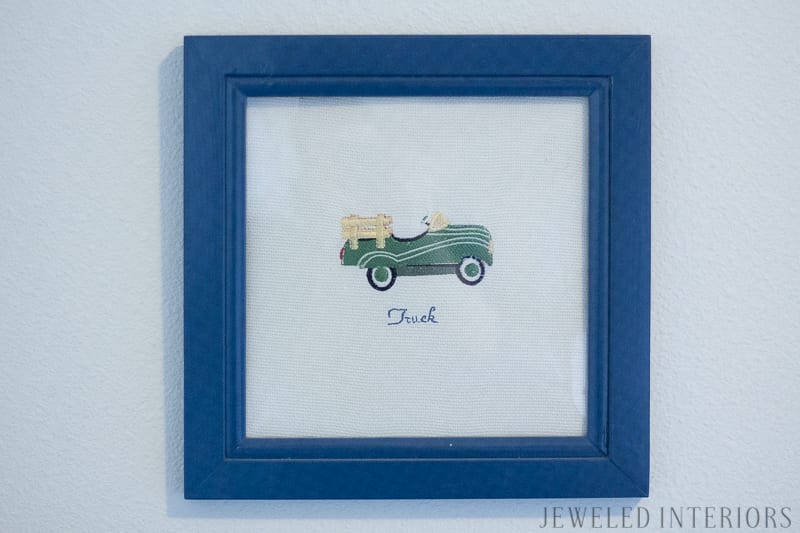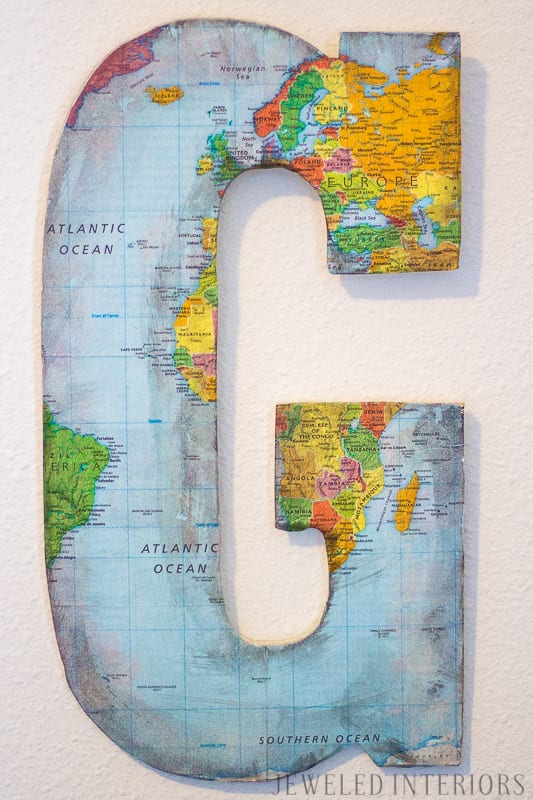 This letter G was a simple and easy DIY project.  I purchased a flat letter from the craft store and had an old map laying around.  I simply glued it directly to the letter.  To give it an aged patina, I brushed the perimeter areas with black craft paint and quickly wiped it off.  Once completely dry, I sealed it all with Modge Podge.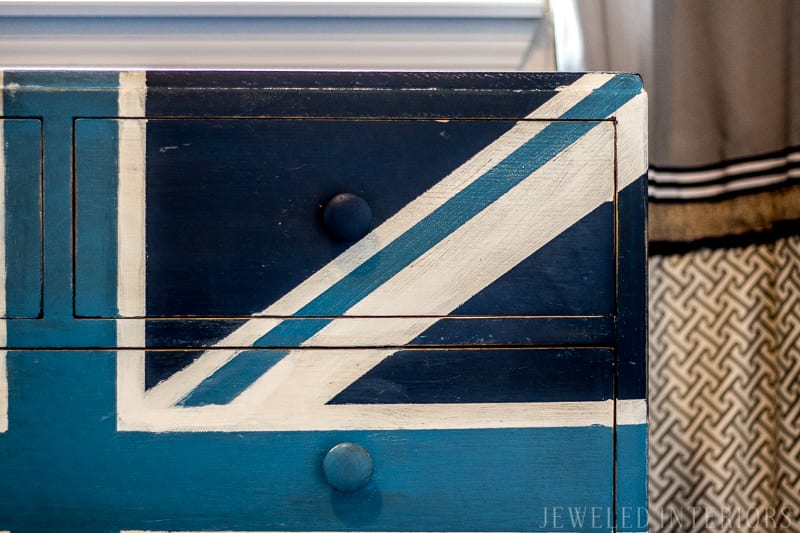 This Union Jack dresser reminds us of our time spent in the UK. The paint job involved careful measuring and copious amounts of Frog Tape. I added a light coat of stain, which I quickly wiped off with a cloth. I lightly distressed the dresser and finished it with two coats of clear wax.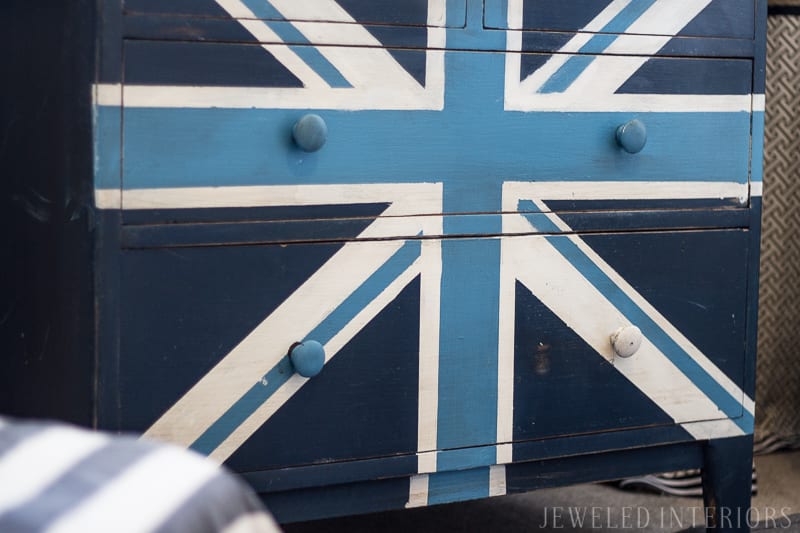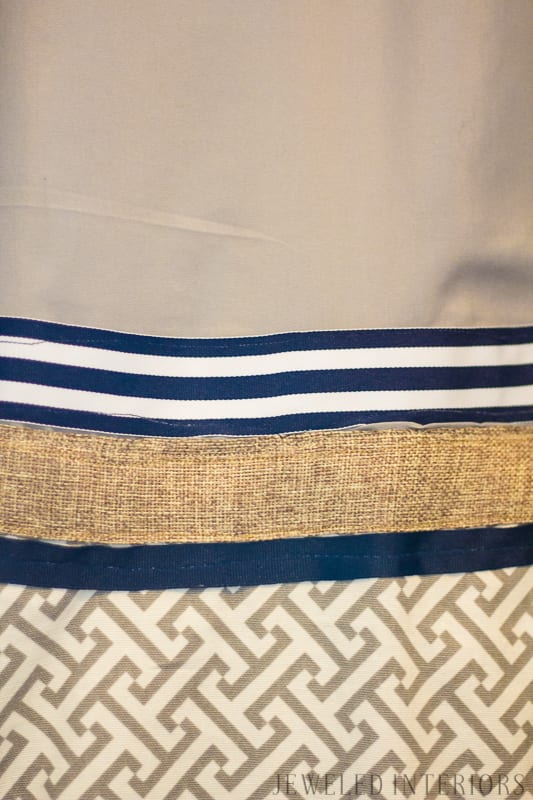 Window dressings don't need to be expensive, especially in a little kid's room. I simply took an old Ikea curtain (from a former home) and sewed on some fabric that was lying around.  For additional style, I sewed on three more strands of ribbon.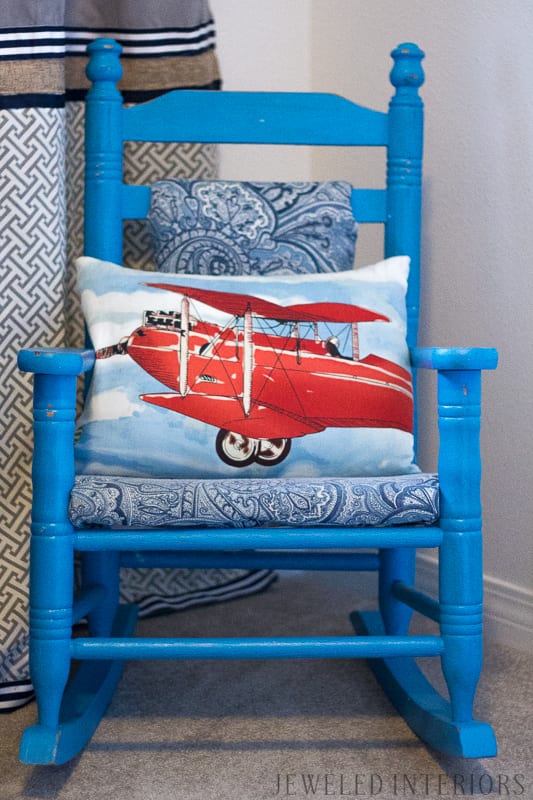 This rocking chair use to belong to my neighbor's daughter. I primed it, painted it blue, and upholstered it in Waverly indoor/outdoor fabric. A little vintage styled pillow adds a punchy pop to the room.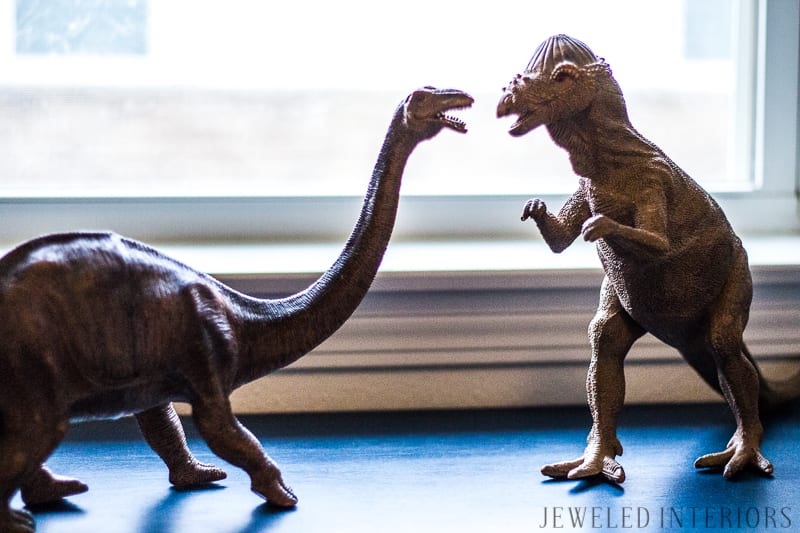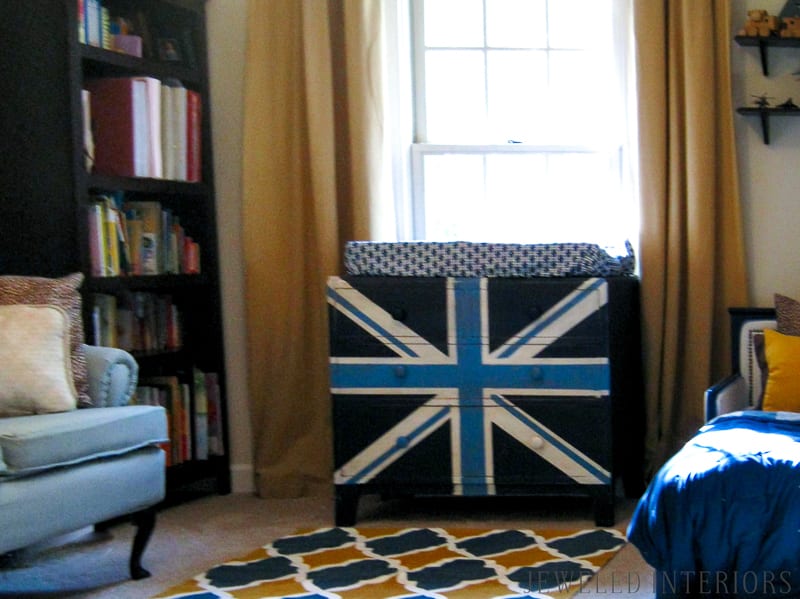 FYI- This is how my son's bedroom looked in the last house. You many notice many similar elements.
Anyone who has moved understands the desire to make what you have work, as long as it doesn't affect form or function.
Blue makes sense for a little boy, but how does that work out for my daughter's zone of the bedroom? Check it out!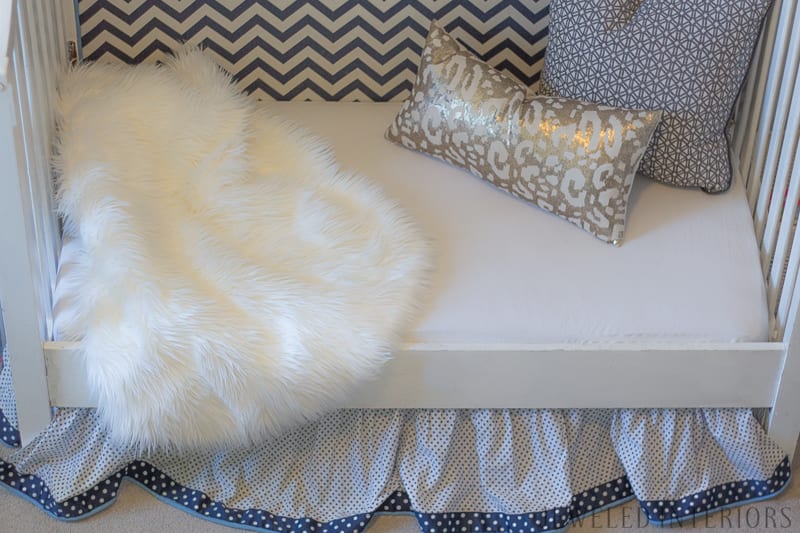 Ok, I know that chevron stripes are long out of style, but to be fair, I designed this bed five years ago. Despite its obvious lack of timelessness, I am including this bed because there are elements that may inspire you.
Much like my son's toddler bed, I took a simple crib, originally from Babies R Us. I painted it white. Ok, that's a lie…my husband used his painting skills because I was pregnant. Next, my favorite part..and not just because I got to use power tools…I whipped out my jig saw and scalloped the top. Batting and fabric graced the front of this custom fit wood. I sewed and stapled the piping to match my son's bed (see above). I screwed this panel to the back of the bed and gave my self a high-five. To finish it all off I sewed ribbon and more piping to the dust ruffle of the crib and BOOM! A blue, yet feminine, crib…Perfect for sharing real estate with a little boy's toddler bed.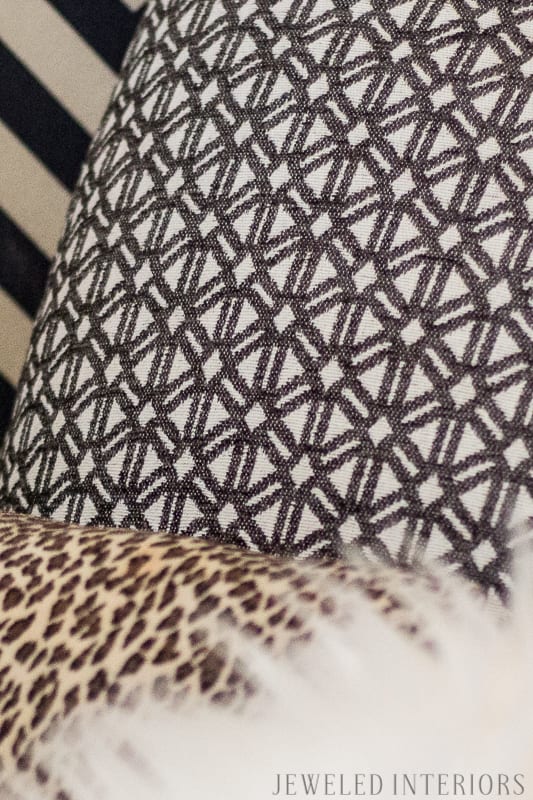 Want "close-ups" of the piping on the crib and dust ruffle? Your wish is my command.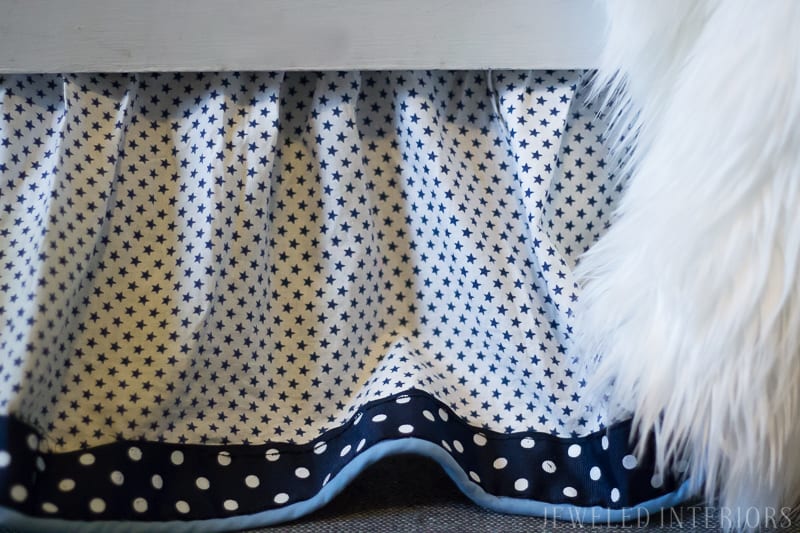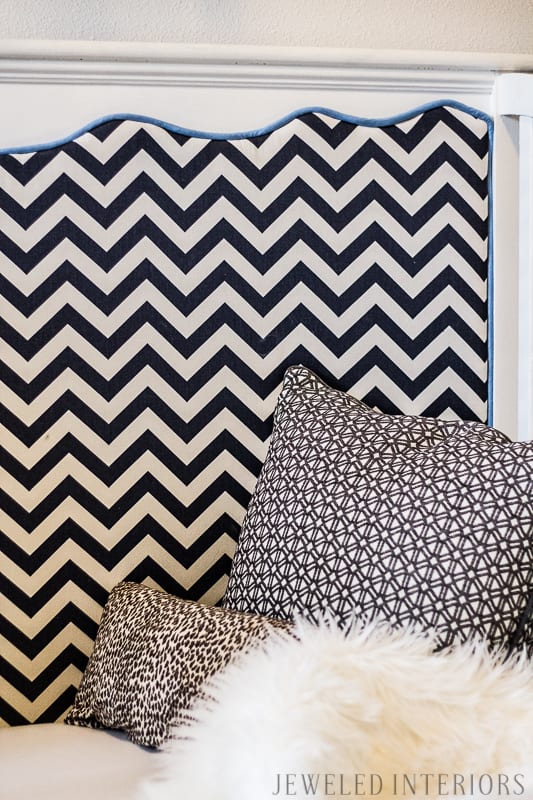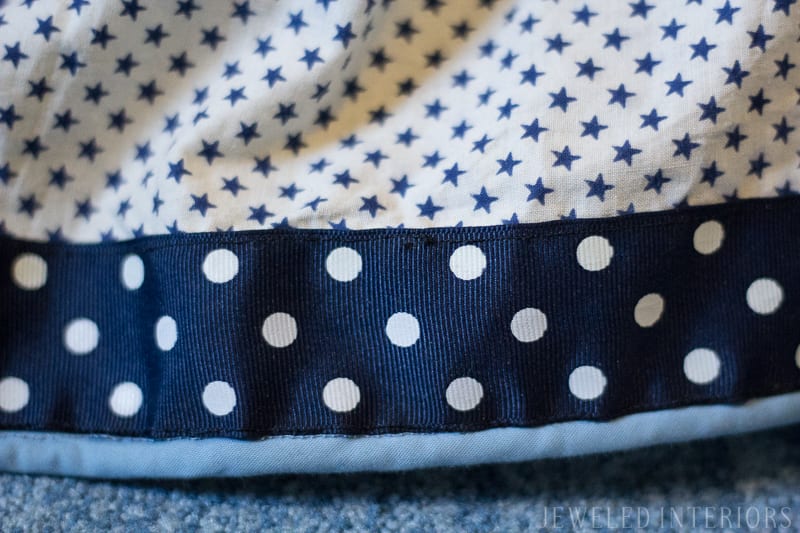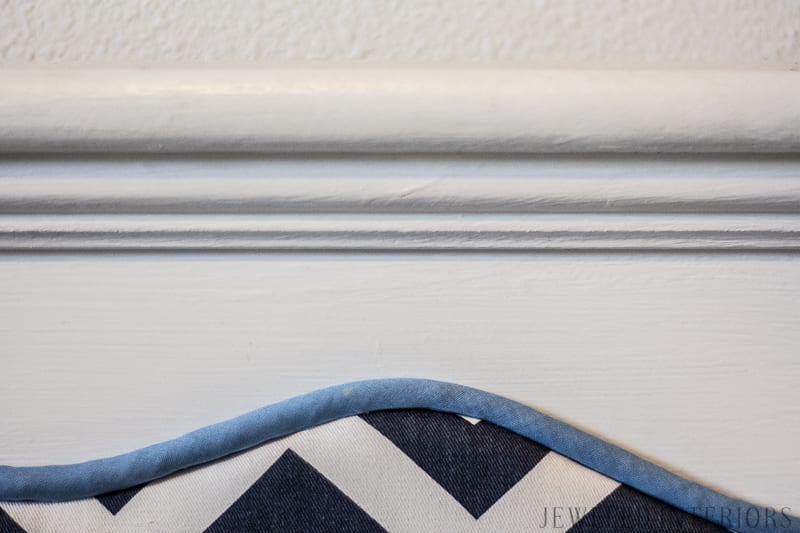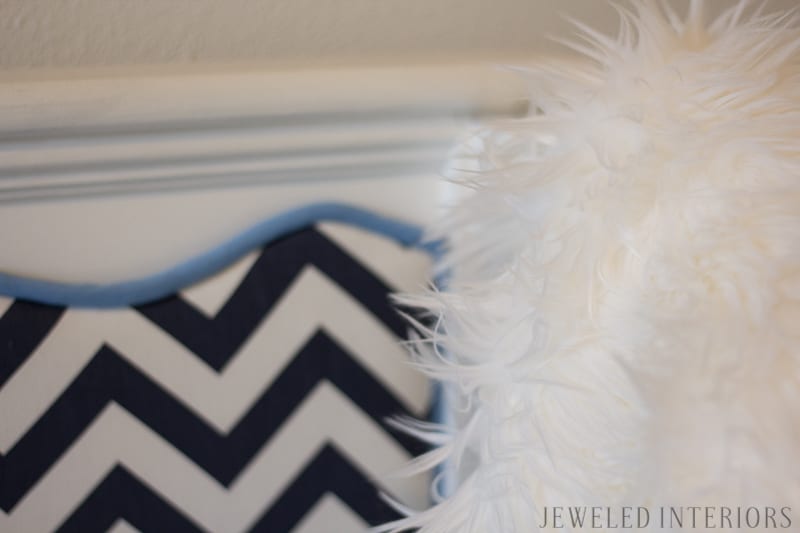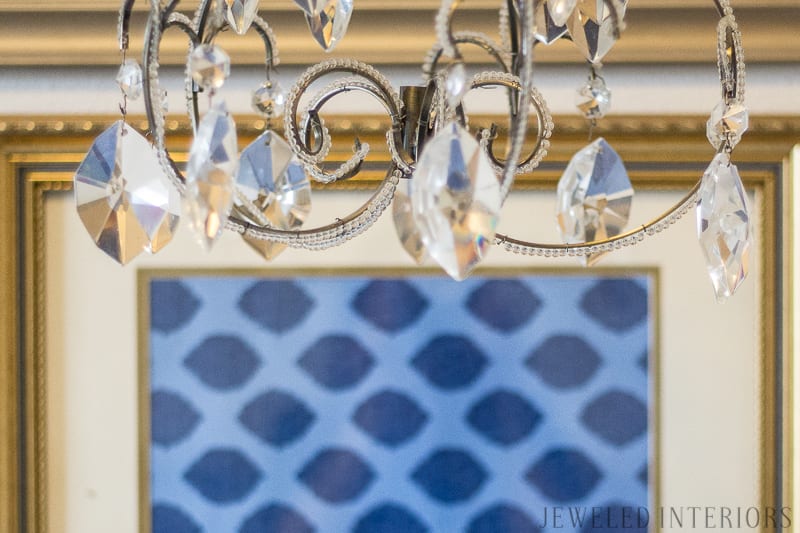 This decorative chandelier adds an importantly feminine flair to my daughter's area of the room. I picked up this gem in England.  I love that it requires no electrician since it isn't functional. I have a soft spot in my heart for anything that makes the next move a little easier, right?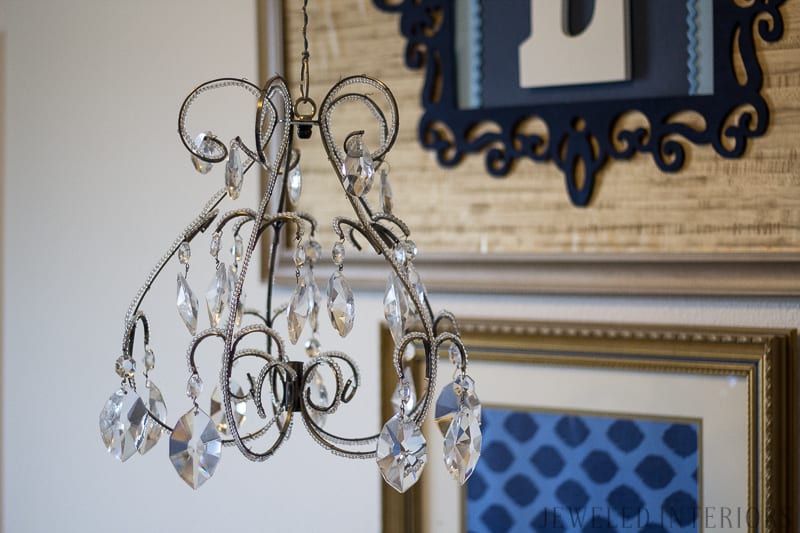 You will notice the framed letter E behind her bed. This five dollar DIY project involved an old frame, wallpaper, old paper and a wooden frame and letter from the local craft store.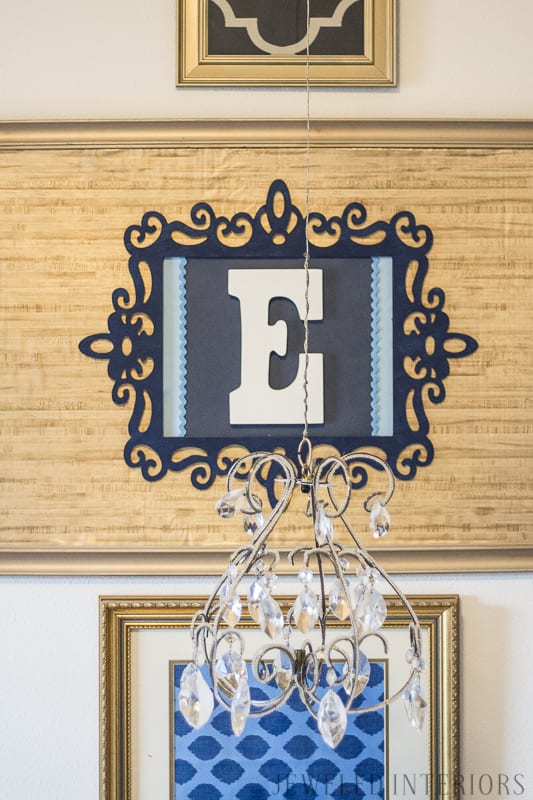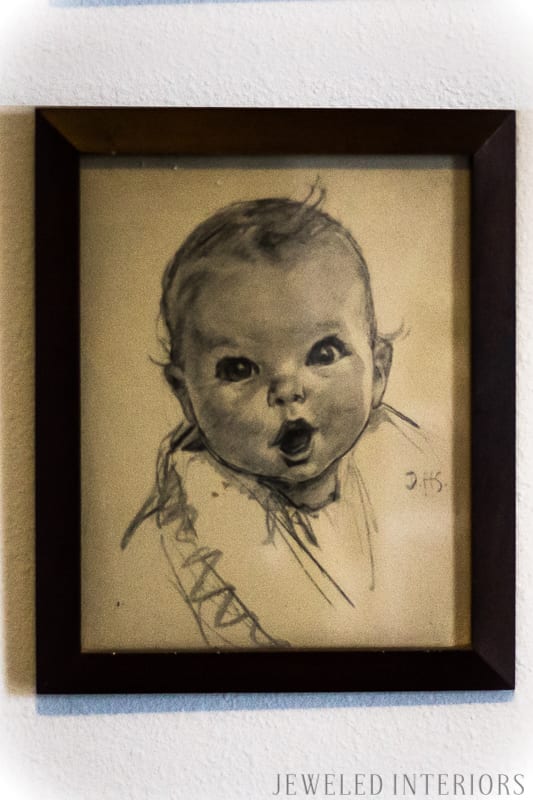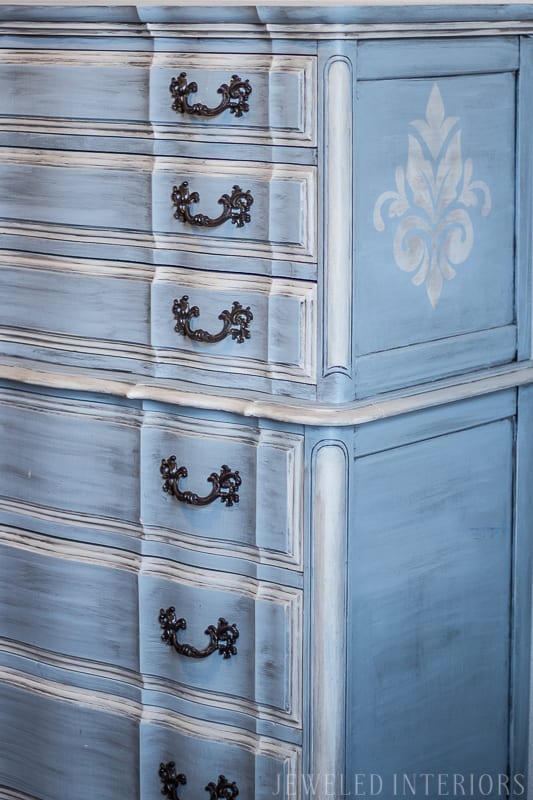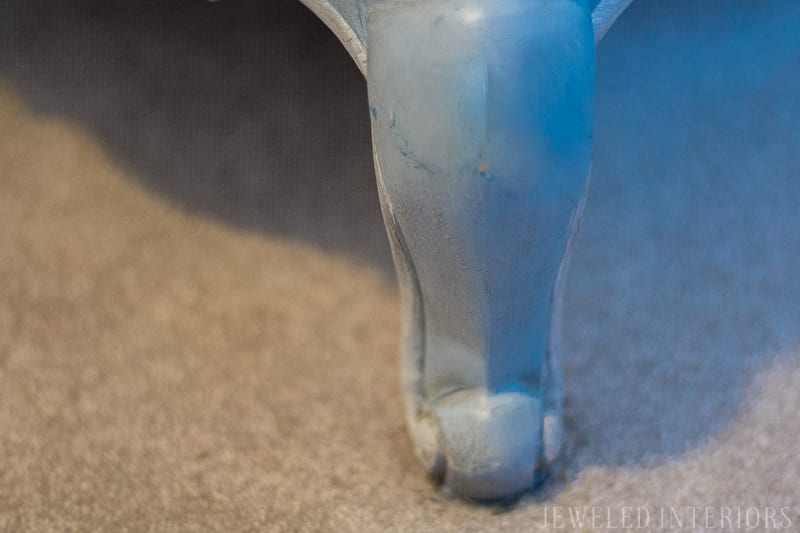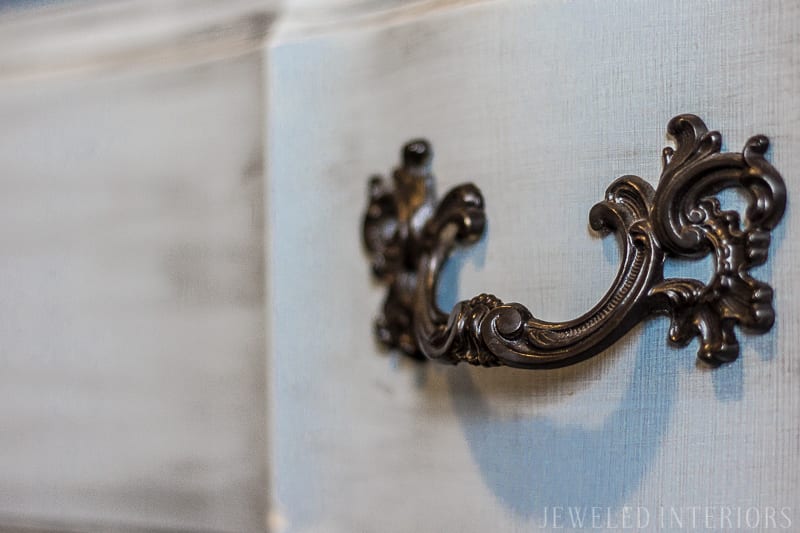 This feminine vintage dresser was chalk-painted in a masculine color scheme. This is a perfect combo for a this little boy/girl room. The cabriole lines provide a fun hint of french flair.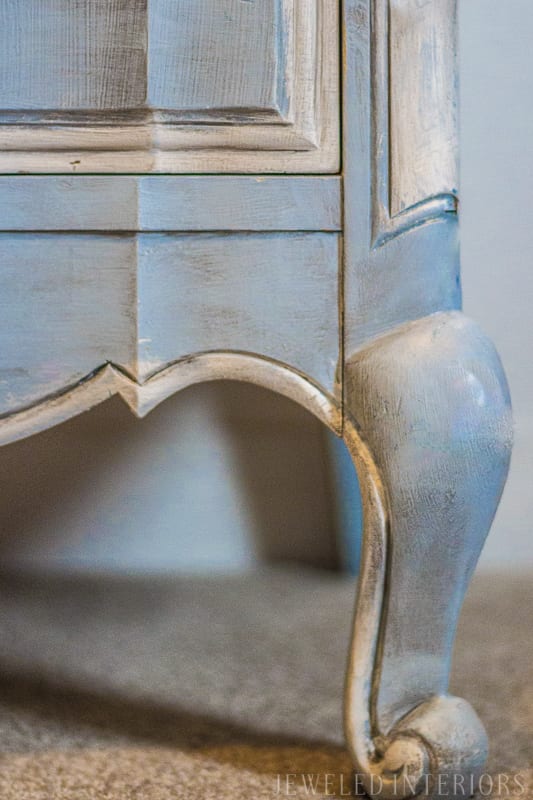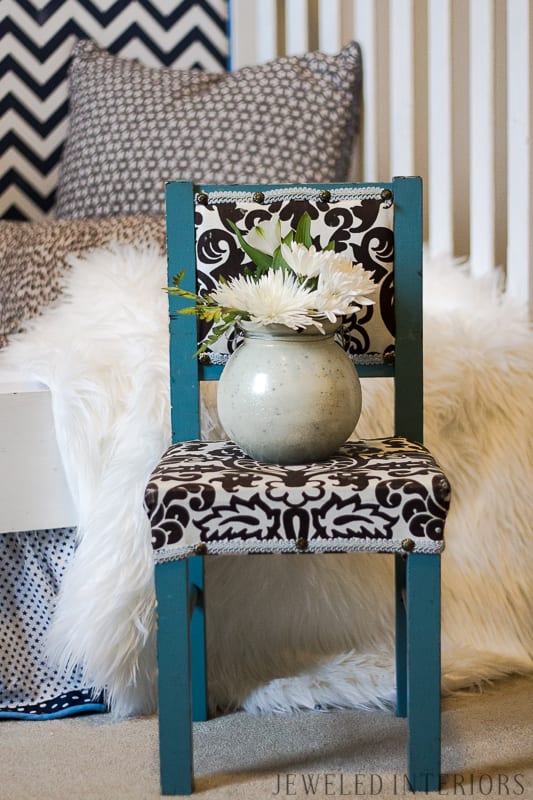 This darling little chair is an Ikea hack. I simply added a coat of paint and upholstered it with batting, fabric, gimp, and nail head. The kids have loved the results of this little project.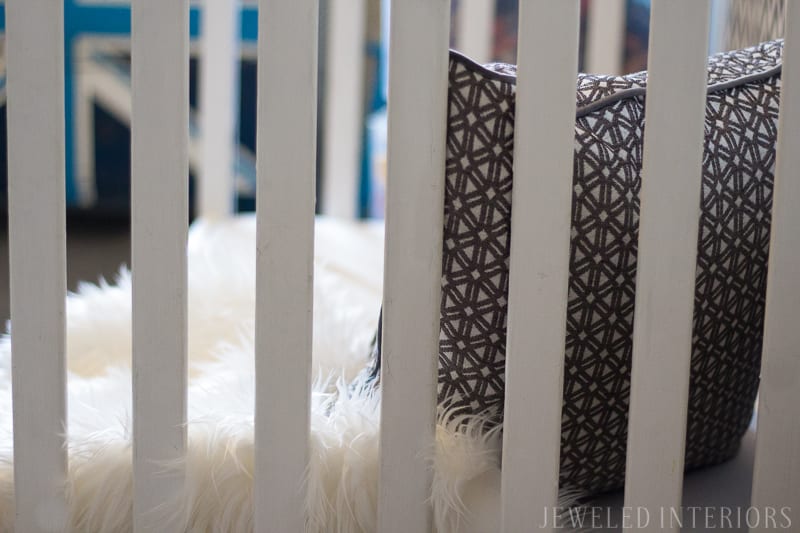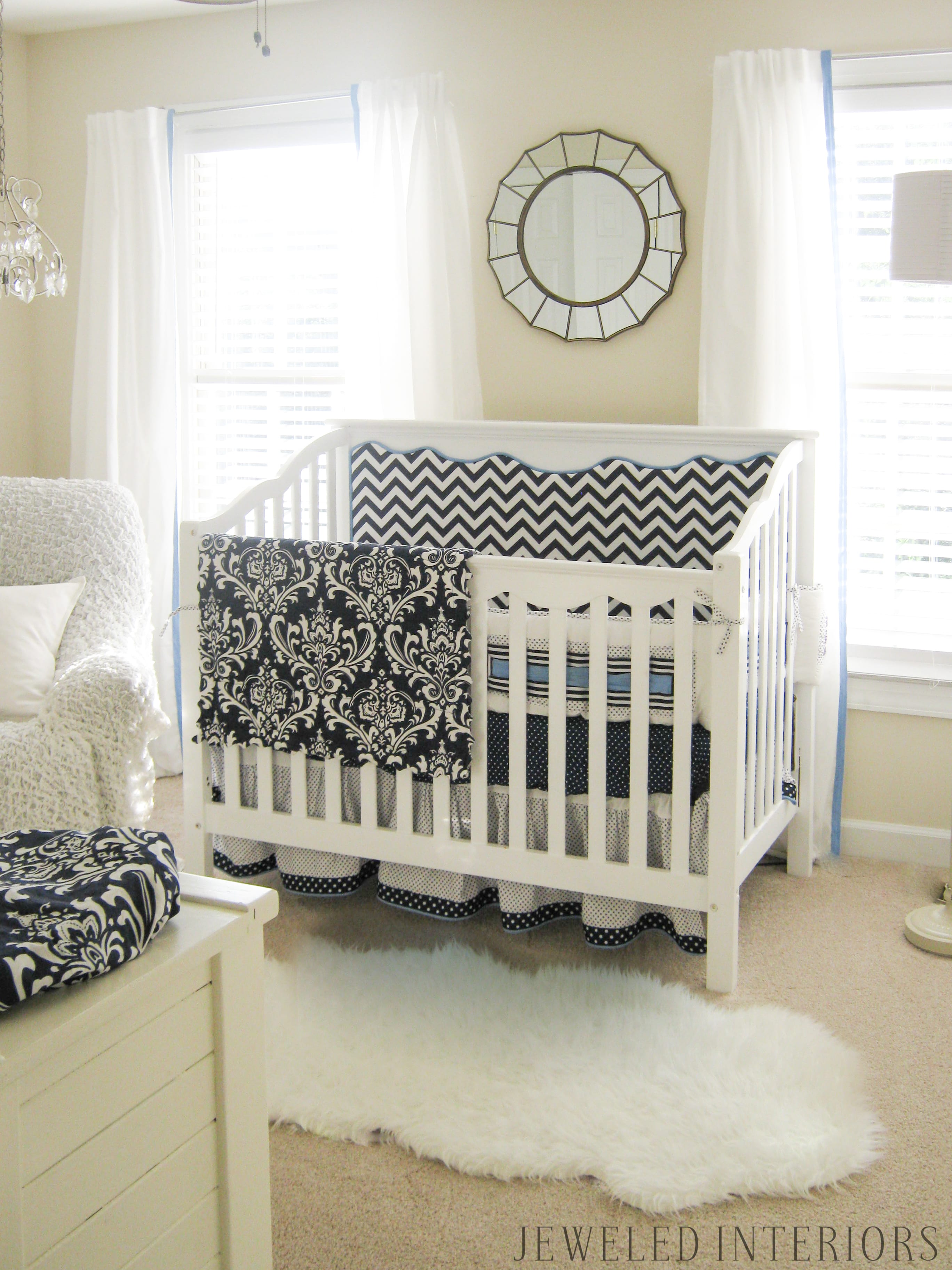 As an added bonus, here is my daughter's room in the last house, when she had her own nursery. I guessed, correctly, that she would need to share the space with her brother in future homes. Hence the blue accents from the very begining.
Just like her brother's room, you can see how I tried to reuse as many items as possible when combining rooms.
As we transition to our new home very soon, it will be very interesting to see which of my items can be reused or repurposed.
I will be excited to show you lovely folks all of the updates!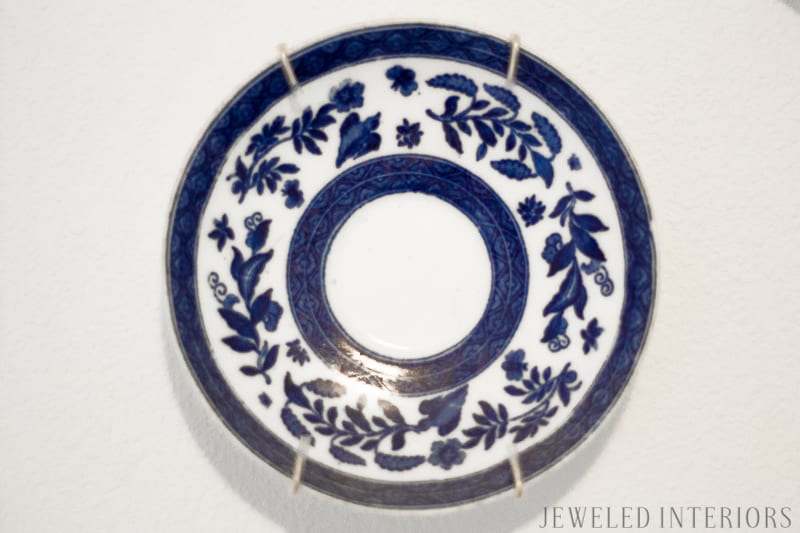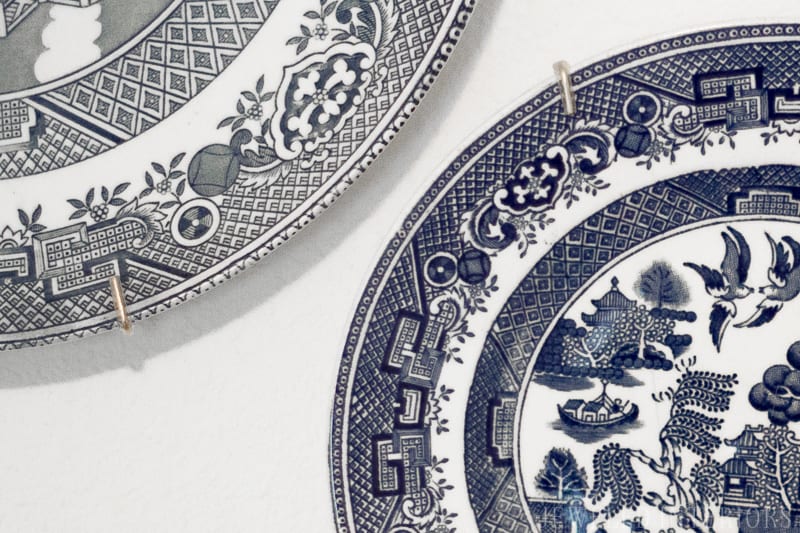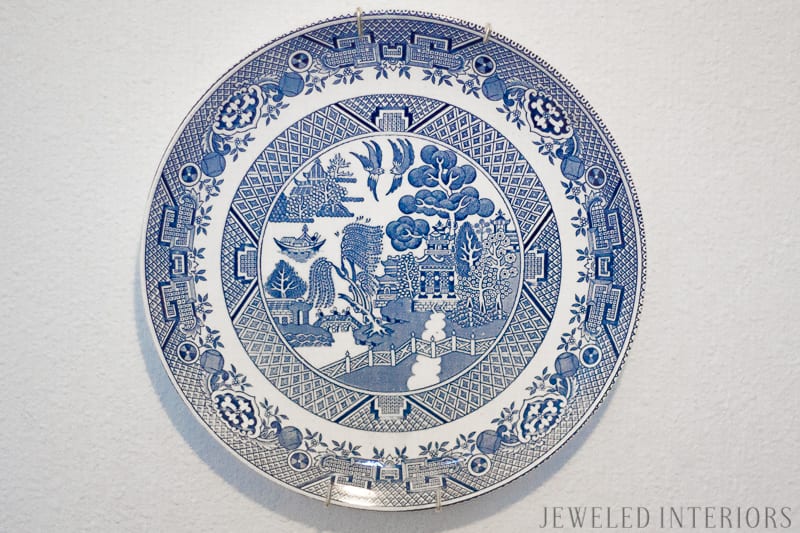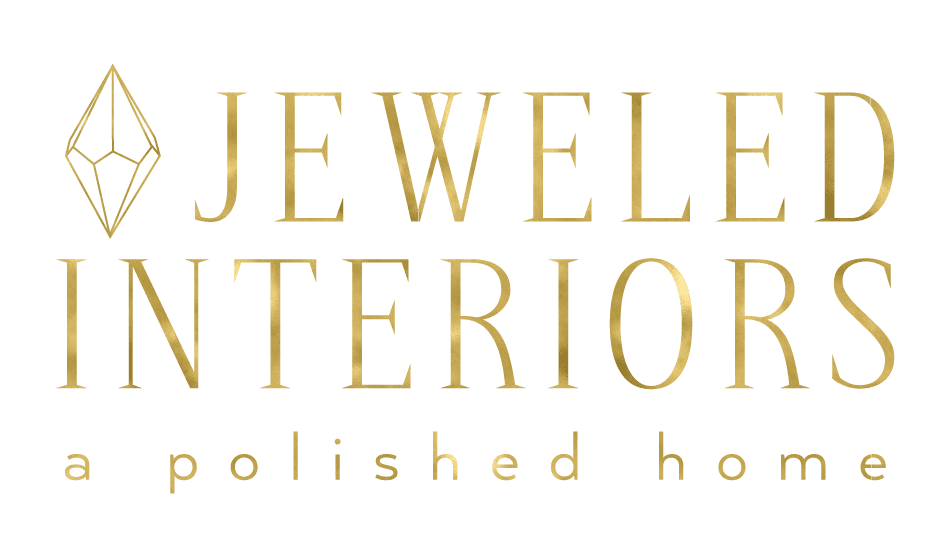 Questions? Comments? I would love to hear from you. Please feel free to leave me a message below.
-xoxo Jewel