Oh my goodness you guys! The lovely redesign of a military rental-home was done with limited funds and very little time. The evoluton of this room, from broken oversized sectional to a classicly chic living room/dining room combo is inspiring. It's the ending, however, that still has me shaking my head in surprise. Check out how we WHIPPED this thing together in NO TIME!…And it's a good thing we didn't labor over it any longer! Surprise ending alert!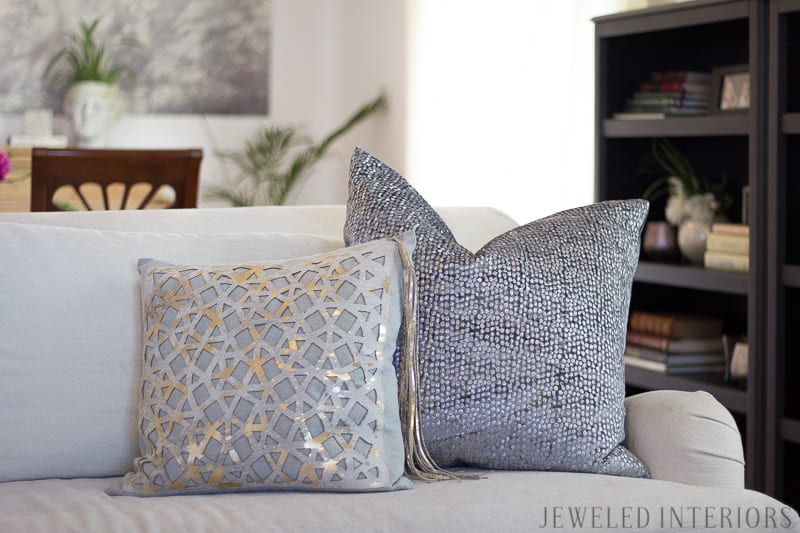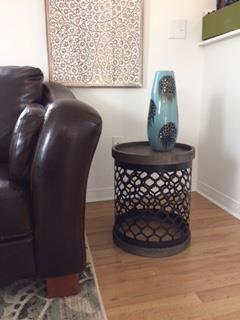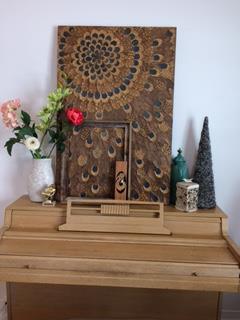 Here's the scoop: This home belongs to a warm, friendly, and hilarious family of five. They hit the point in their lives that old med-school furniture wasn't cuttin' it any more.  Plus, the kids had grown responsible enough to sit on a couch without spilling a sippy cup, or smearing peanut butter.  This lovely family was under the impression that they were going to be in this military rental for a year or two, so why not make it a stunning retreat?…Enter Jewel to the scene.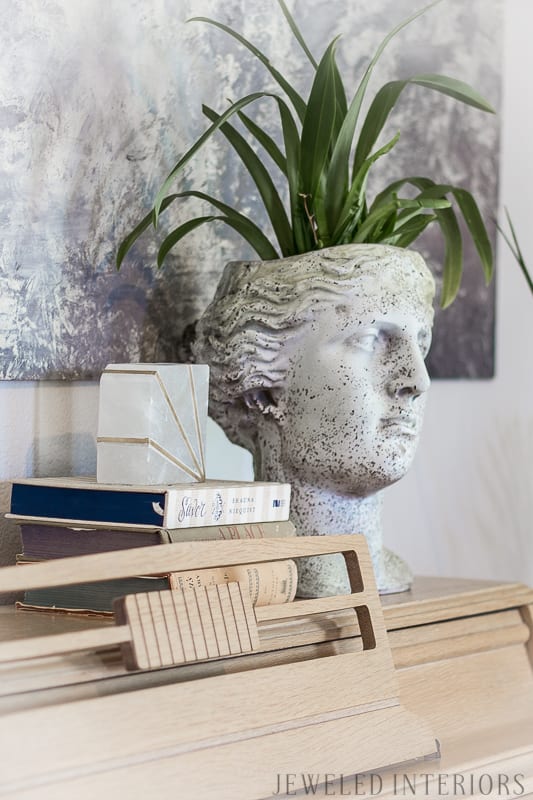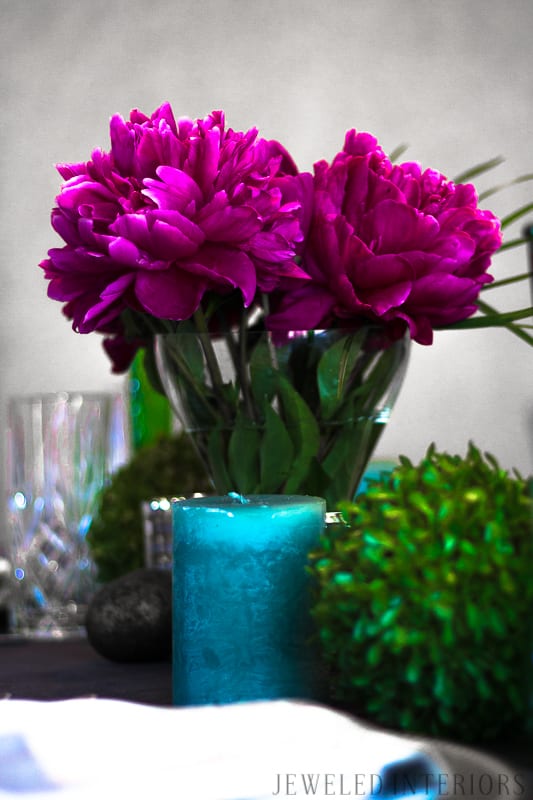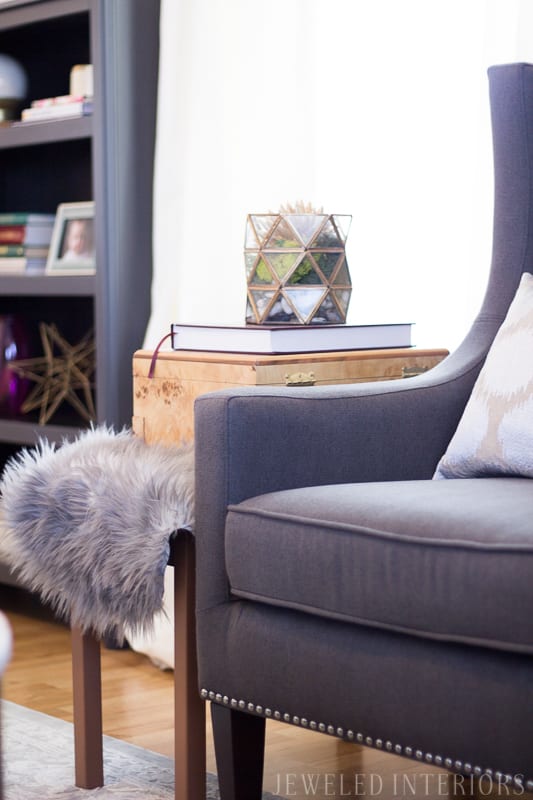 The Plan? Scrap everything in the space (minus the piano and bookcases) and start from scratch. Can you say "FUN"? Well I certainly can!
The Vision? Buy "grown-up" furniture. The owner envisioned soothing neutrals and pieces that were comfortable, yet timeless.
The Color Scheme? To give life and vibrance to the otherwise soothing color pallet, we lighted upon burgundys, greens, and blushy-pinks.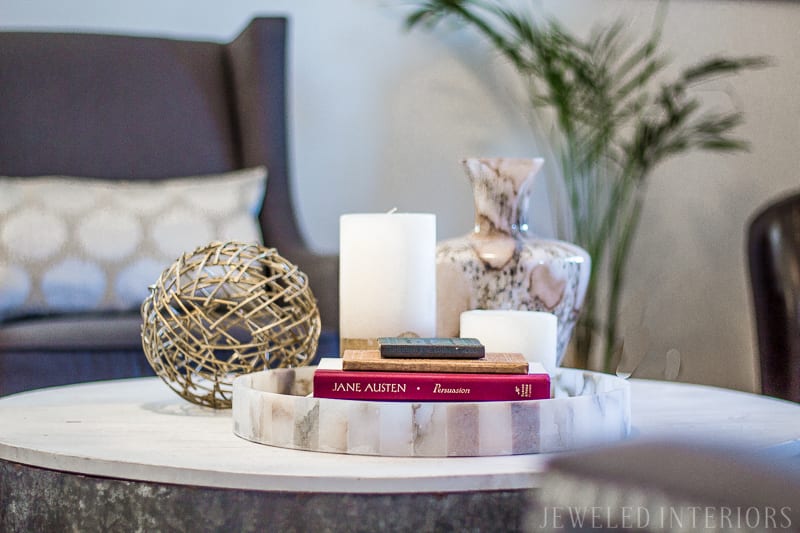 Day 1: SHOP!!! OK, I also picked up some things while at IKEA (so technically this was two days).
Day 2: Paint!!! We DIYed an amazing mural and chalk painted a piano bench and bookcases.
Day 3: Install!!! This is my favorite part. I love to see a plan come together.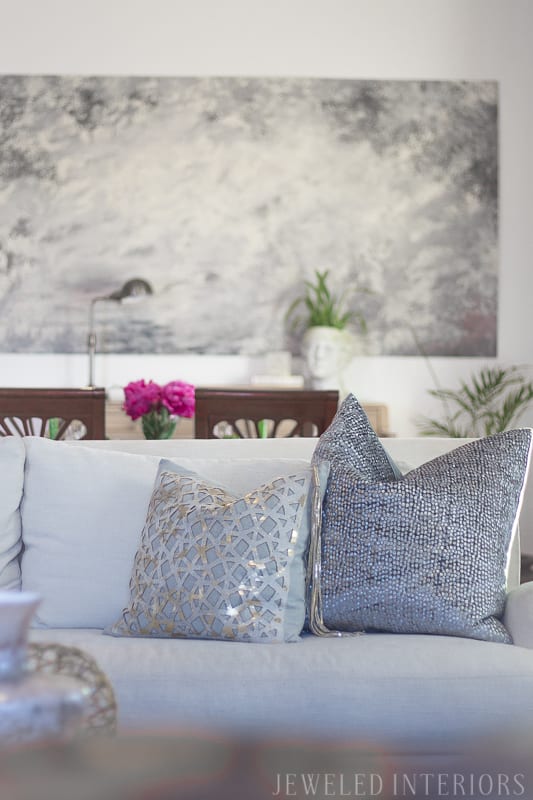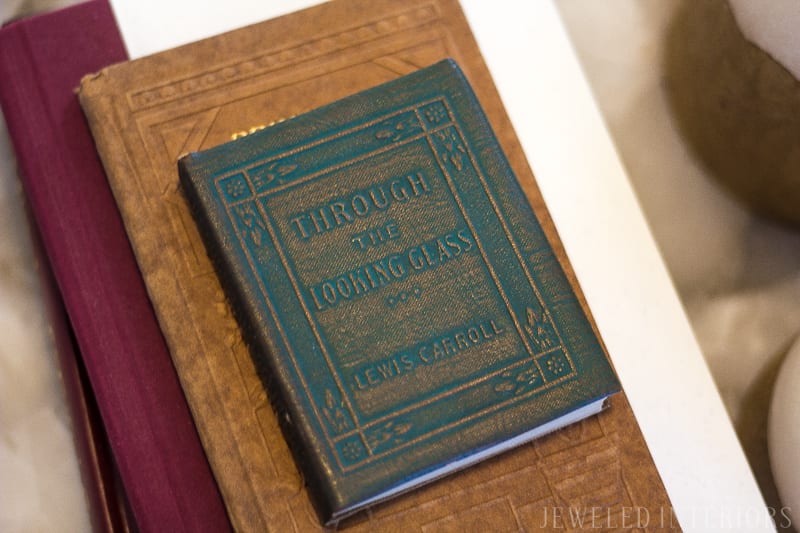 As an avid reader and lover of words, my client/ friend, Angela, adored this vintage copy of a Lewis Carol book given to her by her sister.  I love decor that is both symbolic and beautiful.
As for a rug, we knew we needed something neutral, yet statement making.  We picked up this beauty at Homegoods for a reasonable price. It truly made the room.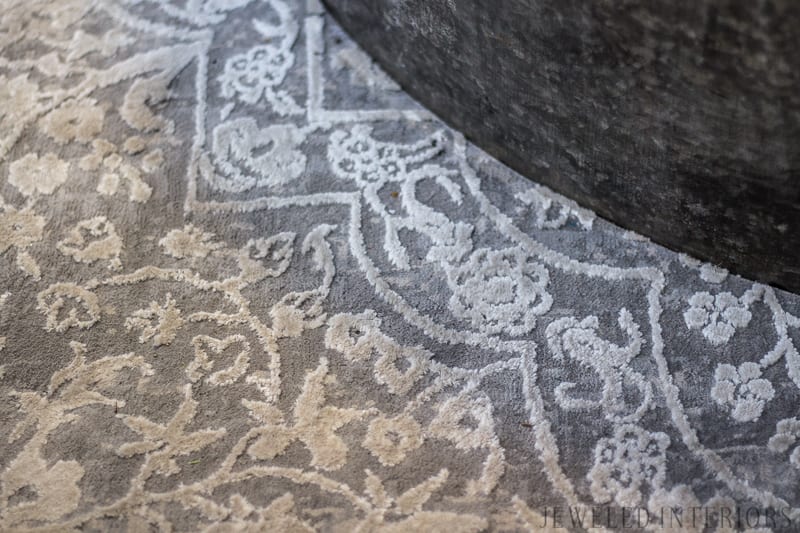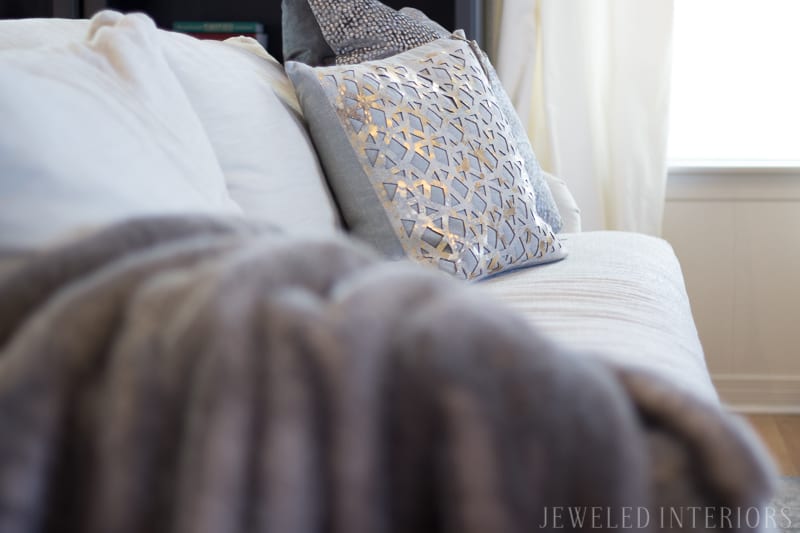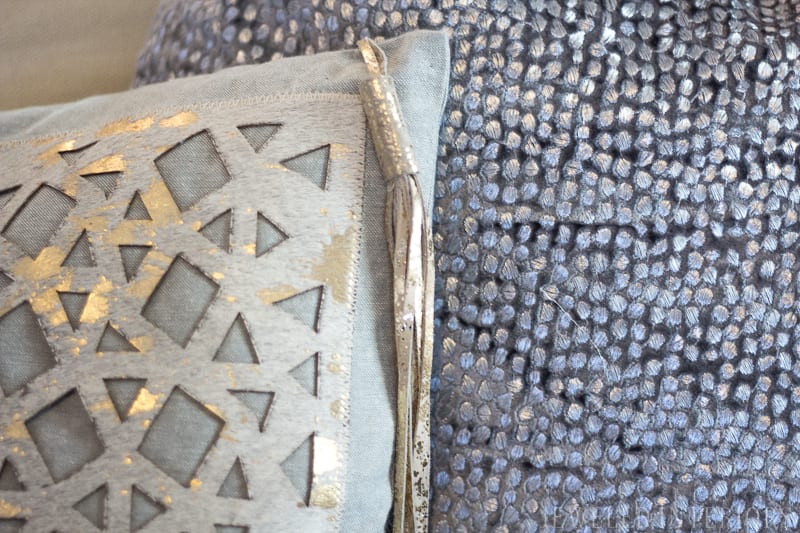 We found this floor model Pottery Barn 90 inch Carlisle Sofa for $400!!! at Downeast Outfitters (a retail chain which originated in Utah). I don't want to rub it in, but it was down filled with a bench seat. Got to love buying furniture for a small fraction of it's value!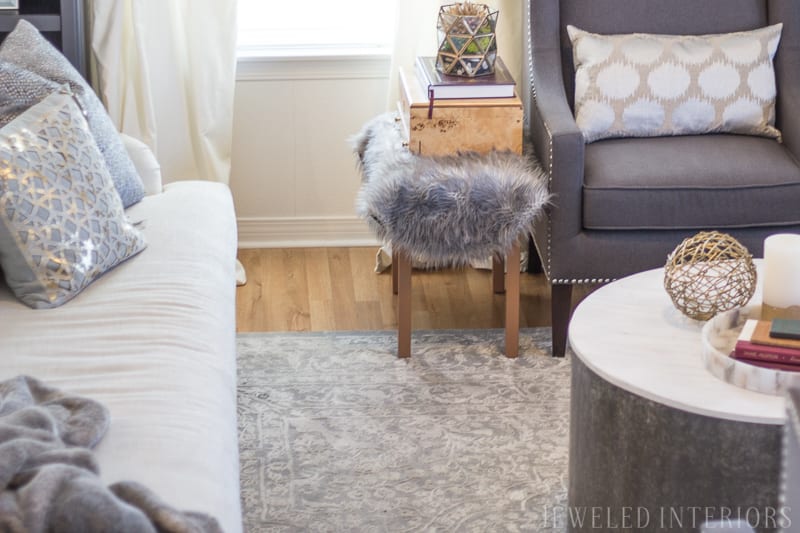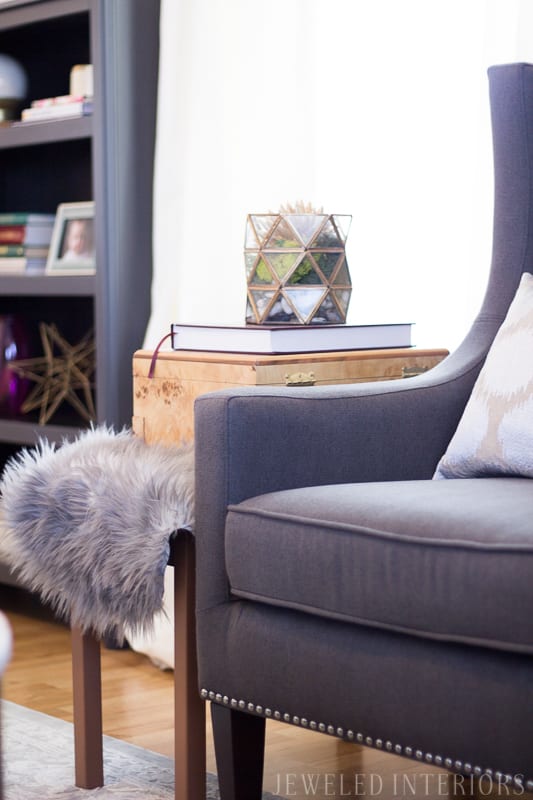 We picked up this pair of Madison Park Weston Wingback Arm Chairs from Overstock. They were a great compliment in both scale and style to the Carlisle sofa.
For an end table, we repurposed an old bench by draping it with a faux sheepskin pelt.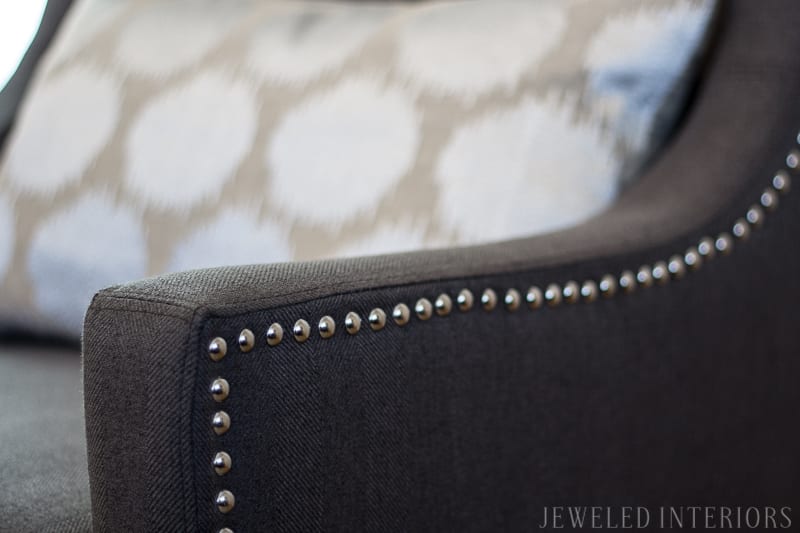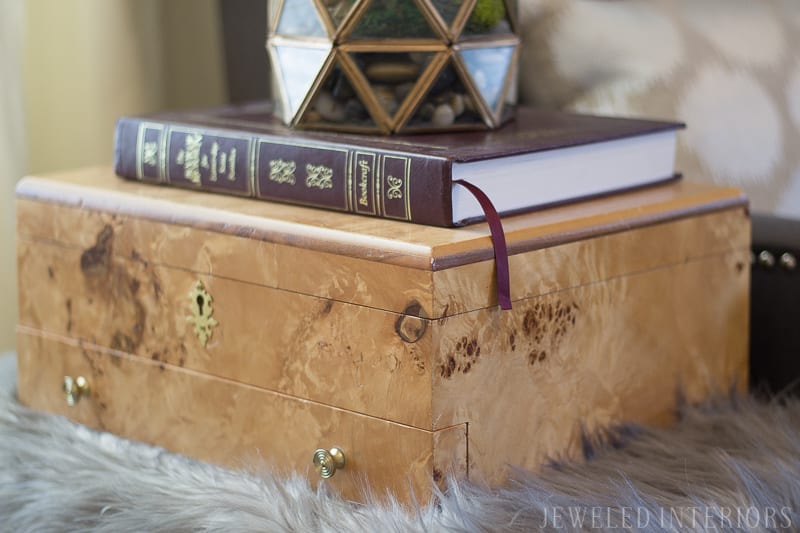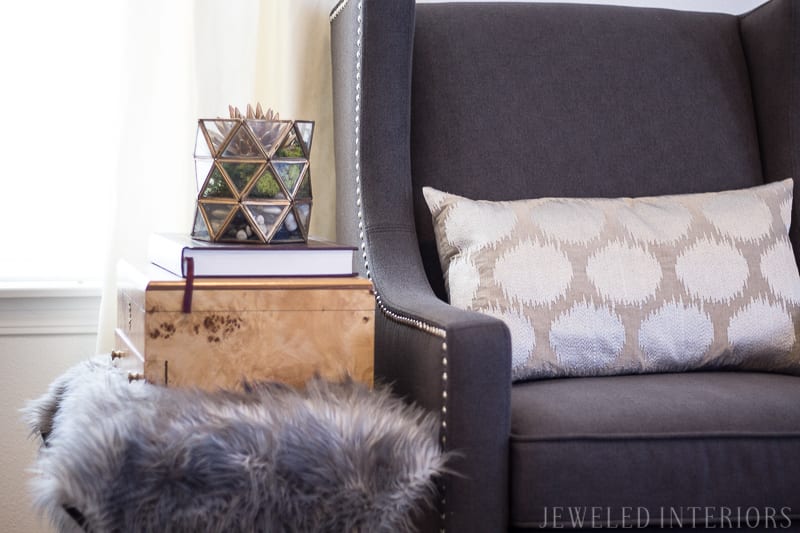 When I found this pair of thrift store lamps they were topped with THREE foot tall shades! Groovey baby! We did the ol' Target-shade swap-out and I'm still diggin' the green nubs.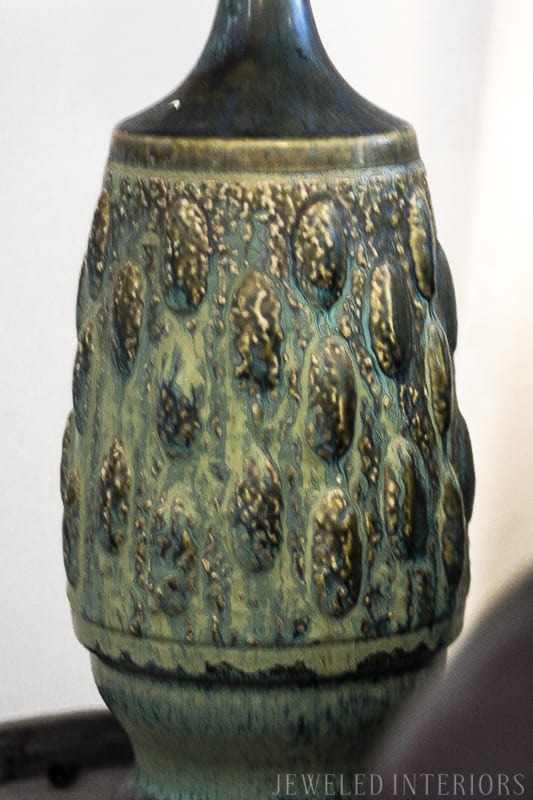 Not bad for $7 a piece, eh? I think I would be hard pressed to find something of this scale and character without thrifting.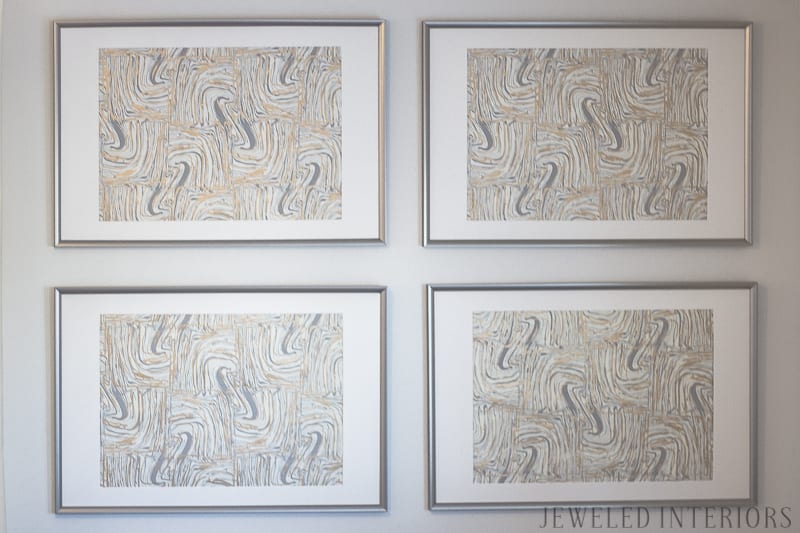 IKEA frames are my go to favorites. We added some pretty paper to act as the perfect "place-holder" until Angela can replace it with her own photography work.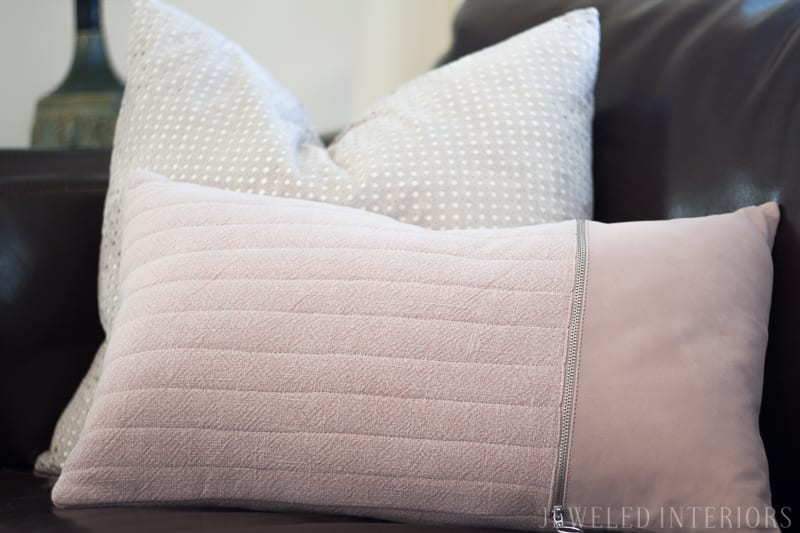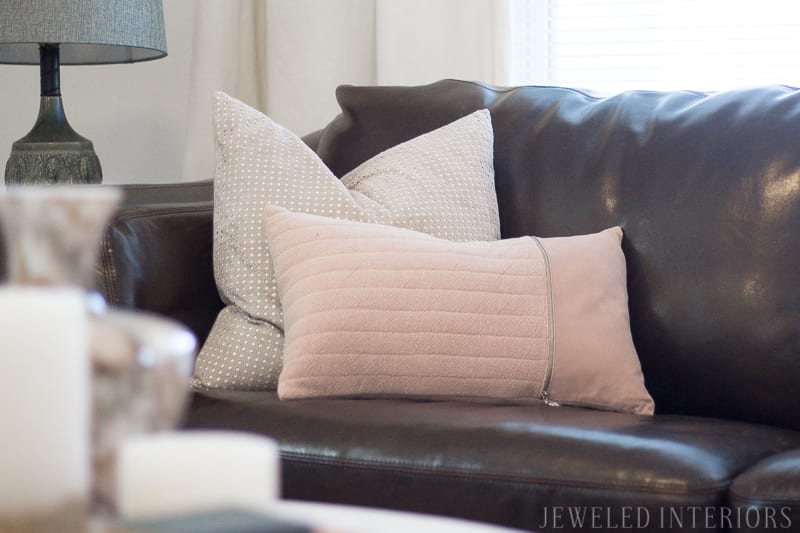 Trying to work your old leather sofa into your new room?  This bad boy could have been relegated to the bedroom, but some pretty pillows and a scrumptous throw did the trick.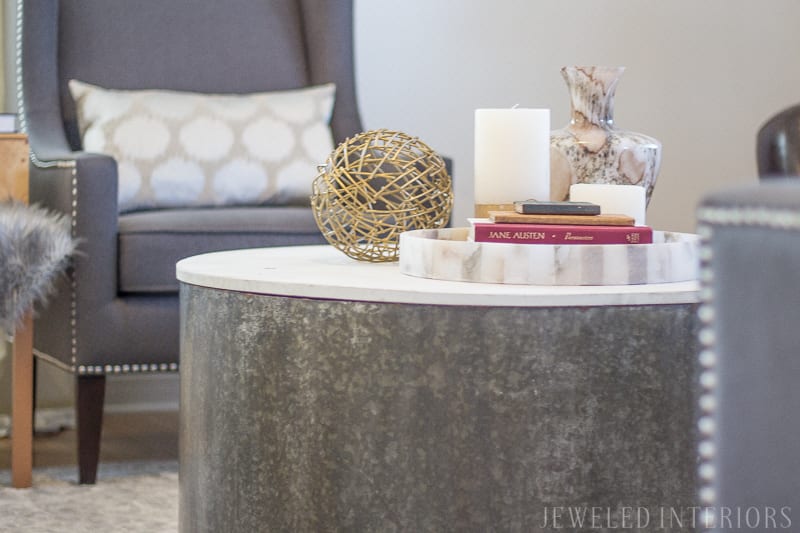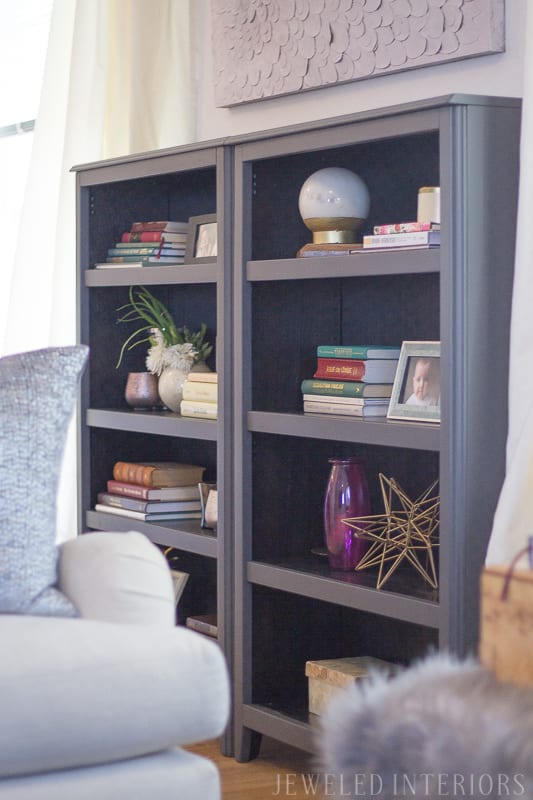 For budget and functionality reasons, these two bookshelves needed to stay in the space. They were brown, boring, and in need of a pick-me-up. A quick coat of charcoal chalk paint did the trick. The original plan was to paint the inside of the shelves blush, but for sake of time we actually left the inside the original finish. We both liked the subtle contrast. Bookcase project… Done!
As for styling inside the bookcase, we wanted to keep costs low to meet our budget. We mostly used Angela's keepsakes and threw in some thrift store additions.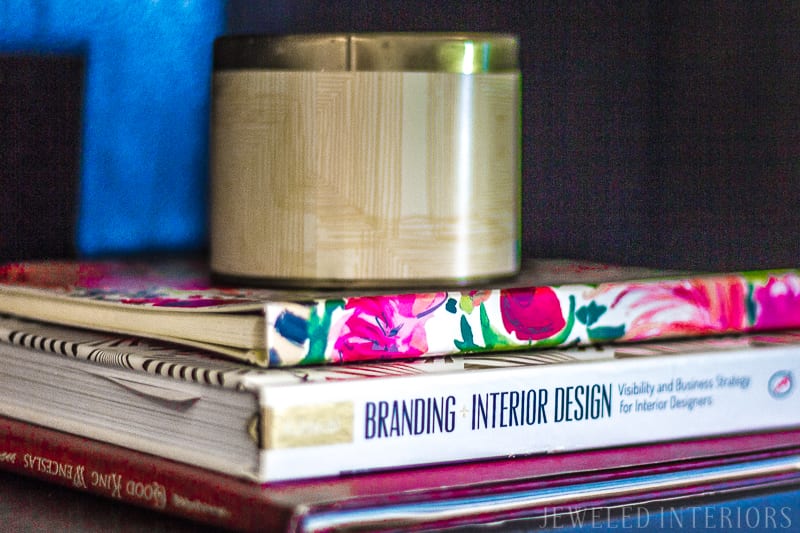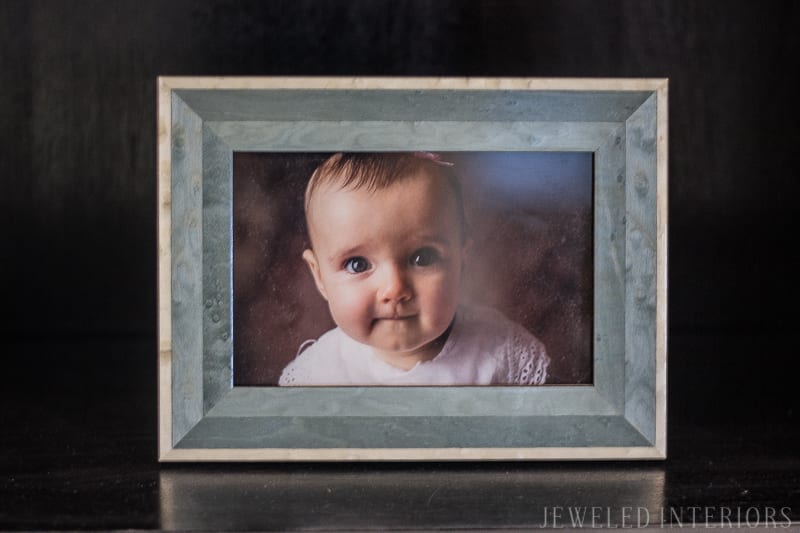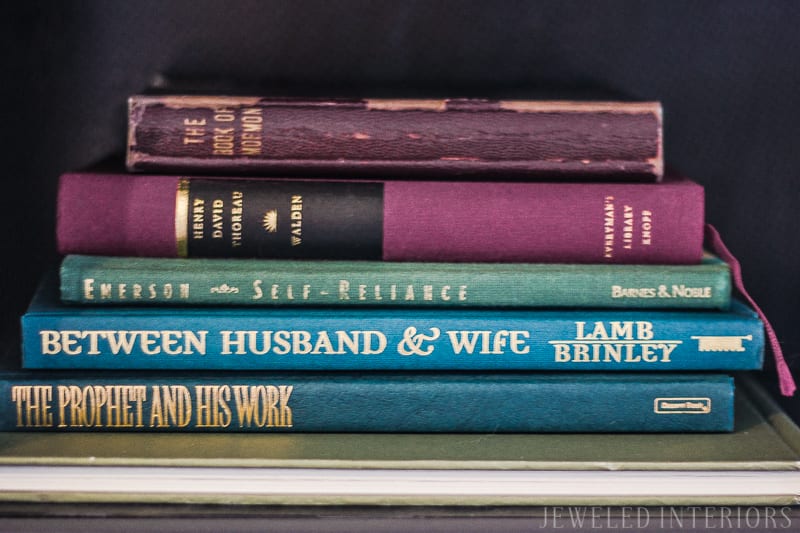 Angela had this large art that was a great fit for the space. The only issue? It was a peacock feather design (see before pics). We used the blush paint we had on hand and quickly threw a fresh coat over the top. It made a calming addition to the space for practically zero dineros.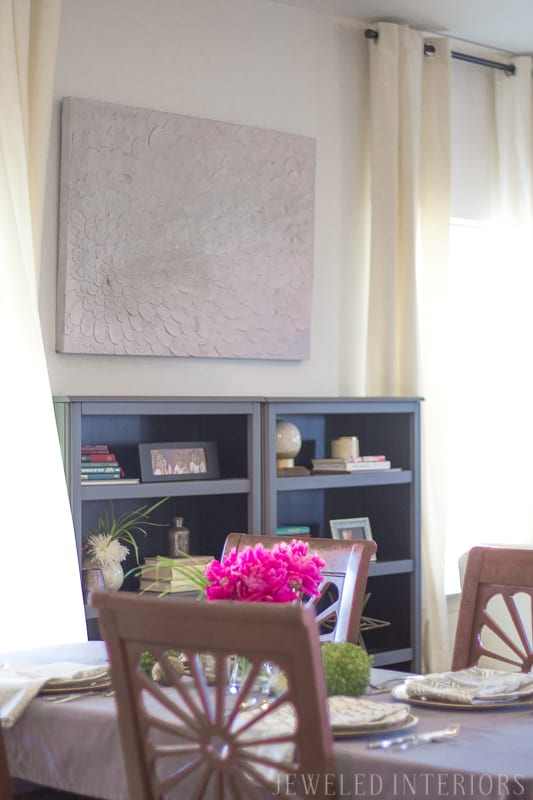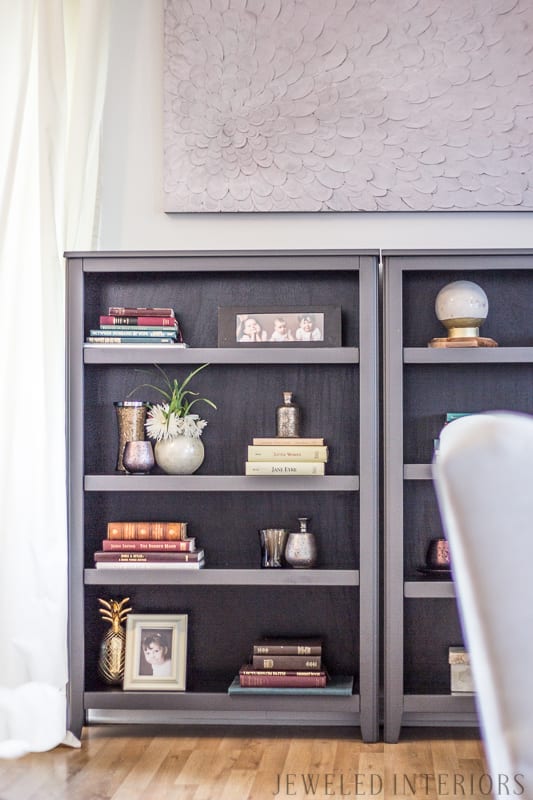 In the image below you can see the flow between the dining and living areas. It was important to keep the color scheme cohesive.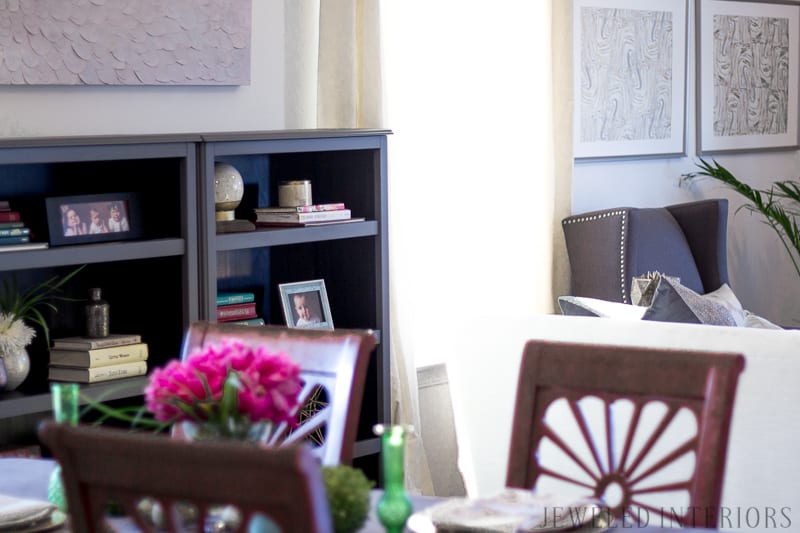 When making a home truly polished, it always comes down to those little details.
I'm smitten by this graceful and somewhat funky gal. She was a One King's Lane purchase.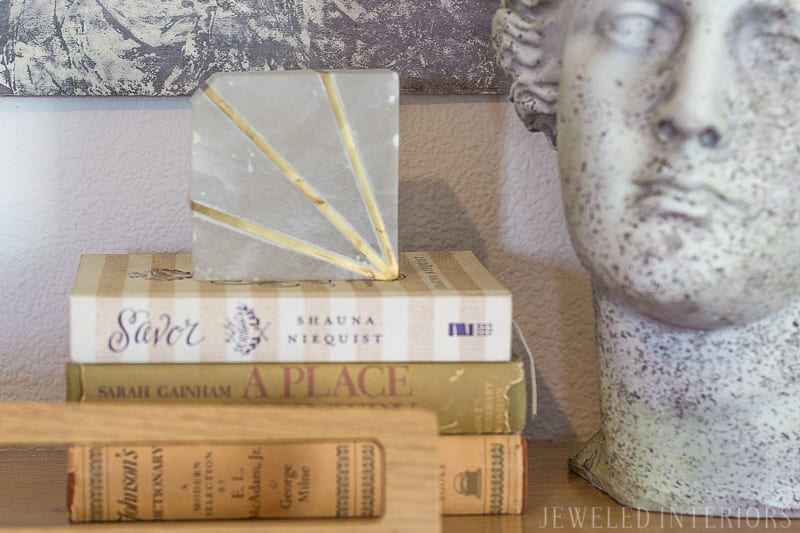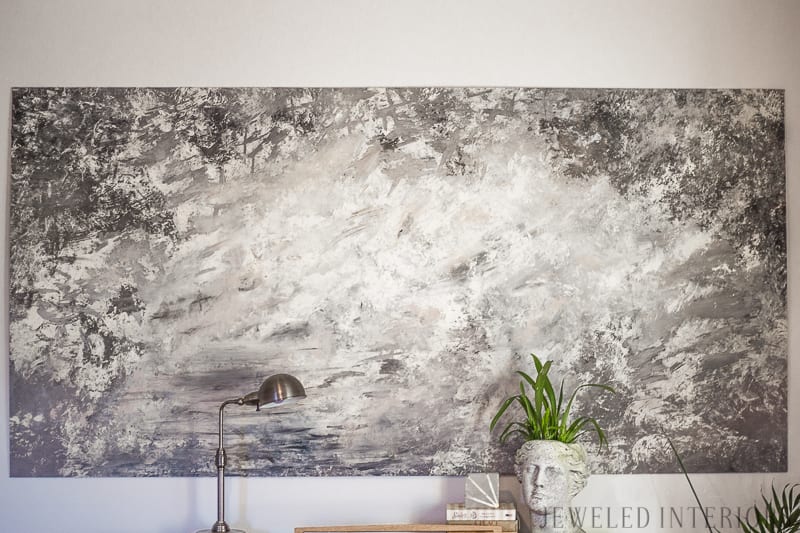 My favorite part of the room is this 4×8 mural that we DIY'ed (in an hour 🙂 out of very thin plywood, plaster of Paris, and left-over paints. Well worth the $30. Don't you think?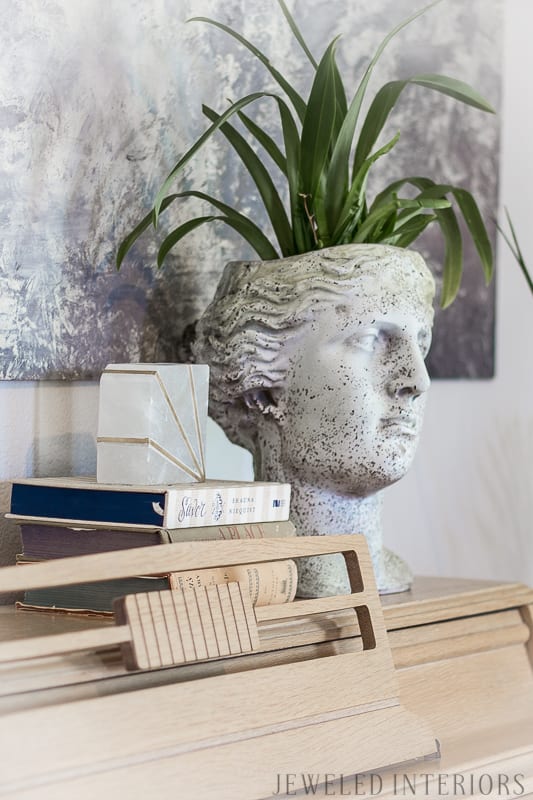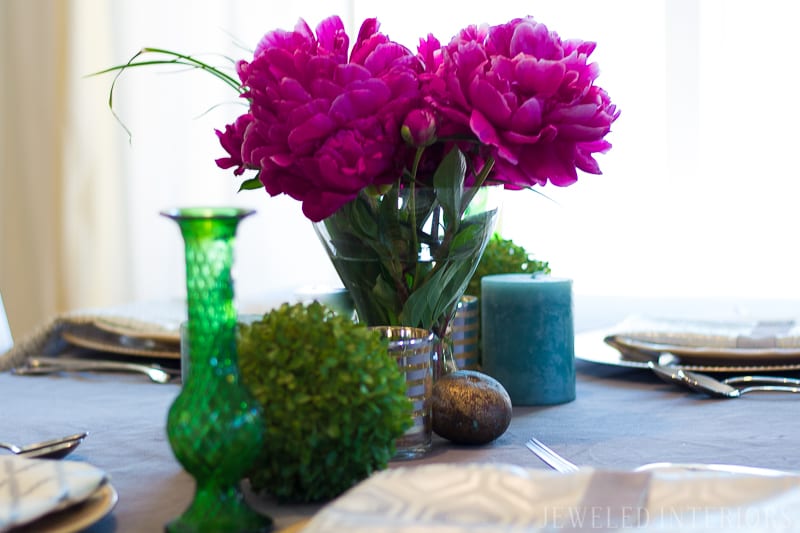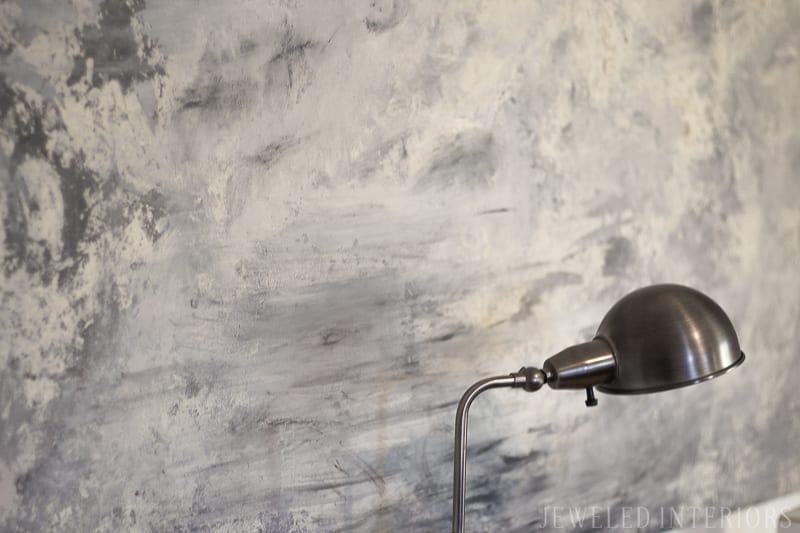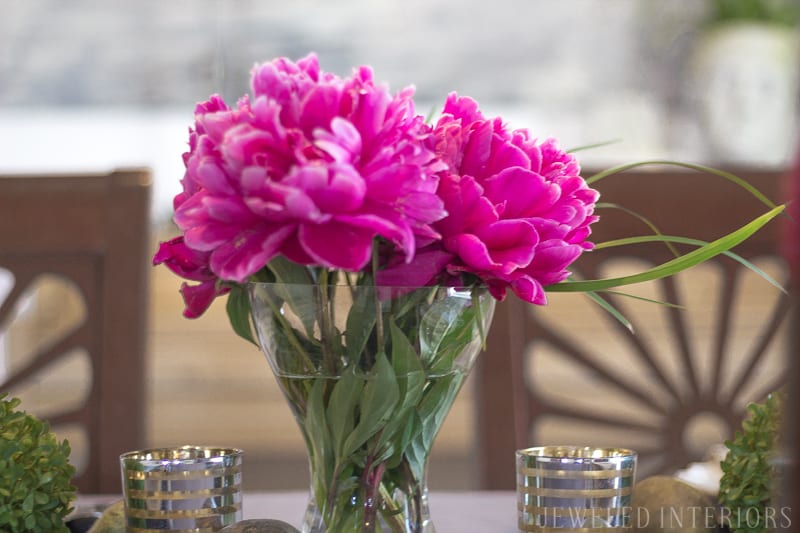 Well, isn't this just a lovely room? I'd say it's a place that I could spend some quality time with my family.
BUT HERE'S THE SHOCKER!!!!
Guess who got orders to move overseas?  
Yep! You guessed it. Before we had time to even trim the curtains, frame the mural, or paint the inside of the bookcases Angela and her family found out that they were moving halfway around the world within a few months! YIKES! My hope is that some of these items will fit in their new, smaller home. I wish them well on their grand adventure and thank them for their selfless service and sacrifice to our country. I miss them already!