I can't believe it is here! It's time for the Fall 2017 ORC (One Room Challenge). For those who have no idea what I'm talking about, the ORC was the genius of Linda over at Calling it Home. This semi-annual event happens every April and October. During each of these times twenty Design bloggers and around 200 guest participants will be supporting and encouraging each other as we all add a little sparkle to a room of our choice. I am excited to be a guest participant and will be linking-up on the fun each Thursday for 6 weeks.
If you're new here, welcome! I'm Jewel, a blogger, a mother of four and wife to a wonderful military man who keeps us on the move ALL. THE. TIME 🙂 I'm a firm believer that high end looks don't have to cost a fortune, and that with a little ingenuity and creativity we can all design beautiful, unique, and meaningful homes.
For those of you who missed last week's post, I should tell you that we have just moved from the high desert plateau of Idaho to the stunning beaches of New England. With all of the transition I figured that when choosing a time to redo a room for the ORC, well…It's now or never baby!
Of all of our twelve moves, this very recent transition to New England has proven to be one of the more interesting. This can really be boiled down to two reasons.
1. First, as I discussed last week, not only did our family have a cross-country drive to tackle, we had to wait seven weeks for our home to be avaliable. This only made us appreciate our lovely new abode that much more.
2. Second, one thing you should know about our new 10 month rental is that it came furnished…but we still brought 15,000 pounds!!! of our own stuff…gulp. Moving into a furnished house has proven to be more challenging than any of the other 11 unfurnished previous homes. The good news, however, is that the provided furniture proved to be quite lovely and of very high quality… I just had to be creative with rearranging everything.
Here are the "Before" pics of our living room with the owner's furniture…I know…It's pretty nice for a rental…it's just that I'm not a minimalist…and oh yeah, there is 15,000 pounds of stuff that needed to go somewhere!
Here is the chaos of "Day 1" of the move…ok, it may have been day two…I can't believe I'm showing you this picture. You can see the two ugly green sofas (with SO MUCH POTENTIAL), the sexy 80's coffee table, and what feels like every accessory I own strewn across the room.  Yep, it looks like a living room threw-up in my house.  On the bright side, we can only go up from here folks.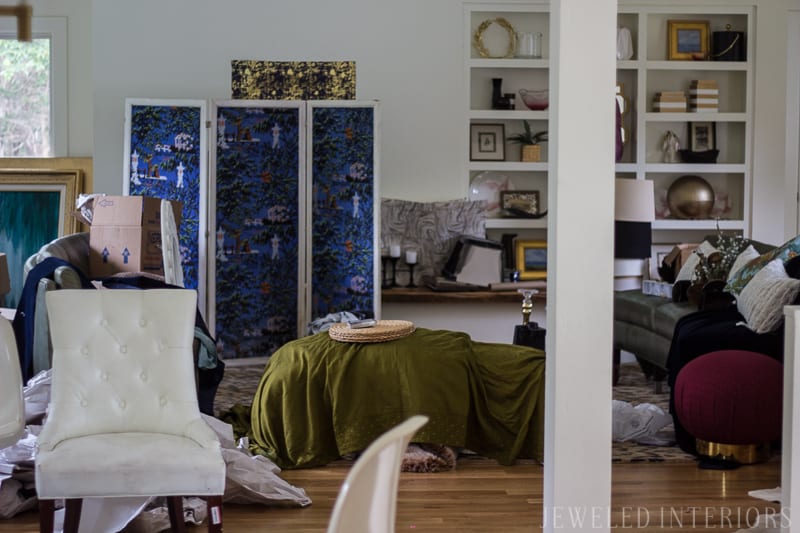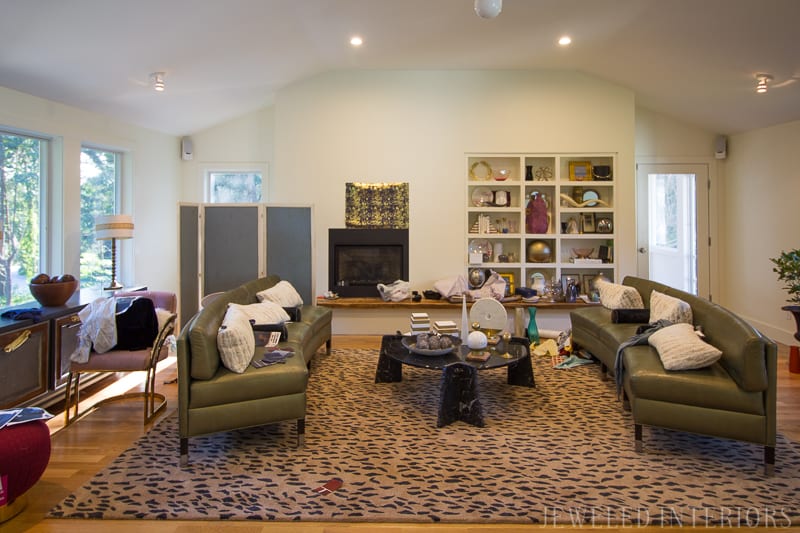 WHAT I HAVE GATHERED SO FAR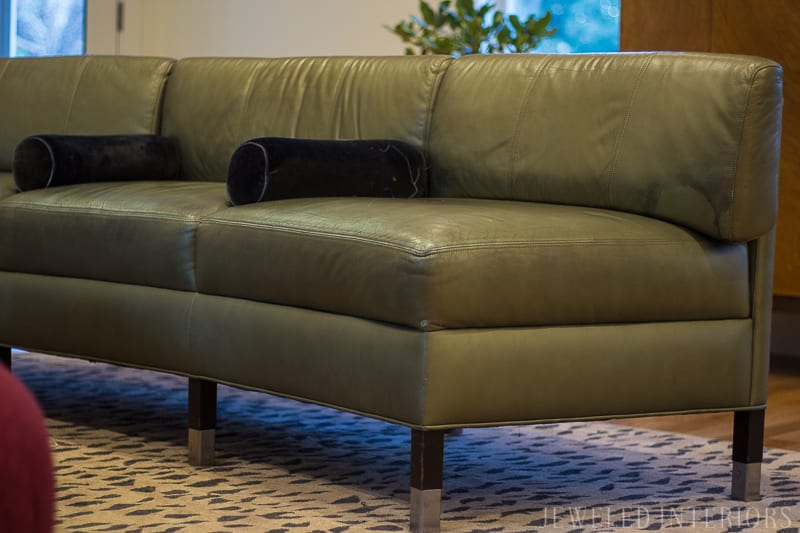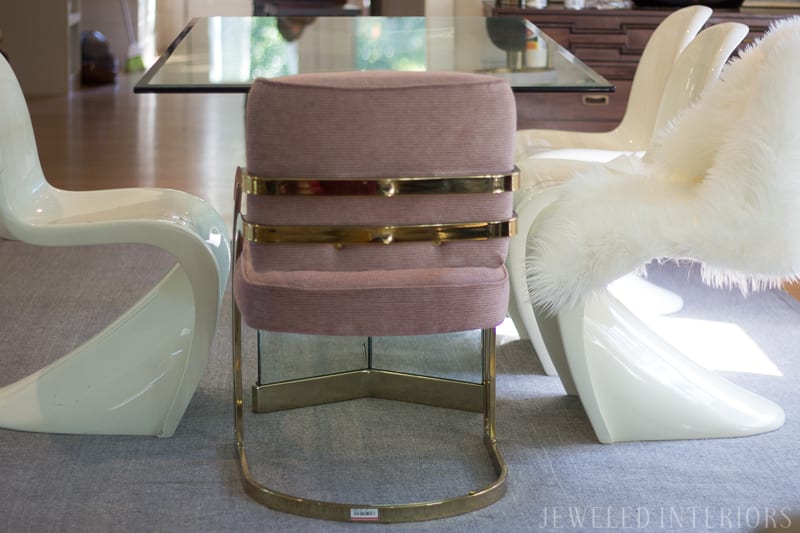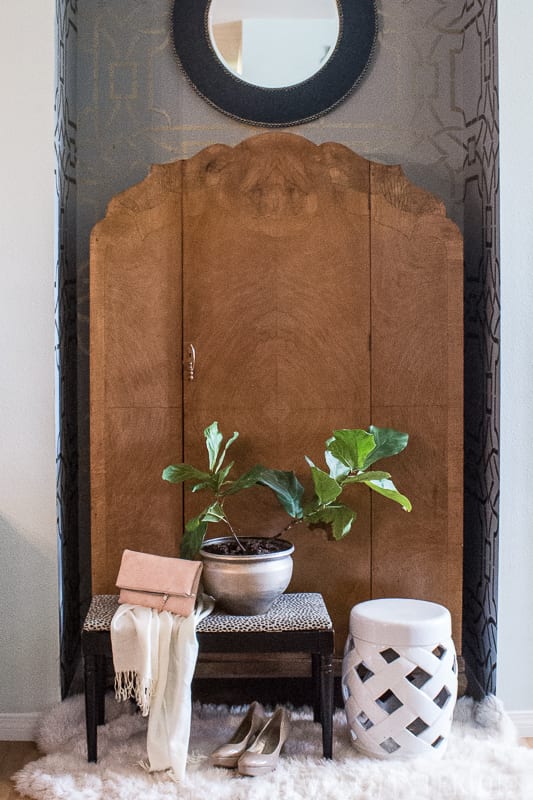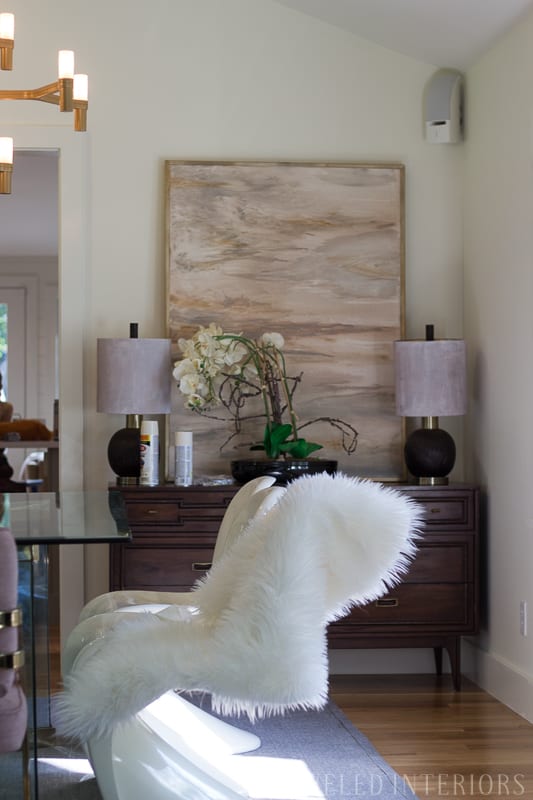 THE INSPIRATION
(click each photo for links)
I have had a long time to simmer on where I want to go with this room and my personal style. This is likely the closest I will get to "starting from scratch" for a while and I have felt self-imposed pressure to use my time, money, and efforts wisely.
After serious soul-searching, I have come to the realization that I can't pigeon-hole my style into one easy label. I know there are some styles that I am not (example: Bohemian- love it in other people's homes, just not mine).
The "problem" is that I have lived all over this country and traveled my fair share of the world. When I spent a couple of years in England trying my hand at refinishing furniture from the antique auctions, I found myself equally attracted to a Walnut Georgian Bow-Front dresser as I was to a teak Mid Century credenza. I have realized that it is the romanticism, contrast, and energy of MIXING styles that makes me most happy. Design is the one place that I can break some rules and not get in trouble for it 🙂
There are some common themes that I am currently and have always been attracted to:
1. A touch of glam. Animal print, textures, and metallics…Yep, I tend to error on the side of feminine.
2. A hint of chic. I like unexpected, yet sophisticated elements…I'm currently a big fan of all things "80's Sexy"…a term I have been trying to coin with all of my neighbors for the last year. In my mind this includes black marble, cubism sculpture, all things Kelly Wearstler, organic modernism, and funky geometric art…A winning combination
3. A heavy dose of formal and traditional, but mixed with modern lines to keep it fresh. Dang, I have this thing for flowing silk curtains, and showy Victorian mirrors. I think this stems from my love of European castles and now Newport Mansions.
So how in the world am I going to pull all of this together in a cohesive and beautiful look? Great question, I'm excited to find out myself.
The one thing I know, however, is that I have about $2-3K to makeover the ENTIRE space (and honestly, I've already spent a fair bit of this on finds I have gathered at thrift and antique stores across the country). I'd like to thank my sponsors (my husband and everyone who bought my old junk off of Craigslist). So like most people, I will have to use smart shopping and heaping amounts of design ceativity to make this happen without causing marital strife :).
It's funny, but up until last night, my color scheme was going to be burgundy, navy, hunter, and all things berry/purple. Over the last couple of weeks though, I have had this growing disinterest with this idea. It's not that I hate this color combo, I feel very comfortable and look best in all jewel-toned colors. It's just that I'm a little bored with it. I've seen this combination for an entire year and I'm ready to take some risks on this challenge… So I tweaked it ever so slightly.
Instead of blush, I'm now crushing on peach, and I'm trading in my burgundy for something with a hint of rust. This orange-undertone conversion may seem silly to most, but I have put in late nights and early mornings trying to convince myself that I'm ready to make the switch. Well, it is official. I will be using reds, peaches, and golds, to balance out my neutrals (blues and blacks).
Four years ago I may have laughed out loud if you had told me that I would be giving my living room a red make-over. Deep rouges and soft peach, however, are now what my dreams are made of!
Can you see my vision? Do you think I can pull this one off in six weeks? To maximize my budget I am going to try to DIY my way through this challenge. My guess is that I may be drowning in a sea of silk curtians and up to my eyeballs in paint up until the very last second!  YIKES!
Follow along next week as I start out with my craziest idea of them all…painting those two UGLY $100 craigslist couches…Can it be done? Let's find out together! Check back next week to find out the results!
Also, don't forget to head over to