As we enter a new year I find myself with an itch to tidy and change. Since very few places in my home get messier than our office space, I thought it only seemed appropriate to spent a few hours contemplating desk design options. I've come up with two ideas and would love to hear your thoughts as I reveal today and tomorrow. Strap-in and get ready for "Day One of my Mid Century Desk (Styled 2 ways)".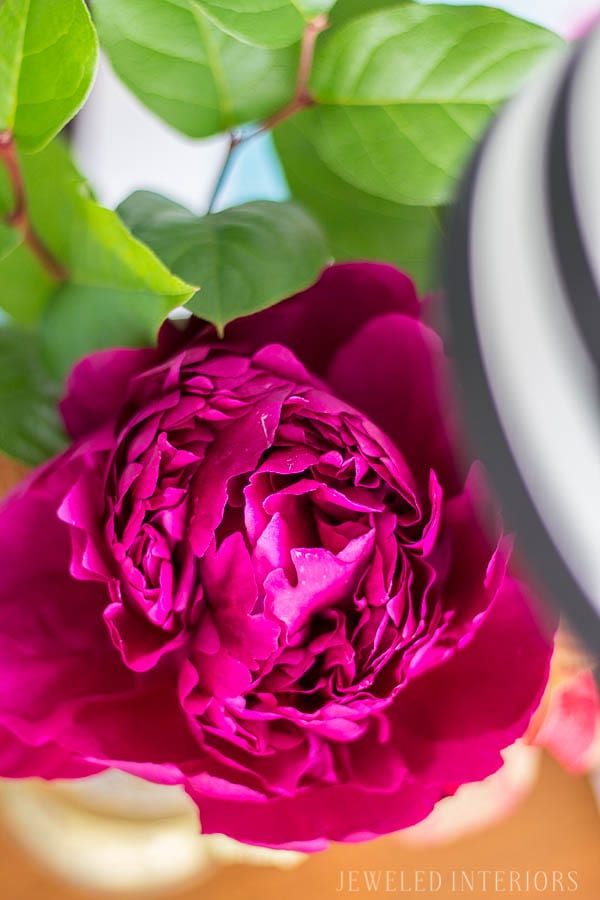 Setting the Scene
The overscaled art:  See this beauty?  I built it…from scratch…for less than $40. I wish I could say that it took tremendous talent, but that my friends would be a lie.  I simply stretching a drop cloth across a frame which I build from 1×2's.  Once the canvas was stretched I primed it with guesso.  Lacking any fancy paints, I dipped into my embarrasingly large supply of left-over latex paint samples.  It is so much fun to see what happens to paint when mixed with water and allowed to flow.  I can't deny that I looked like a hippy in my driveway waving the gargantuan art from side to side and up and down.  I imagine my neighbors thought I was either participating in a rain dance or had uncharecteristically started experimenting with recreactional drugs.   Miraculously, it turned out to look something like a landscape, though that was not neccessarily my intent.  So now I present to you an overscaled DIY art masterpiece…or something.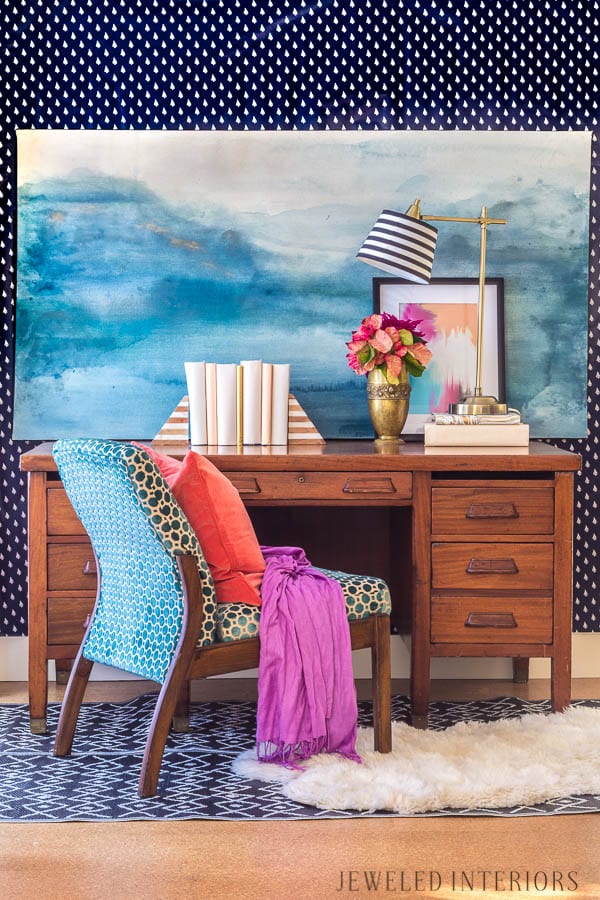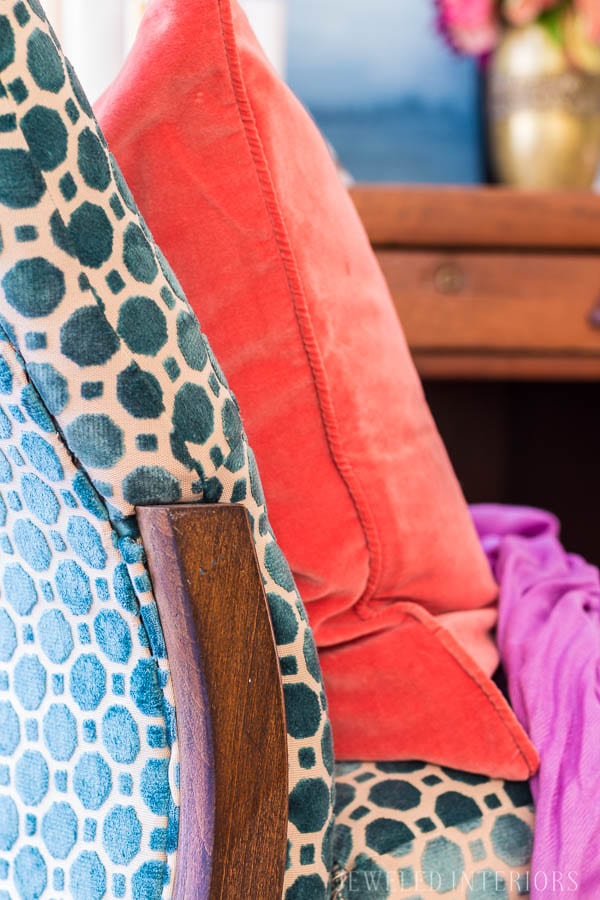 In this design scheme I opted to go with bright and cheery colors…just what I am craving on this cold winter's day.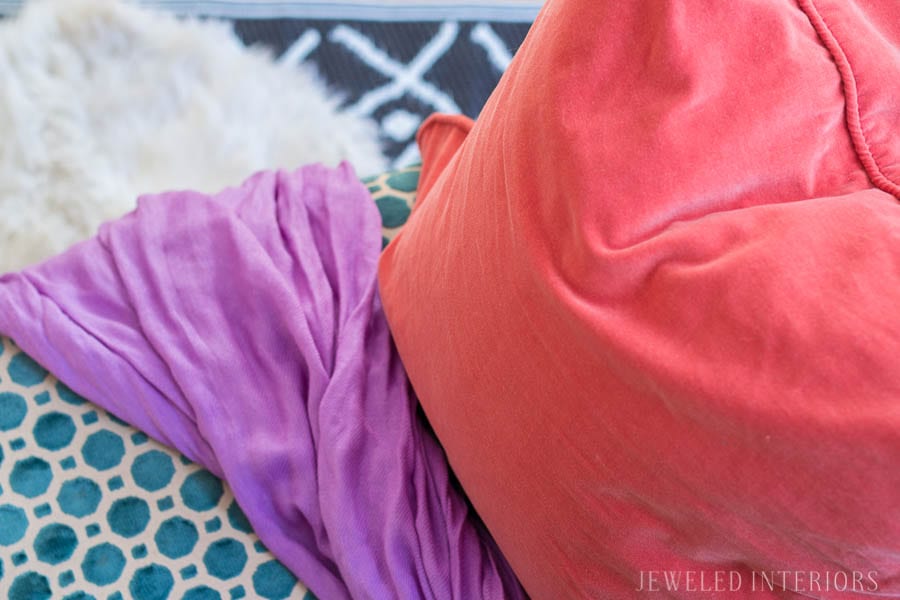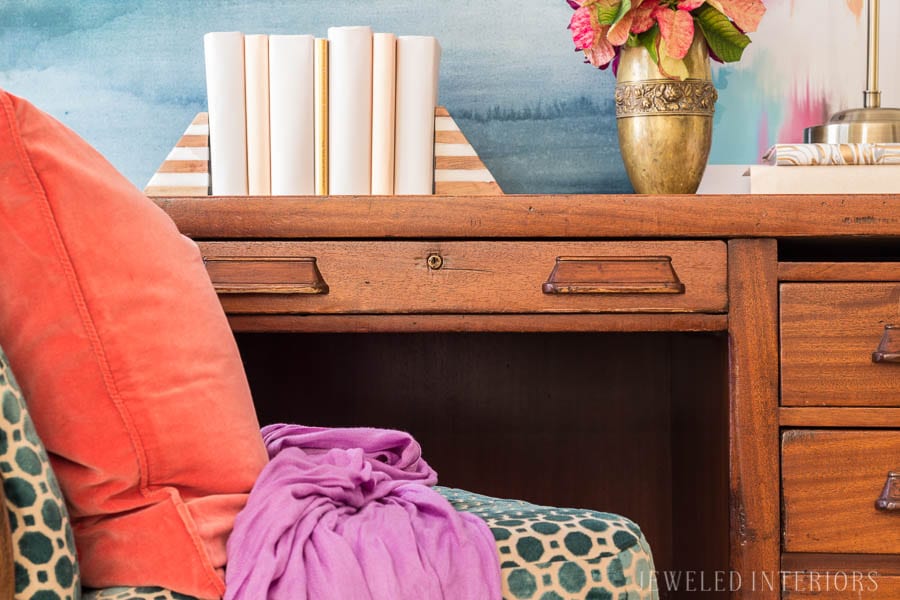 Pinterest tip for you: Want a tip to keeping your desk (or bookcase) cohesive?  Try wrapping your books in pretty papers. This is a low cost way to visually clean-up an office space.
Actual tip for me:  I should probably start by trying to learn to throw away my garbage and keeping my space tidy on a more regular basis.  ?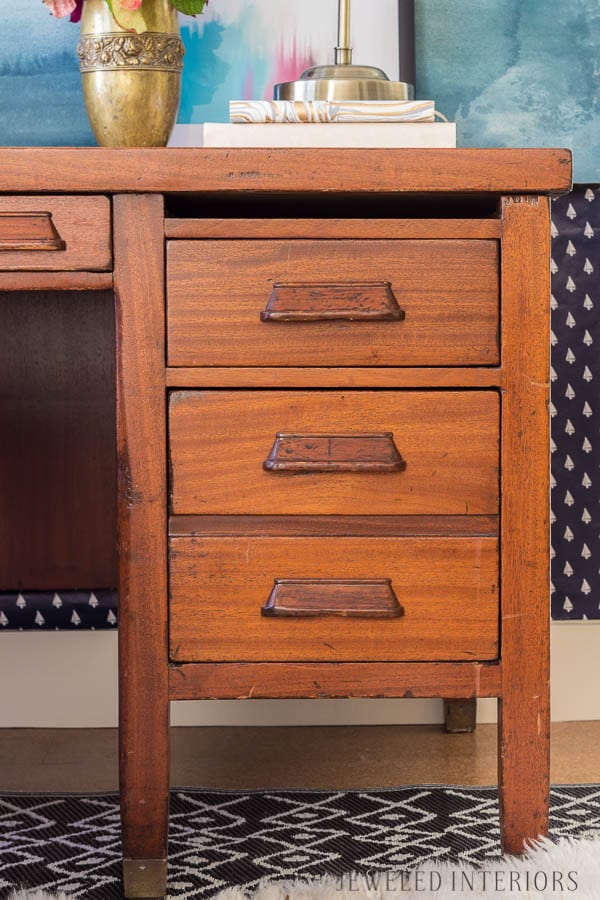 I love the patina that a vintage piece brings to a room. See those brass capped feet? Yeah, I heart them. Those scratches and dings?  That my pals, is what I call character.
This is also the theory I'm trying to take as I wake up every morning and look in the mirror.  Those wrinkle starting to form?  It's character right?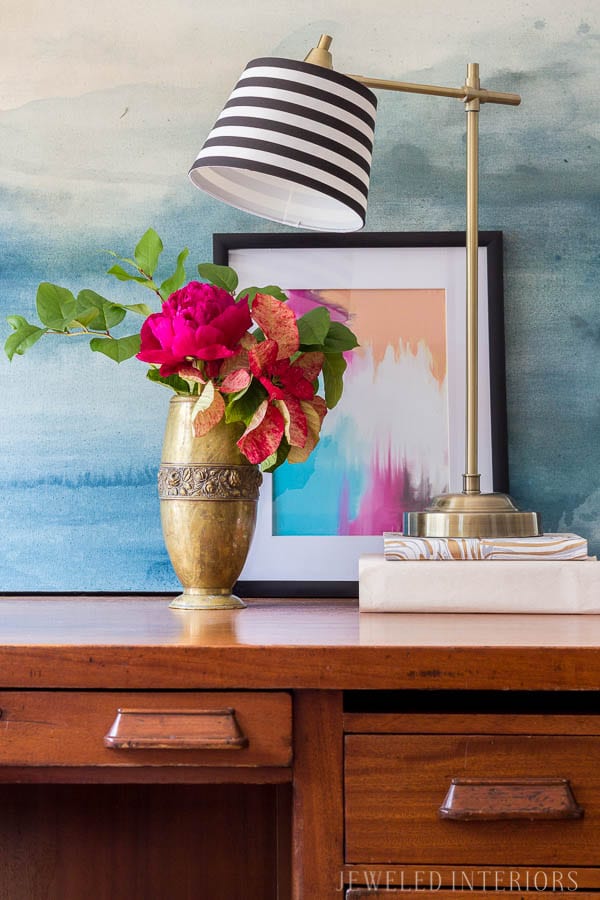 I just couldn't walk away when I saw this Black and White Striped Task Lamp at Hobby Lobby. It is functional, versitale, and just preppy enough to melt the part of my heart reserved solely for Kate Spade design.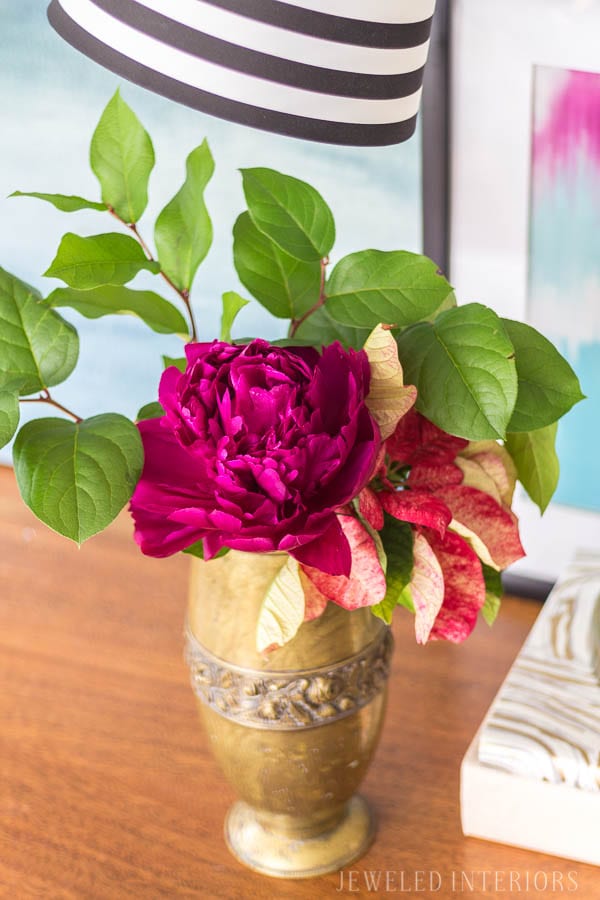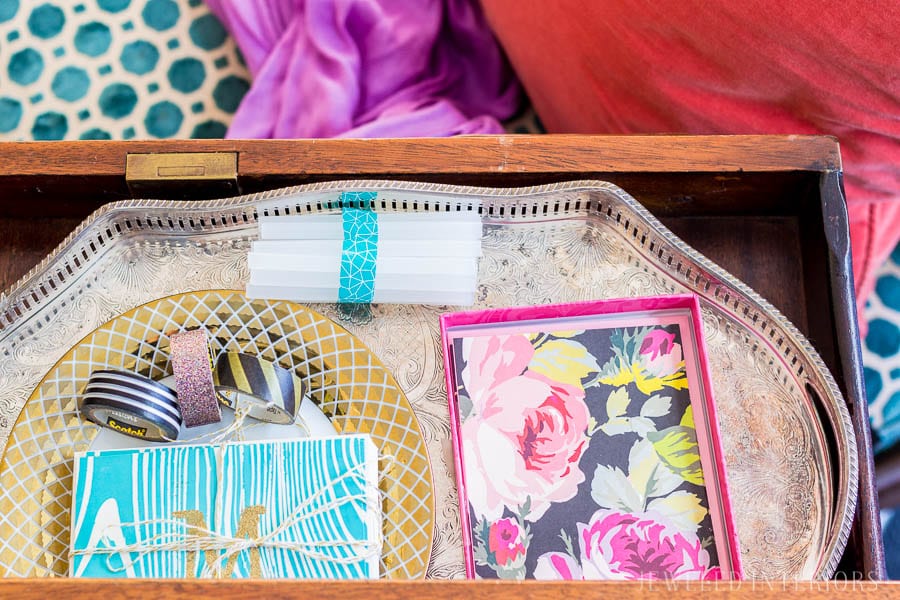 To corral my junk stuff I employed the use of vintage silver trays. While I picked mine up in England, I often see them in thrift stores. Who doesn't want their junk stuff to feel a little fancy?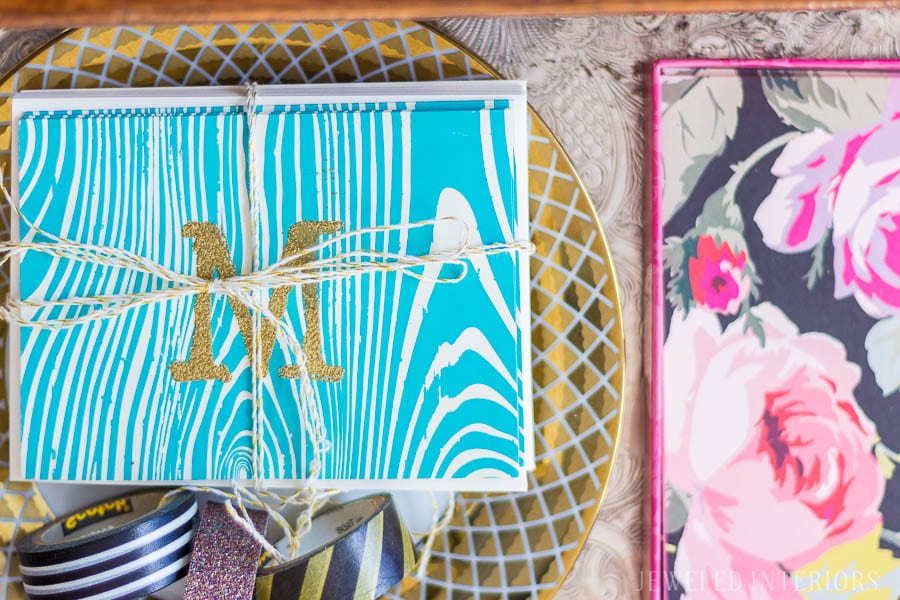 So, what do ya think? Is this a desk design that I could love ??  Don't tell, but the answer is yes.  Stay tuned for Thursday when I reveal option number 2.  I can't wait to hear which one you like best. Get ready to cast your votes. Please feel free to pin and share to your heart's content!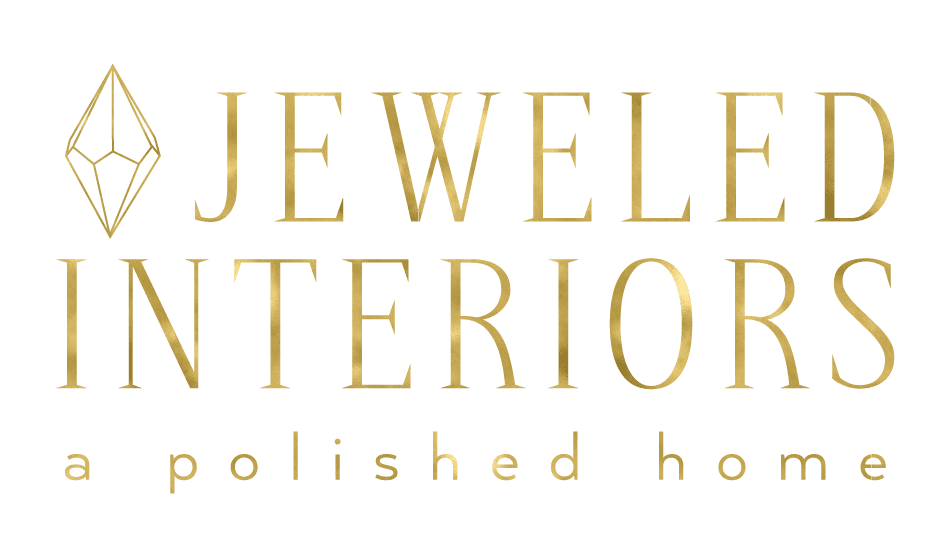 I'm so excited to show you the big projects I have cookin' up for 2018. This is going to be an exciting year here at Jeweled Interiors and I am stoked to invite you along for the ride. In January I will be tackling our  tween girls' shared bedroom as part of the New Year, New Room Challenge. I can't wait for you to see the progress!!!