The perfect mash-up of preppy-glam and antique- tea party charm
Your 7 step Guide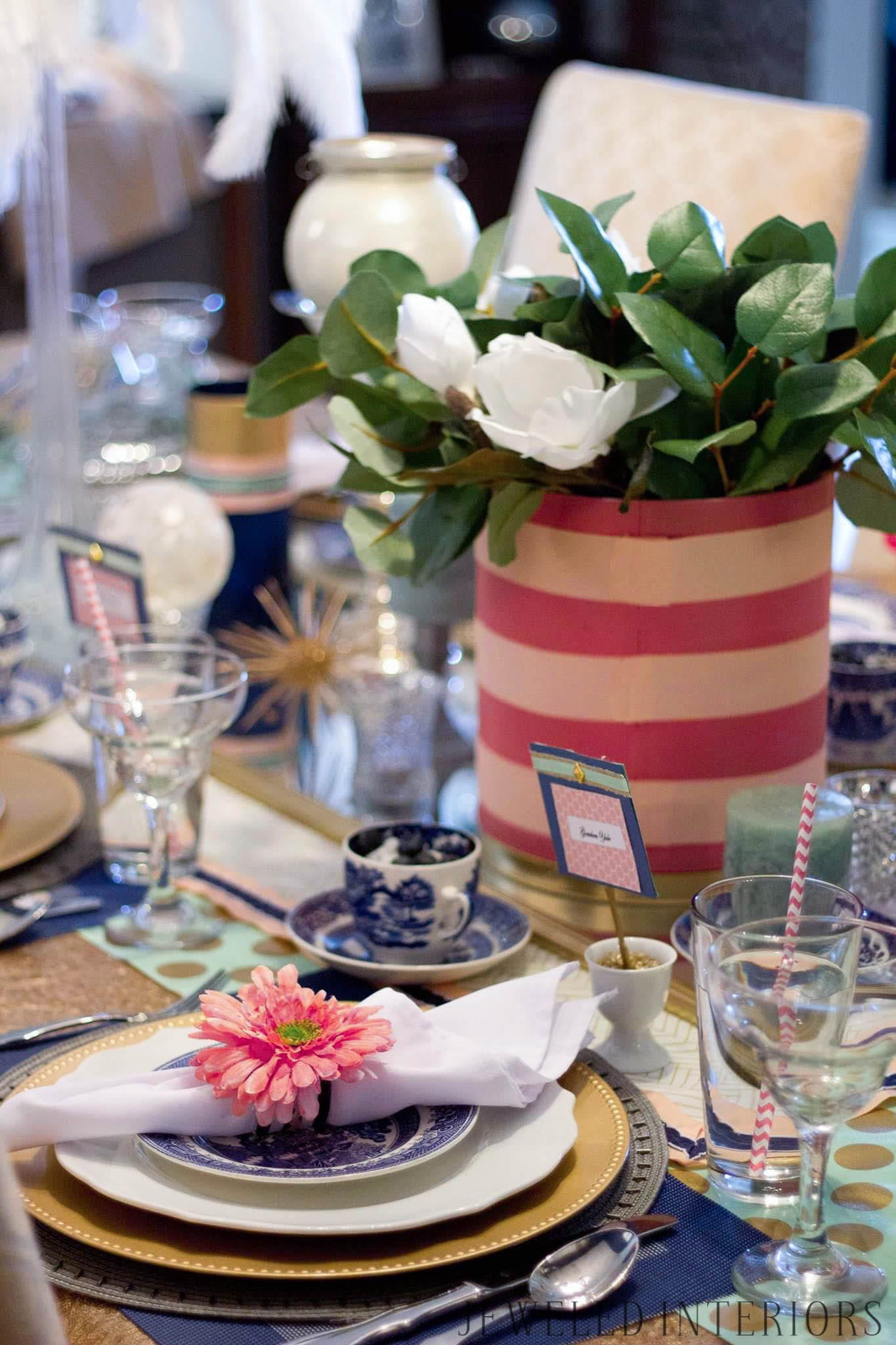 While living in England my oldest girls had a special tradition.  They regularly hosted all of the neighborhood friends to a good ol' fashion tea party  (dubbed "princess parties" due to the obvious lack of tea).
Well, I ask– what rule states that the practice of arraying oneself in fancy dresses, donning over-the-top hats (or not), and giggling over scones needs to be reserved for the preschool subset?  Who says that, as grown women, we are too old to have an excuse to feel fancy (without taking ourselves too seriously of course)? 
If such rules exist, I am here to help you break them.  Here are a few basic steps to get you pointed in the right "prep-tasticly" vintage tea party direction…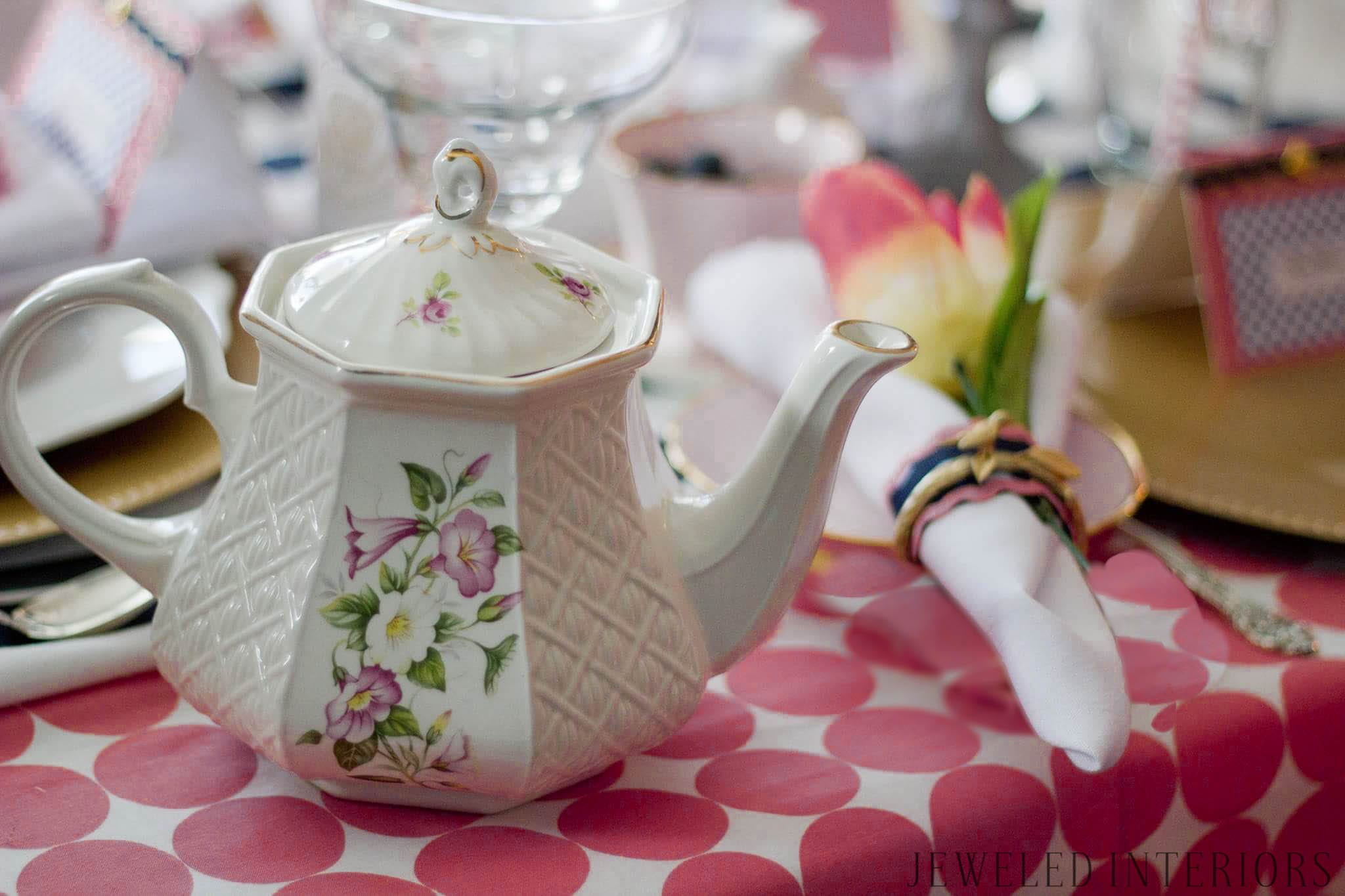 Shop thrift stores, estate sales, and craigslist. The sets don't need to match- but color coordination is always a nice perk.
Procure your china by any legal means necessary…but for heaven's sake- don't pay full price! 
I was able to pick-up my collection for a song at the British furniture auctions, but that is no longer a realistic option for me.
Which pieces to buy?   I have focused on collecting teacups and plates of various small sizes. I have mixed them with classic (and machine washable) white dinner plates. Don't forget the teapot, and any additional serving pieces too good to pass-up.  
Pick a color scheme   ***For extra bonus points***  Base  your party color scheme on both the color of the china AND the colors in your room. Repeat these colors in the linens, centerpieces, etc.  This technique makes for a very polished and cohesive table.
To save money and personalize my tablecloths, I simply sew them.  My tables take 5-6 yards of inexpensive fabric.
Design the  tablescape Generally, I want my centerpieces to be dramatic conversation starters.  Its all about the mixture of heights and opposites.
 Important to note- If I am decorating with any centerpieces at eye level  (above 12ish inches or below 27-28 inches) I remove it when my guests sit down.  The exception is anything less than an 1-2 inches wide- see photo.
I aim to have most (or all) of these elements married together in the center of my table
organics (flowers, wood, greenery)
metals (preferably gold 🙂
fire (in the form of candles- I'm not a pyro)
patterns
ceramics
   To save money, I used fresh flowers from Costco and mixed them with many inexpensive (often Dollar Tree) purchases.
I'm about to let you in on a little secret:  Memorable spread of tea party food is just as much about presentation as it is about taste. 
You can take a Costco or Trader Joe's appetizer and put it in a pretty wrapper.  No one will know or care that you didn't make it!
Borrowed heavily from Martha Stewart
Ingredients
1 cup flour
2 cups all-purpose flour, plus more for rolling and cutting
1/2 cup sugar, plus more for sprinkling
2 teaspoons baking powder
1/2 teaspoon baking soda
Salt
1 1/2 sticks cold unsalted butter, cut into small pieces
1 1/4 cups cold heavy cream, plus more for brushing
1/4 teaspoon pure vanilla extract
1 tsp lemon zest
Directions
Set oven to 375 degrees. In a large bowl, sift together dry ingredients. Using either your hands or a pastery blender, cut in the stick and a half of butter until crumbs are no bigger than pea sized. Continue using your hands, flatten butter pieces into small disks. Cover with saran wrap, and put in the fridge until it is very firm, (20 minutes). Stir vanilla, cream, and zest in a small bowl.  Then blend into flour mixture until almost absorbed. Put dough onto a lightly floured work surface; rolling it out into an 8-by-10-inch rectangle. With a short side facing you, fold rectangle into thirds, similiar to folding a letter. Rotate dough a quarter turn clockwise. Repeat rolling out, folding, and rotating dough a couple of more times. Flour your hands and pat out dough to about an inch to an inch-and a half thick.  Using a floured round biscut cutter, cut out as many circles as possible.  Using remaining dough, reform and repeat the proccess.  (You should have a dozen). Give 2 inches of space between scones on parchment-lined baking sheets. Brush tops with cream and then sprinkle with sugar. Bake 18 to 20 minutes or until deliciously golden brown.  To keep things even, rotate sheets halfway through. Leave to cool on sheets.
Can be served warm or at room temperature.  Most definately should be serve with jam and clotted cream.  What?  You have never heard of clotted cream?  You have never lived my friend.
If, like me, you don't drink tea- I would like to offer up a couple of suggested alternatives for your tea party. While you can always use juice, or punch, I am fond of using the teacup as a dessert holder.
1. Place a mini trifle in each pretty little teacup. My personal favorite includes cream cheese blended with Cool Whip and then layered with brownies and angel food cake. In between each layer add a sprinkle of jam whisked with lemon juice. Don't forget the delicious and beautiful berries.
2. Turn the teacup upside down and put the small plate on top. Here is the perfect perch for a cupcake.