Welcome back! Last week we viewed a stunning, yet comfortable, home located on an Idaho military base. What? You missed this polished-rustic beauty? It's all good friend! Click here
Today I am excited to unveil the rest of the entertaining space built and decorated for members of the military and their local Idaho community. The surprise that I didn't tell you last week was that this space has amazing flow. When I said "open floor plan" I meant "OPEN FLOOR PLAN!!!" All four areas from both posts are actually in one BIG room. This, of course, meant that I needed to stick to a consistent color and design scheme while defining these four distinct spaces. Check out how I did it!
The two rooms that we will be touring today are about four feet to the left of the sitting and dining areas that I revealed last week. This particular area was designed to serve in a multi-purpose capacity. Picture a glamorous version of "business in the front and party in the back"…or actually…don't 🙂
During the day, this table and four chair set could be a place to host small meetings, do homework, or serve as overflow from the larger dining table.
After hours, however, the beautiful British Edwardian antique actually folds down into a bar for the husband to pour drinks for their guests.
The owner had picked up these kick'n mid century chairs at a Boise thrift store. They were originally black and upholstered in… well…grandma mauve (and I mean absolutely no offense to my awesome grandma).
I painted the chairs the perfect shade of blue and reupholstered them in Acetex Cotton Velvet Dark Grey. I anchored this space with a Morrocan shag rug.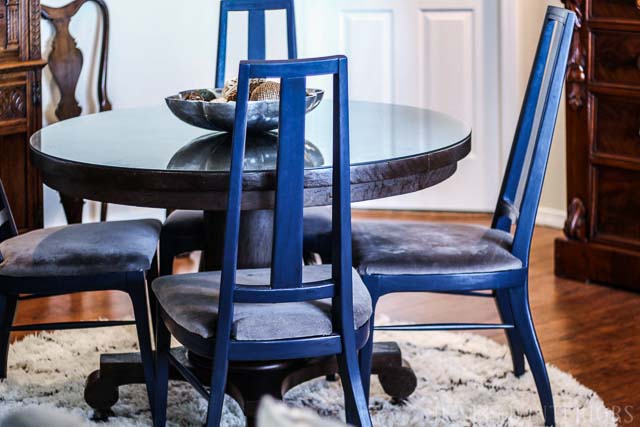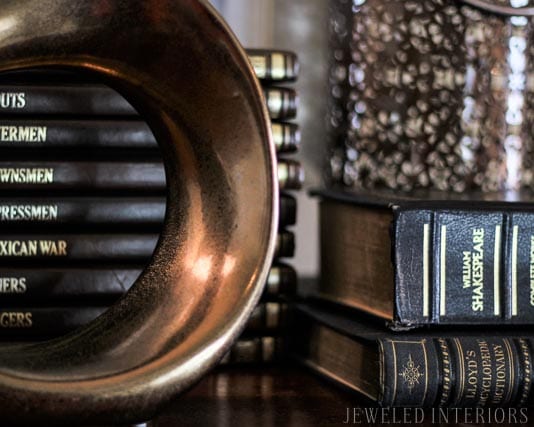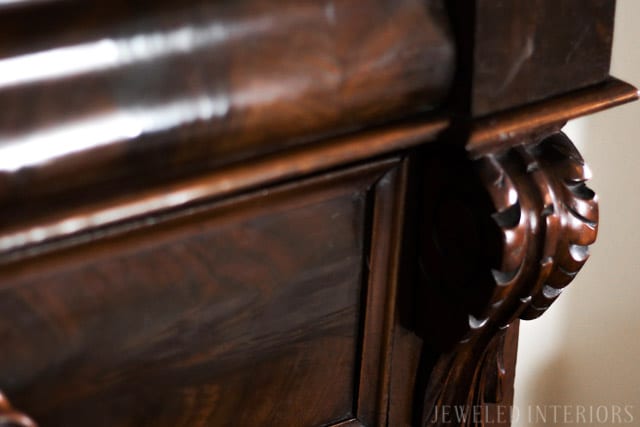 To reflect the owners' tastes and to save money, I tried to use as many of their accessories as I could fit into the design scheme. This included books and and fine furniture.
To pinch pennies and add character, I picked up a set of thrift store lamps. After hand painting and glazing them I topped them with an inexpensive Target shade. Voila! Custom lamps for under $25 each.
For this art, I wanted something that didn't compete with the art around it (modern, feathers, and marble) yet still picked up on elements of the rest of the room. While at Homegoods this lovely lil' filly caught my eye. A little known fact about me? I grew up showing horses. I was pleased to see that this one actually has decent confirmation. That sealed the deal 😉 I also like the way it pinged off the buffalo on the opposite side of the room.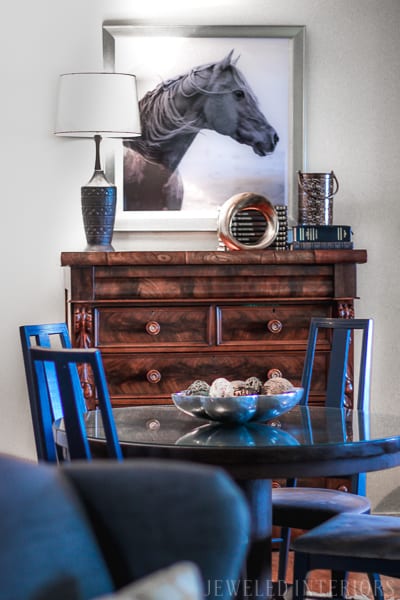 Of all the military housing that I have lived in over the years, very few have had fireplaces. It is this fireplace that dictacted the fourth area of the room and aided in the color scheme choices of the entire design plan. I pulled out the blues, grays, and golds in the stone.
A hand selected cowhide from Tandy Leather anchored this space further. We chose a light, almost palomino color, in order to play up the golds. This provided contrast to the floor.
The ottoman also fell solidly into the grandma category. Never fear! A fresh recovering with Premier Prints fabric added an instant update.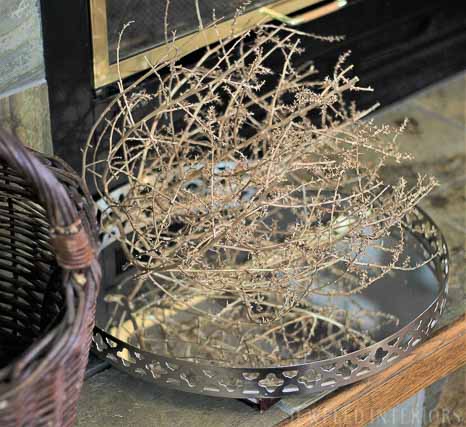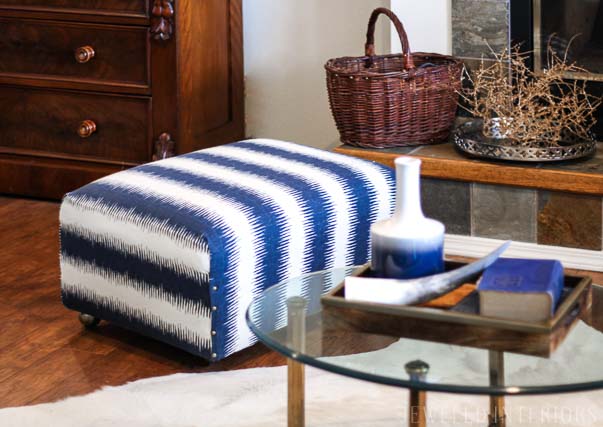 Why a perfectly quafted gold tumble weed you ask? Well, when in Idaho… for realz… you've got to embrace the local flora. These coveted gems are given as welcome gifts.
Shhhh!!!! Top secret! (imagine me using my whisper voice…) I made this art to hide the TV! I will give more details of this DIY idea in an a later post…It is one of my favorite tricks. I most certainly have used this in my own home as well.
You can see the flow from the dining room from last week's post.
I needed a petite sofa that was just large enough for snuggling during a good movie, but small enough to fit in this small space (Fenton Sofa).
The pillows on the Fenton Sofa are from Homegoods. They add a pop of pattern and bling to keep the space fresh.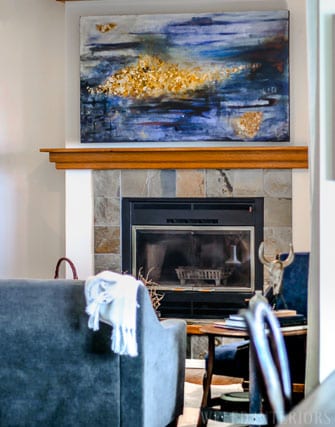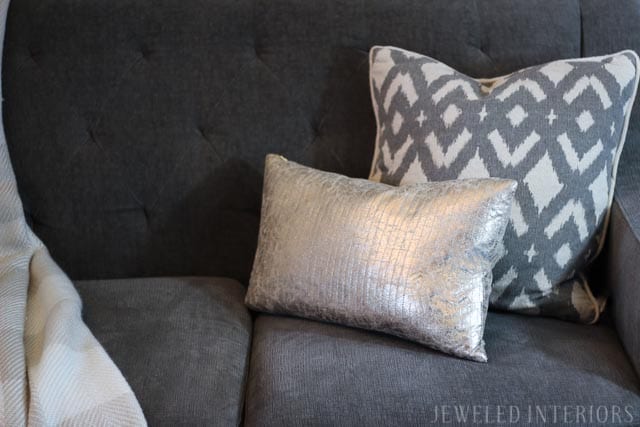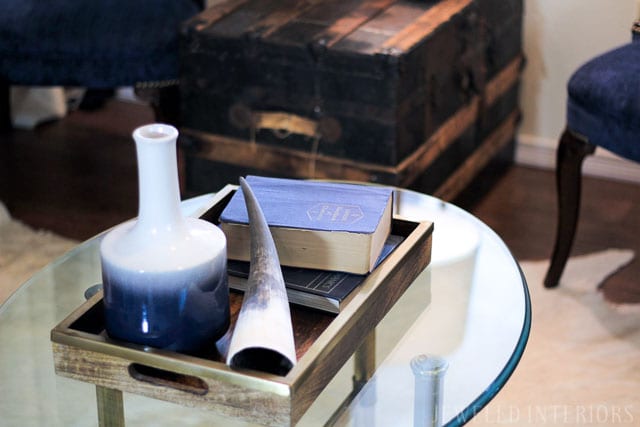 We were able to keep the family's coffee table and antique steamer chest. I just dressed it up with accesories.
The chairs were a family heirloom and the genesis for the navy color scheme. I purchased a pillow from Homegoods, cut it in half, and sewed it into two bolster-sized pillows. Ta-Da! Jewel magic at your service.
It is such a great honor to be entrusted with designing someone else's home. I am grateful to this amazing family for their confidence and support. I wish them, and their local community, the best of luck in the furture.