Sugar and spice and everything nice…That's what little girls (and their bedrooms) are made of… Isn't it? As a mother of several little gals myself, I would say that MOST OF THE TIME this is true. It is this unabashedly sweet and down-right adorableness that makes little girls' rooms a blast to decorate.
Come on all you moms of girls, you know that you secretly enjoy the feminine fantasy of pops of pink mixed with ribbons and ruffles. Don't hide it, let's embrace it…but let's do it in a timeless and classic way.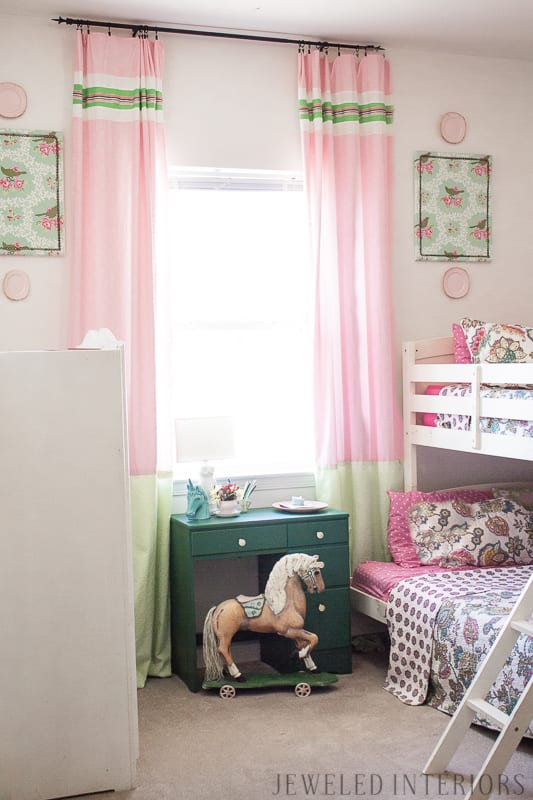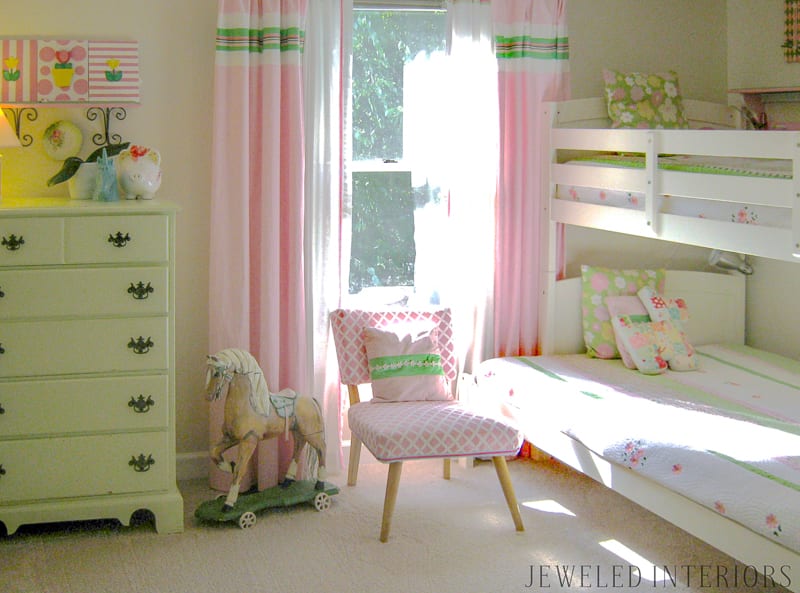 My oldest daughter has lived in five houses and two countries in her relatively short life. As a family who moves frequently and has many children, I need a classic style that can stand the test of time.  The design elements need to work in multiple locations for different ages. This room can't become dated before being handed down to the next child. You can see here two iterations of the same room. 
I decided to go for a timeless color scheme. Yes, there would be pink, but not so much pink that a tween would hate it. I toned it down by adding vintage greens and aquas.
I sewed these curtains using inexpensive cotton fabric and ribbon. I generally love my curtains to go from the ceiling to the floor. However, what do you do when you move to a new house with taller ceilings? Some people may just hang their curtains lower, put I prefer to sew more length. You may have noticed in the two similar photos at the begining of the post that the curtains were altered. The trick is to sew the new addition at the point of the window ledge with fabric that is of similar or heavier weight. Then it looks like this was done on purpose 😉
I have hung four little gold-rimmed china plates that we purchased during our time living in England. They help to add proper scale to this art arrangement on our tall walls (gonna miss these 10 foot ceilings).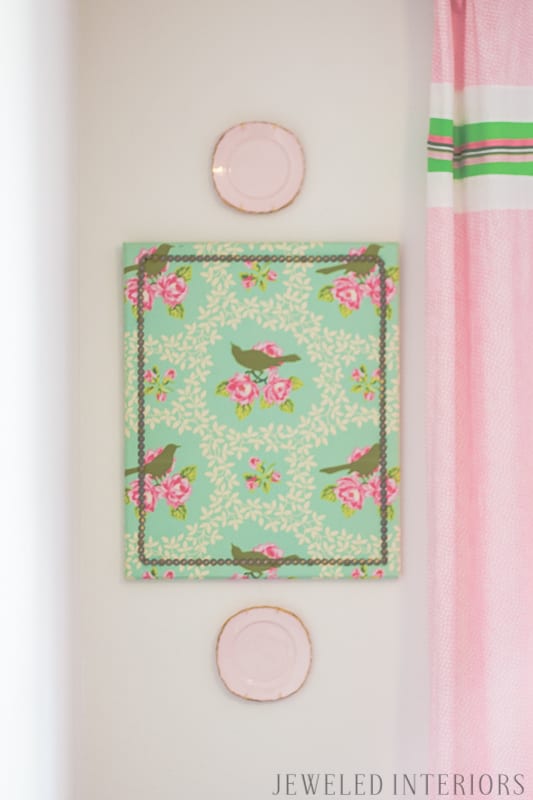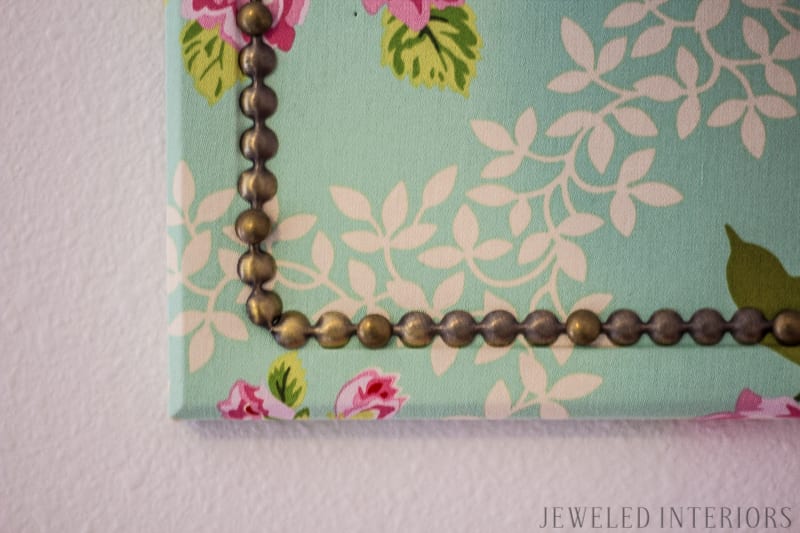 I love these functional beauties. They are simply cork boards covered in stunning Heather Bailey fabric. I stapled the fabric to the backs of the board and finished it off with faux nail head trim. Getting the trim straight was a little labor intensive, but worth it.  It is so sweet to see the girls hang their little art work, awards, and mementos on these pretty boards.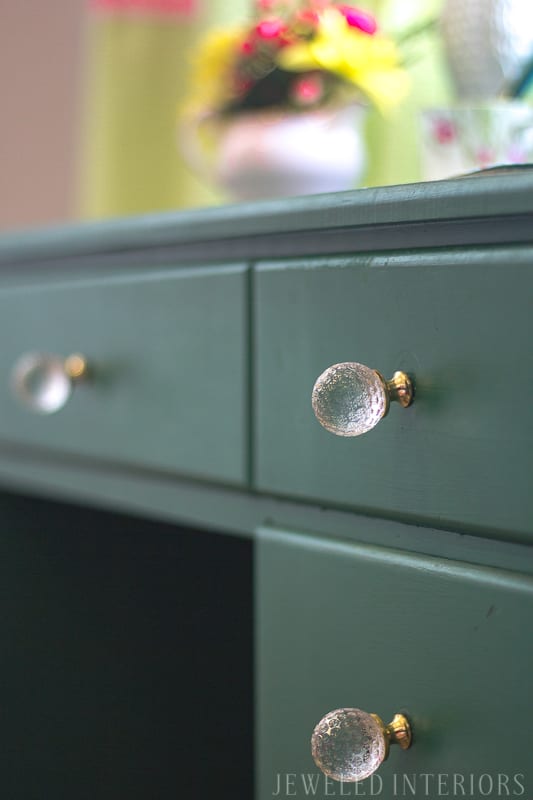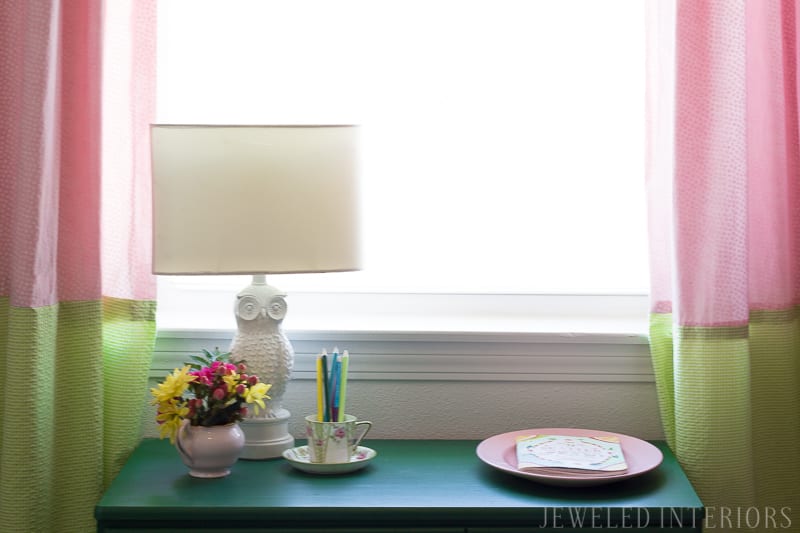 As my girls have gotten older they now like a little place to draw, sew, and bury their treasures.
This small desk belonged to my mom and had a light stain finish, but no varnish. Perfect! A simple coat of latex paint, two coats of clear wax, and some feminine handles made it the wonderfully petite desk. It fits nicely under the window and receives beautiful, natural light.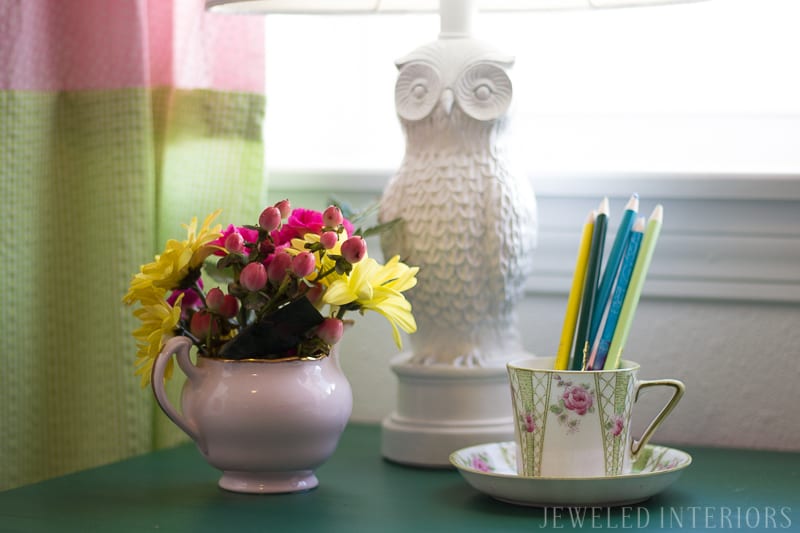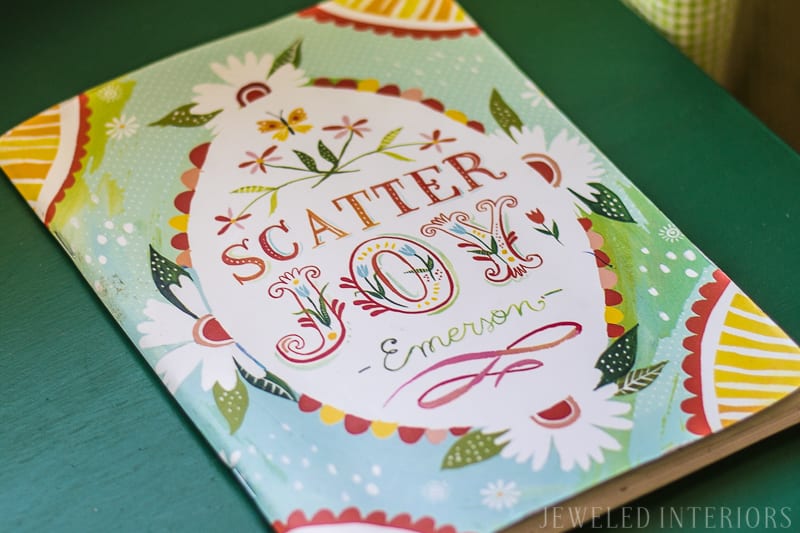 Above: Little teacups are great for holding art supplies.
Right: I scored this rocking horse at an auction in the UK. While it was orginally a masculine color scheme, I knew that it would live in my little girls' room. I repainted it a feminine palomino color and added pops of pink. While it isn't sturdy enough to be ridden, it has been a treasured addition to their childhood.
Bottom: This large antique wardrobe was also purchased at an auction in England. I painted the entire thing, including the two large and lovely handles, a shade of light ivory. I love pieces that are both functional and beautiful. This functionality is especially important for families, like ours, who find themselves on the move often.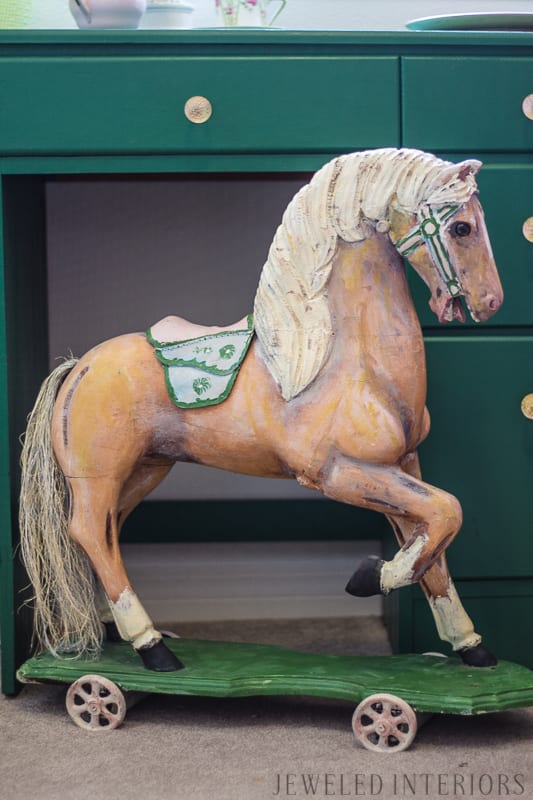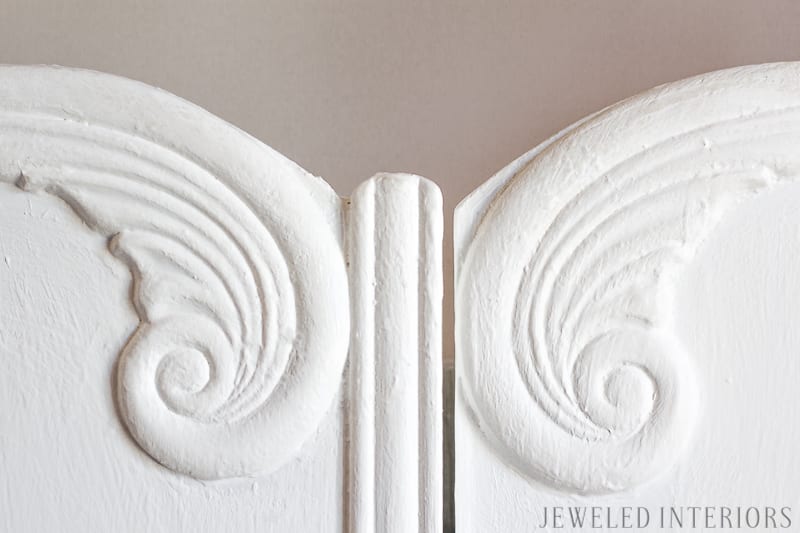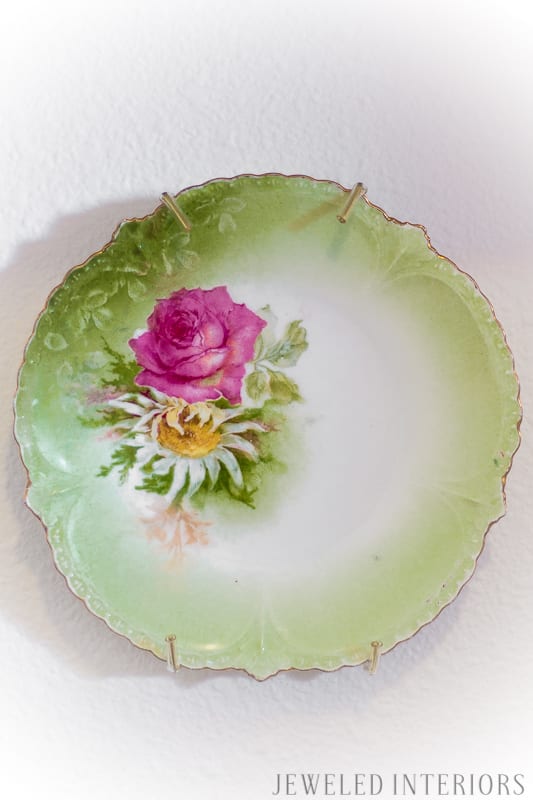 This plate has great sentimental value for our family. It was gifted to us by my husband's 110 year old grandma (the oldest person in her state and likely one of the oldest in the U.S.A.).  It was brought accross the plains by her ancestors who originated from Sweden.  It is a special reminder to our children of their heritage.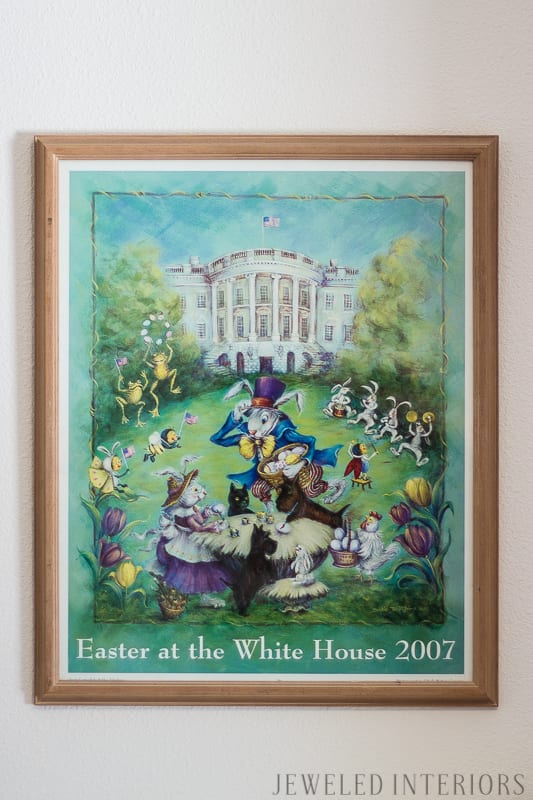 Another sentimental piece is this framed art we picked up at one of the White House Easter Egg Rolls. During our two assignments to DC we were blessed to attend many of these events. I have fond memories of my now tall and lanky daughters struggling to push an egg across a small patch of grass with a spatula.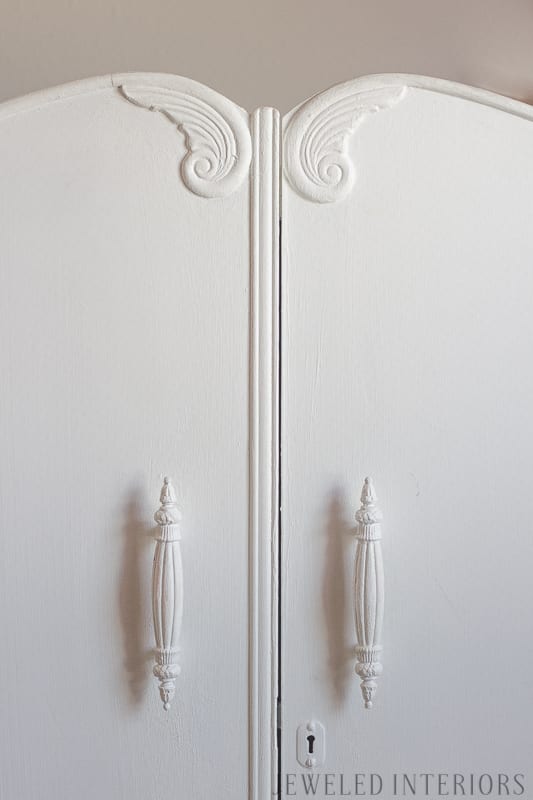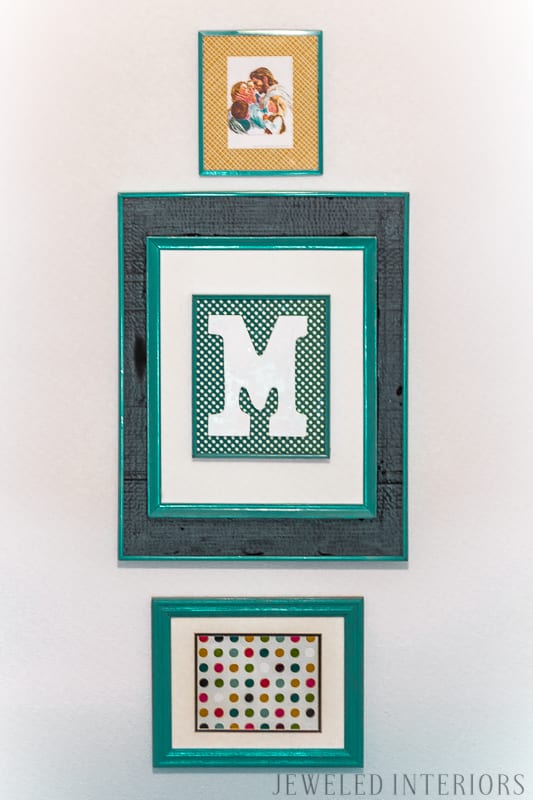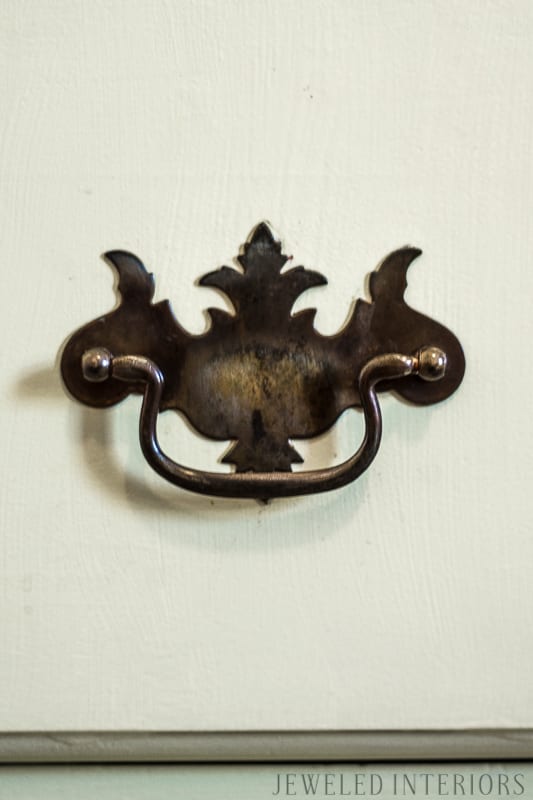 I have recently been asked which furniture pieces in a child's room should be painted vs left white. Great question!  For me, the answer is relatively simple. I don't want the large pieces  to be visually overwhelming, especially if their next bedroom is substantially smaller. However, ALL WHITE FURNITURE IS BORING! I chose to break up the sea of white by painting the smaller pieces (dresser and bookcase) light green.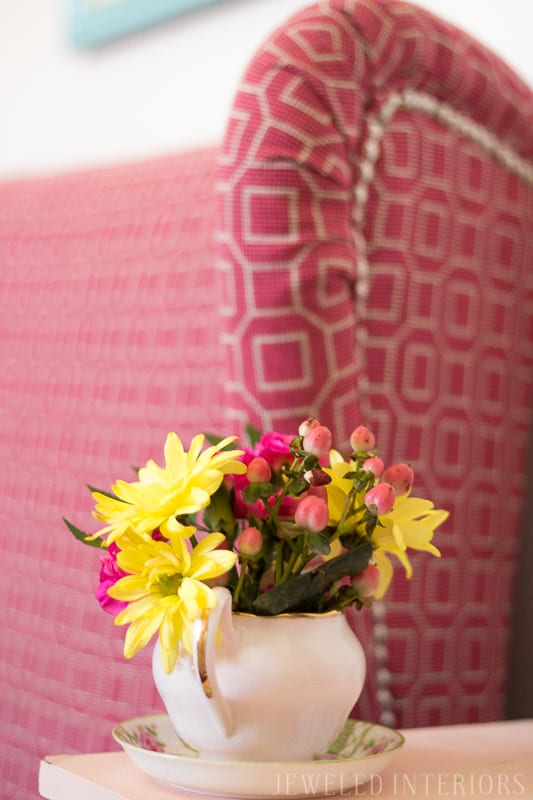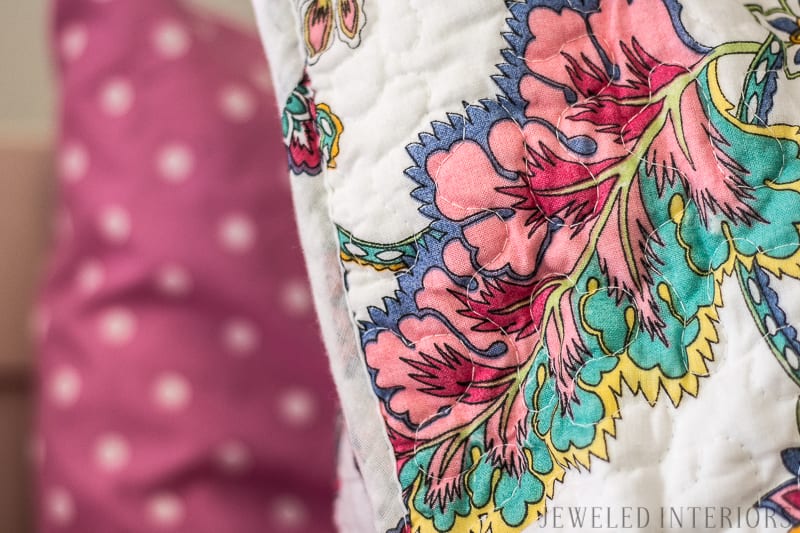 I found an old vintage settee and upholstered it in this hexagon fabric that I scored for $4 a yard. They spend countless hours here curled up with a good book.
Linens are always an important part of a room. I purchased the bedding at Homegoods. I love how it can transition from "little girl" to "big girl" with ease. The only disadvantage may be it's ability to stay clean.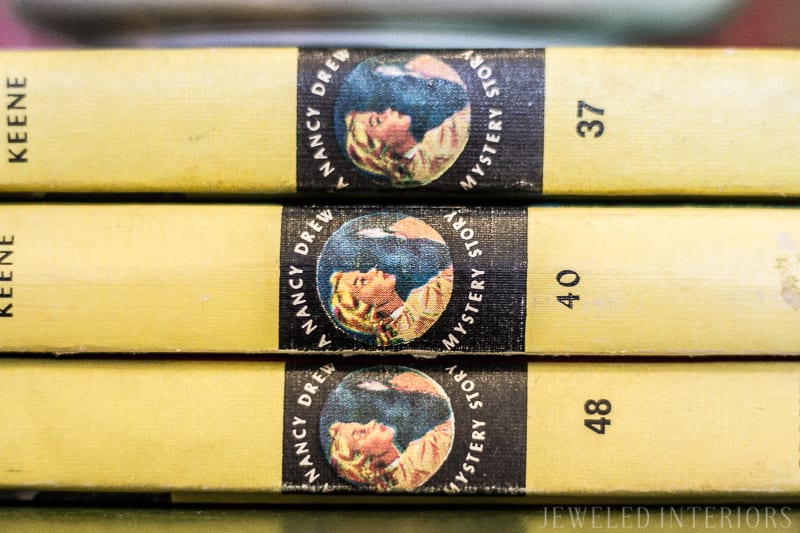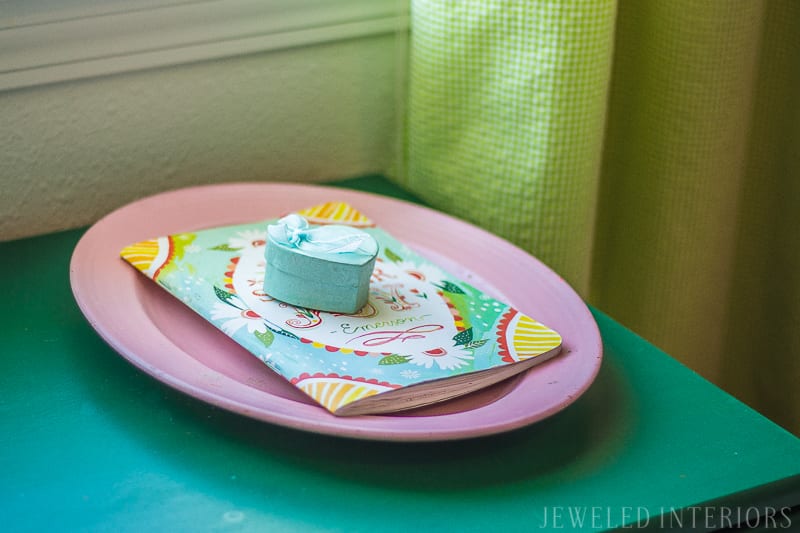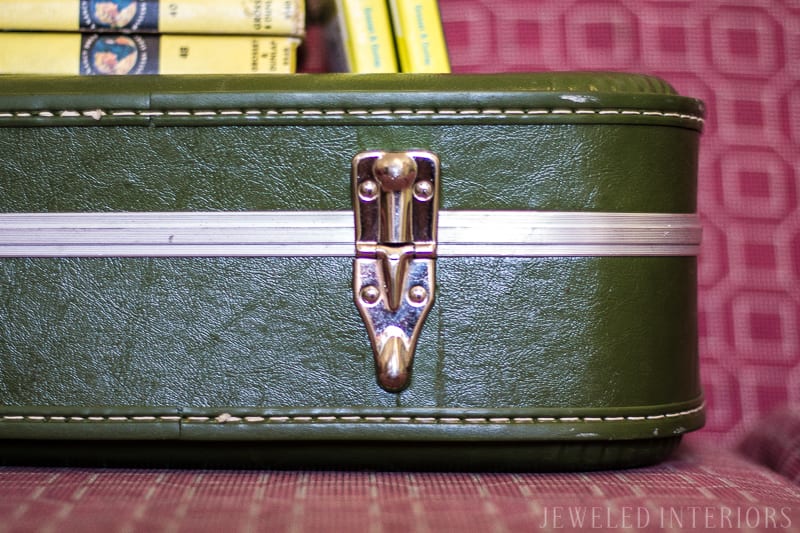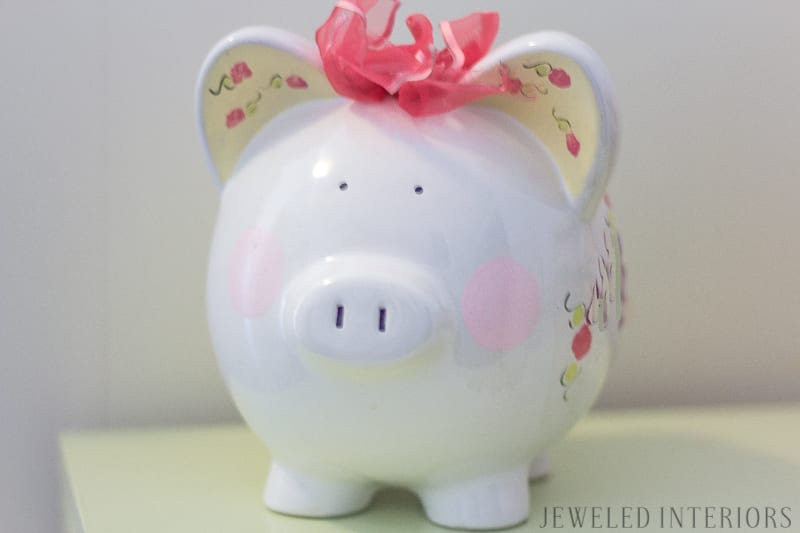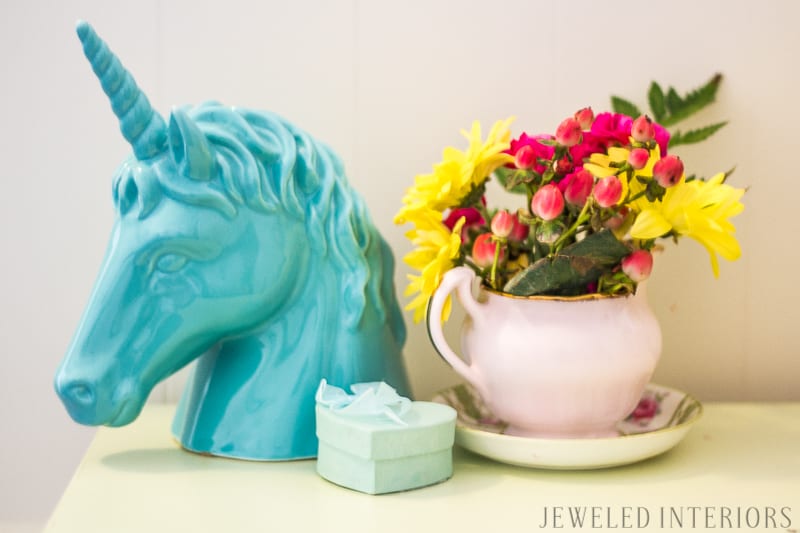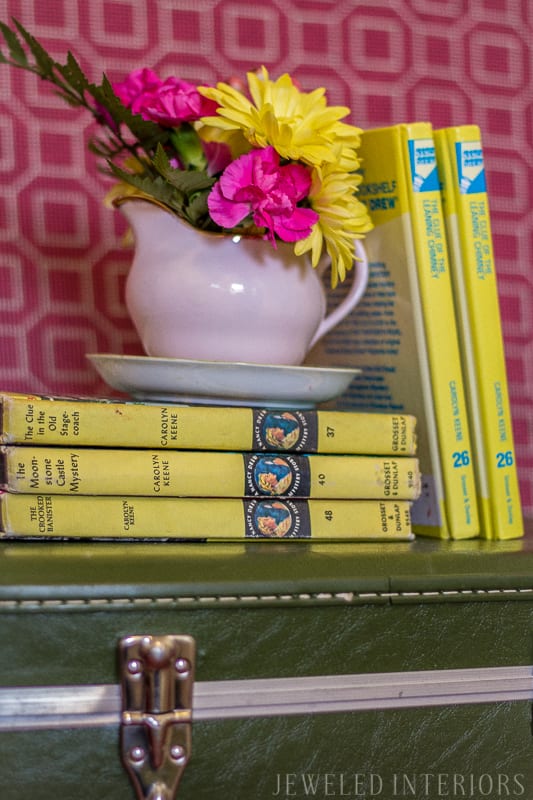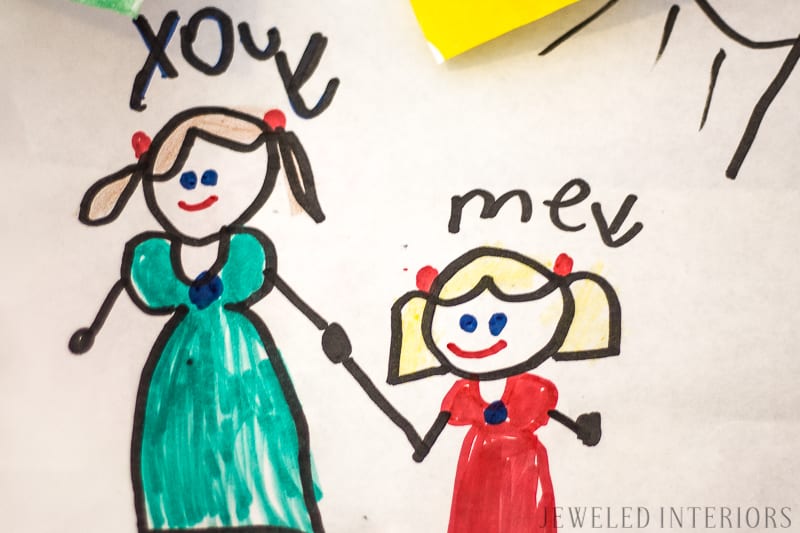 What could be sweeter than Nancy Drew reading-, piggy bank saving-, and adorable art creating- little girls? It is such a blessing to get to be an influence, teacher, and mother to these special ladies. They are growing up too fast and it will not be long until the room is filled with trappings of the teenage years. However, it has been a pleasure to document this little phase of life. Above: BTW- The hand drawn picture of of me? I think she nailed it! Am I right?
Thank you so much for joining me on the tour of this timeless bedroom. My hope is that you were able to garner ideas to use for decorating the rooms of your own little cuties.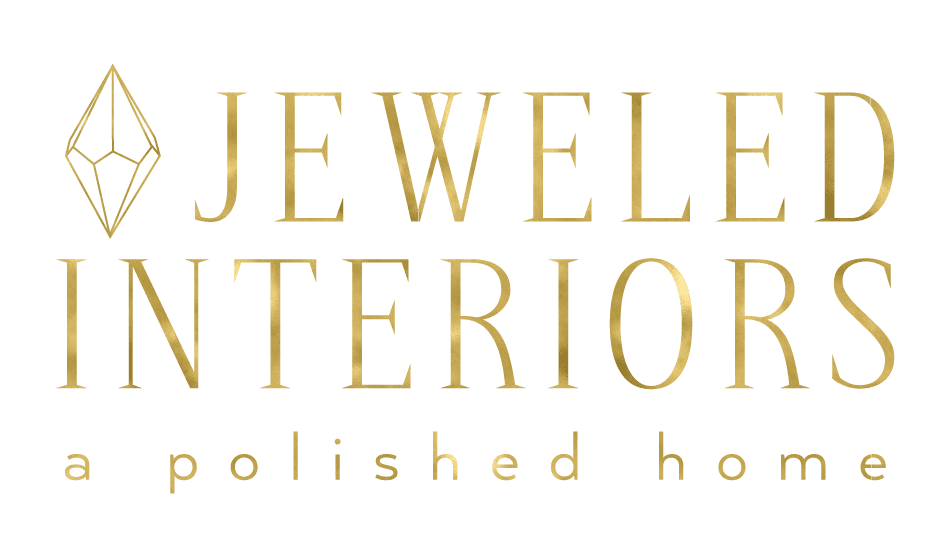 Join next week as I show you some pics from our Pineapple Party! It was awesome!
Questions? Comments? I would love to hear from you. Please feel free to leave me a message below.
-xoxo Jewel