Looking for inspiration for your Mid-Century Modern/ Bohemian Bedroom? Well, you have come to the right place!
Last week's post of Kath's dining room was so much fun to write and so well recieved, that I'm over the moon excited to reveal part 2 of their military rental home today! You have to see how Kath Barber hit it out of the park yet again.
If you missed last week's post then may I suggest you start here. No really, trust me on this one. CLICK IT! IT'S STUNNING!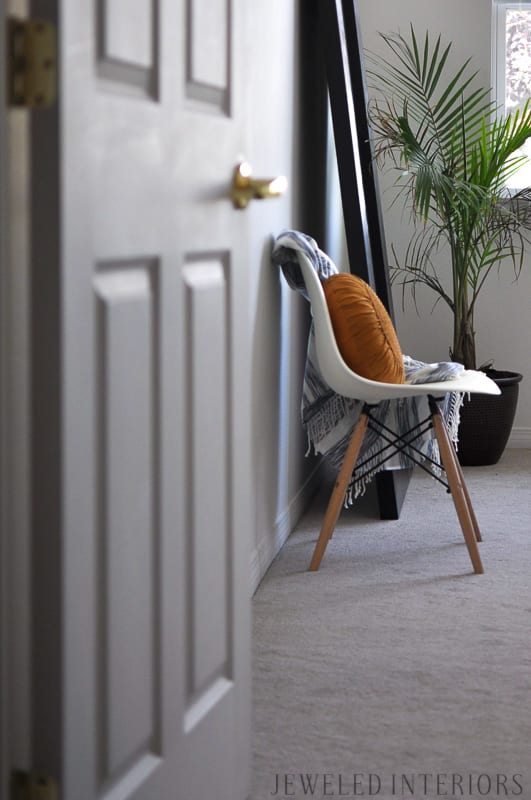 Not only has Kath generously toured us around her serene bedroom, she has also kindly sourced all of the lovelies out for you! See how to get the this high end look at relatively affordable prices.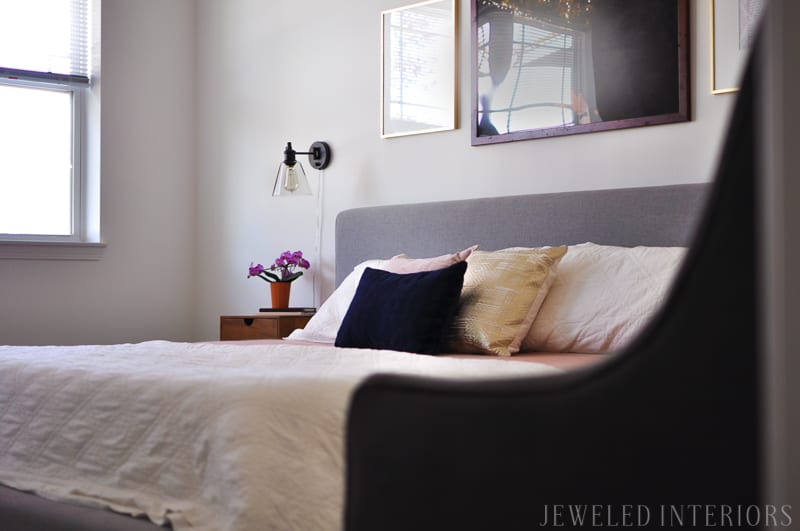 Kath's aesthetic of clean lines, minimalism, and a beautiful use of color result in a simply romantic and romatically simple vibe.
Though simple, this room is deliberate, purposeful and meaningful.  To personalize their space, Kath and her husband enlarged and framed their favorite wedding pictures into 24″x36″ prints (at Staples for only $7- NICE!). Even more special, however, is the pair of brass framed personal works of art flanking this stunning photo.  It is here that they framed the ACTUAL original handwritten vows from their wedding. While I would never have thought of this, I completely adore the idea.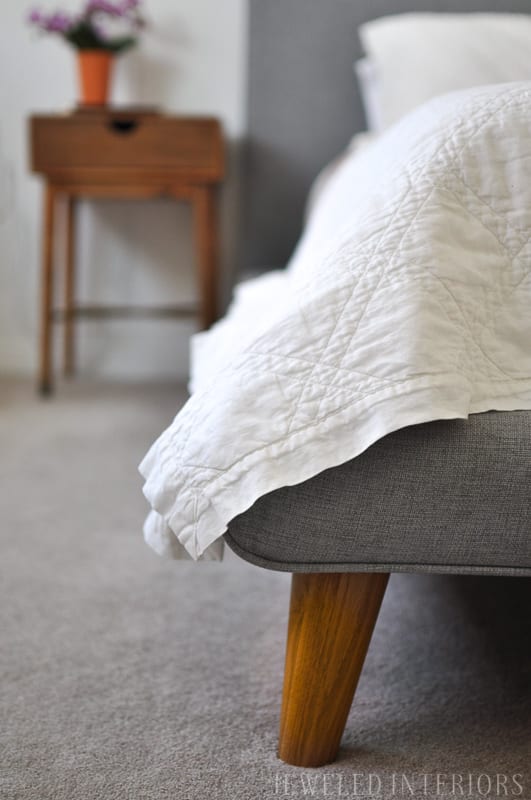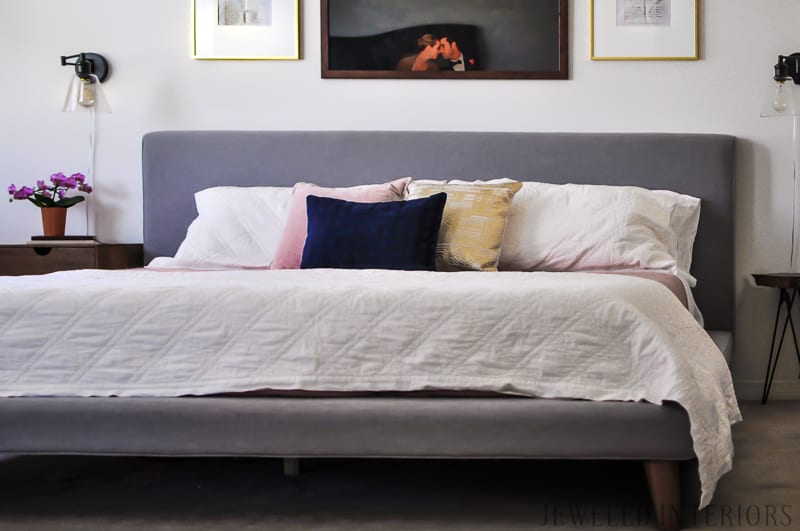 Not only is Kath attracted to clean and simple lines, she also has a thing for sexy legs on furniture. This stunning gray upholstered platform bed made her swoon. Want to copy the look? Try the Mod Upholstered Bed Frame from West Elm. I love it's understated elegance.
You may be happy to learn that all of the bedding, sweater blanket, and pillows are from Target.  Who doesn't love style that is both affordable and attainable.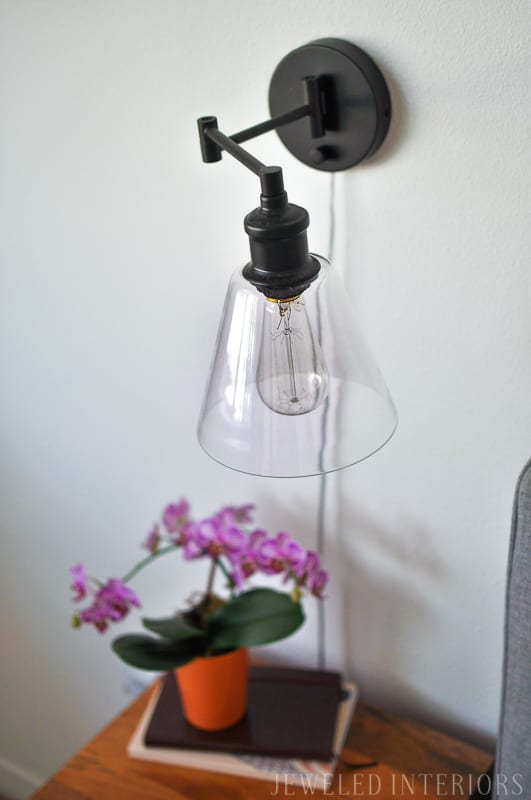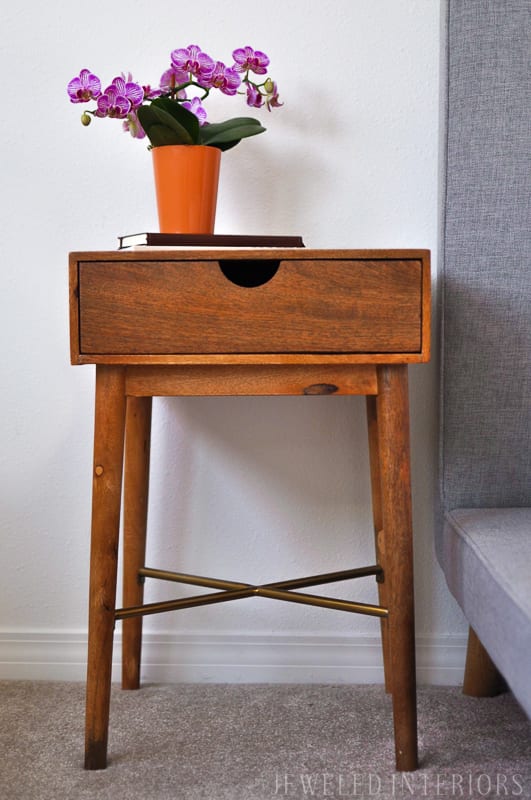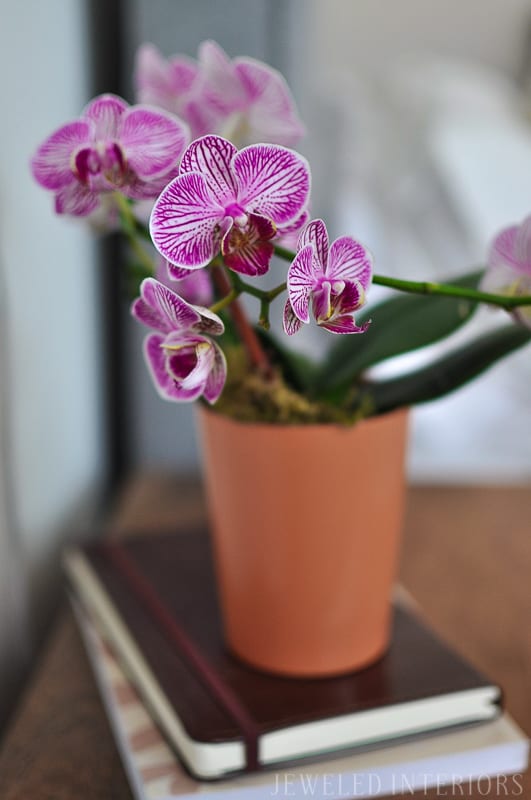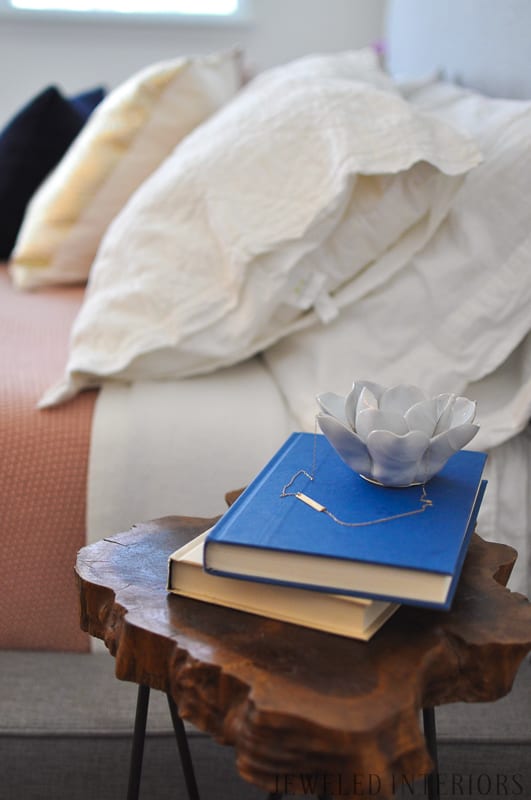 It is always the little details that make a room special.
The Live Edge Accent Table from Target is both cheeky and affordable. It brings in warmth and character to the room.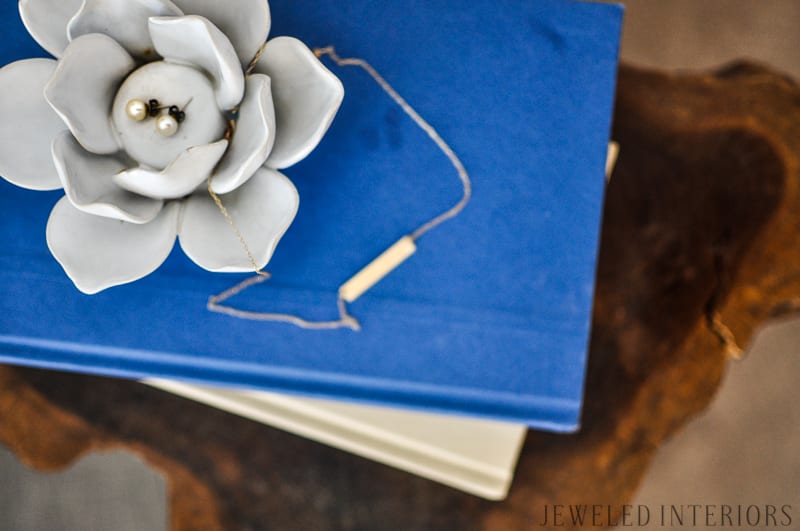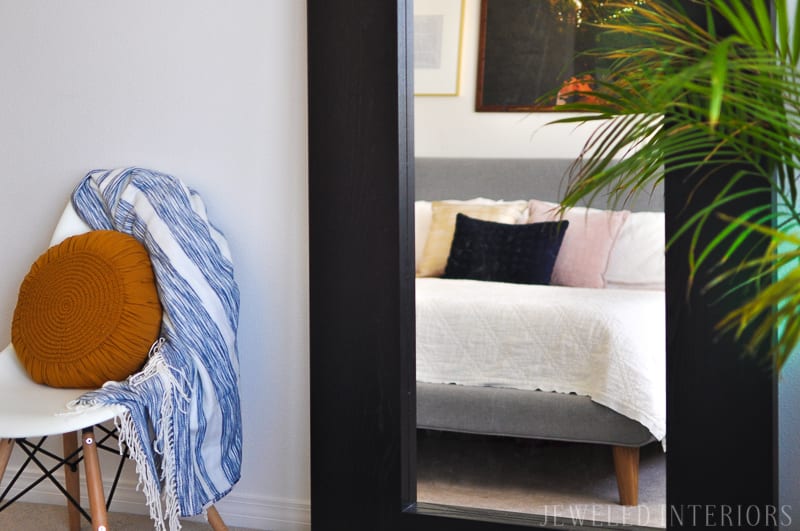 A large dressing mirror is a functional and beautiful part of the space. This oversized number was picked up at Ikea.
Greenery adds color and life to a space. Kath purchased her plant at Home Depot.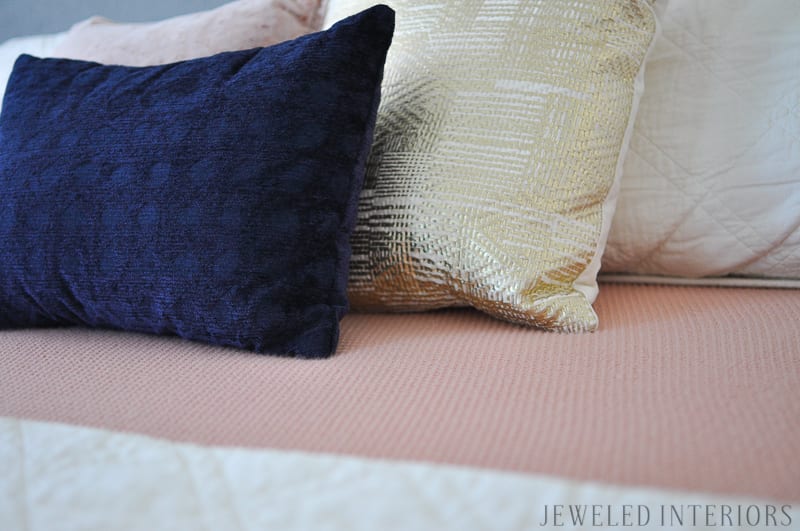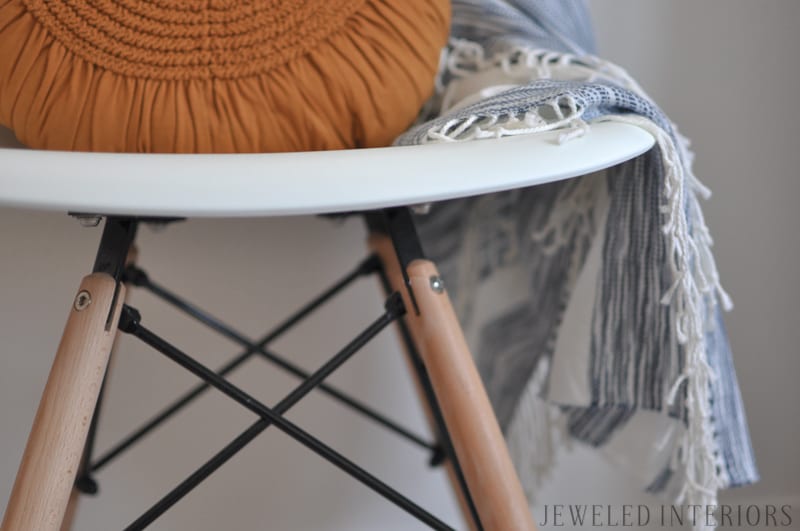 When designing a room it is always nice to mix higher end items with more affordable options.  While the bed may be a splurge for some, the accessories don't have to be.  Lookin' to save some cash?  These Eames styled, and surprisingly comfortable, chairs can be purchased at World Market.  Believe it or not, the cute blue and white blanket can be snagged at Walmart for about $5.  Simple sensibility is a beautiful thing.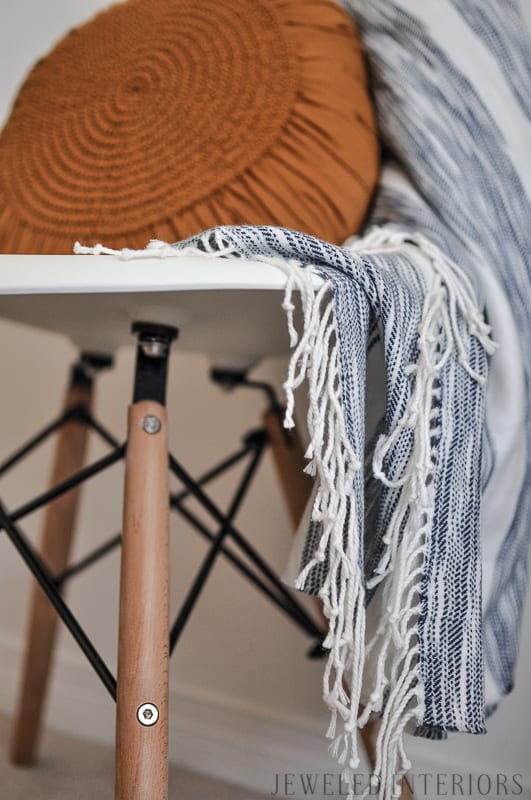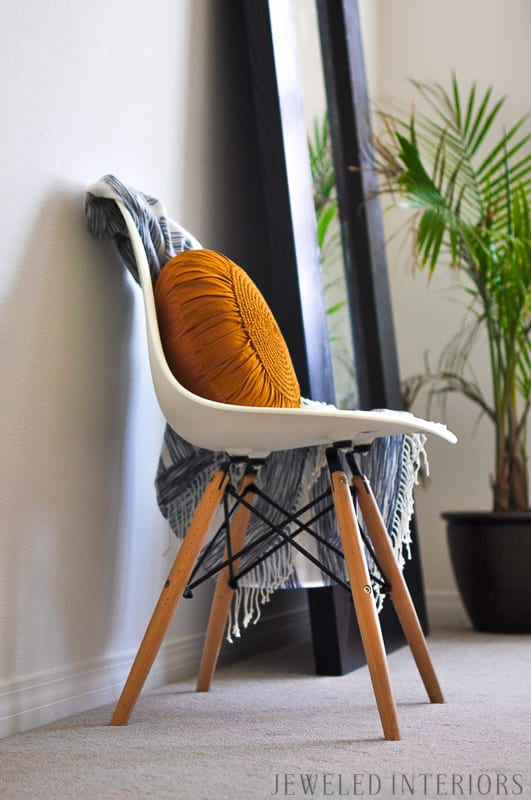 What do you think friends? Do you adore this bedroom as much as I do? While I am certainly not a minimalist, I think the big take away for me was the beauty that comes from the simplicity and functionality of this space. It didn't require any over-the-top design scheming. There aren't any trending or dramatic paint colors. Rather, it is functional, timeless, peaceful, and sentimental. It is just what anyone would dream of in a bedroom. Well done Kath! It's stunning!
__________________________________________
Friends, it's taking every ounce of will-power for me not to share Kath's final post with you yet. As you will soon see, she has decorated the rest of her home in her signiture Mid-Century Modern/Bohemian style. Of the three posts, however, this final one will have the most creative design ideas of them all. Her use of sentimental and meaningful decor invites you in, and gives you great insight into the truths and values this dear family holds. My guess is that you will be inspired and motivated to snag some of her great decorating and DIY ideas for your own home! You are seriously GOING TO LOVE IT!!!
UPDATES
FOR JEWELED INTERIORS
Next week I will be sharing two blog posts. Obviously the first one will be Kath's amazing house, and the second one will catch you up to speed on all of the BIG changes around here…Here as in New England now, not Idaho any more. Yeah, there is a lot of catching up to do.
The biggest news on my horizon is the ONE ROOM CHALLENGE starting in October. Yes, I will be trying something new and am participating in a six week design showcase! This has me doing some major design soul-searching. If I have an actual budget (though meager for the size of the room), what direction do I want to go with this blog? Who will actually read it? How many design risks can I take in my new space to keep it intriguing, yet relateable? Basically, what kind of designer do I want to be when I "grow-up"? This will be a major investment of time and resources, and I honestly feel the pressure. This could be a defining moment for my style, my career choices, and at the very least…my home furnishings (If I'm blowing all my cash on one room I need to love it!). YIKES! Breathe Jewel, breathe!
So long story short, over the next seven weeks I will be letting you venture a little further into my life than I have previously. You will get to see a more human (and oh, I'm very human) side of me. I'm going to show you rooms unstaged, projects sprawled across the entire space, and maybe pictures of me in my paintin' pants (and wow, what a sight they are :). It may take the magic out of it for some of you, but I want you friends to see how I tackle this beast. I want you to feel empowered and realize that you too can take an empty room, give it six weeks and make it look like a magazine. It isn't rocket science folks. I have a degree in History, not Nuclear Physics, or Interior Design for that matter. I just have a passion, a fairly well-tuned eye, and the guts to take some risks. Follow me on Facebook and I will show you how can easily have these three things as well.