INSPIRATIONAL HOME TOUR!!!
Kath Barber, my friend, inspiration, and former neighbor, is one of those types of people that you can't help but want to be around. Trust me folks! This girl has heart, style, grace, charm, and skillz to spare. Luckily, she has graciously allowed me to take you on a tour of her bohemian/mid-century modern rental home. While I'm stoked to show you her dramatic and colorful dining room this week, it makes me even happier to show you the rest of her beautiful home in about 7 days. This is going to be awesome!
I need to admit something to you (please don't judge)… If I'm out for a walk around the neighborhood and someone has their windows open…um… you better believe I'm going to steal a quick little glance. Come on! You know you do it too!
Well, for a month I was a little more excited than normal to puruse the 'hood. The reason? There was a new neighbor, and this was the view three doors down. Can you blame me for wanting to sneak a peak… #stalkerjustification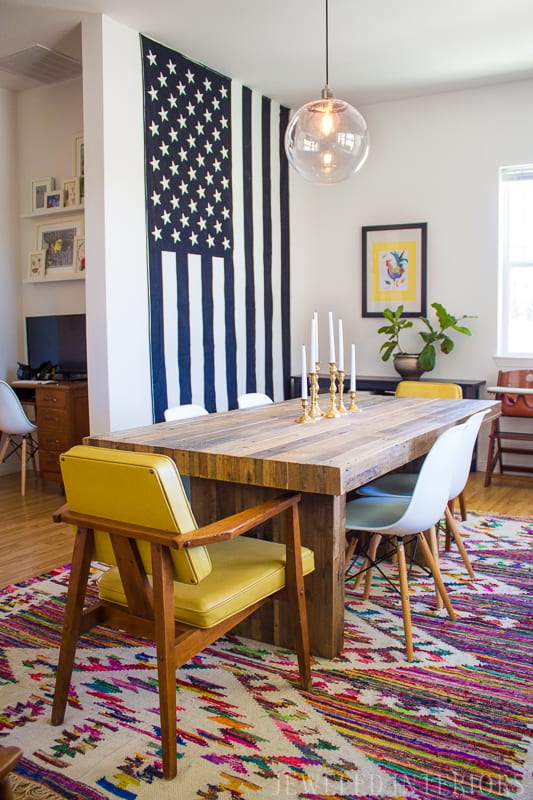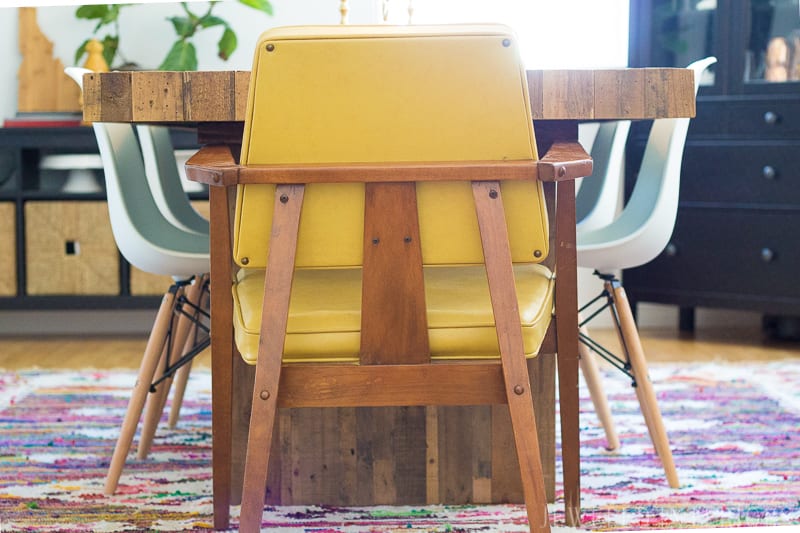 After actually getting to know Kath and her extremely beautiful family, I tried to hide my excitement when I got invited into her home. Play it cool, act natural 🙂
Well, no sneaking around required for you folks today.  Not only has Kath been kind enough to let us tour her home, she has also given me all the sources for her great finds. Let me break it down for you friends.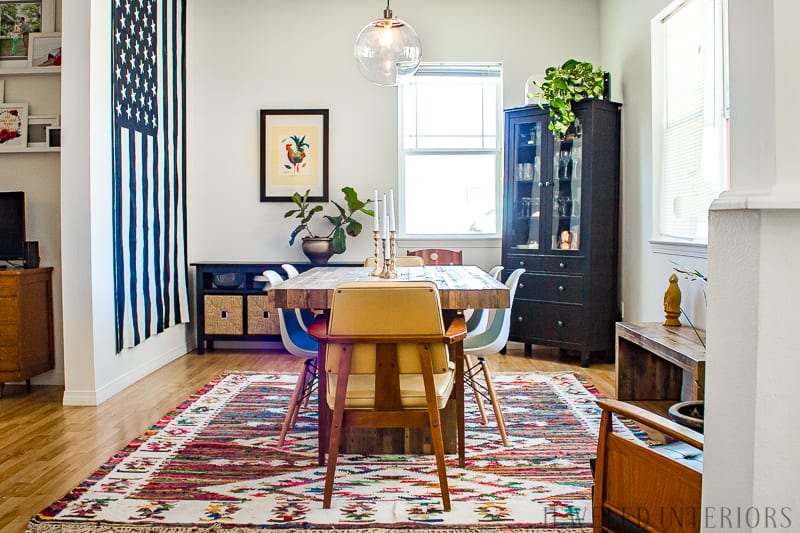 Man alive! Look at that beautifully colorful rug! I bet you can't guess where Kath purchased it.  Who said that Land of Nod was only for kids and babies?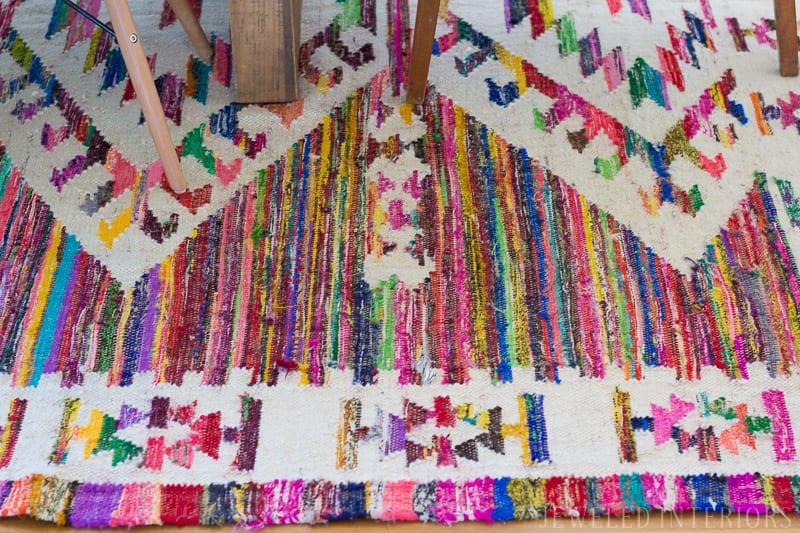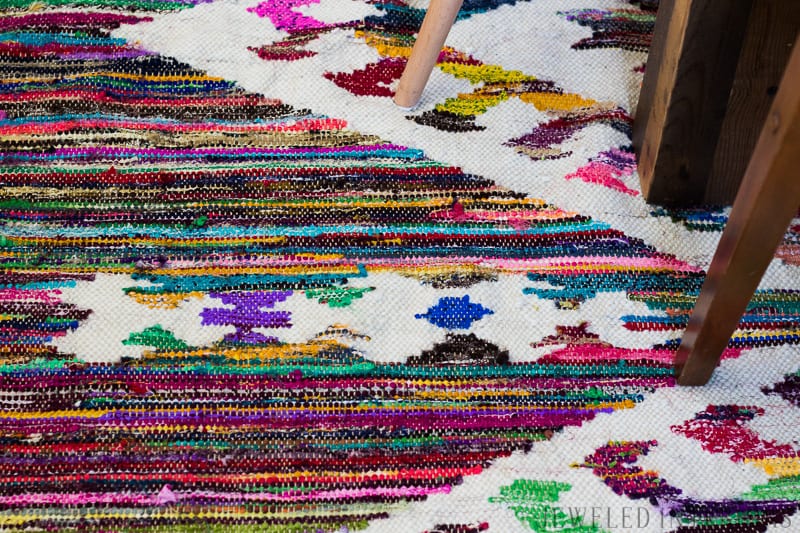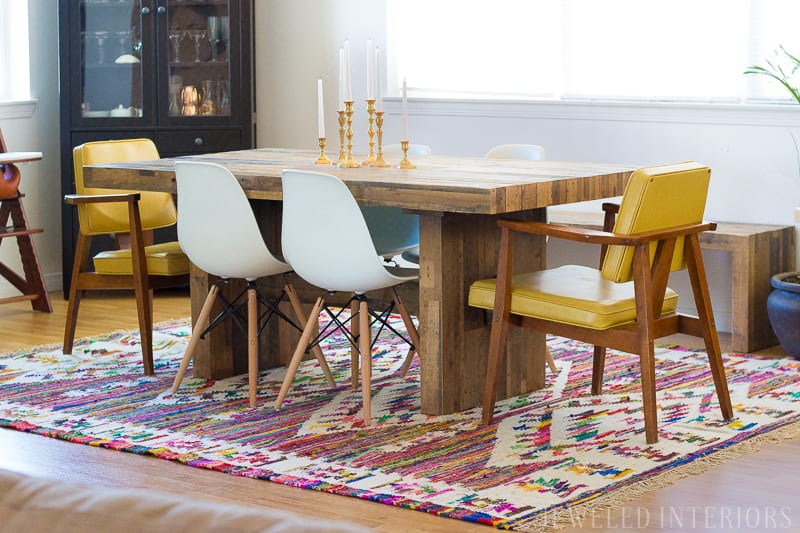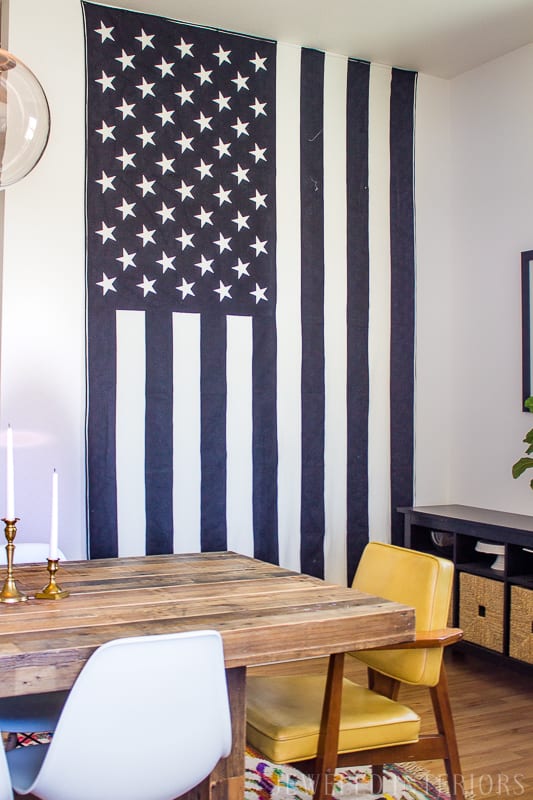 While both the statement-making wall flag from Urban Outfitters and the Pendent Light from West Elm have been discontinued, Kath dug up these similar products. Boho American Flag Sheet and Sculptural Glass Globe Pendent.
The lovely West Elm Reclaimed Wood Dining Table adds such character to the room.
The mustard yellow vintage arm chairs were purchased from West Bottoms in Kansas City, MO. Kath assures me that this is the Mecca for Mid Century thrifting. Yep, this is certainly going on the bucket list.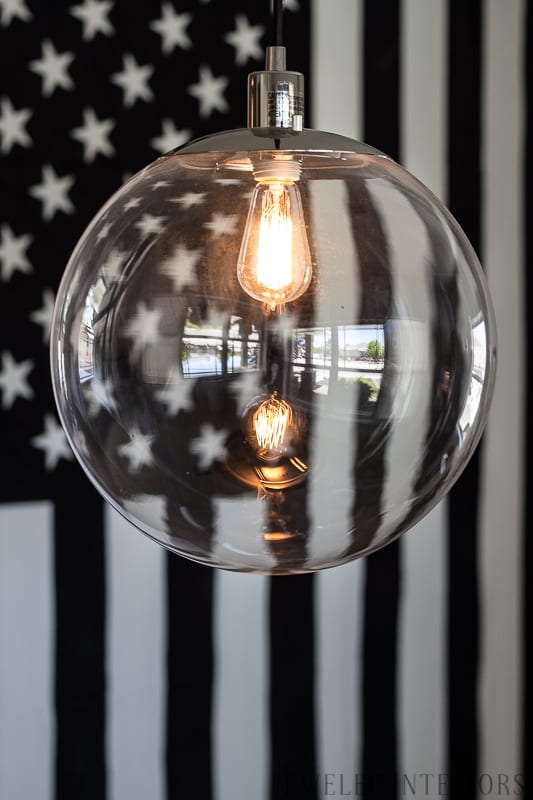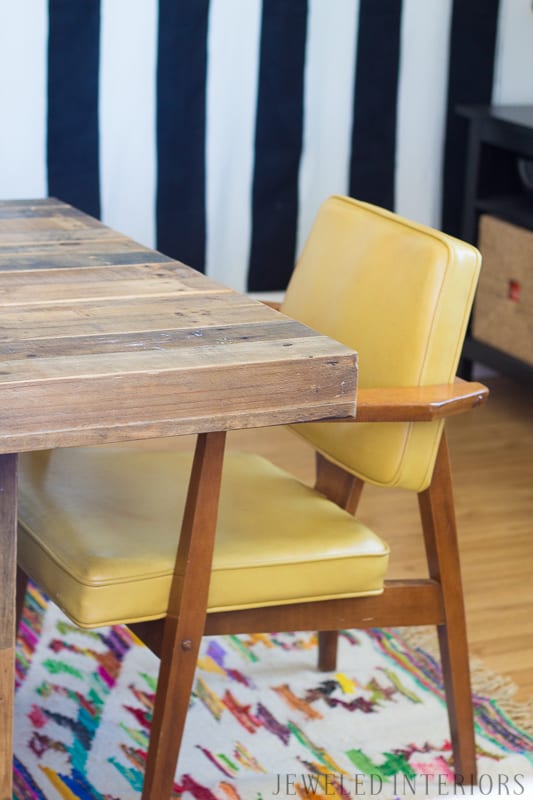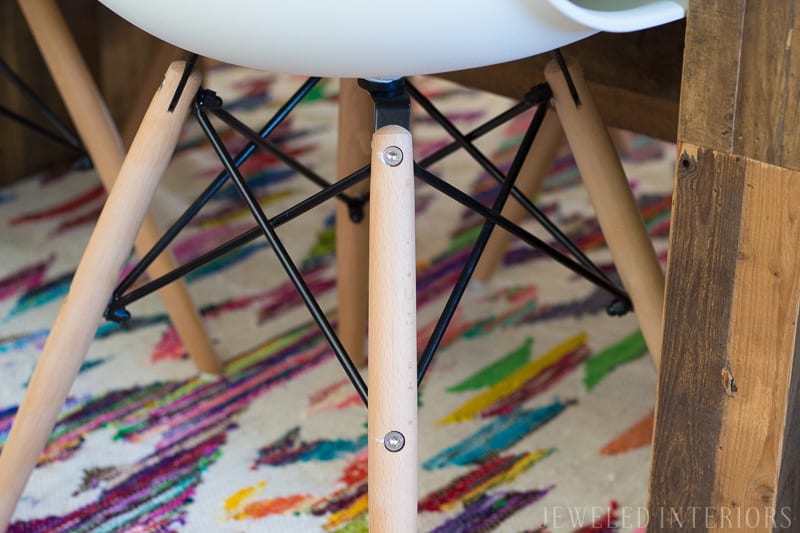 This colorful art, entitled "Little Red", was purchased from the original artist in the Florida Keys. There is no replacing the effect that original art can have on the character of a space. If you ever see a piece you love…buy it…and blame it on me. Everyone else does 🙂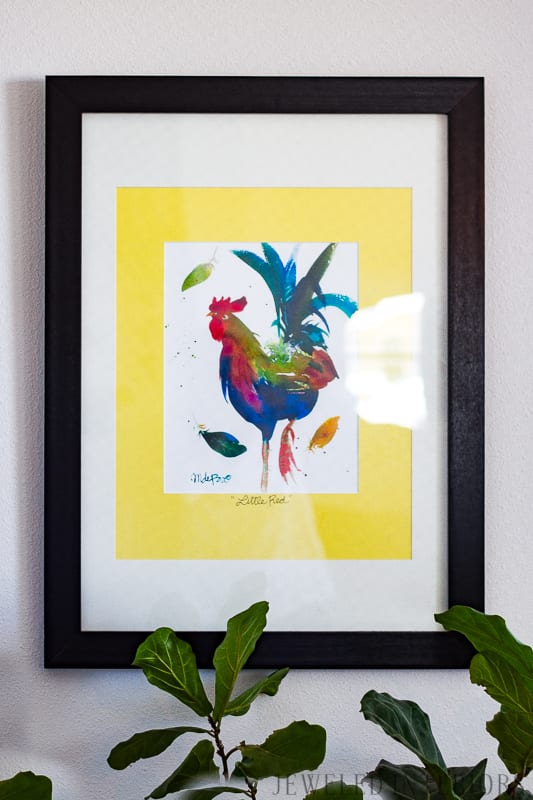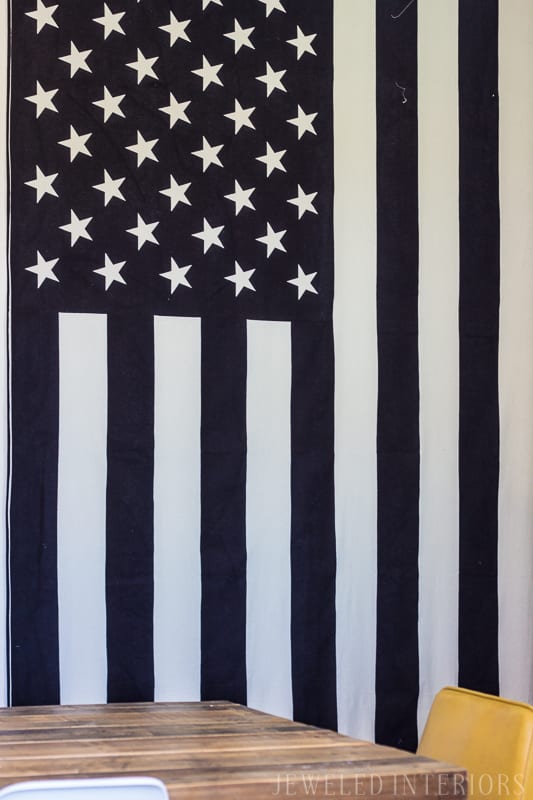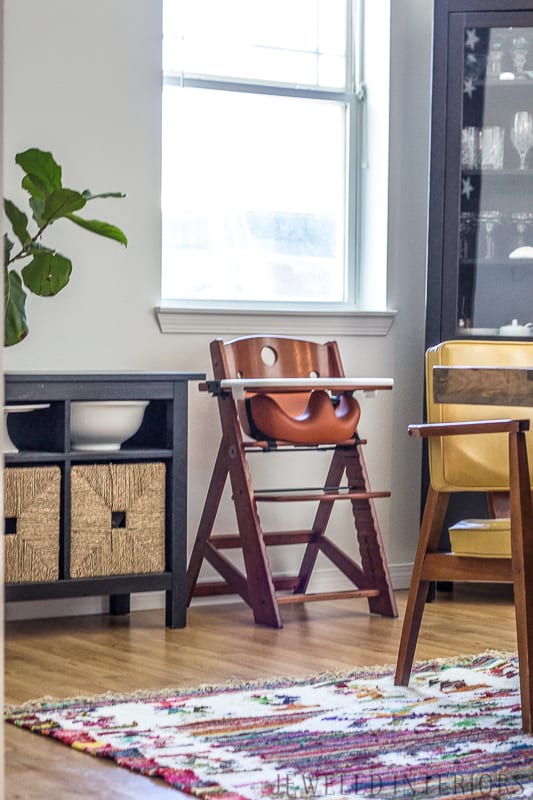 This stylish Keekaroo High Chair was a kind gift from Kath's sister. I'm crushin' on how it reiterates the MCM, clean-lined theme of the home.
The buffet and cabinet were purchased at Ikea.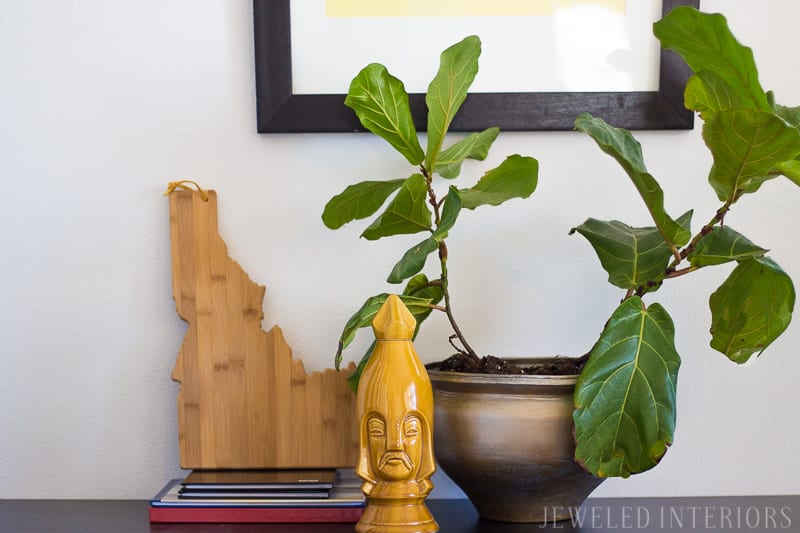 Kath and her husband, Vinnie, enjoy offering a drink to their guests. A conveniently located bar cart, purchased via good ol' Craigslist, helps them in this endeavor.
Check out this Mid Century Vintage chair. It was handed down from Vinnie's grandma. Black leather, high back, MCM lines, button tufting…We all love you grandma! You can't argue a family heirloom like that!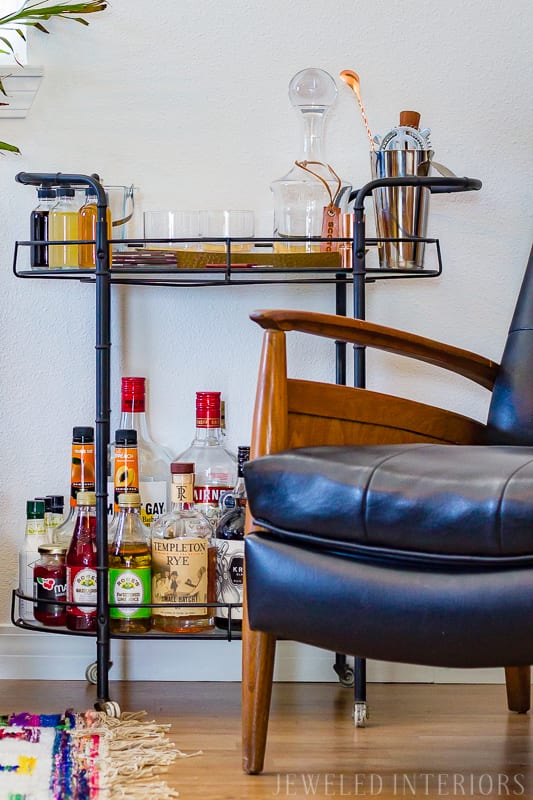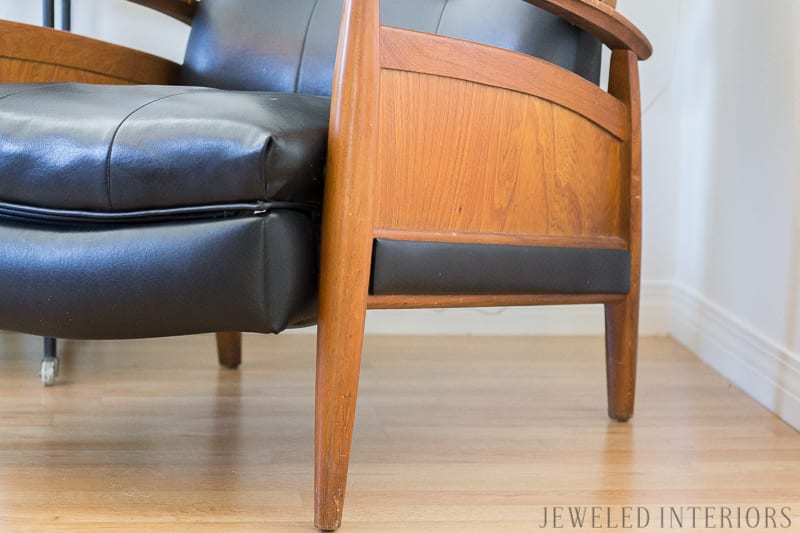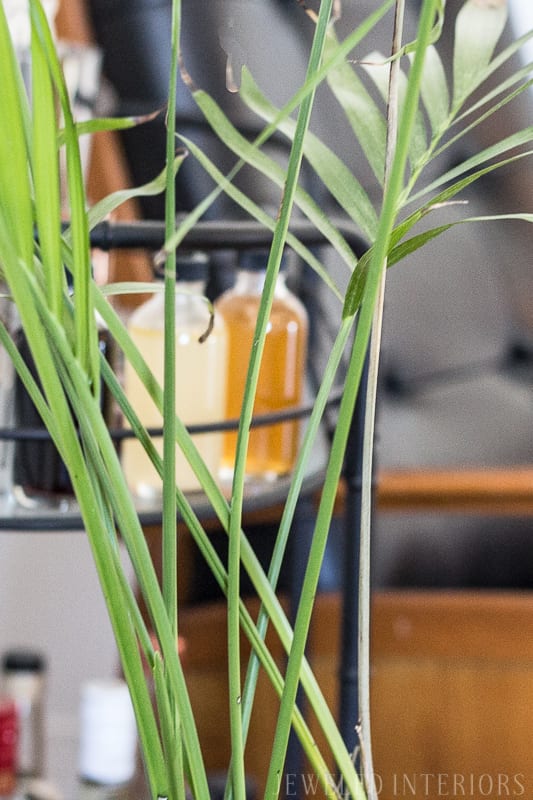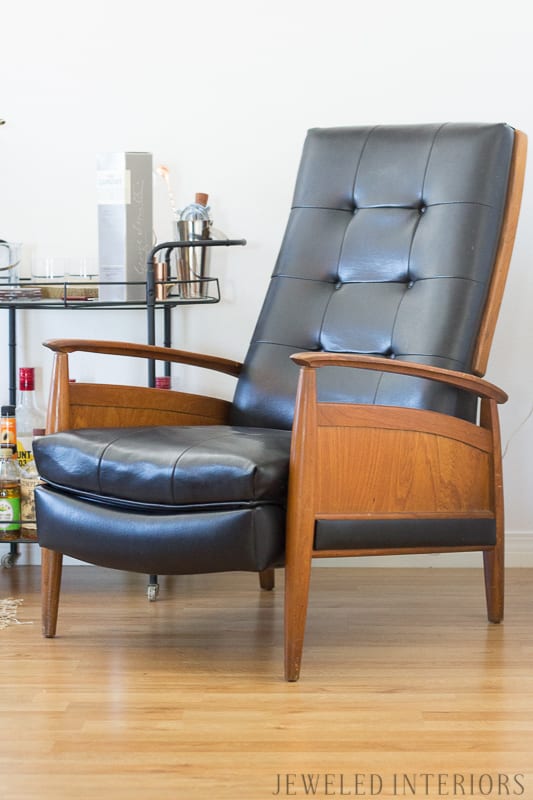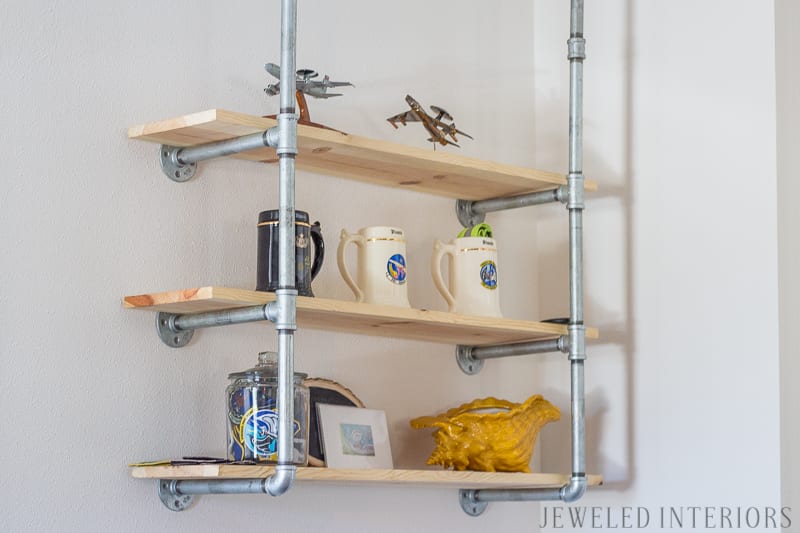 I want to end with a particularly thoughtful element of the room. This bookcase, which hangs above the bar cart, was build by Vinnie. Now it houses trinkets and mementos that are dear to the heart.
So, does actually being invited on a home tour lose any of the thrill of voyeurism :)? I will let you search your soul for that answer. As for me? This home far surpassed my imaginings of what hidden jewelbox may have been shining behind that large picture window. I love this bohemian/Mid Century Modern home, and even more importantly to me, I love the family that lives here.
If you adore the images of this post half as much as I do, then you will be thrilled to know that I will be sending more pics at you next week. That's right, Part II is comin' your way. Until then, stop looking in your neighbor's window…or not. It's up to you. I'm not judging 🙂
Updates from Jeweled Interiors:
After an epic cross country adventure, we have successfully transitioned our family to the East Coast once again… If only for 10 months. In two weeks I will start to catch you up to speed on what you have missed and what is to come.
As part of the big plans for the future, I am stoked to be linking-up as a guest participant in the highly anticipated One Room Challenge, starting in October. In this 6 week adventure, I hope to take our new open concept living room/ dining room and give it high style for little cash. The vision? Picture Eclectically, well-traveled, glam Parisian Apartment(ish) style…NICE!!! Let's see if I can pull it off! Join me on this grand adventure by following me on Facebook