Gratitude Christmas Tree Ideas for Your Home
Why a gratitude Christmas tree?  With so much uncertainty in 2020 things feel a little different this holiday season, don't they?  As I contemplated what I really wanted to do with this, the first of four, Christmas trees, I brainstormed what would actually uplift my family and be memorable years down the road.
Normally, I aim to create rather over-the-top maximalist Christmas trees when my kids are at school, but this year they are home and I wanted to include them.  Going "over the top" didn't seem like the priority with this tree.  Instead, I wanted to show them that no matter what, we ALWAYS have something to be grateful for.  I want them to learn that a grateful heart helps us find joy in our trials.  As it turns out, we've learned that we actually do have a lot to be grateful for this year.

Thanks to Stephanie from Casa Watkins Living for putting together this awesome tree blog hop each year.  I really appreciate her many efforts and look forward to seeing both hers, and all of the other participants' trees.  Make sure to see all of the fun tours at the bottom of the post.
Gratitude Christmas Tree Decorations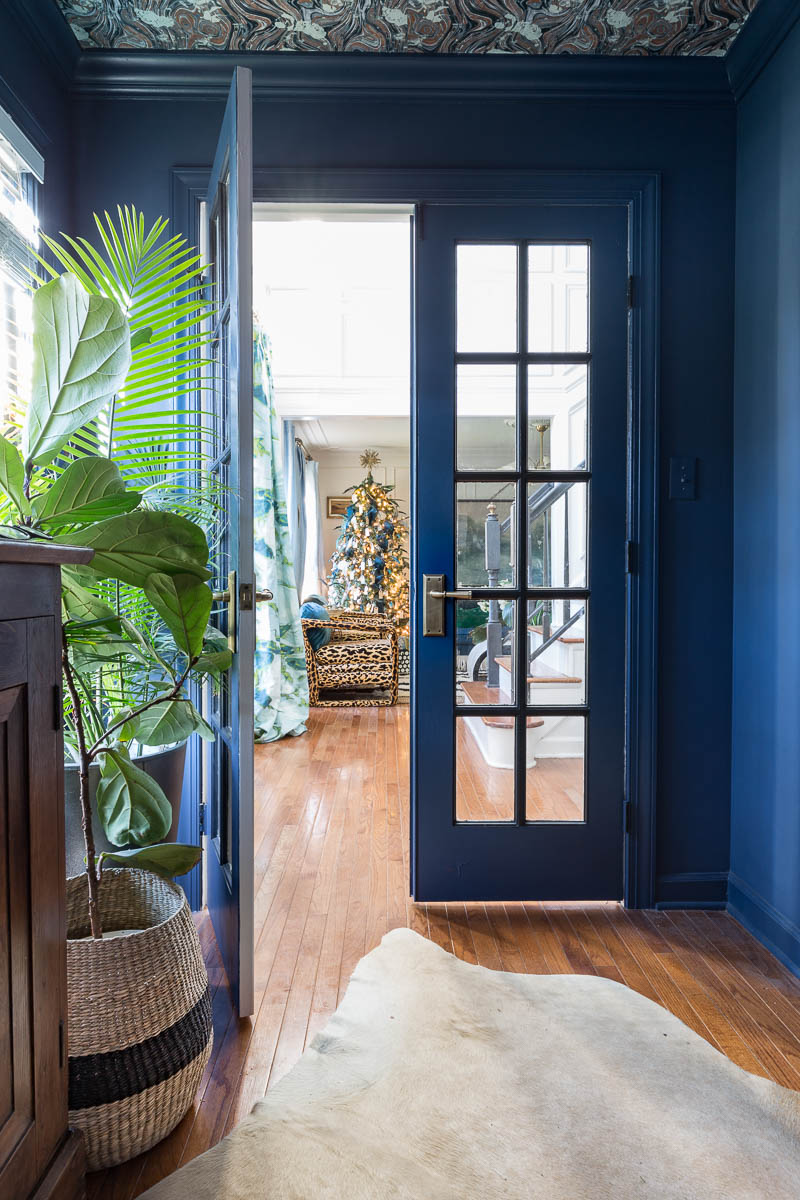 Because I am trying to avoid shopping and leaving he house as much as possible right now, I had a goal to use mostly what I had on hand.  They only exception was the gratitude Christmas tree tags themselves which I ordered off of Amazon.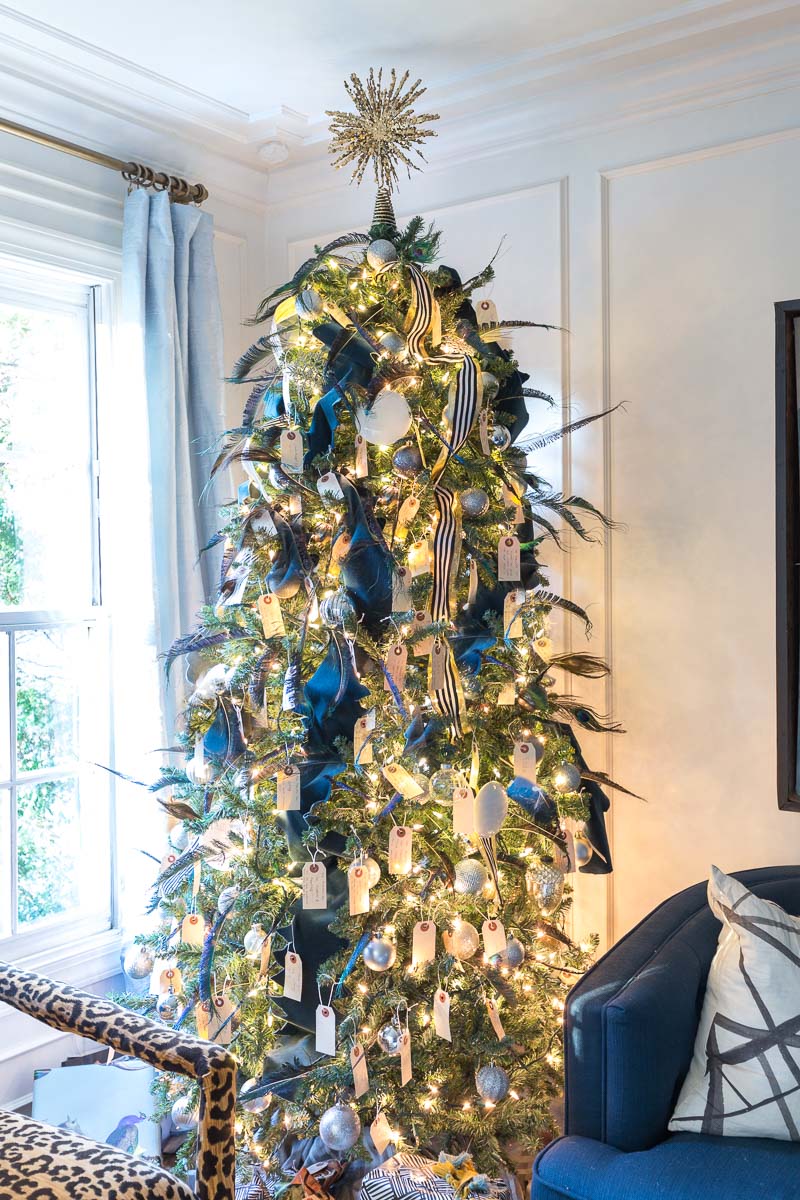 The concept is simple.  Each member of the family writes something that they are thankful for and hangs it on the tree.  We continue to think of things, and our tree continues to fill up.  Are the tags perfectly spaced, did we use our best handwriting? Nope and nope, but it's 2020….so it's good enough 🙂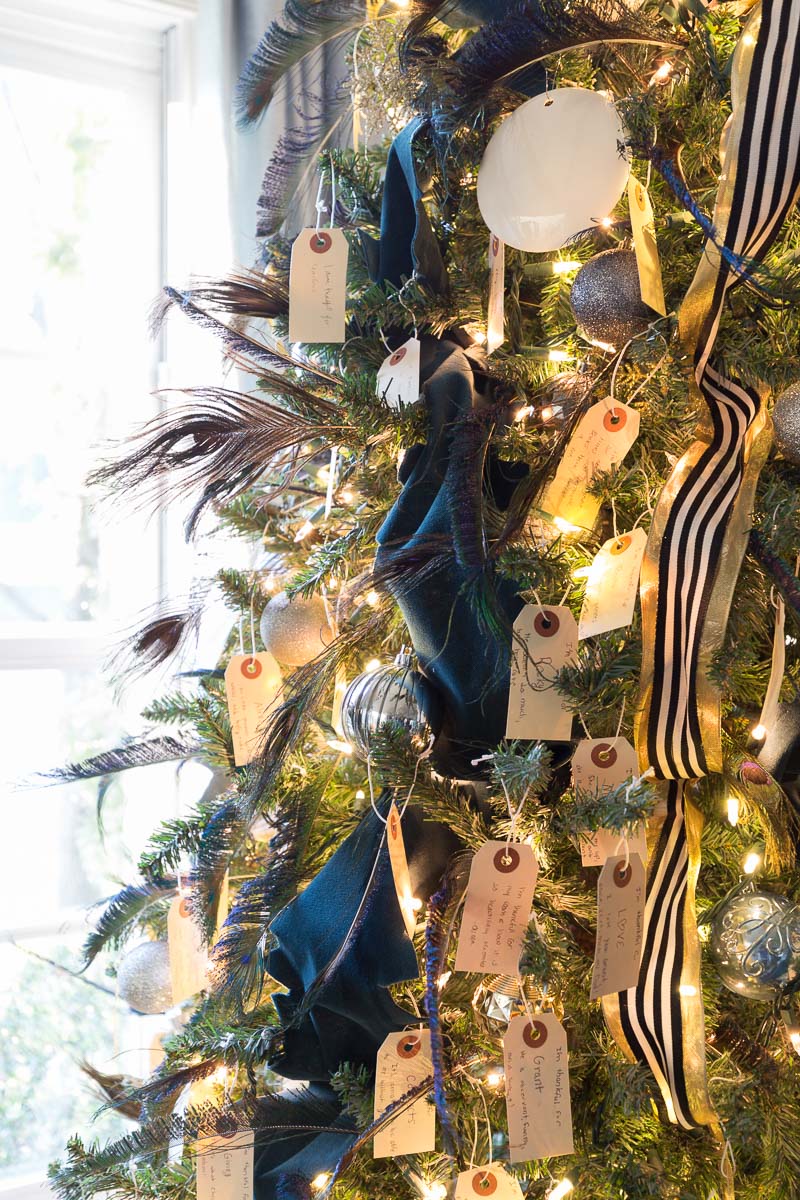 I've enjoyed reading their lists. Some are obvious, some are random, some are funny, but they all make us smile.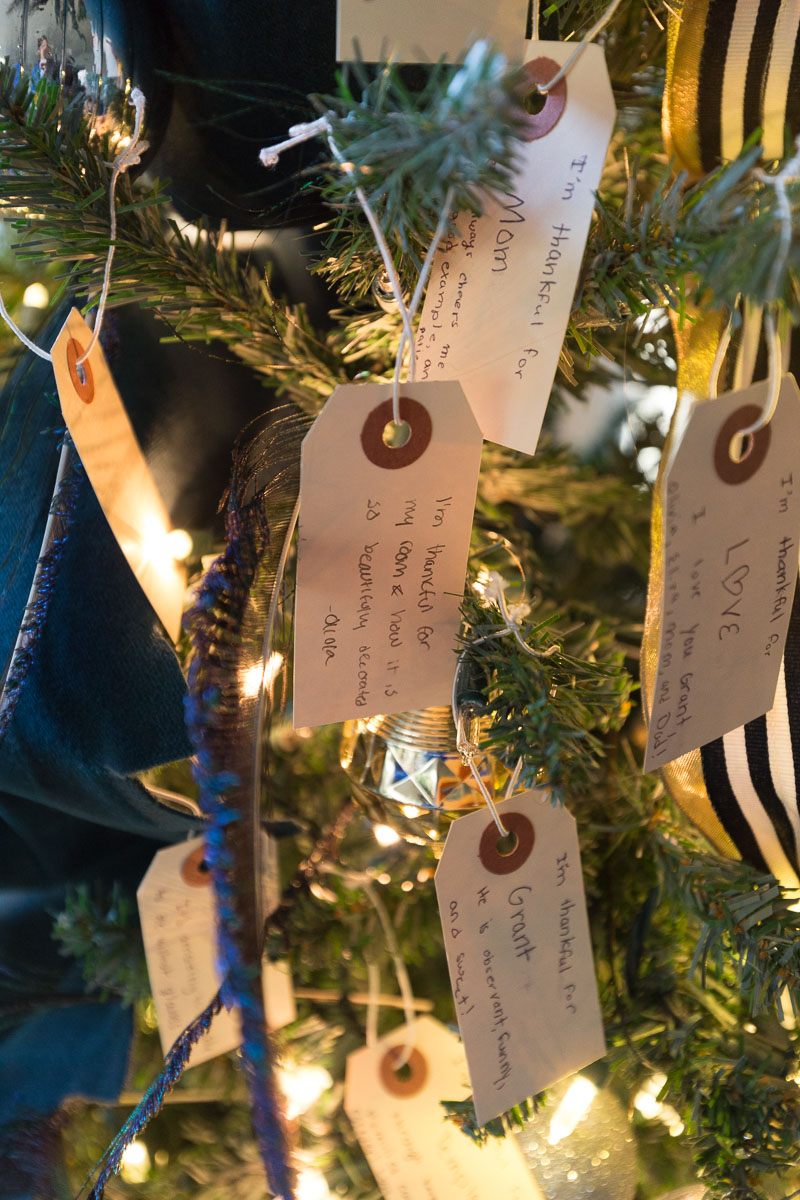 In addition to writing the tags, the kids wrapped all of the gifts.  Boom! Christmas is so much easier when you have older kids as Santa's helpers :).  This year, on this tree at least, I am learning to stop being the holiday control freak.  This more organic approach may have slightly less perfect visual results, but in the end, it the experience meant more to my kids.
Also, to keep the entire scene from looking too farmhouse, I added in punches of blue with the wallpaper leftvoer from my  Fall 2018 Dining Room makeover.  I also added leftover peacock feathers, stripes, and velvet.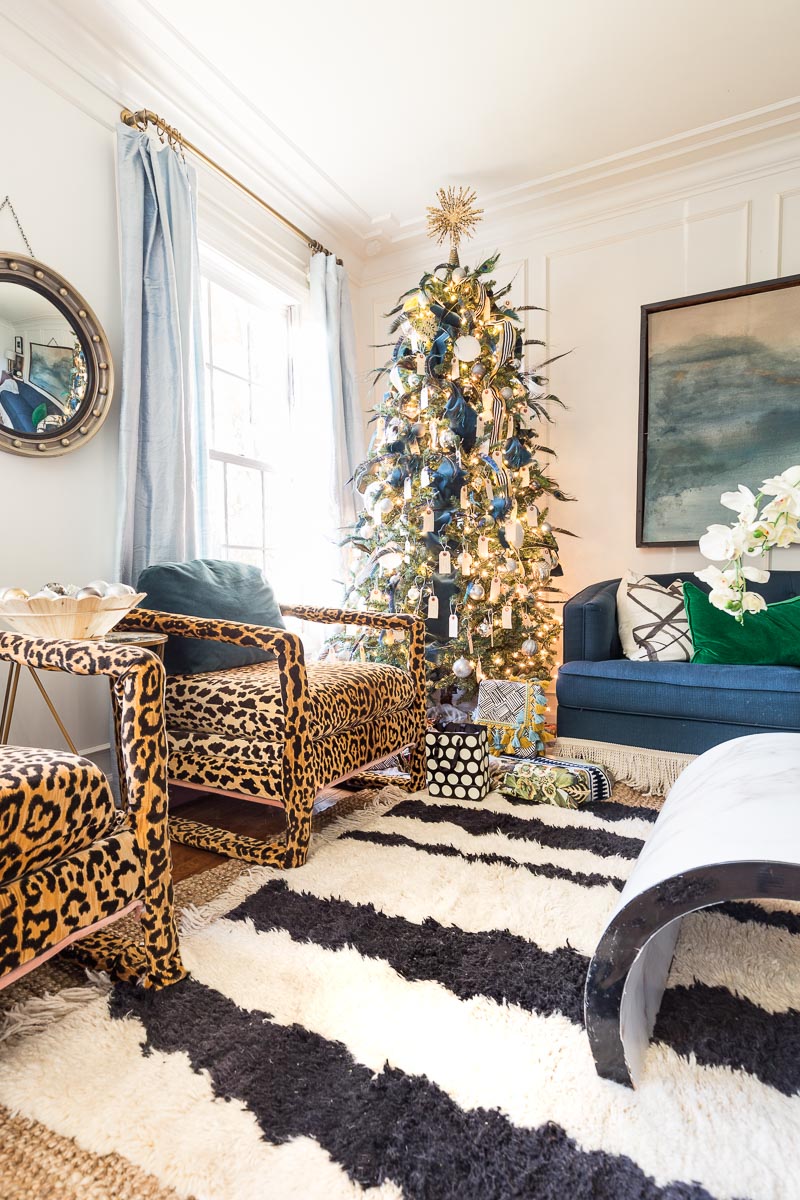 Note: I would like to thank Beni Souk for gifting this new rug.  The opinions are 100% my own.
Yesterday in the mail I received this gorgous new Beni Ourain Moroccan rug.  This beauty will eventually make it's way up to my daughter's bedroom for her room makeover in January, but it seemed to fit perfectly in here for now.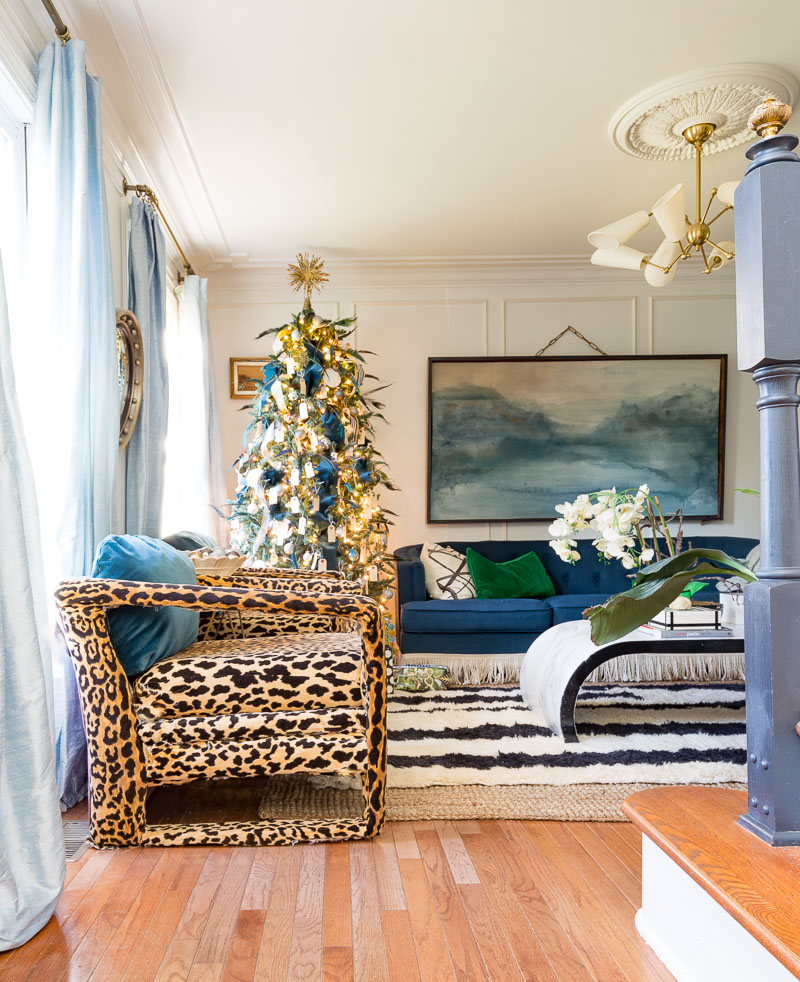 The rug is incredily plush and shipped here extremely fast.  Beni Souk has an incredible selection of other gorgeous rugs that are definitely worth checking out.  Right now you can combine my Jewel10 discount with their 30% off discount for a total of 40% off your purchase!  Woot Woot!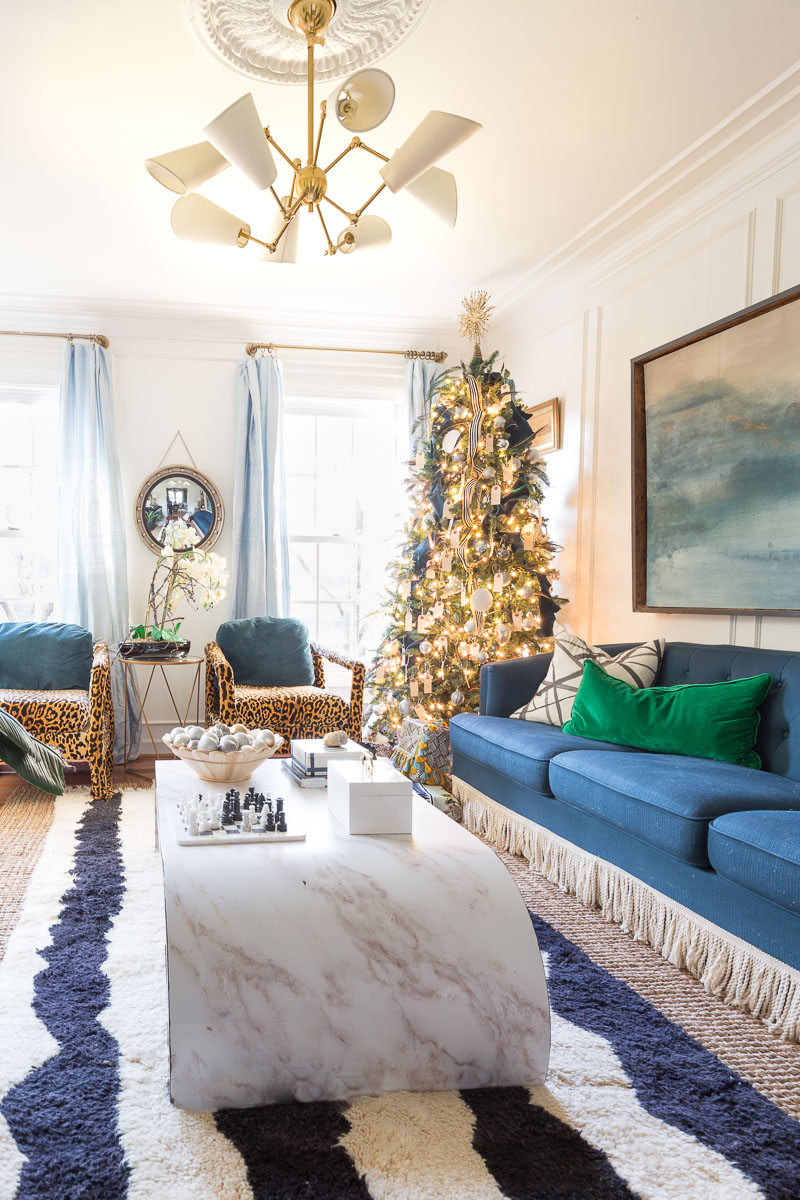 Thanks for stopping by for the Gratitude Christmas tree, the first of several Christmas make overs.
I would love for you to come back to see how we decorate the rest of the home this season.
Ok, now go check out Kate from Kate Decorates and all of the other fab participants so far.

Monday:
Casa Watkins Living // Up To Date Interiors // Taryn Whiteaker Designs // Cherished Bliss // Thou Swell // Cassie Bustamante
Tuesday:
The DIY Mommy // PMQ for Two // Jeweled Interiors // Kate Decorates // Banyan Bridges // Making Home Base
Wednesday:
Monica Wants It // House of Hipsters // Cuckoo 4 Design // Delineate Your Dwelling // Lolly Lane // Mango Manor
Thursday:
Two Twenty One // Lemon Thistle // Iris Nacole // Au Petite Salon // Setting for Four // Whispering Pines Homestead
Friday:
The Handmade Home // Our Fifth House // Tag & Tibby // Daly Digs // House Homemade // Love Your Abode