It's BIG REVEAL time!  It has been a while since I have done an office, and I have two design tricks to highlight in this space.  I can't wait to tell you about customizable grasscloth and customizable art prints!  It was a "Choose Your Own Adventure" story of the very best type, and I'm going to show you how it was done.   Come check out the gorgeous grasscloth that my client selected and the art that makes the room pop!
Office Grasscloth and Art | BEFORE
  I would like to introduce you to a client home that has been in the works for 10 months.  Most of the rooms are awaiting custom furniture, but this office called for a quick refresh. This room has great bones and lovely custom cabinetry.  I simply helped my client chose from a curated collection of Spoonflower customizable wallpaper options, added some Minted art, and styled the space.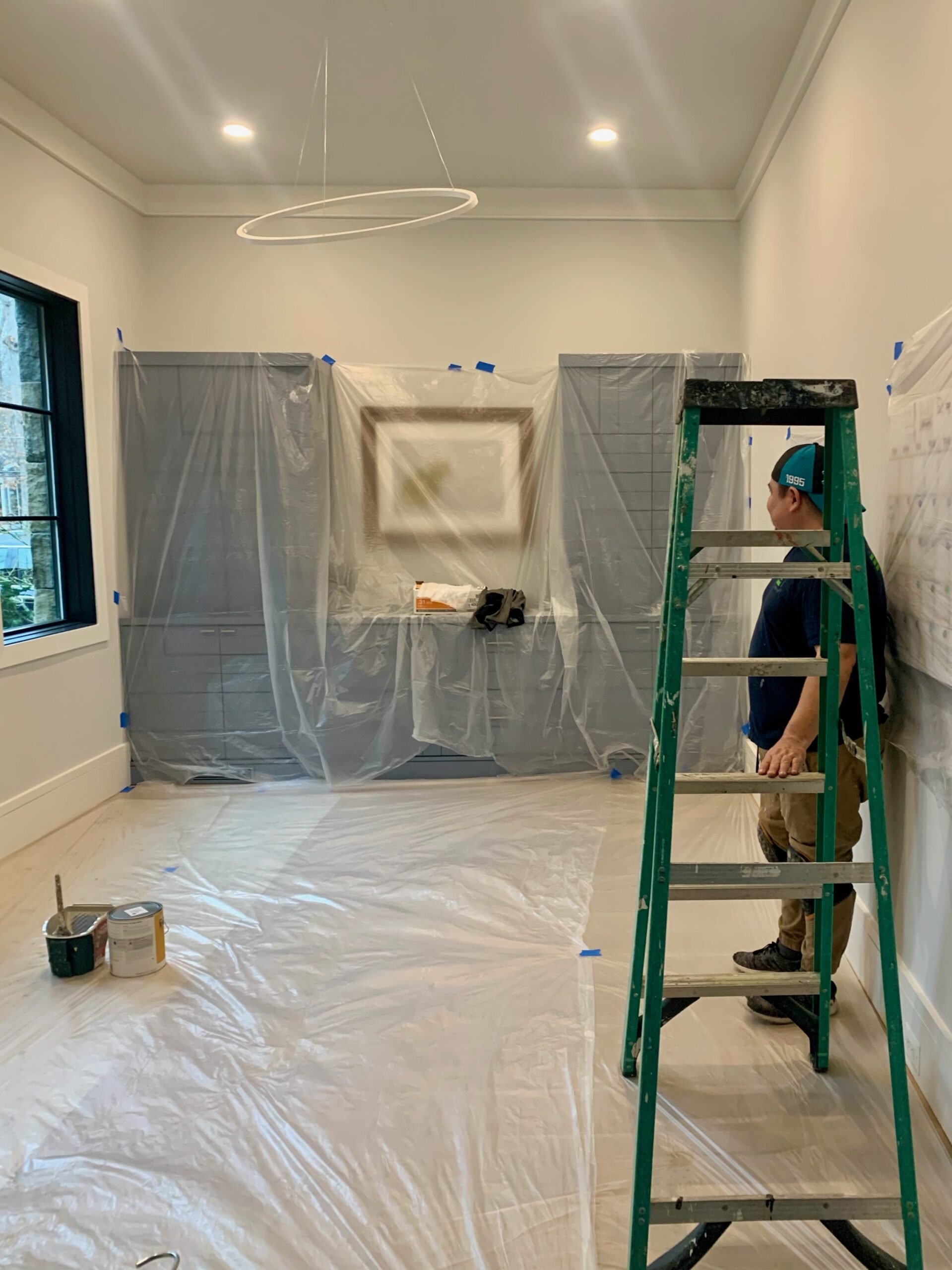 You can see here that we also painted the ceiling and trim blue to match the cabinets.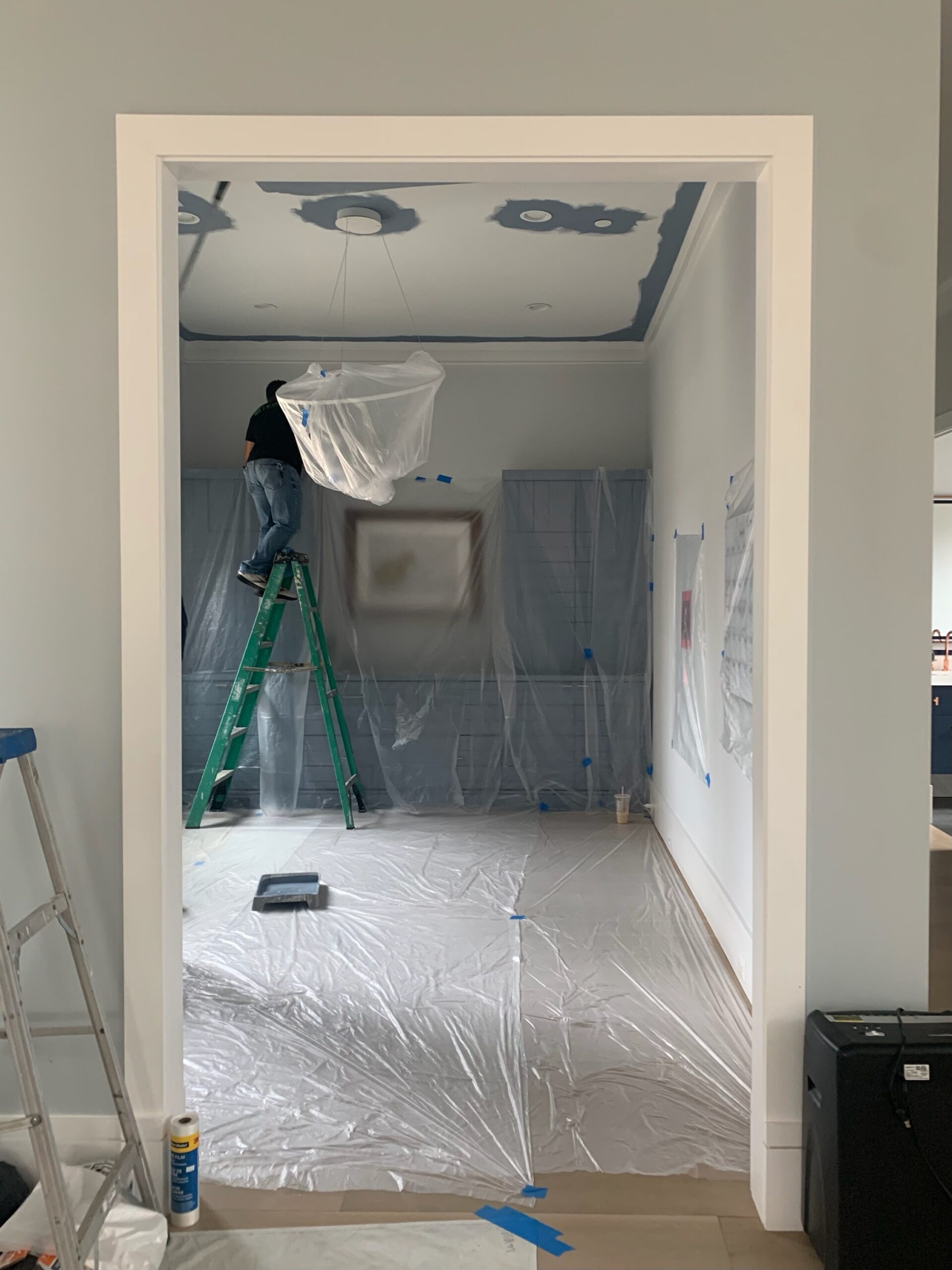 Note: The grasscloth and art were sponsored, but the opinions are 100% my own.
Grasscloth Office | After
My client wanted something subtle, but impactful.  She was also craving the texture of grasscloth.  She landed on Spoonflower called Wildflower Stems x Taupe large designed by Ali Hooten at Coit Creative
I'm so excited for you to see the difference!!!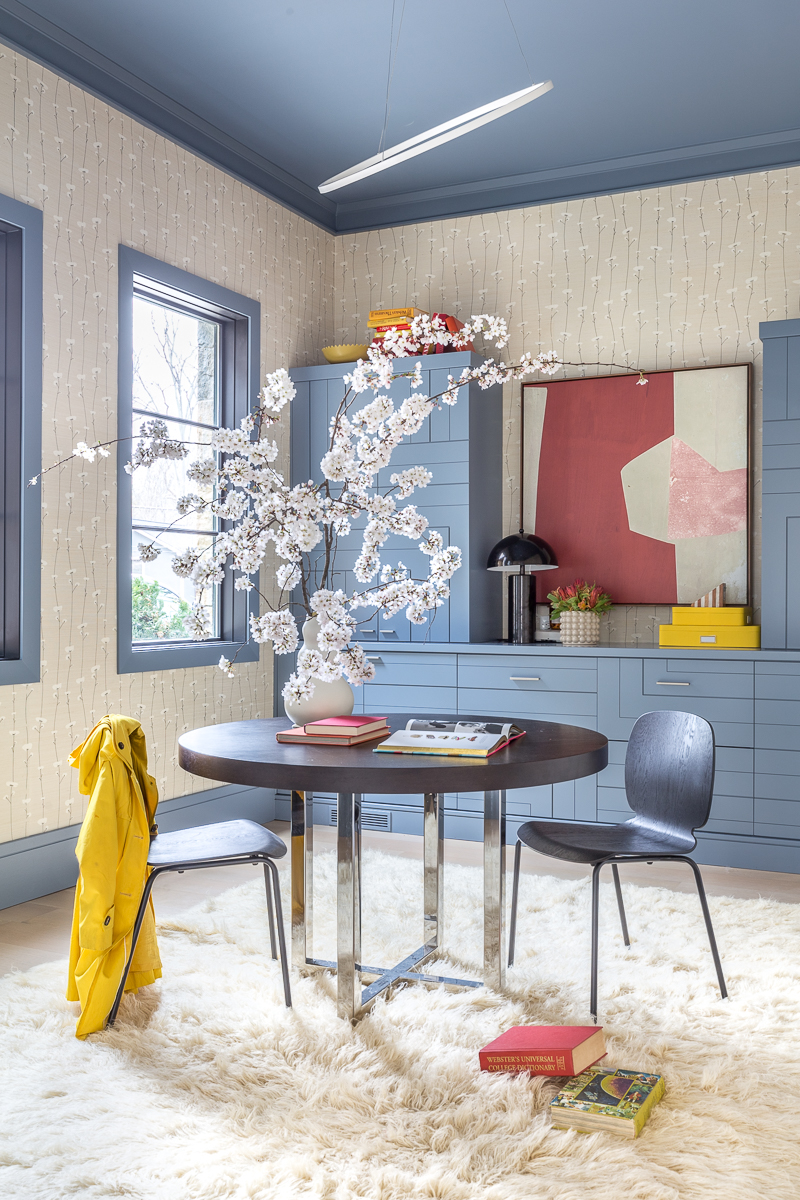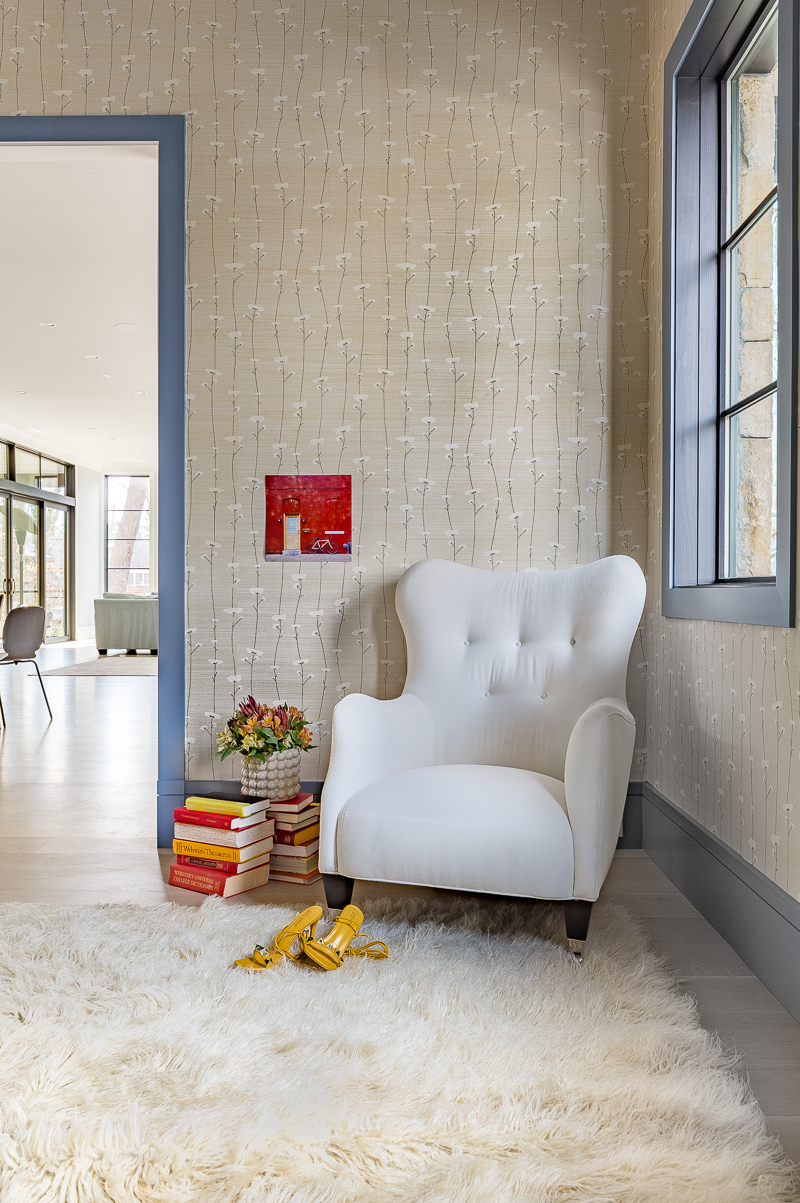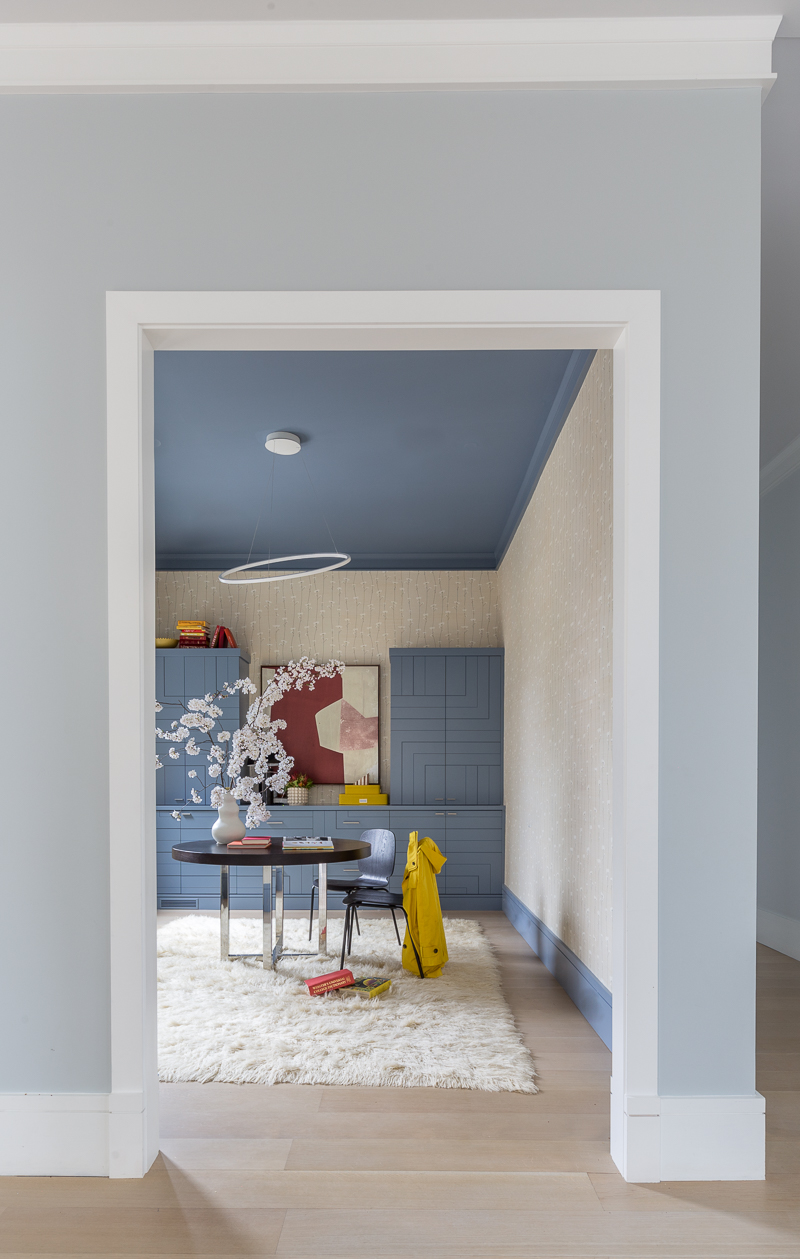 Spoonflower carries many substrates of fabric and wallpaper, but my two favorite are their linen and grasscloth.
When using their product, you have the ability to reach out to the graphics design artist to see if they are willing to resize or recolor your design.
For the grasscloth, keep in mind that it is a natural whit base, vs a pure white.  Your pattern will print out warmer than it might look online.  Just remember that you can always as the artist to cool it down for you if needed.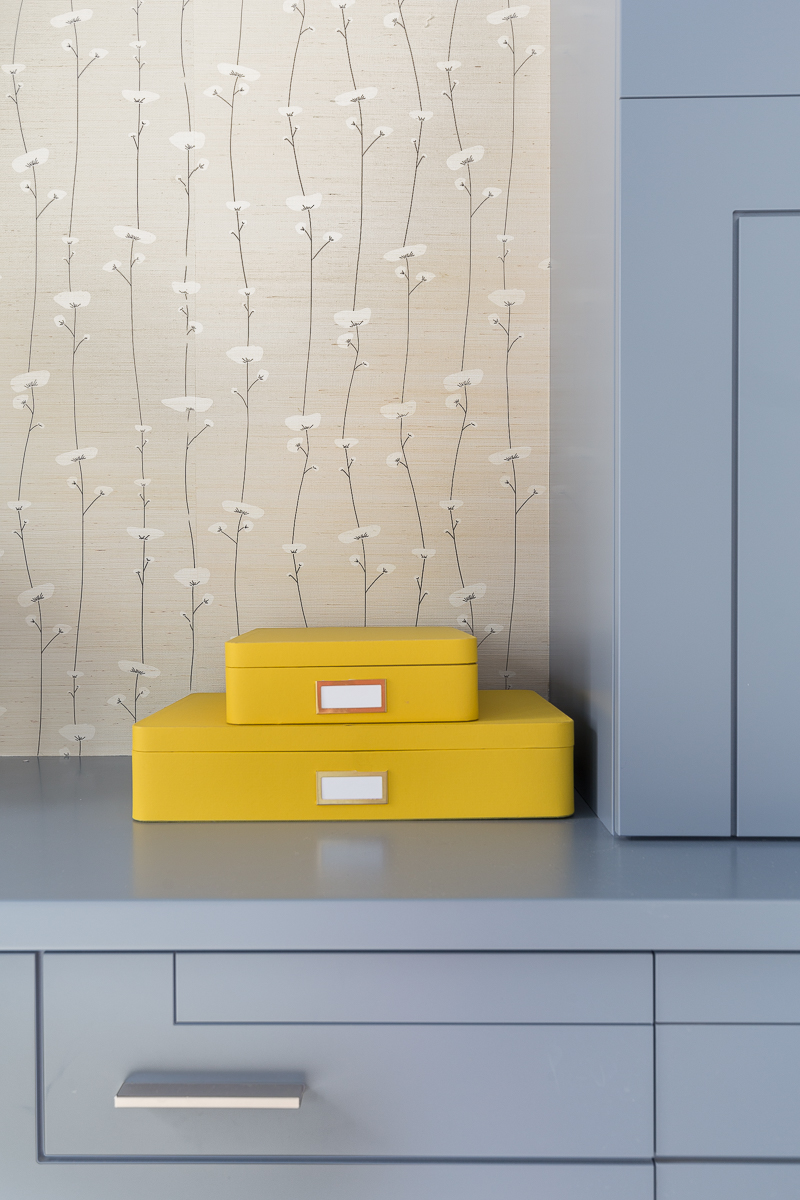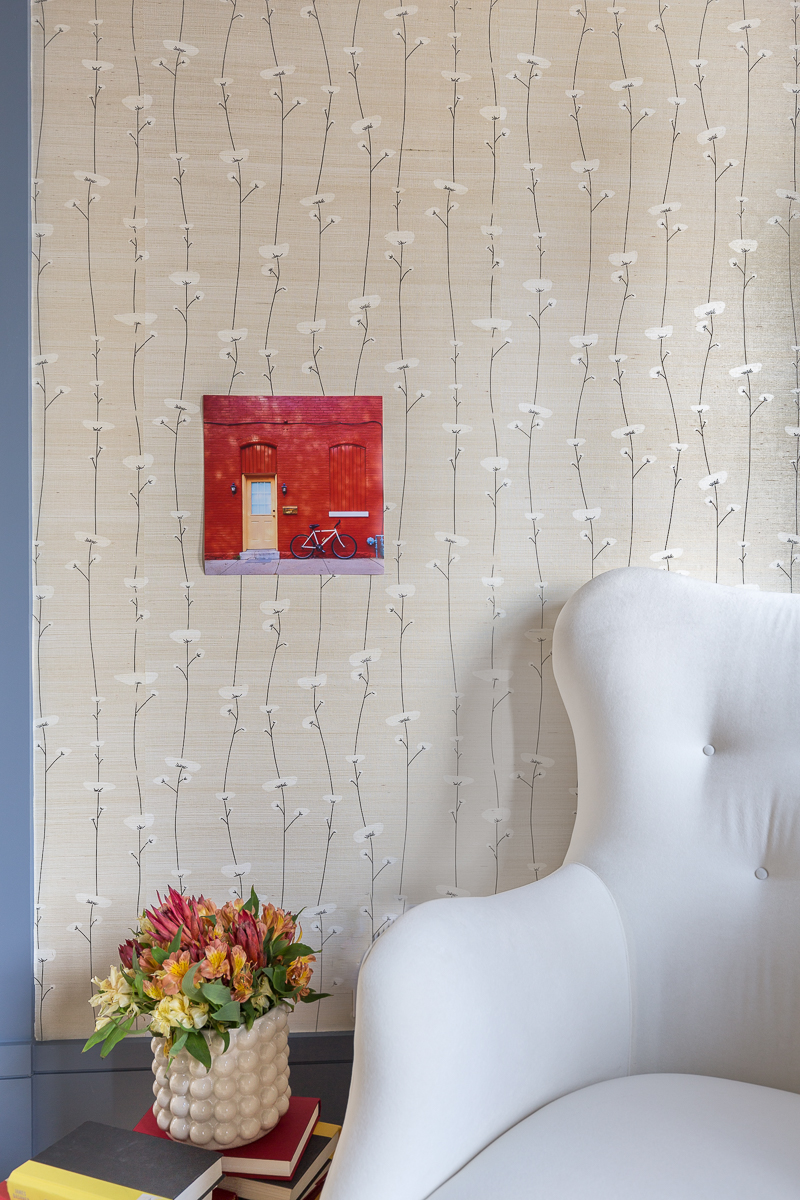 Keep in mind that this paper needs to be double cut.  This means hand trimming required (Mention this to your installer BEFORE he gives you your installation quote).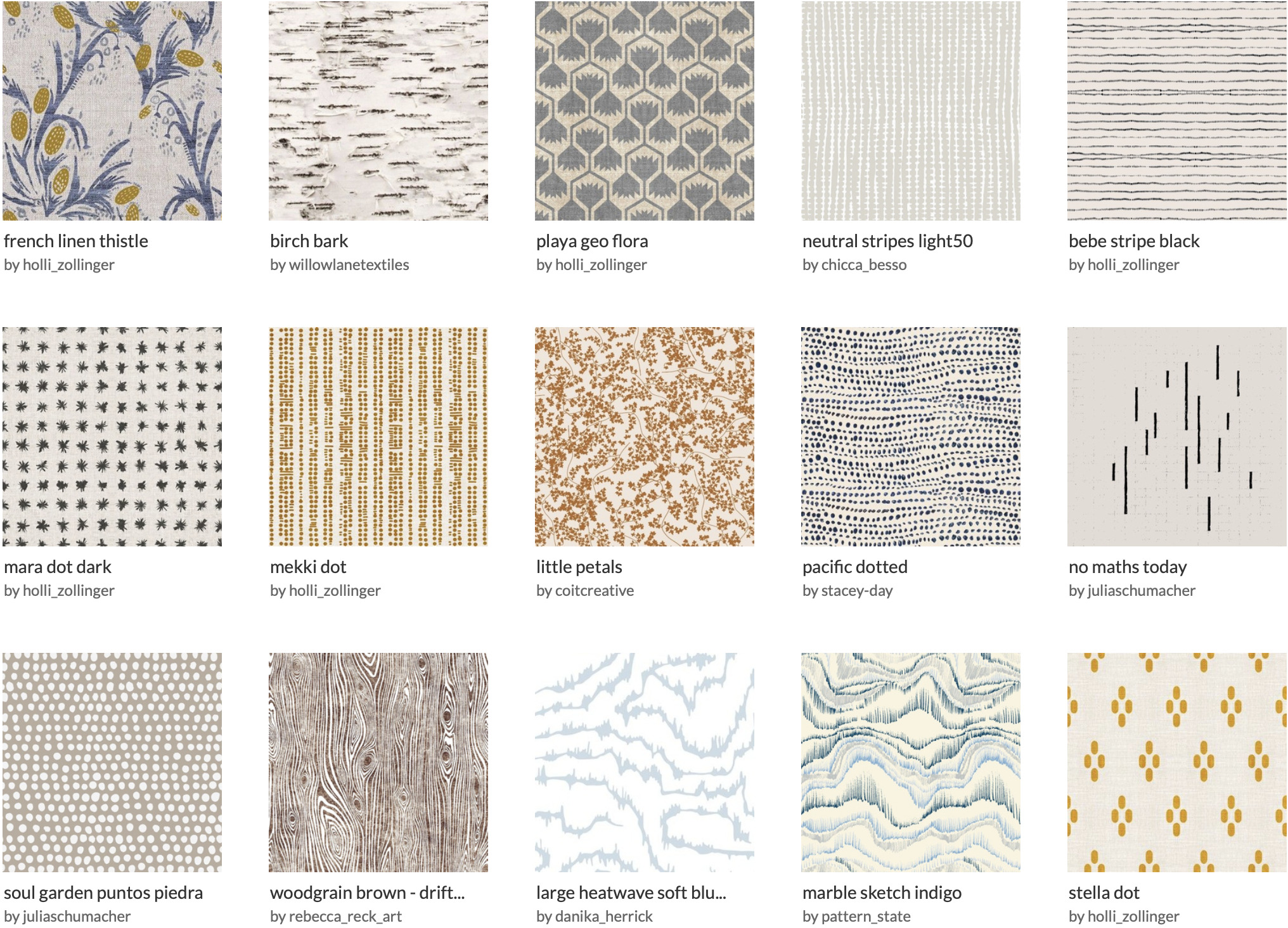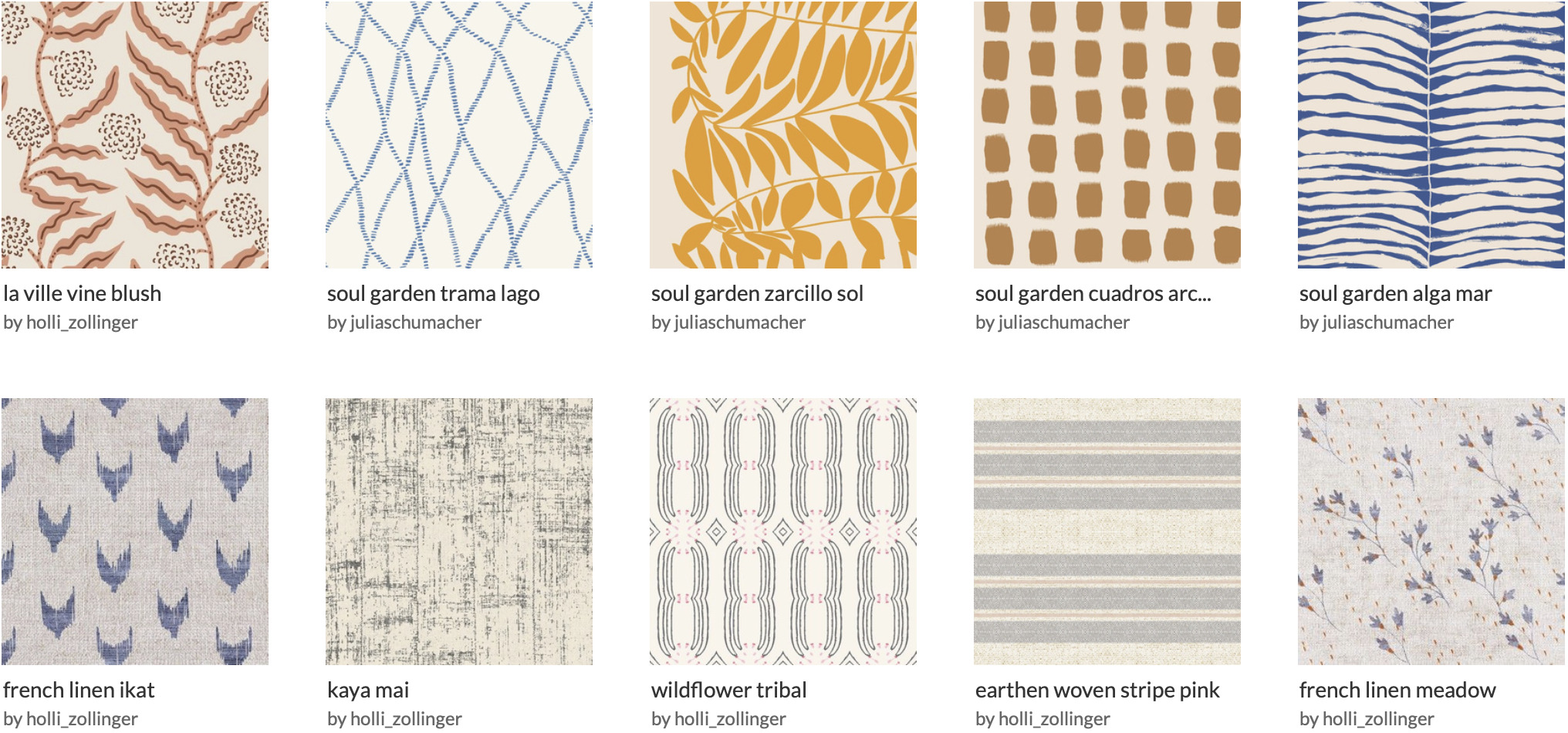 How to Customize Art Prints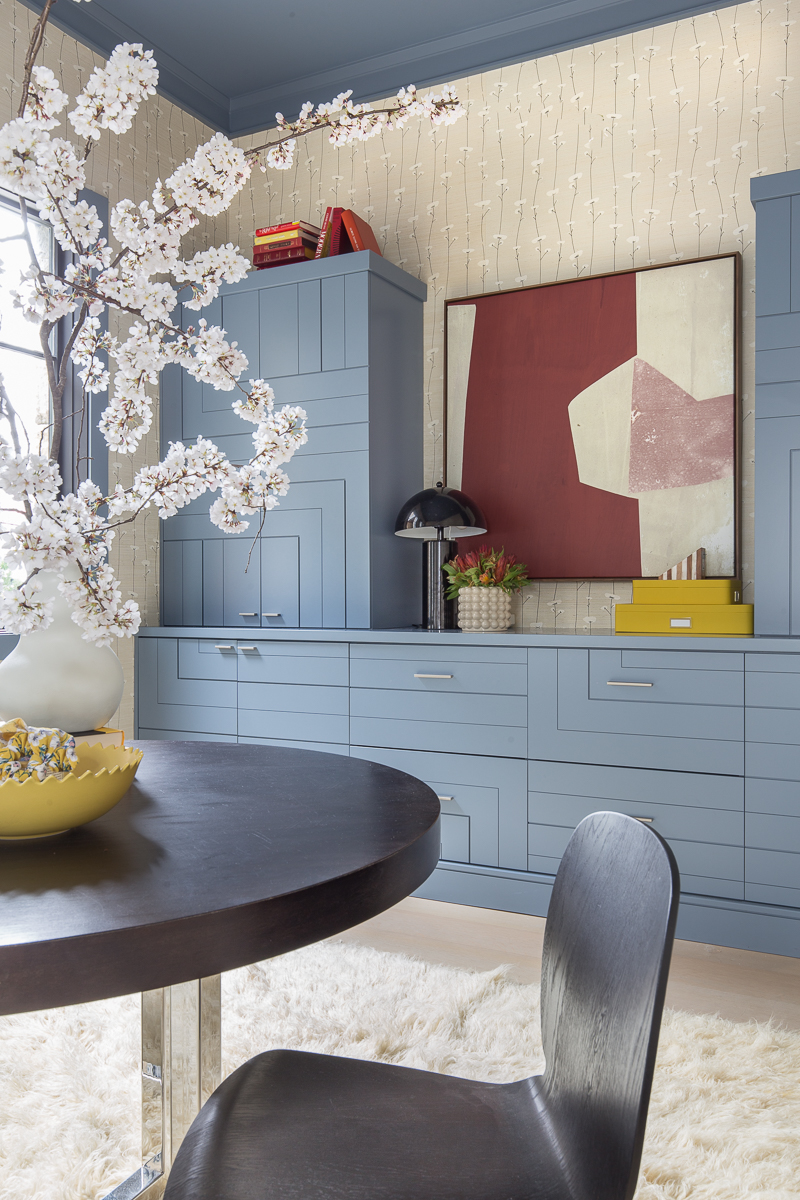 Another critical element of the design plan for this space was the art.  You already know that I love the ability to customize my designs, and now I have the power to tweak my art as well.  You may remember from
my last reveal
, that I love
Minted's
freshly sourced limited edition fine art by independent artists.  This marketplace is known for premium design goods, has now launched Customizable Fine Art.  You can see the art below, entitled
Studio Forms 1
by Jennifer Daily, as it looked on the
Minted
website BEFORE I customized it.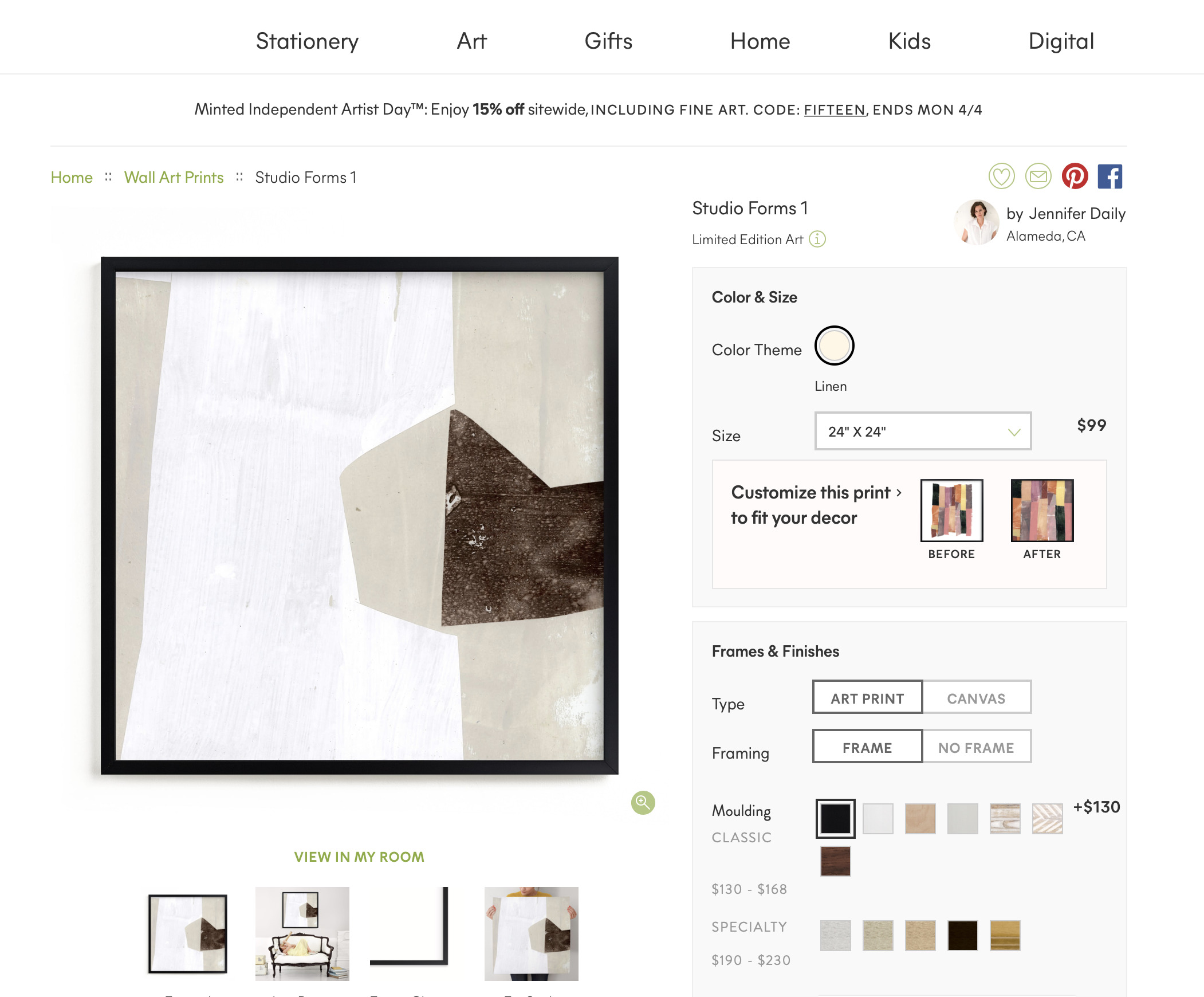 I saw great potential w
ith this piece because I knew it would serve as a nice contrast to the soft, delicate flowers and the linear cabinetry in the office.  The only issue was that I really wanted the art to POP, since your eyes are immediately drawn to this blank space between the cabinets. I was picturing a strong color, and red is perhaps my favorite strong color.
The customization process was simple.  I clicked the button that read "Customize this print to fit your decor" and gave a description of what I wanted. You could use paint colors, but I provided a hex code. Then a short while later, I was able to approve the design.
In addition to customizing the design, I was also able to chose between an art print or canvas, and select from a variety of frames. I went with a framed canvas.
When the art arrived, I was surprised to see that I liked it even more than I imagined that I would. It is so beautiful and the quality is great.  Plus, they nailed the colors. This is definitely a process I would try again.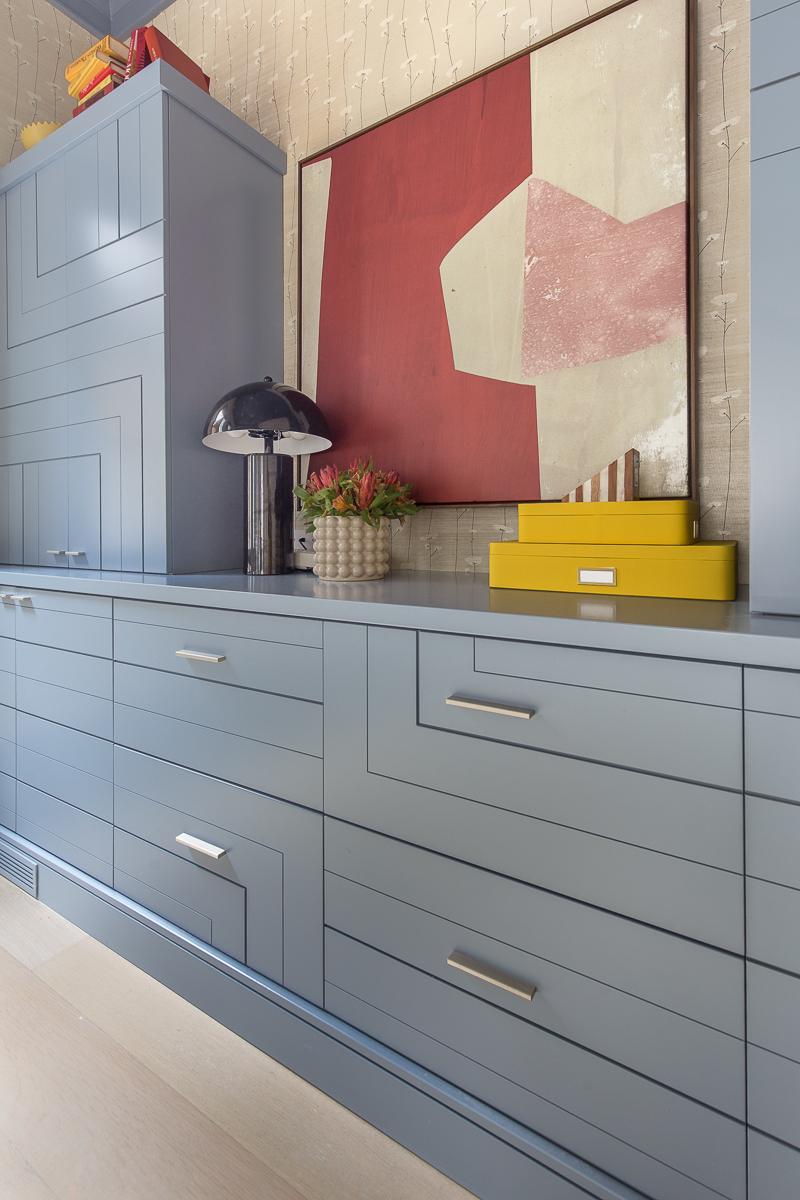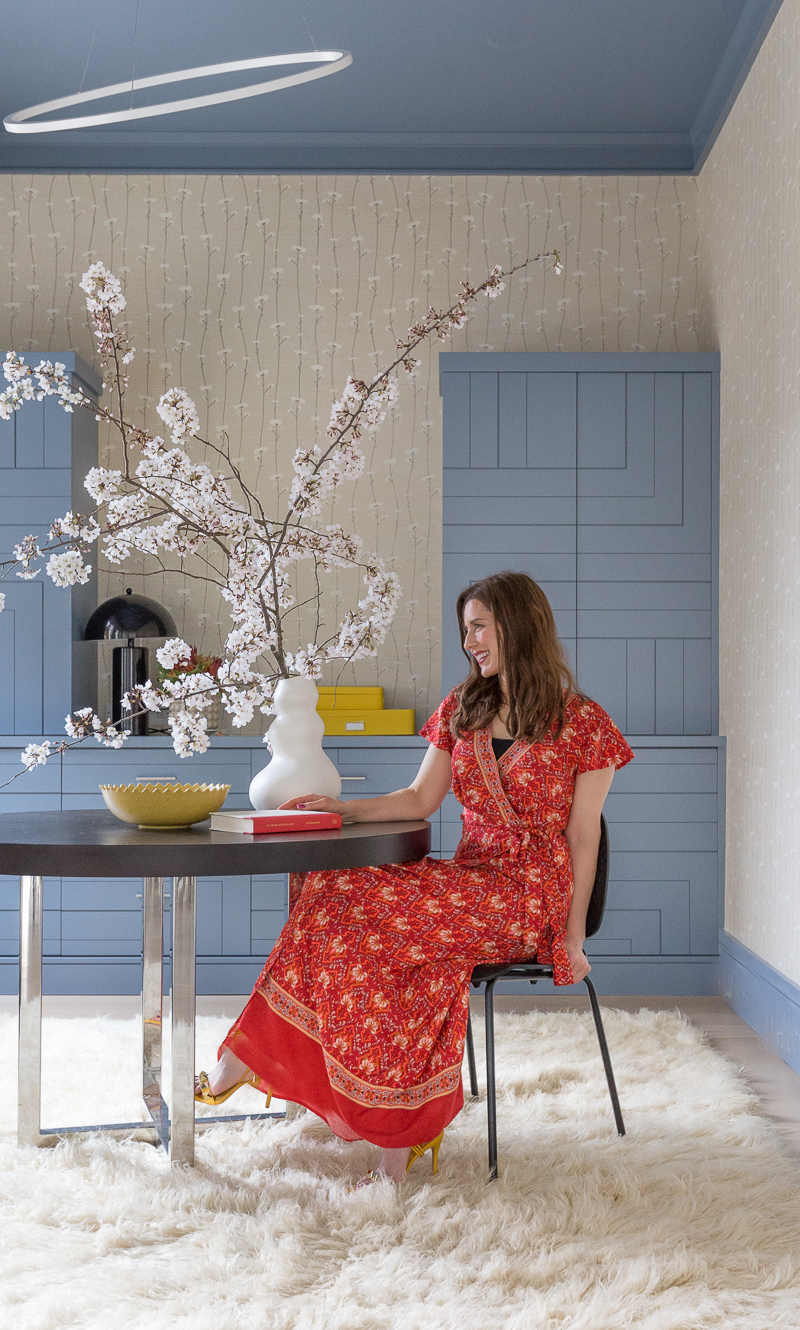 Looking for design work in the Northern Virginia/ DC/ Maryland area?  Feel free to contact me at jewel@jewelmarlowe.com to get started.