I may have saved the very best for last!
If you loved the first two posts of Kath Barber's Mid-Century Modern/Bohemian triumphs, well, you'd better hold on tight for this one folks. This final edition had me sitting-up and taking notes! See if you can use some of her clever ideas to personalize and beautify your own nest.
One of the lessons learned from the last two posts touring Kath's dining room and bedroom (SERIOUSLY! You have to click these!) is the importance of decorating with those things that have sentimental value. Kath chooses to edit-down her accessories so as to only surround herself with those things that are uplifting, meaningful, and representative of her and her beautiful, service-oriented family.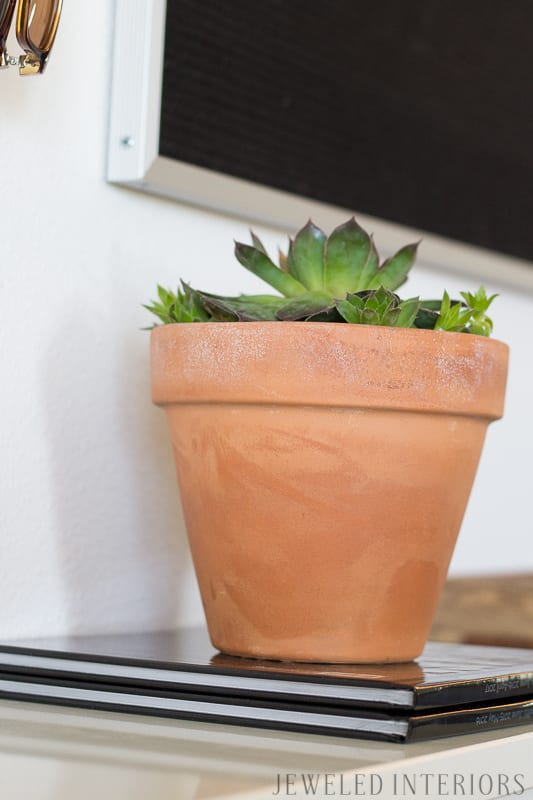 Upon meeting them, one of the first things you can ascertain about the Barbers is that they sincerely care about others, especially the members of their military family.
During this assignment they will be focused outwardly on their community and squadron. While EXTREMELY rewarding, this obviously will mean added pressures on time, resources, and energy.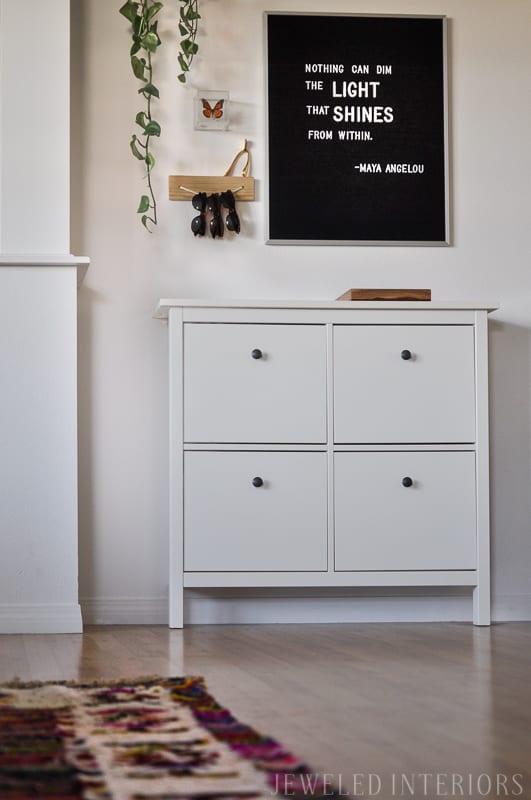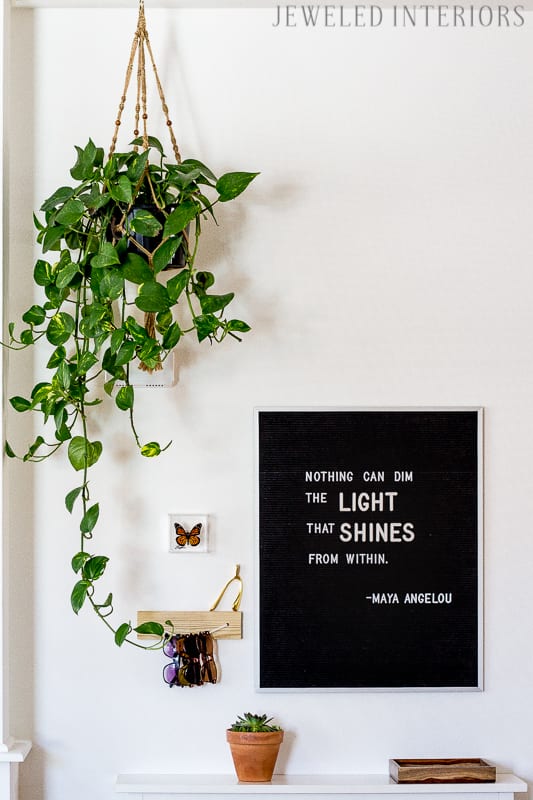 To help them stay focused in these goals, they have cleverly used a letter board in their entryway to display one of their favorite quotes. This will serve as an uplifting reminder for when times become challenging.
Also included above their HEMNES Shoe Cabinet is a unique piece of art that was procured during their time in Key West. This beautiful specimen was collected by a local artist at the Butterfly Conservatory. This talented individual collects the most beautiful butterflies (death from natural causes, of course) and mounts them in acrylic.
When asked, Kath told me that the butterfly is meaningful to their family because it represents a grand metamorphosis, and major changes in life. Kath and her crew love how this special insect has to go through a major transformation to achieve its final beautiful form. They are delicate and vulnerable, but also magnificent and awe-inspiring. Kath feels like this piece in particular brings a positive energy to the space.
Because she is my dear friend, I teased her for being a hippy when she gave me this beautiful response. Please don't tell her that I secretly agreed 100%. 😉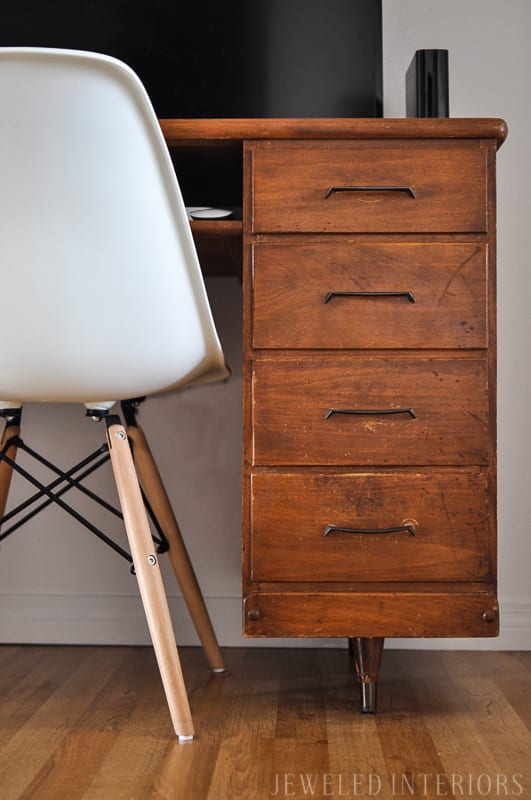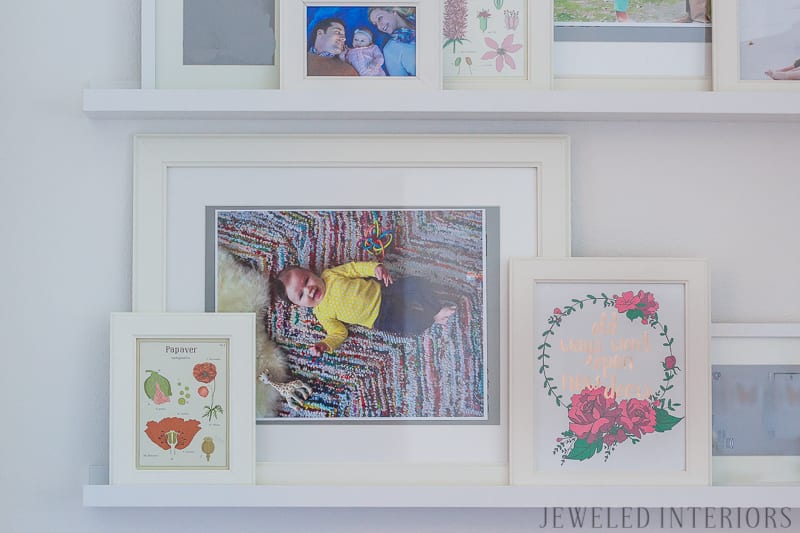 Another way to add character, personality, and warmth to our homes is to decorate with pieces that have a story. This desk was purchased at West Bottoms, Kansas City, MO. Kath has assured me that I haven't "lived" until I pay homage to this destination. I think the Marlowes will be swinging this way during the next cross-country move.
This little nook in Kath's military home serves as a perfect office space. The MOSSLANDA Picture Ledge above the vintage desk provides the perfect perch for displaying additional photos and memories.
An Eames styled chair lives with the desk and computer. This design choice ties the office area into the ajoining dining room.
Benjamin, their dog, is part Labrador Retriever, part Rhodesian Ridgeback, but predominantly Shetland Pony. Clearly, you can see that he is an ecstatic supporter of all the design choices all around him.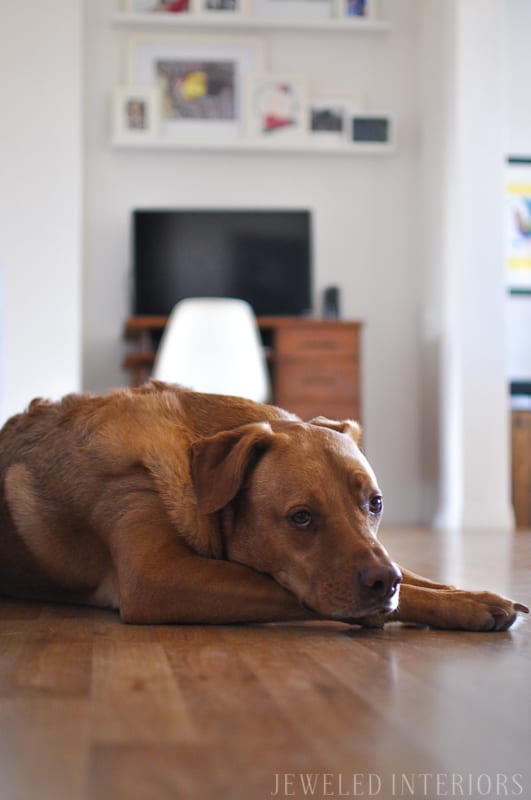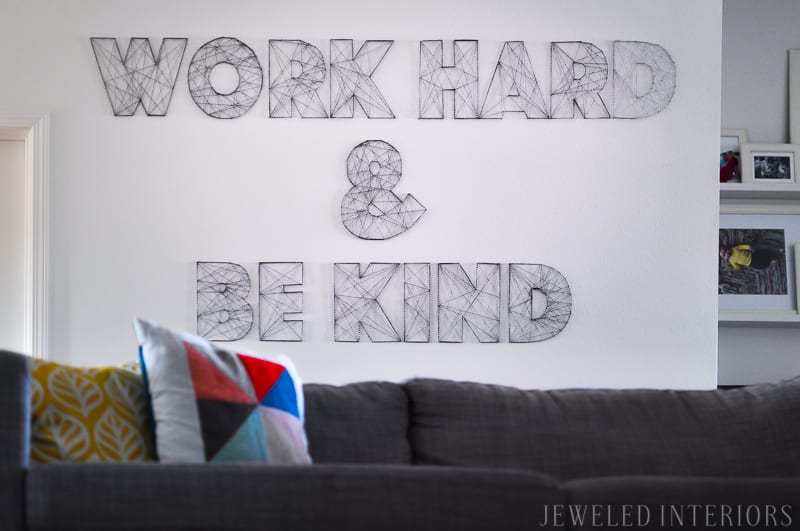 Speaking of design choices…I am excited to show you what is perhaps my favorite project in this post!  
The Barber family motto is "Work hard and be kind".  
With the use of small nails, string, and a heavy dose of imagination, Kath has transformed this family motto into a wall-sized work of art. It's both creative and sentimental!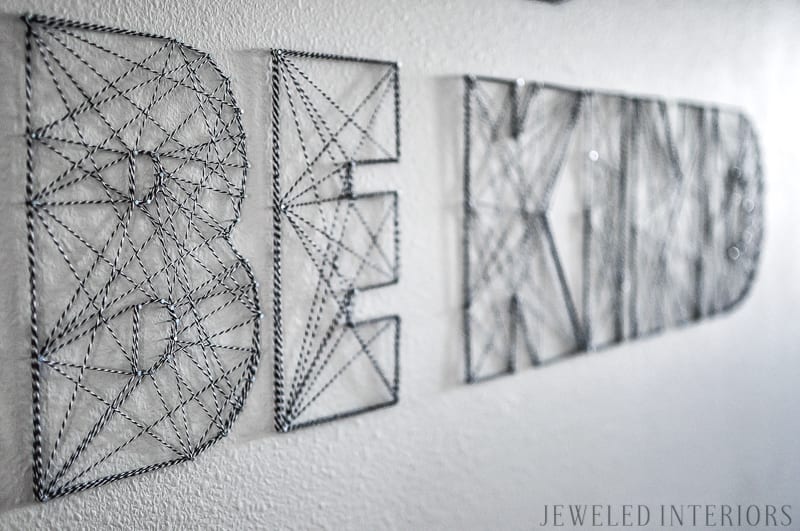 Seriously, how fabulous is this? Think of the possible mottos and color choices that could be emblazened on a wall in your own home!
Our walls are not only a wonderful space for exhibiting symbolic art, they are the perfect canvas for displaying our talents. To be honest with you, I am hard pressed to think of too many people with any more talents than my beautiful friend, Kath. She is a professional chef, community organizer, hostess, and a photographer.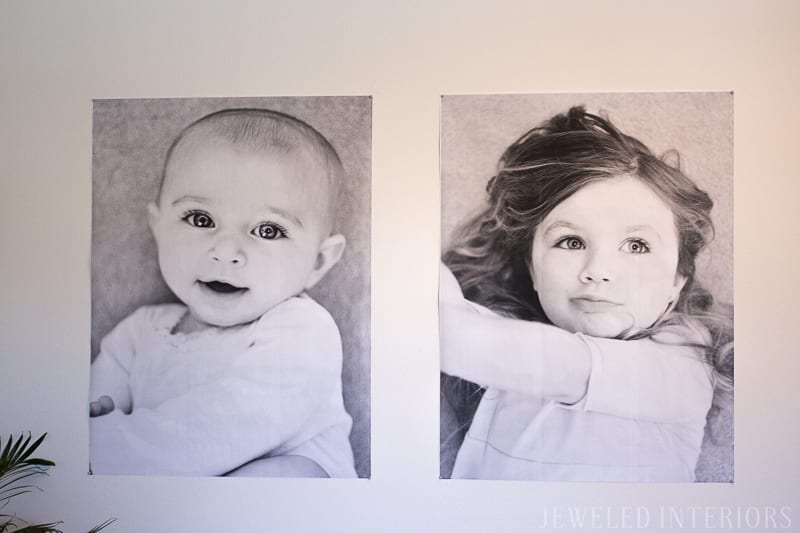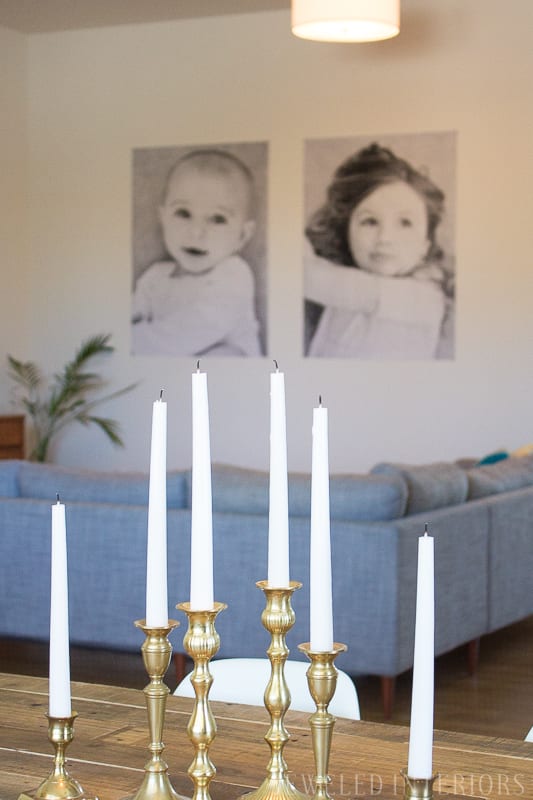 In her deliberately clean and minimally designed living room Kath has put her photography skills to great use!  She used simple $7 engineer prints from Staples to display their most prized "possesions :)", their BEAUTIFUL babies.  Since these photos are so inexpensive, she can update them as often as she desires.  I like to think of this blank wall as her revolving photography gallery 😉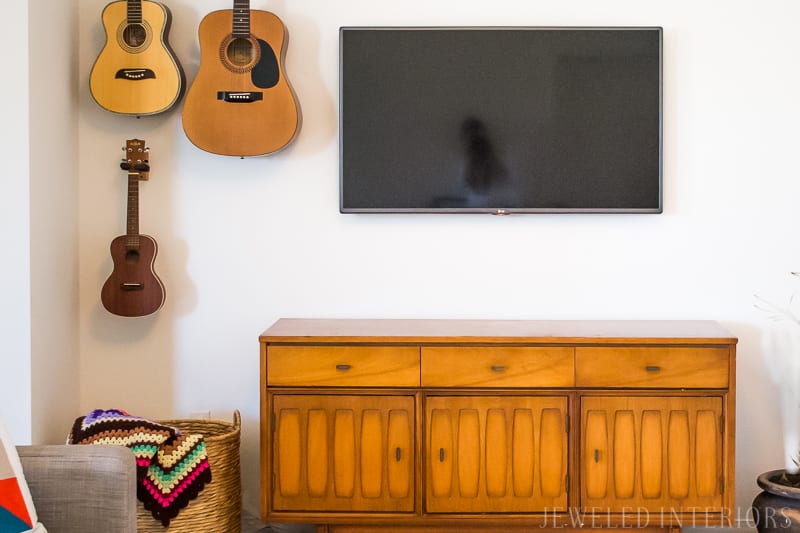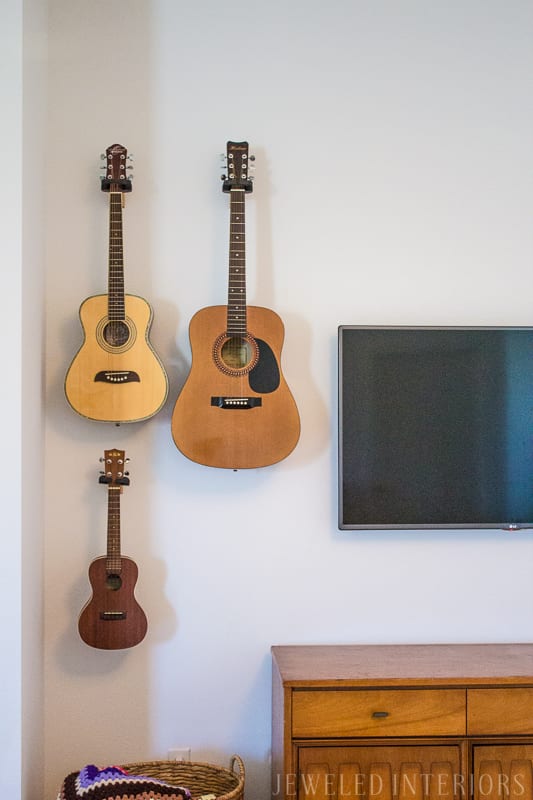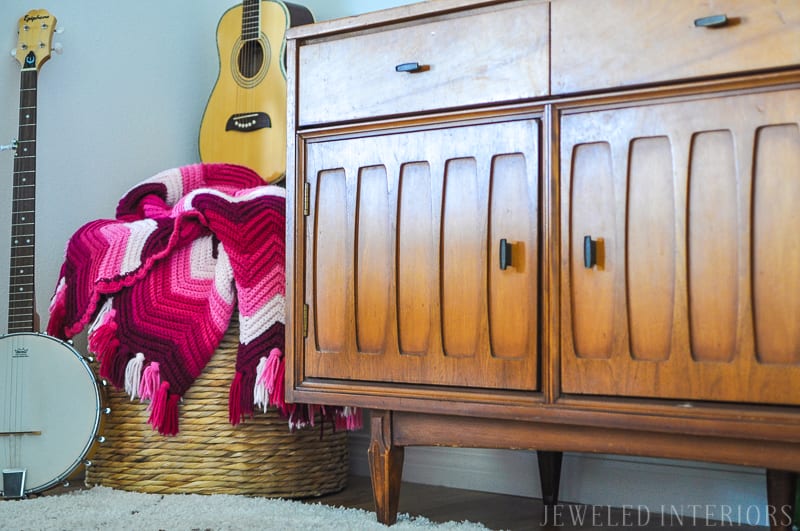 Kath was able to display another one of her talents, a love for music, in her TV area.  In addition to providing practical storage space, and providing character to the room, this trio of musical instruments ignites conversation. My reaction was "What Kath? I didn't know you could play.  I want to hear more about this."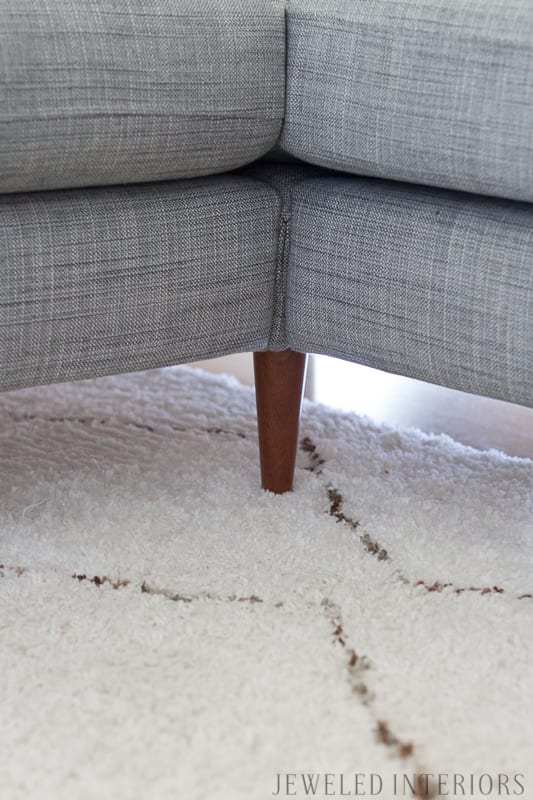 Kath has one more major trick up her sleeve for this week. Any guesses where the Barbers purchased this sectional, which is large in scale and high on style? I assumed it was West Elm, Crate and Barrel, or maybe even Anthropology.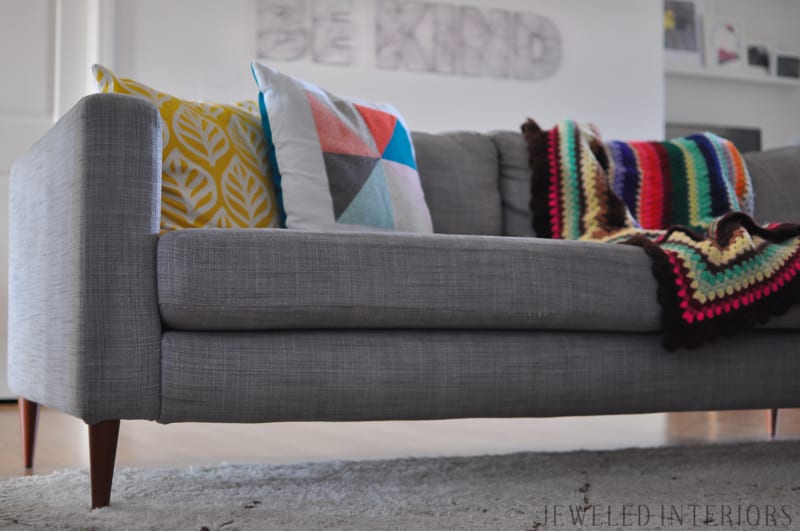 Imagine my delight when I realized I was dead wrong! This is a Karlstad from IKEA my friends! The thing that threw me off was the sectional's beautiful feet. Apparently, said feet were an after market modification purchased off Etsy! You got me Barbers! Well played!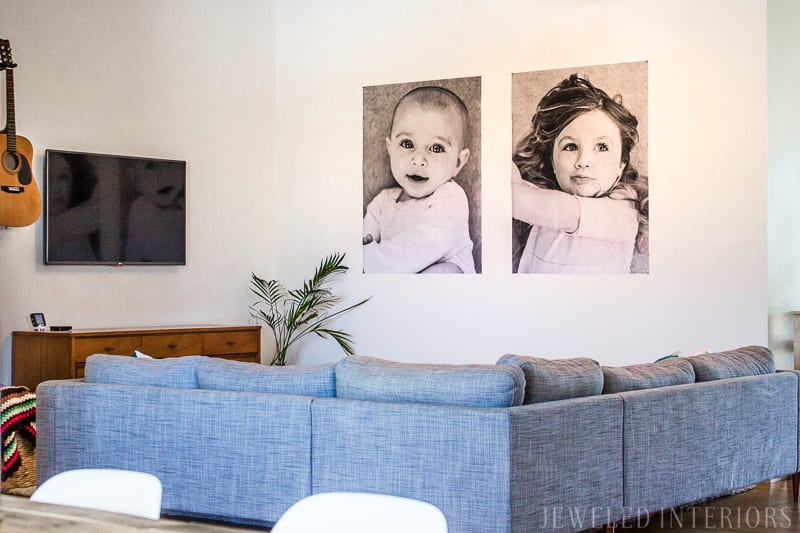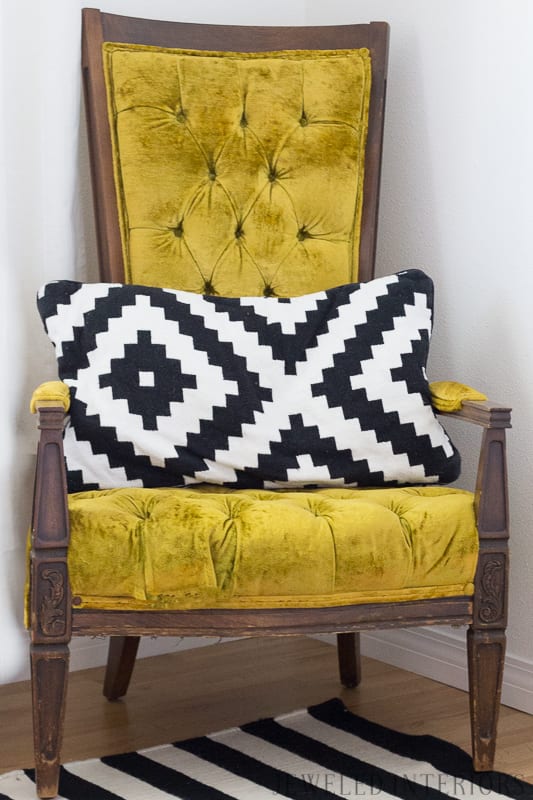 Interestingly, Kath and I had identical homes with the exact same floor plans. While our homes truly couldn't be any more opposite from each other stylistically, I adored walking two doors down to visit her light, bright, functional, colorful, and uplifting home.
Perhaps my favorite part of their home is something that truly can't be captured in photographs or pinned to Pinterest. It is the genuine goodness, selflessness, and sincerity of those that live there.
I am extremely thankful to the Barbers for not only their contributions to this post, but most importantly, their friendship and contribution to anyone blessed enough to associate with them and feel of their love. Good luck on the rest of this assignment my friends! We love you!
PS- I'm trying to talk Kath into contributing a couple of more posts in the future! So, Kath, if you are reading this…I take back the hippy comment 🙂 LOL
UPDATES
FOR JEWELED INTERIORS
On Thursday I will be sharing a second blog post for the week, and it is completely different than anything I have ever posted before. Since our homes are a reflection of who we are, I want you to give you a snippet of our lives and what drives the Marlowes. I want to open myself up a little and begin to share some of our family's story. A brief look into the last six months, though bizarre to the average person, is our norm from time to time. The level of "crazy" that we have been living in makes for grand adventures and charater building moments for our family. Check back here Thursday afternoon if want to hear how our family took a cross-country move and made it awesome!
Speaking of AWESOME! I am so stoked that October is almost here!!! Why you ask? Because this will bring on my first hack as a ONE ROOM CHALLENGE guest participant. This design showcase has me doing some major design soul-searching. If I have an actual budget (though meager for the size of the room), what direction do I want to go with this blog? Who will actually read it? How many design risks can I take in my new space to keep it intriguing, yet relateable? Basically, what kind of designer do I want to be when I "grow-up"? This will be a major investment of time and resources, and I honestly feel the pressure. This could be a defining moment for my style, my career choices, and at the very least…my home furnishings (If I'm blowing all my cash on one room I need to love it!). YIKES! Breathe Jewel, breathe!
So long story short, over the next seven weeks I will be letting you venture a little further into my life than I have previously. You will get to see a more human (and oh, I'm very human) side of me. I'm going to show you rooms unstaged, projects sprawled across the entire space, and maybe pictures of me in my paintin' pants (and wow, what a sight they are :). It may take the magic out of it for some of you, but I want you friends to see how I tackle this beast. I want you to feel empowered and realize that you too can take an empty room, give it six weeks and make it look like a magazine. It isn't rocket science folks. I have a degree in History, not Nuclear Physics, or Interior Design for that matter. I just have a passion, a fairly well-tuned eye, and the guts to take some risks. Follow me on Facebook and I will show you how you can easily have these three things as well.