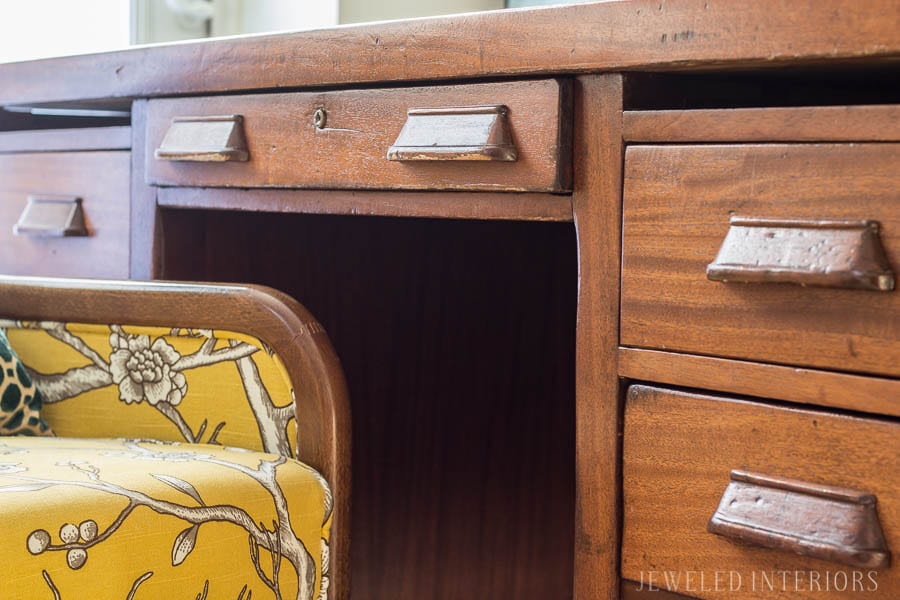 Ahhhhh!!!! Which desk design am I going to choose?   Monday I showed you an office space that emphasized my attraction to glam decor, but today's look features a gathered and eclectic desk reveal.
When I get to work designing a space for myself I feel the pull of these two styles, and (depending on the room, my mood, the tides, and the moon) I may end up falling solidly in one category or the other.  While my goal would be to keep a balance between both eclectic and chic/glam decor it has been fun to experiment and throw caution to the wind.  Please check out both design plans and tell me which option you like best!
Sneak peak of the Glam Desk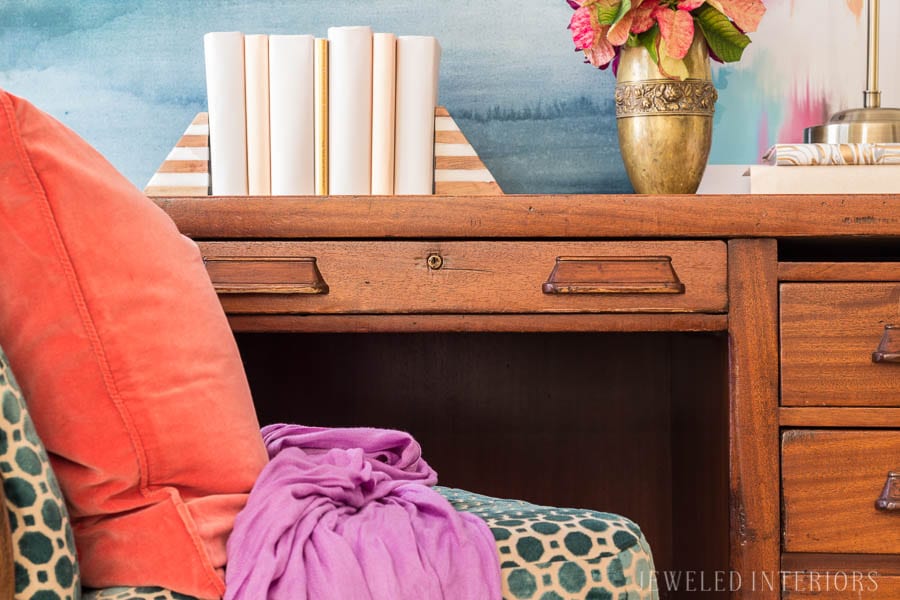 You can see from the hint of the first DESK REVEAL that I employed the use of bright colors and lux fabrics to keep the space feminine and lovely. Compare this space to the subtle differences below.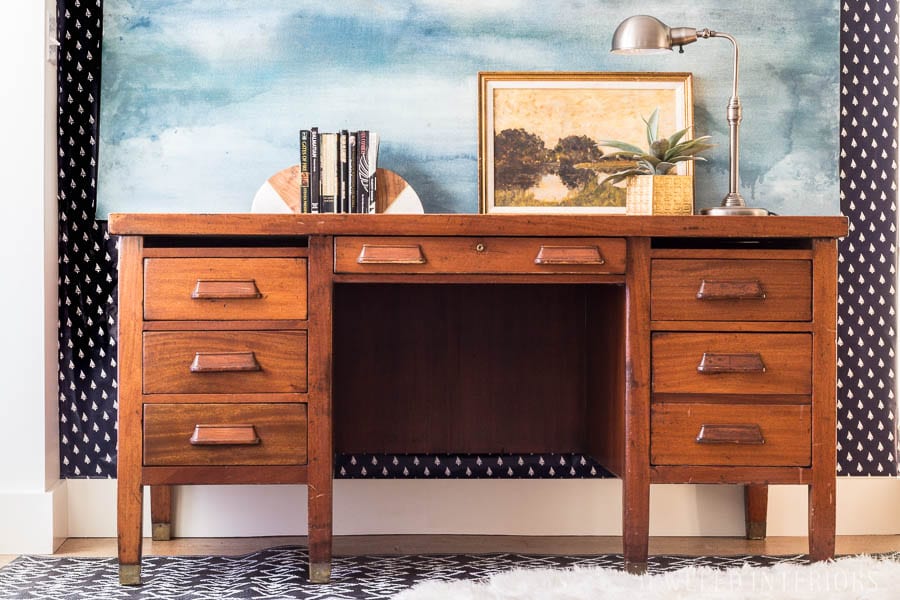 I hesitate to tell you this, because I don't want to make you feel bad, but I got this desk for zero dinero.  Yep, it was outside of a shop with a few other miscellaneous items and a sign that read "FREE".  I convinced my supportive husband to load it into my car and the rest is history.
There is not an ounce of plywood in the beast and I seriously struggled to bring it into the house without causing damage to the desk, the door, or myself.  Worth it though?  Um, YEAH!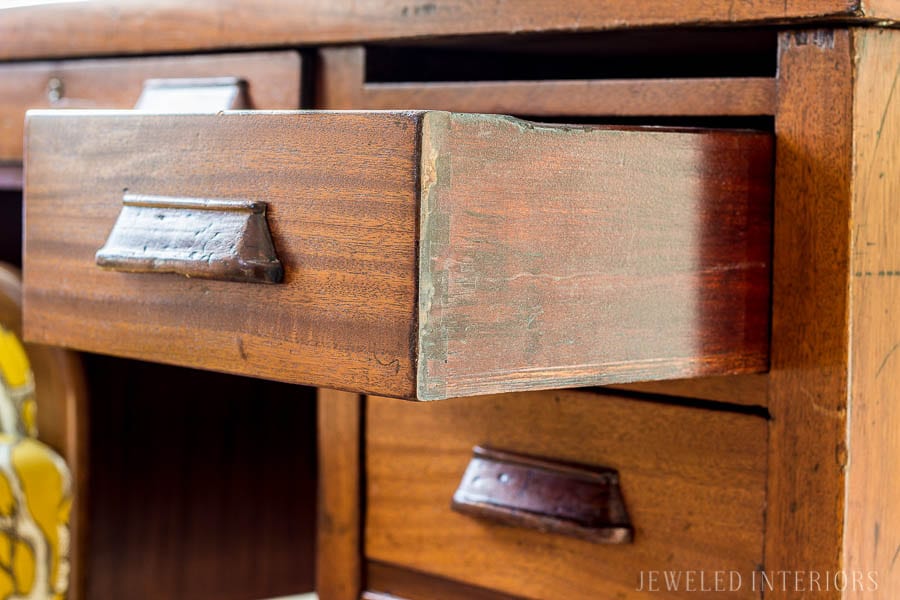 When checking for the quality, and often age, of a piece of furniture pull out the drawers. If you see tongue and grove joints (like this) then you know this piece is going to last a heck of a lot longer than anything you will buy at Ikea or many other furniture stores.  The expression, "they don't make 'em like they use to" is not 100 percent true.  They still do use tongue and groove, but it sells at a price point that I certainly can't afford.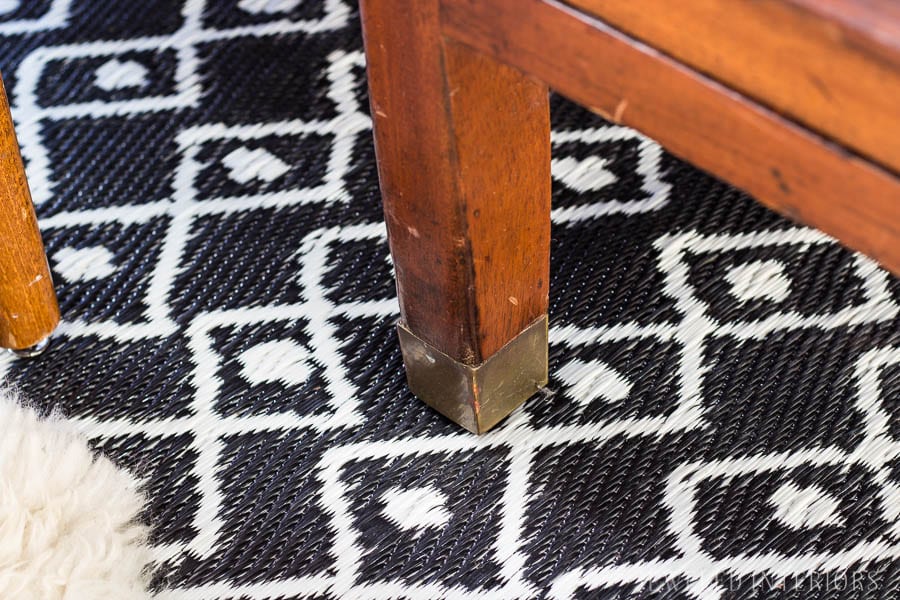 The brass capped feet add such charm to this piece.  I love the way it has dings, chips, and marks because it shows that it has been around long enough to tell a story.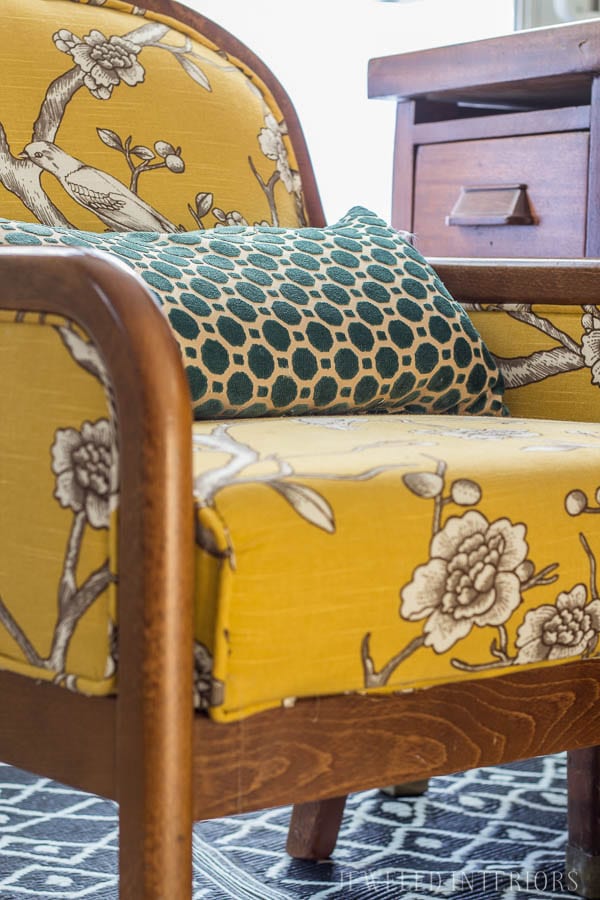 I bought this chair at an auction in England many years ago.  It was formerly upholstered in that nappy mid century commercial velvet-like fabric with an extra helping of dirt and dust.  I cleaned it up and reupholstered it in this Dwell Studio Vintage Blossom Citrine fabric.  This was one of my earlier upholstery projects and it honestly took three days of my life. I'm slightly faster now.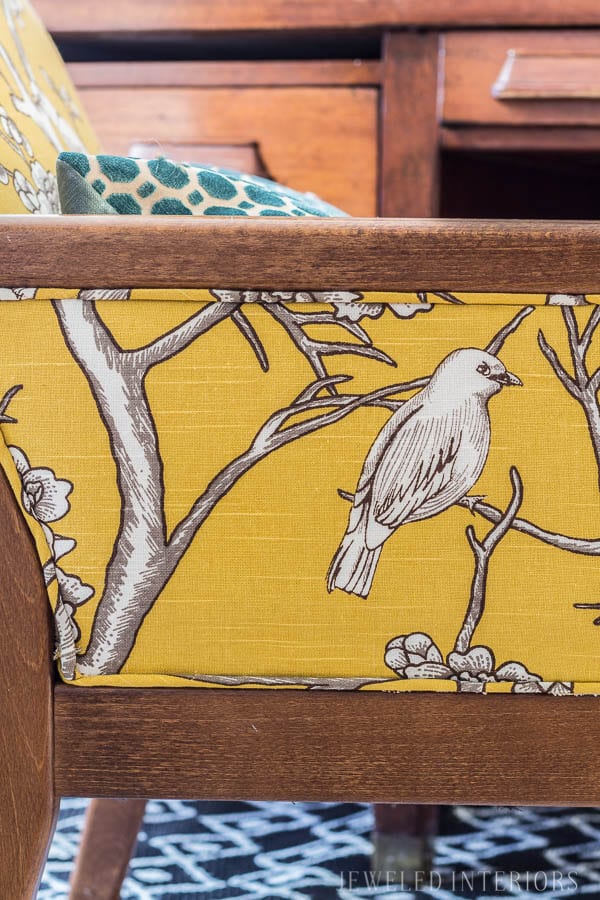 In the more glam version of this desk design I recommended wrapping your books in pretty paper to give it a cohesive look.  If an eclectic aesthetic is your goal take that advice and trash it.  It's the character of the books and vintage art that give the vignette soul.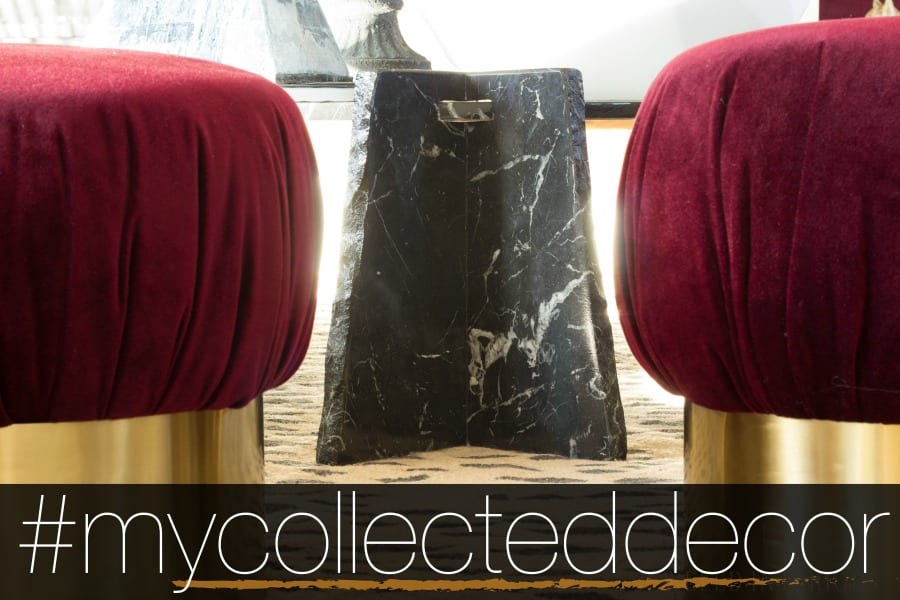 Also…Don't forget to hashtag the pretty Instagram pictures from YOUR home #mycollecteddecor so that we can give you the props you deserve!  Starting in February I will be teaming up with Jess from Domicile 37 and Mila from Jest Cafe to each select our favorites every Saturday.  Get in on the fun!