We have a week until that oh so special holiday which celebrats love and romance. What a perfect excuse to throw together a fancy little meal. Luckily, I have a tip for creating an easy and stunning Valentines tablescape. Not only is this idea versatile, it is completely customizable.  I'll give you a hint…it has something to do with placemats.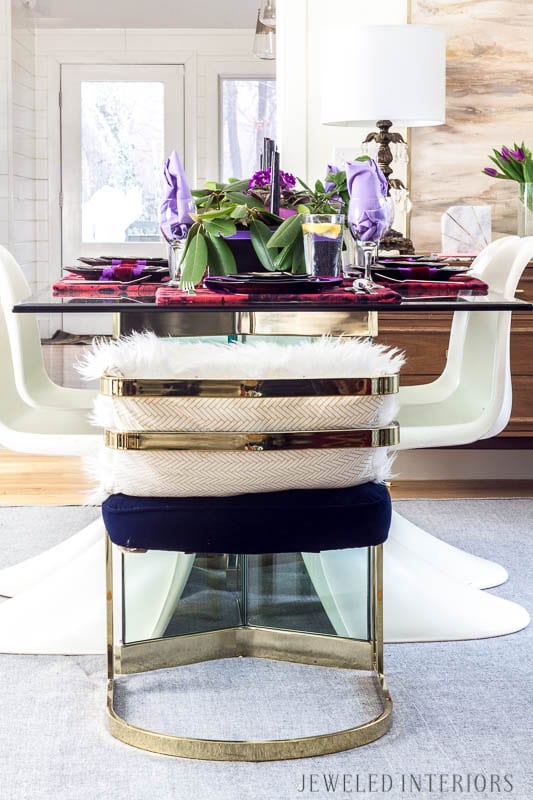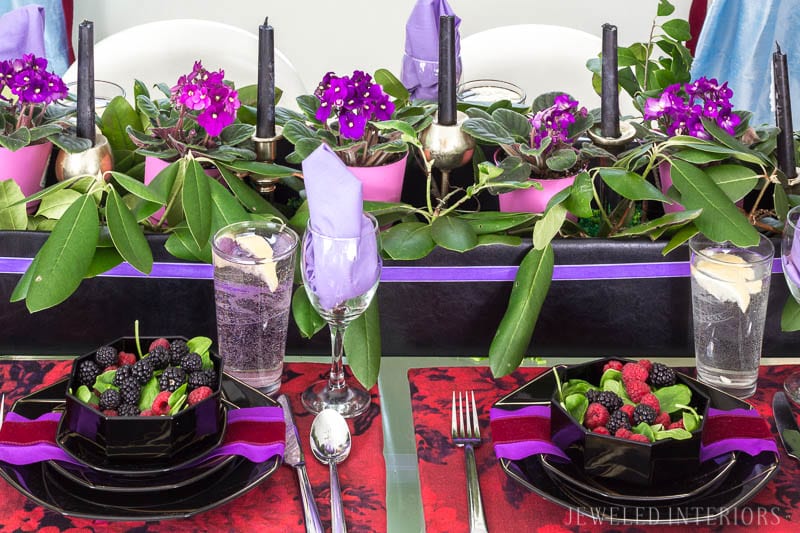 Before giving you the placemat trick though, let me first show you my Valentines Tablescape.  I opted to use two of the COTR… colors of the year 🙂 that is (Ultra Violet and Cliente).  Not only are these hot colors accenting many store-fronts and getting play-time in all of the magazines, they also happen to be fabulously fitting for this time of year.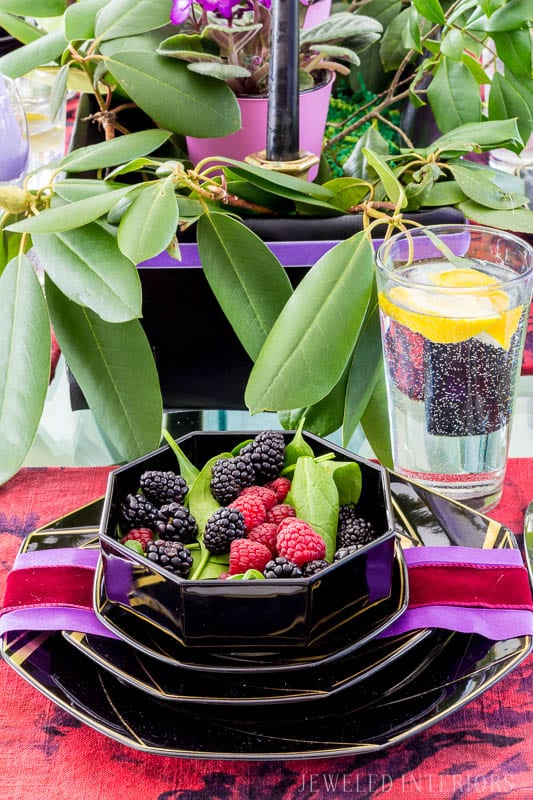 As for the dishes, I can't deny that I probably own around 1,000 pounds of china and other entertaining items (not exaggerating ?), but I can't get enough of this most recent $20 thrift store purchase…sexy black and gold 80's china.  It's just too good!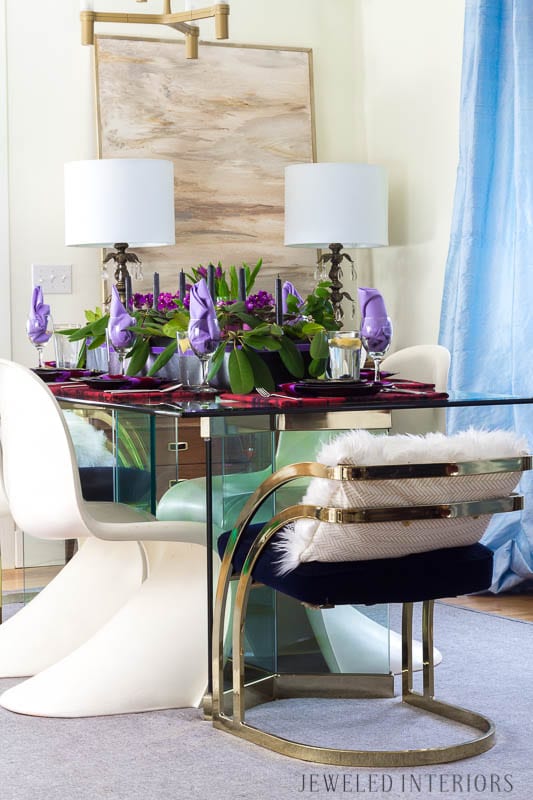 I opted to mix Milo Baughman styled chairs into the mix.  They add just the right amount of velvet and brass to complete the look.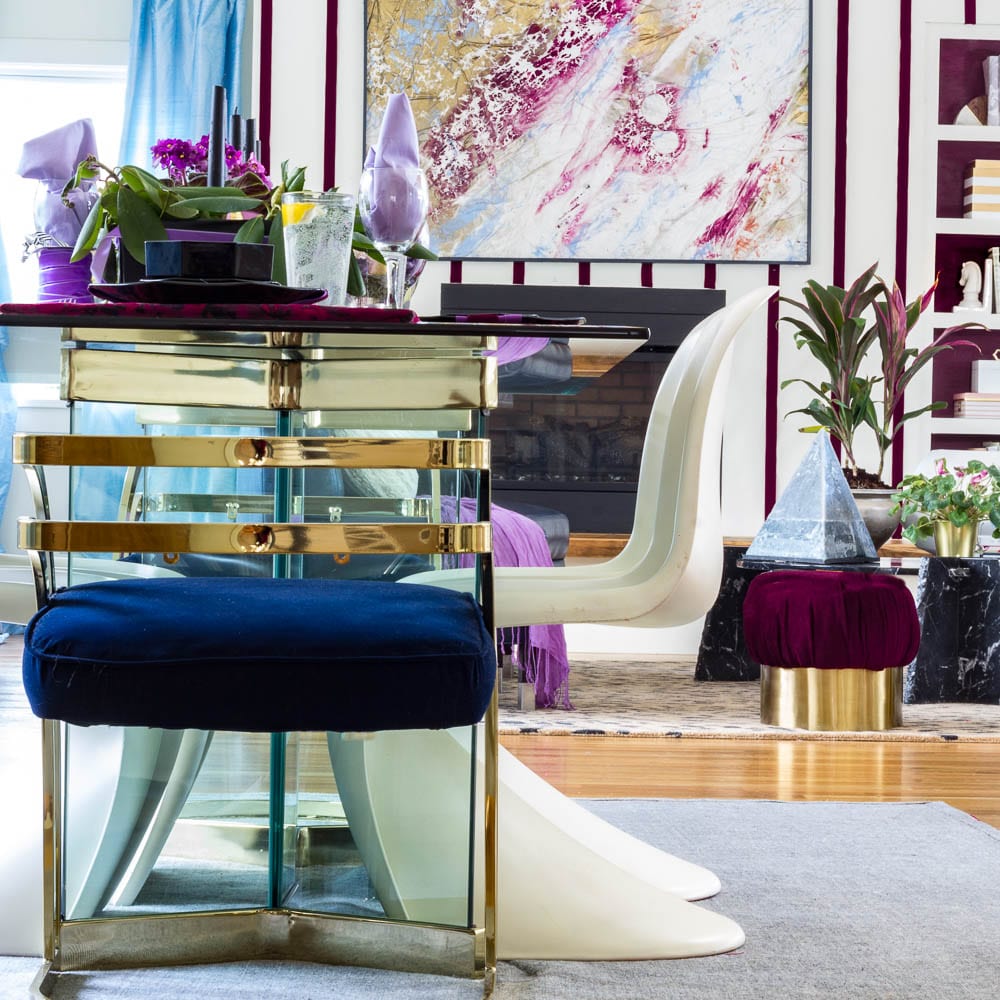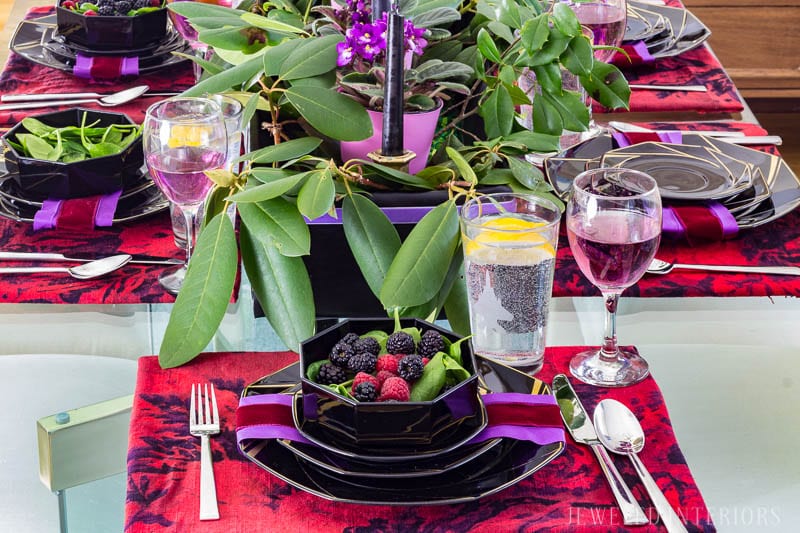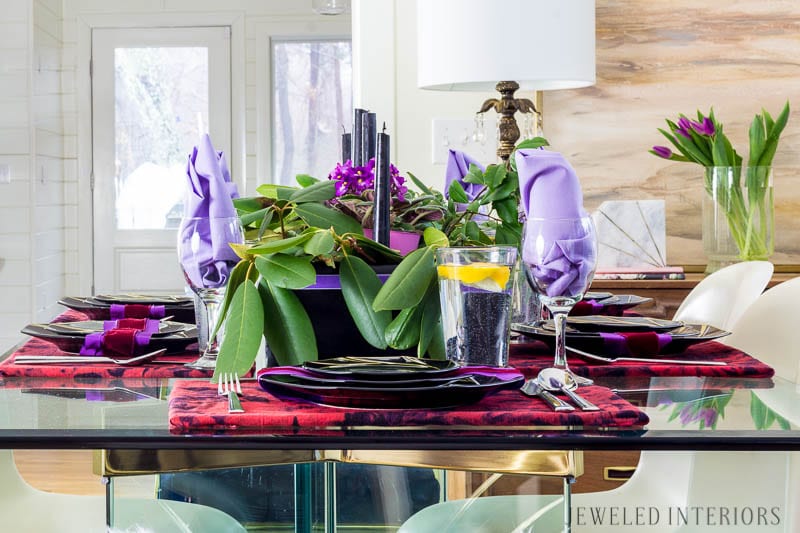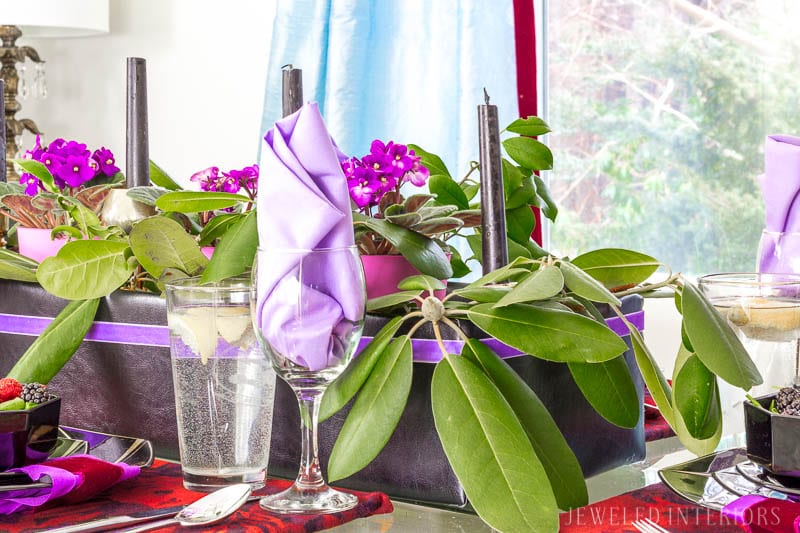 The long center piece creation?  You will never believe what it's made of!!!…But that's for tomorrow's blog post.
The candle sticks are spraypainted and I picked up the African Violets for $2.50 a pop at Walmart.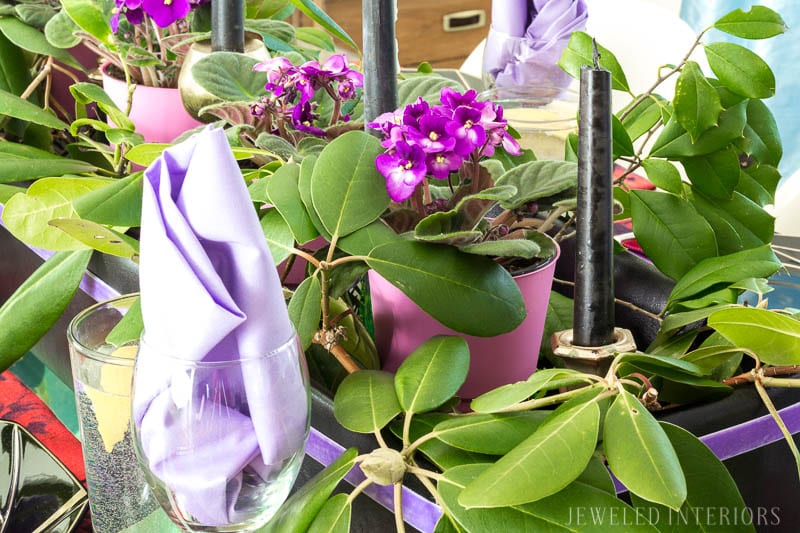 Now, on to the DIY placemats.  I simply took old fabric, gave it a bath in crimson Rit Dye, let it dry and wrapped it around my wooden placemats (though foam board could easily be used in it's stead).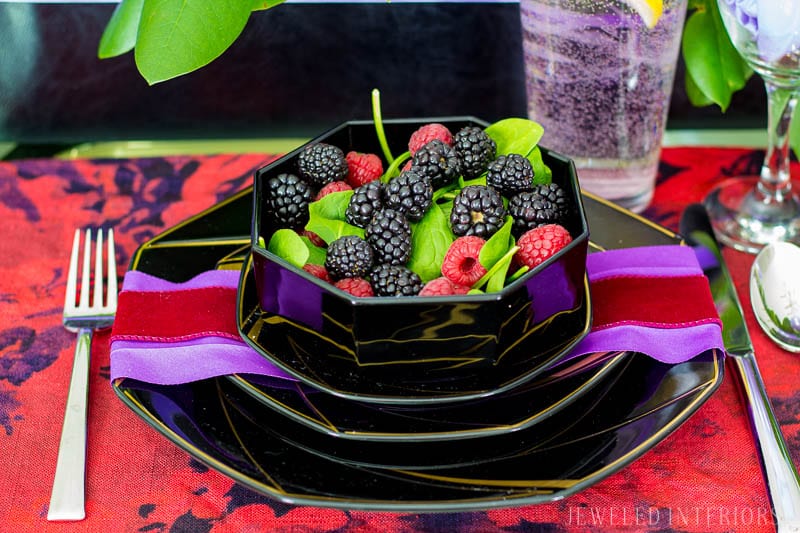 It's just that easy!  Wrap your favorite fabric or paper around something firm and tuck it under.  For bonus points you could glue or tape, but I didn't (as you can see below). This would have been a great idea.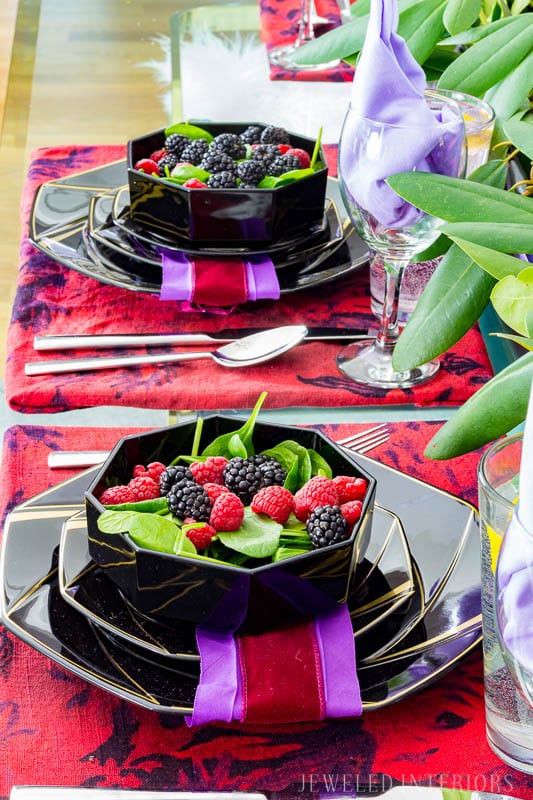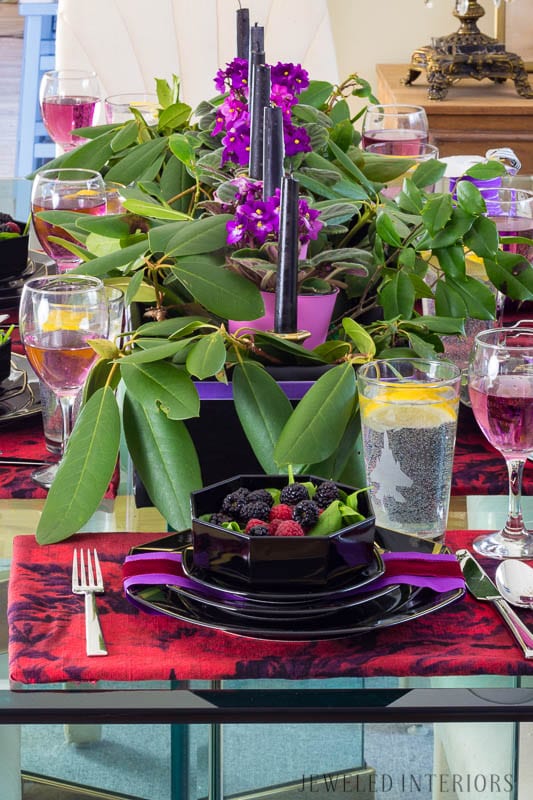 So there you have it folks.  A blushingly romantic tablescape done on the cheap.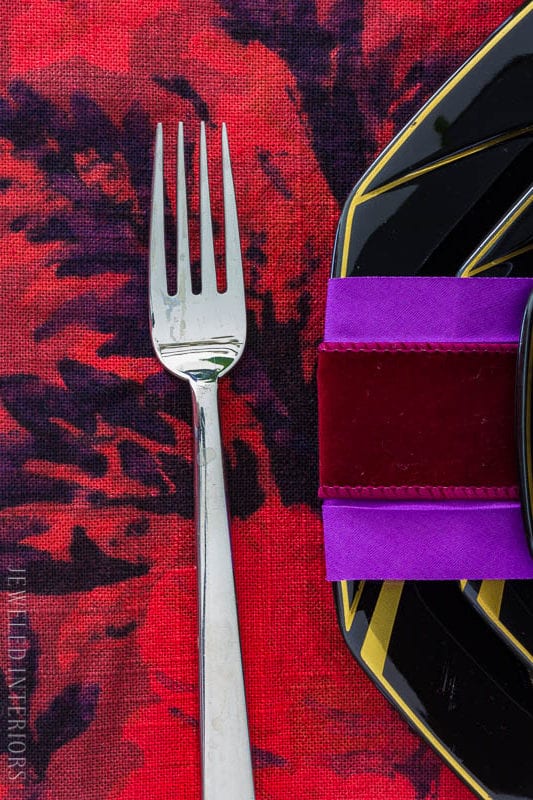 Come back tomorrow and see what I used for the oversized planter box…It's good my friends.
Want a comprehensive guide to designing tablescapes?  CLICK HERE.  Want more placemat ideas?  I got you covered, click HERE.
If you like what you see, don't forget to follow me on