Welcome to Jeweled Interiors and the first week of the Bathroom Primp and Pamper Blog Hop.  This blogging challenge is a reoccurring event that will take place EVERY TUESDAY in the month of March and includes over a dozen talented bloggers and stylists who will be bringing you stunning bathroom make-over inspirations. Some participants are adding little touches while others are rolling up their sleeves and diggin' in.  You are sure to find tips and ideas that will inspire and motivate! WOOT WOOT!
I am so glad that you have decided to pop on in to check out my SECOND of two bathrooms in this challenge.  Yep, that's right, I apparently have masochistic tendencies and have opted to throw the downstairs bathroom into the mix.  What's another bathroom, righ1?! Click HERE if you want to see bathroom number 1.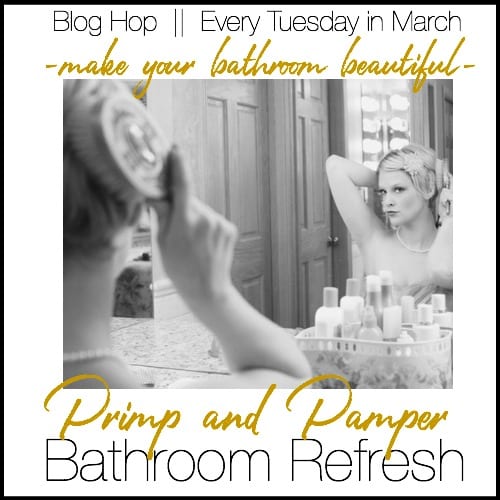 If you are new to my blog you should know a few of things:
1. As a military family we move…a lot…not even joking.
2. We are currently in a beautiful 10 month rental and I have a goal to finish decorating it with at least a month to spare before we move again ?.
3. Since we are preparing for our 13th move I have a lot of experience renting, owning, and setting up shop quickly, beautifully, and affordably.
4. Because we have lived all over (and because I have a craigslist problem) I have a lot of junk treasures from around the world.  Thus, my home often feels gathered, but in a tailored and often glam, chic, or preppy way…depending on the day…and maybe what I'm wearing when I make my design plan?.
5.Within the last week I have revealed our Master Bedroom and Kitchen make-overs.  After the blog hop feel free to come back and see all of the updates.
---
Now enough about me…Let's talk bathrooms!
Oh, how I love me some ugle "before" shots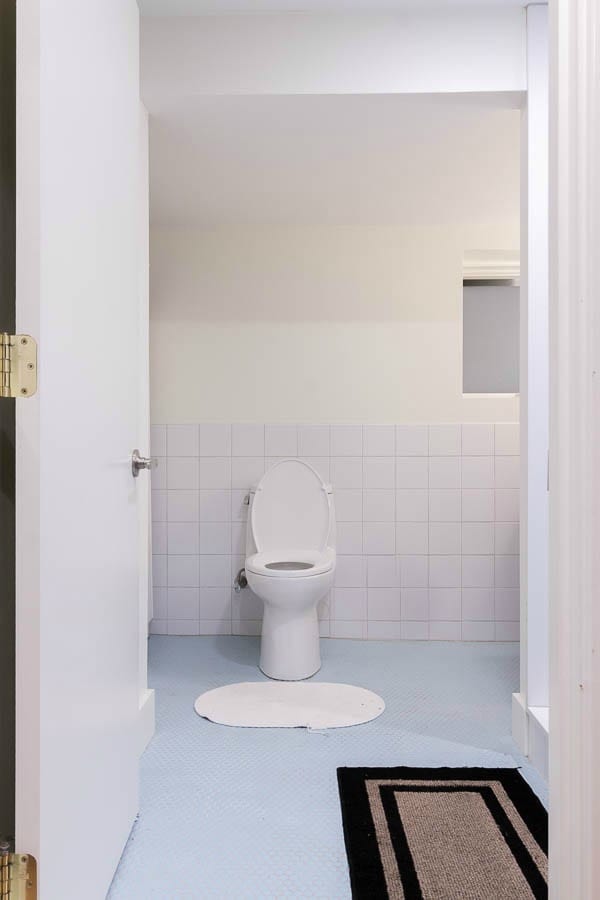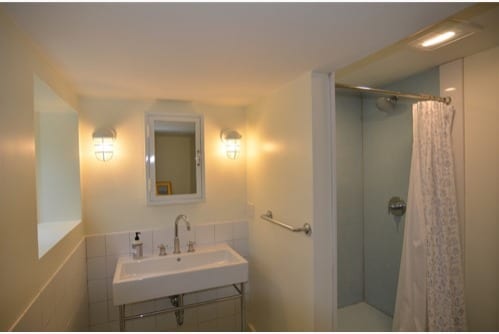 As far as bathrooms go, this isn't a BAD bathroom.  It may not have the best lighting and it certainly sports some short ceilings, but it was redone by the owner a year ago.  As a result of the gut job, it now includes brand new aqua colored penny tile and a large shower. We actually don't use said shower very often.  If fact, because the bathroom sits adjacent to the guest bedroom downstairs, I think my mom is the only one to have ever tried out that big beautiful shower head.  Since it's a room we don't often see it make me feel all sorts of foot-loose and fancy-free. I figure if there is a room in the house to go crazy-fun and borderline bizzarely-bold, this bathroom is a great contender.  Plus, we have three other restrooms in the house, so worse comes to worst: We can just shut the door for the next 4 months until it's time to take it all done with our next move. ?
While Bathroom Number 1 will have a collected and almost global feel, this bathroom will have a bright, yet chic vibe.
I sincerely appreciate the sponsorships we I received for this blog post.  The opinions are 100% my own.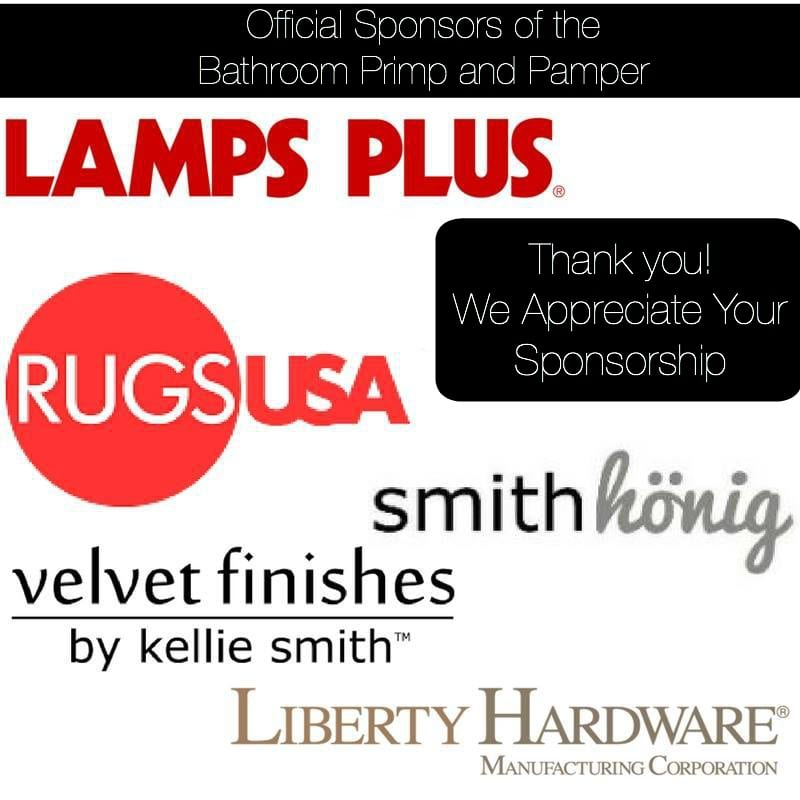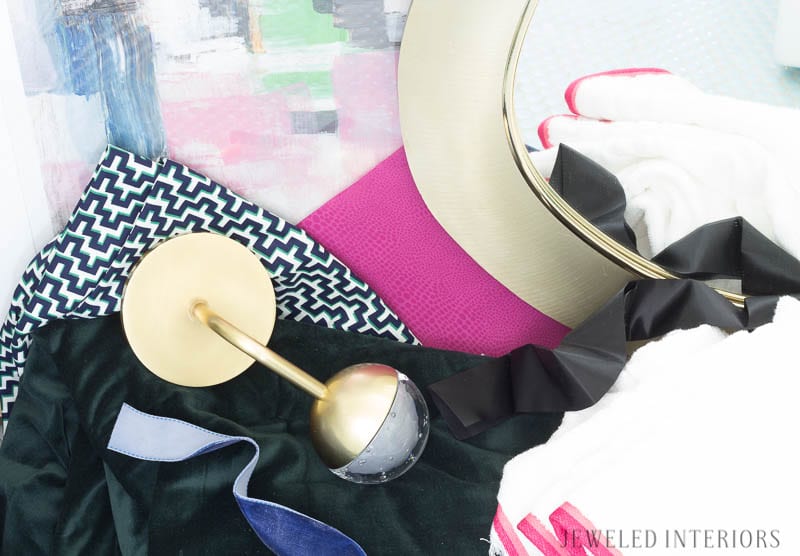 I have this thing for velvet.  You are probably wondering why in the world I am putting a velvet shower curtains in a bathroom, especially when spring and summer are aroud the corner.  My defense? It's nearing autumn and winter somewhere baby…like the southern hemisphere ?. I'm going to attempt to turn a pair of Ikea velvet drapes into lux shower curtains. Stay tuned for more deets.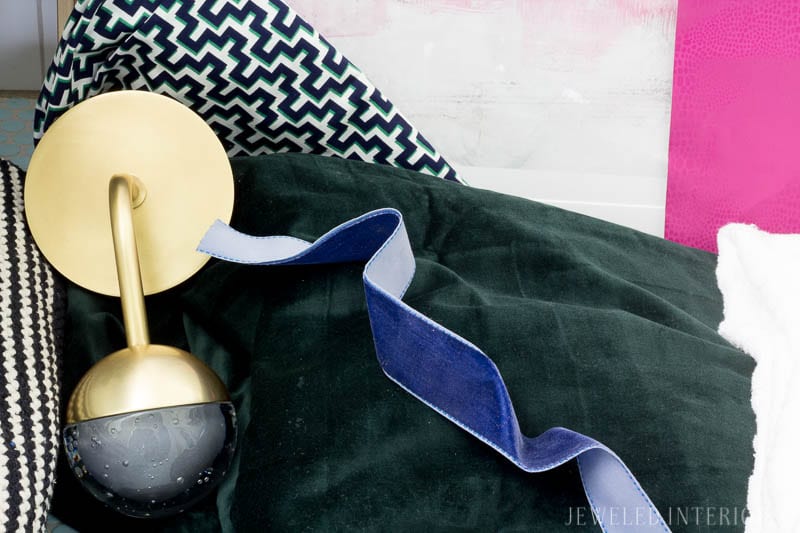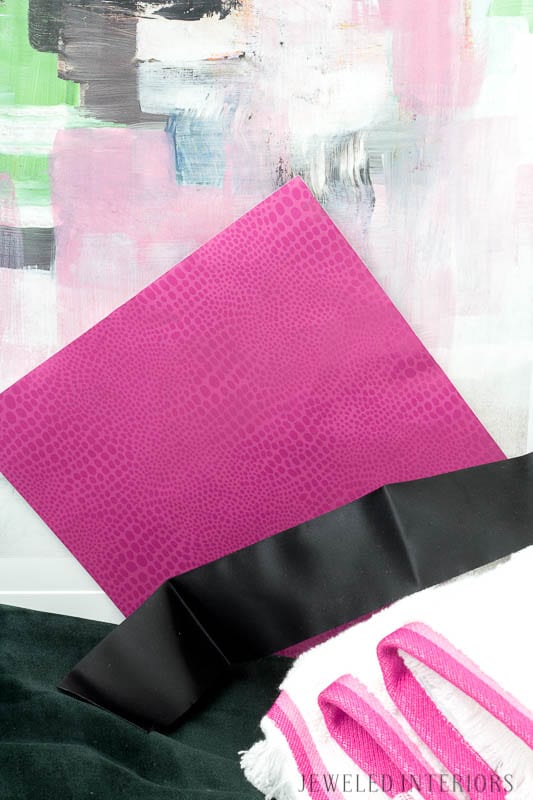 Truthfully, the hot pink leopared textured wallpaper is going to be the statement making choice in the room.  Everything else in the space will serve the purpose of balancing out this over the top bold color. This unique wallpaper selection is from Wallpaper Boulevard.  AND if putting up hot pink animal print wallpaper wasn't naughty enough, the name of the print, Primal, seals the deal.  It's prrrfect! ?
I have yet to completely decide upon a rug, but this one is a great contender. I may also consider a black and white rug if I can find the right one.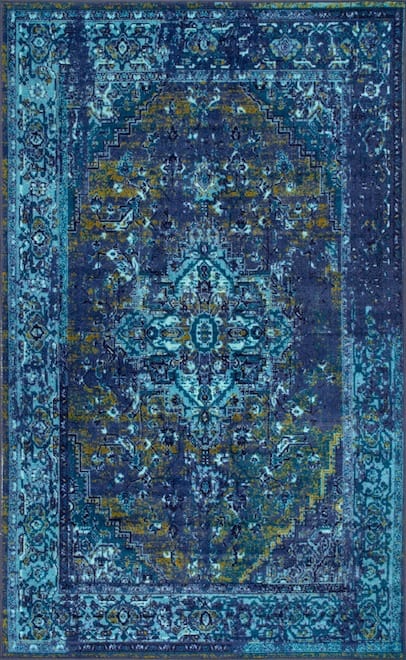 TO DO LIST:
Decide on a rug
Sew shower curtains
Hang Wallpaper
Paint art for the wall
Install light fixtures
Ok, now head on over the the ever-so-talented Rachael B at This is our Bliss.  I Can Not Wait to see what she has planned!