Welcome to Week 3 of the Bathroom Primp and Pamper Blog Hop…AKA…the most fun thing to obsess over every Tuesday during the entire month of March! Here you will find about a dozen bloggers, of various styles, who are each tackling their bathrooms like ROCK STARS. Post after awesome post you can be inspired by fresh new ideas, DIY prowess, and wicked awesome design tips. Don't forget to click the links at the bottom of each posts to continue the fun.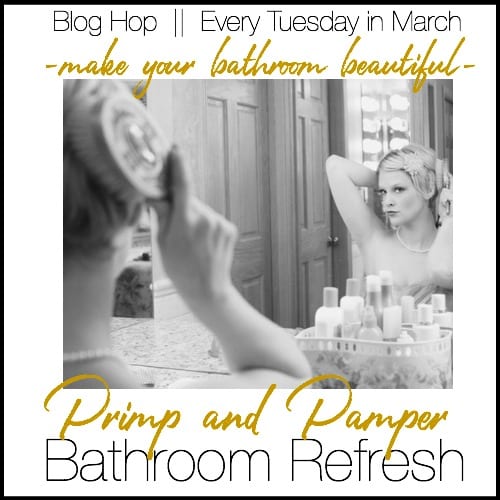 If this is your first time here at Jeweled Interiors then I would like to offer you a virtual hug and high five. Thanks for popping in and I hope you enjoy my eclectic glam style all accomplished on a shoestring budget. You see, we are a military family of 6 and my goal is to design and decorate this 3000 square foot, 10 month rental before making our 13th month this summer.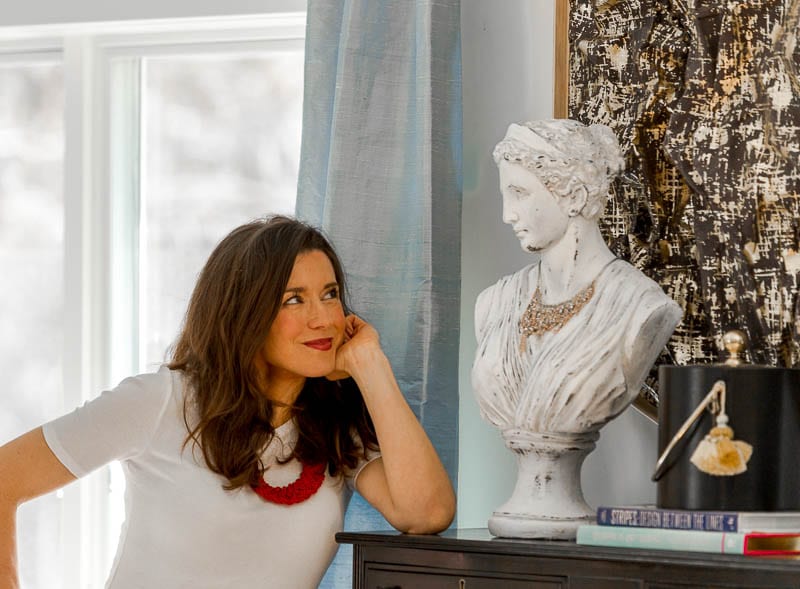 Ok. On to the bathroom. This bathroom is the first of two that I'm working on for the blog hop… and let me tell you, two bathrooms at the same time is A LOT OF WORK. For updates on my second (and incidently HOT PINK) bathroom click HERE.
As for this sophisticated and gathered bathroom you can click HERE for the plan and HERE for last week's progress to get caught up.
This last week I went head to head with an ugly open storage shelf that I have been saving for way too long. ?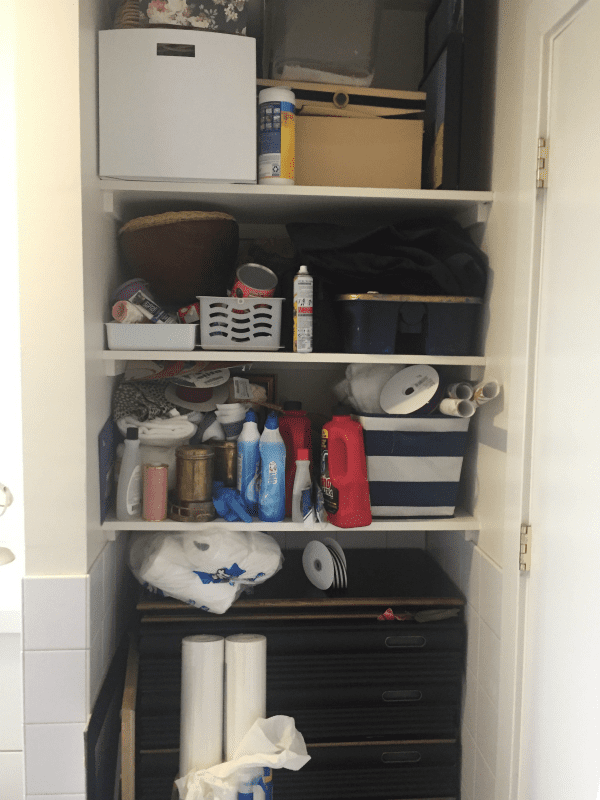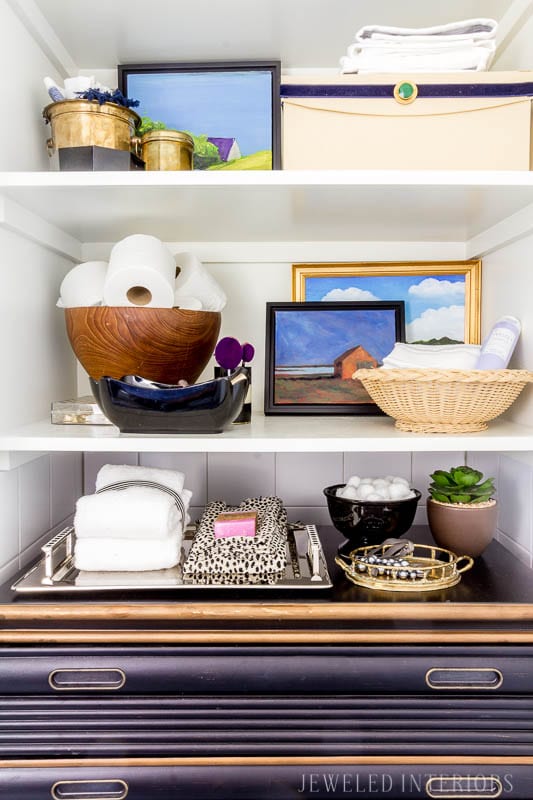 Better eh? Yep, that was a little rough before. I know. I have to be honest with you though. I am not the kind of person who has perfectly organized closets. I'm not sure if that makes you hate me or love me, but it's the truth.
As such, the open shelving in this 10 month rental has proven to be a bit of a challenge for me (as evidenced above ?). The good news is that after finally getting around to wrestling this area I realized that most of the space was taken by empty boxes…YASSSSS!!! Woot Woot!!! I love an easy fix!
I guess I have been storing random containers here knowing that I would eventually need to use some for this bathroom redo.
The other good news is that I had room in hallway closet (you know, the one with the door) to stash my Draino…Though Draino Decor could be the hot new trend. ?
Read below to see how I used items I already had to corral the stuff that needed to stay in the in the bathroom.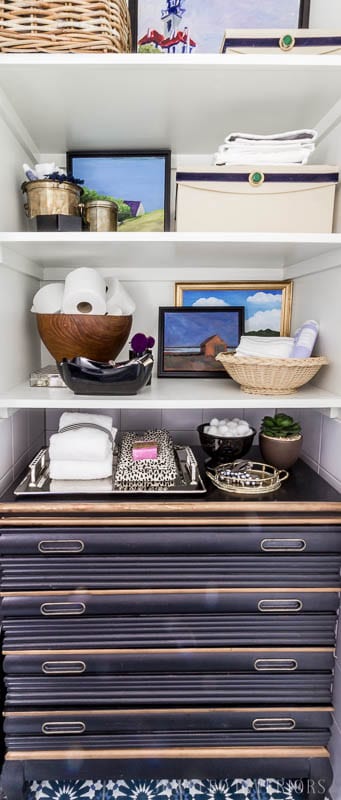 Use Boxes for the Ugly Stuff
Let's be honest, it takes very little effort to come up with a long list of items in a bathroom closets that you don't want every visitor to your house to see.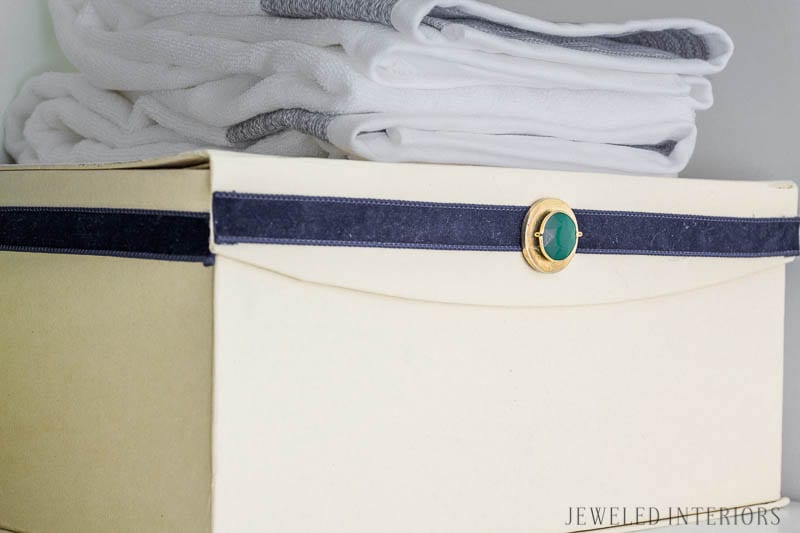 I picked up these boxes at a local craft store at our last assignment in Idaho. To add a little Jewel polish I hot glued some velvet ribbon and finished it off with a gold spray painted button and a green bead.
Bowls for the Pretty Things
If you've got it, flaunt it, right? For the few things in the bathroom that are aesthetically pleasing it's nice to have a way to display them. Open faced containers and bowls are an easy fix and can likely already be found somewhere in your house or at a thrift store.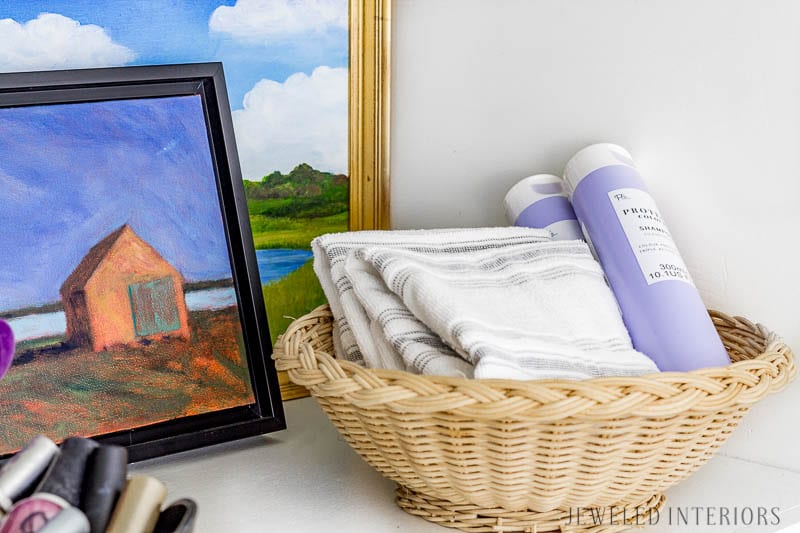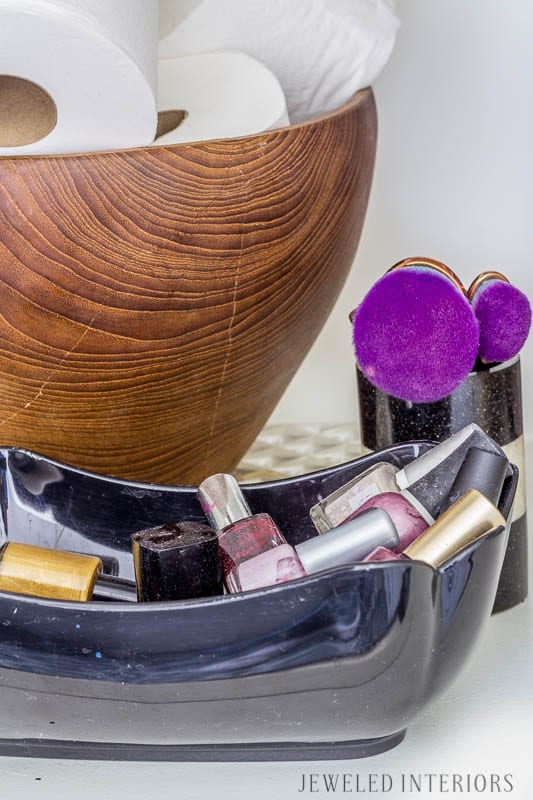 Think about the metals that are already in your room (fixtures, soap dispensers, hardware, etc) and try to reinforce them by reusing them again in your open shelving. I have brass sconces and a mirror so I picked up these brass canisters for a song at a local thrift store last month. They also happen to be a handy way to stash more bathroom necessities.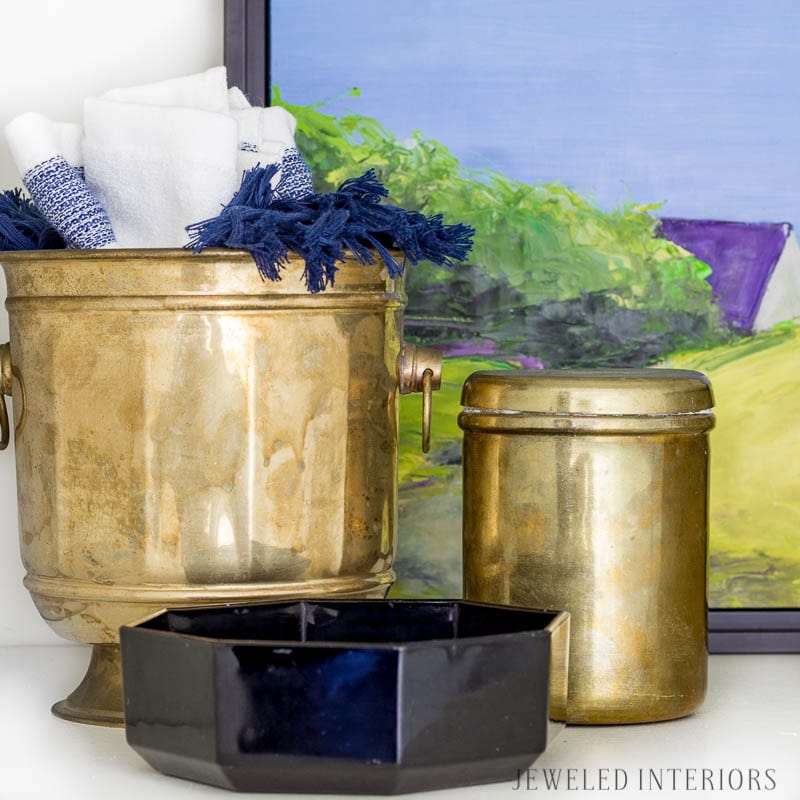 Round 'em up little Darlin'. That's right, corral those random bits by sticking them in a pretty tray. Then our piles of junk stuff look organized and purposeful.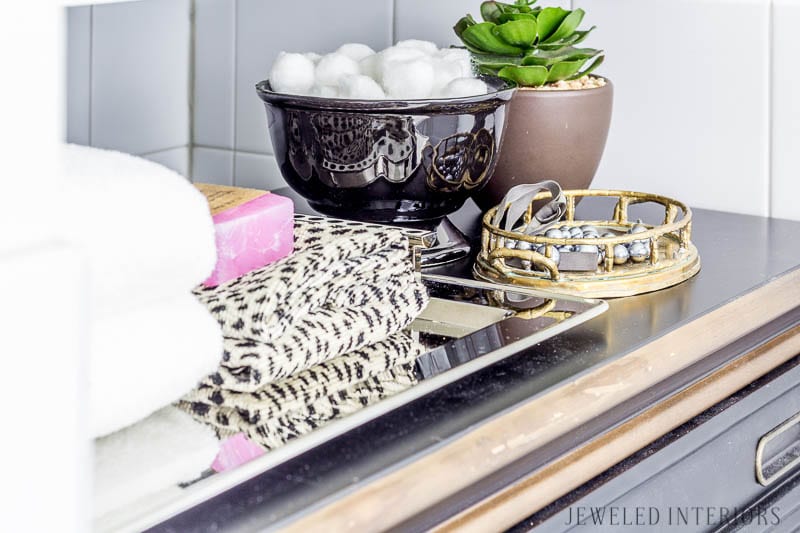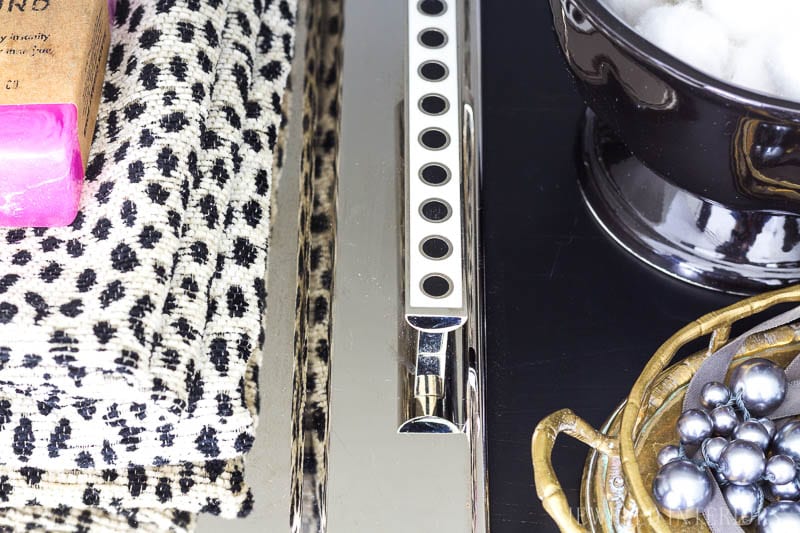 This Kate Spade tray was a gift from some dear friends a few years back. I still treasure it and think of them each time I use it.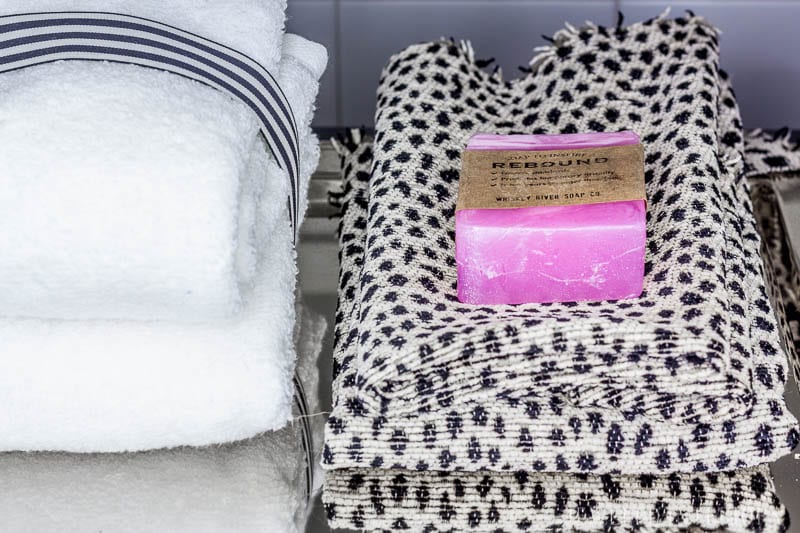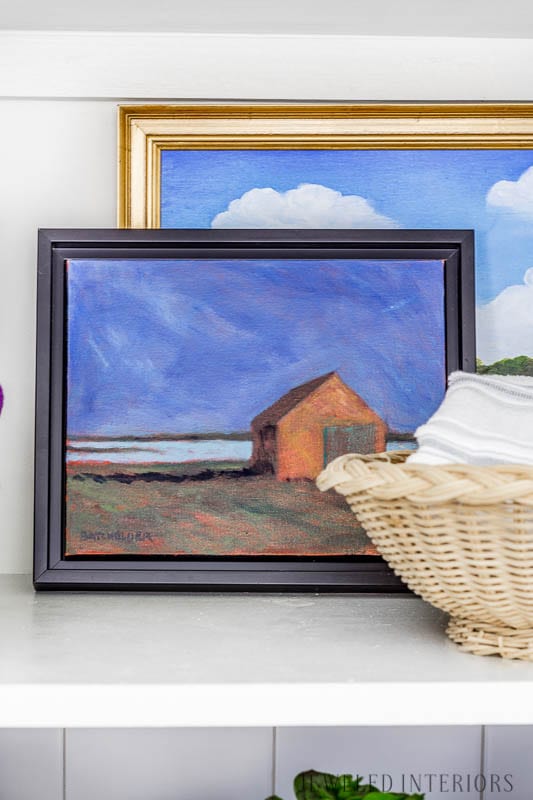 One sure-fire way to add personality to your open shelving is to layer in art. These beautiful pieces all actually came with the rental house, but you don't see me complaining. Oil paintings, in particular, add soul to a space.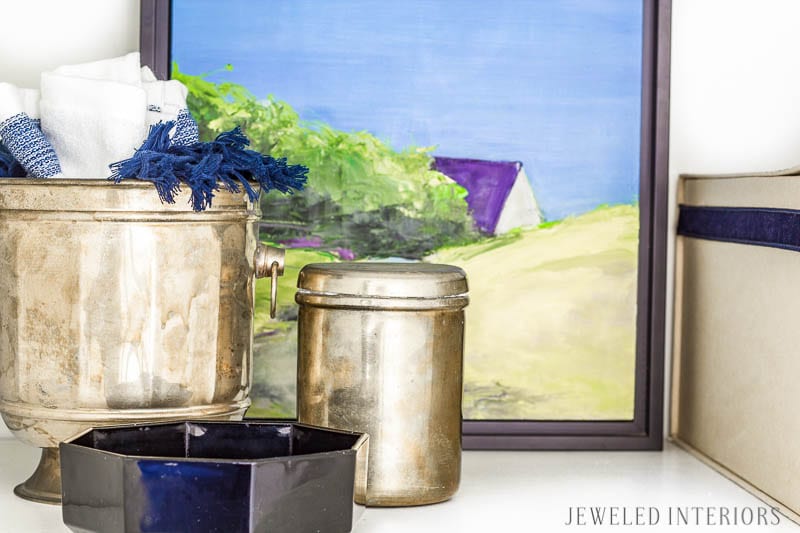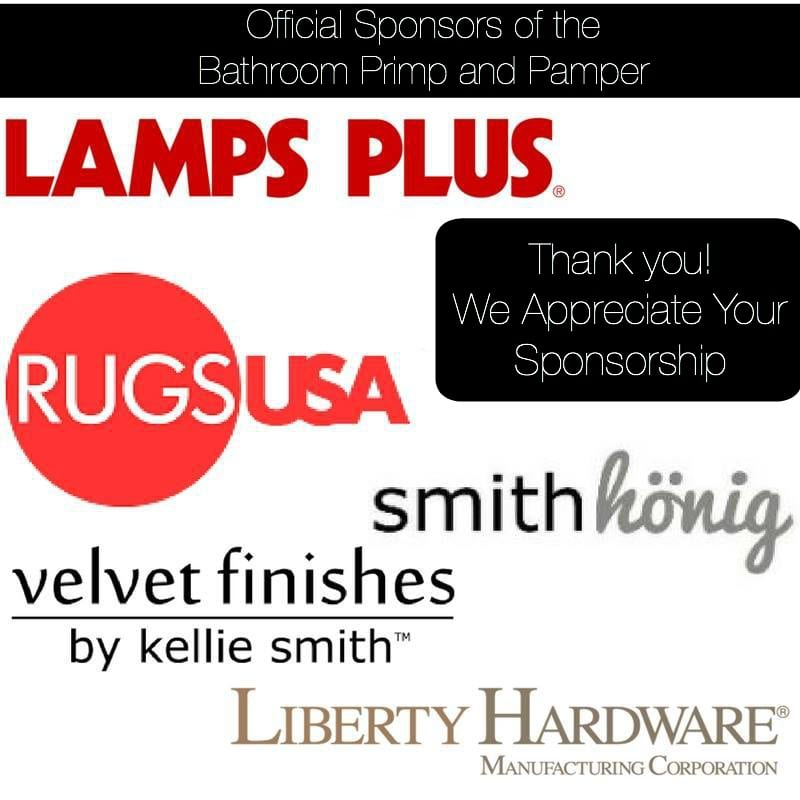 Thank you so very much for joining me on this, my first of two bathrooms in the Bathroom Primp and Pamper Blog Hop. Now, go check out my surprisingly pink snakeskin wallpapered bathroom. It's not quite what you are picturing and you just kind of have to see it to really understand.