Teenage Girl's bedroom holiday decor for the 2019 Holiday Eclectic Home Tour
Happy holidays and thanks for popping in to see how I've decked-out my teenage girl's bedroom holiday decor in time for this special time of year!
First, a huge and very merry high five for my amazingly talented friend Jess, from Domicle37, for hosting this fantastic annual event.  If you don't know Jess and her dramatic, sophisticated, and spectacularly-amazing style then you need to go check her out.  She's definitely one of my favorite bloggers- Style for days!
In other news, did you see it?  Did check out the post from Jess?…No.. no..the OTHER Jess…you know, Jess…from the Bright Green Door?  This Jess is another EXTREMELY talented blogger friend of mine. With DIY skillz up the ying-yang.  My guess is that you've hopped over from her holiday home tour total inspired and ready to take on your Christmas decor.
If you are new to these parts then I owe you a virtual hug!  I really appreciate you bopping in and hope you like my colorful, eclectic, and soulful, style.
One thing you should know is that we are military family, and we just made our 13th move (not a typo) into a dated 1990's home.  Good news folks!  We actually own this one and plan to be here another 18 months (also, not a typo).  So if you are looking for a blogger who NEVER runs out of new rooms to decorate then you may want to give me a follow- #shamelessplug ?
Note: Some of products mentioned in this post were originally sponsored, but they rock so I love telling you about them.  Click HERE for a complete list of sources.
This is the very first room we tackled upon moving-in this summer.  My daughter wanted a "preppy" design plan and I'd say I delivered for the big reveal!
When it comes to holidays, there is something nice about decorating bedrooms. IF (and some years, let's be honest…that's a big IF) you decorate them at all, it doesn't take much to make them feel festive.
So, while it pains me, and my maximalist tendencies, to say this…sometimes less MAY more…Pleeeeaaase don't tell my husband I said that.  This statement could really come back to bite me someday ;).
So, without further ado…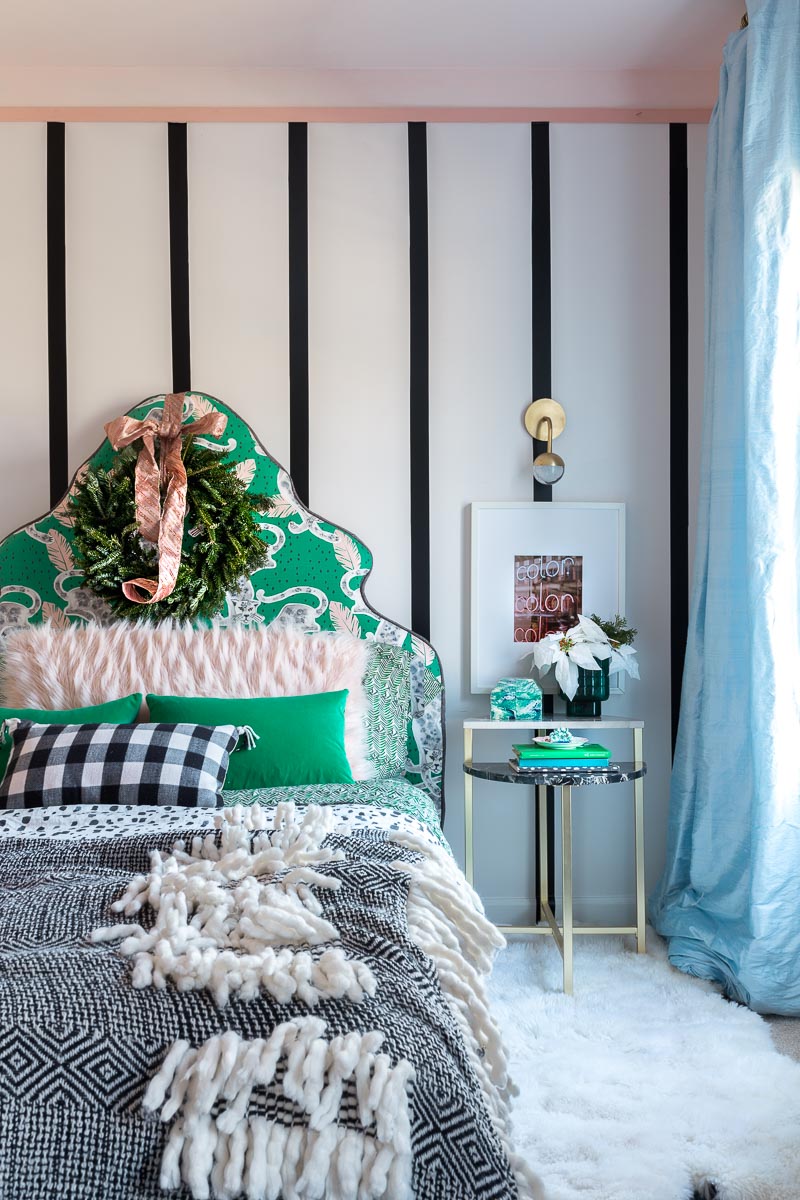 A simple fresh wreath on the bed tied with a ribbon adds so much cheer to the space.  The pink of the ribbon ties in well with the ceiling and black Tempaper Mini Stripe.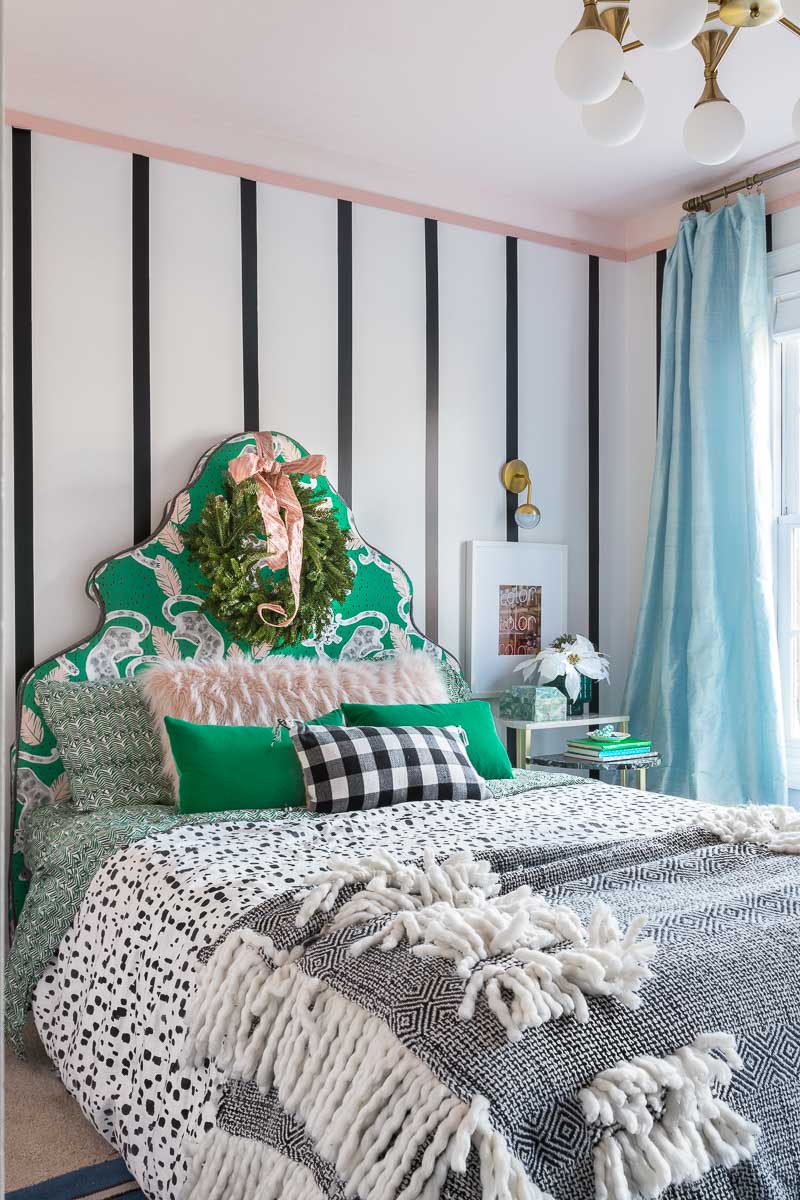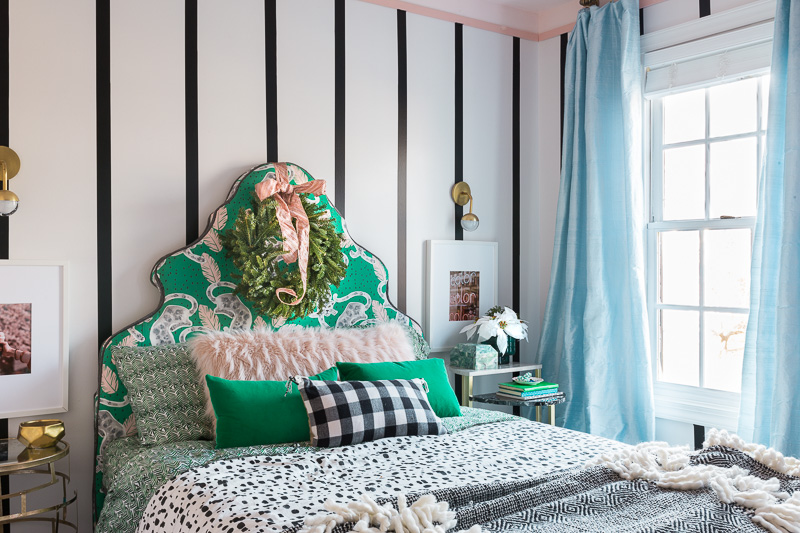 I added some an old buffalo check lumbar with some stunning Arianna Belle Emerald Velvet Pillows…Any bets on how long these will actually stay on her bed?  I'm pretty sure these green beauties will be back in my living room by tomorrow ?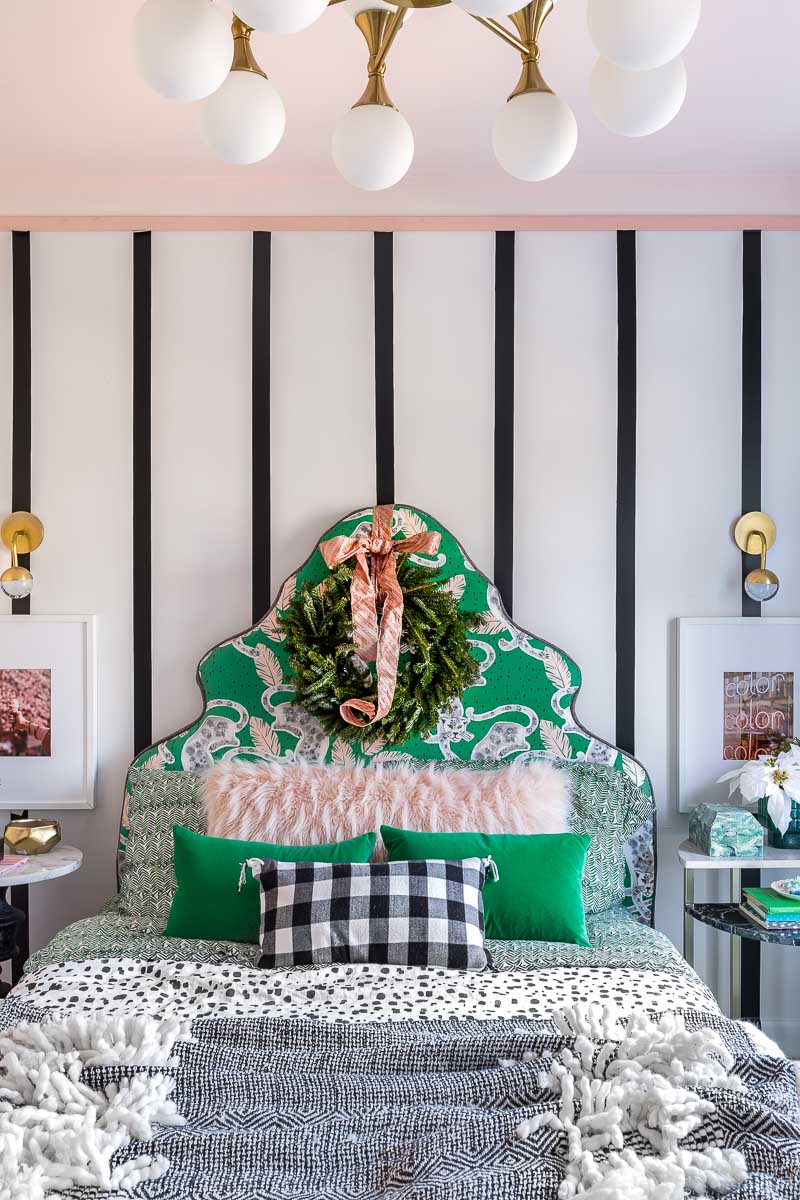 Some poinsettias on the night stands are just TOOO EASY!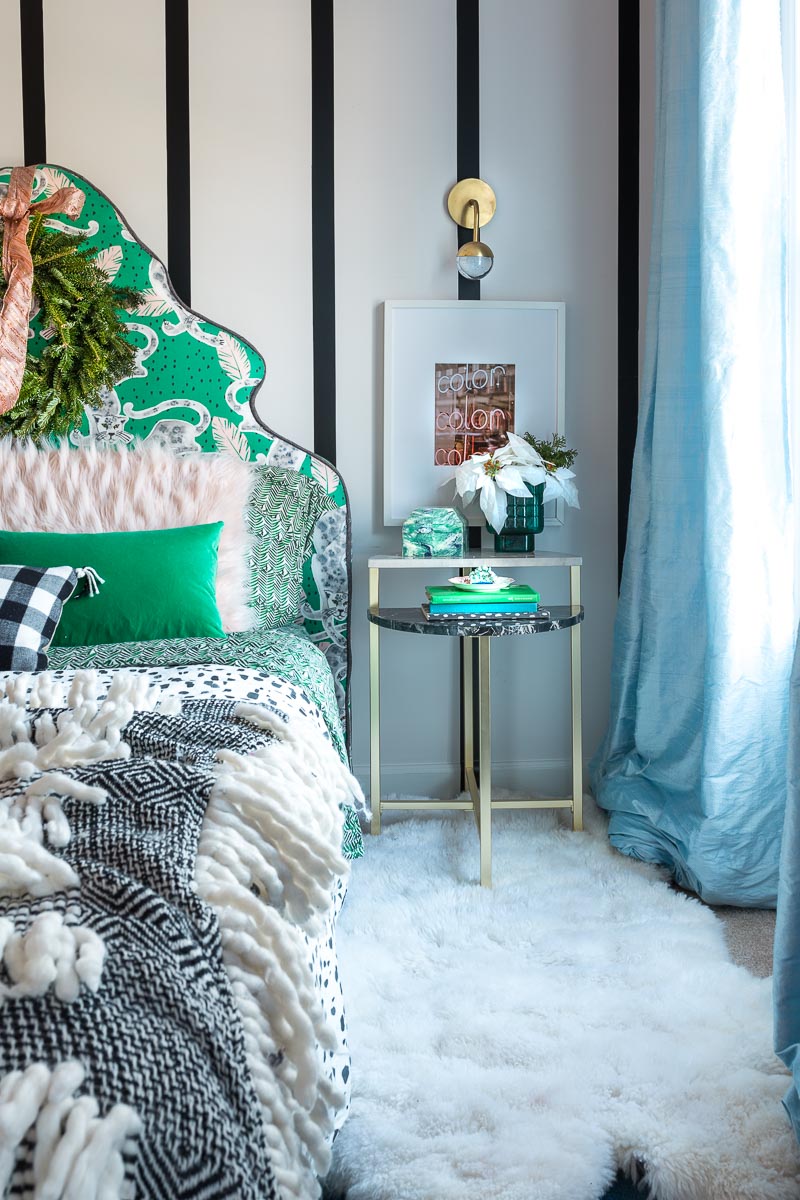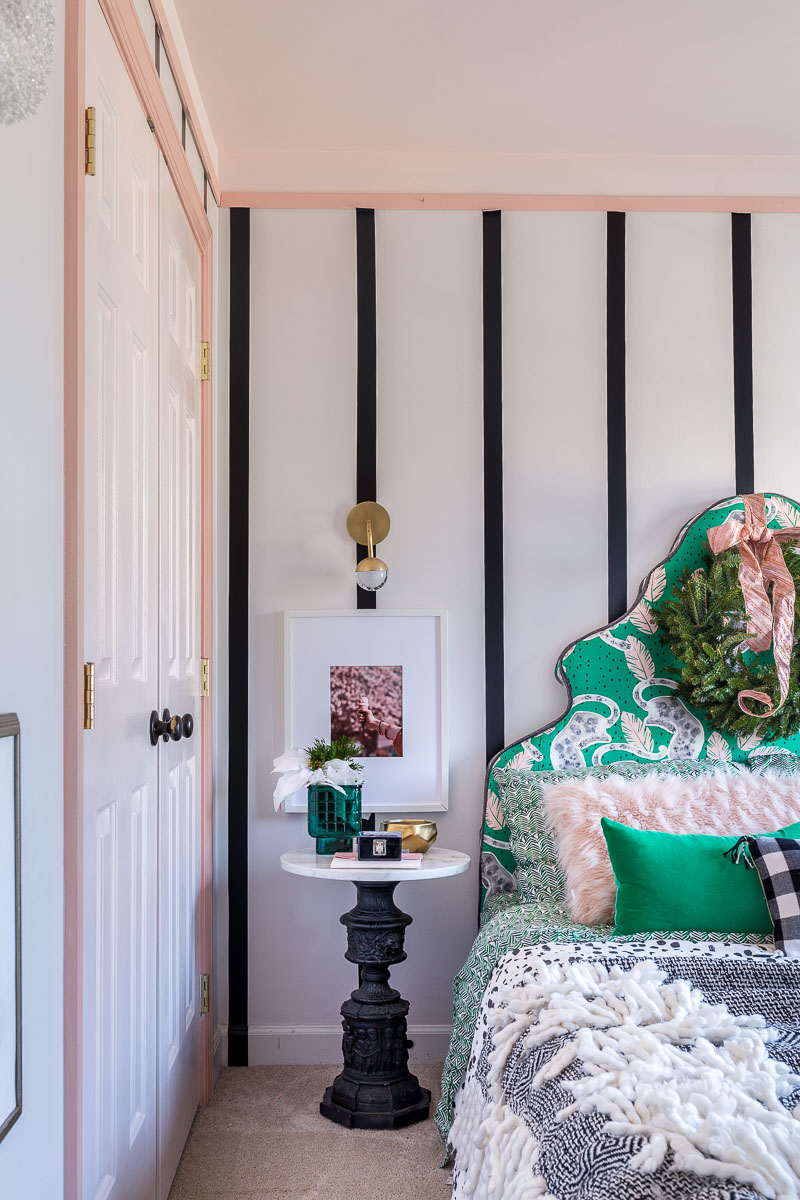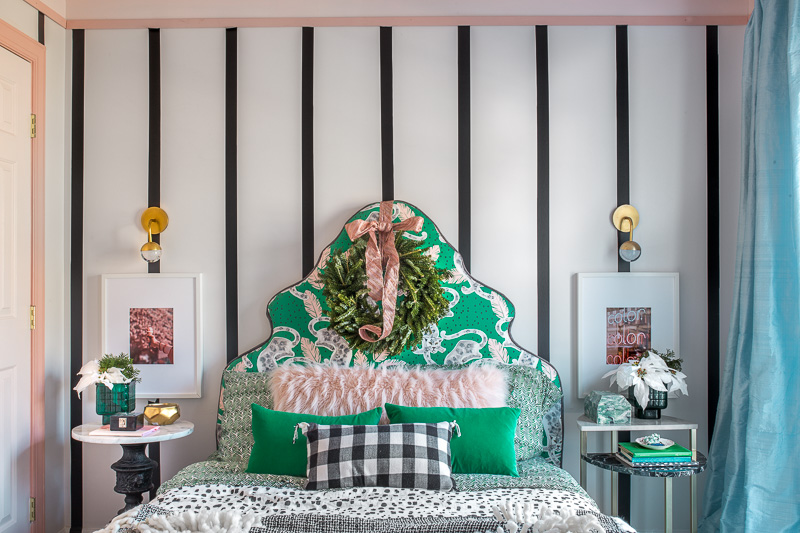 Sooo….ummm…this little tree isn't going to win any awards, but it keeps my lil' gal happy. Less is more..less is more. I keep trying to tell myself this, but I'm not entirely convinced.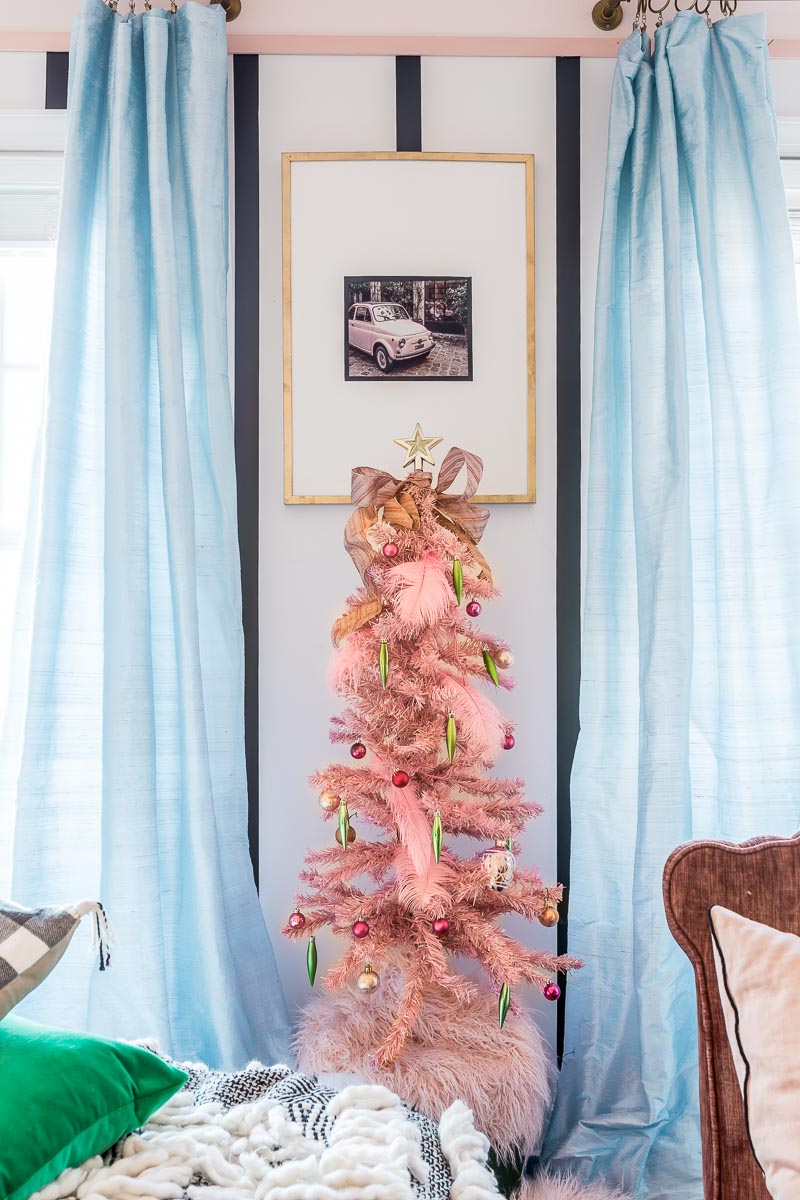 Here we have two wreaths, looking longingly at each other from across the room…It's so poetic, don't you think? ?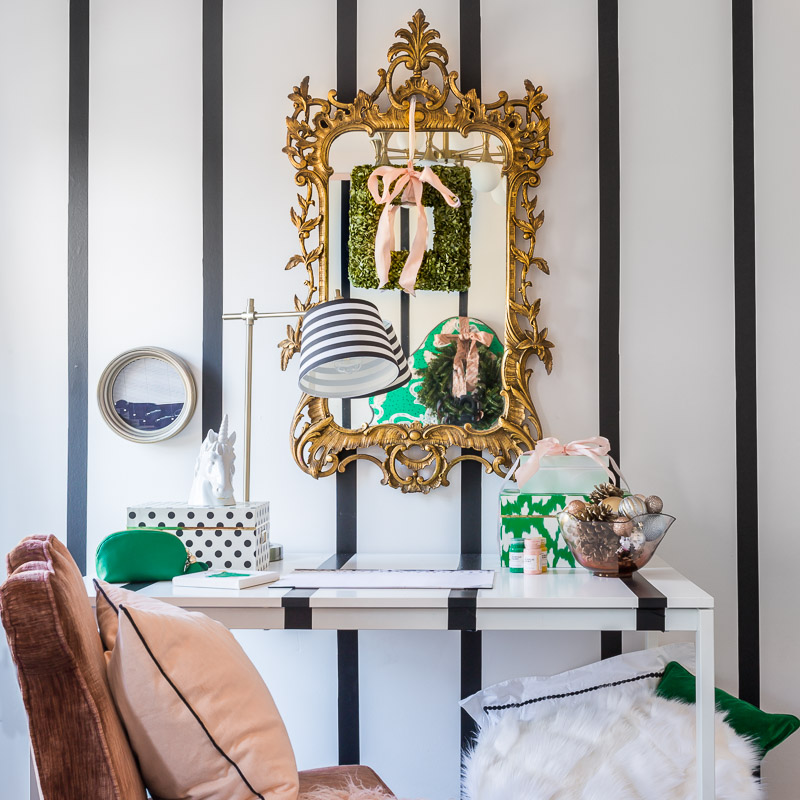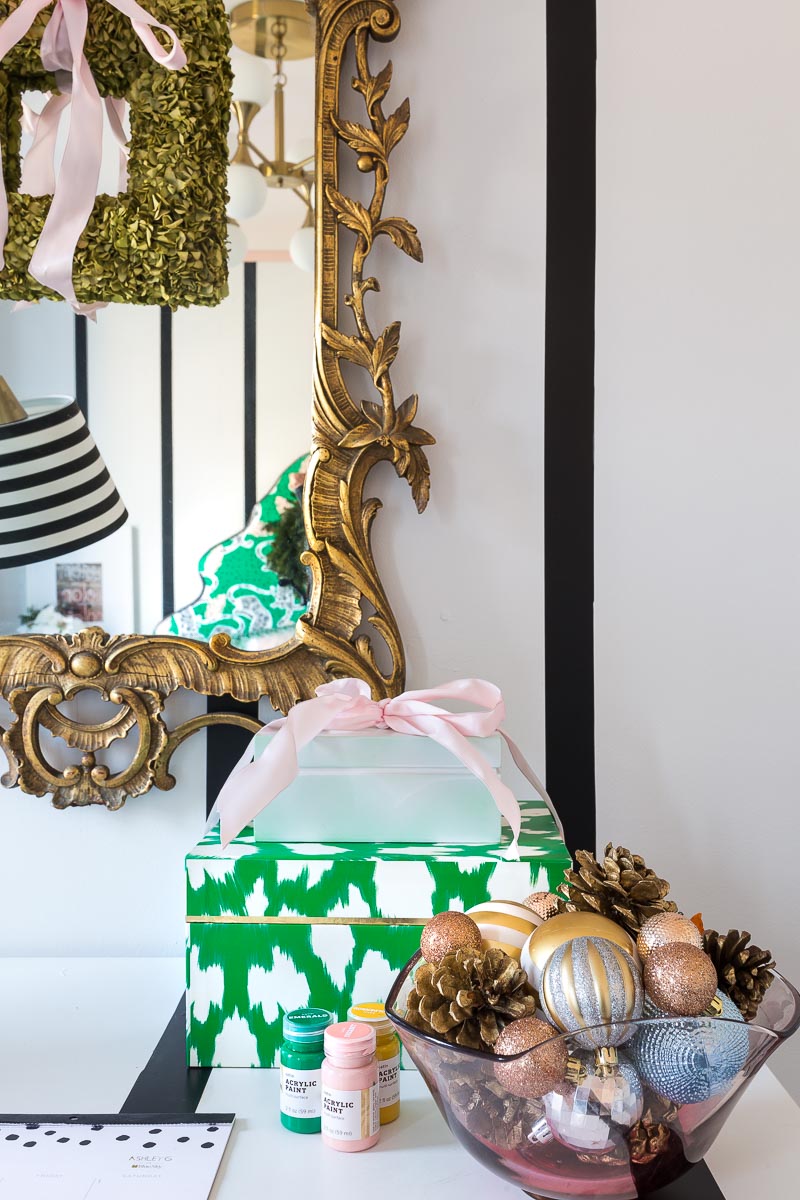 We can pretend that these pretty boxes are laiden with fantastic Christmas gifts, but that would be a big fat lie. I still have loads of holiday shopping to do.  Rather, I think it's actually just her treasures and chotskies… mixed in with some old halloween candy wrappers. Luckily a bow makes it all better.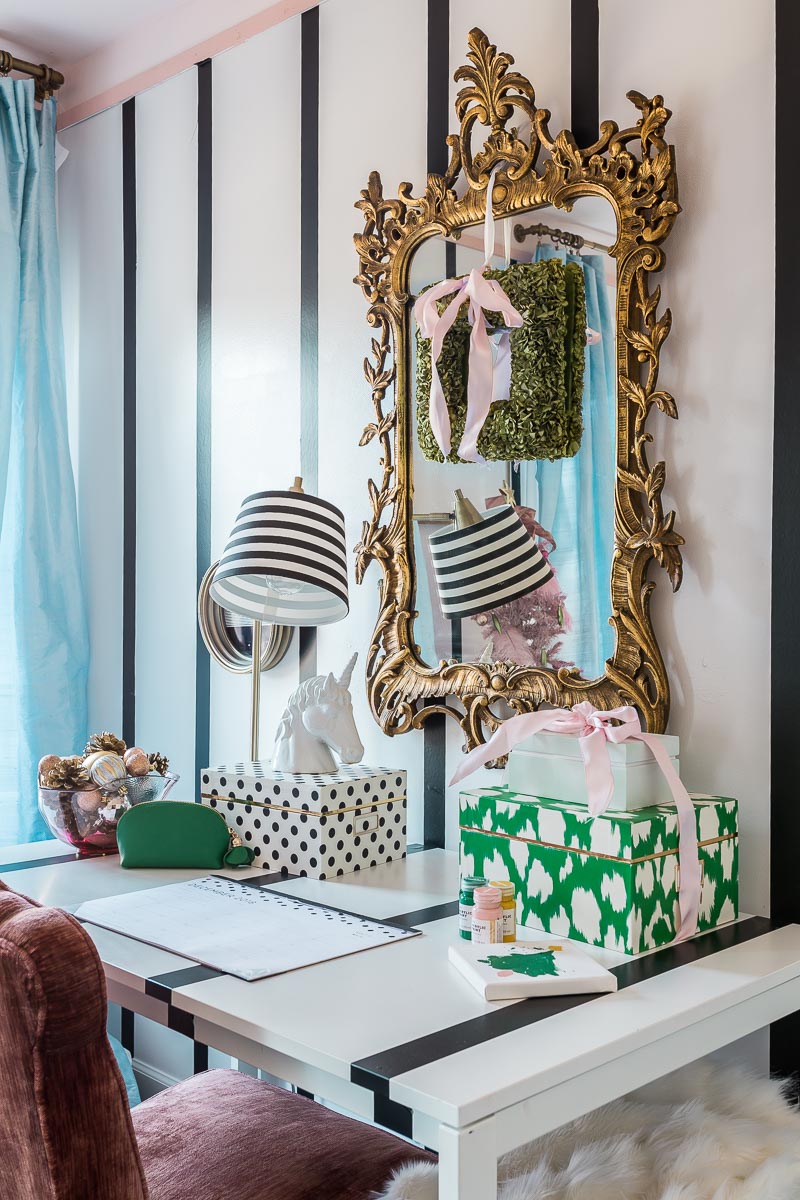 I'm so glad we have visual documentation of that one time in December that her room was spotlessly clean for the Teenage Girl's bedroom holiday decor post? …until the Spring holiday home tour, all bets are off :).
Oh man… I can't help it…I have to throw in one of my other Christmas trees to prove to myself, and you, that when it comes to decor MORE REALLY IS MORE!  Especially at the holidays…am I right?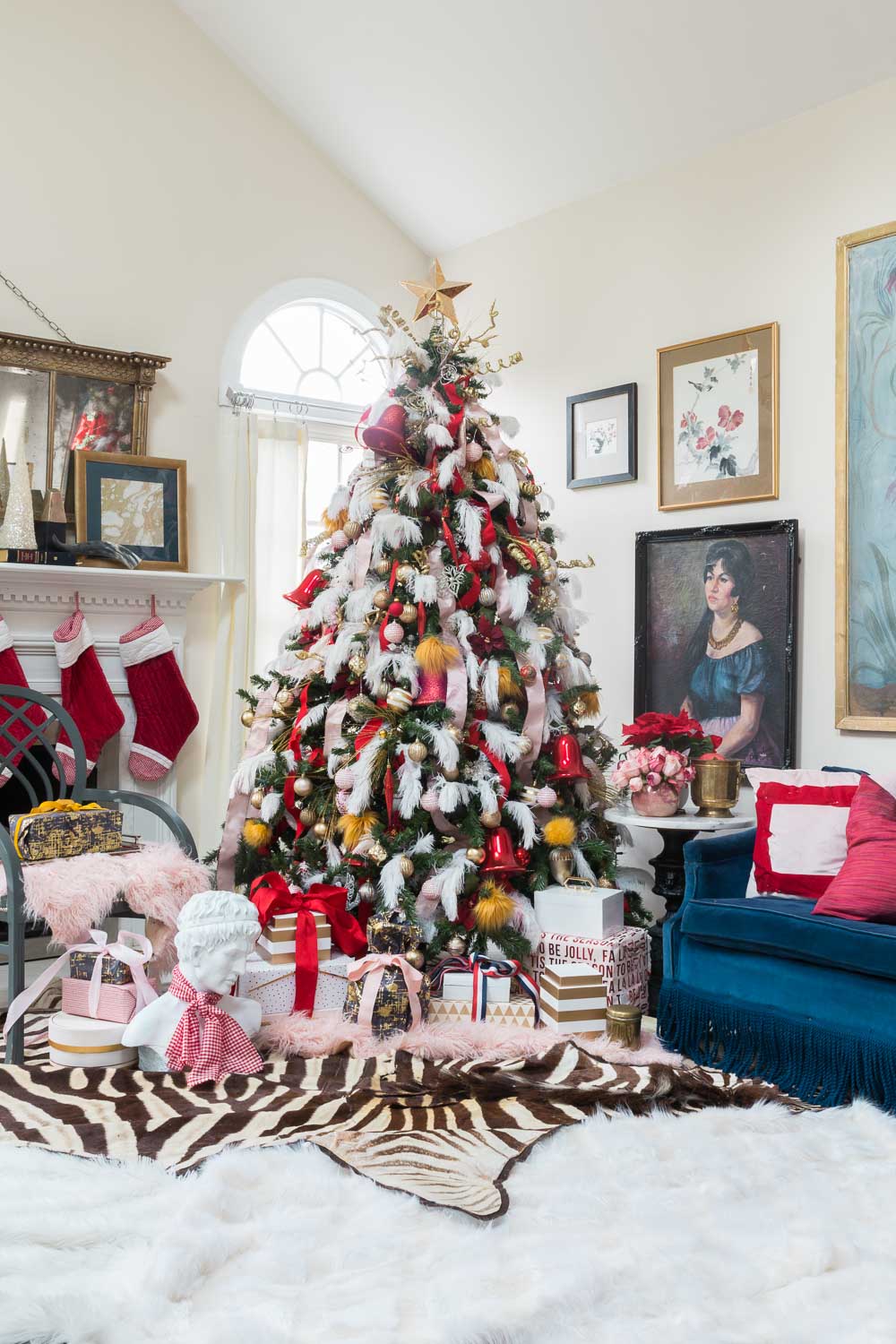 Ok…Point made… If you want to see my final trees stop back in Wednesday…I promise it will be worth the visit.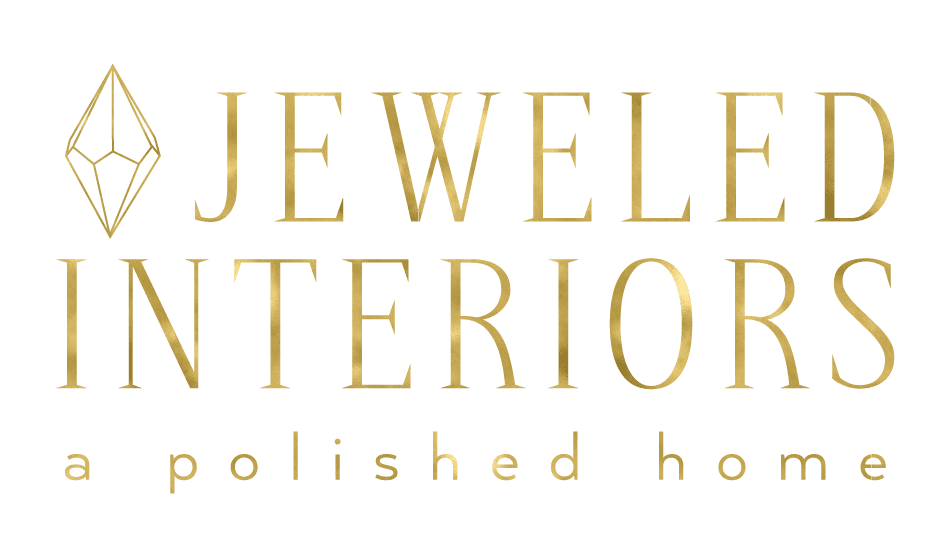 Thanks for checking out my teenage girl's bedroom holiday decor Questions? Comments? I would love to hear from you. Please feel free to leave me a message below.         
-xoxo Jewel
With all of that fun, Make sure you checked out the other two participants from today and get ready to go see another Jess, Jessica Nickerson, from House Homemade tomorrow!  Her home is sure to be a crowd pleaser :).
Monday Domicile 37 | Bright Green Door | Jeweled Interiors Tuesday House Homemade | Made by Carli | At Home with Ashley | Casa Watkins Living Wednesday Designing Vibes | The Boho Abode | Monica Wants It | Banyan Bridges Thursday Brit & Barclay | Blake Hill House | Au Petit Salon | Up To Date Interiors Friday The Rath Project | House Haus Home | Domicile 37