It's One Room Challenge BIG REVEAL TIME everyone! Come see what 7 weeks of blood sweat, tears, a very small budget and mad DIY skills have produced in this blushingly romantic great-room.
Welcome to Jeweled Interiors, a design blog for those who love a curated look on a shoe string budget.
Let me share the tips I have learned on this, our 12th home…Not a typo friends.  More deets HERE. Join the design and DIY adventure as our family of six lives in 3 homes in 3 years. YIKES!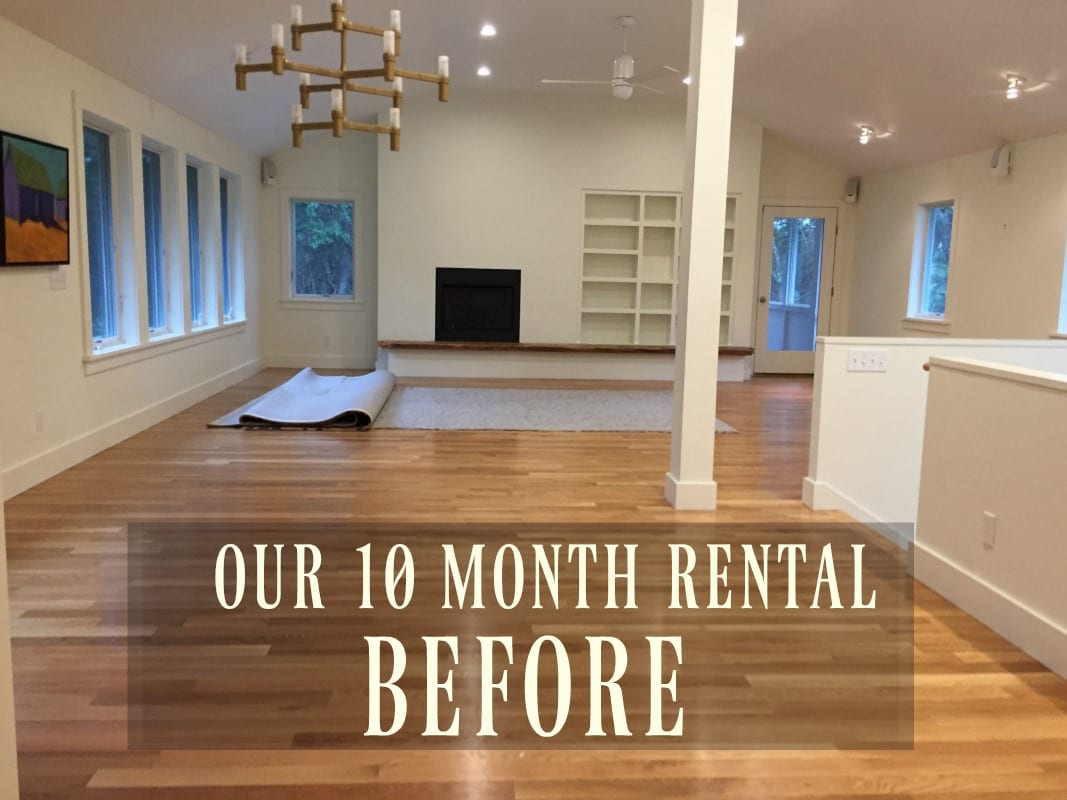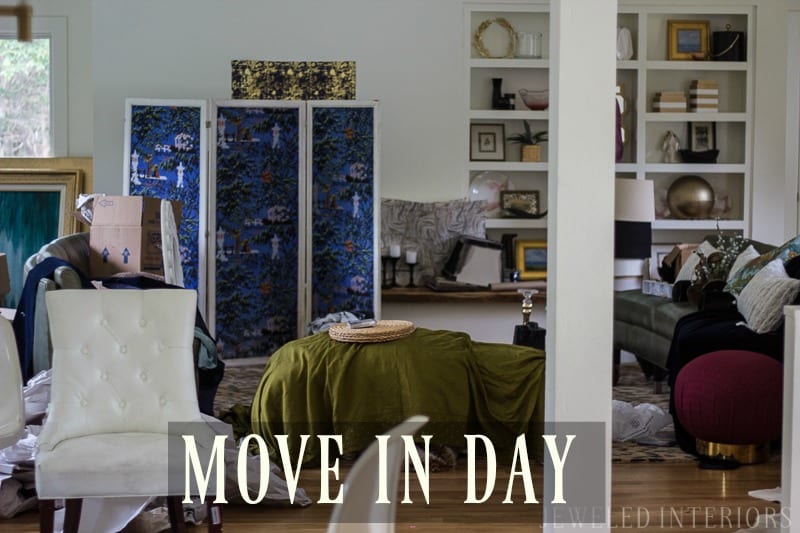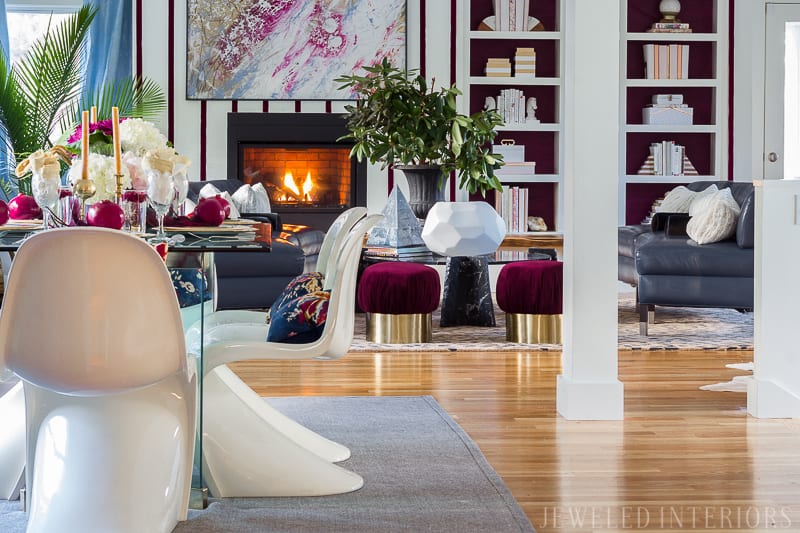 What makes this room unique from every other space in the wonderful One Room Challenge is that, aside from the rug, a pair of Kate Spade lamps, and a handful of accessories, every inch of this design scheme was thrifted or DIY'ed. EVERY SINGLE STINKIN' INCH! 🙂
See those sofas? Yep, I painted them. Notice that art? Yeah, that's a two dollar plastic drop cloth. Like those stripes? Good! They are renter friendly and twenty bucks. So for me, and my patient family, this seven weeks has been nothing short of a wonderfully chaotic, messy, and rewarding ride.
The good news is that you lovely folks can learn from my successes and failures throughout the entire proccess!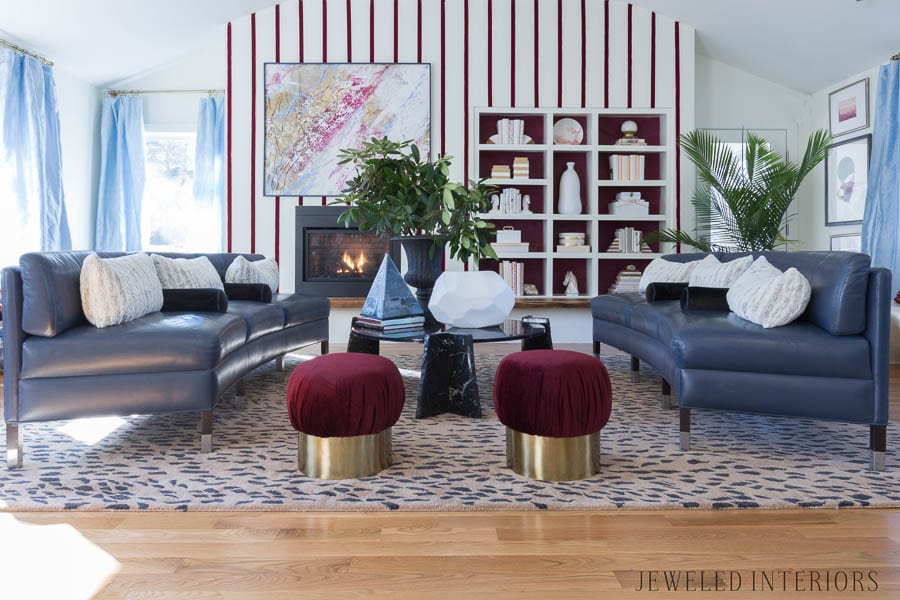 We feel so blessed to have such a large, well-lit, space to call our own…at least for the next seven months. With these "great bones" I wanted to create a space that was curated, sophisticated, chic, and romantic. I had pictured billowing silk window treatments, an over dose of animal print, and touches of velvet where ever possible. Most importantly, I have a thing for for a dramatic mash-up of pieces from unexpected eras working together in the same space. FOR. VERY. LITTLE. MONEY…..The result?…… TA-DA!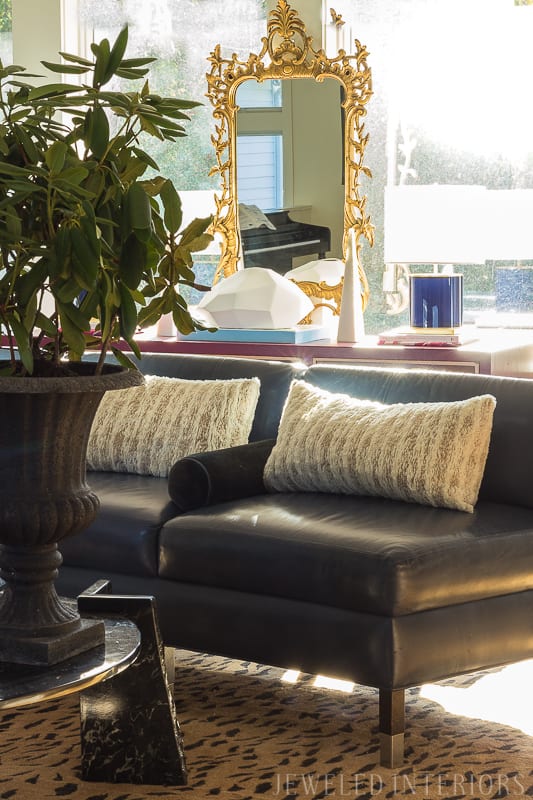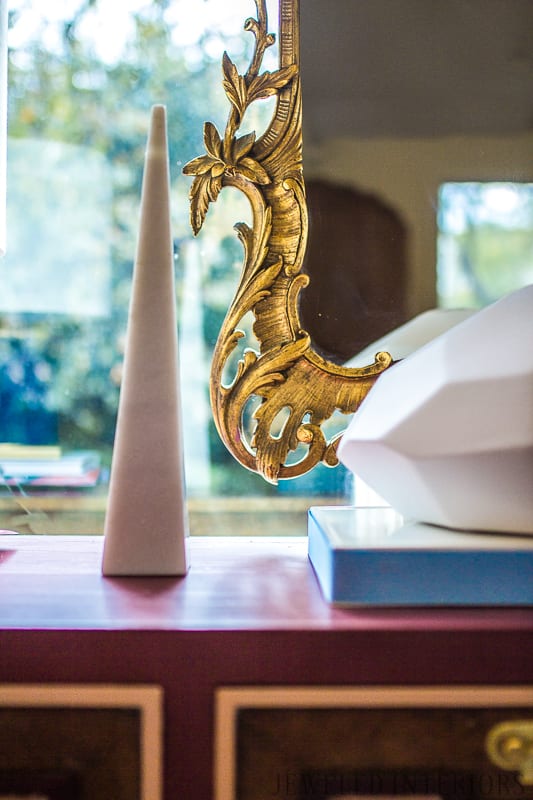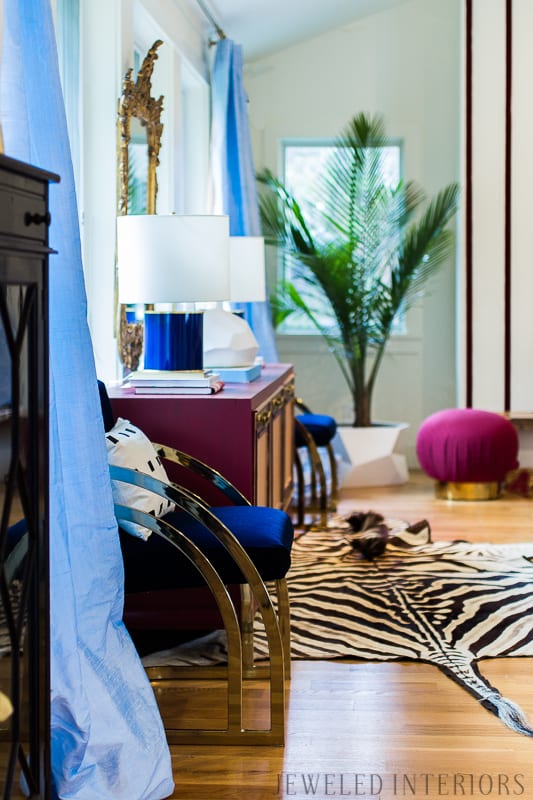 I like to joke that most everything in the room was $100 off of Craigslist. Each of the sofas, the sexy marble coffee table, the zebra rug, the set of Milo Baughman chairs were each only one Benjamin from my "boyfriend Craig".
I purchased the Safaviah Soho Leopard Rug the week we moved-in. I have to say that I really do love the quality and drama it delivers.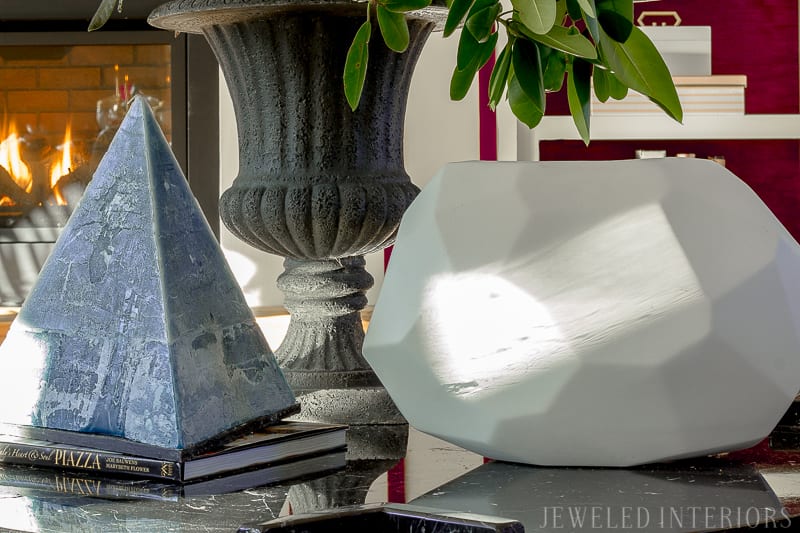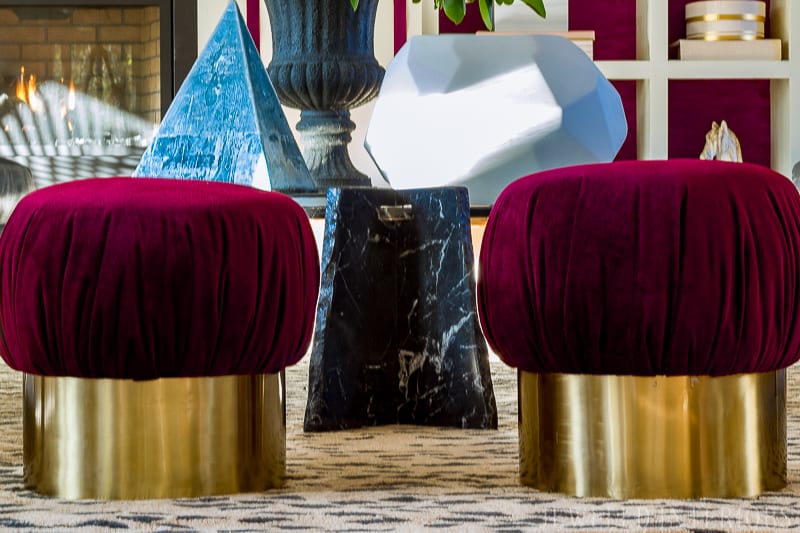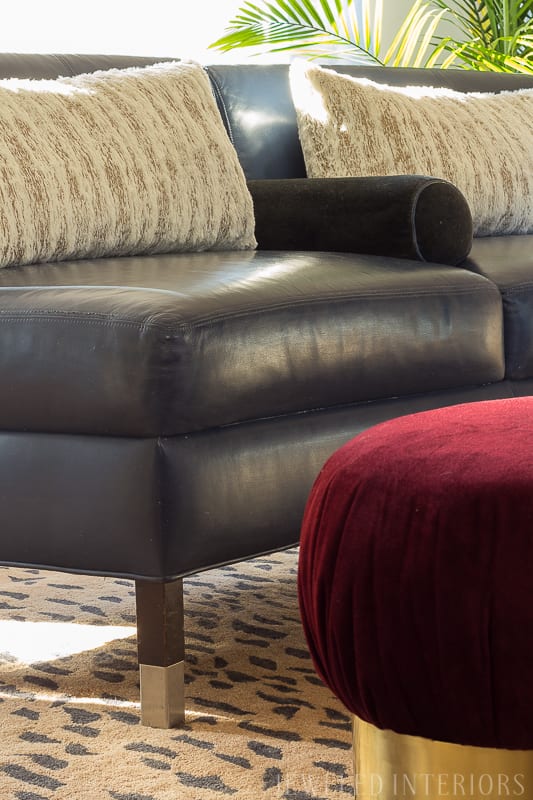 WHAT?!? I PAINTED THESE SOFAS?  You bet!  You should really check out the olive green Nordstrom dressing room "before" pics and in depth tutorial HERE.  This is perhaps my favorite DIY project to date. No one would ever know my painted sofa secret, except that I love to show off the metallic green leather purposely left on the back of one of pillows.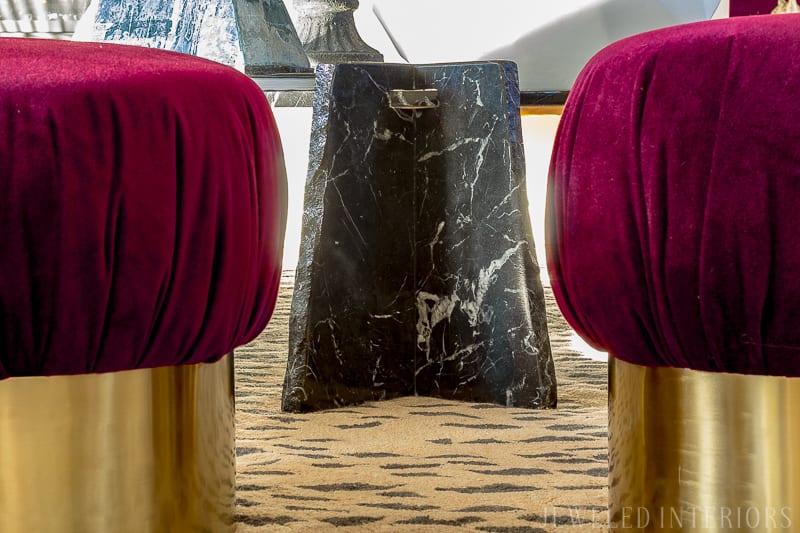 Groovy stools, eh? My husband could not believe that I wanted to dissassemble perfectly good Target Project 62 ottomans, shorten them, and reupholster them in velvet. I am so glad I did…don't tell, but he likes them too :).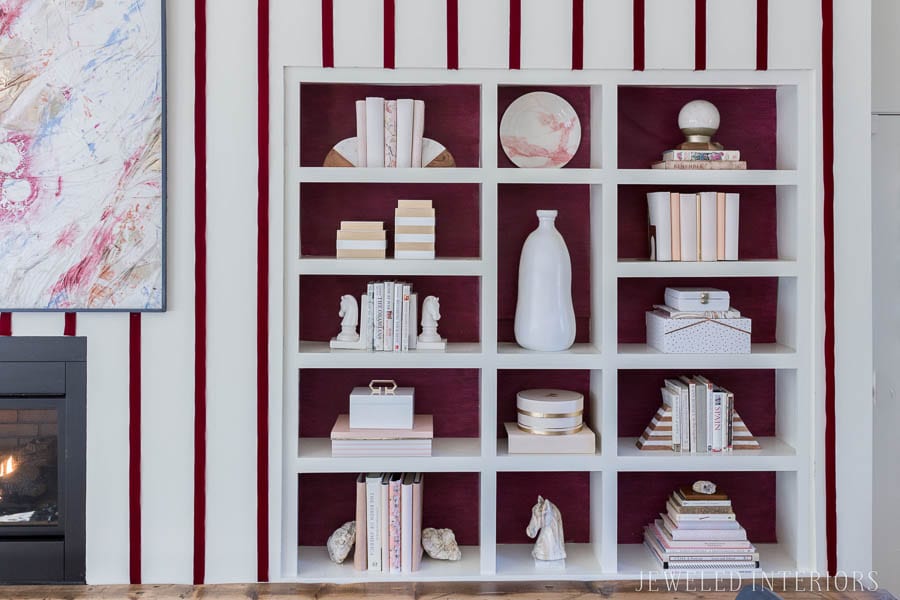 This wall has a lot going on. I knew I needed to keep the bookcase simple. I lined the back with renter friendly removable wallpaper (tutorial coming soon).
It has an almost grass cloth like feel to it.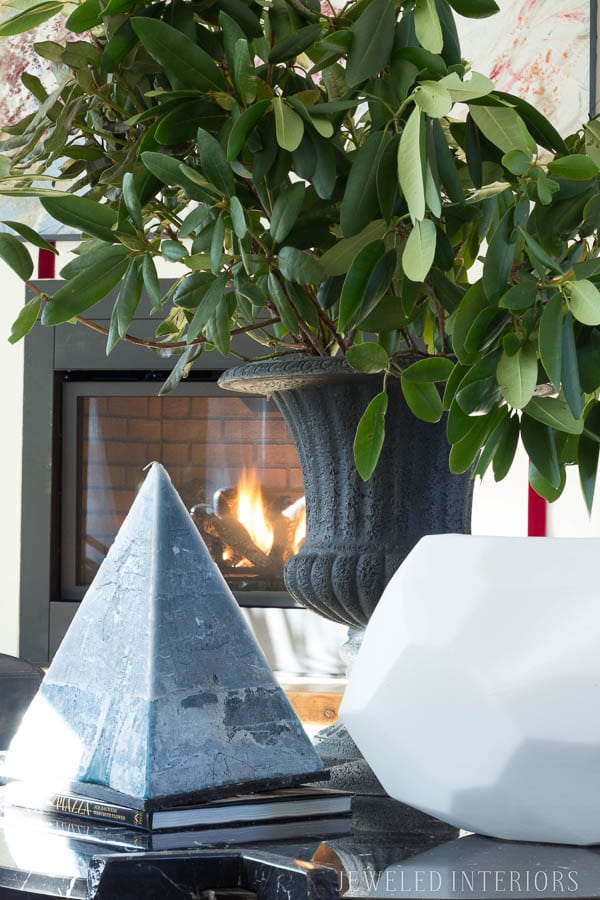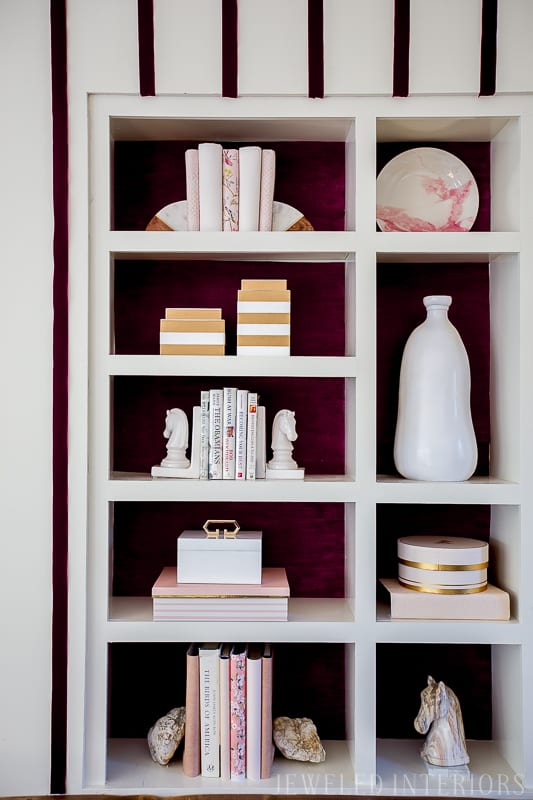 To keep the shelves "easy on the eyes" I stuck to a strict color scheme of whites, golds, and blushes. There may or may not have been some spray painting of accessories and wrapping of books involved in the process. I can't confirm nor deny.
I am beyond pleased with two seperate sets of bookends. In the top left Target brought it strong! West Elm joined the fight with an impressive set of Marble + Wood accessories.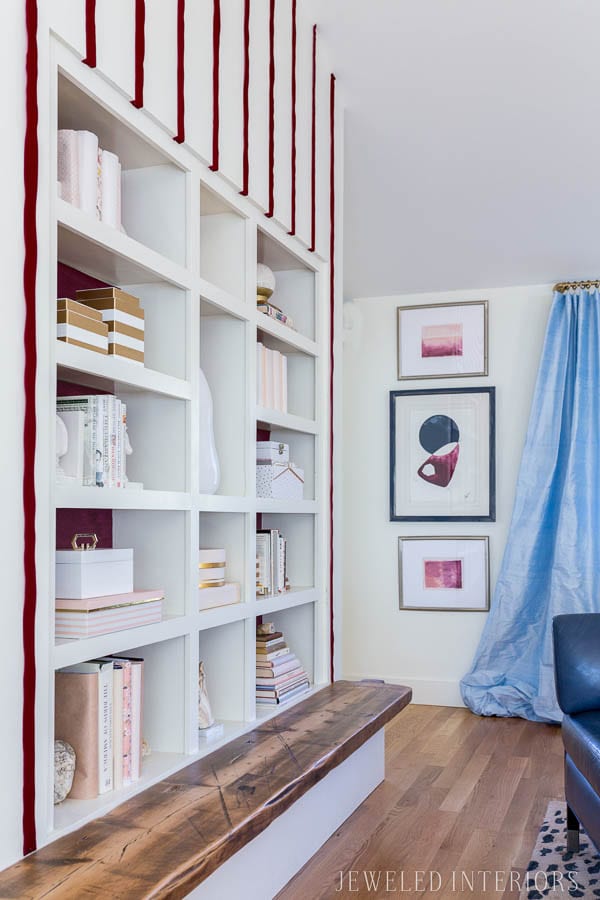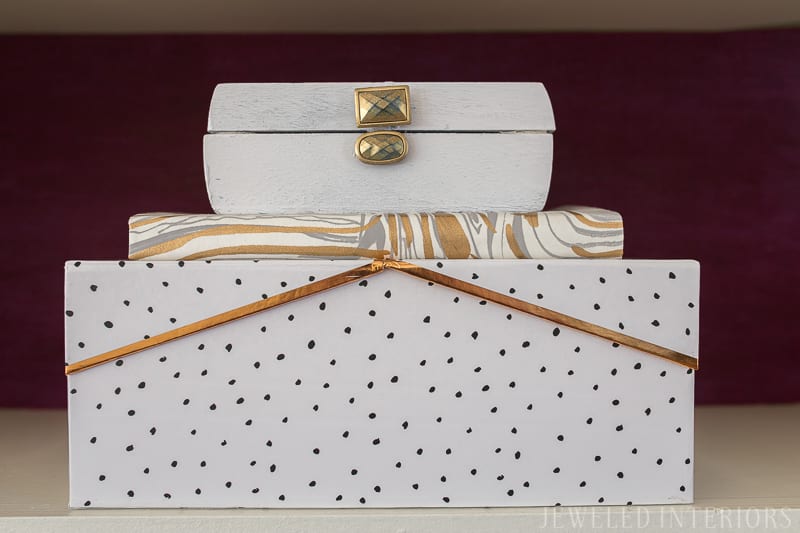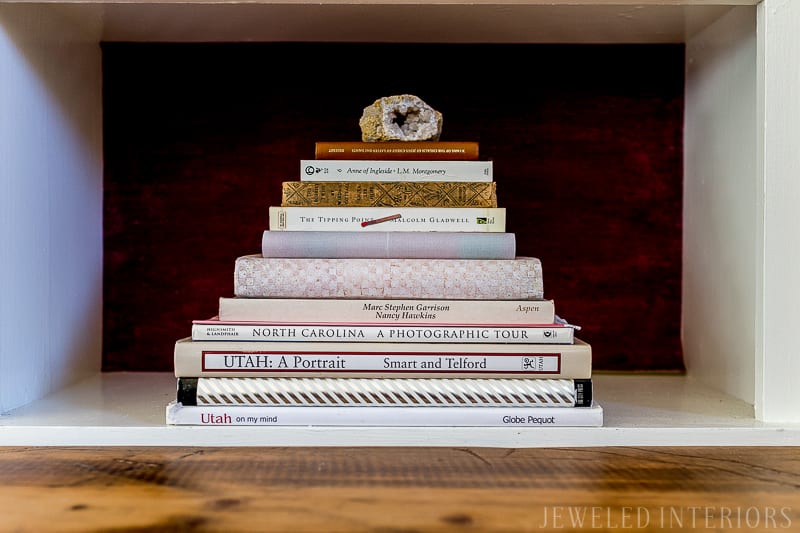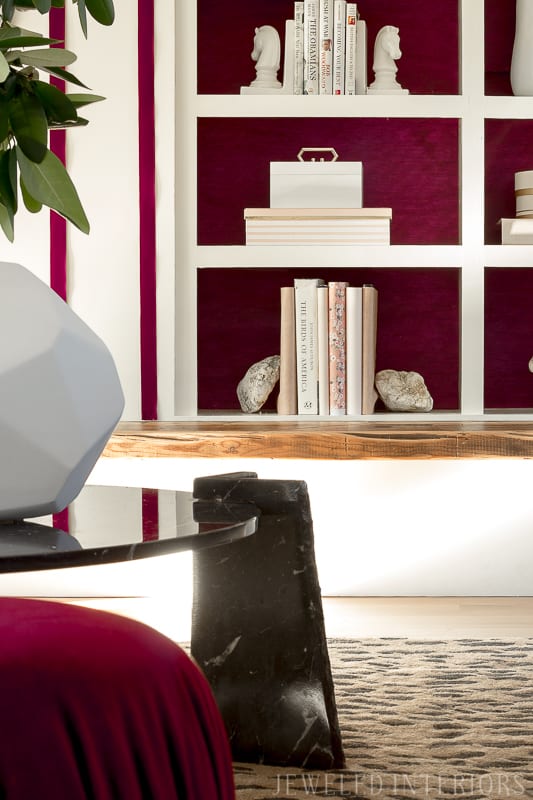 The stripes you ask? Great question. Since this is a 10 month rental I didn't REALLY want to paint (though I normally can't get enough of those paint fumes). I was considering DIY wallpaper, when I saw a slew of these velvet ribbons in the clearance bin at my local craft store.  They had enough rolls and the color was perfecto!  At an angle, I could see these being lovely Christmas stripes, can't you? Tutorial comin' at ya ASAP-ily.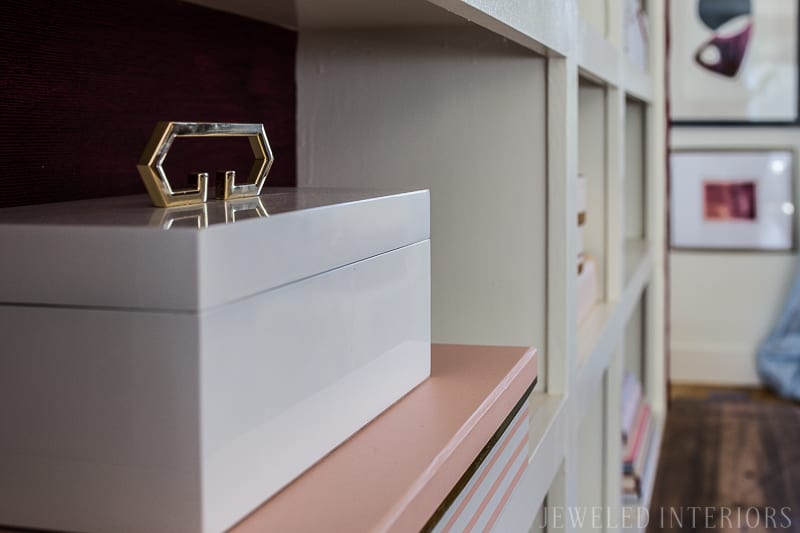 See the art? I PROMISE you will like it better than the granny print that it replaced. AND YES…You guessed it! A tutorial is in the works.
See that burgandy pillow on the Panton S chair? These two small lumbar pillows use to be one large 24 inch pillow purchased at Homegoods…the night before the photoshoot. Desperate times called for restructuring said large pillow into two perfectly sized smaller beauties.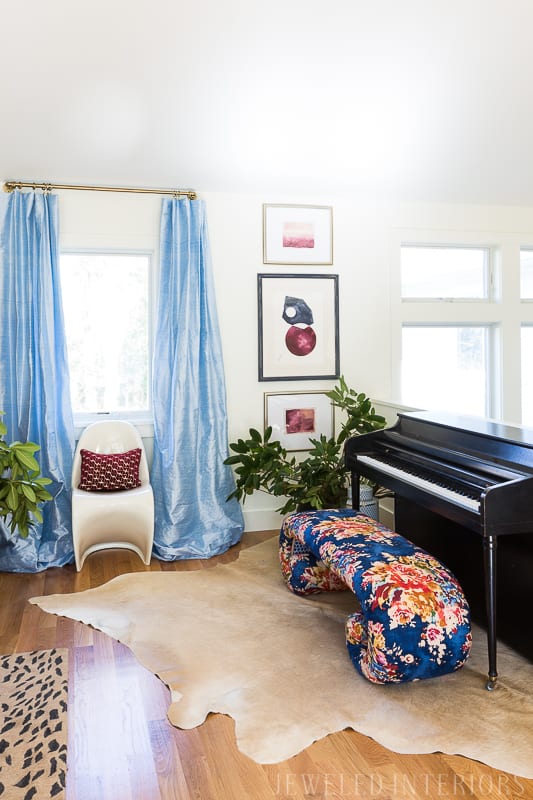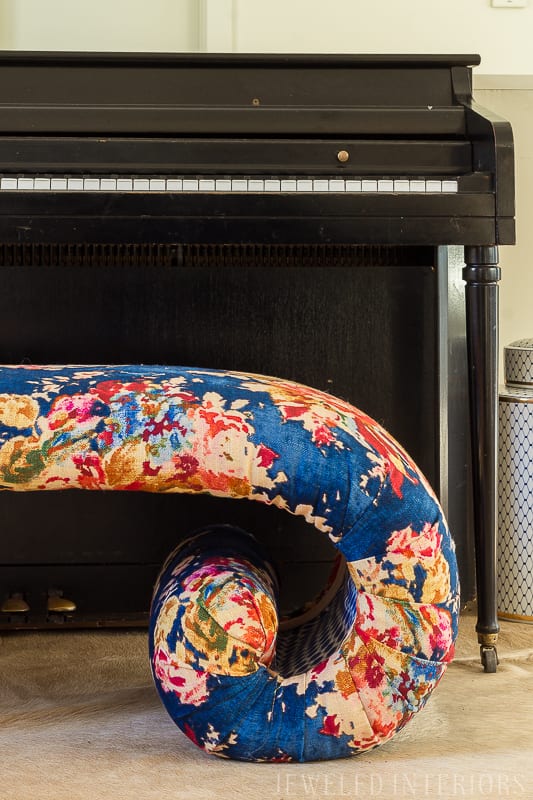 I feel like this bench brought the entire blushingly romantic theme together. Plus, I can't get over the curves on this cute little number.
See that burgandy pillow in the Panton chair? These two small lumbar pillows use to be one large 24 inch pillow purchased at Homegoods…the night before the photoshoot. Desperate times called for restructuring said large pillow into two perfectly sized smaller beauties.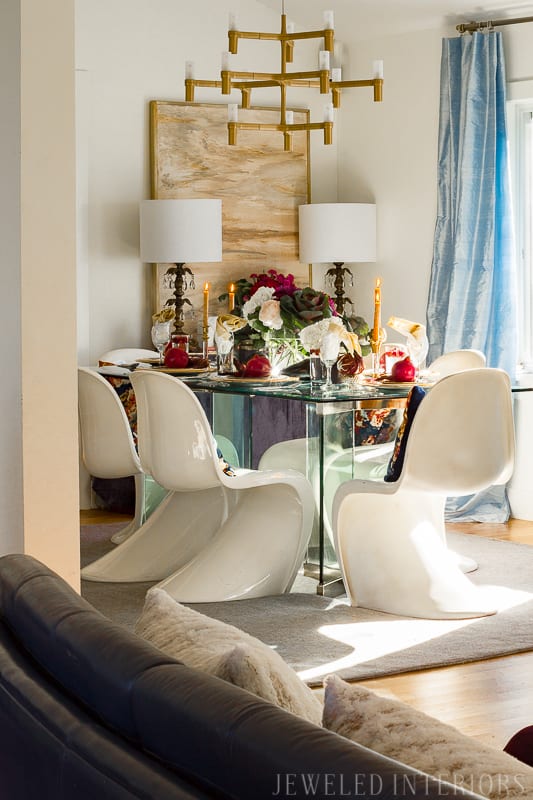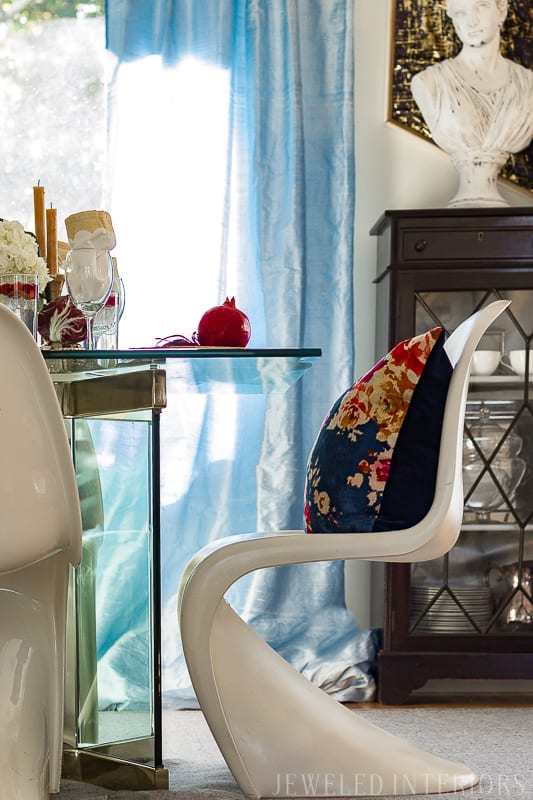 Remember our little secret about everything in the room costing $100 on Craigslist? The dining room tells the same story. Unlike my movers who had to build a special crate to cart this recent purchase from Idaho, I personally adore the glass and brass table. It feels magical to see my tablescapes almost floating in mid air. It's a good thing I have four kids to leave finger prints so I don't get confused.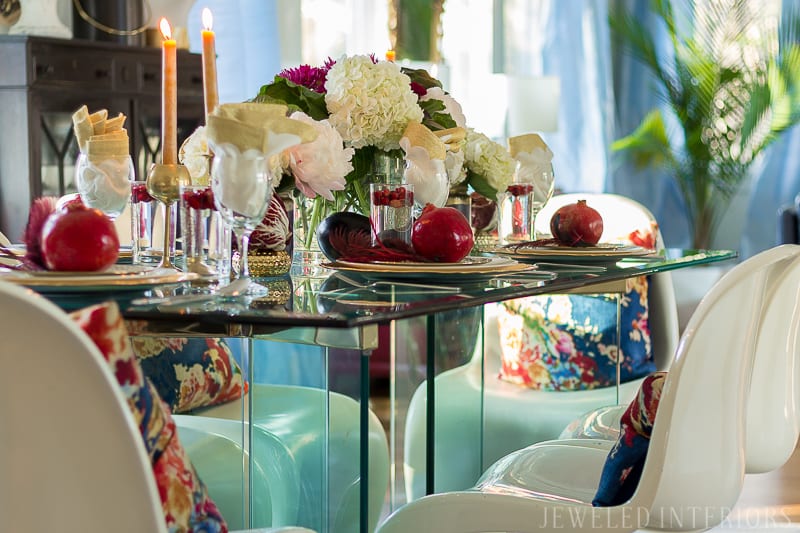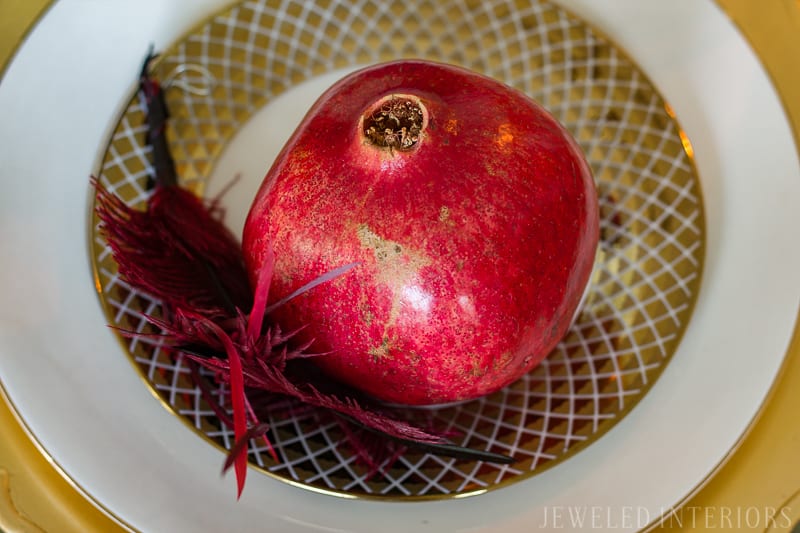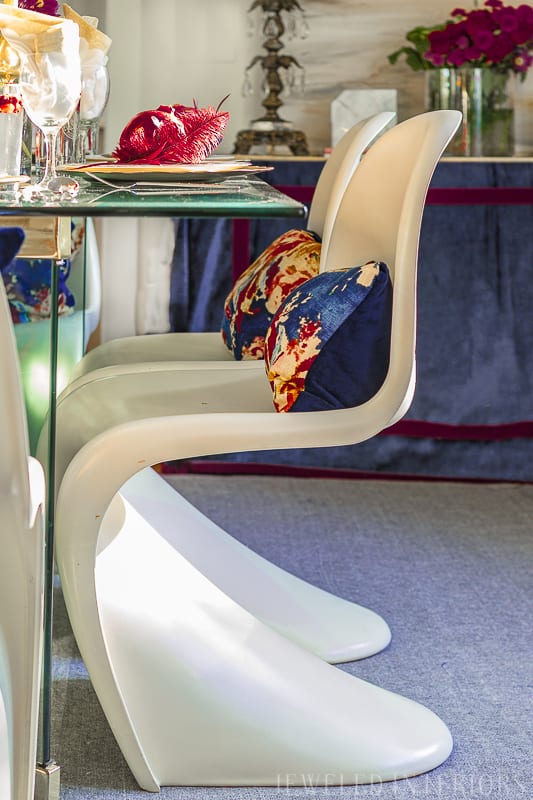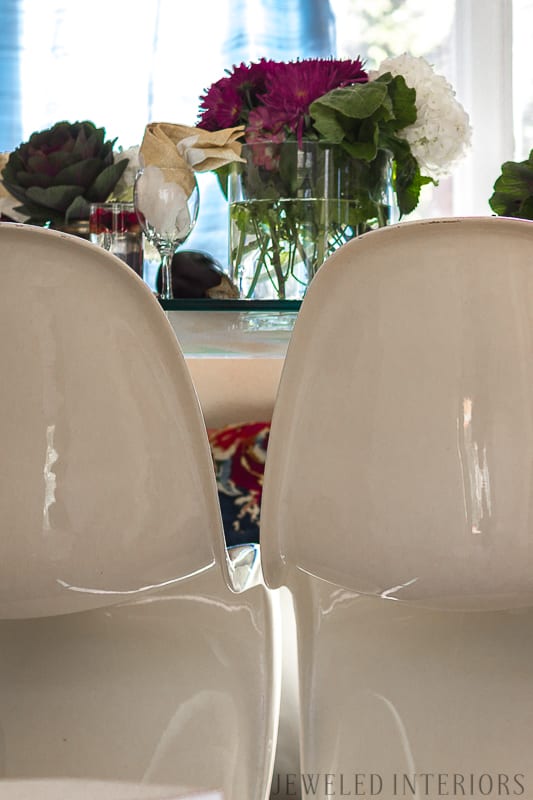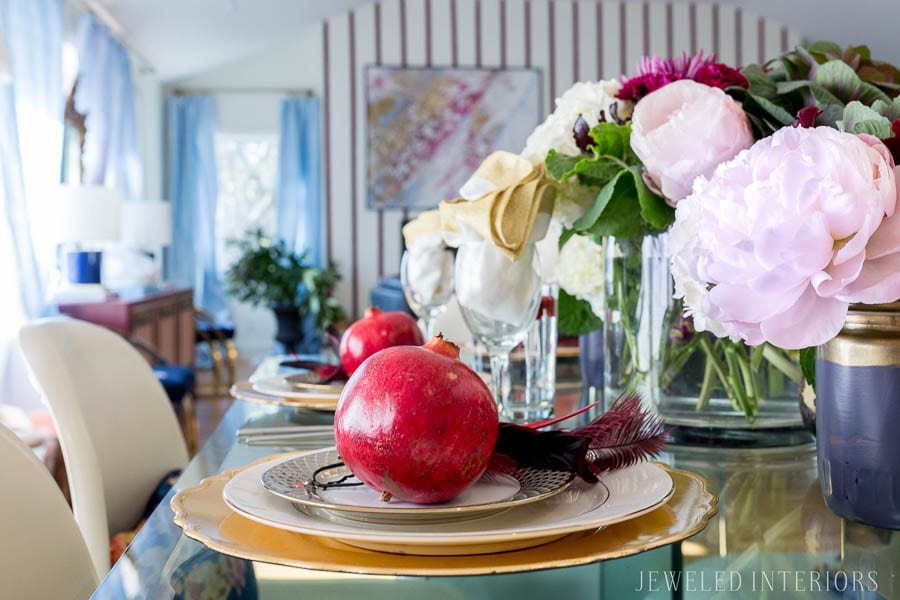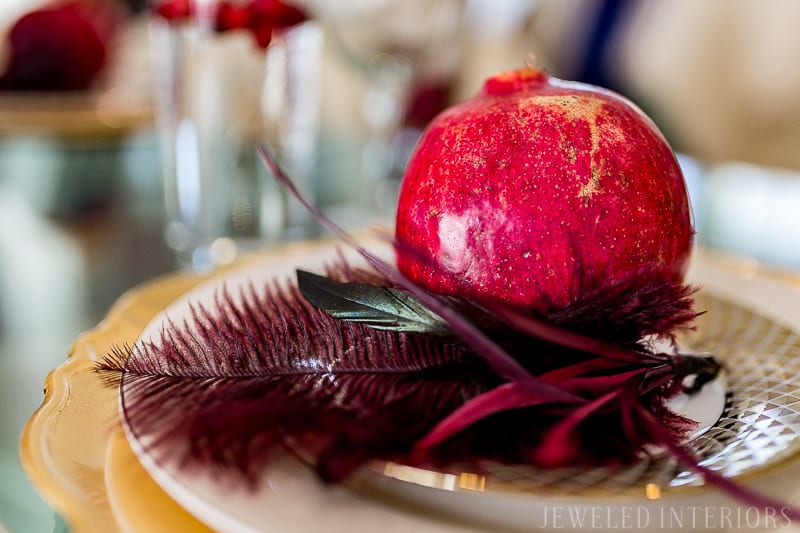 The biggest splurge in the room was certainly the extra long powder blue silk curtains. Fabric.com did me solid, and I plan to work these flowing drapes into many future design schemes in my different homes…every move…every year…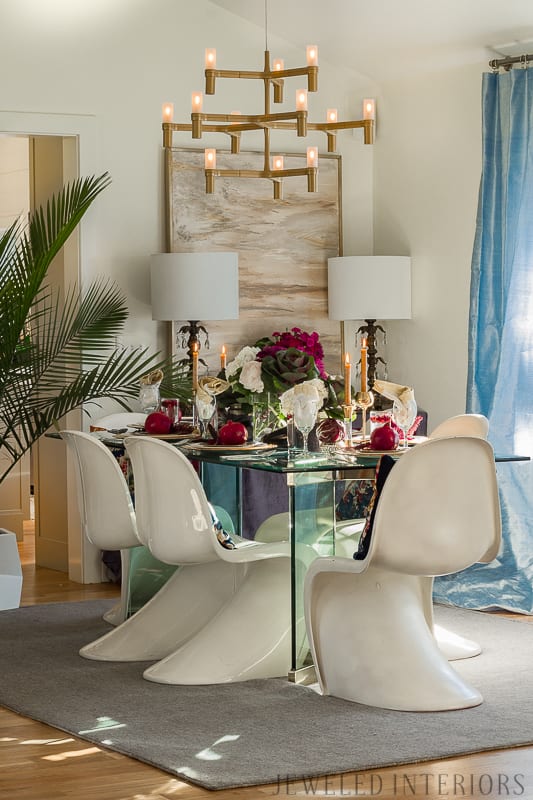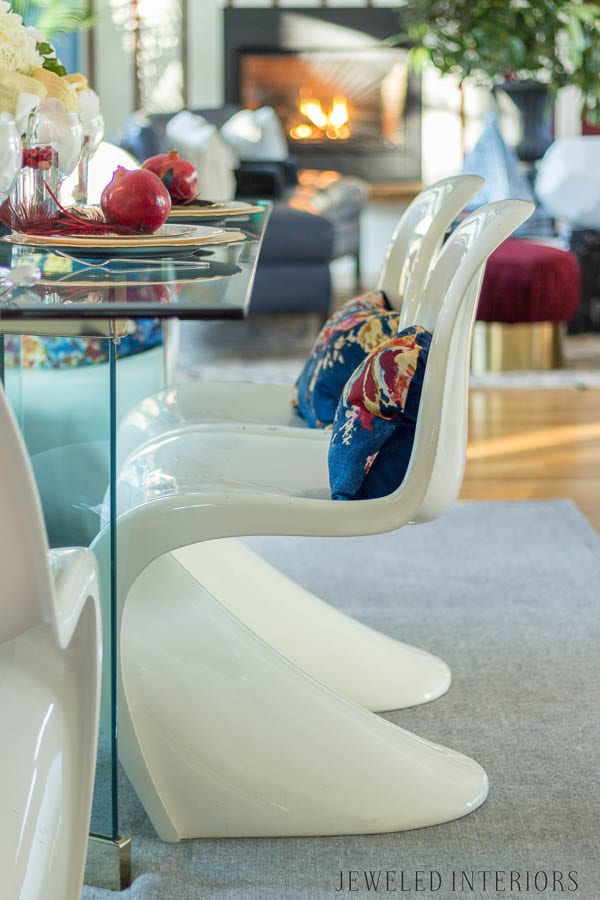 So about the rug…If you were to flip it over, not that I would completely recommend that, you would find a dirty, old, stained wool rug. Luckily for me, the back side is neutral.  If I had a larger budget I would obviously sink some cash into a stunner, but sneaky tricks and tips are my spesh-E-ality.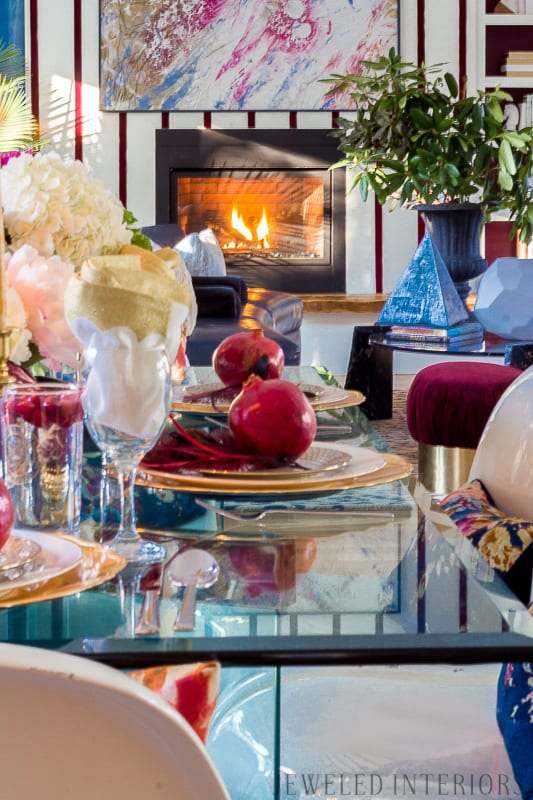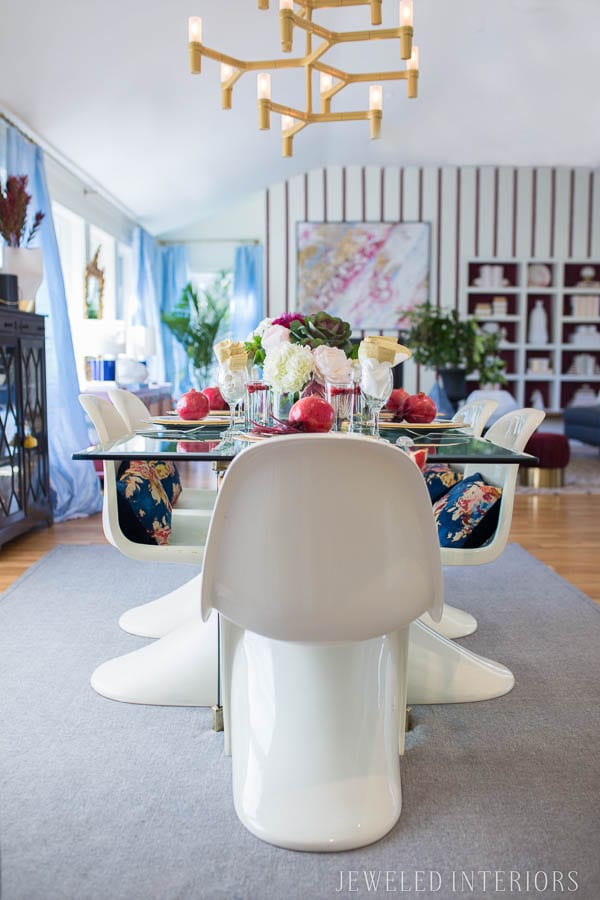 I don't know about you, but there are very few things I enjoy more than designing a tablescape…especially when I get to use fresh peonies as beautiful as these…Blushingly romantic? Yeah, these flowers crushed it.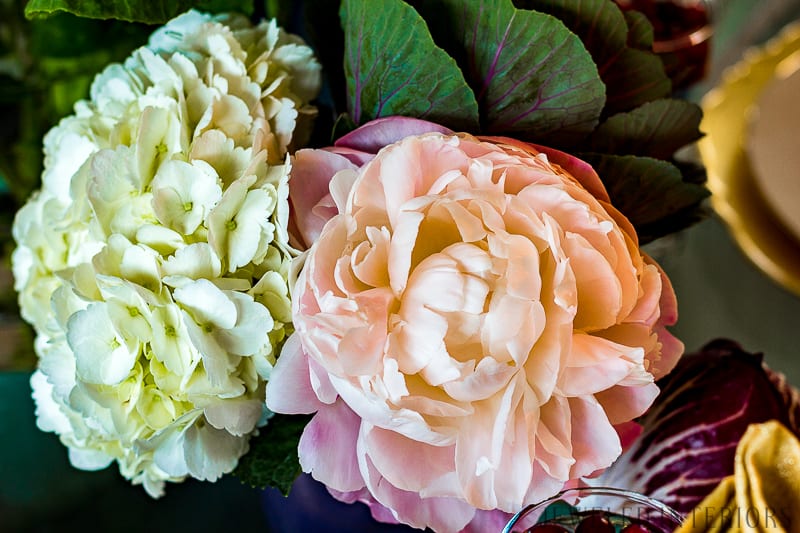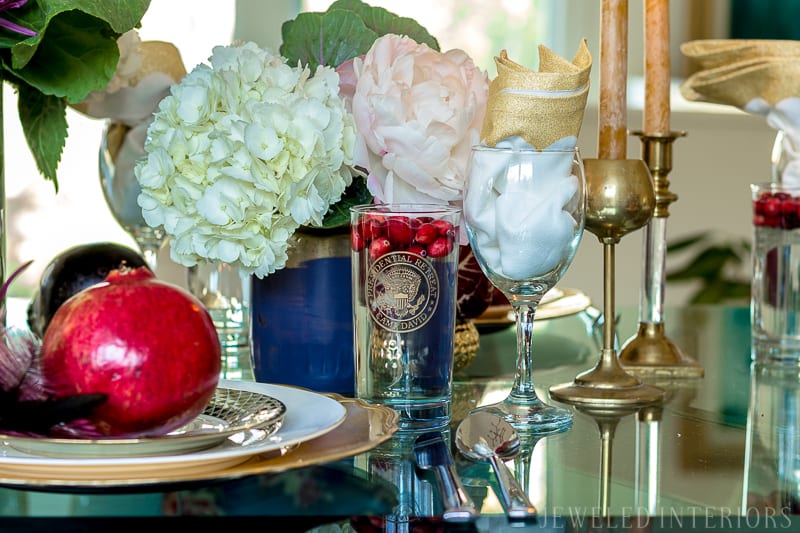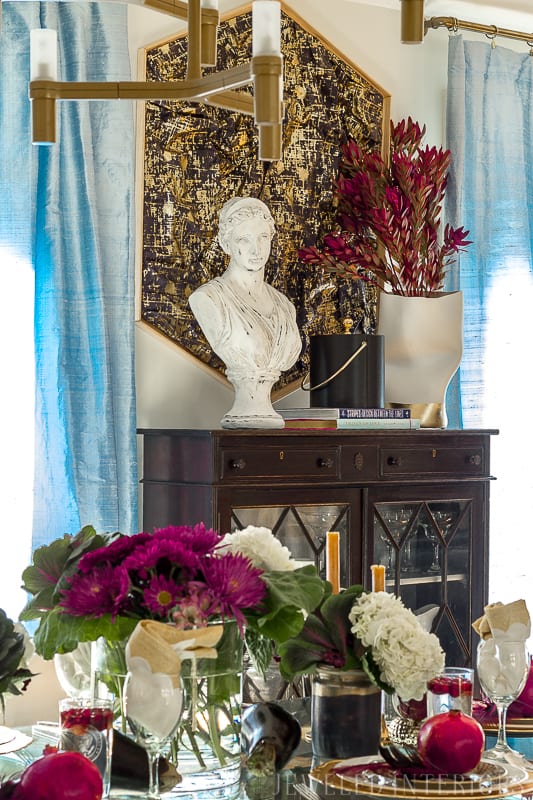 I love the shape and price of the 3-D DIY art. Feel free to get the tutorial HERE. As for the Edwardian bookcase, and handful of other pieces in the room, are remnants from my days as an ameteur antique dealer in Norfolk, England for a couple of years. Let's just say I didn't have to spend much money on ANYTHING I bought at the British auctions. I feel it is hard to beat the character and patina that an antique or two adds to a room.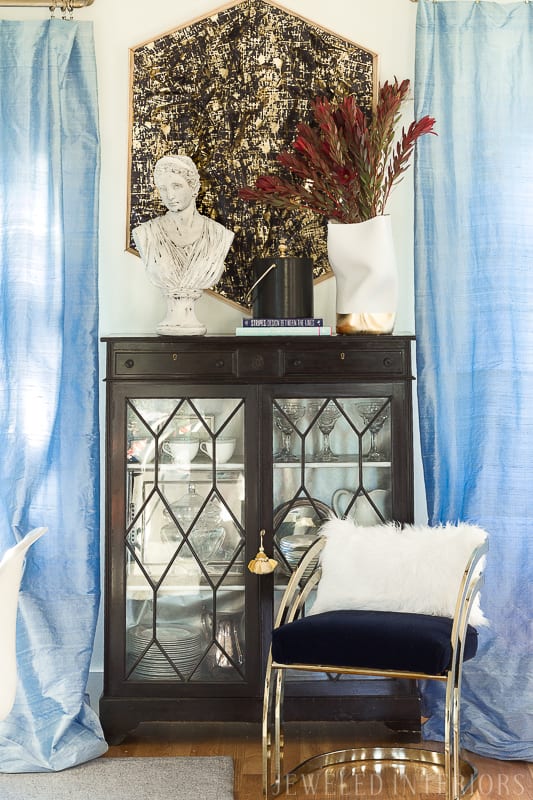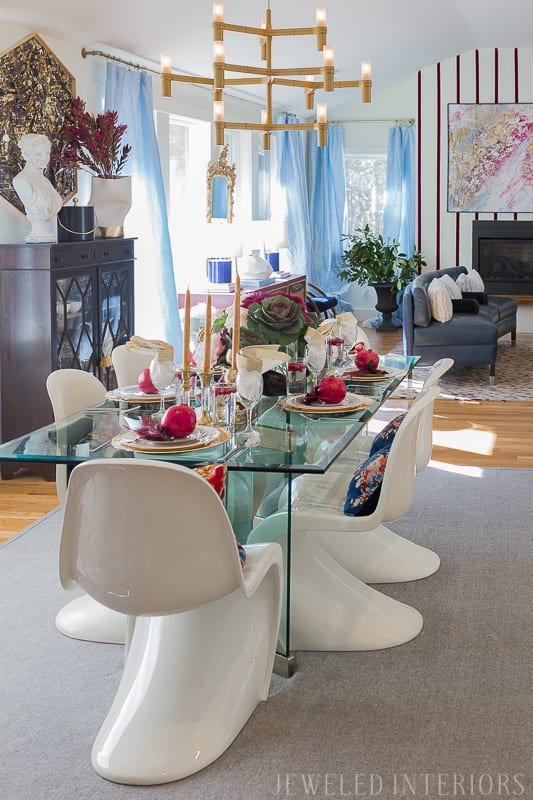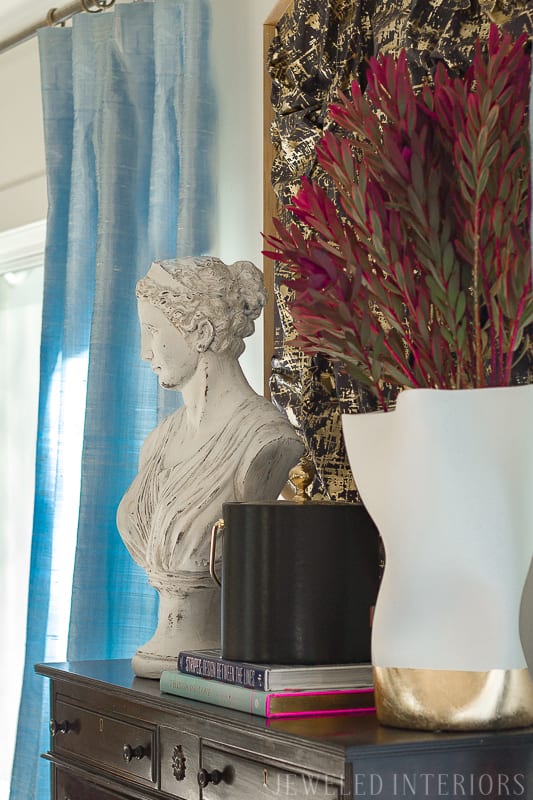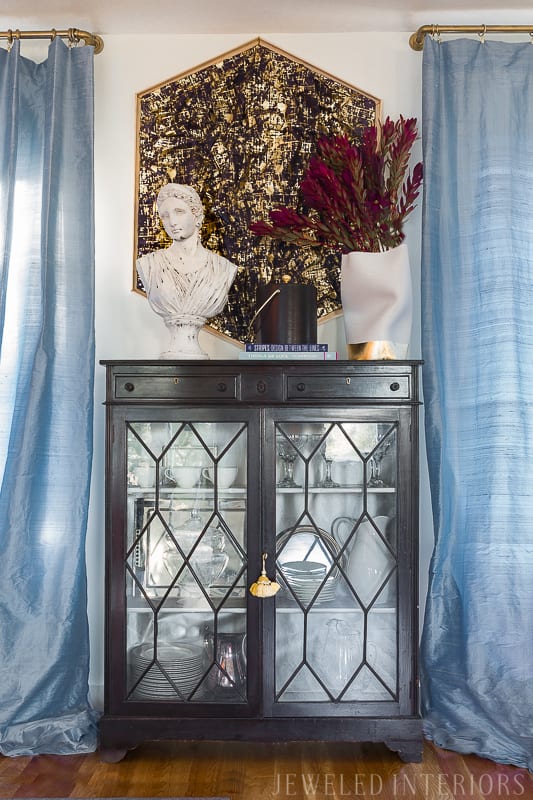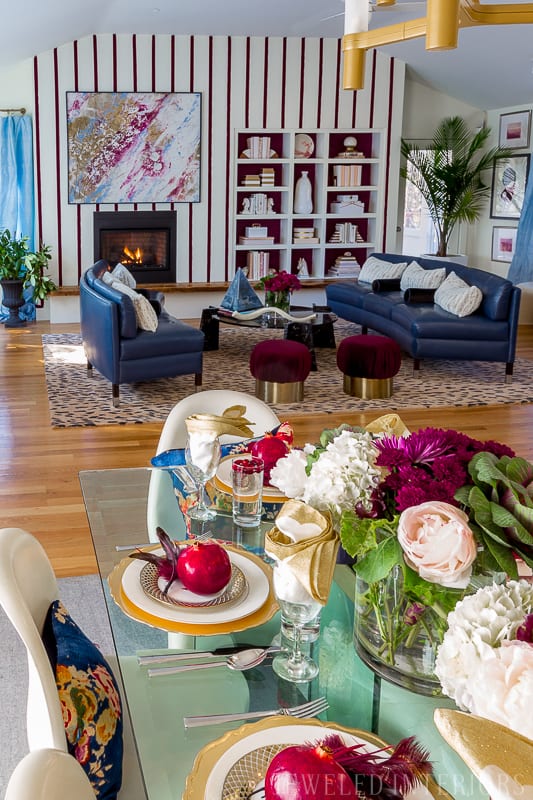 Oh! Let's no forget the oversized art above the fireplace. This area of the room caused me sleepless nights and a couple of stressful days.  I had one day and zero dineros to come up with a solution for the blank space above my fireplace. See the drama HERE.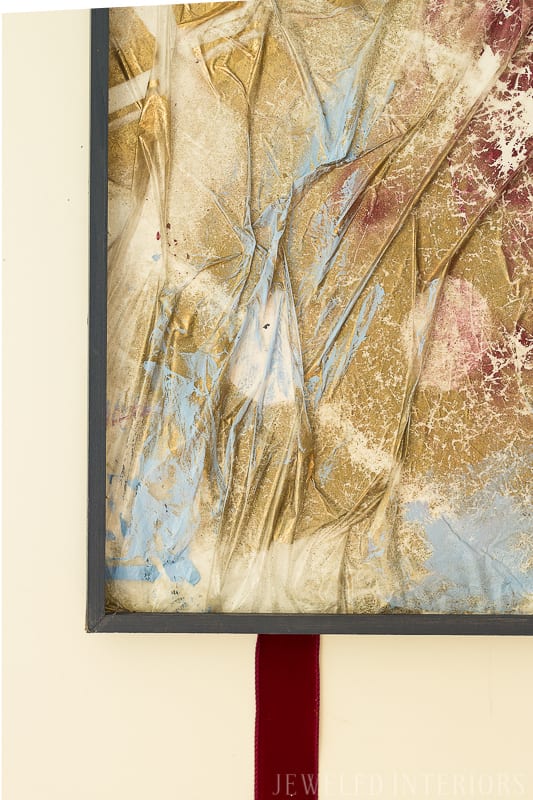 It was then that I saw my disposable plastic drop cloth!  It had all of the colors of the room and it was the right scale.  I promise a tutorial for this crazy idea.
One last sweeping view of the room…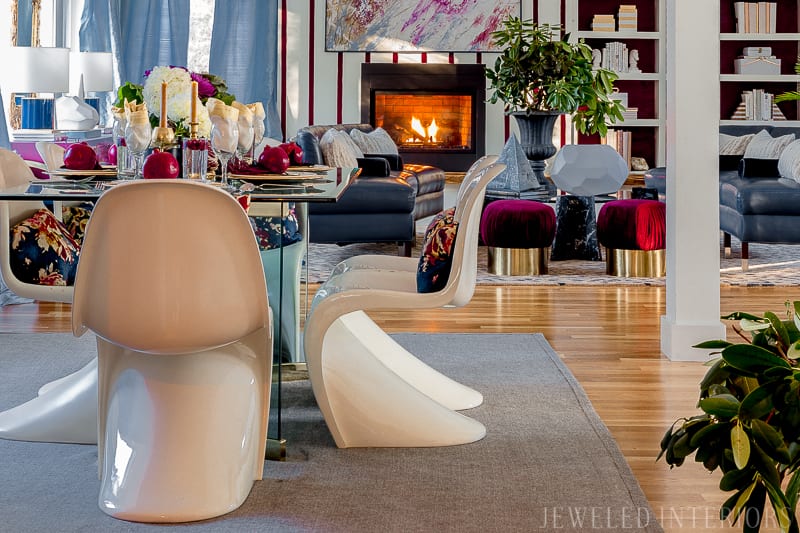 It's beginning to look a lot like Christmas here in my home. I enjoyed the peace of the ORC make-over for 24 hours before jumping into the holiday spirit. Check back next week as I collaborate with thepinningmama.com and easyfamilyrecipes.com to show you a burgundy and blush holiday party. Ohmeeegosh guys. It's soooo pretty.         
-xoxo Jewel
I have so many people to thank! First and foremost, thanks to Linda from Calling it Home for organizing this whole event.   so glad I chose to participate in this, my first of many, One Room Challenges. Thanks also to. House Beautiful or their media sponsorship. Also, check this, Candis and Andy from the Home Love Network have agreed to be a second Media Sponsor. It is so much fun to see this event grow!
Don't forget to head over to check out all of the other participants and their final reveals! I'm so excited!