It's January 1st! The first day of a new year and the first day of a new design challenge. I can't tell you how excited I am to be participating in the New Year New Room Refresh Challenge hosted by Stephanie from Casa Watkins Living.  Stephanie has a really fun global style and I would really recommend checking out her blog if you haven't already.
The New Year New Room Challenge is a five week challenge and we hope that you follow along with each of the nine bloggers as we tackle a room of our choice over the course of five weeks.  I can tell you already, I am nervous about getting everything done in time.  This is going to be 2 months worth of work shoved into the month of January.  It really will be down to the wire…Who doesn't like a little drama to start out the New Year? ?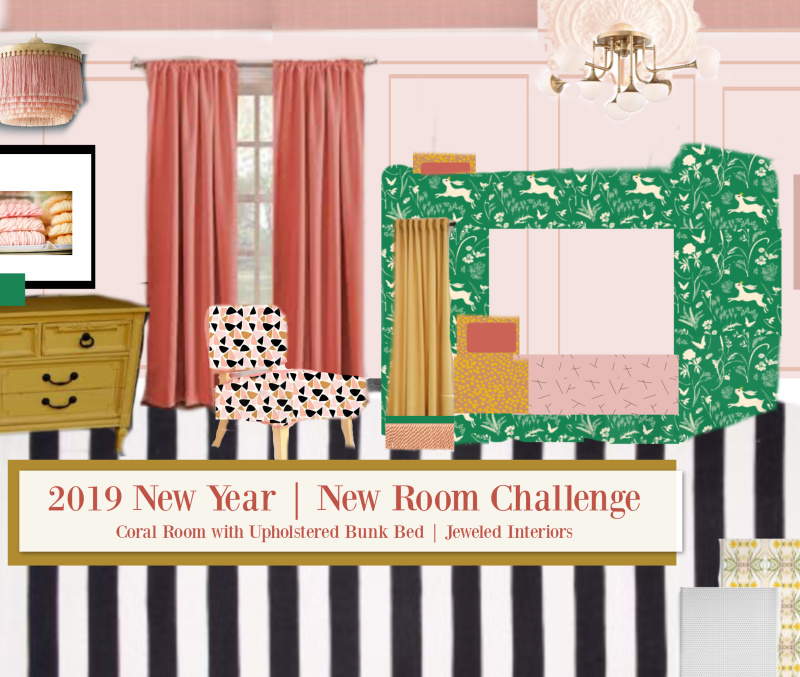 Note: Most of the products listed will be sponsored.  I appreciate their support, and together we are teaming up to bring you unique design ideas.
This summer my oldest daughter scored the first room make-over in our new home.  Since then, my other two daughters have been waiting patiently for their turn.
One thing I have learned when designing my childrens' rooms is that they have opinions…I guess that's only fair ??‍♀️.  You see, last January I did a make-over for my oldest and second oldest daughters in our 10 month Rhode Island rental.  While I was very pleased with how it turned out, they later told me kindly that it wasn't what they would have designed… It's true…I picked it out…for myself.  Am I the only mom who has ever made this mistake?
 This time around I involved them in the process…They chose the fabrics, colors, and lighting from a pre-selected collection I gathered.  My hope is that this year I will get it right…a room that they will be comfortable to be in a love enough to want to keep clean ?.
You may notice on the mood board above that we are going for a preppy play on a French Apartment (an eclectic mix of some French Providential, Art Deco, and even a dash of 1950's glamour).
In order to pull this off, however, I've got a prettttyyyy LONG To-Do list…Who needs sleep or New Year's fitness resolutions ??.  Check out what I mean…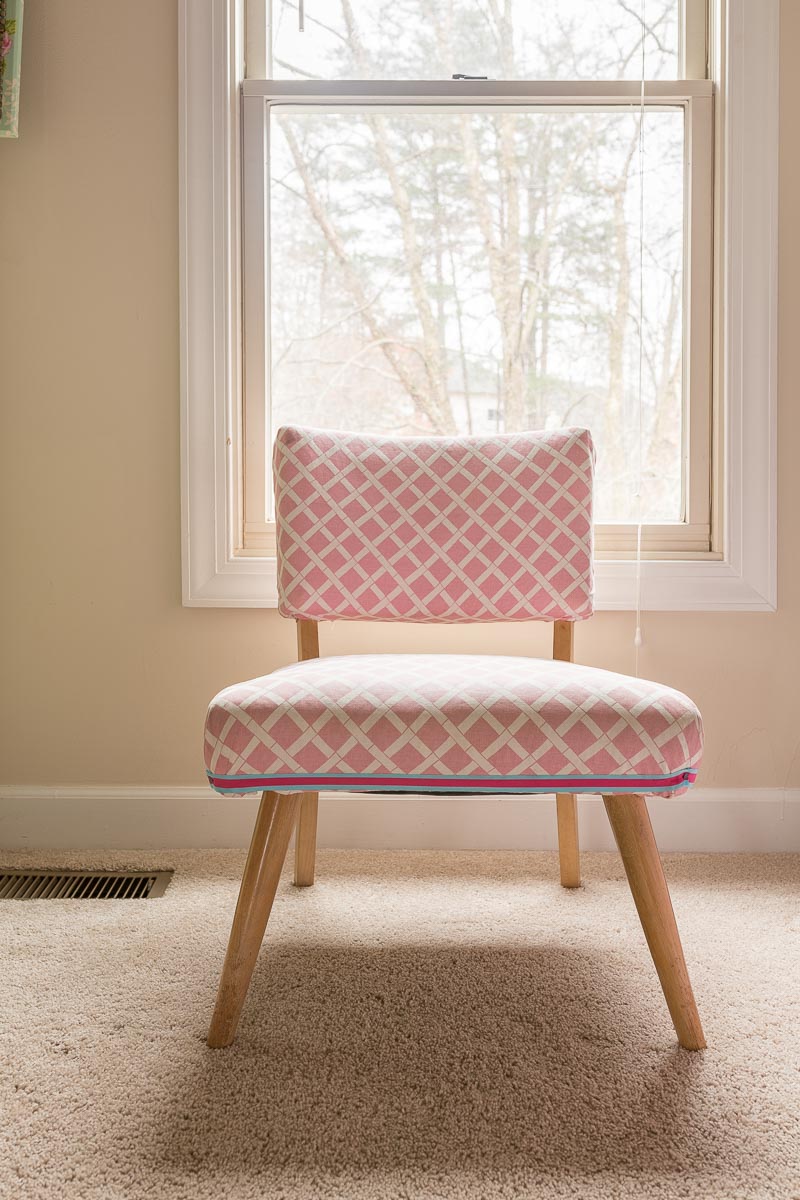 I picked up this little slipper chair in England many years ago.  Underneath this worn and faded cotton upholstery is a beautiful ivory brocade…which I will be saving for a time when I trust my sweet children not to ruin it.  Until then I have teamed up with Spoonflower to cover this beauty in a sweet little Triangle Geo Pattern designed by Littlefoxhill.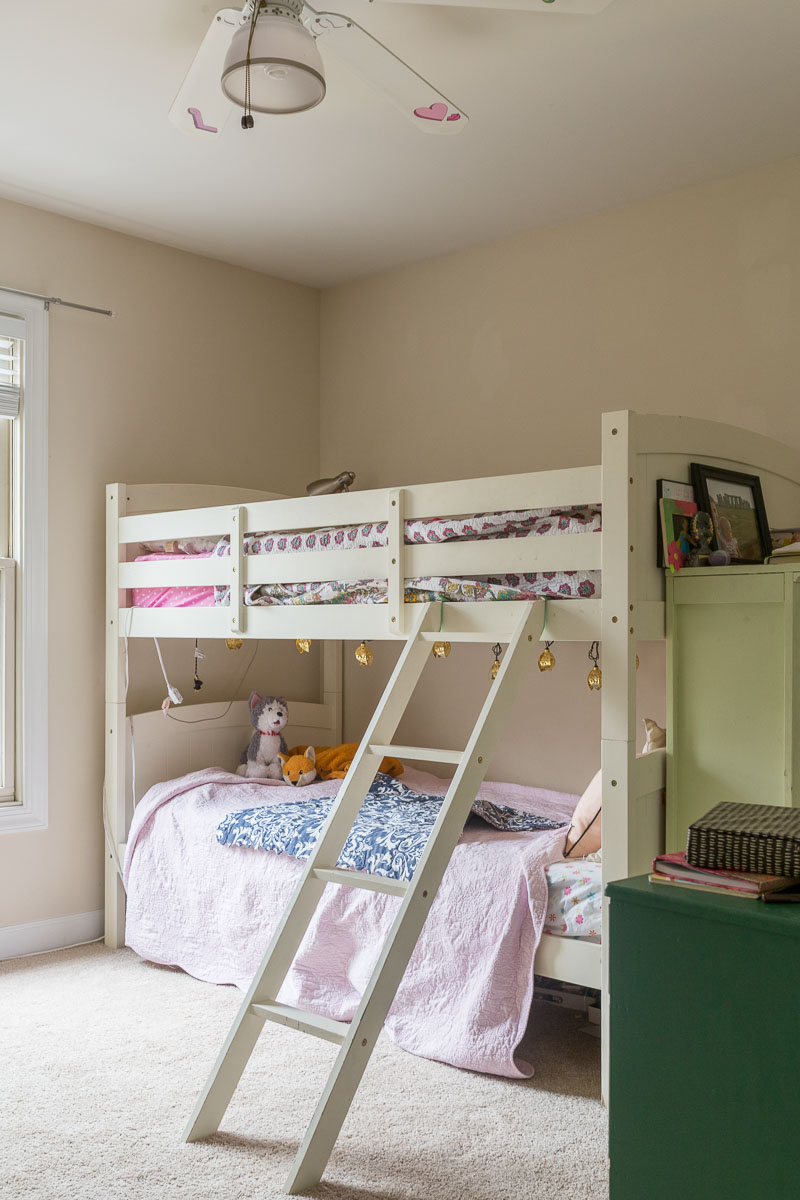 This bed is going to be the most dramatic change in the room…I hope.  I plan to upholster it…Because…Who does that?  #trendsetter
Paint | Moulding | Curtains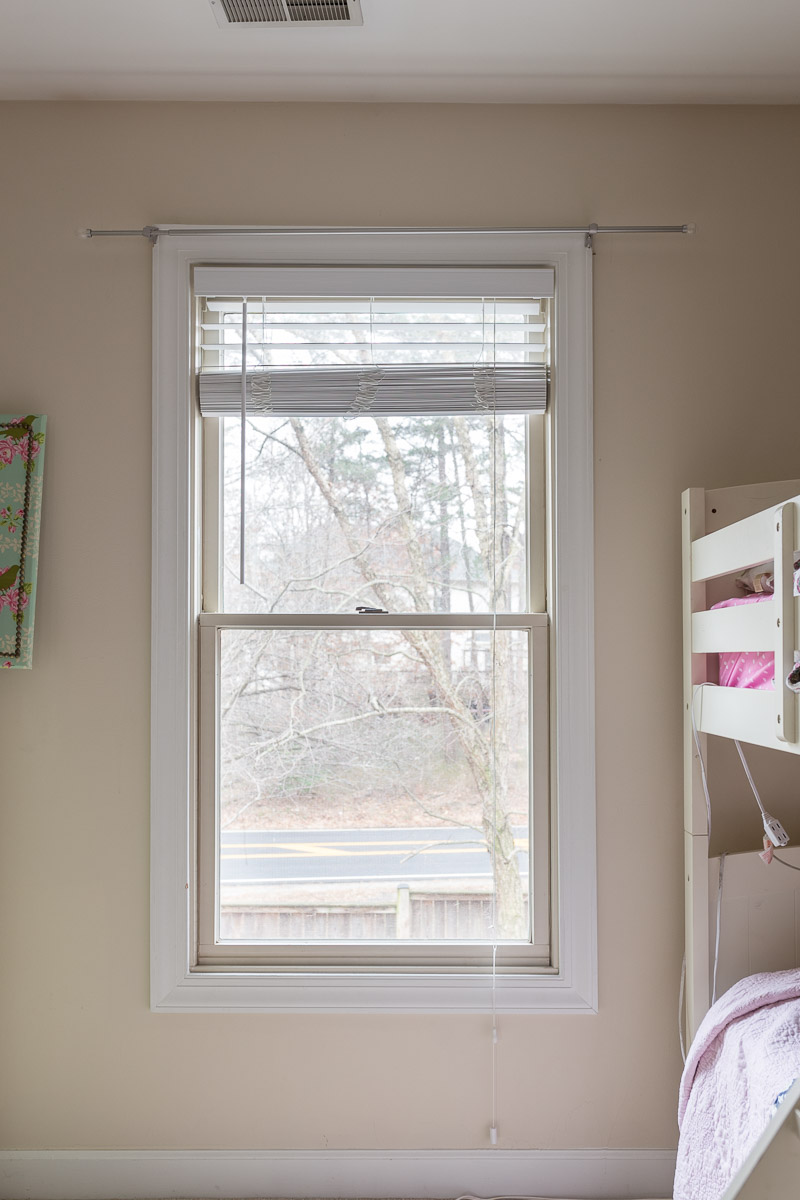 Not gonna lie my friends.  This room needs work.  There is nothing special going on in here at the moment and special is what I REALLY want to deliver.  See those boring beige walls?  They are about to be decked out in Metrie Moulding mostly leftover from my One Room Challenge space.  Let me tell you folks.  That space was a LOT of work… I'm hoping that painting it a light pink will take less time than it took to paint my living room white (though it was totally worth the painting and priming BTW).
The timing of the New Year New Room Challenge is very fortuitous. You see, about 3 weeks ago our 24 year old ceiling fan broke.  Let's be honest, I didn't shed a single tear over the loss.  It's uglier than sin and only has ONE light.  This little room is extremely dark once the sun goes down and even on cloudy days.
Luckily we will be teaming up with Hudson Valley Lighting to showcase some of their amazing chandeliers.  Right now I've got my eye on this little number.  Can I get a "Heck Yeah" for the Hudson Valley Fleming Semi Flush Mount?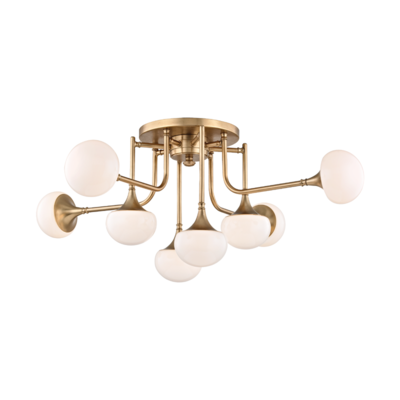 Ummmm…..Heck Yeah is right!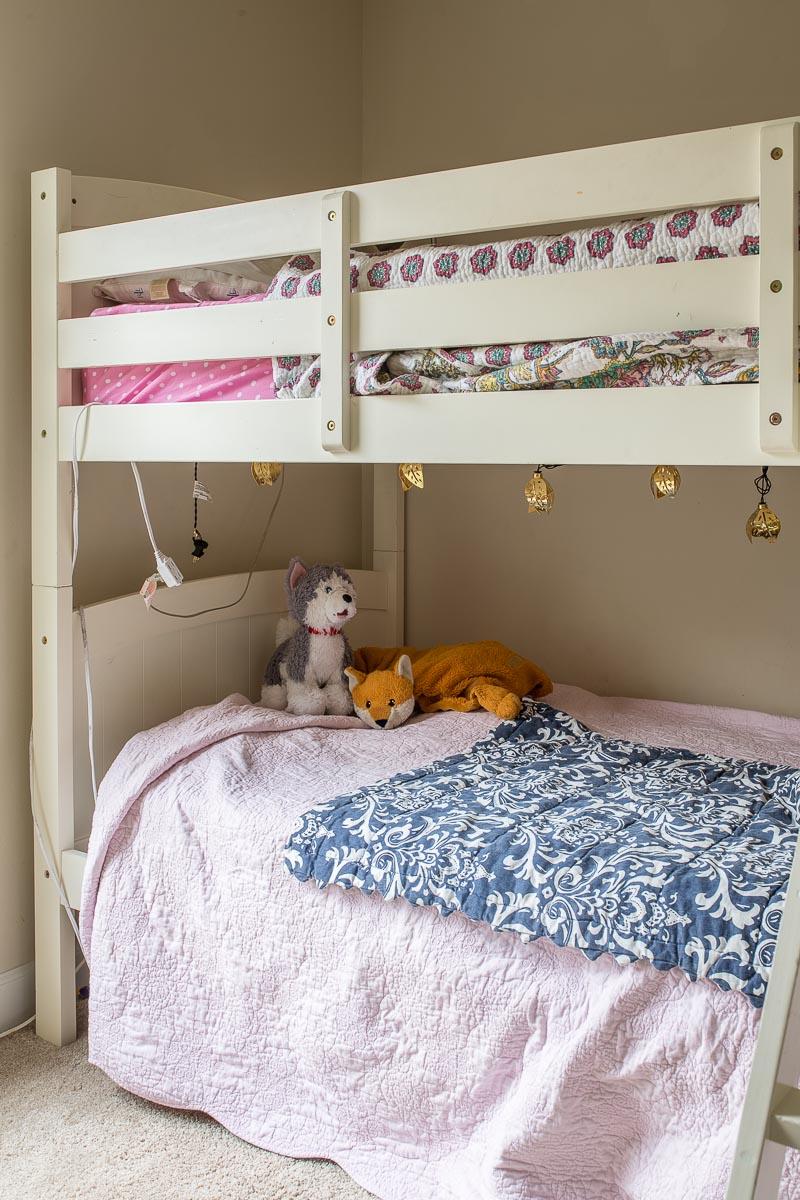 Oh Boy…our current bedding and sheet game is weak…weaker than weak.  Not only is nothing matching, I think half the time the kids sleep without sheets because I find them wadded around the bottom of the bed (inadequate elasticity I suppose?)
Last summer I collaborated with Roostery on my oldest daughter's bedroom and couldn't be happier with the experience and quality of their custom sheets and duvet. I'm excited for a repeat performance. This time I'm considering sheets in Mustard dots on Blush by Julia Schumacher for the sheets and a lighter version of Abstract Scandinavian mid century style stripes pink black by Little Smile Makers.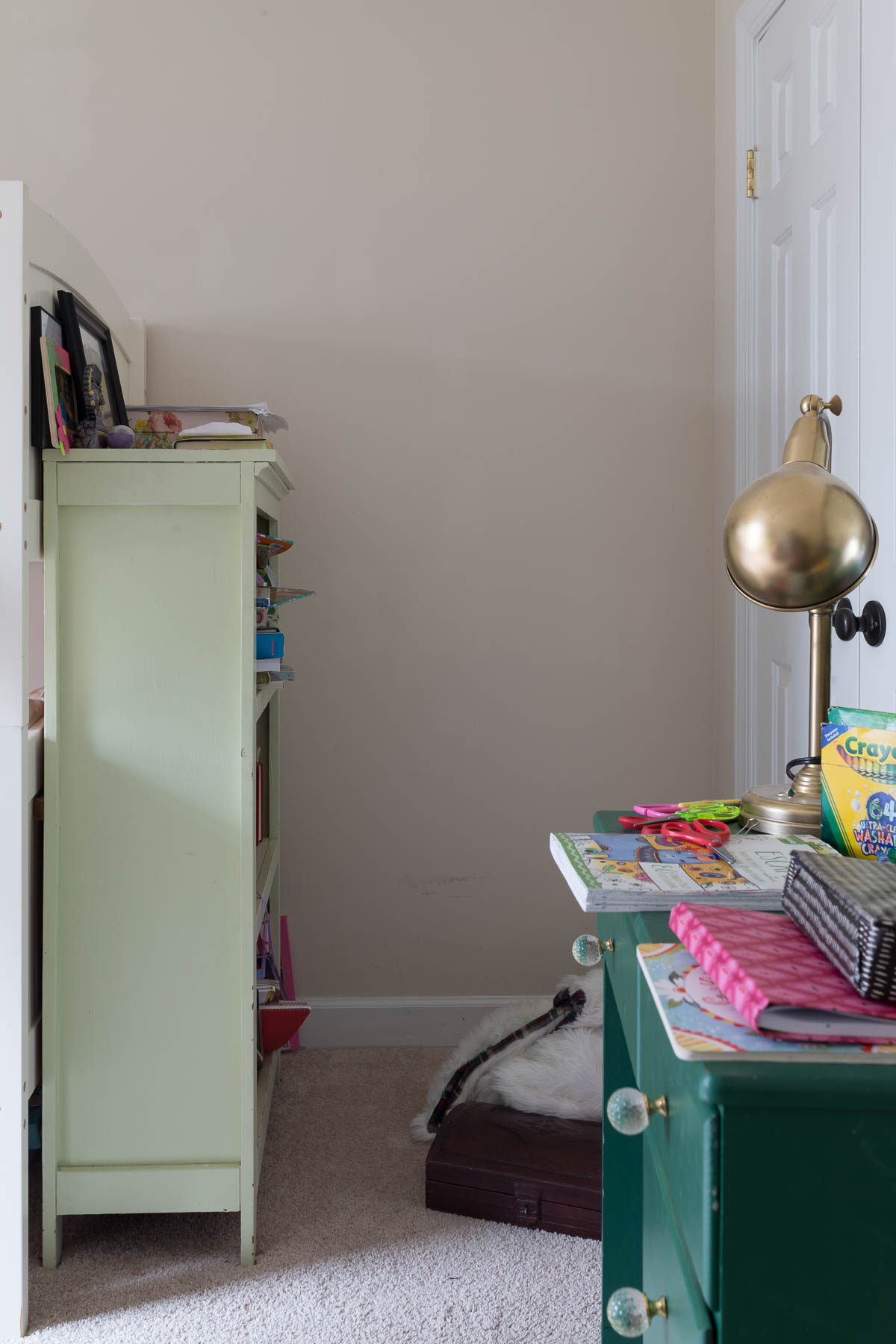 Originally I hadn't planned to use wallpaper in the room.  That was until I found out that Milton and King was the official wallpaper sponsor.  You see, I loved their product so much in my One Room Challenge dining room that I am now brainstorming ideas for hanging some on the ceiling, in a closet, or in the back of this book shelf.  Samples come in this week and I am excited to see if any of it will work with my existing design plan.
Can you picture paint, moulding, and potentially ceiling wallpaper in this space?  It's going to be sooo much better!!!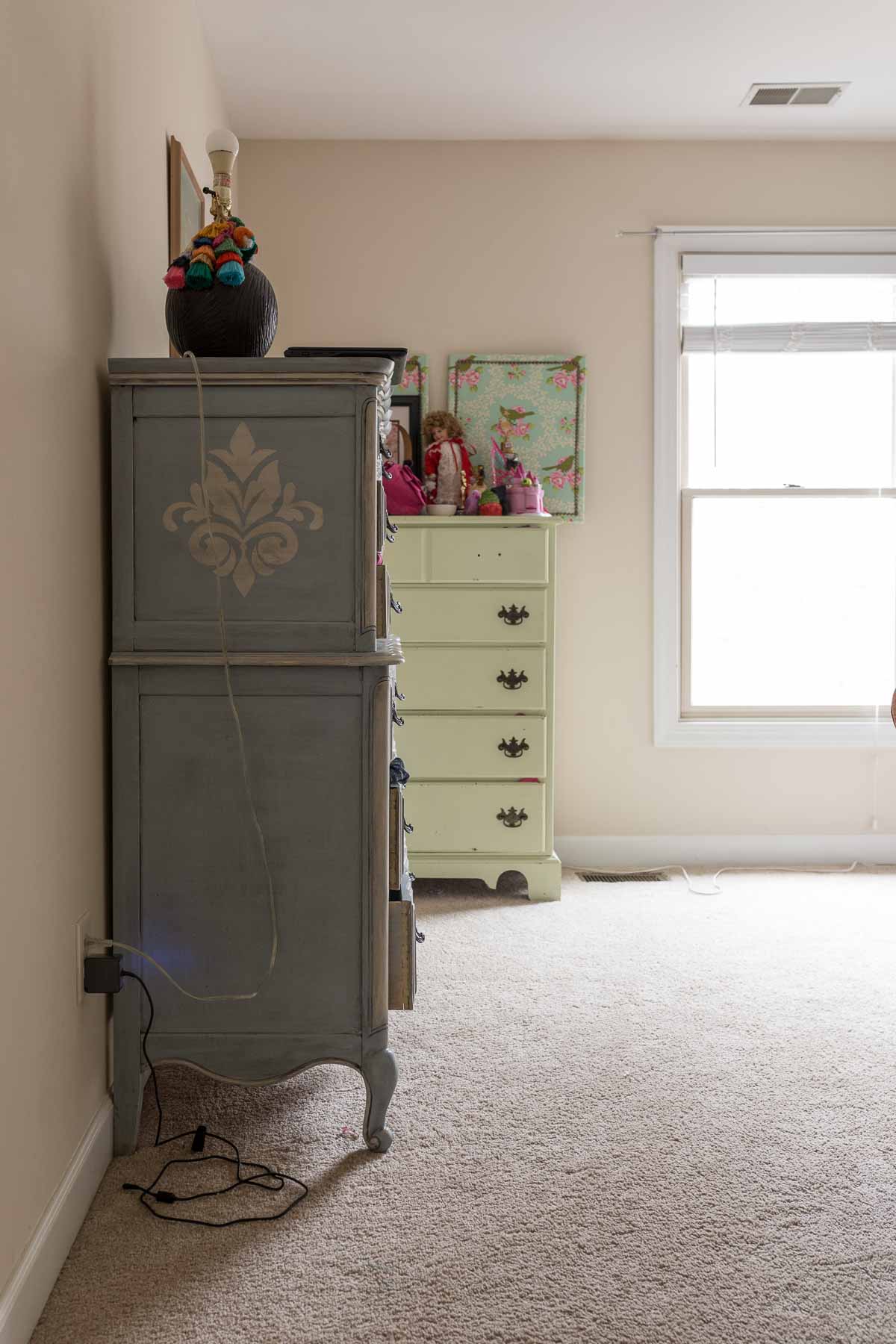 When you are the third daughter you find yourself with more clothes than you know what to do with…if only they weren't all worn out ?.  I plan to take time this week to sort through these dressers, throw out the worst of it, and organize what's left.
Once I'm done, I'm partnering with Velvet Finishes who will be sponsoring a dresser make-over.  If you follow me, you will know that I have used Velvet finishes before on a little night stand, and I will eventually reveal my Velvet Finishes stair make-over…once I find the perfect art and furniture to compliment it all.
This is a product I know and love…mostly because I'm too lazy to find joy in stripping furniture. Velvet Finishes bypasses the need for that in most cases.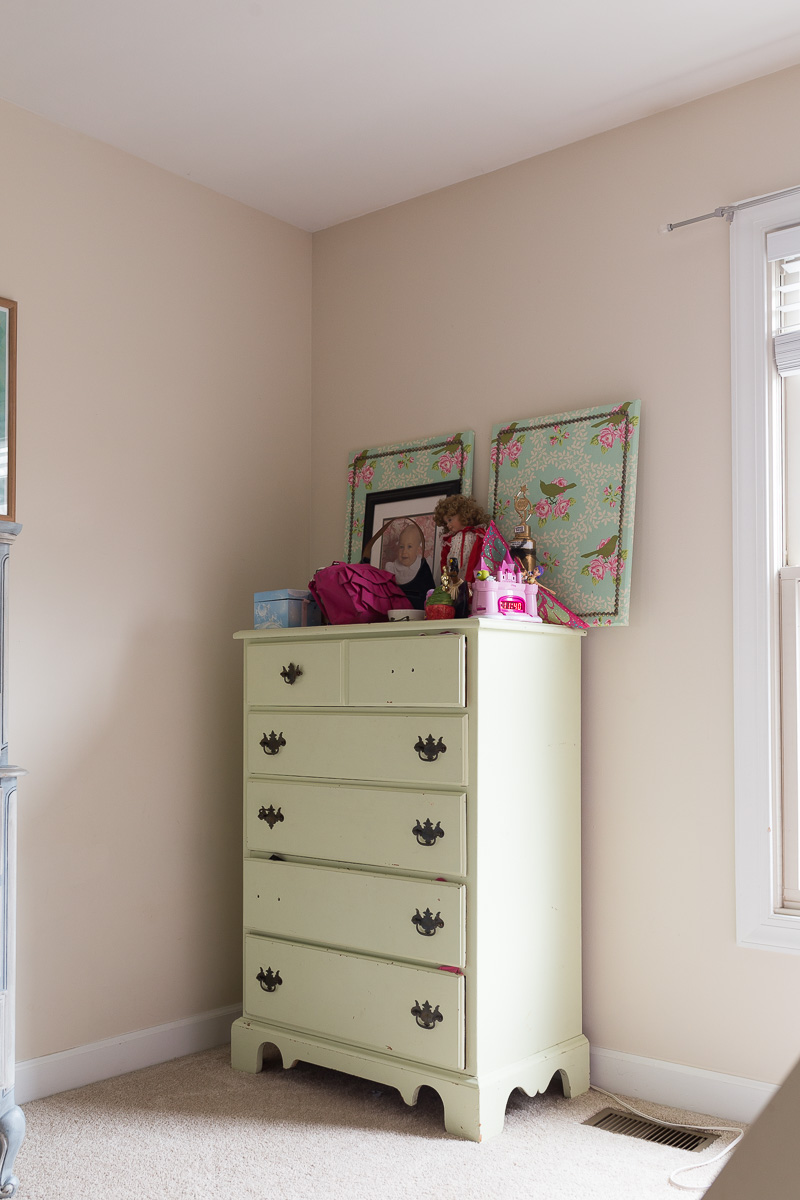 Ok…Can she do it?  Can she really accomplish all of this in one months time?  That is a fabulous question my friends and I can't wait to find out!  Join me and the other talented bloggers as we attempt to wow you with each of our creative projects. One thing is for certain.  My sponsors are fabulous!