For kicks, I thought I would throw in a few images of how the kitchen looked when we originally bought the home 9 years ago. I'm dying as I look back at these shots.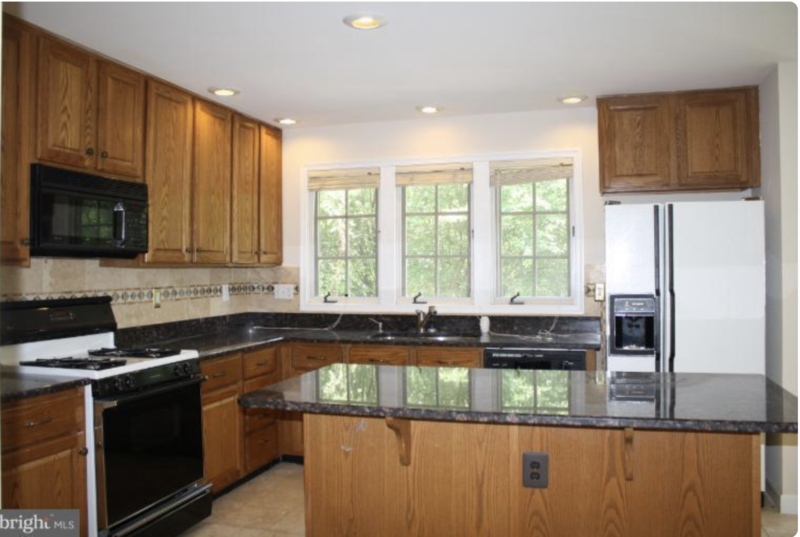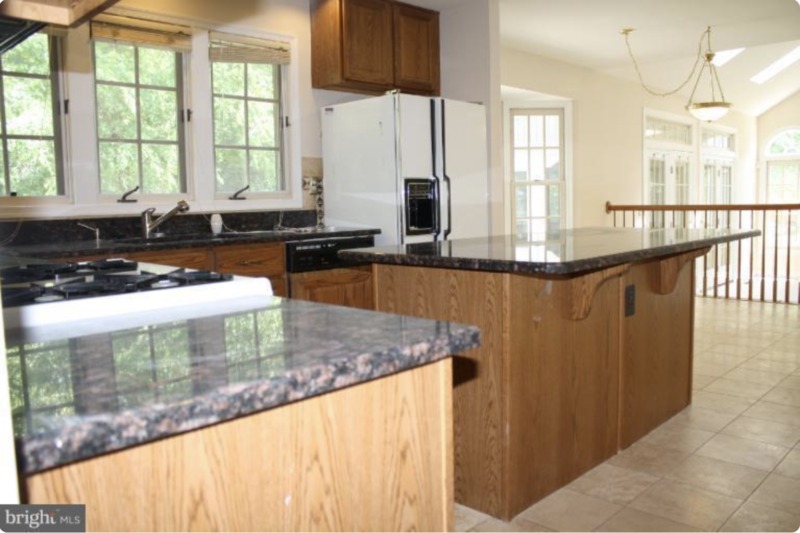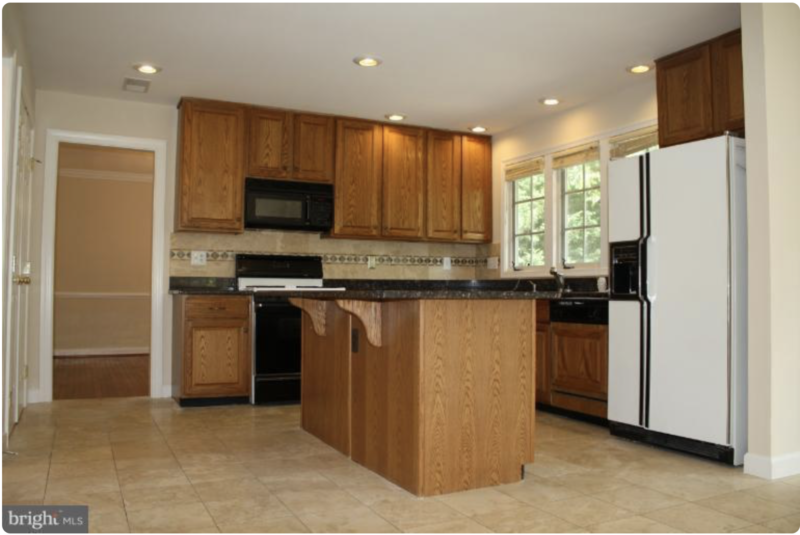 Matte Black Refrigerator and Kitchen Updates
I'm excited to show you how it looks!  I've been keeping this secret for a couple of months and now I finally get to reveal it!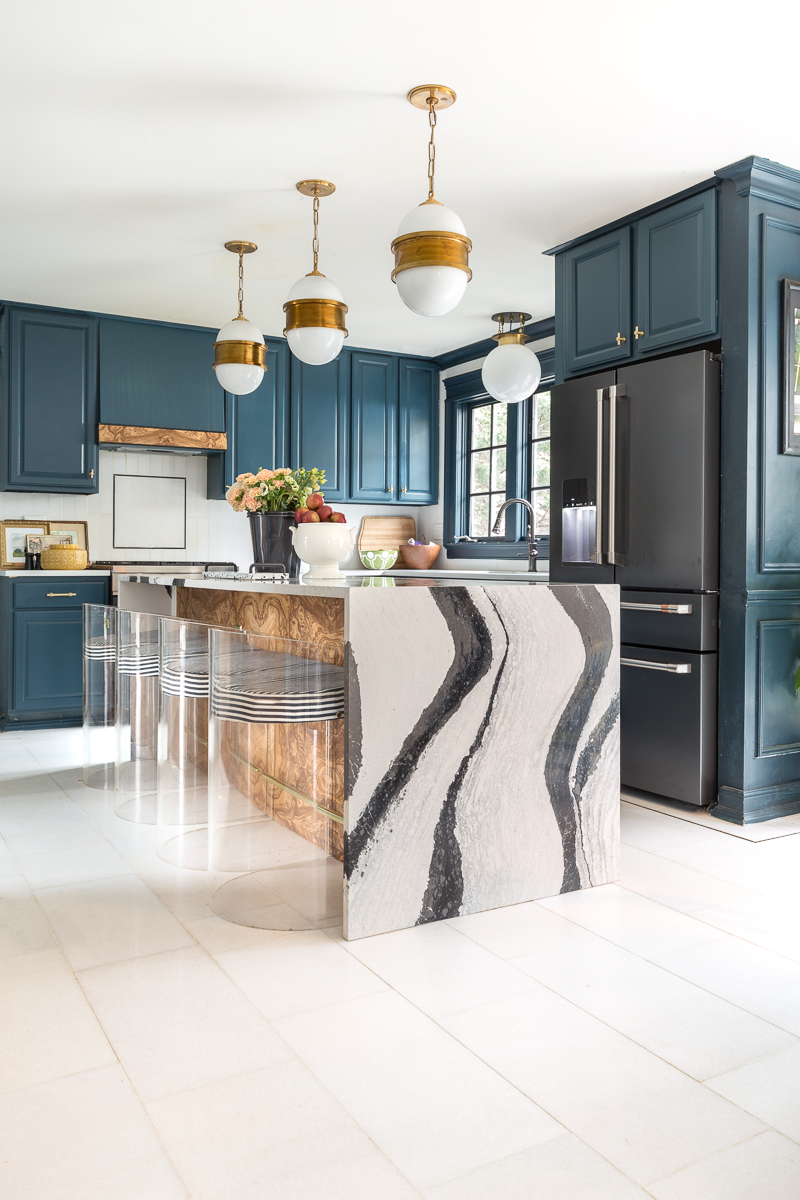 One of my very favorite parts about this Cafe matte black refrigerator is that it looks and functions like a top of the line appliance, but at an obtainable price point.  Let me walk you through these features.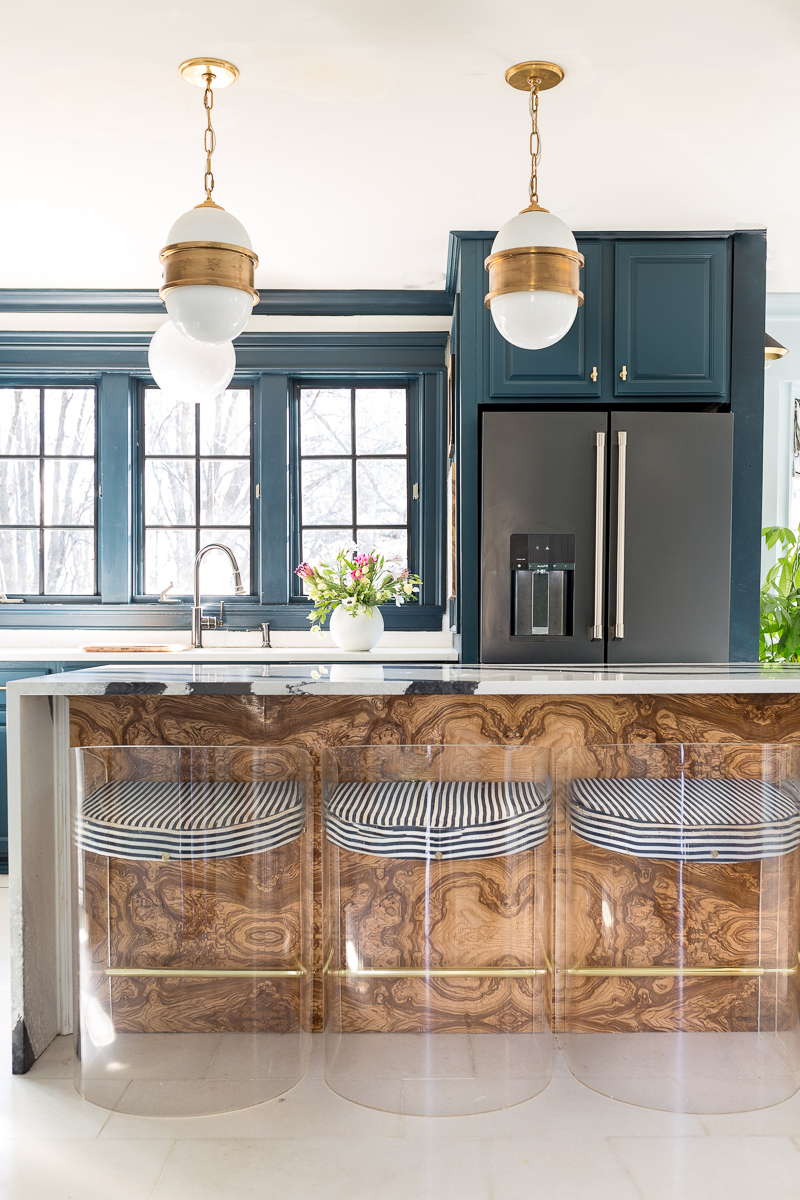 For aesthetic reasons, I knew the new fridge either had to be paneled or dark and sexy.  Panel fridges are beautiful, but do come with some disadvantages.  The major one is obviously the price.  The Cafe fridge, however, gives a high-end look at a fraction of the cost to most panel ready units.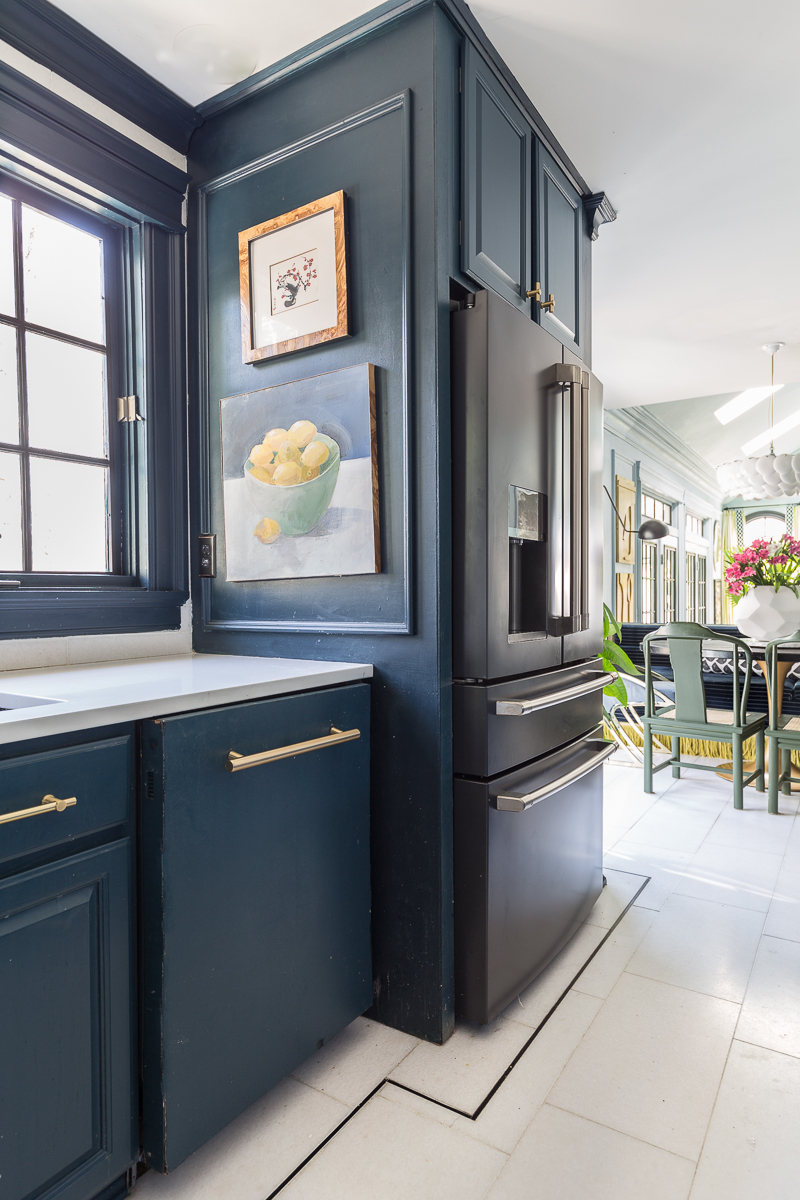 I've never had a fridge with a pull-out center drawer before, and I wasn't sure what I would think.  The verdict is…We love it.  The temperature can be adjusted anywhere from 23-42 degrees.  We have found that we like putting our fresh meats and cold cuts down there because it is separate from our produce, and I am able to bump down the temperature a tad (29 degrees).  I still have plenty of space in this center drawer and am considering storing our cheeses there as well.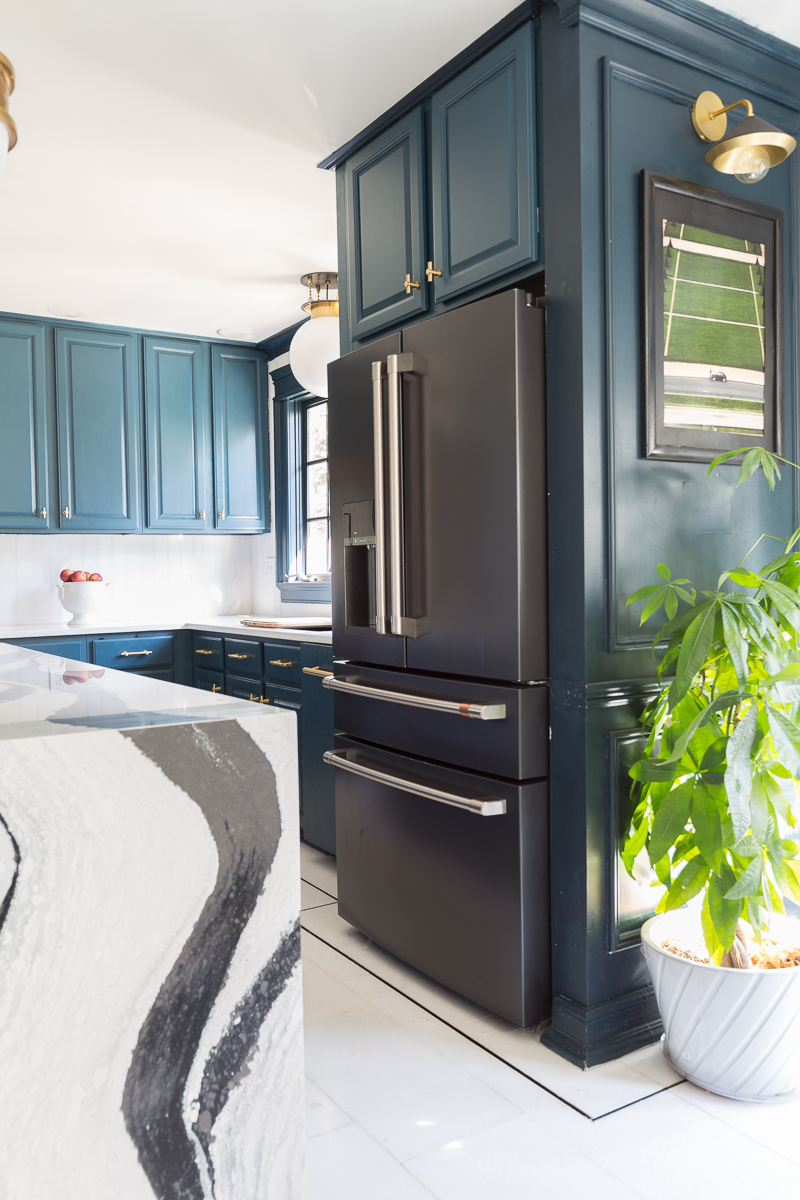 Another thing I love about this Cafe matte black fridge is the hardware.  The pulls are look so chic and can be selected in brushed stainless, black, bronze, or copper. I opted for the stainless look because I wanted to mix metals in the kitchen.  I didn't want brass/warm tone overload.
If you prefer a stainless steal or modern white fridge, you can customize those options as well.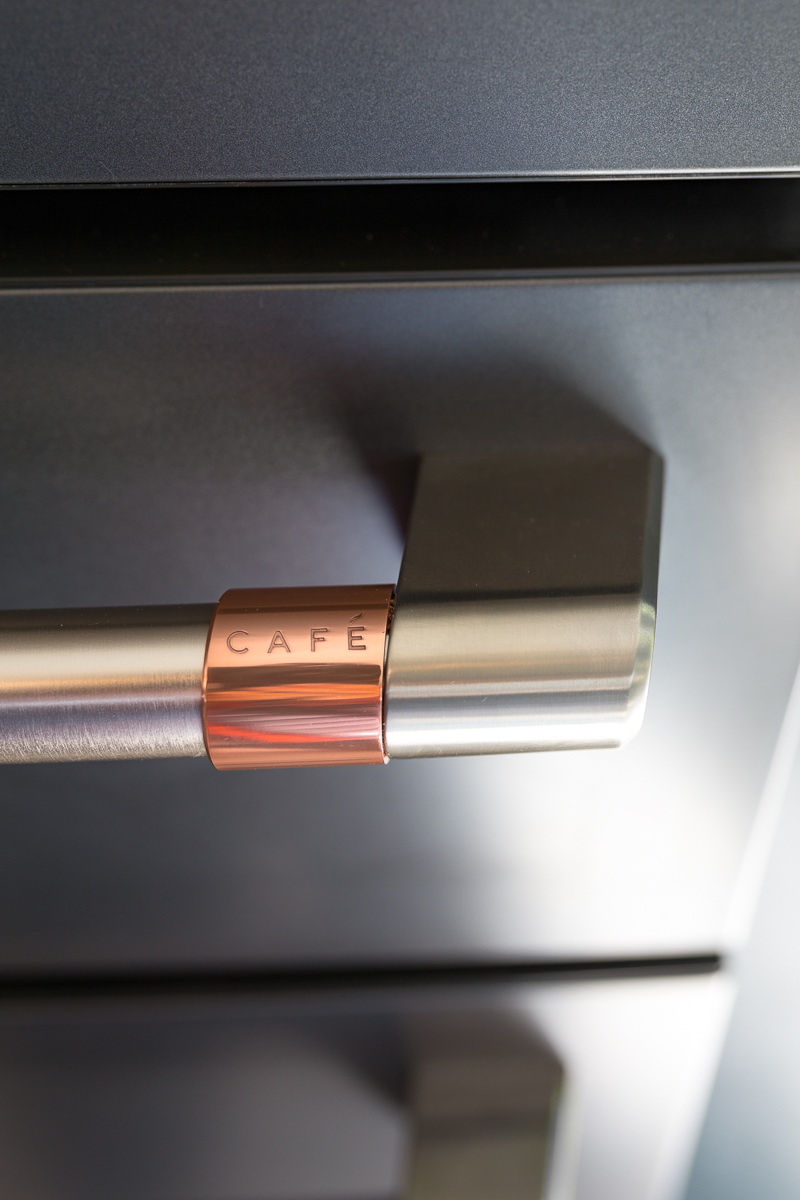 Here's another great design benefit that we have noticed about this fridge…No finger prints!  Like many people, we have spent a decade of our lives stressed over stainless steel smudges.  It feels so good to simply wash the fridge front with soapy warm water and be done with it.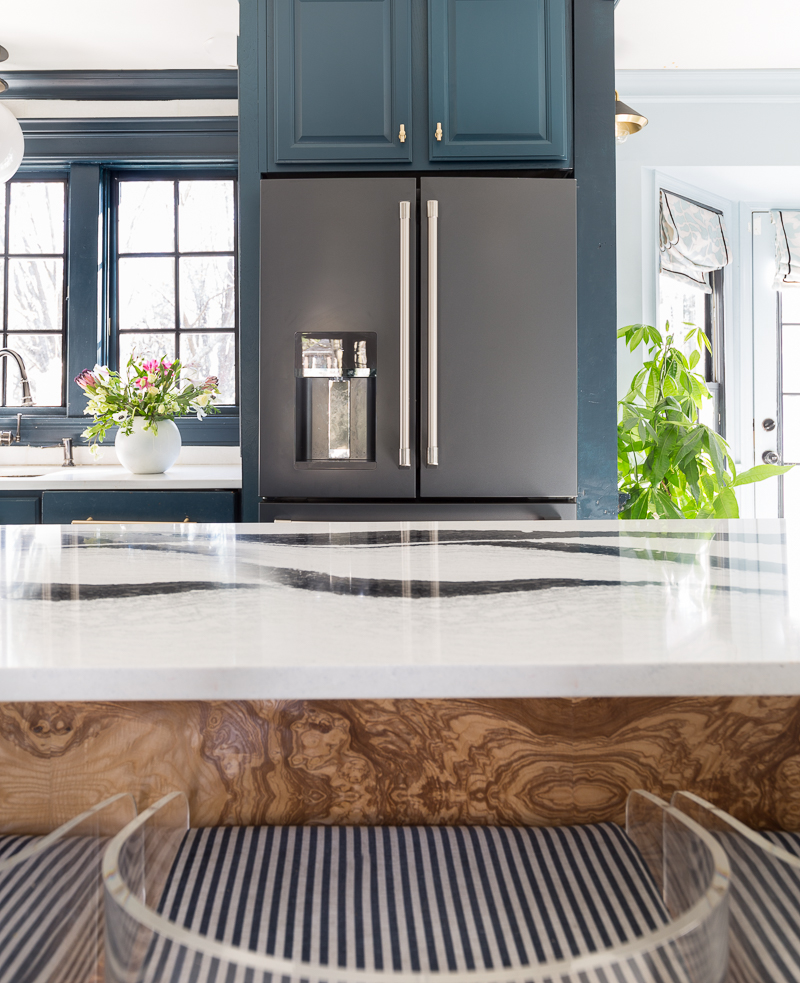 Thankfully, the hinges extend further than our last fridge in this space.  Our limiting factor is how far we have shoved the unit into the refrigerator surround.  Unencumbered, with 17 inches of clearance, the doors have full range of motion.  It says on the website that you won't be able to remove the shelves and drawers unless said clearance is met.  I can't vouch for how it might work in your space, but I'm happy to report that I was able to get all of the parts out without much effort.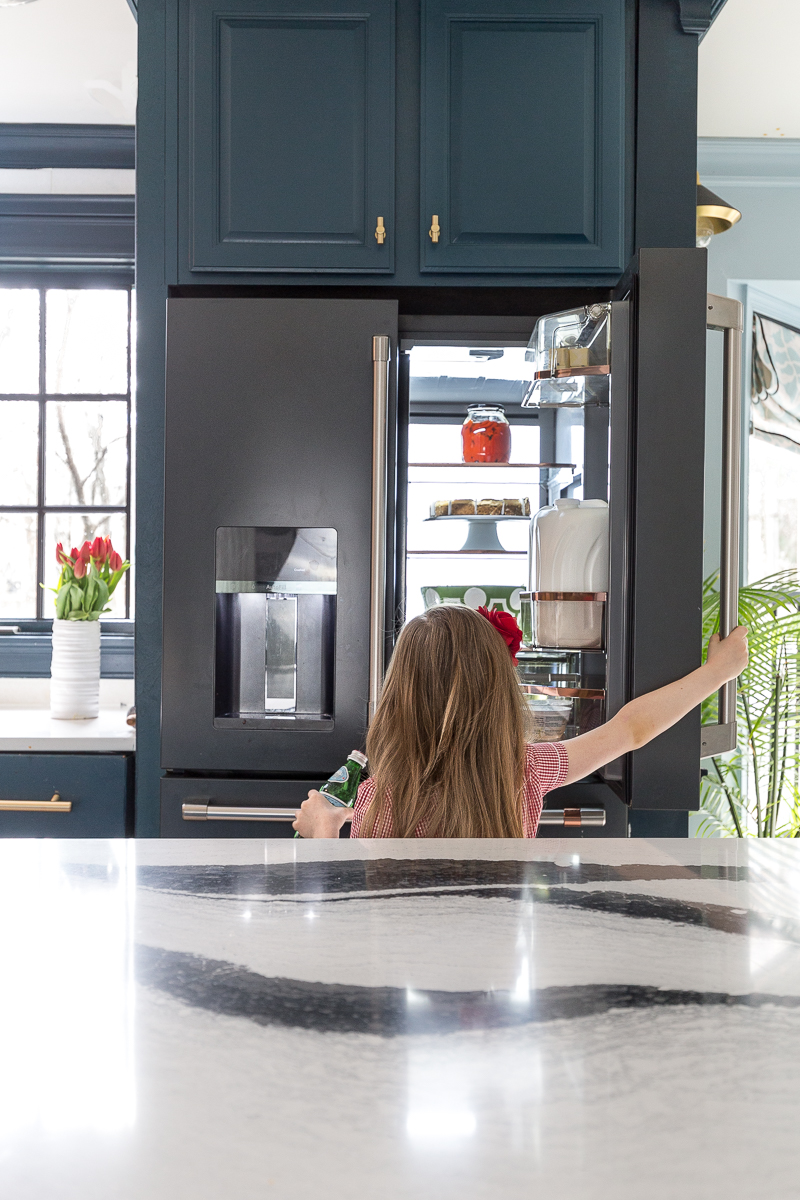 Perhaps the most important function of this fridge is the storage capacity.  We are a growing family of six who can easily drop $300-500 a week on groceries.  WE. NEED. SPACE.  Luckily, the 27.8 Cu. Ft. is designed efficiently enough for our needs.  Plus, it has an LED light wall so it is really easy to find our food in here. I styled this picture so that you can see how aesthetically pleasing it really is…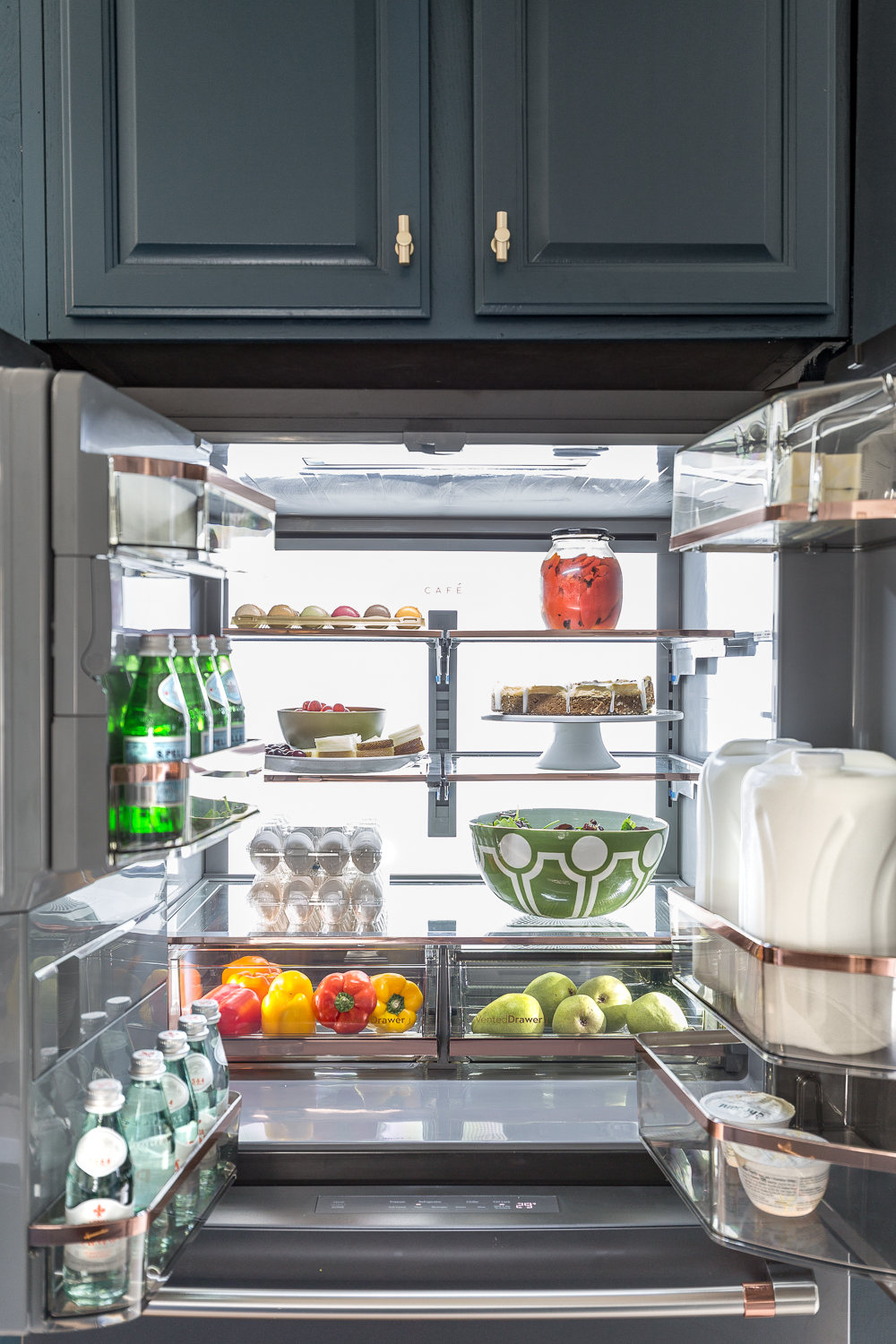 and I included this unstyled picture so that you can see how much food it can hold.  Actually, I think there is still room to shove a leftover lasagna and a watermelon if I wanted.  LOL.  Also, remember there are still extra meats in the center drawer.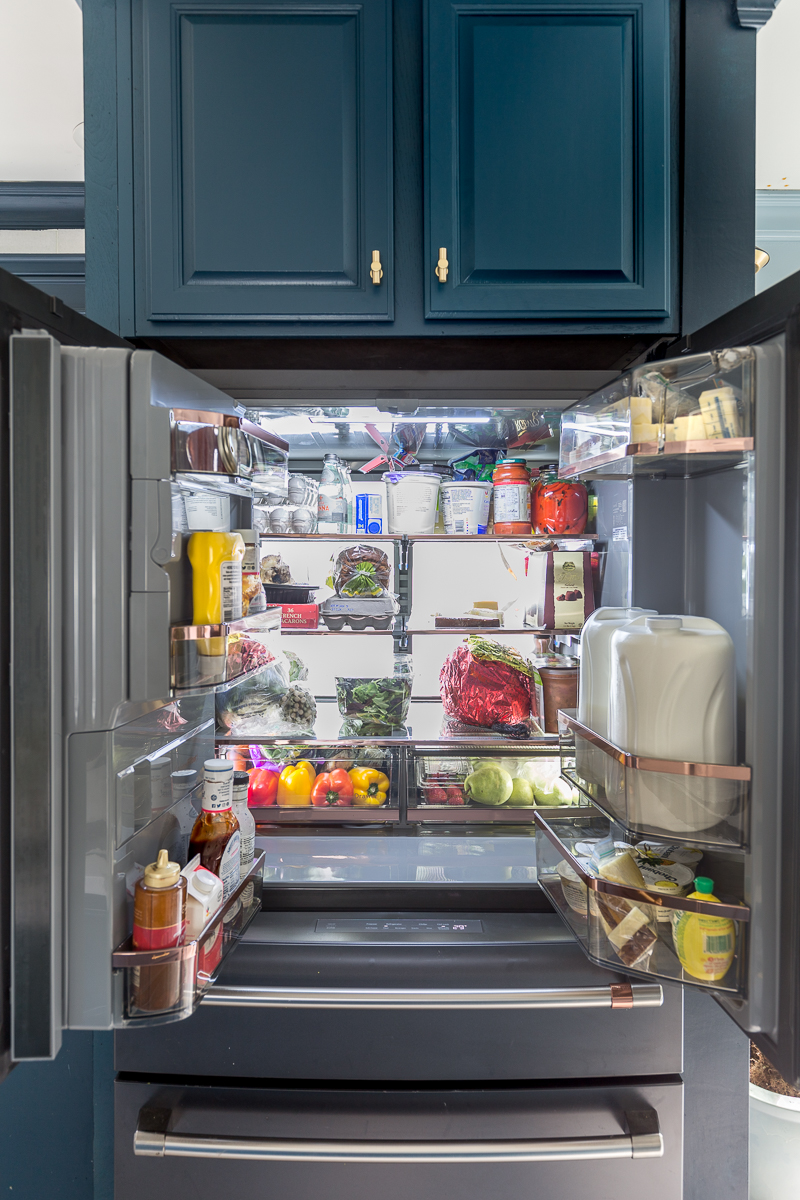 TUESDAY
WEDNESDAY
THURSDAY
FRIDAY
Instagram It's A Colorful Life Party!
Post your Christmas decor in your feed this week with #ItsAColorfulLifeTour for a chance to be featured in IG Stories by IACL Tour bloggers!
TUESDAY
WEDNESDAY
THURSDAY
FRIDAY
Instagram It's A Colorful Life Party!
Post your Christmas decor in your feed this week with #ItsAColorfulLifeTour for a chance to be featured in IG Stories by IACL Tour bloggers!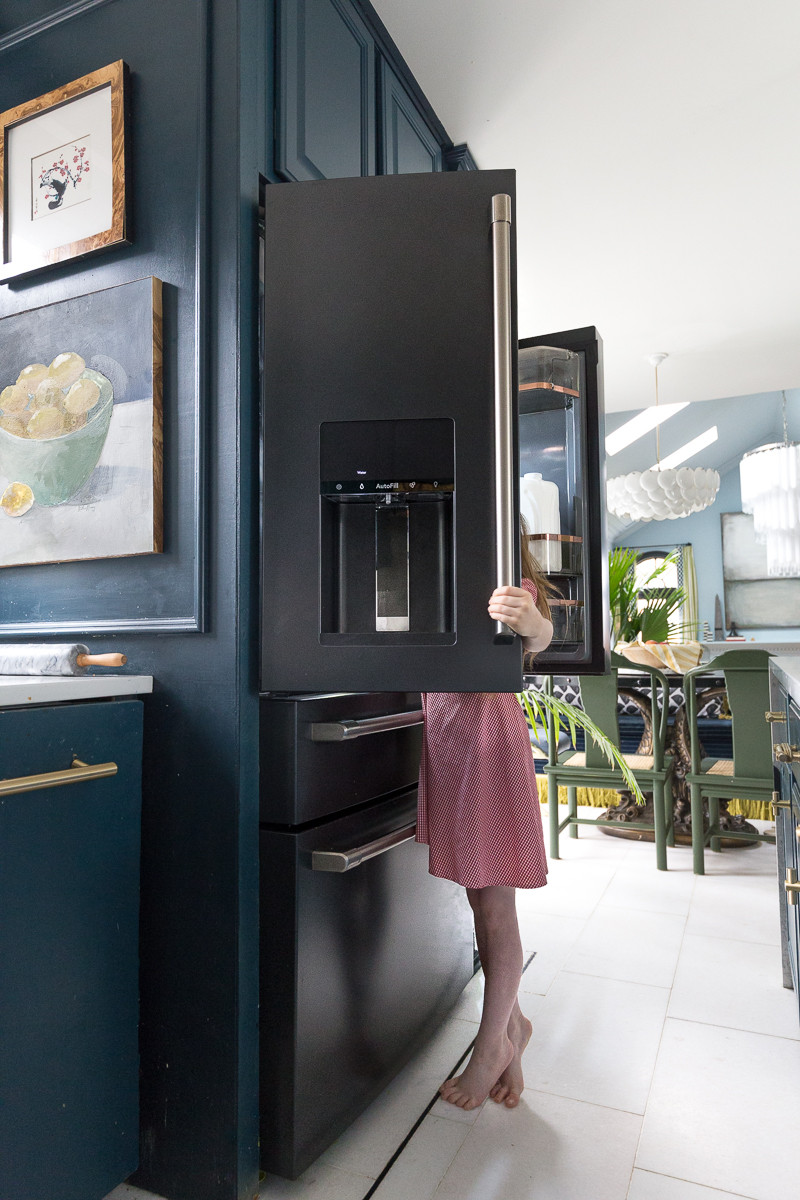 Initially, I would have opted for a unit without a water and ice dispenser.  I like the aesthetic of a clean front fridge. The kids, however, would have nothing to do with that idea.  Luckily, an added benefit is that the water dispenser happens to be really rad!  You can put your glass under the spout, push the Auto Fill button and walk away.  I can't explain the science, but the fridge somehow senses the capacity of the glass and stops before it over flows.  This comes in handy every night when we are filling up our glasses with filtered water while making dinner/setting the table.  Our dinner prep is pretty busy and crazy with a full sized family, so this is a helpful little detail I've learned to appreciate.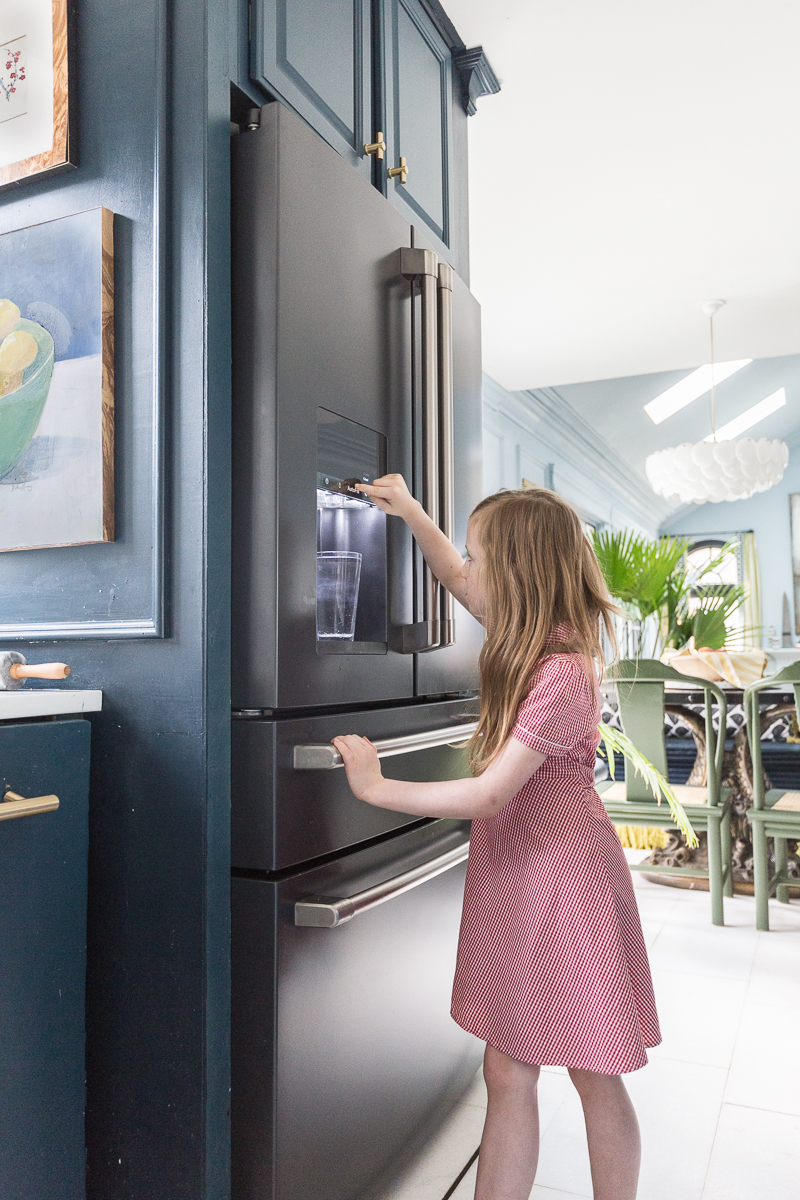 The final thing I want to share with you is the "Smart" component of this unit.  I am no expert on "Smart" appliances or home features in general, since this is actually a first for me, but I find it fascinating that I can remotely control the temps and lighting from my phone.  I can also check the status of my water filter and ice maker in addition to knowing if my door is open or closed.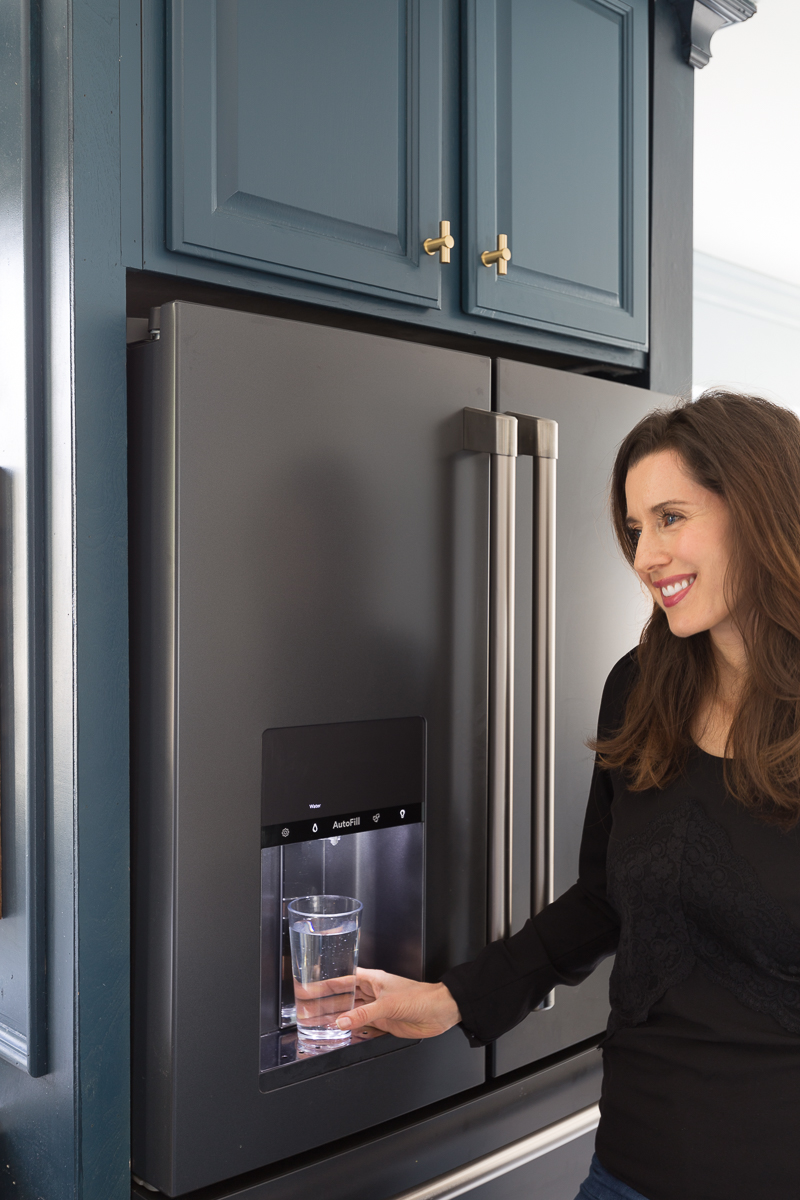 What are the disadvantages to this stainless steel refridgerator from GE?  So far I haven't been able to find much if any.  Perhaps I've lost a little storage space by going with an ice maker/water spout unit? Even so, this was a priotity for my family.
Overall, we are truly thrilled and grateful for this new Cafe Fridge. It is serving our large family well and looks so pretty in our home with our black and white Cambria Bentley countertop.