2022 Interior Design Trends – Design Influencers Tour 
Well, that was fun!  I'm returning home from Fall High Point Market with my head spinning from new inspiration and ideas.  While it is all still fresh in my brain I wanted to share my take aways in a three part series full of design direction and 2022 interior design trends.
2022 Interior Design Trends
What is High Point Market?
  As you likely already know, High Point Market could be compared to the interior design industries' Paris Fashion Week.  Furniture companies roll out new releases and proudly show their wares for interior designers and store owners to come see. 
This go round, I have been selected as a member of the High Point Market Design Influencer's Tour.  A huge thank you to both Esteem Media and the sponsors of this event who took the time to showcase these trends for us.

In today's first of three blog posts I want to focus on sofa trends.
2022 Interior Design Trends | Sofas
2022 Interior Design Trends
SOFAS
If I had to break down sofa Interior Design trends for 2022 into three concepts it would be:
-Organic
-Kid friendly/Functional
-Bouclé
Now let me break down what I mean by each of these terms and show you some examples.
2022 Interior Design Trends
Organic Sofas
For a long time square arms and straight-backed sofas were king, but that pendulum has started to swing over the last few years.  While there will always be a place for a masculine lines and rectangular sofas, the trend as definitely shifted towards curvaceous and more feminine seating.  One of the most dramatic examples of this was seen with this new release by Universal Furniture.  It is almost conversation-pit like in form and function.  In the right space, it would be incredible.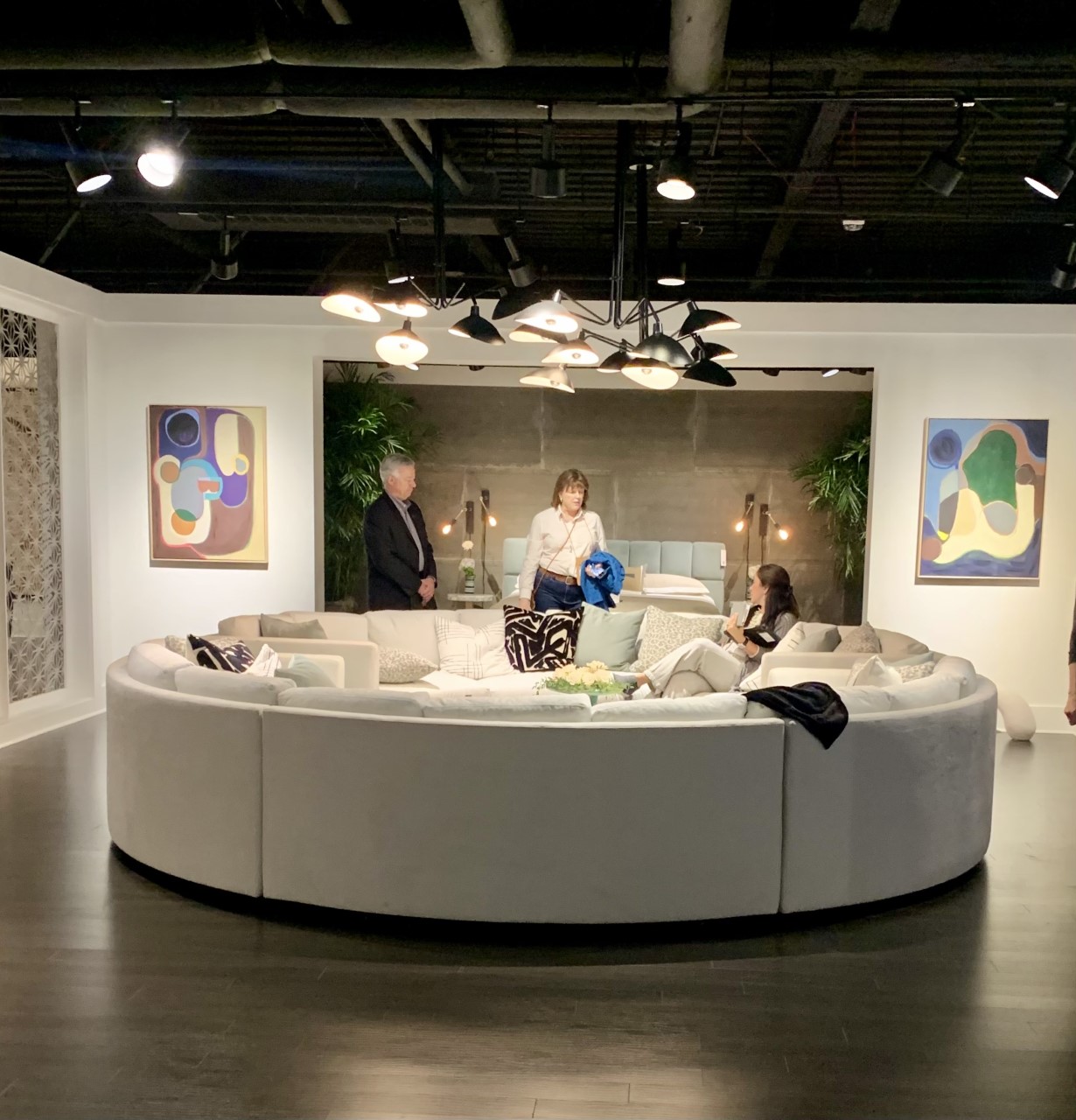 Another organic pieces of note includes the lovely beauty from Rowe Furniture.  You will see that this sectional retains some rectangular attributes but manifests then in a very sculptural way.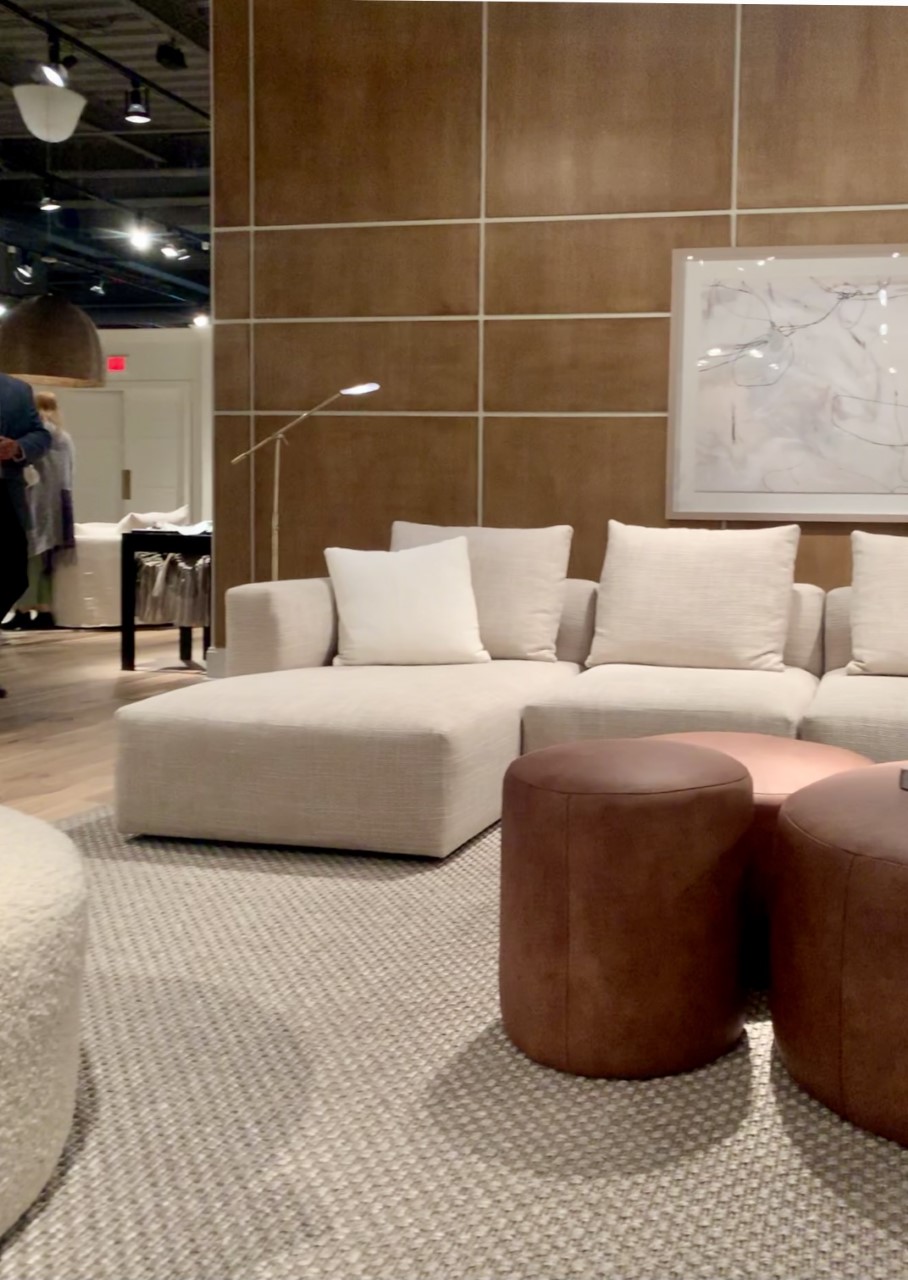 These two curvey sectionals are both from Hooker Furniture and demonstrates rather Kagan/cloud sofa influence.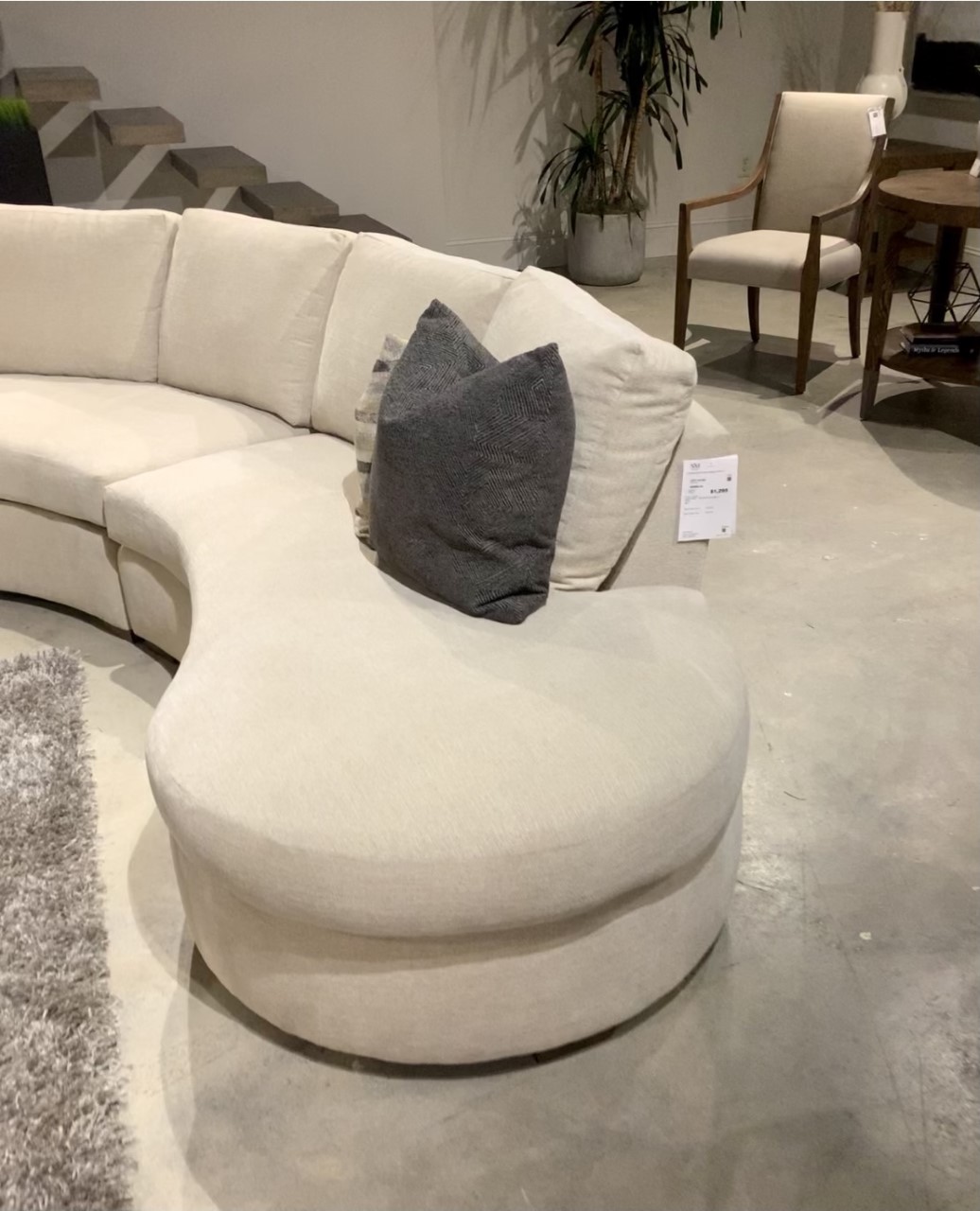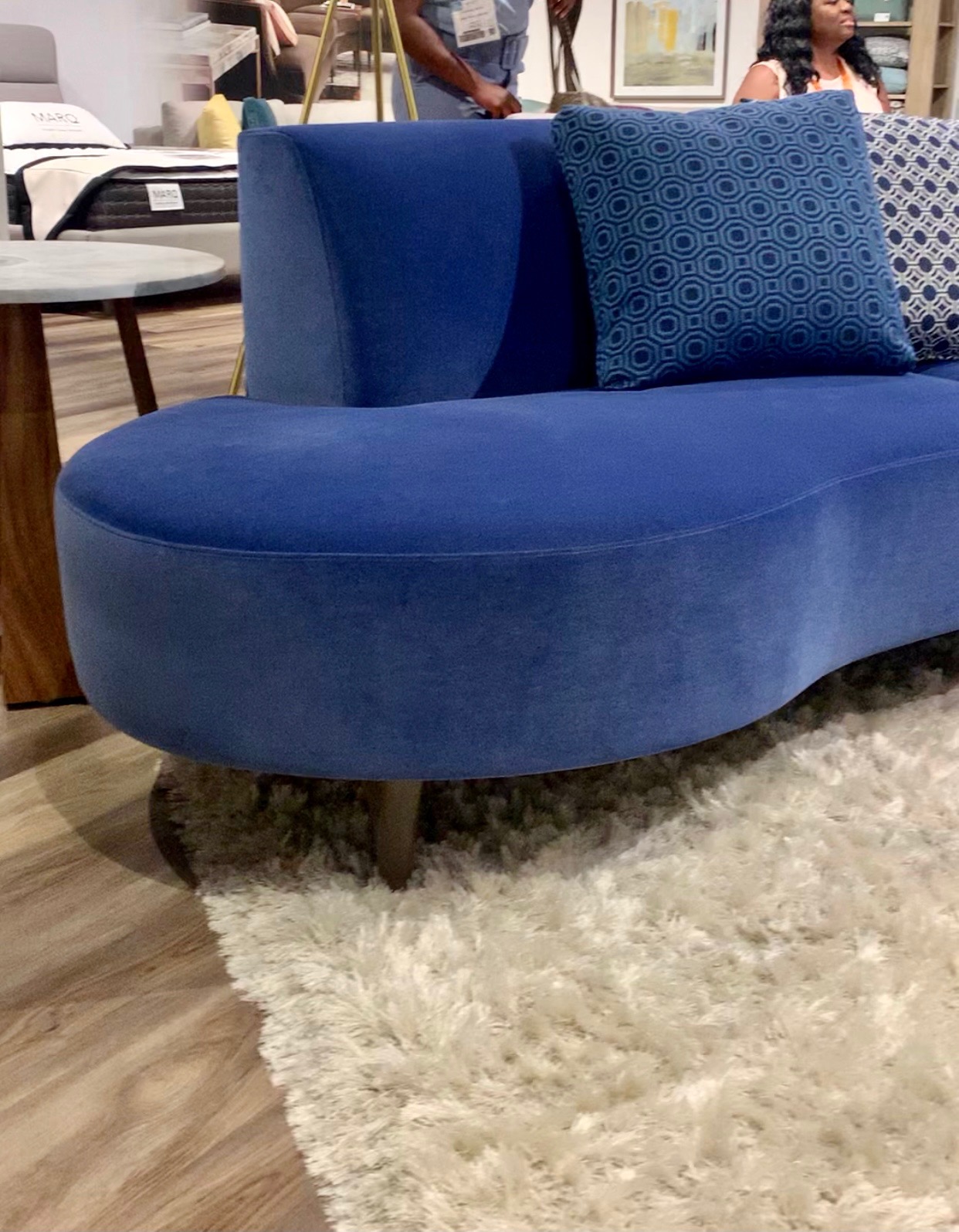 2022 Interior Design Trends
Bouclé 
The term boucle is derived from the French word meaning "curled" or "ringed,"  Boucle fabric is often produced from wool spun into textured loops and gives a very nubby, textural result.  
I have been seeing boucle' pieces for the last year and a half or so, but it was in FULL SWING during high point.  The majority of sofas I noticed were warm-white and textural.  A large percentage of those were boucle'.   Here is an example of a piece from Universal Furniture.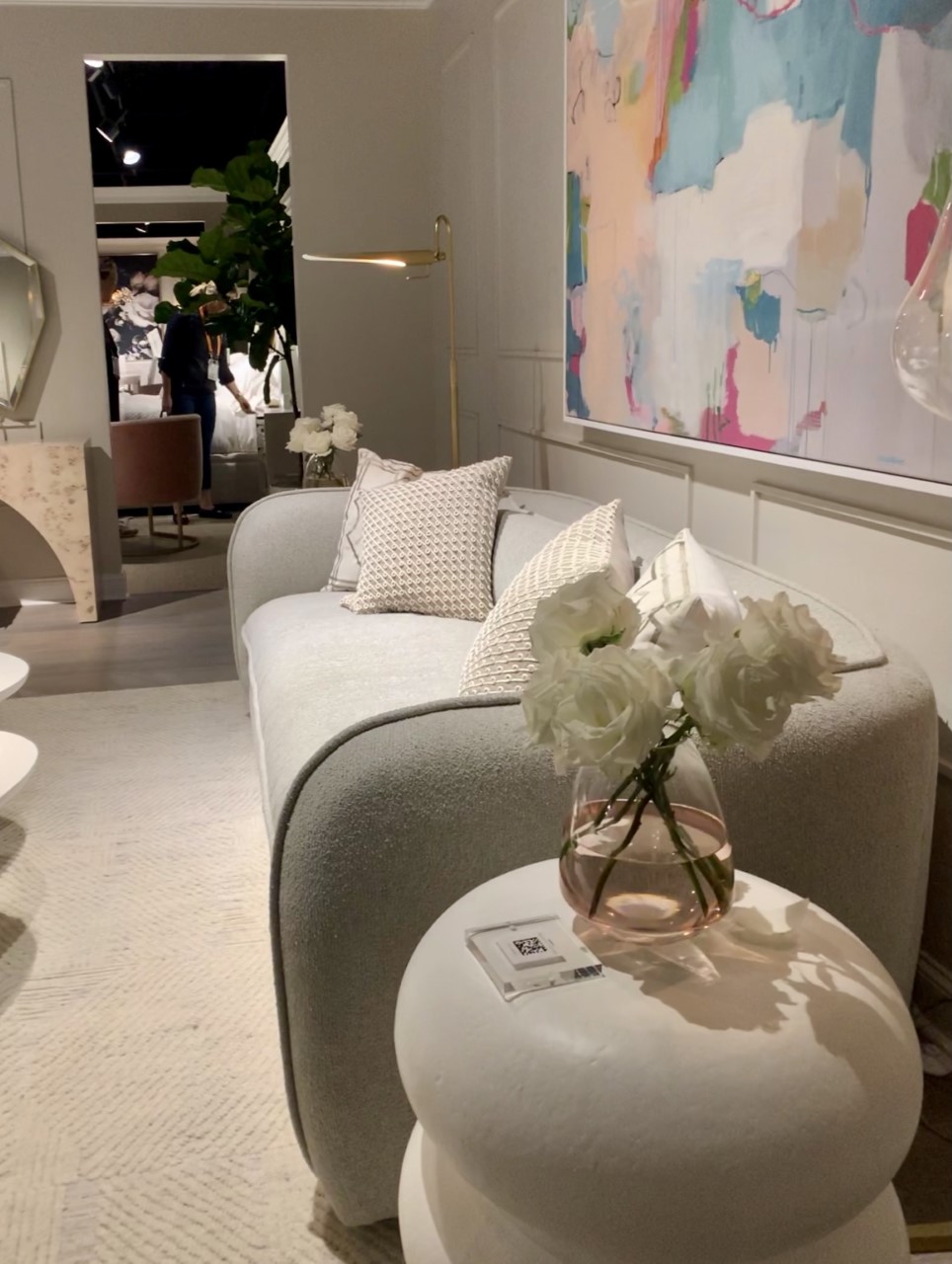 Here is a Cisco Home  sofa with a different  body style, but you can see that they both look chic with this lovely type of fabric.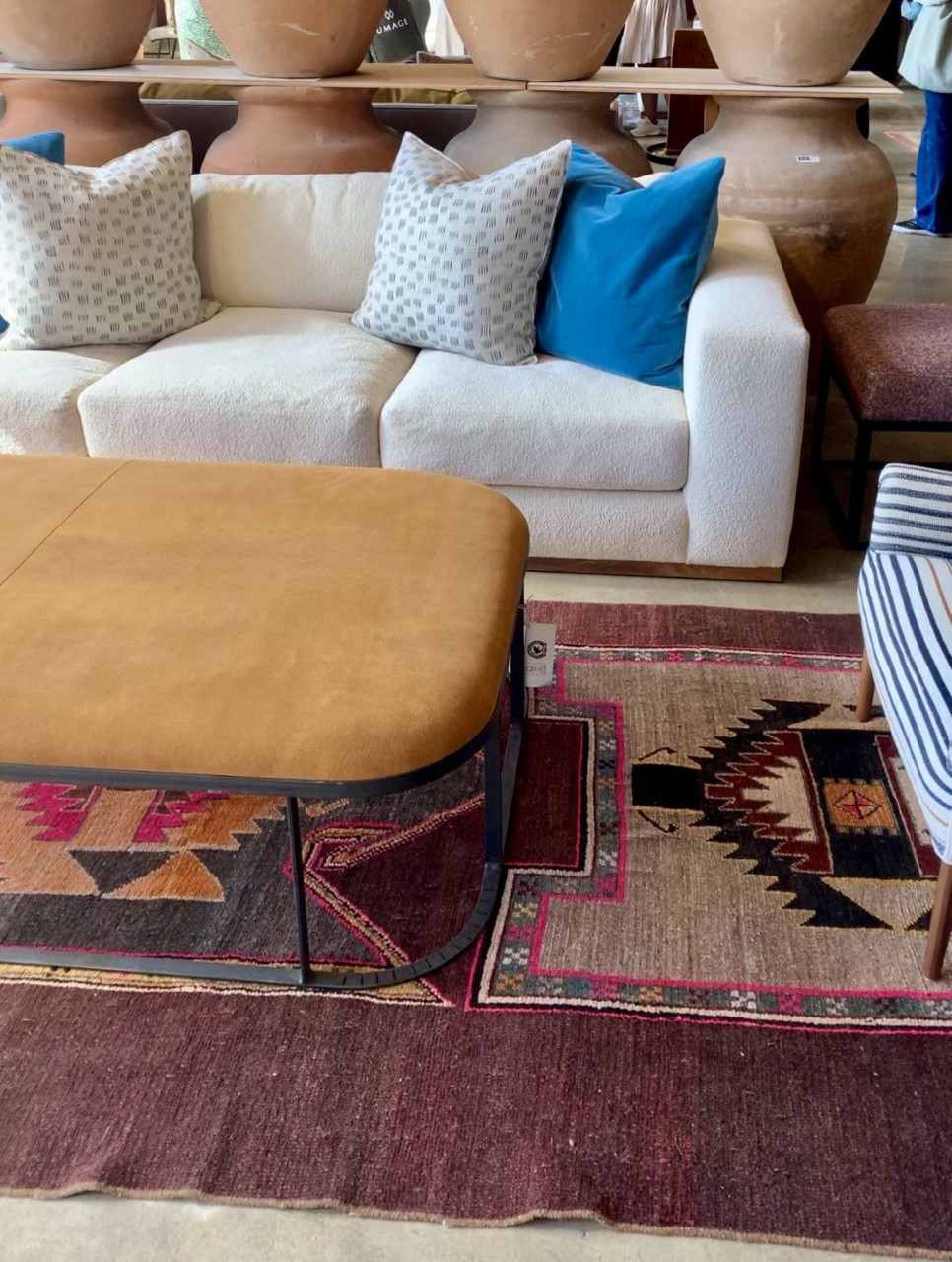 Interior Design Trends 2022
Kid Friendly/Functional
You may be asking yourself, "Who in their right mind would buy a white boucle sofa?".  I have good news for you!  Just like cars, appliances, and cell phones, the technology behind upholstery fabric has come a long way in recent years.  Where a white sofa would have been a ridiculous idea when I was a kid, it is somewhat of a no-brainer these days.
You may already know, but we have a variety of products on the market that will hold up the most "terrible" of two year olds or your tipsy aunt at Thanksgiving.  One of those praiseworthy products is Crypton Home Fabric.  While visiting the Cisco Showroom, we were given a demonstration involving spilled Cola on white Crypton Fabric.  Instead of soaking in, the coke beaded up and sat carefully on top of the fabric.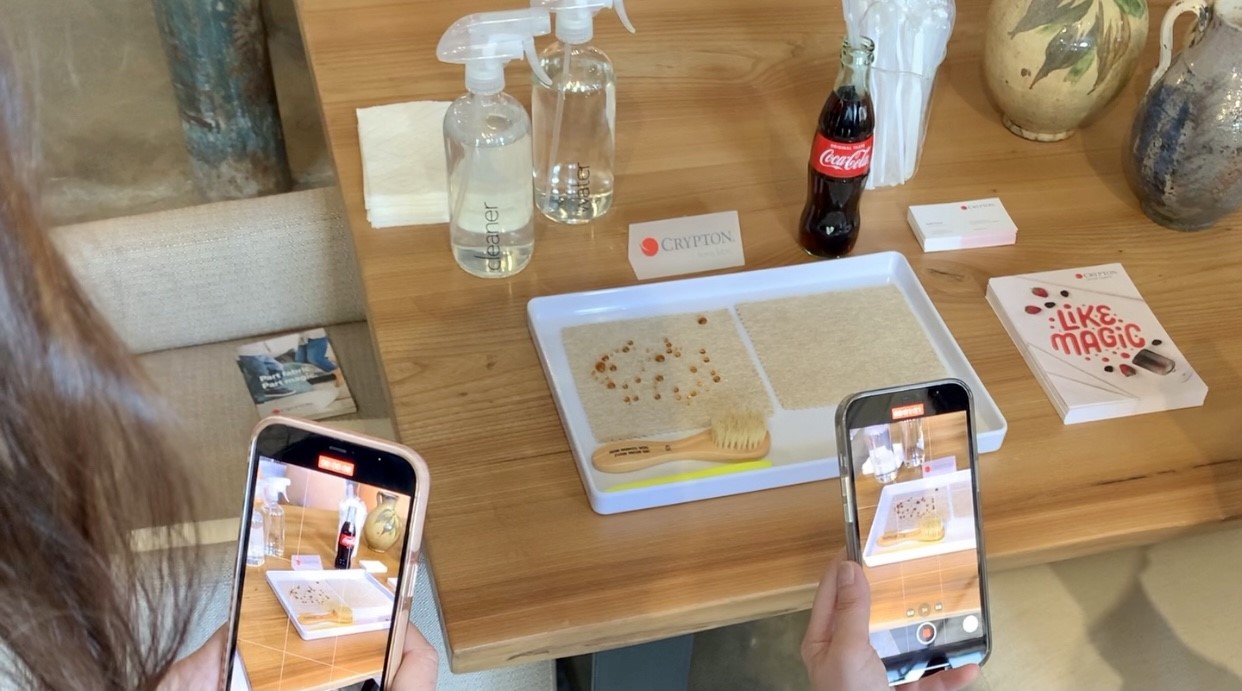 Then the person offering the demonstration applied a towl to the fabric and the beads magically transfered from the fabric to the paper towel.  With simple light blotting, the Coca Cola was gone. TA DAH.
We witnessed a similar exercise  with a highlighter marker and a water/Clorox  mixture.  Like pure magic, it transferred  immediately onto the towel and left no trace of marker behind.
Now, as part of any sofa maintenance, Crypton Home Fabric recommends regular steam cleaning to keep your sofa looking like new.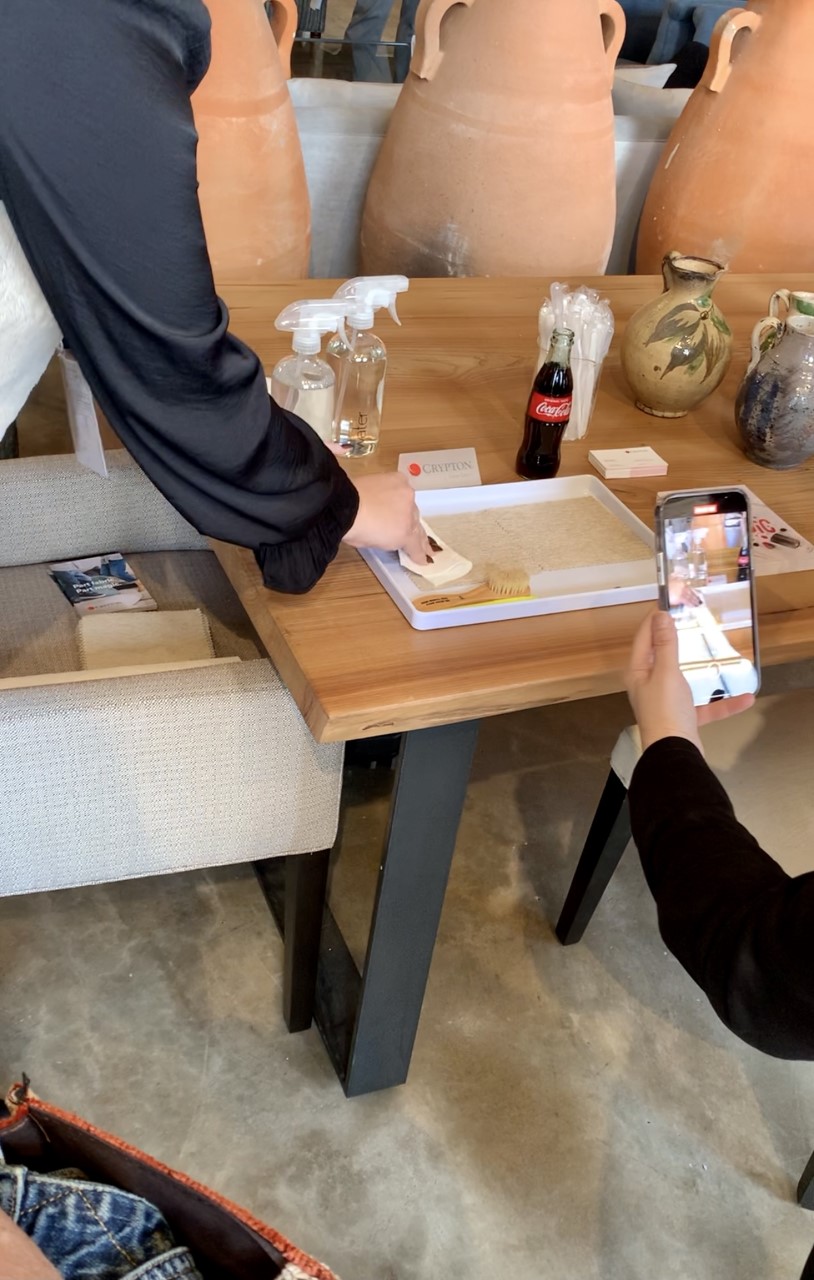 Isn't it hard to believe that the next two images are Crypton Home performance fabrics?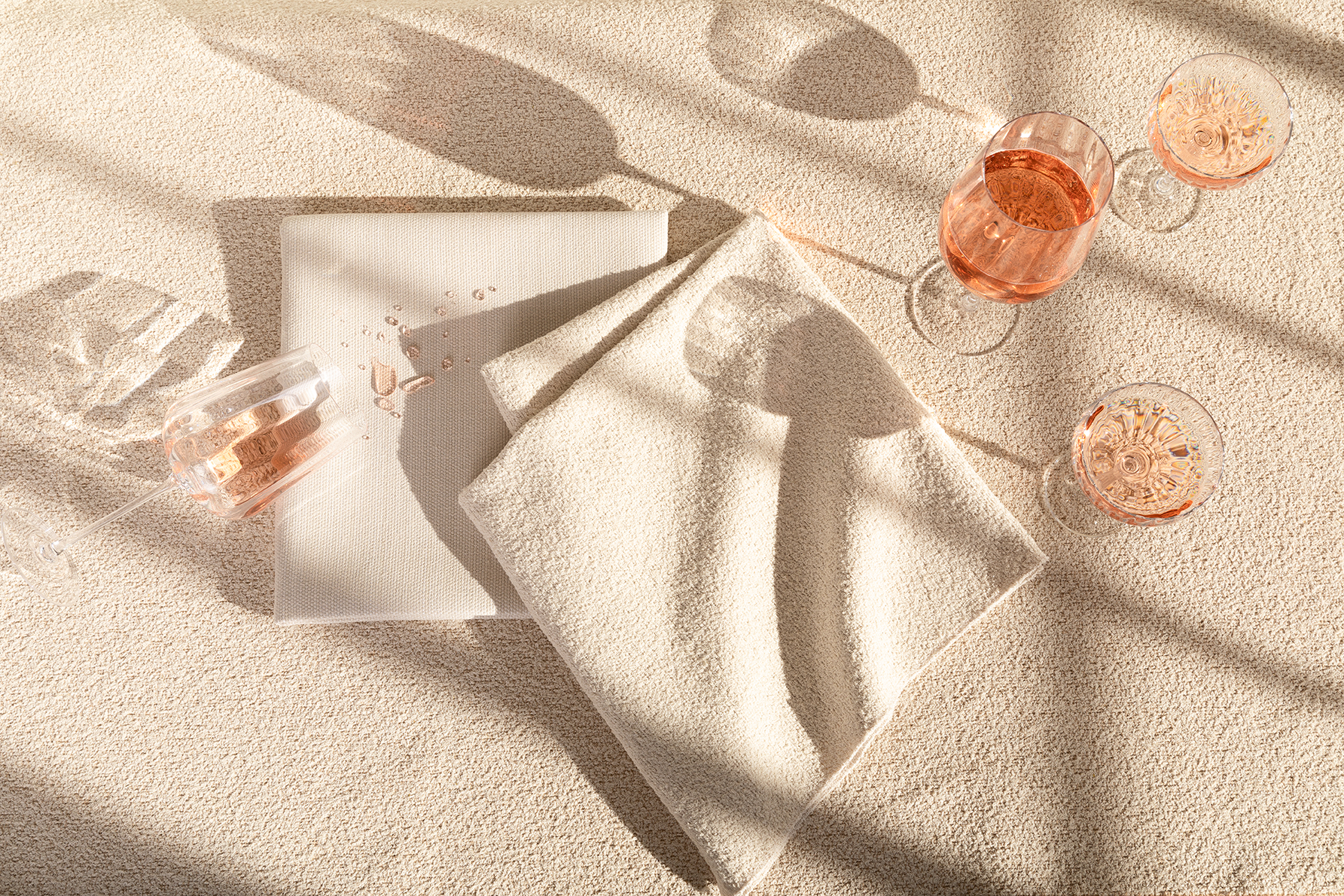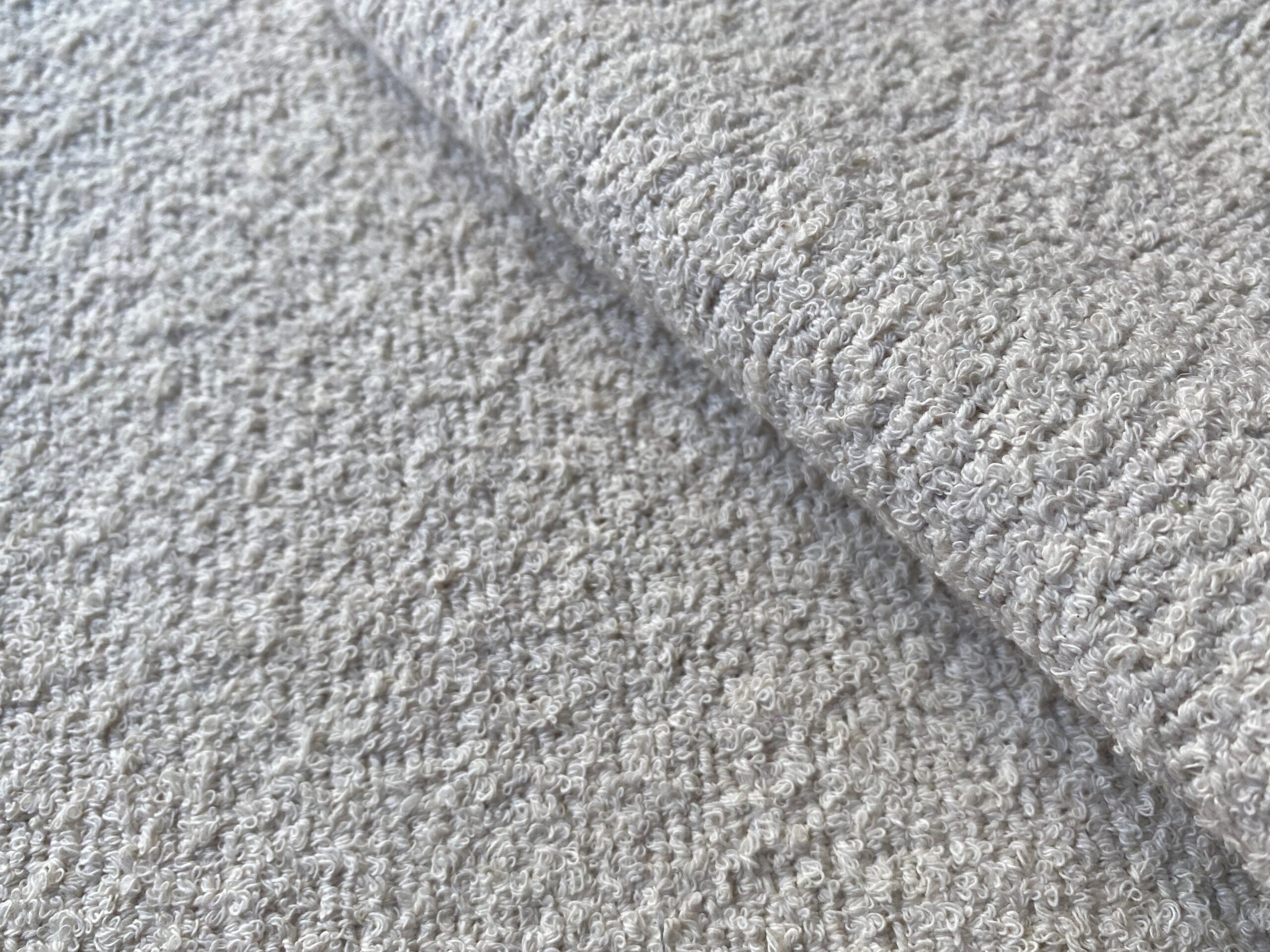 In addition to family friendly fabric, we learned a trend in small space living, quality convertable sofas.  One example of this concept is demonstrated by Innovative Living.  They produce well thought out, intuitive, and attractive sofa beds, day beds, and chairs.  My favorite model was this Mallory which you may have seen me convert from Sofa to bed in literally 36 seconds.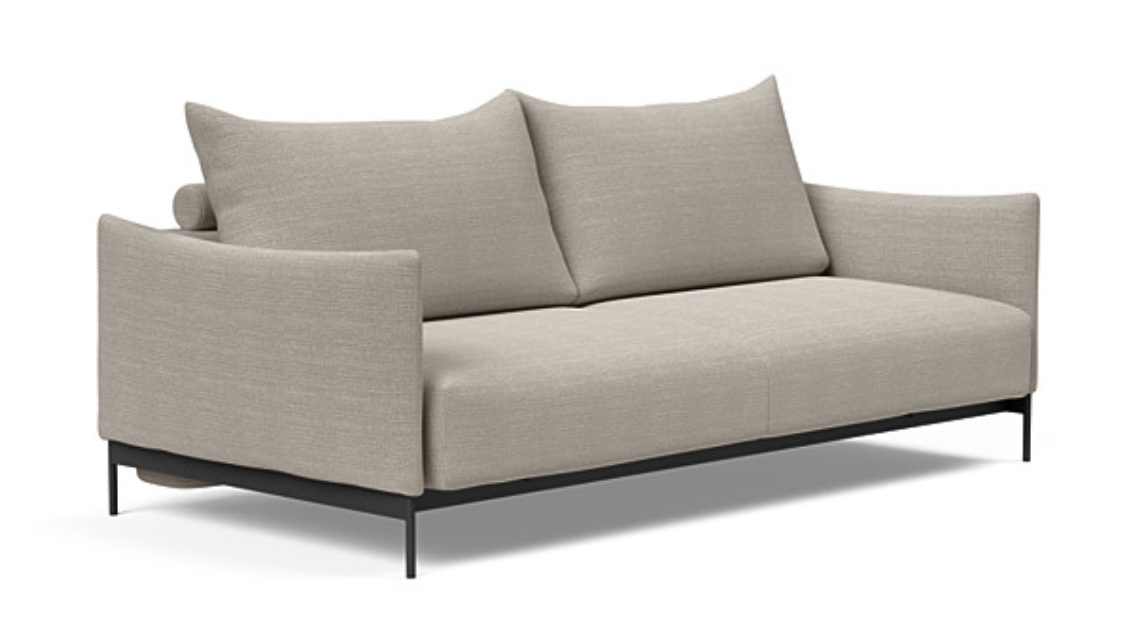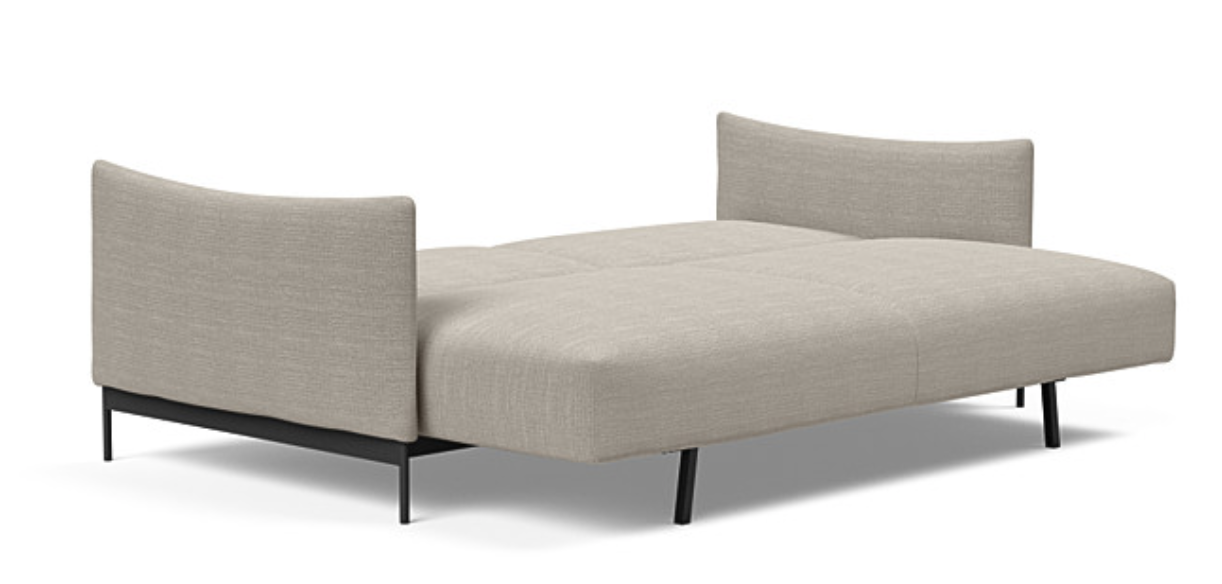 Thanks for joining me on part one of my three part series discussing interior design trends for 2022.  Come back next week as I discuss finishes and colors.
Sponsors participating in the fall 2021 tour include: