It was time for a refresh of our eclectic dining room, and I want to show you the impact a handful of fun changes can make.
It has been almost 4 years since we moved back into our house, and, as a military spouse, that qualifies this as the longest time we have every settled into one place.  So call it itchy feet, or just the fact that I had a little more time on my hands this week, but I just couldn't help myself…I really wanted to tweak a room in our home.  I figured it was time to make some fresh changes to our ever evolving eclectic dining room.  If I am being honest with you, these changes are a hint of more to come…maybe this Fall, but the larger changes are for another time and another blog post.  Until then, let's see the power of a few updates.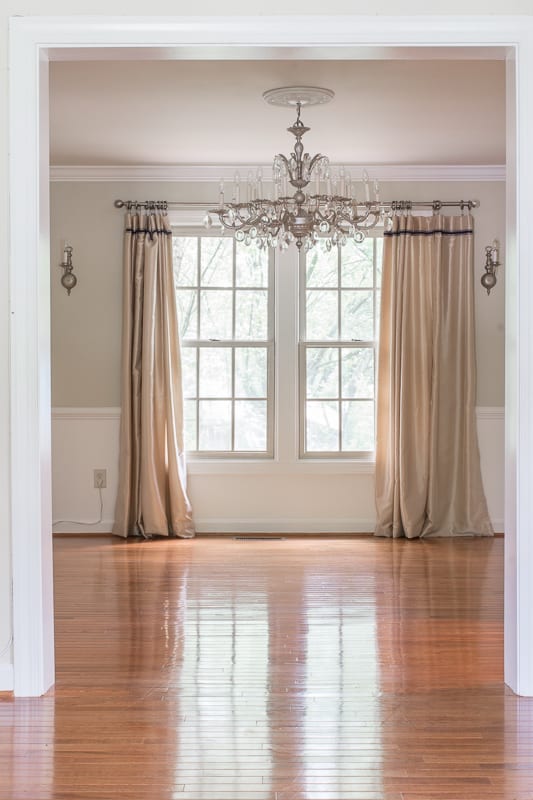 Note: The lighting in this refresh was gifted, but the opinions are 100% my own.
Eclectic Dining Room Update #1: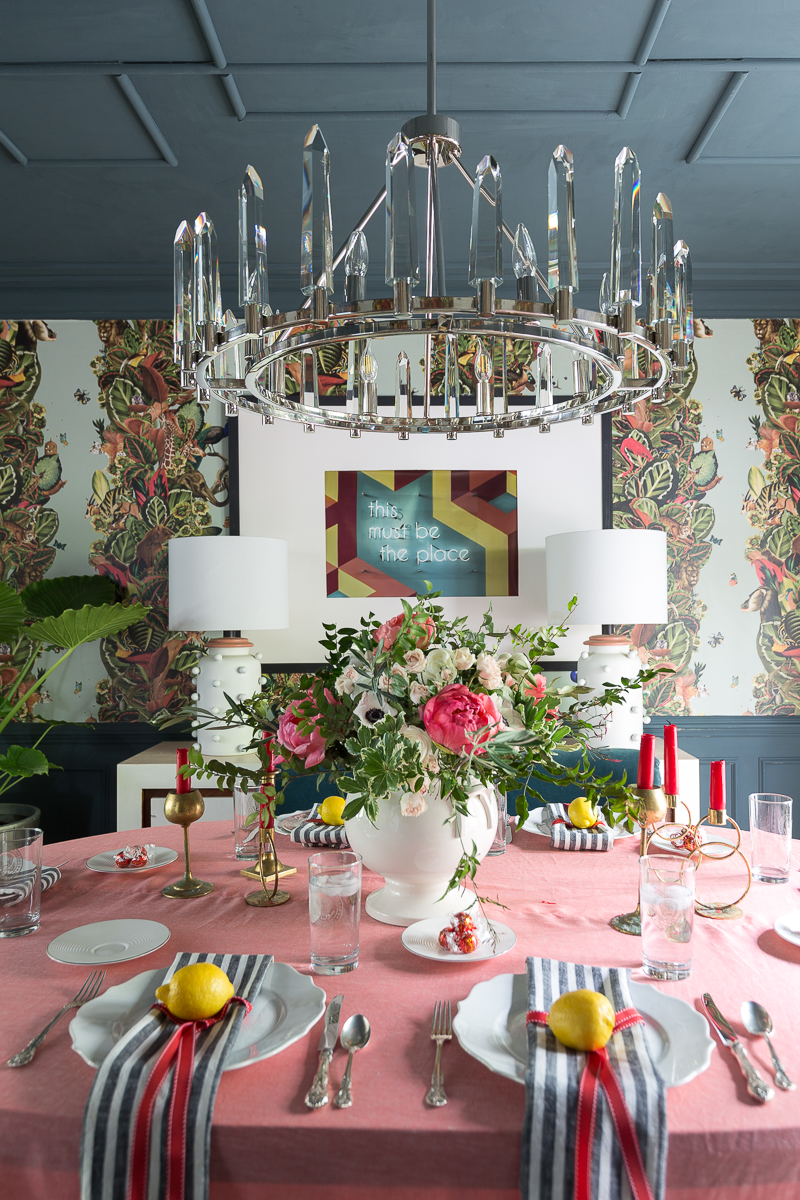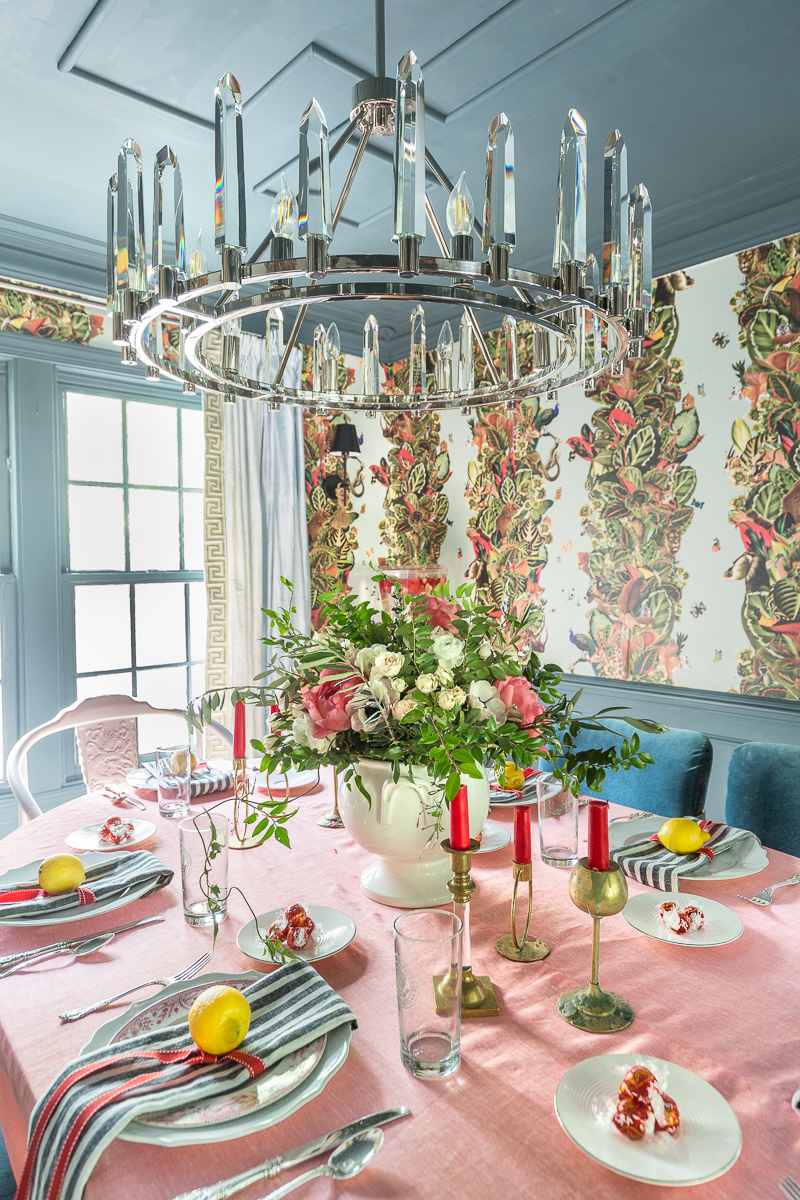 You know I love a glamorous chandelier, and this beautiful Watson Chandelier from Crystorama doesn't disappoint. The chrome finish is utterly dramatic and the icicle remind me of inverted crystals.  I think it is a lovely pairing with the wallpaper as well.
You might remember that I have a couple of other Crystorama fixtures in my home:
We did a chandelier shuffle and hired Richard to install the previous chandelier into the entryway, and it looks so gorgeous there.
Eclectic Dining Room Update #2: 
Ok, ok…I know this isn't a permanent change in the space, but I bought this custom DROP DEAD GORGEOUS floral arrangement from Alexandra at Stem Soiree, and I feel like it makes the entire room MAGICAL.  She was able to analyze my space, talk through my goals, and create a centerpiece literally made for my room with the highest quality flowers. I am so thankful to have found this resource for the DC area.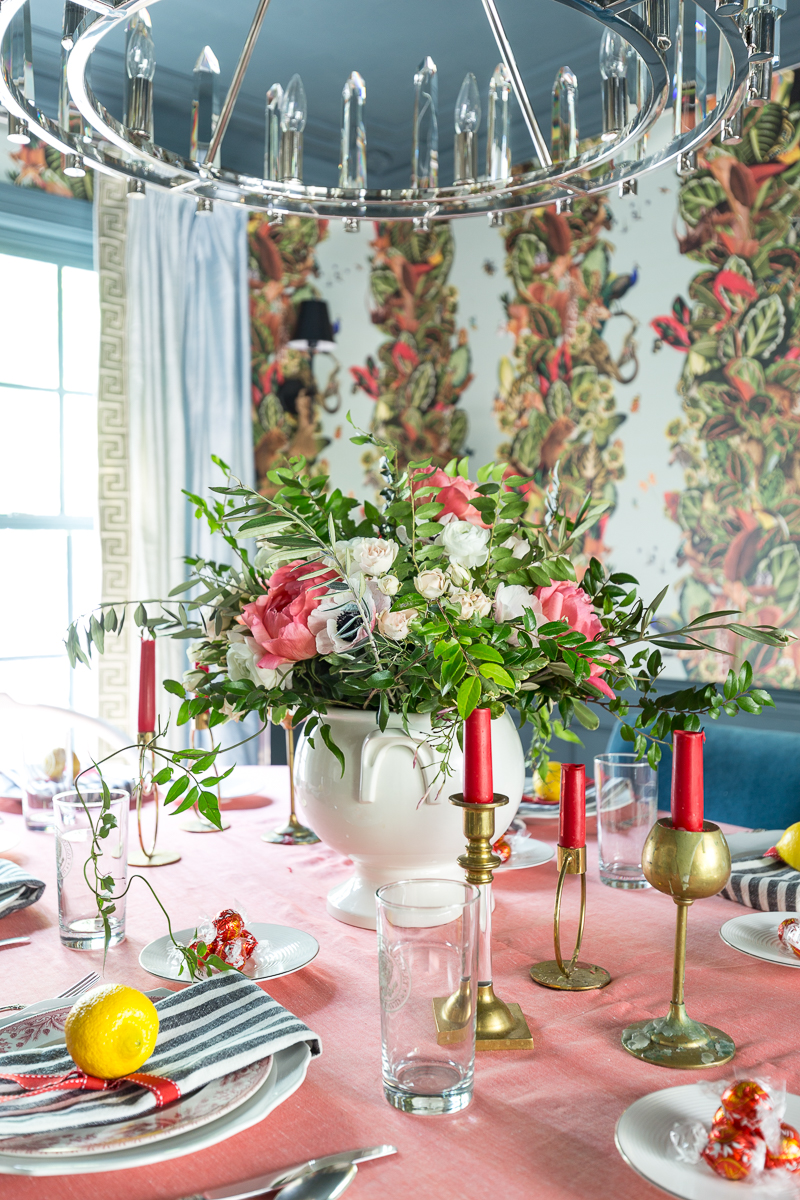 Eclectic Dining Room Update #3: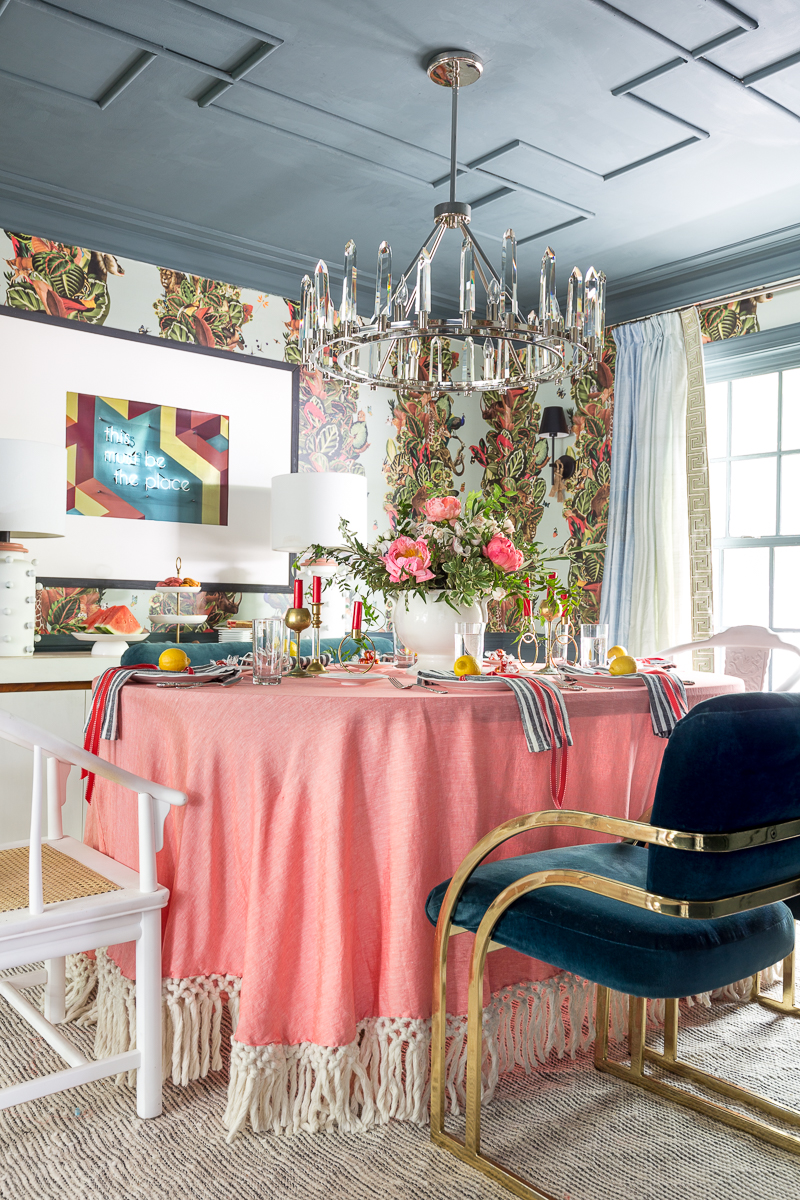 I have always LOVED fringed table cloths, and pairing it with this fresh, coral, linen-chambray fabric brings me so much happiness.  I also like the way the fringe almost looks like an upside down version of the chandelier.
Eclectic Dining Room Update #4: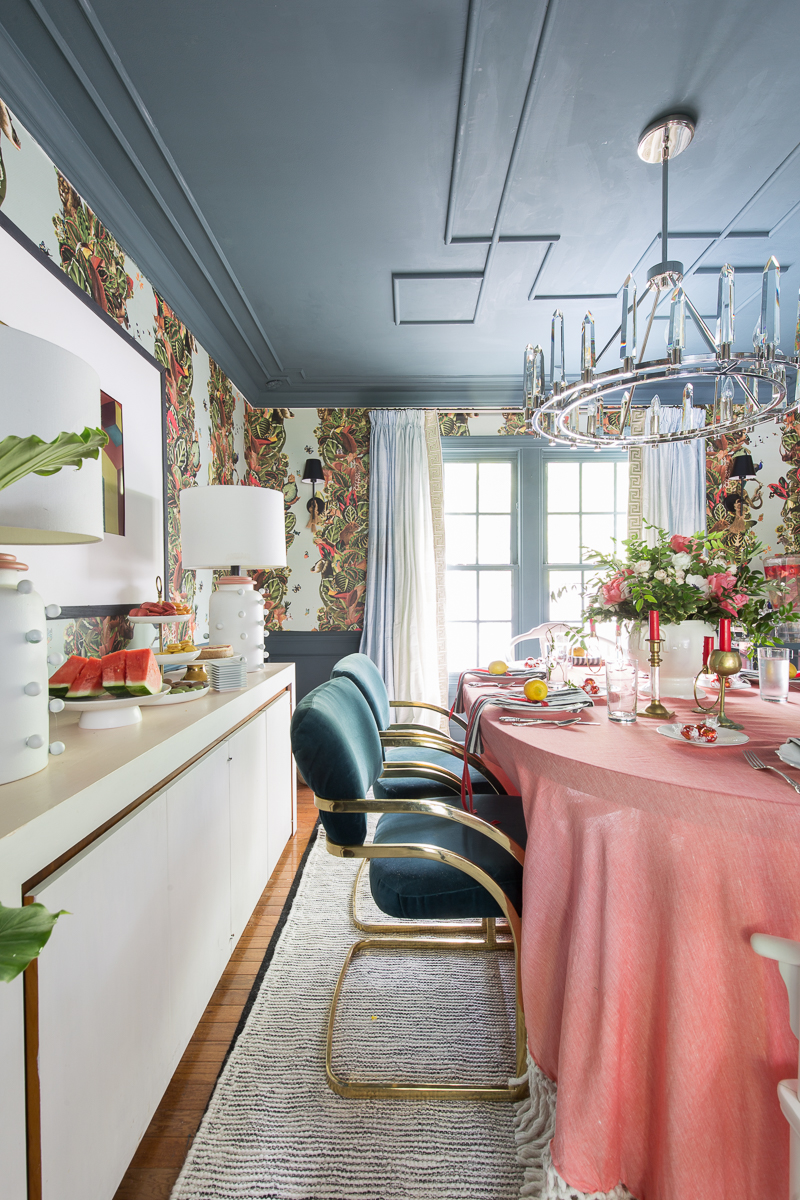 I recently purchased this Loloi Rug and I think the simple, textural pattern is a nice visual break in this busy room.
Eclectic Dining Room Update #5: 
These classic black Xavier sconces are also from Crystorama. One cool feature is that the black shade can be swapped out for a white version (also included in the packaging).  I love it's fresh take on classic design and I can picture these beauties in so many different room styles.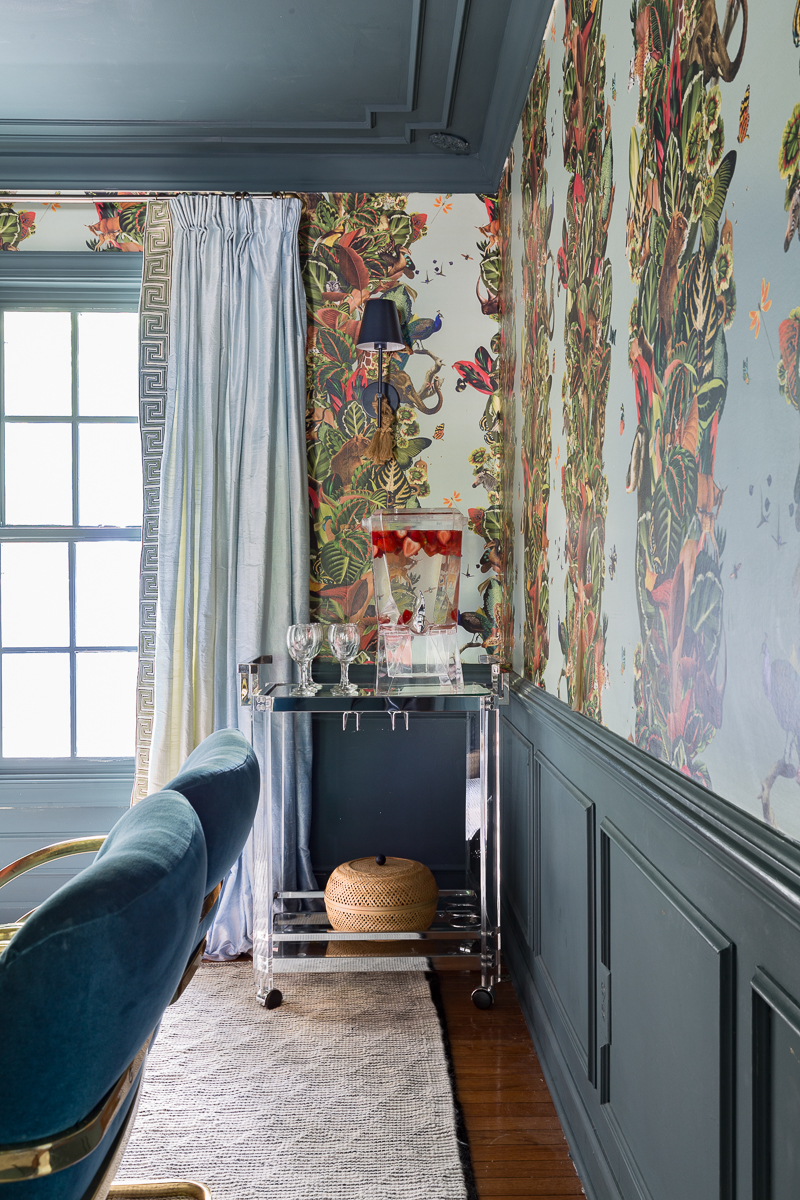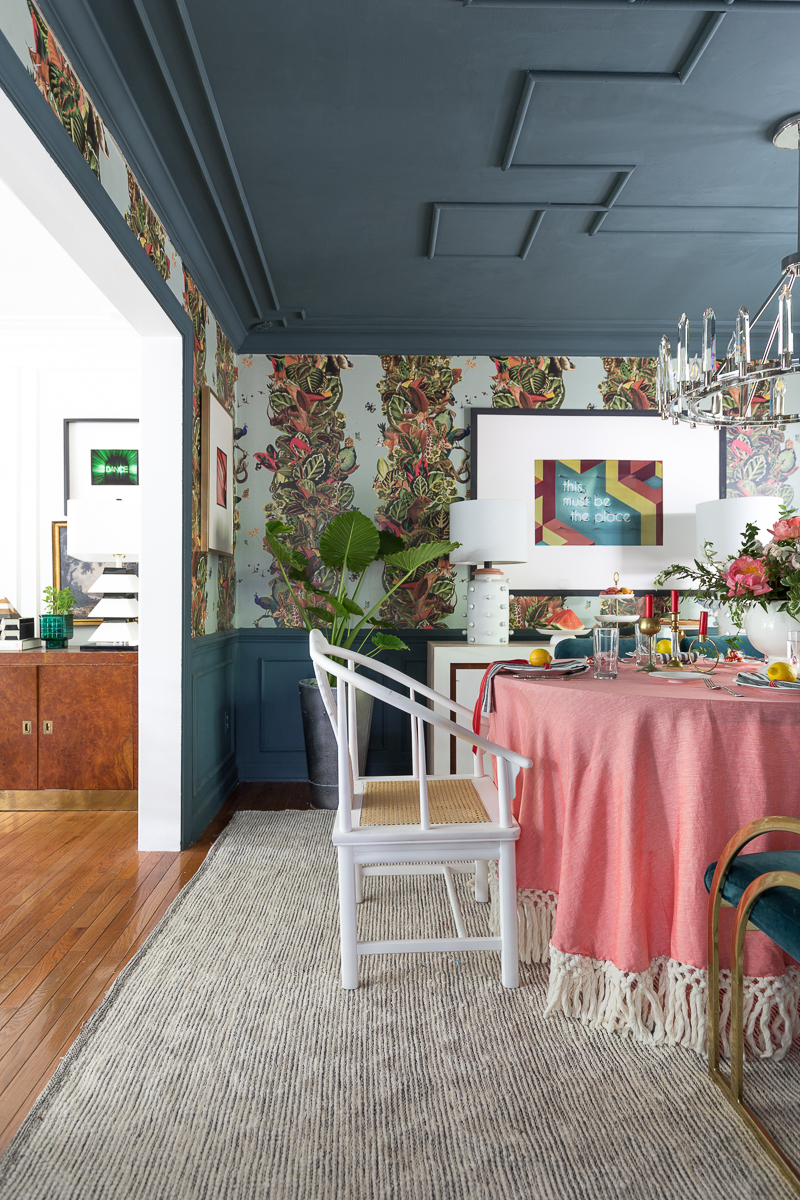 Further more, I added a few simple updates, like this fresh (not dead yet, but give it time 🙂 Elepahant ear plant, and some pretty red ribbon.
All in all, it is a lovely space and I hope to be able to use it soon.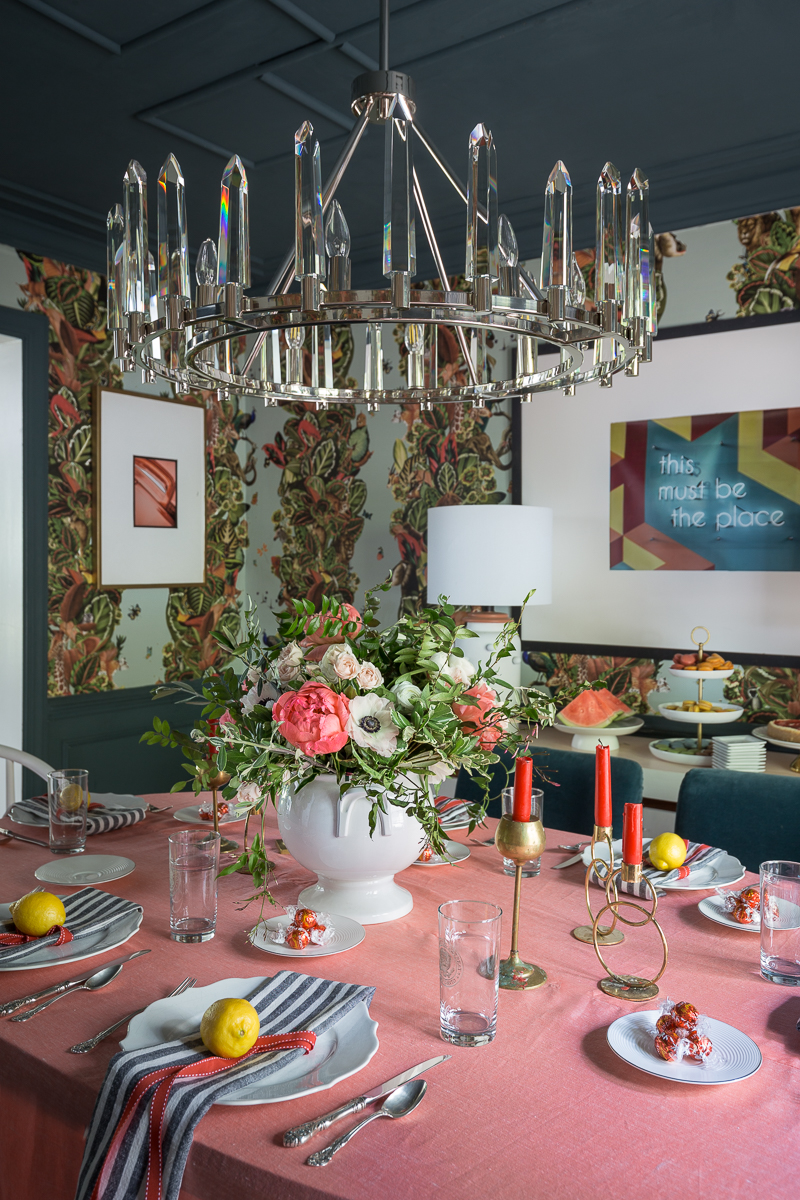 Thanks so much for joining me today on this eclectic dining room refresh.