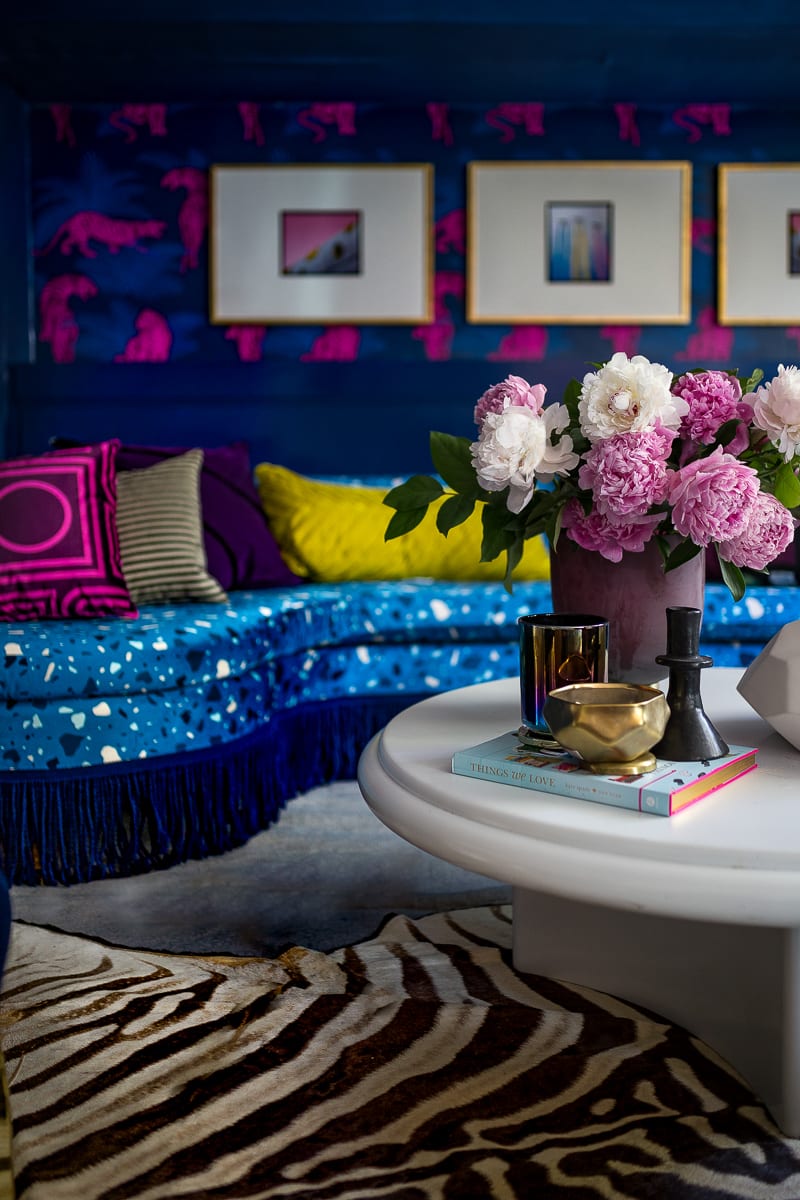 Spring 2018 One Room Challenge Reveal!
THE BOLD AND THE BEAUTIFUL!!! Wasn't that the name of a daytime soap opera back when I was a kid…I mean…long before I was born???   I admit to watching an episode and a half of a soap opera one middle school summer when my mom was at work…So I think that pretty much qualifies me as an expert on the subject.  With my credentials settled, let me remind you why there couldn't be a more apropos moniker for this dramatic, yet romantic, room reveal.
Wait. What? You haven't been following along each week?  Oh boy…You've got some catching up to do…
Week 1 | Week 2 | Week 3 | Week 4 | Week 5 | Week 6 (you are here ❌)
Amazing photos cred: Amy Greene (IG: @Contactamygreenephotography) ?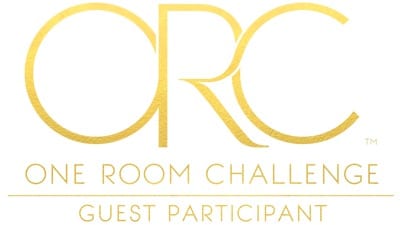 WAIT!!! Before we begin with the tour, I really want to give a huge virtual hug and thank you to Linda, from Calling it Home. You see, each spring and fall she organizes this…THE GRAND DADDY of all home decor blog link-ups…THE…ONE ROOM CHALLENGE???!  WOOT WOOT!!!!
If this is the first you've heard of the ORC then take my word…It's DA BOMB ? ! This 6 week competition between 20 "Challenge Participants" and hundreds of other "Guest Participants" (like me) is a source of major inspo and design ideas.  As an added bonus there are two great media sponsors for this event, House Beautiful and Old Home Love, who will be picking their favorites to showcase.  It's all so…what's the word…CRAZY?…MASOCHISTIC?…EXCITING!
I've found one of the best parts of this to be the uplifting and supportive group of bloggers and fellow participants.  I appreciate their support as we each try to challenge ourselves to the finish line ? .
So Happy to Have You Here!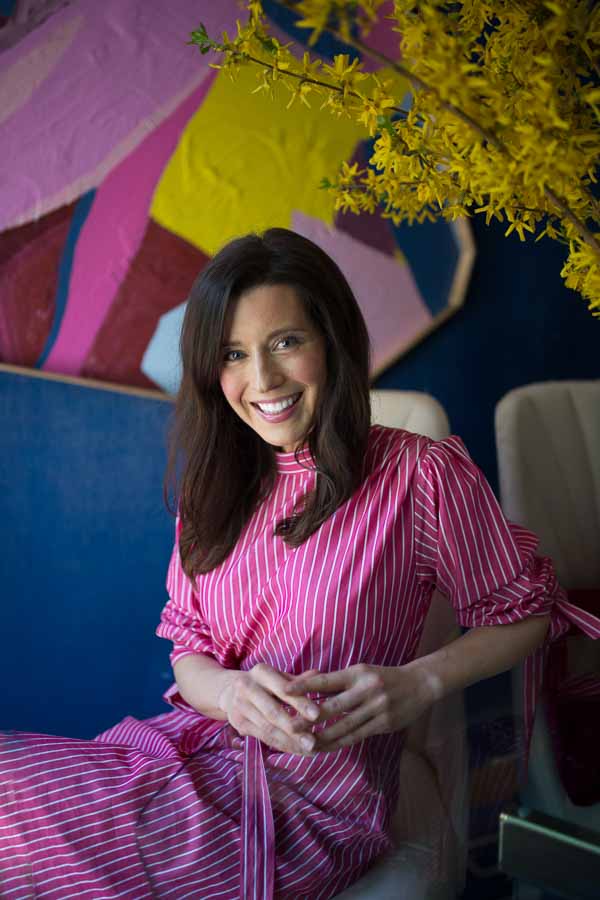 I'm stoked that you have clicked your way to my little corner of the blogosphere.  I'm Jewel and we are a military family of 6.  To say that we move a lot is a bit of an understatement.  Yep, this New England home is our 12th! Raise your hand ? if you can beat that? Anybody? Anybody?
You may find that one of the most surprising things about my Spring 2018 ORC big reveal is the fact that I have made it completely renter friendly.  In fact I should be able to take it all down within an hour or two someday…Yes Sir (picture me casually brushing dust off my shoulder) this is one of my Super Hero powers.  Just saying' ?.
Note: Some products in this post are sponsored but the opinions are 100% my own.
Here was the original plan.  The vibe stayed the same, but most everything ended up changing?.  Originally I had hoped to make this room a mash up of 1980's/Art Deco.  In the end, however, it has evolved into a squarely eclectic room…which is perfect, since I AM an eclectic blogger after all.  While design plans are obviously important, I personally think it is ok to adapt (improve) the plans as we go along.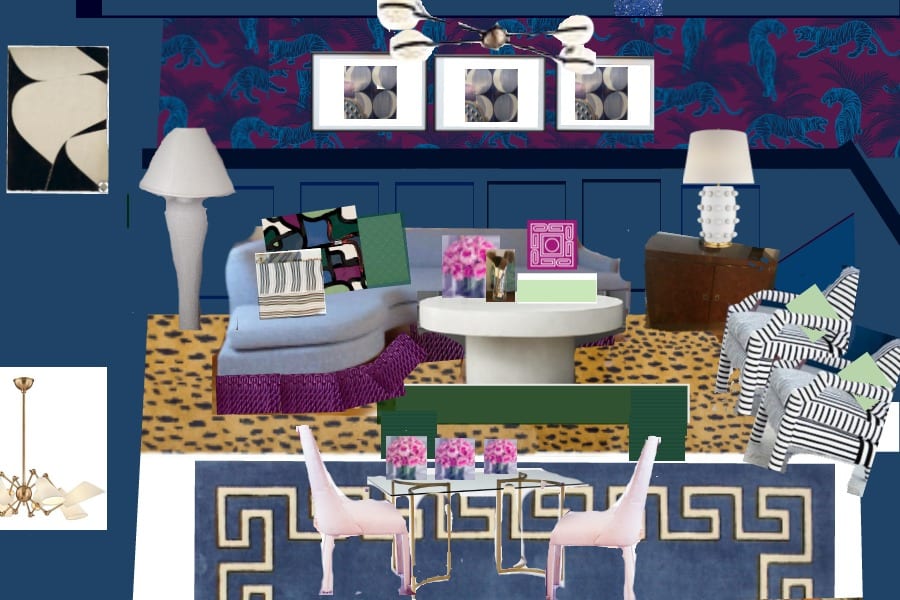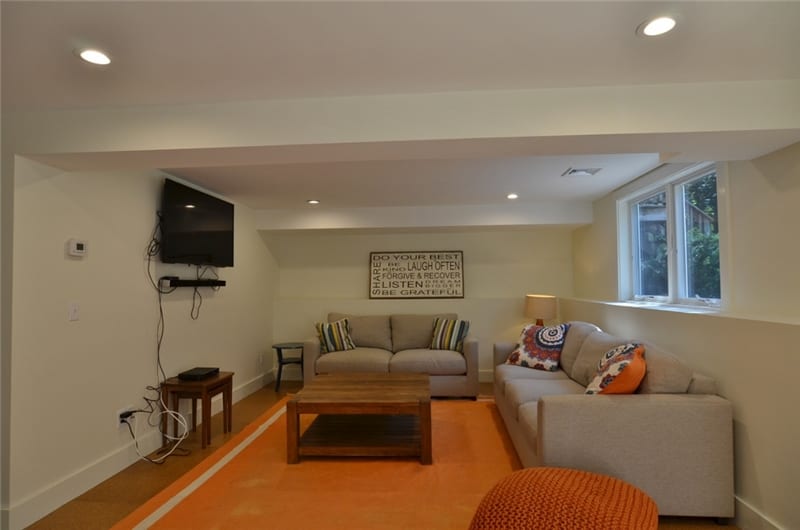 Drum roll………
Keep drum rolling…..
AND……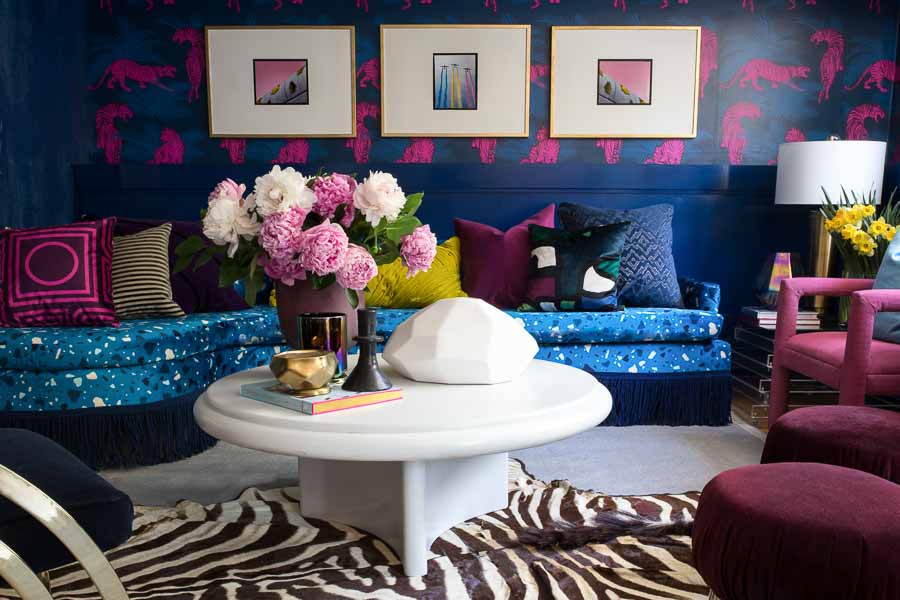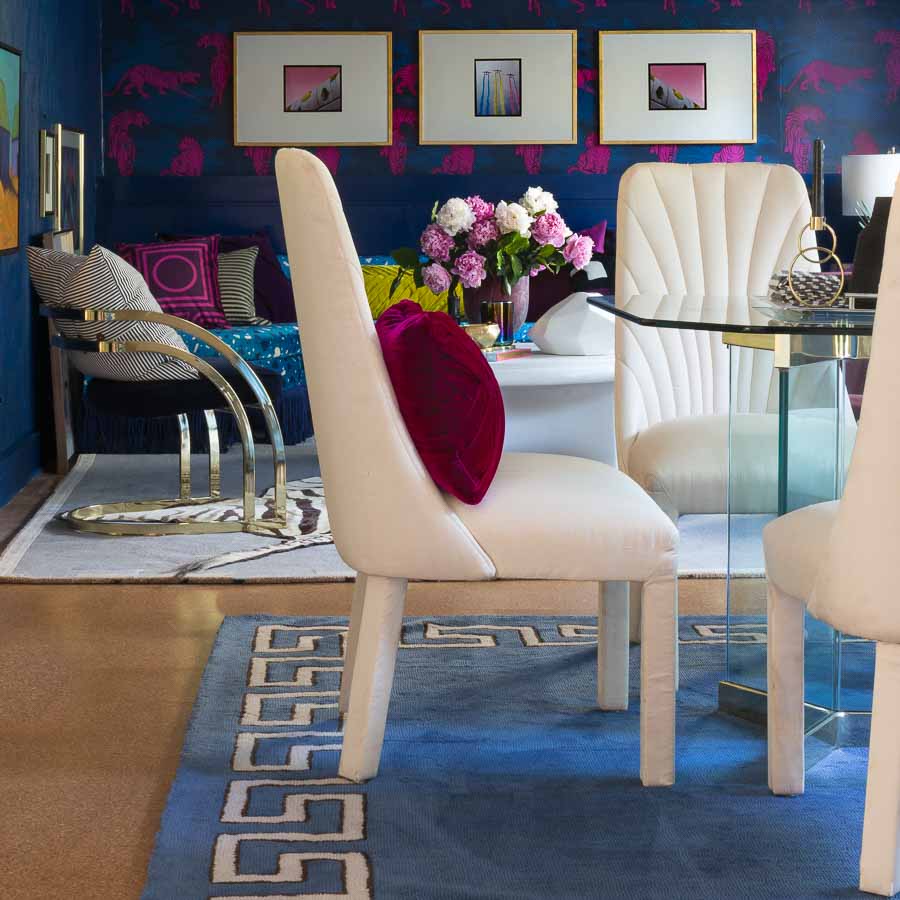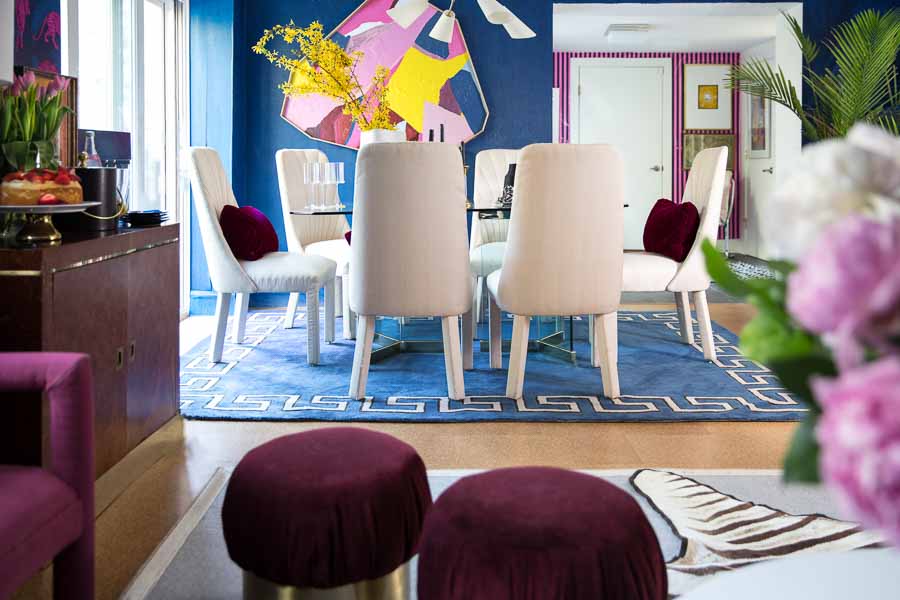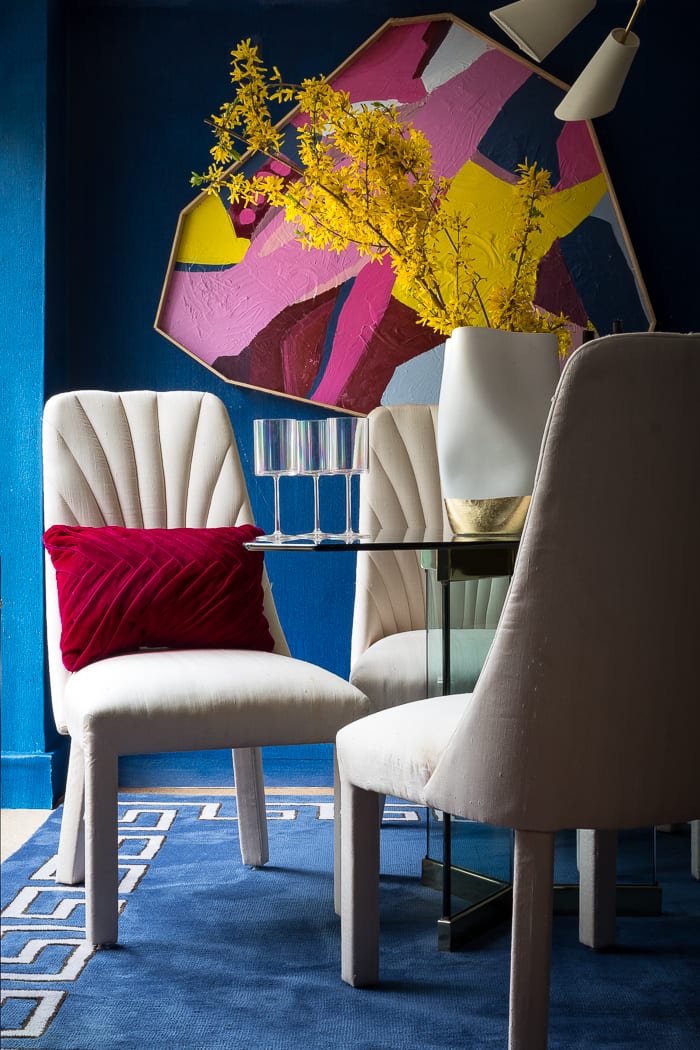 Thank you, thank you….oh, stop, no really…awe shucks you guys.  A standing ovation…That's taking it a bit too far…but if you insist ?.
Ok, but really… You still don't believe that this room is worthy of the title "The Bold and The Beautiful"?  Well, let me break it down for you my friends.
Great lighting is not only critical in the production of a TV show, it is crucial in the designing of a beautiful room.  Originally I had planned to use a chandelier with a decidedly 80's vibe, but lucky for me it was back-ordered until next week.  After further searching I came across this beauty, and I absolutely love it!!!!  Plus, the arms are movable… meaning it can be adjusted to a variety of heights and styles…A perfect choice for a renter like me.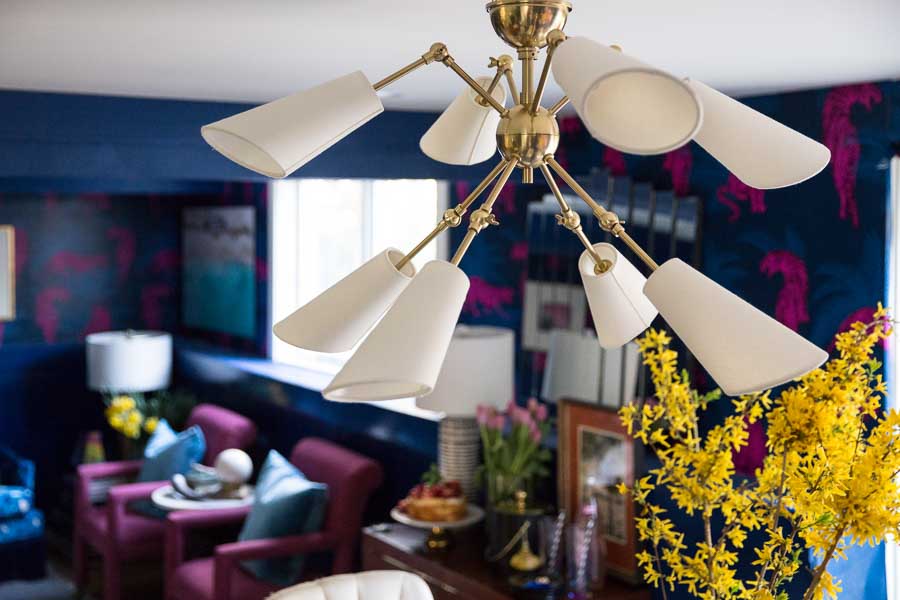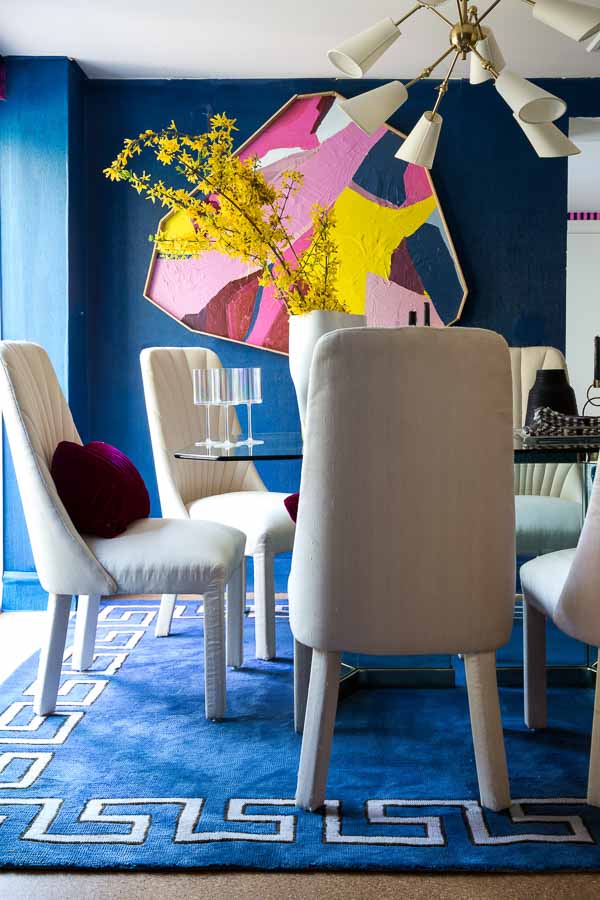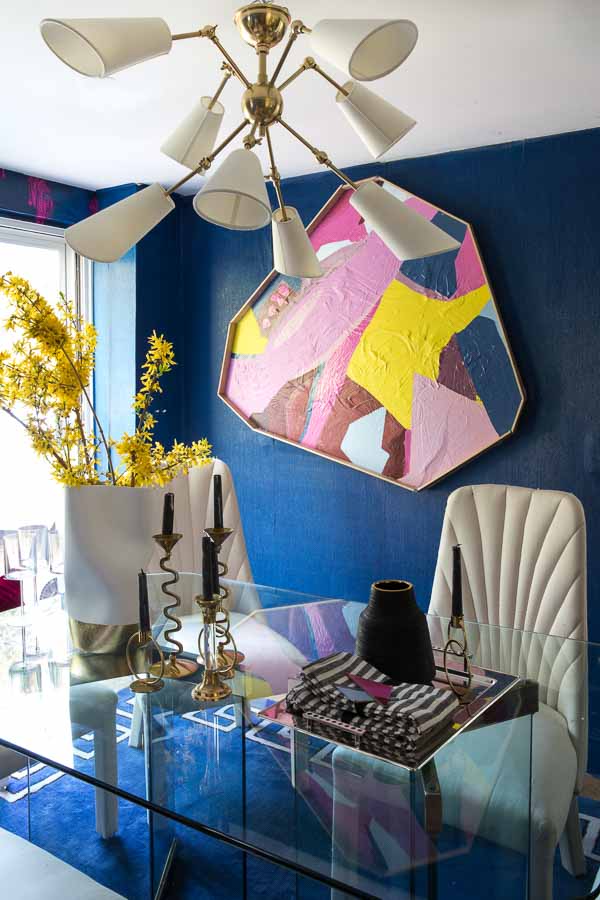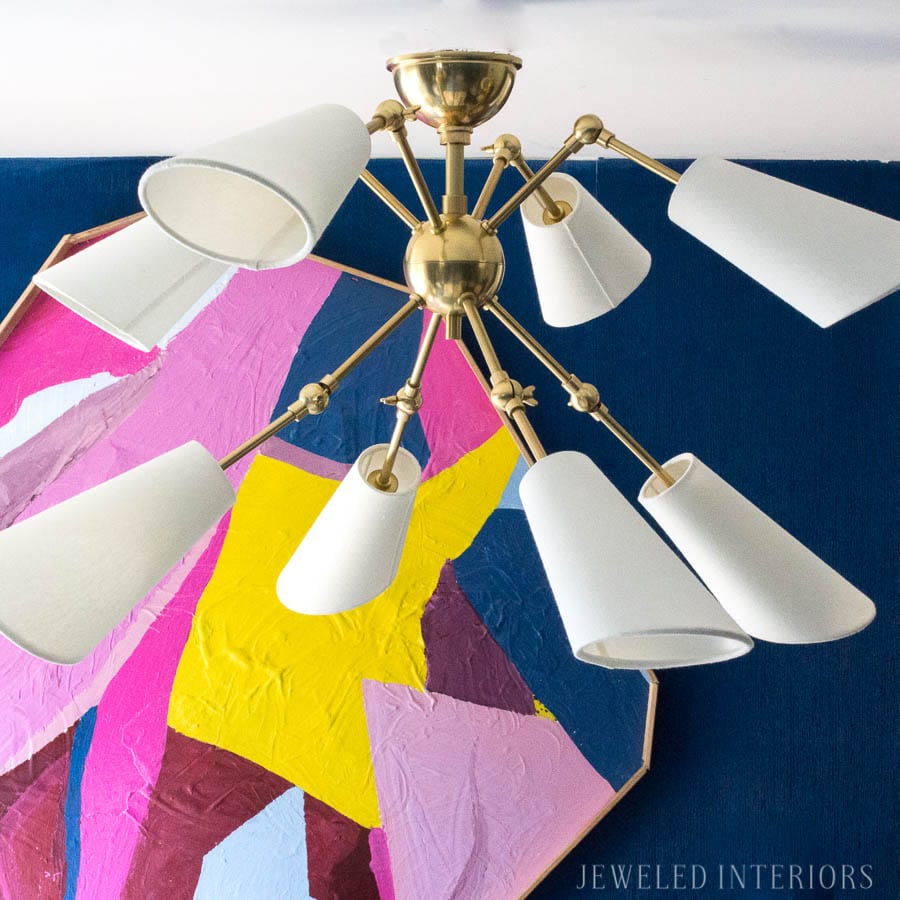 Everyone knows that a TV set like a soap opera needs convincing backdrops.  Well, my room is absolutely no different.  I wanted to give the appearance of lacquered walls, because, well, why wouldn't I?  It's amazing.  Click HERE to see how I took backer board, shiplap, high gloss paint, and a foam brush to complete the look.  Renter friendly, easy on the budget, and soft on the wallet…That's a combo I could get used to!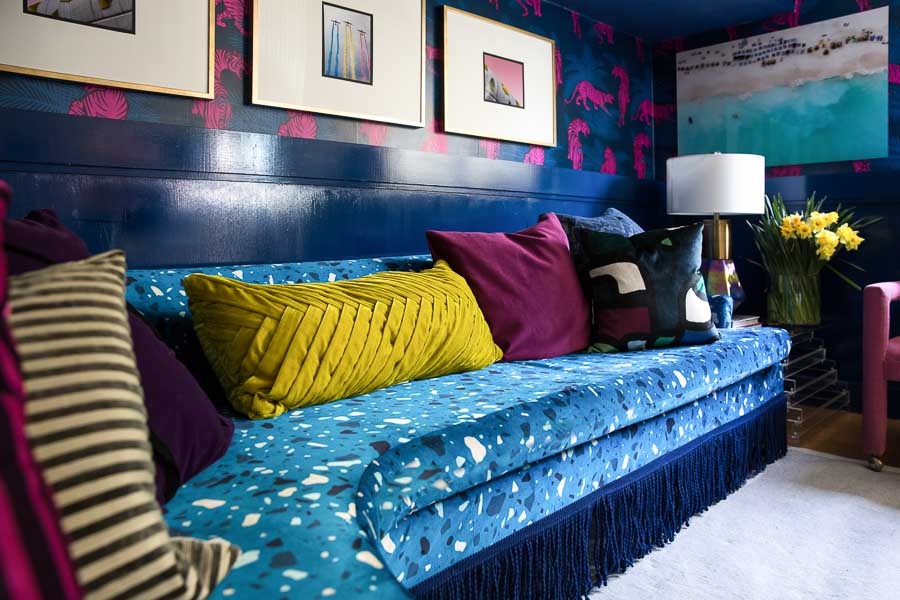 It goes without saying that soap operas, like the Bold and the Beautiful, are heavy on dramatic plot lines.  Well, what is more dramatic than HOT PINK Tiger wallpaper?  I'm so excited that I had the opportunity to collaborate with the talented surface design artist, Ashley Peterson from 2Birdstone, on developing a collection for Spoonflower.  This Jungle Tigers Bright wallpaper is a true show stopper and comes in a variety of colors. Click HERE to see the rest of the collection we came up with…and by we, I mean Ashley who did all the artistic work ???. I just kept blowing up her phone with inspiration ideas at all hours of the day and night (sorry girl ?).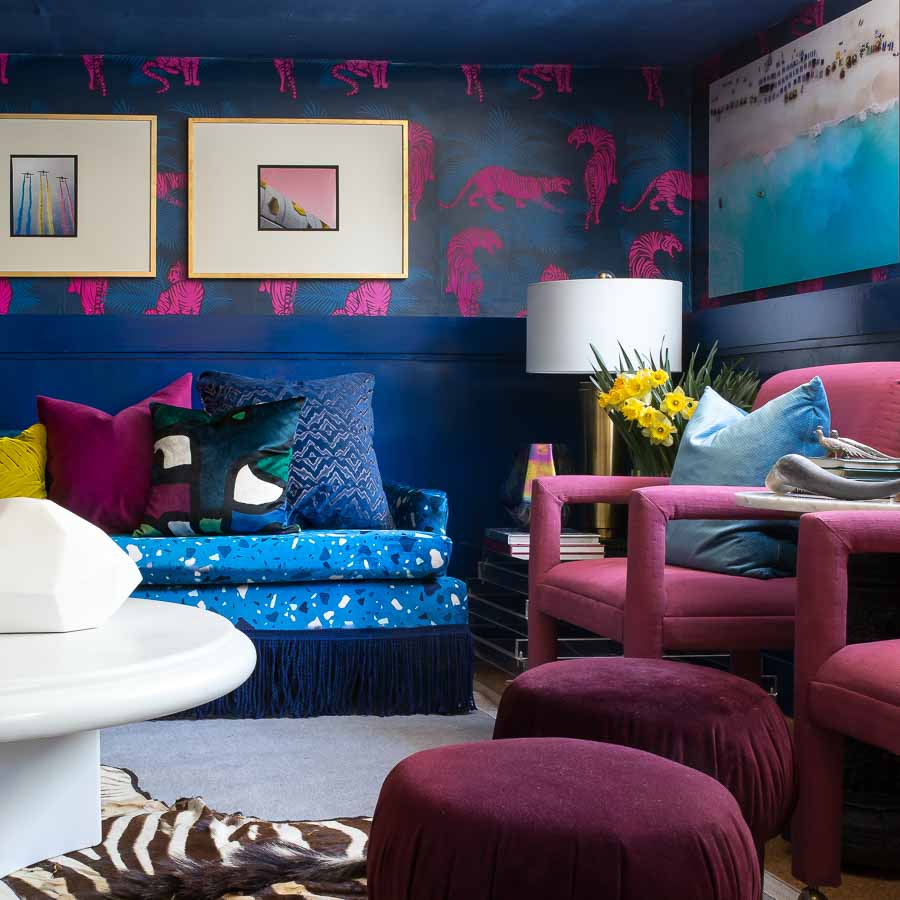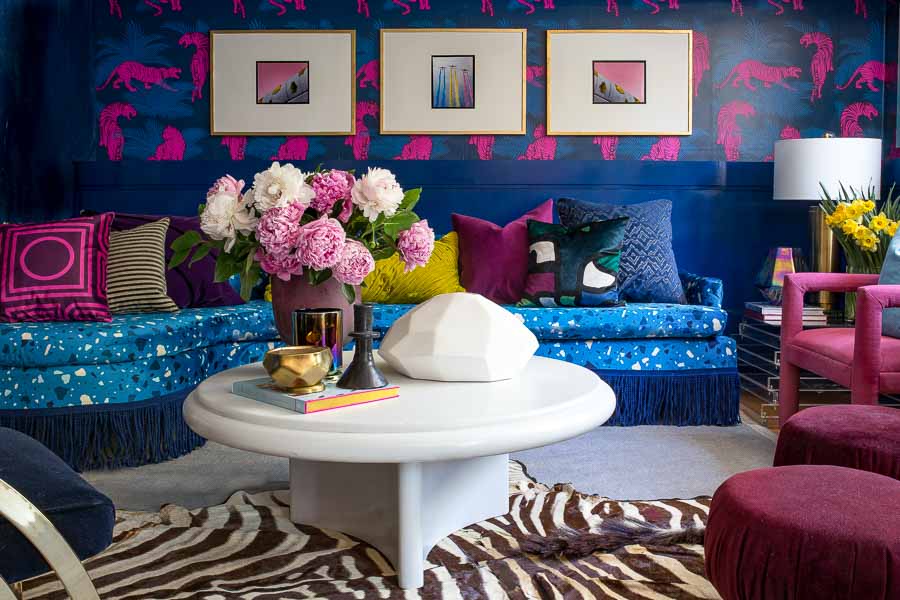 No good soap opera is complete without a handsome, yet complicated hero.  In this room the real hero is the stunning 108 inch long terrazzo blue velvet sofa.
It was so rewarding to collaborate with Ashley Peterson (2Birdstone) and  Spoonflower to conceptualize the fabric, then upholster the sofa in the fabric, and finally to decorate the entire space around said fabric collection.  In the end it has become a sophisticated maximalist space and I'm smitten ???.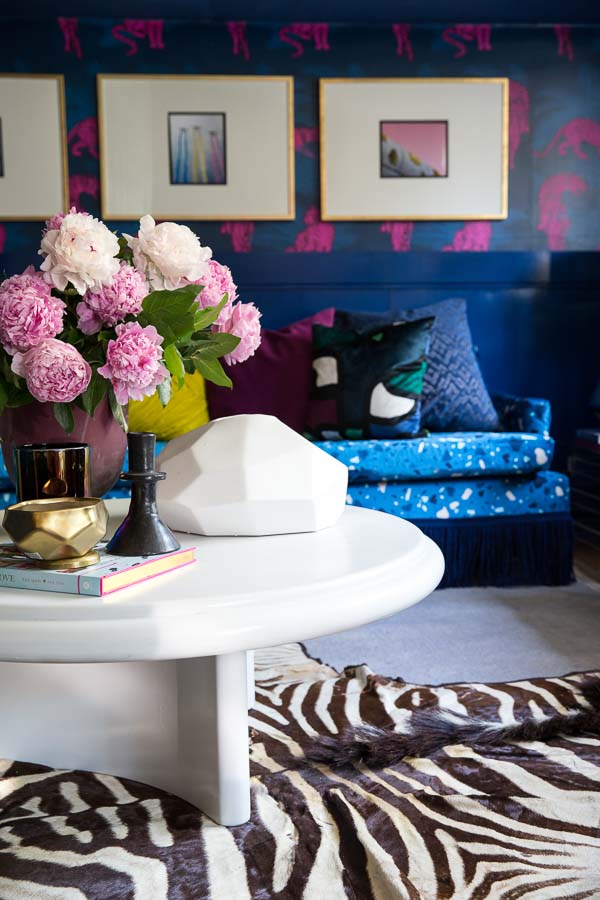 The proverbial icing on the proverbial cake is the 9 inch trim (in coordinating blue; their selection is almost endless) sponsored by Fringe Market.  It anchored the room, added sophistication to the sofa, and tied in the Greek key rug of the dining room.  Plus, I felt a TINY bit like Miles Redd in the process…and seriously…who doesn't want that?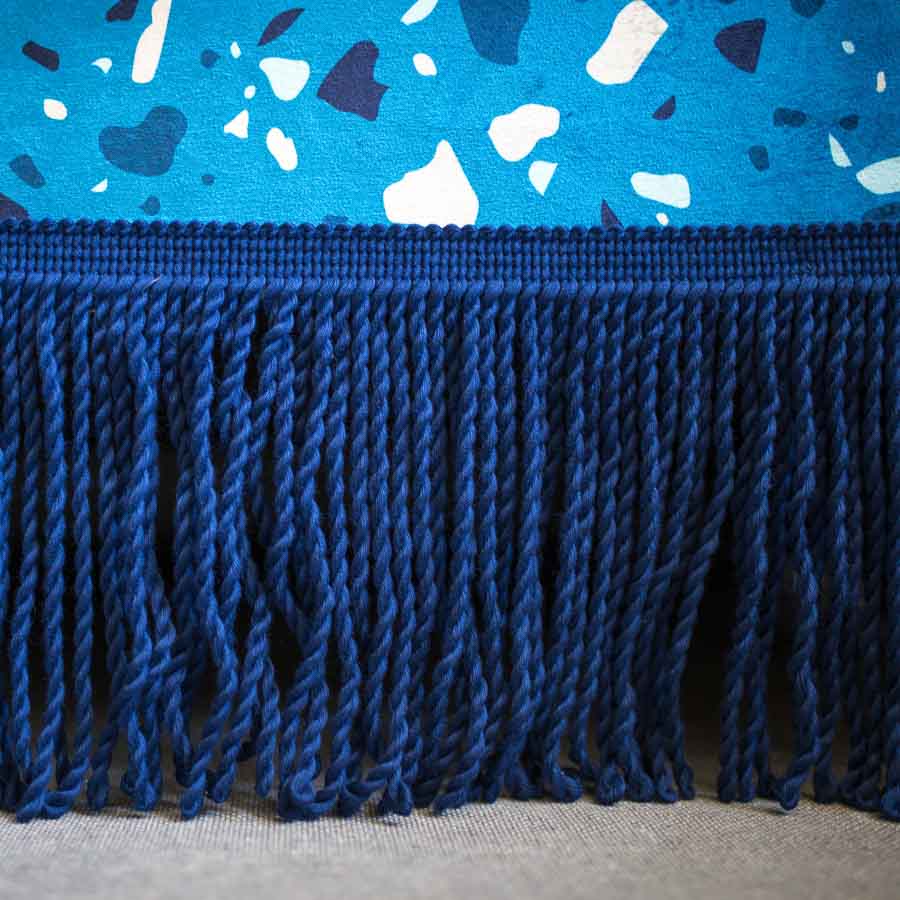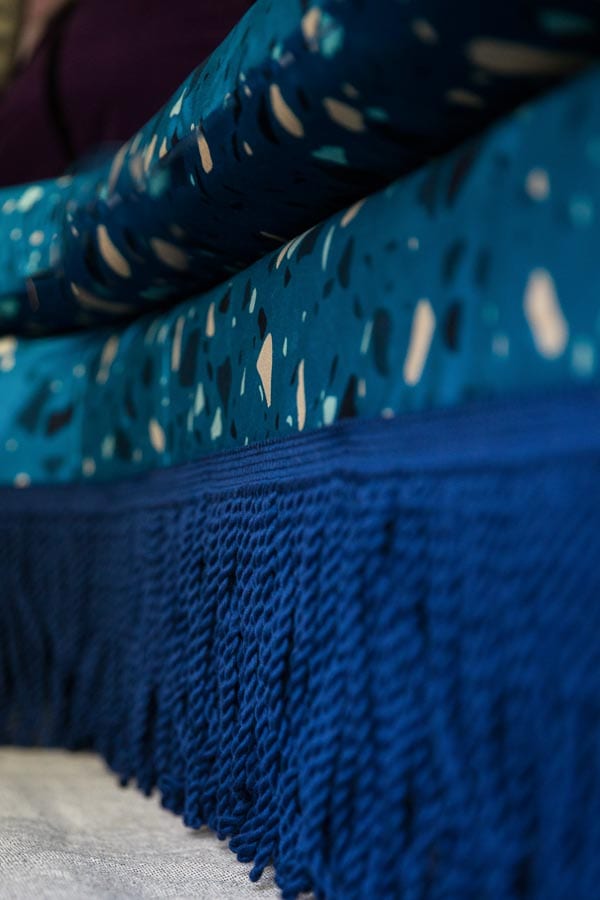 It isn't a soap opera worth watching without an antagonist to keep up the suspense and dynamism. In this room that role is played by Sheryl, my Art Deco bust I scored at a thrift store in our move across the country last summer. My husband, children, and pretty much everyone I know fail to see the beauty and value in my slightly creepy noseless friend…but I believe in you Sheryl.  I believe.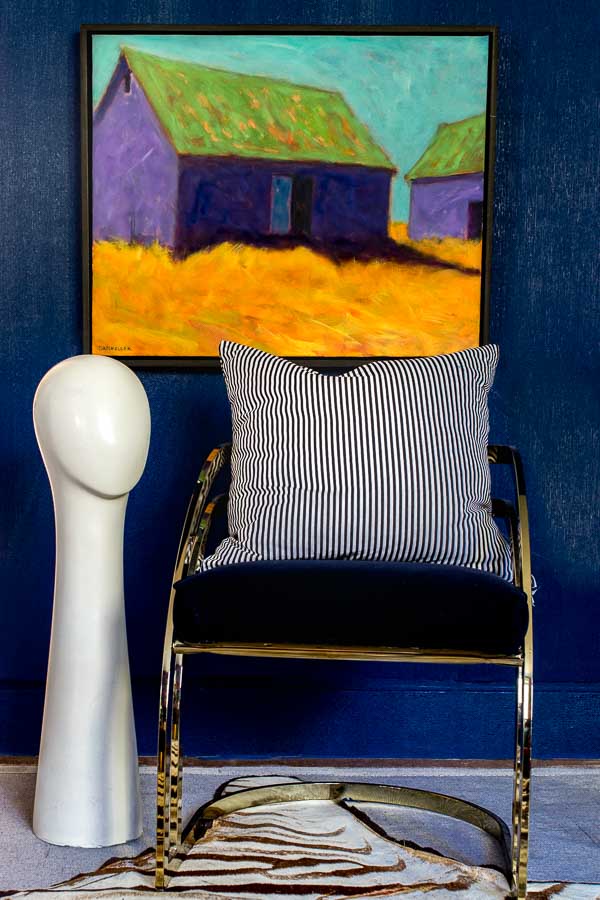 Also in this shot is one of my four Milo Baughman styled chairs that I recovered in velvet.
The beautiful oil was painted by a local New England Artist, Peter Batchelder.
Clearly, soap operas are known for their many and often confusing romances.  I feel a little bit the same way in this room.  Which space do I love the best?  I have to say, at the moment, the amazing array of fresh peonies has captured my gaze and lured me in more than once.  It's such a stunning topper for the Karl Springer inspired coffee table (which I'm happy to say I picked up for $30 on Craigslist…Craigslisting is another one of my super hero powers BTW).
Don't you just love the way that Amy Greene (IG: Contactamygphotography) has captured this space?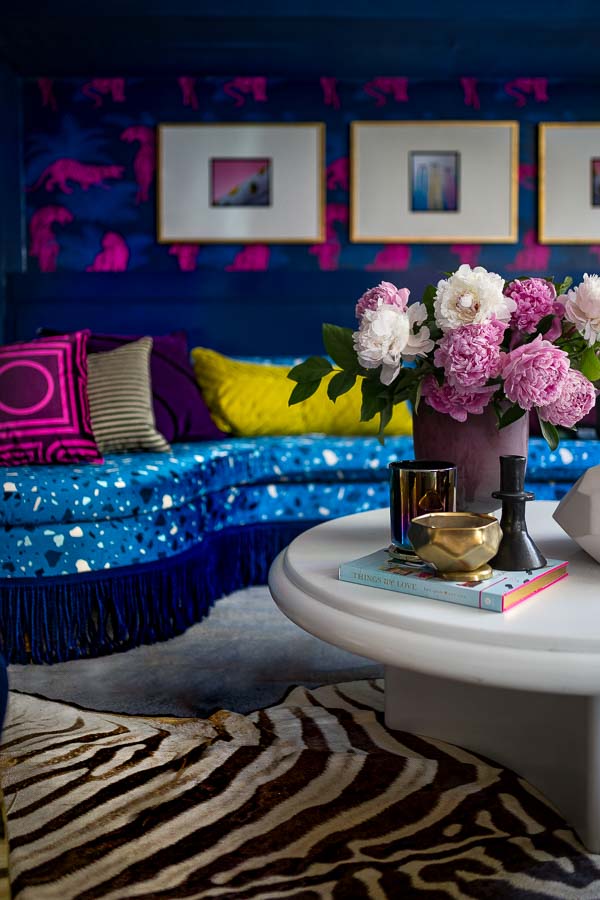 Re-Emergence of That Old Character
What is it with soap operas?  They kill off main characters yet, for whatever reason (probably that actor's inability to find another acting gig) the main character miraculously comes back to life (via the use of cryogenics, a faked death, or as their evil twin) only to play an important role once again.
In this room, that part is played by my vintage zebra rug.  Think what you want about zebra hides, but I found this VERY OLD beauty on Craigslist for $110 last fall.  I'm certain he was gone long before I was born, so why not let him come back and play an important role once again.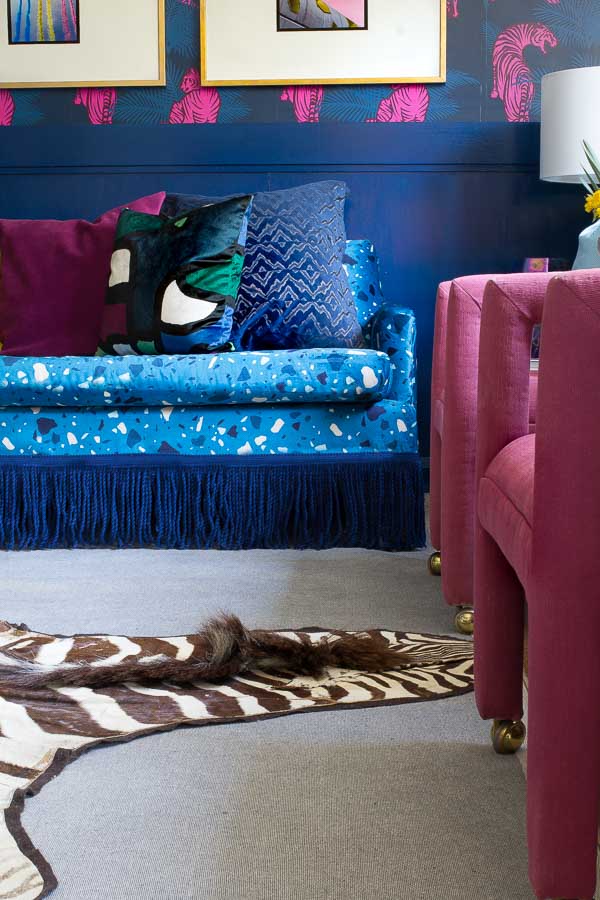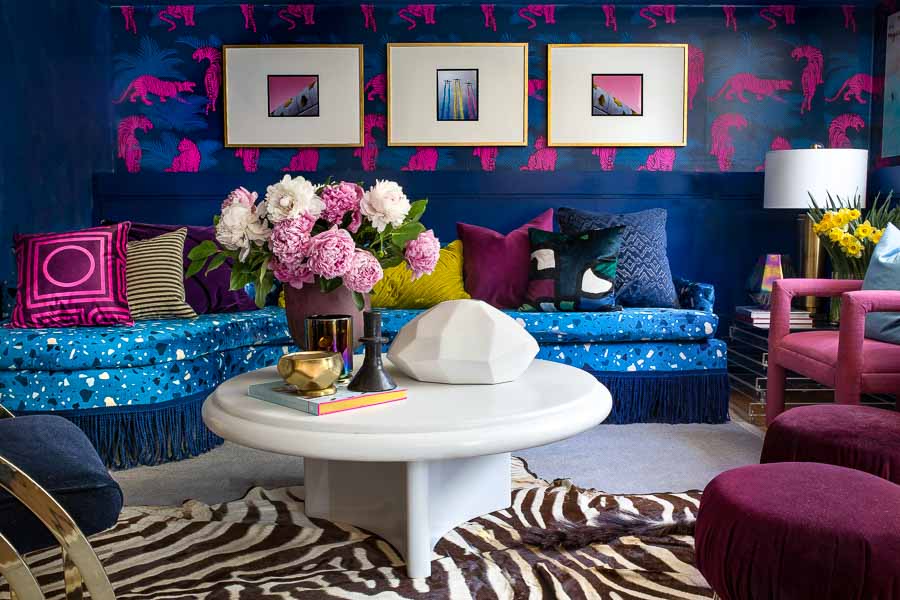 There are some actors or actresses that are as old as the soap opera itself…like 40 years of playing the same character. Timelessness is such an enviable trait.
I feel like this immortal quality can be attributed to my new stunning lucite coffee/end table.  I picked it up off of the Boston Craigslist for $40.  It's one of those unique pieces that I don't know if I can ever part with, but when I do I'll be able to sell it for a lot more than forty bucks?.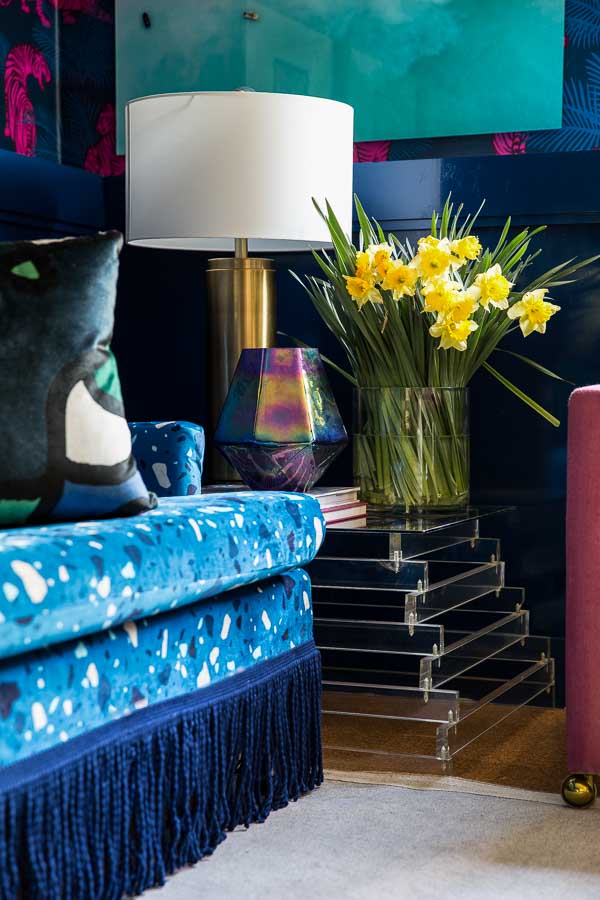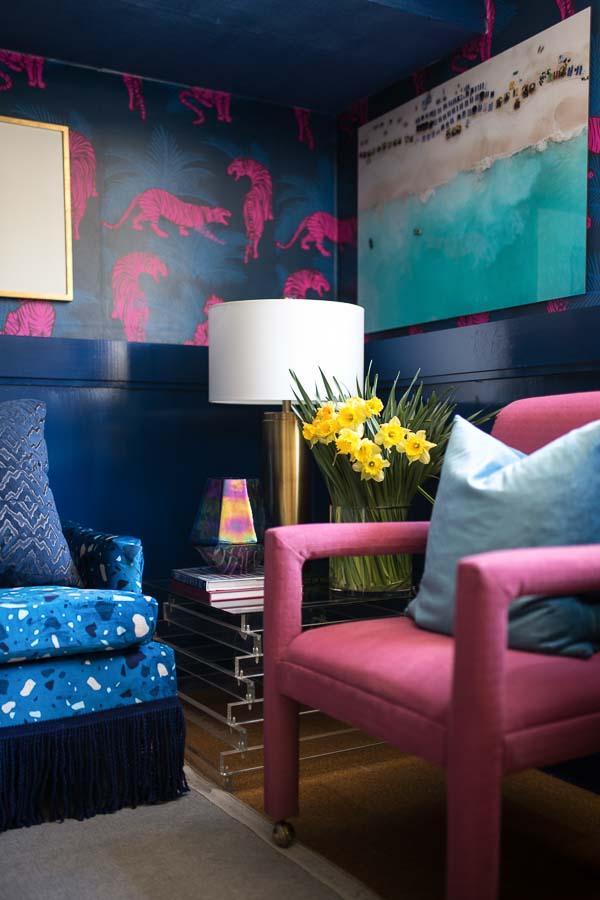 Be it sudden memory loss, a brain eating virus, or a gorilla kidnapping, soap operas are full of surprising plot twists and turns.
This room also has a couple of surprises that you may not have seen coming….
Take these chairs for example.  Click HERE  to see how they use to have capes, or is it drapes, or trains…I can't quite explain it.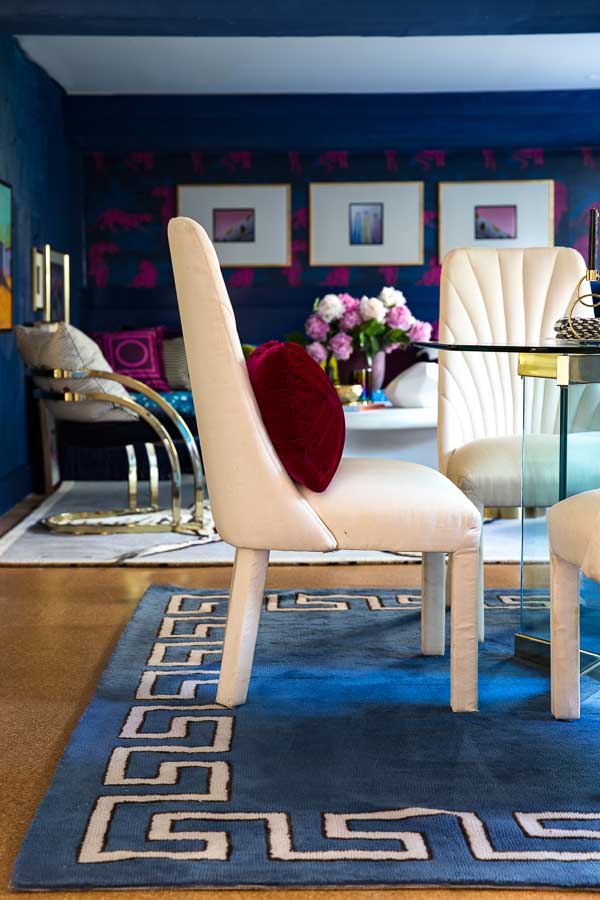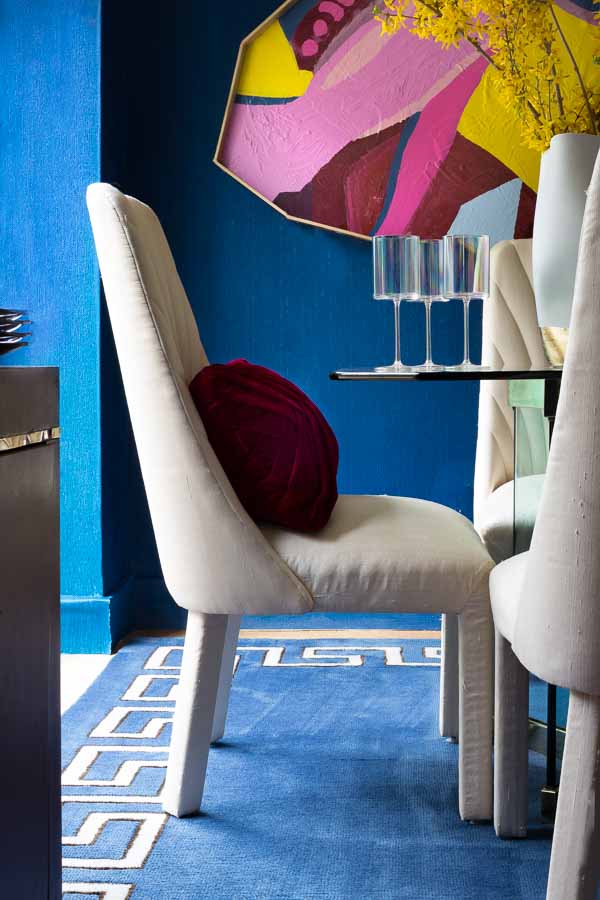 Or these chairs…Yeah…I painted them.  Perhaps more surprising is they actually feel ok.  Click HERE to find out how I did it.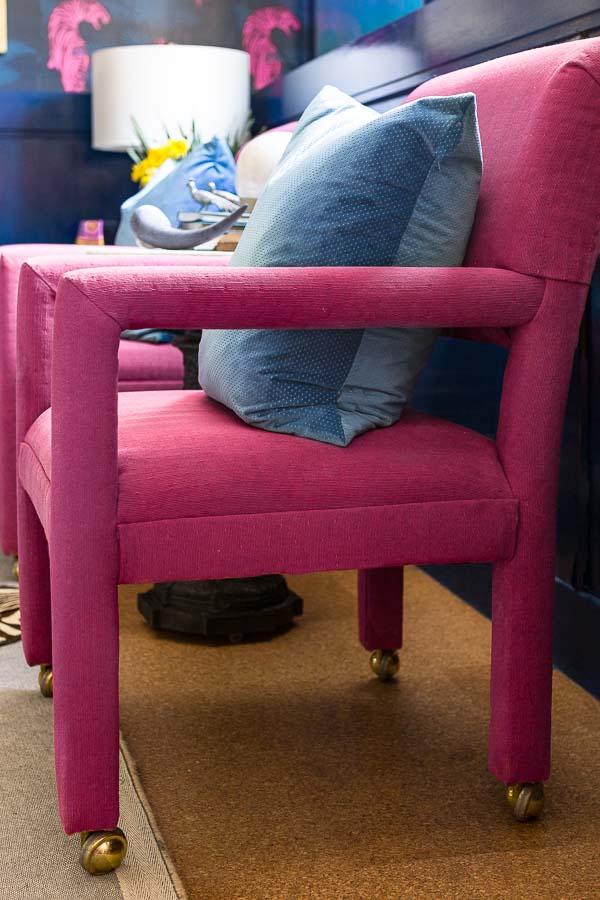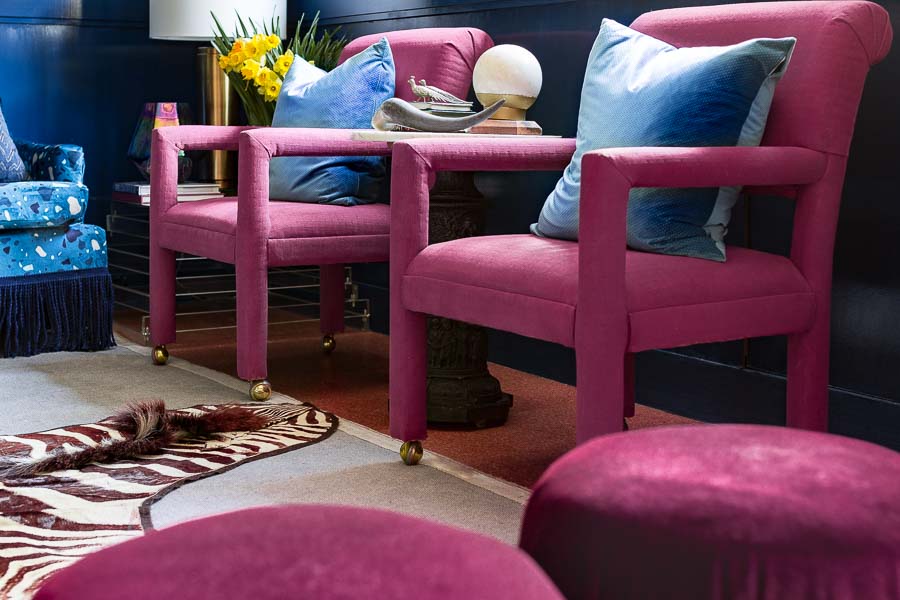 Why waste your time on a boring soap opera? Rooms, like day time TV, need to have entertaining elements that keep guests and viewers yearning for more.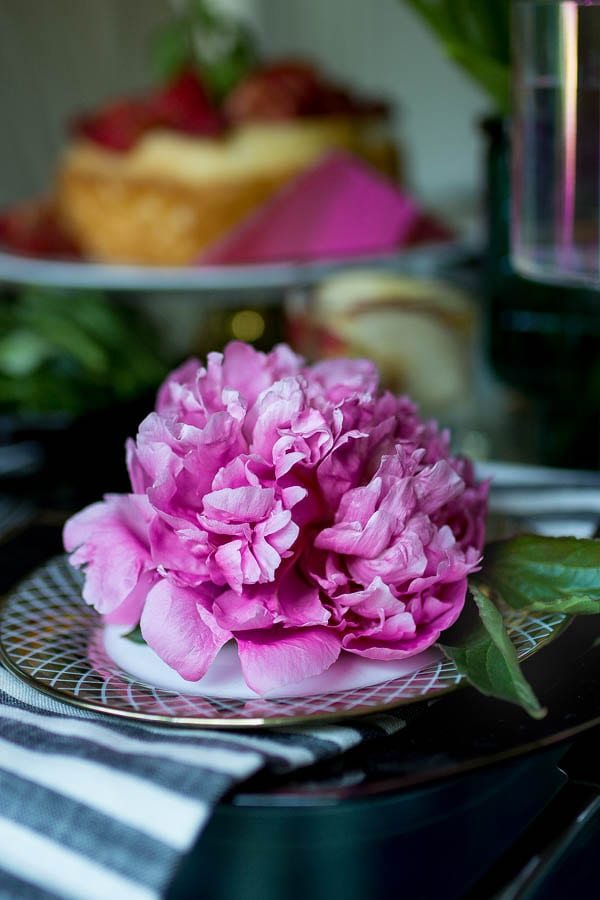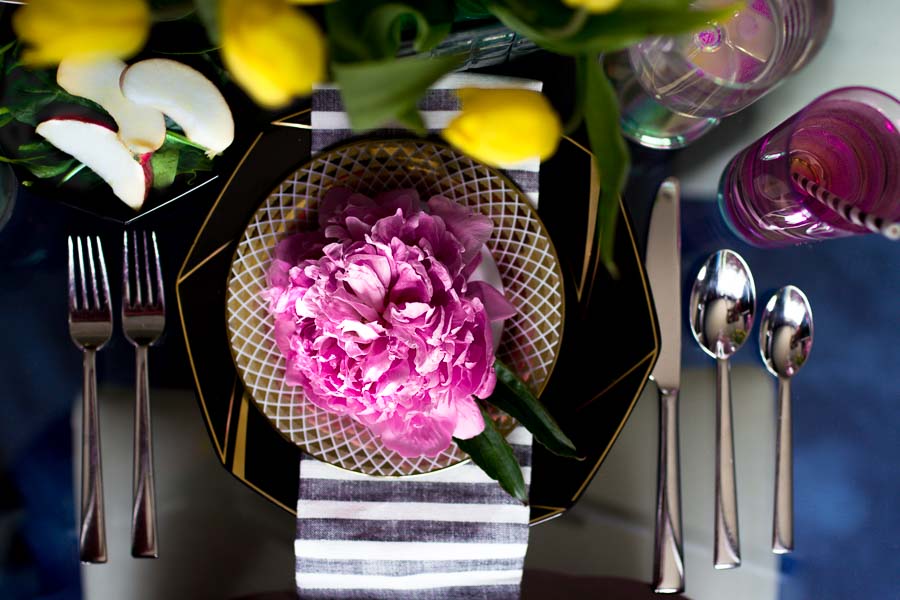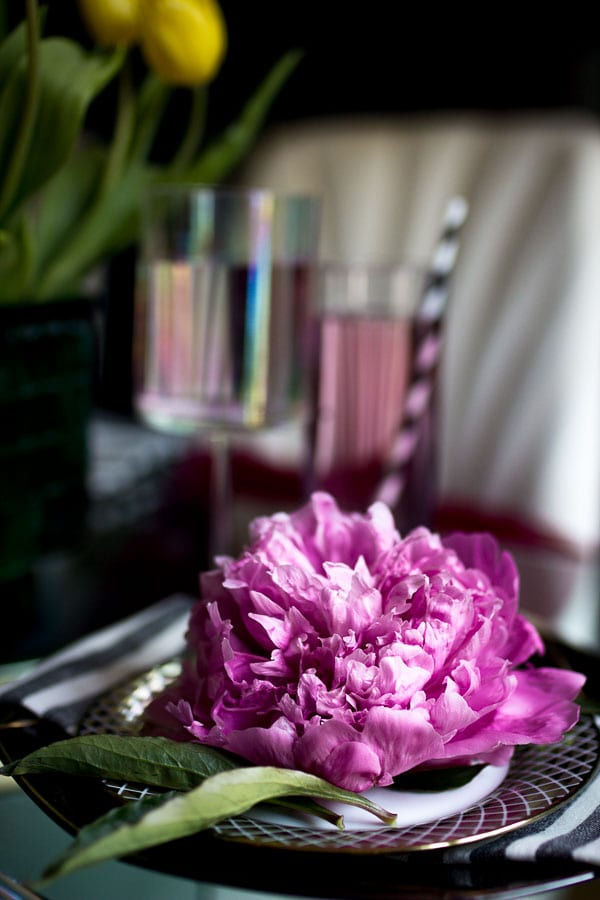 Sometimes soap operas can get a little bit…shall we say…spicy ?!  Check out how the details in this room add a little heat ?!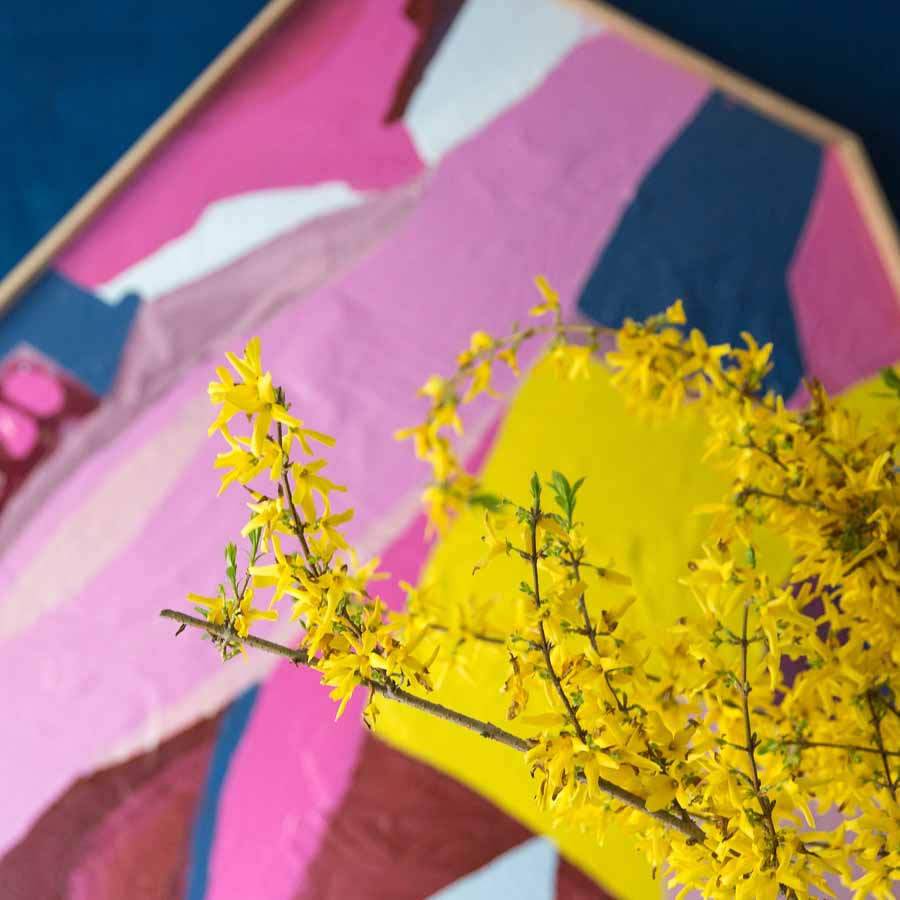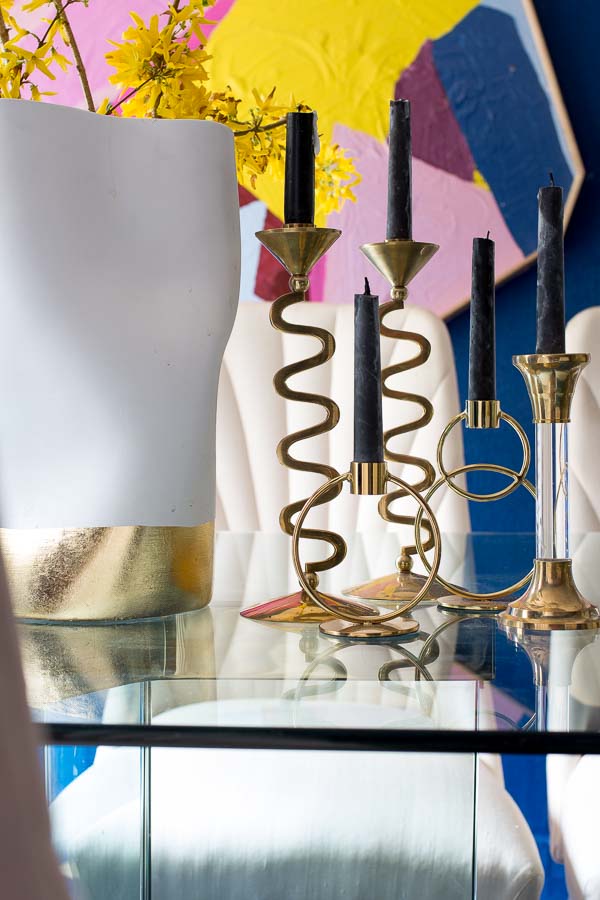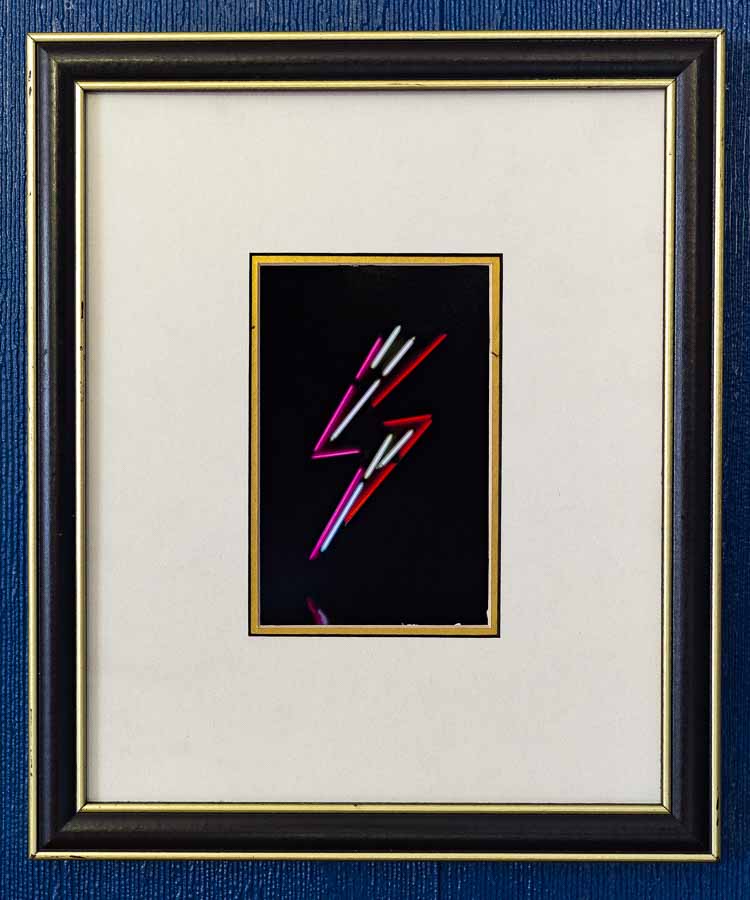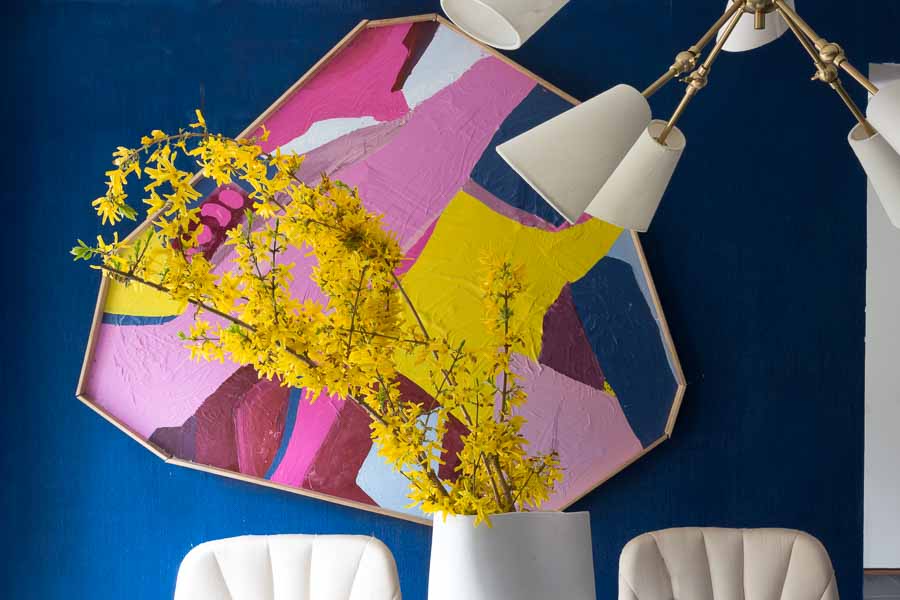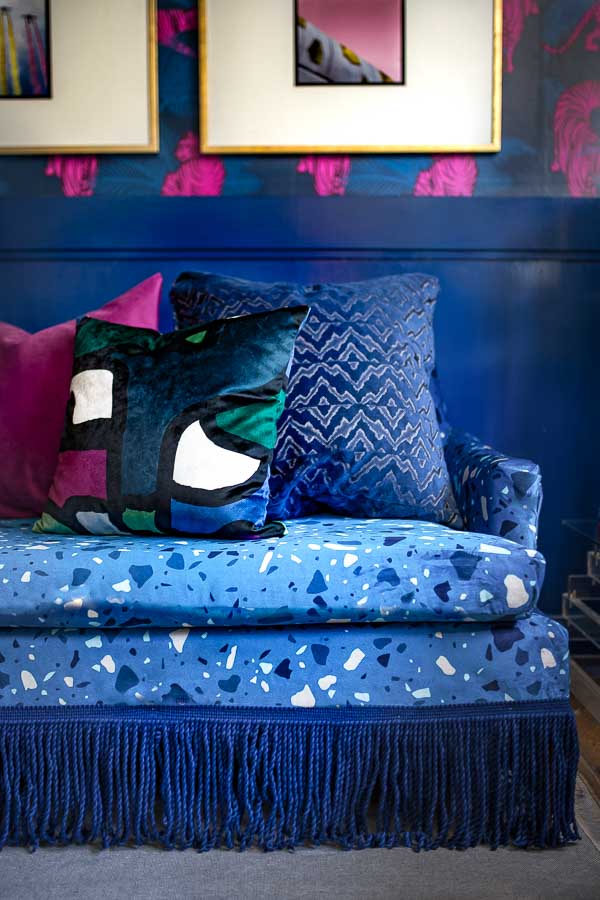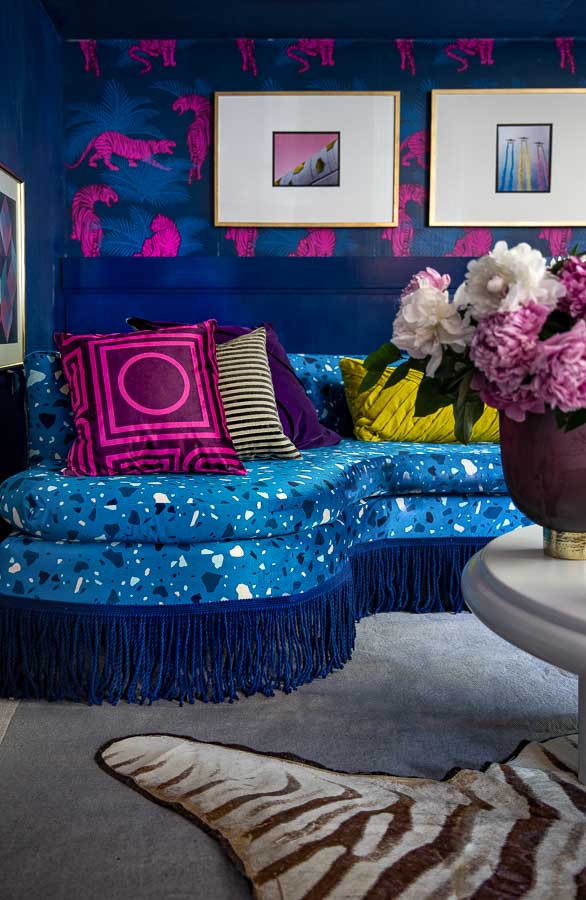 A scary soap opera episode keeps you absolutely glued to the TV.
Well, here's a terrifying scene that occured in my room… The attack of the forsythia!!! AHHHHHHH!!!!!!!!!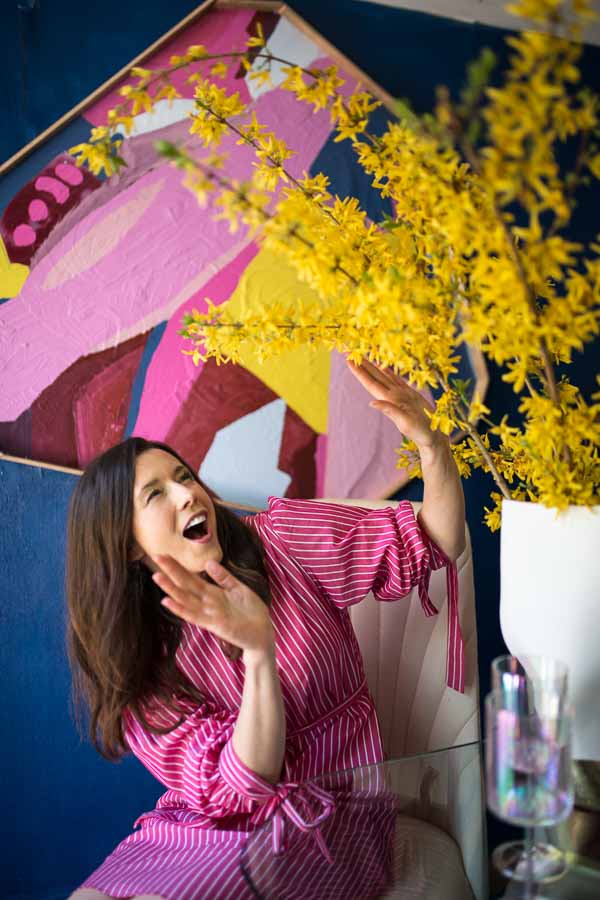 Ok, just kidding…the only thing scary around here is the amount of laundry waiting for me once this One Room Challenge is over. #25loads #laundrydenial #laundry?whatlaundry?
Who doesn't love a happy ending both in soap operas and a blog post.
Two weeks ago I found this burl and brass cabinet for $40 on Craigslist (Backstory: it was gifted to an international banker by the president of an Asian bank).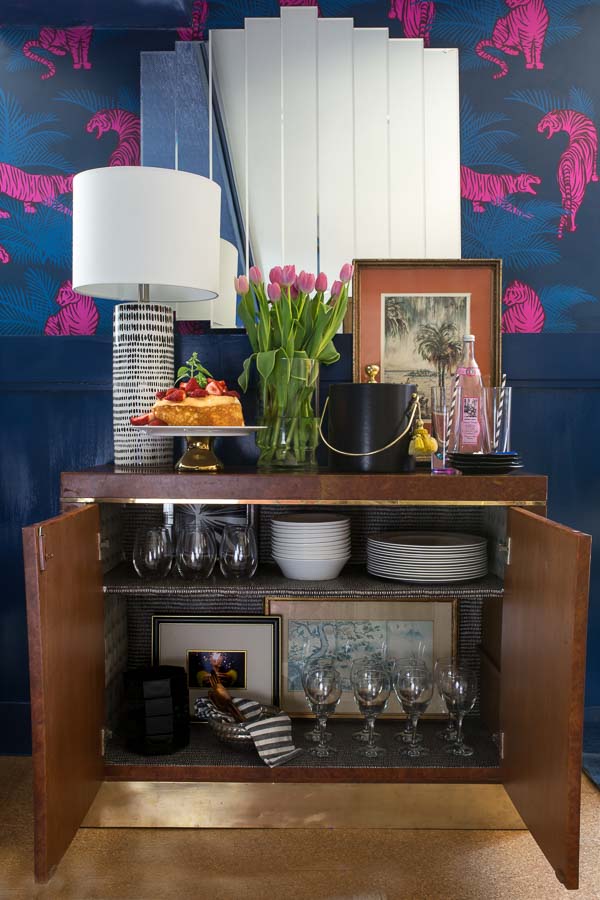 A little TLC and it is a fabulous entertaining space for my dessert and lemonade bar (yep…only non-alchoholic beverages around here folks).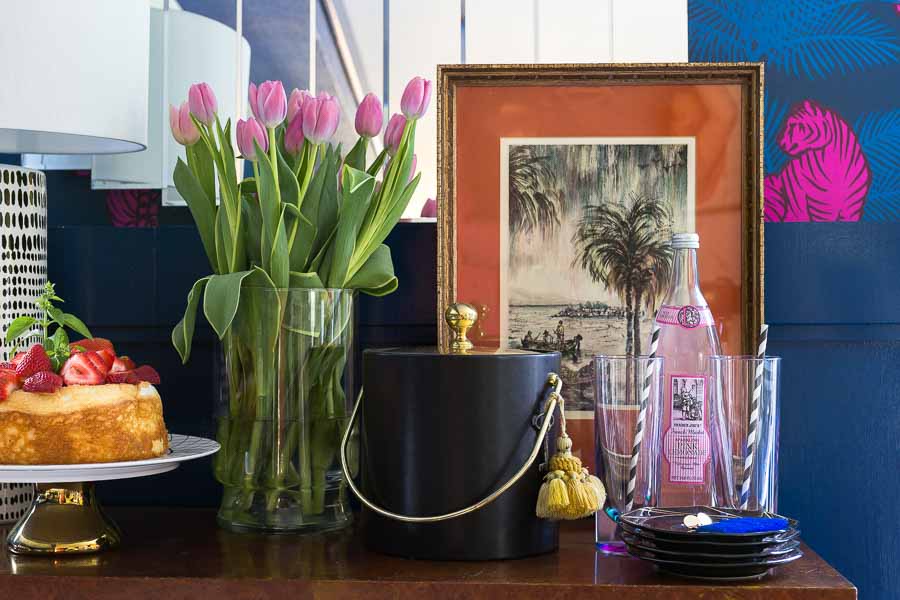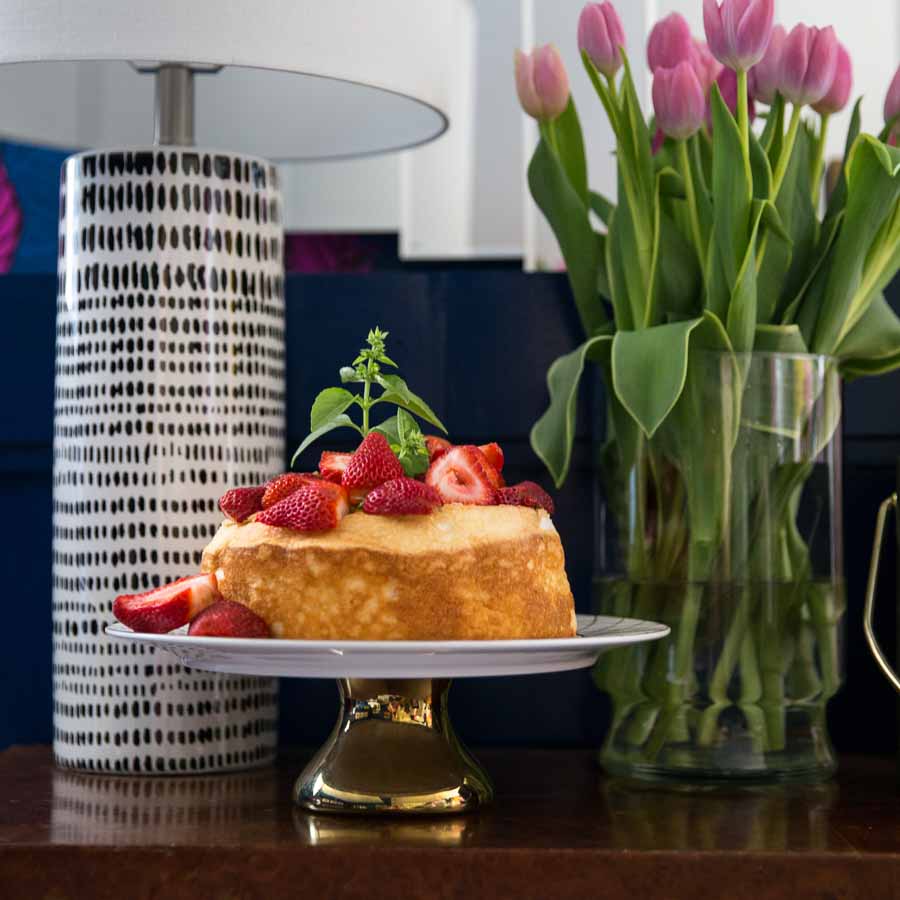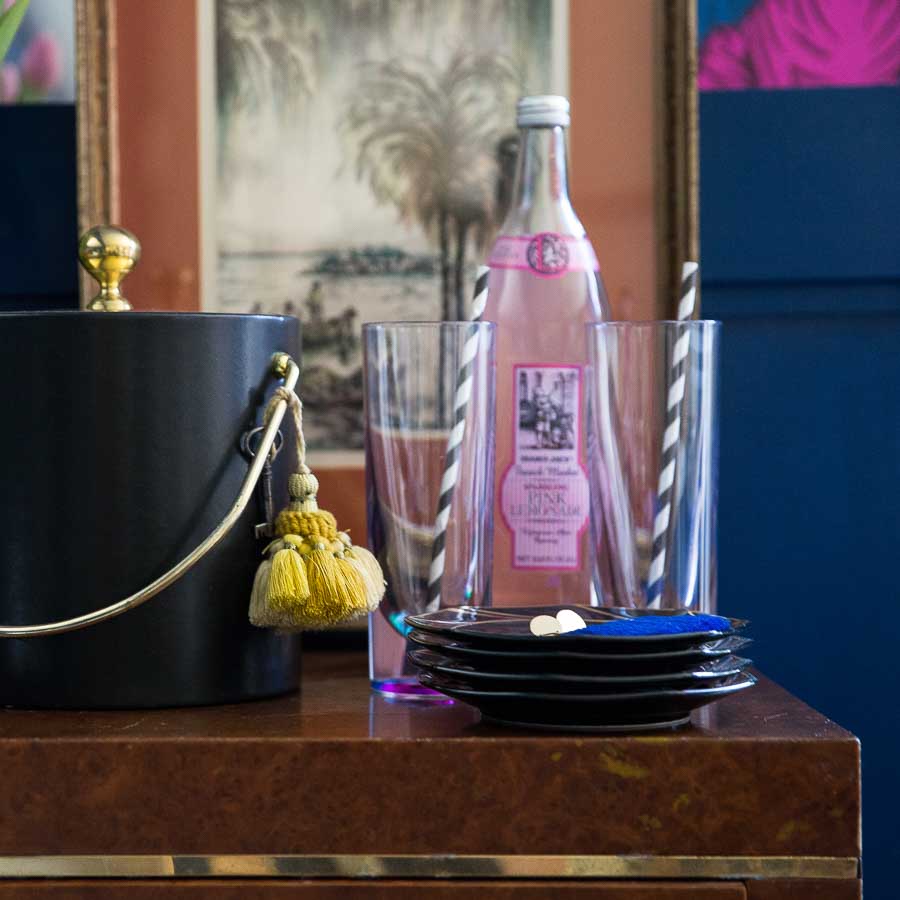 Just like the last minute crisis resolution in the closing minutes of a soap opera episode, I finish this up The Bold and the Beautiful Entertaining Space with only a little time to spare. Phew!
 So tune in next Fall to see if I return for another season of The One, The Only….The One Room Chalenge!!!
Thanks again to all of my fabulous sponsors.  I seriously couldn't have done this room without you!
Also a HUGE thank you to my husband, children, and friends for putting up with the crazy (or even more crazy) for the last 6+ weeks.
Thanks to Ashley Peterson, Jess R, and my "Designing Women" (Kath, Sam, Angie), and all of my IG and Facebook buds for being amazing sounding boards and fabulous cheerleaders.
Thanks to Amy Greene (IG: ContactAmygphotography) for nailing the images in the space.  Amy is not only a talented soul, she is a kind and dear friend.
Finally, thank YOU so very much for joining me on the Spring 2018 One Room Challenge Big Reveal. Your comments are so sweet and truly appreciated after 300+ hours of work over the 6 weeks.
If you like what you see here don't forget to come back and poke around a bit after visiting the challenge and guest participants.  Oh, and following me is fun too ?.