Master Bedroom Christmas Tree and Decor Ideas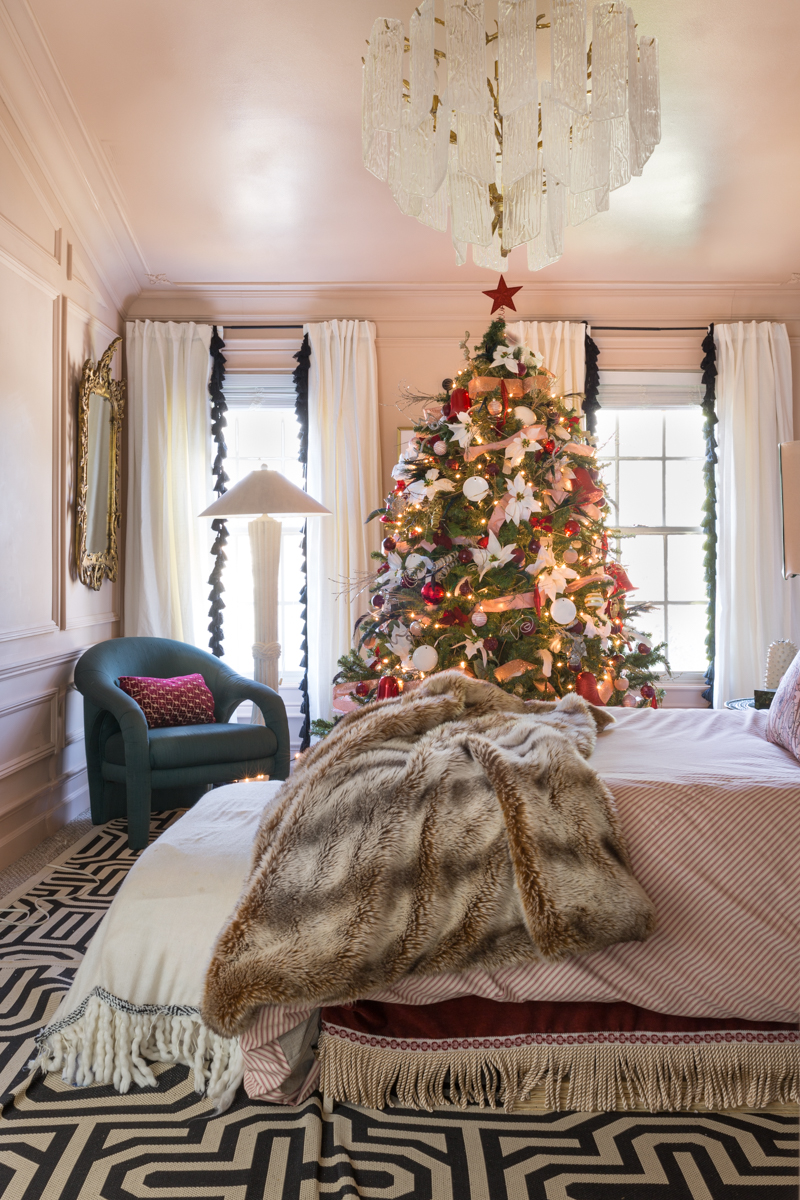 Master Bedroom Christmas Tree and Decor
I've gone and done it!  Yep, I have finally taken the step, made the leap, and leaped head-first (how is that for mixed metaphors 🙂 into decorating our master bedroom for Christmas.  Actualluy, our neighbors gifted us the "mother of all faux Christmas trees" when they moved out this summer.  That left me no excuse…a master bedroom Christmas tree was happening!
Red and Pink Master bedroom
Note: I would like to thank The Curious Department, and Crane and Canopy for sponsoring items in this post about our Master bedroom Christmas Tree.  I love the pillow, sheets, and PJ's and the opinions are 100% my own.
I pulled out old decorations that we had in the attic and they seemed to work just right for the master bedroom Christmas tree.  I used a mix of warm red, pink, and burgundy ornaments with a dash of peacock feathers, metallic floral pics, pink feathers, and poinsettias.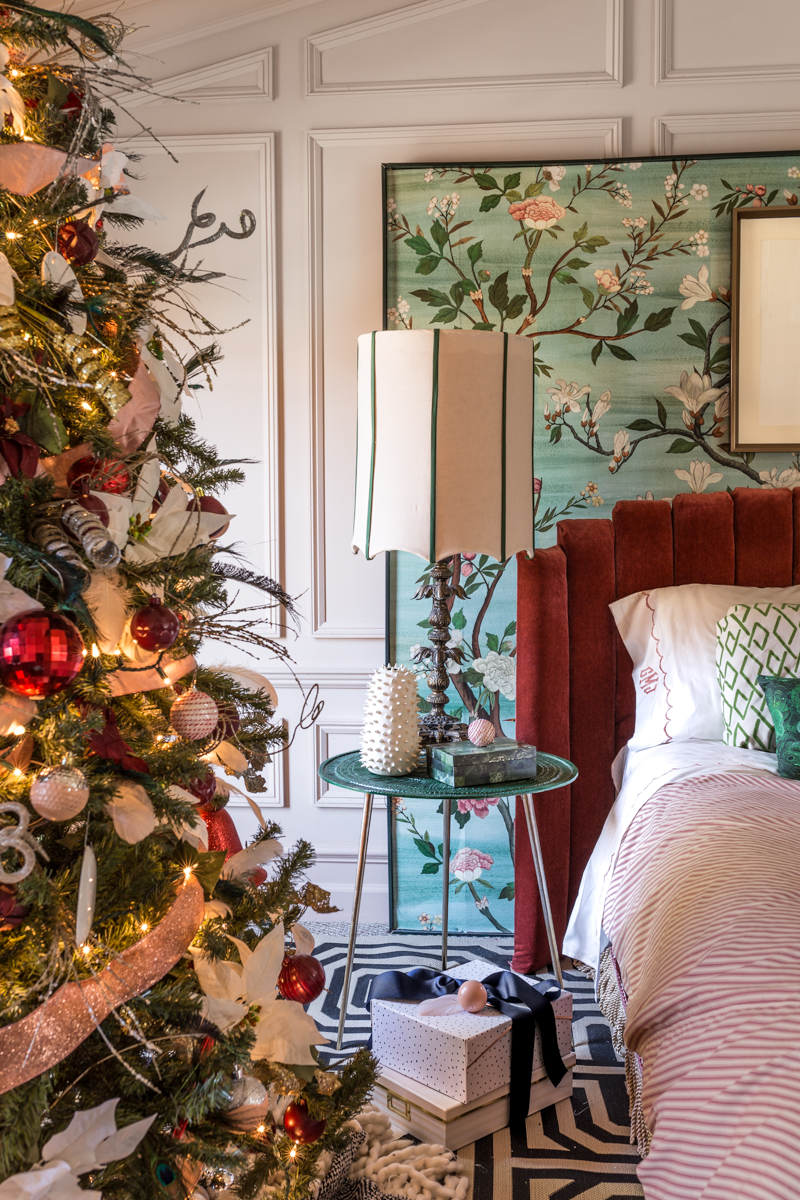 Luckily the bedroom color-story is already pretty perfect for Christmas…red headboard…malachite pillow…I had good bones to work with here!
For warmth and texture, I added a faux fur throw to the foot of the bed.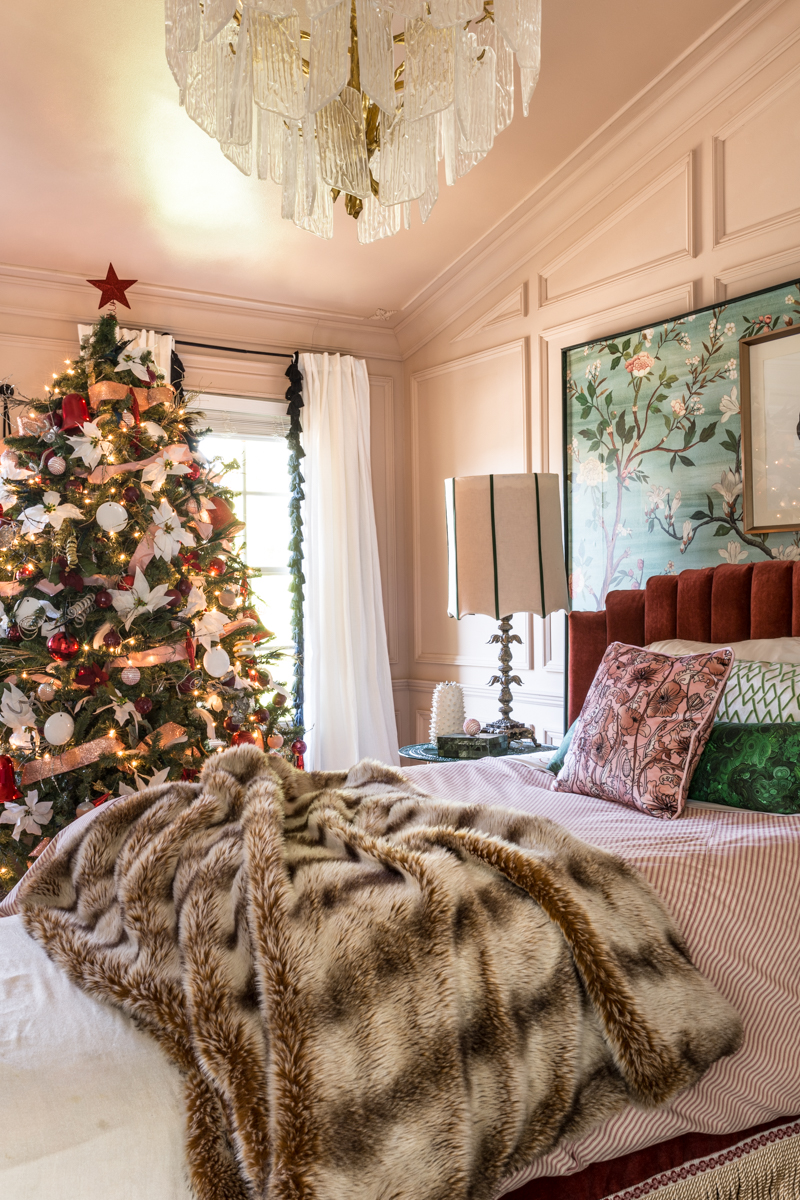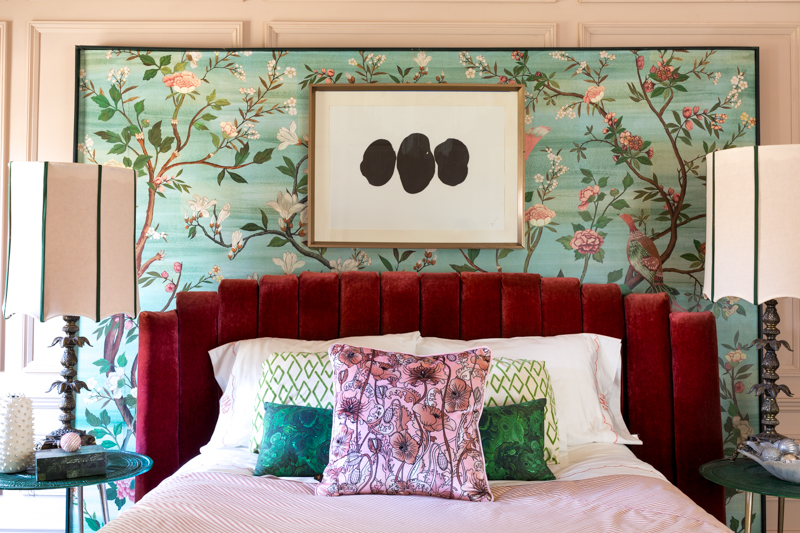 I will be using more of their product in Monday's living room reveal as well.  These pillows are heavy, welted, and gorgeous.  Plus, I love following them on IG.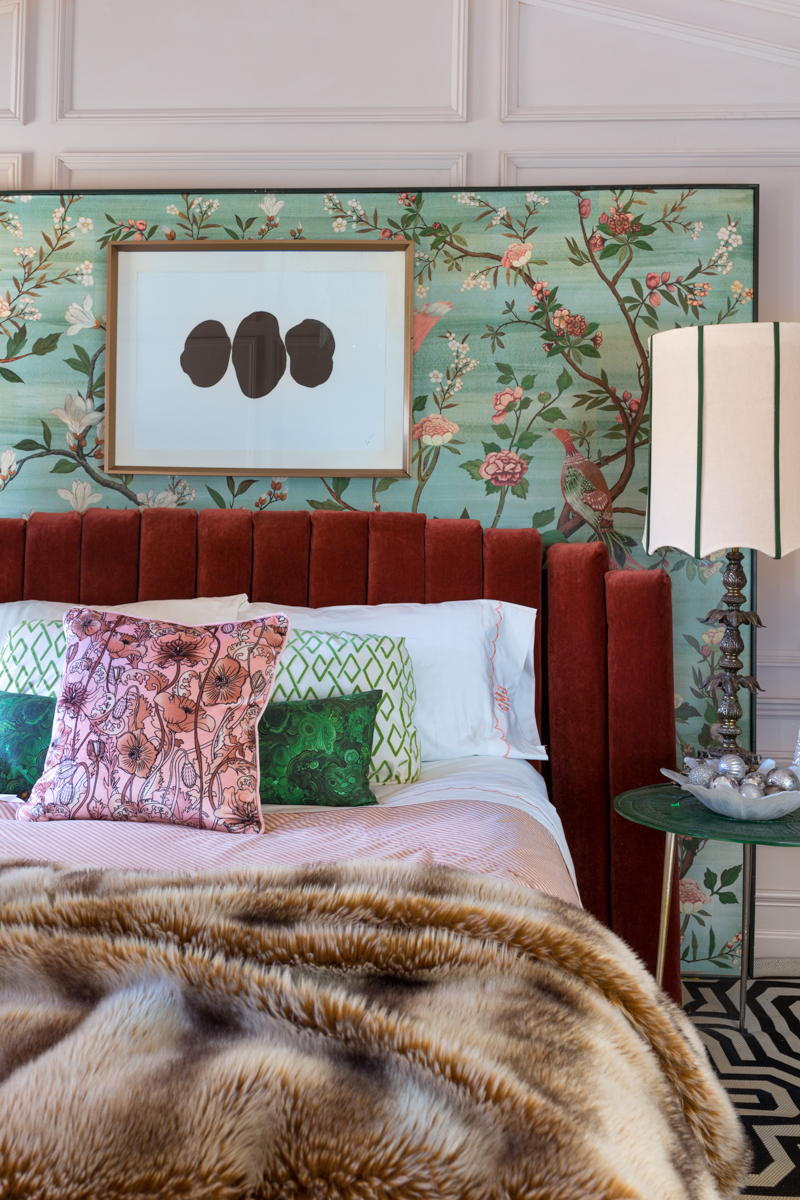 In addition to a lovely velvet pillow, we got new sheets!  OH MAN!  These Crane and Canopy Coral wavelet sheets are by far the nicest I have ever slept in.  The 400 thread count and cotton sateen texture are amazing!  Plus, the embroidery looks like it was made to match my headboard, don't you think?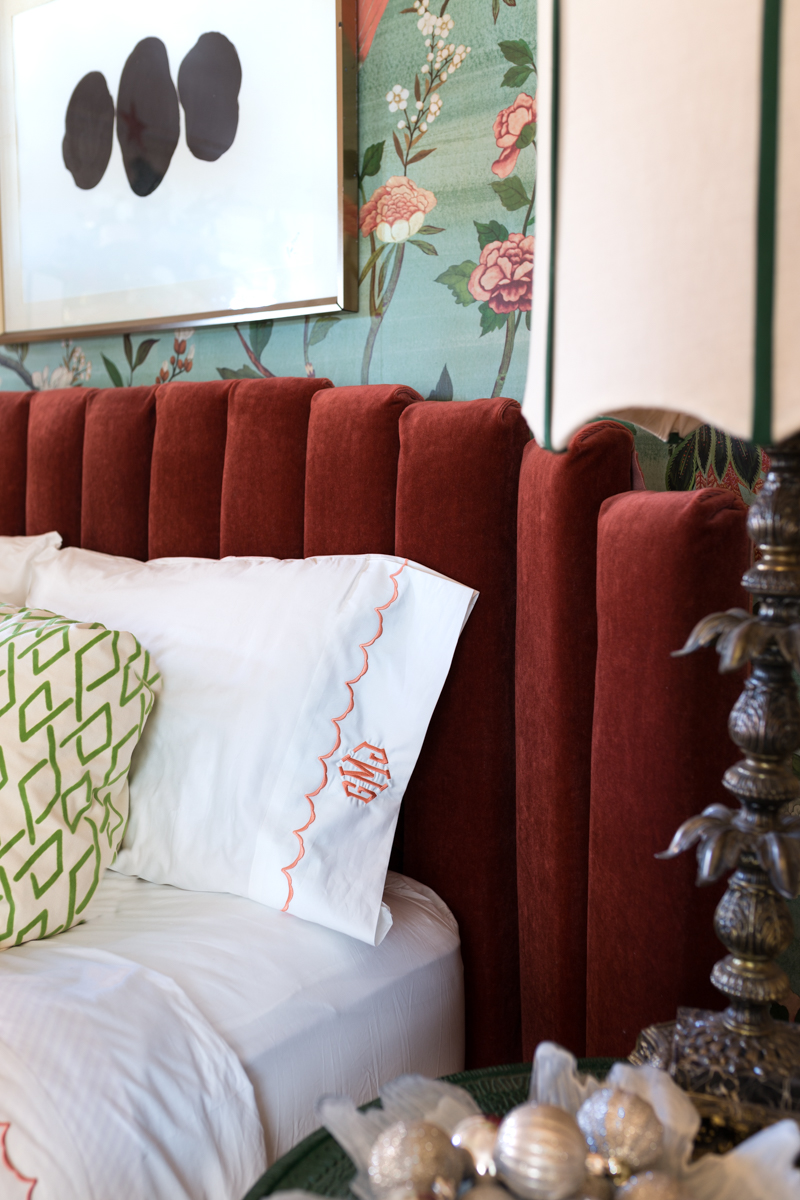 Let's be honest, the monogram gets me all sorts of giddy!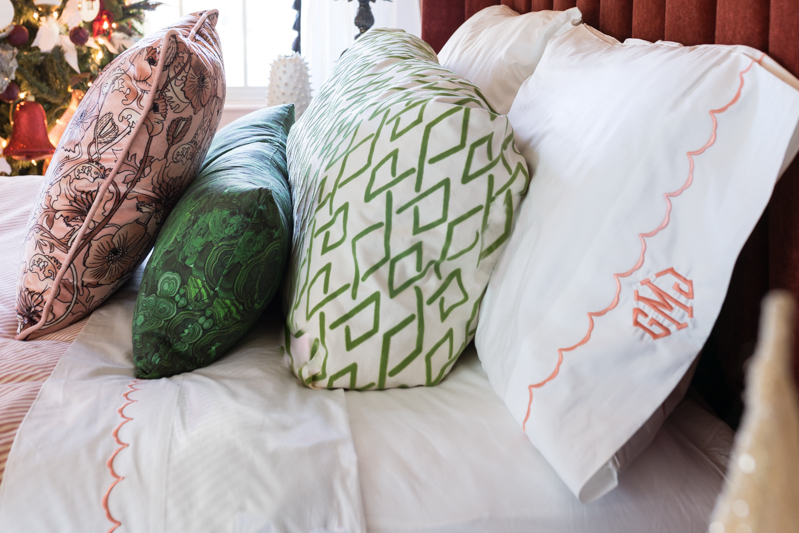 Random fact.  I love monograms so much that I actually have a monogram machine.  I use to love making personalized towels and baby bibs…But then I lost an attachemnt…womp womp.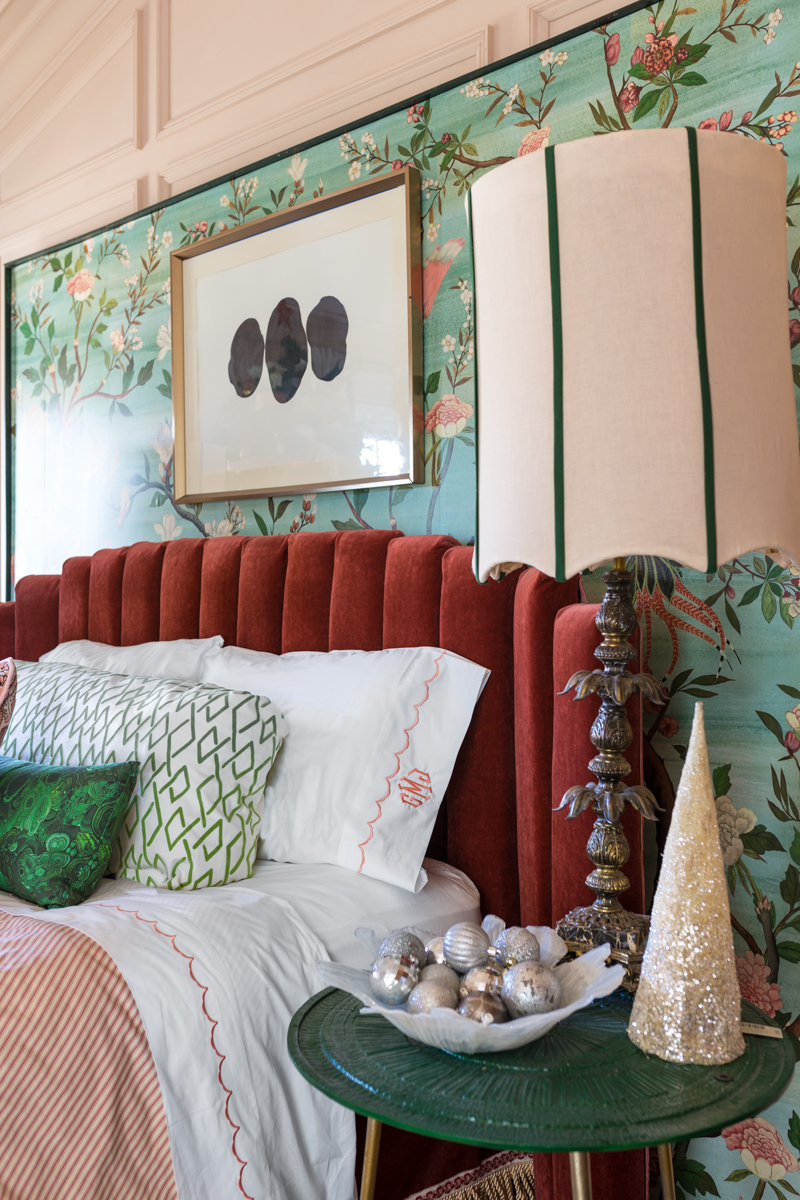 The monograming doesn't stop there!  Nope, I now officially own my first pair of monogramed PJ's.  These pajamas from Crane and Canopy are so comfortable!  In fact, I have been using this blog post as an excuse to wear them for almost 24 hours straight now…It's all for you guys…the measures I go to in order to test  these products…you are welcome. LOL.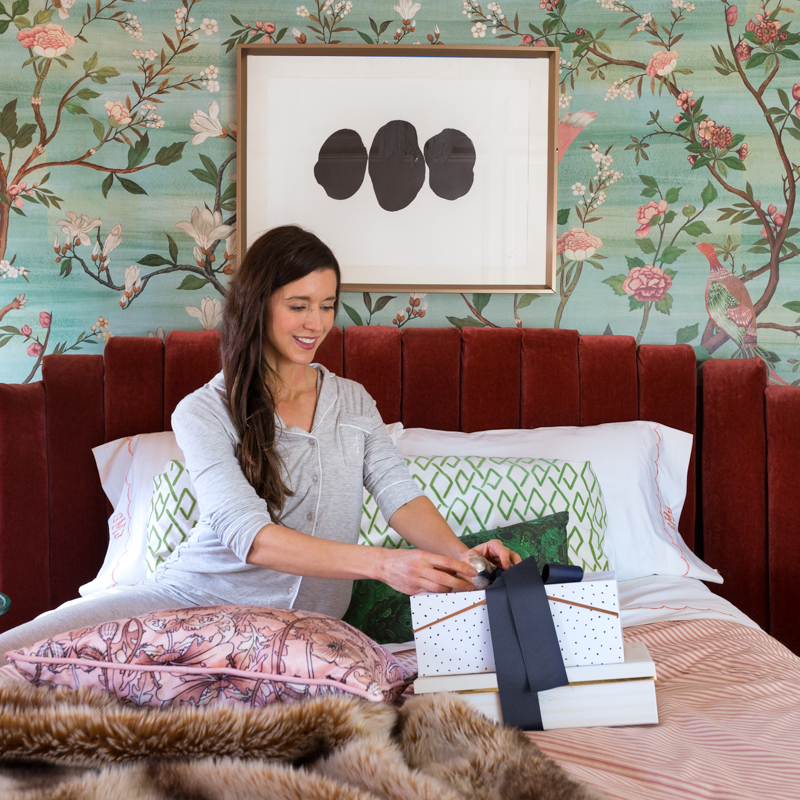 Thanks for stopping by for the second of several Christmas make-overs. If you missed the reveal of the new living room decked out in holiday attire you can get caught up HERE.
It will be fun to see how much the house changes from the comprehensive fall home tour I did in November.
Ok, now go check out  all of the other participants and their fun bedroom makeovers.