Navy Blue Office Note: Thank you to Spoonflower, Farrow and Ball, Potomac Paint and Design Center, and Hudson Valley Lighting Group for sponsoring this fun project
Navy Blue office Week 1- You are here | Week 2- Big Reveal
I've always loved a Navy Blue office. It just feels right! Like peanut butter and jelly, and Brad and Jen. For 18 month now my husband has joked that I can have free rein of the rest of the house, as long as I don't touch his office. I don't know how I've pulled it off, but I've somehow convinced him to change his mind. Que the confetti! ? A Navy blue office is happening!
Ohhhhh yeahhhhh! The Corona Virus. Maybe you guys have heard of it? Our Navy Blue office project is part of a blog hop called the Sanity Check Refesh. I have teamed up with several other talented bloggers and you can find their links at the bottom. We are all looking for ways to distract ourselves, find purpose in, or add efficiency and beautification during these troubled times. While we are aware of the unfortunate events happening in the world and our communities. We hope that this simple blog hop can be a nice way to still connect with each other and with you during the uncertainty of it all. Maybe you will be inspired to clean a drawer, paint a closet, or just smile as you watch us set and tackle a few goals this week. I can't control the world, but I can paint/wallpaper my husband's office. 😉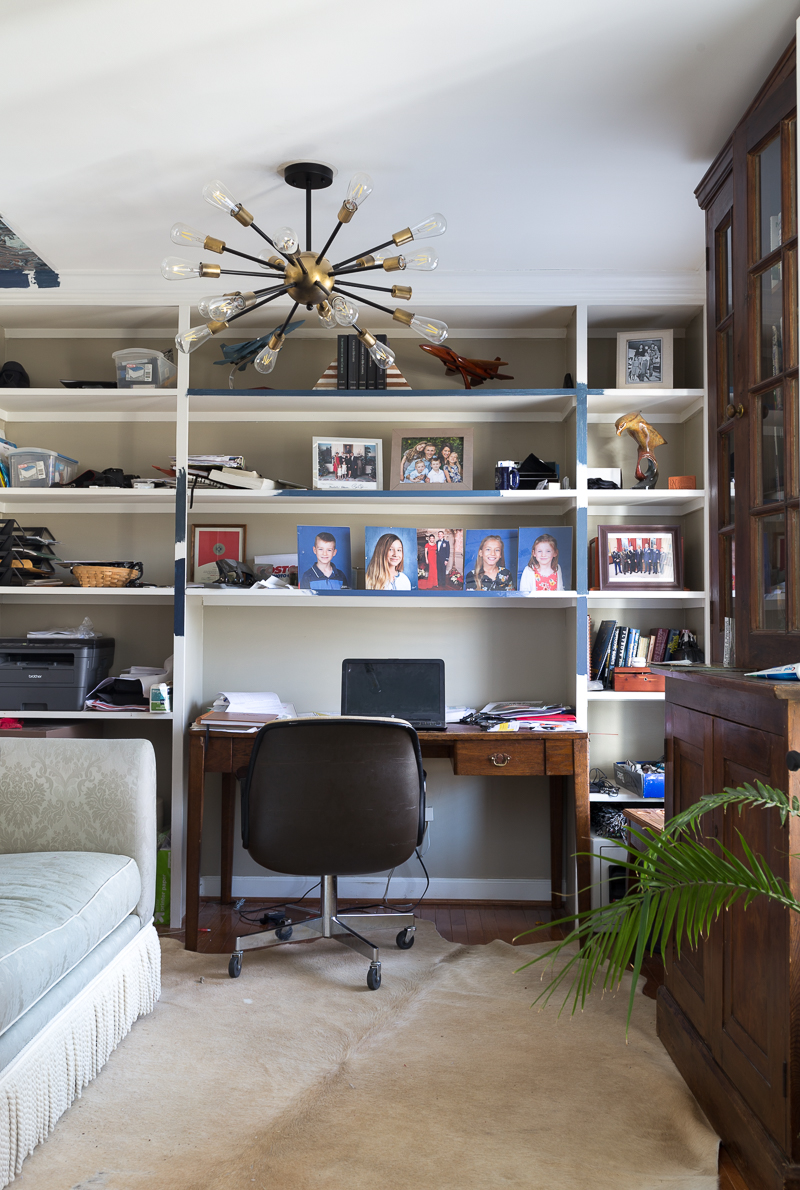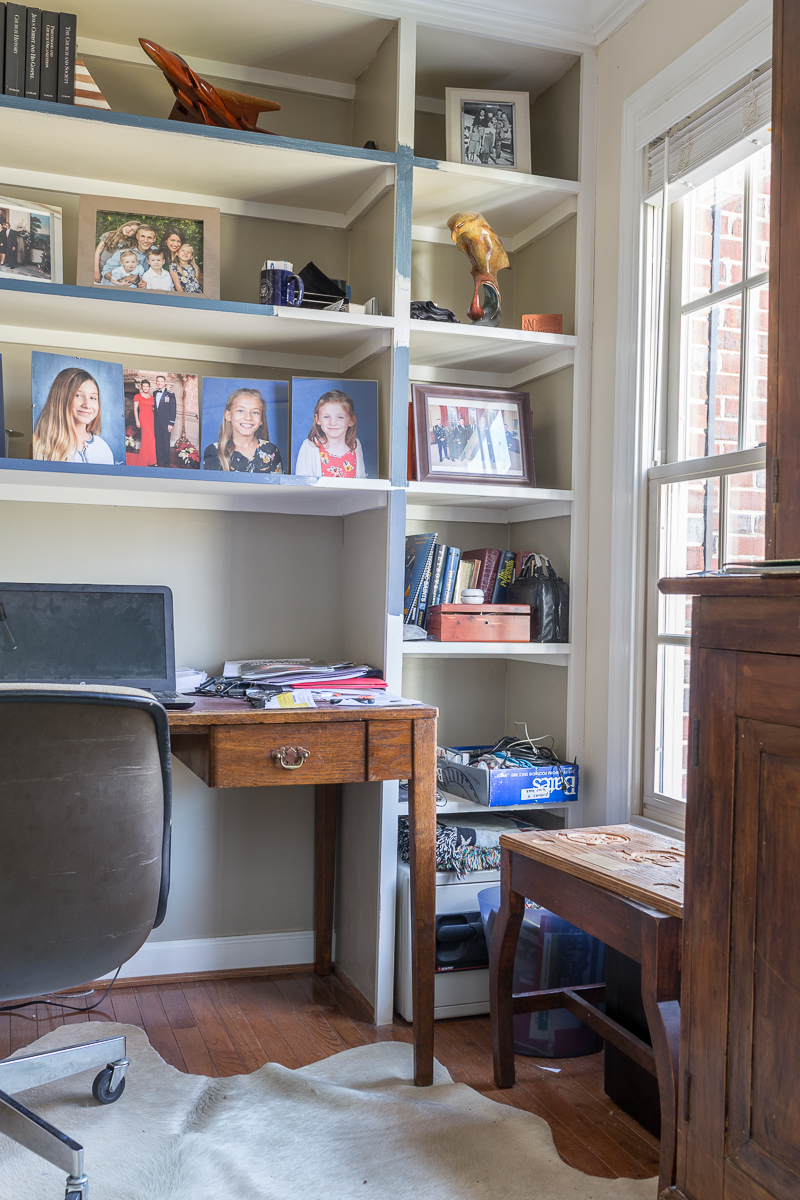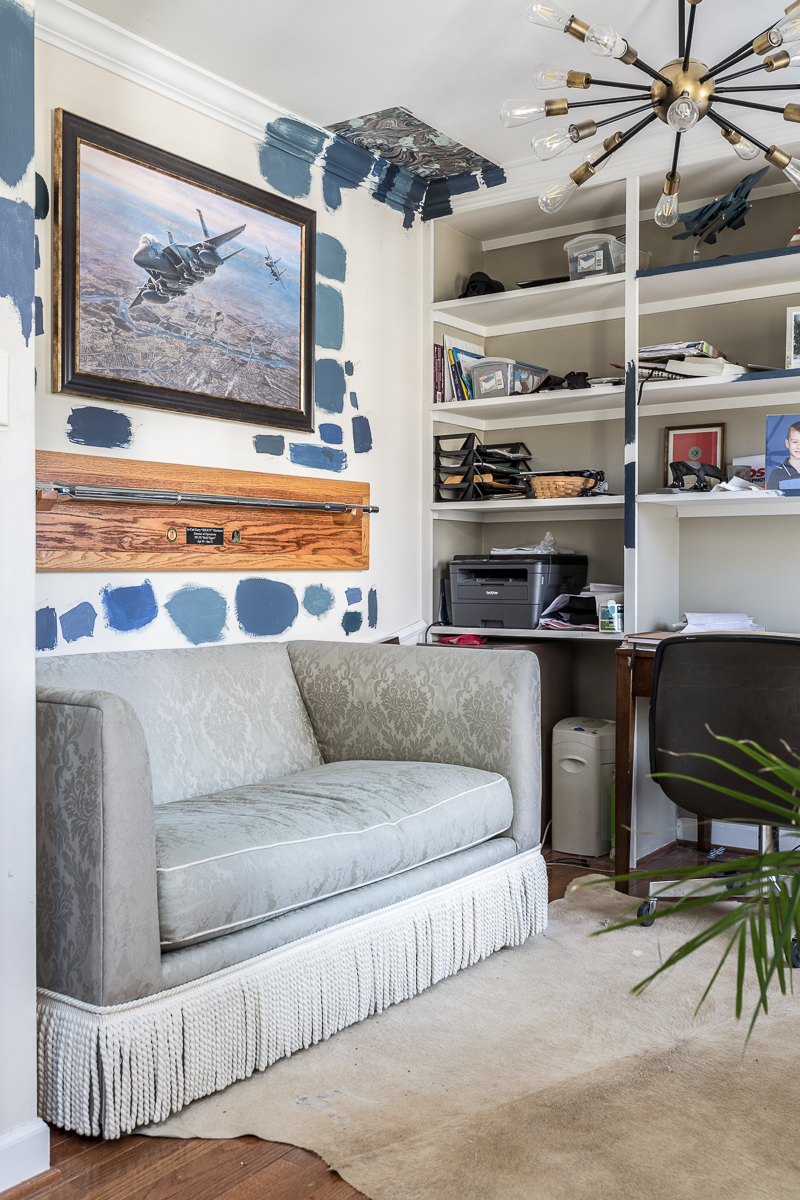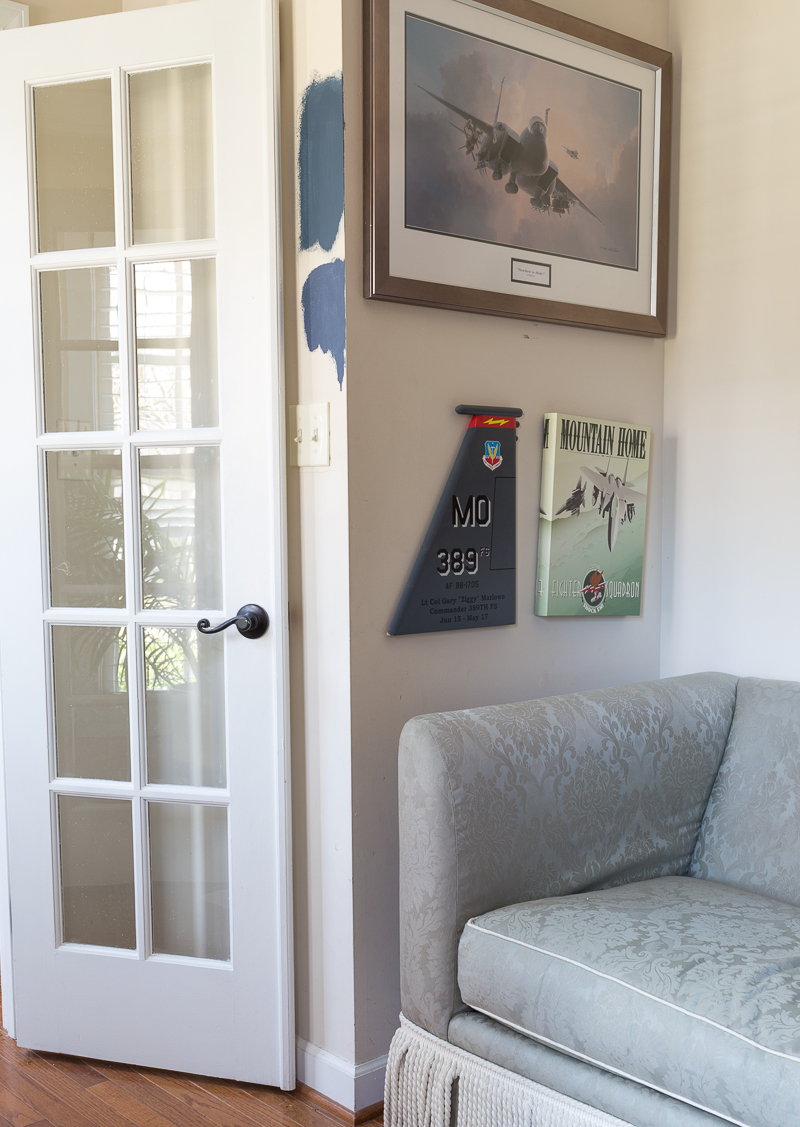 Since this is my husband's office, I have a client who has opinions and inputs. The fact that he is letting me makeover this space at all is very kind of him. It also means I have to nail it 🙂
I am enjoying this opportunity to stretch my design skills as I pull together a space that is more masculine that I generally trend.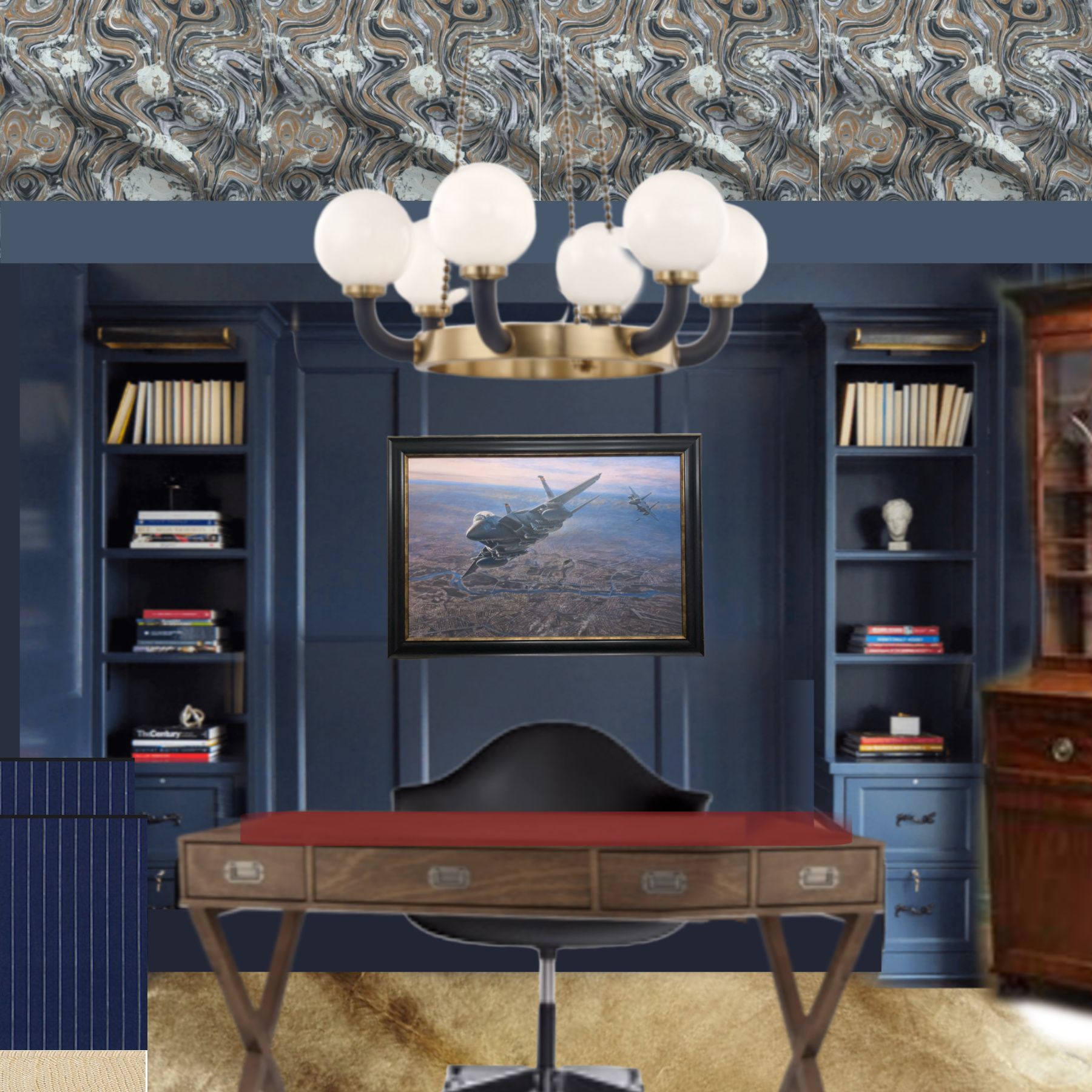 Spoonflower Wallpaper for Navy Blue Office
What was the stimulus for this project? WALLPAPER! Yep, I thought my arms were getting a little flabby 😉 so I wanted to hop on the wallpapered ceiling trend. I don't have THAT many rooms left in my house, and I have been dying to try a marbled ceiling. Lucky husband 🙂
I spent several hours drooling over Spoonflower's endless selection of wallpapers. After sending away for half a dozen samples, my husband and I decided that Blue Orange Marbled Paper by Aberleigh was a clear winner. It is absolutely amazing and will be an interesting contrast to the blue.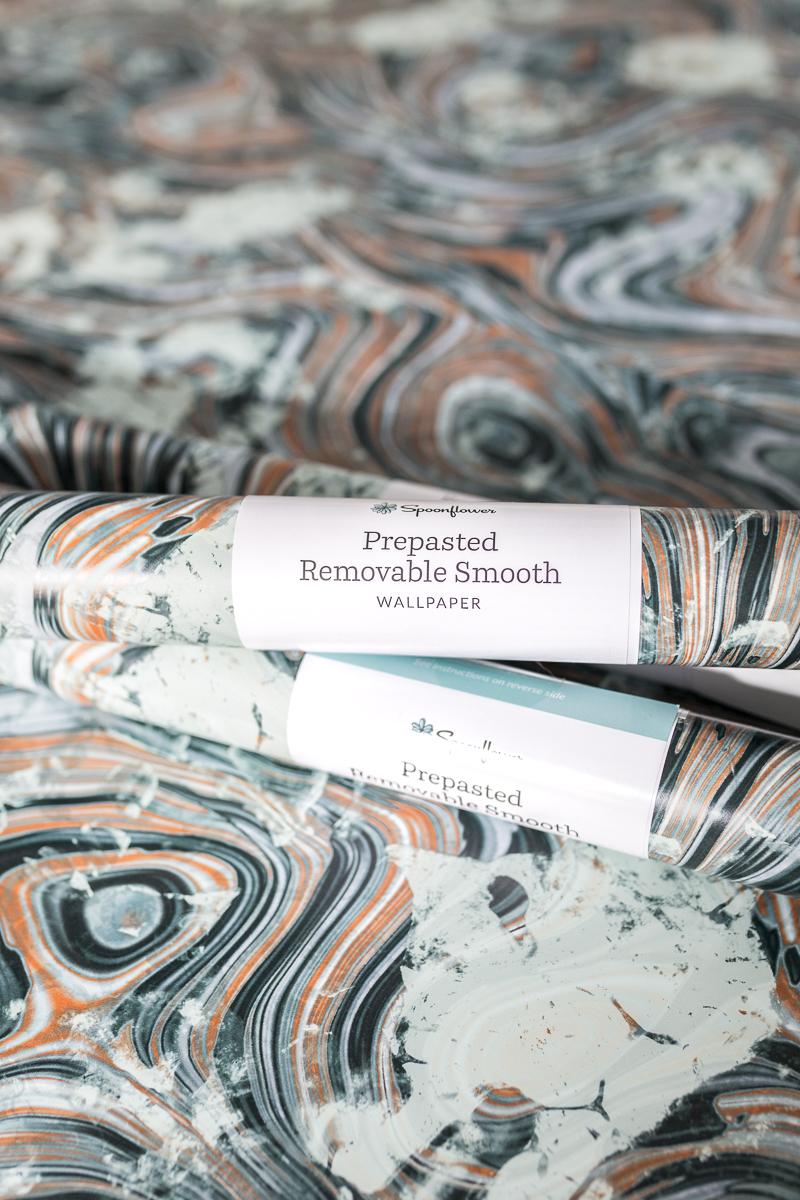 I will write a post explaining the tips and tricks I learned along the way.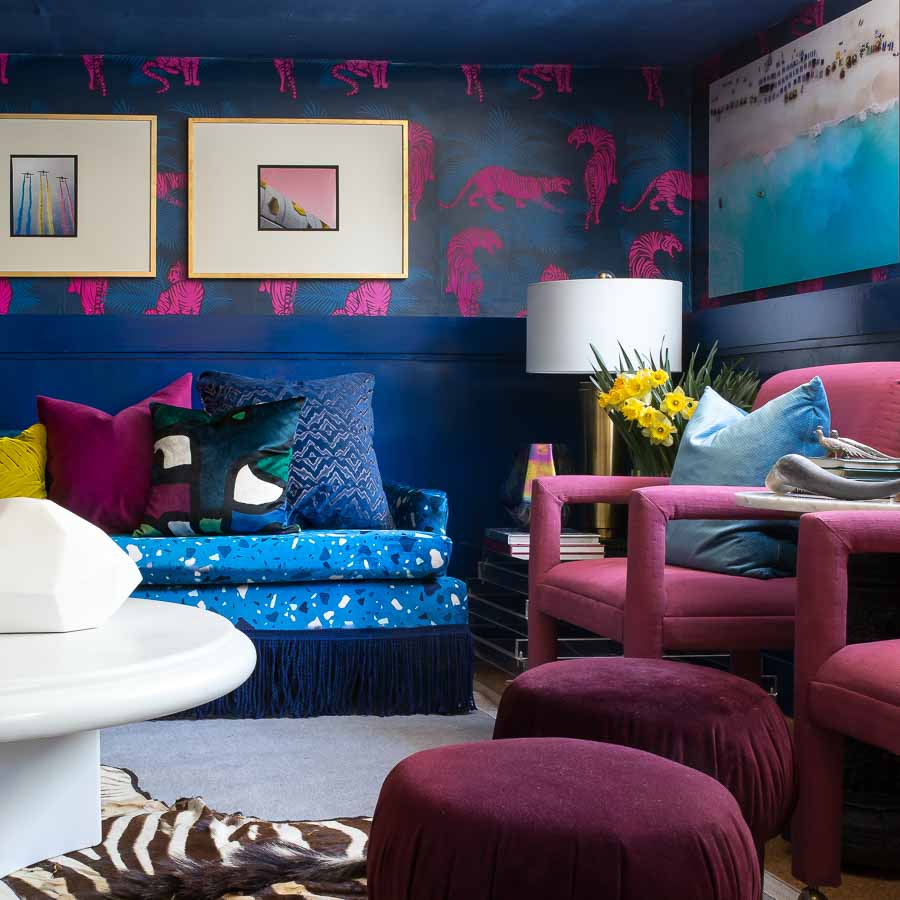 I have used Spoonflower removable wallpaper once before, and it was honestly the easiest removal I have ever had. If we end up with a military assignment out of here, I could easily take this down without any damage to my ceiling.
Farrow and Ball Paint for Navy Blue Office
I have always had a crush on Farrow and Ball Paint. It is the choice of so many of my favorite designers, and there is a reason…it is next level stunning! I am still amazed at the stunning Setting Plaster walls in our Master Bedroom.
I loved the help I received from our local stockist, Potomac Paint and Design Center in Northern Virgnia. They helped me with the sheen and quantity, and it looks like it will work out perfectly. Oh! and they SHIP! YOU DON'T NEED TO LEAVE YOUR HOME!
Here is a progress shot of the…get this…PRIMER! Even their primer is gorgous. The pigmentation and finish are unlike any other paint I have ever used. I hope to finish painting the office in Stiffkey Blue by tomorrow night.
Hudson Valley Lighting Group for Navy Blue Office
I took a risk by going big with this stunning Werner chandelier by Hudson Valley Lighting Group. I'm really hoping that I can make it work in this space, because it is such a great look. If it doesn't work, I will make sure to install it in another room :). The quality is just toooo good and the fixture is a statement maker for sure.
I need to finish the Stiffkey Blue Paint, wallpaper, and styling, and photo shoot. This will be a managable amount of work, even while home schooling. I can't wait to show you the results next Thursday.
Thanks so much for joining me! Now go check out the other participants in the Sanity Check Refresh. I can't wait to see what projects they picked to distract them or add function/beauty to our new normal.