Wallpapered Ceiling Office Note: Thank you to Spoonflower, Farrow and Ball, Potomac Paint and Design Center, and Hudson Valley Lighting Group for sponsoring this fun project
Are you ready for this?  Can you handle a marble wallpapered ceiling and navy blue office?  More importantly, could your husband handle it?  LOL.  Those may be two different answers, but luckily my husband is thrilled with results of the last few weeks of work.  I can't wait to show you!
I'm teaming up with a fab group of bloggers, grammers, and DIY'ers who each decided a small project would be a welcome distraction during these crazy times.  My project has been in the works for months, so it wasn't exactly "small". However, I did find it therapeutic for the most part (except for the days when there was a half-upholstered settee blocking our front door and a pile of office papers on the dining room table.  Things are already starting to look up though.  🙂
Don't forget to click the links at the bottom to see everyone else's results as well!
I decided to break this wallpapered ceiling office makeover up and reveal it one vignette at a time….
Ready
Set
GO PIN AWAY!
WALLPAPERED CEILIING BEFORE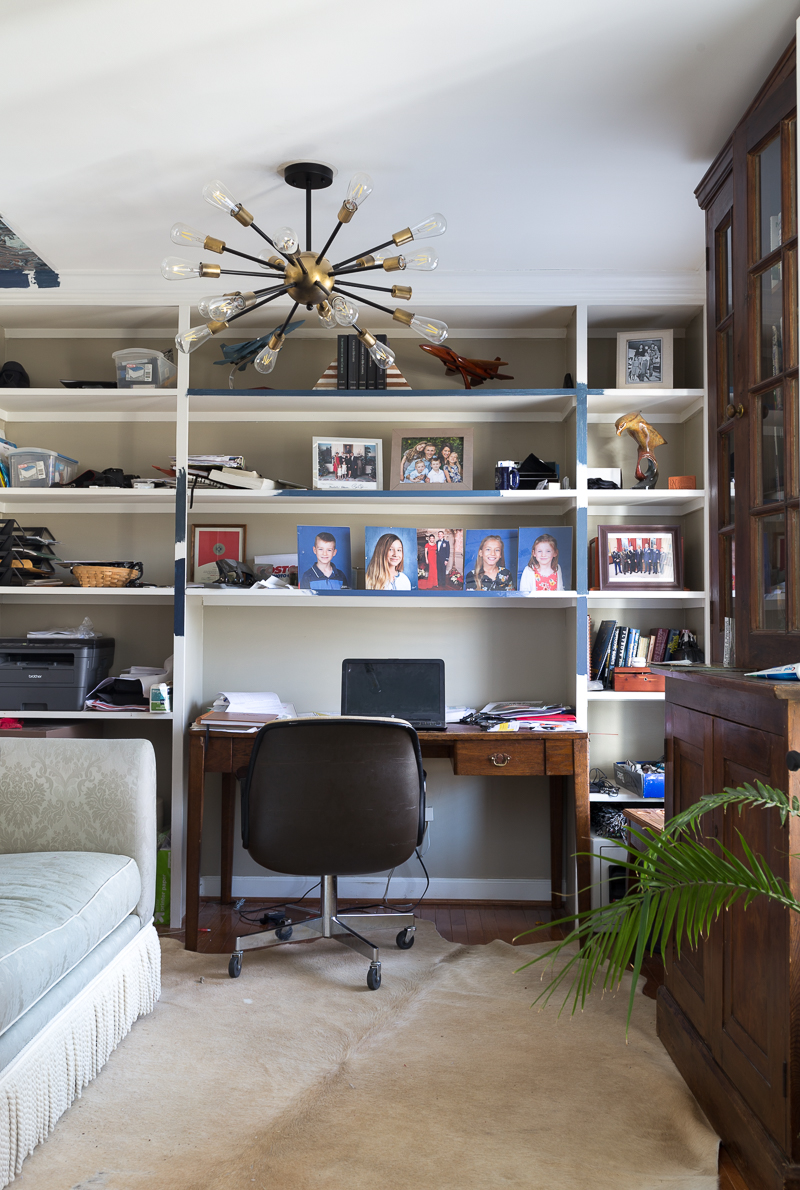 Wallpapered Ceiling After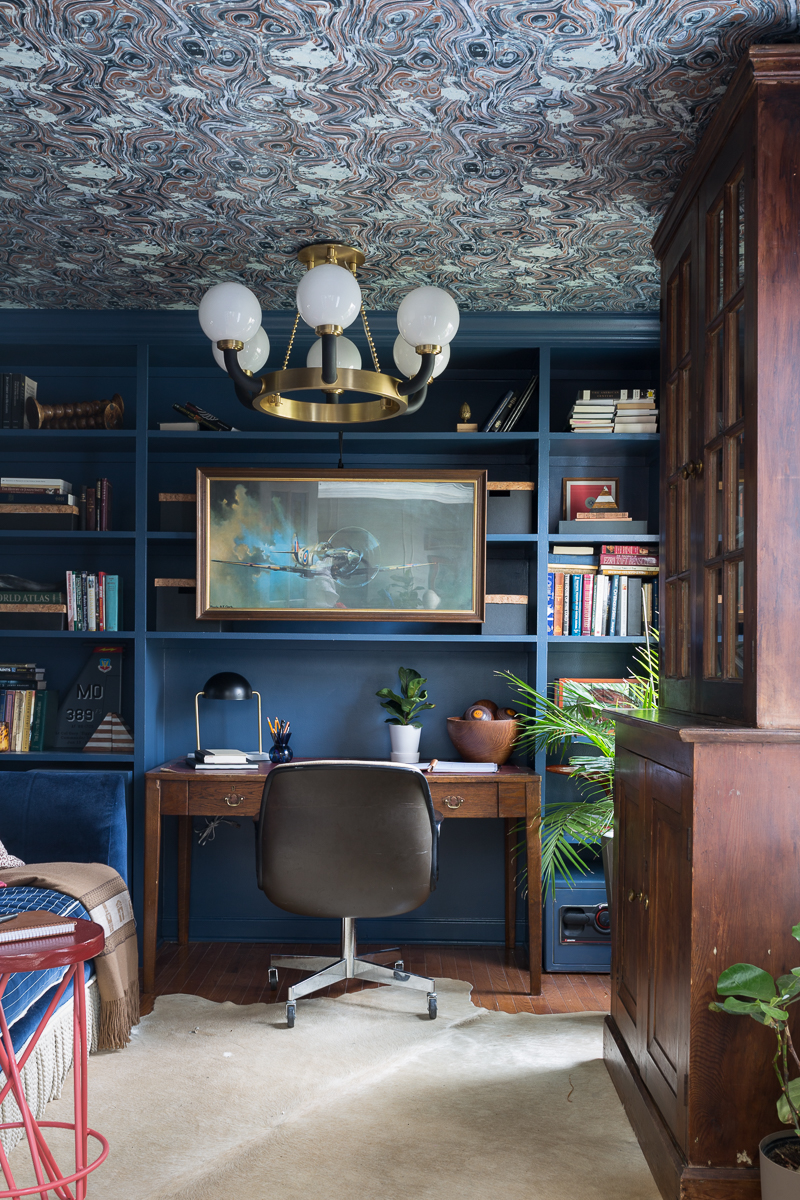 What do you think of our wallpapered ceiling choice?  This Spoonflower wallpaper is called Blue Orange Marbled Paper by Aberleigh but I feel the orange acts more like a neutral and ties in all of the warm tones of the British antiques in the room.  It gives the space visual interest without feeling too busy.  I also feel like this pattern could read masculine or feminine.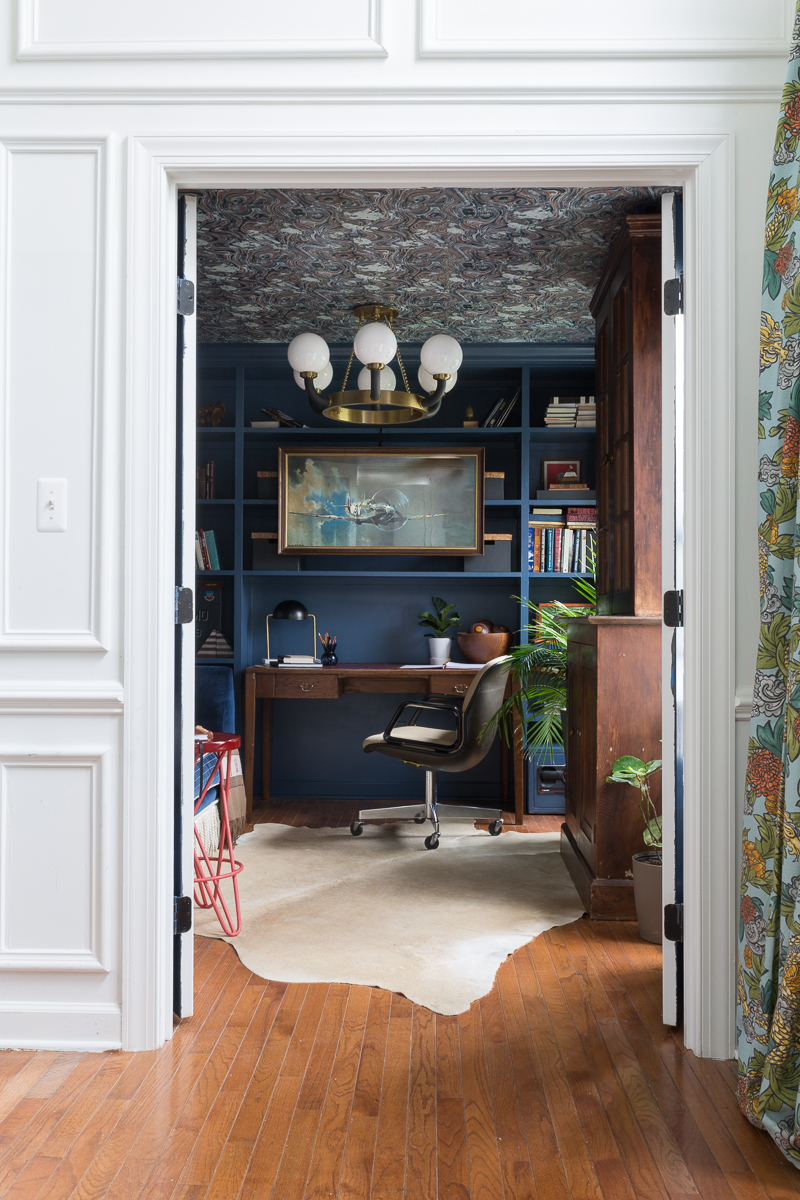 How was the wallpapered ceiling installation you ask?  Well, it wasn't EASSSYYY but it was was do-able.  I think I should write a blog post explaining the process :). This is water activated, removable paper so you don't need to go out and buy any extra paste. Having said that, I did use a little bit of paste on the touch ups…only bc I had it on hand.
Also, at one point I put up an entire strip on the ceiling, only to take it down the next day and redo it.  I found Spoonflower wallpaper to be VERY forgiving!!!!  It comes down like a dream, and I can't believe it still went back up!  Crazy sauce!
There are three very important benefits to using Spoonflower.  First, they have an almost unlimited selection of designs.  Second, (and perhaps my favorite), you can customize the scale and color of most any of the designs by reaching out to the artist and offering a few bucks (to cover the cost of shipping the sample).  Finally, shopping Spoonflower supports small businesses/independent artists…and if that doesn't help you feel good…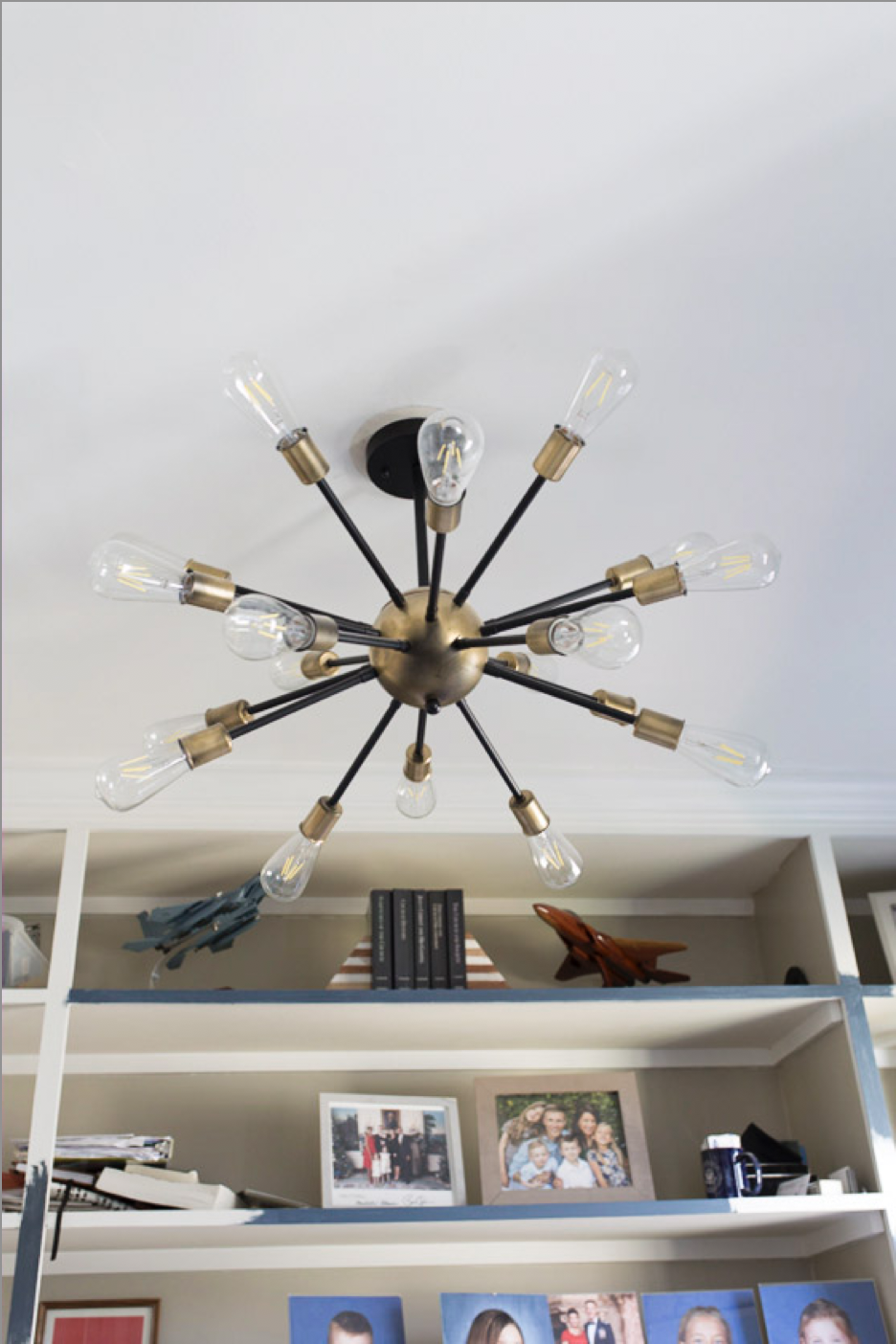 This Werner chandelier by Hudson Valley Lighting Group had me sweating from the moment I pushed the button to order it.  I KNEW it was too big, but I just wanted to see how it played in the space. I wanted to experience the black, white, and gold contrast against the marbled wallpaper.  My intent was to draw all of the attention to the ceiling.  I knew it would be over scaled, and I was crossing my fingers that it would be over-scaled in the coolest way possible.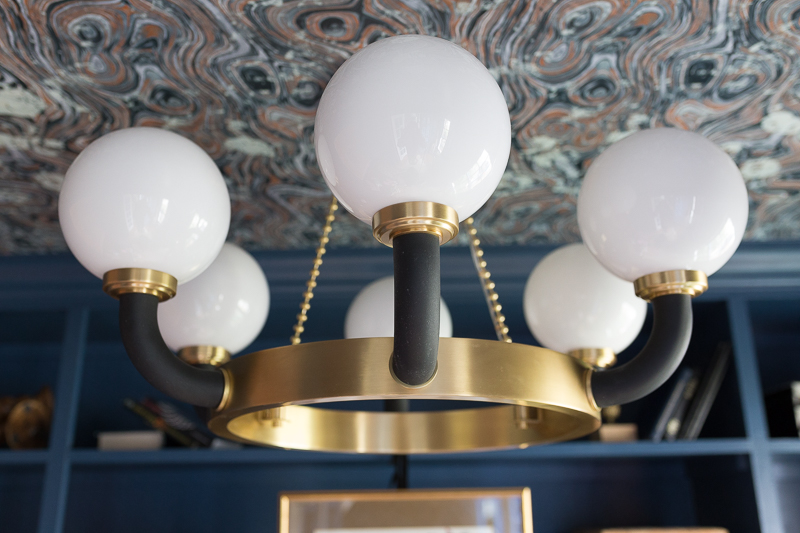 IF I were to do it again, I might pick something more appropriate, scale wise.  However, I REALLY LOVE this chandelier.  The bead detail is stunning, the matte black arms agains the shiny brass is striking, and it gives off a nice amount of light.  Perhaps long term I will move this to another room, but then again…maybe not.  The hubs really loves it here and it certainly keeps your attention on the ceiling.  It is such a unique piece.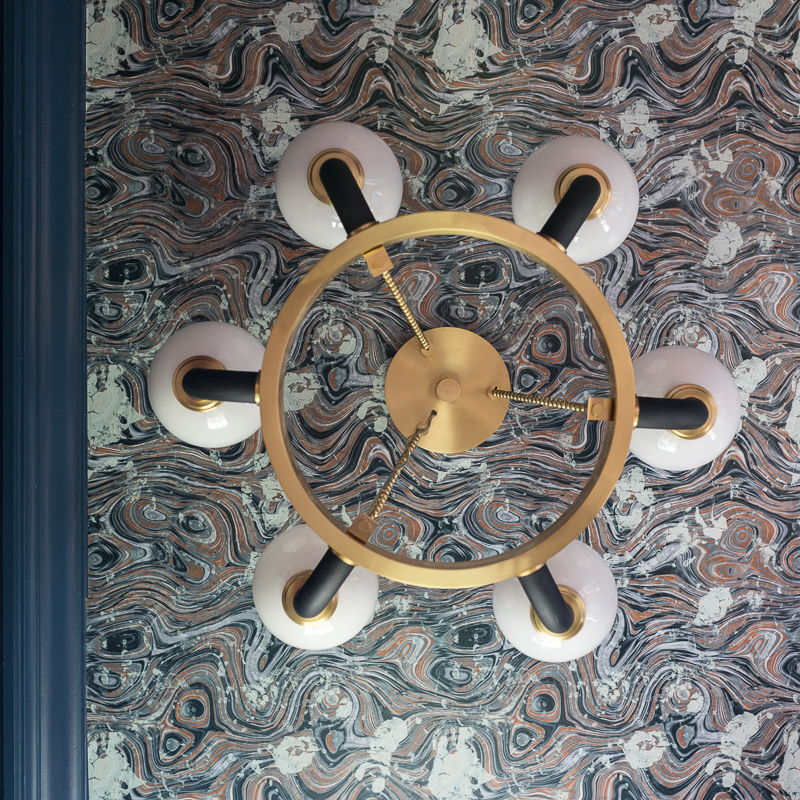 Almost every room in my house has a Hudson Valley Lighting Group fixture.  I love their style, quality, and selection.  Need examples? Check out my home tour from Monday.  Check out the lighting in out living room, lounge, kitchen, entryway, bedrooms, half bath….you get the idea 🙂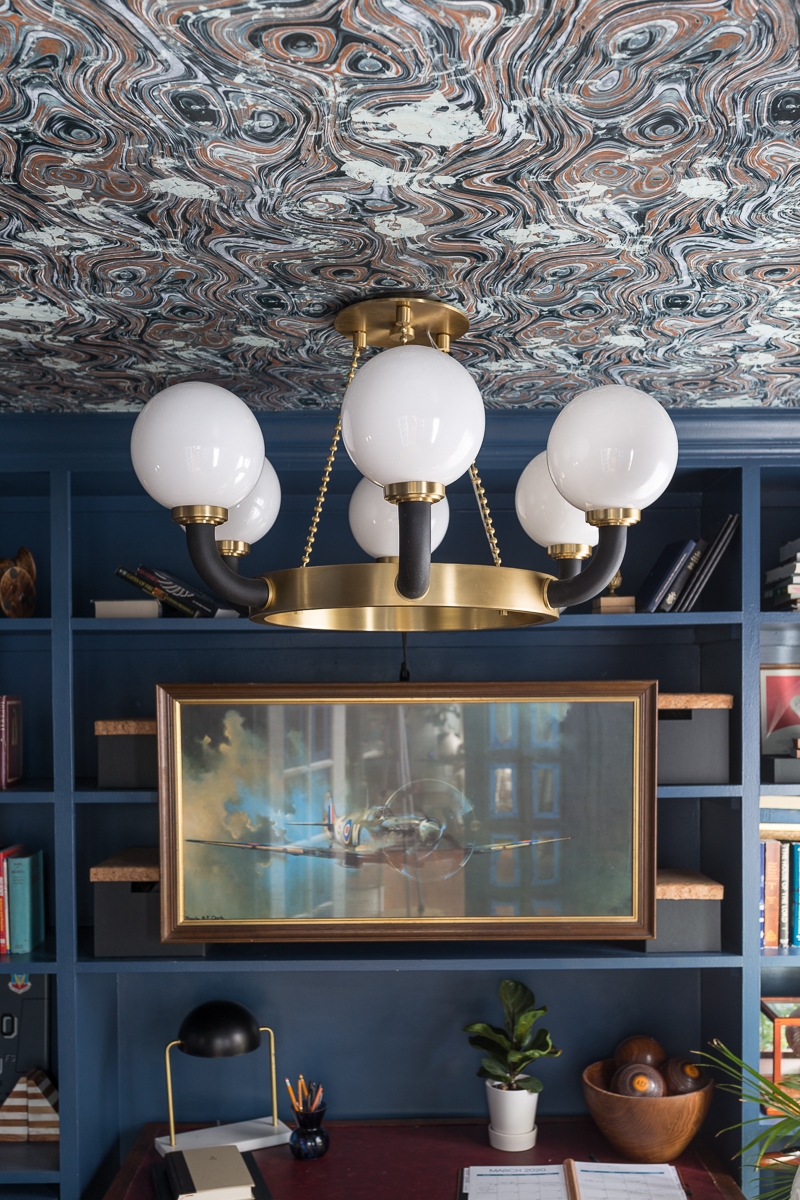 Mannnn……this really is one sexy chandy!!!!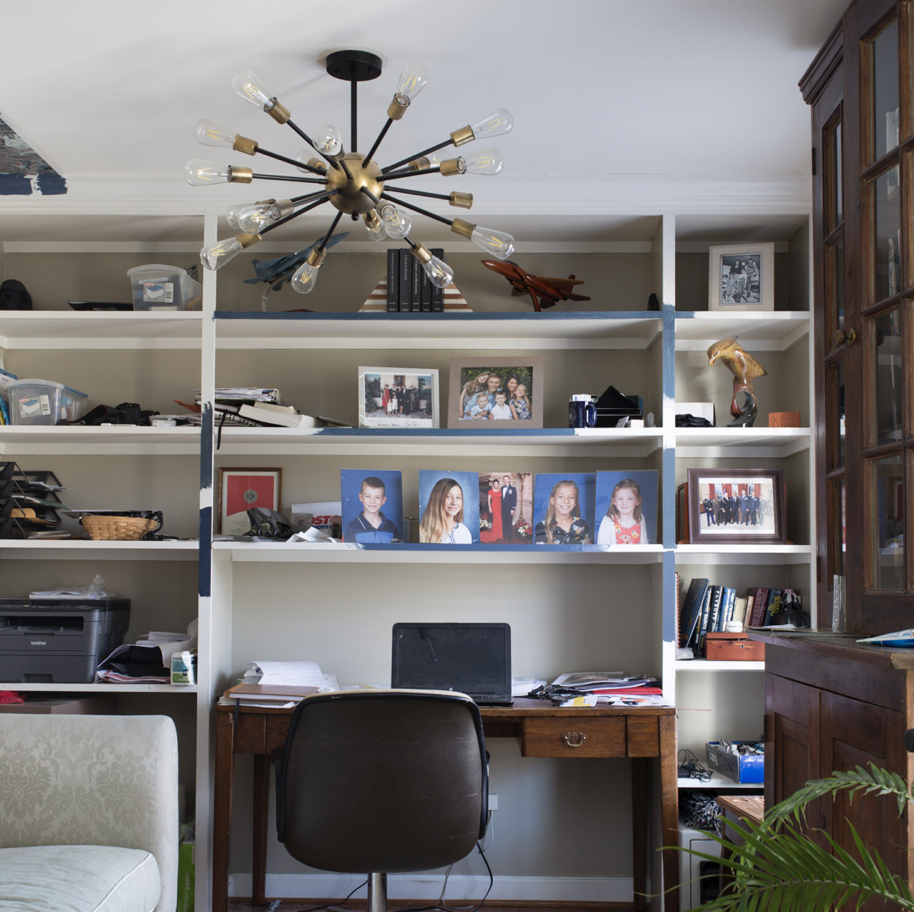 Isn't this navy blue dreamy?  There is a reason…It is because this isn't just any paint…it is Stiffkey Blue by Farrow and Ball!  I've used Farrow and Ball Paint one time before, in our Master Bedroom, and I've been smitten ever since.  The pigmentation is out of this world, and the result is absolutely noticeably better.  I will be writing a blog post explaining tips and tricks to using this Ferrari of all paints!  Stay tuned.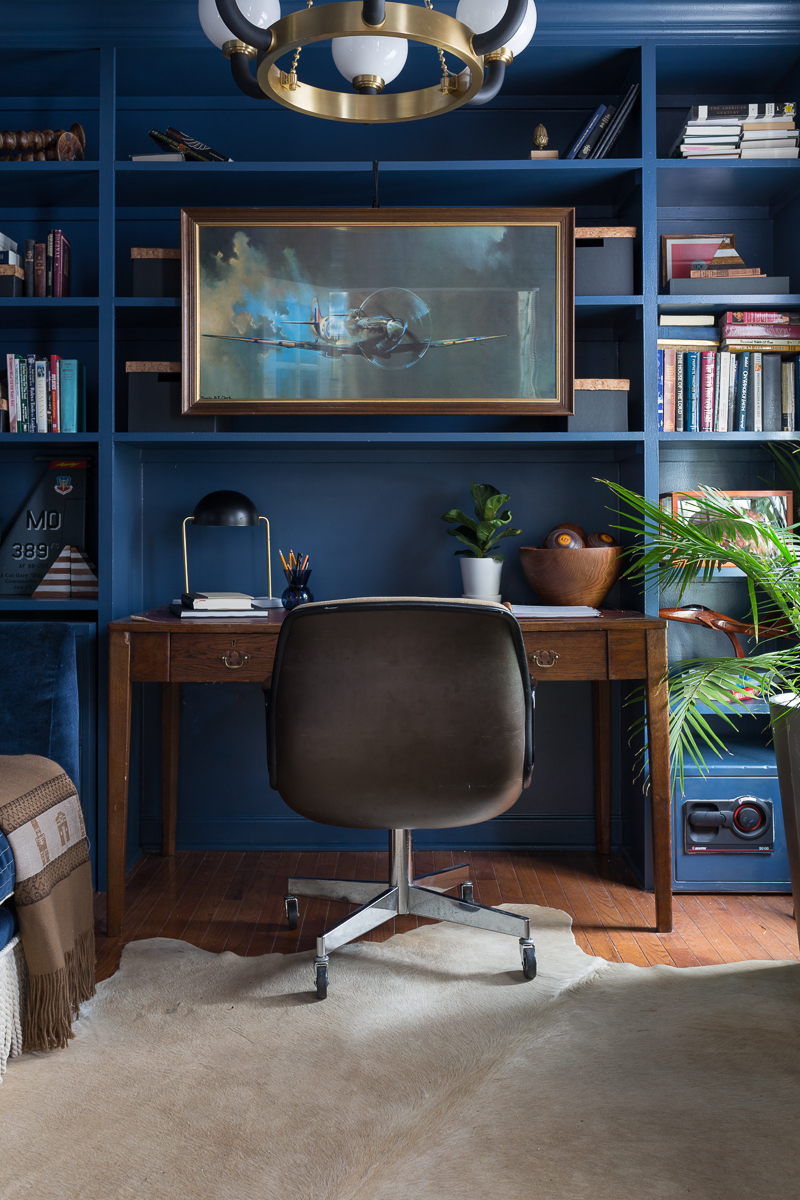 I loved the help I received from our local stockist, Potomac Paint and Design Center in Northern Virginia.  They helped me with the sheen and quantity, and it worked  out perfectly.  Oh! and they SHIP all over America!  YOU DON'T NEED TO LEAVE YOUR HOME!  Isn't that the perfect excuse you've been looking for 🙂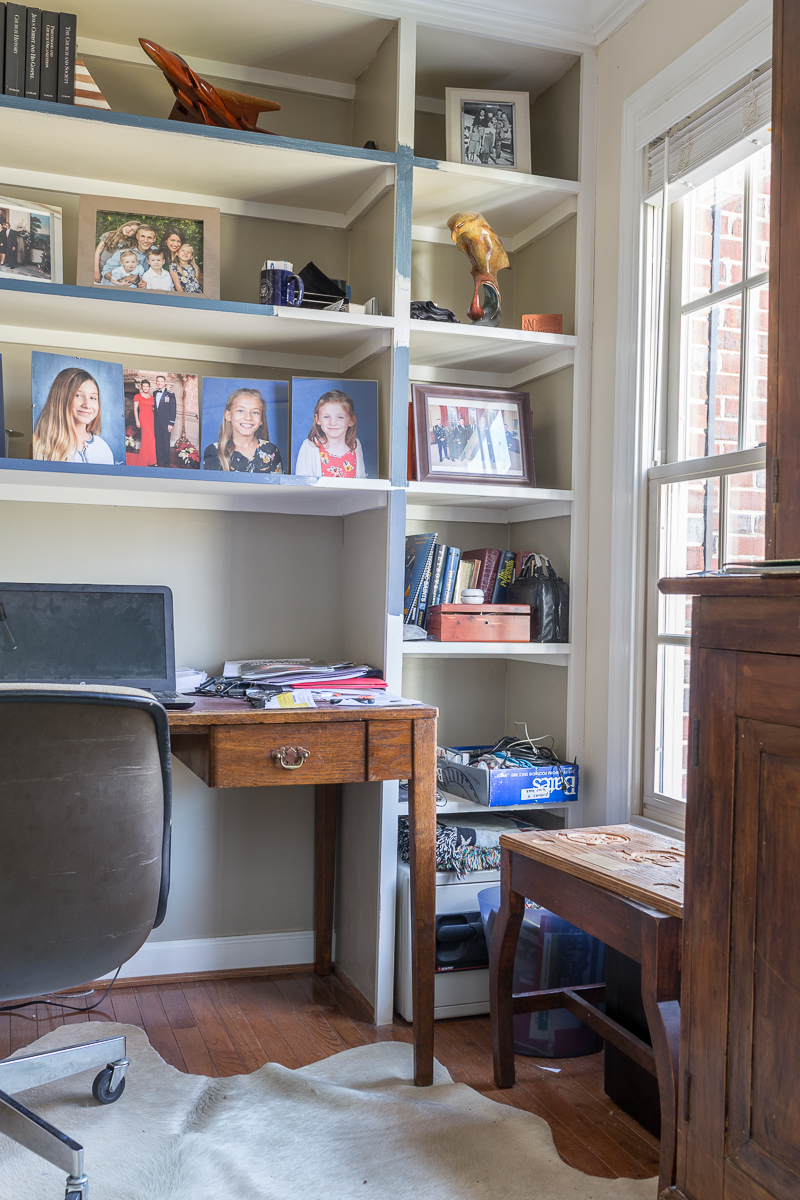 We had a problem…we needed some organization and order here.  I bought inexpensive Ikea boxes and covered the tops in thin cork fabric from Fabric Place Basement.  It was a simple project, but I love the results.  Now we have a place to store old cords, papers, and whatever else was scattered up there.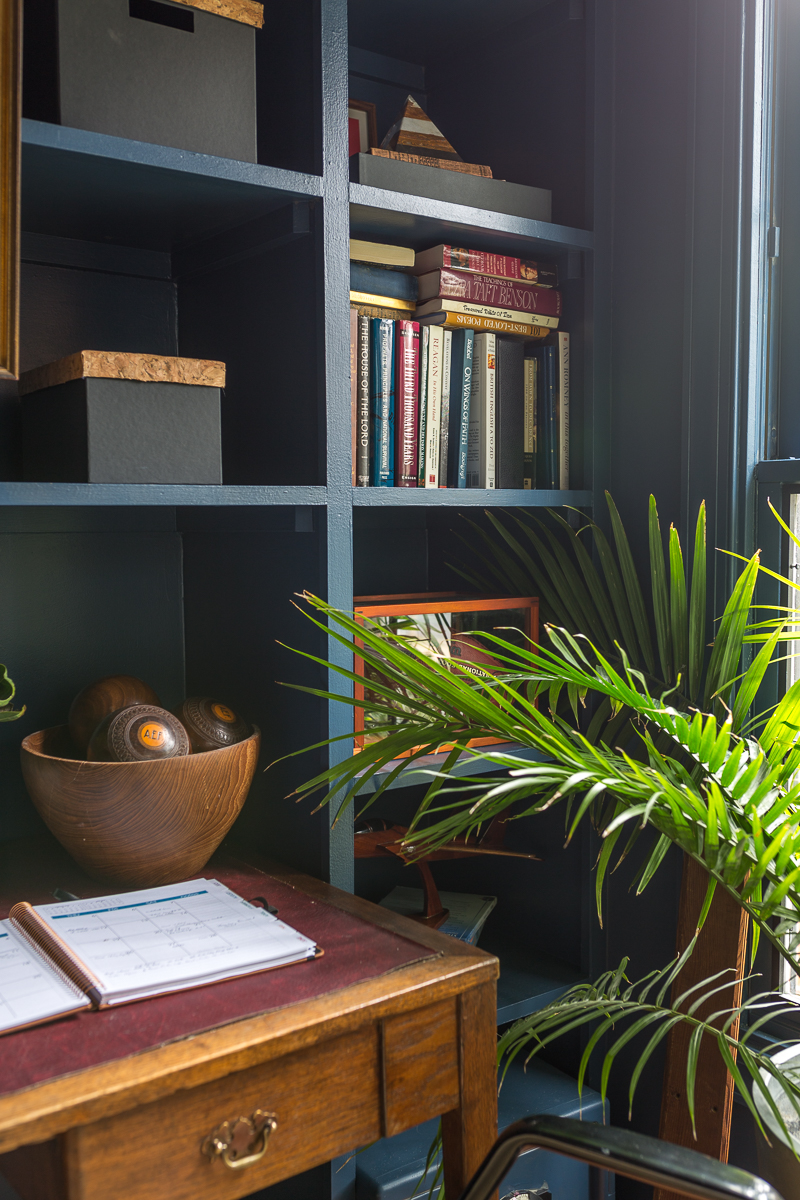 To disguise the file cabinet, I painted it tone on tone.  It almost looks like a built in.  Actually, I might add a piece of trim to build it in even more.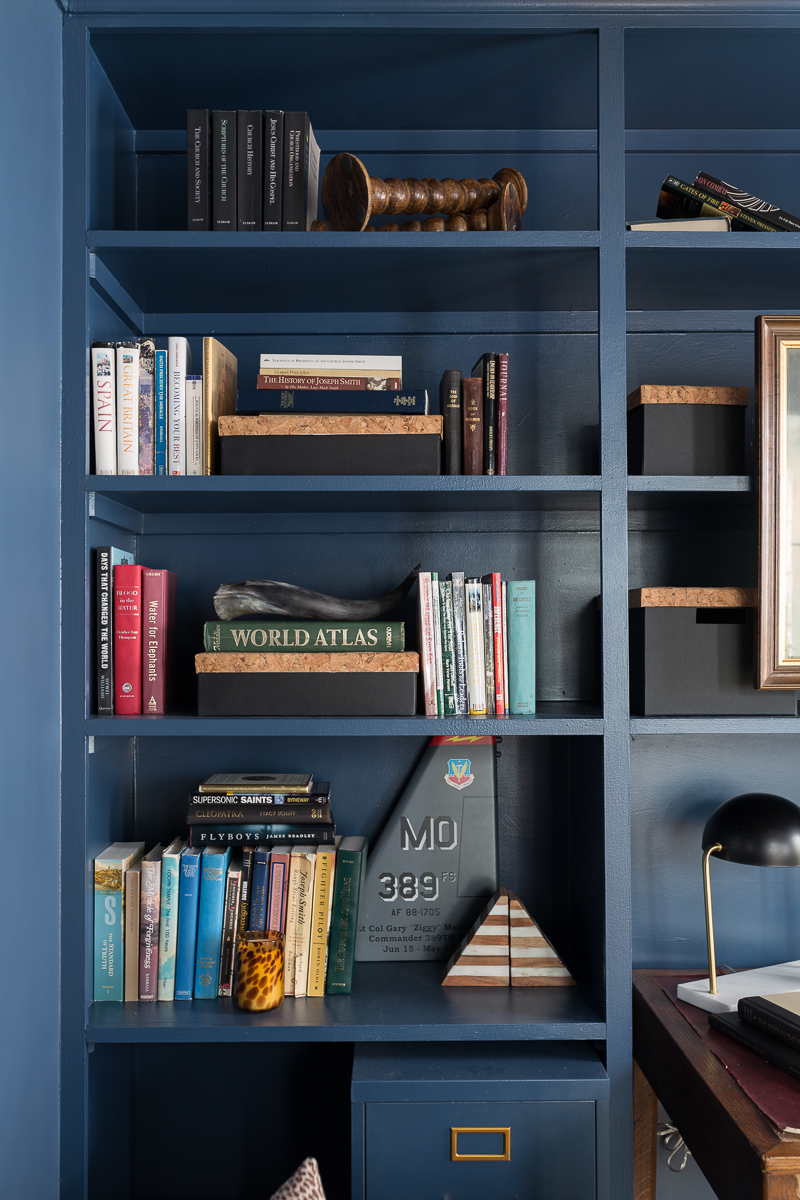 See that gold on the file cabinet hardware?  I spray painted that with Plutonium Paints, First Place.  I think it has a nice, almost aged brass look.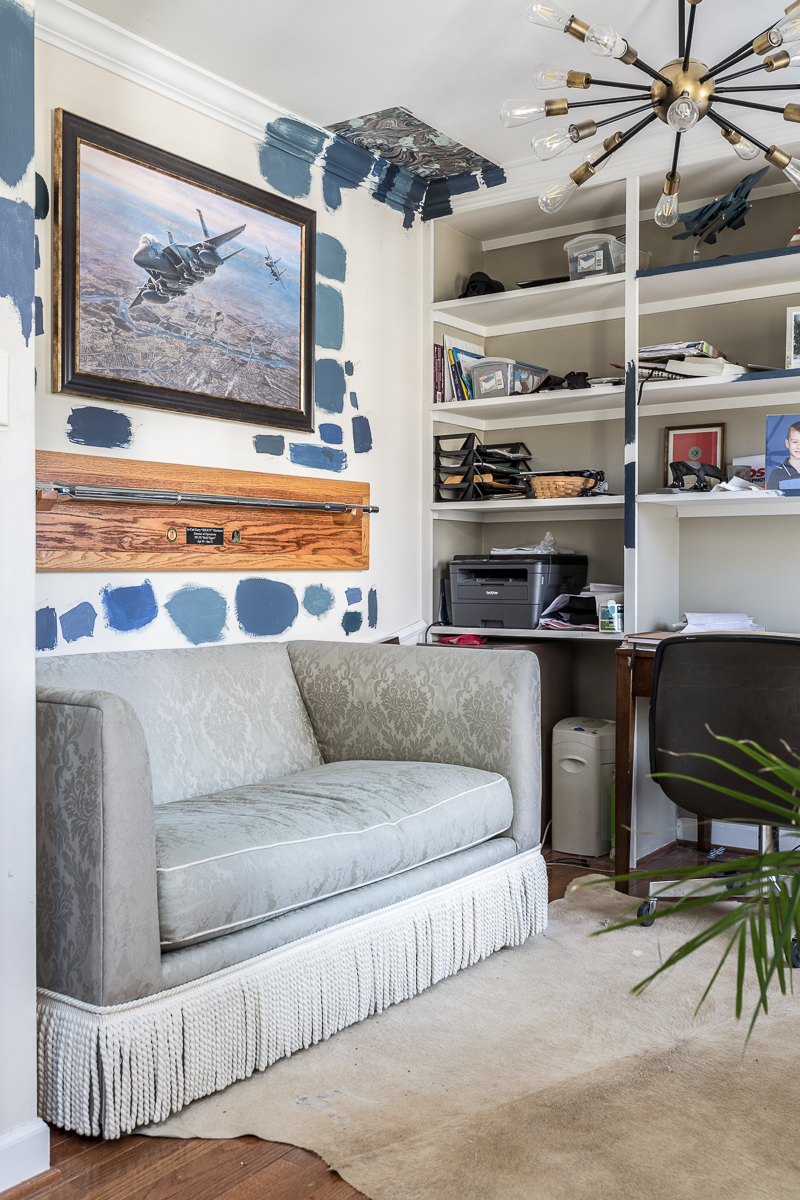 I think my husband would have preferred a nice brown leather chair, but we already owned this little settee and it happens to be extremely comfortable.  In fact, this is where I do much of my blogging.  Plus, it seats more than one person so I can snuggle the kids in here.  Anyway, it made sense in my brain to reupholster it in velvet from Fabric Place Basement, my go to store for buying solid fabric. They sell leather there too, but I didn't trust my upholstery skills to tackle that project.
 I opted to go tone on tone navy because I wanted to visually minimize the piece.  Sure, I wanted it to have some fun detail, but I knew that the ceiling had to be the star of the show.  The piping, pinstripe, and fringe are just enough.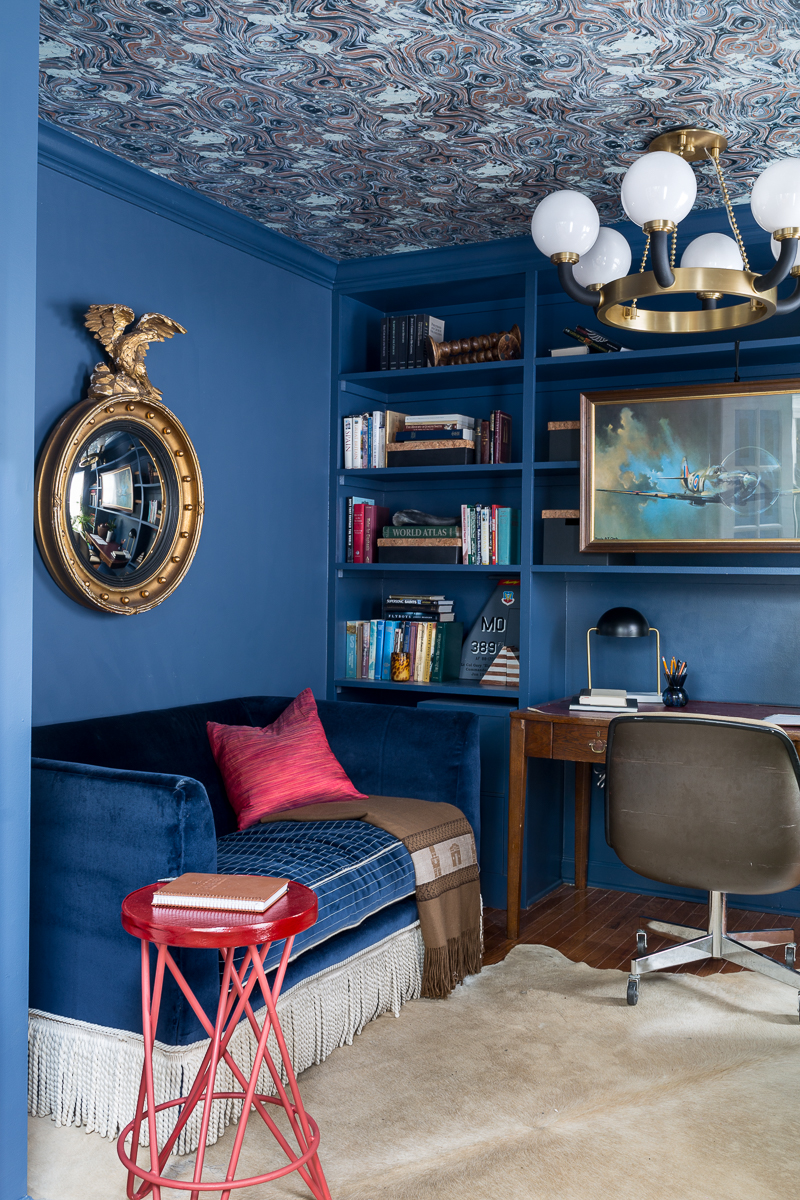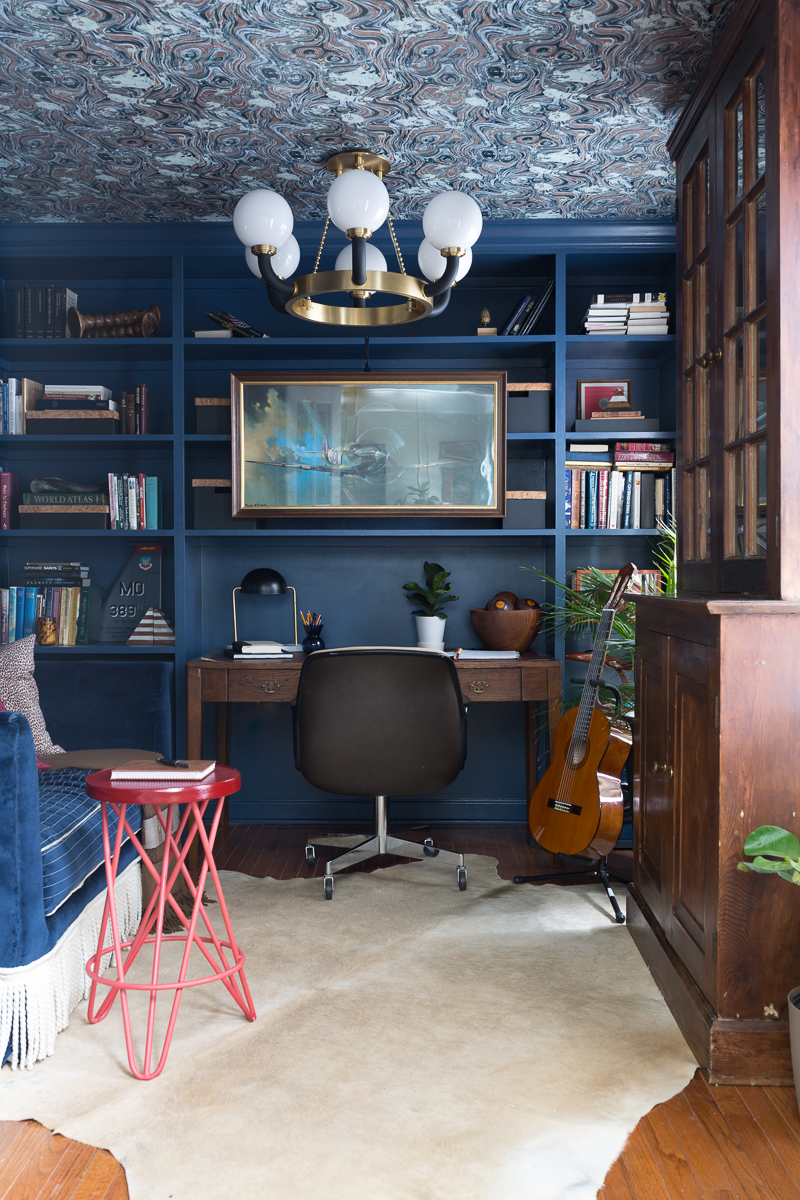 I know that during these crazy times an office makeover may not feel in touch with the reality of what is going on in the world.  Please know, however, that I have used this as one of many coping methods to finding happiness.  I've been creating and trying new things (hello, wallpapered ceiling).  It has been giving me the ability focus on some of the things that I can control.
Thanks so much for joining me!  Now go check out the other participants in the Sanity Check Refresh.  I can't wait to see what projects they picked to distract them or add function/beauty to our new normal.