Wicker Tub Front Panel DIY- Jeweled Interiors Spring 2020 One Room Challenge Wk 2
As we roll into week 2 of the One Room Challenge and I've been scheming and working! I've developed a wicker tub front panel diy to hide the dated unit that is original to this 1994 home.  I'm very pleased with the outcome, and am excited to show you the steps to this easy update.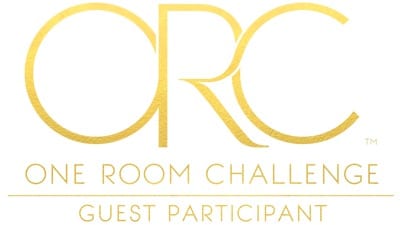 I want to start out with a huge thank you to Linda, from Calling it Home, for organizing this massive event. Thanks also to the media sponsor, Better Homes and Gardens.  I love that they are working together to create a community of interior designers, bloggers, creatives, and design enthusiasts to cheer each other on during this interesting times. One Room Challenge for the win!
Supplies for Tub Front Panel Frame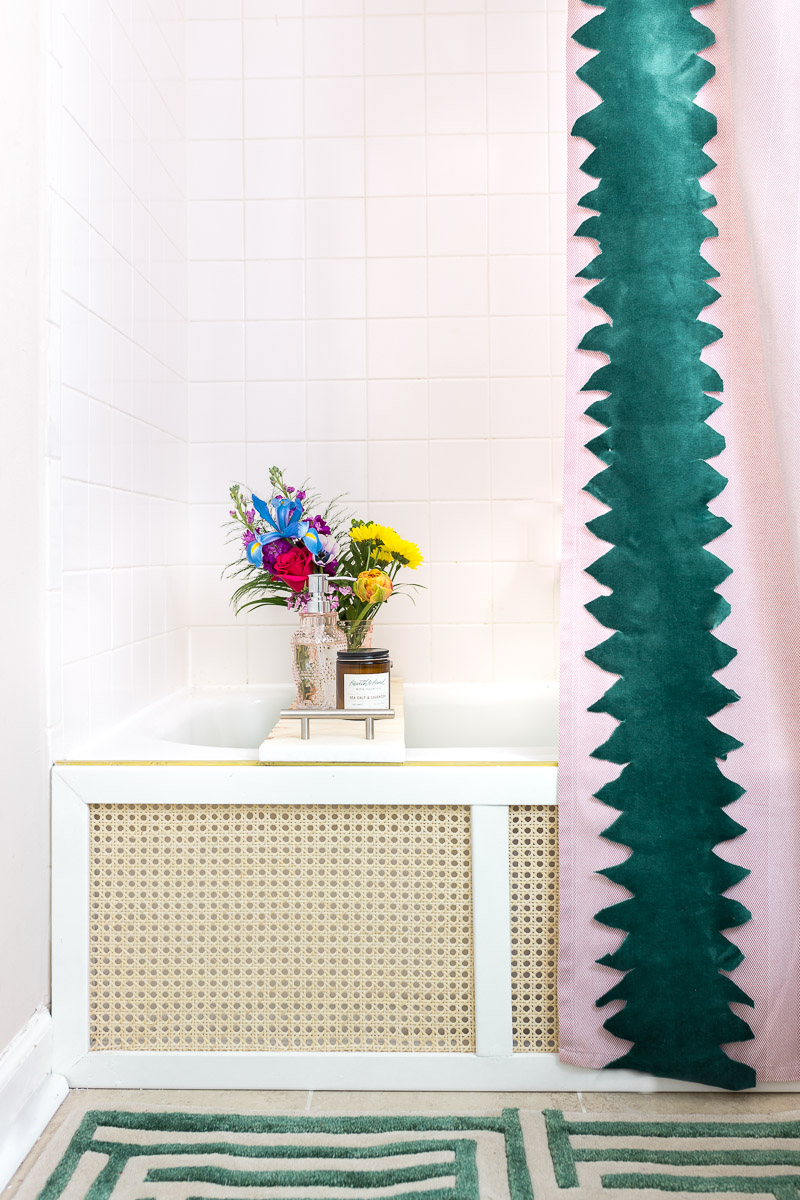 Supplies 
(based on a 59in W 14 in H tub)
15 (ish) LF of  1.5 in x 1.5 in lumber 
5 ft of 14 in by 16 or 14 in cane webbing.  I see several other options on Amazon. 
Staple gun and staples
Hammer and Nails or 16/and or 18 in gauge nail gun
1 piece of Schluter color of your choice (optional) 
Screws and screw driver 
Scissors and or razor blade 
Putty, sandpaper, brush, paint, and varnish
Step 1: Build the Tub Front Panel Frame
The wicker is stretched around a very basic frame. If you can meausre and cut a clean 90 degree angle, then this will be easy for you.  Simply miter the 1.5x 1/5 in wood to the exact length and height of your tub. Then meausre out to cross beams.  Drill holes, and then sink in screws in each corner.  This should be decently sturdy because you will be applying force when installing the cane.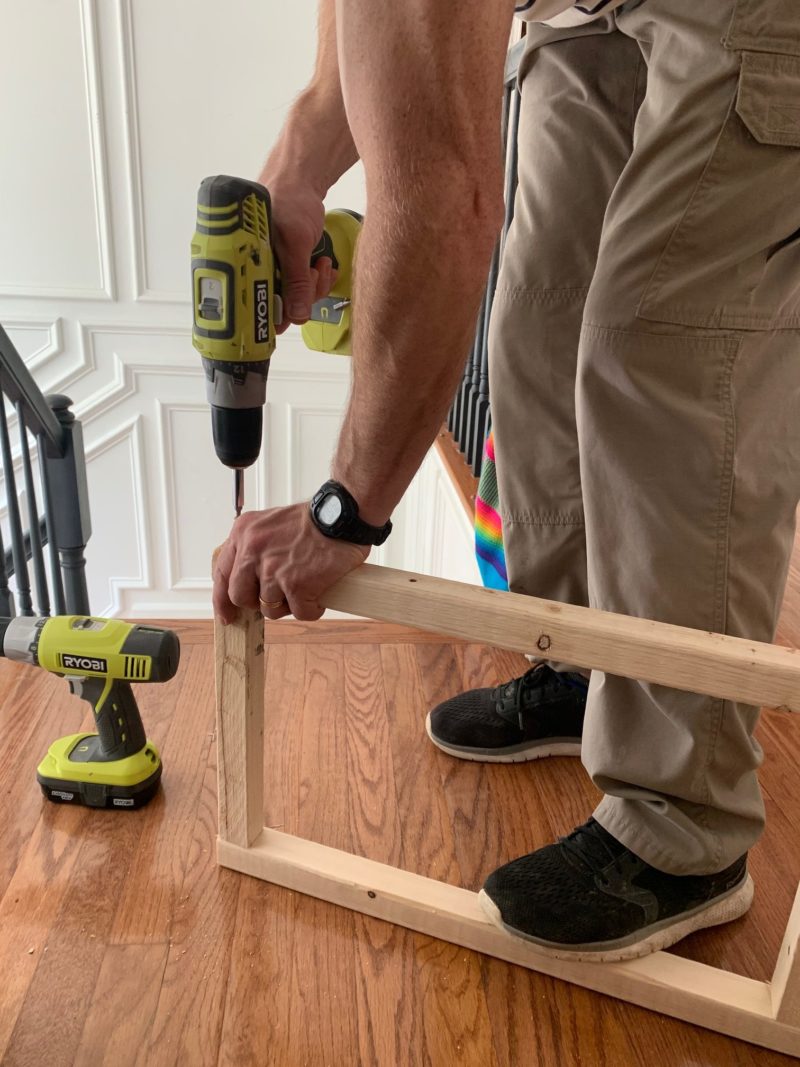 Add two cross beams, leaving three eaqual sized rectangles. The finished frame will look something like this: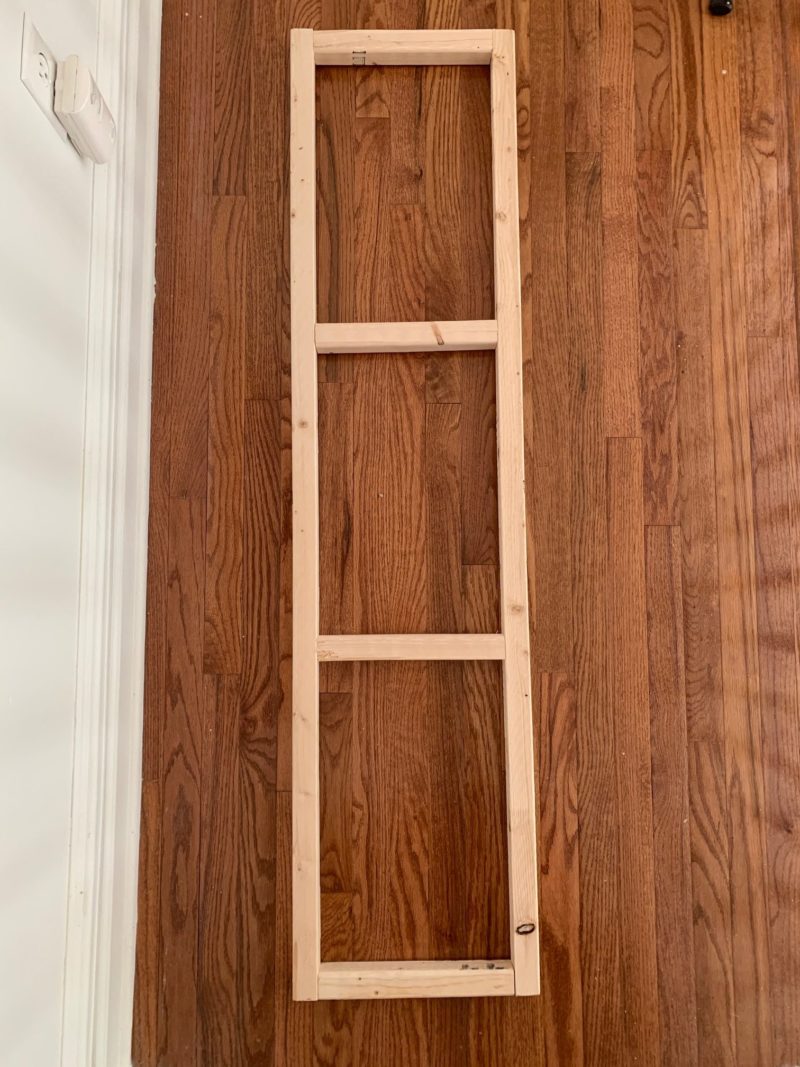 Then putty the very top section and paint the entire tub front panel white. Optionally, you leave it neutral and seal it with a waterproof finish.
Soak your cane for 20-30 mins.  This will make it taut once dried.
I learned this lesson the hard way.  After I finished the tub front panel the first time, I woke up to a saggy, sloppy mess.  I knew I would need to restretch the cane.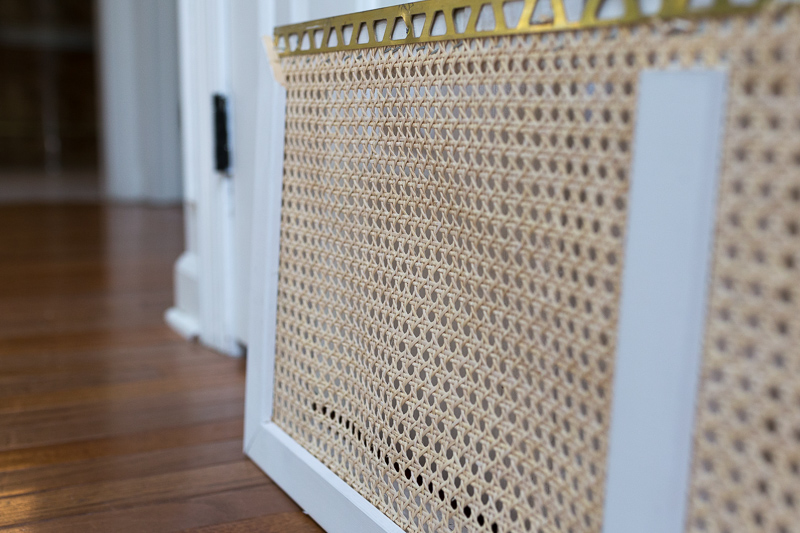 After some research, I realized that soaking, and thoroughly stretching was the key to a more professional finish.
Step 3: Attach the Cane to the Tub Front Panel
The second time around I made a concerted effort to REALLY stretch the cane.  I also went about it a little bit like an upholstery project.  I stapled in the center of each side and then, while stretching, pulled straight and worked towards the corners.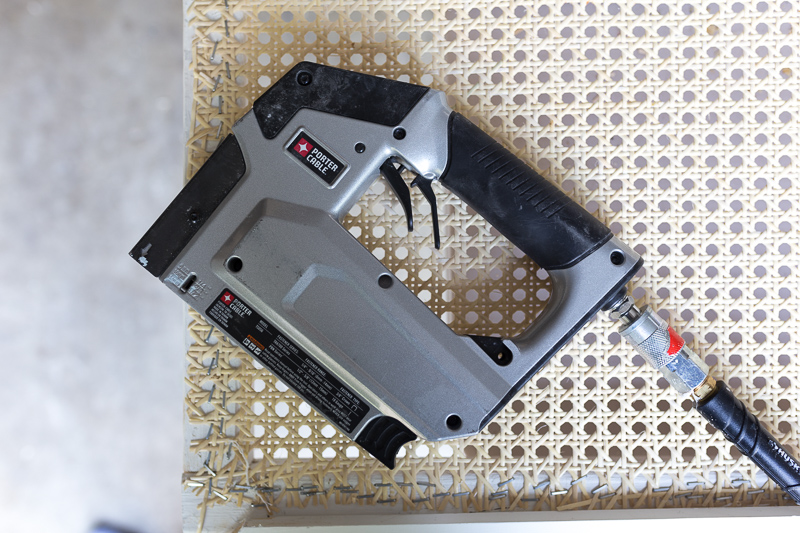 Notice how many staples I used.  I tried to secure every little cross-section of the wicker.
Once secured, I let the wicker tub front panel dry.  I actually used a hair dryer to speed up the process, and it worked well.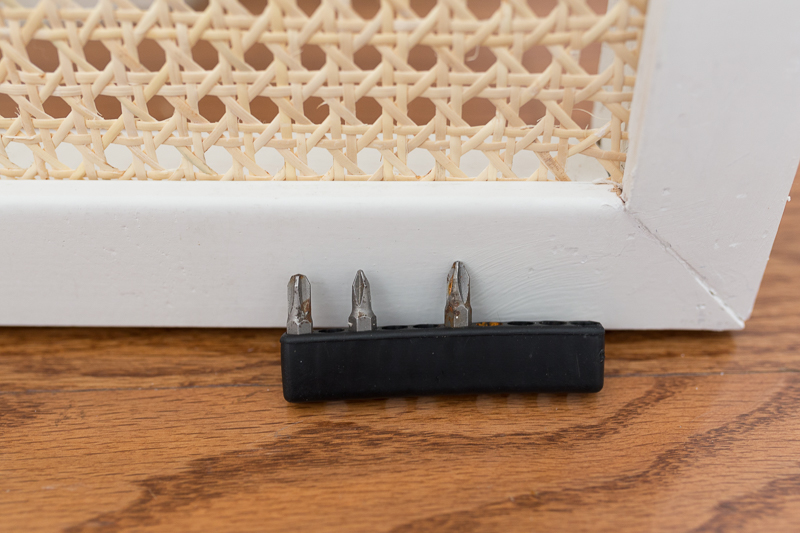 I had a hard time stretching it with my fingers so I devised this concept out of  a row of screw heads.  I was able to customize the size, and then got even tension as I stretched.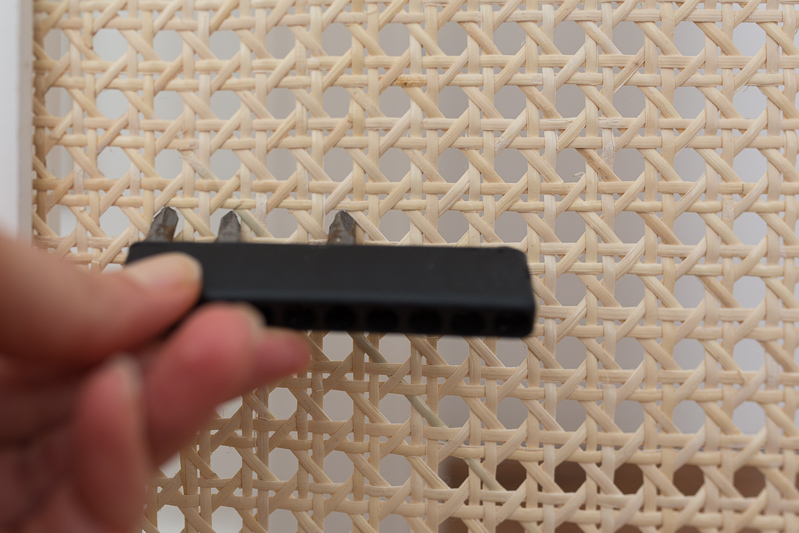 Step 4: Attach the Schluter (optional)
I could have just used caulk here, but decided that the Schluter looked more finished along the top.
 If you are opting for a more permanant design, you could skip this step and add a piece of marble, or quartz to the top.  Since this is simply a refresh, I am ok knowing that the cane will not last forever.  The hope and expectaion is that it will last long enough for me to formulate a gut job design plan in the next couple of years….hopefully COVID 19 will be in the history books by then.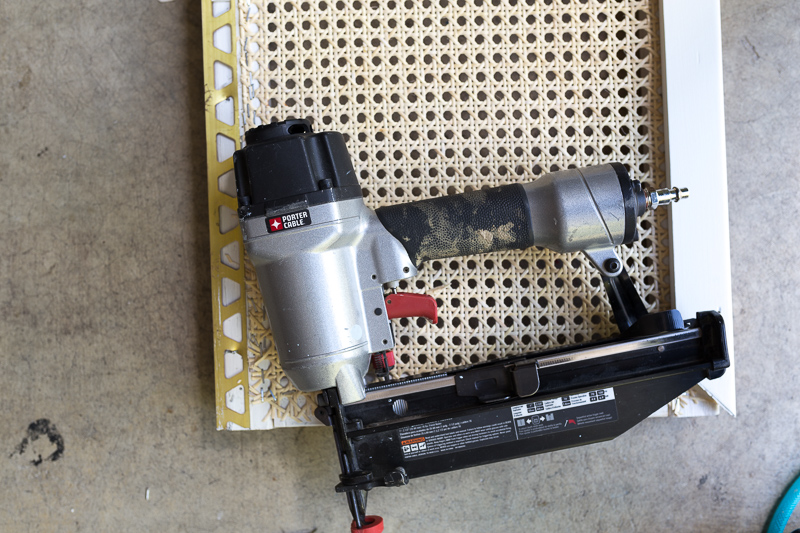 You can see in this image  bleow (taken as I deconstructed the unit to get the wicker tighter) that I attached the Schluter as flush and evenly as possible.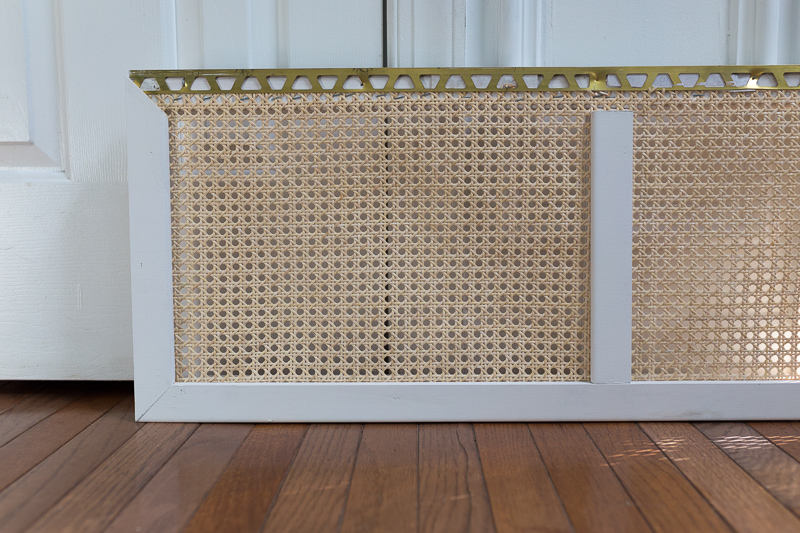 I used a 16 guage nail gun to sink through the Schluter.  A hammer and nail may work as well.
I cut all of my pieces of trim to line-up with the dimensions of the frame using my miter saw.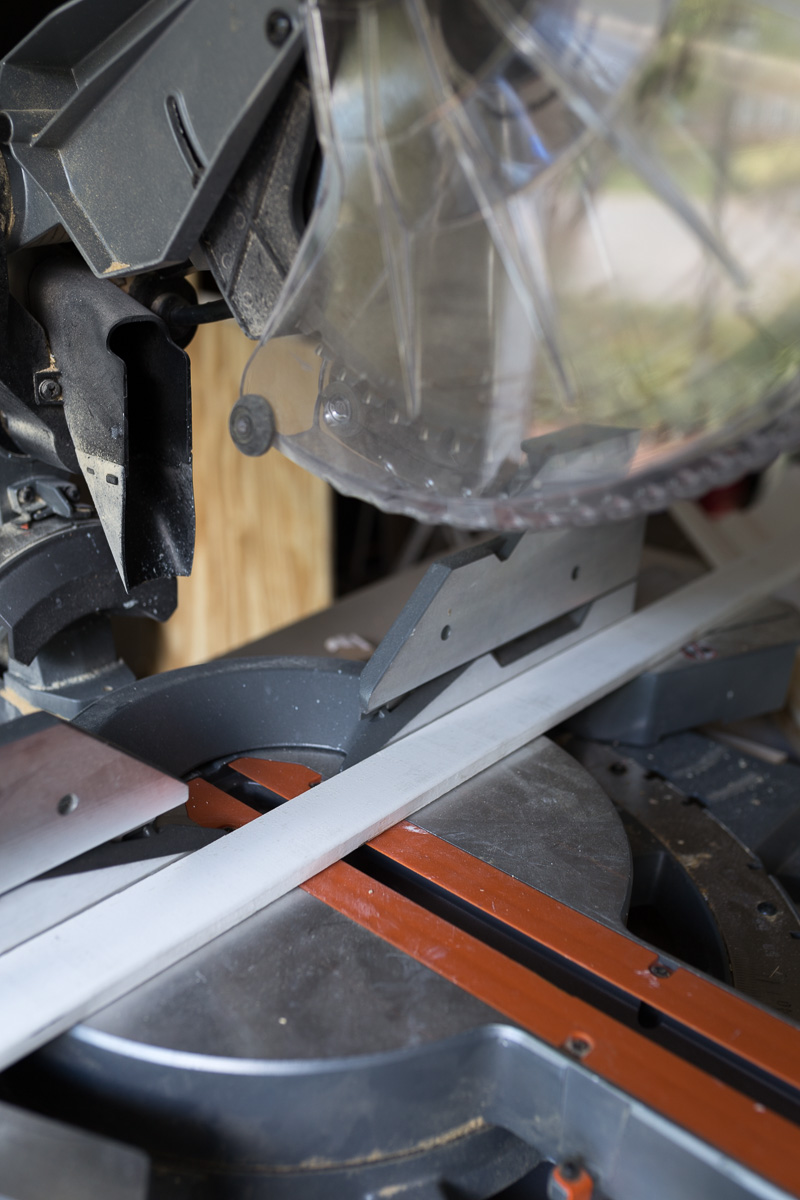 I was careful to ensure straight angles, and put extra effort into lining up the pieces perfectly.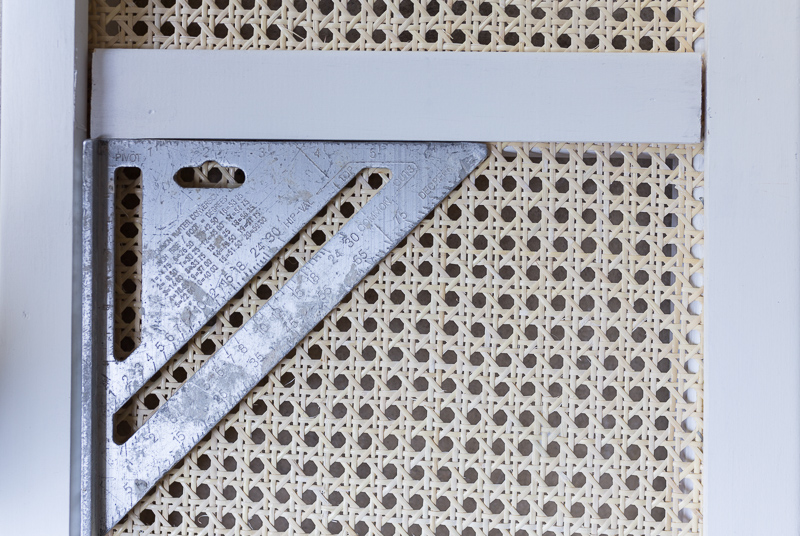 Then I used my brad nailer to attach the trim over the trim pieces to the front.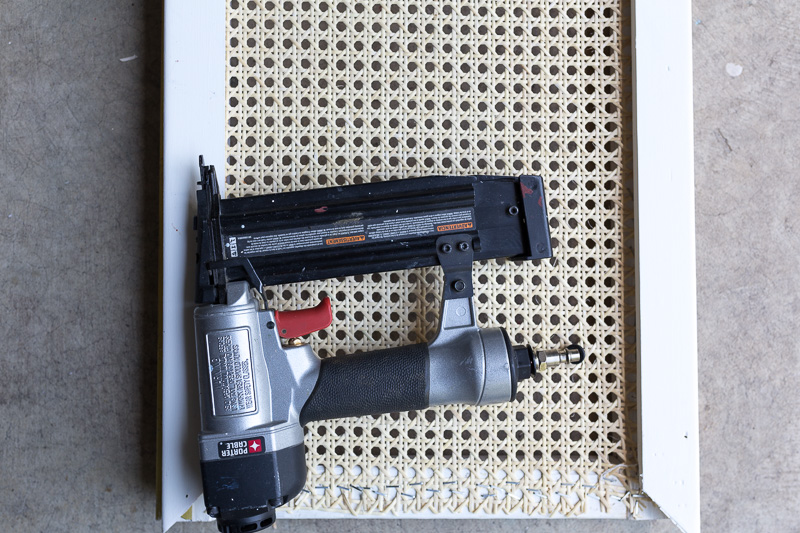 Step 6: Putty, Paint, Varnish
Last, but not least, I puttied, painted and sealed the frame.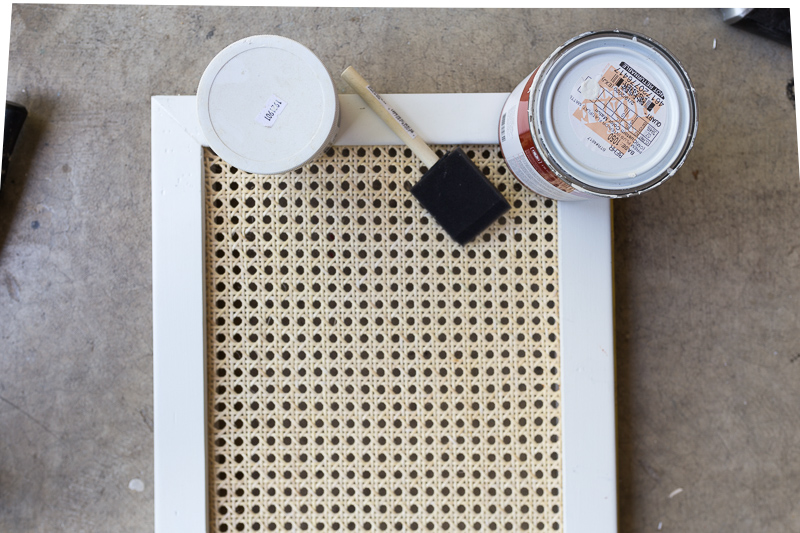 Here is the bathroom before the tub front panel installation.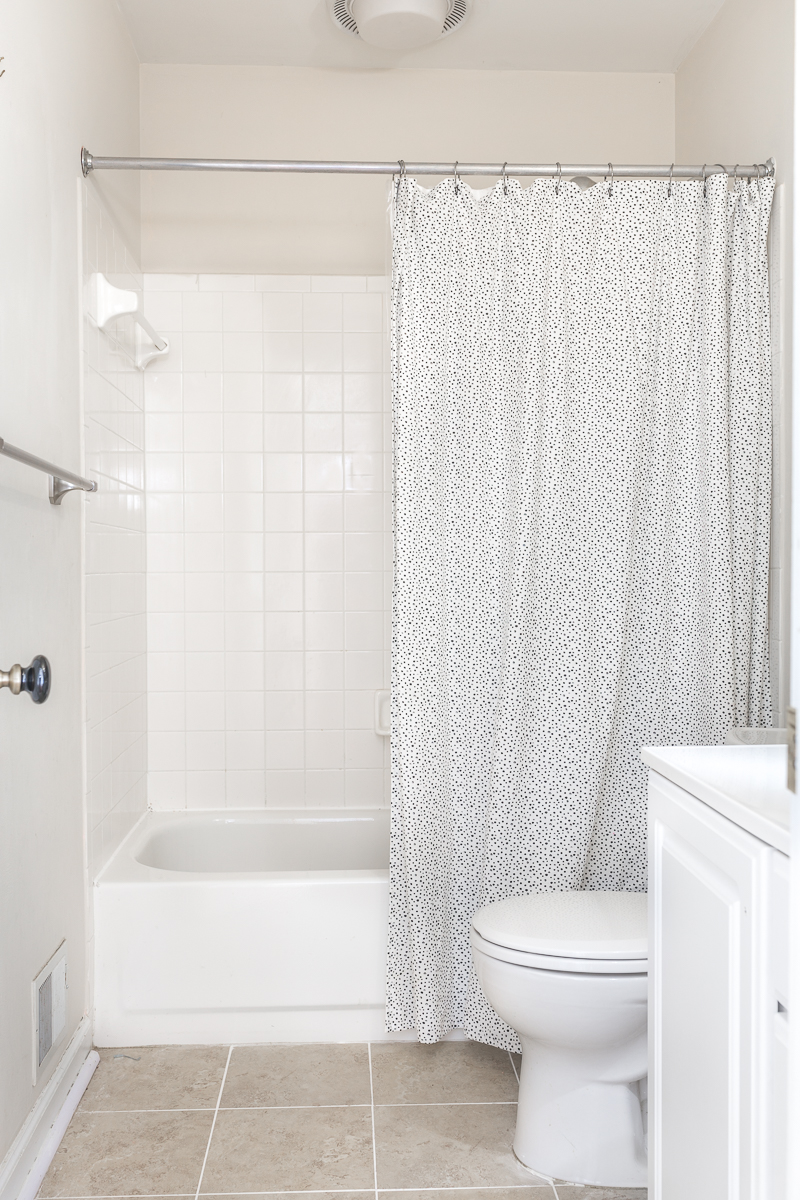 Here it is after.  The cane not only hides the tub, it adds a certain warmth and polish to the space.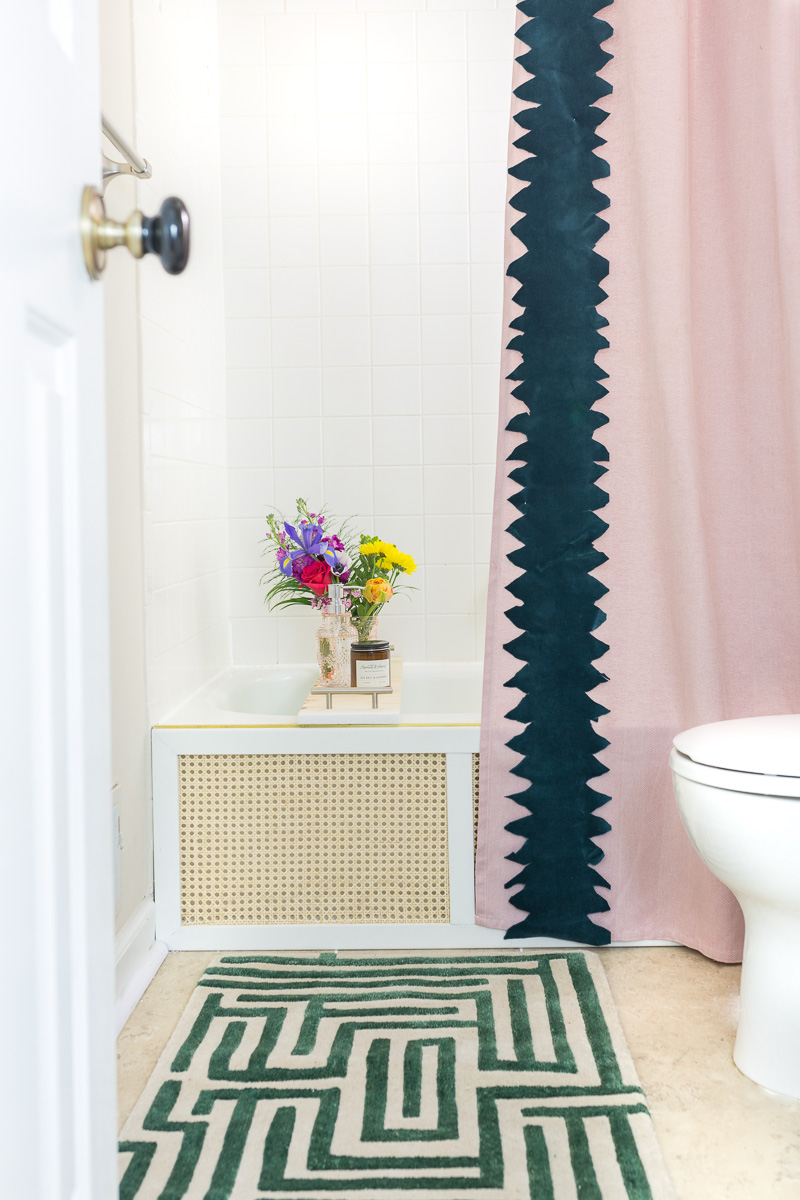 I'm planning to take this same concept and use it on a larger scale in the future.  I think it would easily work as a headboard or daybed frame for my daughter's room.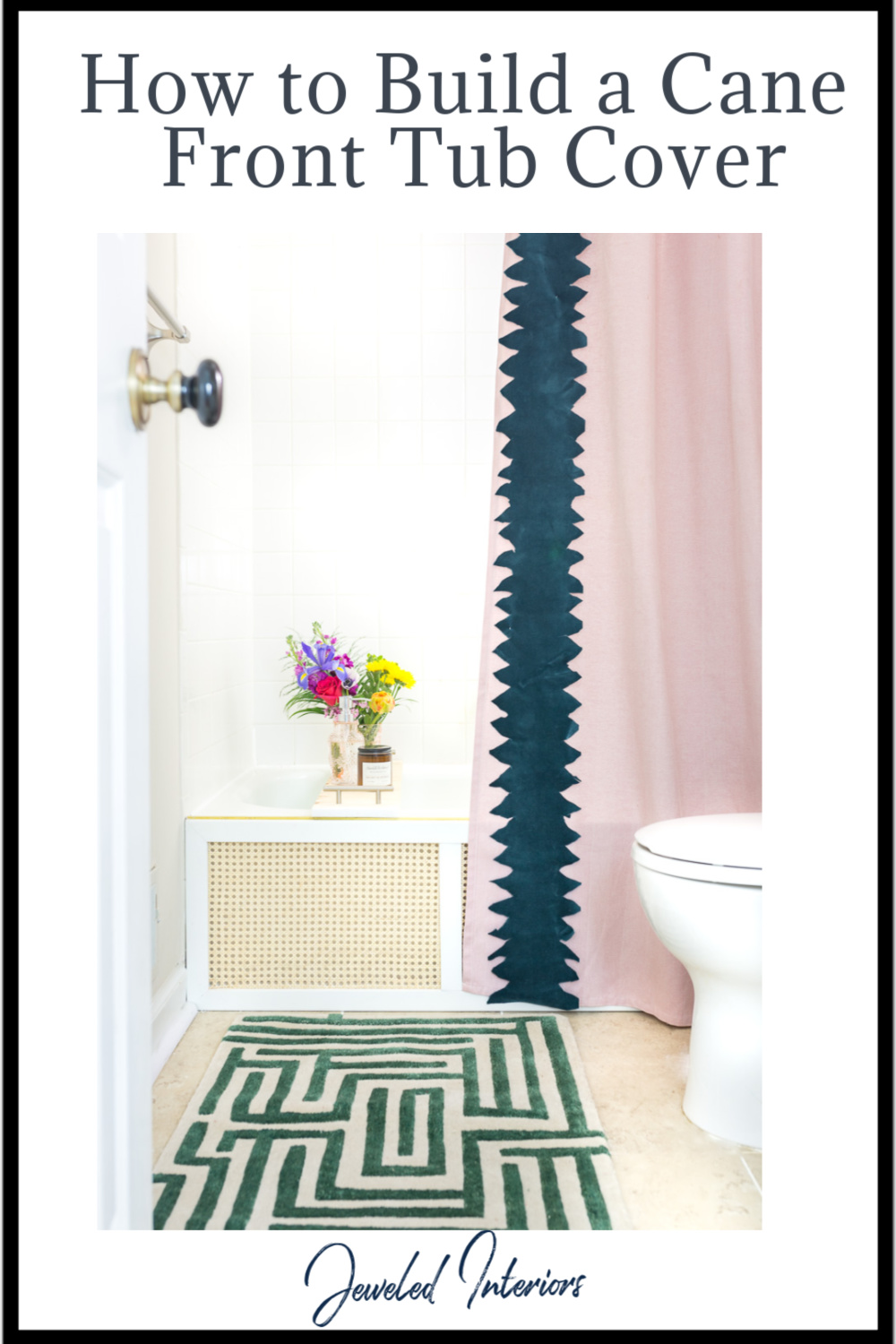 All of the products mentioned are sponsored or discounted but the opinions are 100% my own.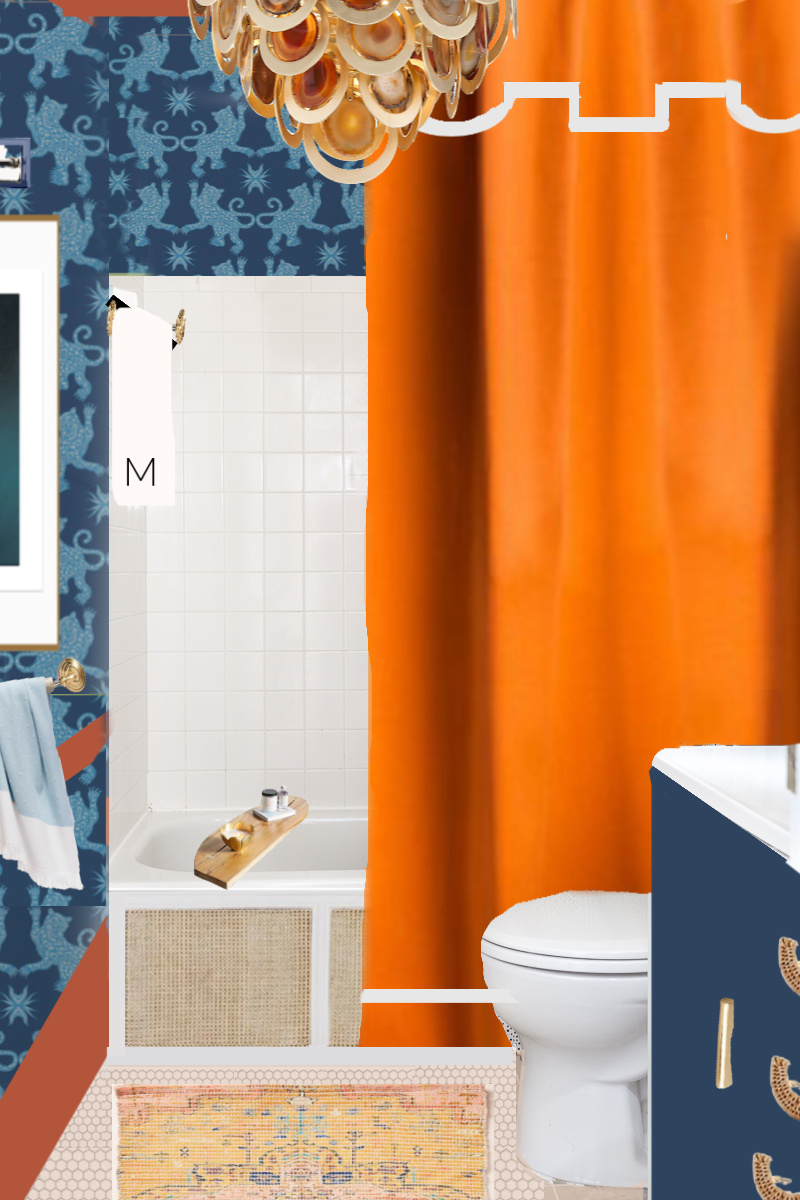 So, um yeah….That's a big change. I know. I think I just wanted something totally FUN!  A little jewel box of a room that makes me smile every time I walk by.  The kids are being great sports.  They are so use to at least one room of the house being under construction at all times.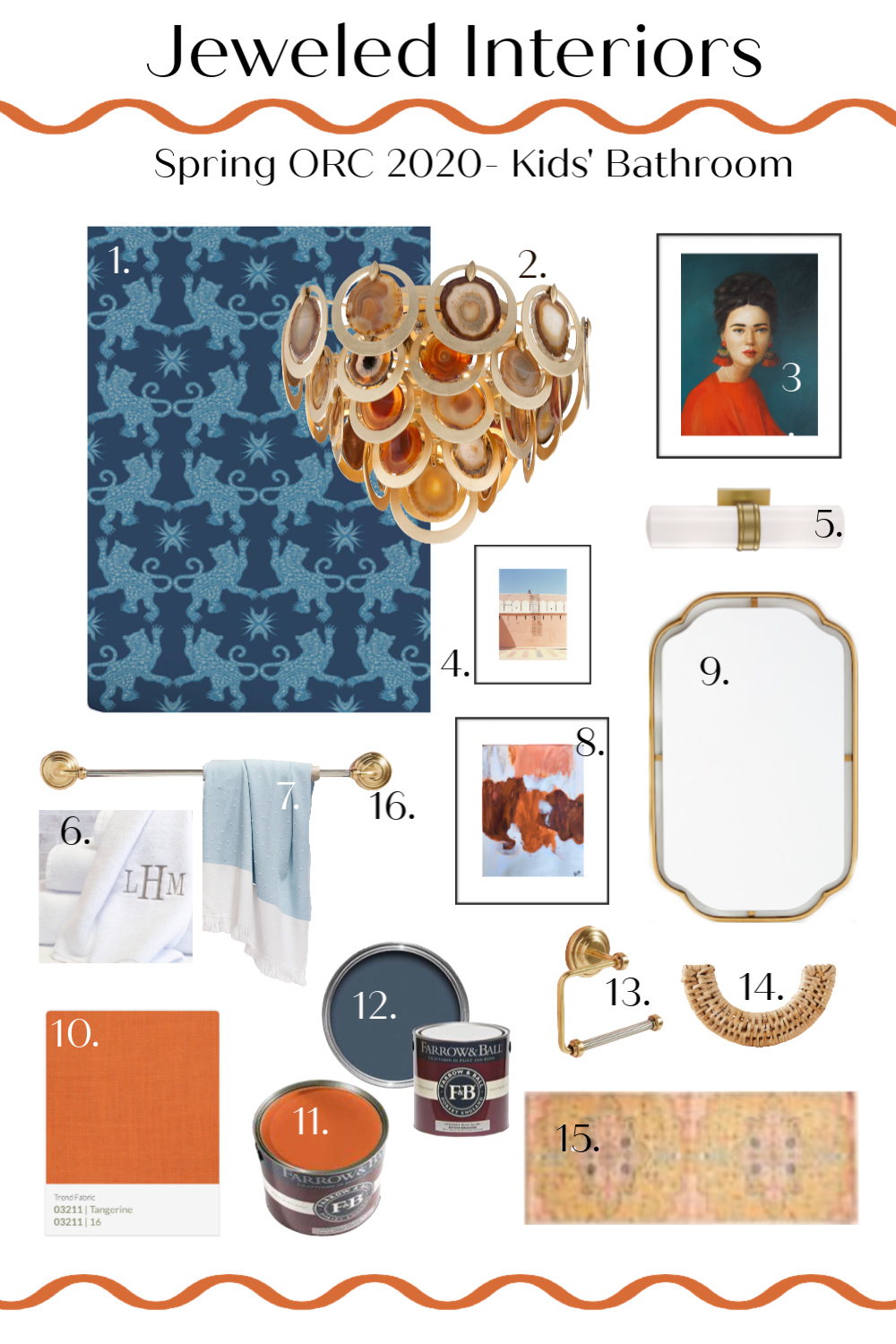 A Huge Thanks to my Fabulous Sponsors
KID'S BATHROOM TO DO LIST
Install Crown and Chair moulding (Metrie)
Paint Trim in Charlotte's Locks (Farrow and Ball)
Paint vanity in Stiffkey Blue
Install Anthropologie  towel bar (x2), toilet paper holder, hand towel rack, handles, and rug
Hang Rockstar Chandelier (HVLG)
Install Wallpaper (Hygge and West)
Build Tub Cover out of wood and wicker.
Sew Fringe Shower Curtain (discount) (Trend Fabric)
Finalize Art (Artfully Walls)
Learn to homeschool four kids
Stay Safe and Stay home as much as possible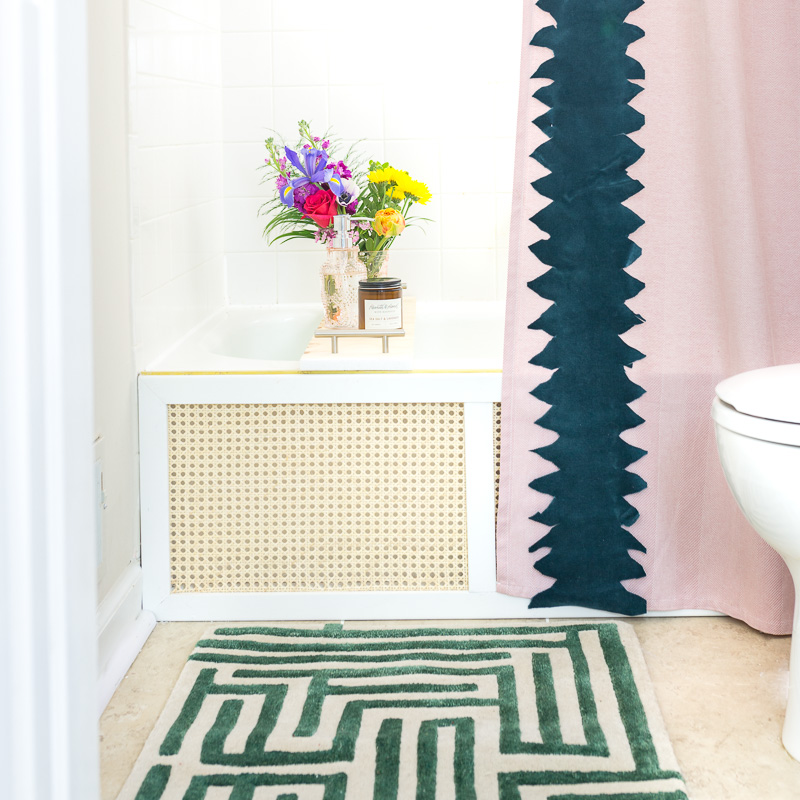 Thank you so very much for joining me on the Jeweled Interiors  kids' bathroom Spring 2020 One Room Challenge.  If you like what you see here don't forget come back and poke around a bit after the link-up.  Oh, and following me is fun too.  Check back each Thursday as I transform this space into a colorful, soulful, and glamorous abode.