Vintage Bathroom Refresh Reveal for Jeweled Interiors Spring 2020 One Room Challenge
HERE WE ARE!  We made it to the BIG REVEAL of the kids Anthropologie inspired,  vintage bathroom for the Spring 2020 One Room Challenge, and that alone truly feels like a major accomplishment. Since I have a healthy respect for COVID- 19 and was trying to homeschool 4 kids in major lock down mode when this event started, this bathroom was never intended to be a gut-job.  Rather, it was intended to be a simple refresh and fun COVID distraction.  I am excited to show you what I was able to accomplish with a little outside-the-box thinking. It is a fun mix of whimsy, beauty, color, and funk.
Note: Most of the items discussed here were sponsored, but the opinions are 100% my own.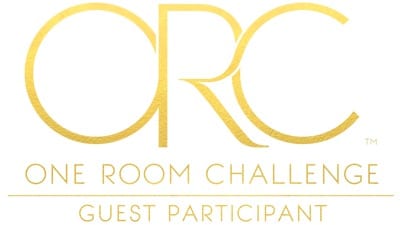 I want to start out with a huge thank you to Linda for organizing this incredible event. Thanks also to the media sponsor, Better Homes and Gardens.. This is my 6th  One Room Challenge and I am a huge fan of the establishment.  I sincerely appreciate the community of friends I have developed here and love watching everyone finish their rooms.  Don't forget to check out the other participants when you are done reading :).
Alright, let's take a quick stroll back through memory lane as we remember the space BEFORE the vintage bathroom refresh.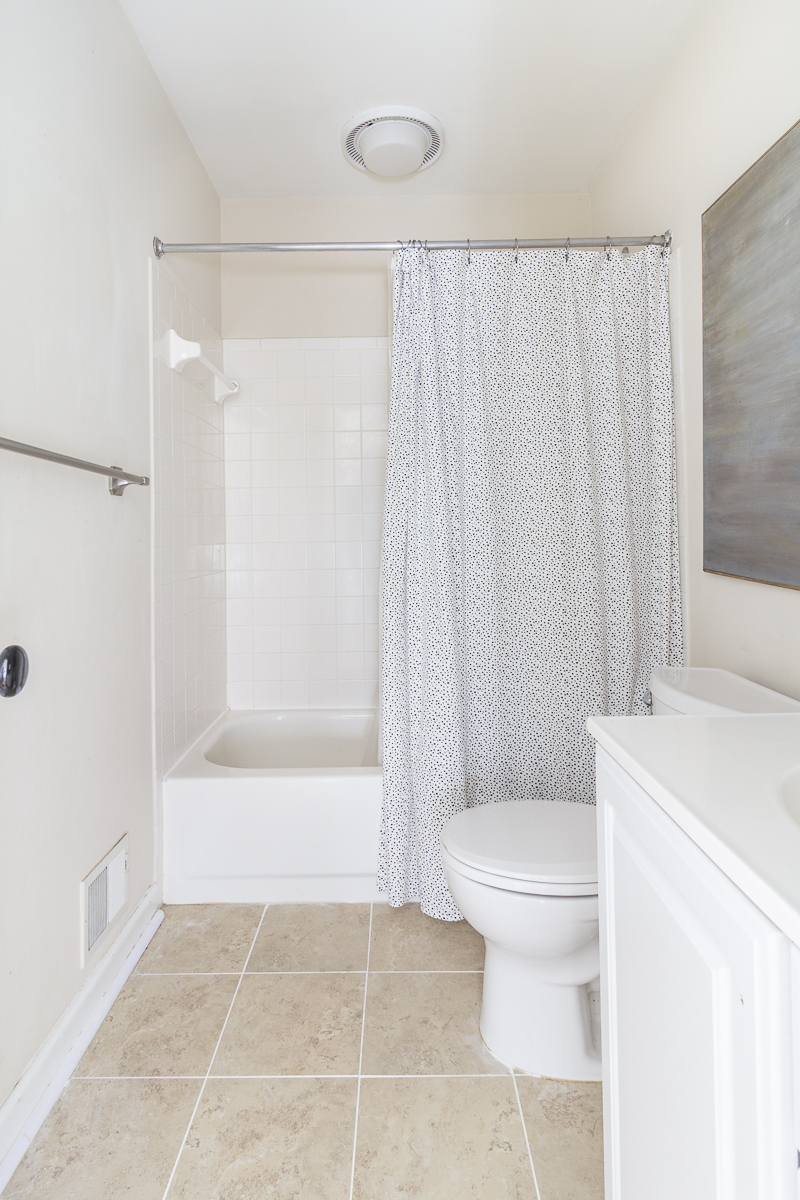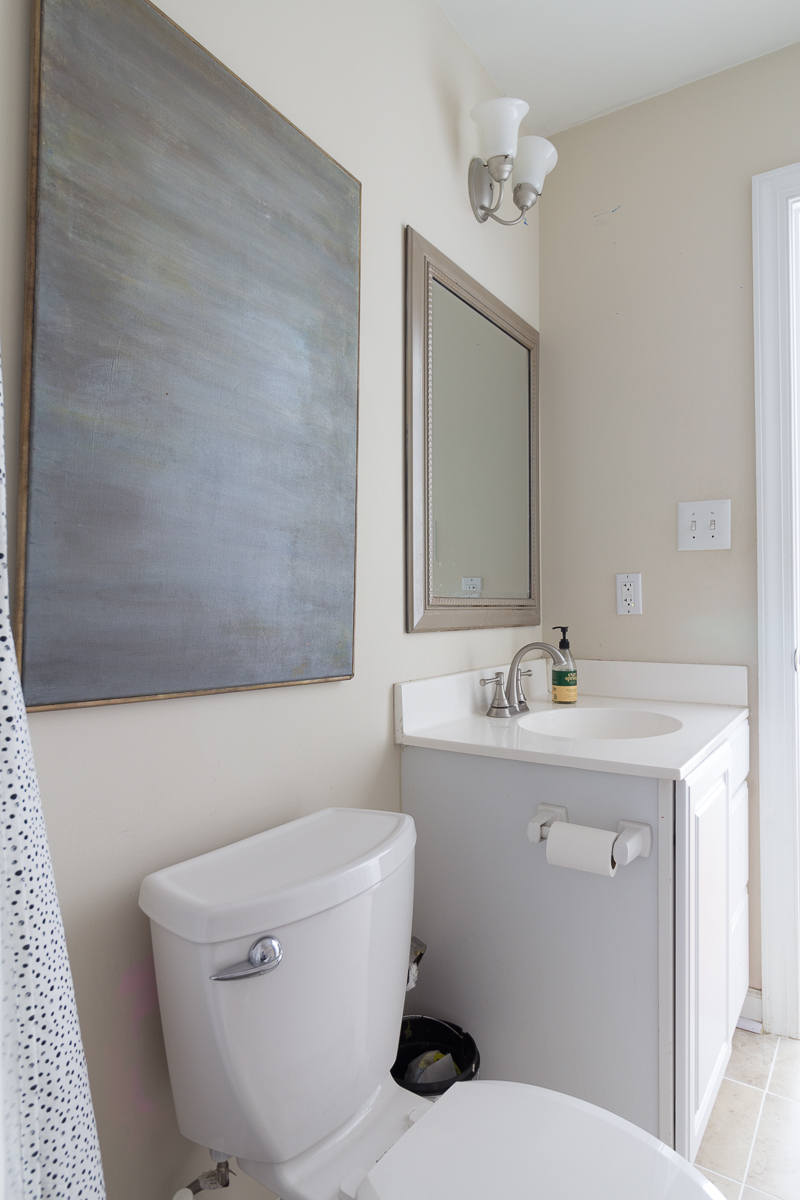 I mentioned in my Week 1 post that there was nothing technically "wrong" with this bathroom.  Everything functioned and, aside from being a tad dated and boring, this bathroom has worked well for my children.  I guess that explains why it has taken us two years to get around to tackling this space.
Wait for it…..
Here it comes……
TA DA!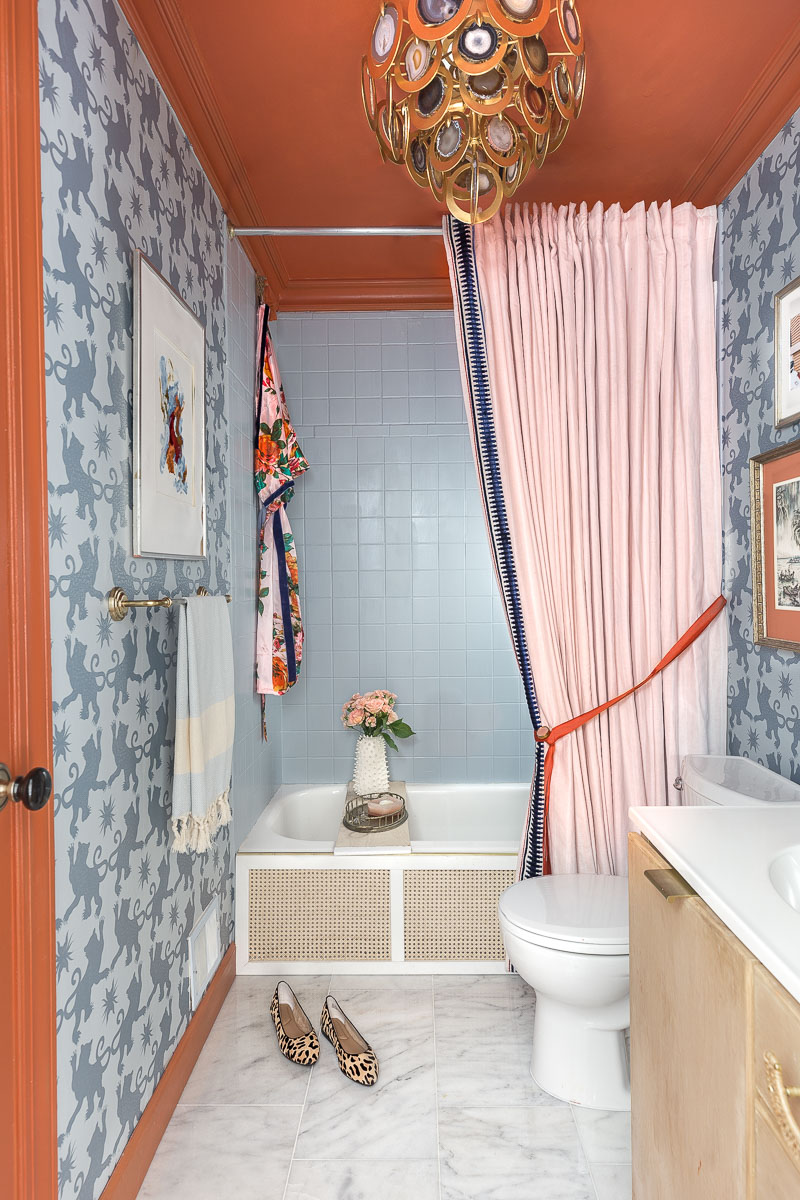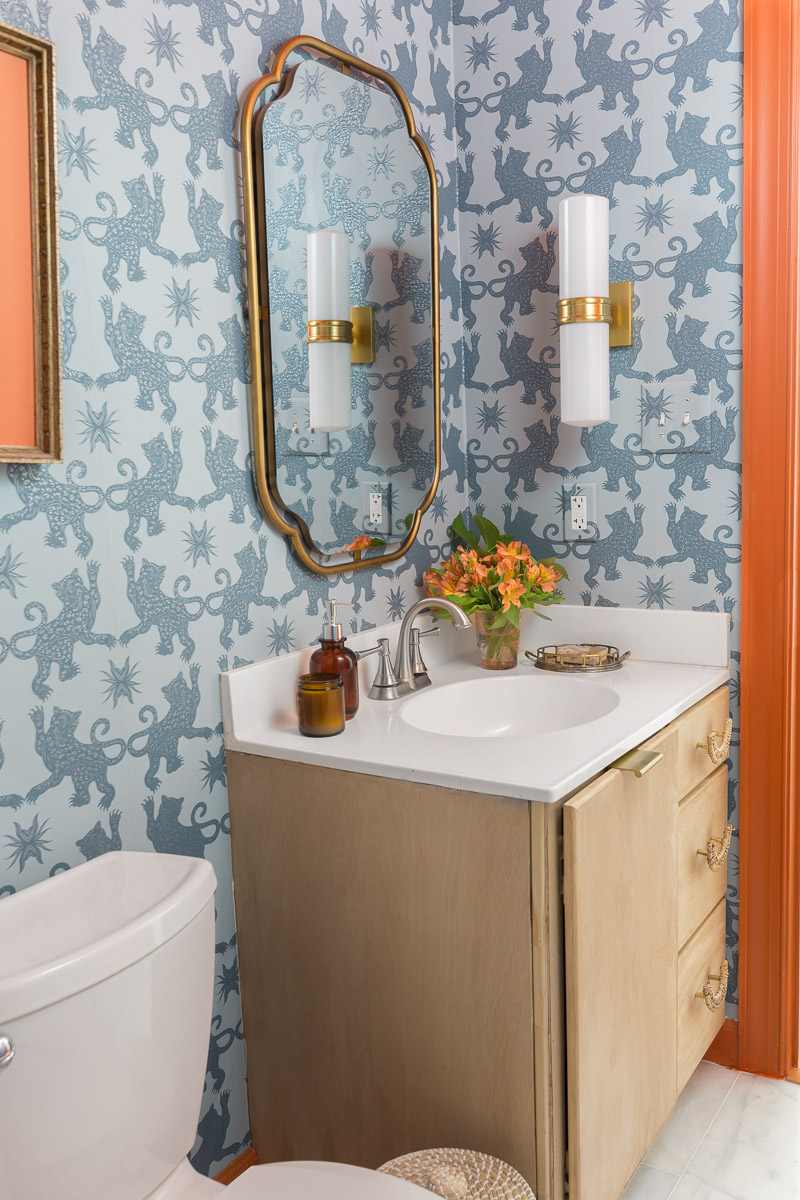 This dramatic vintage bathroom is perfectly fun, playful, and maximal for our family.
Ok, now let's break it down and check out each of the fun details.  I want to show you how I largely left the bones of the space intact, and just worked with the foot print "as is".  Someday I plan to gut this space and add a walk-in shower, but today is not that day. There is something about knowing a space is relatively temporary that gives me the guts to go big and bold!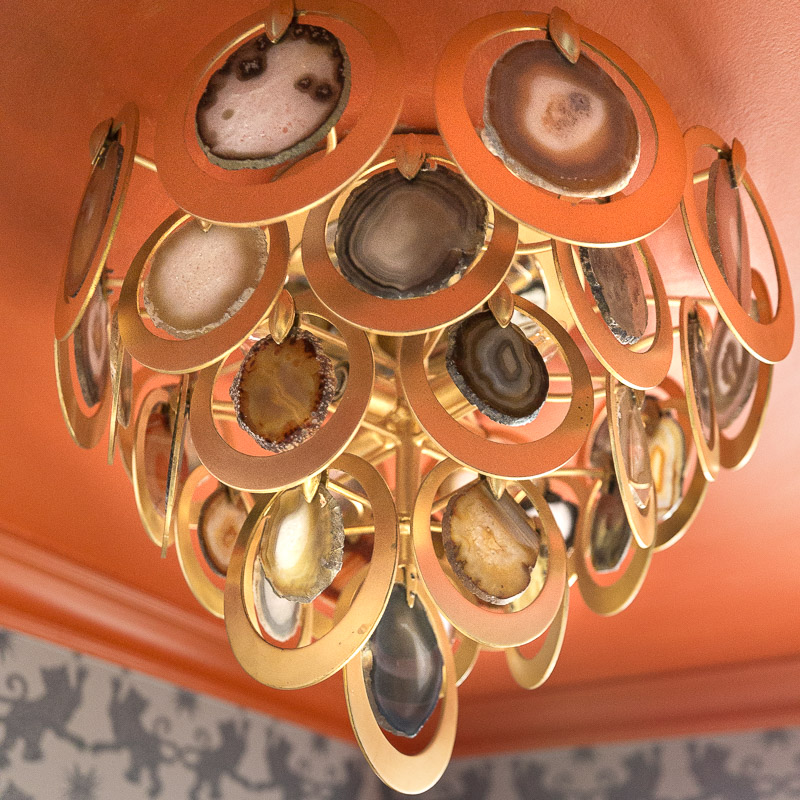 Hands down, the most rock star thing about this room is the Rockstar Flush Mount by Corbett Lighting.  The glam vintage styling of 36 agates into a  gold leaf light fixture… I mean….how epic is that?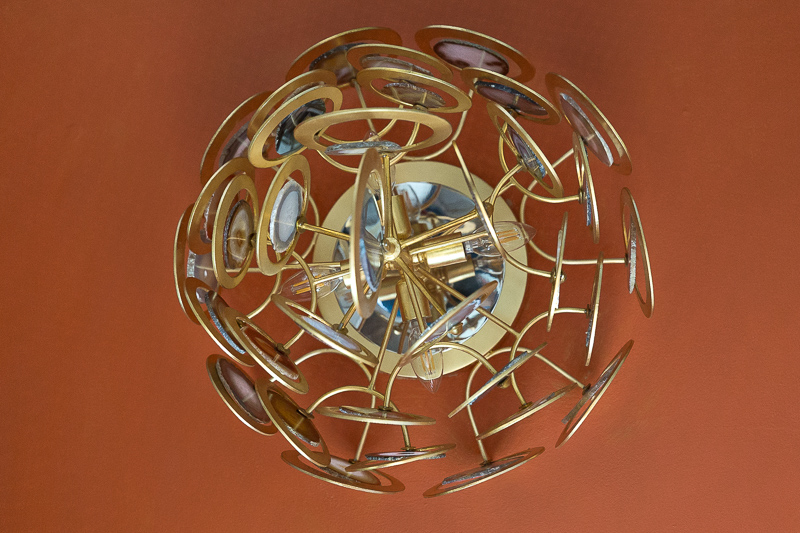 We also picked the Natalie for a light near the vanity.  It can hang vertically or horizontally and would work well in several areas of the home.  It packs a big style punch for the price.  Mitzi lighting by HVLG for the win!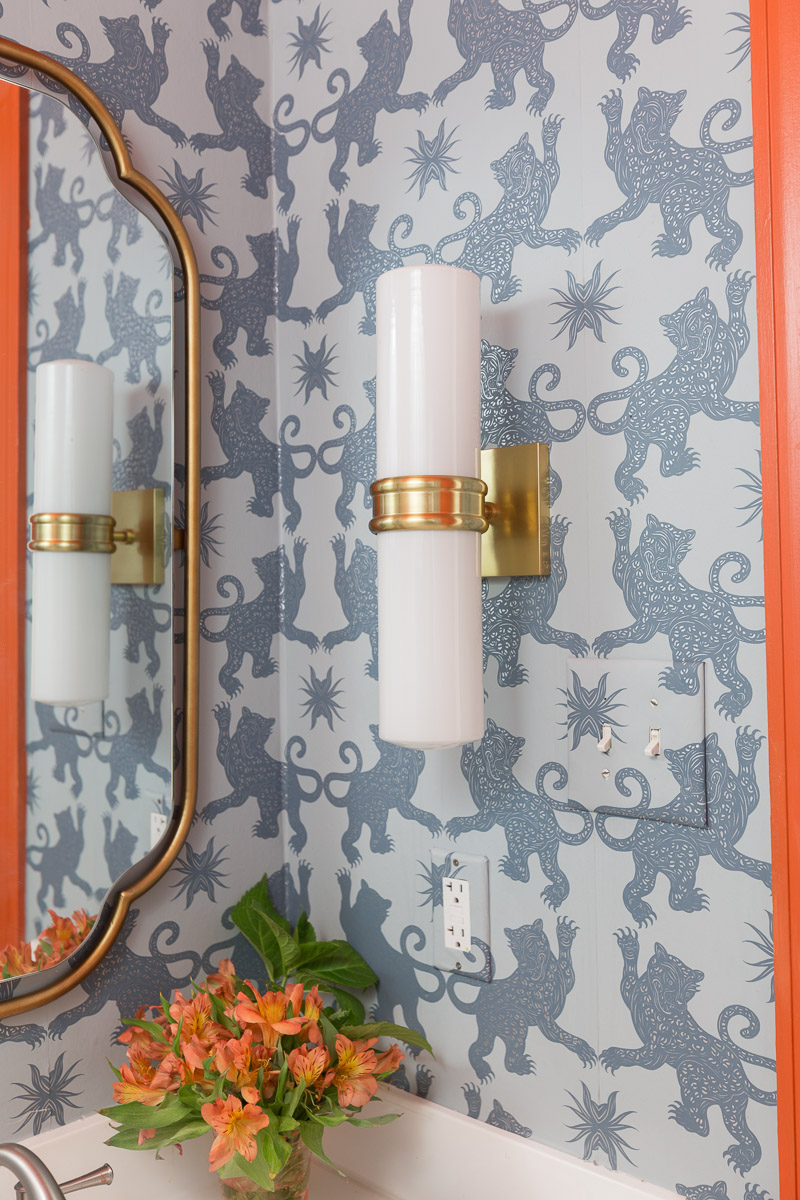 Vintage Bathroom Wallpaper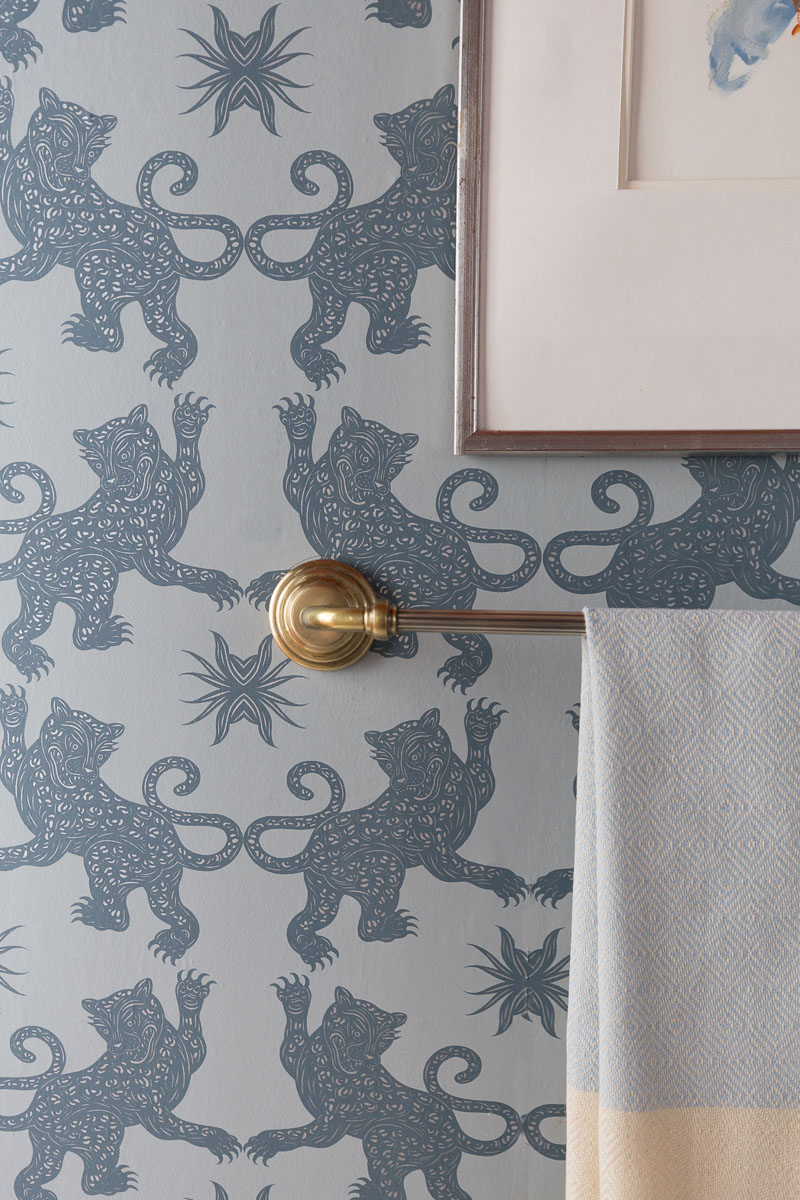 The starting point for this entire room was this fun Hygge and West wallpaper called Palace Mist that I wrote about in Week 6. It could read either modern or tradtional and has almost a fun chinoiserie vibe.  If you have been following along you know that I nearly went with the navy colorway, but opted to go lighter gray/blue instead.  I'm so glad that I did for this particular space, but I still love the darker option as well.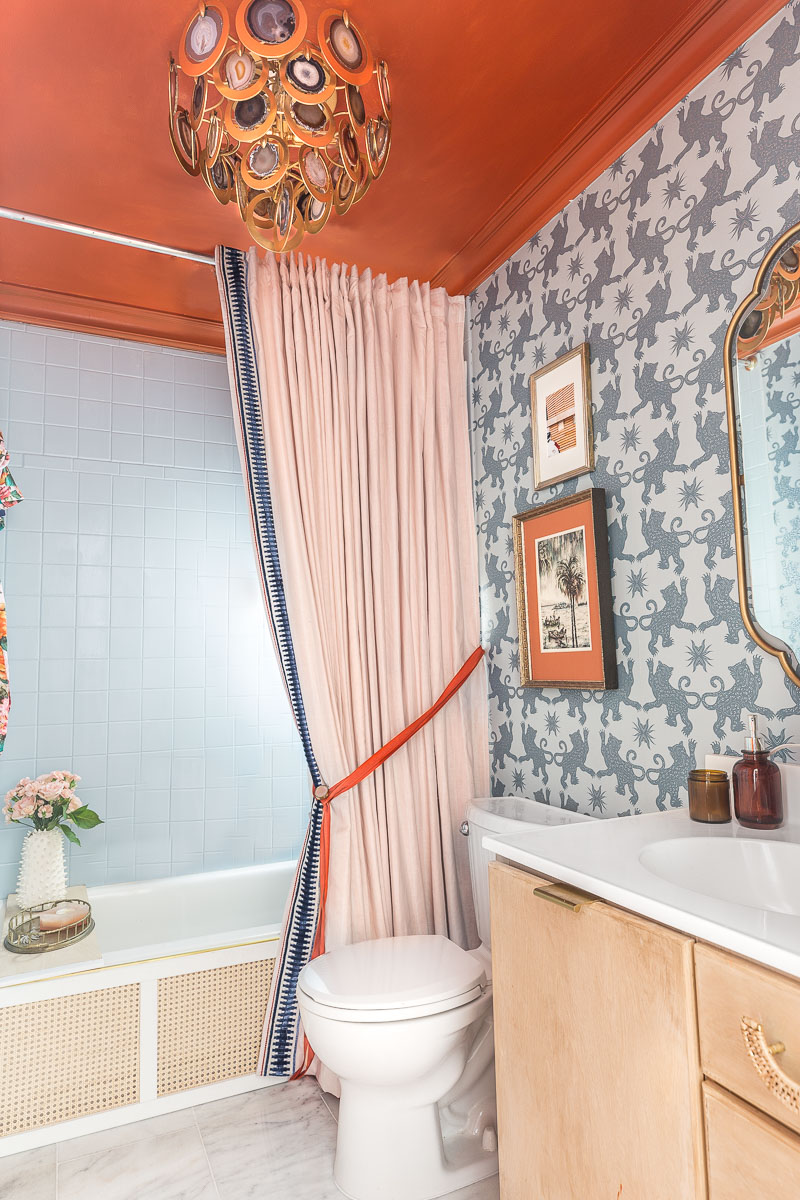 It is amazing the impact that wallpaper can have on a space.
If you look at the before pictures you will notice a plain white square tiled shower surround that ended near the shower head.  I was looking for a way to update the look without hiring my contractor to replace it all together.  Confession time: Until two weeks ago  I hadn't ever tiled anything before.  NOPE! Nothing!  While I have a good assortment of DIY skills, tiling hadn't ever been on the list.  I saw the gap above the top of the tile and decided that this was the perfect place to try my hand. That little experiment demistified the concept of tiling for me, but I also learned enough to know that I would almost rather hire, Richard, my amazing contractor to do it for me. LOL.
I don't know about you, but I've always been intriguied by the concept of PAINTING tile.    Once I had the (ALMOST matching) white squares to the ceiling I realized that a unified coat of paint would make that entire shower space feel intentional…even if it really was more of an after thought (reference easy COVID-safe refresh conversation).
I feel very fortunate to have found the solution via a deep dive into the internet.  Klass Kote is a paint/enamal company that sells, amongst many other things, paint designed to your bathroom/kitchen tile.  Here is the kicker though…they can custom color match!  BINGO! I wanted a shower tile the same color as my wallpaper so that your eye bounces around the the the lovely lions on my wall, instead of my old tile.
I will write an in depth step by step tutorial explaining how I accomplished this in the next week or two.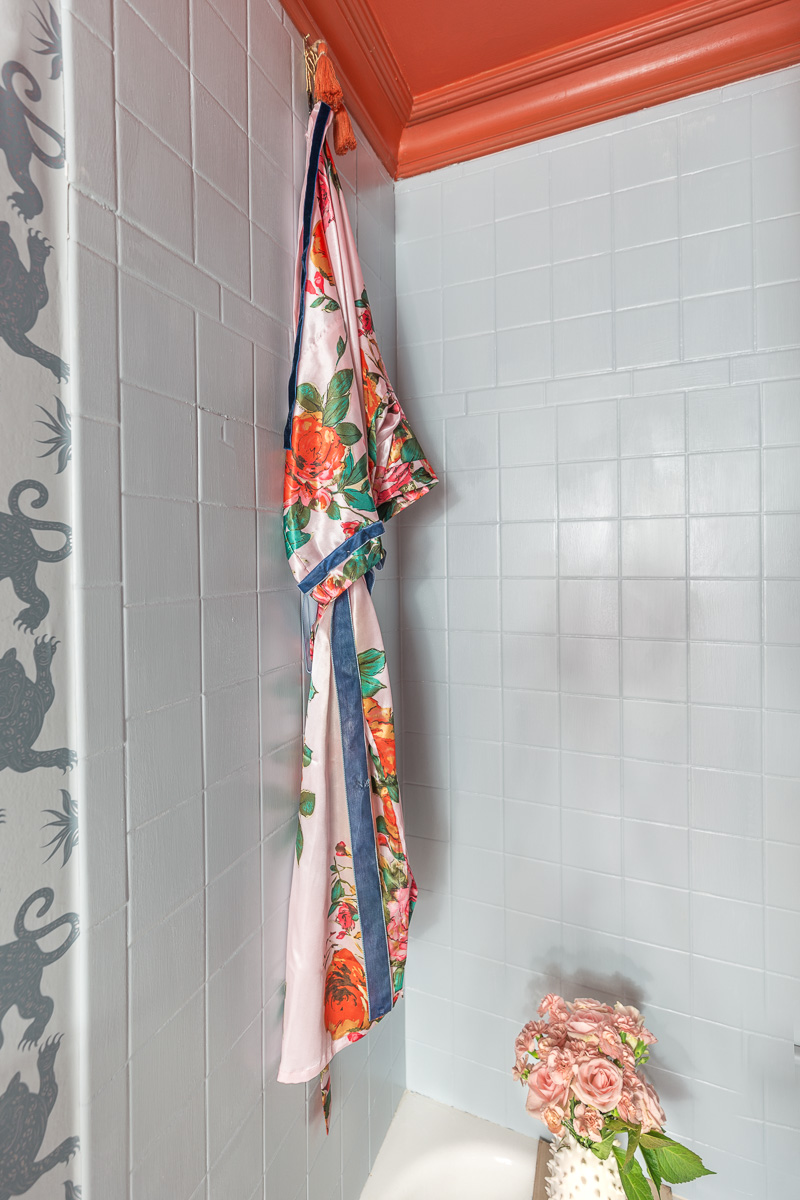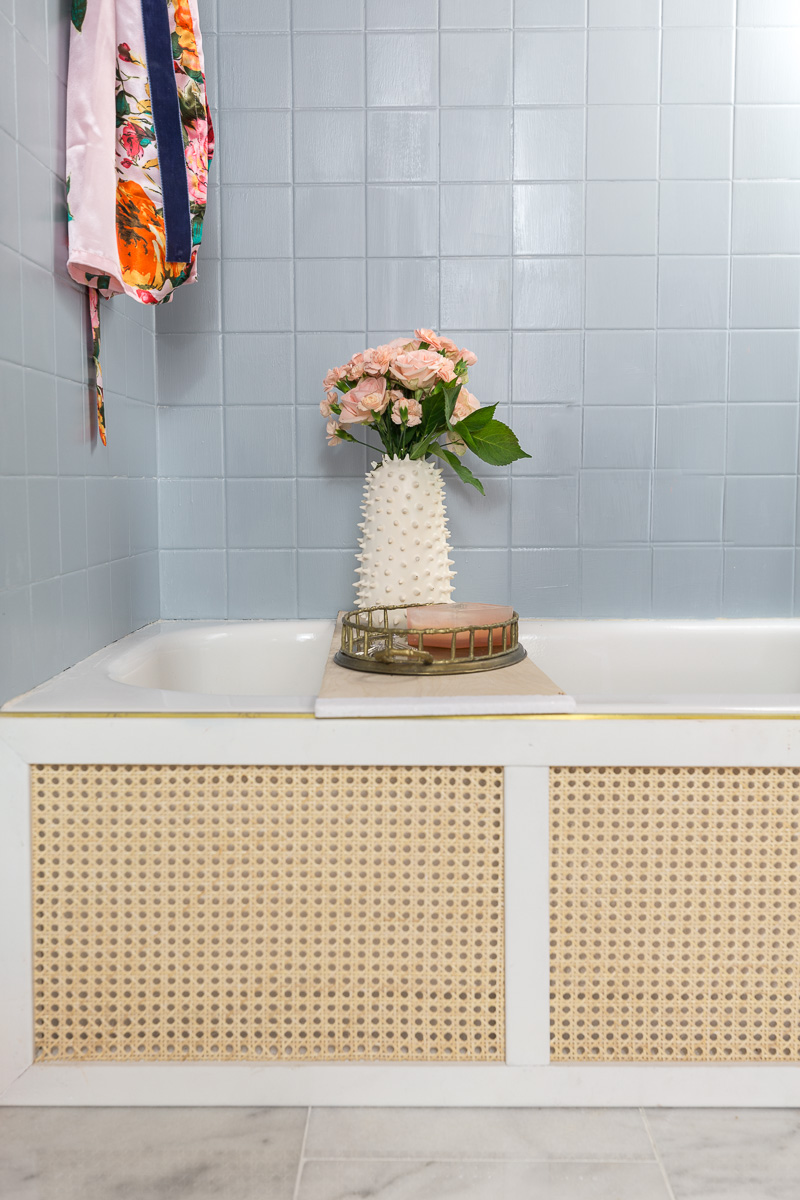 Most people paint their vintage blue tile white, but apparently I painted my white tile vintage blue 🤣.  I have to admit to hating it at first.  Did I just date my bathroom on purpose? After waiting 24 hours, and installing new marble floors, however, I realized that a little vintage element was exactly what this space needed!  Now, I am really digging the vibe…Like a lot!
Kid's Bathroom Vanity and Details
I contemplated painting the existing vanity, but really wanted some natural elements in this space.  I shopped around and found a handful of ok raw wood options, but they didn't rock my world and I really didn't want to go to the hassle of replacing the vanity and dealing with the plumbing (remember easy, COVID free distraction).  Instead, I thought it sounded fun to replace the drawer fronts and reface the piece myself. In the end it may have been just as easy to do the plumbing, but it was indeed fun.  Actually, it became EXHILERATING when I installed these fun Mia Rattan Handles from Anthropologie.  I also love the pairing with the Anthropologie– Perla Mirror.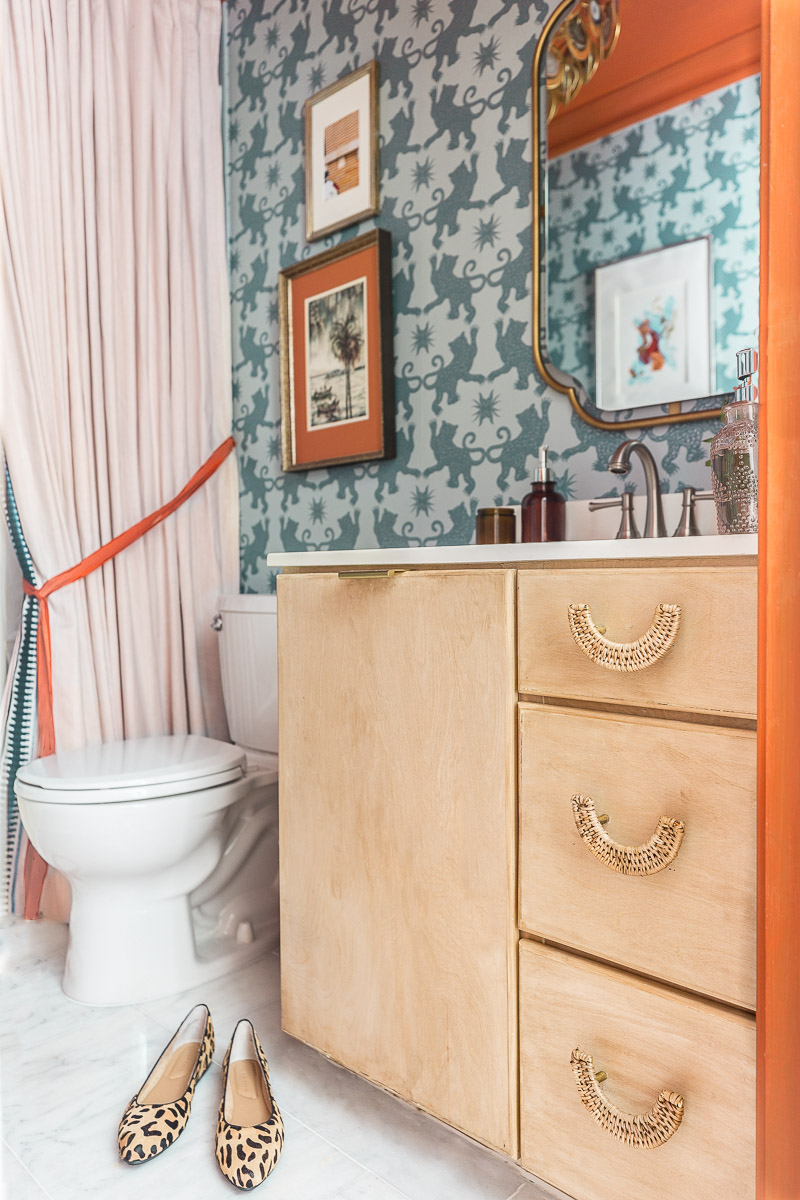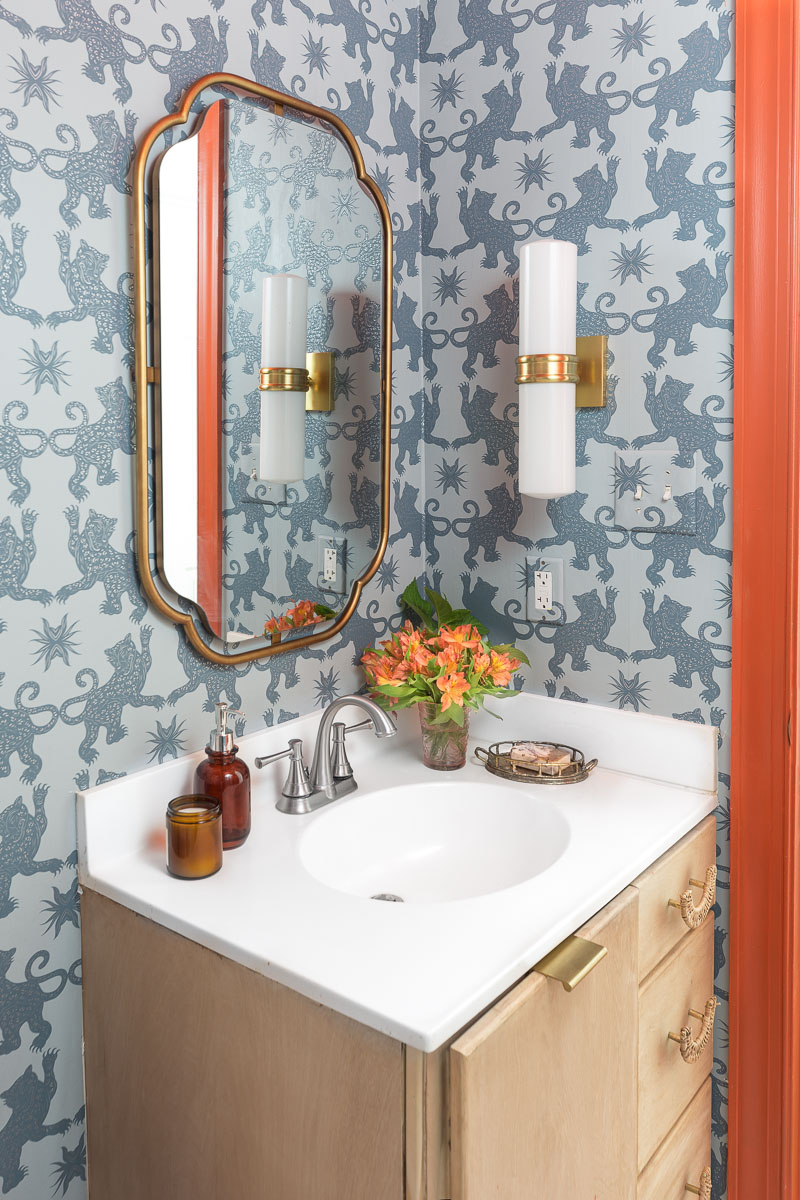 I have used Farrow and Ball paint in our Master Bedroom and our office, so I already knew that I loved their depth of color and rich beautiful pigmentation.  The only surprise here is that I opted to go with Charlotte's Locks.  This bold, beautiful, Hermès orange is statement making and not for the timid.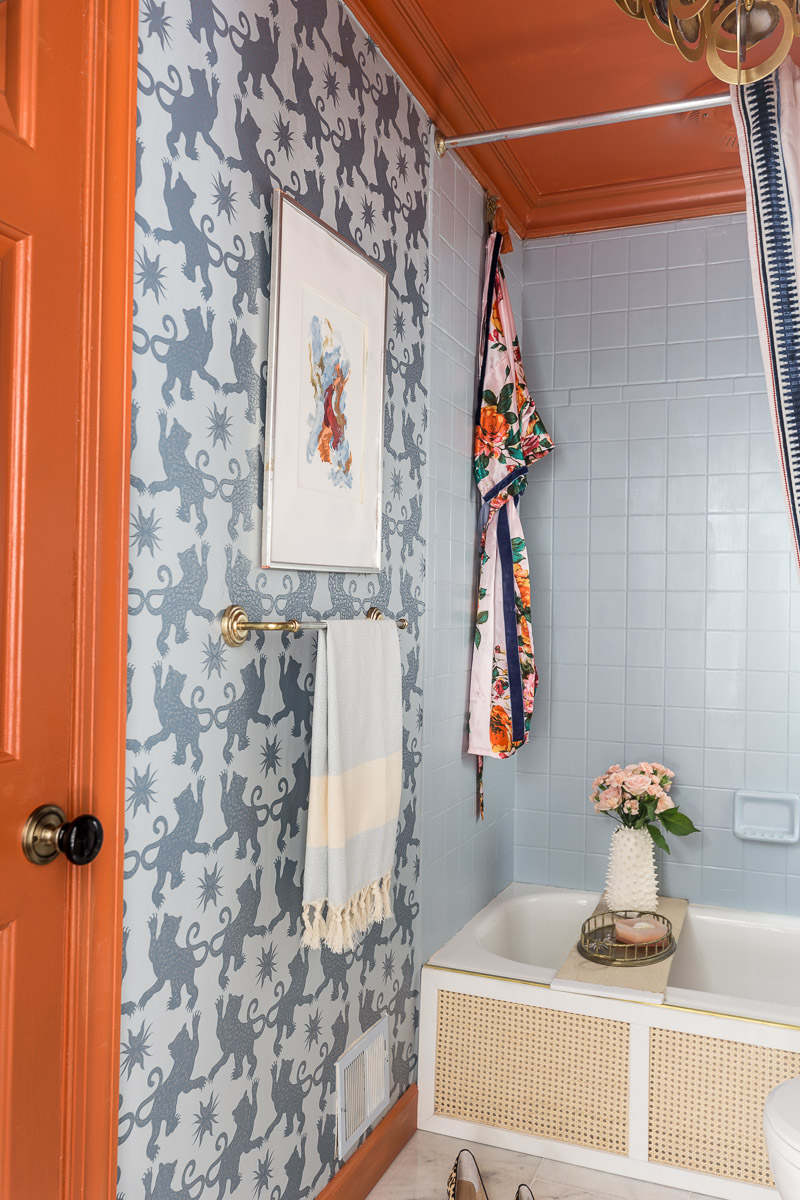 While it is admittedly hard to capture the depth of color in a windowless room, this deep reddish orange layers on the drama.  I'm grateful for the help that Potomac Paint and Design center gave me in choosing the correct primer and even delivering it to my trunk during  Covid-19 quarantine.
Vintage Bathroom Door Handles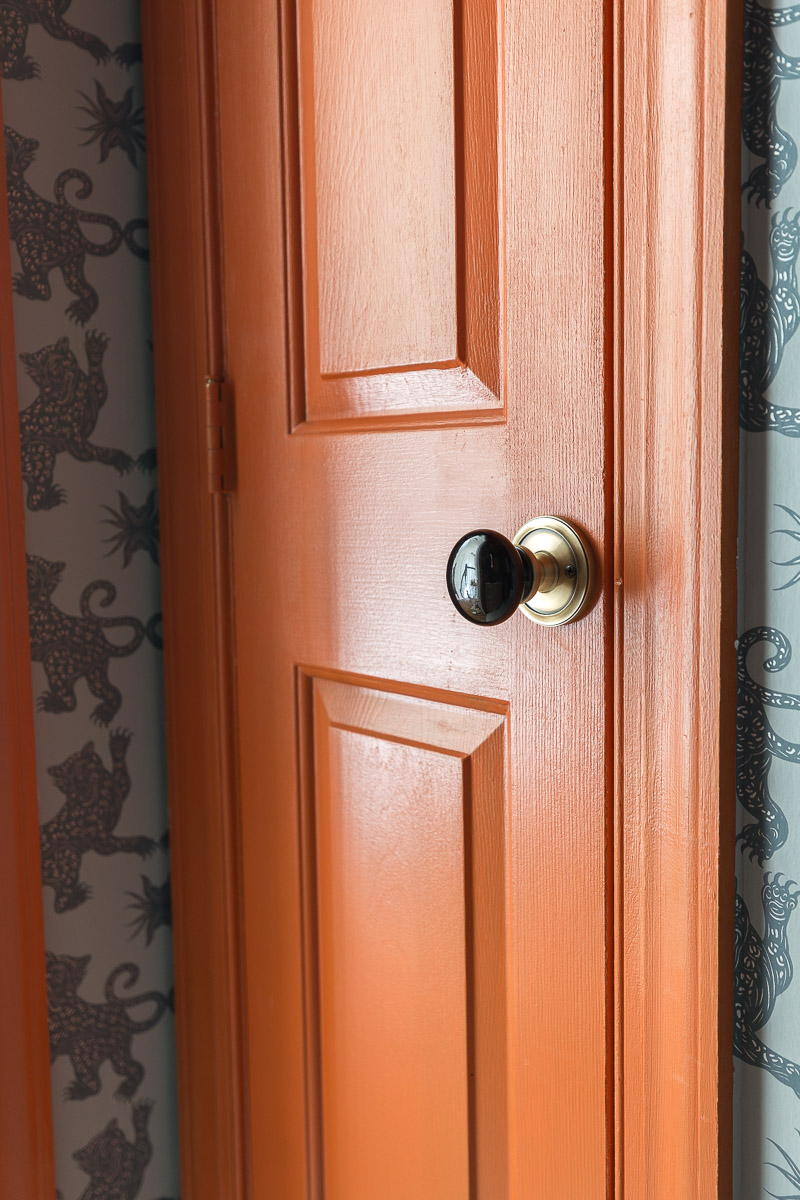 We adore Grandeur Hardware and have been replacing all of our own ugly knobs with this  lovely combination.  I can't even tell you the difference new hardware has made in our home.
Vintage Bathroom Shower Curtain
The award for being the hardest decision in the space goes to the shower curtain. Until three days ago I had a blue shower curtain, but quickly opted to switch to this soft pink fabric with stunning layered trim…All purchased from my favorite local fabric store, Fabric Place Basement.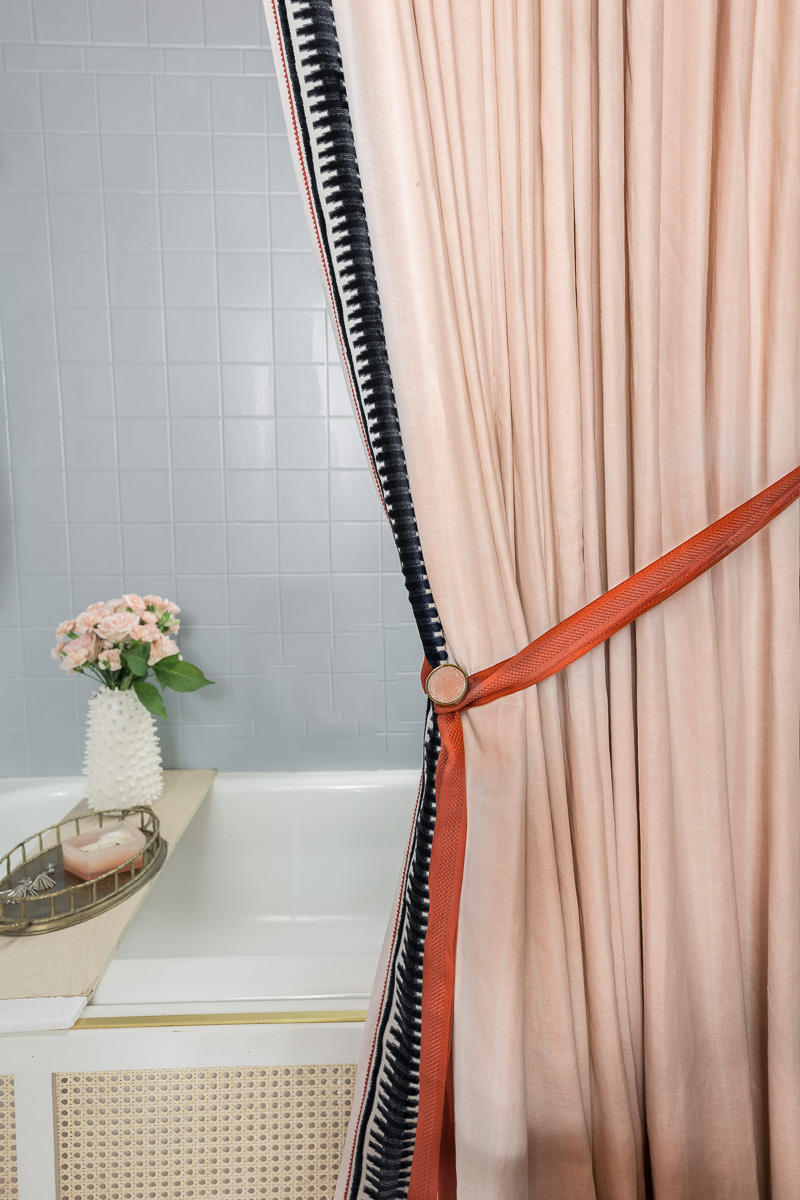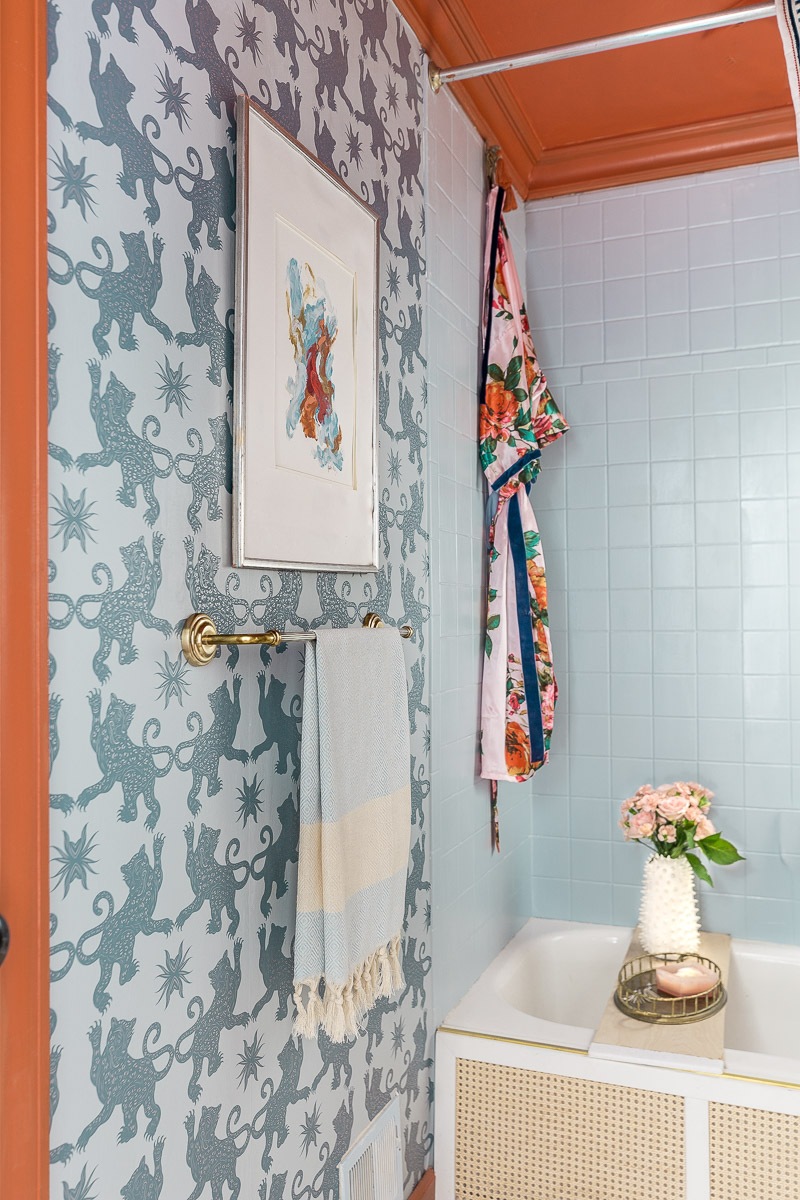 A HUGE thanks to Jen Pontti for contributing her lovely talents to this space.  I was thrilled when she reached out to me on Instagram and offered to paint a little something in the space.  Thanks Jen!
All of the products mentioned are sponsored or discounted but the opinions are 100% my own.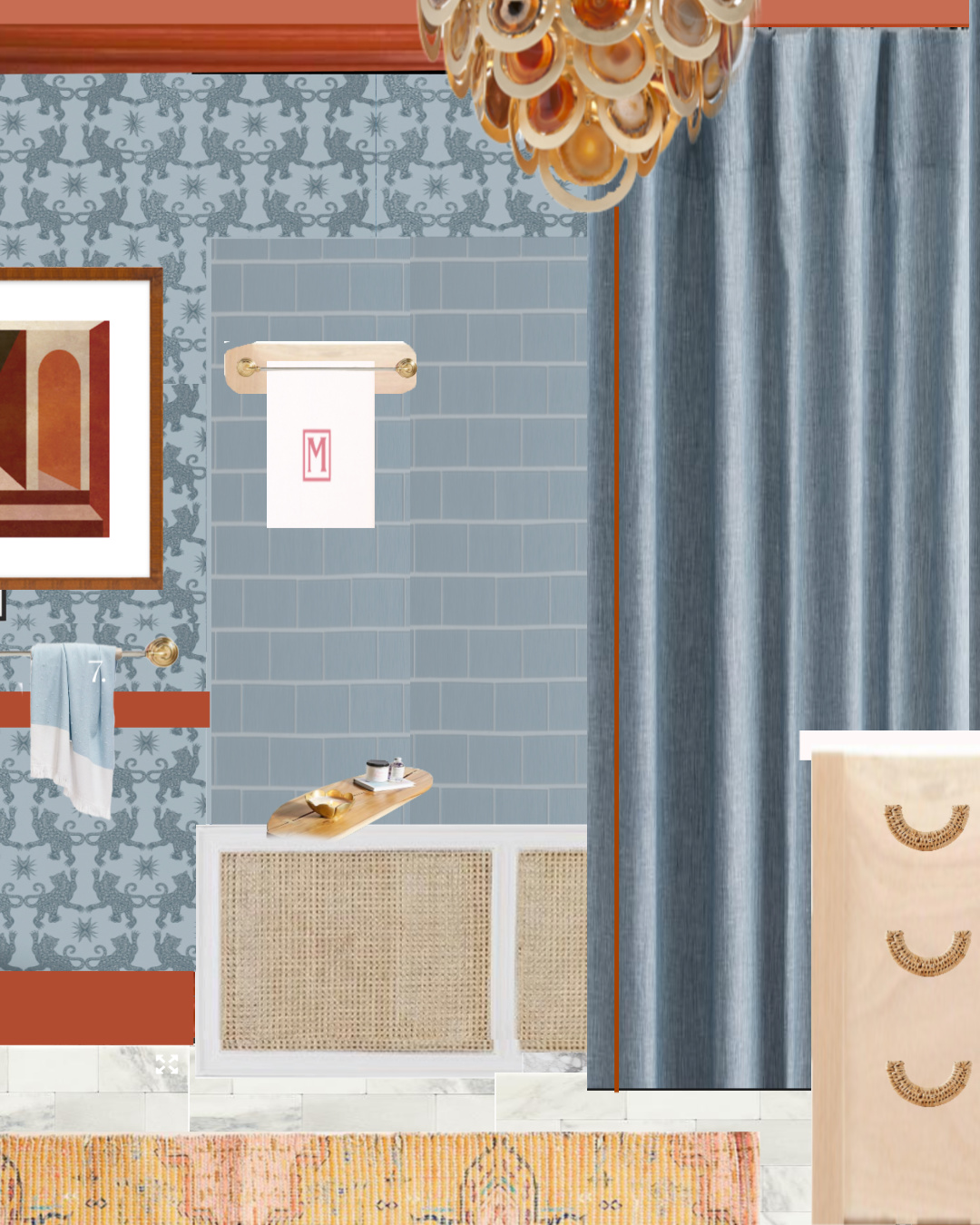 This room was designed to be a small refresh and a COVID distraction for me. Thanks for following along on IG as I learned some new skills and thoroughly enjoyed the bathroom refresh process.  
Up next?  A sunroom refresh next week!  Don't forget to follow along.
Vintage Bathroom Refresh Sources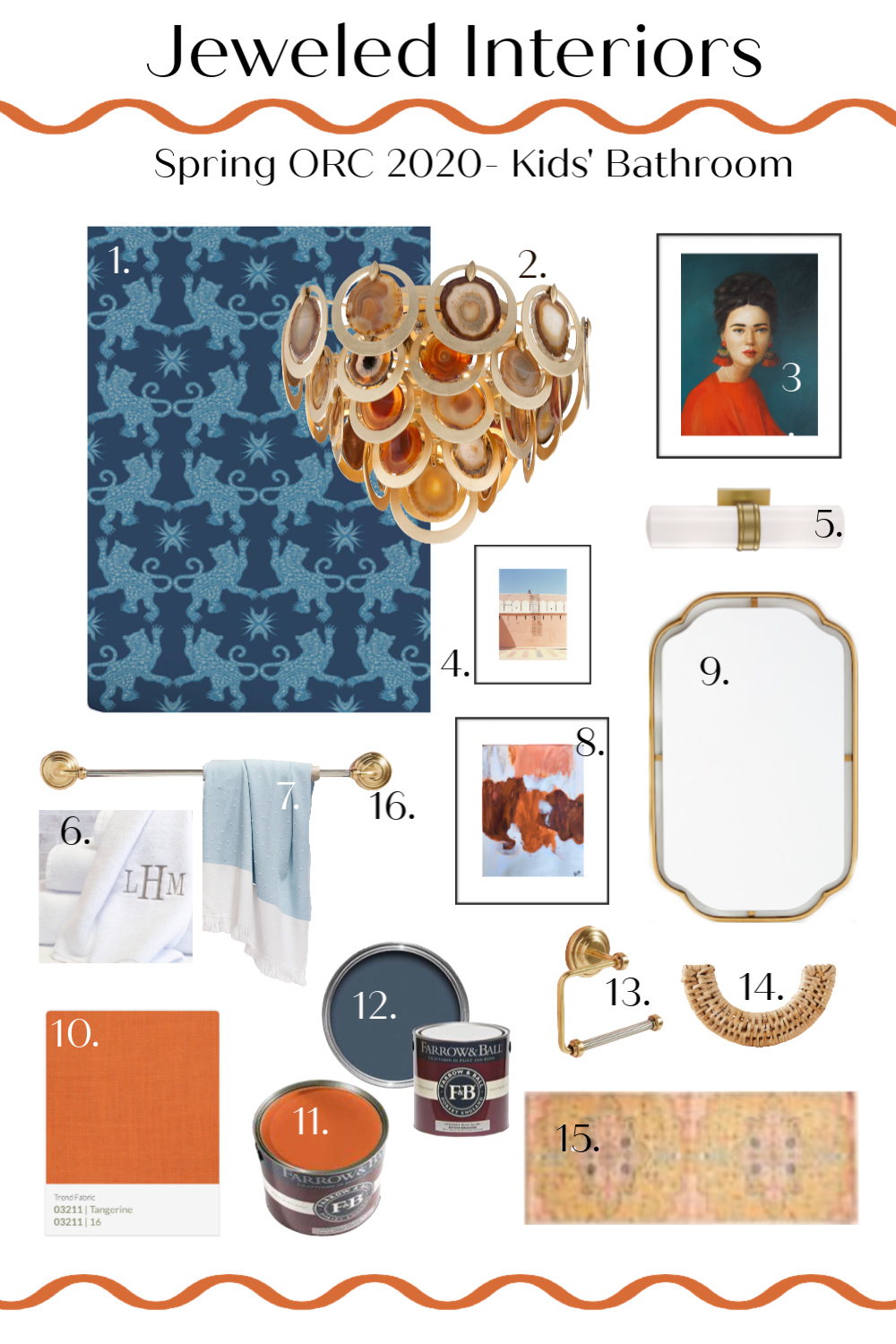 A Huge Thanks to my Fabulous Sponsors
KID'S BATHROOM TO DO LIST
Install Crown and Chair moulding (Metrie)
Paint Trim in Charlotte's Locks (Farrow and Ball)
Refinish vanity
Install Anthropologie towel bar (x2), toilet paper holder, hand towel rack, handles, and rug
Hang Rockstar Chandelier (HVLG)
Install Wallpaper (Hygge and West)
Build Tub Cover out of wood and wicker.
Sew shower curtain
Finalize Art (Artfully Walls)
Learn to homeschool four kids
Stay Safe and Stay home as much as possible
Install marble floors
Paint shower surround tile
Style and Shoot the Space
Thank you so very much for joining me on the Jeweled Interiors  kids' bathroom Spring 2020 One Room Challenge.  If you like what you see here don't forget come back and poke around a bit after the link-up.  Oh, and following me is fun too.  Check back next week for the big reveal.