Epic Bathroom Lighting for Jeweled Interiors Week 7 of the Spring 2020 One Room Challenge
Why go for normal bathroom lighting when you could have a completely unique and statement making pieces for your bathroom.  Check out the two gorgeous fixtures that we added to our One Room Challenge bathroom.
Note: The items from Hudson Valley Lighting Group were sponsored, but the opinions are 100% my own.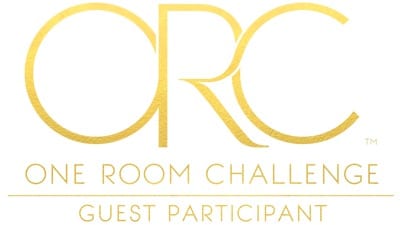 I want to start out with a huge thank you to Linda for organizing this incredible event. Thanks also to the media sponsor, Better Homes and Gardens.  I love that they are working together to create a community of interior designers, bloggers, creatives, and design enthusiasts to cheer each other on to the finish line. One Room Challenge for the win.  Don't forget to check out the other participants this week and for the big reveal next week!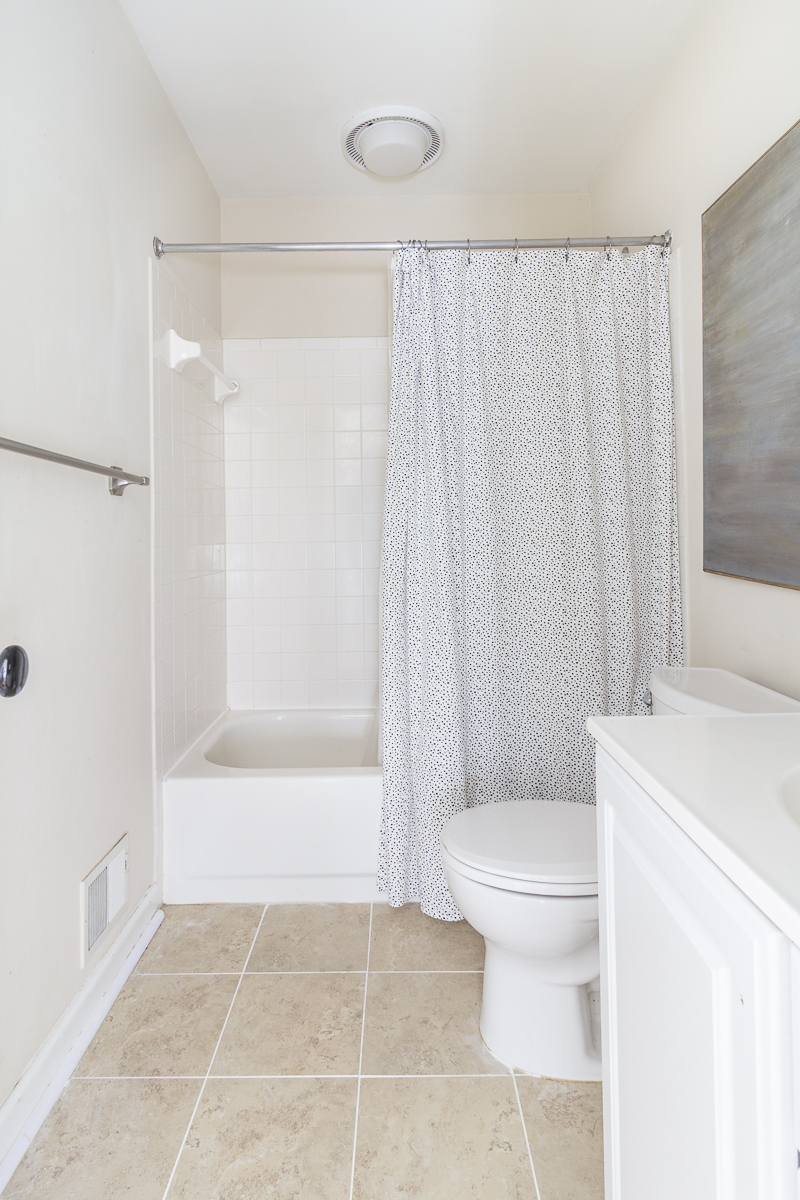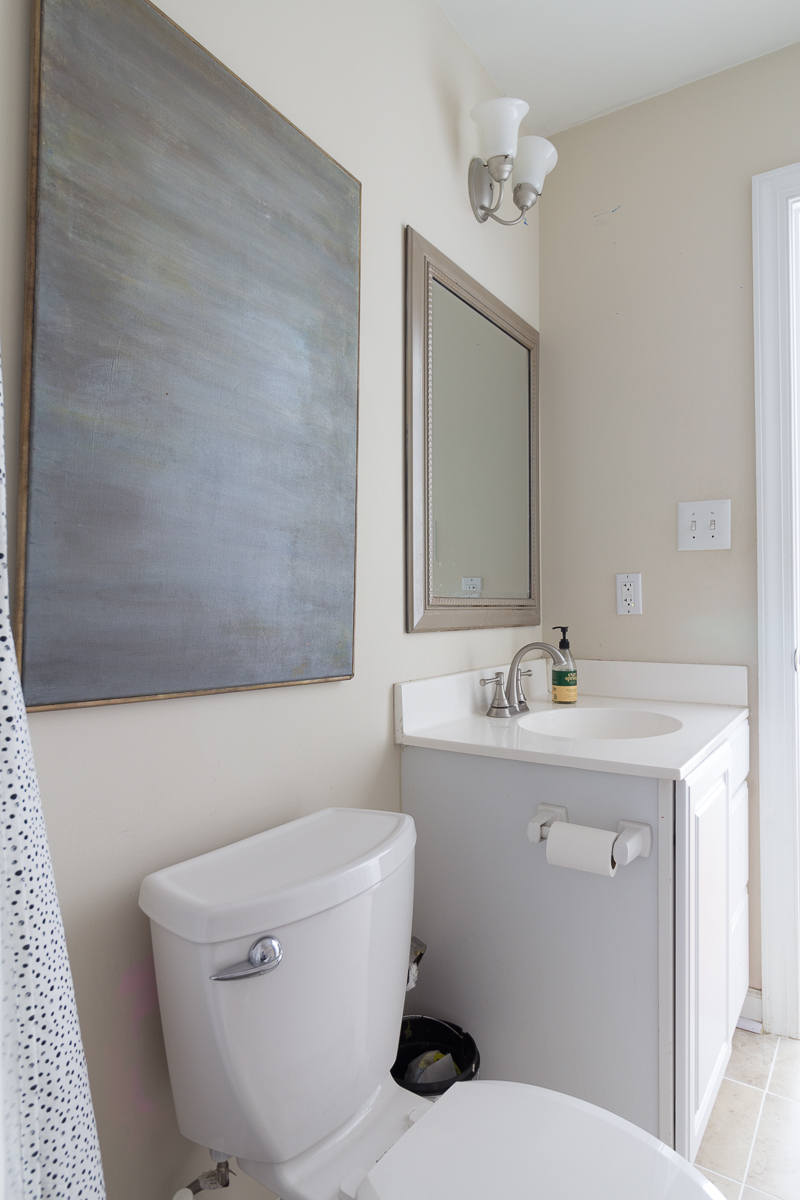 This little bathroom has no windows and very little natural light.  I wanted to install stunning, statement making, and functional fixtures.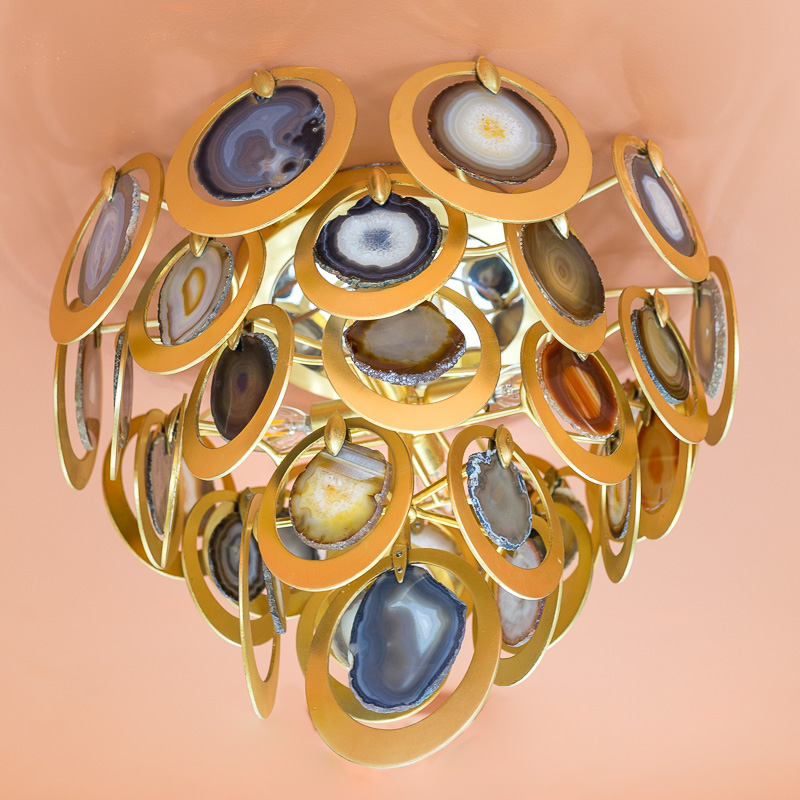 I mean, just look at each of these unique "crystals". They are simultaneously glamorous and earthy at the same time.  Both of these design themes are important to me in this space.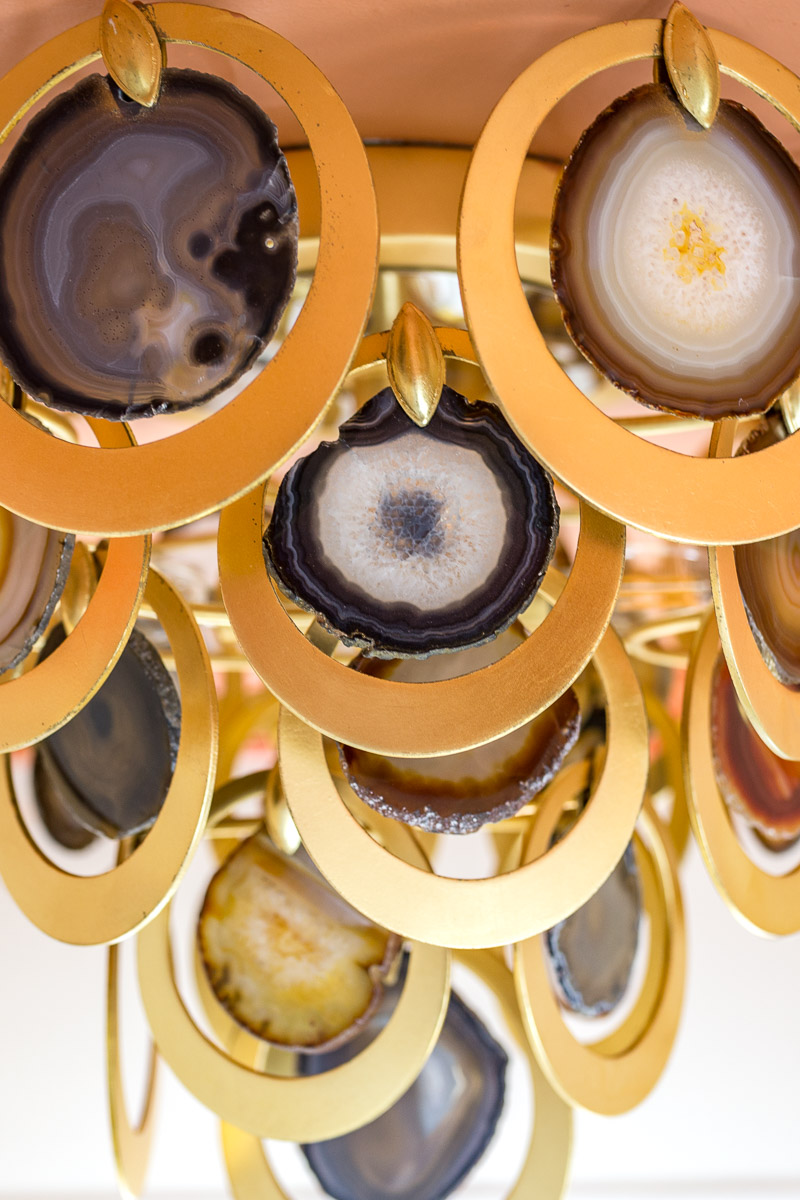 I was nervous that my son would think it was to feminine.  Luckily for me, he too is enamored by geodes. I guess the steriotype is true, boys like rocks.  I took his enthusiasm and ran with it.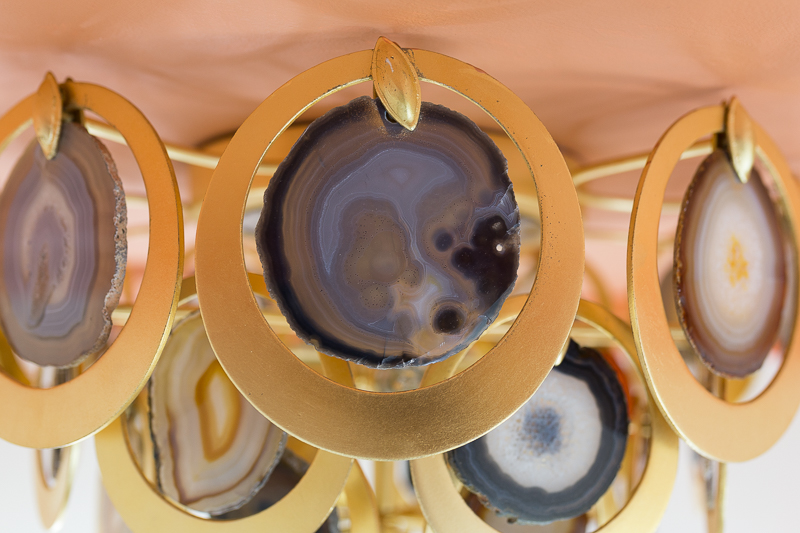 The girls, of course, are ecstatic about the Rockstar as well.  What's not to love. Thirty four (by my count) unique agates carefully crafted into a gold leaf chandelier…That is bathroom lighting perfection, my friends.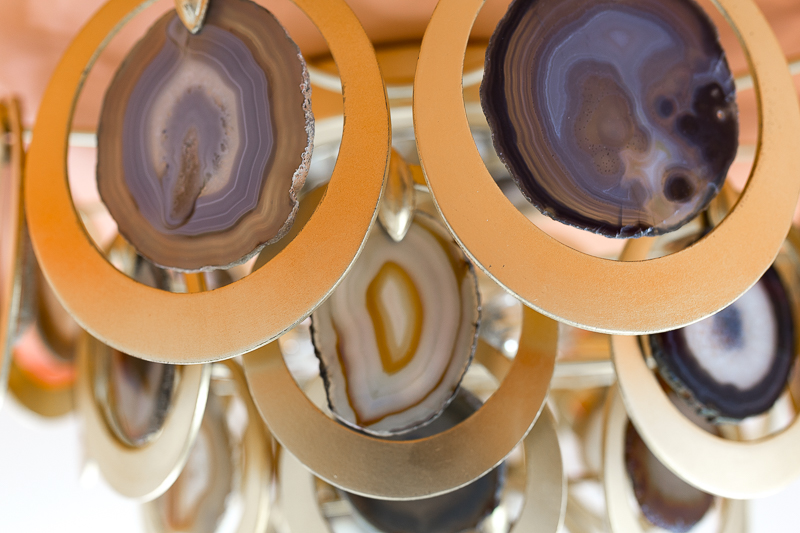 Based on the images on theCorbett Lighting images, I was expecting the chandelier to consist of more orange and brown agates.  I was actually pleasently surprised when the Rockstar arrived because my unique piece has more blue and gray tones. This acutally works better with my plan…You will see next week.   However, if I really wanted to move around certain geodes to different parts of the chandelier it would be an easy twist of a a few set-screws.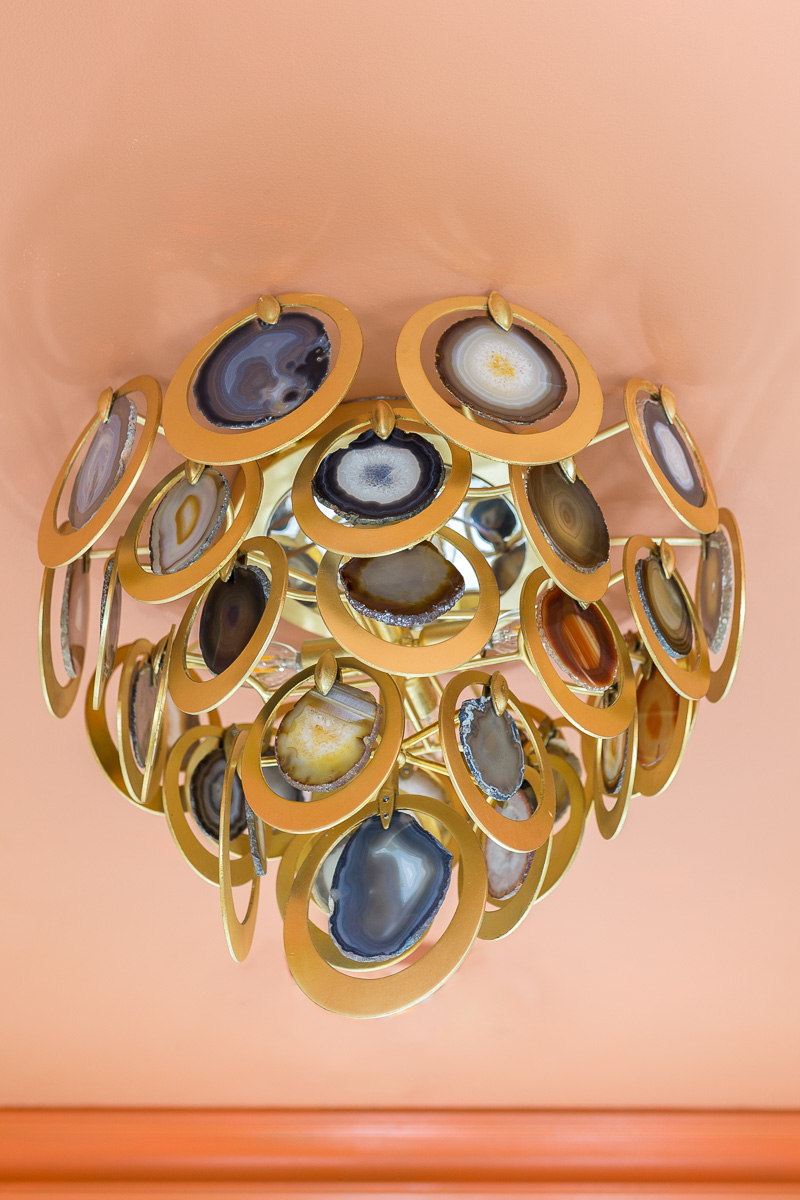 Usually my favorite finds fall into one of three categories: Either full of patina, custom, or unpredictably natural.  This beautiful Rockstar flush mount, perhaps more than any other, fits the third category.  It is raw, natural, and unique.
Bathroom lighting- Nightime Views
I wanted to show you a few images demonstrating the lovely pattern cast by this Rockstar flush mount when turned on.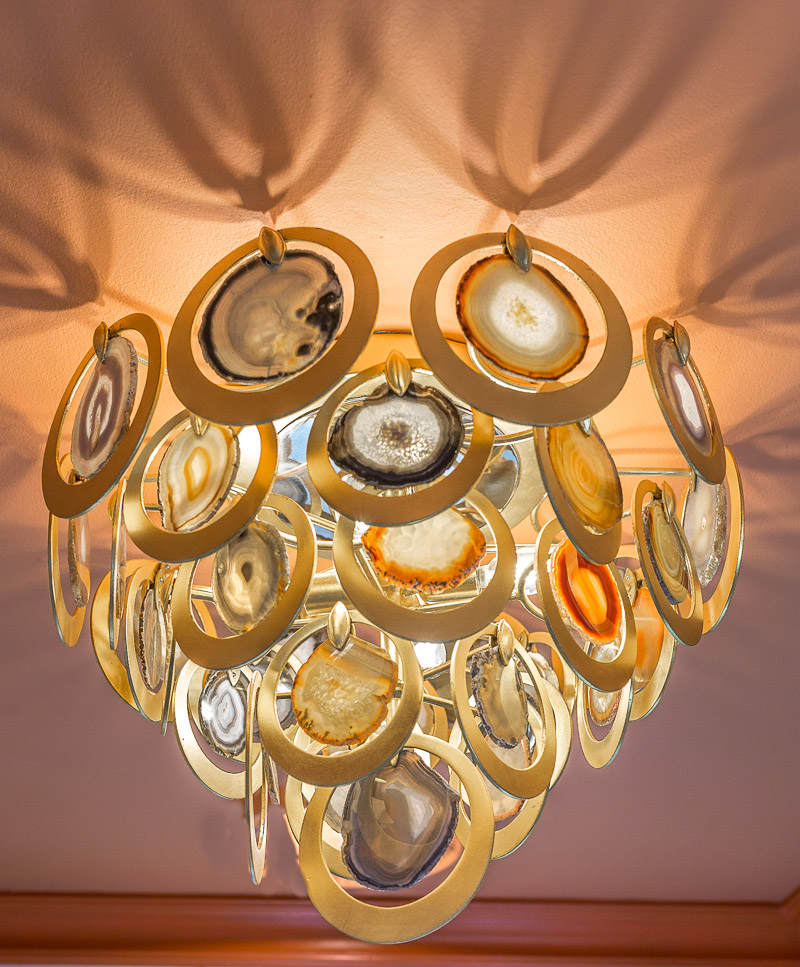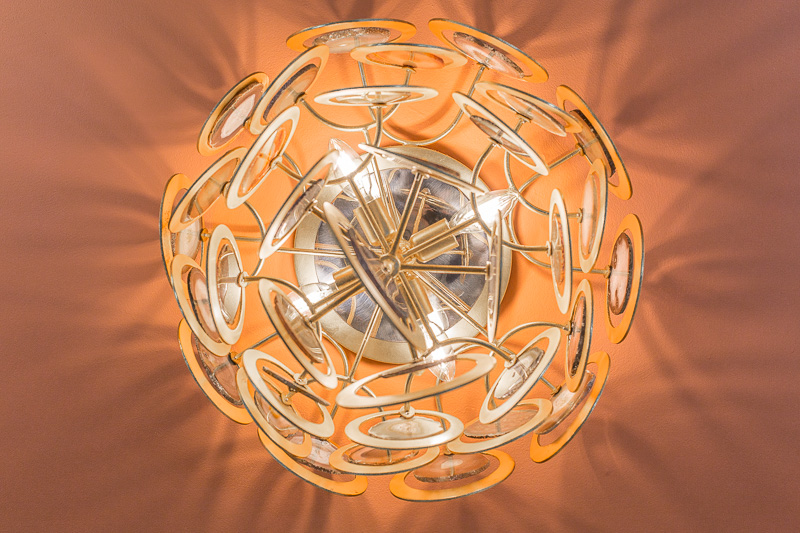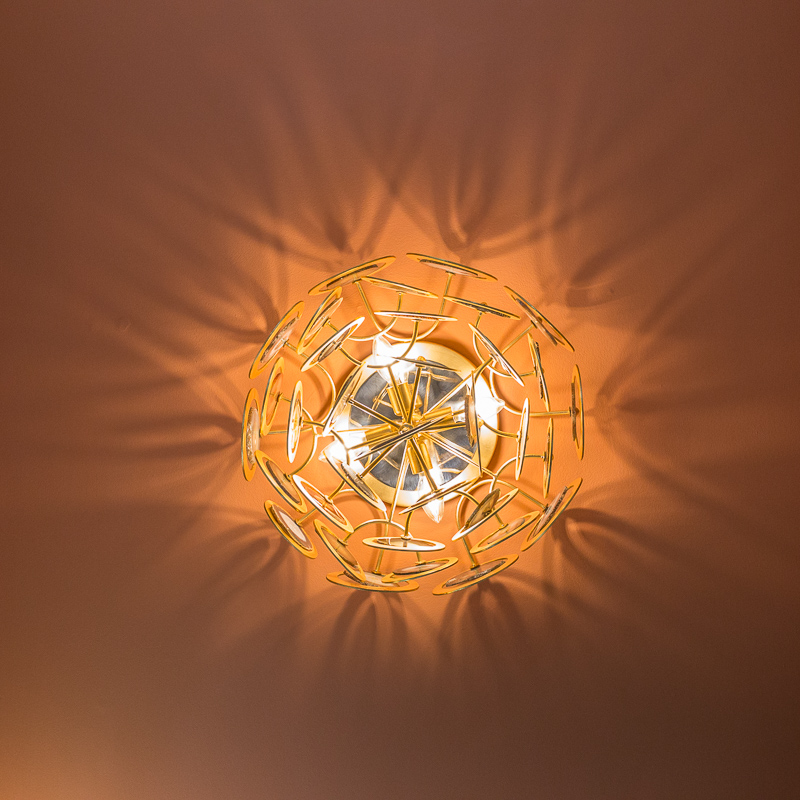 It is rather angelic, am I right?
Bathroom Lighting- Vanity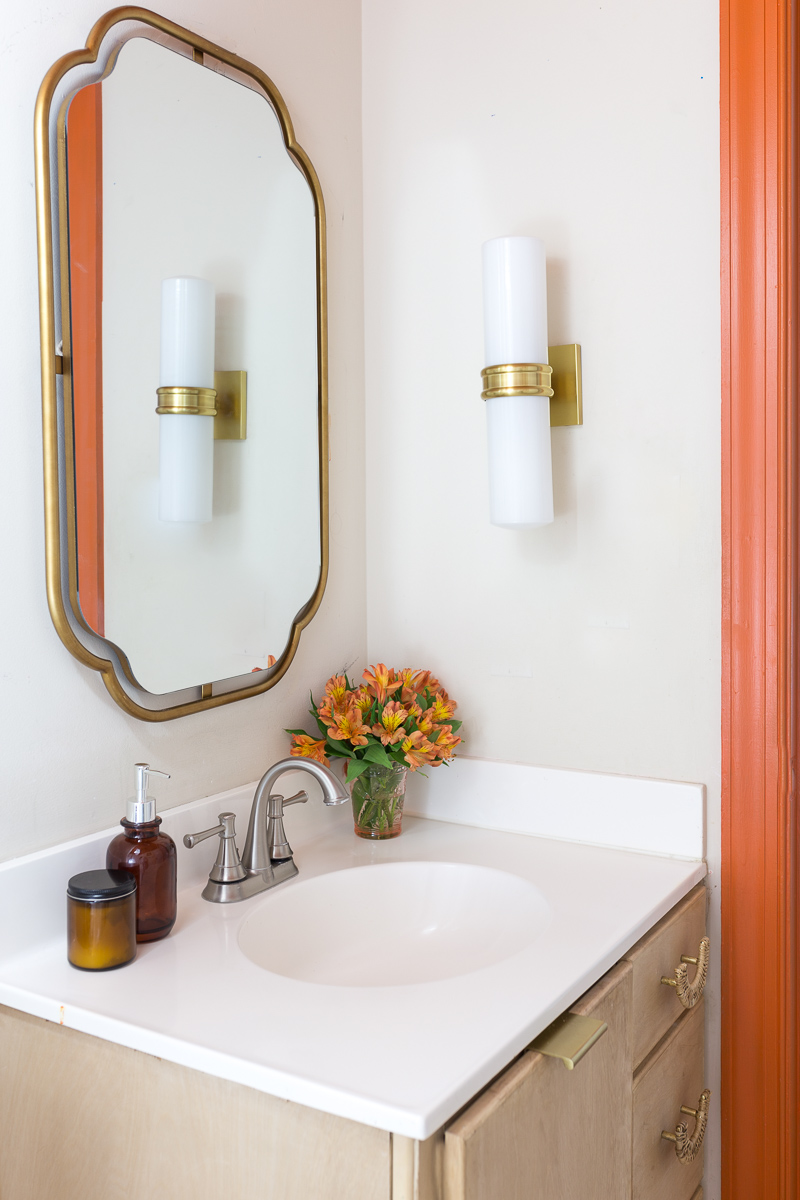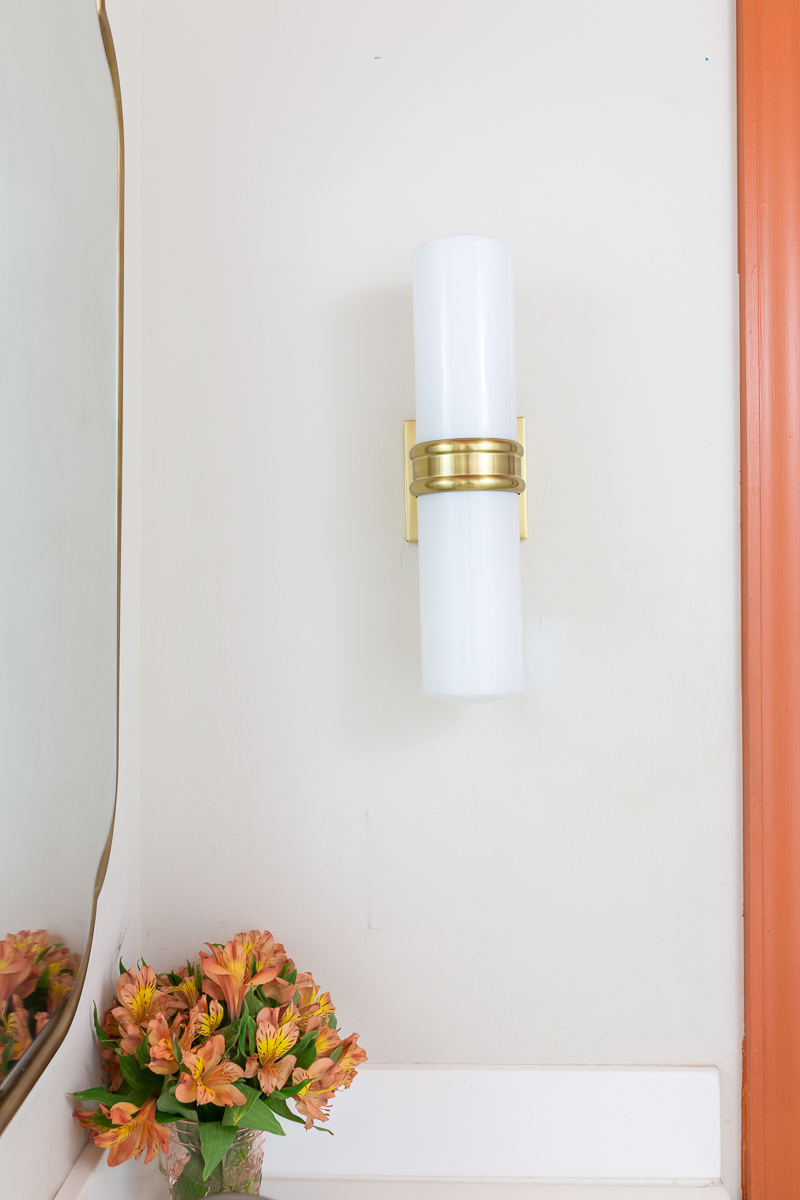 It is also very versatile.  The Natalie can hang vertically or horizontally and would work well in several areas of the home.  I'm imagining a set of three cascading down a staircase.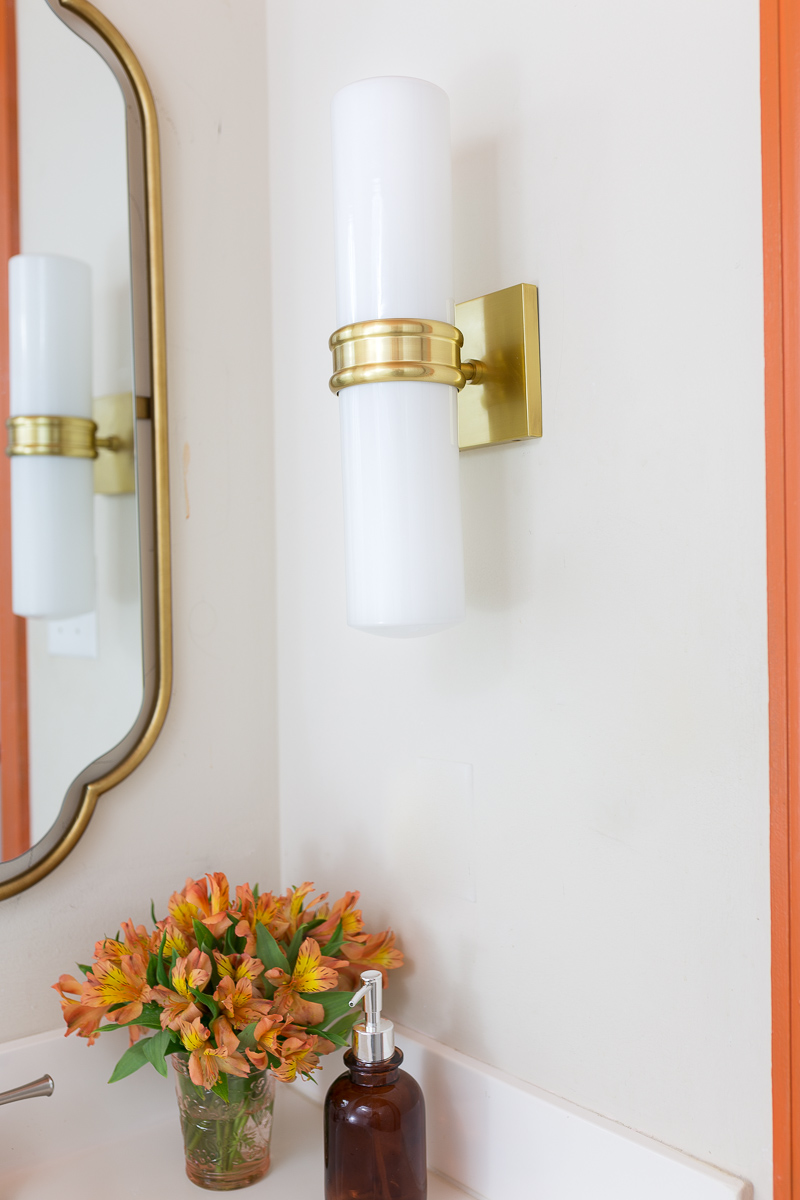 The Natalie boasts two 60 watt bulbs, and adds the perfect amount of  light to our vanity.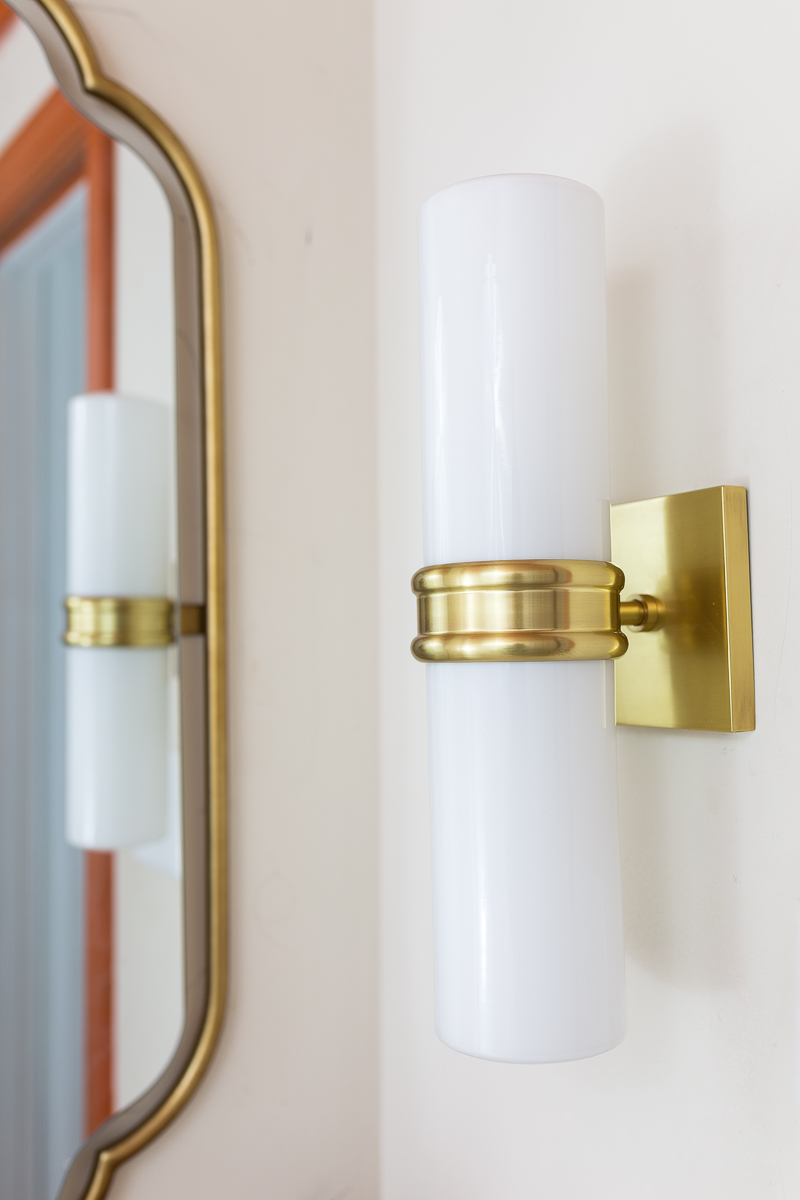 All of the products mentioned are sponsored or discounted but the opinions are 100% my own.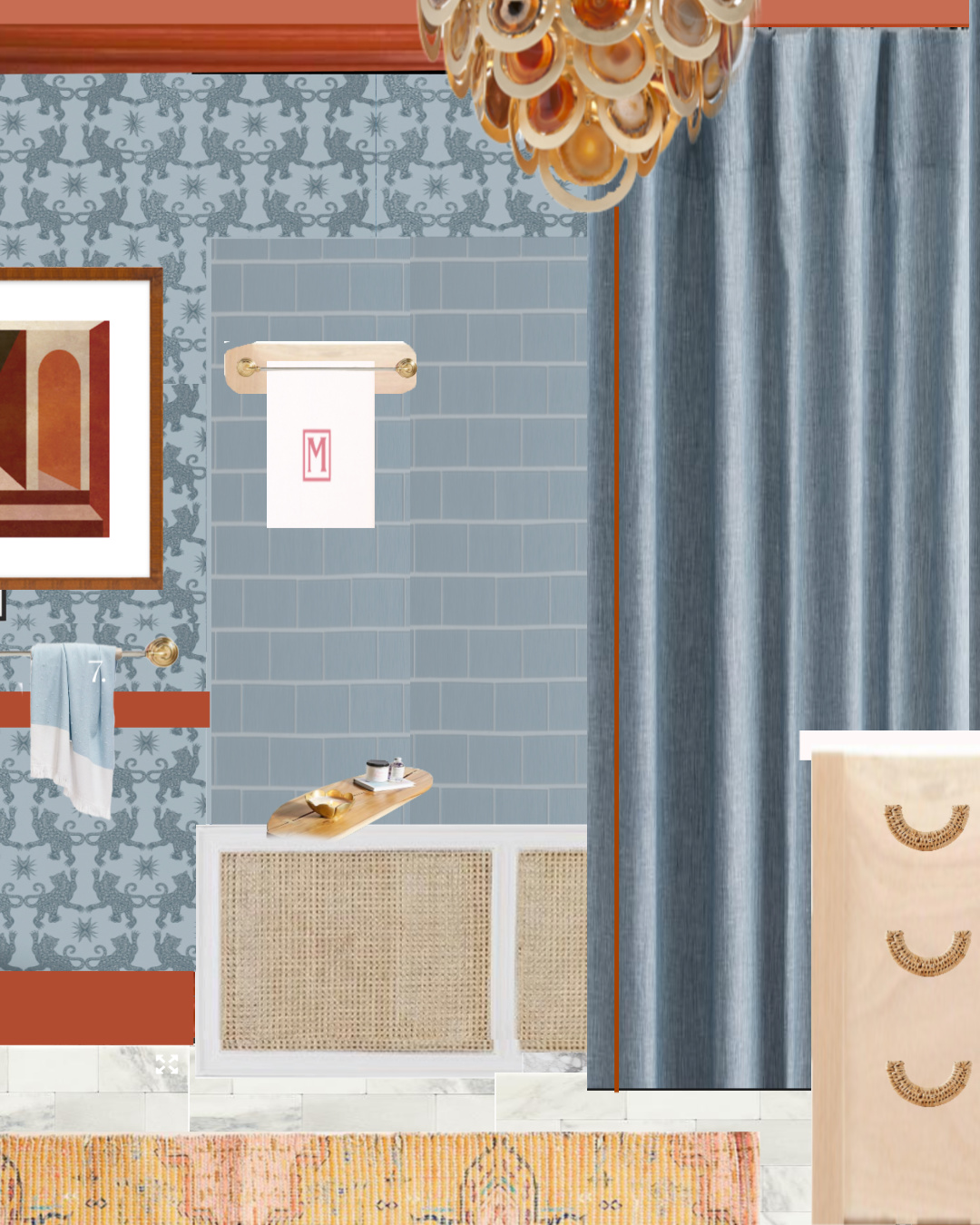 Initially this room was designed to be a small refresh and a COVID distraction for me.  I have since learned that I have a hard time with the concept of "refresh" and the plan keeps growing in scope, with certain elements being executed completely out of normal construction order.  It will be a serious sprint to the finish this next week. As soon as I push publish on this post I will go paint my shower surround the color of the wallpaper.  As of Monday, I found gorgous marble and Richard, my amazing contractor, is coming in the morning to tackle it for me.  Following that, I still need to wallpaper the room, hang shower curtian, style and shoot by Wed (hopefully).  It isn't a One Room Challenge without a little drama.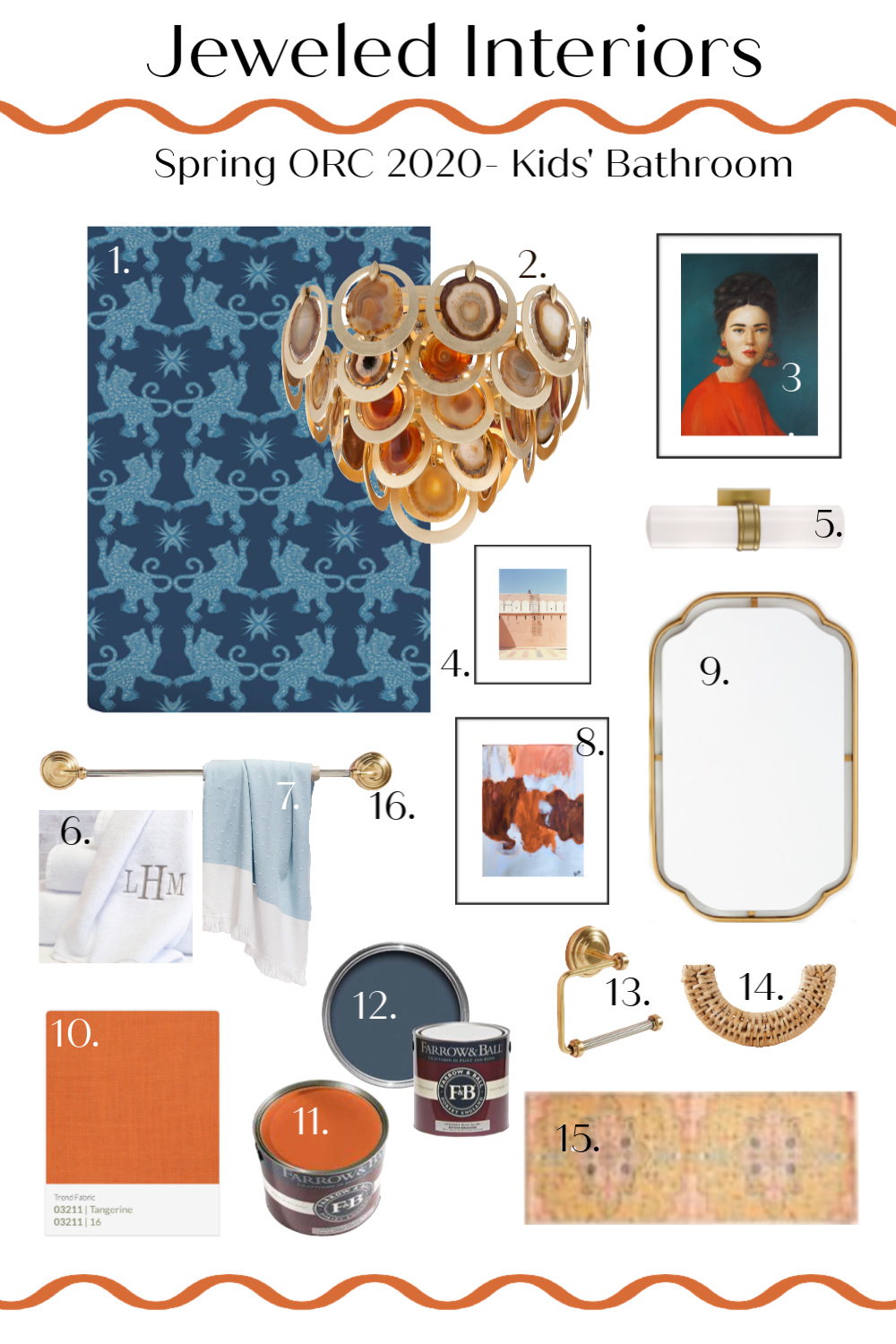 A Huge Thanks to my Fabulous Sponsors
KID'S BATHROOM TO DO LIST
Install Crown and Chair moulding (Metrie)
Paint Trim in Charlotte's Locks (Farrow and Ball)
Refinish vanity
Install Anthropologie towel bar (x2), toilet paper holder, hand towel rack, handles, and rug
Hang Rockstar Chandelier (HVLG)
Install Wallpaper (Hygge and West)
Build Tub Cover out of wood and wicker.
Sew shower curtain
Finalize Art (Artfully Walls)
Learn to homeschool four kids
Stay Safe and Stay home as much as possible
Install marble floors
Paint shower surround tile
Style and Shoot the Space
Thank you so very much for joining me on the Jeweled Interiors  kids' bathroom Spring 2020 One Room Challenge.  If you like what you see here don't forget come back and poke around a bit after the link-up.  Oh, and following me is fun too.  Check back next week for the big reveal.