It's not that hard.  Check out my step by step tutorial explaining how I tackled this channel tufted headboard DIY.
You may have seen the recent makeover of our Master Bedroom for the One Room Challenge.  Many people have asked how I made this unique bed, and I say "Give the people what they want". With that thought in mind, I present to you an easy channel tufted headboard DIY tutorial.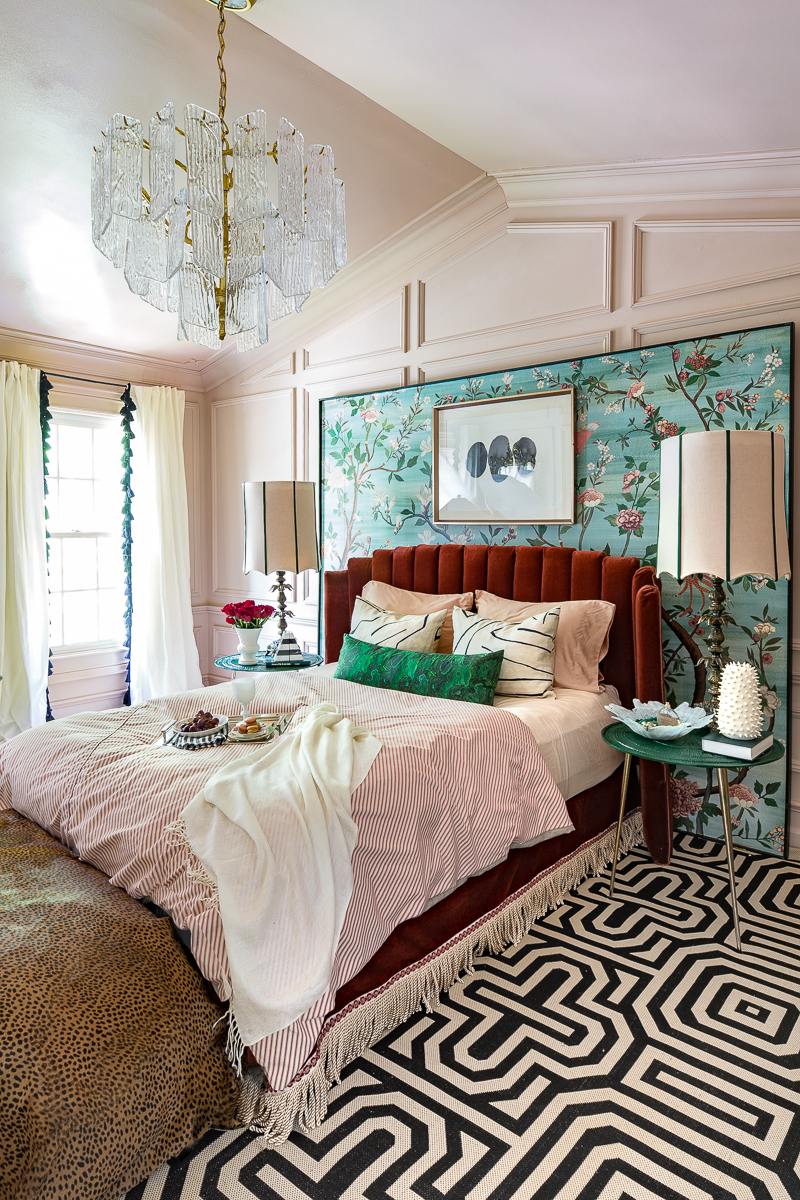 ---
Supplies for channel tufted headboard DIY
Old bed frame- with headboard shorter than your end desired height (See pic below)
2 packages of 2 Inch Foam
14 1×5's (perhaps an extra in case you mess up)
11-12 yards of the fabric of your choice.  I bought my high end upholstery grade velvet at Fabric Place Basement.
2 packages of quilt batting
Utility knife and scissors
Staple gun and staples
Screw driver and screws
Ribbon or leather
Optional: Fringe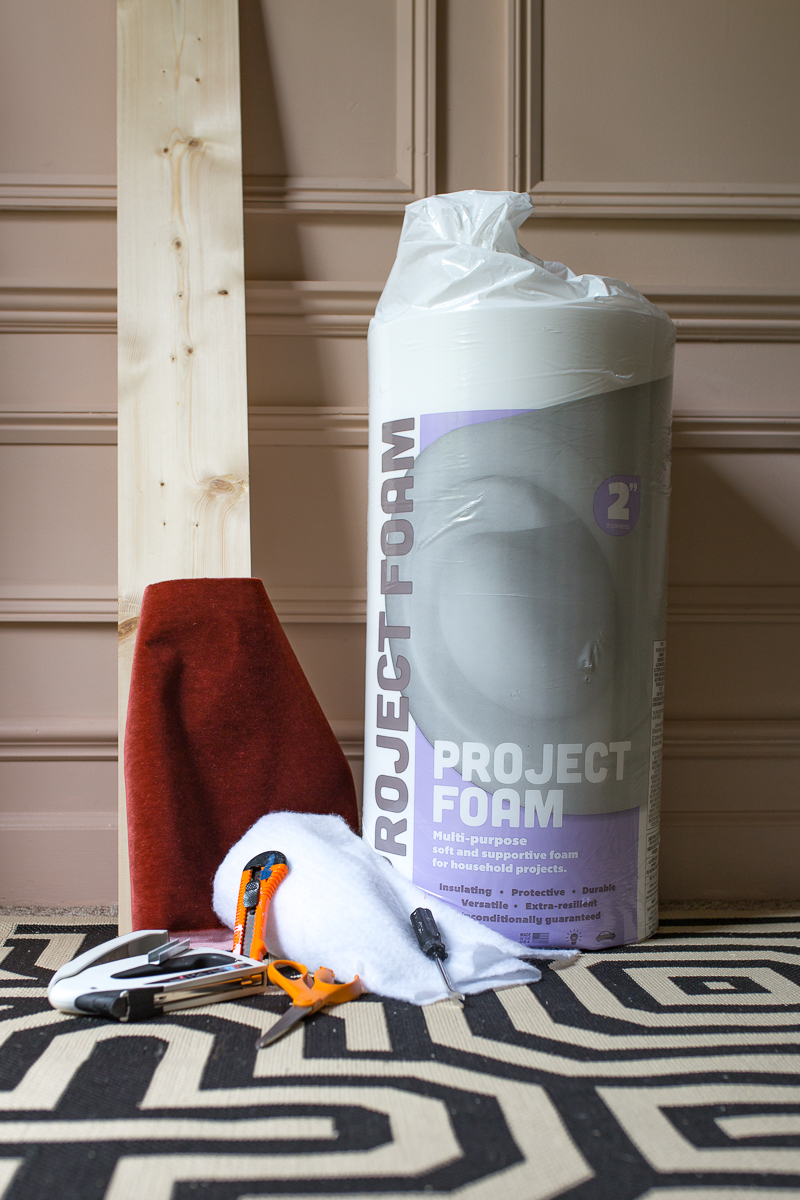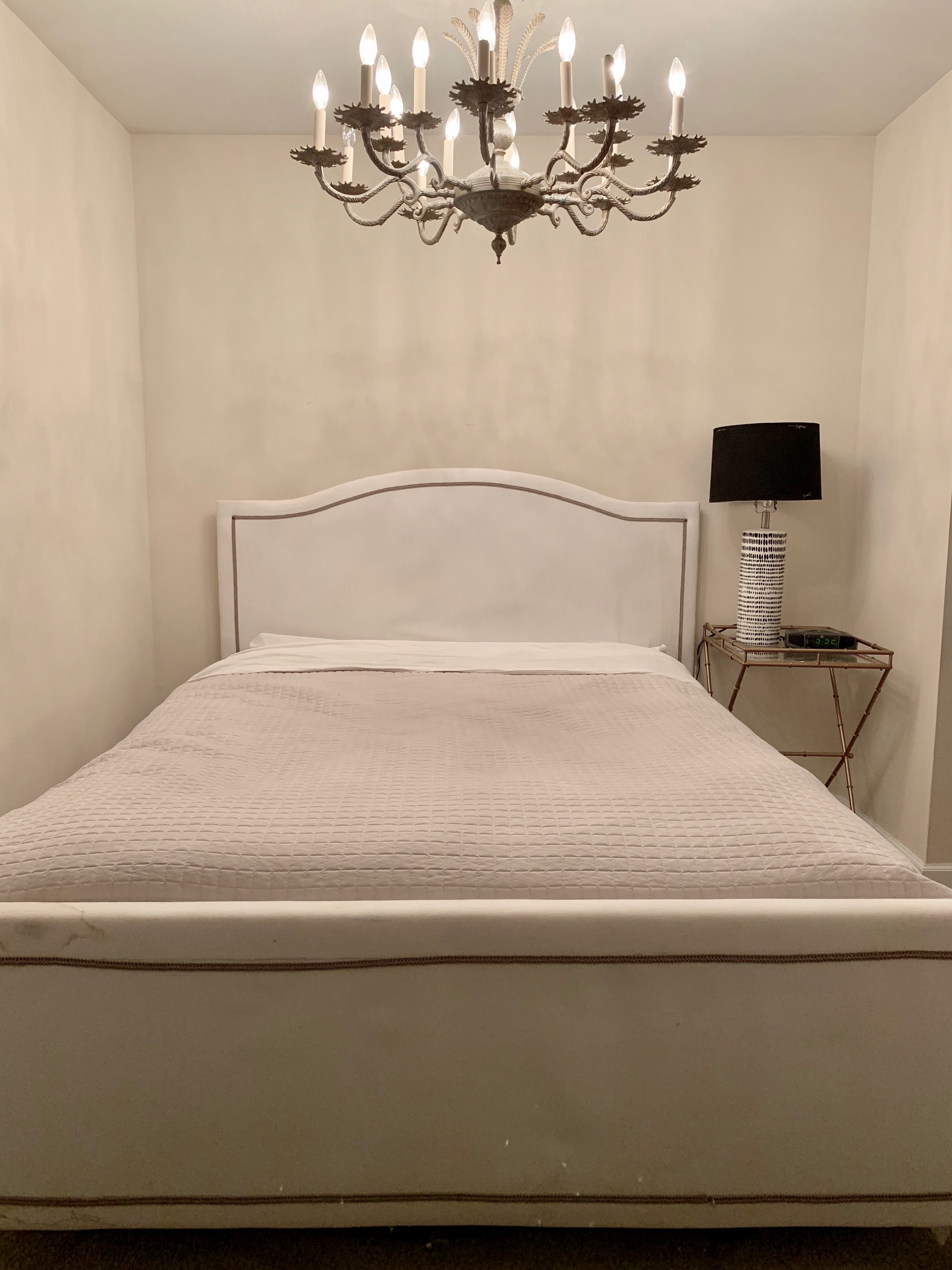 I took this old bed frame and replaced the foot board with a 1×12 (though I could have channel tufted it as well). I also removed the fabric off the headboard and painted the wood underneath to a color similar to my velvet.  This was just in case there were any gaps in my upholstered channel tufted boards.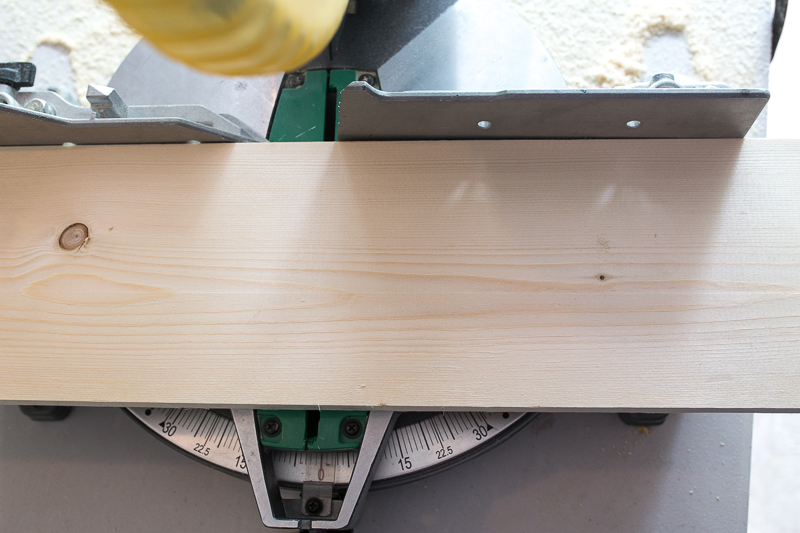 I cut the boards to various lengths.  I used straight cuts.  For a more dramatic channel tufted headboard DIY look I could have notched the corners like a dog eared fence post.
If you are looking to mimic my bed exactly, here are my measurements of the height of my finished product.  Keep in mind that two of these boards may need to be short enough to accommodate for your bed frame.
48 in board x 8
47 in x 2
45 in x 2
42 in x 2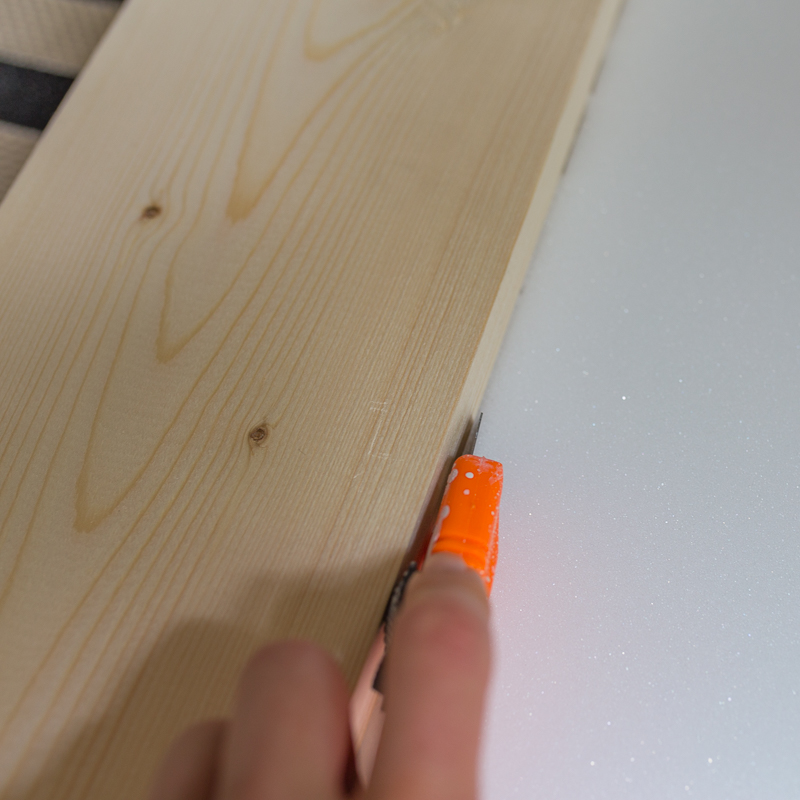 Next, I laid the board on the 2 in foam.  I used the utility knife to score right along the board's width and scissors to finish the task.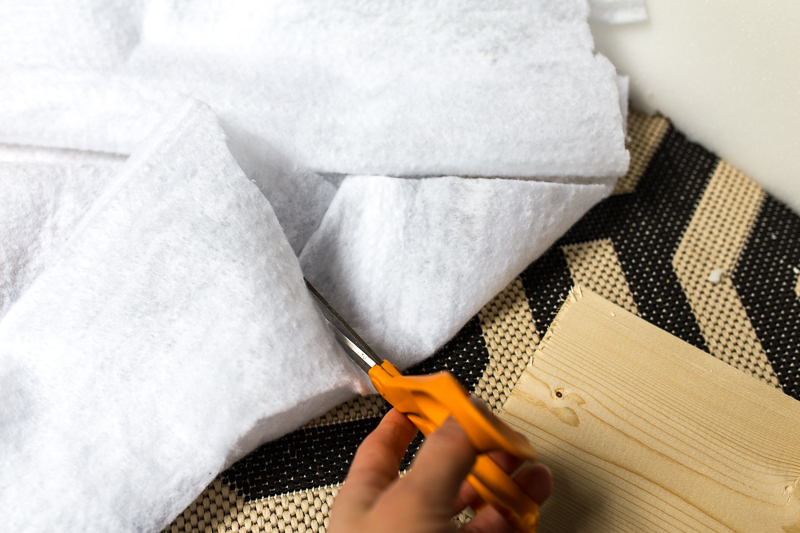 After laying the board AND the foam on the batting, I estimated how much fabric I needed to leave about 2 inches on each side.  Then, I cut out all of the rectangles.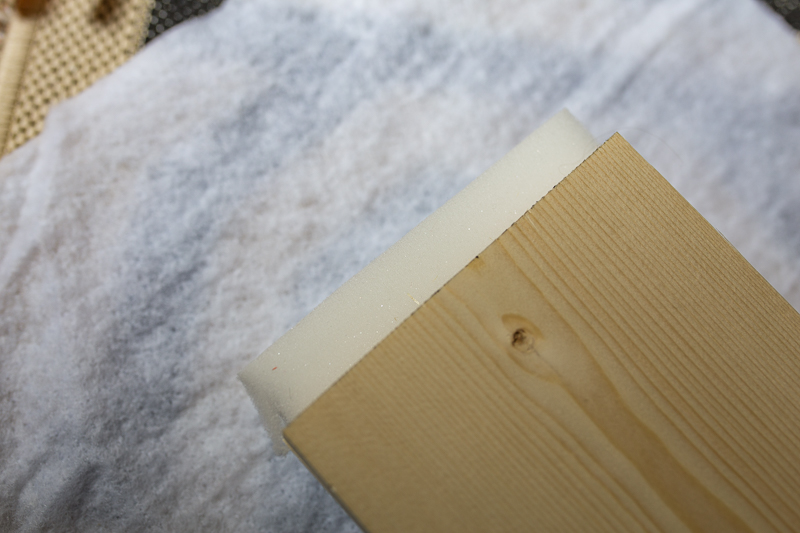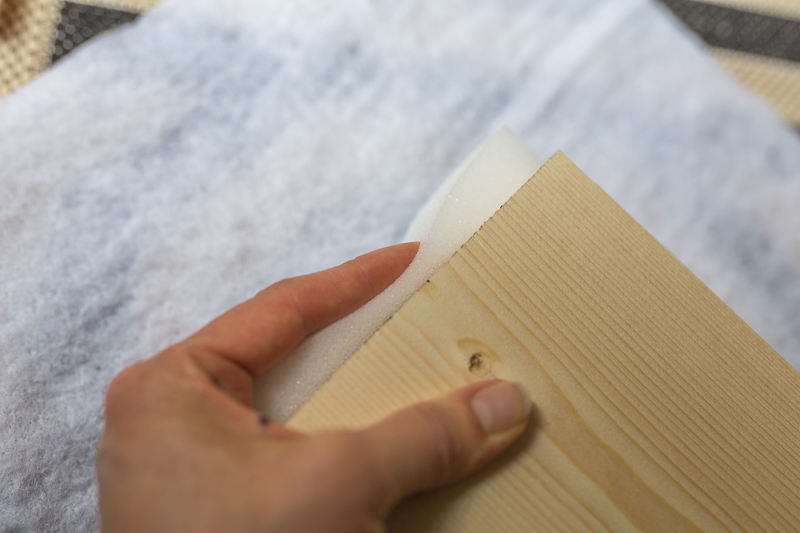 I sandwiched the foam between the board and the batting.  I made sure to leave about an inch of batting at the top to ensure an evenly upholstered look across the top of the bed.  I upholstered the foam onto the board with the batting holding it in place.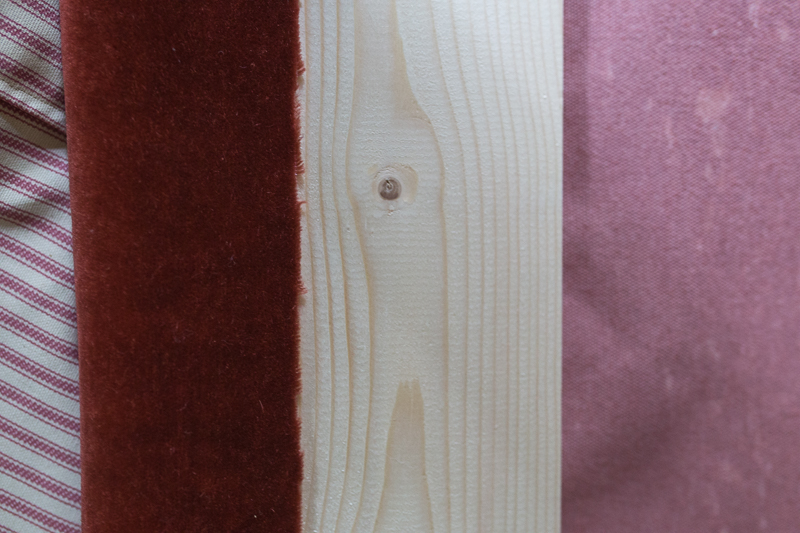 Then I added the velvet on top of the board/foam/batting. VERY IMPORTANT!  Make sure that nap of your velvet is going the same direction on each board.  
NOTE:  This images isn't completely accurate. It is missing the batting and foam.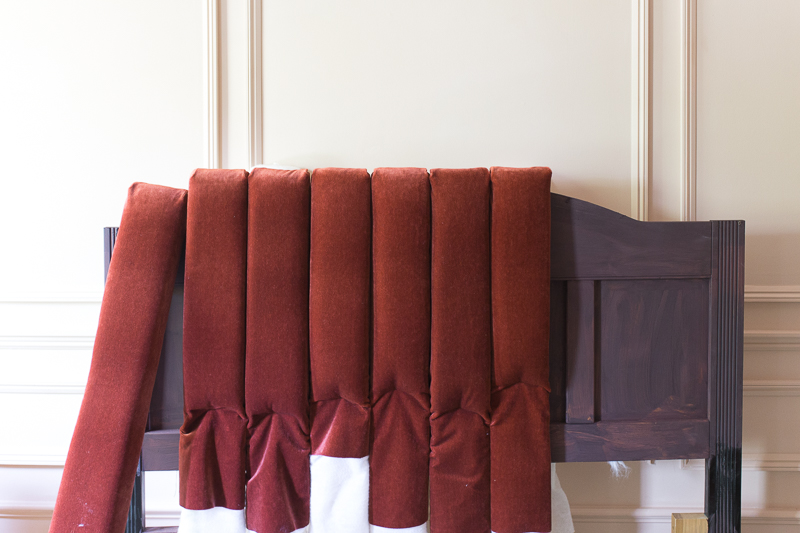 Then decide the style of bed you hope to achieve.  It would be easy to make the headboard straight across the top.  A seashell shape could be fun too.  I however, opted for something in between and gave a slight curve to the bed by gradually shortening the three outside boards on each side.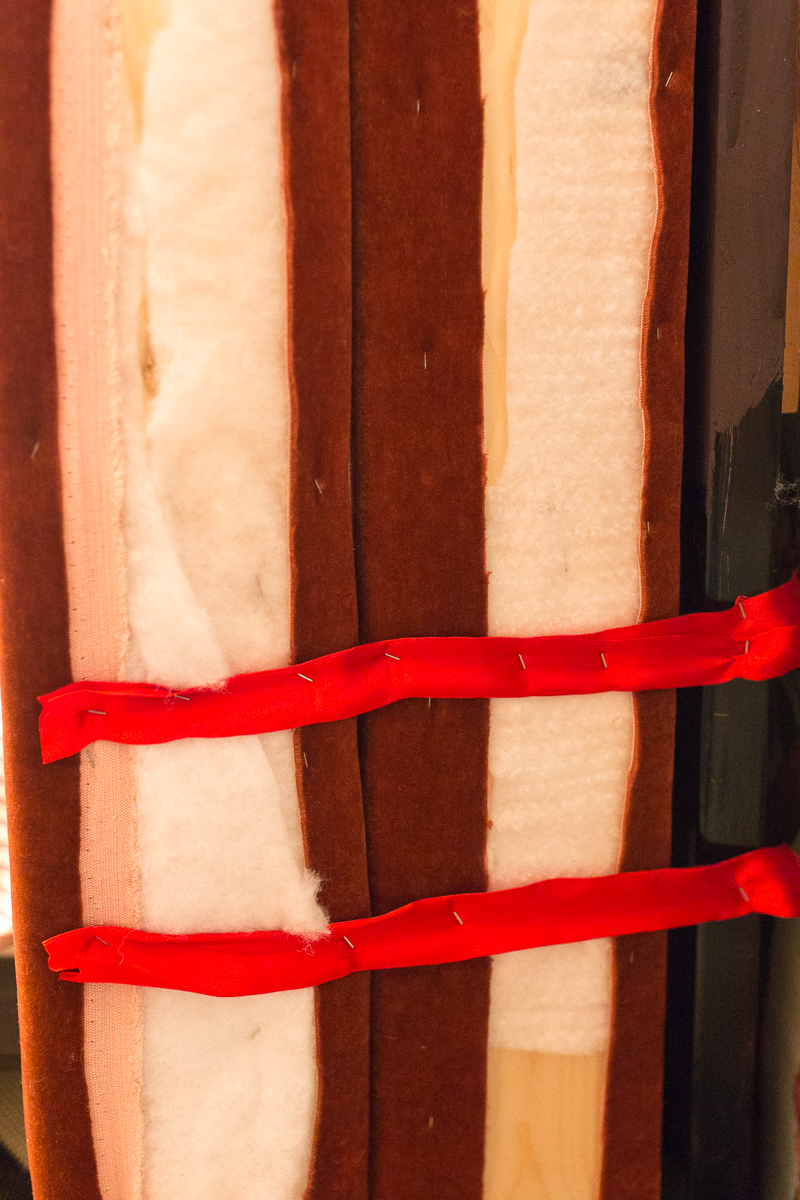 Because I wanted to give the bed curved "wings", I screwed each of the boards and the headboard to each other at angle from above, then reinforced it with ribbon and staples.  Leather (or faux leather) strips and screws may be a more sturdry option.  No one in my family, however, climbs on our headboard, so this should work for us.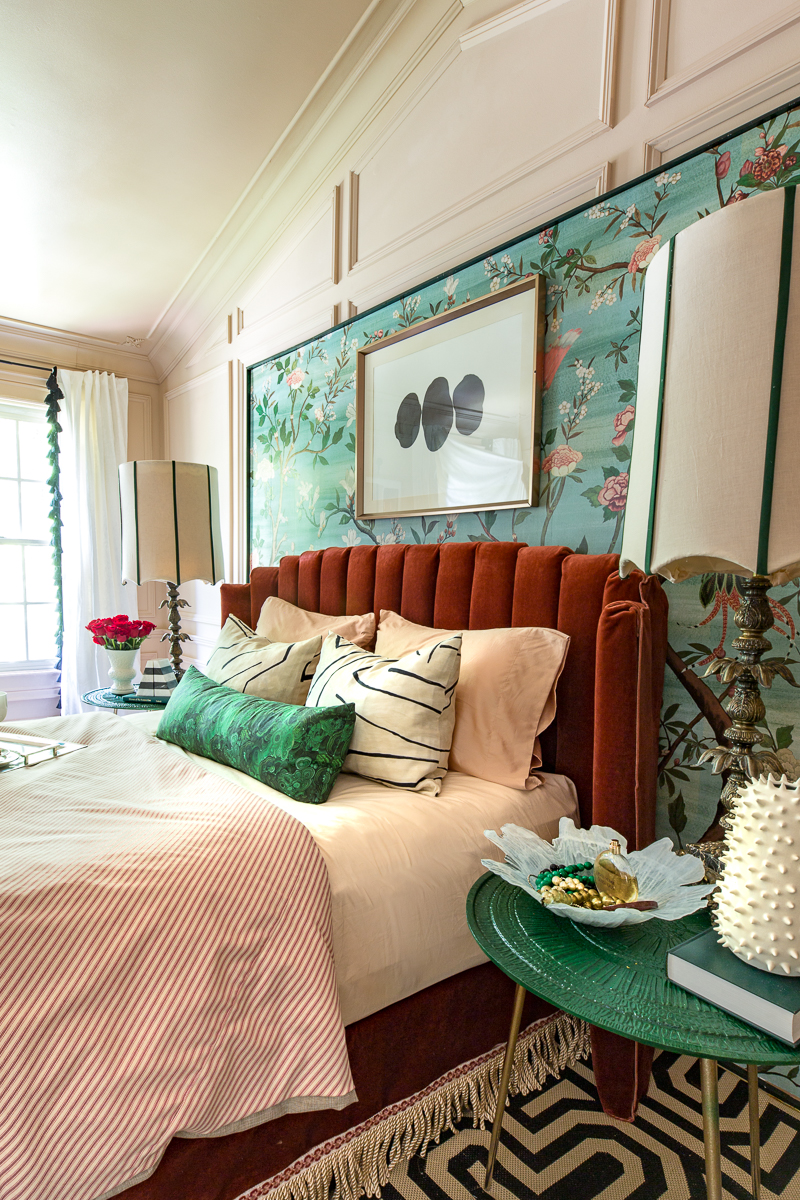 Then I stapled fabric to the sides.  With 11 yards of fabric I barely had enough to finish this job.  If I had extra I could have sewn a double welt to cover my staples.  Due to the angles, however, I think it looks fine without.
Optional: I sewed fringe and trim along the bottom and made a bedskirt (14 inches total length for my height of bed).  I simply stapled the bedskirt onto the box frame.
Ta Da!!!!
Thanks for joining me on this channel tufted headboard DIY!  Please DM me images of your finished results on my Instagram.
Want more DIY bed ideas?  I've got a couple of more tricks up my sleeve