Maximalist Sunroom Reveal
Thanks for joining us on the Outdoor Reveal Blog Hop!  Once you finish touring my maximalist sunroom be sure to check out the links at the end of the post.
I blame HGTV, but there are few things that I enjoy more than a good "room make over." Luckily, TODAY is the maximalist sunroom makeover for our Virginia house!  Queue fireworks and confetti!!!  Bring on the color, please pass the pattern, and don't hold back on the eclectic fun…and plants…lots of plants.  I can't wait to show you how this turned out!
First, however, there is one thing worth noting. This space is a little bit different from the others we have tackled so far in this home.  You see, this is a BUDGET make over.  YEP, I plan to change the color scheme in this space with in the next year or so.  Hence the is a temporary fix.  Hopefully making over an entire room with a $200 budget and items I have on hand is relatable and inspiring.
The sun room is just off of our living room, but has been completely under utilized in the last year.  This space was screaming for a make over!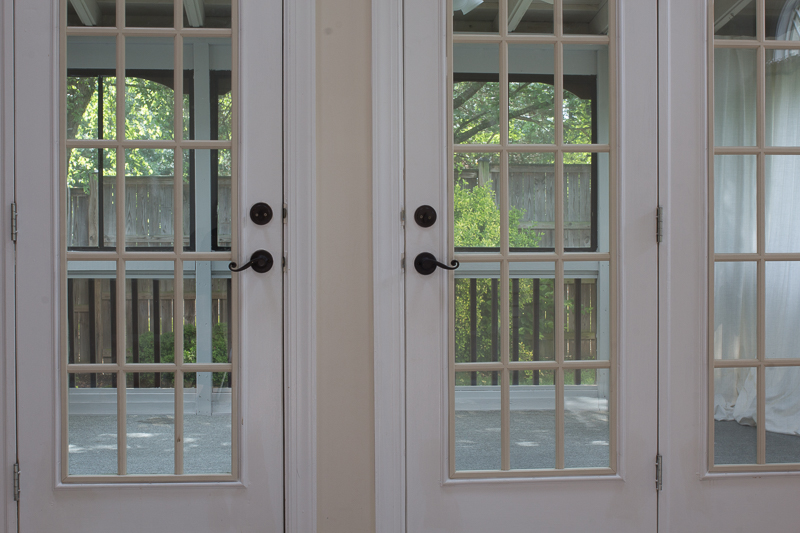 If you missed last week's post, here are some of the before shots taken the day we moved in last summer.  That carpet was beyond gross and the grey walls were depressing in a sunroom.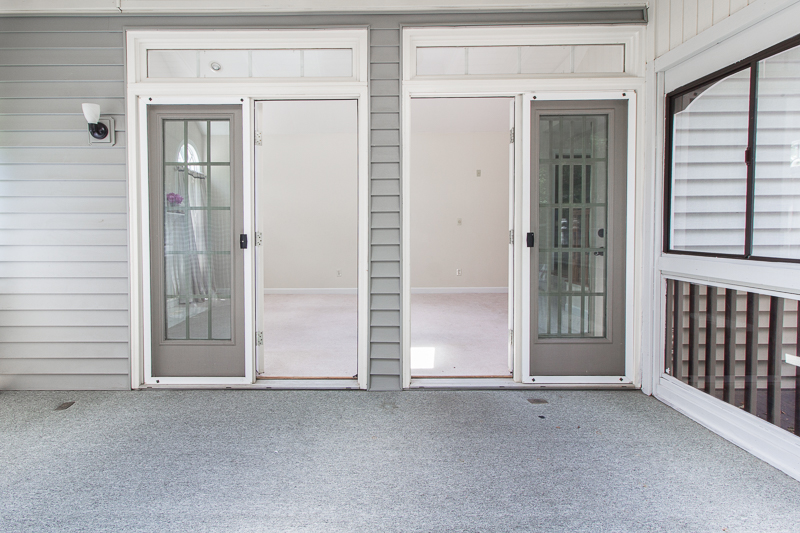 That ceiling fan and wall sconce were basic builder's grade and completely lacking personality.  Don't worry…we fixed both.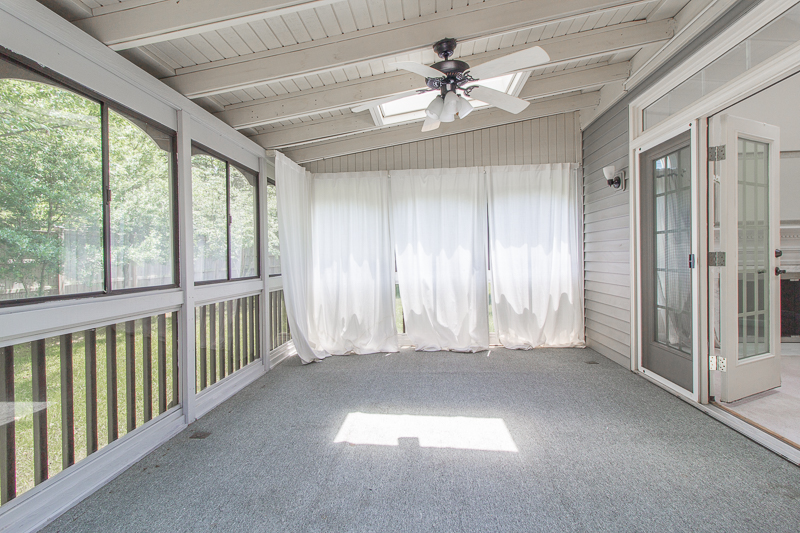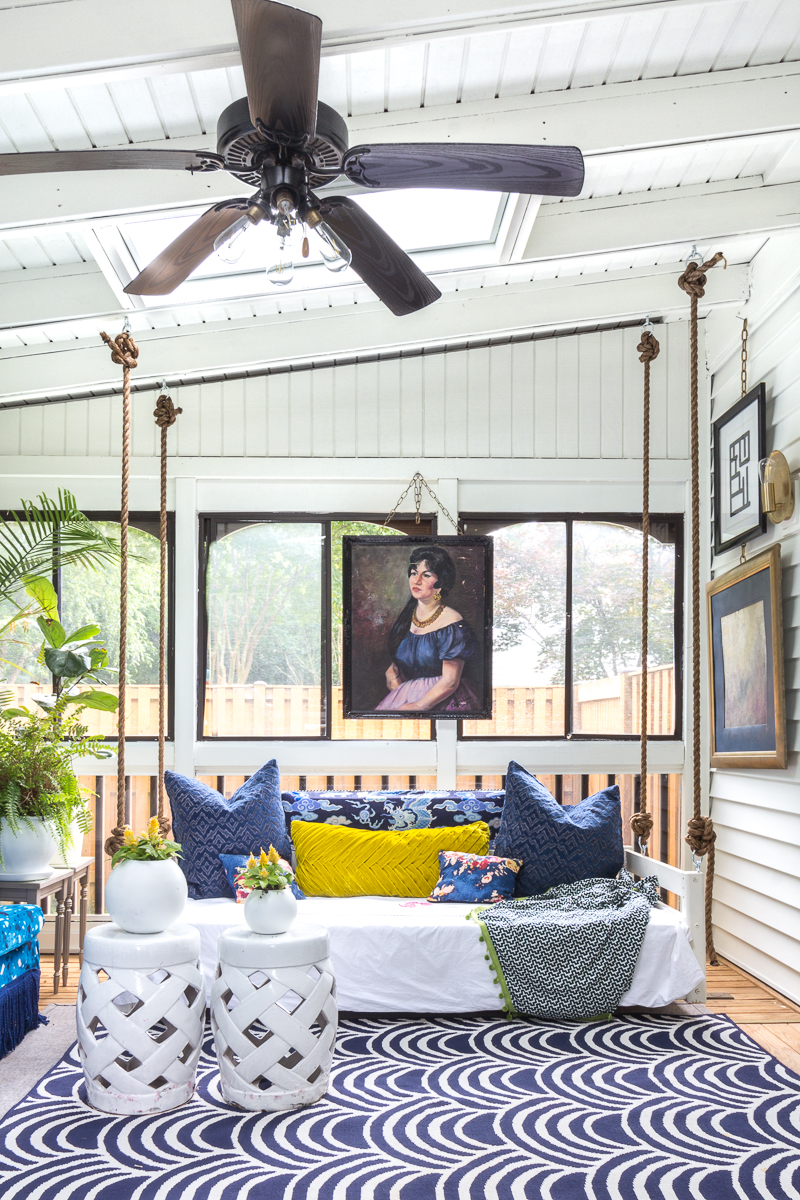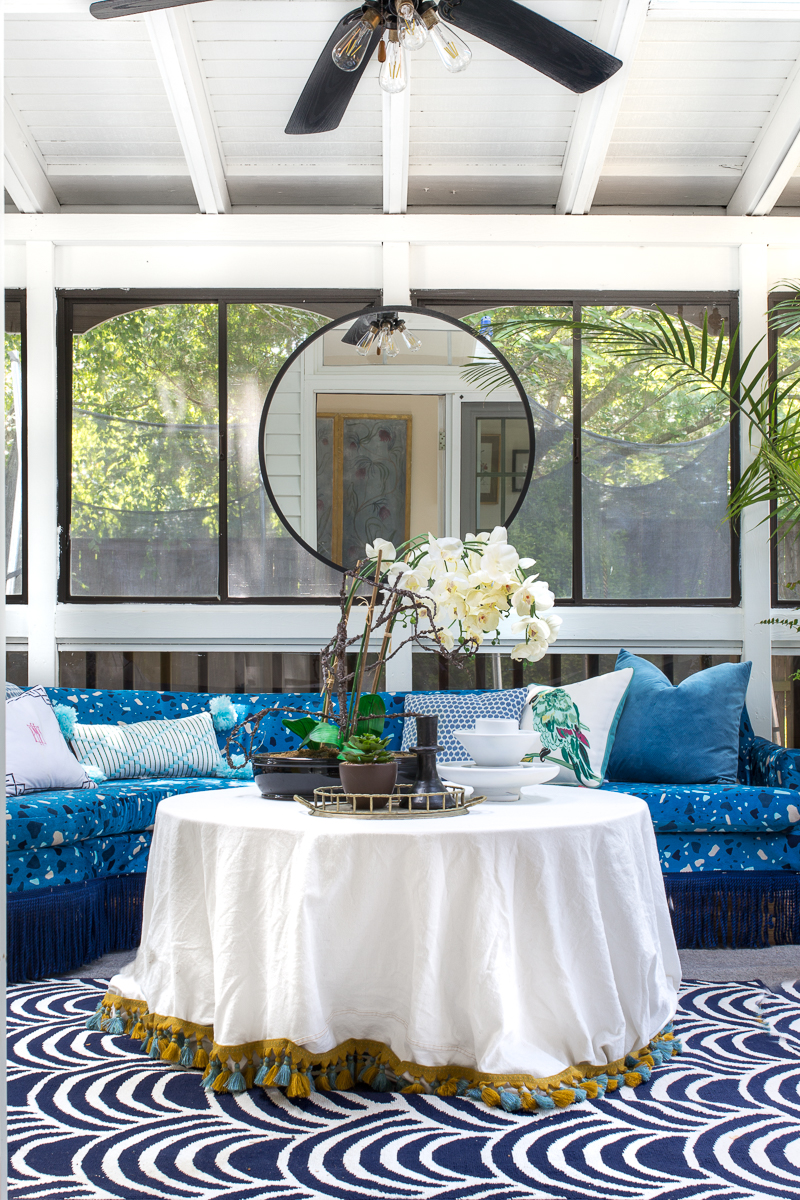 What do you think? Perhaps even more impressive is the fact that was able to swing this maximalist sunroom make over on a  $200 budget (including wall paint, swing supplies, and $50 in accessories). I'm not sure if I should be proud of my resourcefulness or ashamed of my hoarding :).  I'll leave the judgement up to you.
Now let's break it down for ya my friends.
For the last five years we have had some of our stuff in "Long Term Storage" which is military speak for a dark hole where you put items that don't fit in your current home. In our experience, we have forgotten that we even own half the stuff we saved.  
When our long term storage was delivered to our door last summer we found an old toddler sized bunk bed that we used four assignments ago in England. Since we no longer have any toddlers, we scratched our heads about what to do with the bed.  By August we had decided that we would someday turn it into a swing, so we shoved all of it into the sunroom where it sat for 10 months.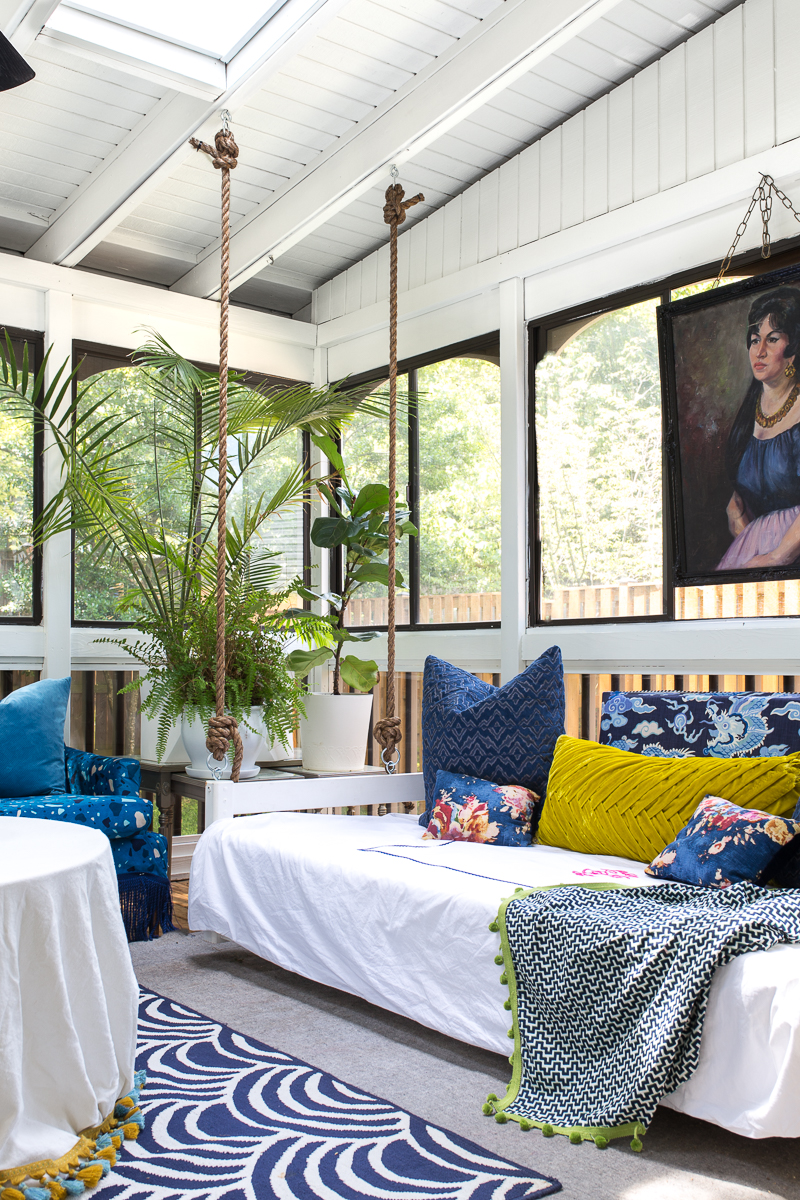 The funny part about it all is that it only took a quick trip to the Big Box store, an afternoon of hanging, and pillows from my storage, and we had ourselves a beautiful swing.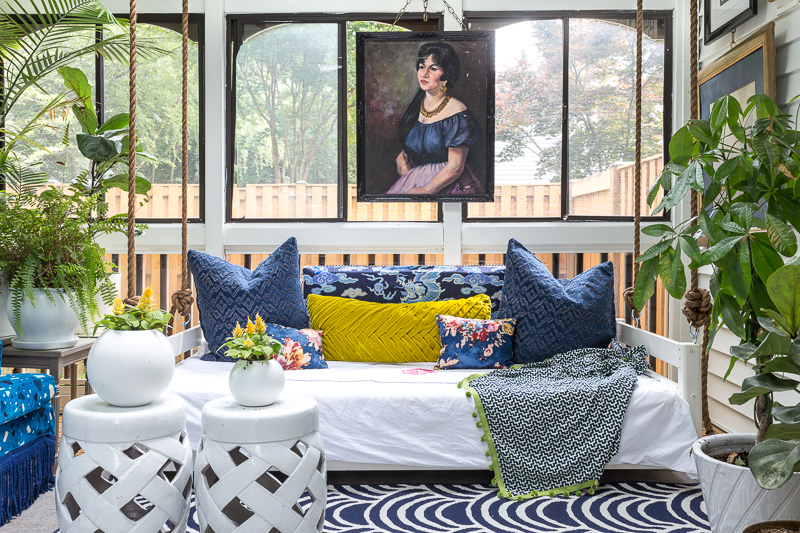 Our one lesson learned from this project is to hang the bed swing a little higher than you think you want it.  After people sit on it, the weight tightens the knots and lowers it an inch or two.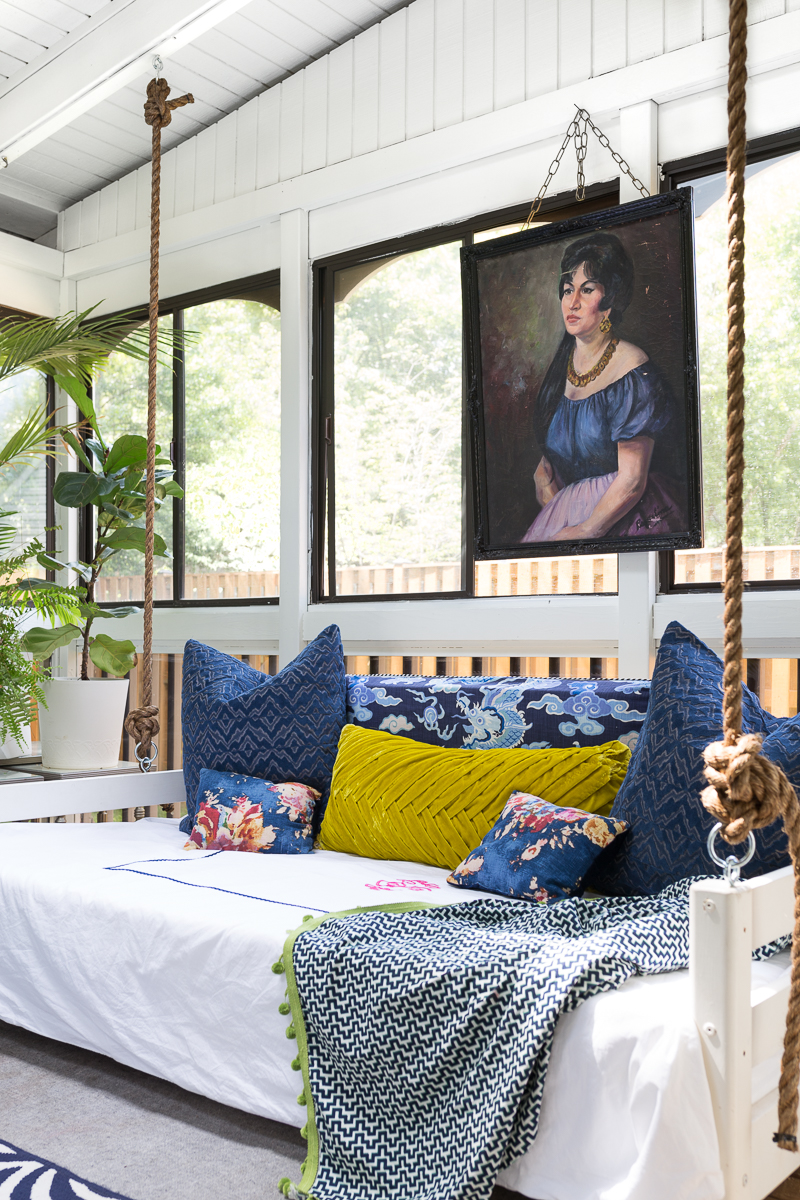 The board on the back of the bed is upholstered in left over fabric and 2 inch foam.
If you have been following me for a while then you may recognize this unique 110 inch terrazzo sofa from my Spring 2018 One Room Challenge. It was a blast to work with Ashley from IG: 2birdstone as she kindly dreamed up a fabric collection for me.  Then I upholstered it this huge sofa beast myself, which is quite a story.  It has been sitting largely unused in our basement since the day the movers rolled up last summer.  That would have been fine, but It didn't work for us down there.  It killed me that this long, curvy beauty was sitting unused, but there was no way we could get it out without reinforcements.  Luckily, the sofa saga ends happily. Two weeks ago we invited over some spry young men who helped us haul it out of the basement and up the stairs into our sunroom.  WOOT WOOT!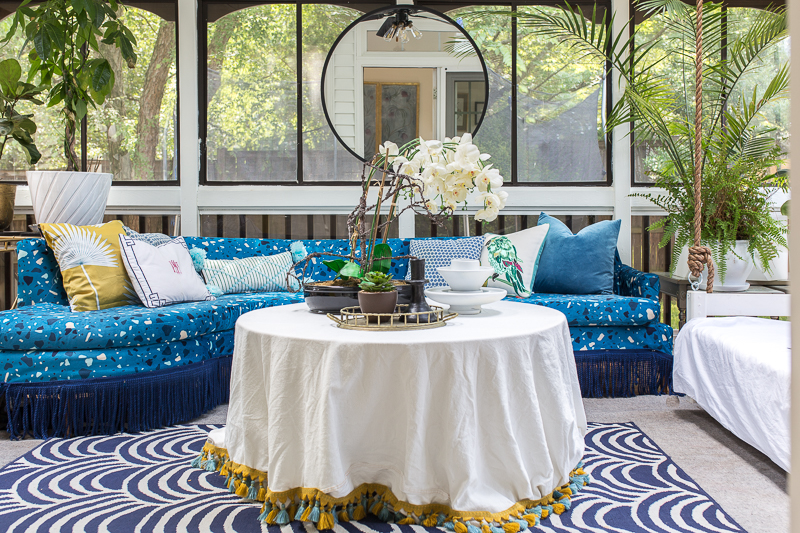 We considered using the terrazzo sofa in our living room, but it just looks too good out in the maximalist sunroom.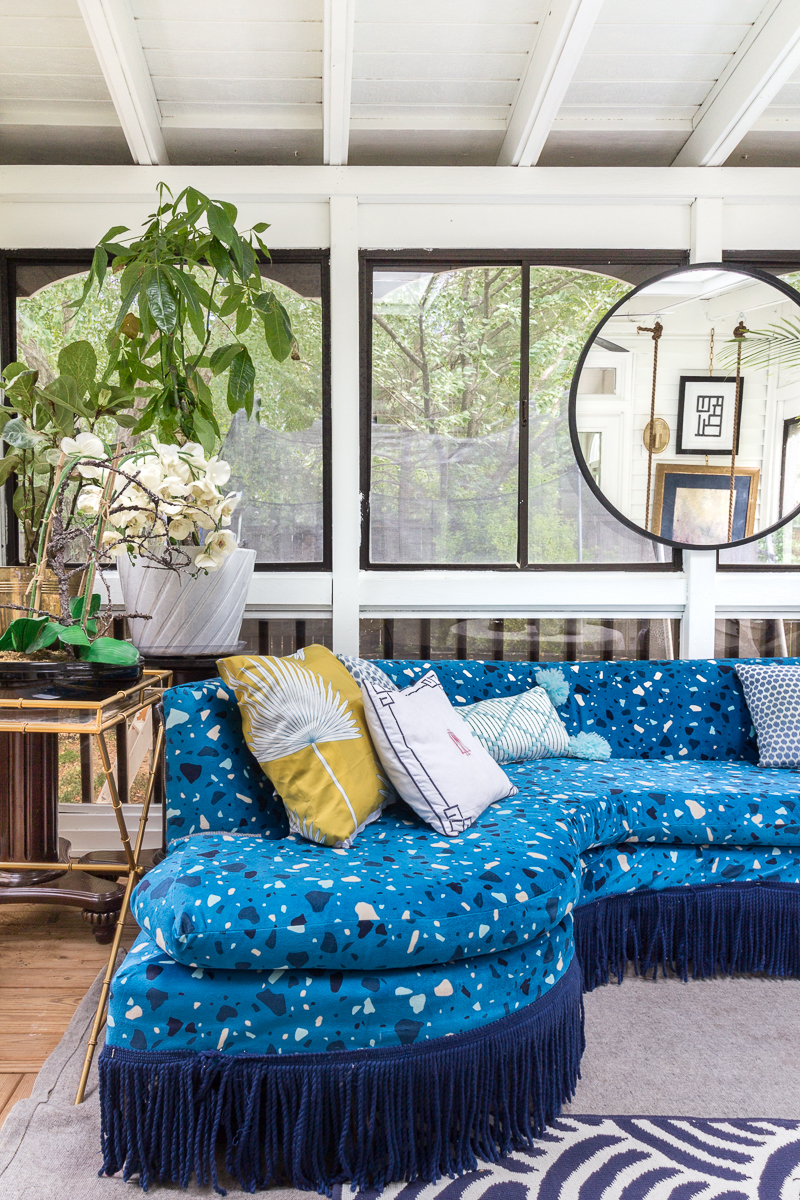 This sofa seats sooo many people, and has been perfect for our large family as we gather each evening.  Someday, I also envision this being the perfect teen hang out room.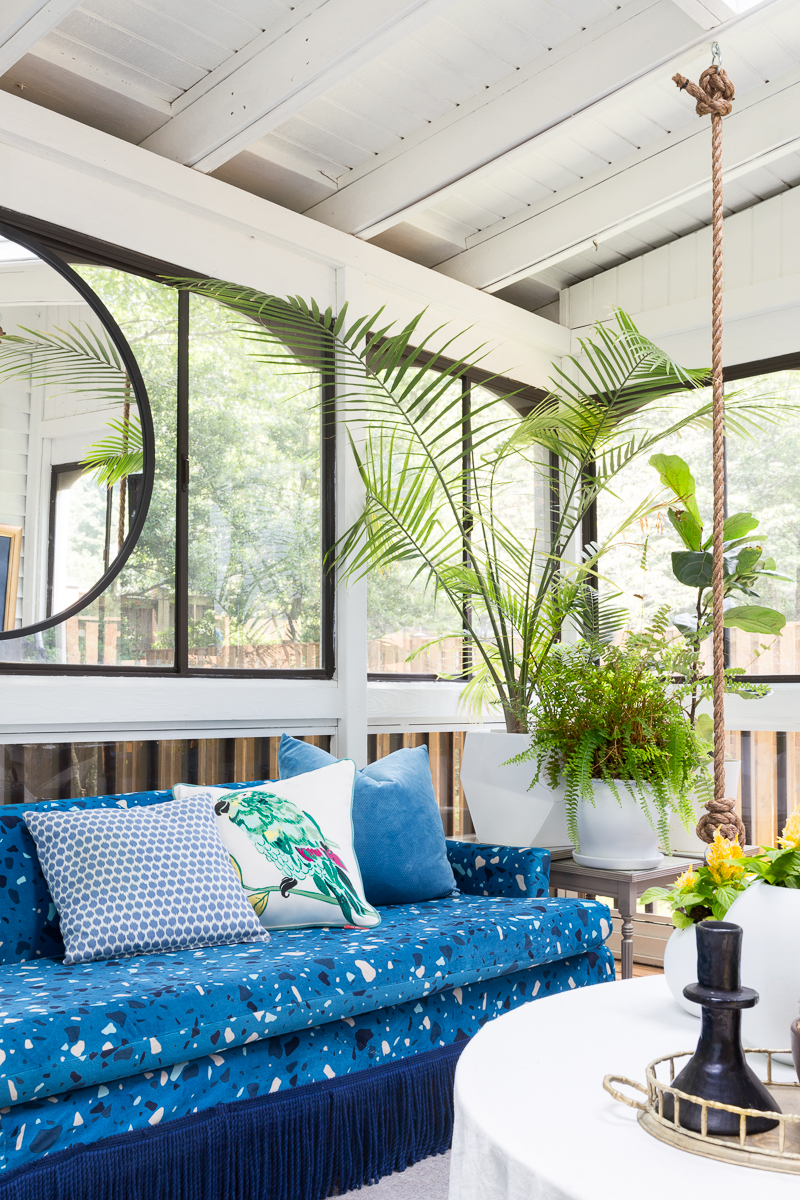 Another potential use for the space could be kid "glamping". Perhaps we will bring in a TV, some candy, and a cot or two.  This idea is guarenteed to provide family memories and grumpy kids the next day.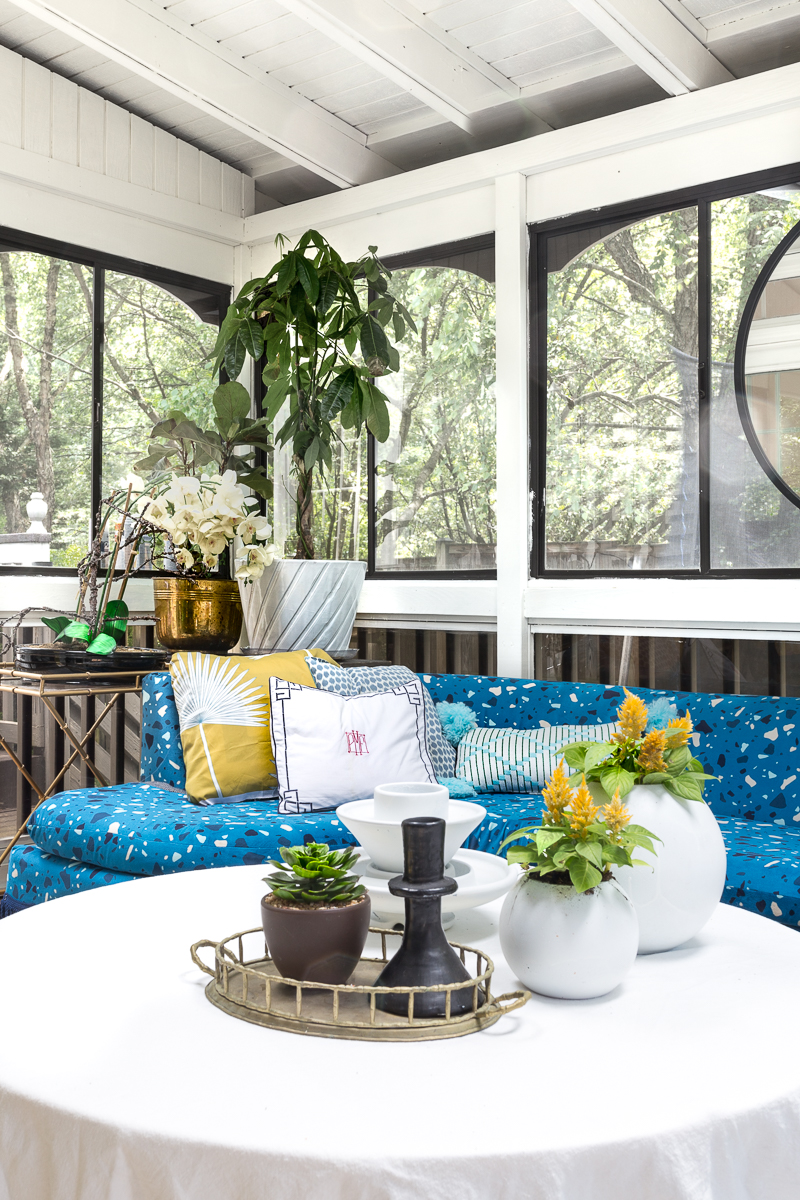 Because this was a budget makeover, I only spent $50 on additional accessories.  The sconce was a CB2 outlet score, and the fringe on the coffee table was purchased at Fabric Place basement in Alexandria.   The art was DIY or thrifted.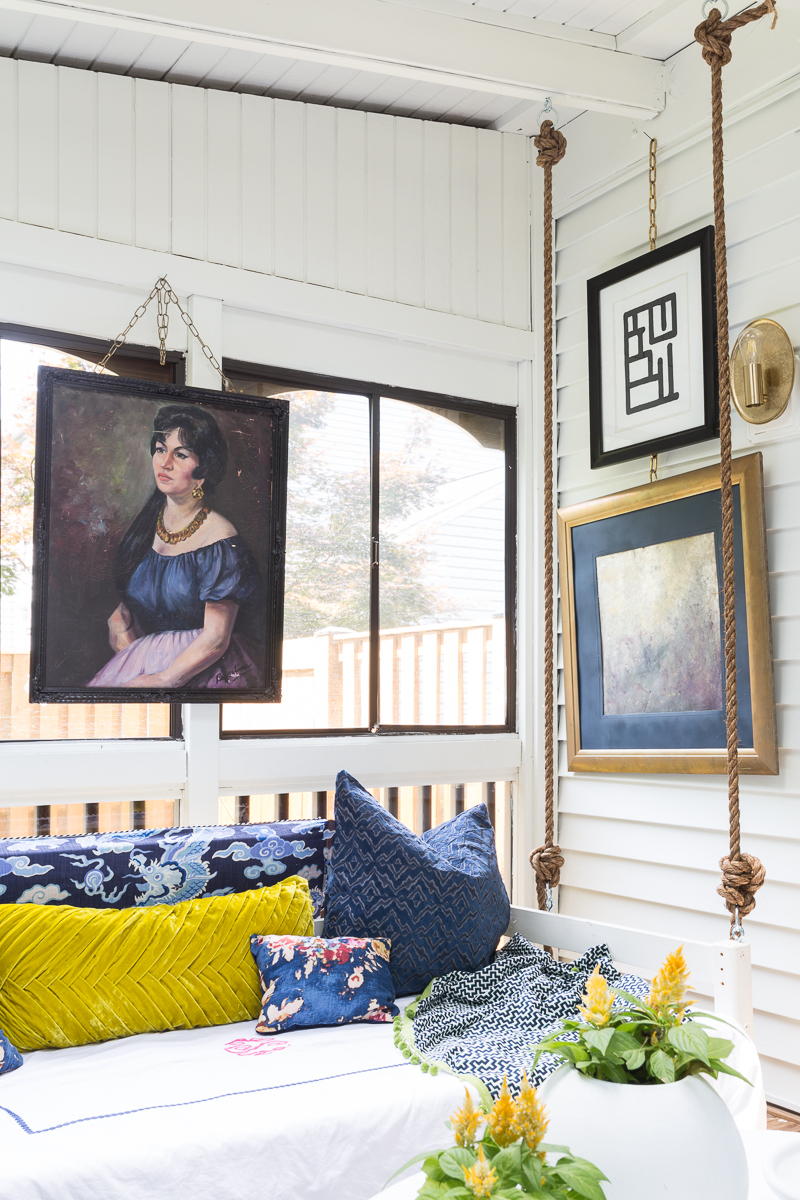 Here's my tip when it comes to decorating a room with a lot of windows.  One option is to hang art from string, wire, rope, chain, etc and attach it from above. Notice how I have hung Carol (my favorite portrait), and the other art in the space.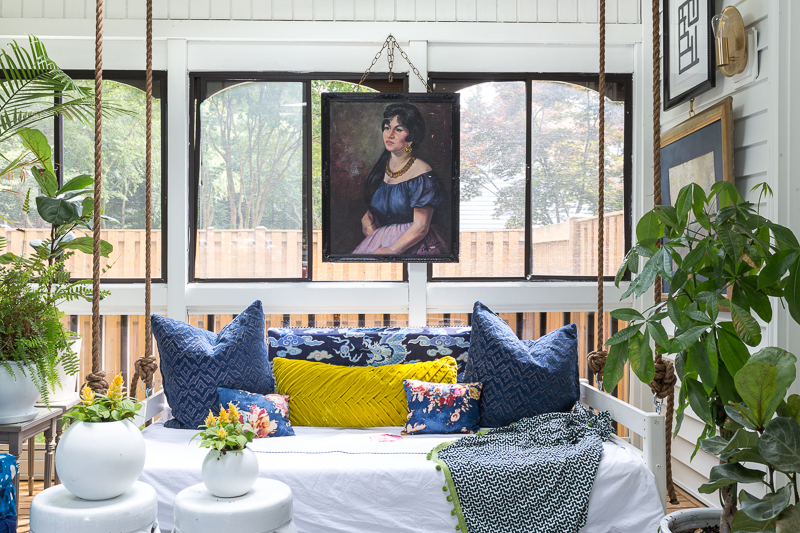 BTW: My husband and kids always gives Carol shade, but I can see her inner beauty :).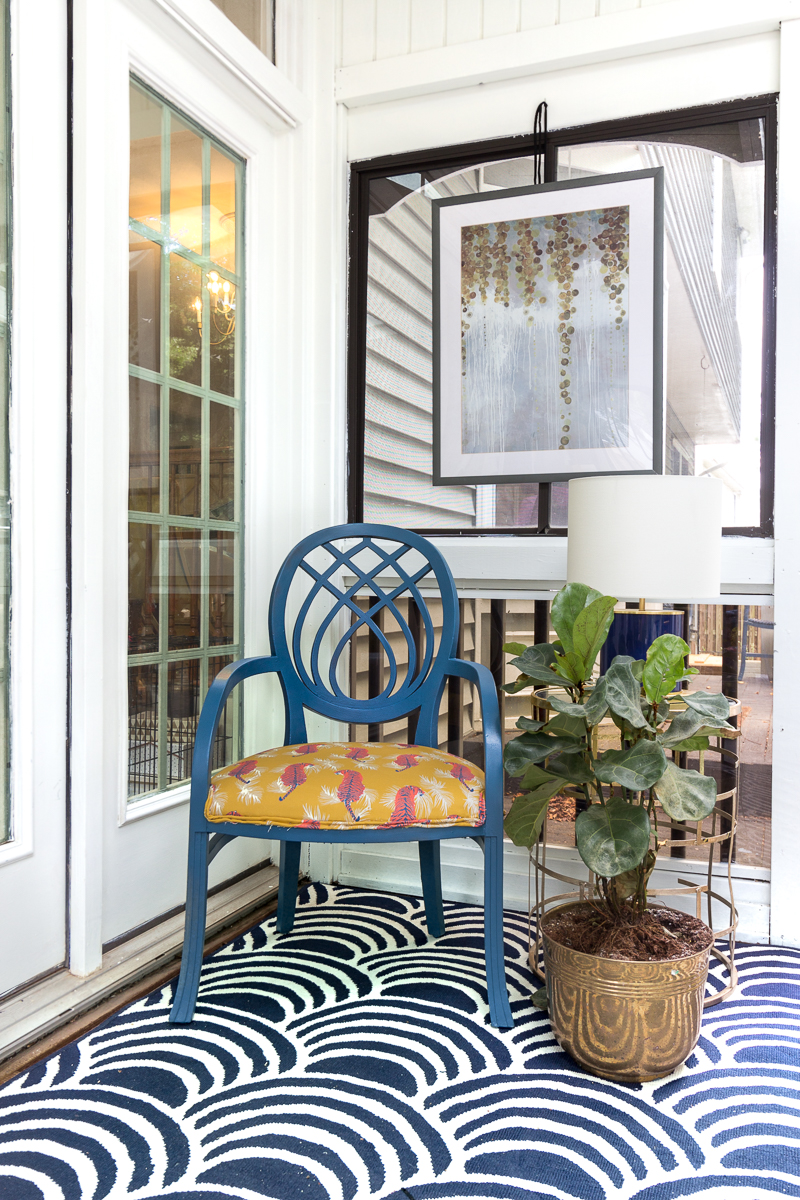 This cute chair has also been sitting in our basement and screaming for some love!  I partnered with Spoonflower on this fun tiger fabric for the entryway, but ended up going a different direction.  A maximalist sunroom seems like the perfect place for this fun fabric and cute DIY chair.  Don't you think?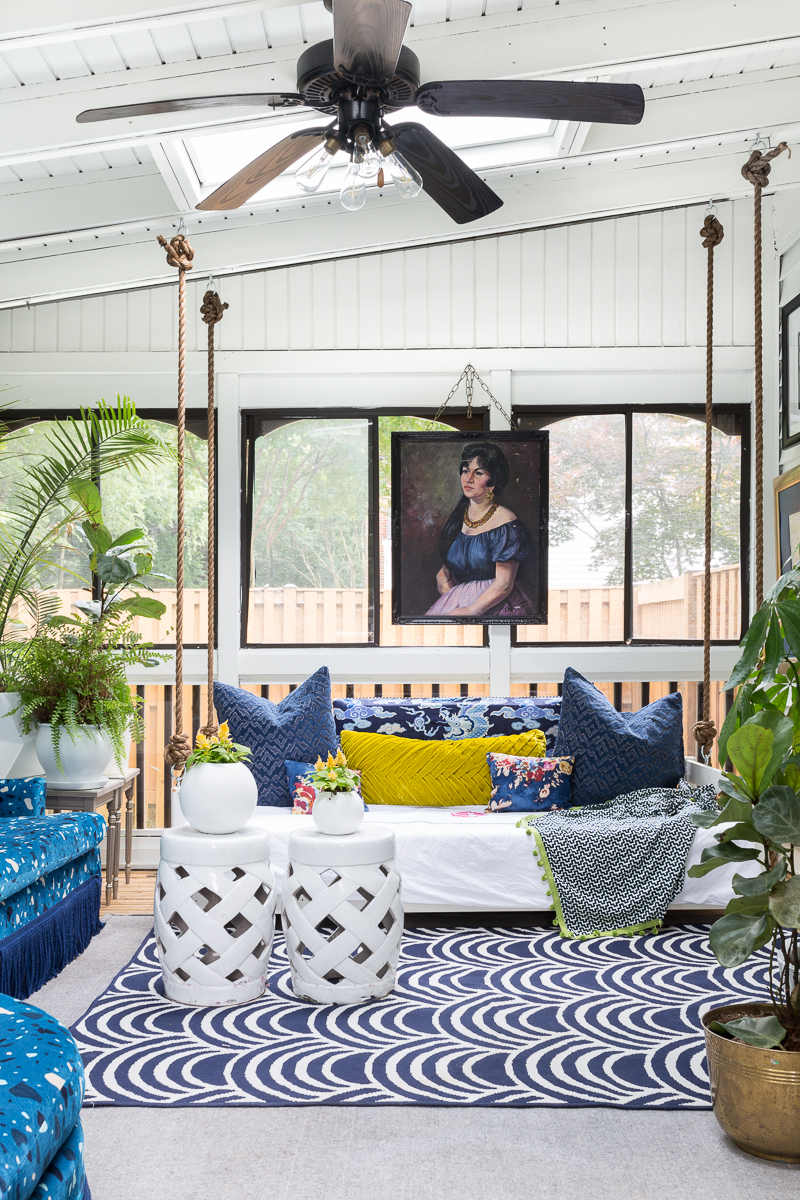 Shameless plug: Don't forget to pin an image for later!
I am so excited that we were able to finish this maximalist sunroom in time for summer. Thanks for joining me on this adventure. 
WHAT'S NEXT FOR JEWELED INTERIORS?
Now that we've finished up the maximalist sunroom it's time to turn our attention to my mom's guest bedroom down stairs….It may feel like a dungeon at the moment, but that's all about to change!  Stay tuned and follow me on one of these platforms. 🙂 
 OK…now let's go check out our other bloggers as they reveal their outdoor projects as well!