Sunroom Ideas
Sometimes it only takes a few upgrades to make a huge impact on a space.  Check out these sunroom ideas and see how a new jute rug and canopy over our swing bed makes our space feels so fresh and new.
You may have noticed how it usually works around here.  I let a room sit sadly untouched until I roll in and change it all at once.  The sunroom has proved to be an exception to this pattern.  Instead of a massive makeover during the course of an unrealistic amount of time, I have made subtle changes over the years.  Allow me to illustrate.
If you are new here, then it might be helpful to know that we bought this house 8 years ago, lived here for two, moved away for four, and moved back here two years ago…Did I lose you there? LOL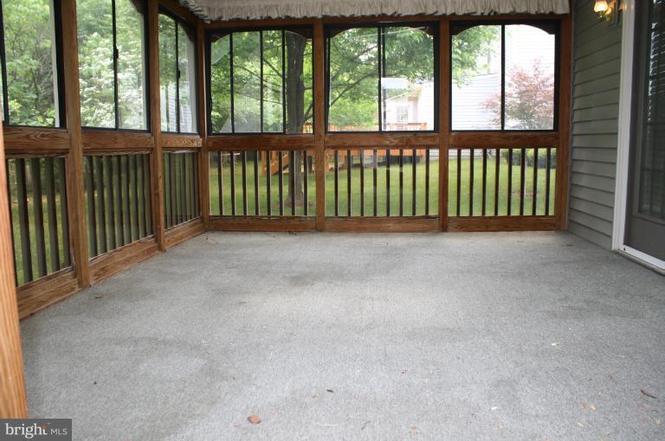 Before Pics from 2 years ago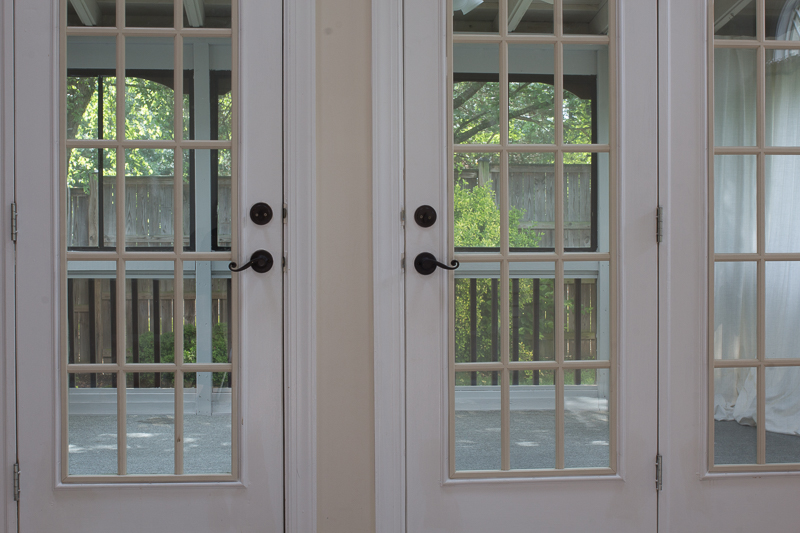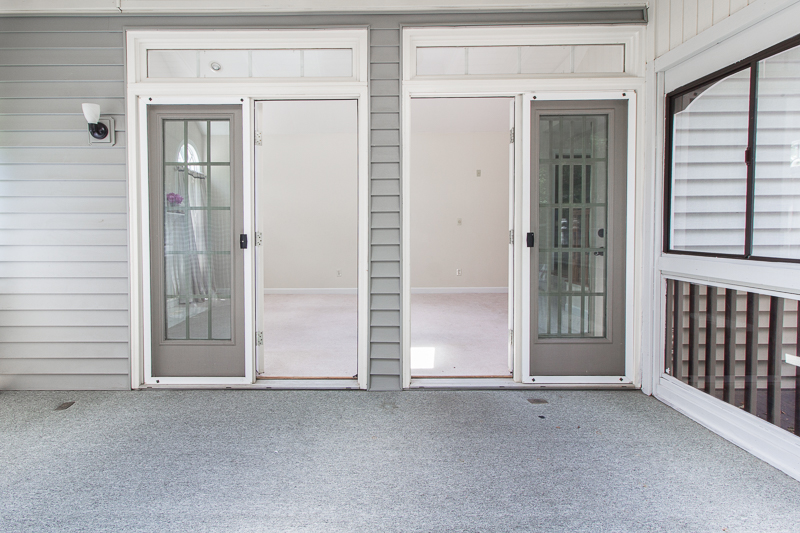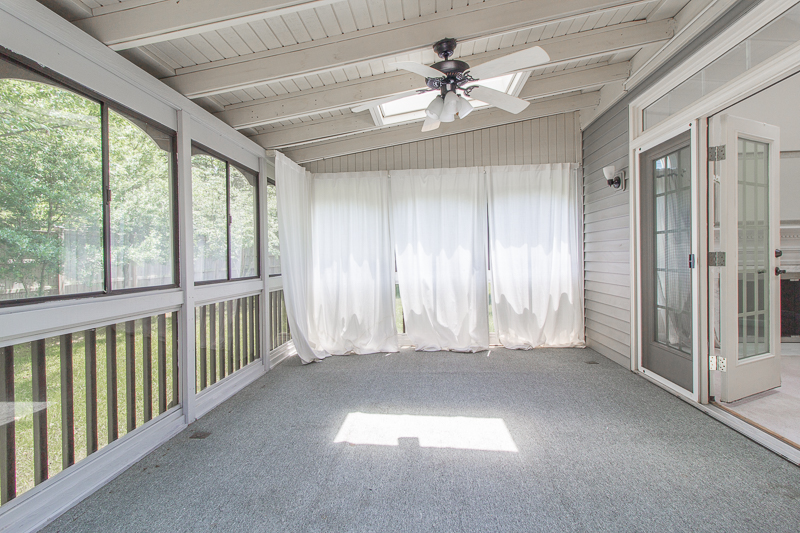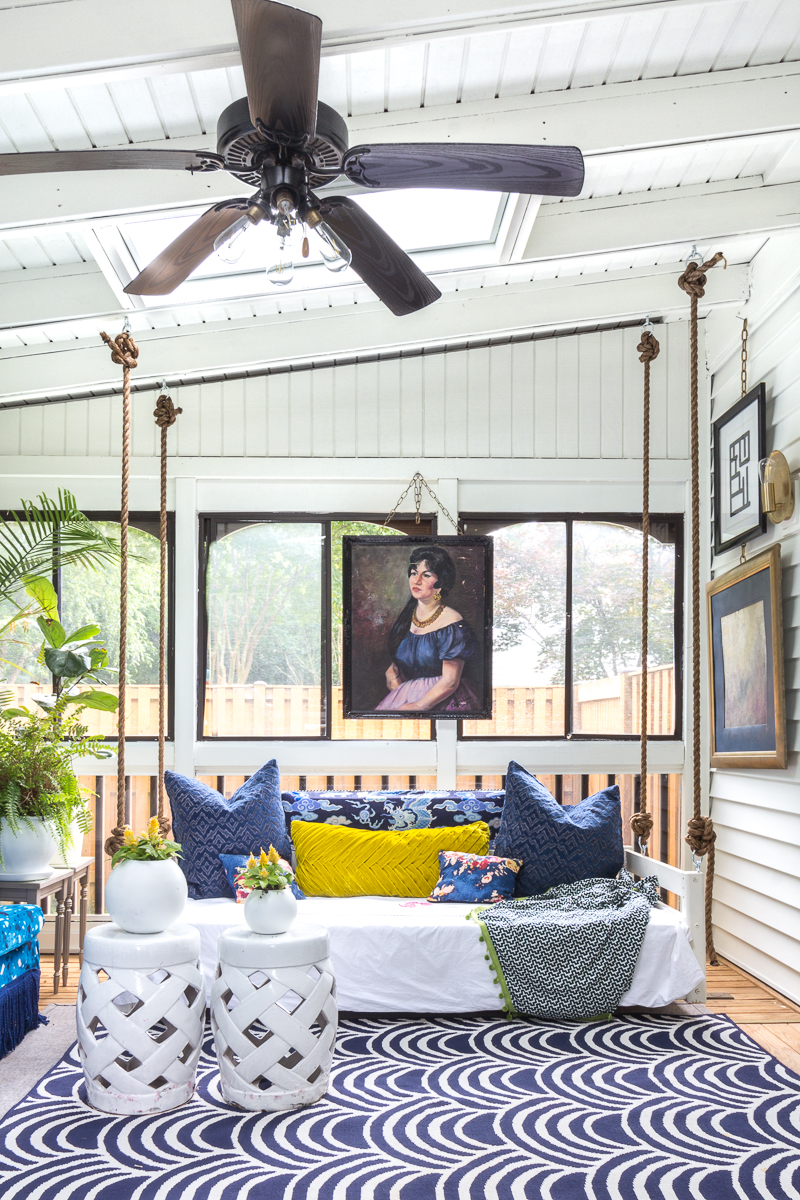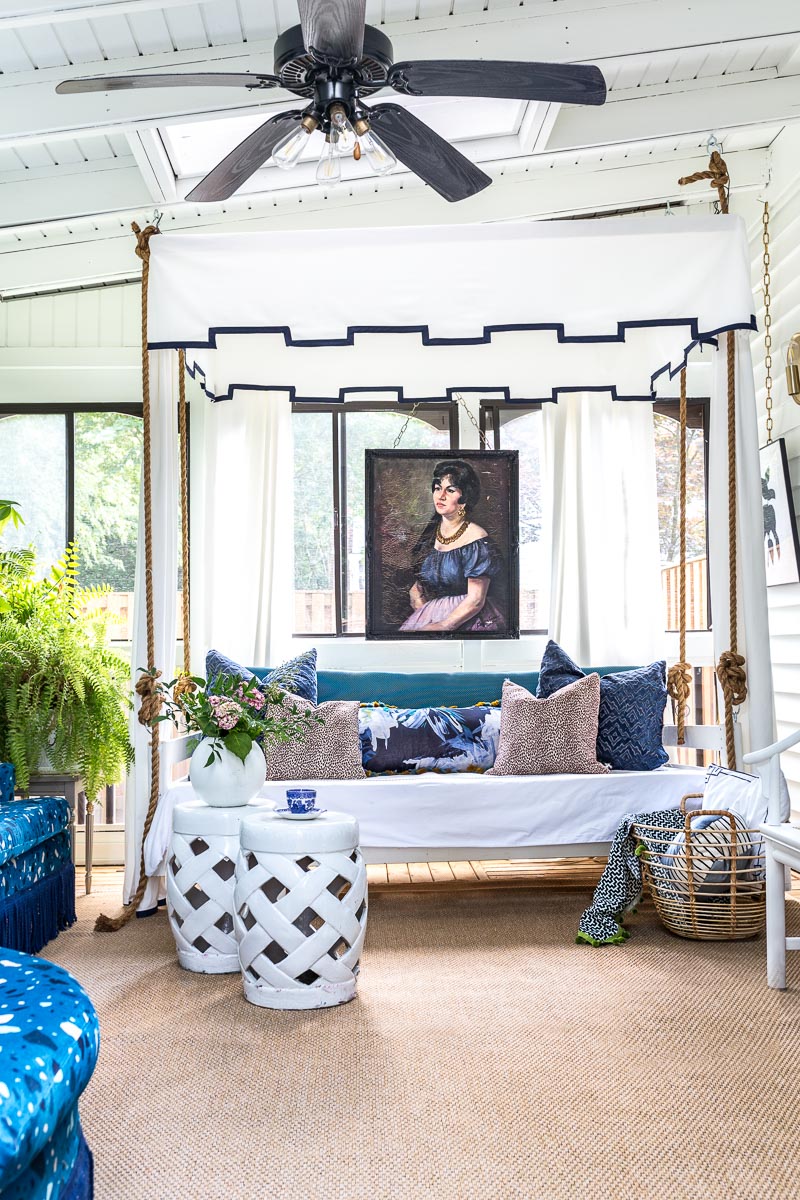 Oh man!  I adore this new vibe. I went for a little less maximalist, more relaxed and romantic yet polished and timeless.  Sounds like a winning combo to me.
Sunroom Ideas: Canopy Bed Swing
You can see in the post from last year's sunroom ideas that I had used a part of British sized toddler bunk bed, twin mattress, and some rope to form this fun swing.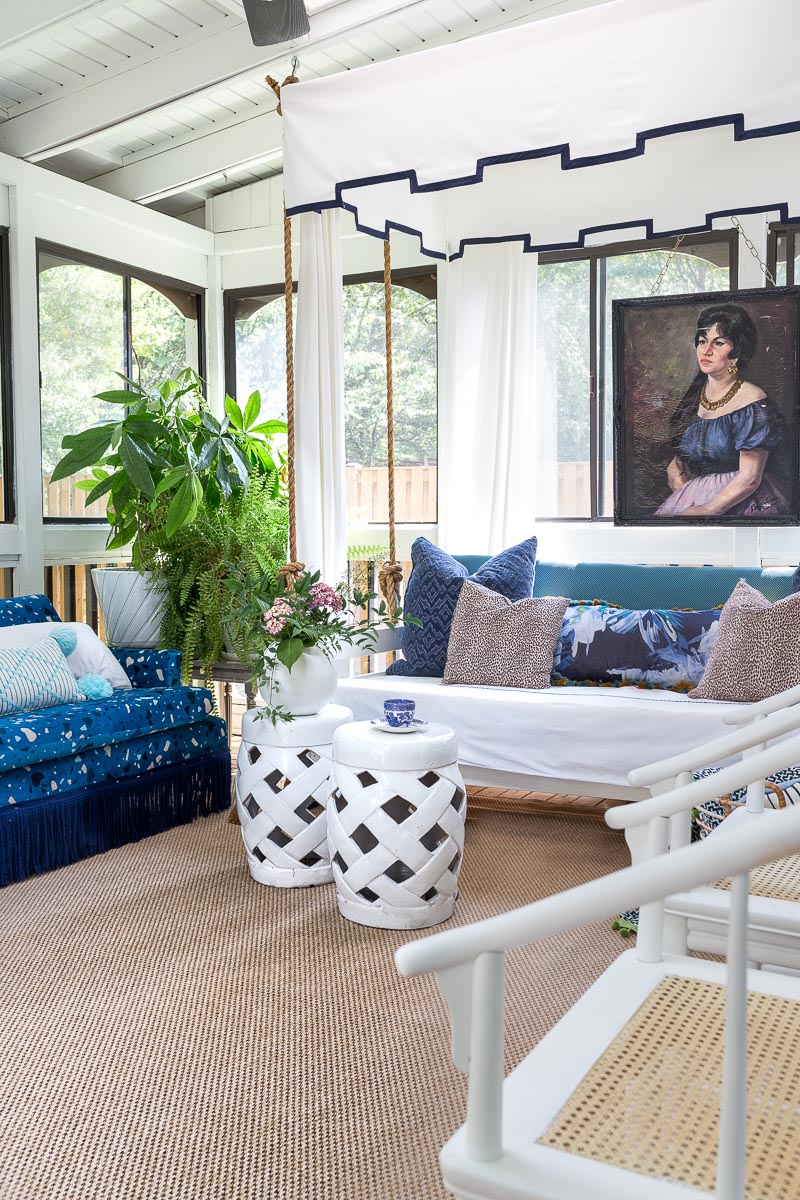 This time around I built a different backboard with fabric from Fabric Place basement in Alexandria and 2 inch foam.  I also used wood, screws, and twine to build a frame for the valance and drapes fashioned from Ikea canvas grommet curtains.  The blue trim was simple 1 inch bias tape that I purchased from Amazon.  It came in a 27 yard roll, of which, I used a decent amount.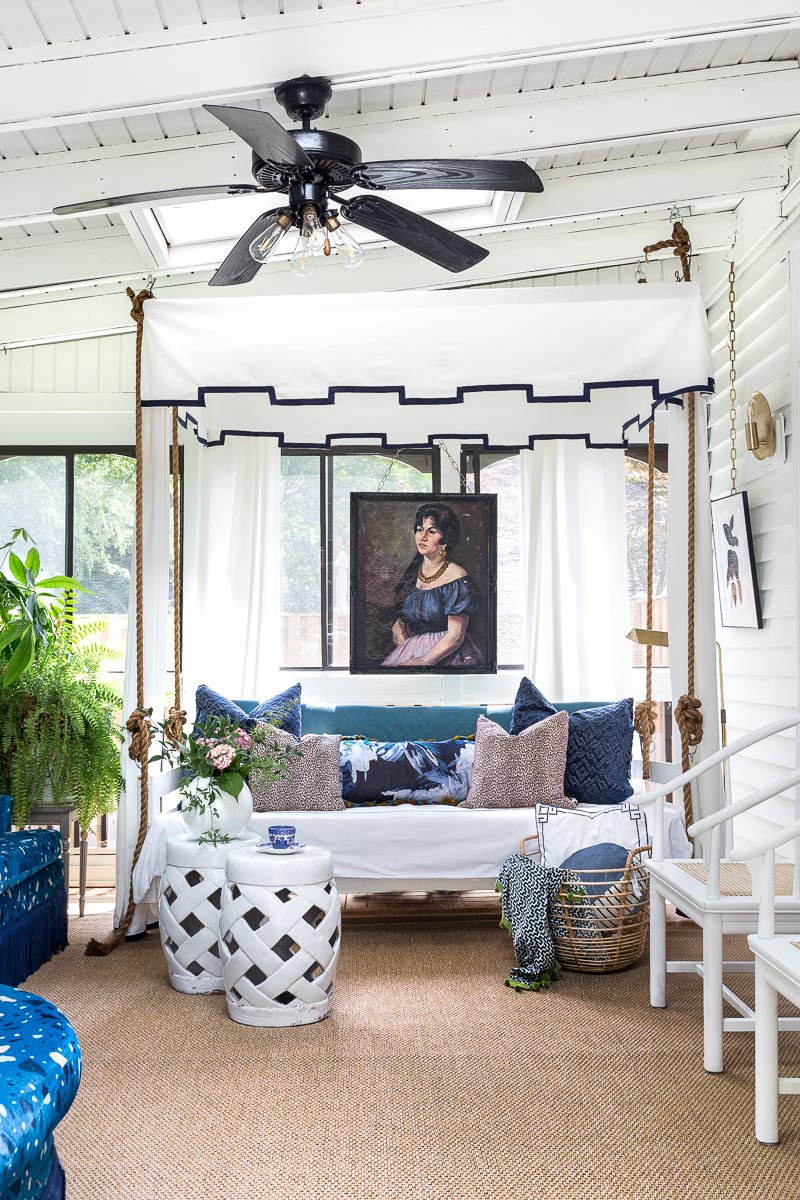 Sunroom Ideas: Indoor/Outdoor Jute Rug
Our old rug looked decent in pictures, but had definitely seen better days.  While I still may use it outside somewhere, I wanted something fresh, clean, and classic for the sunroom.  Another requirement was that the replacement needed to be an indoor/outdoor rug since this space leads directly to the porch, and people have been known to leave the windows open…before a massive rain storm…more than once.
Did I find it?  You'd better believe I did! When I did, I reached out to Mohawk rug. This beautiful number is from the Montuak line (in natural).  It checks all of the boxes and I couldn't be happier.  Quite honestly, I could envision this rug in my living and dining rooms as well.  Unlike some natural fiber rugs, this one looks durable, not scratchy, and has a low enough profile to fit under doors.  Did I mention it was indoor/outdoor?  🙂 It comes in a variety of sizes and six color ways. Perfection!
I paired it with a rug pad to make it feel even more plush and fabulous.  I would highly recommend using a pad on rugs.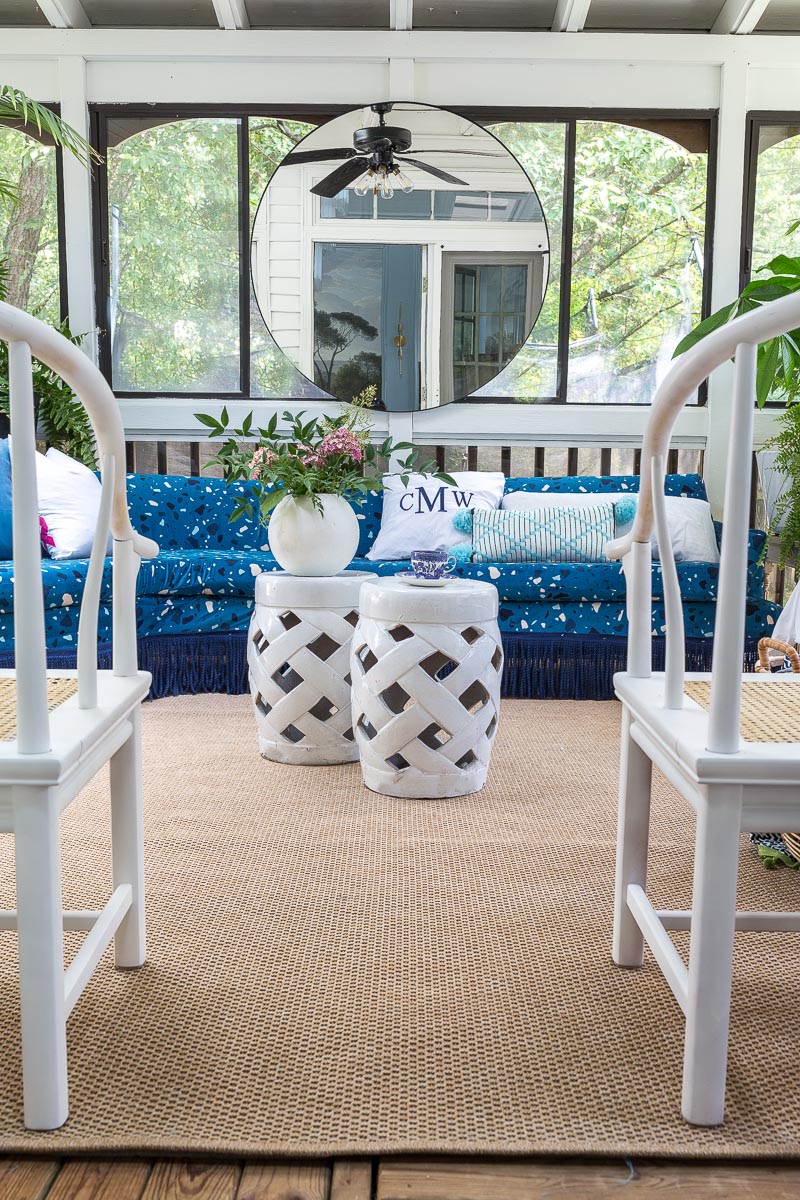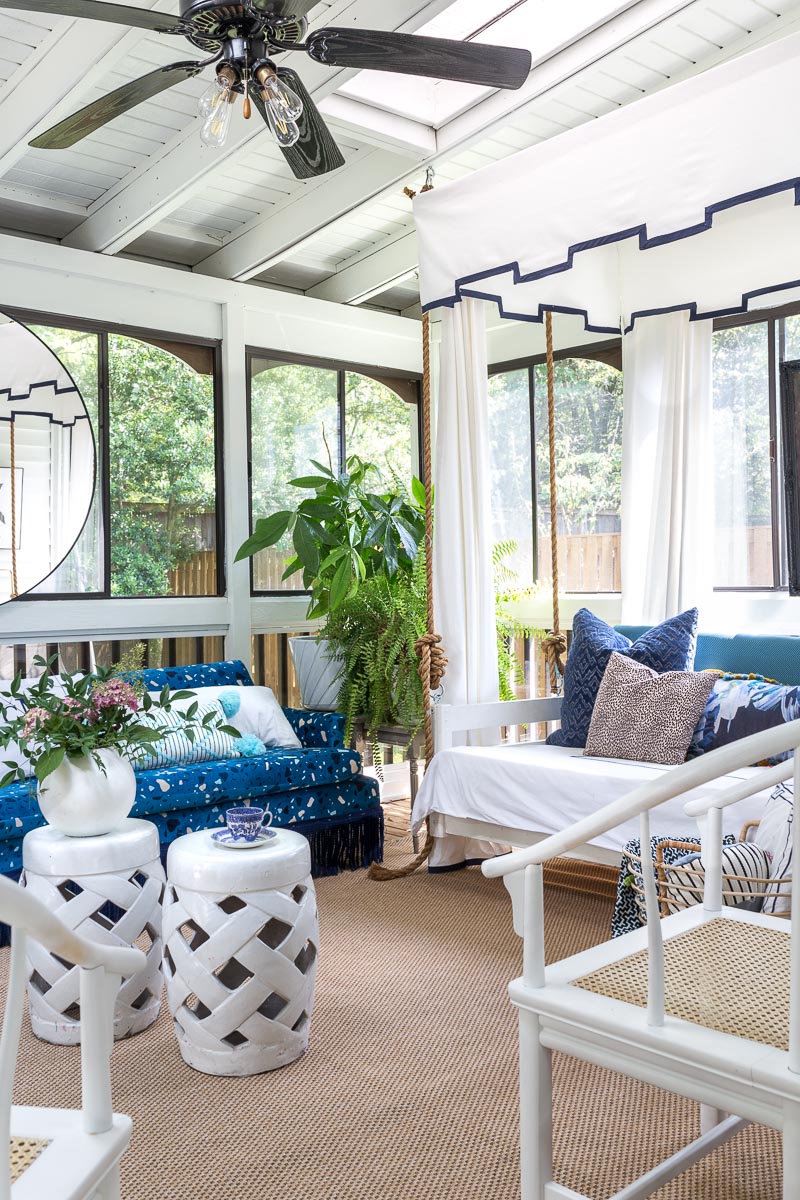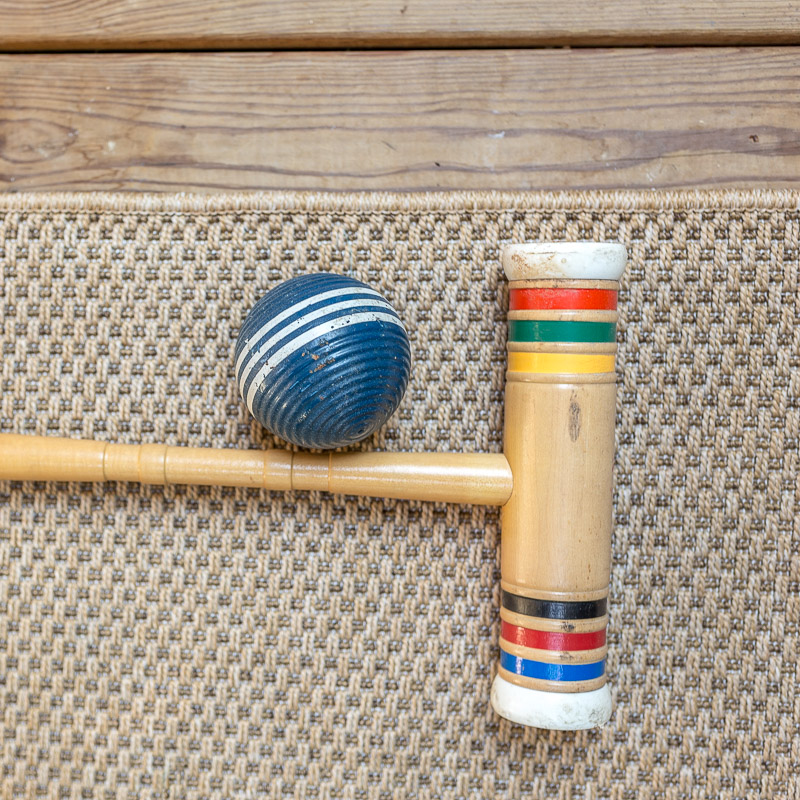 Sunroom Ideas: Curvy Sofa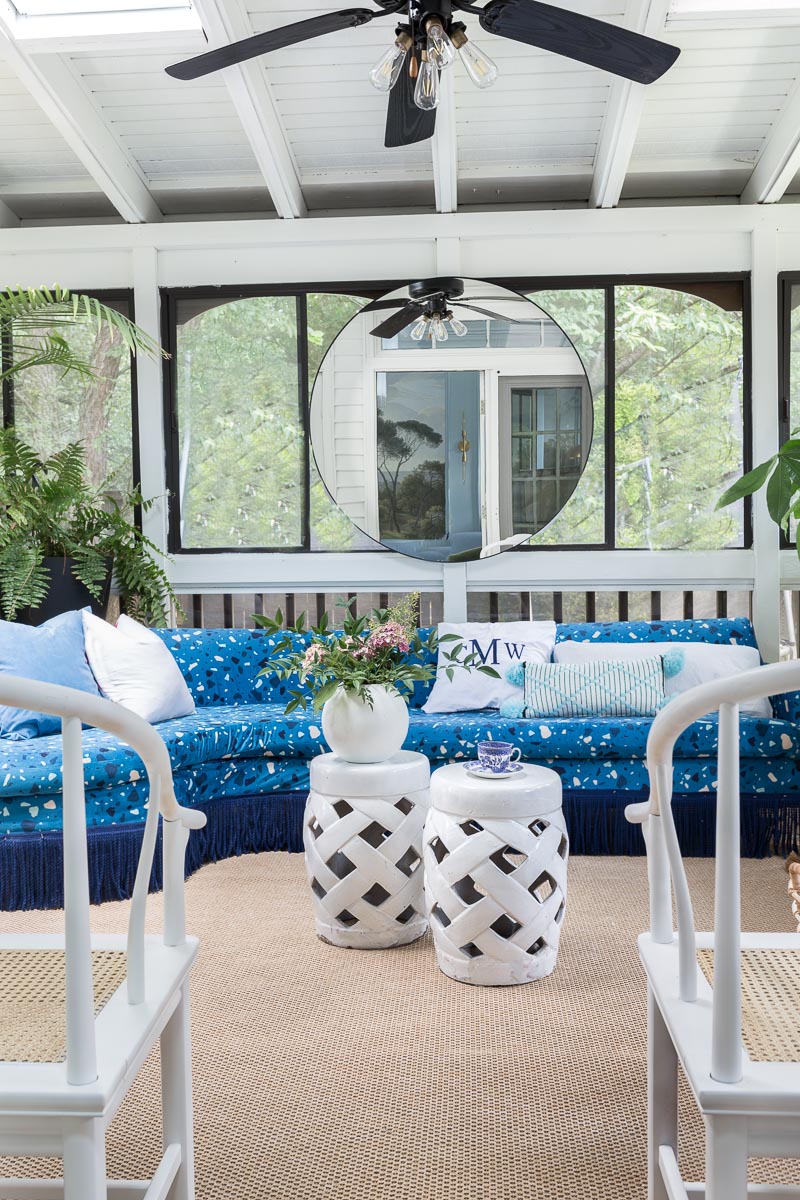 If you have been following me for a while then you may recognize this unique 110 inch terrazzo sofa from my Spring 2018 One Room Challenge. It was a blast to work with Ashley from IG: 2birdstone as she kindly dreamed up a fabric collection for me.  Then I upholstered this huge sofa beast myself, which is quite a story. My original plan was to recover it again this summer, but with the other changes in the space I have to admit that I have fallen back in love with this sexy sofa…at least for now.
This pretty piece from Artfully Walls  arrived just as I was styling the space.  I think it is a lovely addition, especially in a sunroom.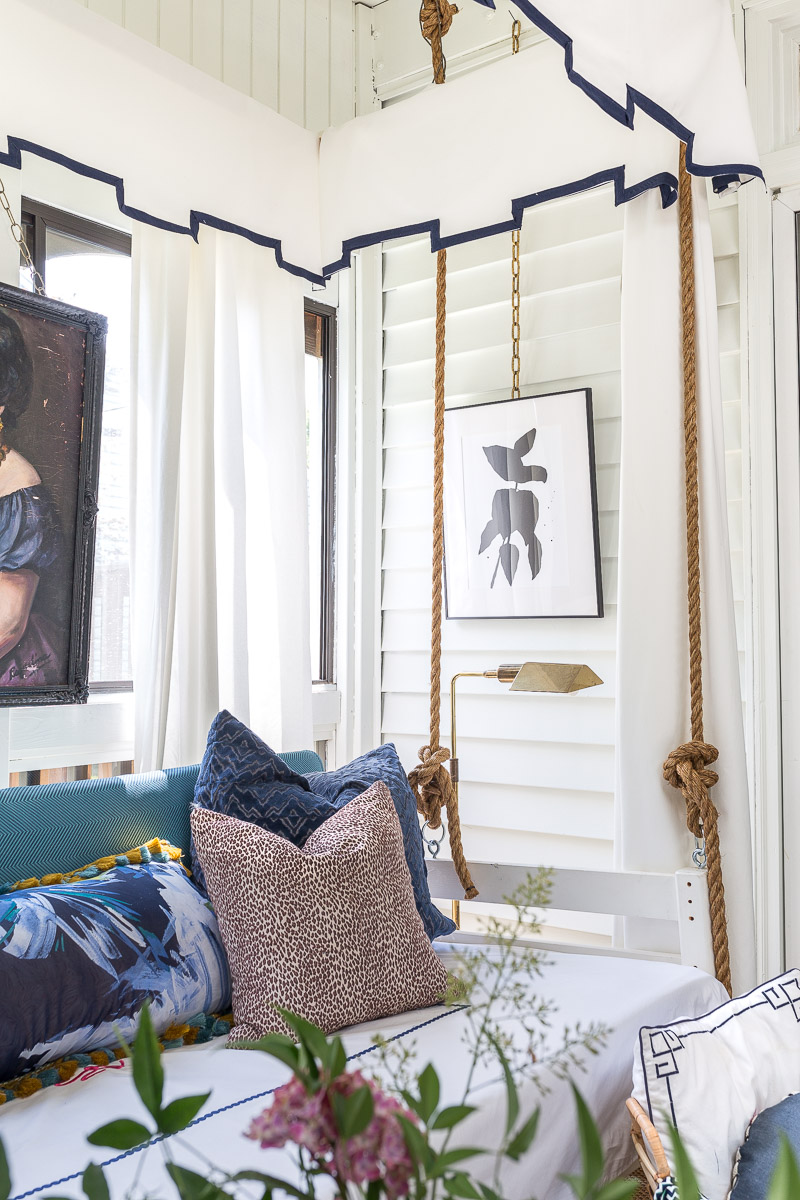 Here's my tip when it comes to decorating a room with a lot of windows.  One option is to hang art from string, wire, rope, chain, etc and attach it from above. Notice how I have hung Carol (my favorite portrait), and the other art in the space.
Sunroom Ideas: New Chairs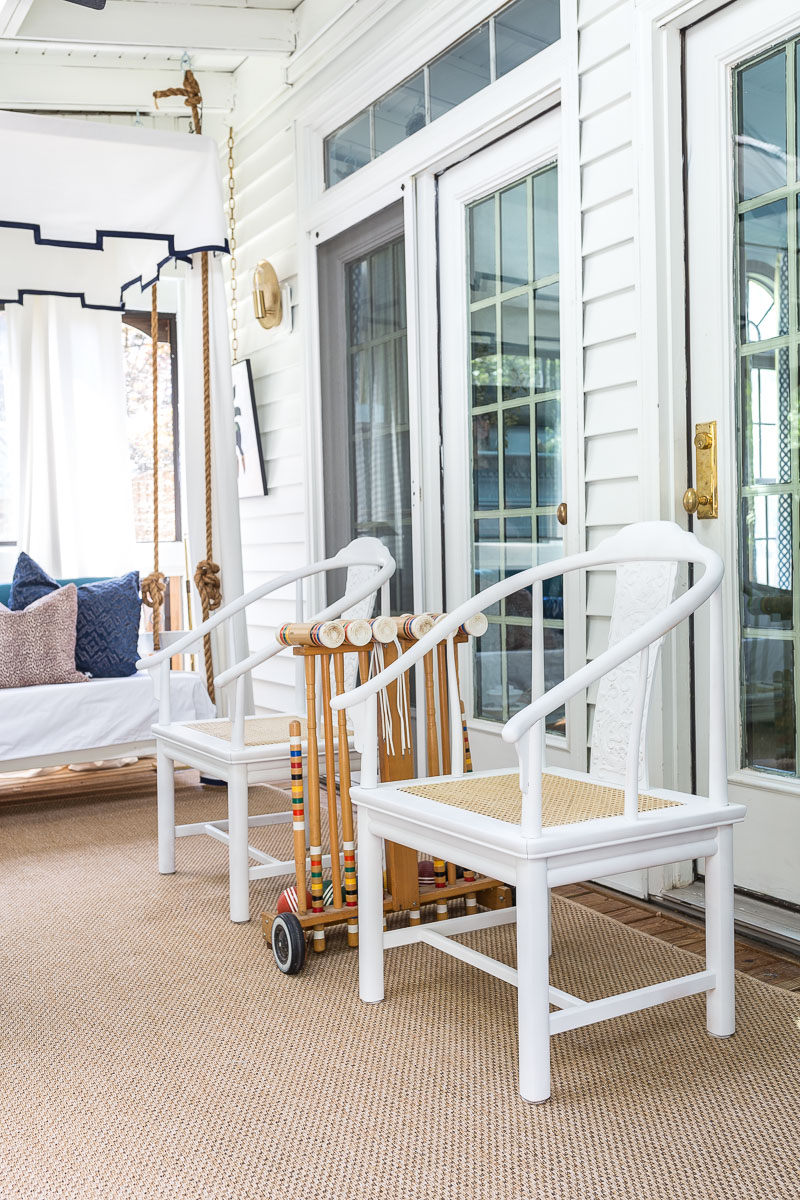 These two captian's chairs came with the four that I used in our basement remodel.  The bones are great, but the finish was less than desirable.  I used Plutonium Paint to give them a beautiful satin finish.  I think the white plays nicely in this space and the cain looks lovely with the new rug.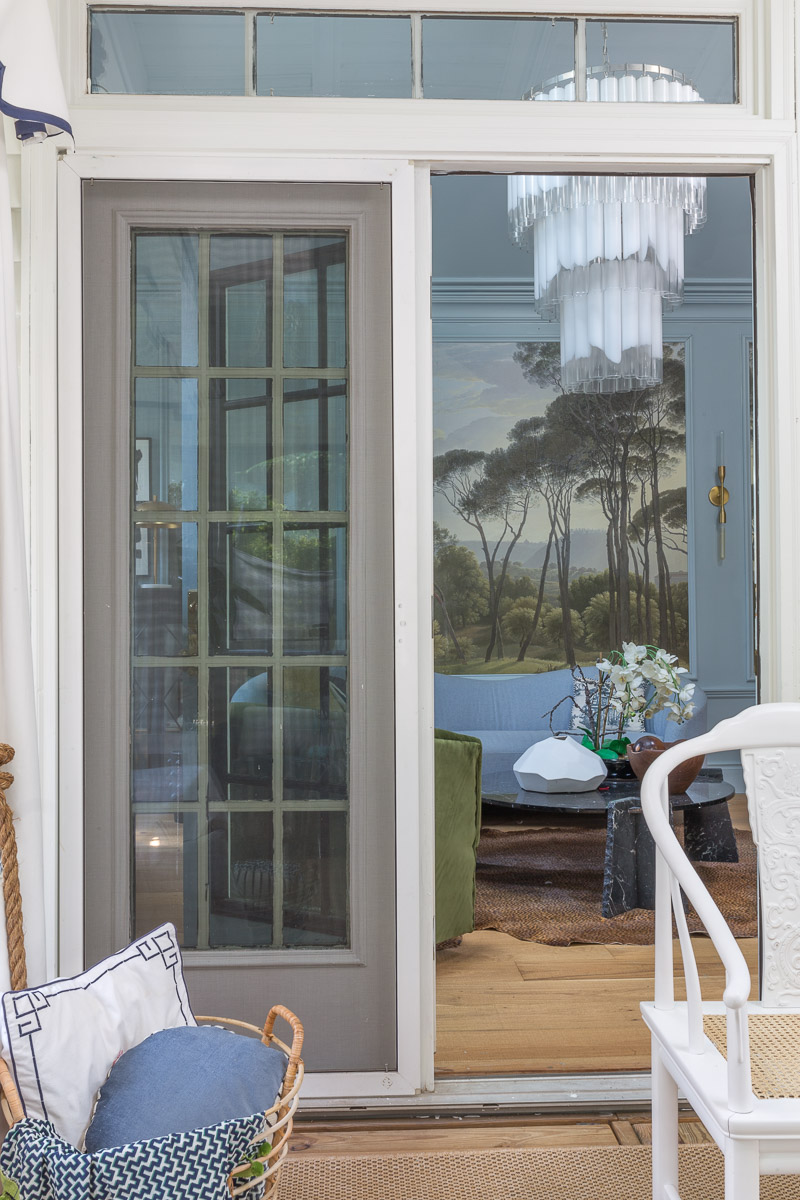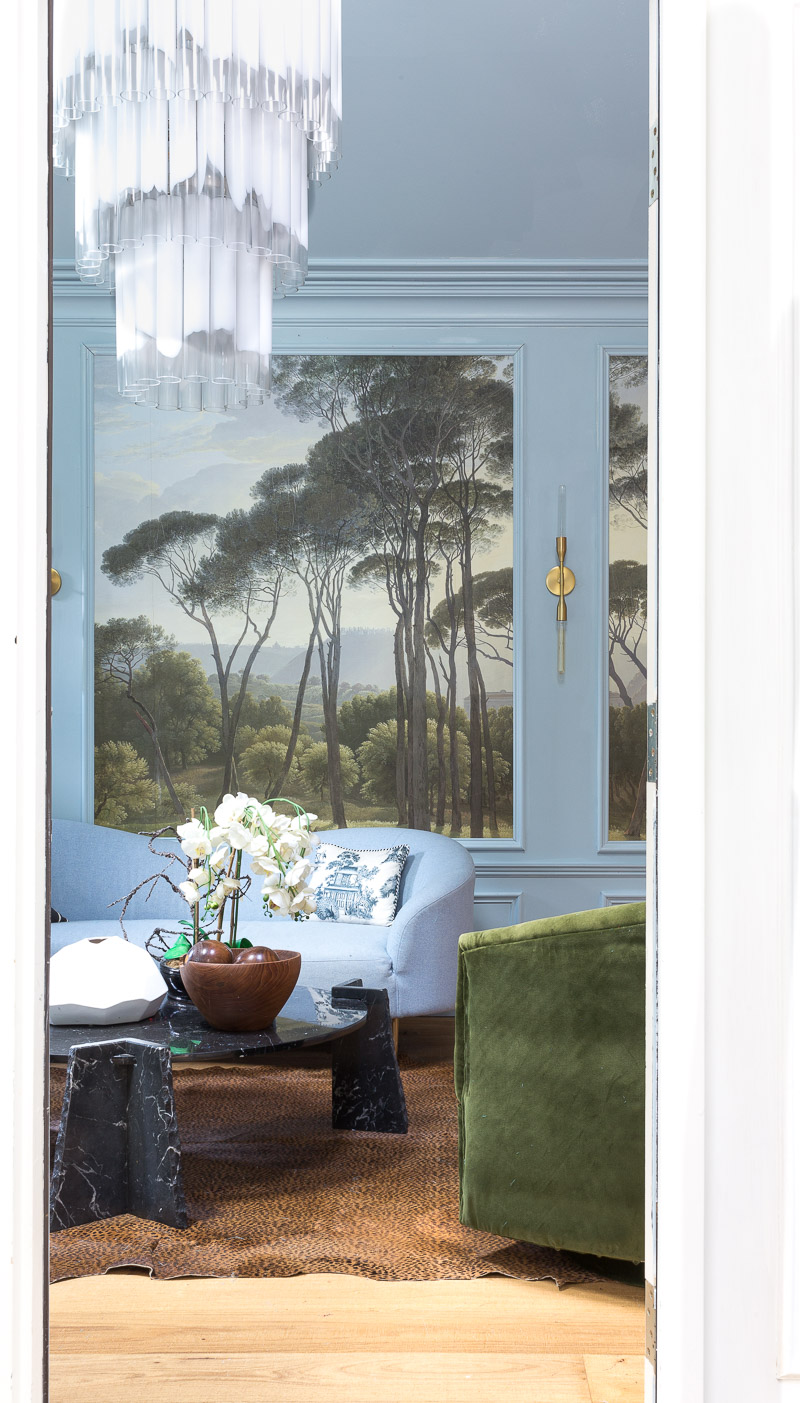 It is a bit hard to beat a veiw like that and we are truly grateful to have such a nice place to call home.
Shameless plug: Don't forget to pin an image for later!
I am so excited that we were able to finish this sunroom in time for summer. Thanks for joining me on this adventure.
WHAT'S NEXT FOR JEWELED INTERIORS?
Next week I will be starting into a dining room update, and I have been dreaming and scheming ideas for the laundry room, entryway, and stairs leading to the basement.  Oh, let's not forget the deck and patio furniture…lot's of projects in the works.