How to Choose French Door Handles
I can't wait to show you the before and afters of the new french door handles installed in conjunction with the office makeover.  We've learned some tips as we have been systematically upgrading the hardware in our home.  I'm excited to show you what we have learned.
BEFORE- Our Old French Door Handles
When we first moved into this home (the first time) we spray painted the old brass harware black.  Over the last 8 years the painted had started to chip off.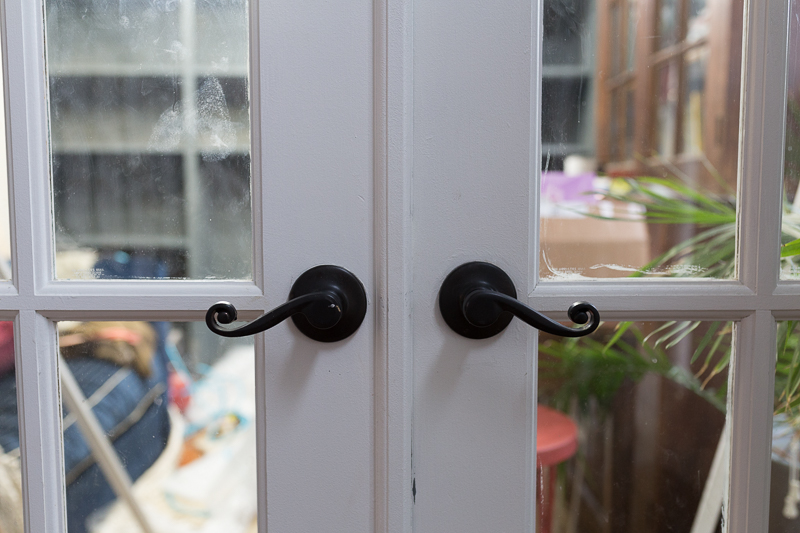 You can notice that one of the old handles was even missing.  It has been like that since we bought the house 😬.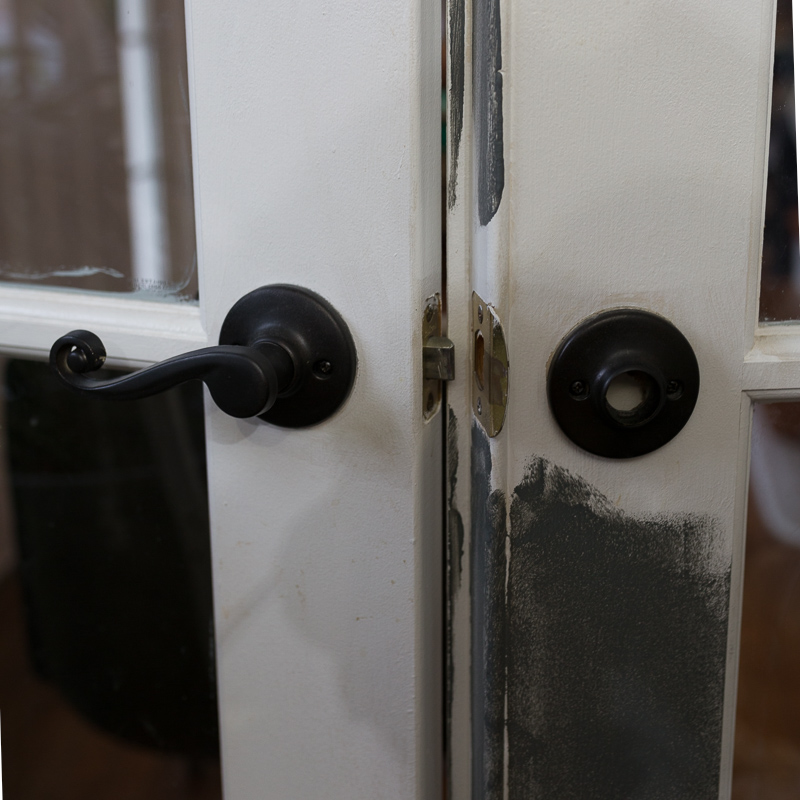 After- French Door Handles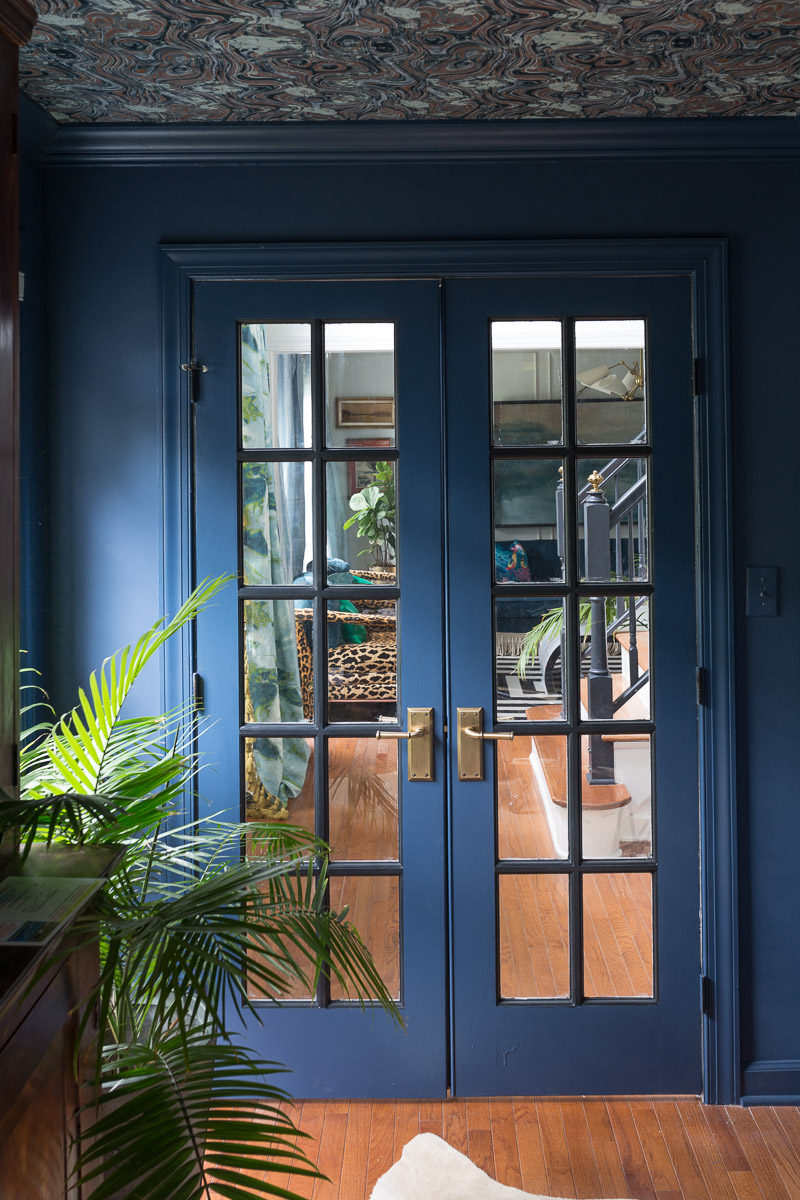 Tips for picking French Door Handles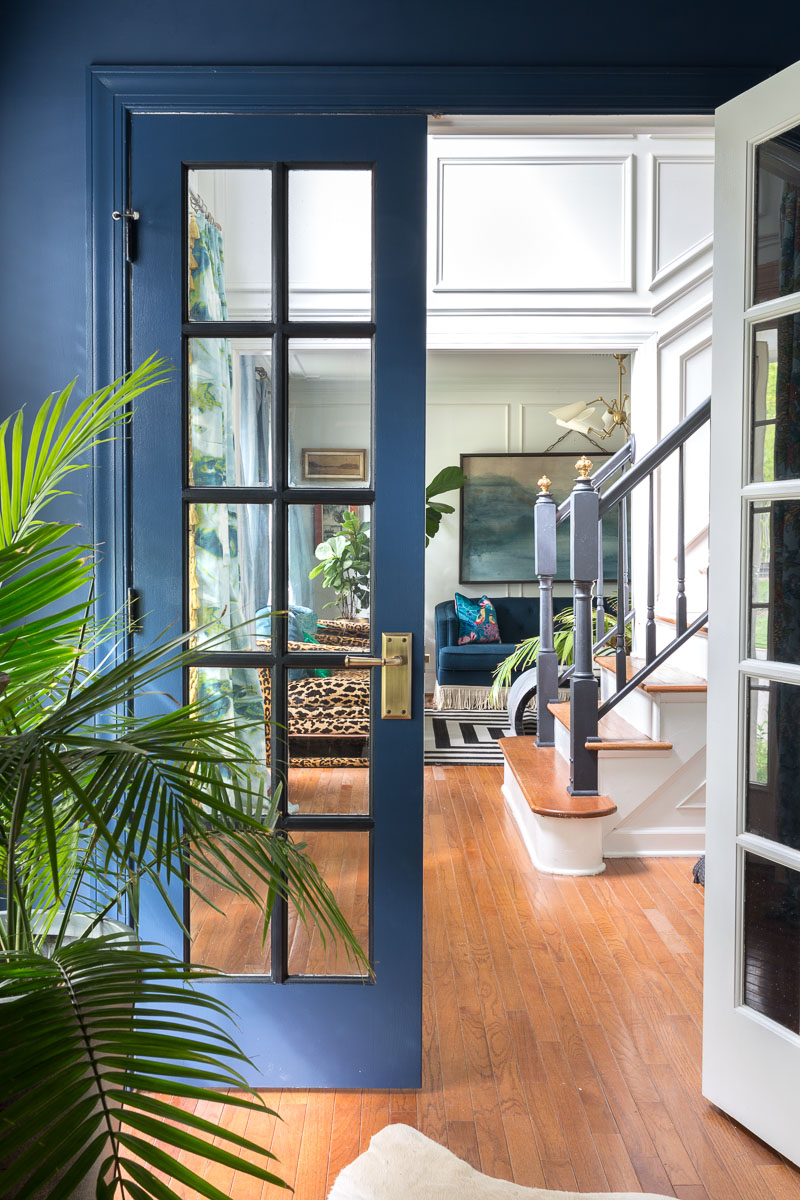 Think Style | French Door Handles
In this particular scenario the style was an easy decision.  I had already picked the finish and backplate for the other interior door handles in the entryway. I simply had to pick something that coordinated.  Having said that, however, there a lot of important things to consider when deciding on the style.  Let's walk through them.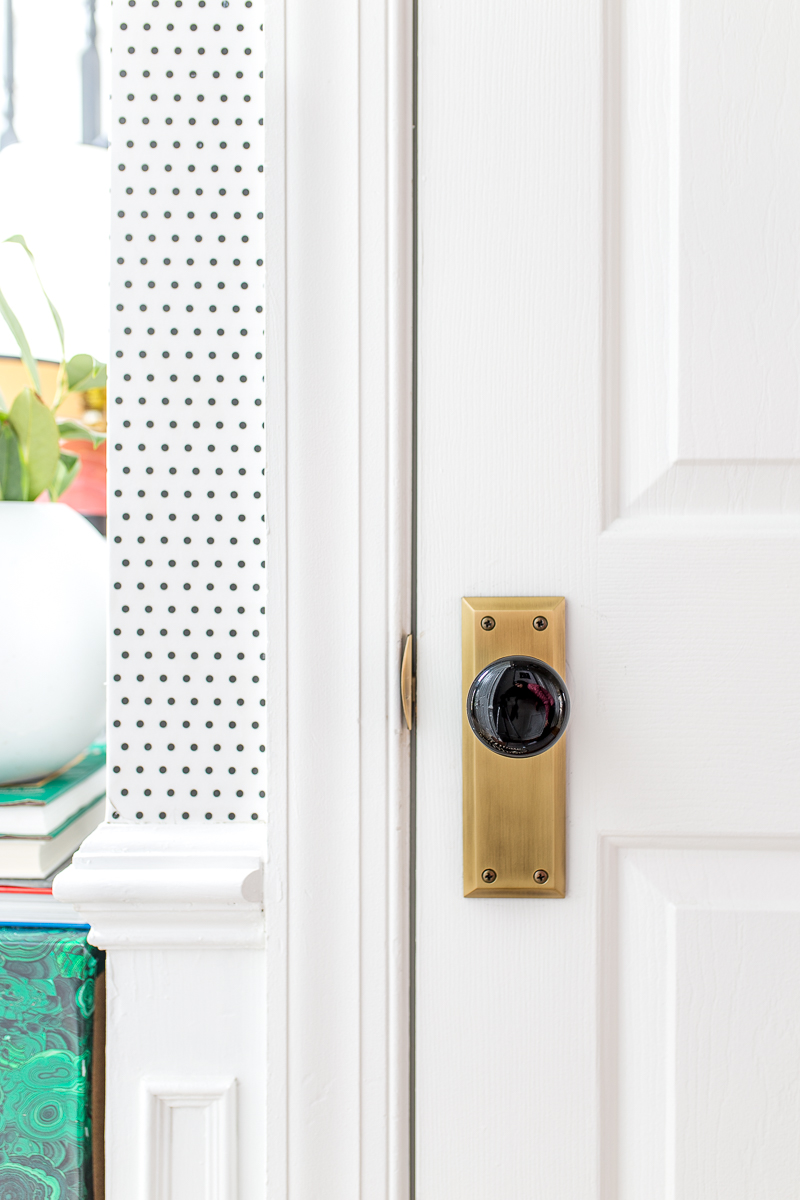 Rather than going for a "match-matchy" look, my goal was to coordinate.  I wanted to use the same Fifth Avenue back plate and finish but incorporate a different handle.  Why not match exactly?  Well, the French doors are obviously a different style than the closet and bathroom doors next to it.  With 10 glass panels, I felt the lever would look appropriate.
I also felt that the Georgetown lever was very gorgeous choice for both the style of the home and a man's office.  Finally, my personal style is less "match-matchy" and more curated and collected.  A variation on a theme felt more interesting and sophisticated to me.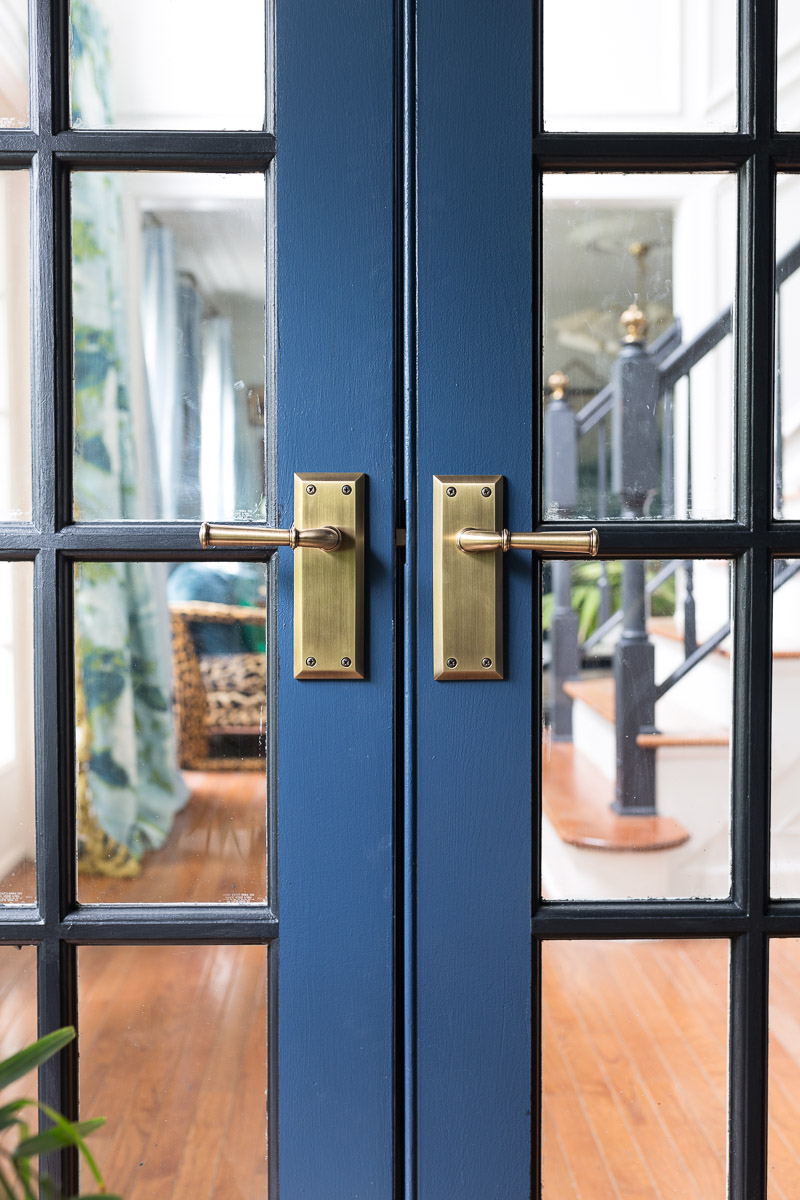 Similarly, you can see that upstairs I went with the same ebony porcelain handle but opted for a rosette backplate.  Perhaps most people would have matched all of these options, but I enjoyed making it feel like a matched collection vs a matched set.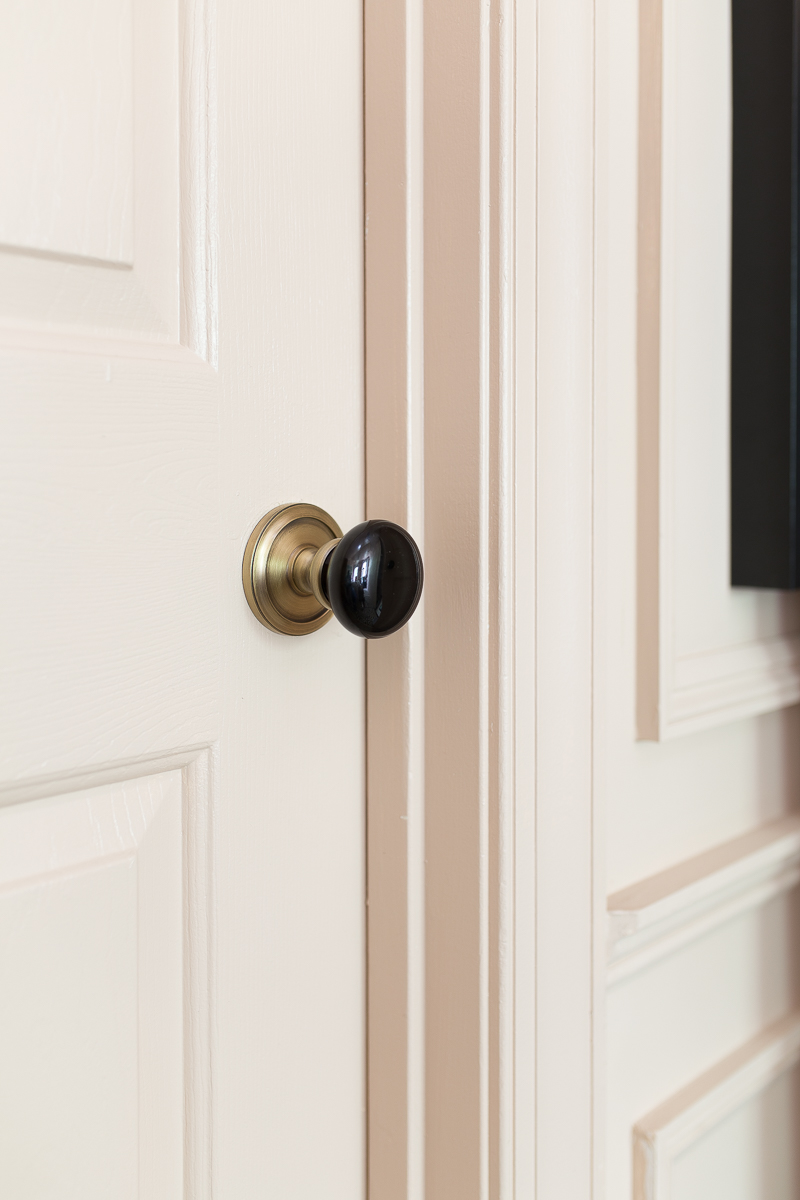 Here are some things to keep in mind as you make your decision:
Do you prefer a lever or handle?  One potential consideration- I have a 5 ft 7 friend that said she prefers a handle because the lever occasionally catches her belt loop.
What style back plate and handle look best with the shape of your door? If you have software like Picmonkey, the Bazart app, or Photoshop, you can tryout the doorknob virtually.  If you don't, you can tape out the dimensions on you door to help visualize the scale.
What style is most appropriate for the design of your home and the other hardware?  Do you live in a Craftsman, Colonial, Victorian, etc. This will help narrow down your selection.
What style feels the most timeless?  Look for a style that you would have like 5, 10, and 20 years ago.  This is an upgrade that you will probably only make once.  Getting it right the first time will add to your home value.
What style are you most attracted to?  Sometimes is comes down to your gut for the final pick.  The good news is that all of the options at Grandeur Hardware are stunning, so it would be hard to go wrong.
Think French Door Handle Function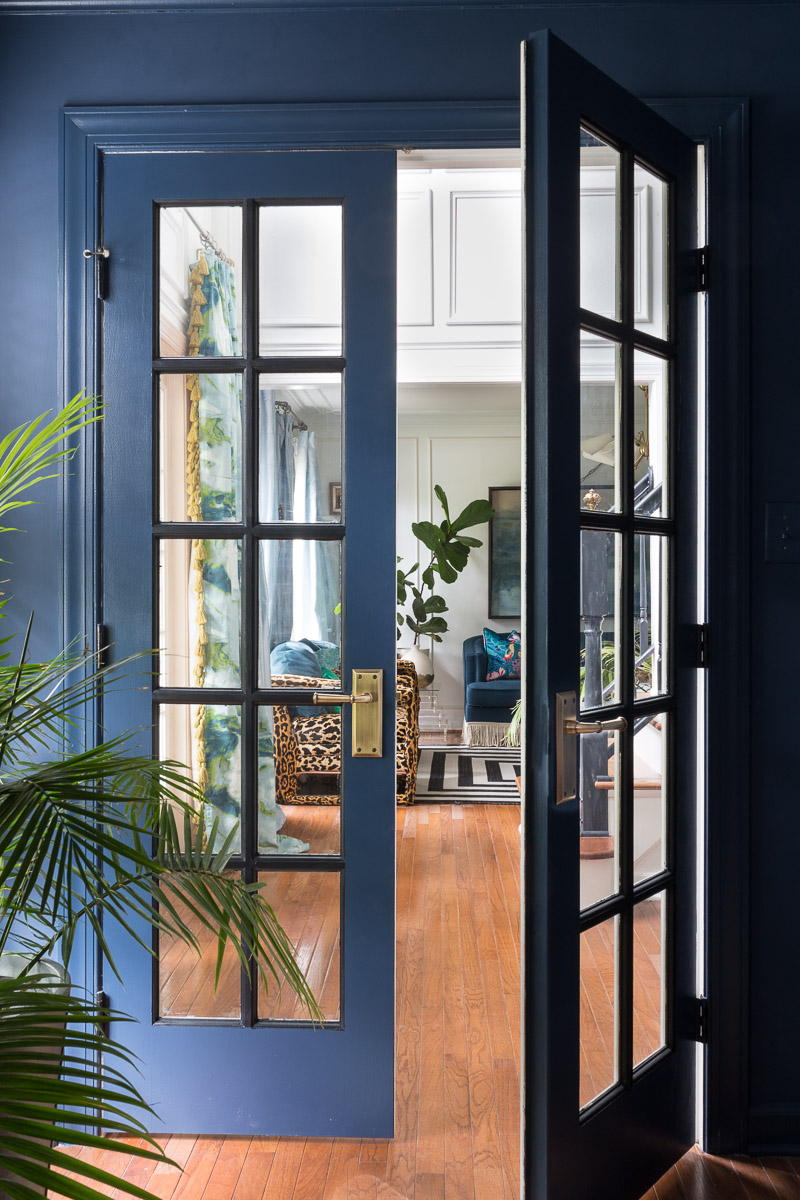 When considering door knobs through your home, there are several different types.
Is this a closet, or hallway door?  Look for a dummy door knob.  It doesn't lock but does turn and operate a latch. It can be used with a separate deadbolt.
Is this a bathroom or bedroom door?  Think privacy knob. This type of knob latches with a locking mechanism.  I love the privacy pin design that Grandeur Hardware uses.
Looking for French Doors (with a roller catch, flush bolts, or surface bolts): A double dummy might be the right choice.  The knobs or levers on this door set don't turn or operate a latch. There is a knob on both sides of the door.
Looking for a French Door Pantry?  Try a single dummy set.  The knobs or levers on this door set don't turn or operate. There is a knob only one side of the door.
Interestingly, for the office French doors we opted for one dummy and one passage door.  We noticed this is what we needed when we took down both previous knobs and examined their inner workings.
When ordering, you will want to double check the backset dimensions.  Grandeur Hardware is available in both 2-38″ or 2-3/4″ backset.
Don't forget to measure!  One time I assumed that all of my doors were the same and I made a large order.  As it turned out, one of them ended up being a different size and it didn't fit.  ALWAYS measure!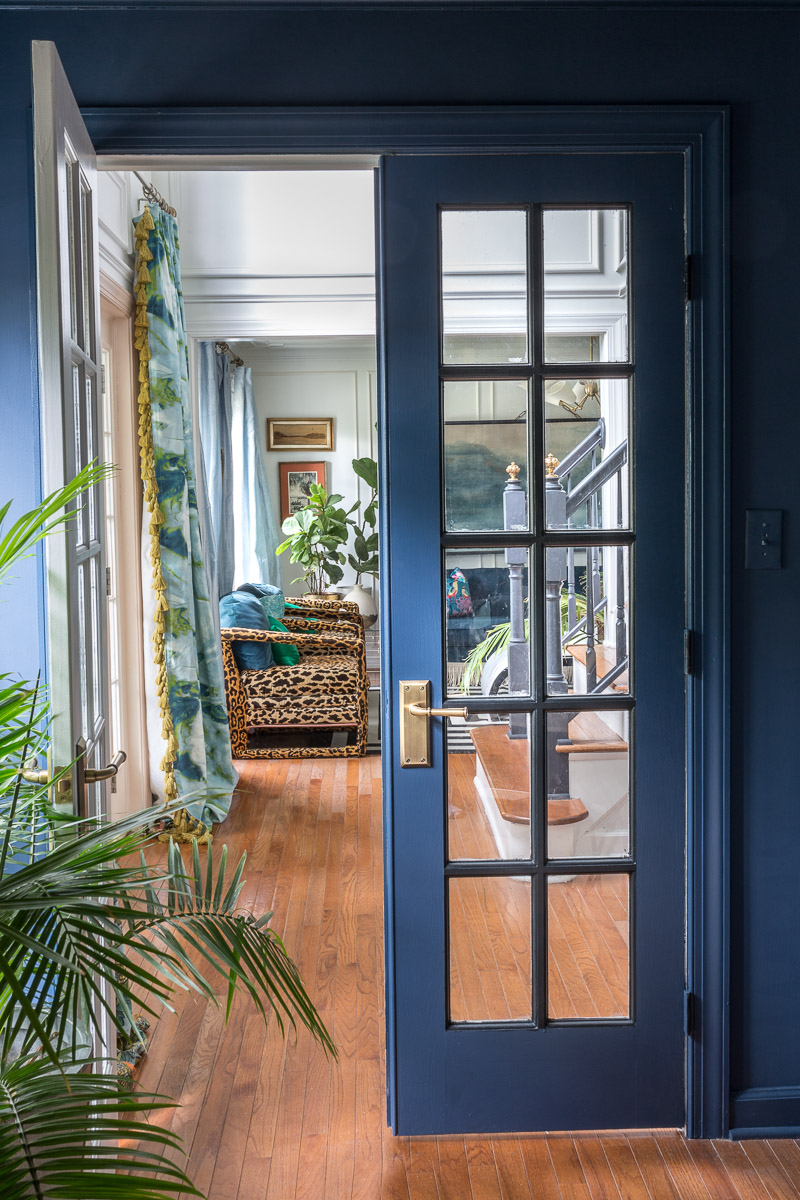 Think Quality | French Door Handles
Quality has been the most noticable factor as we have upgraded our hardware.  Our former hardware felt so light-weight and hollow.  It has been a dream to switch to solid, forged brass knobs with heavy weight construction, and smooth turns.  This difference is not something that I can exactly explain, but rather something that you would have to try on your own.  If you are ever planning to order a large quantity of any hardware, it is never a bad idea to start with one to test it out.  I'm positive that you will love the quality of Grandeur Hardware.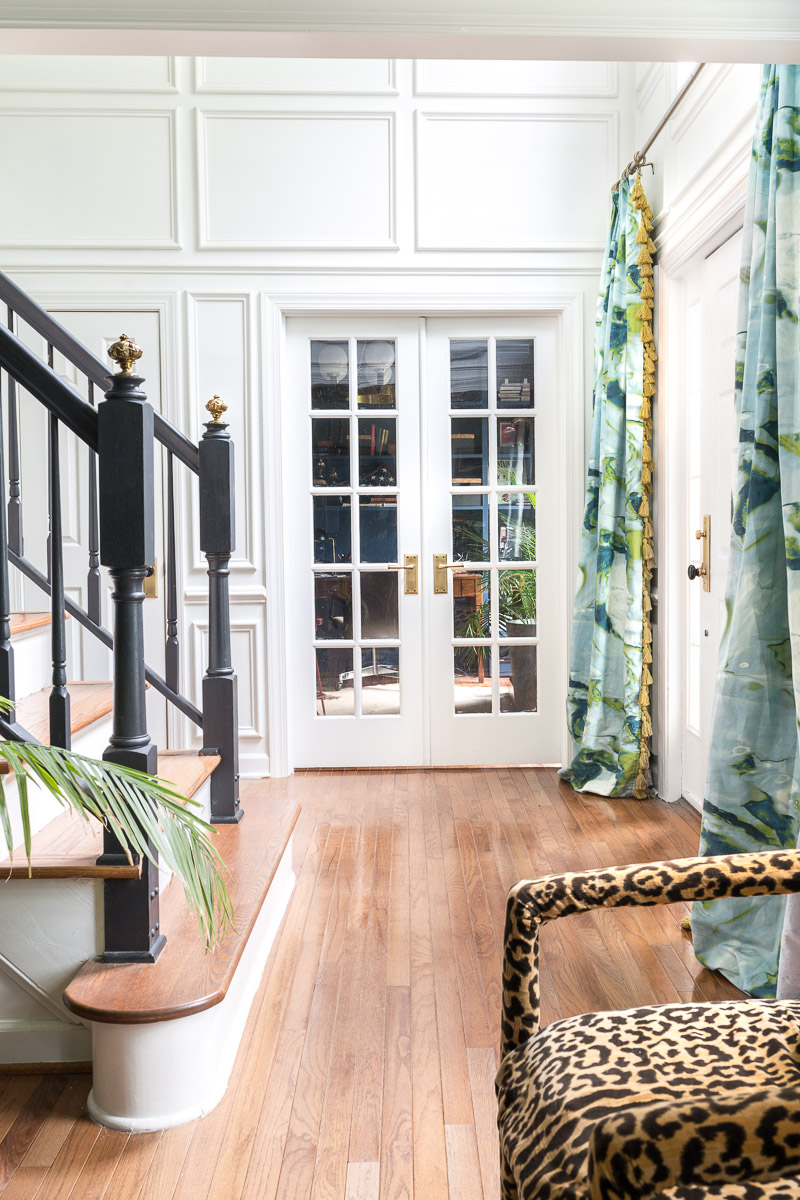 Think French Door Handle Scale
An important thing to keep in mind in all design decisions is scale.  I wanted to point this out because I actually think I picked a slightly too large backplate for the front of our house.  I adore the hardware and I don't think it looks horrible, but if I were to do it again, I might have picked an option that was more scale appropriate.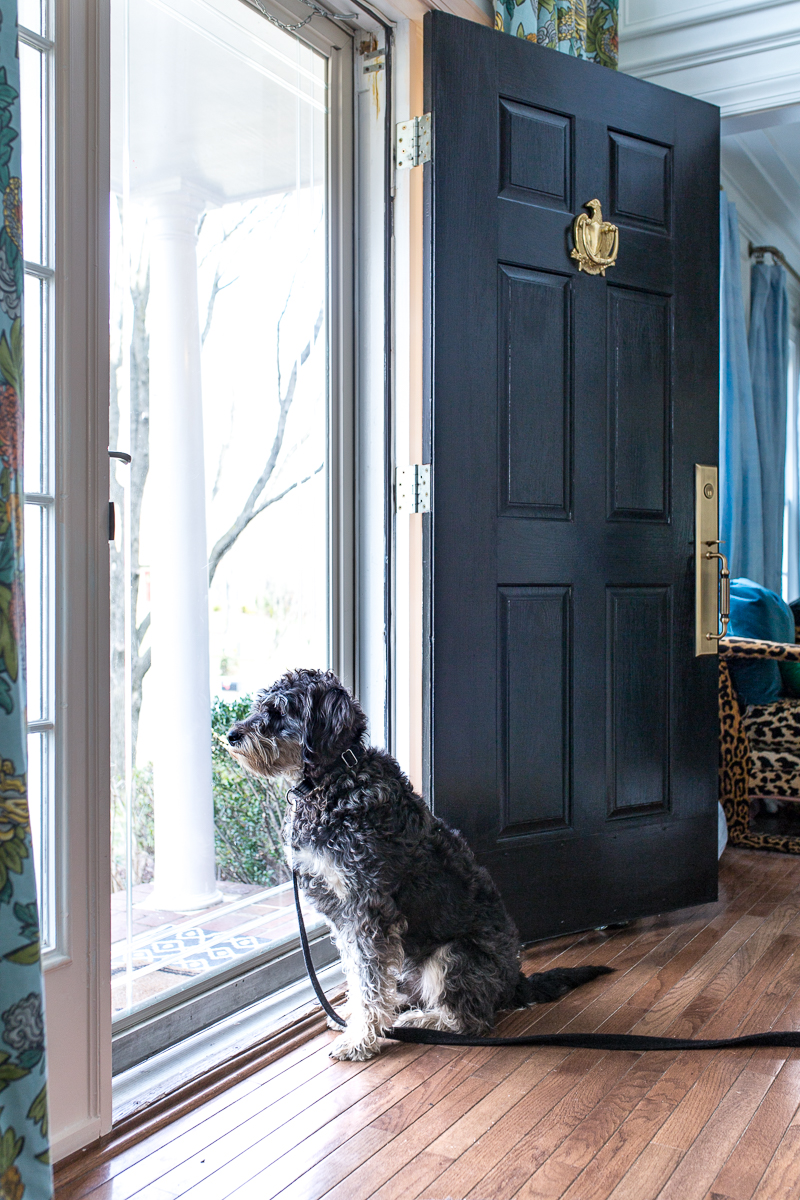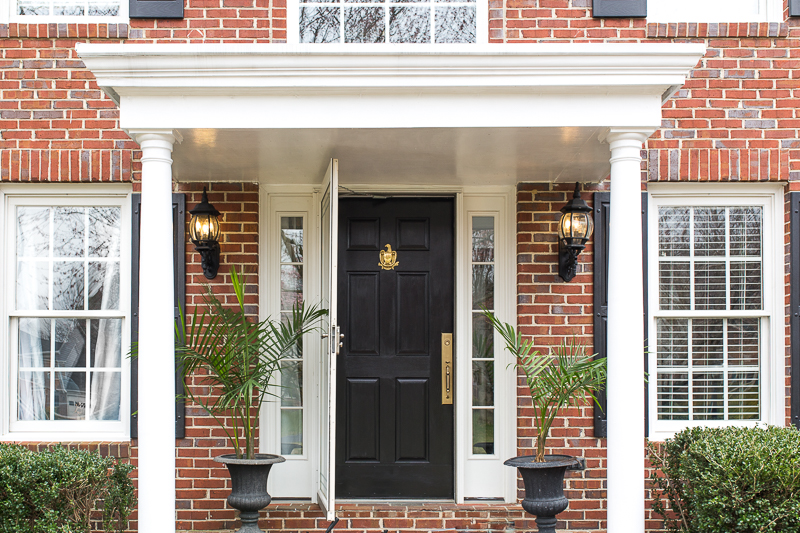 Think Finish | French Door Handles
Grandeur Hardware has seven different finish options and it is hard to pick a favorite.  In the end I went with the Vintage Brass.  It is the most toned-down of all of their warm tones and gives our home a soulful look.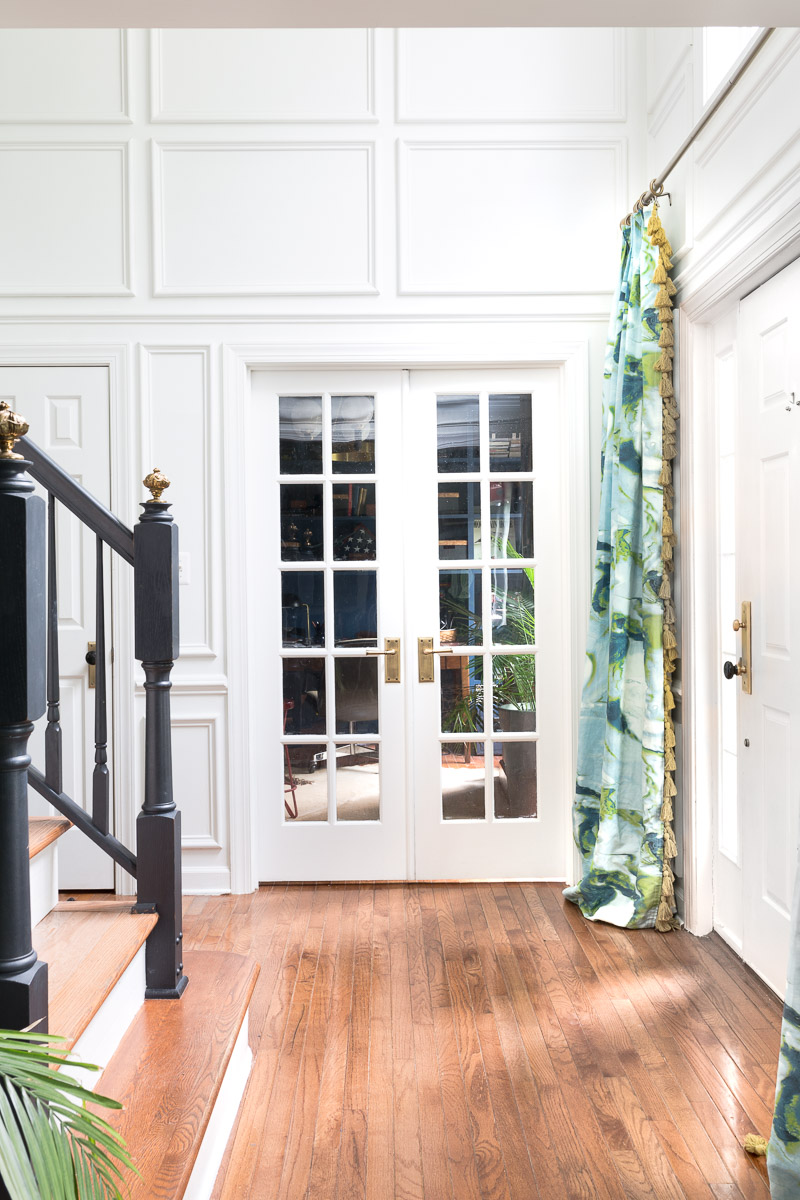 I'm interested to see how recession design plays out for metal tones. For anyone worried about committing to a gold or silver, I would highly recommend Grandeur's timeless bronze.  Truly, this almost black toned metal would be a smart trend-resistant, long-term investment.
I hope these tips are helpful.  We are very happy with our new French Door handles and it feels great to have the majority of our handles replaced at this point.  What a difference it has made!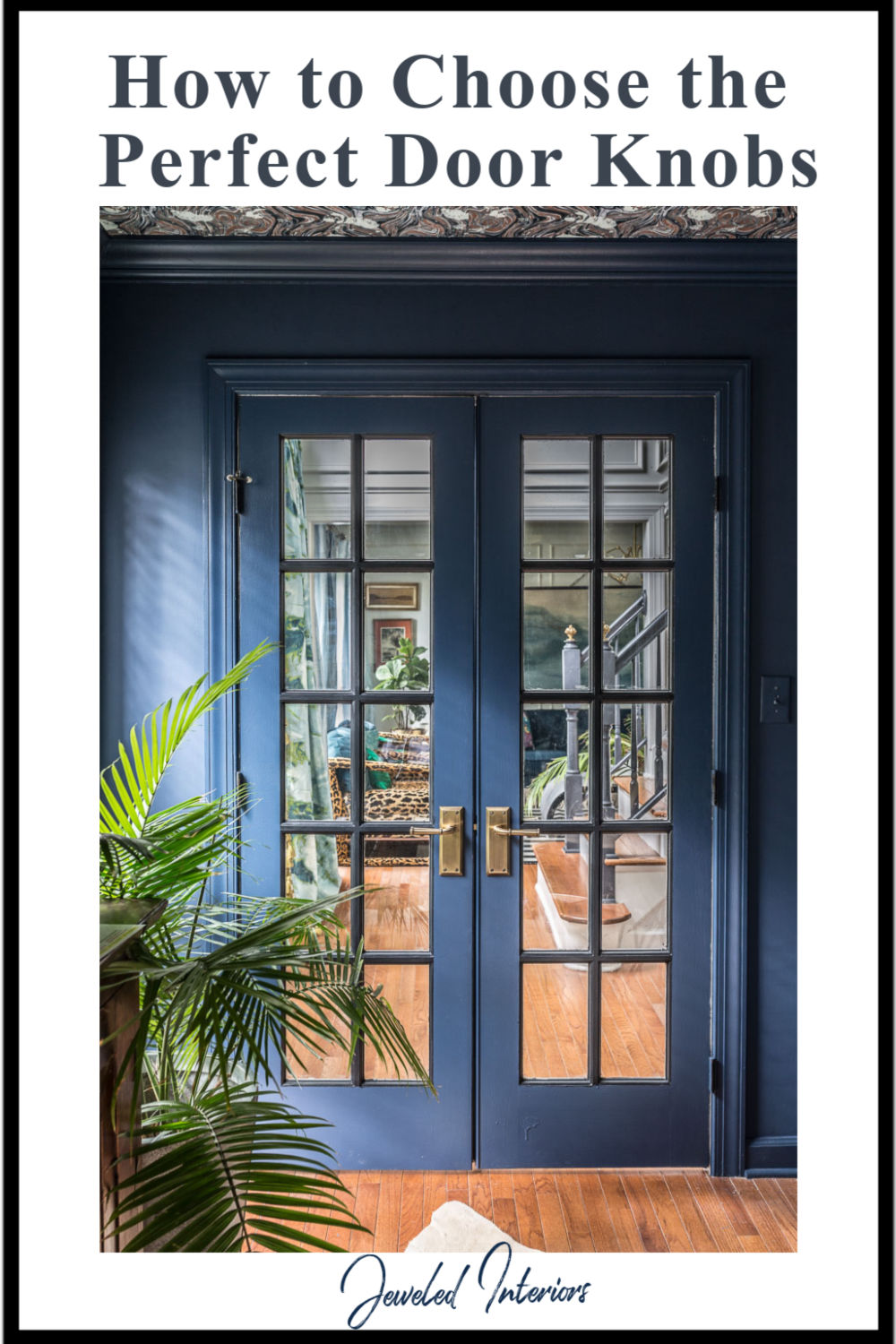 I truly appreciate you spending time here.  I have several big makeovers in the works over the next few months.  If you are interested in receiving updates, please sign up below.