Jewel Marlowe- Fall 2019 One Room Challenge Week 5 | Kitchen Updates, New Marble Tile, Oven Range, Countertops, Hardware, Fabric, Cabinets,  Burl Accents, and new Table
Thanks so much for stopping by to see the kitchen updates for the 2019 Fall ORC week 5 updates.  Feeling behind on the progress?  No worries!  You can catch up here.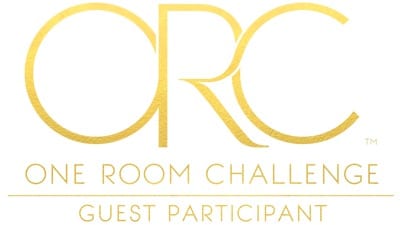 Thanks so much for joining me on this crazy journey that we call  the  
ONE ROOM CHALLENGE
???!  This five week event features 20 "
Challenge Participants
" (see direct links below) and hundreds of other "
Guest Participants.
"   All of us have the goal of transforming our spaces with only five weeks to get it done.  As an added bonus, 
Better Homes and Gardens
is back for another season as the media sponsor for this event.
Note: all products in this post are sponsored but the opinions are 100 percent my own.
Ahhh my kitchen…the heart of the home…right?  Well, without it we have gained a great appreciation for things like ovens, and silverware, and non processed foods.  Yet, like any family who has ever survived a kitchen update renovation, we are making it.  The pain is temporary and the marble floors are forever.
Some people might find it amazing that we plan to totally revamp a kitchen over the course of two weeks.  As I type this I realize that that truly is a lofty goal.  If all goes exactly according to plan we should finish up JUST in time…gulp.
The good news? We have already come a really long way!
More good news? I  have a lot of talented professionals and quality products here to support me in the effort.  Let me give you the low down on how this plan might just work out….If we are really, really lucky.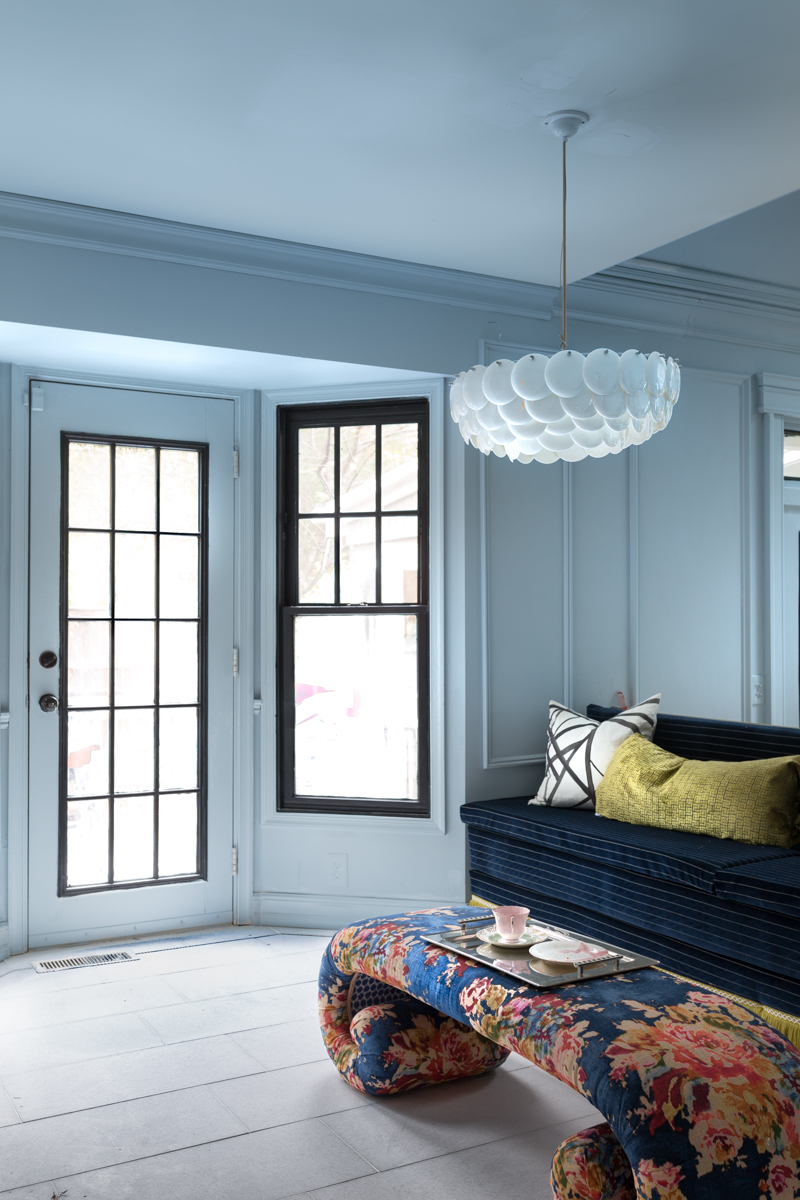 I have a thing for marble…I really do.  As it turns out, I'm not the only one.  That's right, my husband insisted that our kitchen floors be marble.  He reasoned that if we were going to go to the expense and effort of installing floors, they might as well be done right.  So what do you know, the man who normally has zero opinions about the design choices I make, actually had a very strong opinion.  Marble or nothing!
 Enter The Tile Shop to the rescue.  That's right, we live 15 minutes from our local location and I've lost track of the trips I've made to this eye-candy of a store over the last few months…walking slowly and dreamily down their isles.  Then one day inspiration struck!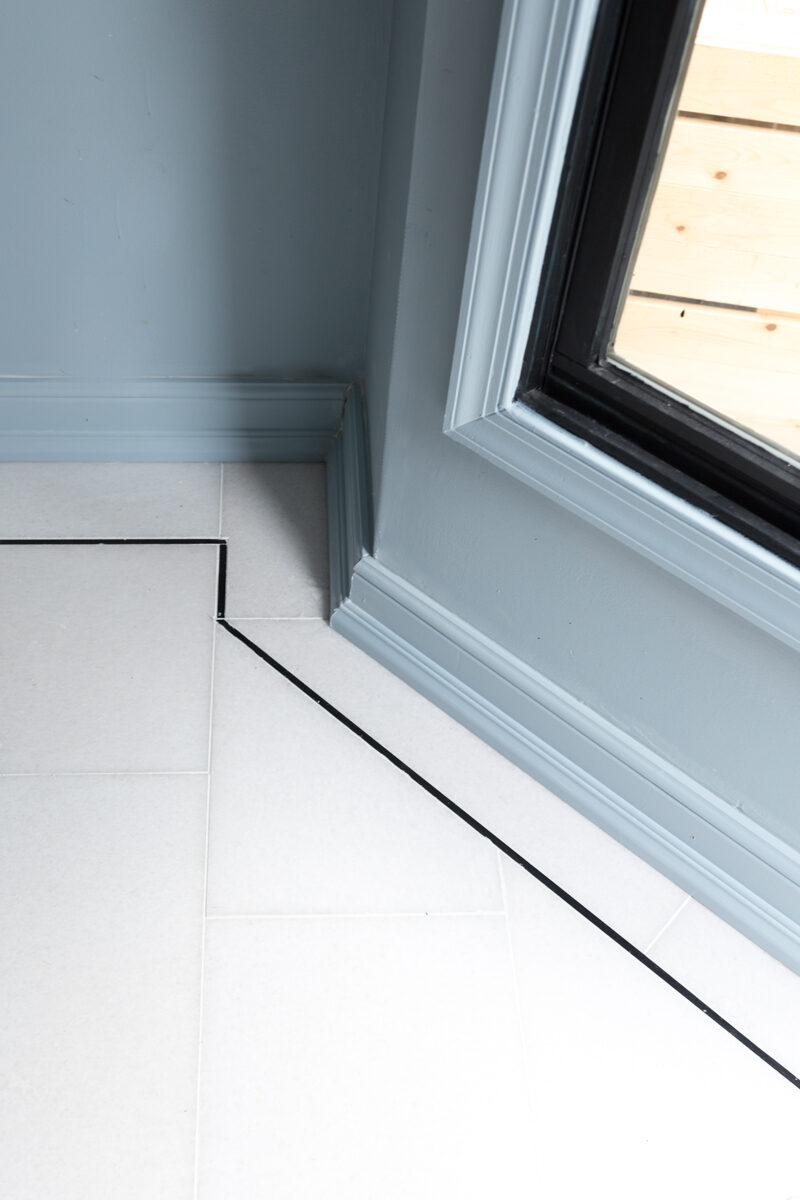 There is quit a bit of floor space in this kitchen/eat in area.  I feared that a  pattern would feel overwhelming.  Instead, I knew the floors needed to be simple perfection.  What is more classic, and timeless than a black border on white marble?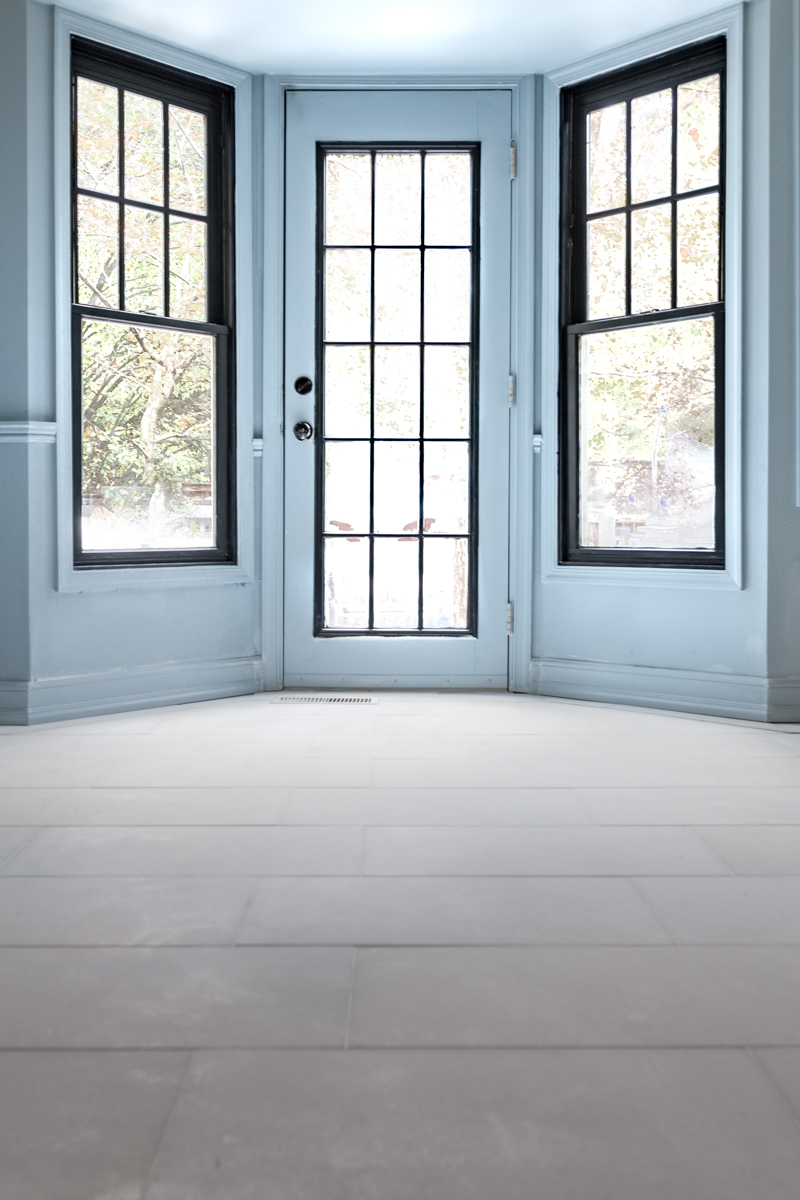 The results are bright floors, with a touch of timeless personality.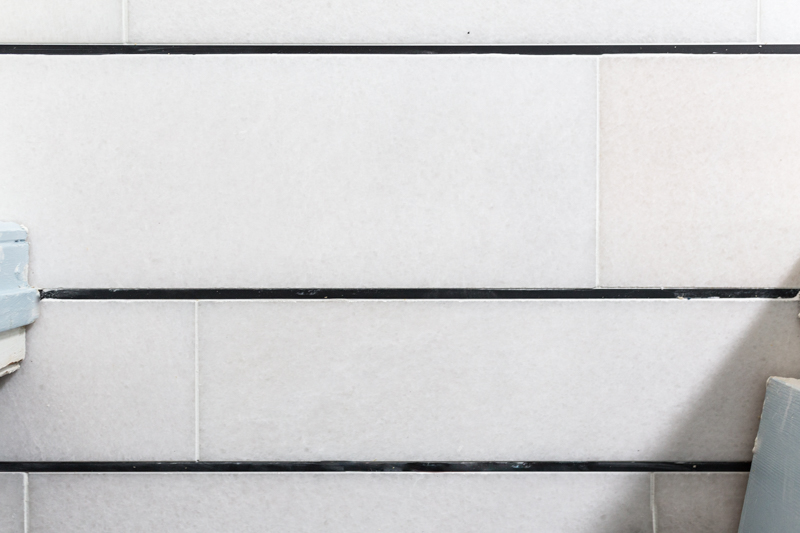 Truthfully, the grout was still drying as we quickly snapped these pics.  I will have many more inspiration images coming soon, but the look was created by using 12 x 24 in San Dona tile.  The San Dona line is so pretty!  There is a subtle tonal difference from piece to piece and if you look closely you can see small crystaline flecks.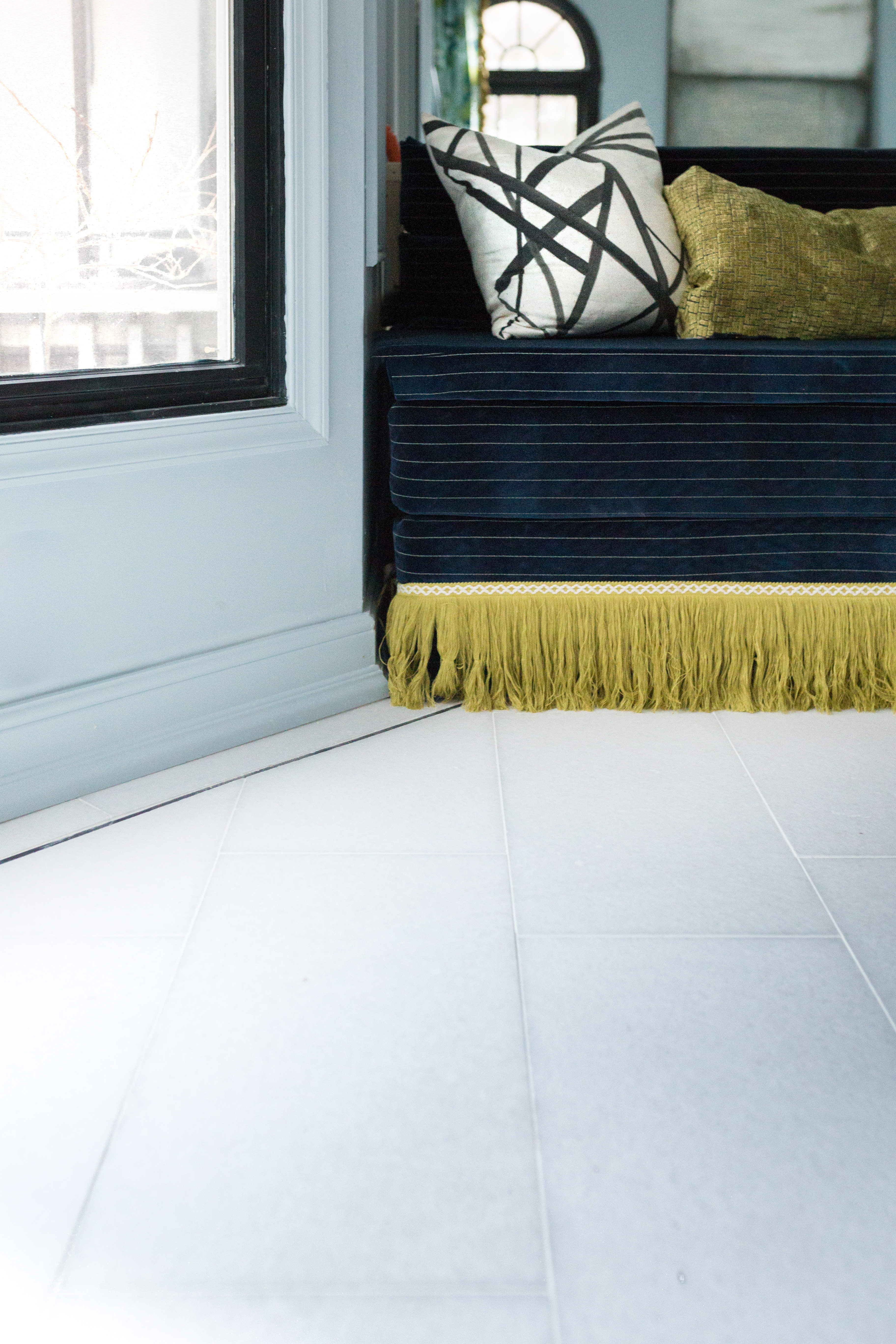 Many of you on Instagram have asked how I created this black border.  Our very talented contractor, Richard, first laid black Dural matte square edge 11/31 in as a border around the entire room and at the transitions. Then he installed glorious San Dona Marble inside and outside of the black border. He finished it off with standard white unsanded grout. The effect is so pretty!!!!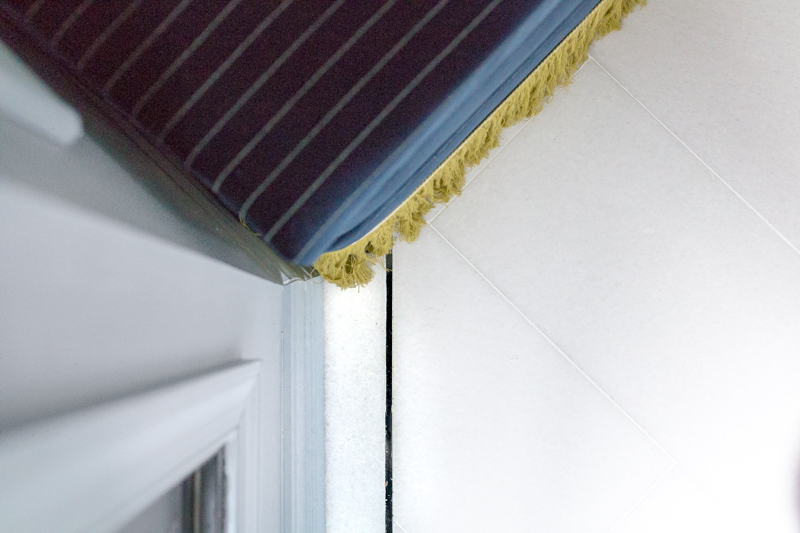 Bertazzoni Master Series Range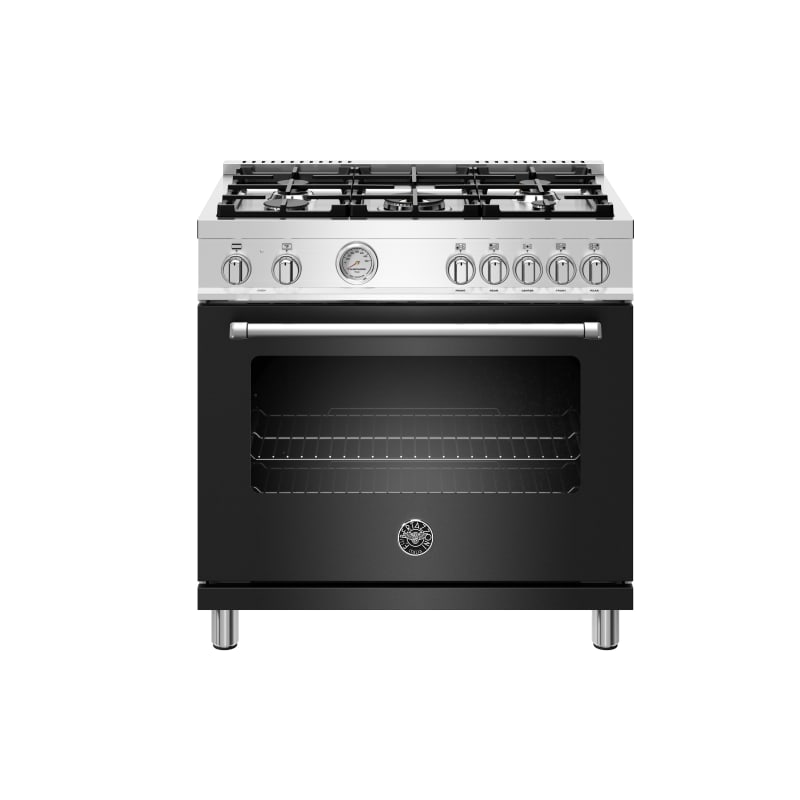 Why did I go with this Bertazzoni  30 in all gas 5 burner Master Series Range?  Well, I'm glad you asked!
First of all, Italians just do it better. Am I right?  Picture shoes, fashion, gelato…(kidding, not kidding about the gelato).  Italians are long renowned for their sense of style. Bertazzoni is no exception.  In fact, the Bertazzoni family founded the business in 1882 (not a typo). Since then, the company has evolved into world-wide innovative leaders in the kitchen appliance business.
When I saw the  30 in all gas 5 burner Master Series Range I was smitten.  I mean, look at that those handles! Check out the knobs and handles!  Can we pause to appreciate the matte black finish!  Wowzers!
Another reason I picked  Bertazzoni is because of the quality.  During the unboxing I was pleased with the attention to detail and weight of each of the components.  It's extremely solid and it took two people to push it across the garage floor.
Finally, we are a military family and never really know how long we get to stay in a home.  Since this is a nice neighborhood, a high quality range is just what we need for potential resell and re-rental value.
Now that the grout in the floor is almost dry, we should be able to install the range today!!!
I am so excited about the Cambria countertops that are about to be installed in our new kitchen.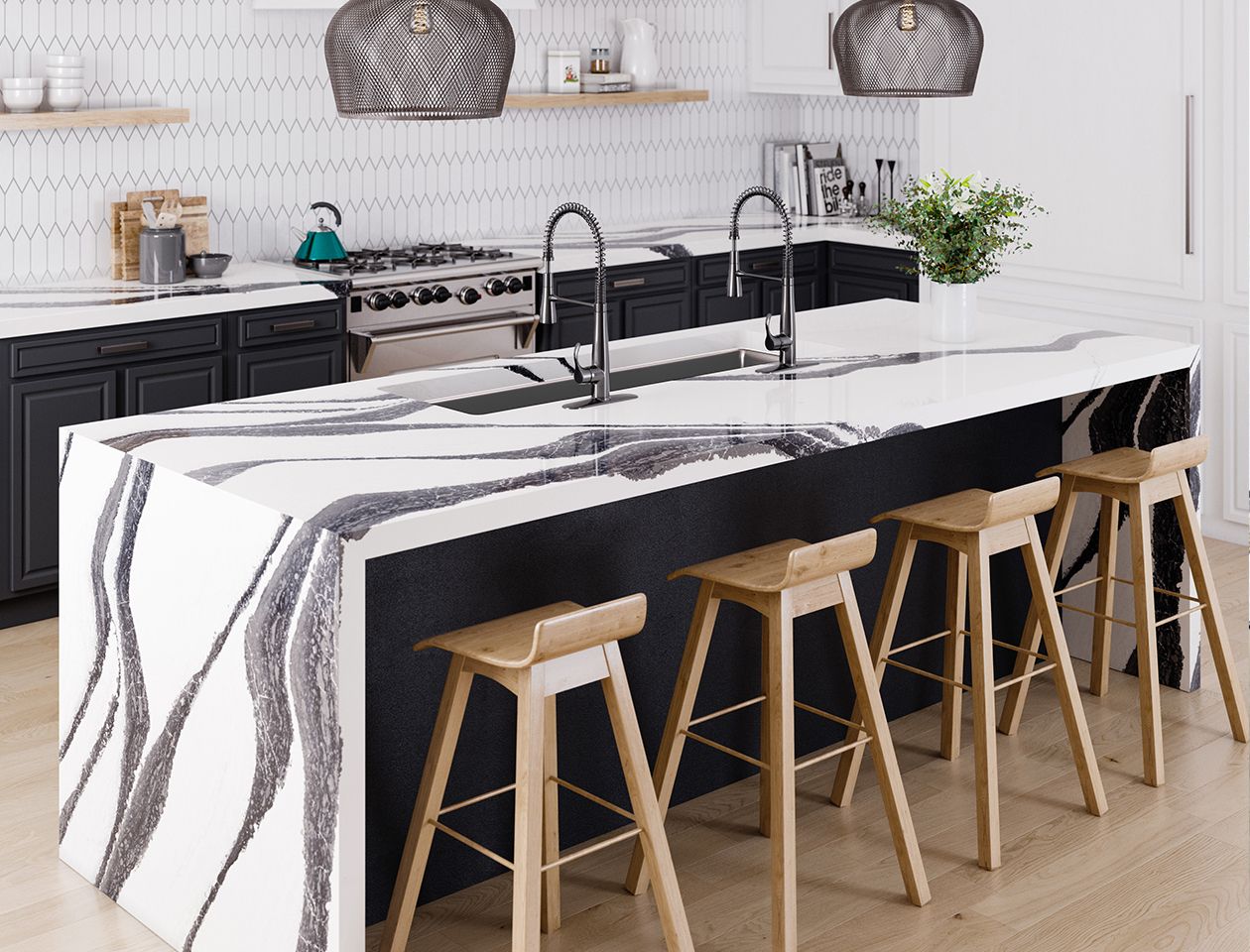 There are three reasons why I went with Cambria.  First, it is maintenance free and naturally stain resistant.  It doesn't require restaining or repolishing.
Another reason is that it is stronger than marble countertops, so I was able to order a longer overhang without adding support.
Also, Cambria is nonporous and nonabsorbent so it won't draw in moisture from raw or leftover food, which can harbor harmful bacteria.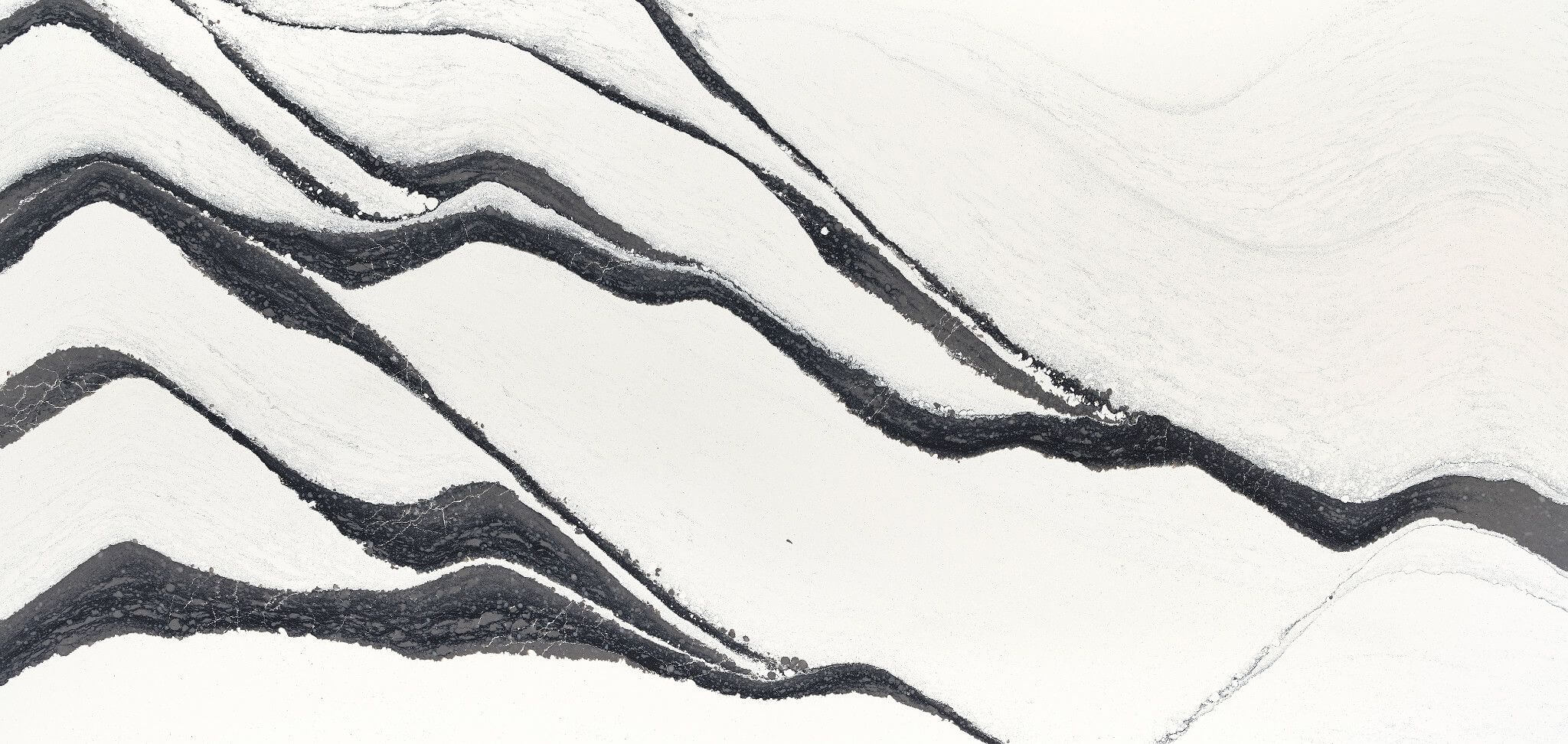 The most important reason is that I walked into Reico kitchen and bath and saw the Bentley Slab and immediatley fell in love with it.  It is certain to be a statement maker in the room.  I love a great statement maker.
Hardware for Kitchen Updates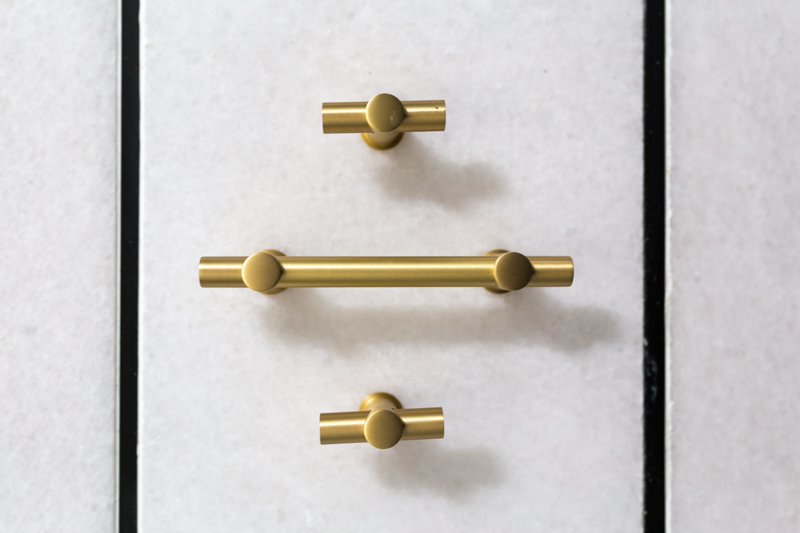 While I went with something simple and classic on the cabinets, I am opting for something special and unique on our pantry doors…I can't even believe how freakin' rad these are!  I'm really looking forward to painting the door and getting these pretty swan handles on there.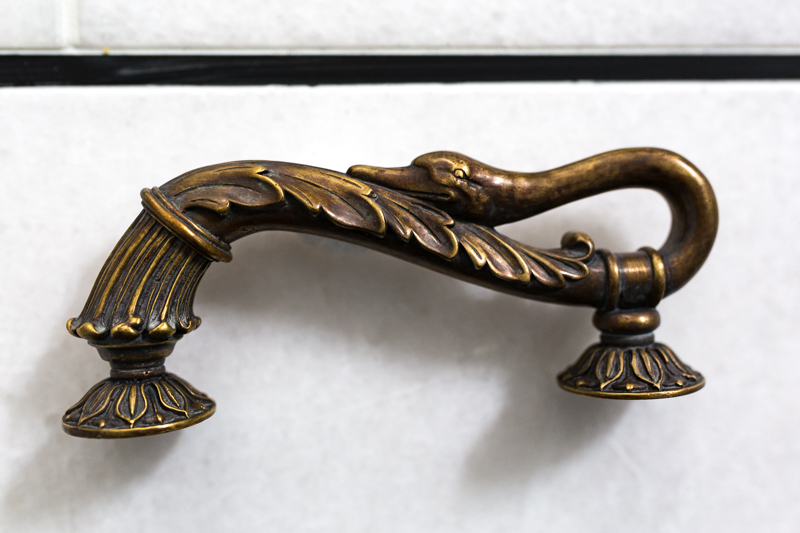 Schaub has a HUGE selection of knobs and pulls in a large variety of colors and styles.  If you are in the market for kitchen updates, this is definitely a great starting point.
Our Door handles were due for an upgrade.  Big time!
I've seen other bloggers use Emtek before and I've been intrigued.  I was especially interested in their unlacquared brass options.  I ordered two different types of knobs and they are absolutely lovely.
The first one is the Quincy Lockset with an Egg knob handle.   It is dramatic and sublime.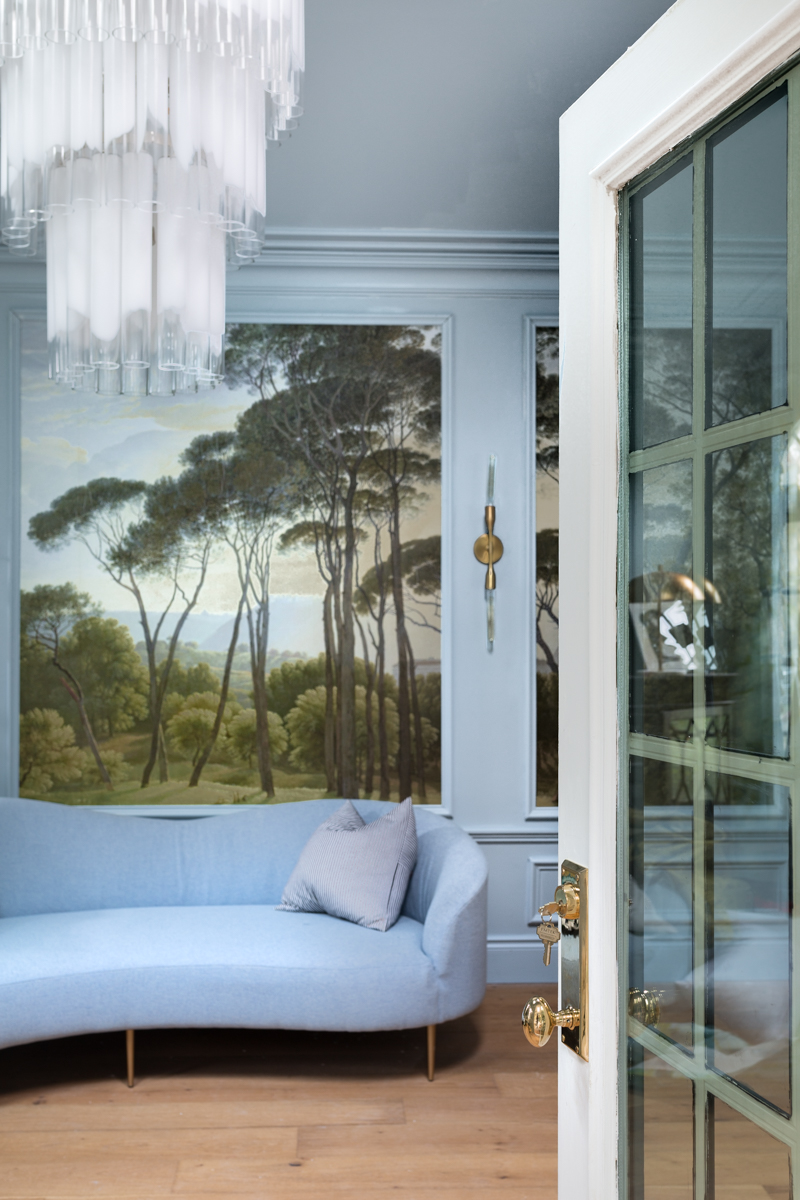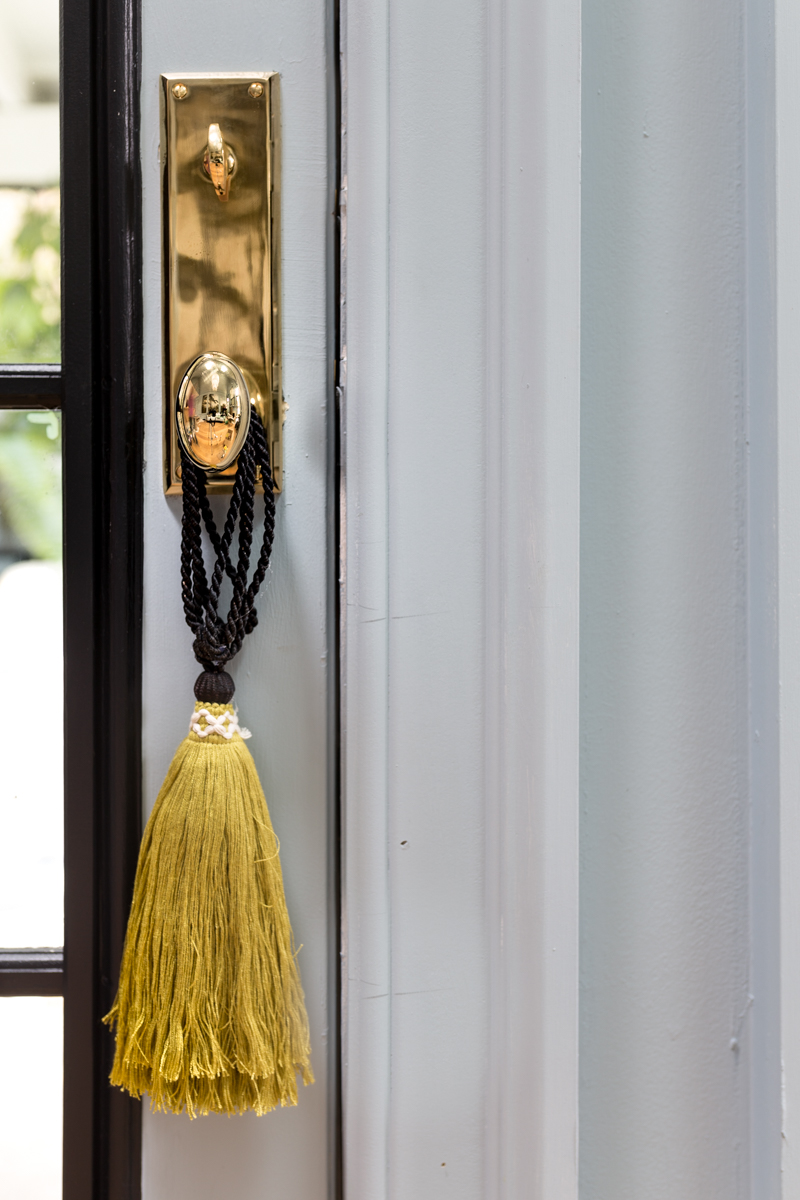 The second handle will be installed on the door to our laundry room.  It has a lovely ebony knob.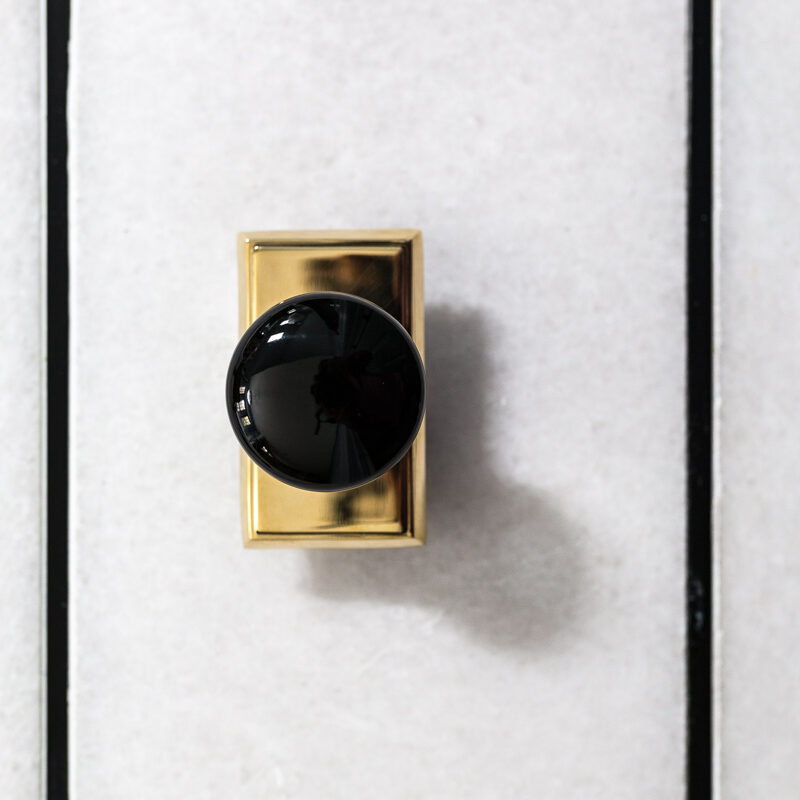 Since these lovelies are unlacqured brass, they will age beautifully with time.  If you are not someone who loves patina, you may be more interested in one of Emtek's other warm toned finishes. It is so nice to have options.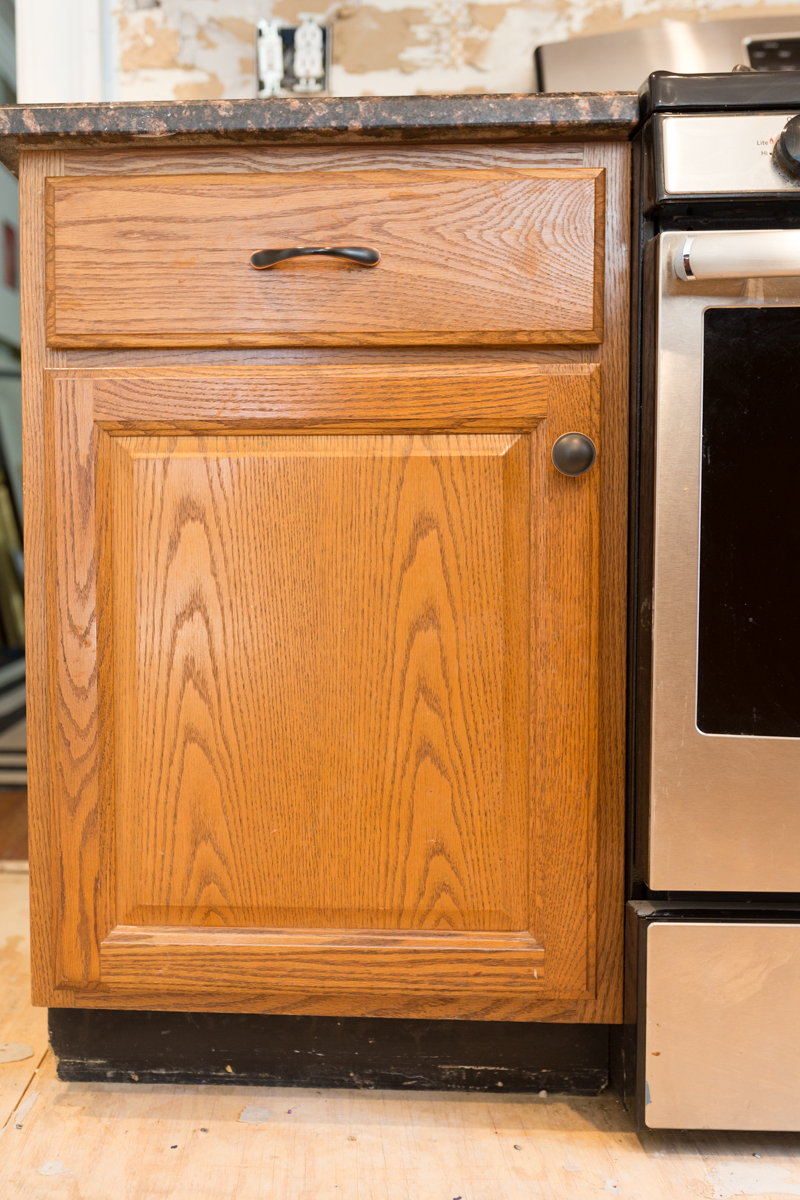 These are my old cabinets.  I can't wait to show you what we are doing to them
I am excited to receive two beautiful sheets of burled wood from Burled Co.  After we install the countertops I am going to assess where I can add these to the space.  I'm hoping the front of the island and a half wall in the living room.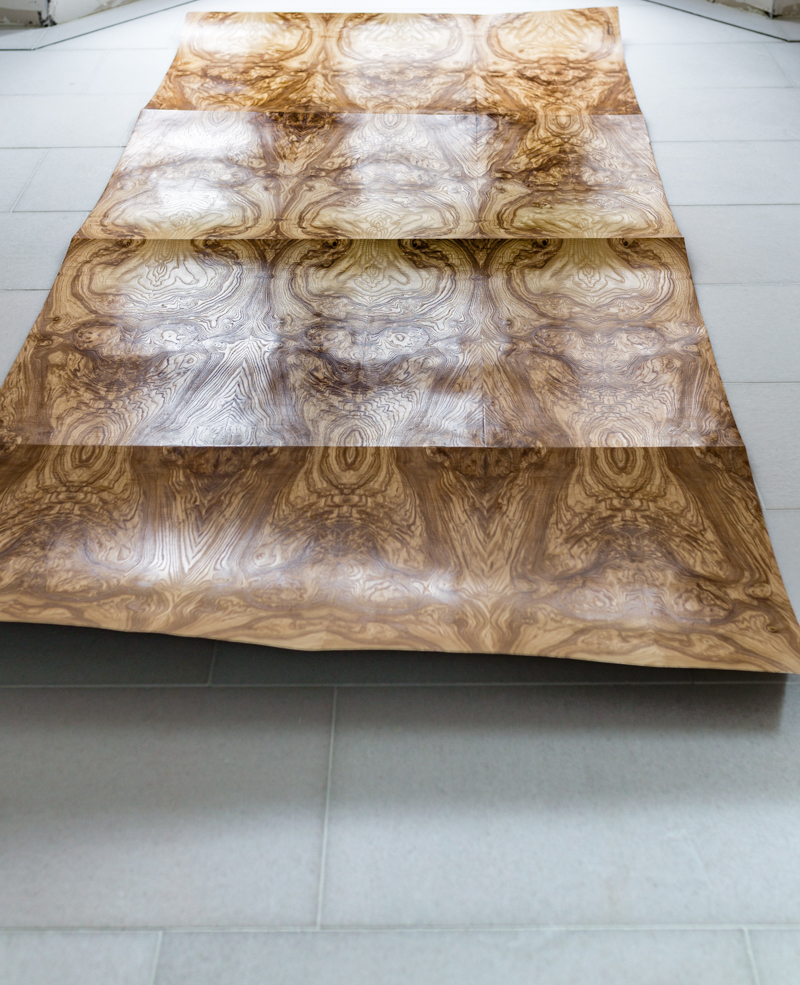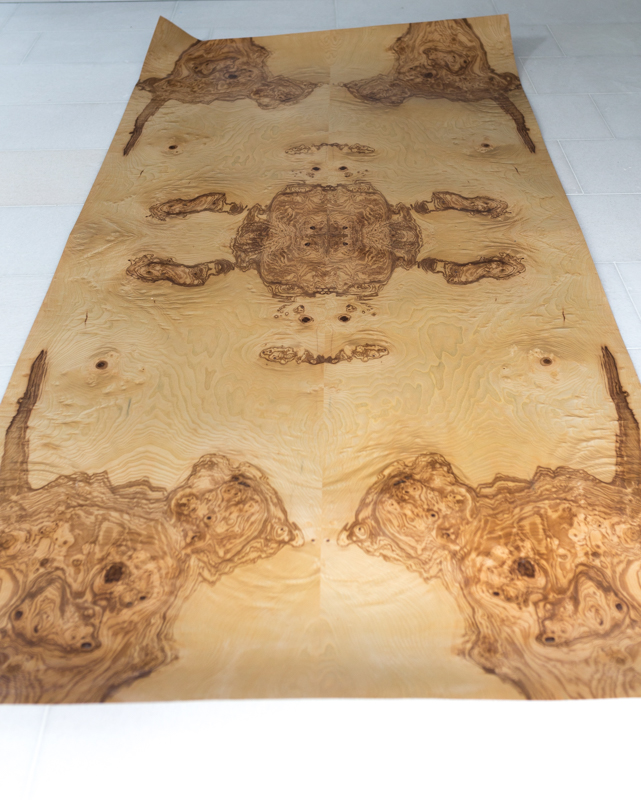 I found the Burl Co on Instagram and have been stalking their feed for a year.  The products they produce blow my mind!  They are definetly worth a follow!
Since we extended the island, we needed to get a smaller dining table.  I saw this beautiful black and gold oval table on Overstock and immediately loved it.  I think that it will be nice to add a wood element to the space and the dark color will tone down the blue walls.  While it hasn't arrived just yet, I am really looking forward to it's unboxing. Btw…I noticed that it is on sale right now.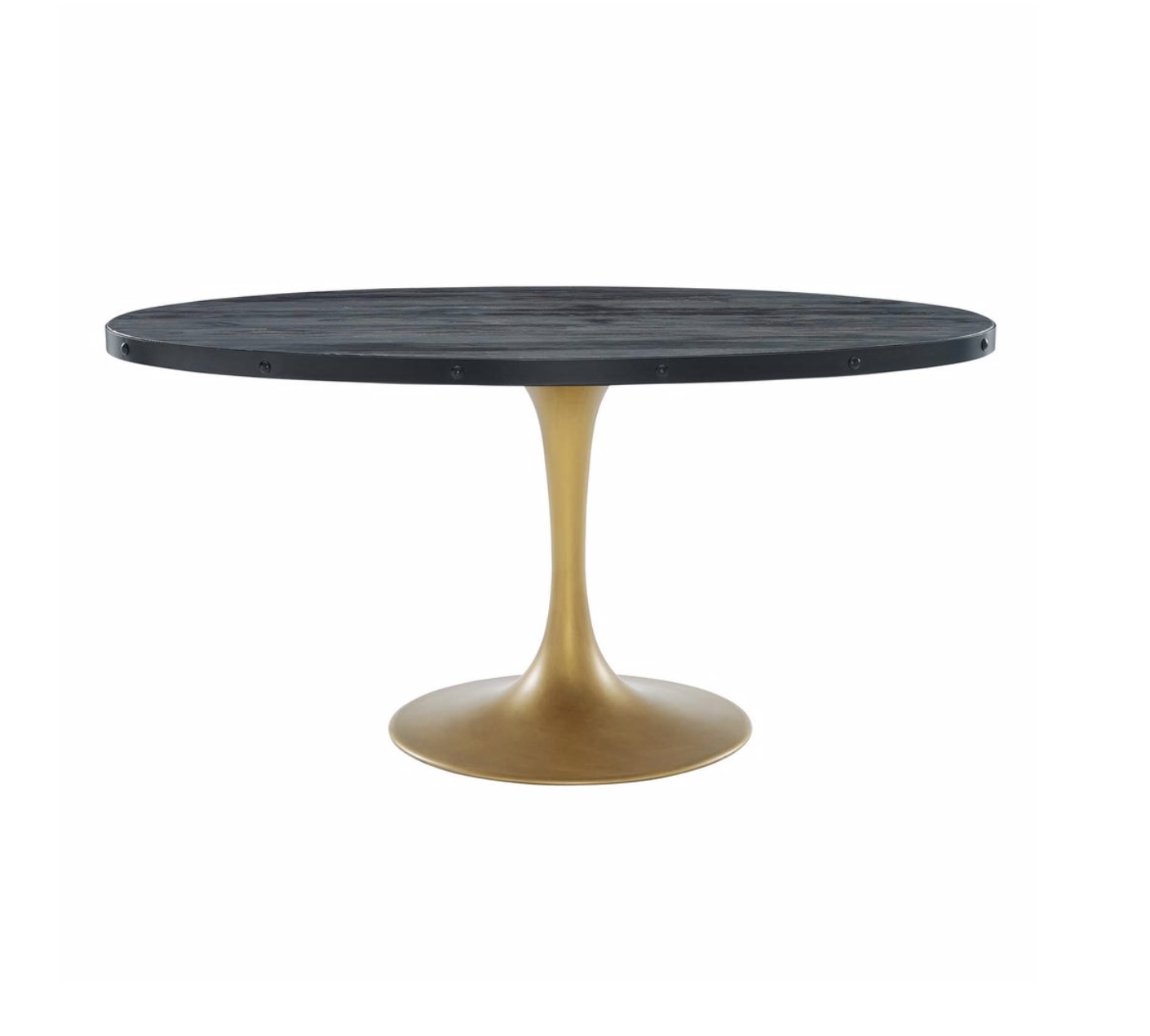 Thanks to Richard from P&N Decorating for his hardworking installing most everything but cabinets in the space so far.  We hope to finish the kitchen updates no later than Monday night.  The living room and eat in should be done and photographable by Friday.  Gulp…it is going to be a crazy week!
N-Hance of Mid Potomac has taken my drawer and cabinet fronts to refinish them with their special UV system. They also plan to install the knobs from  Schaub… More on all things kitchen next week.
Ok, Now that you know my week 5 updates, bop on down below to check out all of the other participants' plans.  I can't wait to see what they are up to!
Wait! Don't stop there my friends…I always find fabulous inspiration with the Guest Participants as well!