It has been two years since we first made-over the entrance to our home. We did a pretty good job, but now it is time to get the all of the entryway ideas and details right.
Over the next 10 days we will be installing new lighting, building a table, implementing new entryway details, and doing some major sprucing to finally nail this space.
Week 1 -You are here | Week 2 | Week 3
The items mentioned in this post were sponsored but the opinions are 100% my own.
Current Entryway Situation
First, let's flashback to what the entryway looked like when we first moved in, shall we?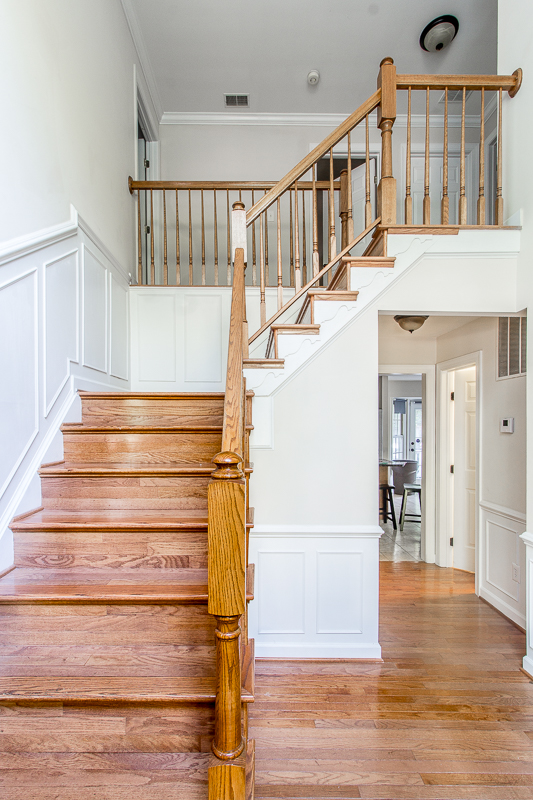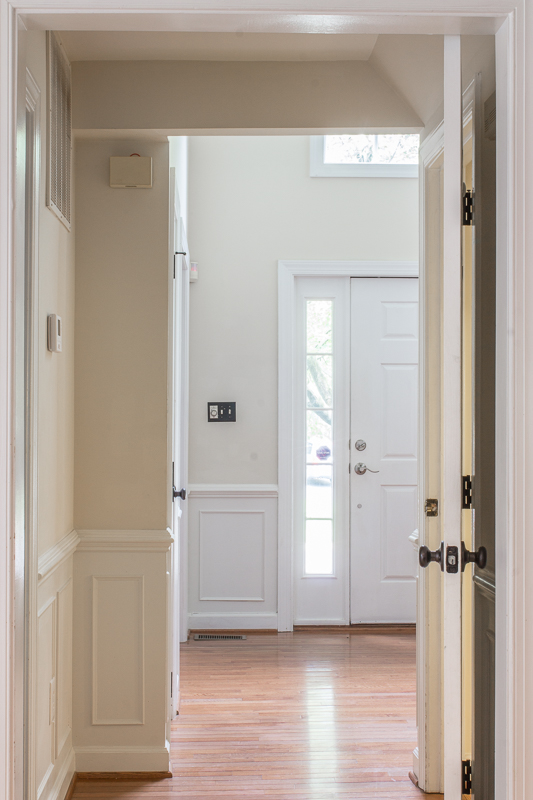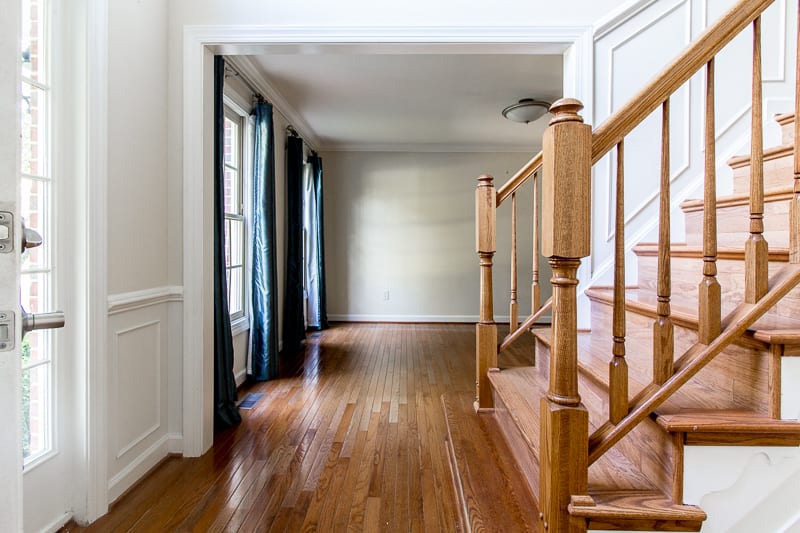 Since then, we have already done one round of an entryway refresh when we added paint, wallpaper, moulding, and an entryway table.
I would be lying if I told you that I hated our entryway as it is now.  I don't.  I actually really like it, but on a couple of points I am ready to tweak it  to make it even better.
ENTRYWAY IDEAS: Replace Chandelier
I really like thisMitzi Ashleigh chandelier, but the scale needs to be taller. This fixture would be perfect in a dining room, but it isn't a perfect match here. Also, from the road it doesn't feel quite right in my neighborhood.  While I like my interiors to be eclectic and gathered, I generally lean more true to the architecture on the exterior, especially the front of the home. The reason for this is that from the outside there aren't enough supporting details to understand the contrast and tell he story of my style.  Inside my home, however,  I can easily go for drama by pairing opposites.  Without the other contextual clues this modern chandelier just feels a little out of place when viewed from outside.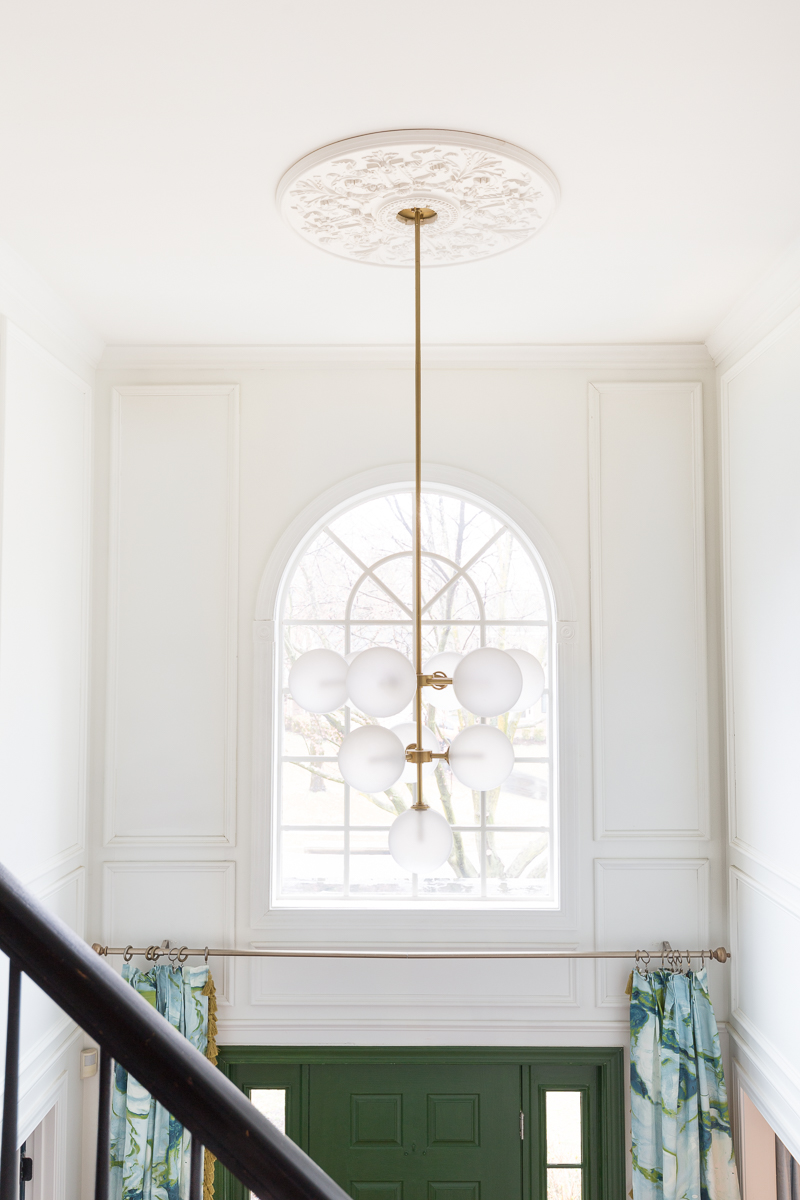 I have been looking for a replacement for about a year an a half. While it would have made the most sense to go with something more traditional and colonial, I have fallen head-over-heals for this Cascata chandelier from Lamps Plus. I feel like the softer lines will be a better exterior match, even if it isn't a colonial fixture.
It will be about two feet taller than my current chandelier so it should look balanced inside the window.  I debated going extremely overscale so that crystals dripped down into all of my entryway shots, but it may not have felt quite right from the road or against the window.
I'm excited and a little anxious to see this beauty hung.  The shape is perfectly graceful, and I like the way it will play against the fringe in my drapes.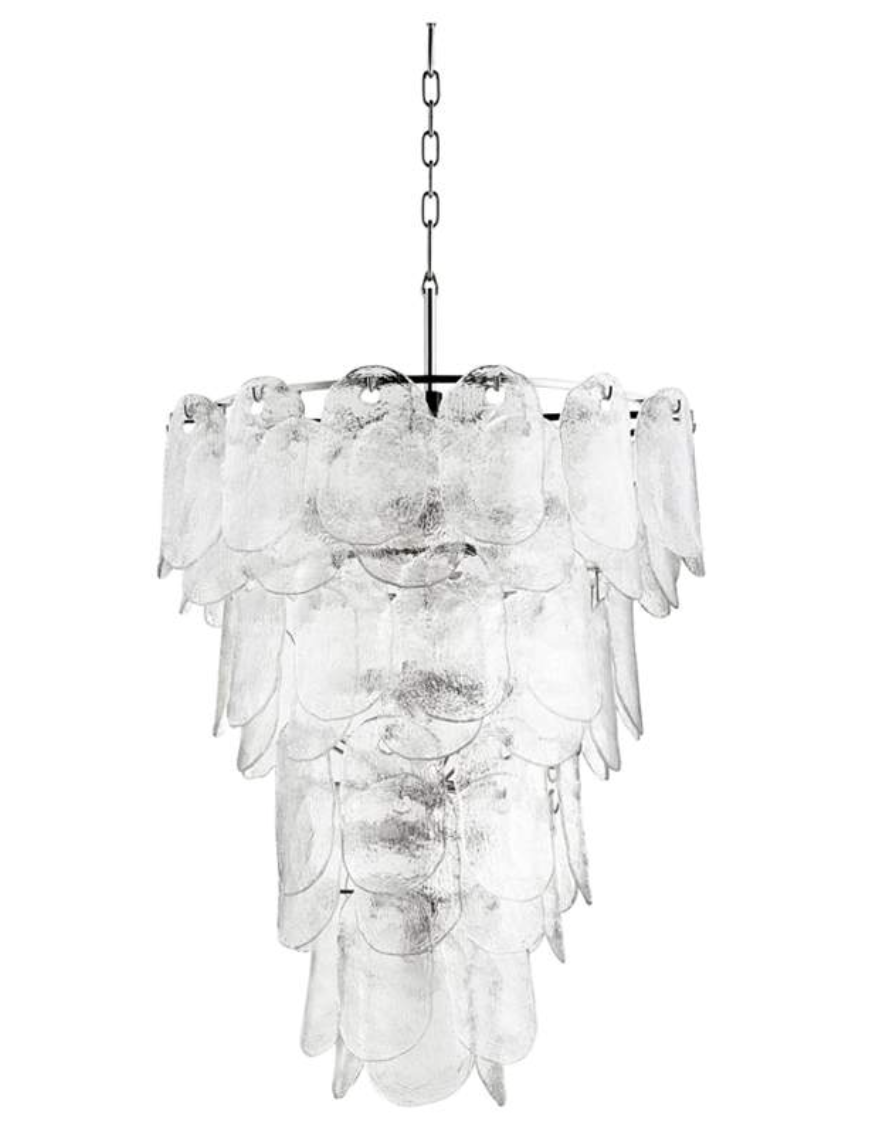 ENTRYWAY IDEAS: Build Table
I have to be honest.  I still really like our Spoonflower malachite entryway table, but after 2 years it is starting to show it's age.  Don't worry, I am going to move it to another room vs get rid of it.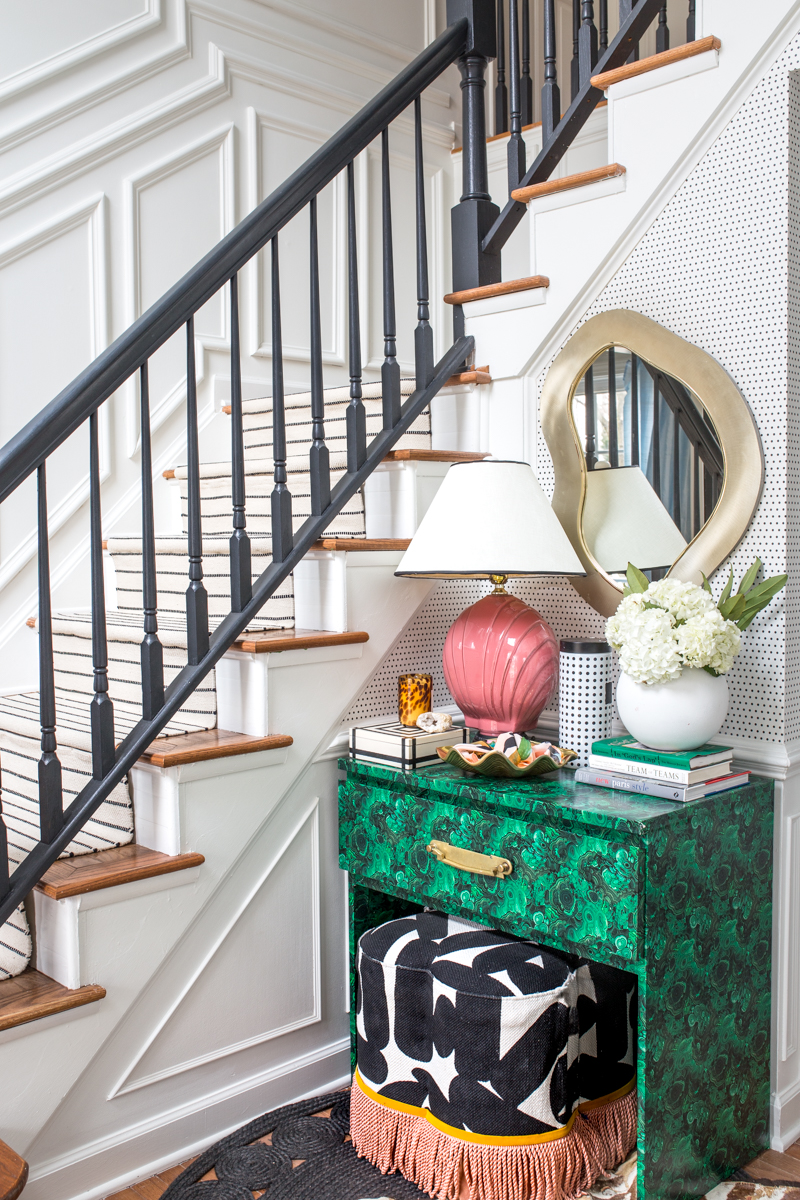 In it's place I am going to build a table inspired by something I recently sourced for a client.  This image was an original antique desk made from bamboo shoots.  I may not be able to ever source another one for myself, but I was inspired.  I could easily DIY something similar (famous last words 😜). Watch for an IKEA hack coming soon.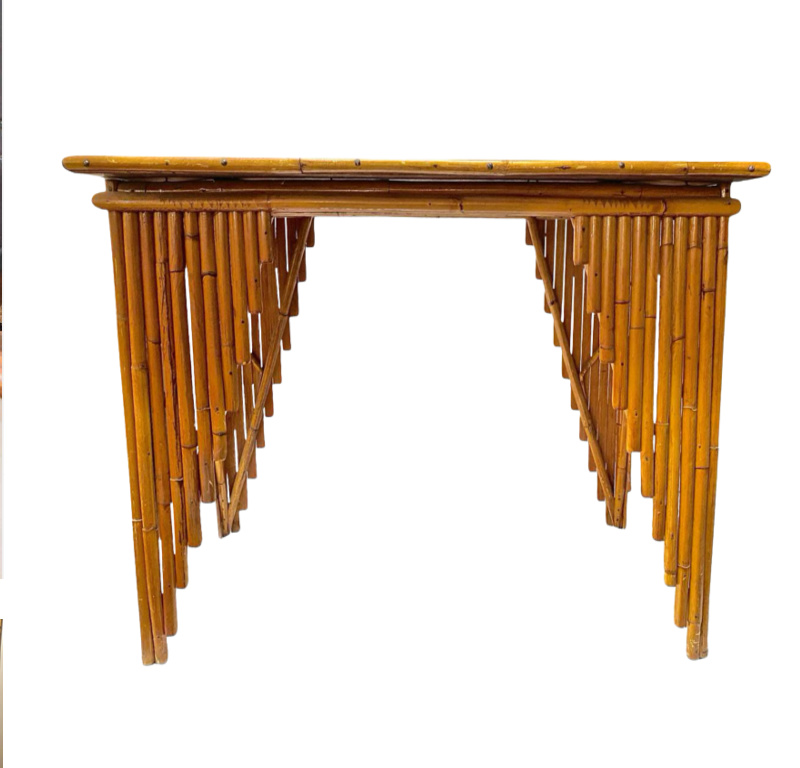 The only problem is that I can't leave it wood…or at least I don't want to because my original floors are about the same color as that antique desk 😬.  Sooooo….enter Farrow and Ball.  Kelly Wearstler just joined them in their first ever designer collaboration and these are the stunning colors.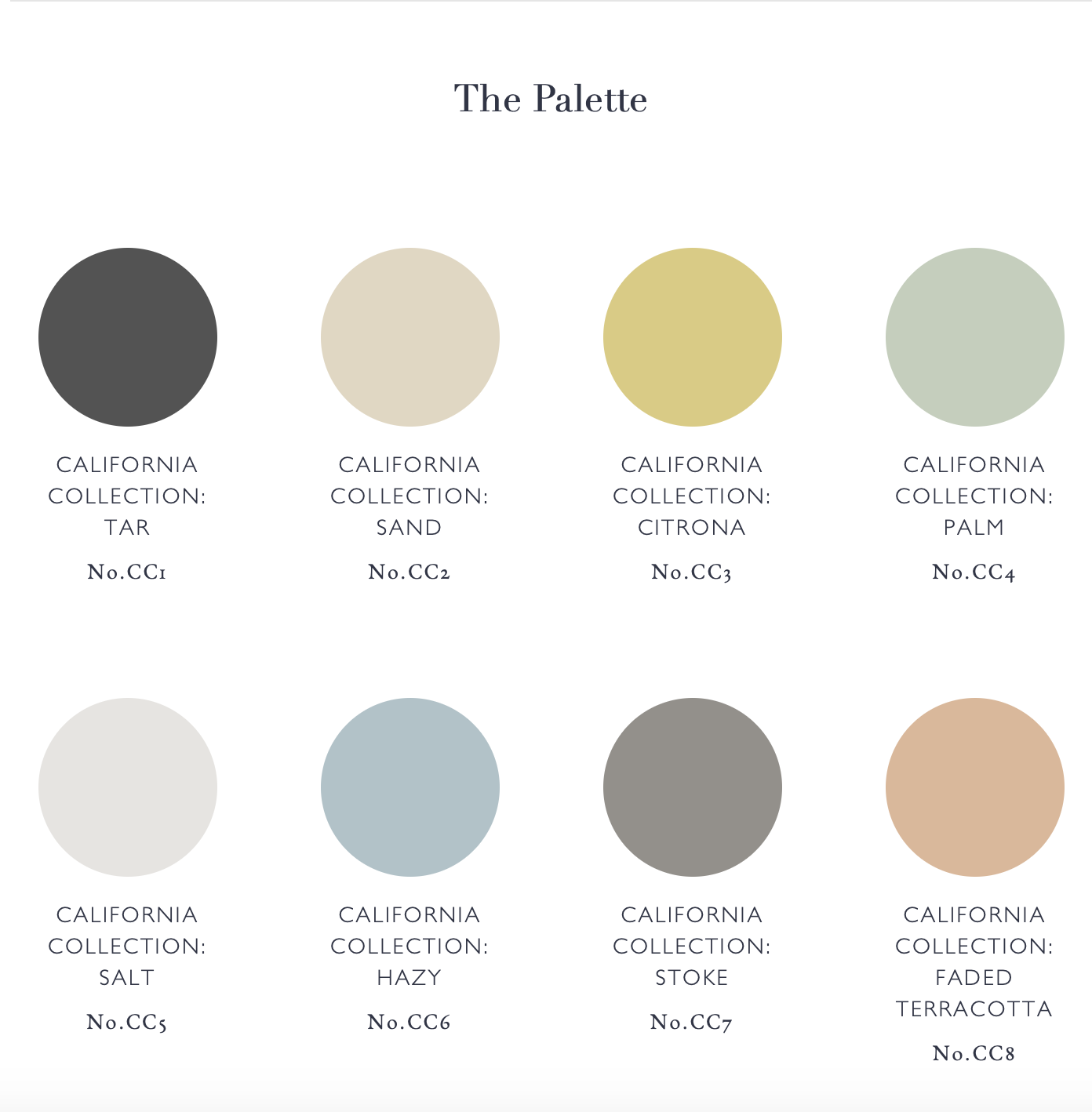 ENTRYWAY IDEAS: FIX DRAPES
Confession:  For the last 8 months, since hanging these drapes, I have be tucking the ends under vs sewing….I mean they've been on the list of things to do…but the list is too LONG…just like these drapes!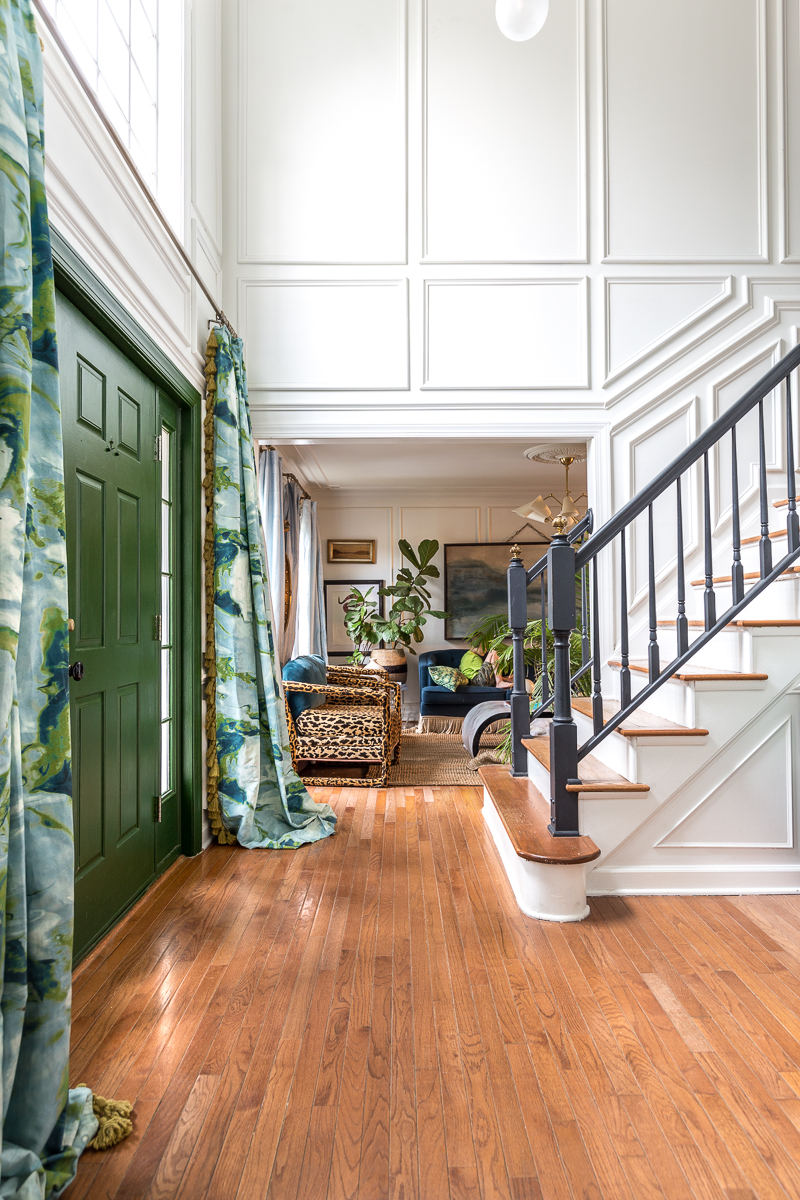 By me writing this, I am committing to adding the other two panels and properly lining and hemming them all.  I have contemplated hanging them two stories high and sewing the four panels together, but I thing they might look too slim.  I feel like I would need the equivalent to 8 panels worth of fabric to get it right.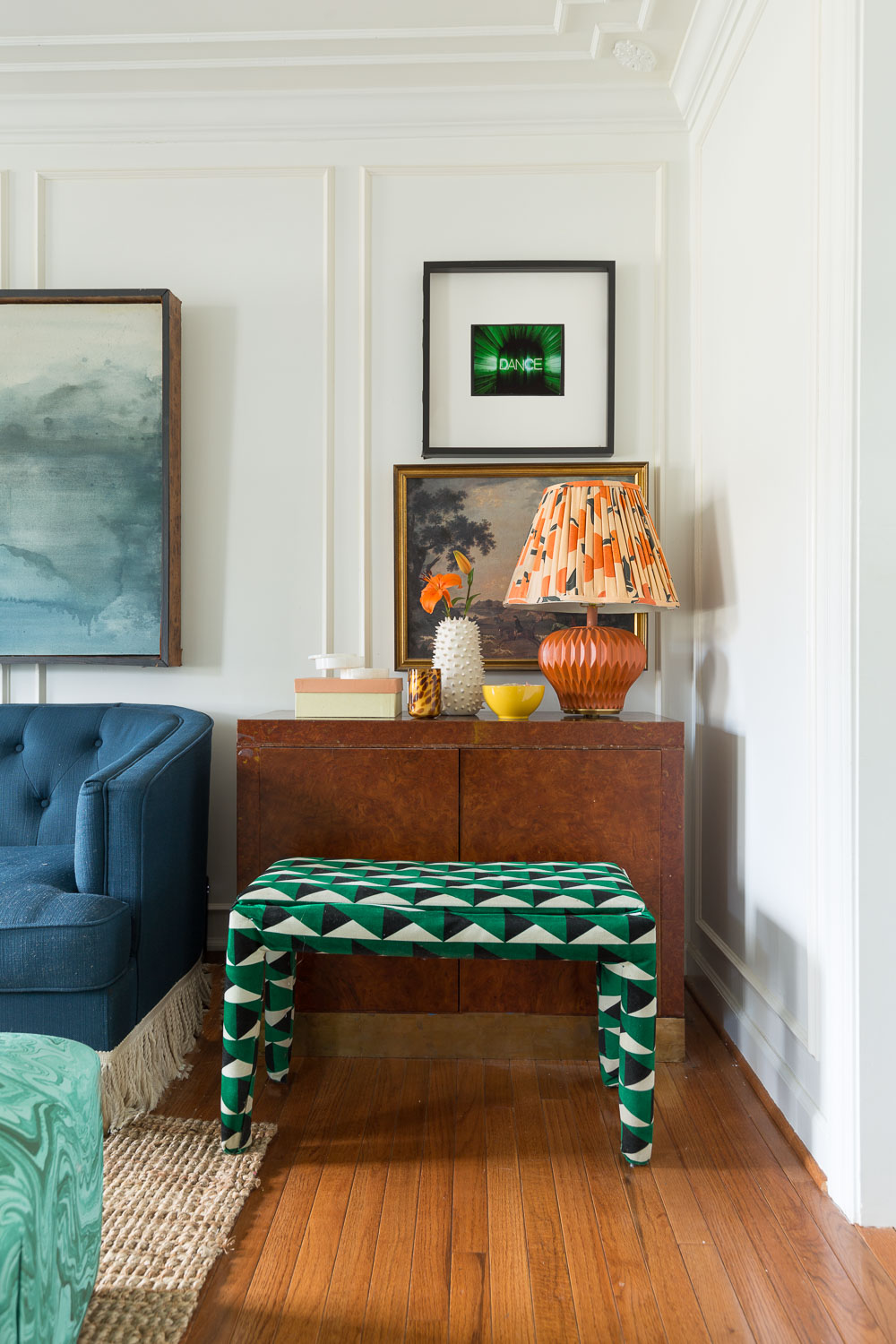 So great, but unfortunately I destroyed the previous entryway lampshade in the process. That is ok, because I already had my eye on something else.  As I had been searching for the perfect new lamp I knew I want to add pops of whimsy to this space so that it won't feel tooooo serious.  I also wanted something that played well with the triangle shape of the negative space in the desk….THEN I FOUND IT!  The perfect lamp! The Palisade lamp is sculptural, sexy, understated, and able to go with most any style and for the next few days it is $100 off. Plus, it was designed by Kelly Behun, and I lover her work.
So that will make it's way into the room soon.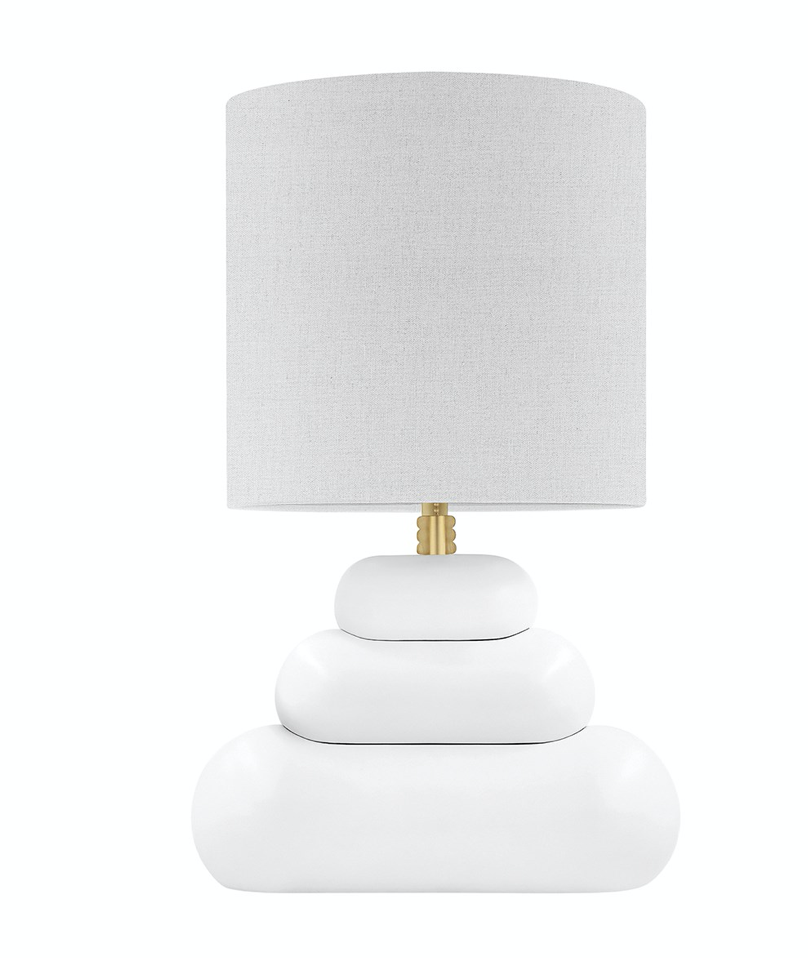 ENTRYWAY IDEAS: Add Ottoman
I think I will pull this Lamps Plus Ottoman in the entryway, at least for now.  It will help the space feel fresh and modern.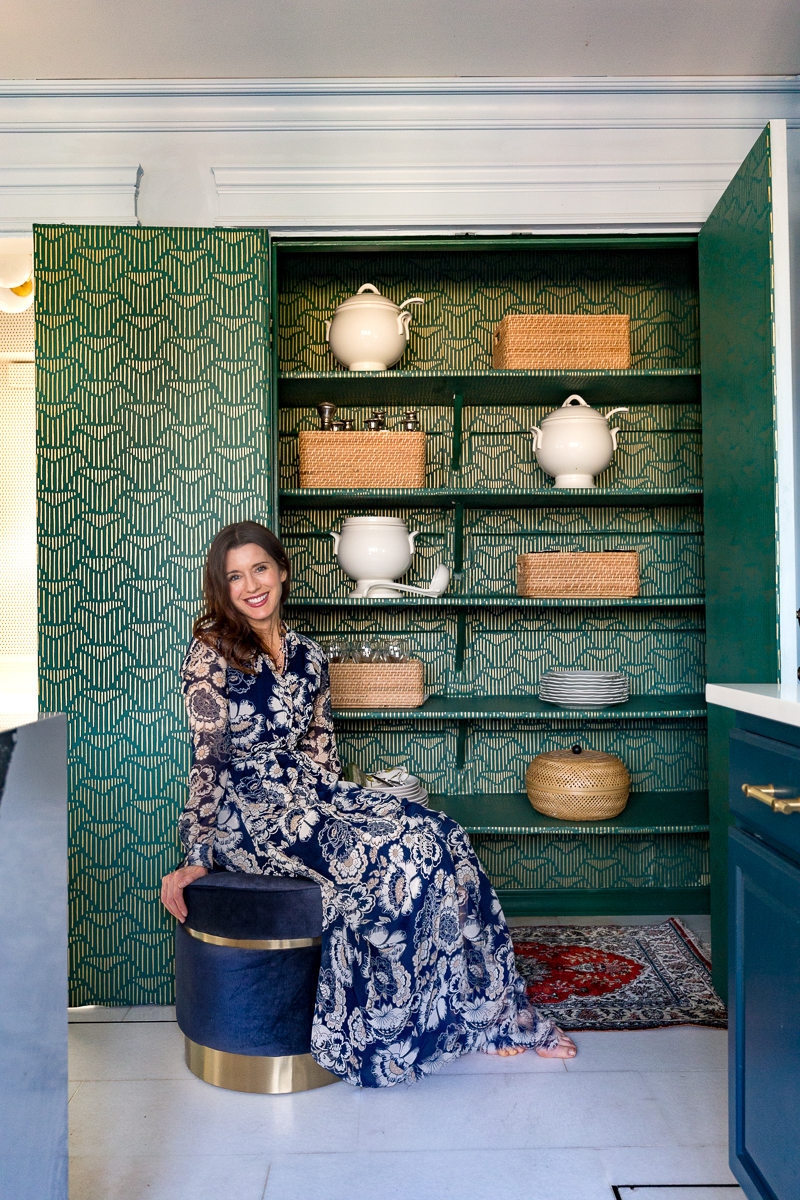 ENTRYWAY IDEAS: Add Tiger Rug
I recently picked up this gorgeous Kazimah hand-tufted India Tiger Rug from Kazimah.com.  Not everyone can pull of a tiger shaped rug, but you better believe I can 😉 or I'll go down trying. LOL.  I have two different places in the entryway that he might live…TBD which one he will call home.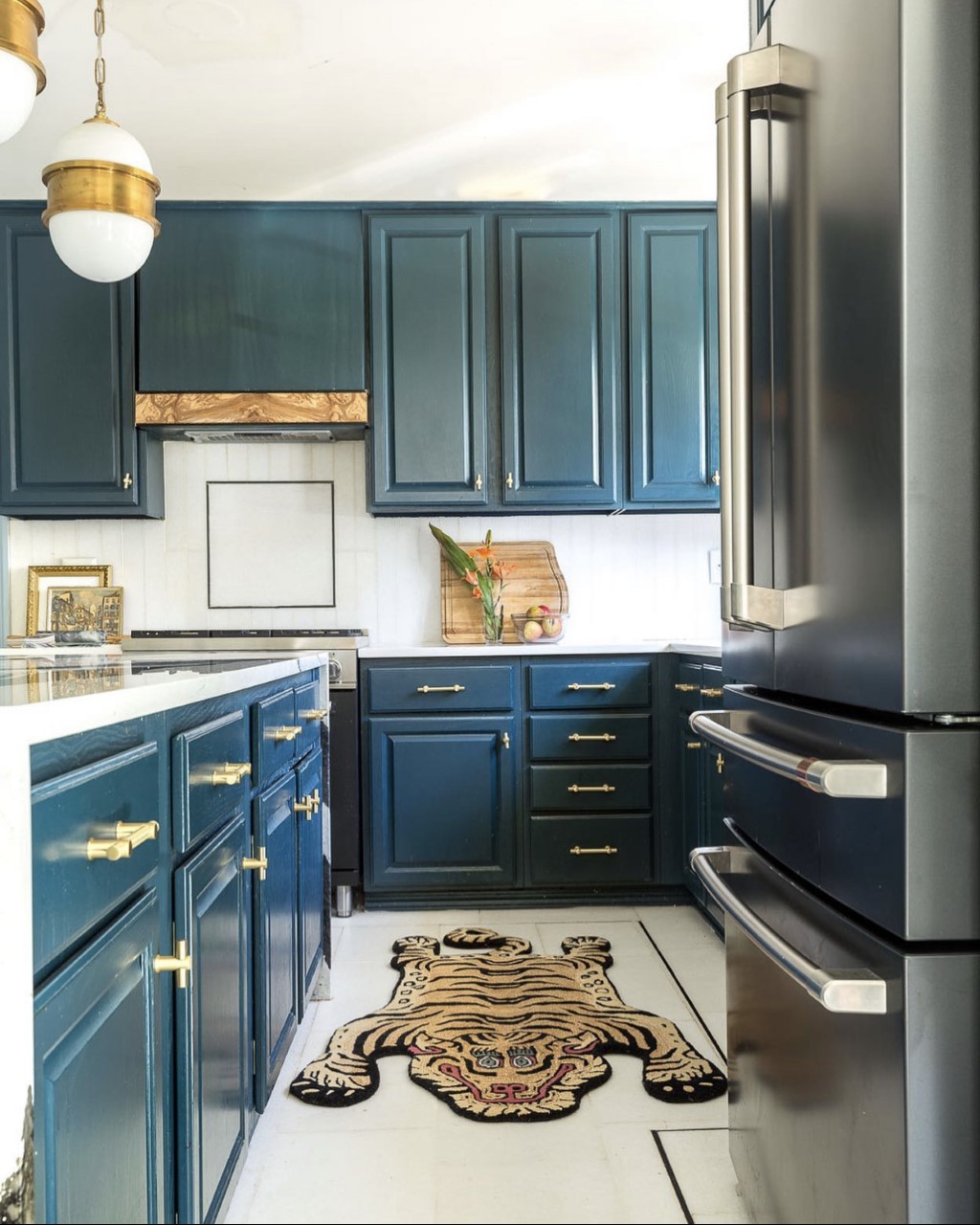 ENTRYWAY IDEAS: THE OVER ALL PLAN