Schumacher Wallpaper in the Family Room and Entryway |  Week 6 Fall ORC
Last week I highlighted the wallpaper for the dining room, and this week I am thrilled to show you the incredible wallpaper in the remaining two spaces of our ORC  rooms.  My client was only half joking when she challenged me to put an animal print of some sort in every room.  I'm not one to pass up a good challenge.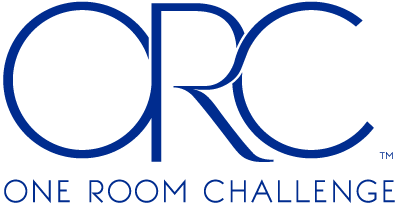 Before Schumacher Wallpaper
Here is a before pic of the TV room with the previous owner's furniture.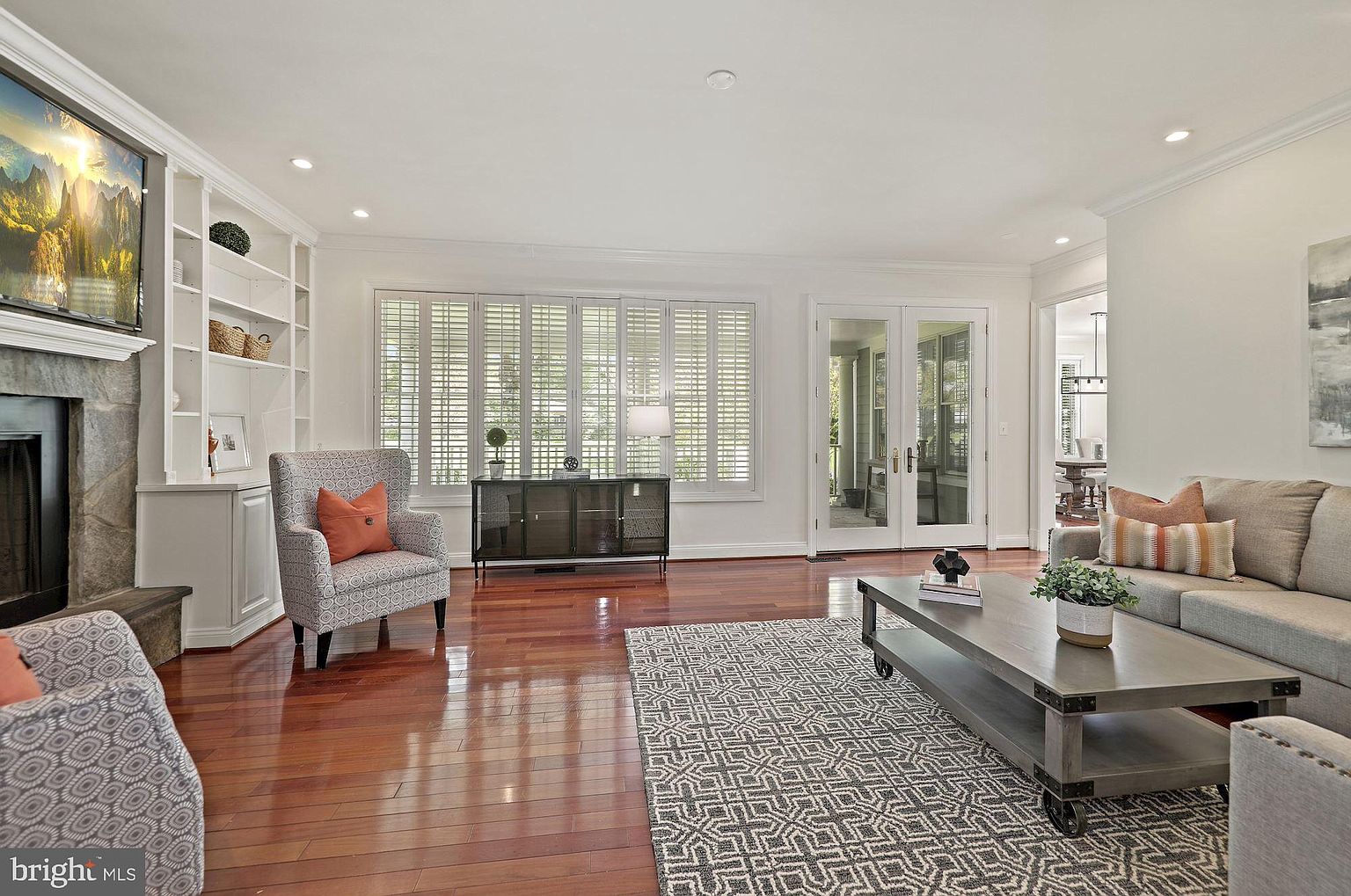 Also, here is a shot of the entryway the week before they moved in.  Don't forget to keep scrolling to see these updates as well.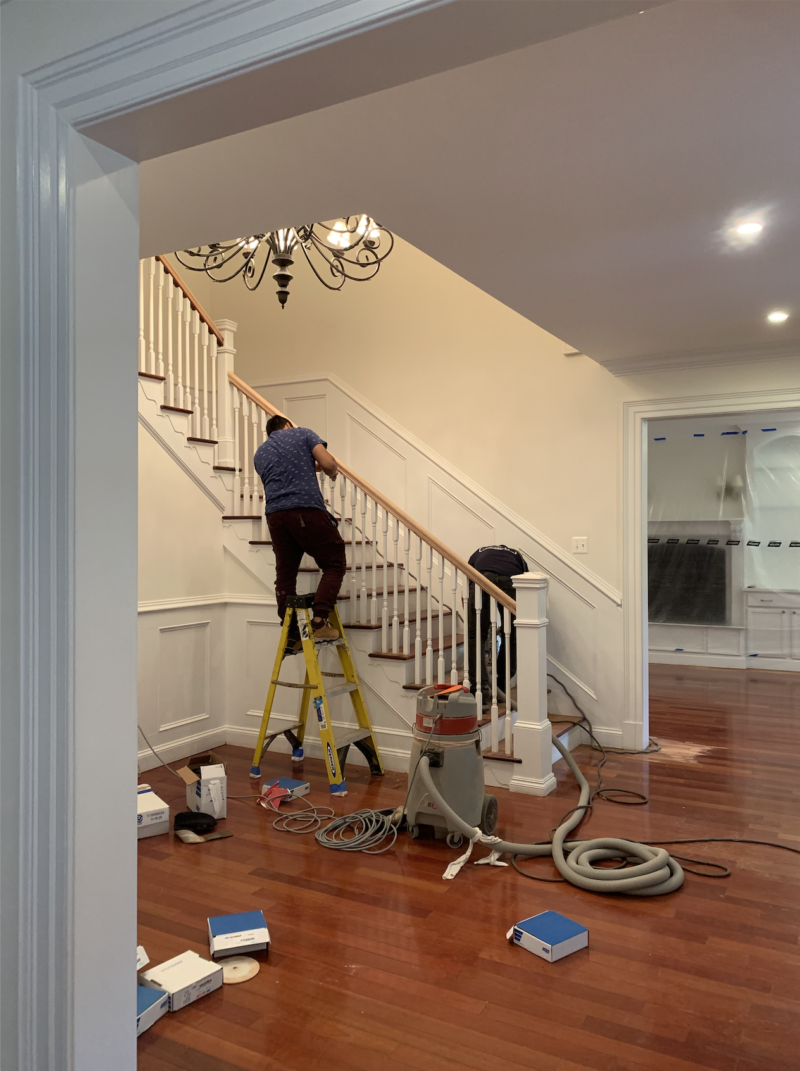 After the floors were refinished we hired Ronni (IG:rchomeservicesllc) to remove some the the 90's scroll elements from the stairway.  He also installed all electrical and will be redoing the family room fireplace.
Ronni has been so kind, helpful, and professional, and it has been such a blessing to have him as part of the team.
Living Room Schumacher Wallpaper 
The next step was to go crazy with epic wallpaper installed by Jose from IG: @JV_wallpaper.  Jose and his crew are widely known in the DC area as the best wallpaper installers and I am thrilled to have them as part of this project.
The first of the two rooms that I want to highlight is the future TV room installed in this incredible Faubourg Schumacher Wallpaper.  My client is an accomplished equestrian so when I tempted her with this horse themed wallpaper it was a done deal.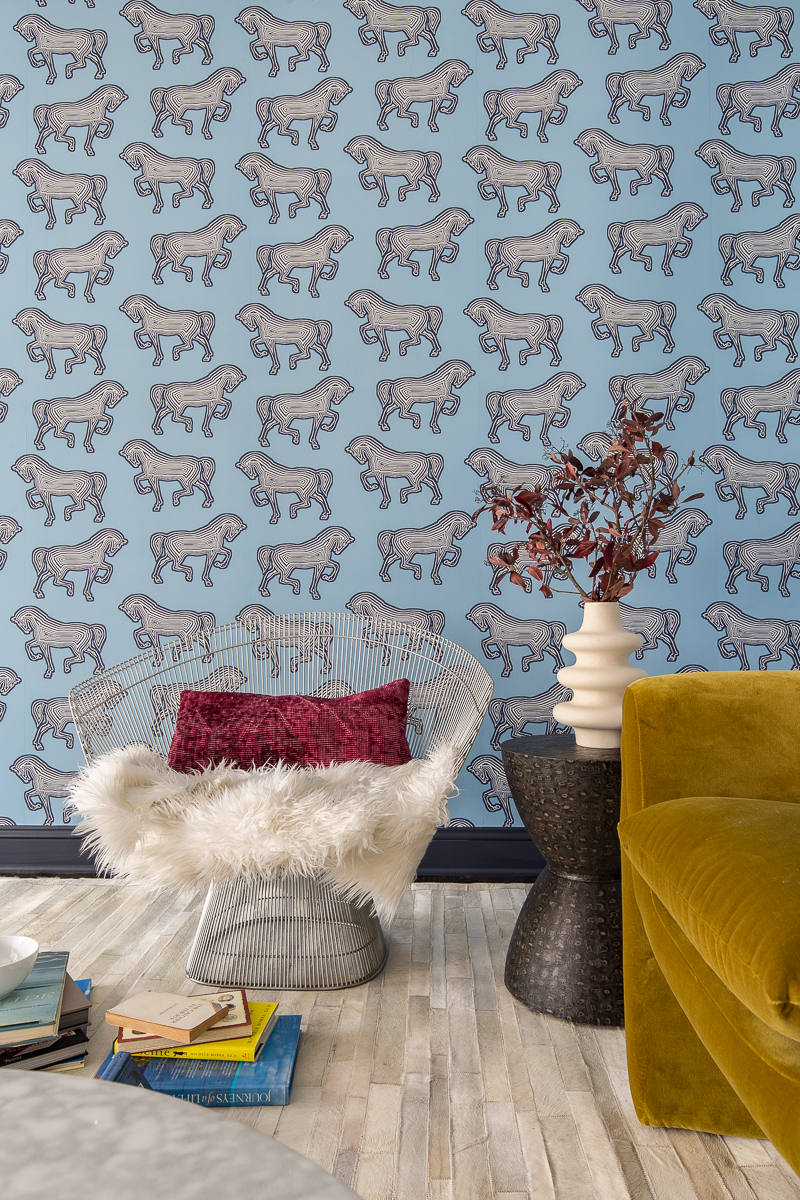 WHY USE SCHUMACHER WALLPAPER?
The most compelling reason for me to love Schumacher is the wallpaper and fabric company's timeless style!  I love their library of designs, and I feel that most all of their wallpapers have intense staying power.  Whenever I peruse their site online or at our local design center, I see patterns that I remember liking 15 years ago that I still love today.  That is always a good sign!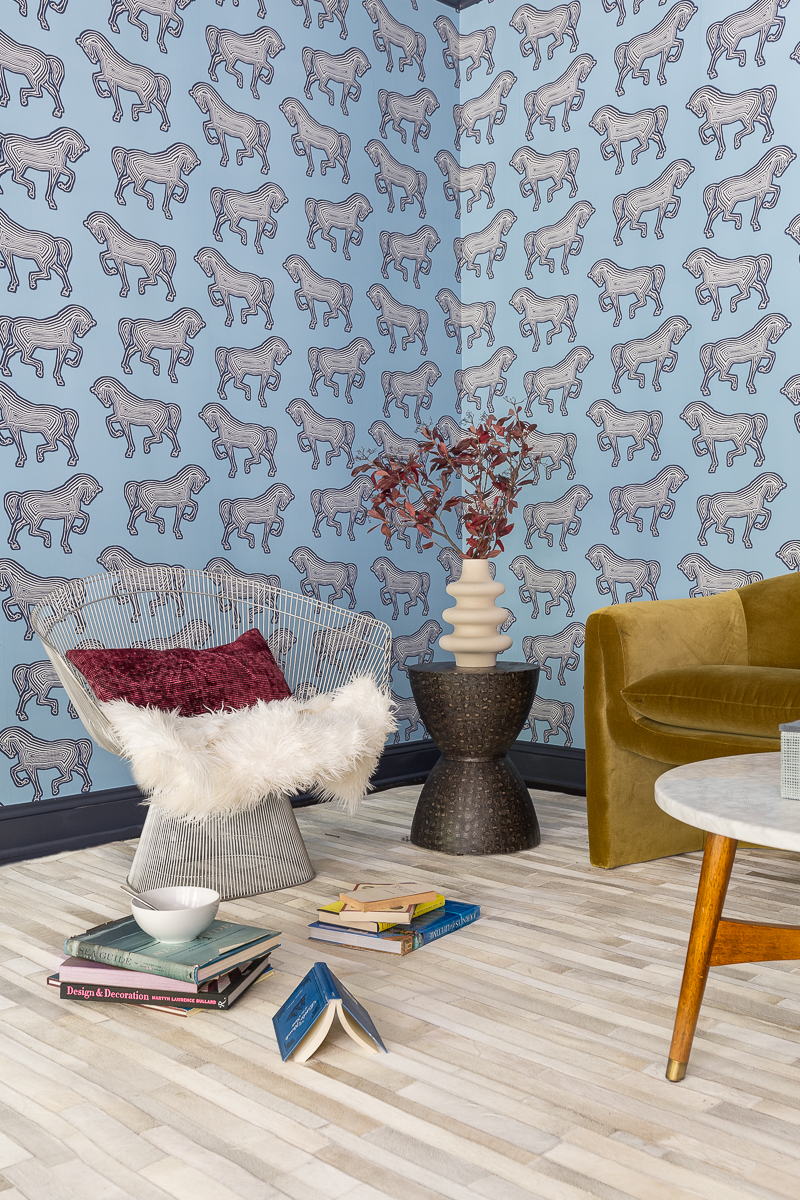 Not only is Schumacher Wallpaper a safe style bet, it is also impeccable quality.  Jose  (@JV_wallpaper) told me that he loves installing it because it always turns out beautifully and he never has any problems with it.
In addition to being timeless and dependable, Schumacher is an exciting company to follow right now because Dara Caponigro, Creative Director of Schumacher, has launched several new initiatives.  These include monthly new fabric and wallpaper collection releases, and a new interior design magazine, Fredric Magazine.  I have been blown away by this new magazine which covers interior design, garden design, architecture, entertaining, art, color trends, gift guides, and fashion trends. The luxurious lifestyle magazine brings design enthusiasts inspiration to the way we live, think, and dress ourselves and our homes.
You can use this LINK to get 10% off your new subscription. Use code: JEWELEDINTERIORS
You can also check out #schustagram for more IG Inspo.
Fall 2021 One Room Challenge
The TV Room Plan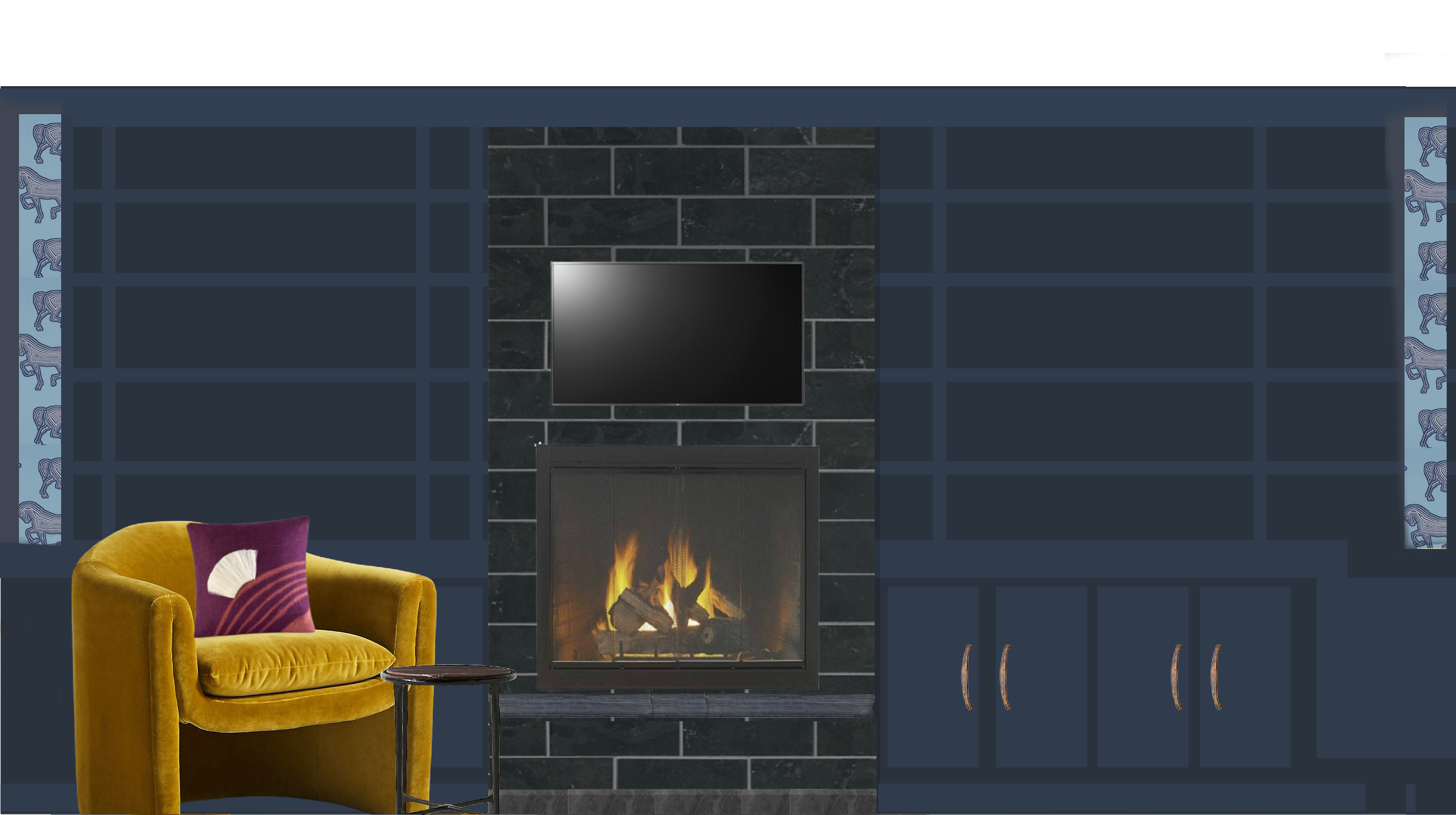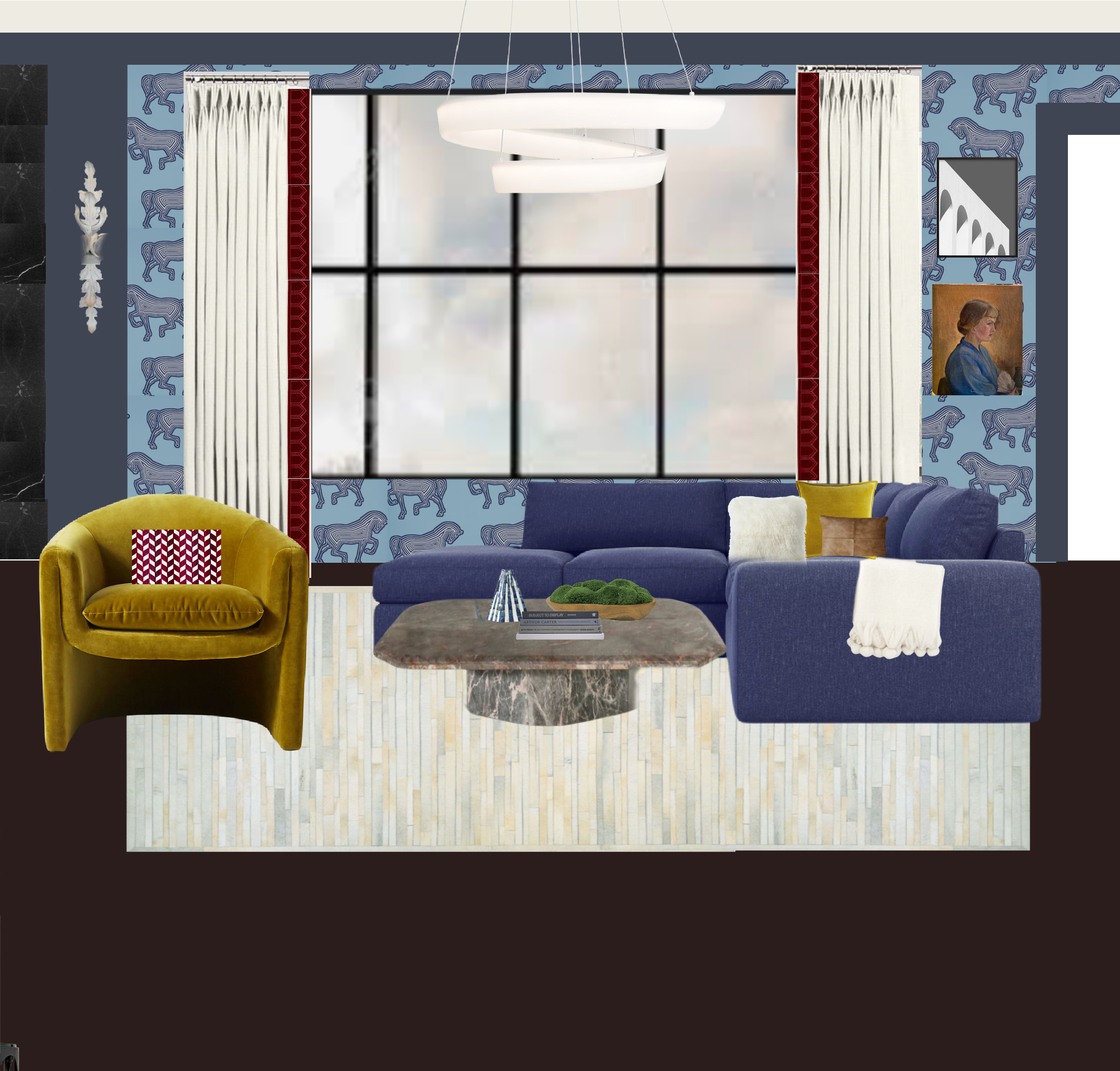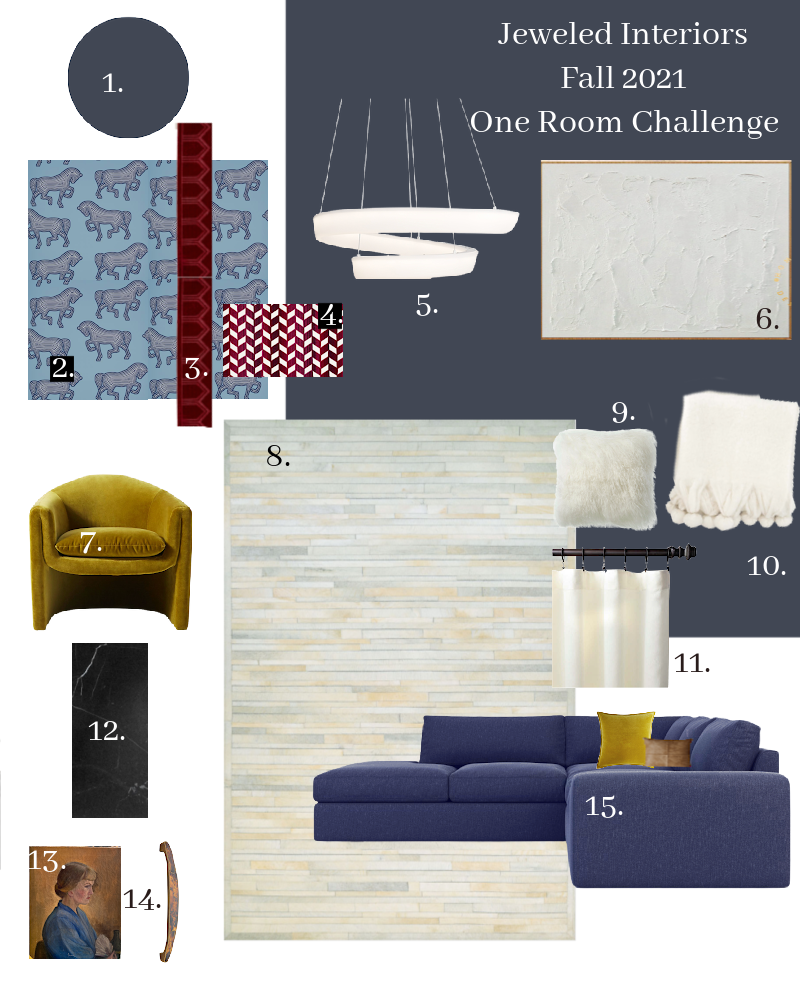 Entryway Schumacher Wallpaper
I don't want to spoil the surprise of the entryway reveal, so I am staging this space with something different in the mean time.
I'm giving you a sneak peak of the epic Feather Bloom Grasscloth on the ceiling of my client's entryway.  Why the ceiling?  Two reasons really.  The white walls give a visual break between the two other wallpapered rooms within site line.  Secondly, this was a way to pack a punch, but at a lower price point than wallpapering the walls all of the way up to the second floor.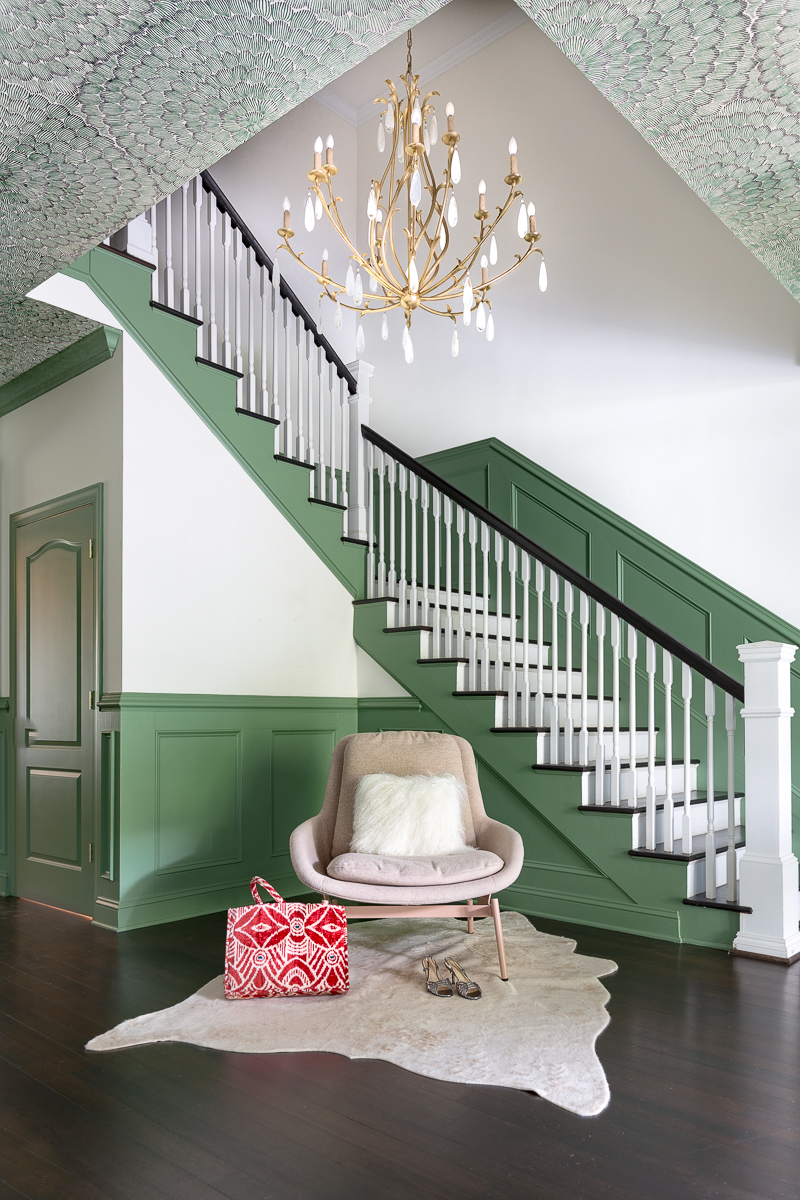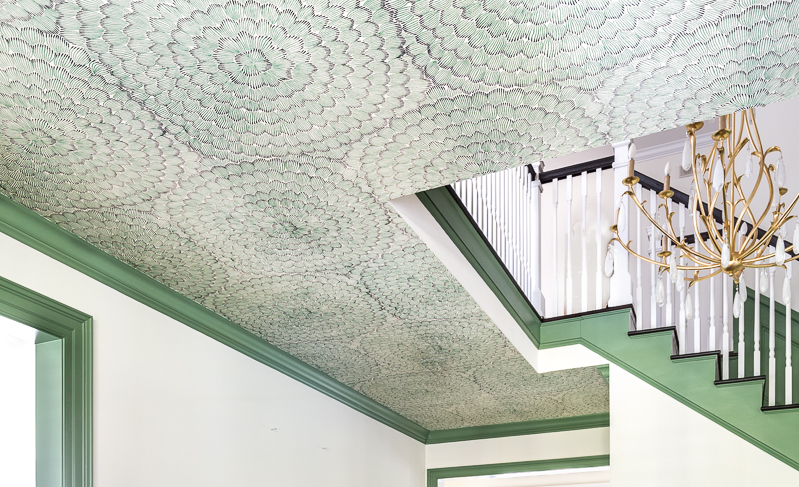 Feather Bloom is an incredible pattern, but even more impressive is the substrate used…GRASSCLOTH!  This natural fiber sisal material gives texture, depth, and soul.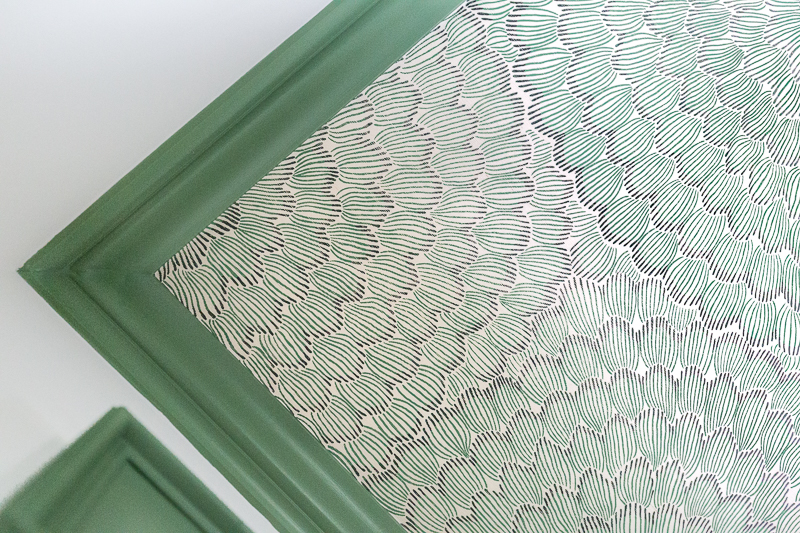 More images and angles coming for the big reveal 🙂
Fall 2021 One Room Challenge
The Entryway Plan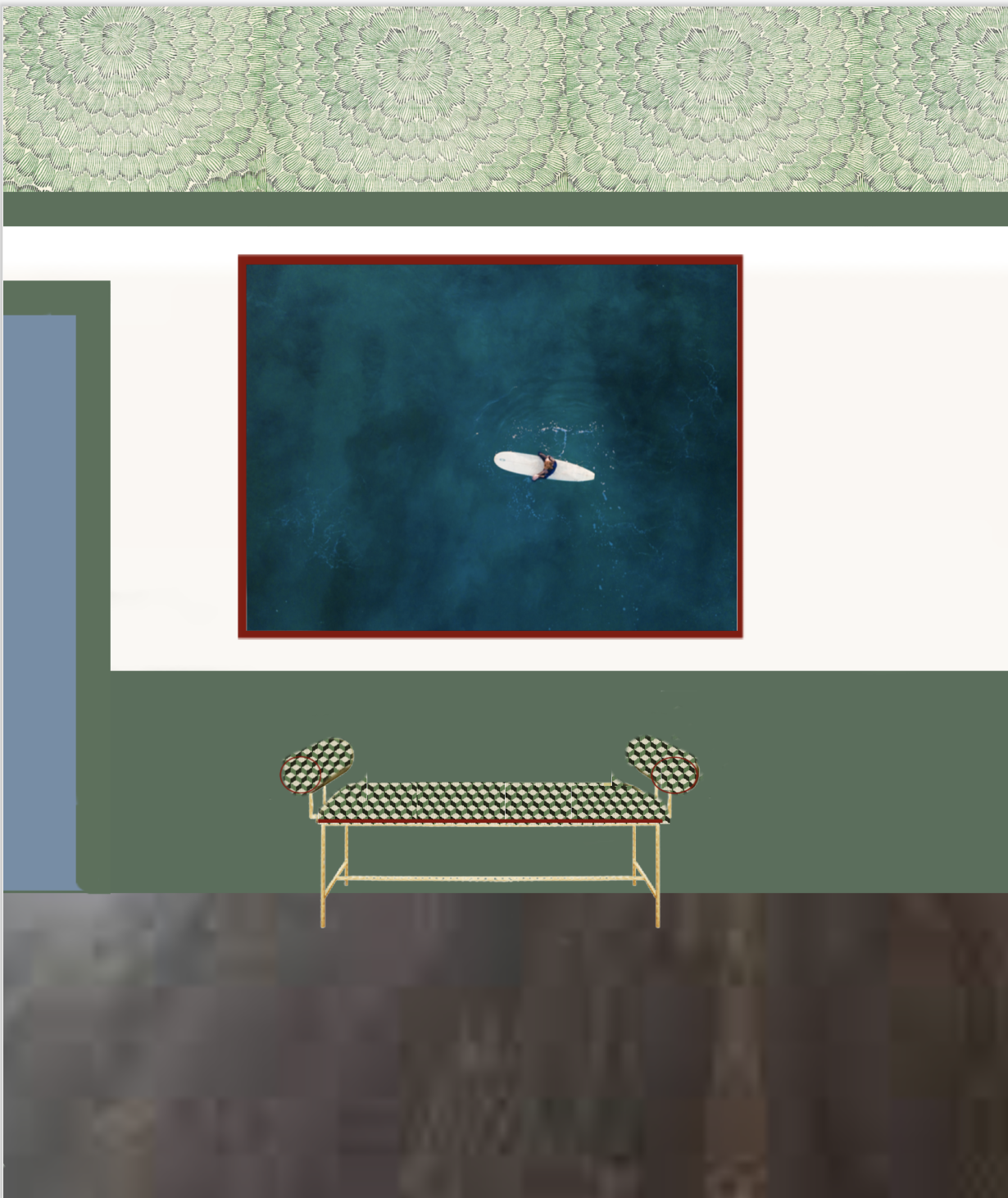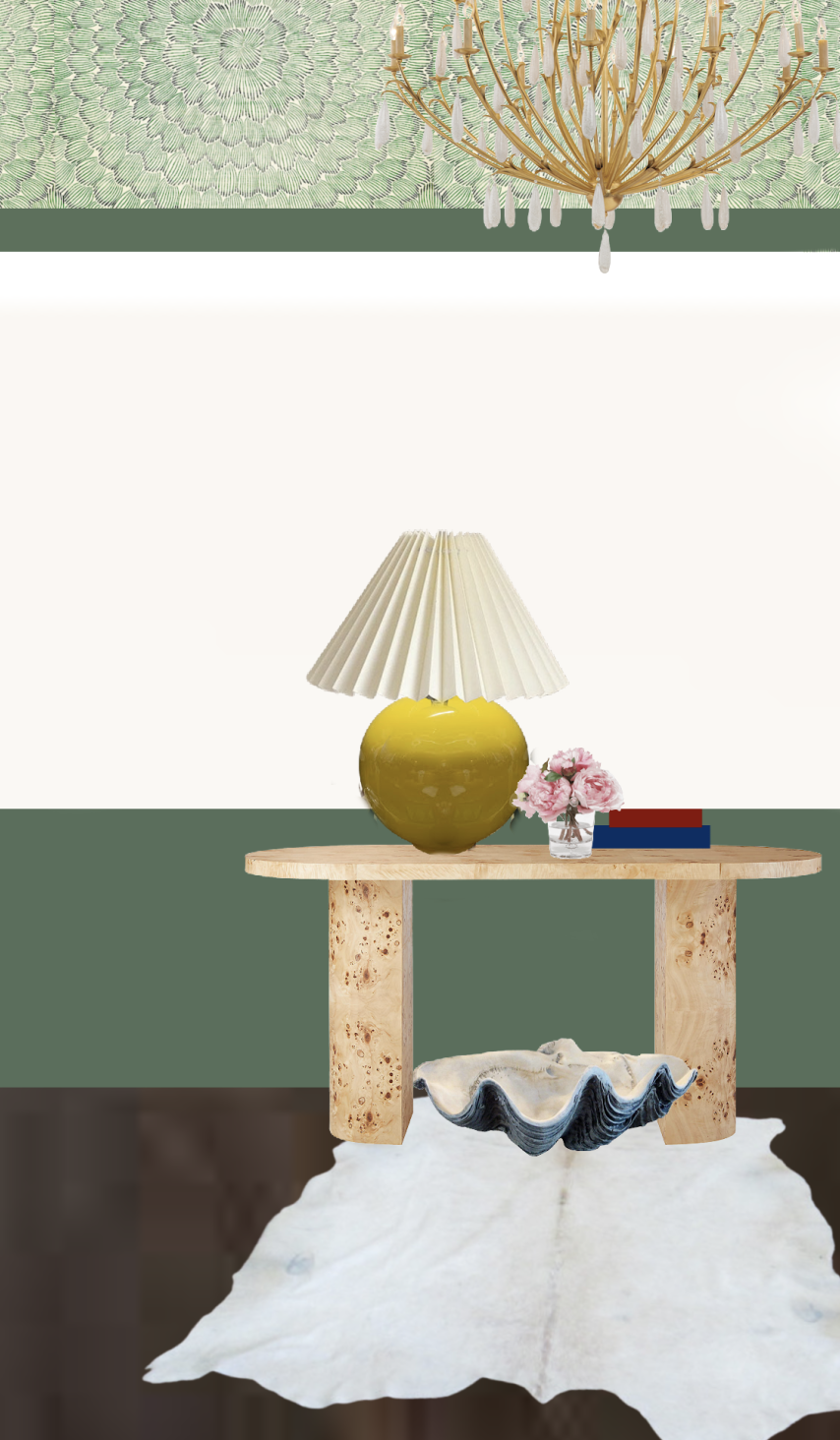 As I mentioned last week, this table has been delayed, so I have come up with a decent back-up plan involving this Jokhang Tiger Schumacher Fabric.  We are going to upholster two stools in this this, gorgeous material, but they will eventually get moved to another room after the burl table arrives.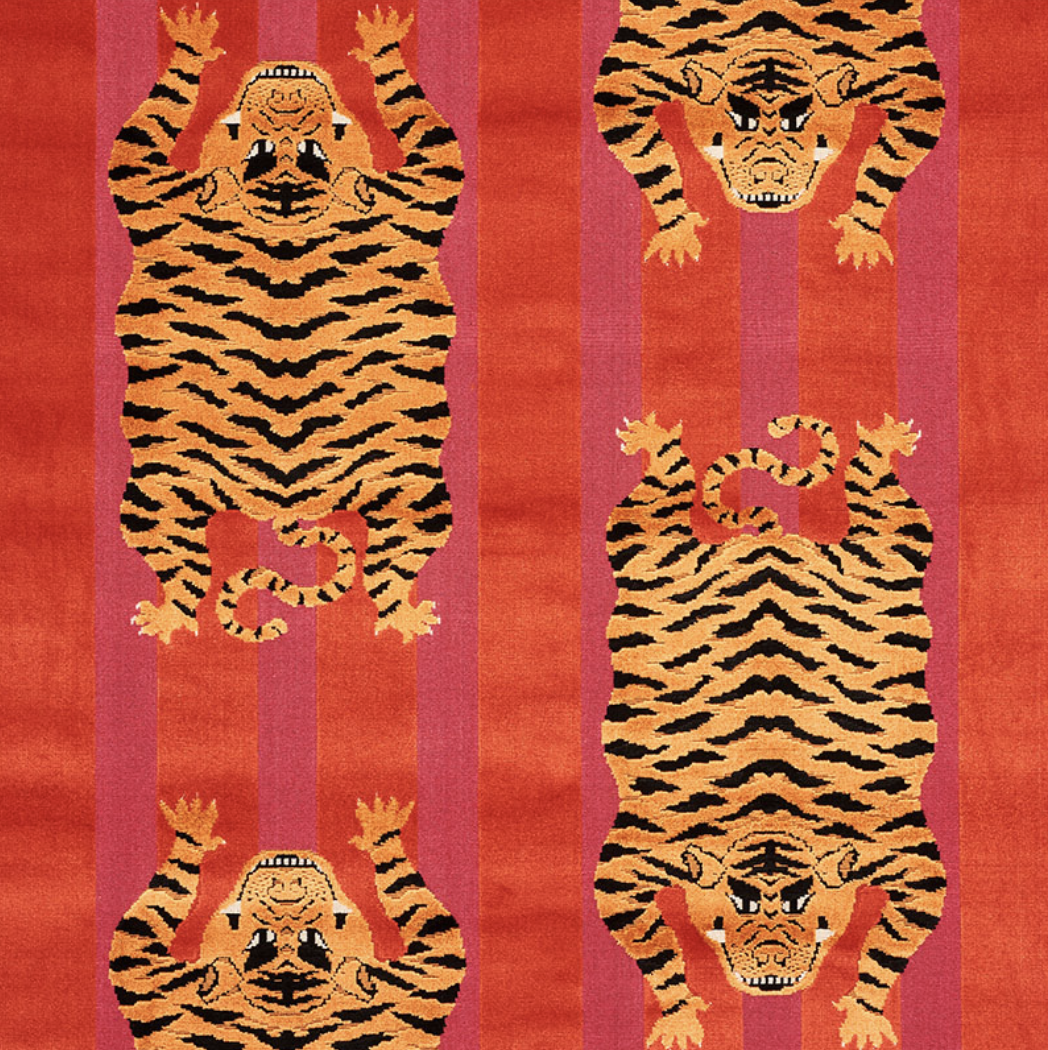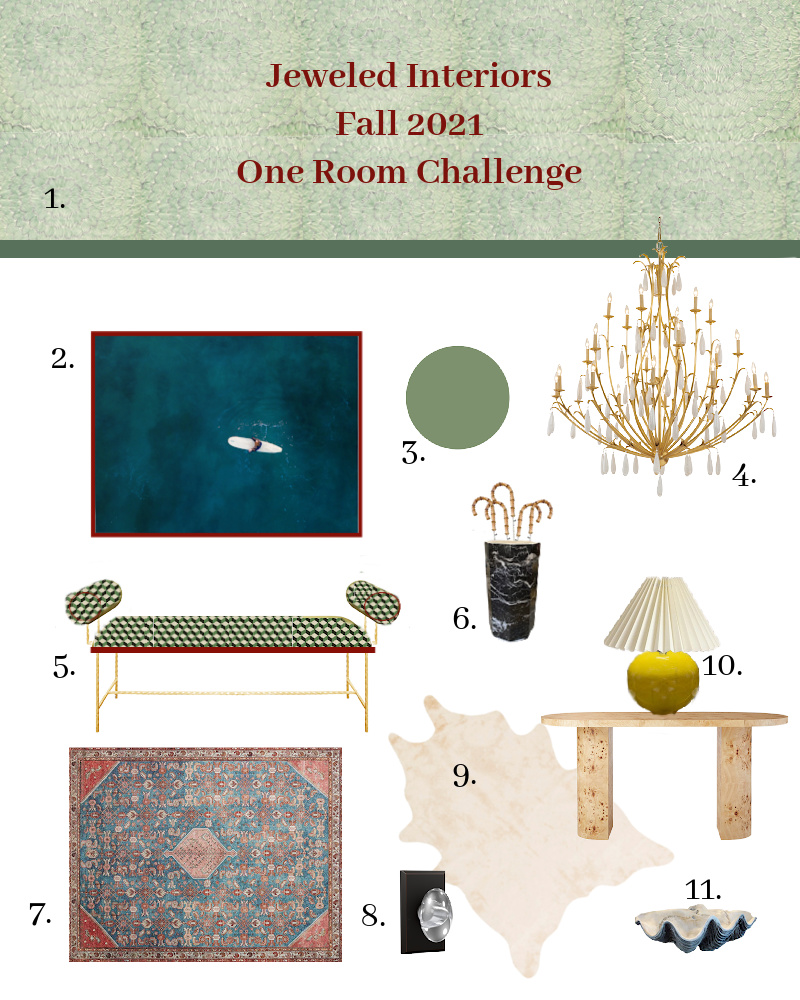 Fall 2021 One Room Challenge
The Dining Room Plan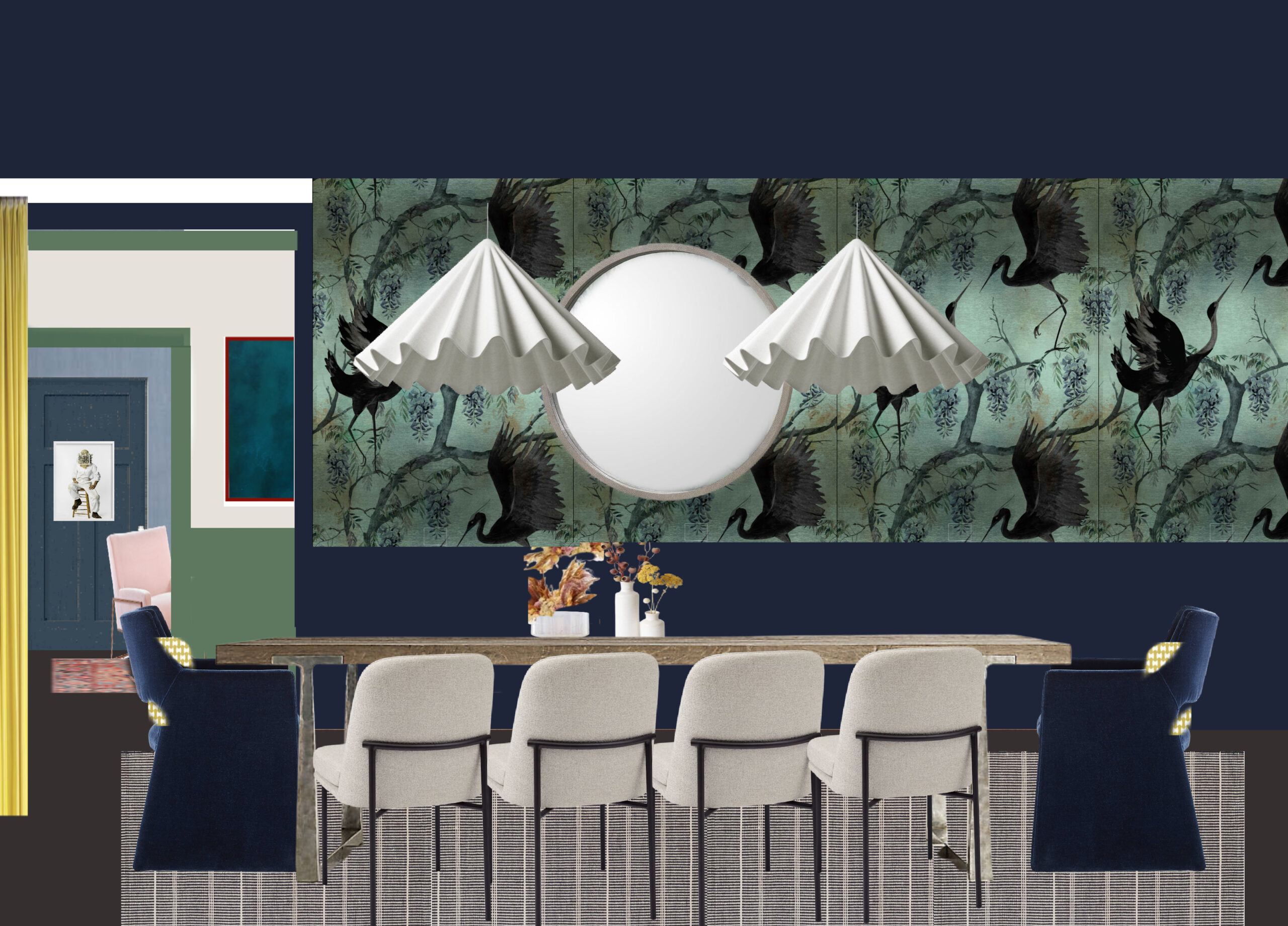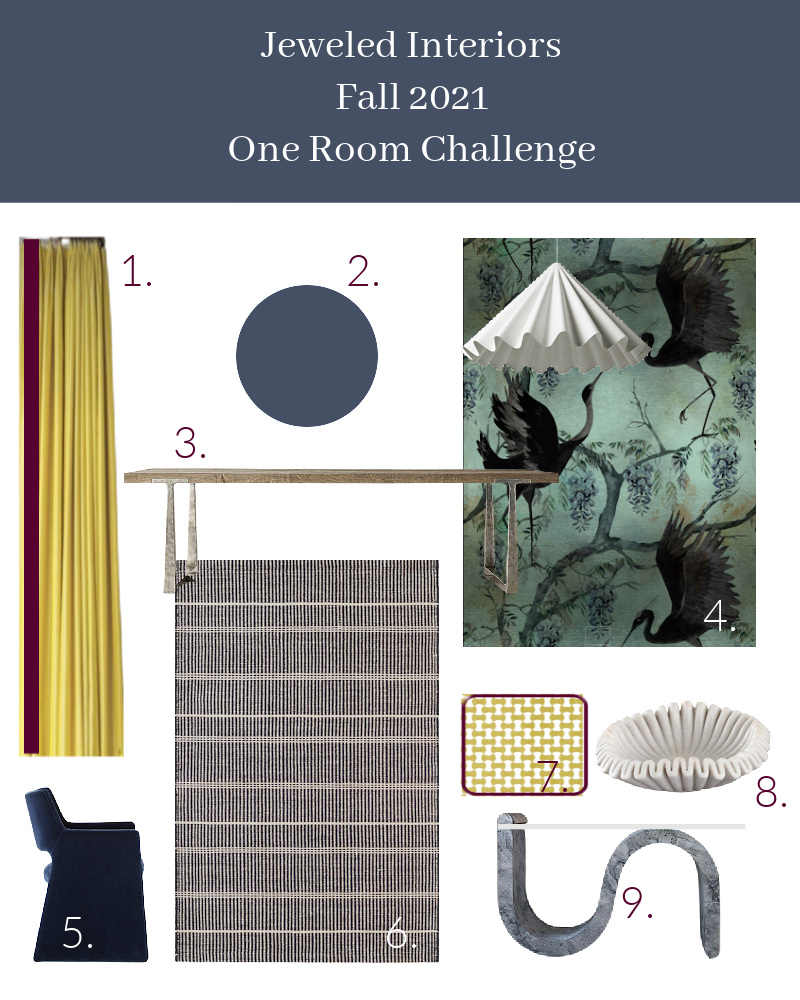 Thank you so very much for joining me on the Jeweled Interiors Fall 2021 One Room Challenge.    Following me is fun too.  Check back each Wednesday as I transform these rooms into a colorful, soulful, and glamorous abode.
PINTEREST || FACEBOOK || INSTAGRAM
Now enjoy reading everyone else's weekly updates!