Interior Designer Tips:  How to Design with Cohesion
Things are getting exciting for the Fall 2021 One Room Challenge, It feels like packages arrive daily, and our contractor has been busy prepping the space, but none of it is worthy of a blog post yet.  Instead, I want to discuss a very important topic- Creating a home with cohesion.  I want to  give you interior designer tips to creating flow, even in the most maximalist of homes.
Week 1 | Week 2 | Week 3 | Week 4 | Week 5 | Week 6 | Week 7 | Big Reveal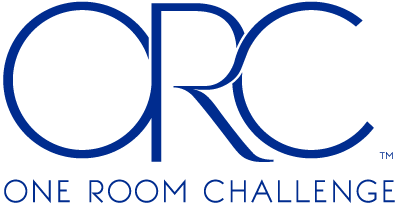 A big thanks to Linda for organizing the One Room Challenge 💃.  I loved seeing everyone's plans this week!  So much fun and I can't wait for the big reveals.
If you've never heard of the ORC then I'm excited to introduce you.  This is an exciting interior design event with 20 Featured Designers and hundreds of other Guest Participants .  Each of us will have 8 weeks to transform the room of our choice.
Even more fun? Better Homes and Gardens will be the media sponsor again this year.
How to Create Flow and Cohesion
I know it is cliche', but like it or not, our homes tell a story.  In terms of designing cohesive interiors, we can think of each room in our home as a chapter in a book.  While one chapter might be the introduction (think entryway), another may be the hard working plot and story line development (perhaps kitchens and family rooms), while other rooms are pure excitement and drama (I think dining rooms, powder rooms).  Each of these chapter, or spaces, is different, unique and important, but they tie together to make a cohesive plot line.
I want to give you my personal interior designer tips to weaving this story into our homes.  I will be using my house and the Fall 2021 One Room Challenge space as examples.  These are my feelings on the topic, and certainly not the only way to approach it. My brain works in complex nuances, but the more simple the design, generally the easier the execution.  My hope is that you will find designer tips to apply to your own style, what ever fabulous version that might be.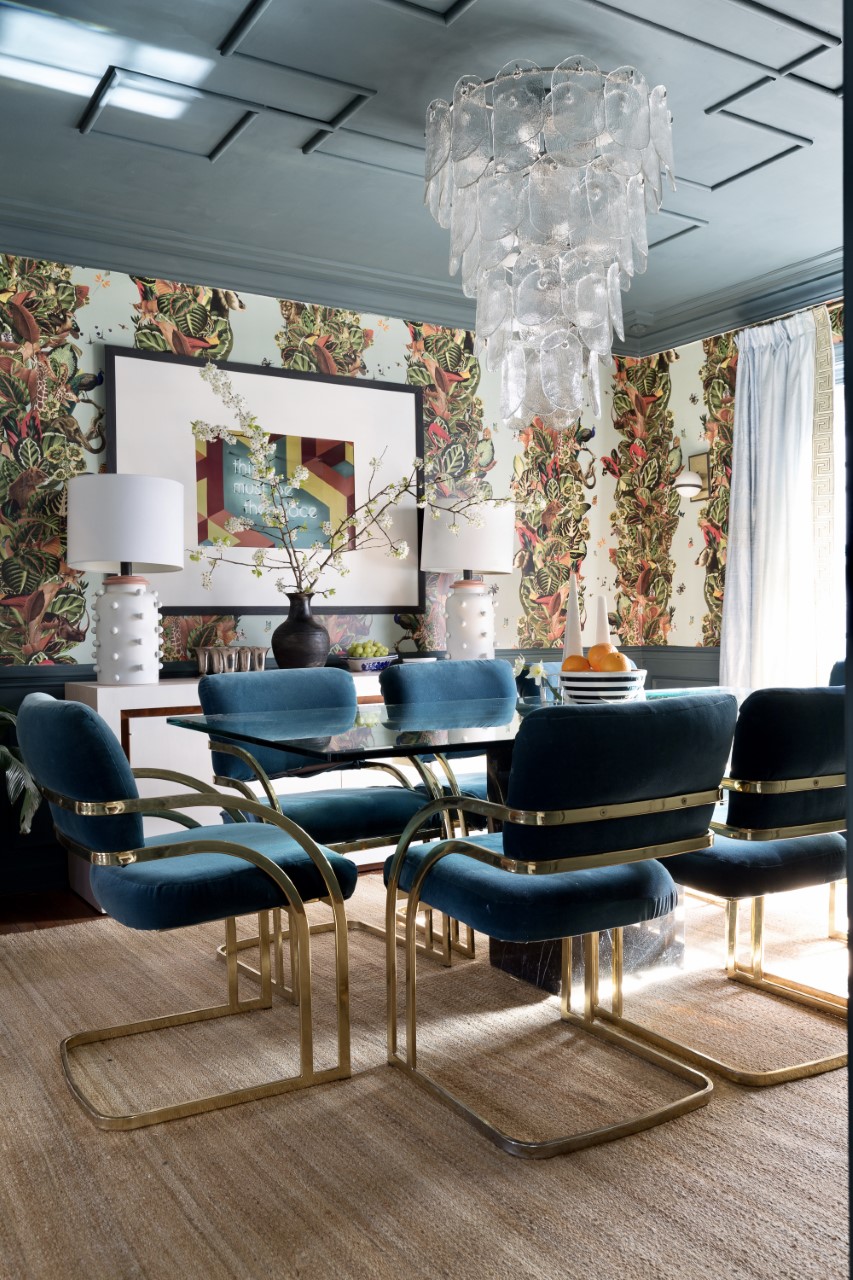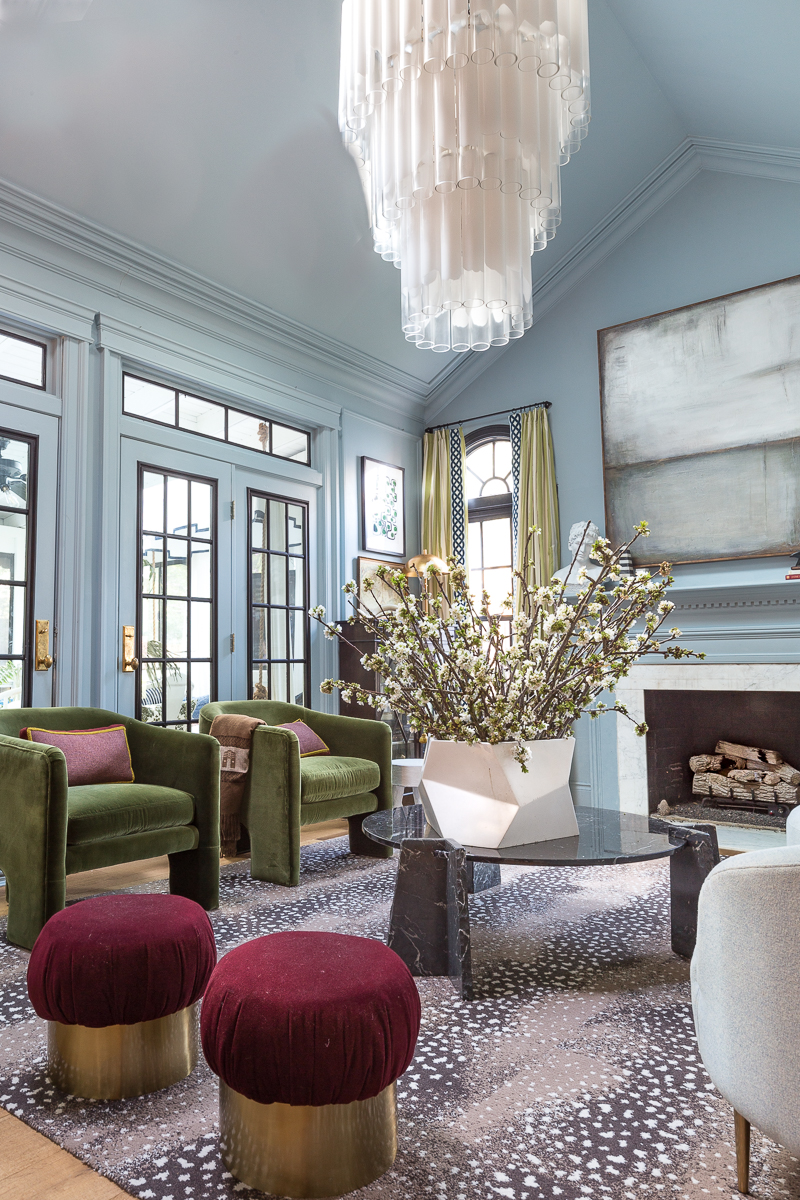 Now, the easiest way to interpret this designer tip is to pick one style, be it farm house, grandmillenial, boho, MCM, etc, and stick to it.  This approach works particularly well when your personal style matches both the architecture or your home, and the style of your significant other.
What do you do, however, when your personal style is eclectic in nature, like mine?  You may think, "Heck, you just do whatever you want". Sure, there is some truth to that, but I like to take a more methodical approach that is sometimes more challenging to pull off than you might think.  My goal, to the extent possible, is to be as cohesively and consistently eclectic as possible. 
Ideally, I consider which styles and eras I am drawing from and then repeat them in mostly consistent amounts as much as possible in each area and vignette in my home.  I don't want one side of a room to feel completely modern and the other side to feel super traditional.
I feel like the Instagrammer side of my brain thinks in vignettes while the designer side of my brain thinks in terms of entire rooms.  In tandem, this is a helpful combination.  Here is another example. Pretend someone loved a mix of Victorian and MCM.  Rather than having a completely MCM living room and a 1890's bedroom, it is better to mix most every vignette in each of the rooms..  So instead, have a mid century dresser paired with an antique mirror, and a traditional sofa with a modern coffee table.
This is one of the easiest ways to add cohesion to our homes.  Here is my trick:
Step 1: Pick 2-5 basic colors you love      
In the progress shot image above you can see that I have used blue, white, and warm neutrals (golds with hints of warm brown/red) as accent colors..
The trick here is to think of these colors in their current state, but ALSO in their variations.  For example, in the image above, I used a light blue which makes for an easy transition to the darker blue.  I also used a variety of warm neutrals.  Often, the more variety of the same colors, the more rich and sophisticated the pallet.
Using the variations of each of your main colors is your super power. Maybe you are using red in one room, Don't forget that you can use the variation of pink in the next room.  Your eye doesn't need to see the exact same shade for it to feel like one room is speaking to the next, especially if the undertones are the same.  
Step 2: Figure out the ratio that you are drawn to.  For me, I prefer a room to be about 60-80% of one color, around 30% of another and 10% of an accent color.  This is certainly not a hard and fast rule.
You can use these colors in each of the rooms but switch-out their dominance.  So in one room perhaps you use your main color on the walls or largest accessories, but in the next you switch the walls to the accent color and use the dominate color as the accent.  
Additionally, as a general rule, I feel the bigger the room (like my entryway), the more neutral I want to go on the walls.  The smaller the room, like my bathroom or laundry room, the more bold I am tempted to go.  So in your rooms with neutral walls use your color pallet as accents and in your smaller rooms you can switch to a color on walls.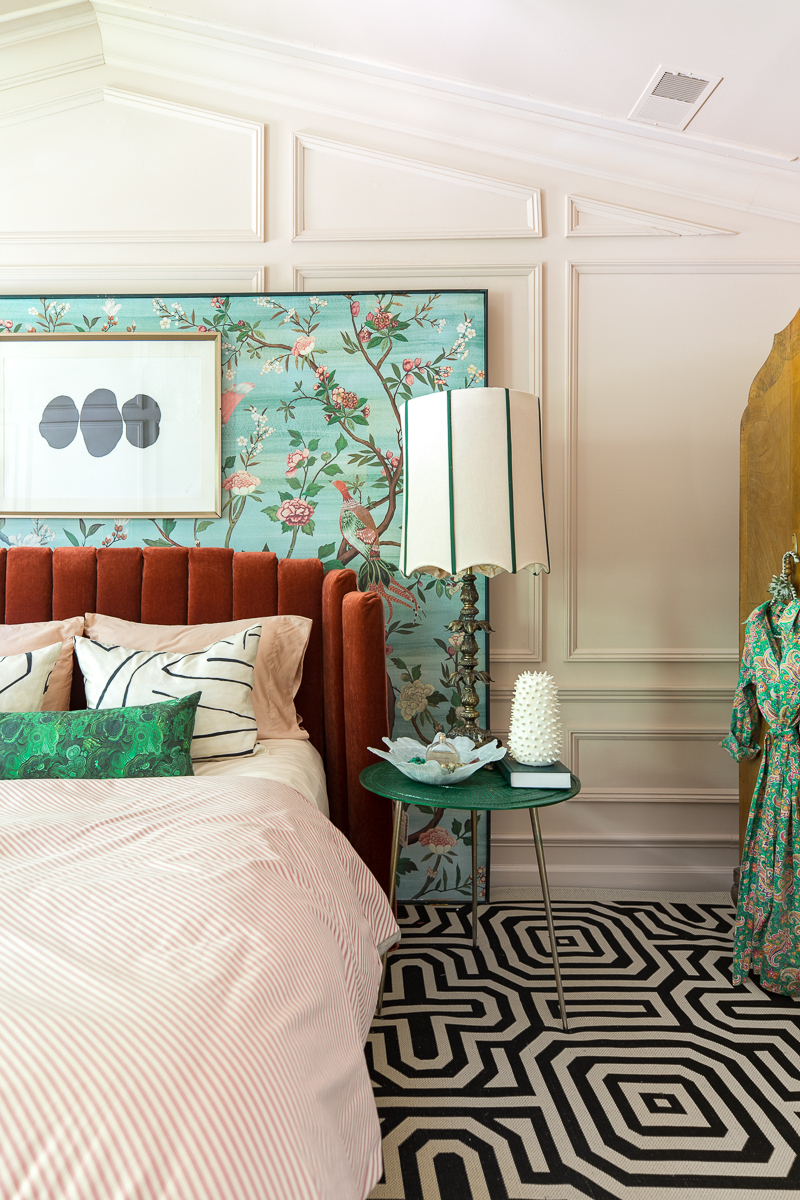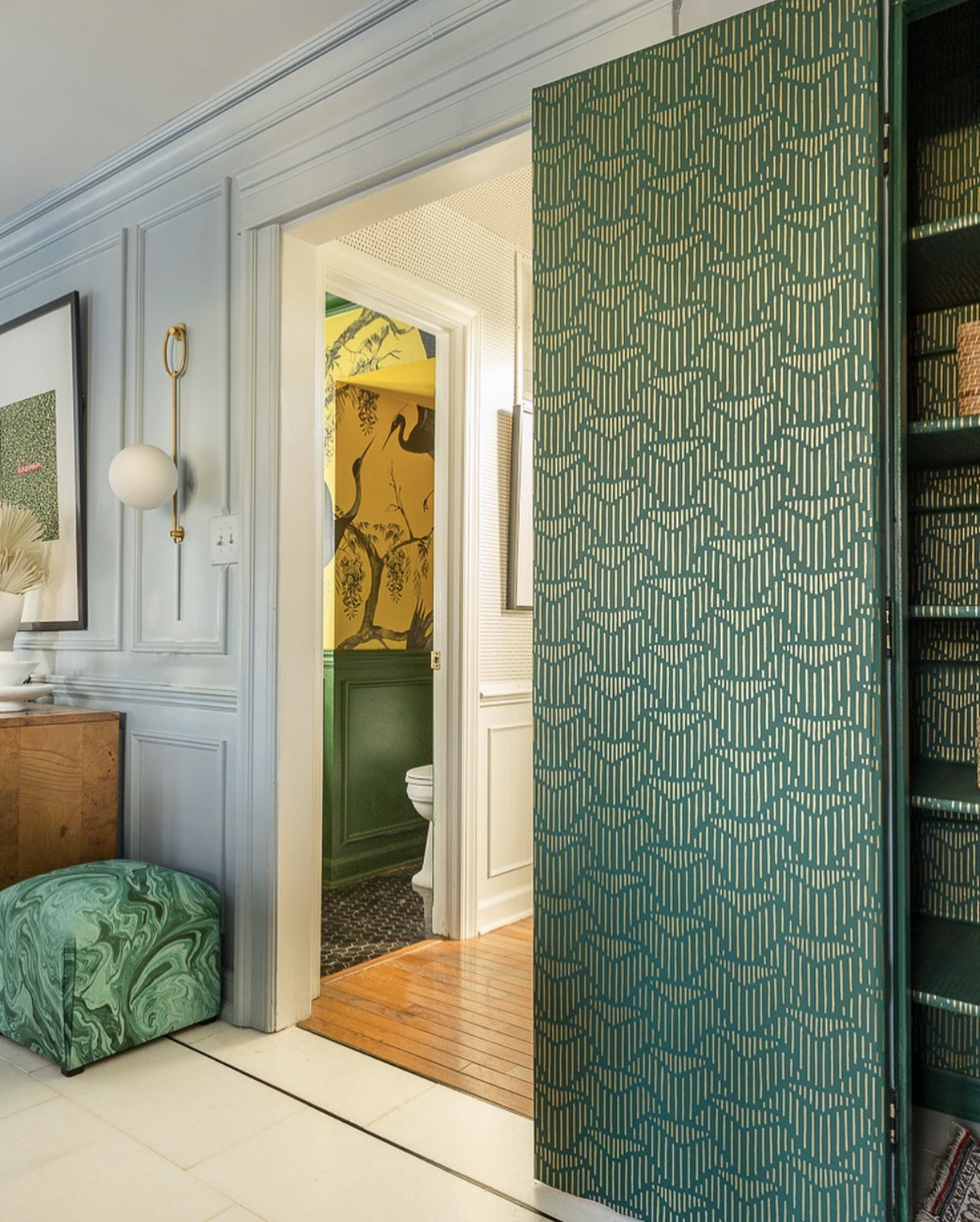 In the example above, you can see that I didn't vary the shade as much as varying the scale of the pattern.  I have the large scale Fine and Dandy wallpaper as the dominate feature, the Hygge and West medium scale geometric, and the soft organic shape of the stool.  If you look closely, I also have a very small black and white polka dot.  It all works because I have varied scale and size of the patterns.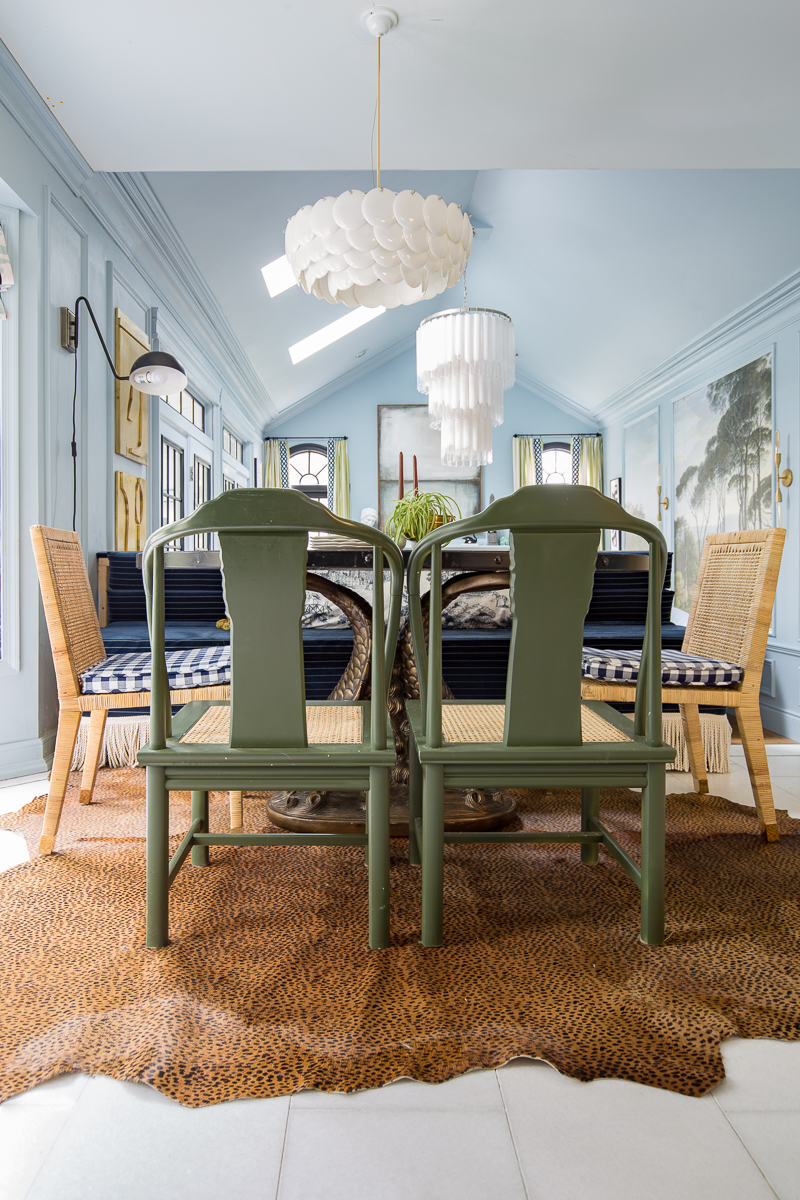 One of my favorite tricks to decorating eclectically is to disregard the era and focus on the shape and scale.  You may be asking yourself, "How does this work?" and "Doesn't that contradict what you said in Designer Tip 1?"
In my crazy mind this is why this concept jives.  Similar to fashion, art, and culture, we find that furniture themes and styles have repeated, yet evolved over the years.  The pendulum is constantly swinging from ornate to simple and maximalist to minimalist, and masculine square lines to feminine soft/round lines.
Additionally, finishes and materials are reused and reinvented with various areas.  
Sometimes in a vignette, I am thinking about the shape or finish  that would work best with other elements, and I am less concerned with which era it came from.  You can see in the vignette above that I have two similar, but not matchy-matchy organic/structural chandeliers. Look at the white fringe on the bench.  This bullion mimics the look of the chandeliers, even though they are from different eras.
In the One Room Challenge Rooms we approached the space very eclectically, but with an emphasis on a few repeating themes.  One theme is sculptural lighting.  You may have noticed that we have overscaled, funky, white chandeliers in the dining room.  We are in the processes of sourcing a similar (but not identical) shade for the entryway table, and we've lined up a gorgeous white sculptural chandelier for the TV room.  We also have an Art Deco Alabaster flush mount that will go above the front door.  It is from a different era, but the shape is similar. So in my mind, it fits within the goal.  I'm trying to add in other white sculptural elements where I can as well, so that the observant person will recognize the repeating theme from room to room.
In addition to shapes, another theme that we are repeating is my client's LOVE, (dare I say our mutual admiration)  for animal print of most all types. We have Schumacher- Faubourg blue horse wallpaper, Fine and Dandy Co. Paradis bird wallpaper, but held restraint and didn't use the tiger fabric in the entryway (because they were a similar scale to the sight lines into the horse themed TV room).  We may, however, use it in the next two rooms that we do.
Another, perhaps more subtle theme that will play out in different zones draws from the clients' past.  They have fond memories of beaches, and water sports, so I'm working on subtle ways to bring that from room to room.  My goal is to do this without being too thematic about it.  We certainly don't want a beach house, just a rad house with some occasional beach vibes.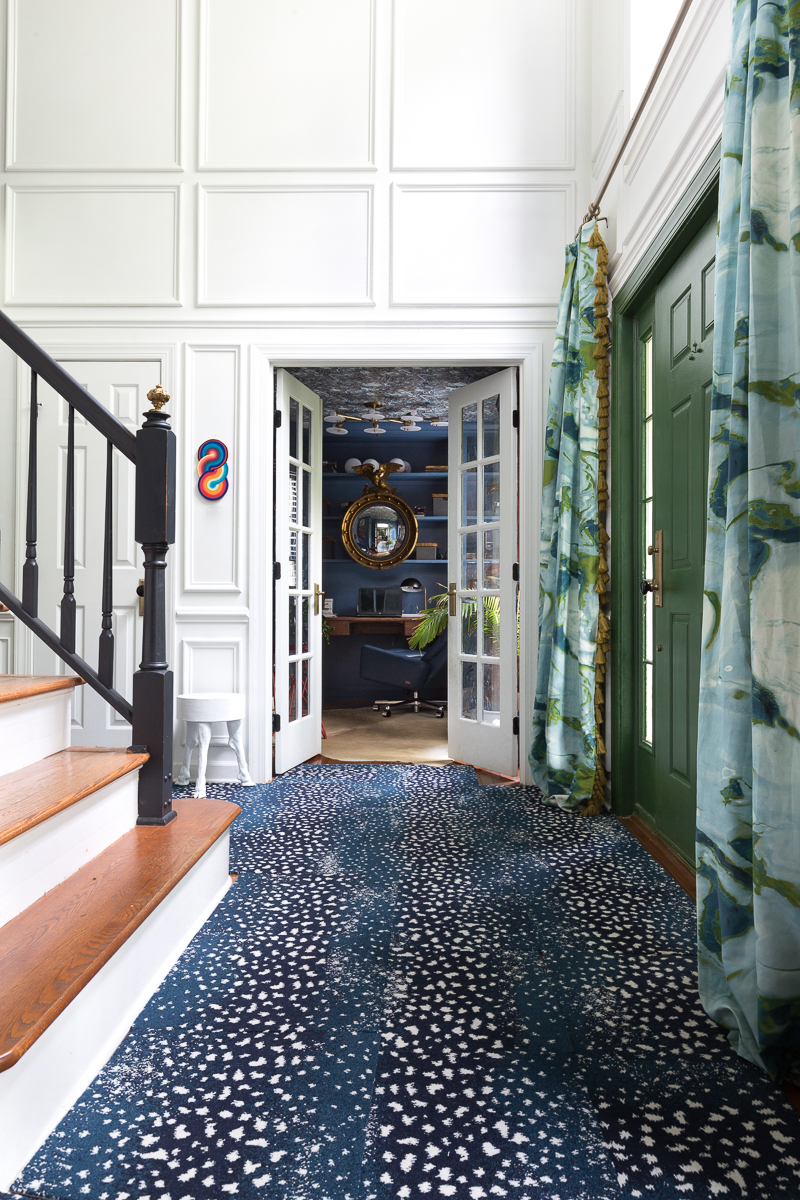 Even someone with maximalist tendencies, like myself, can benefit from negative (or blank) space.  The eye needs a break so that it can appreciate the next exciting element that it is about to see.
You can see in the image above that the white walls give the eye a rest before entering the office.
In the One Room Challenge Space we wallpapered the walls of the dining and living room, but NOT the entryway.  Instead we wallpapered the ceiling because it is a different plane.  That way the eye gets a break between the other two sight lines.
Keep Each Space Special
My favorite homes are those which allow each room to maintain an identity, even while feeling cohesive with the other spaces.  I want people visiting my rooms to stop at each threshold and have to take it all in the first time. So while flow from room to room is important,  I don't want to sacrifice visual interest for the sake of cohesion.  Instead, I make a concerted effort to do both.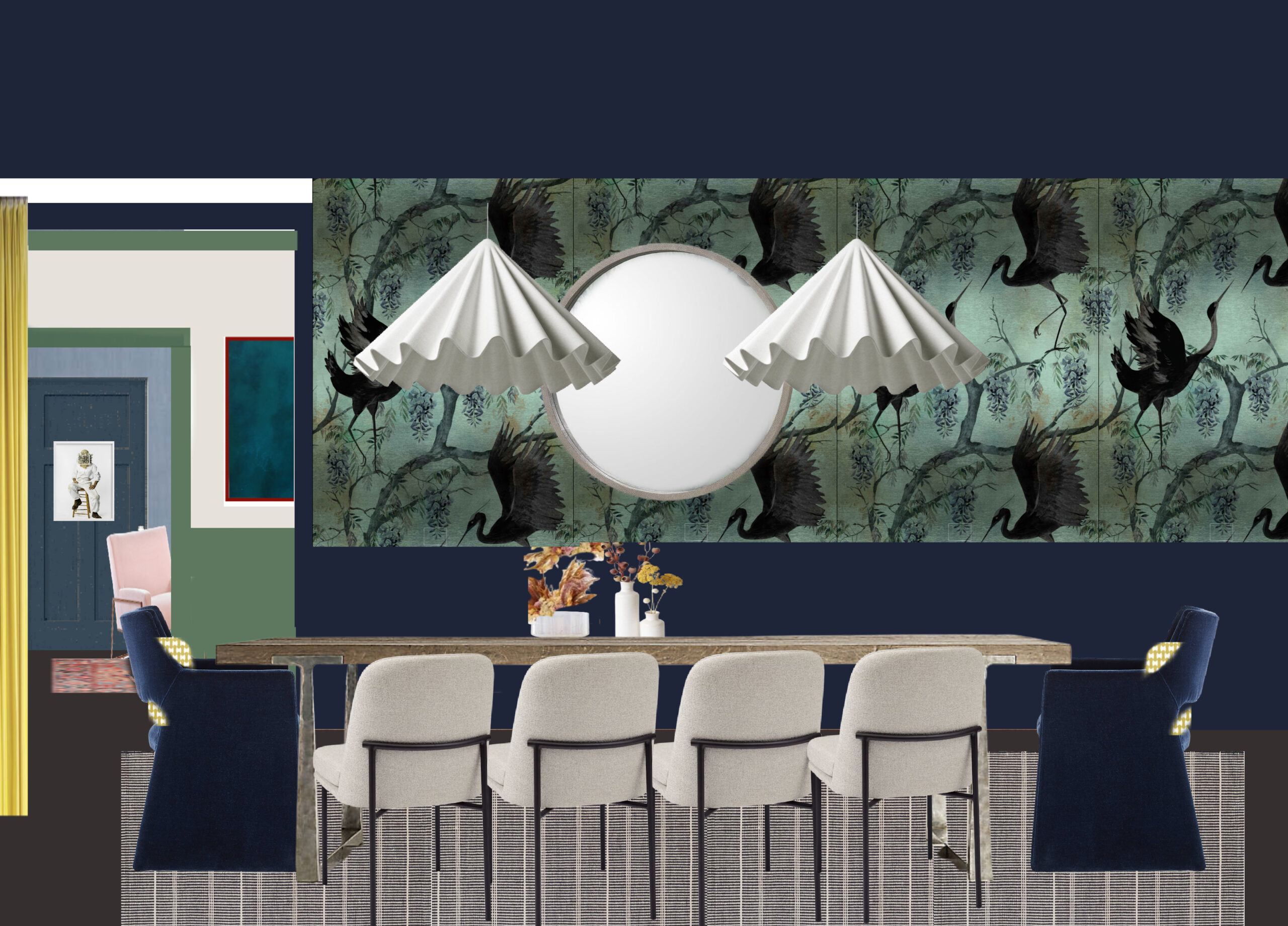 You can see in the graphics below of the One Room Challenge spaces that I have tried to be cohesive, yet keep personality in each of the ORC spaces.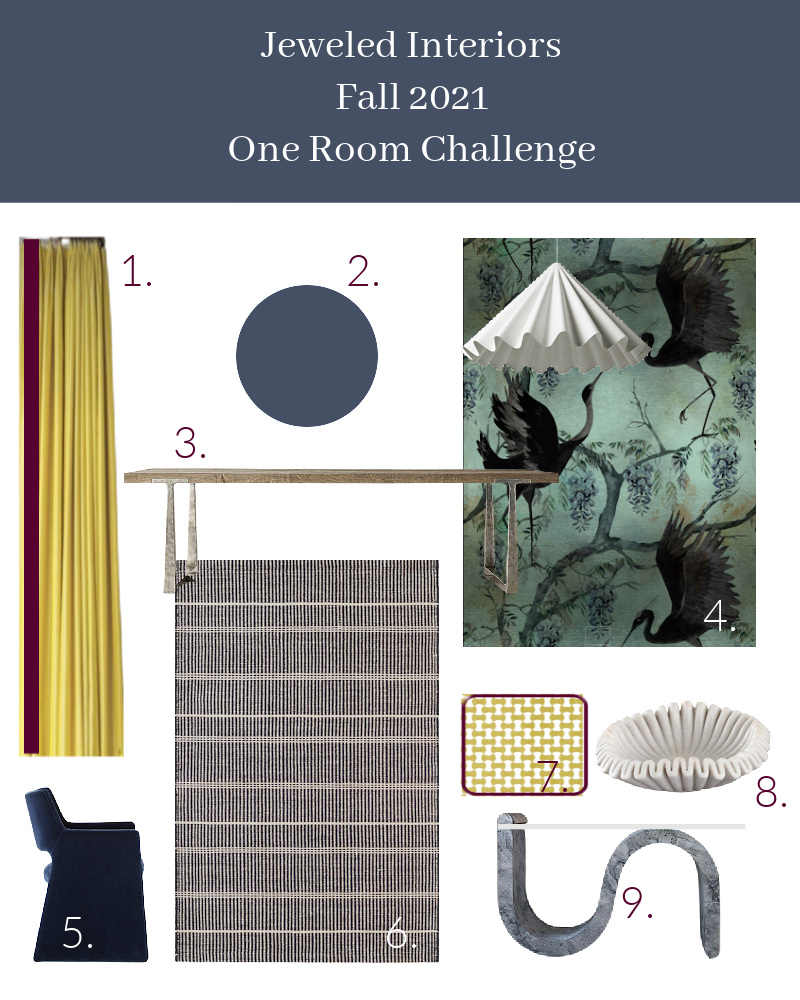 Unless indicated by an astrik, all of the products mentioned are sponsored or discounted but the opinions are 100% my own.
Fall 2021 One Room Challenge
The Entryway Plan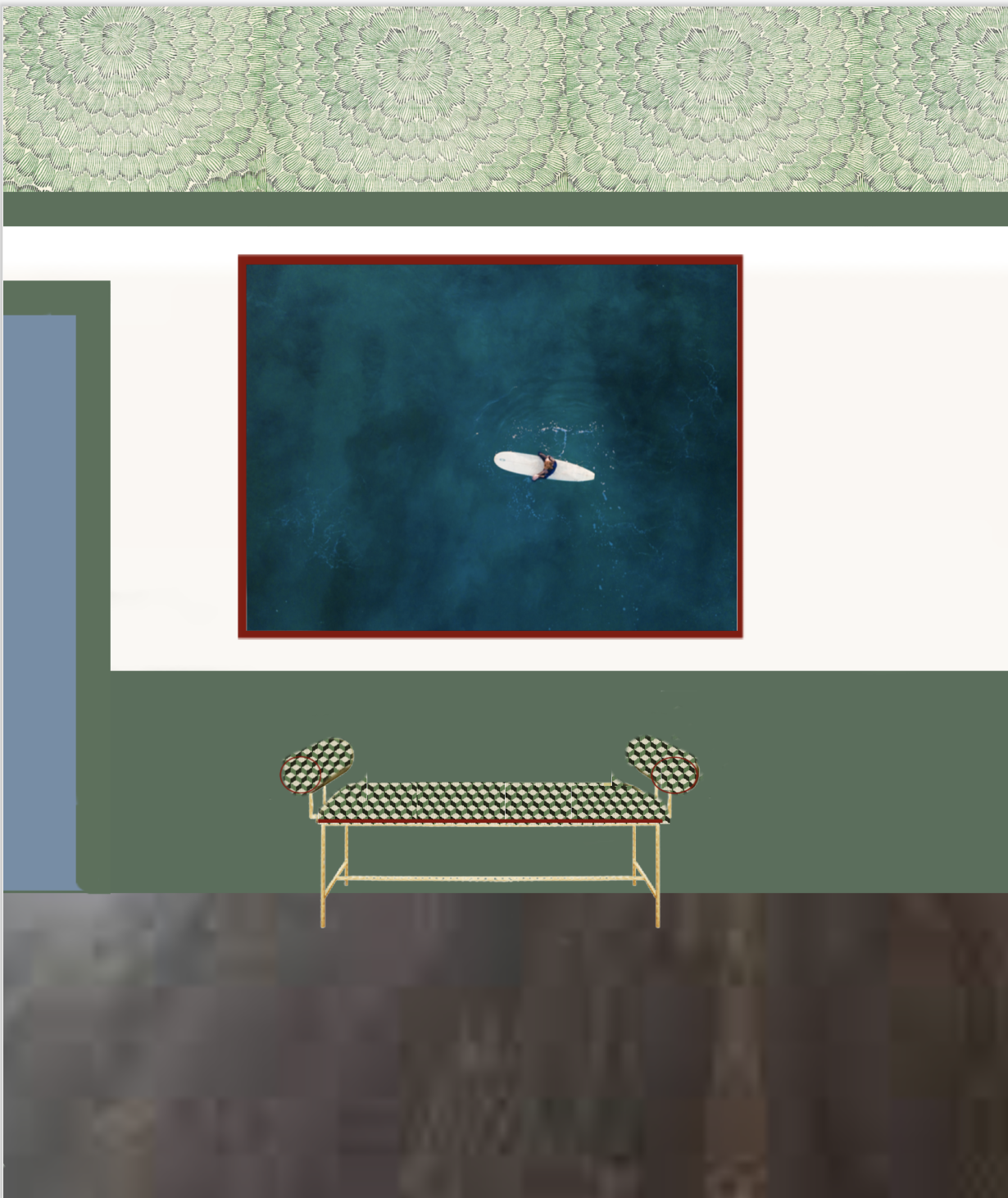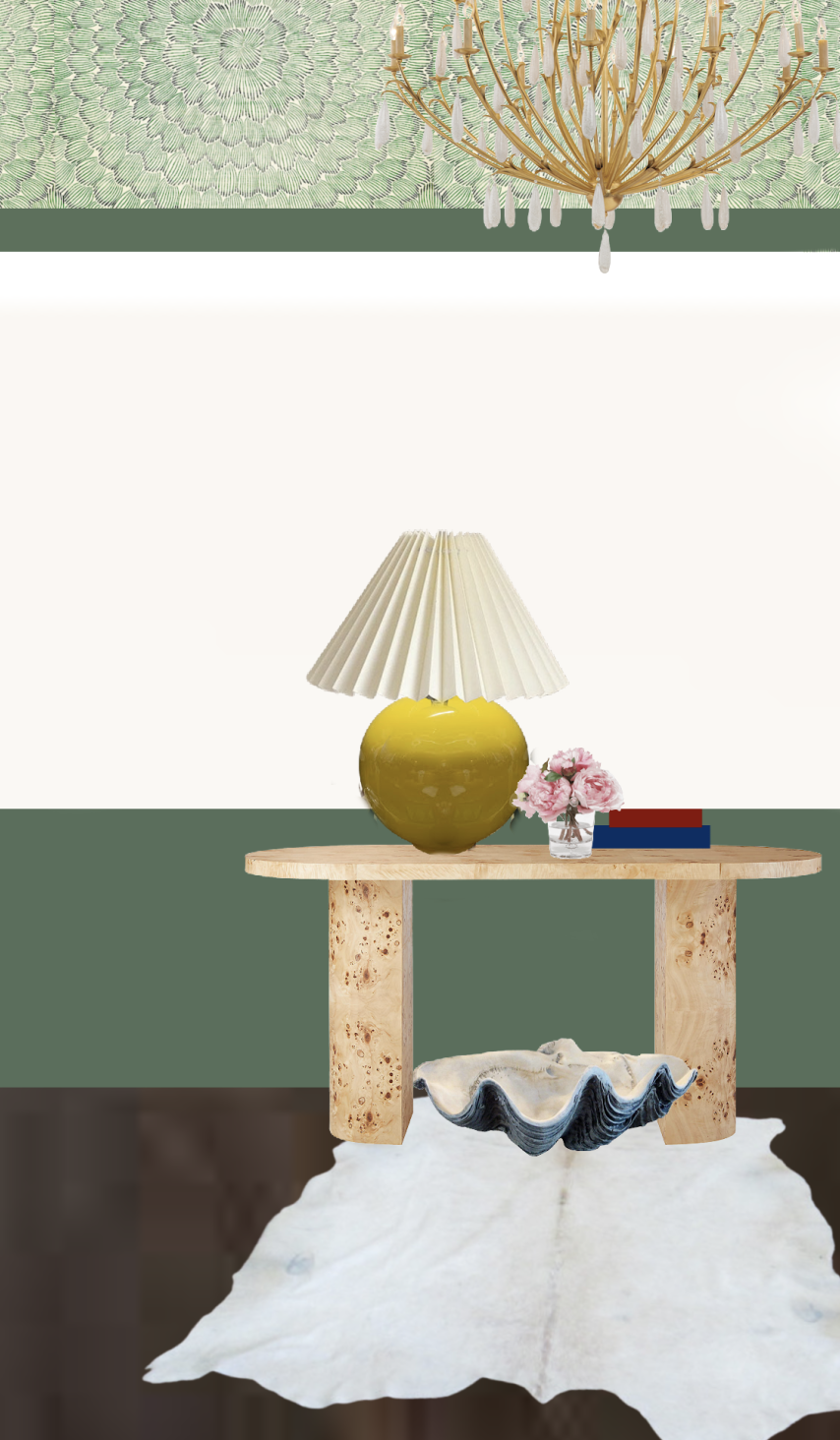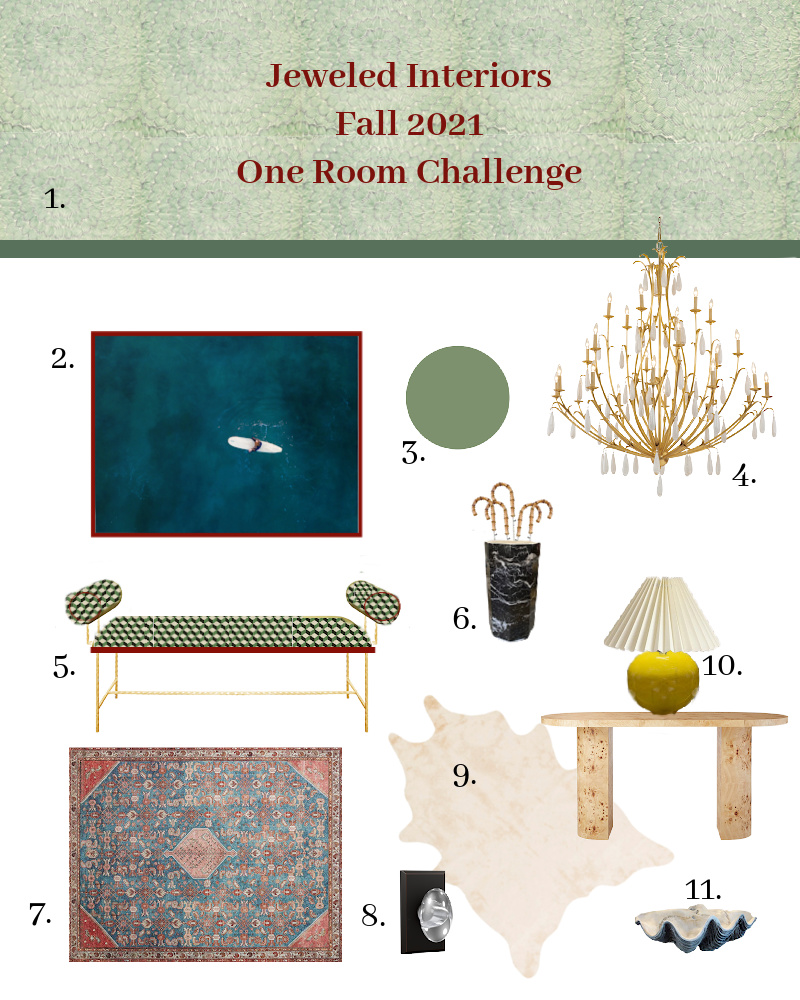 Fall 2021 One Room Challenge
The TV Room Plan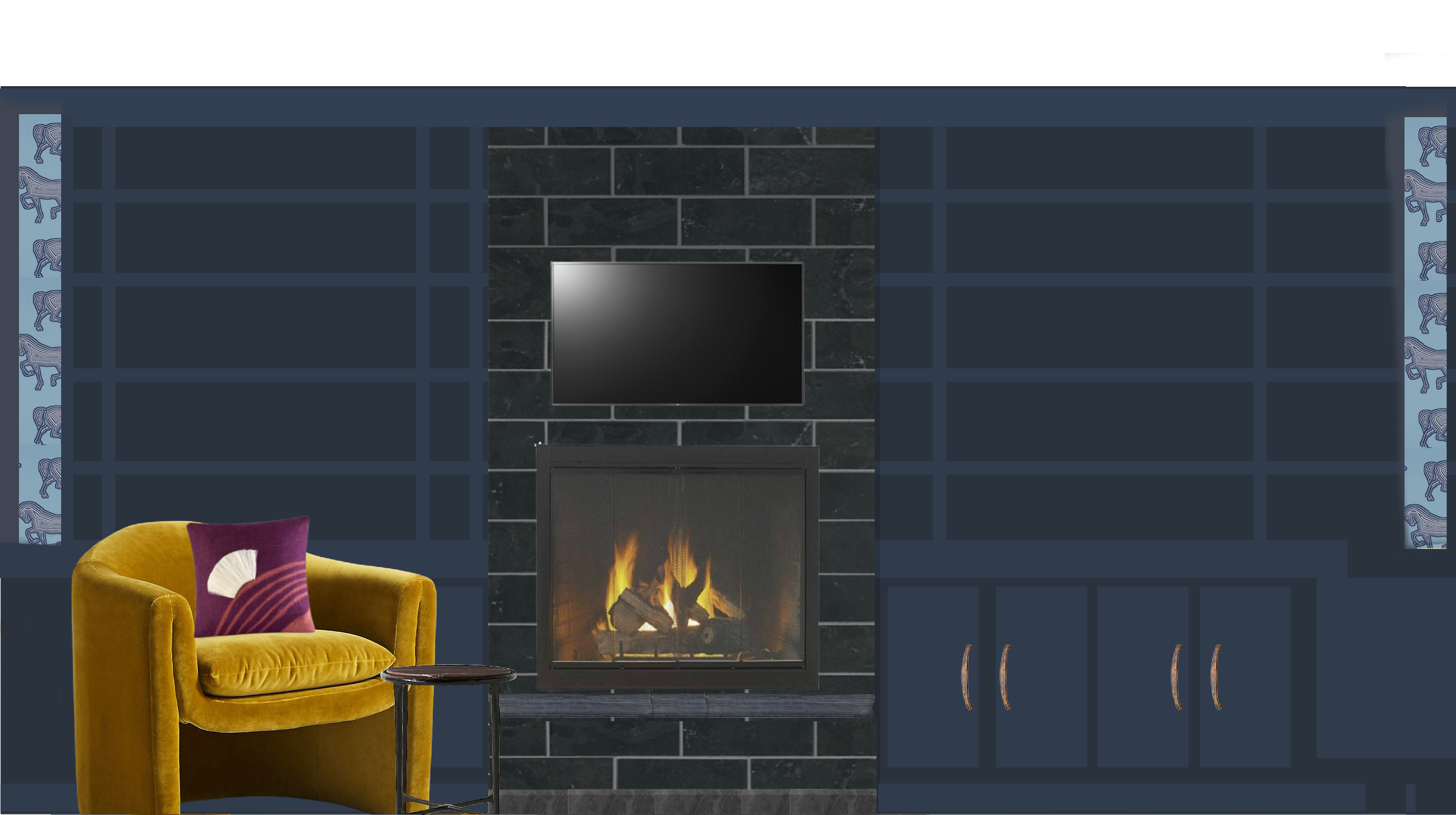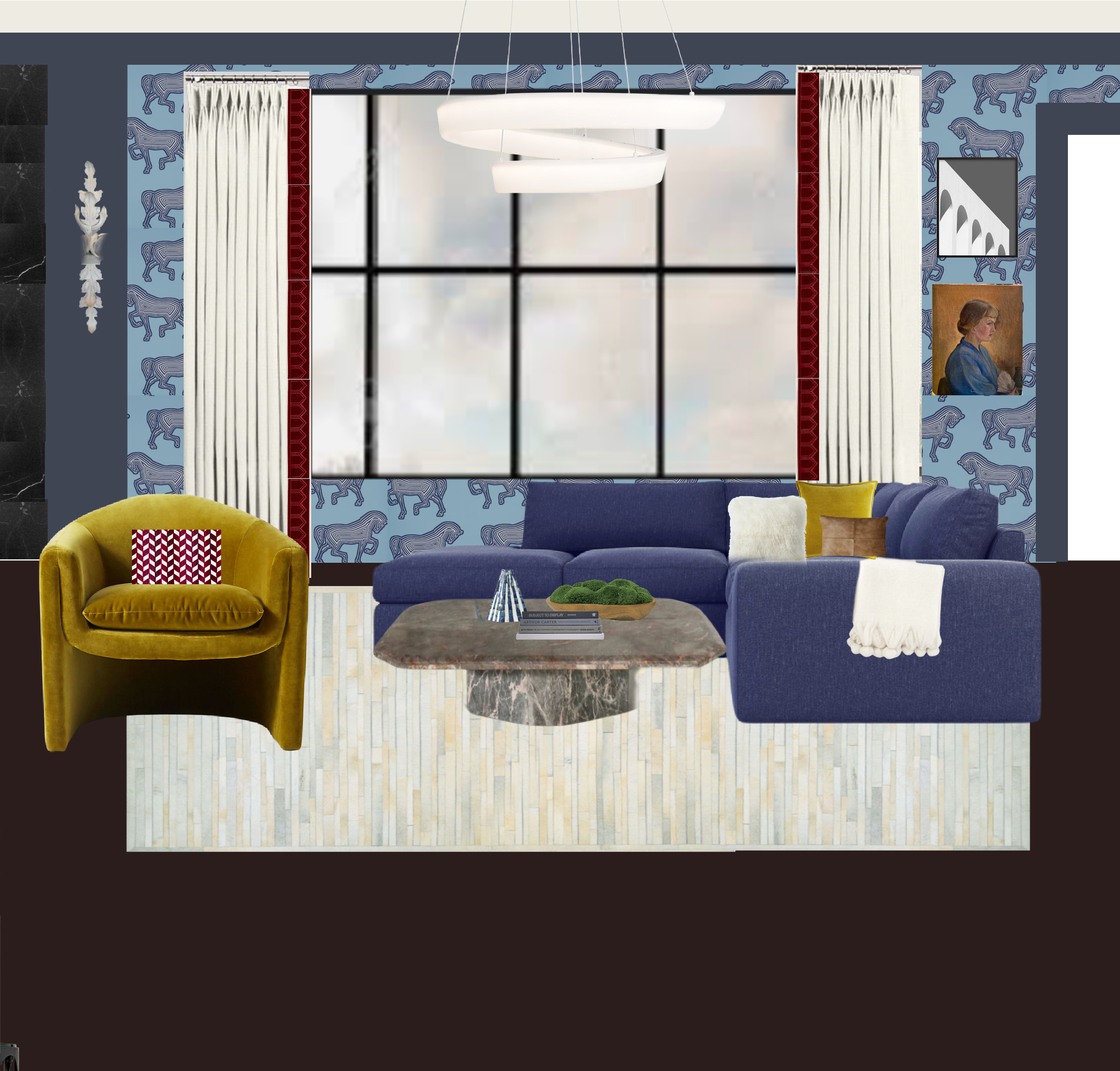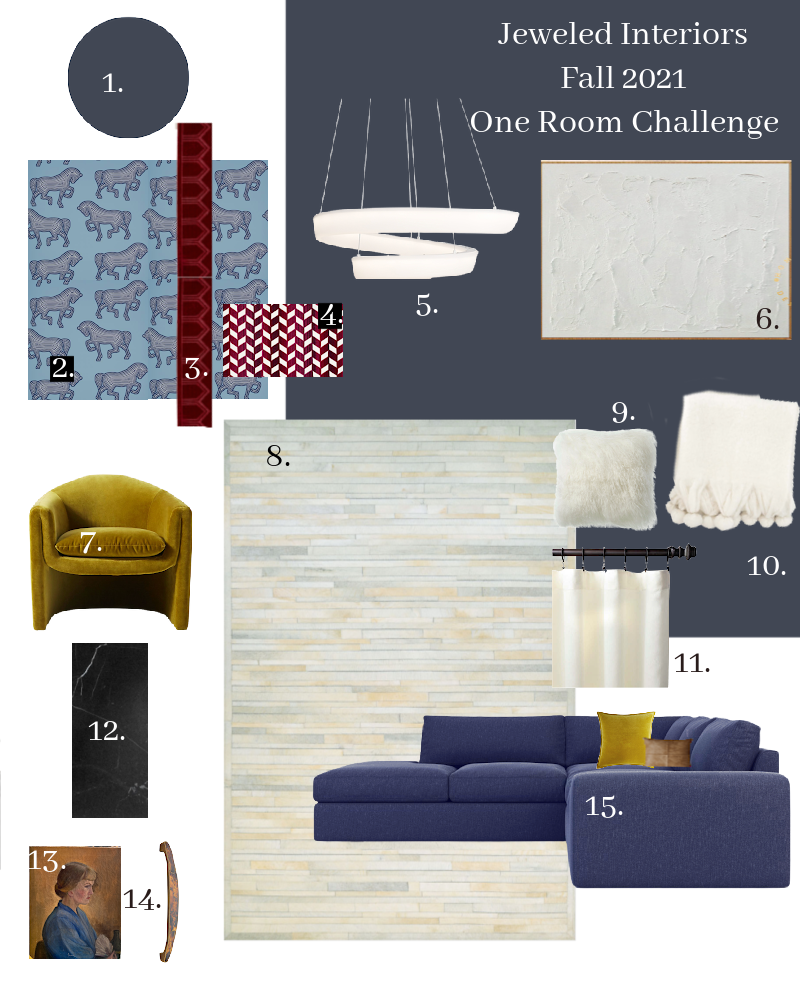 Thank you so very much for joining me on the Jeweled Interiors Fall 2021 One Room Challenge.    Following me is fun too.  Check back each Wednesday as I transform these rooms into a colorful, soulful, and glamorous abode.
PINTEREST || FACEBOOK || INSTAGRAM
Now enjoy reading everyone else's week 1 updates!