Fall 2021 One Room Challenge Plan
It's not that I CAN'T keep a secret, it's just that it is so much fun to share!  For the last little bit I have known that I would be a featured Designer for the  Fall 2021 One Room Challenge, but it isn't until today that I get to tell which room(s) I will be doing. I'm so glad that you are here because I'm thrilled to let this proverbial cat out of that bag.  To say I've been putting in 13-16 hour days six days a week plotting and scheming is nowhere near an exaggeration, and now we get to see how my bold plans will actually work out.  Seriously guys…this is going to be a WILD ride.
Week 1 You are here | Week 2 | Week 3 | Week 4 | Week 5 | Week 6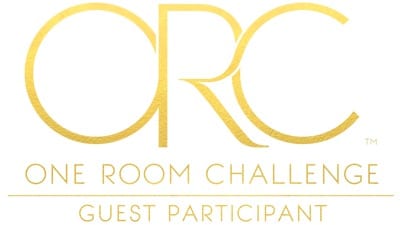 I want to start out with a huge thank you to Linda for organizing the One Room Challenge 💃.  Not only does this event help motivate us to start new projects and finish them on a timeline, it also creates a supportive community of like minded individuals.  I'm constantly inspired by rooms created each season.
If you've never heard of the ORC then I'm excited to introduce you.  This is an exciting interior design event with 20 Featured Designers and hundreds of other Guest Participants .  Each of us will have 8 weeks to transform the room of our choice.
Even more fun? Better Homes and Gardens will be the media sponsor again this year.
My Other One Room Challenge Spaces
It is hard for me to believe that this is my 9th One Room Challenge.  Here's a recap of some of my other spaces.
I have two different but similar jobs. As both a blogger and interior designer it is like living in two separate, yet very parallel universes.  One of my very favorite things is when these two worlds combine. ENTER THE FALL 2021 ONE ROOM CHALLENGE! I have one particular client who had the right timing and the right house to make this work.
Initially, we were aiming to do just the dining room, but one thing led to another and then somehow we tagged on a family room and an entryway.  I'm honestly not sure which of the three spaces I'm most excited about.
I've been blessed with dream clients who are willing to take a few risks. This particular family was  looking for a sophisticated, soulful, and eclectic mix of color, pattern, and eras.  In these spaces I was given some guiding principles to help shape the vision:
Fall 2021 One Room Challenge Goals
1. Animal Print!
2. Happy, yet sophisticated and complex color
3. Cool tones as a base and warm tones as accents only
4. New floor color
5. Functional furniture
6. As kid friendly as we could source on our timeline, especially in the family room
7. Drama, especially in the dining room
8. No seating under the chandelier in the entryway
8. Hints of beach and California
9. A rad design that "Not everyone gets" and "Doesn't take itself too seriously"
….See……what did I tell you? Dream clients!
Challenges to the Fall 2021 One Room Challenge
Even though I have worked very hard to line-up almost every single detail in the space already, I am still nervous about the timeline.  It may not come as a shock to you, but pulling off an 8-week, three room makeover, in the middle of a global pandemic comes fraught with danger. Let me tell you some of the specific threats to our timeline.
1. A nearly broken supply chain.  Backordered furniture, accessories, etc. As a back-up, I may end up borrowing temporary substitutes for pieces that don't arrive in time.
2. Labor.  We have awesome contractors who have agreed to try to fit us in, but they are very busy.
3. The potential to need to quarantine.  We could easily lose 2 days to several weeks due to exposure or infection. I'm trying to work ahead as much as possible.
The good news is that we have already started by redoing the floors and beginning some minor electrical work.  I will show you those updates next week.  For now I want to paint the picture of what we started with.
Fall 2021 One Room Challenge
The Dining Room Plan
Here is a pic I snapped the week before the new home-owners recently moved in.  You can see that the dining room is a graciously-sized space with beautiful bay widows and slightly dated built ins.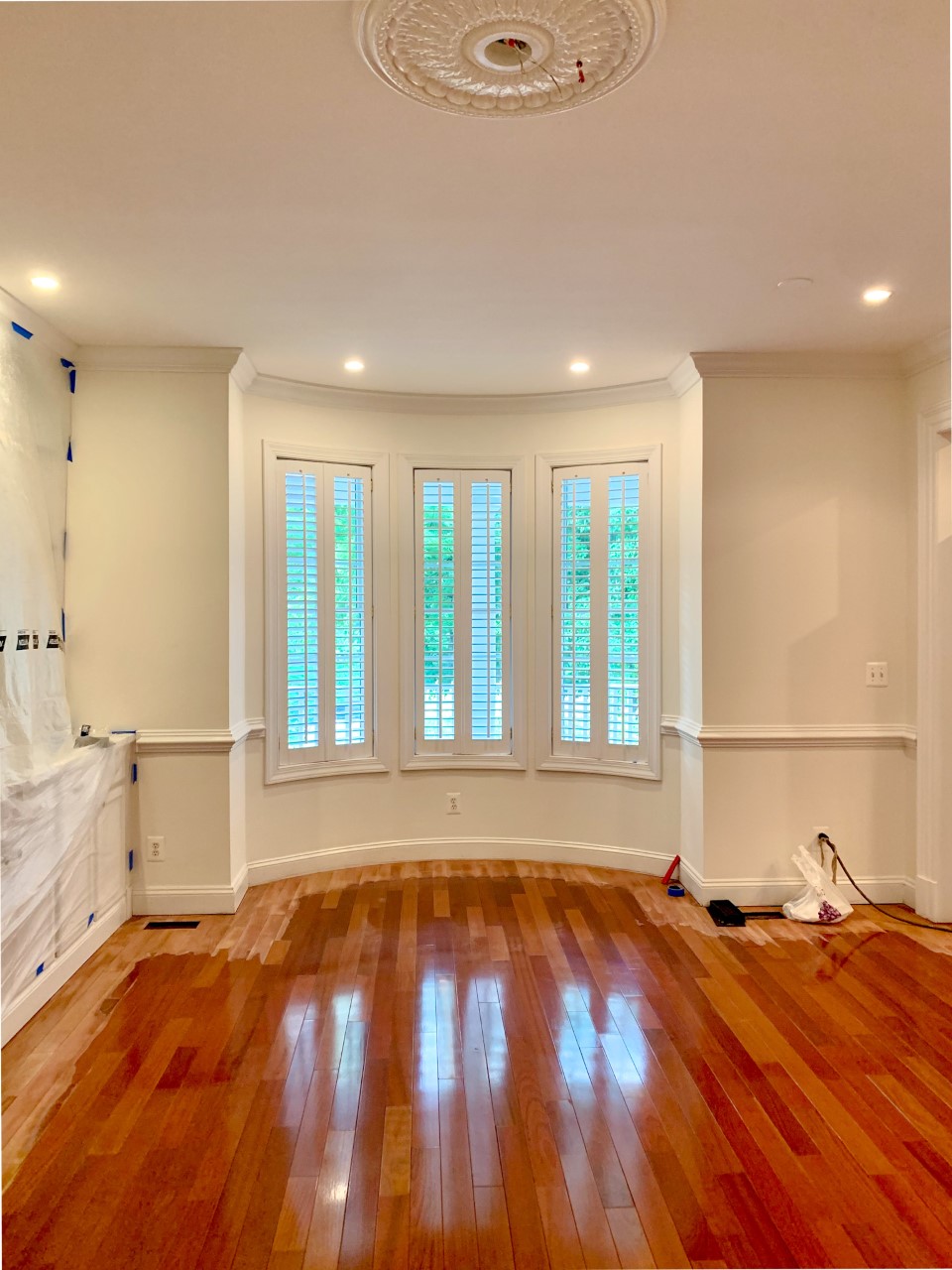 We plan to have two wide panels of flowing citron drapes adorning these windows.  The fabric has already been picked out, purchased, and delivered to the upholsterer.
Two chandeliers will hang above the table, and we had the required wiring done last week. Once the ceiling gets painted we will be able to install them.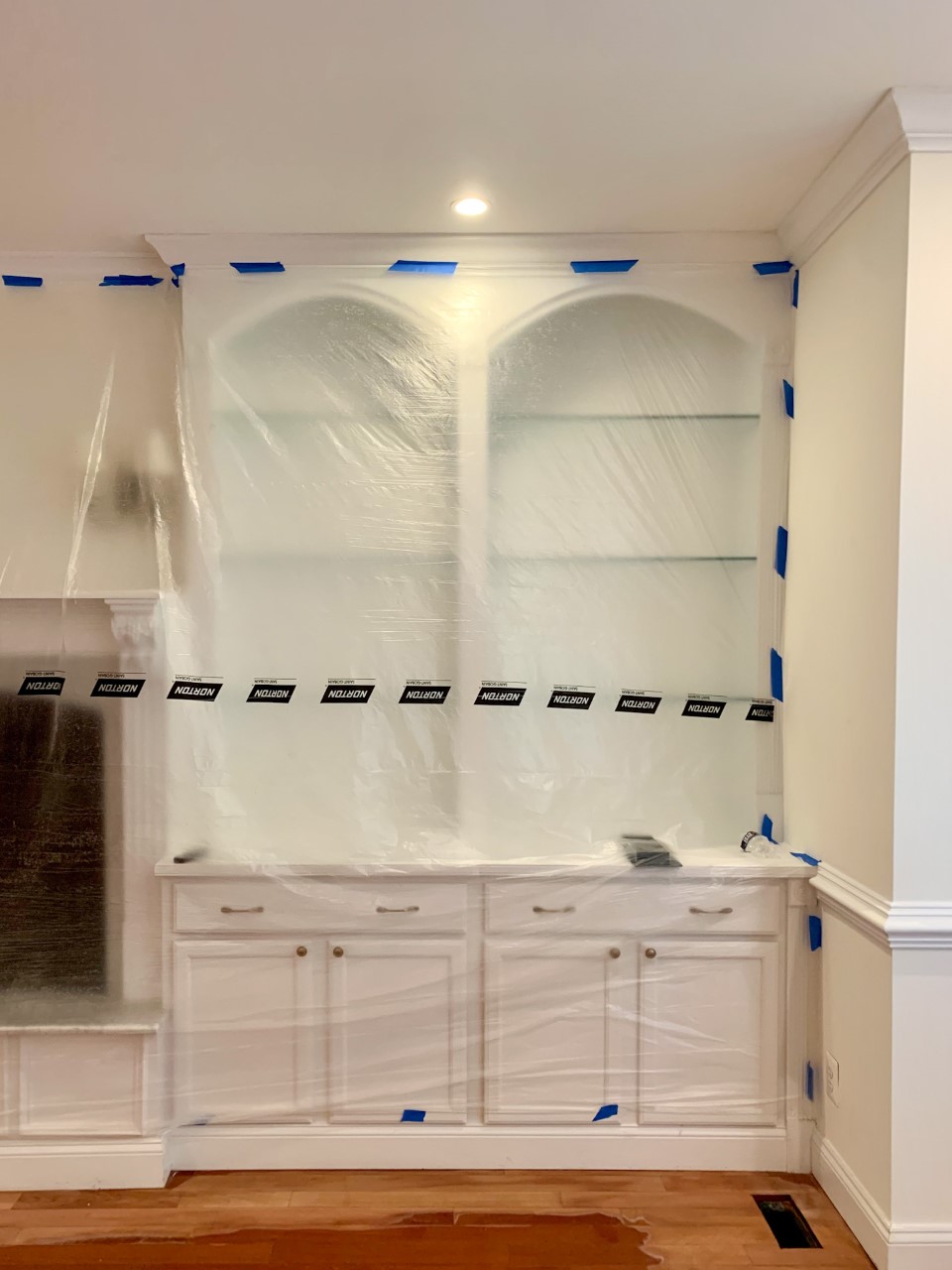 We plan to update and remove some of the moulding on the fireplace, replace the hardware, line the back of the shelves in paper and paint the woodwork a dark color to minimize the attention on the 1990's cabinetry.
We are layering in a beautiful, yet kid-friendly rug under the very large table.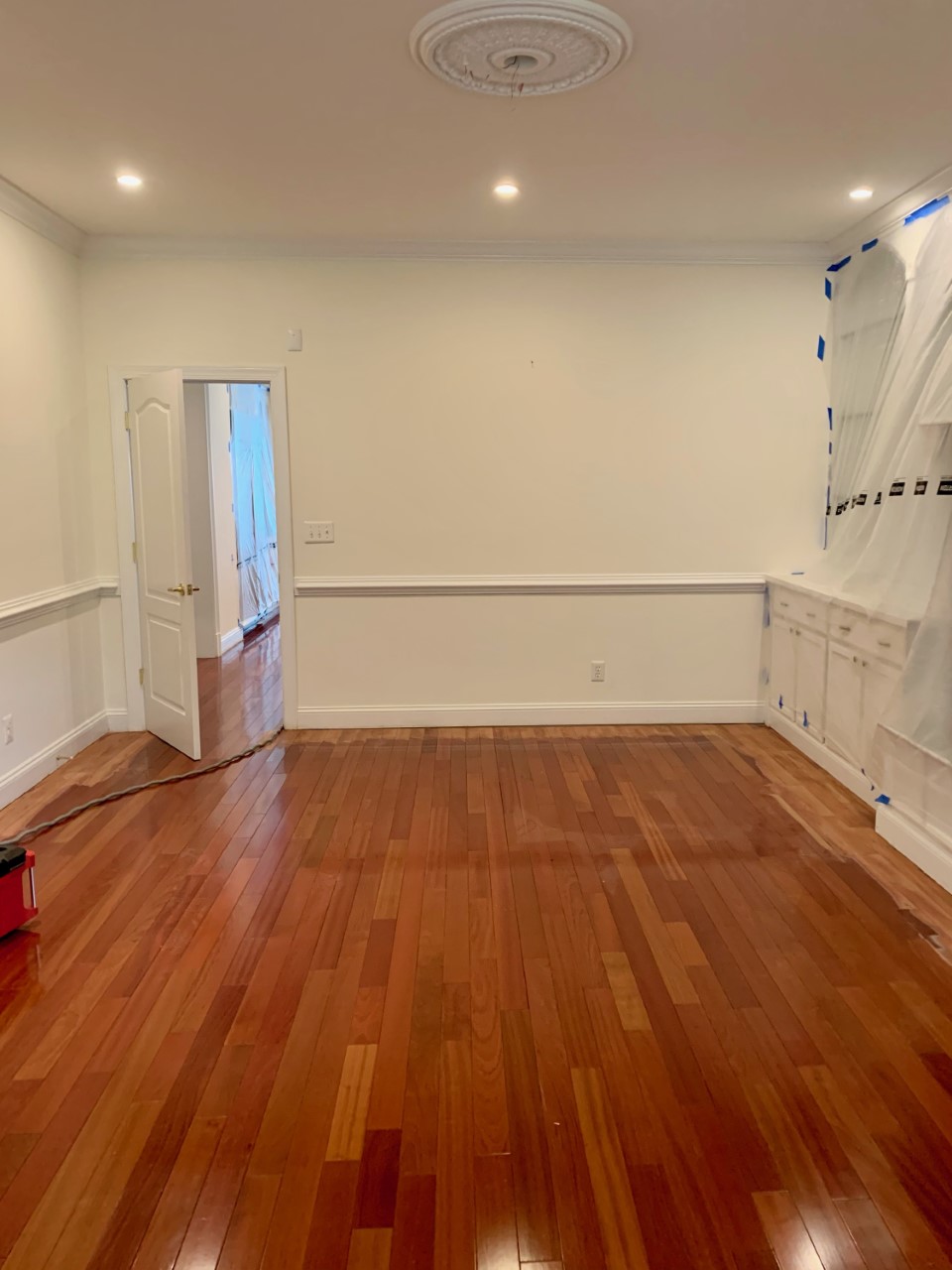 The most dramatic improvement will be the gorgeous installation of "to die for" wallpaper on the upper half of the walls.  This transformation will surely be incredible.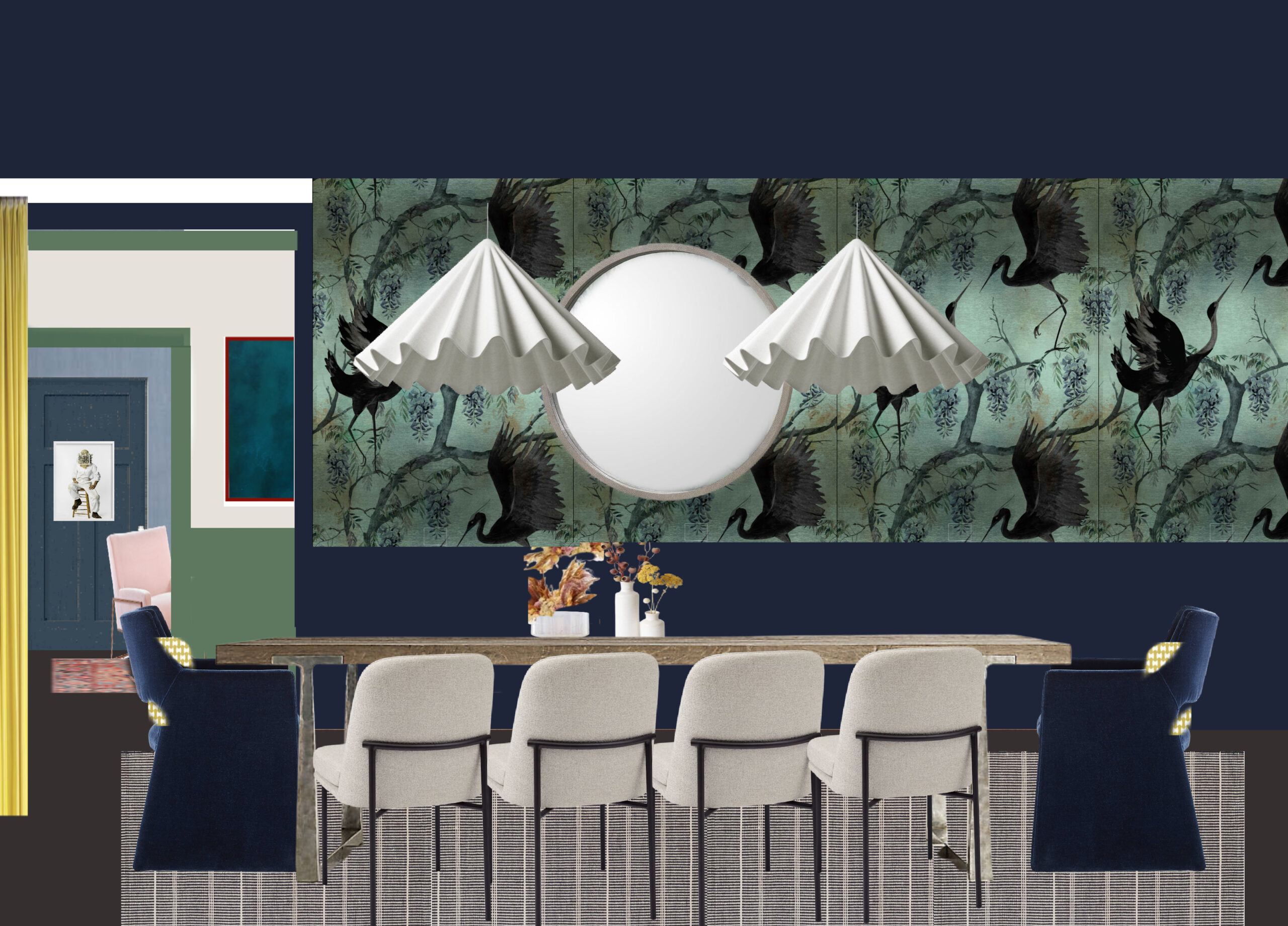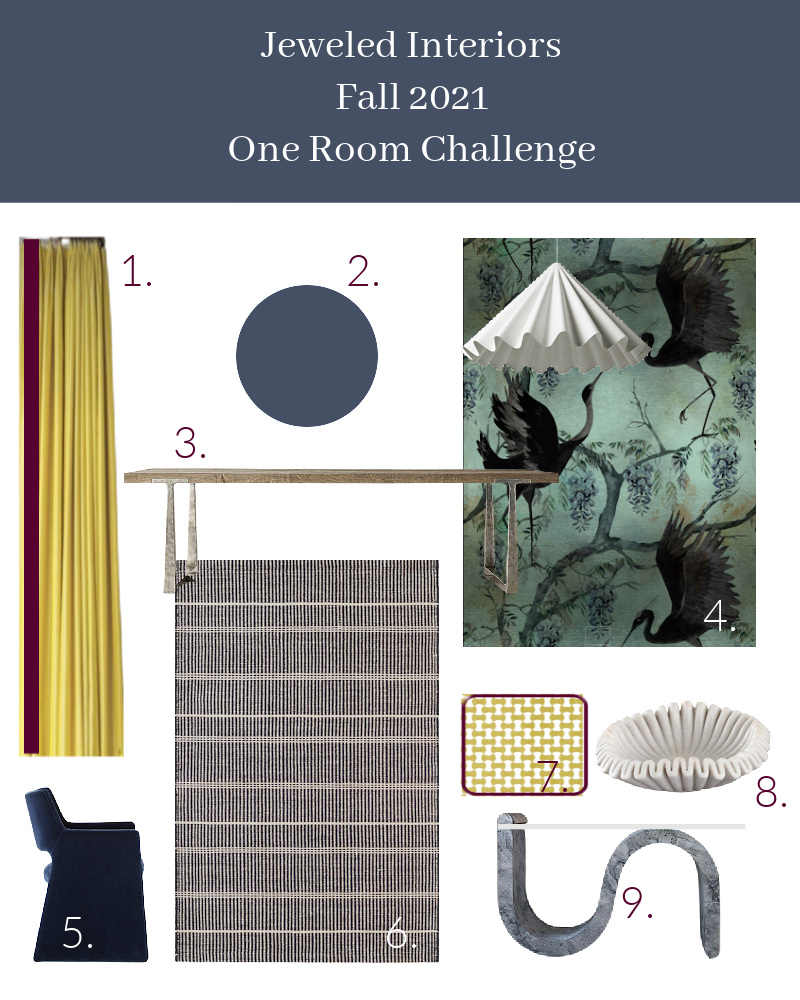 Unless indicated by an astrik, all of the products mentioned are sponsored or discounted but the opinions are 100% my own.
Fall 2021 One Room Challenge
The Entryway Plan
Continuing into the entryway, you see another graciously sized room with some dated elements.  We plan to replace the chandelier with something fresh, but classic.  Additionally we will remove and patch the scrollwork from the staircase, paint the lower-half of the walls green, and wallpaper the ceiling with more epic wallpaper.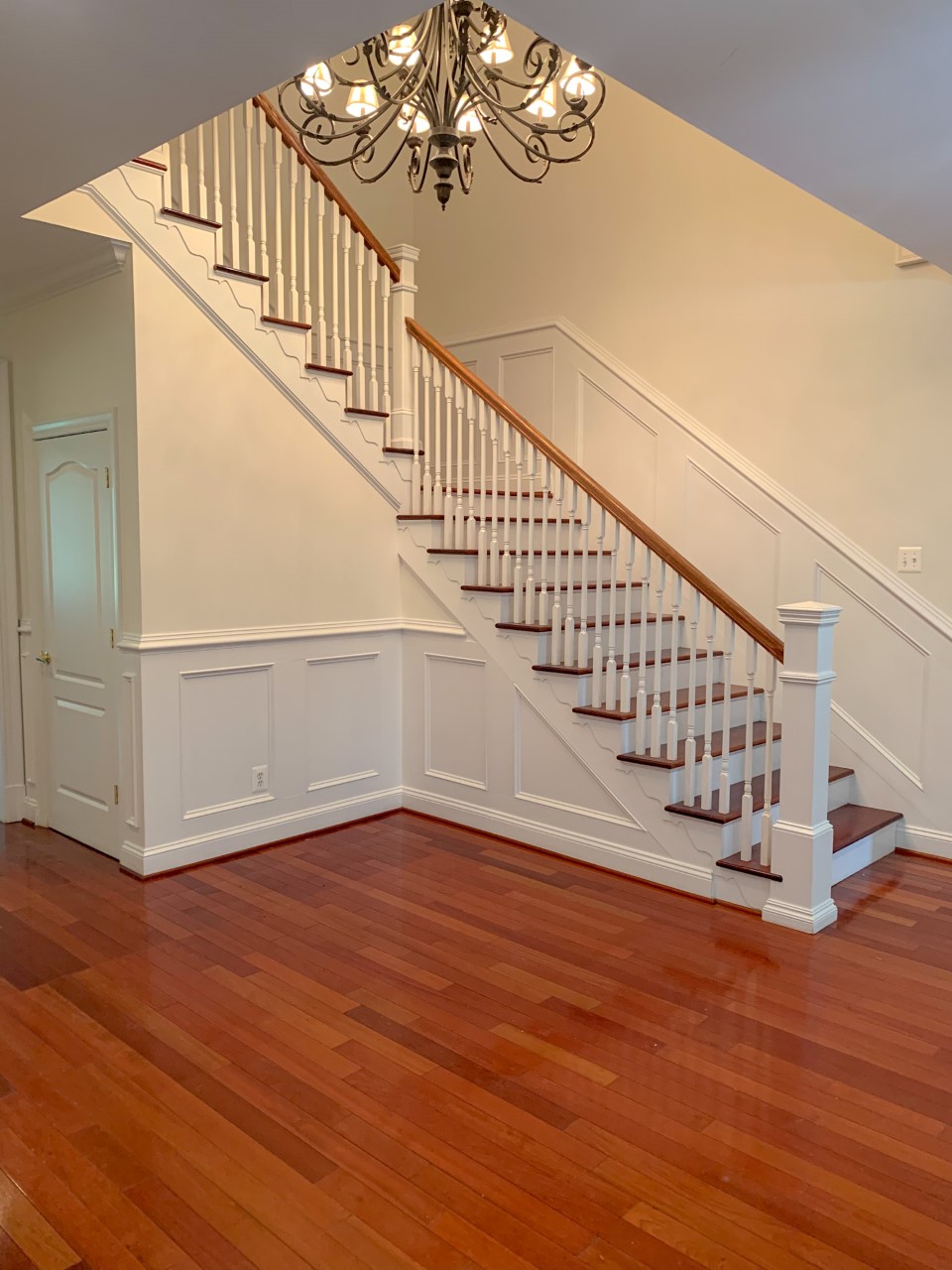 We also plan to add new hardware on the doors, some fun over-scaled beach art, a custom upholstered bench, and a table that I REALLY hope arrives in time.  One thing to note: The homeowner was adamant that we don't add seating under the big chandelier, and really preferred not to have a round table centered under it either.  We came up with a different floor plan that we will talk about later.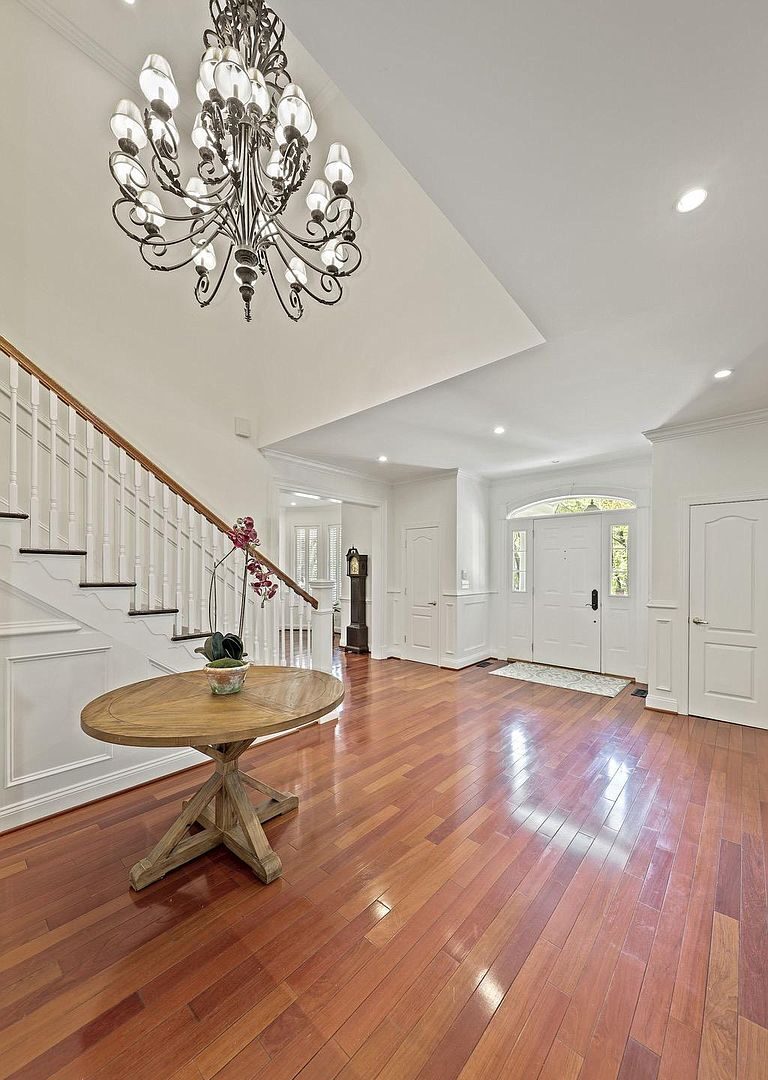 Layering rugs will help protect the new floor finish.  Also, we have sourced some incredible antique and vintage pieces for this space (and the two others), that are really getting me excited.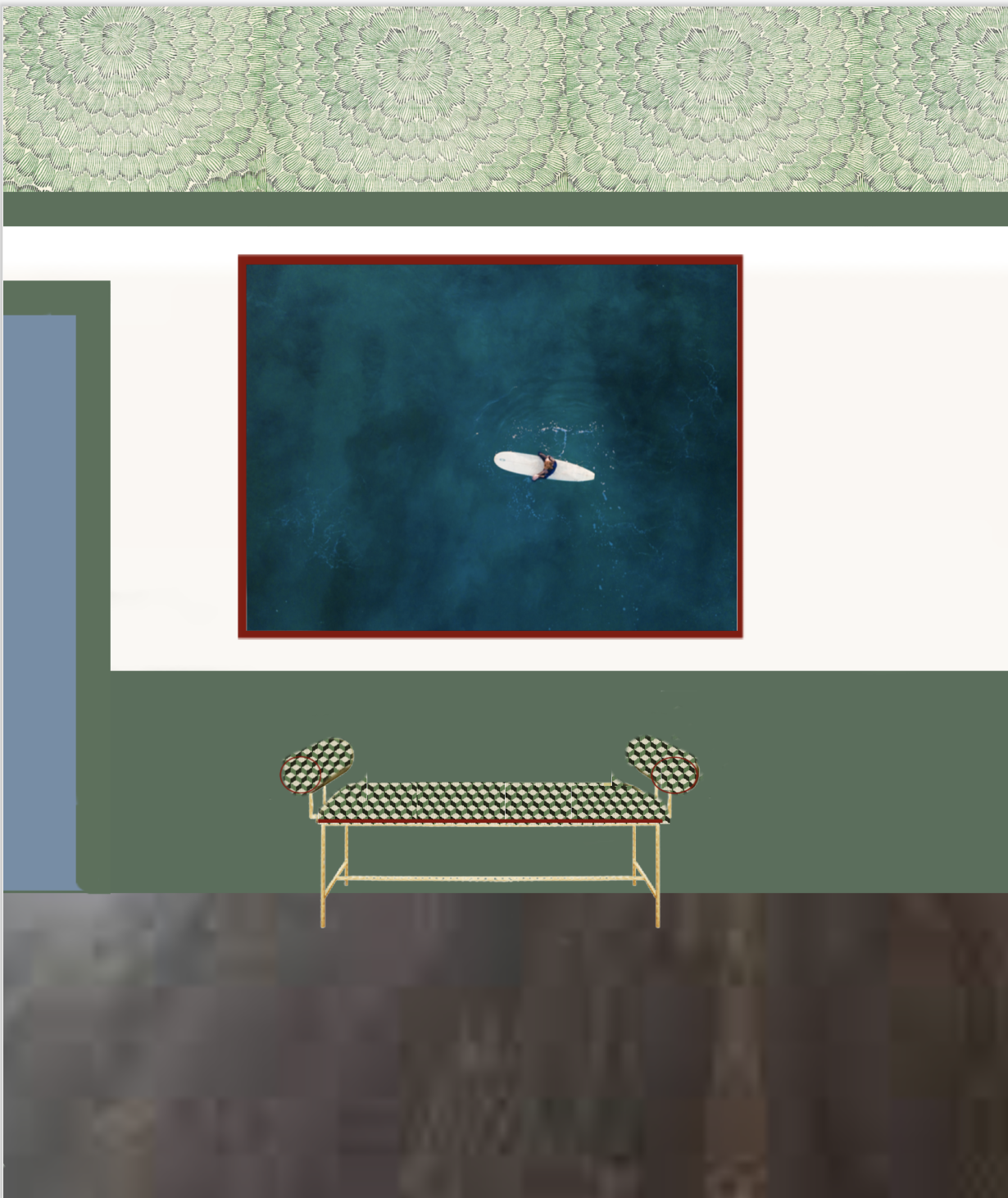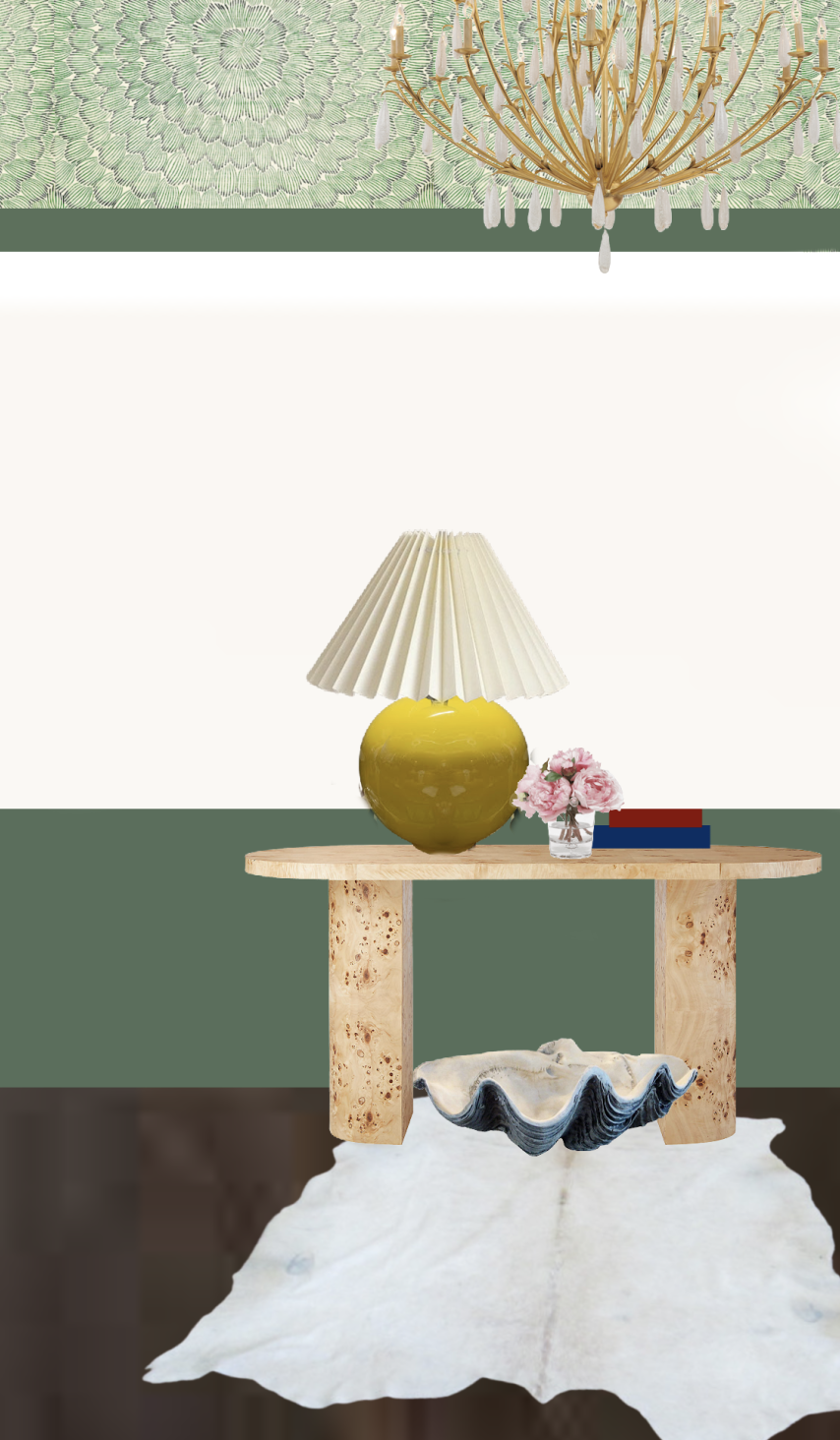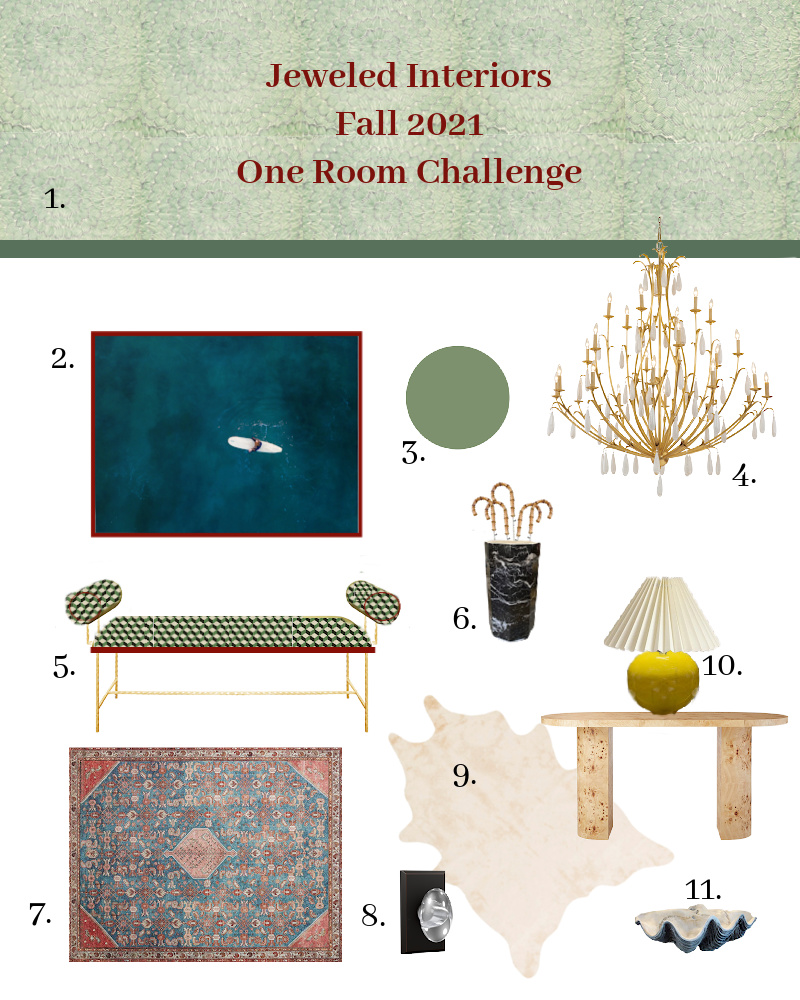 Fall 2021 One Room Challenge
The TV Room Plan
Since this room was added to our short list later, I need to rely on MLS images.  In some ways this is more helpful anyway.  I feel like this image could be a poster child for "How NOT to floor-plan your TV room".  You can see that the previous home owner smooshed the sectional into the corner..  Not only is it akwardly the wrong size for the space, it puts you too far from the TV to really be able to enjoy it.
We are going to resolve that issue by floating a new sectional in the center of the room.  I am thrilled because we were able to find a sofa company that customized both size and fabric and should ship here in time for the big reveal!  That is unheard of these days.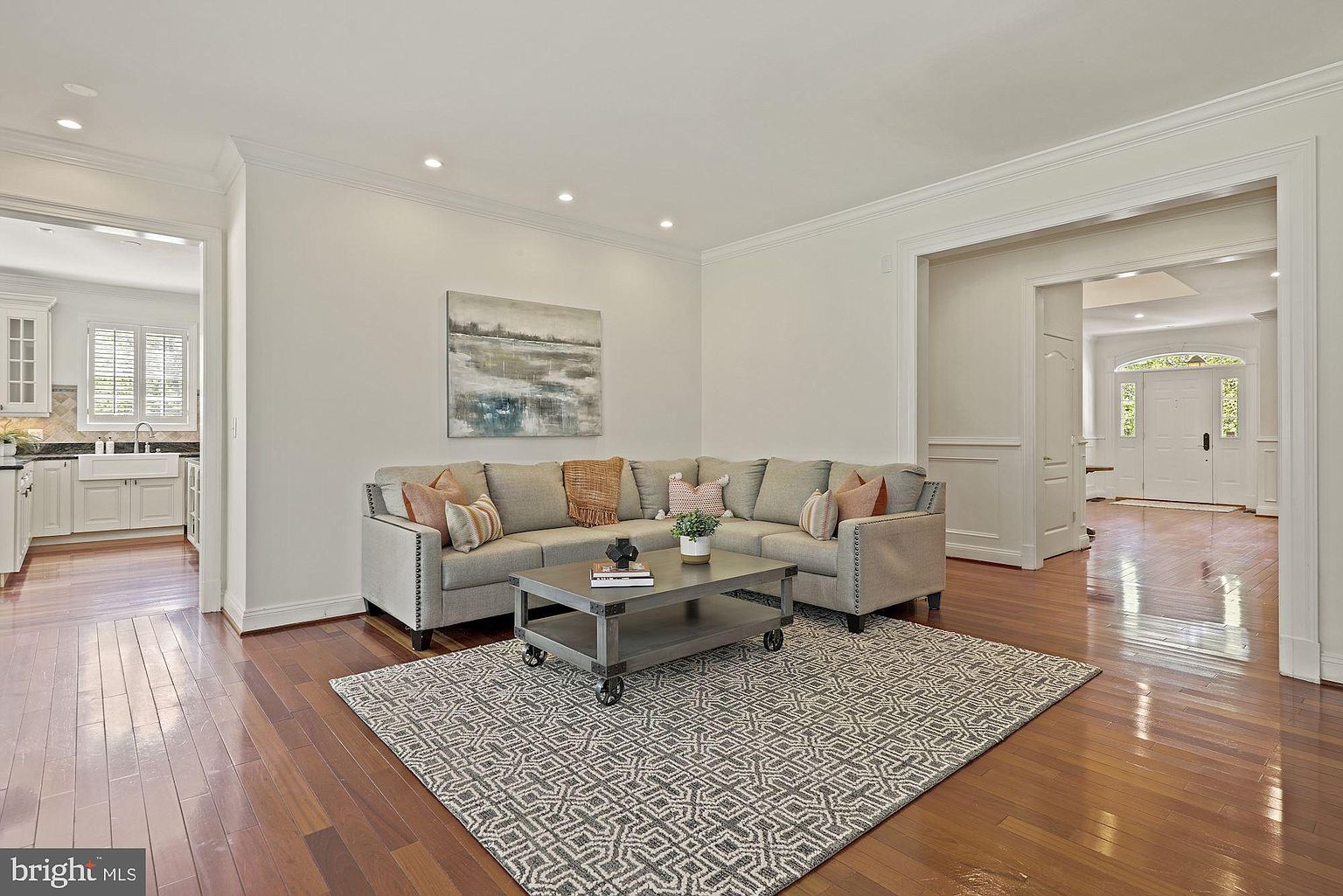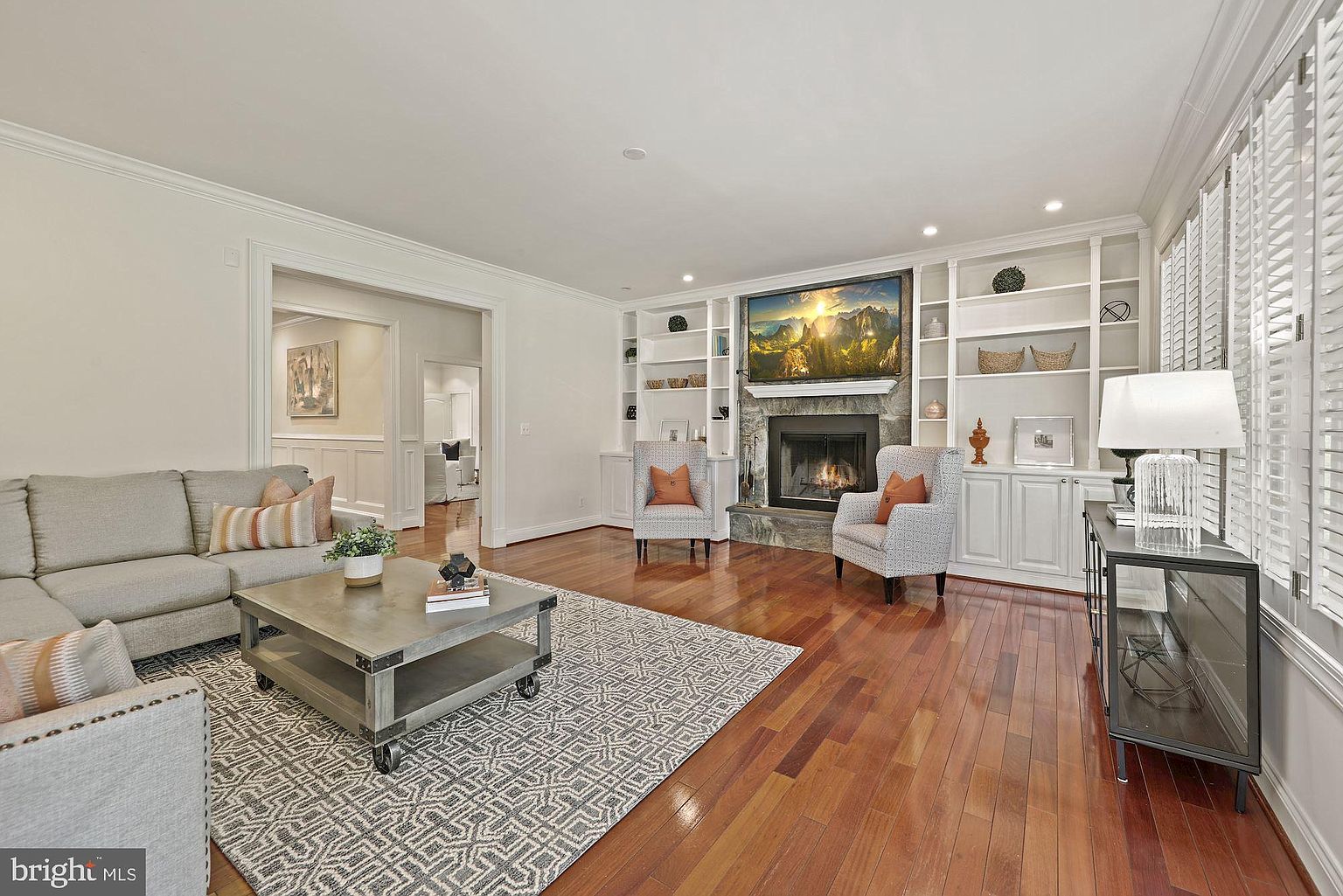 We will anchor the space with a large plank style cowhide rug, and add beautiful soft furnishing and another sculptural chandelier.
To ensure instant personality, and to hearken to the homeowner's childhood, we are installing gorgeous blue horse-themed wallpaper.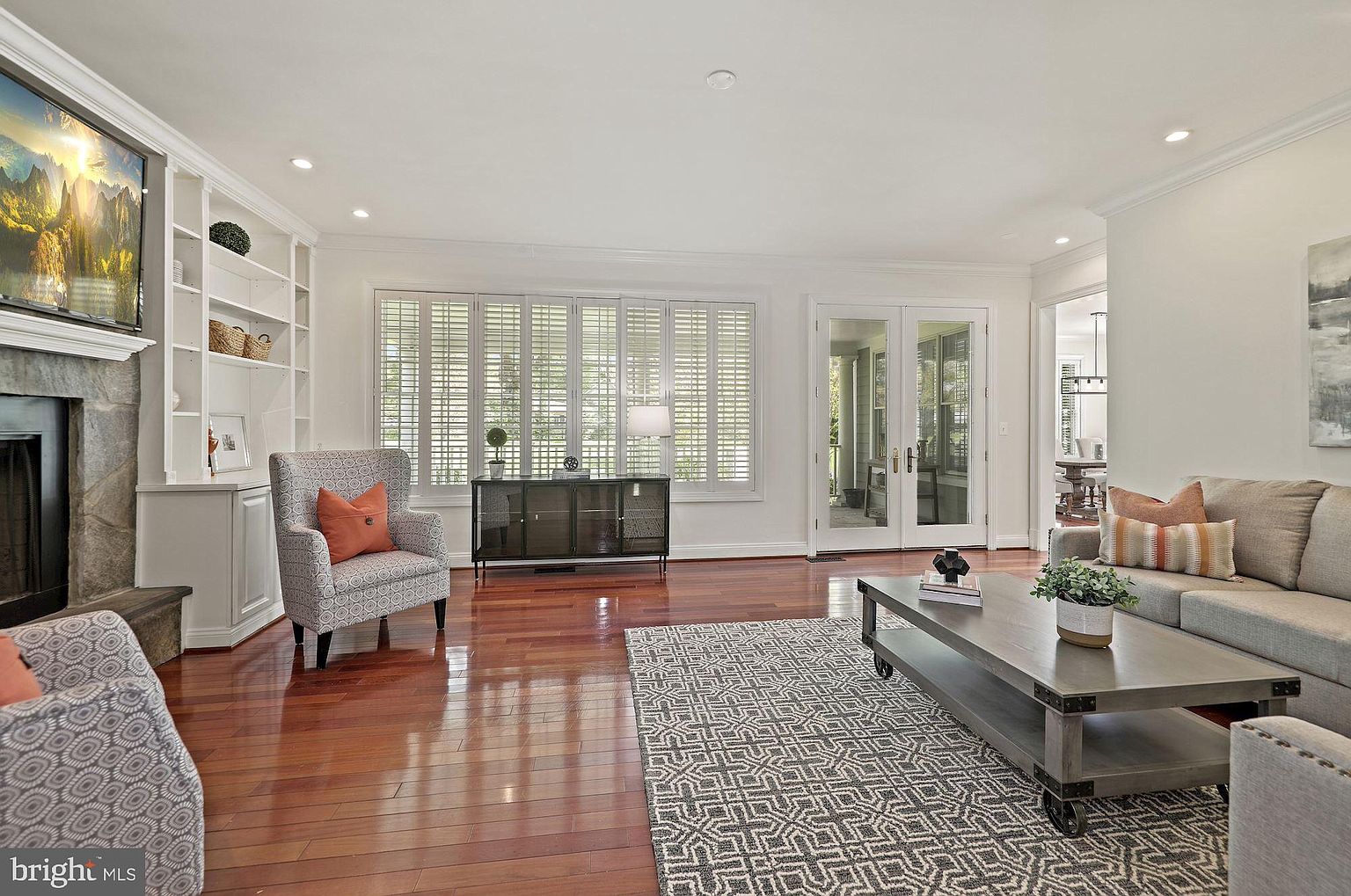 See the TV above the fireplace? We are going to use my favorite trick…camouflage! In this scenario we will be using black, honed, travertine.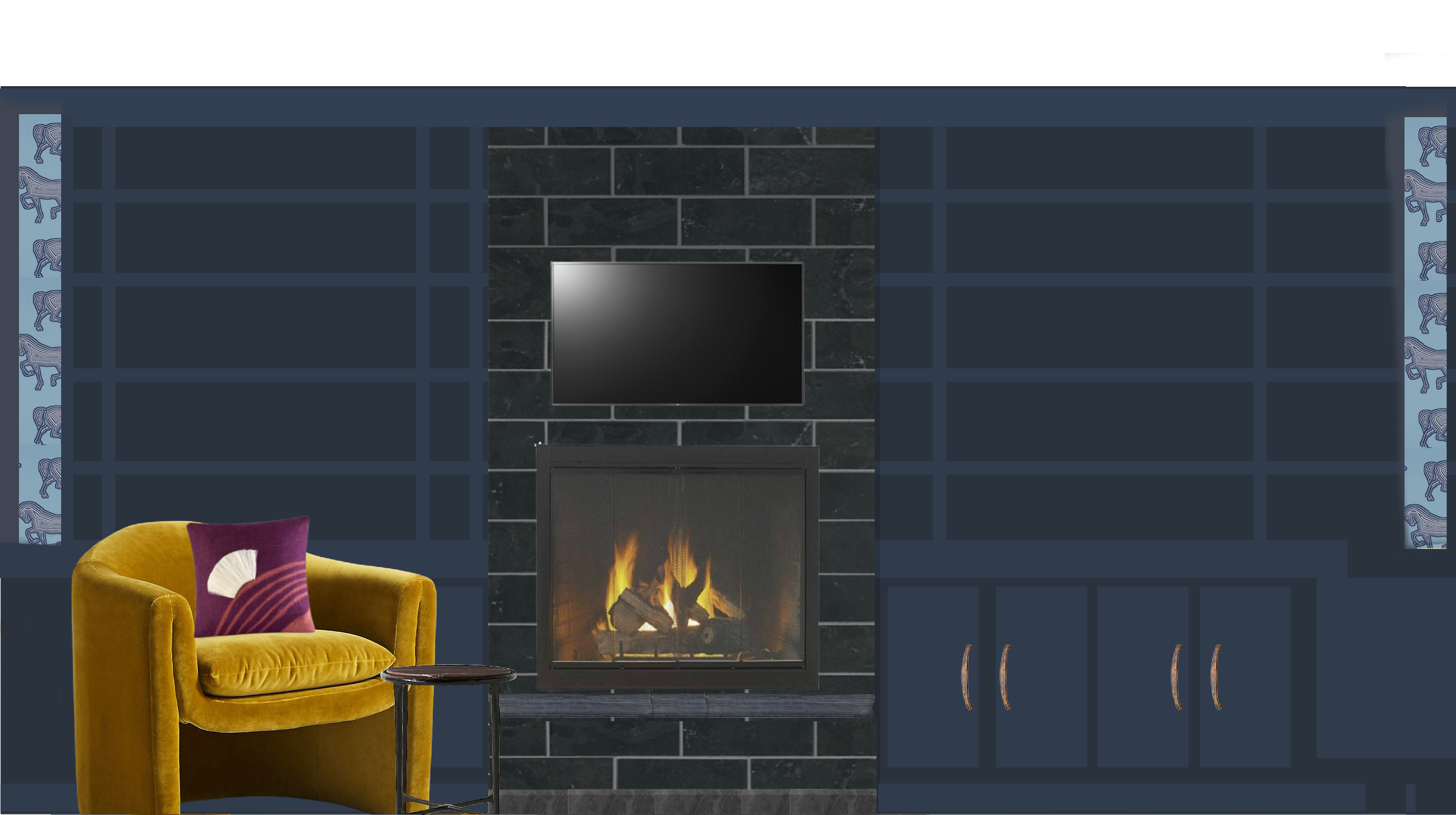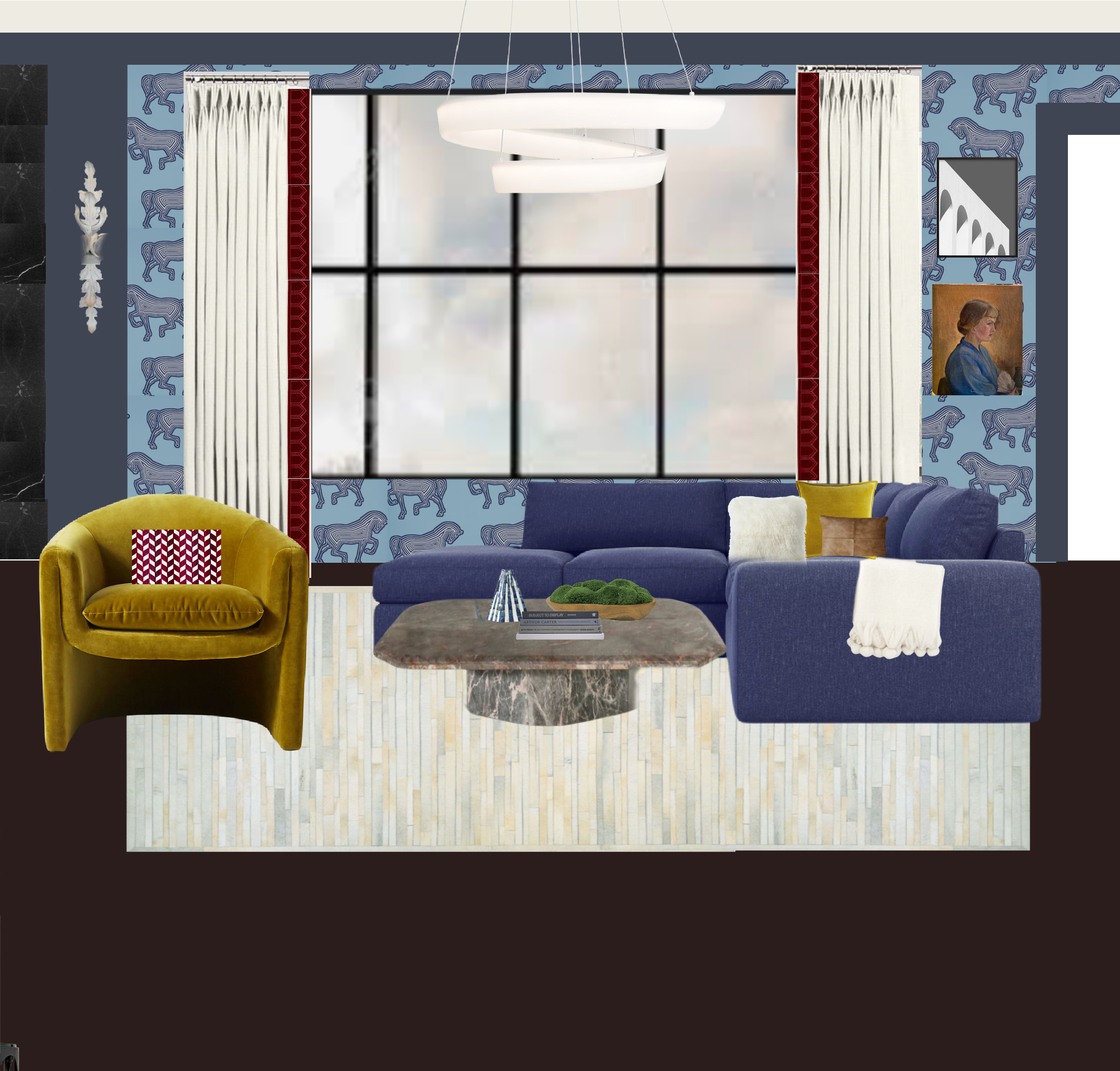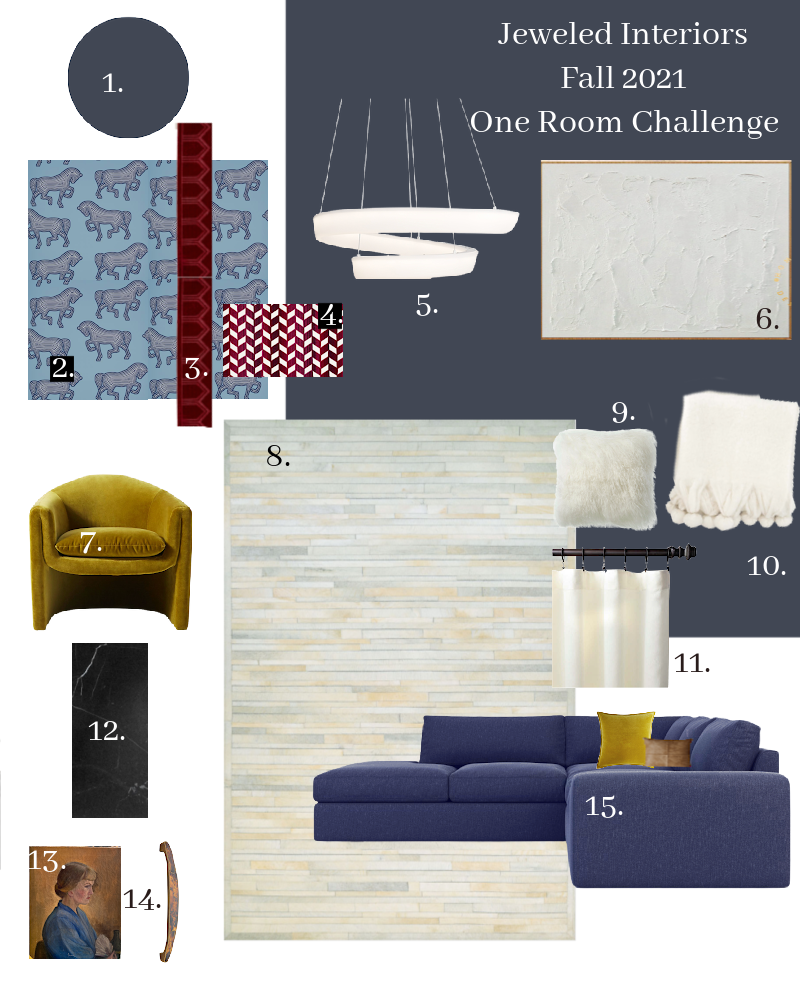 Thank you so very much for joining me on the Jeweled Interiors Fall 2021 One Room Challenge.    Following me is fun too.  Check back each Wednesday as I transform these rooms into a colorful, soulful, and glamorous abode.
PINTEREST || FACEBOOK || INSTAGRAM
Now enjoy reading everyone else's week 1 updates!