Dining Room Wallpaper and Paint Ideas |  Week 4 Fall ORC
NOW WE ARE GETTING SOMEWHERE!  Check out these behind the scene sneak peeks of the One Room Challenge dining room, check out the paint color and catch a glimpse of the upcoming wallpaper!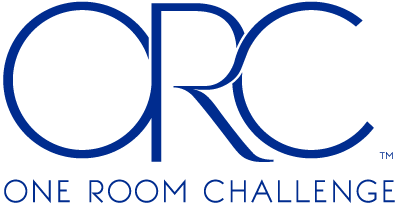 I love that we are finally getting to a few before, and well…progress shots…not quite afters yet.  Here is what the dining room looked like less than two months ago when the floor refinishers came to work on those oh-so-orange floors.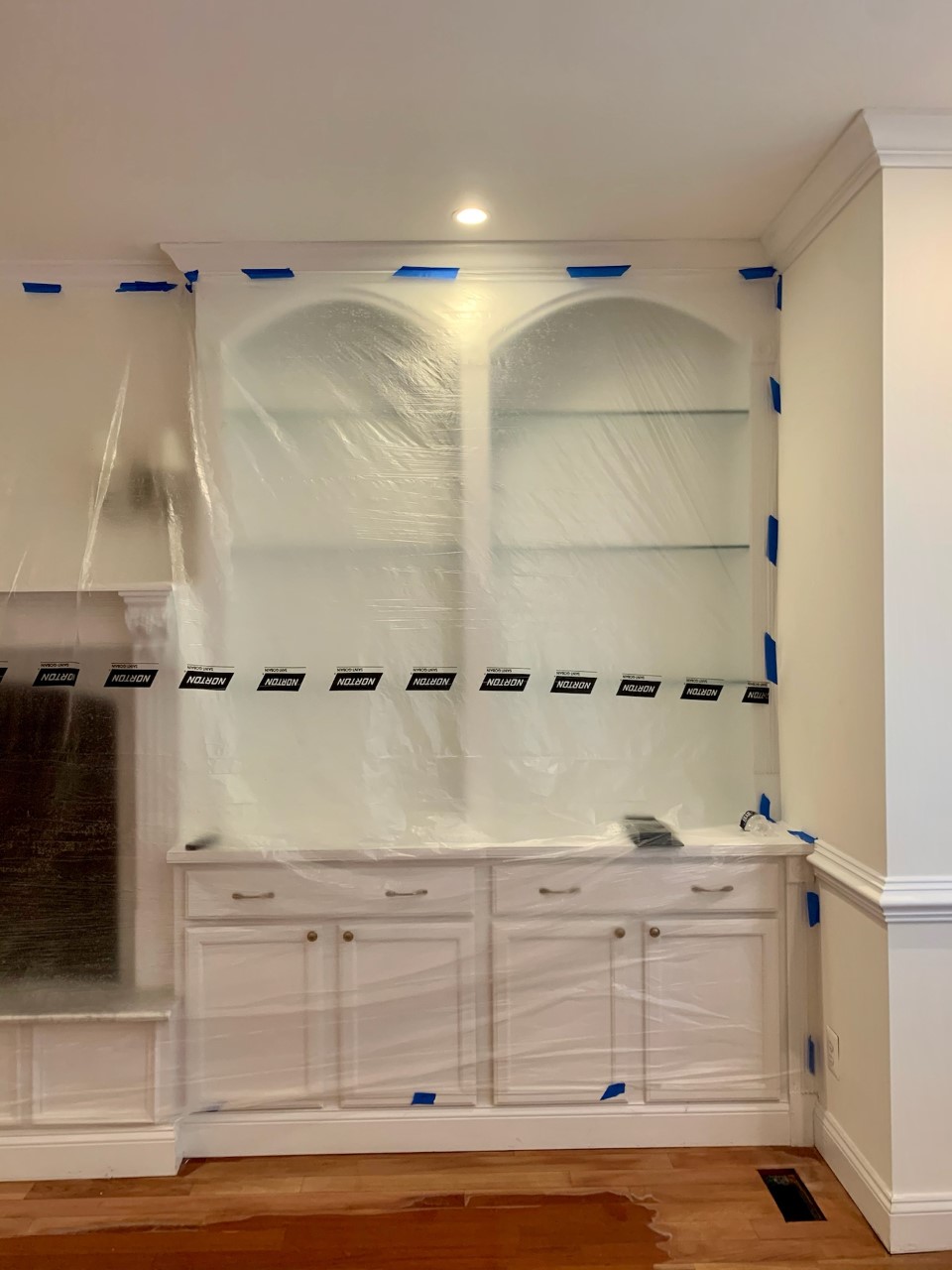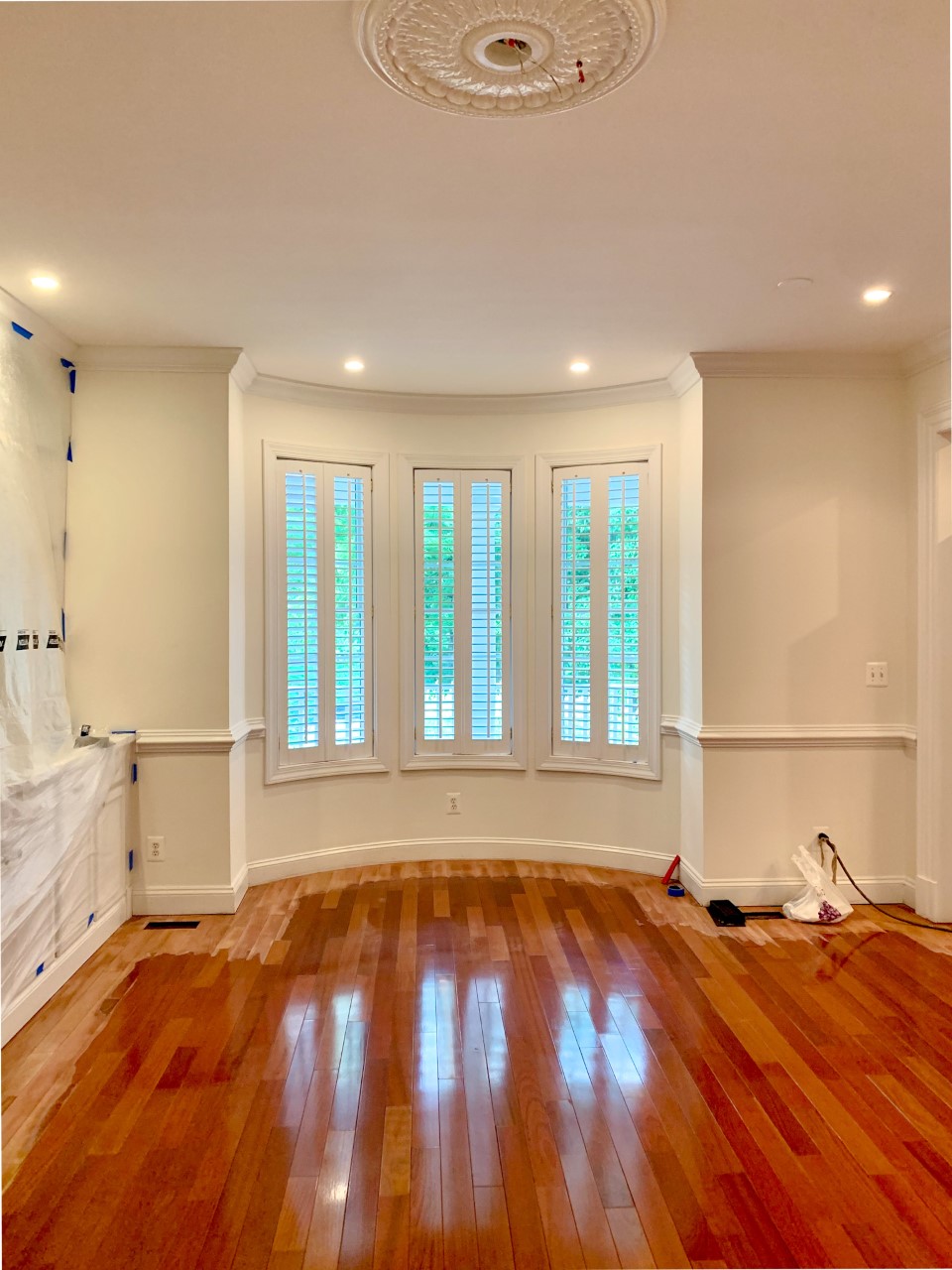 And here, my friends, is what the dining room looked like last Wednesday, before I left for High Point.  You can see that the floors have been refinished, the knobs have been removed, the holes have been patched, and obviously there has been some paint involved. Jose Painting and Decorating has been painstakingly prepping and carefully applying this gorgeous  Kelly Moore Painte- Navy Damask paint.  What do you think of the blue?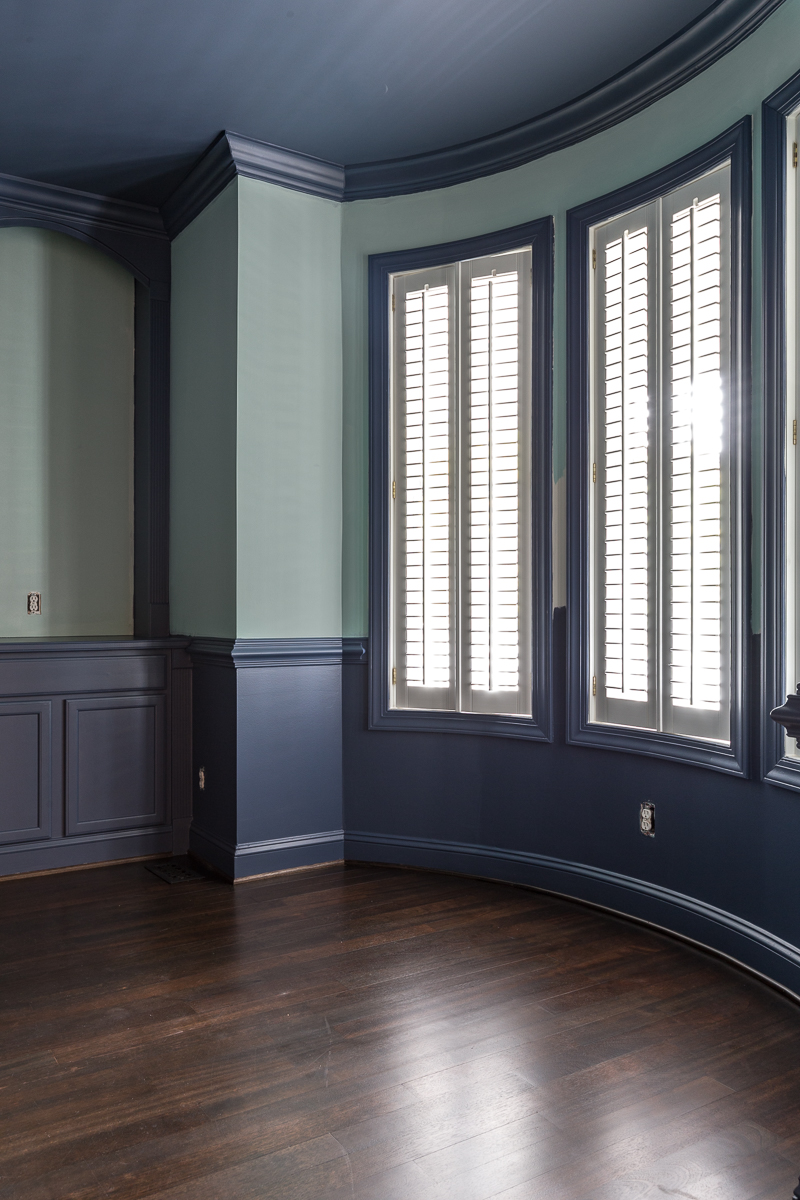 Looks pretty great, right?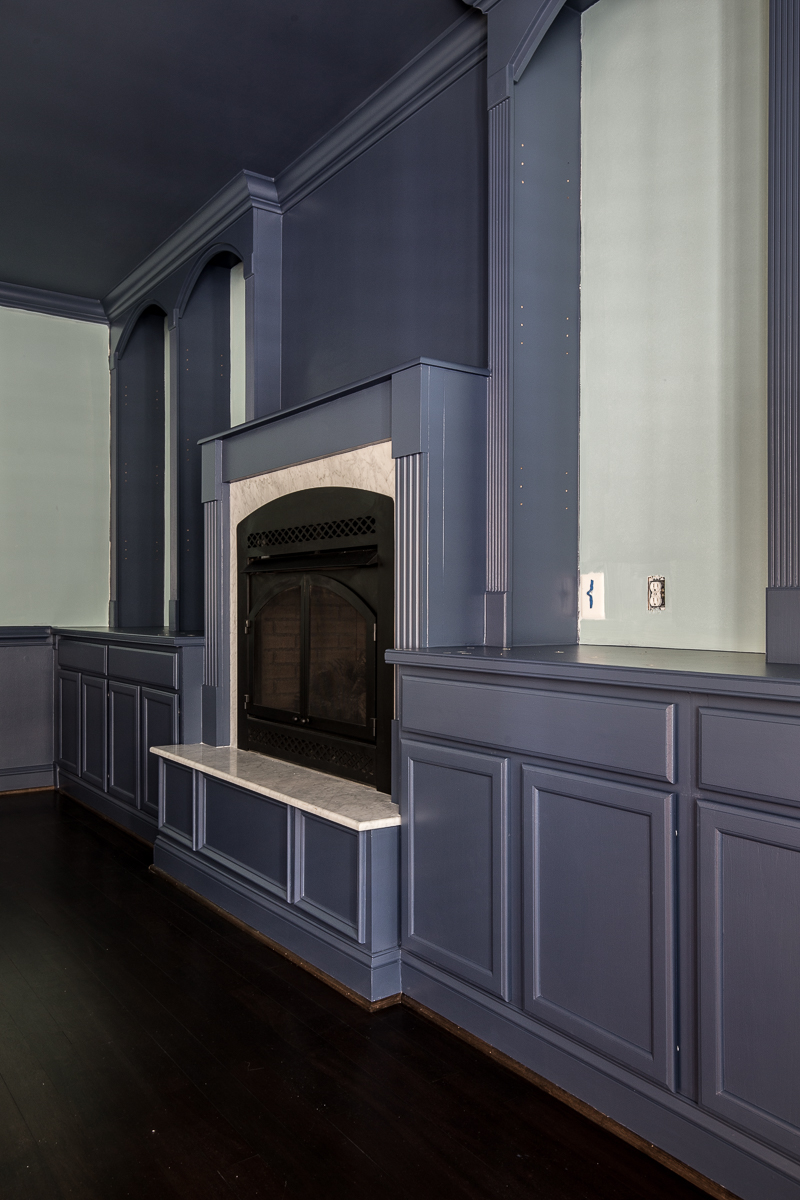 You may be asking yourself, "What is going on with the green?".  Well, that is tinted primer that will help minimize any seams in the upcoming wallpaper.  This is a trick that you can take home and use on your next DIY wallpaper project.
Dining Room Progress- Wallpaper
Since I am out of town I missed the install of the Fine and Dandy Co. Paradis Orchid with Patina Wallcovering , but I am excited to get back soon and capture some images for you next week.
Since I want you to be as excited as I am about this, I will show you this sneak peek of the wallpaper.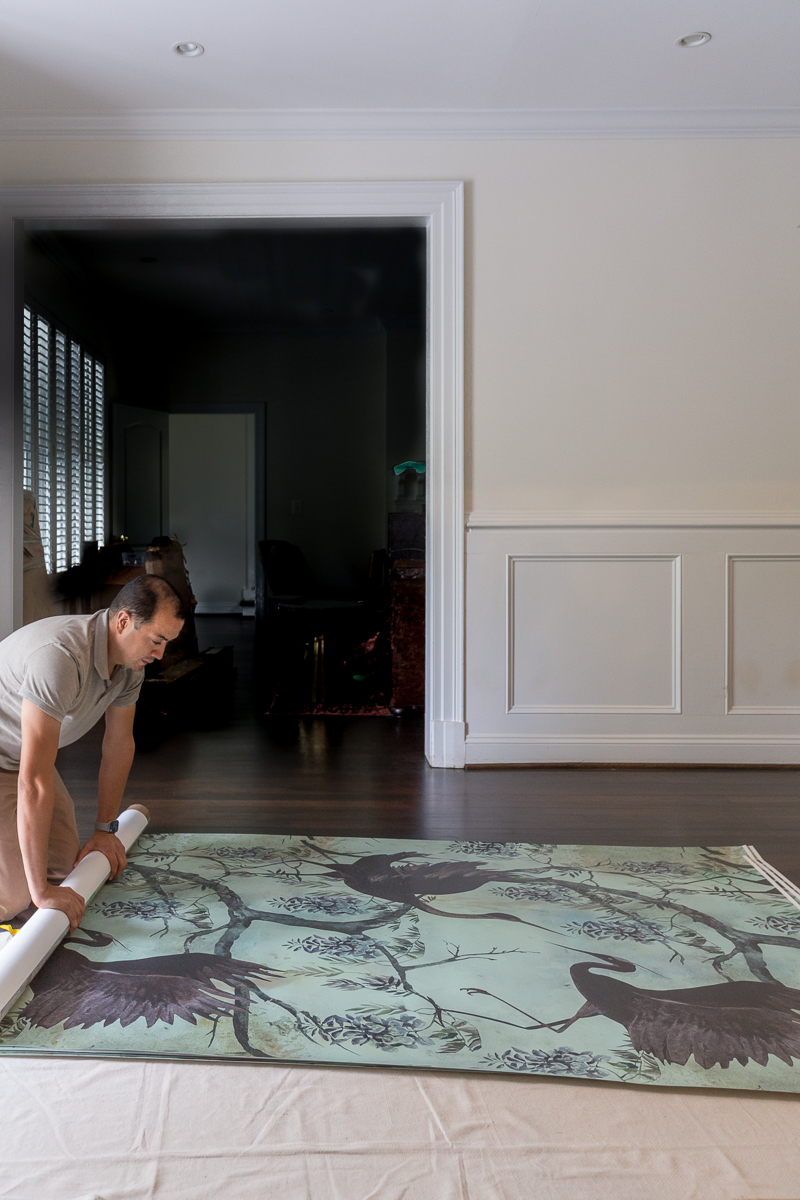 Are you freaking out?  Because I am freaking out!  I can't wait to get back to see this installed.
Oh, and everyone say hello to Jose from IG: @JV_wallpaper. Yes, he shares the same name as the painter and they are both very quaified, but they are two different gentlemen.  So don't get them confused :).
Dining Room Progress- More to Come
Fall 2021 One Room Challenge
The Dining Room Plan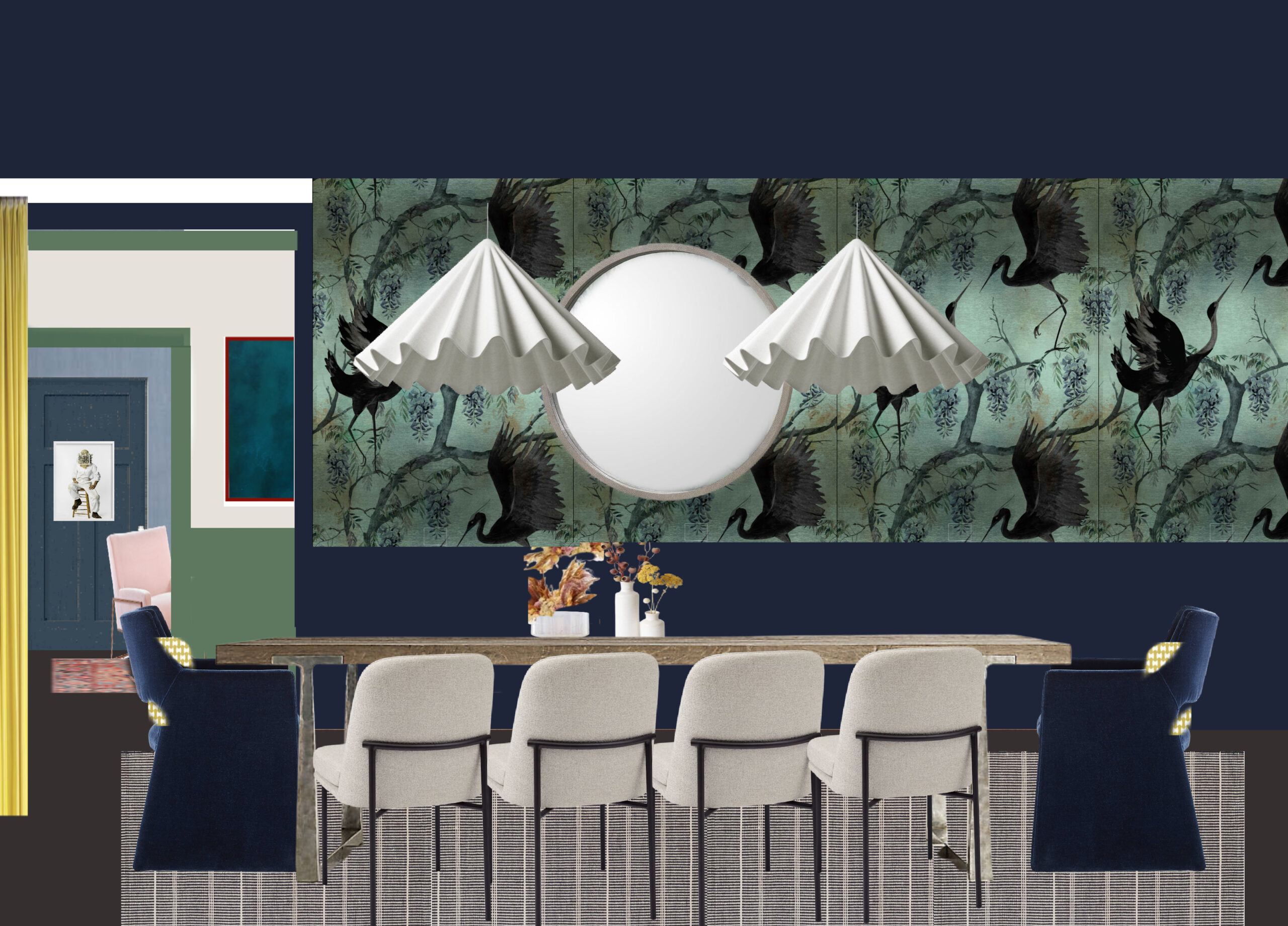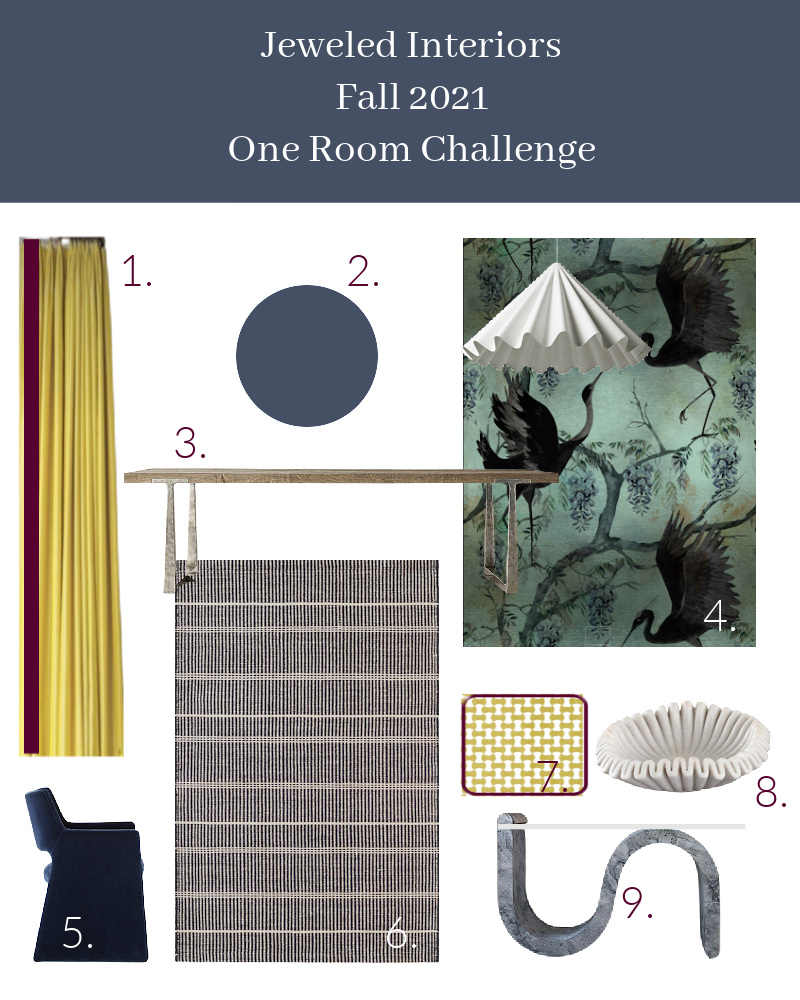 Unless indicated by an astrik, all of the products mentioned are sponsored or discounted but the opinions are 100% my own.
Fall 2021 One Room Challenge
The Entryway Plan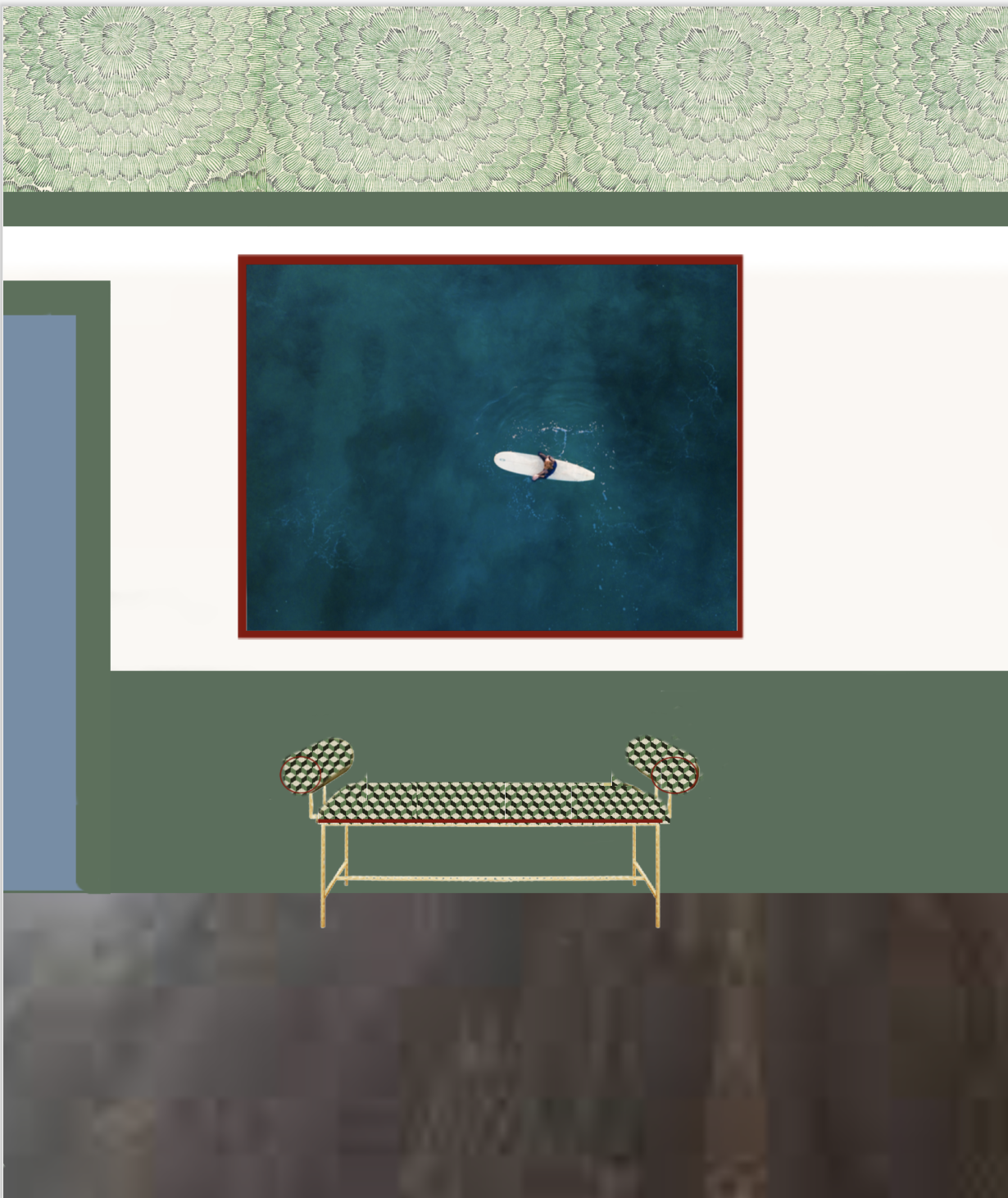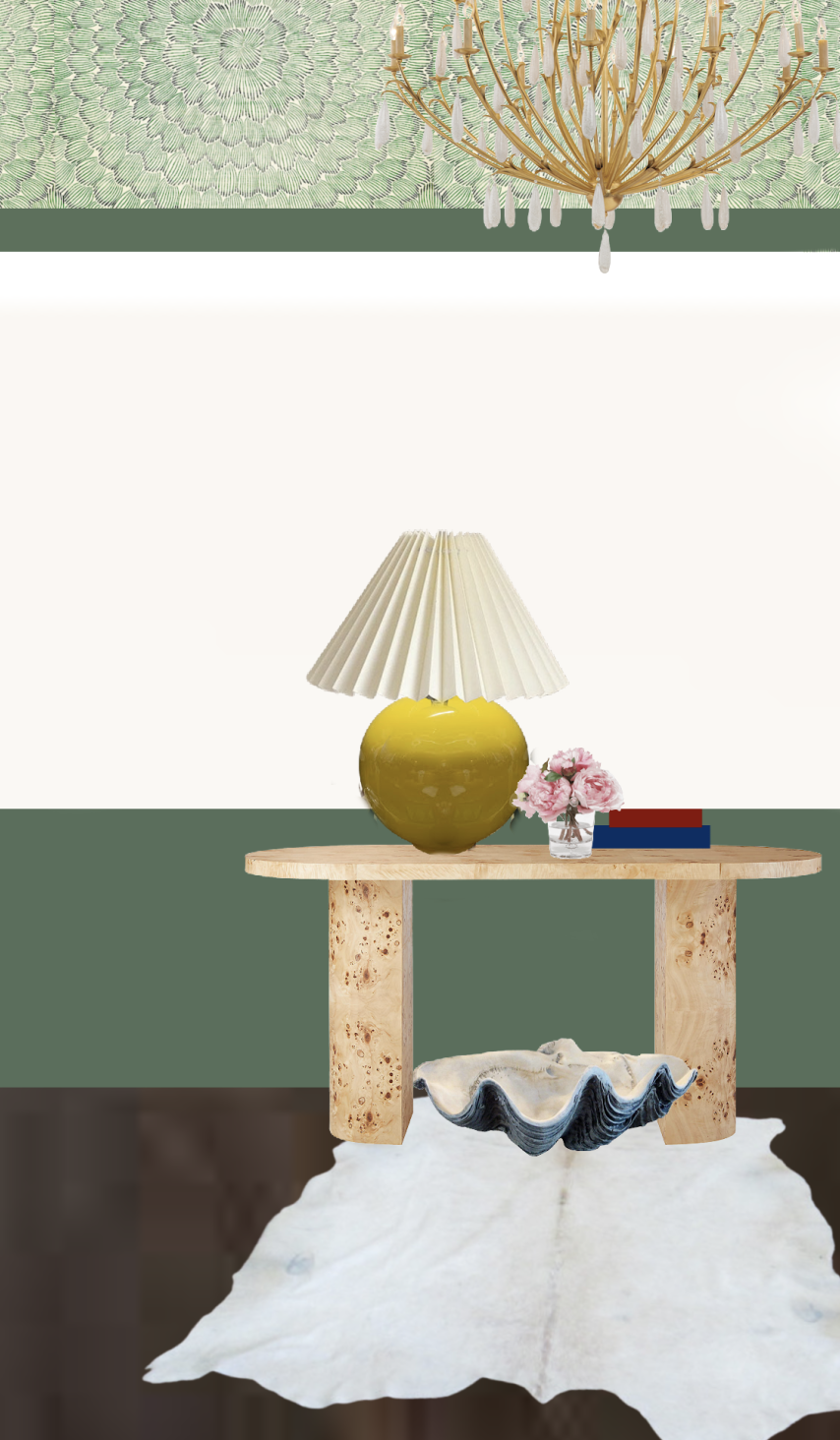 Also, that burl table is SUPPOSED to be here the beginning of November…but there is no guarantee.  That stresses me out a tad, and I should probably find a back-up table for the shoot…just in case.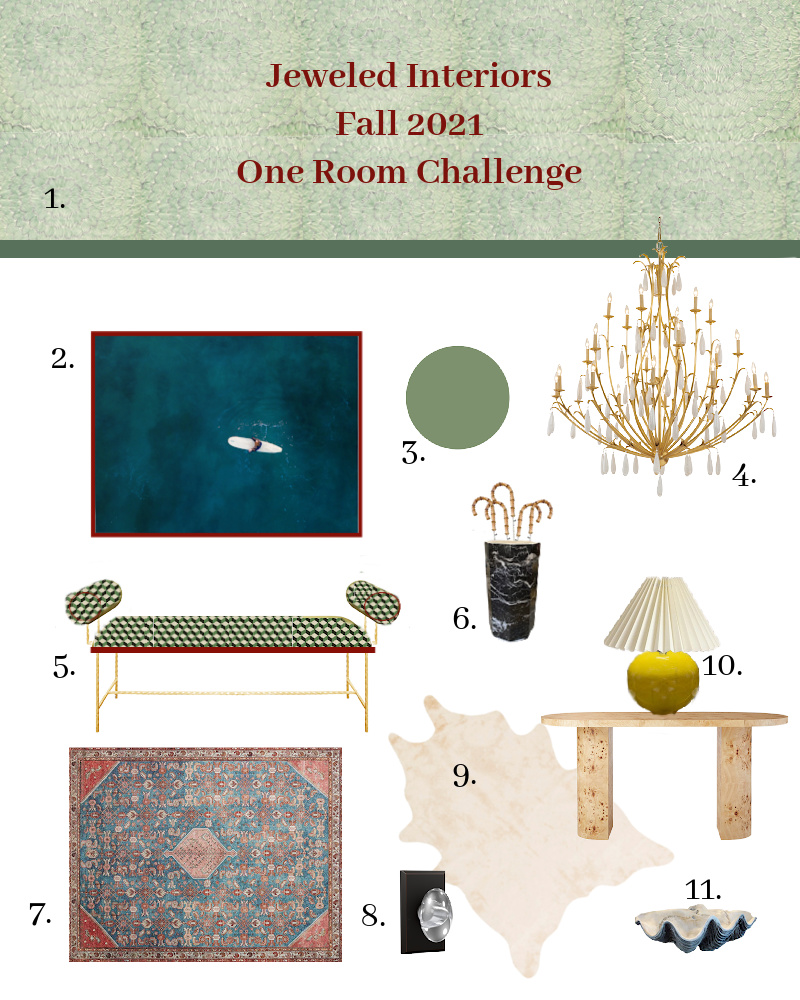 Fall 2021 One Room Challenge
The TV Room Plan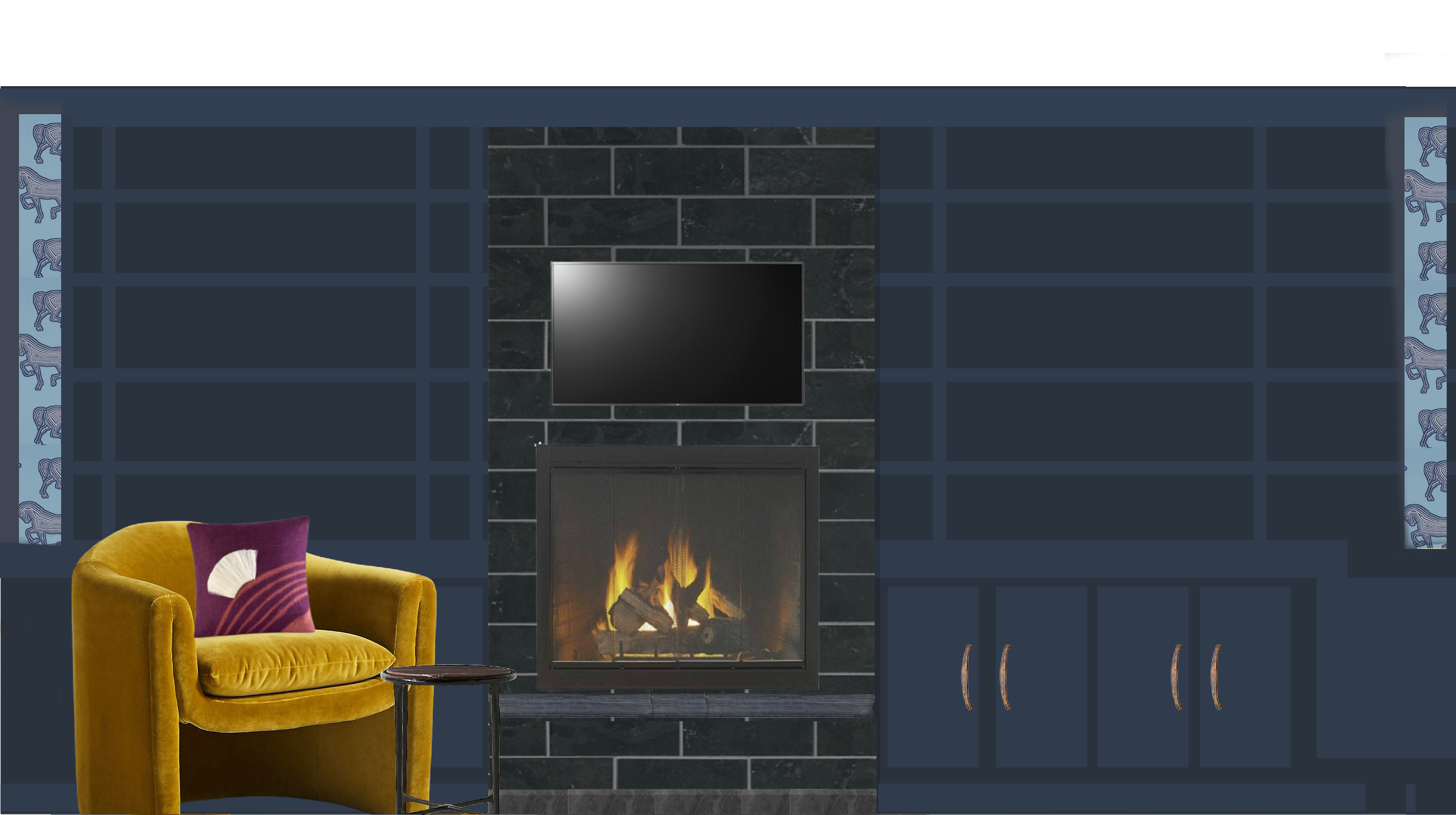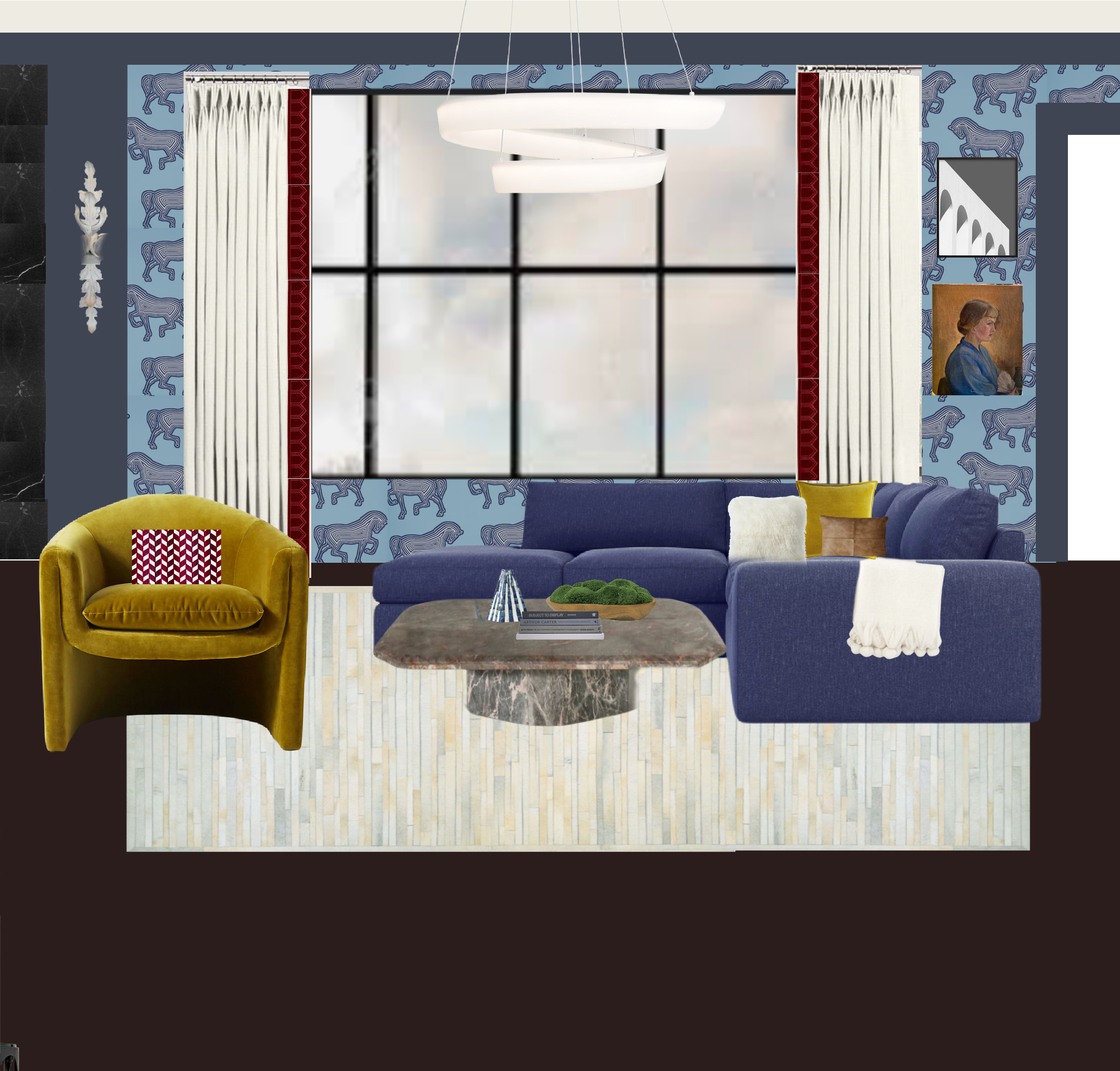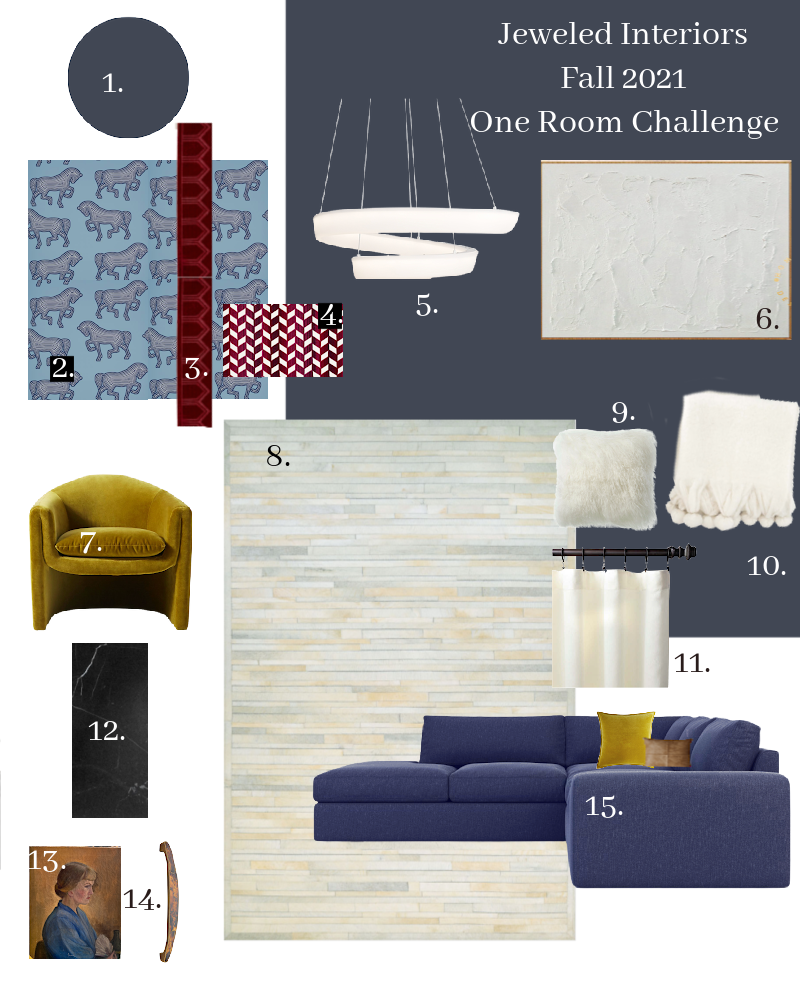 Thank you so very much for joining me on the Jeweled Interiors Fall 2021 One Room Challenge.    Following me is fun too.  Check back each Wednesday as I transform these rooms into a colorful, soulful, and glamorous abode.
PINTEREST || FACEBOOK || INSTAGRAM
Now enjoy reading everyone else's weekly updates!