Welcome to the Fall 2022 One Room Challenge reveal post!  Better late than never, and I hope you enjoy the updated pics.  My client was asking for entertaining spaces that were sexy, yet comfortable and sophisticated, but whimsical, and a mix of modern and timeless.  Can't wait to see what you think.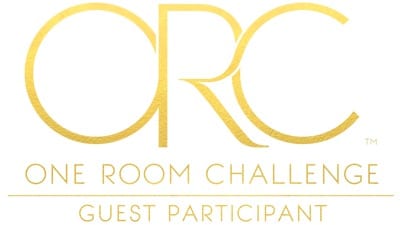 In case you missed it, this room is being completed as part of the One Room Challenge.  Thanks to Linda for her massive organizational effort of this event, and I am enjoying the beautiful reveals.
Even more fun? Apartment Therapy  is the media sponsor this season.
You may remember this blank canvas of a space that we started with in this home.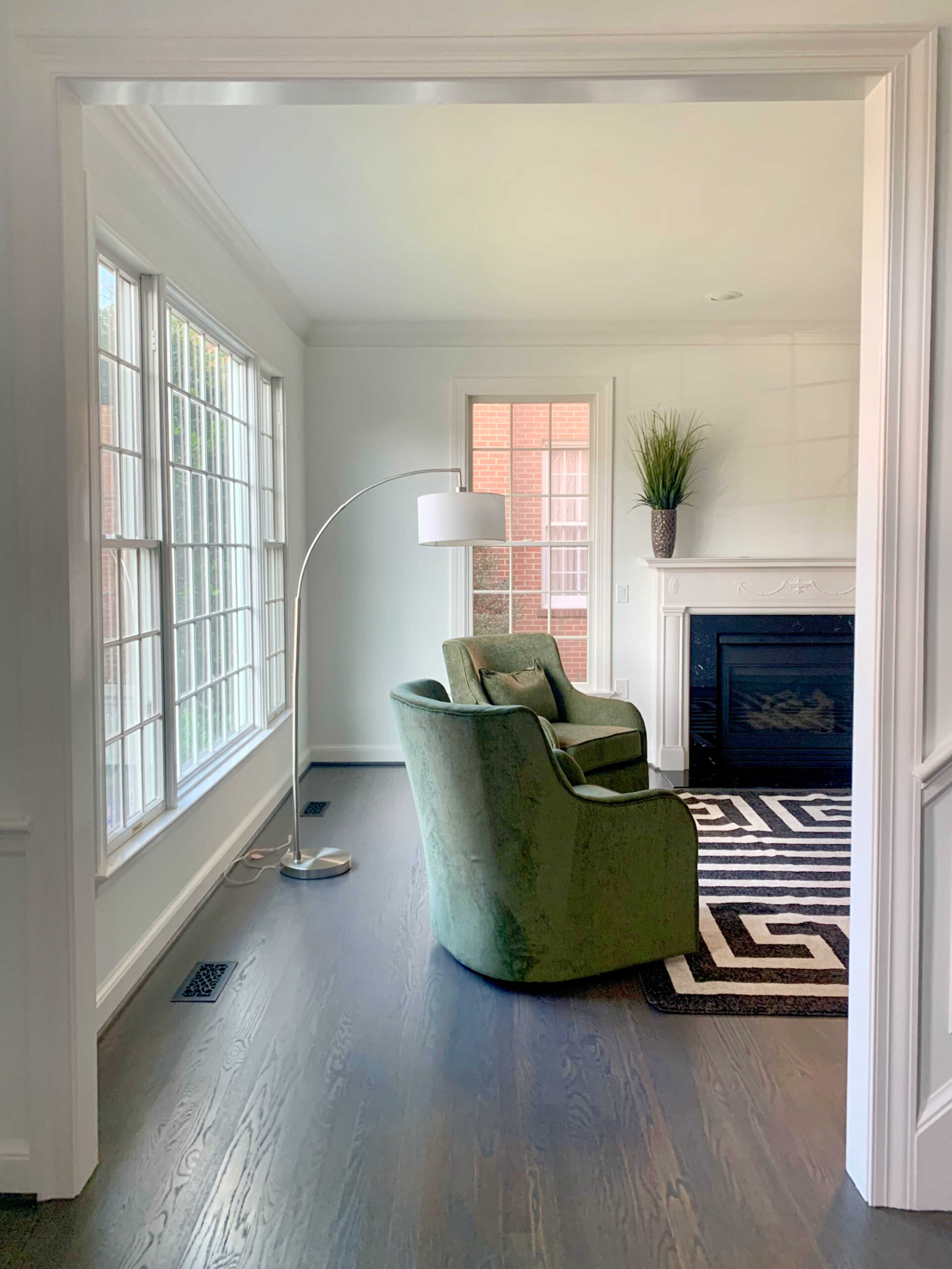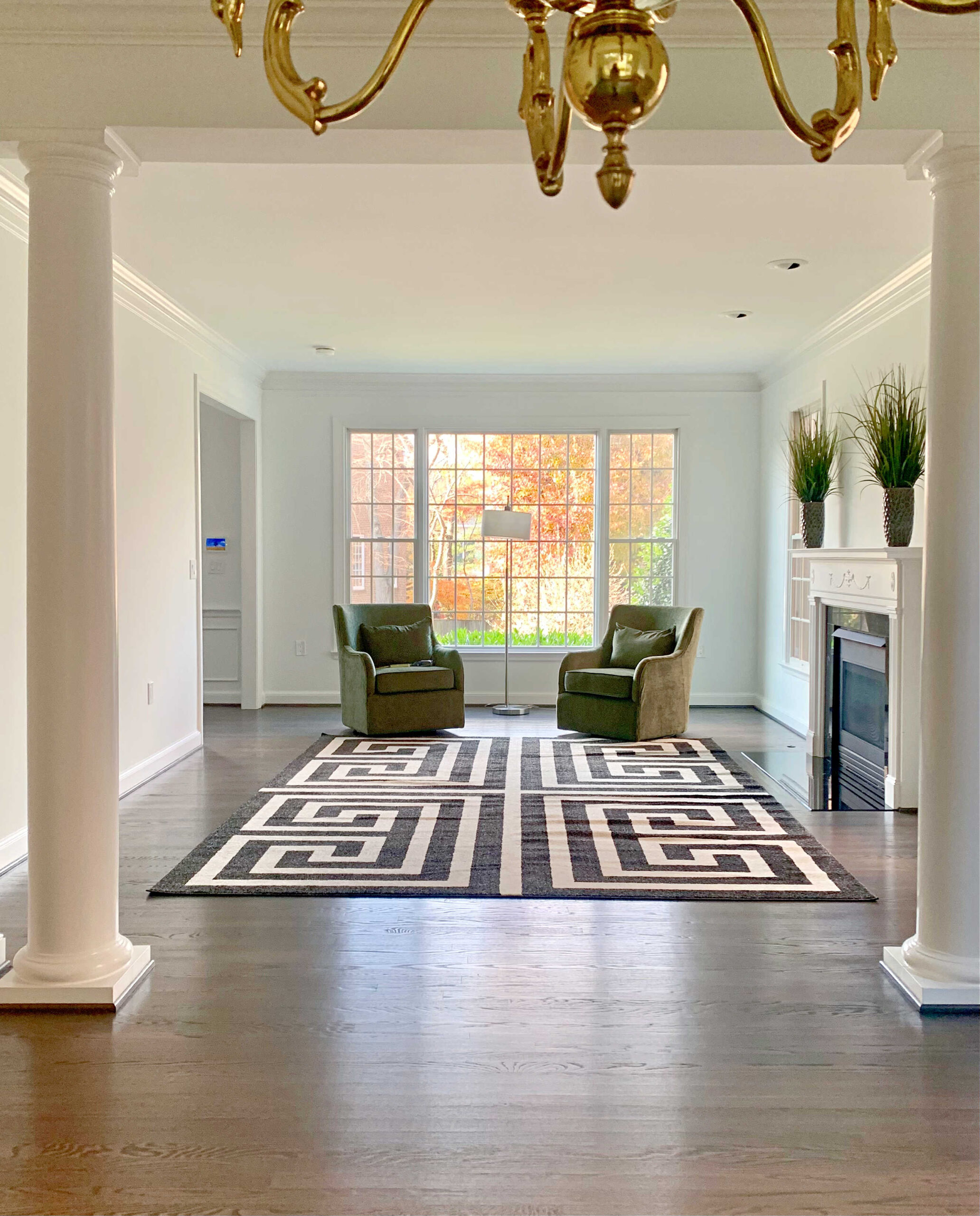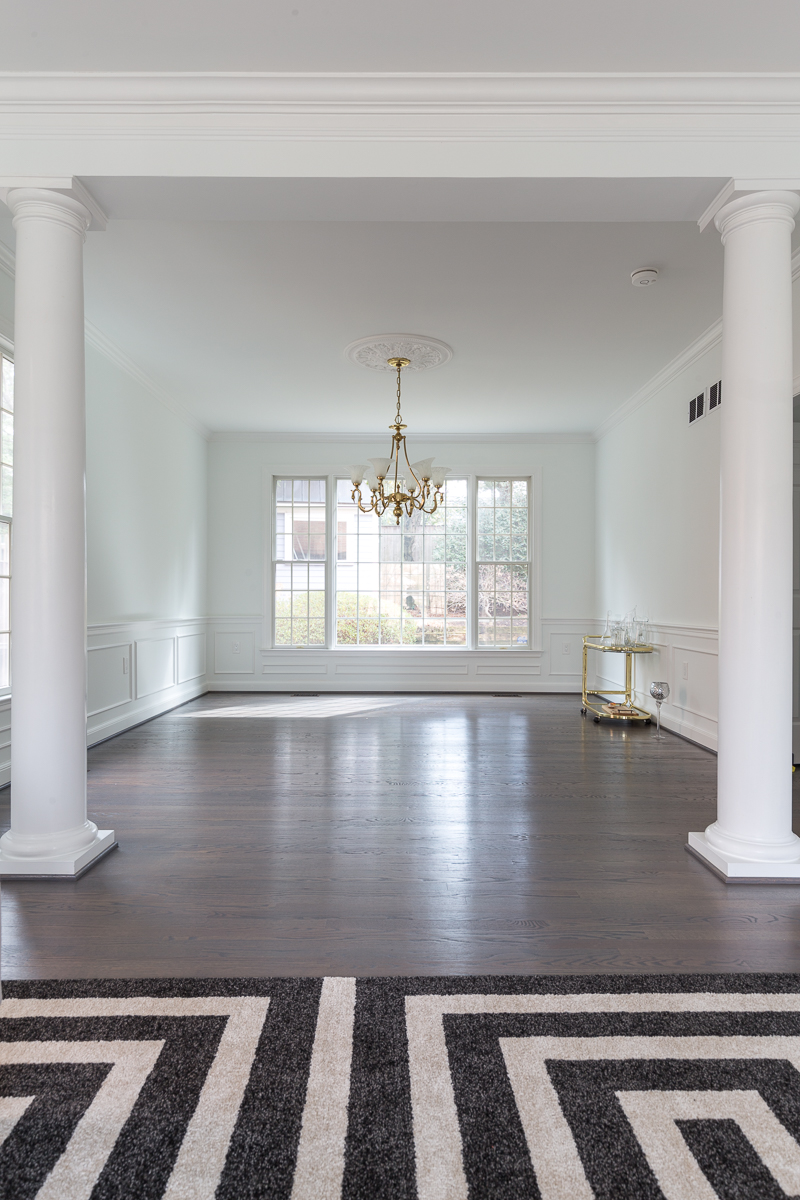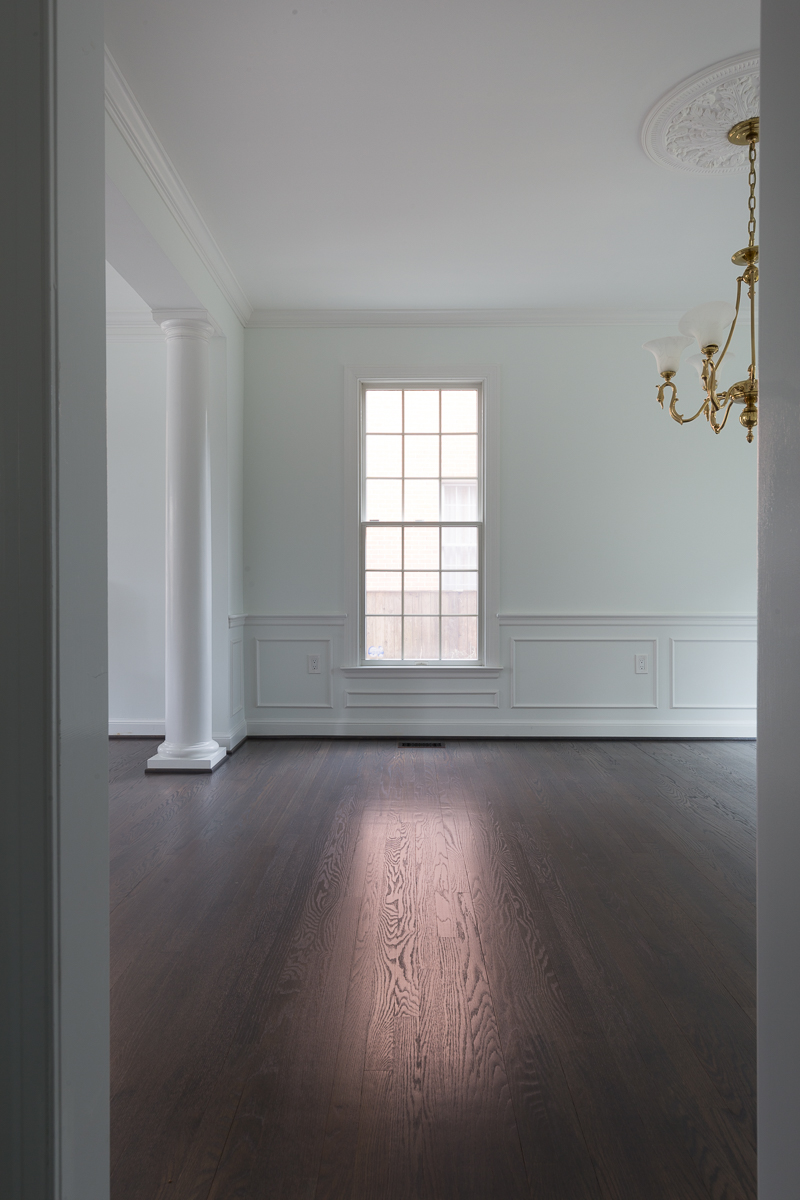 Now, to show you the massive change from blank slate to sultry and sophisticated….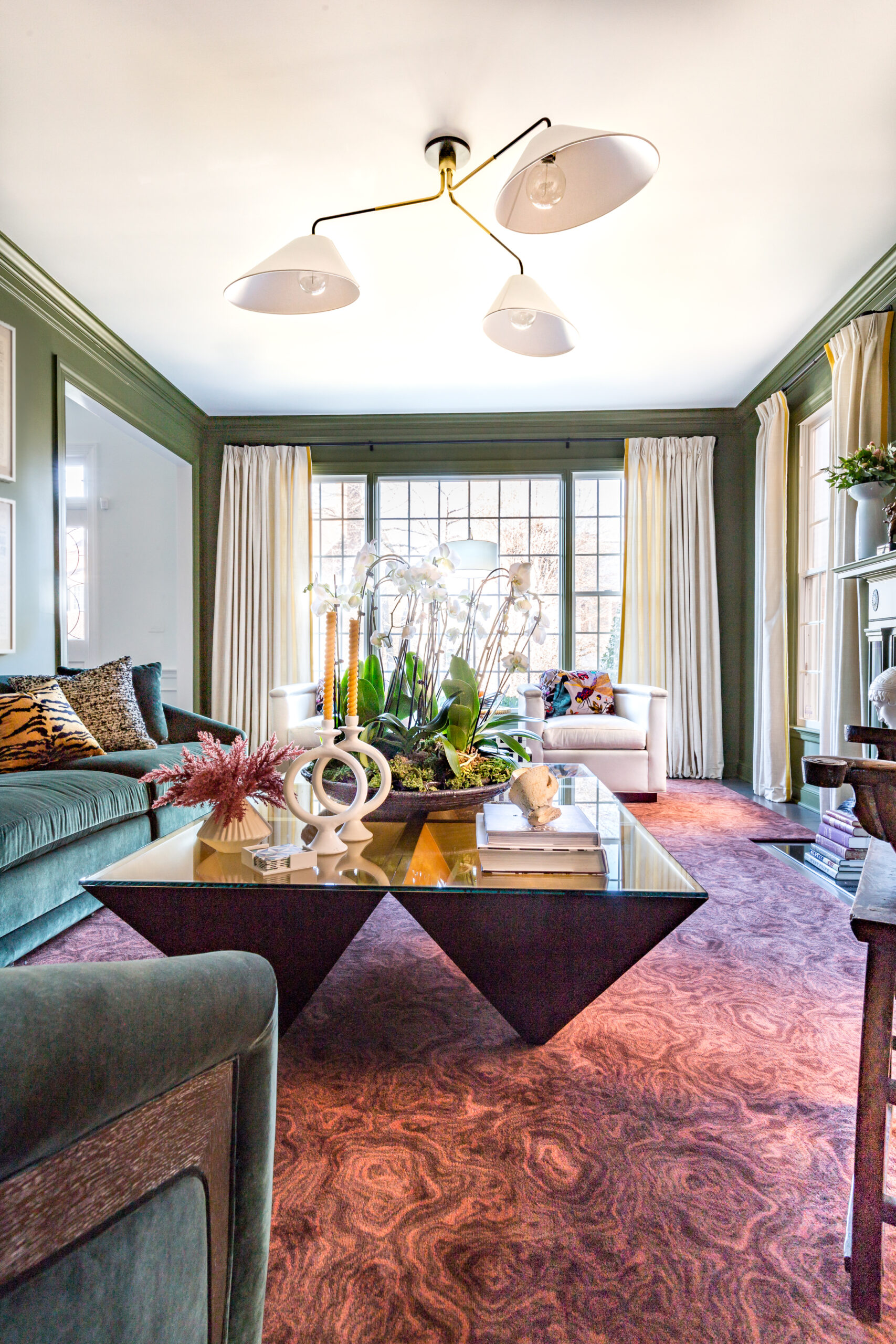 SOFA
To meet the request for sexy, yet comfortable, I sourced this Theodore Alexander green cotton velvet sectional.  This is one of the loungiest of loungy sofas I've ever sat upon.  It is always such a treat to use high end furniture in a space.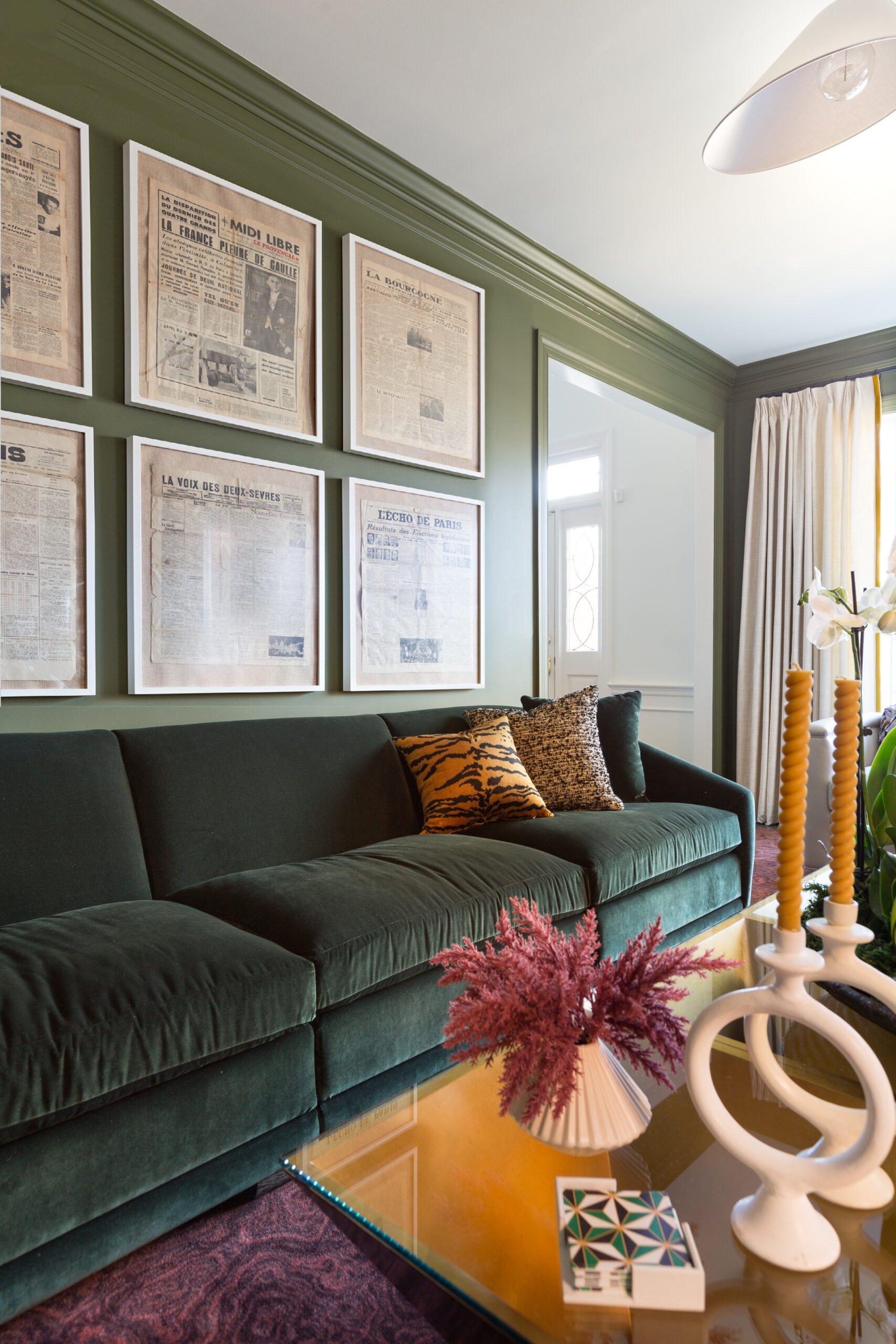 COFFEE TABLE
One of my very favorite pieces in the living room is the custom-sized coffee table.  The 3-D pyramids have such striking effect and the scale is simply impressive.  The center is gold leafed and it radiates a warm glow throughout the space.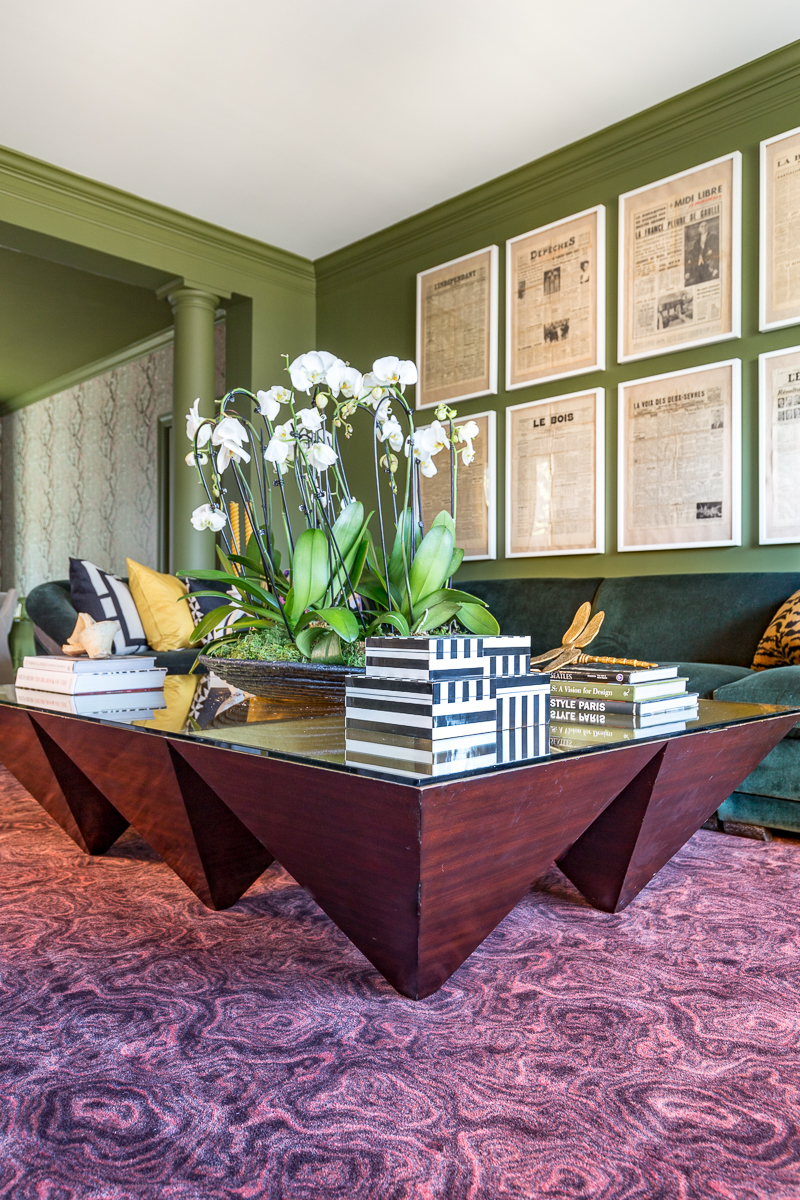 Art Install
I found a collection of antique newspapers from France, ranging back to the 1800's.  This selection can be updated with the newspaper's of the client's choice as time goes on.  I will not be surprised when my client, a journalist for a national news organization, wins the Pulitzer and hangs it on this wall. 🙂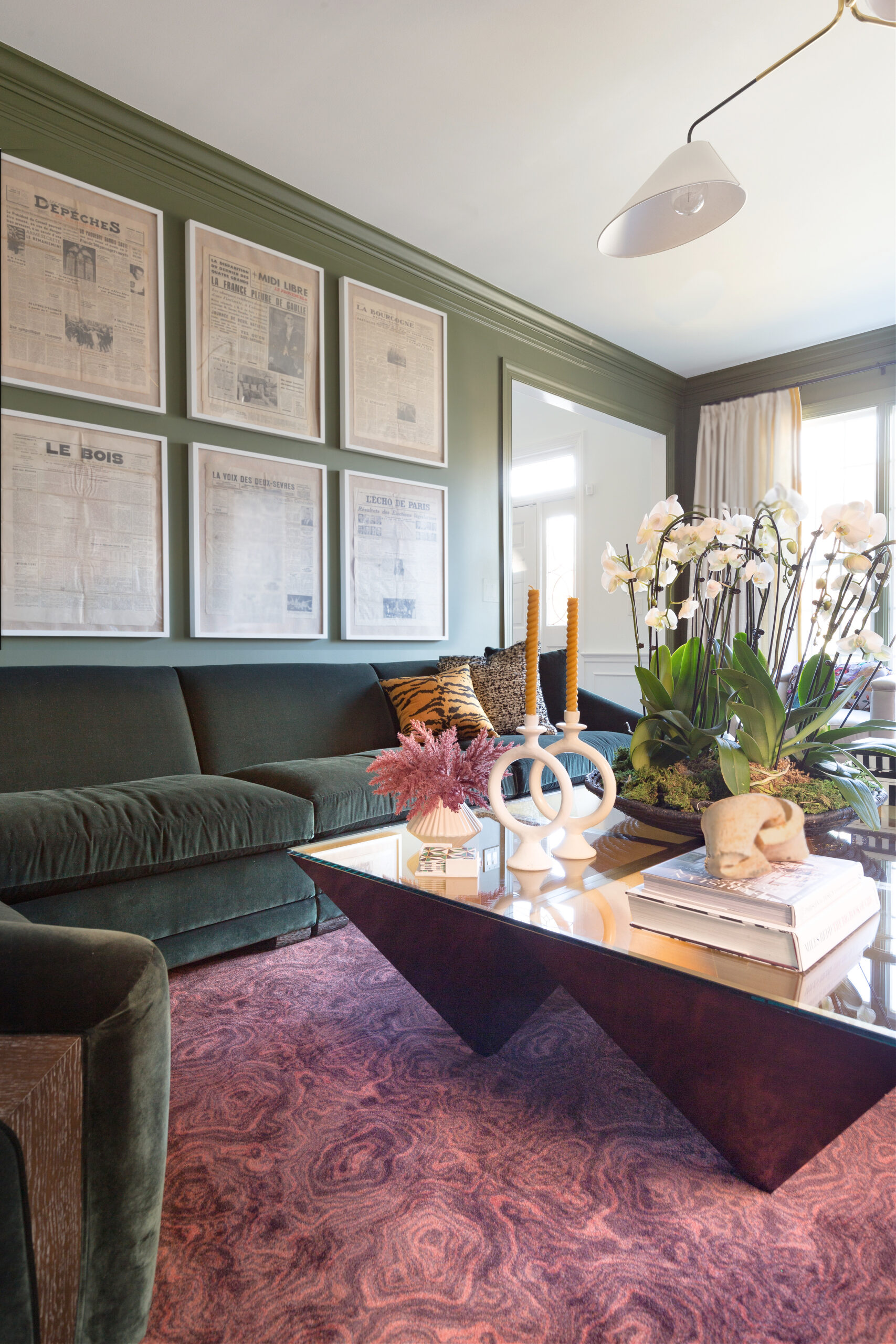 RUG
To layer on the drama, I sourced this garnet colored agate-styled carpet and we custom bound the corners to fit the room.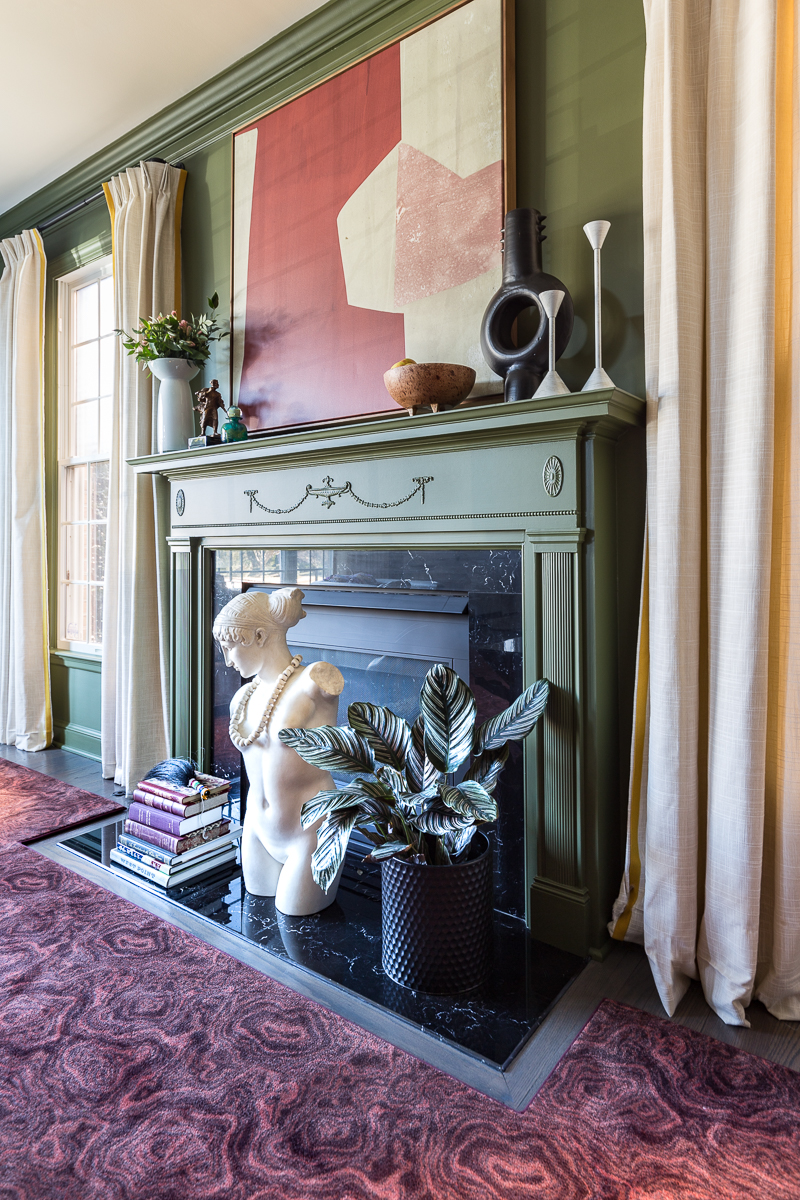 SERPENT SIDE TABLE
We snuck in a little whimsy with a piece from Jamie Drake's TA collection. Elle Decor has nice things to say about this cheeky little number. "This table was conjured as if sprung from the piper's flute, evoking hypnotizing exotica in a contemporary manner. Polished brass sinuously embraces a luscious lacquer shaft. A cast-brass border surrounds an inset mirrored top."  Well said, Elle Decor.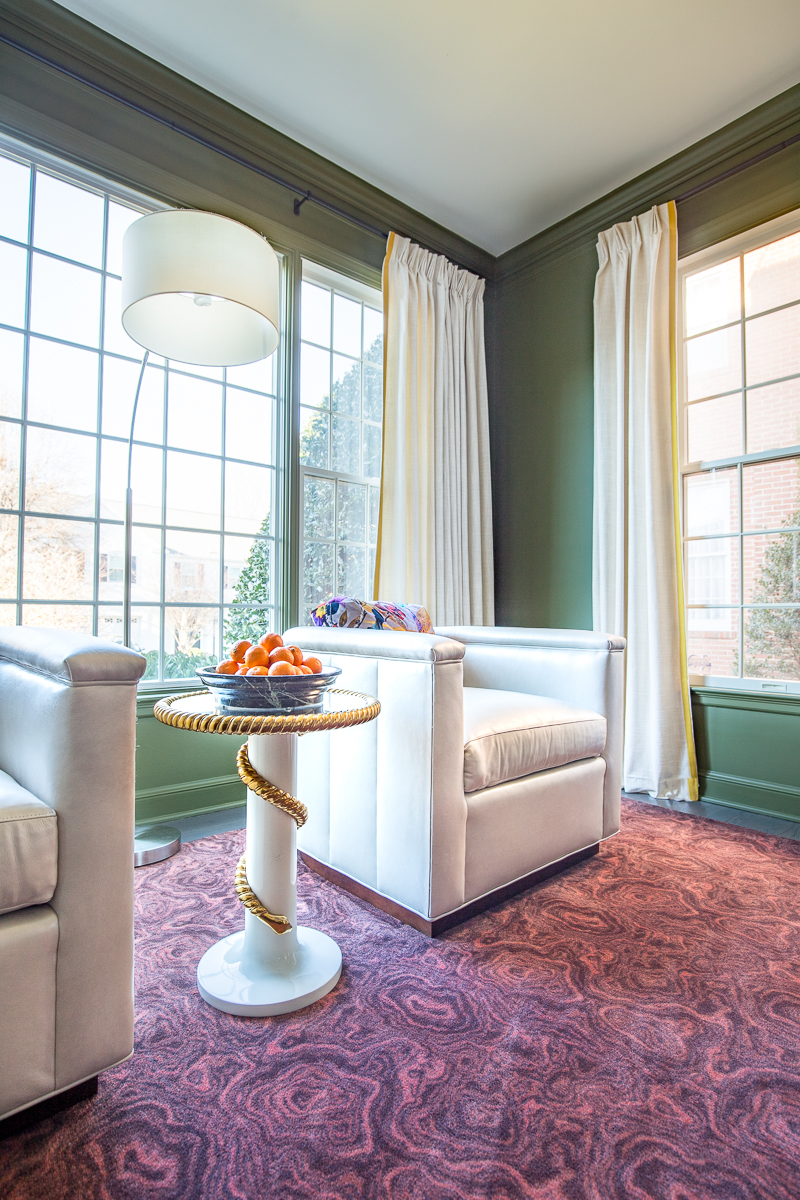 From this view you can see the entryway and office that are on the list for the future.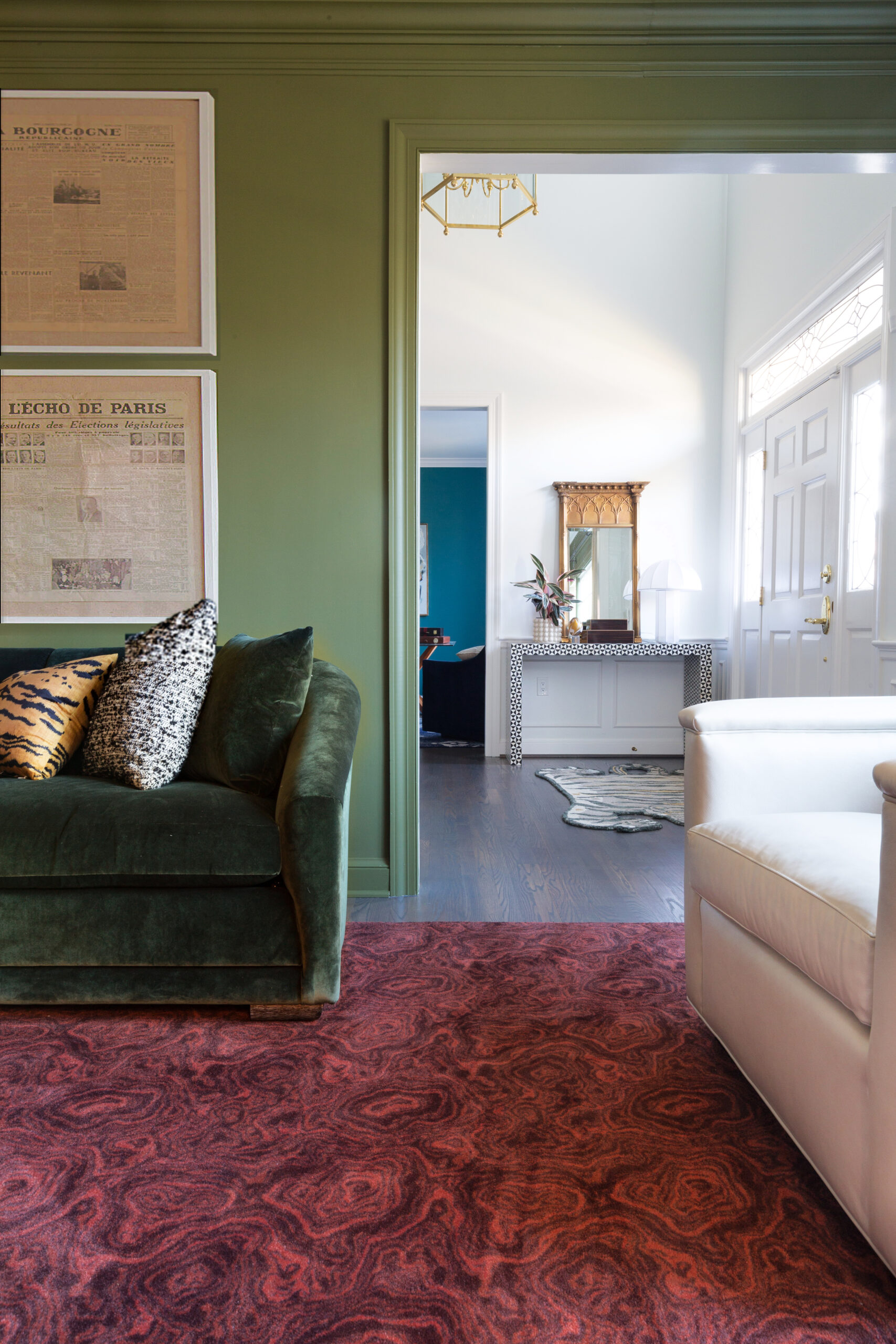 The paint color is Farrow and Ball's Bancha Green mixed in Benjamin Moore paint.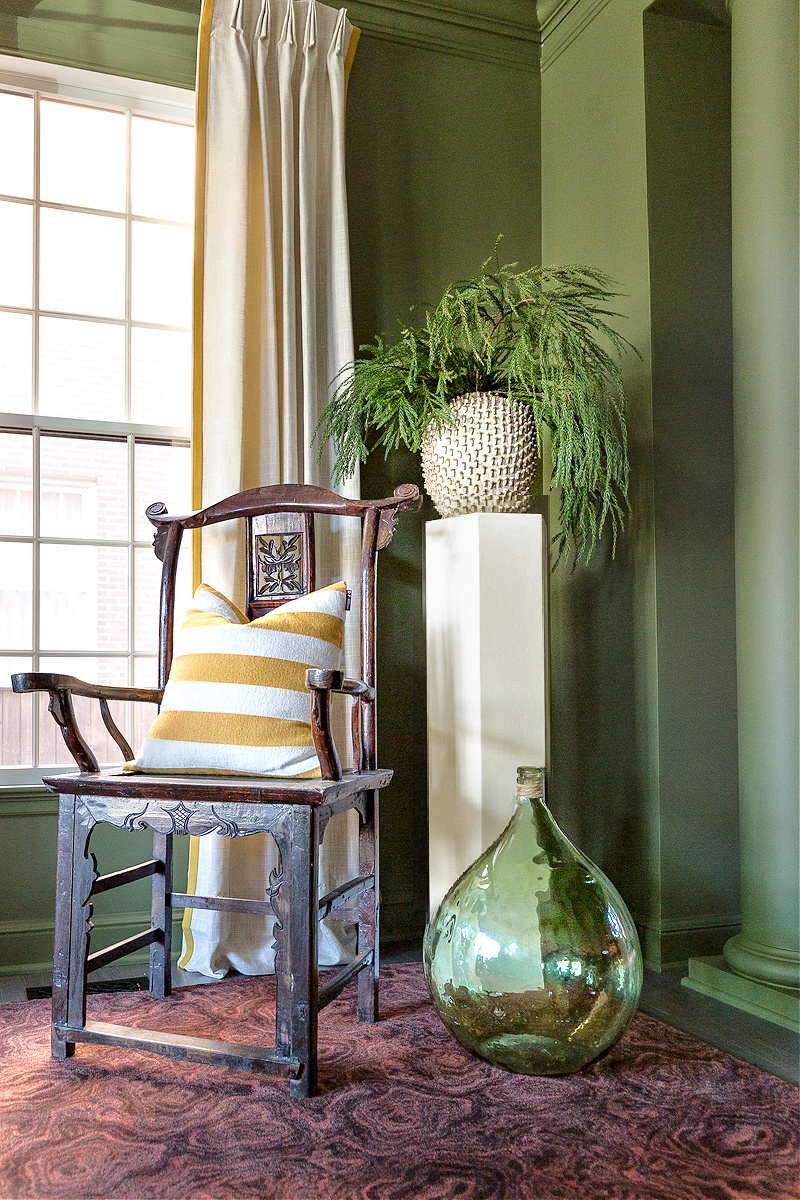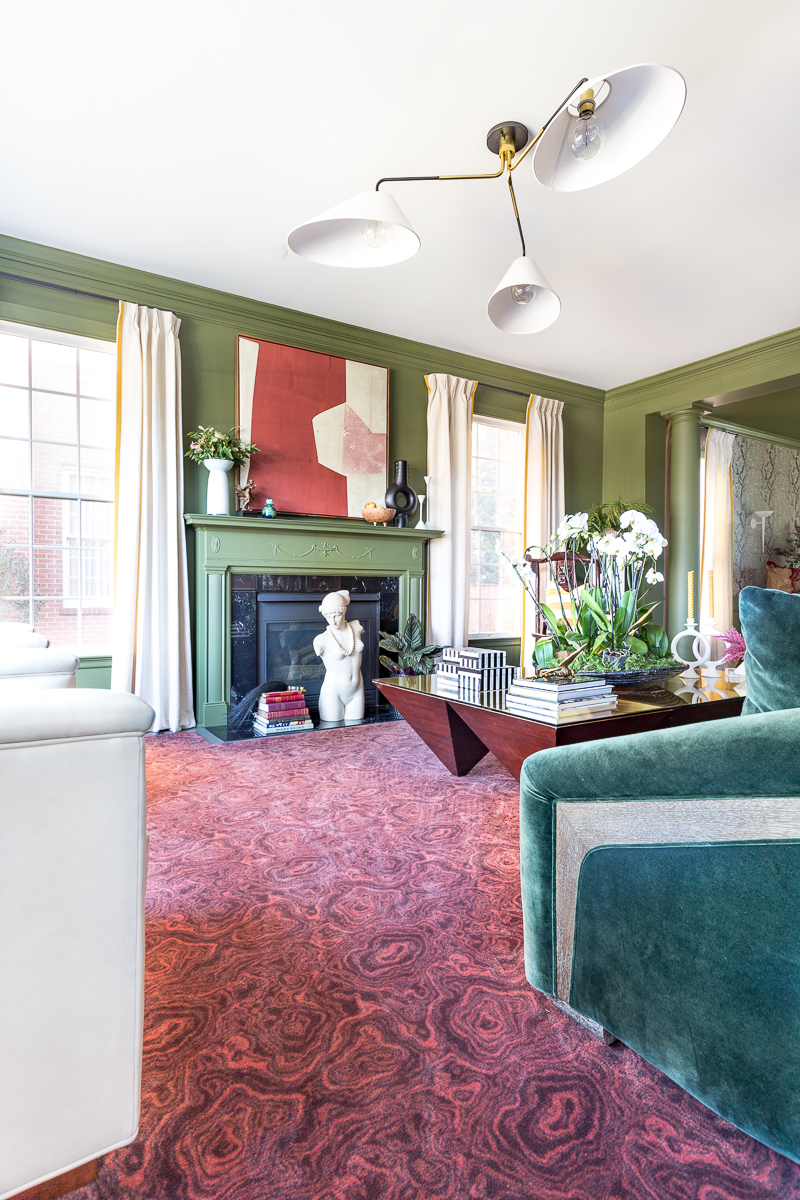 DRAPES
The drapes were sewn by One Stop Show Stop and we added a mustard piping to tie in the yellow butterflies in the dining room wallpaper.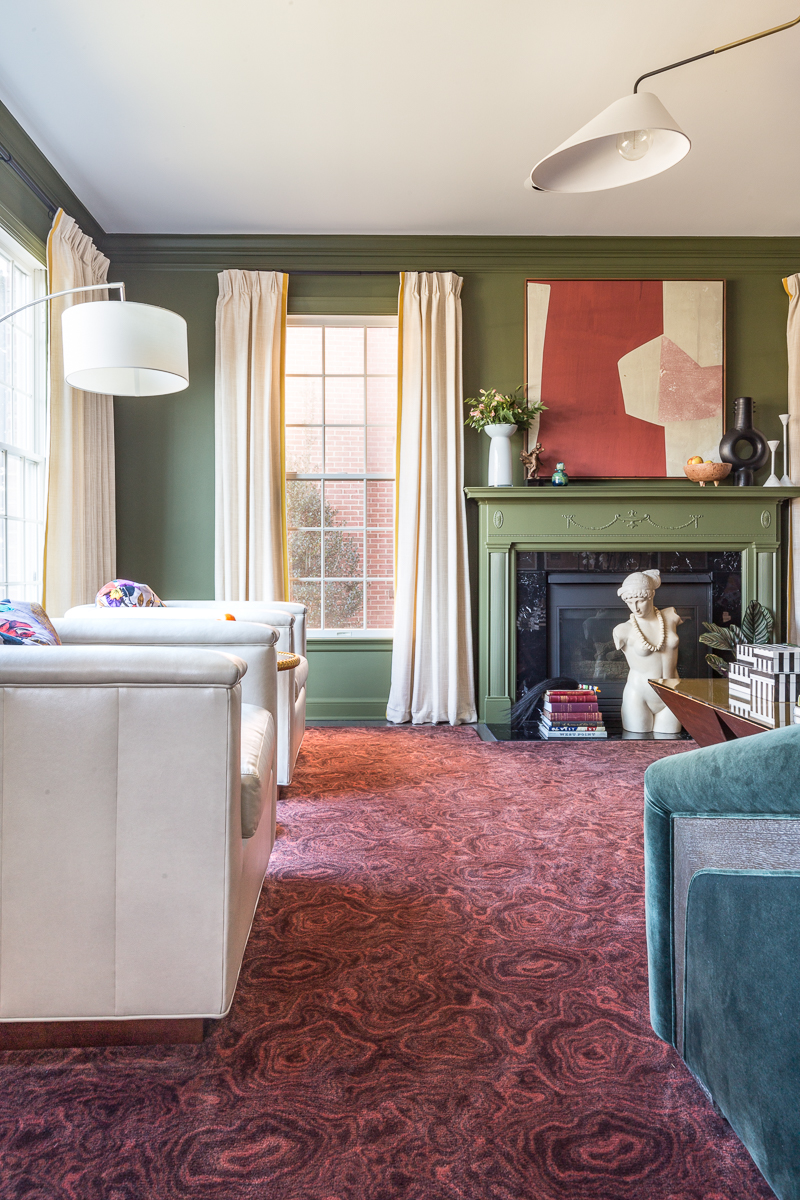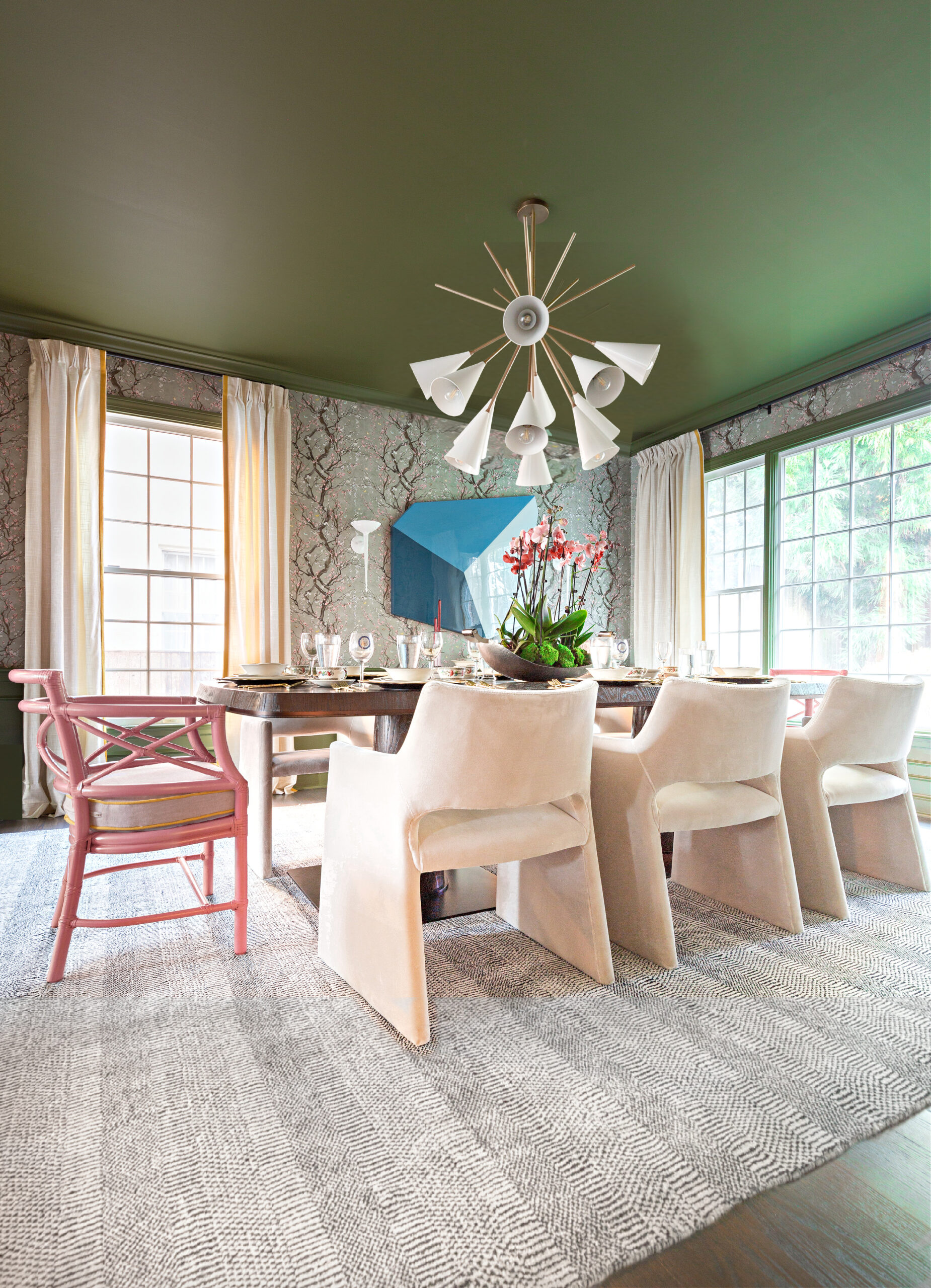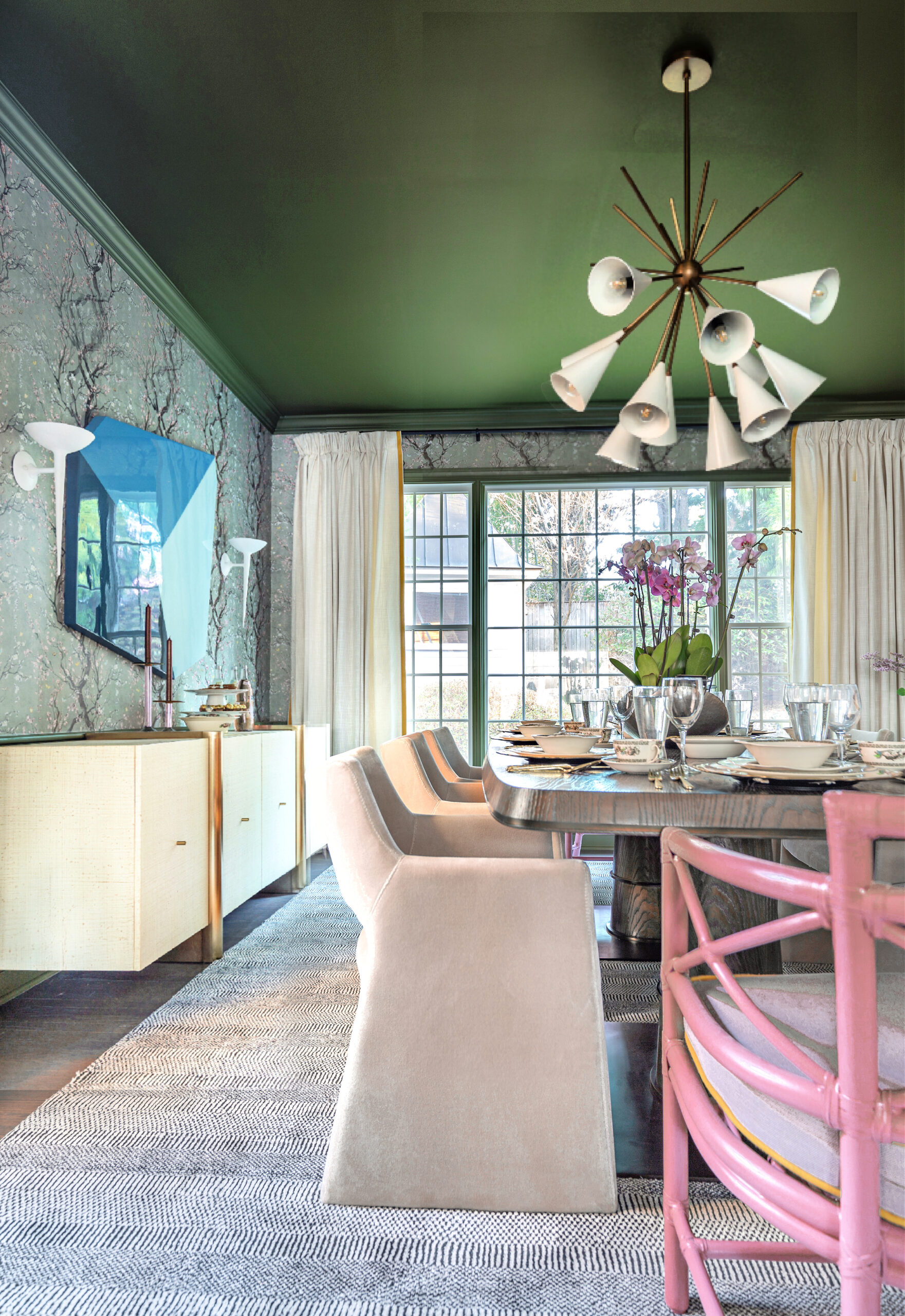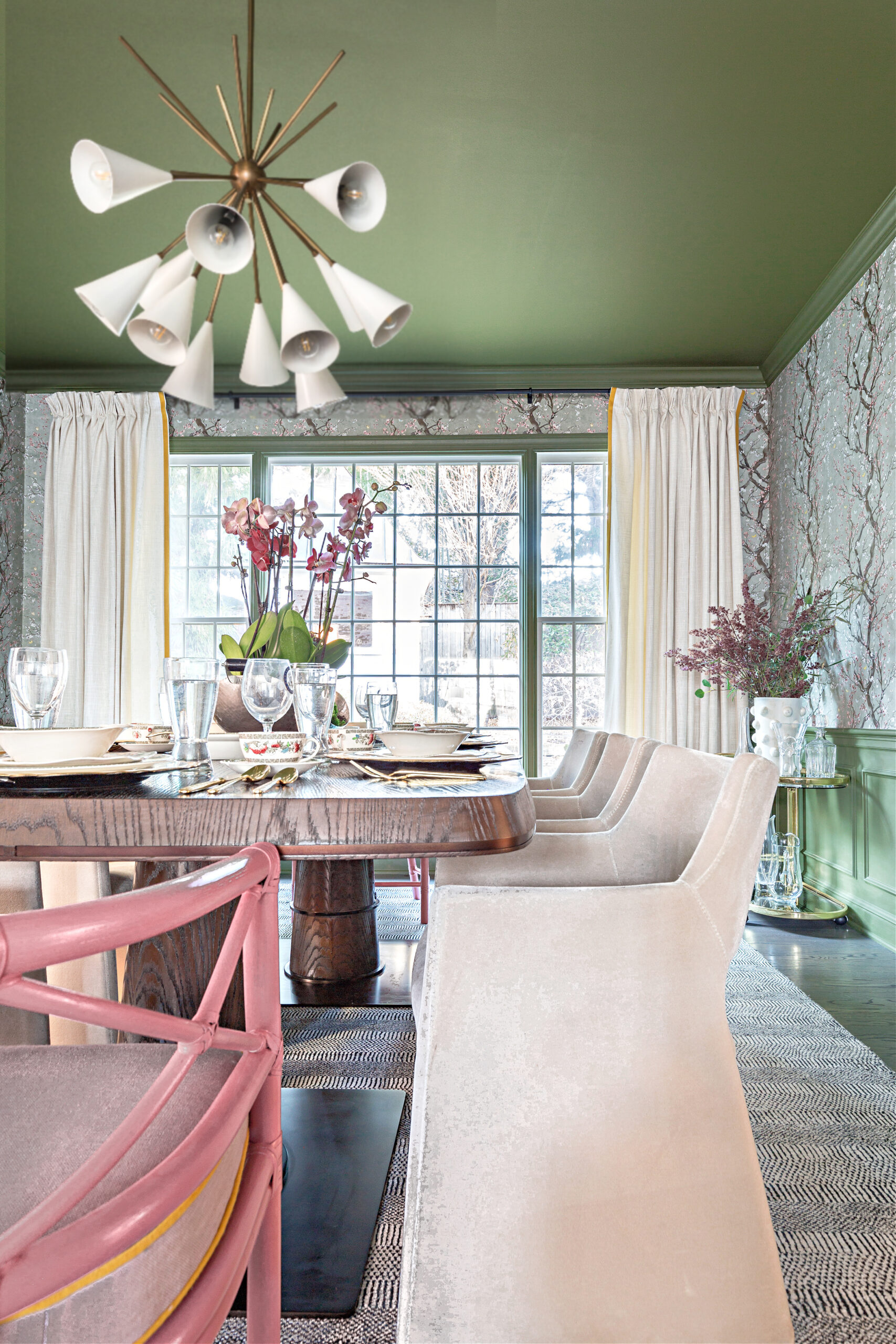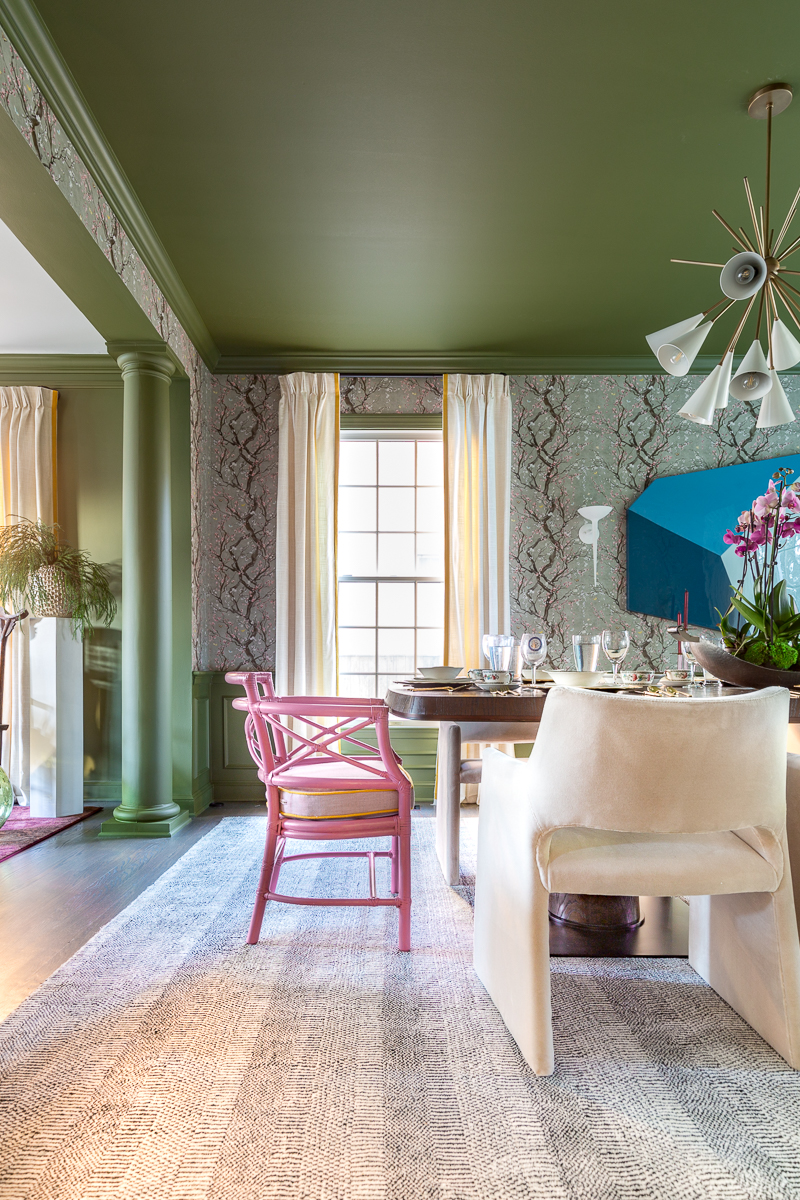 CHANDELIER
To contrast the chinoiserie wallpaper in the dining room, we opted to go for a sleek dining room chandelier. I'd like to introduce you to the Grand Bouquet by Blueprint Lighting.To contrast the chinoiserie wallpaper in the dining room, we opted to go for a sleek dining room chandelier.  This piece is truly a jaw-dropper, and it can be customized in a variety of colors.  This beauty is also functional, as it casts glorious amounts of beautiful light in the dining room.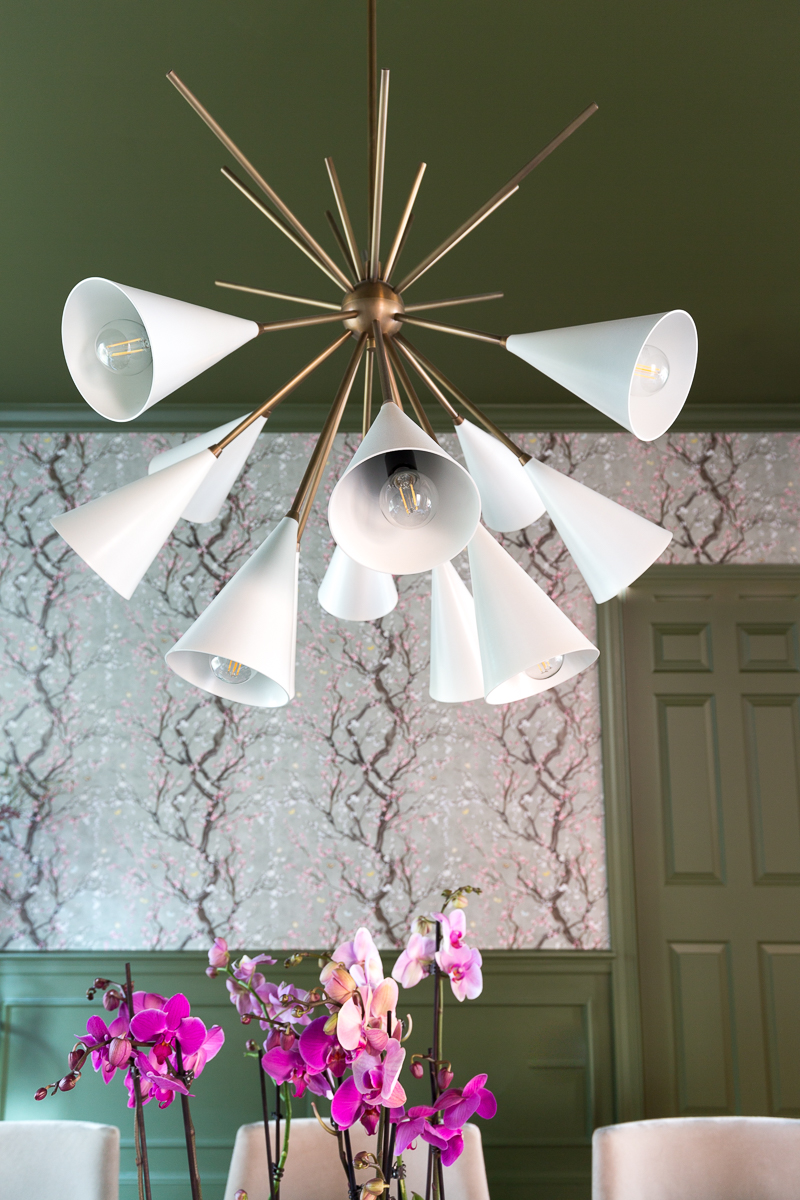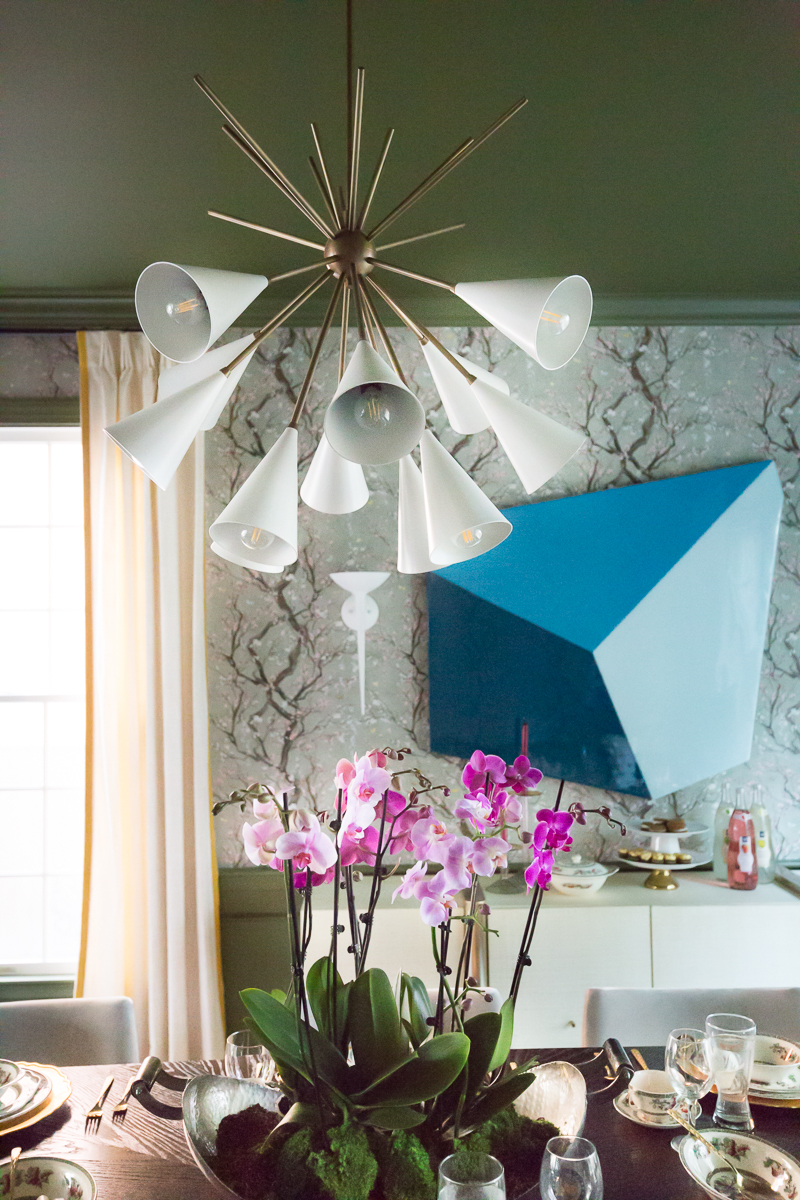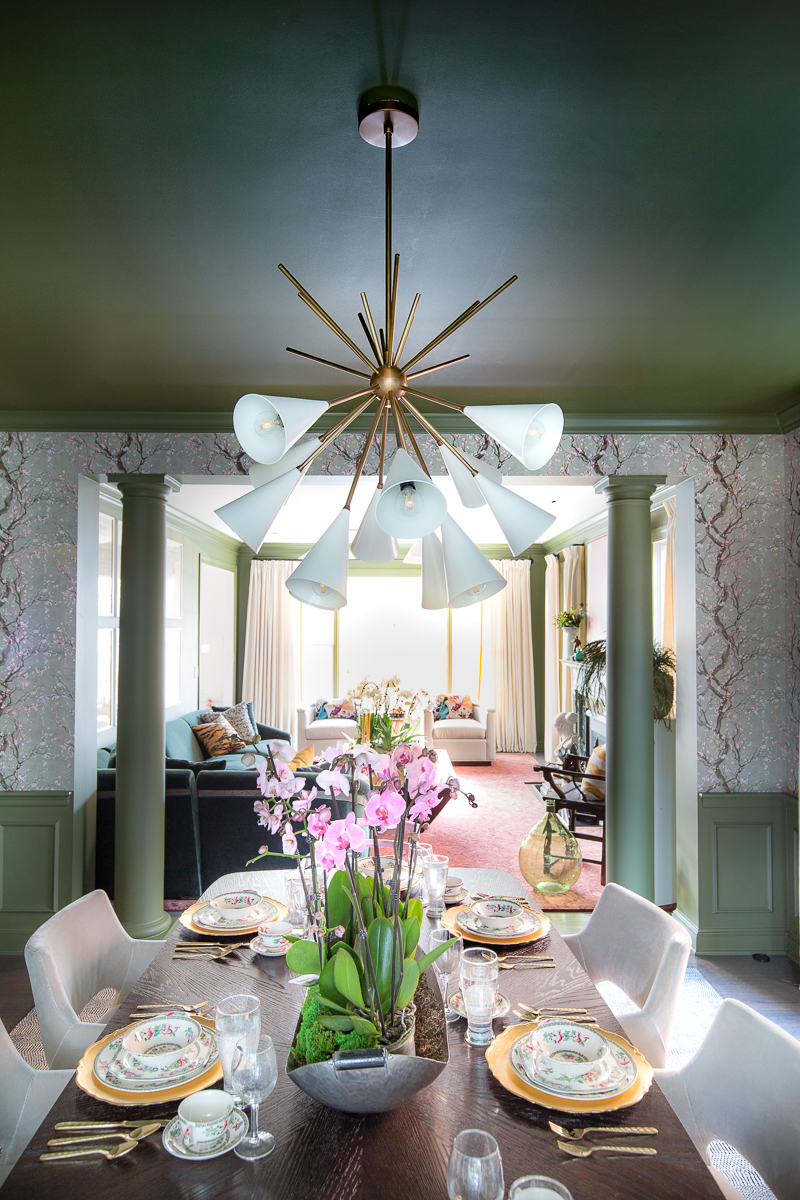 WALLPAPER
I almost installed this Plum Blossom Wallpaper by Milton and King wallpaper in my bedroom years ago, and am excited to finally use it.  I think it plays well with the Bancha Green paint and is a nice nod to the Cherry Blossoms we enjoy each Spring in D.C.
I've used Milton and King before, and loved it.  In fact my current dining room wallpaper sports the Viva Tropicana.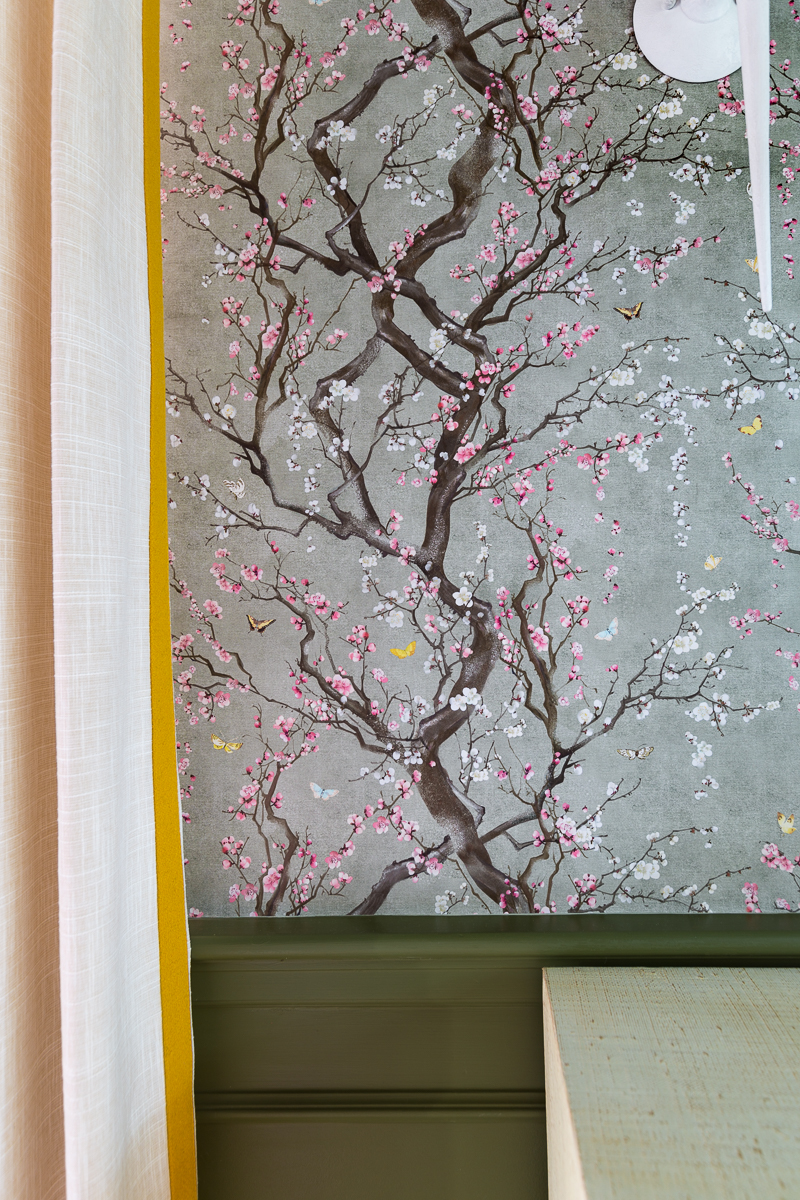 I can't get over this tumbling block art, now that is epoxied and installed.  Ronni Logan, a local DC artist, interior designer, and my business partner, did a truly spectacular job on this artwork.  Reach out to her on Instagram if you would like a custom piece for your home.
Ronni also upholstered the McGuire dining chairs and sewed the Kit Miles cushions in the living room.  She was a reliable sounding board as I worked through the various elements in the space.  Some of her lovely items are used to style the room as well.  Thanks Ronni!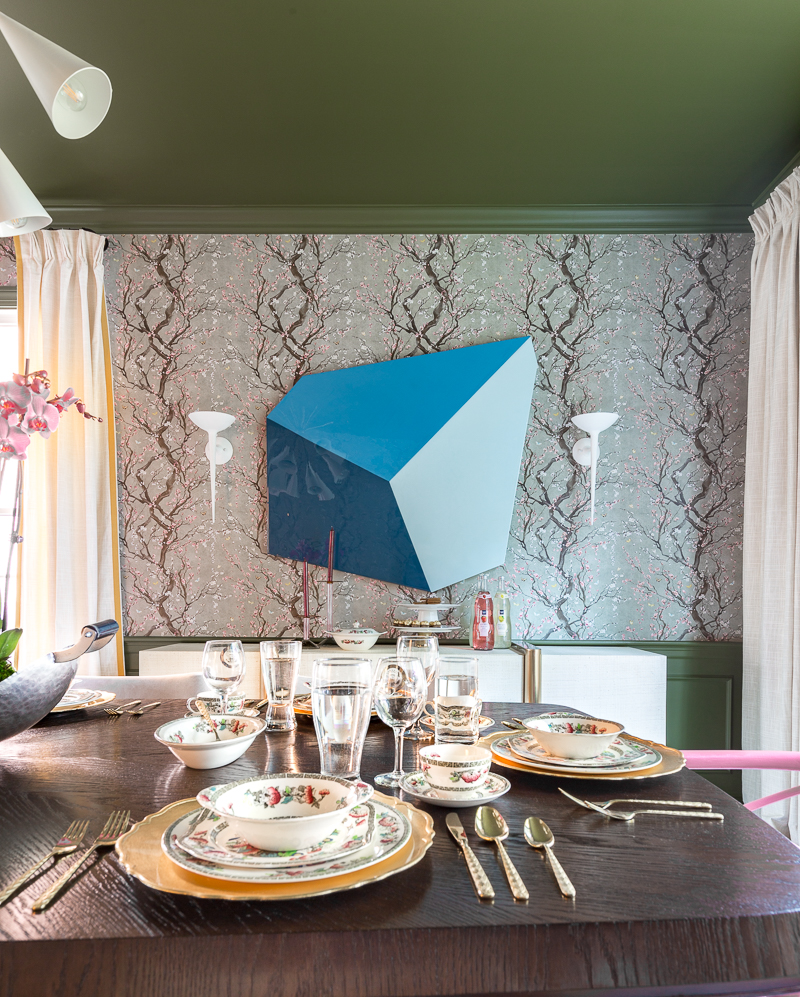 Thanks so much for taking the time to see our dining room and living room reveal.  If you are interested in design services, we would love to add you to our waitlist.
Thank you!
Jewel Marlowe