It's begining to look a lot like Christmas here in our humble rental home. I have pulled out all of the bins from the garage, made a couple of trips to some of my favorite craft stores, and spray painted, sewed, and hot glued my way to a new look for this year's holiday decor… Blush + Burgundy colors= A Dramatic and Romantic Christmas…I CAN'T WAIT TO SHOW YOU!!!!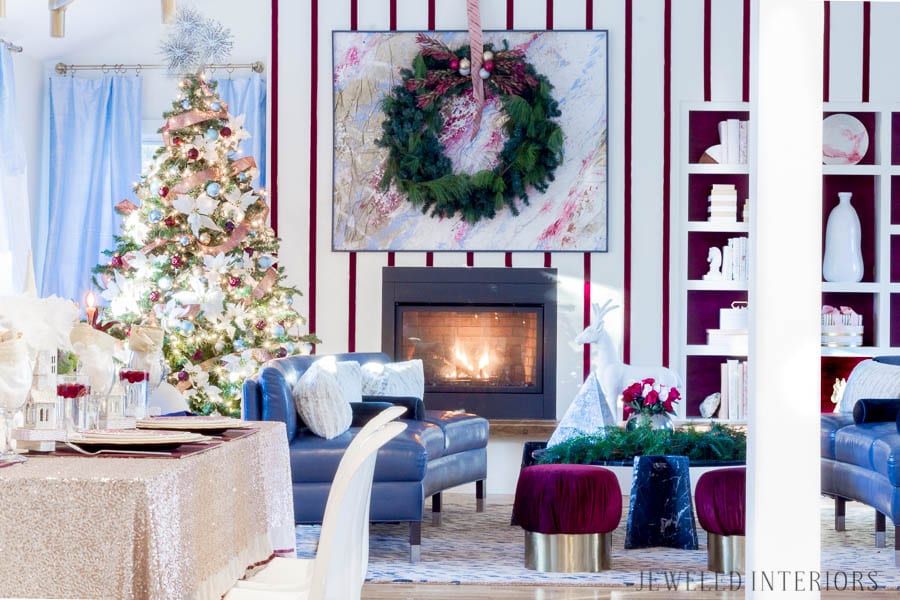 A huge welcome goes out to anyone joining me from the Easyfamilyrecipes.com or the thepinningmama.com. I loved throwing a holiday party with Kimber.  She is such a gracious and talented gal with some mad skills in the kitchen.  I couldn't believe how easily she pulled together an entire Christmas dinner. She has some mad tricks up her sleeves for certain. 
For my regular followers, you have seen a lot of my great-room lately with the One Room Challenge, so let's mix things up and start in the kitchen…An area of the home I have been waiting to share.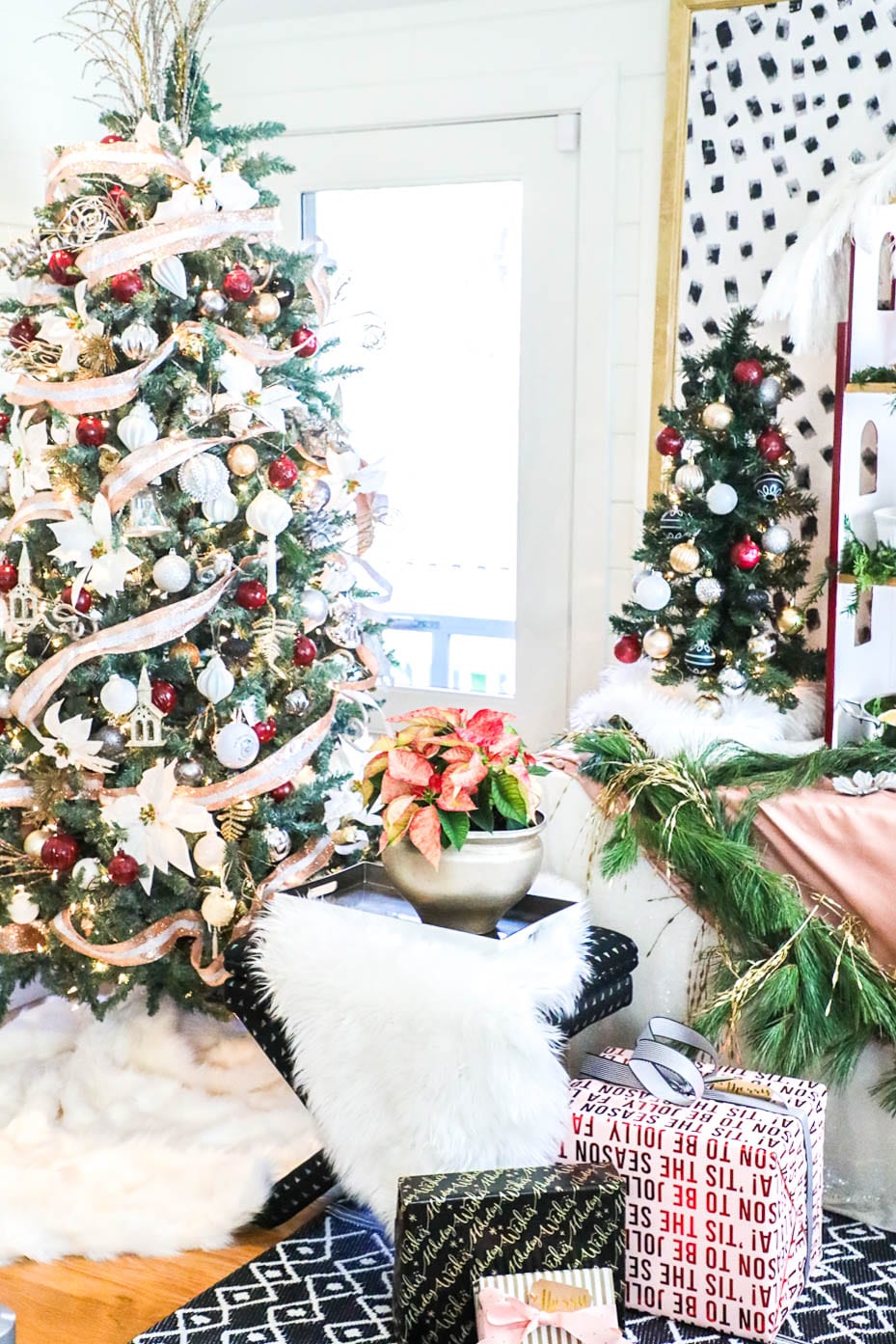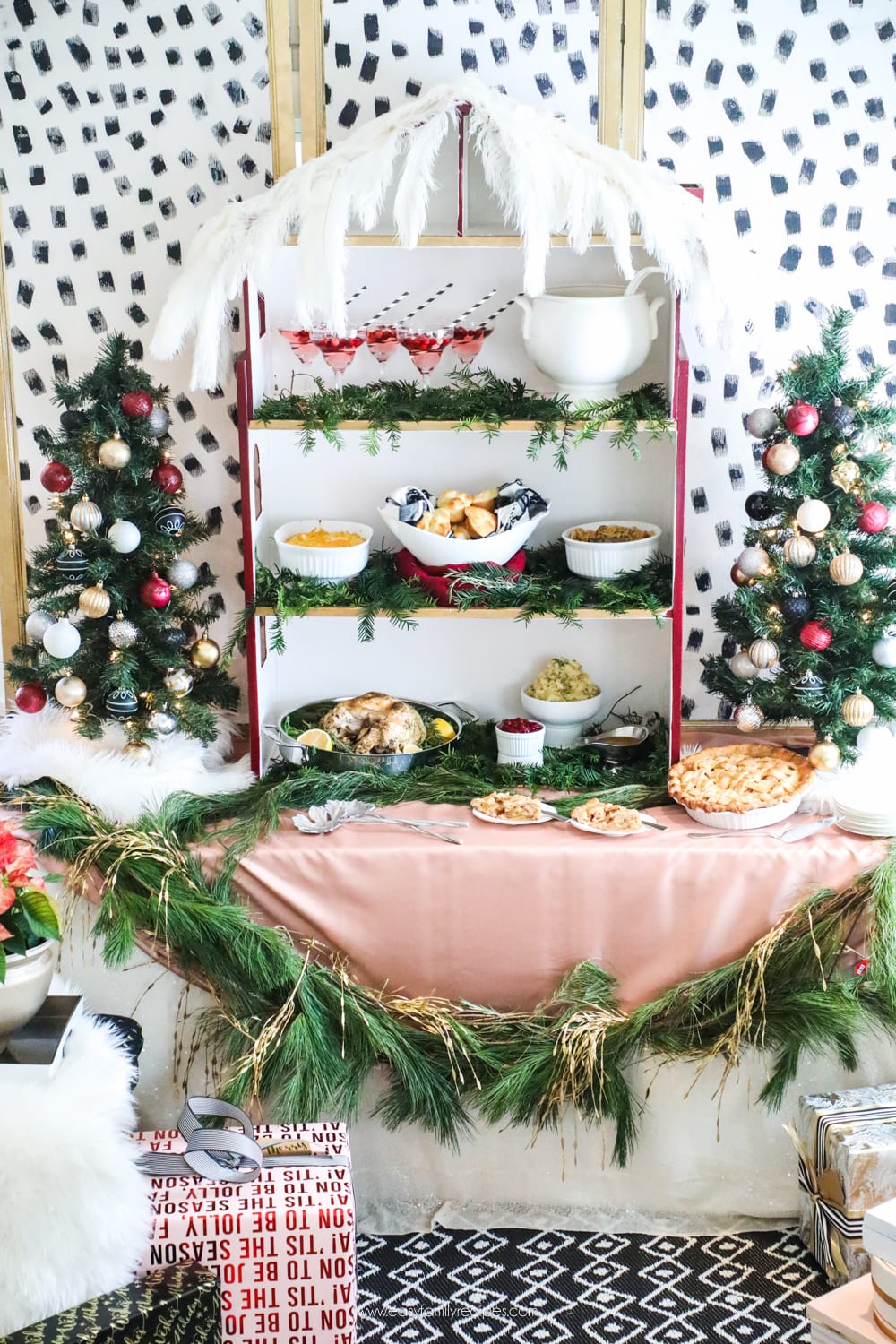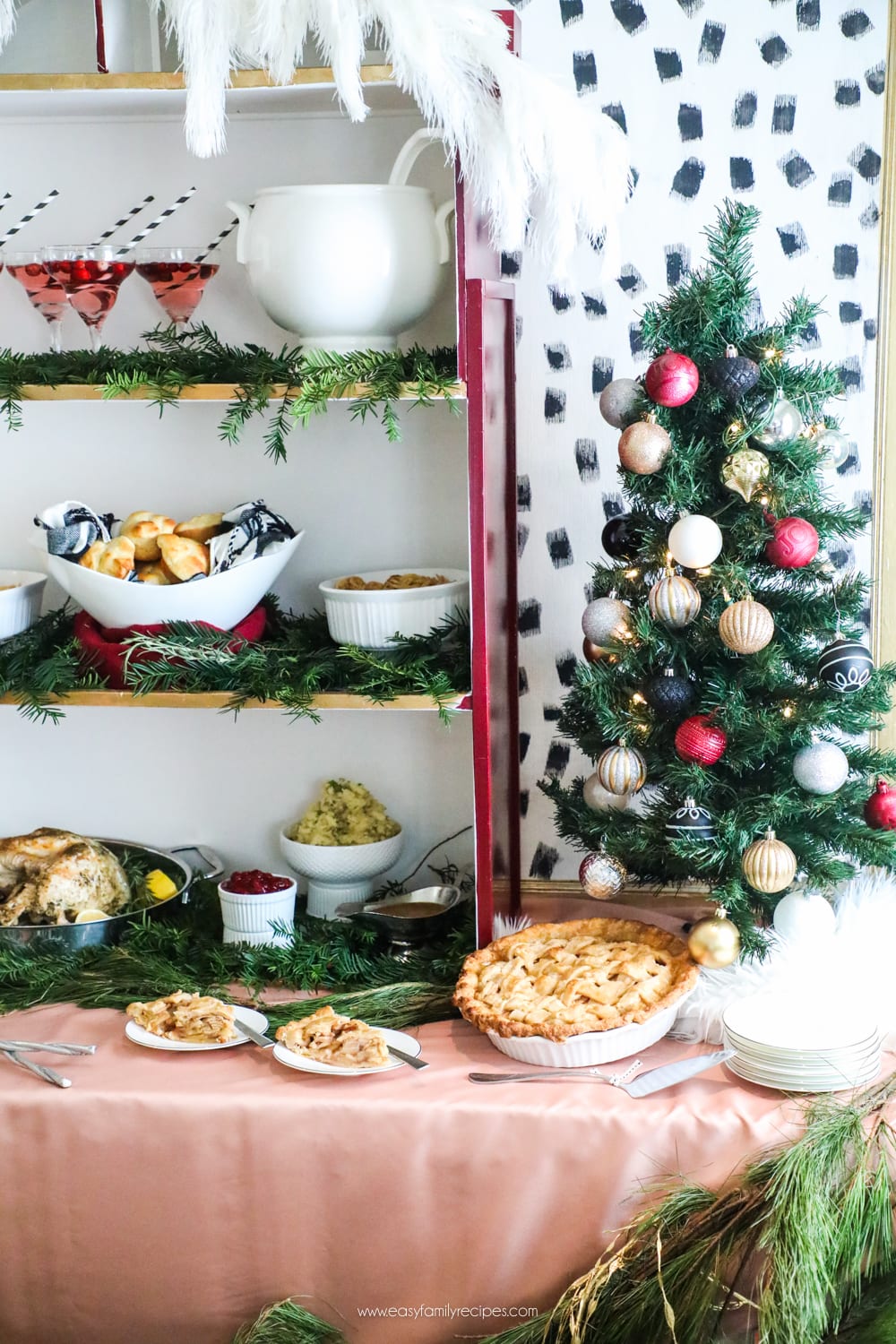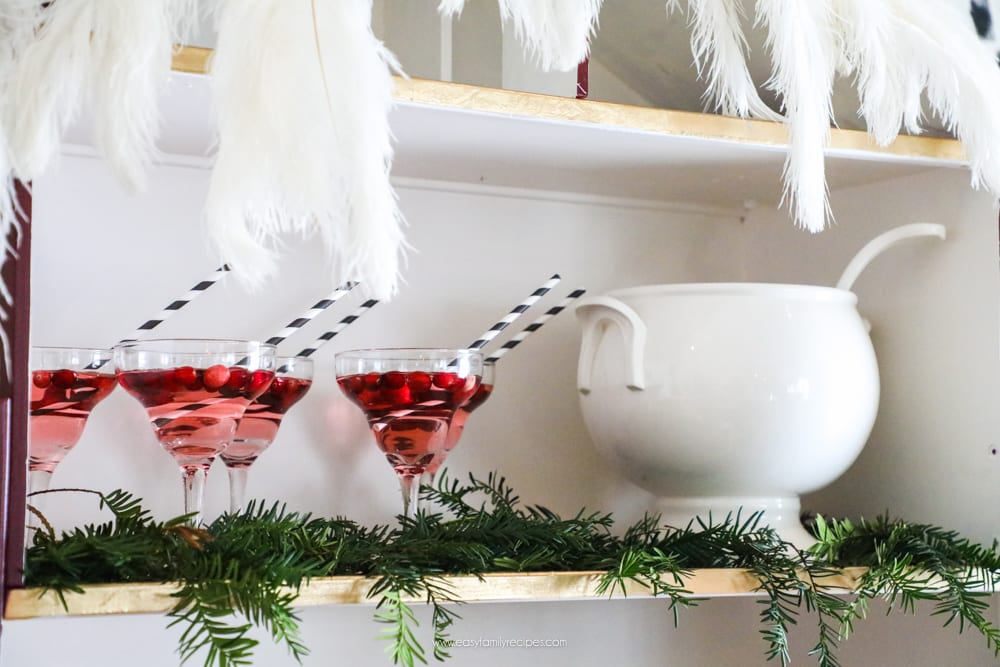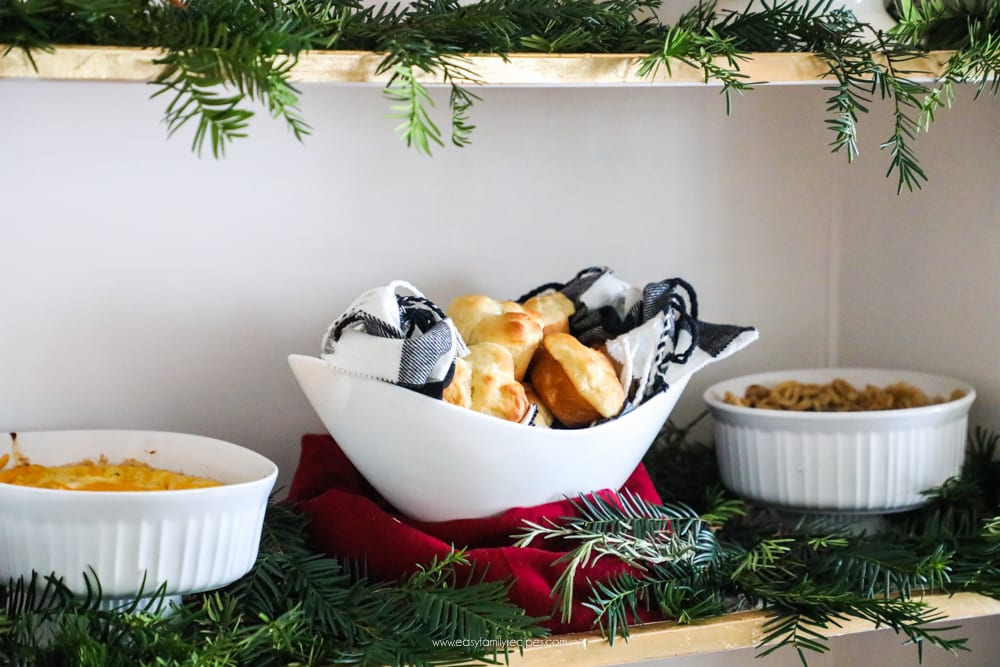 Below you can see what the kitchen looks like when not in party mode.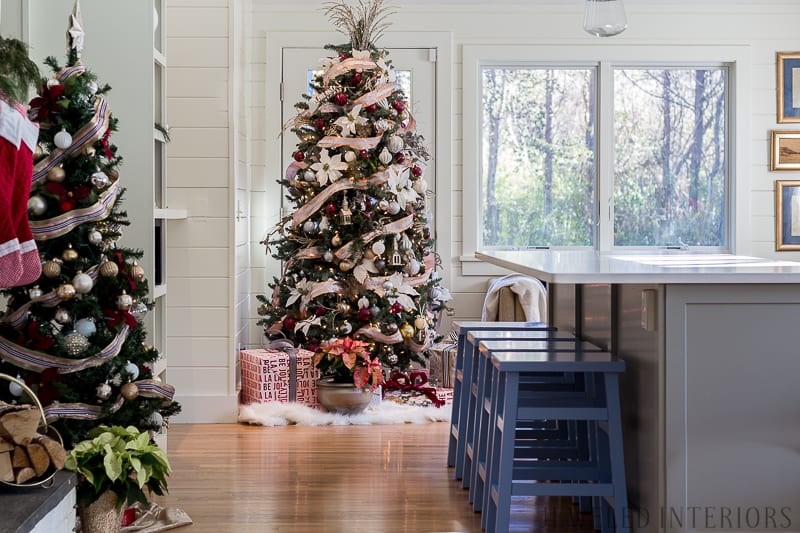 I feel blessed to have not one, not two, but three fireplaces in this rental home. Two of these beauties are on this level, and the third will be saved for another time. Ohhh the suspense of it all.
I am thrilled to get to reused the antique mirror which formerly hung in the dining room of our last rental. I love the scale and patina of the piece! A perfect fit!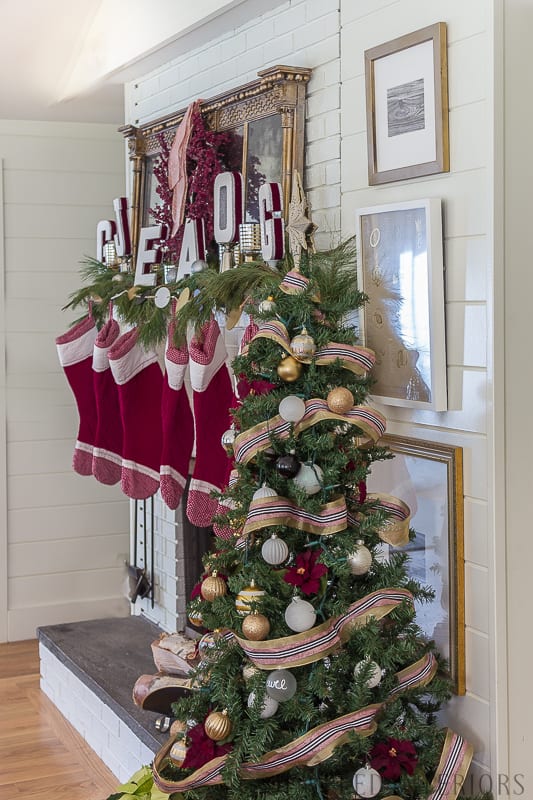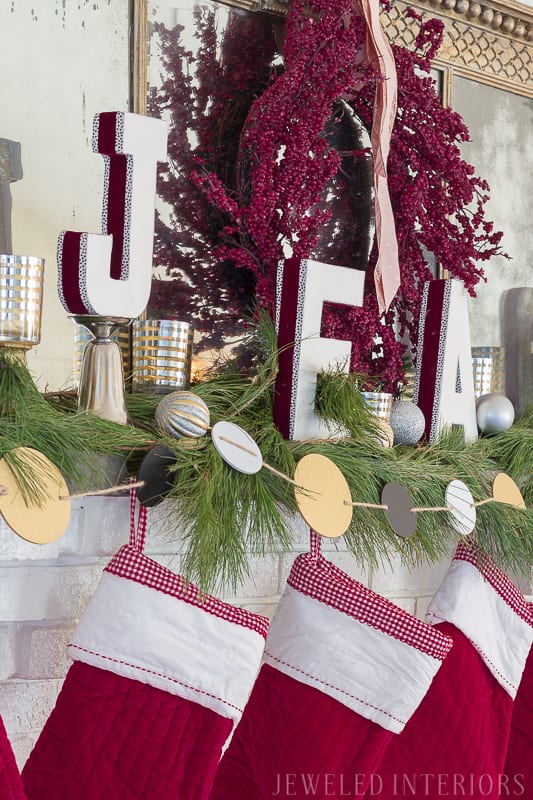 I hung our old Pottery Barn stockings above this fireplace, but it was still missing something.
I DIY'ed some monogram letters with burgundy and dalmation print paper (DIY Tutorial coming soon). This black and white spotted paper from Hobby Lobby was really the genesis for the entire decor scheme. In fact, it became the dramatic and beautiful theme for the holiday party I threw with Kimber from the pinningmama.com and easyfamilyrecipes.com.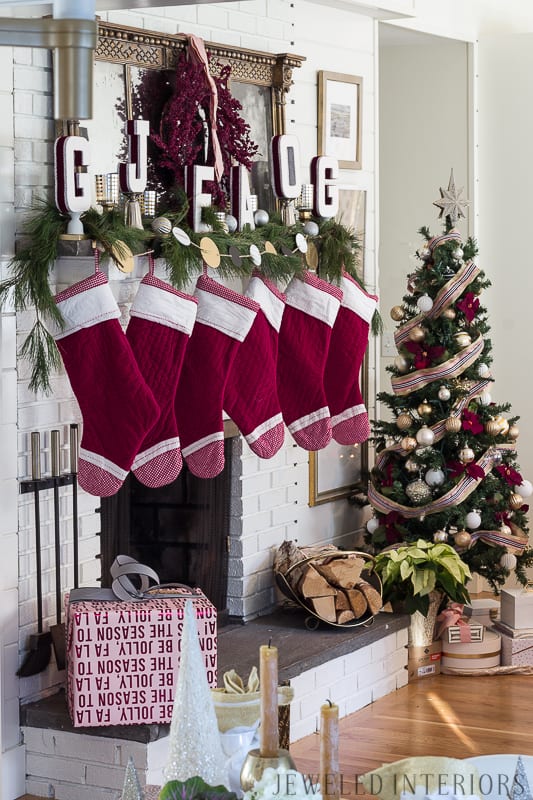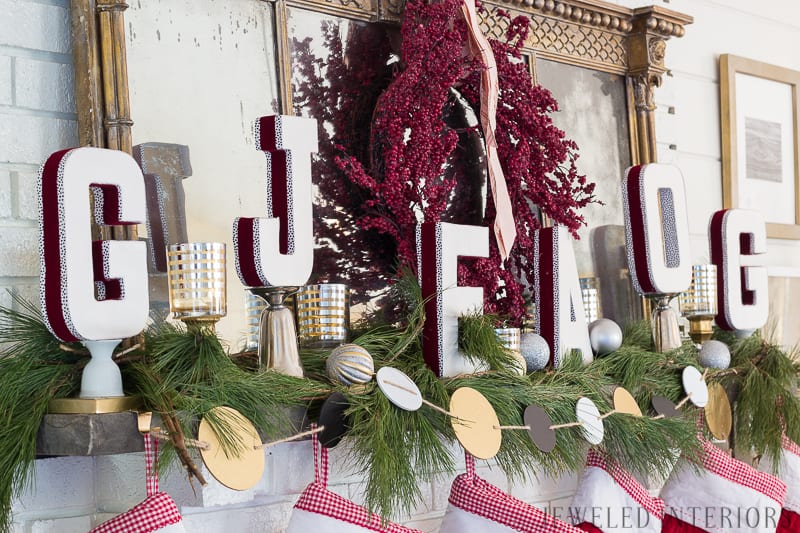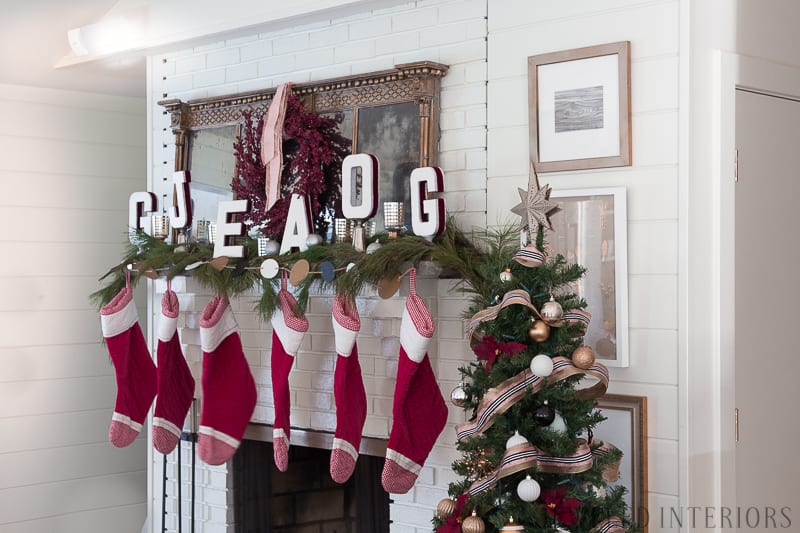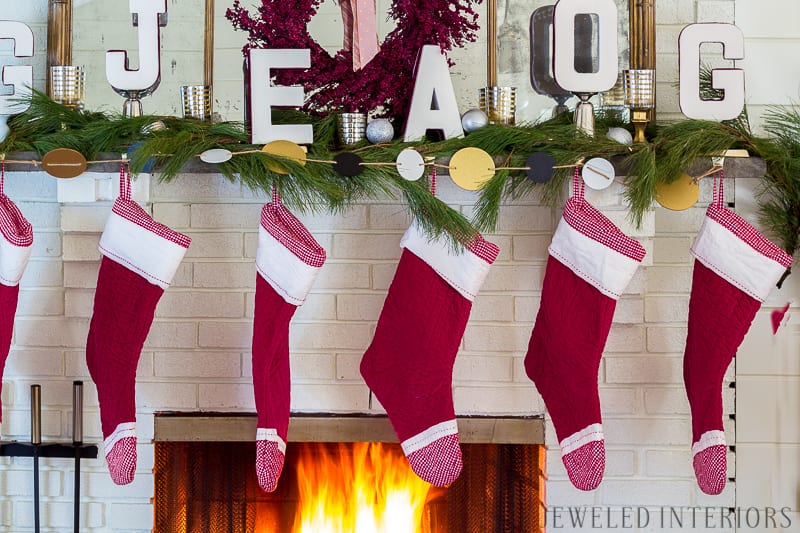 Let's talk trees for a sec. Notice the billowing ribbon on each of these two trees below? I tried a single ribbon, but that just wasn't enough.  I wanted MORE!  I whipped out the hot glue gun and customized my trim.  Notice in the pictures below how layering ribbon adds visual interest and ties various themes together. Now my trees pick up on both the blush and the black and white schemes. The best part?  Next year I can easily rip it apart and come-up with a new design.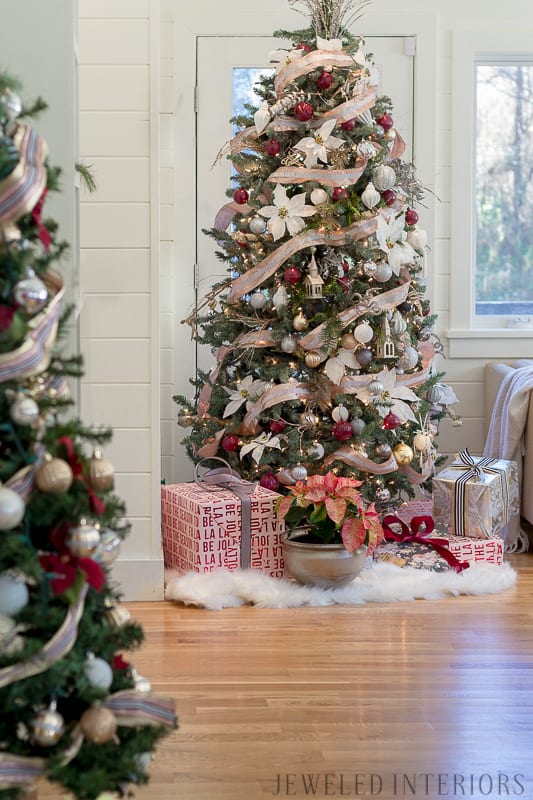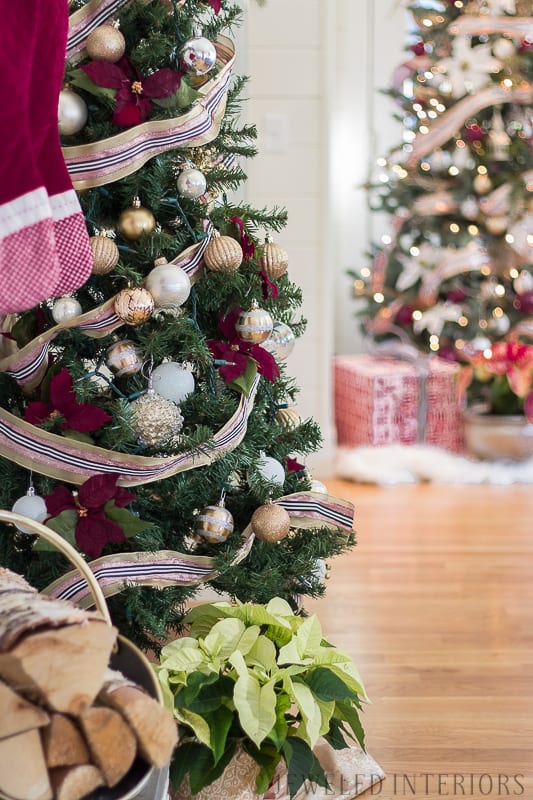 I have always had a thing for pointsettias on a Christmas tree. Perhaps this dates back to a visit to Charleston, SC over the holidays. Maybe it has something to do with a particularly stunning White House Christmas tree I once saw, but it in all honesty I think it is because they are such easy decorations. Each flower is so large and lovely.  For around $30 in discounted faux flowers I can add instant cohesion and style to a tree. Boom!
I couldn't find Christmas ornaments that were the perfect shade of burgundy. No sweat! A can of spray paint did the trick!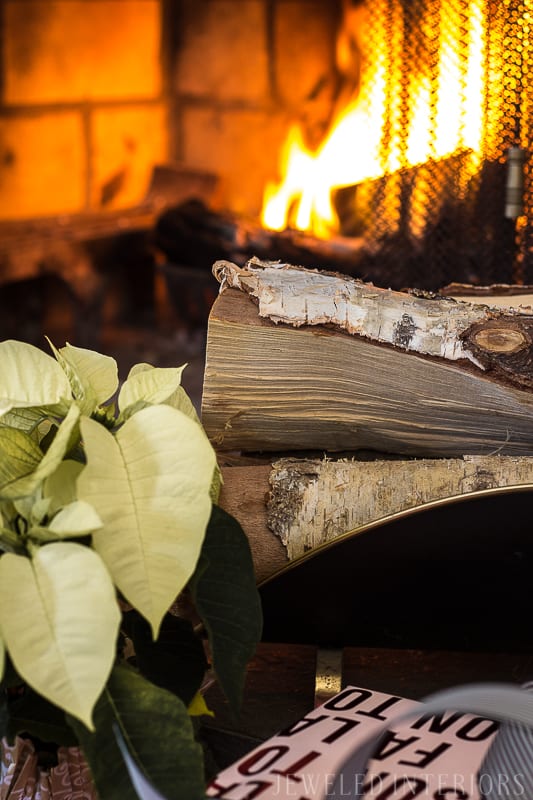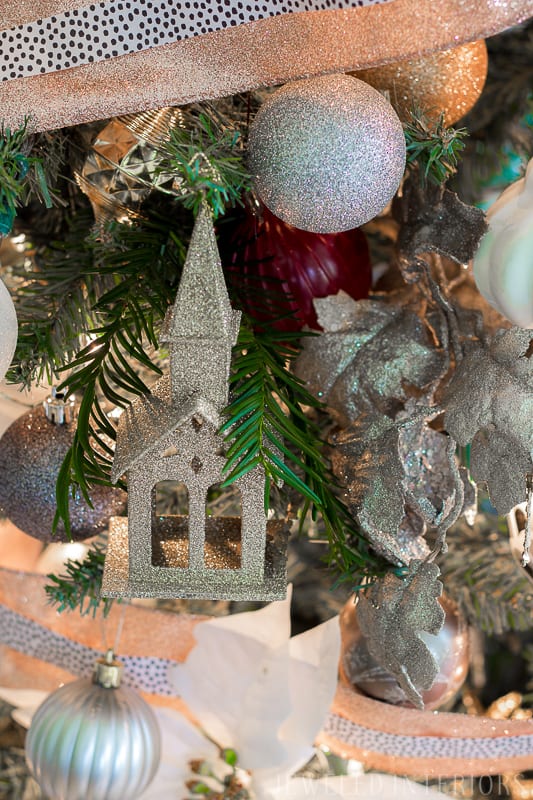 Also, see if you can find the Christmas houses in the last picture. These ornaments reinforce the theme of the party and the holiday decor in general for the year.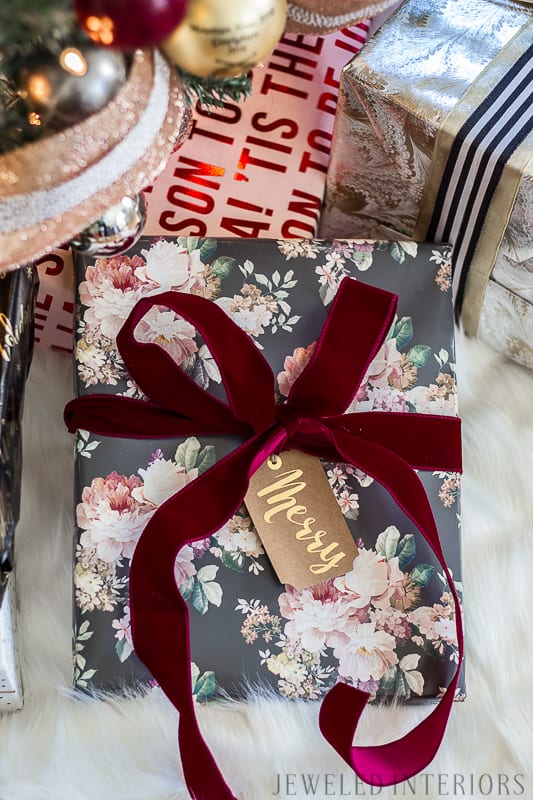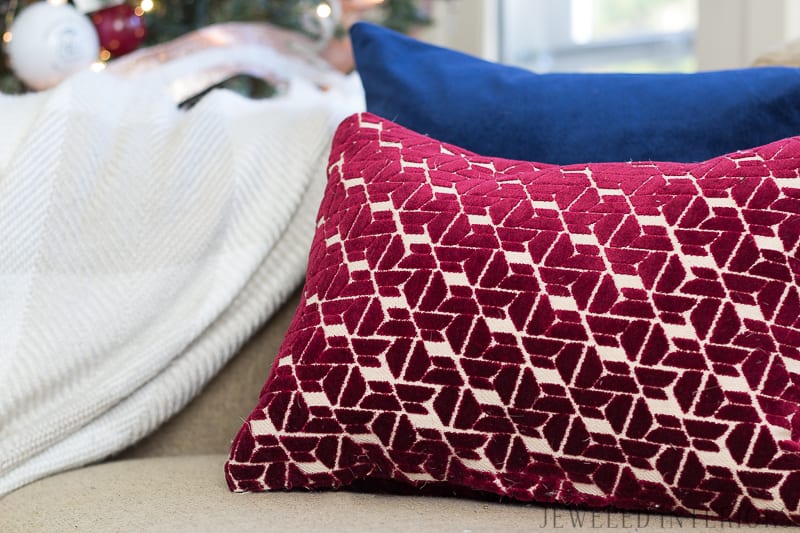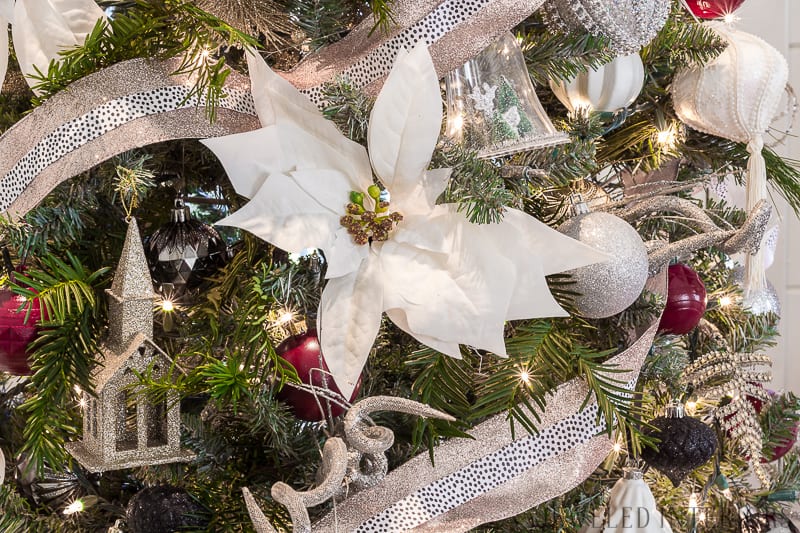 Looking for a free way to add holiday cheer to your open shelving? Grab your garden sheers, snip some evergreens from your neighbor's your yard, add some ornaments and your done!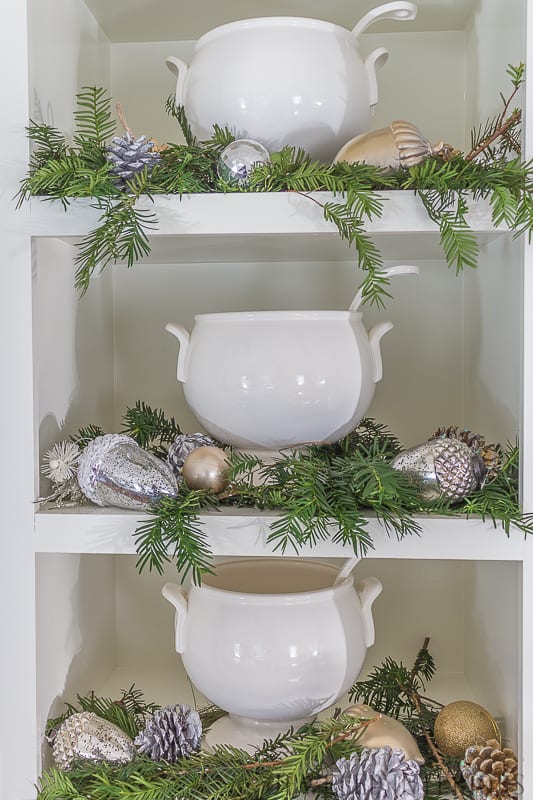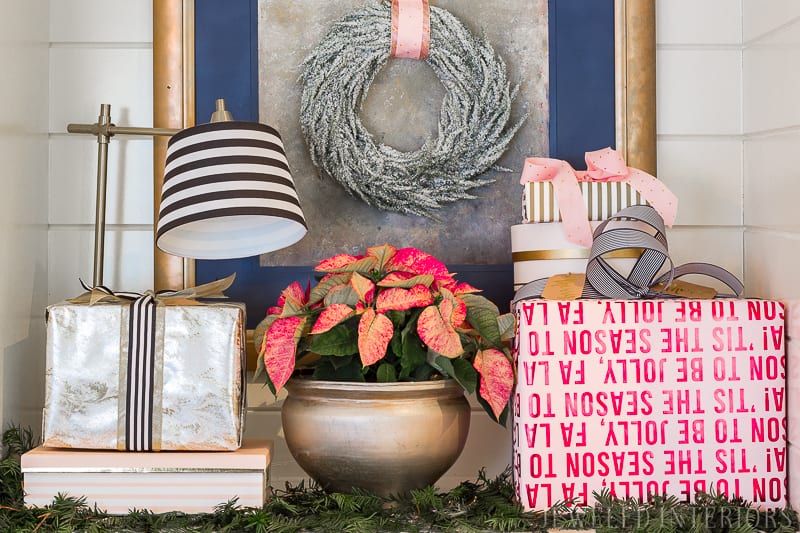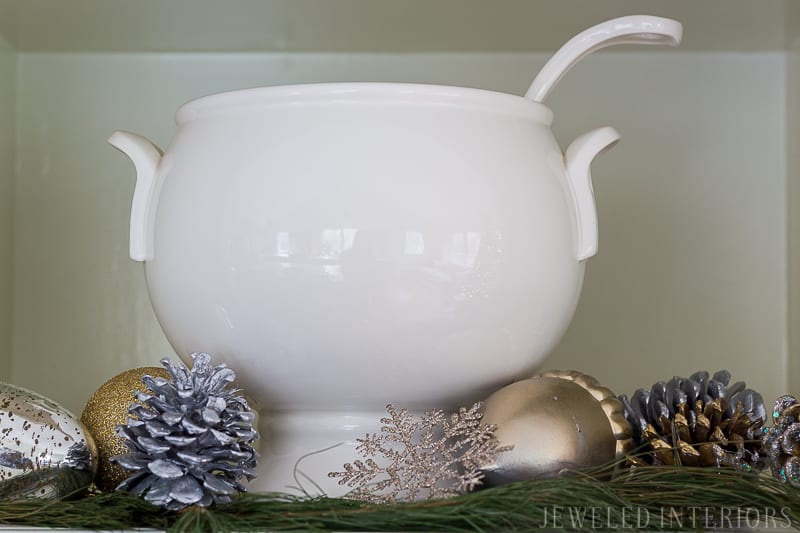 Want more inexpensive pops of Christmas? Gather up pinecones, heat them in you oven at 200 degrees for 45 minutes to kill the bugs, and hit them with the metallic spray paint and glitter. Glittering pinecones is a fun and clean project to enjoy with your children (can you see me laughing out loud as I'm typing this 🙂 On second thought, wait until after bedtime for this one folks.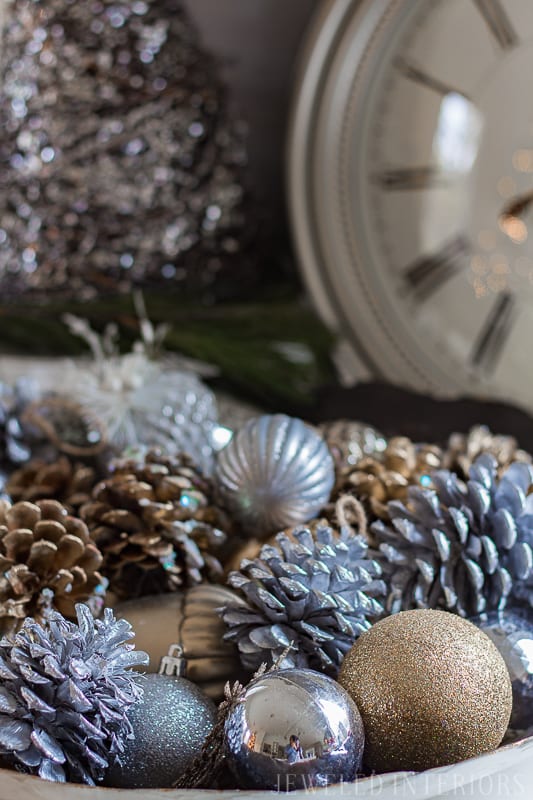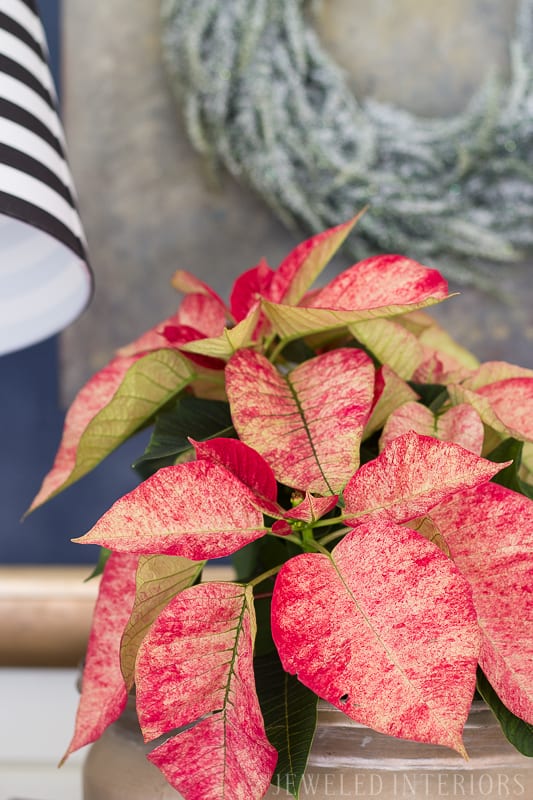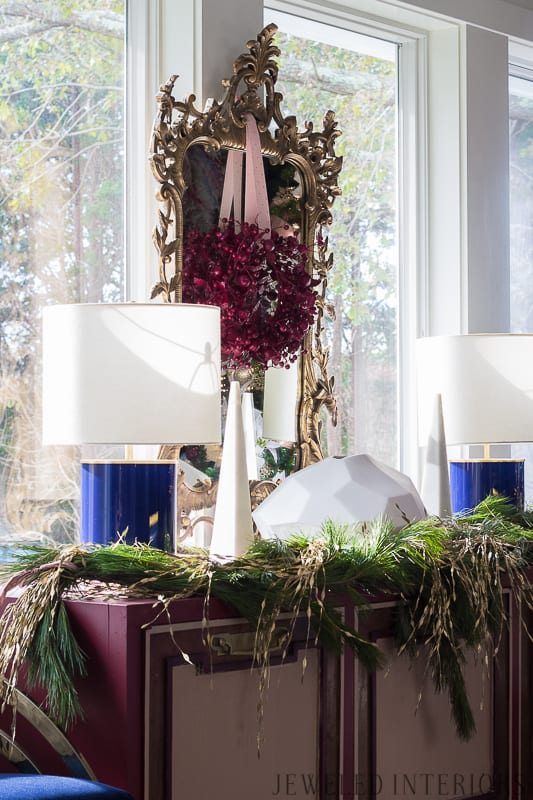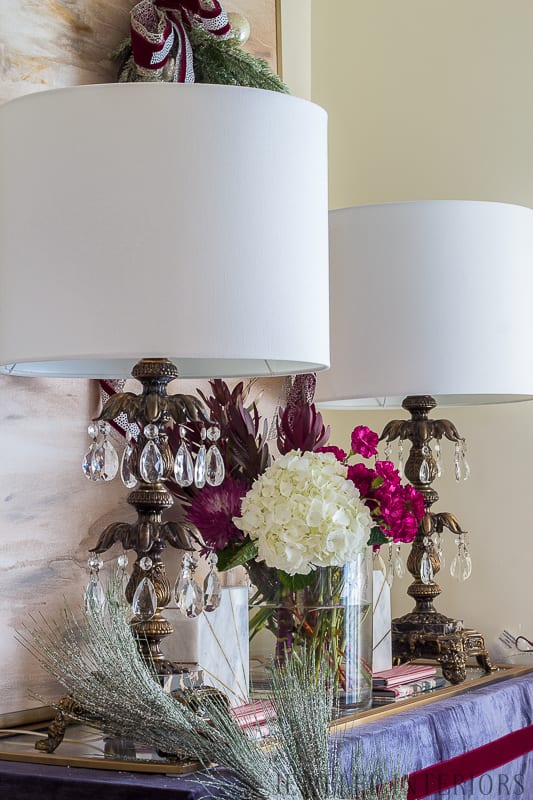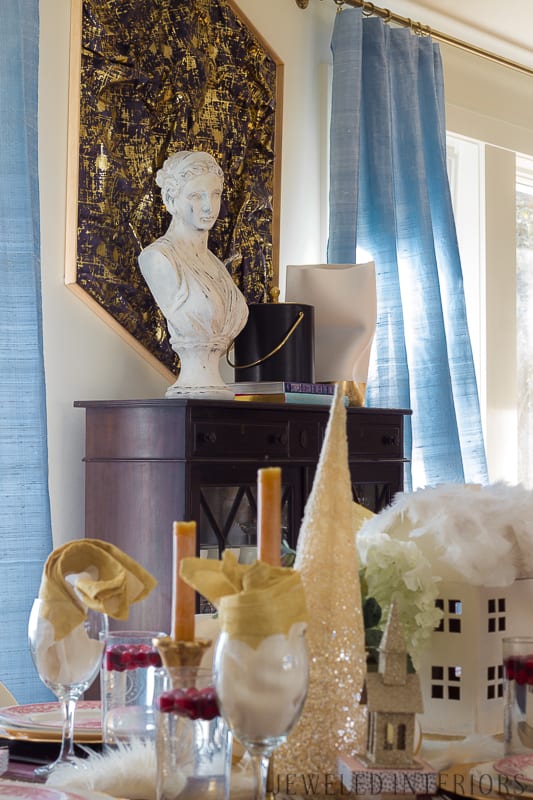 Blushes and Burgundies continue as we enter into the great-room area of the home.
To tie the two spaces together I have also picked up on the dalmatian print and the Christmas house theme used in the party and tree in the kitchen. See if you can find the clues in the pictures below.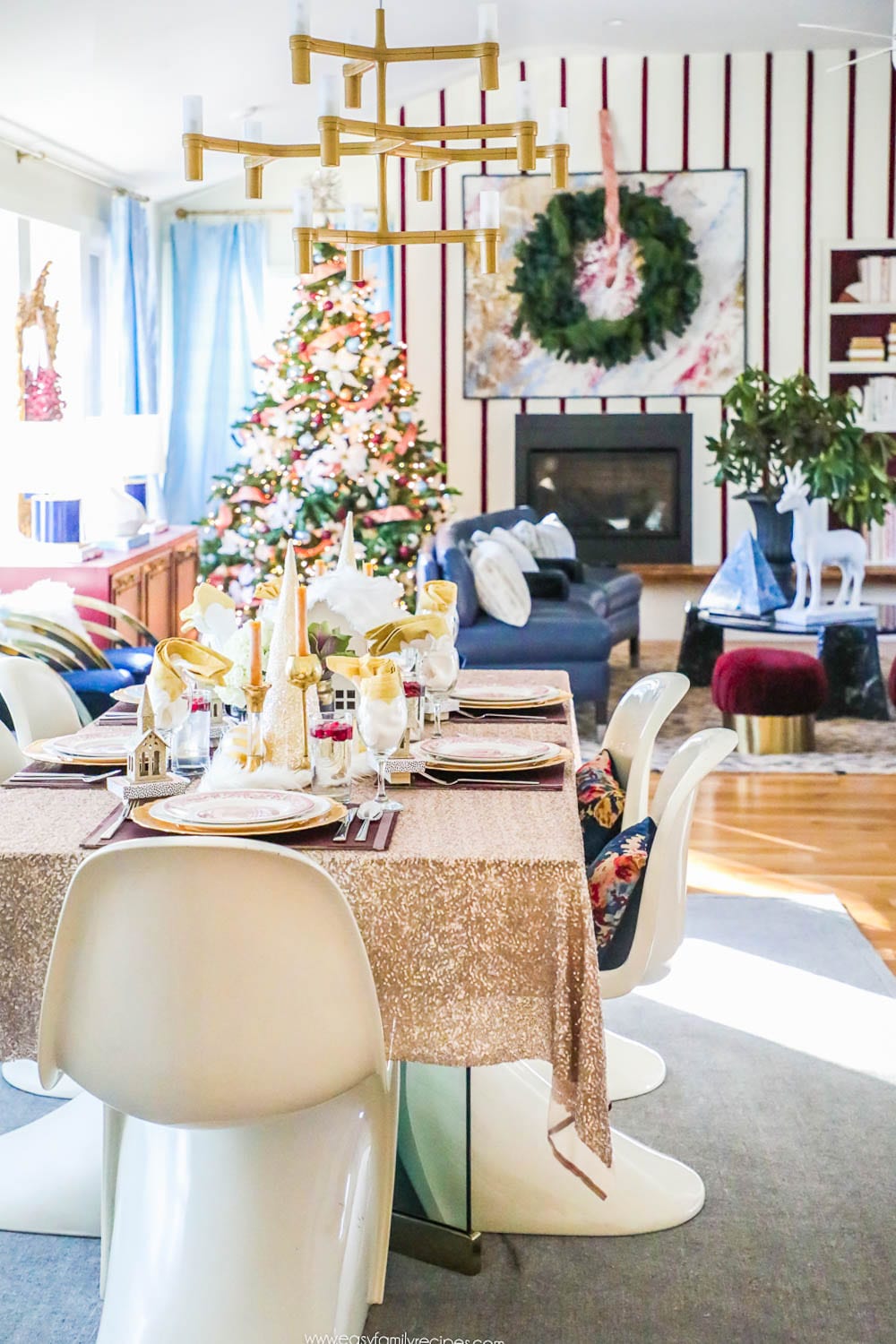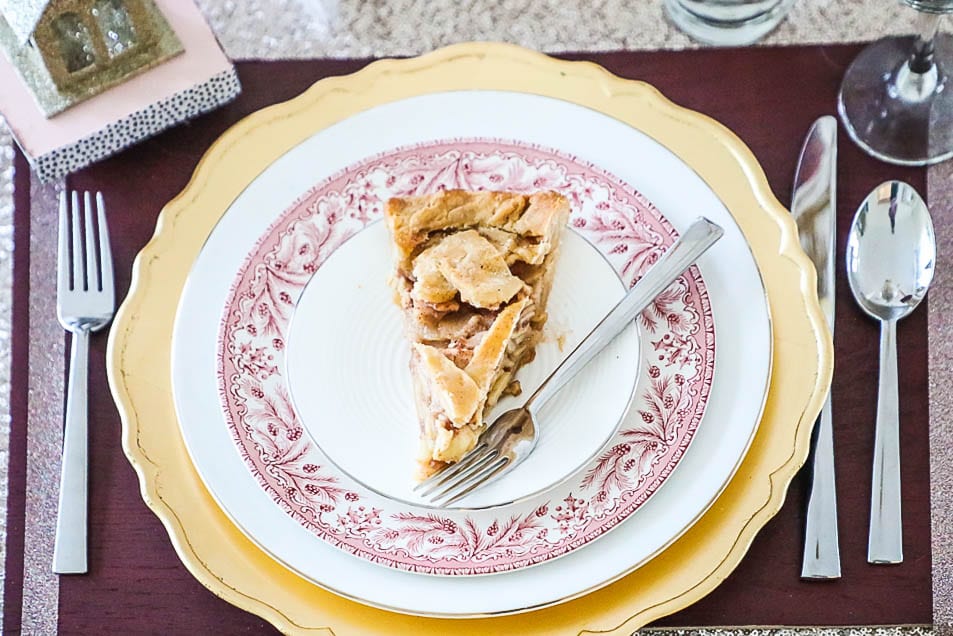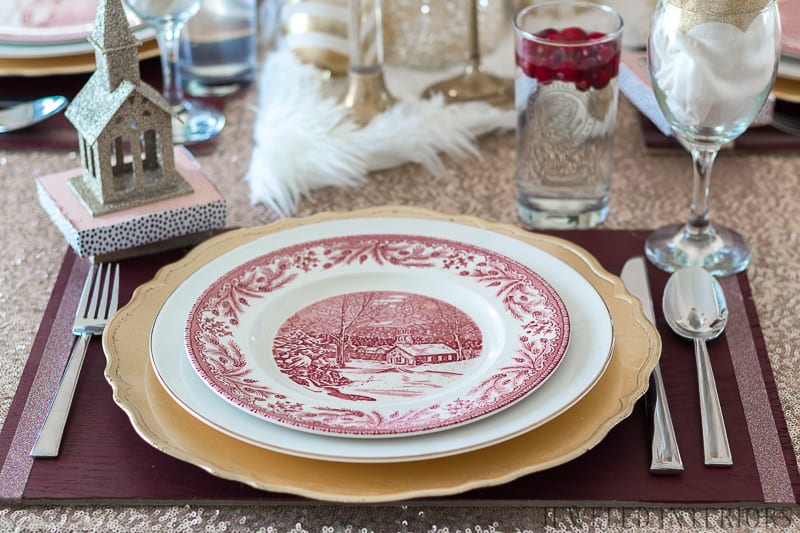 The tablecloth? I have sewn velvet burgundy ribbon to a few yards of sequin fabric that I purchased at Hobby Lobby.
The wooden placemats are DIY'ed, inexpensive, and reversible! Tutorial HERE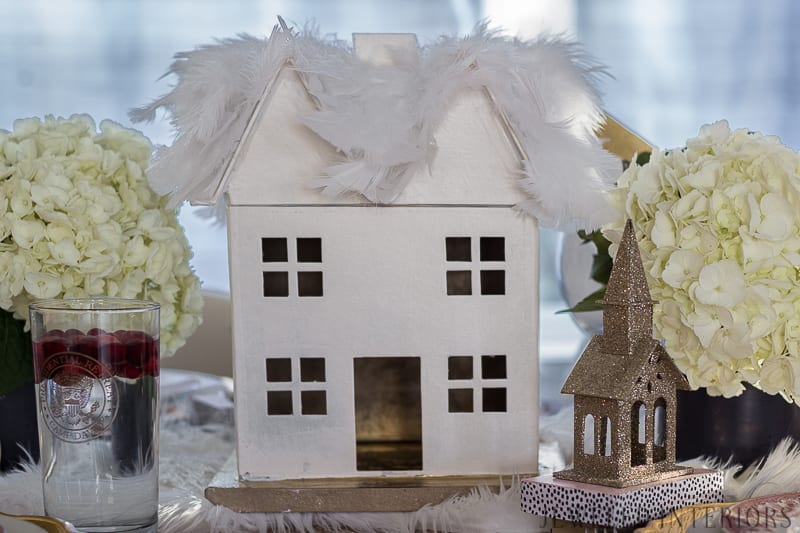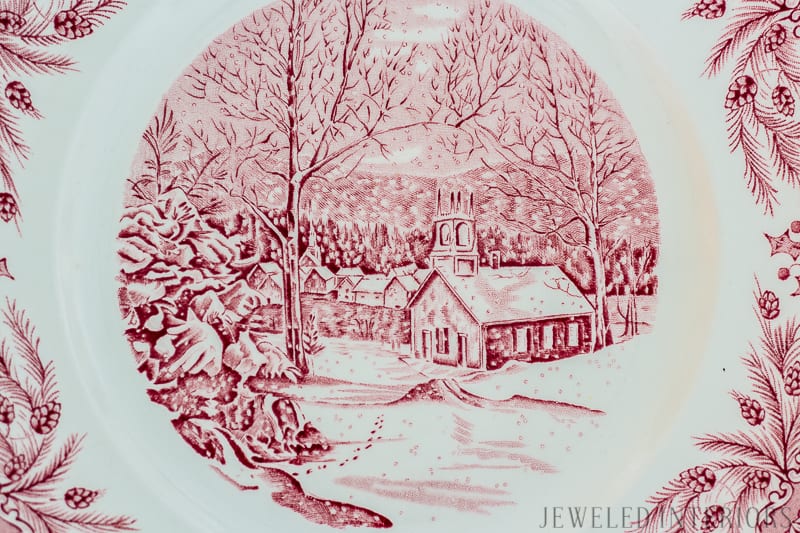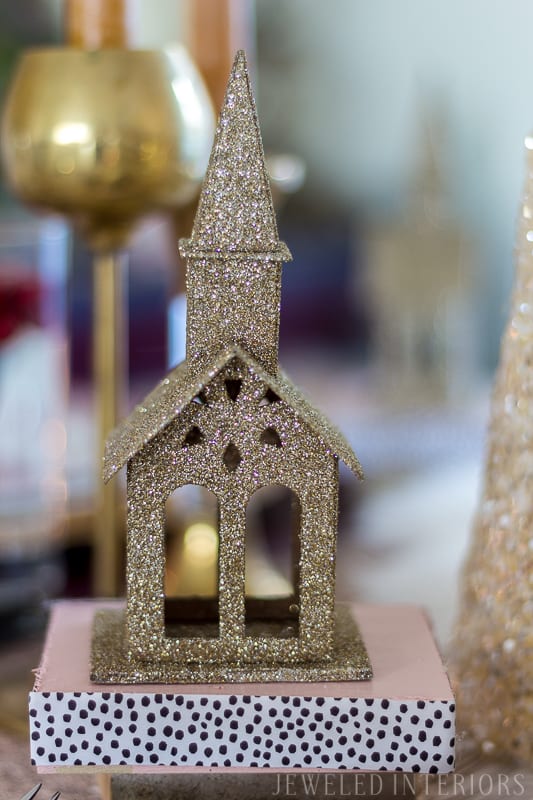 Did you catch it? The Christmas houses are on the ornaments set-up for decoration at each place-setting, the DIY'ed house centerpiece (tutorial coming soon), and on the plates (Burleigh for Williams-Sonoma: Twilisht Passage).
Incidently, I discovered these plates on clearance at the Burleigh factory outlet for fifty cents a piece while living in England. Naturally I bought the entire pile of 48 and have been moving them across the country ever since. My movers love me.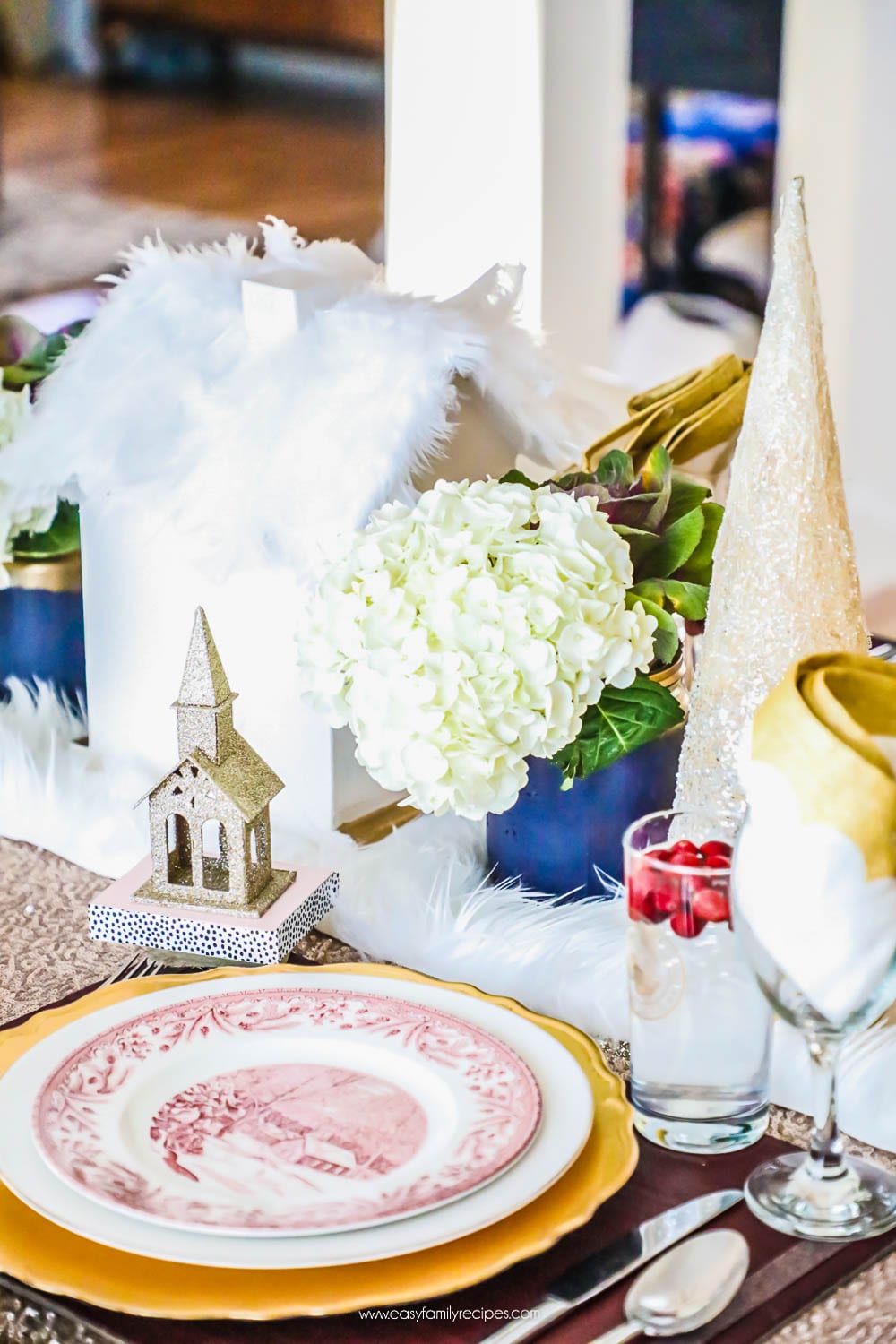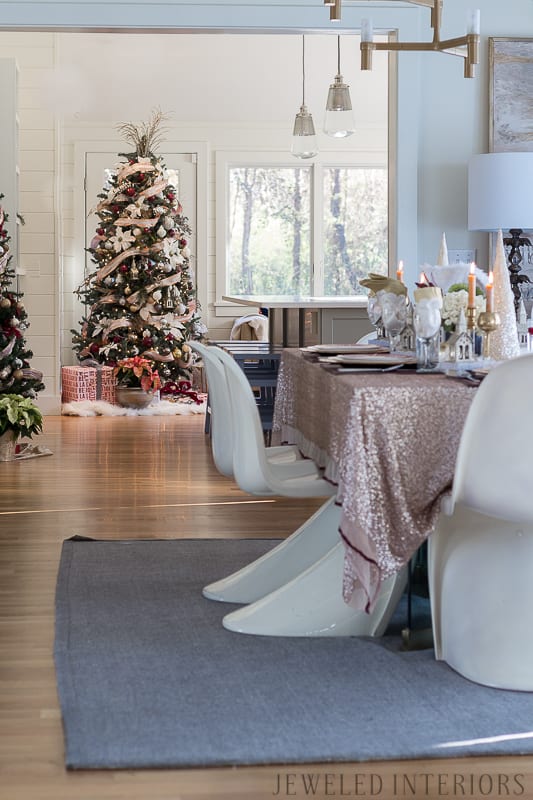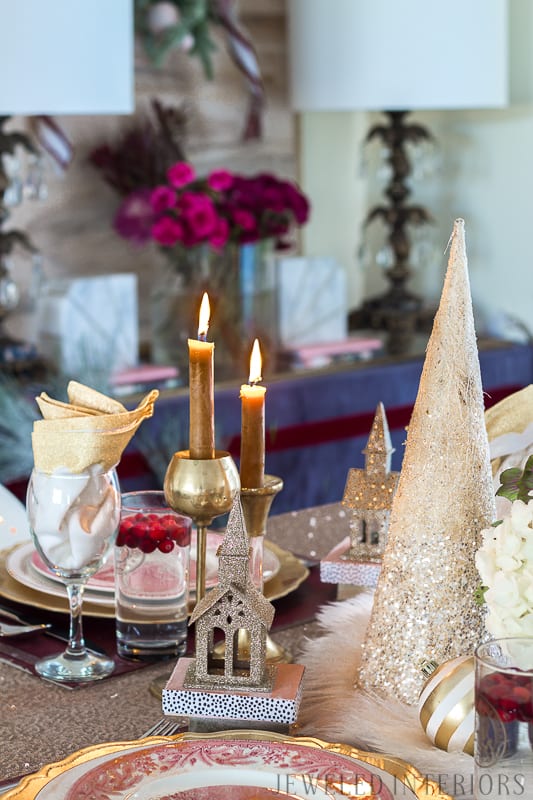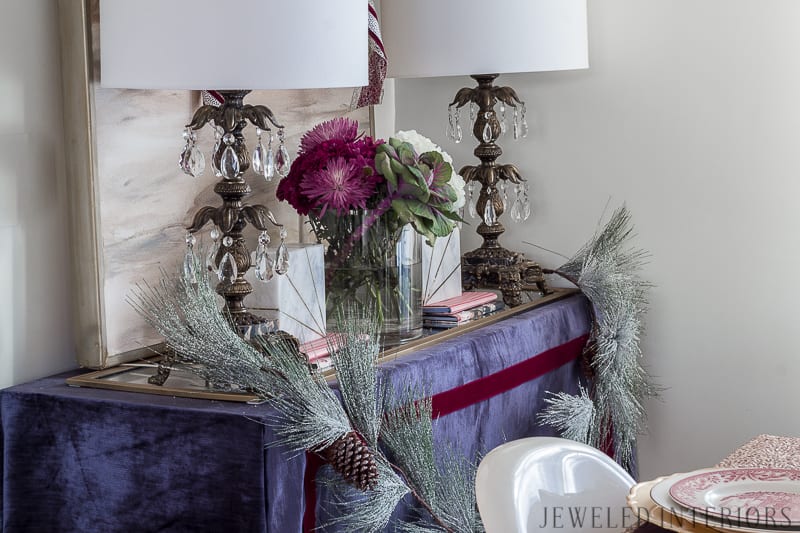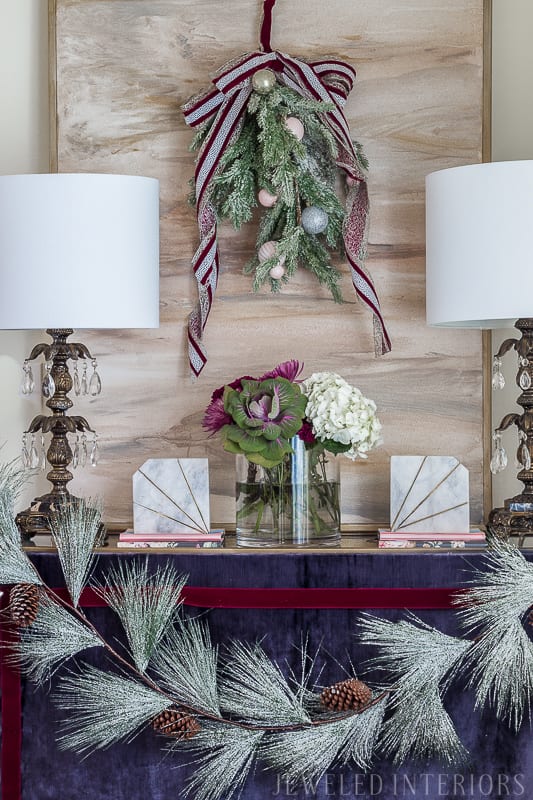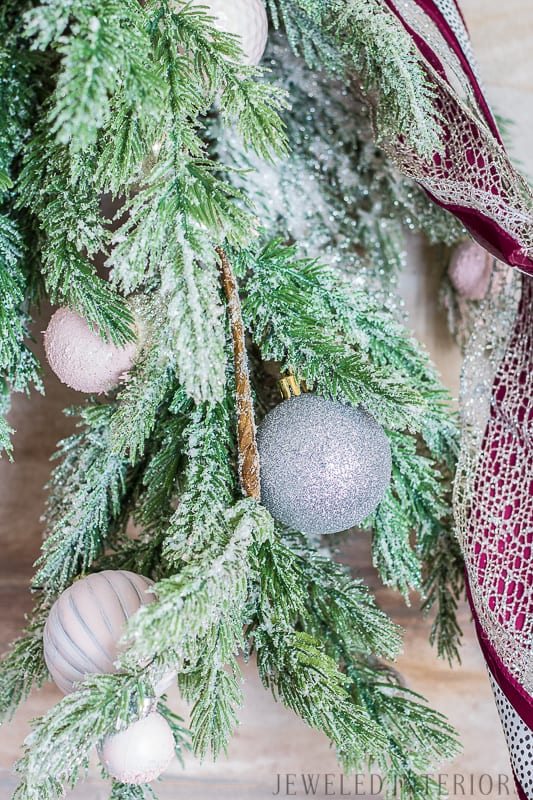 I just love this new garland I picked-up at Hobby Lobby. It instantly made my buffet seem so festive. Quick and easy, though admittedly a little messy.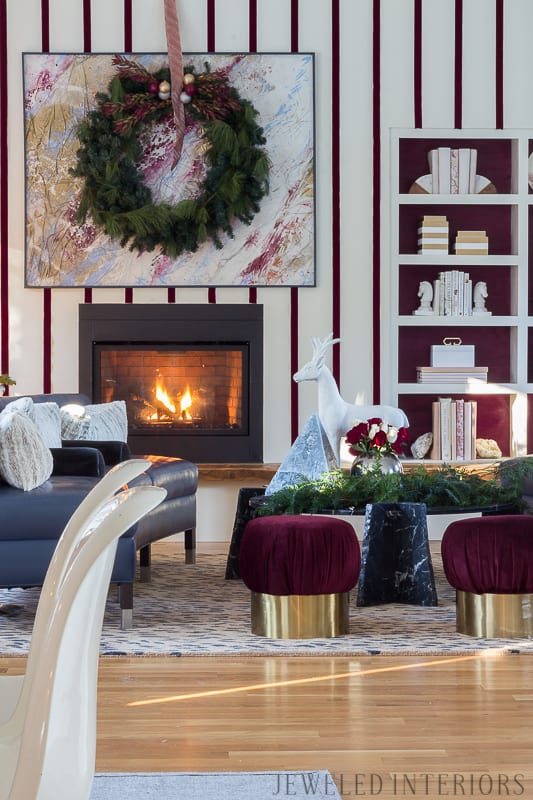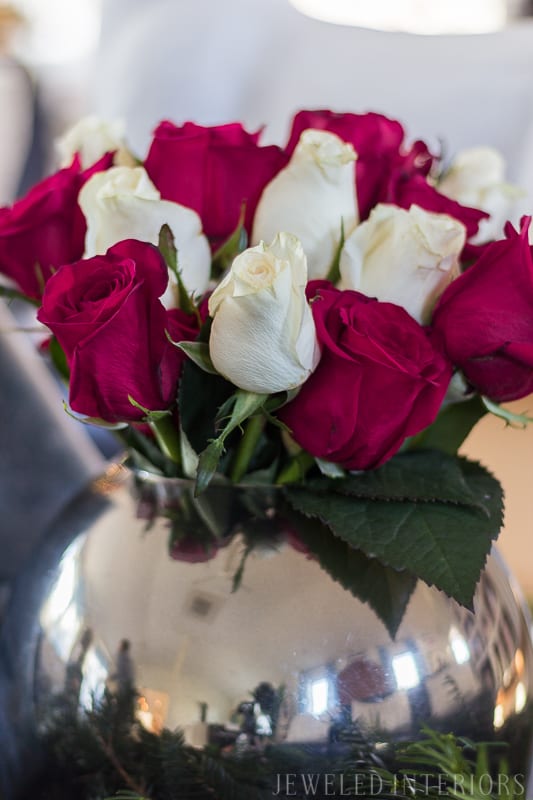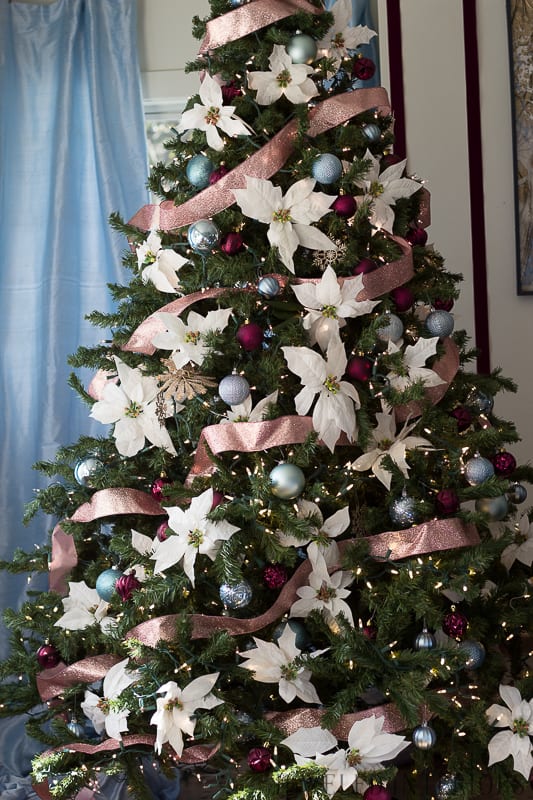 Already decoarated with luscious burgundies and romantic blushes, my living room did not require too much additional decor.
See the large wreath hanging above my DIY art (which was made from my $2 plastic drop cloth)? That gargantuan beast is a faux wreath that I have hung outside for the last 6 years. Wait? It isn't real? That's right. I wrapped fresh greenery around said wreath to give it the appearance of being freshly cut. Look closely…Yeah? Not too bad eh?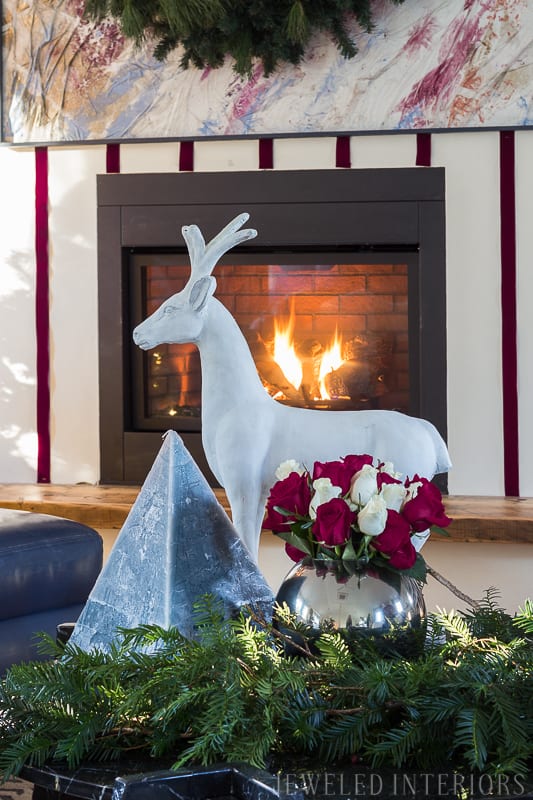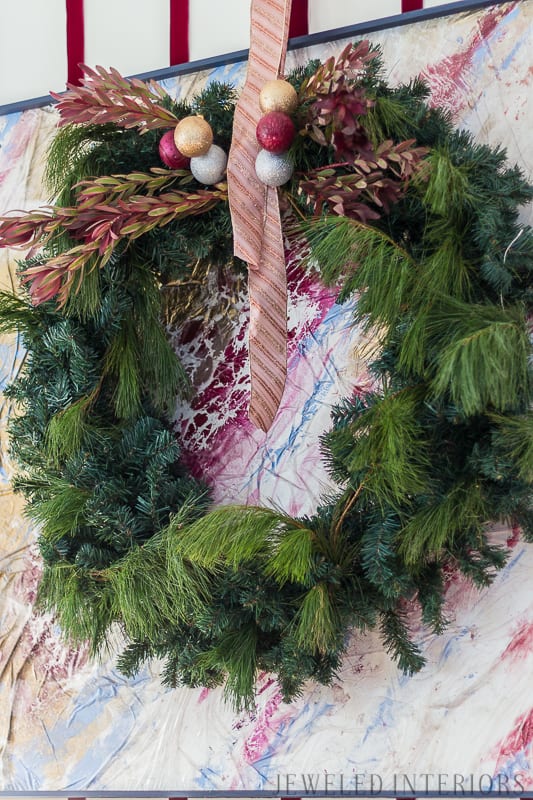 Built in bookcases are an easy place to add holiday updates.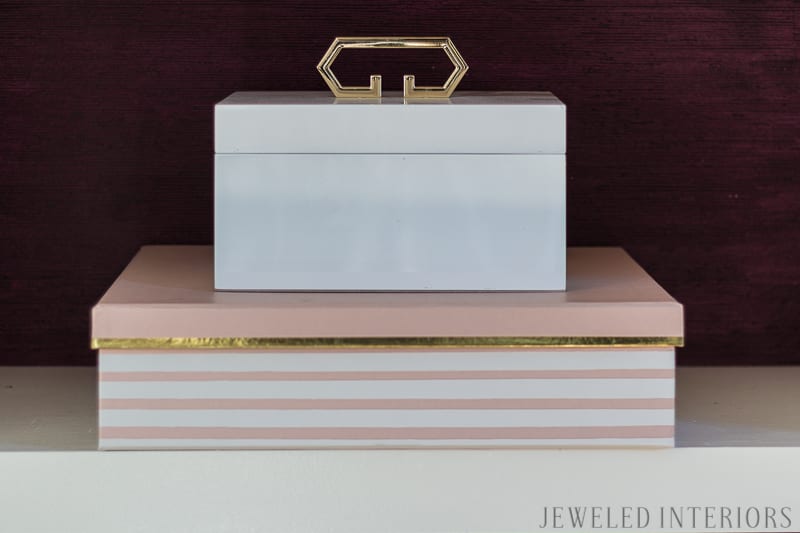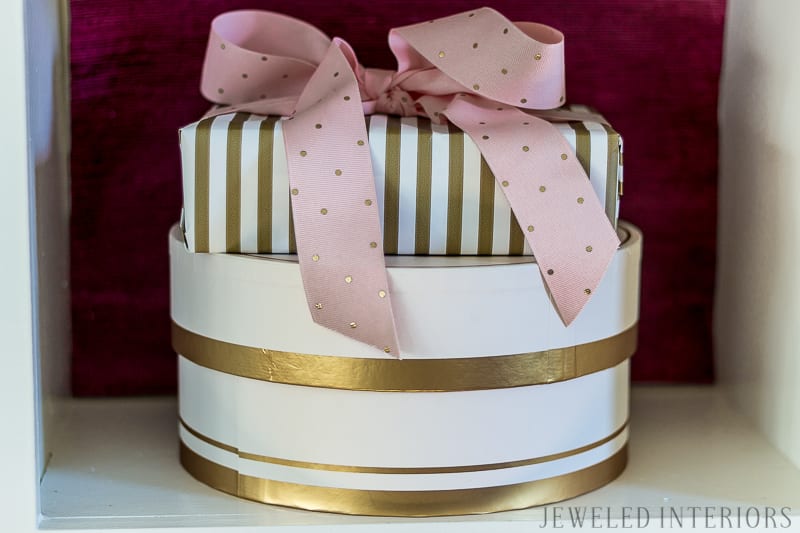 Well that about wraps it up…No pun intended. Thanks so much for joining me for a holiday tour. On Thursday and Friday this week I will be giving you the scoop on my second tree and more angles and different rooms of my eclectic, romantic, and chic home.