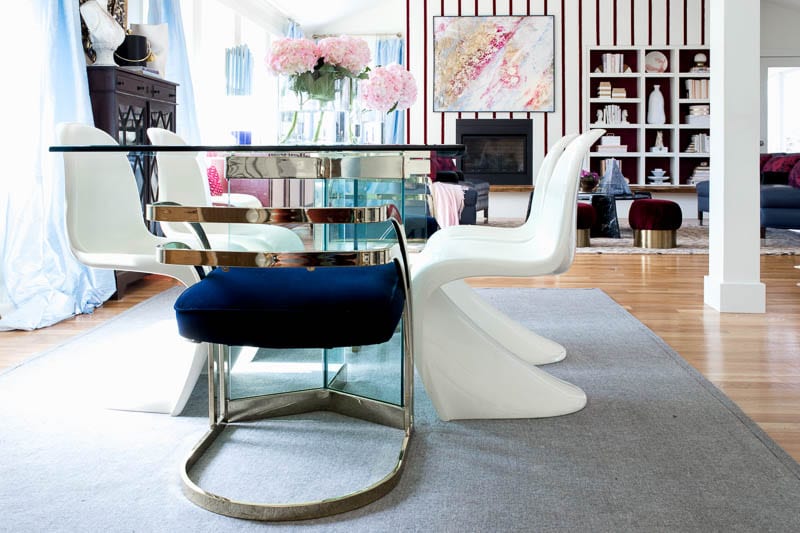 Welcome to the Jeweled Interiors 2018 Spring Home Tour!  I'm super excited you have stopped by and can't wait to show you around.  First though, a huge shout out to Monica from Monica Wants It!!! I sincerely appreciate her fantastic organization of this event.  I hope you have enjoyed touring her beautiful home.  She is uber talented!
Photo Cred: Amy Greene (IG: @contactamygphotography).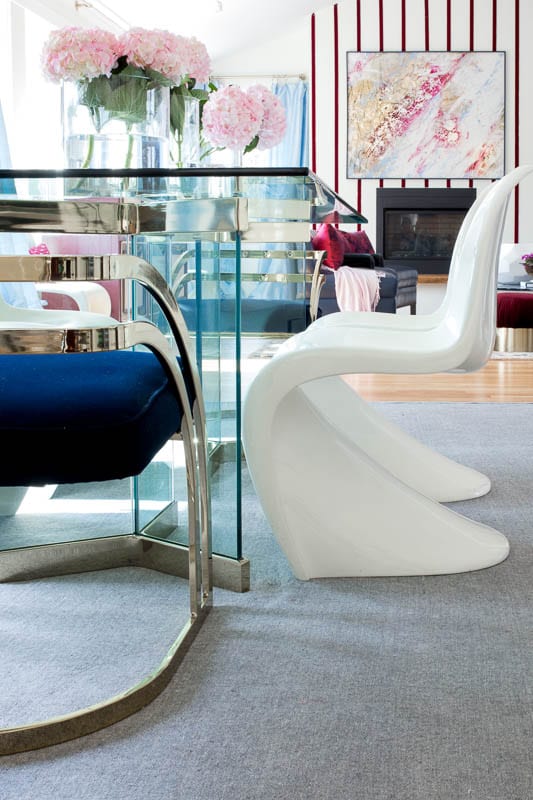 We are a military family of six and we move  ALL. THE. TIME.  In fact, in June we will be making our 13th move in 18 years of marriage. Yep.  Not even joking.
When you have lived all over America (and a couple of years in the UK) you pick up a skill or two when it comes to setting up shop quickly, affordably, and beautifully. Check out the 2018 Spring Home Tour?and see what you think?.
Note: some of the products listed in this post are sponsored, but the opinions are 100% my own!
This was the first room I tackled when we moved in this autumn.  I tackled this space for the One Room Challenge armed with enthusiasm and a limited budget.  Case in point:
Those curved sofas used to be puke I mean olive green and I painted them Navy.  So far they have held up beautifully.
The built-ins were lined with paintable/removable wallpaper, making them both renter friendly and statement making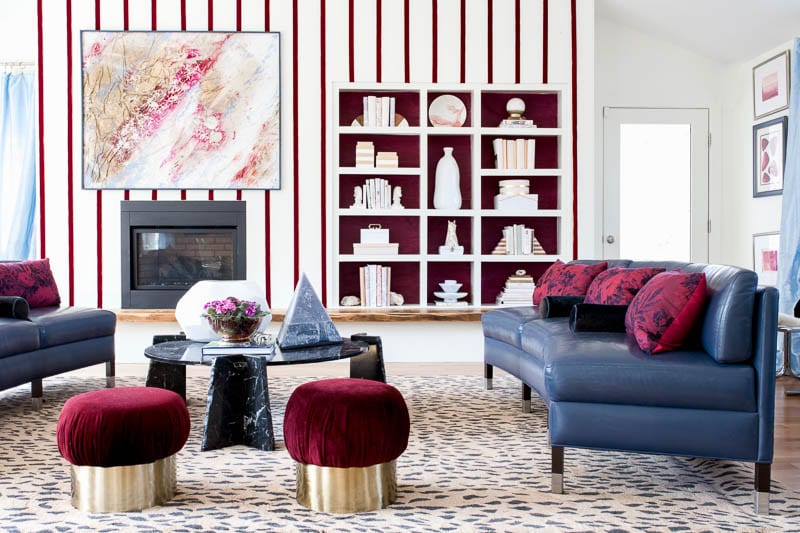 3. The stripes on the wall are made from velvet ribbon picked up from the clearance bin at our local craft store.
4. The sexy 80's marble coffee table was maybe a grand total of $110 on Craigslist last year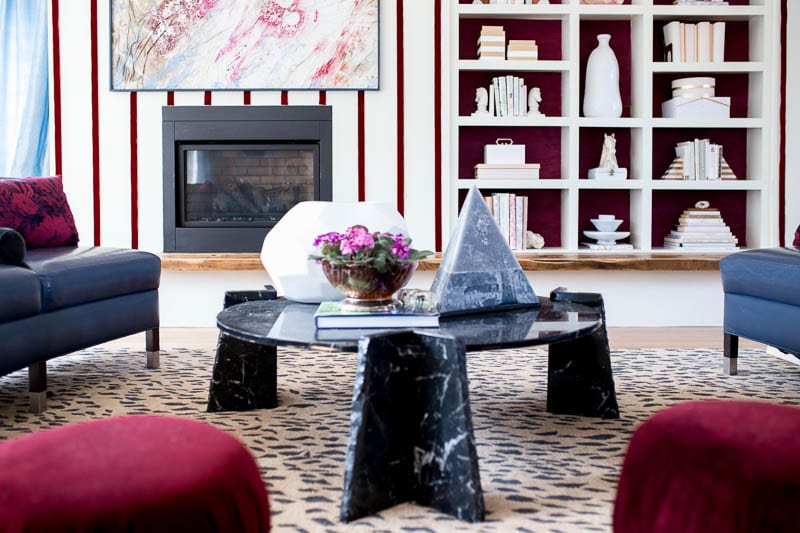 5. That sexy new to me mirror was also $100 on Craigslist.
6. This sideboard and those chairs (also Craigslist…notice the common theme here) were painted to match my big plans.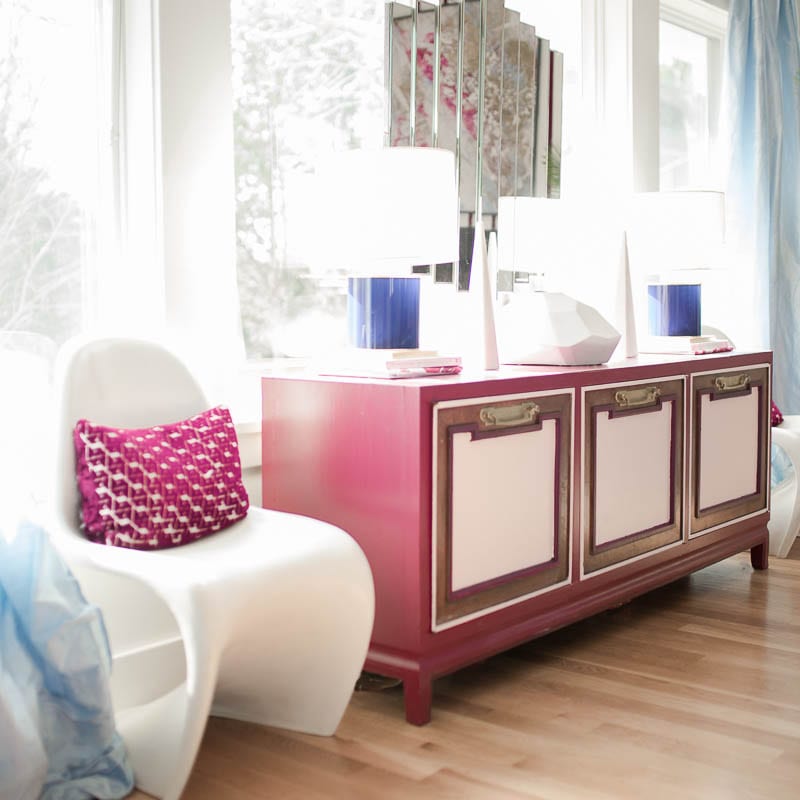 I'm guessing that it will not come to a huge shock to you that aside from the rug and the curtains, everything in this room was thrifted ?.  My personal favorite is the glass and brass table and those chairs…sweet!
In January I stripped down the MCM sideboard to this lovely natural honey color.  I have yet to decide what to paint it next…this may be a decision for the next house.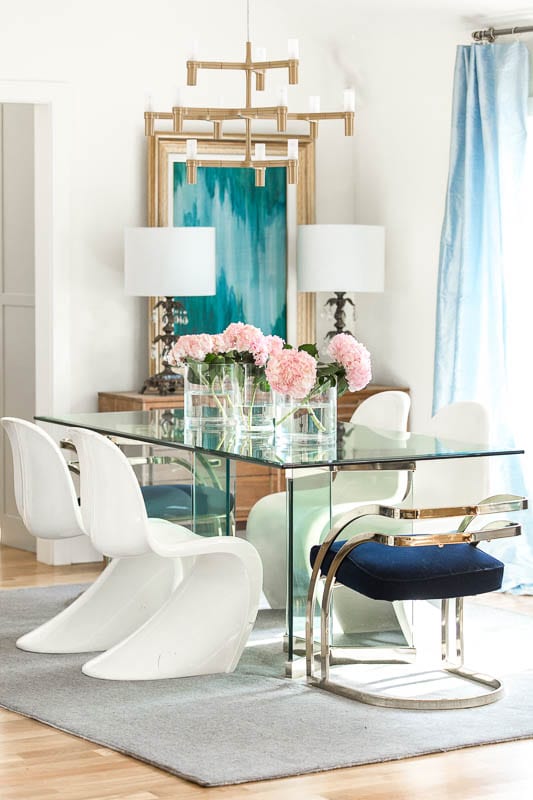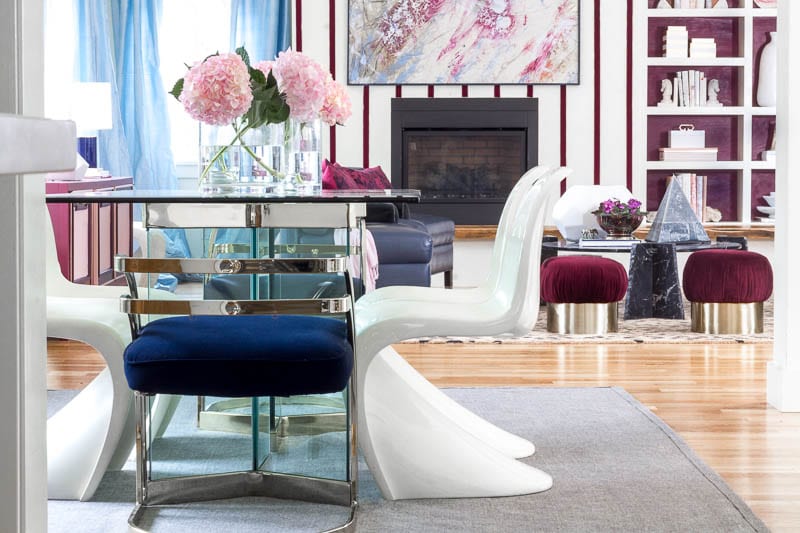 I purchased that late Victorian bookcase at the Diss Auction in the UK…Man I could use me some Diss Auction furniture right now.  I seriously miss this. The hexagon art was a DIY project for the Fall ORC.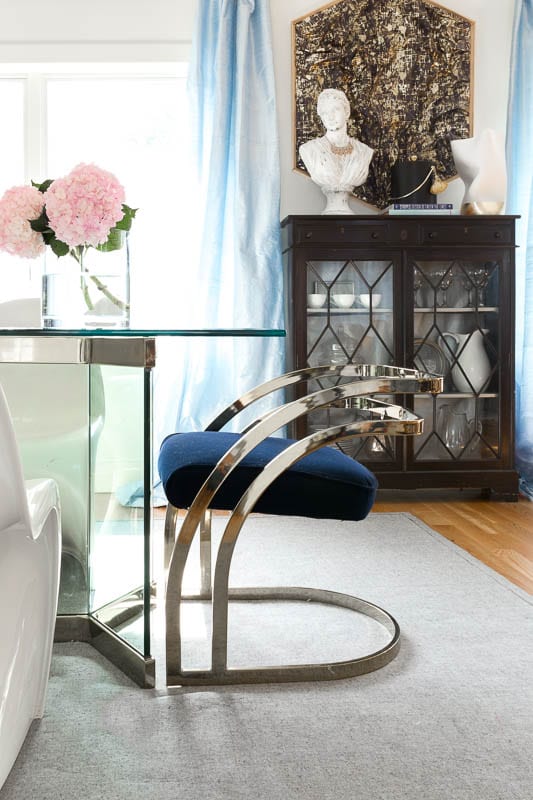 You can see how this level flows from one room to the next with expansive ceilings and great natural light.  It is a joy to call this rental home, if even for just a school year.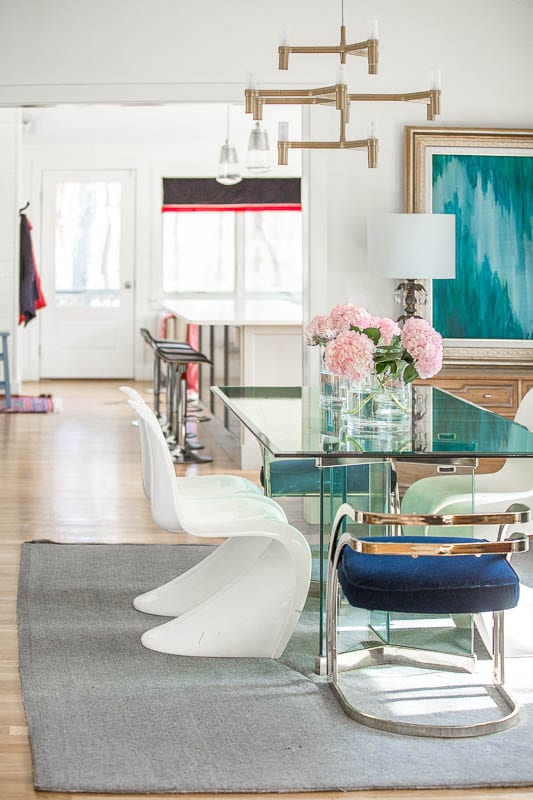 I just recently (as in last week) added personal touches to the kitchen.  If you are interested in checking out the rest of the detail shots click HERE after the blog hop
This particular kitchen boast many features I have never had before in the "heart of our home'….namely: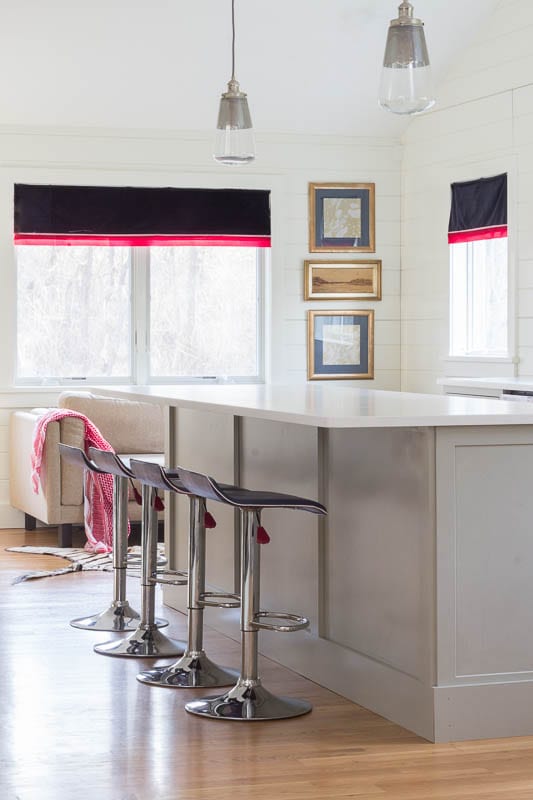 A bar height built in desk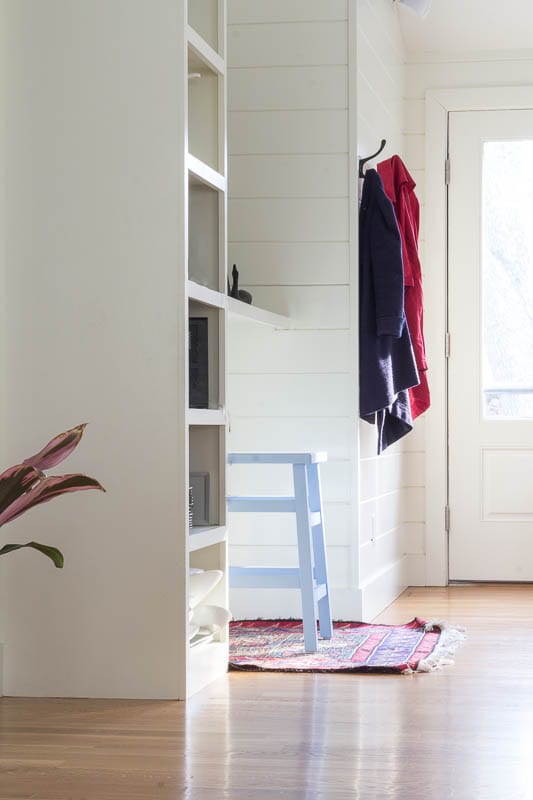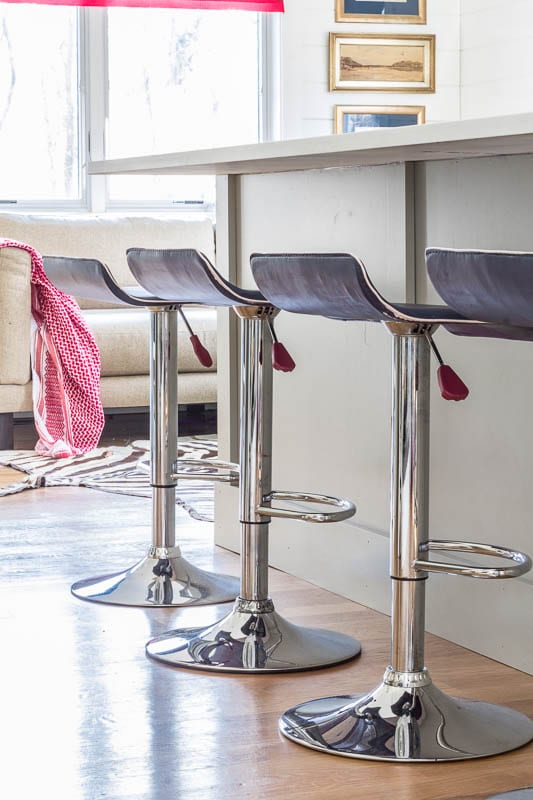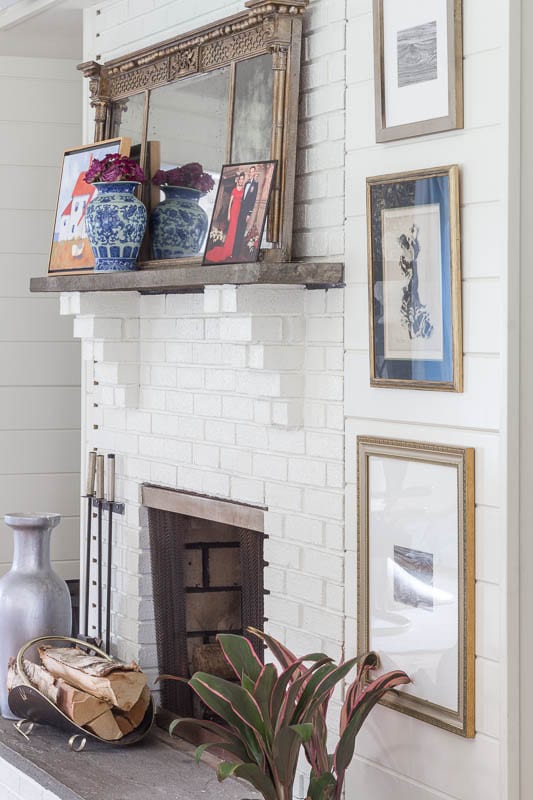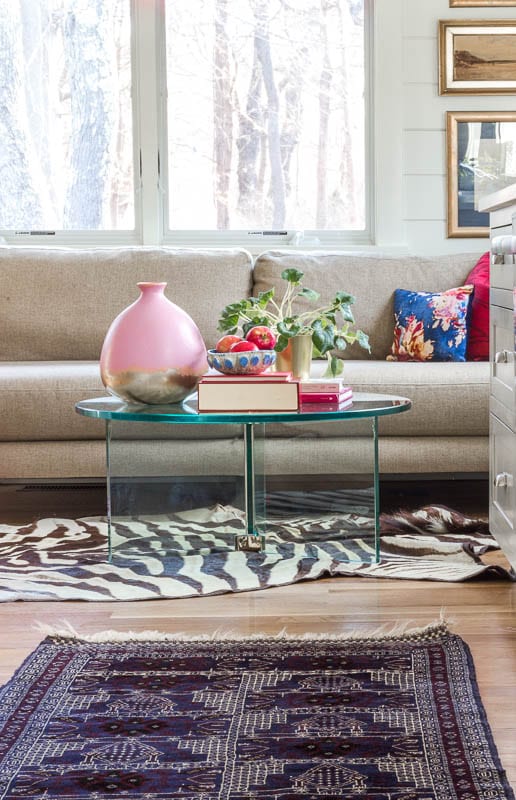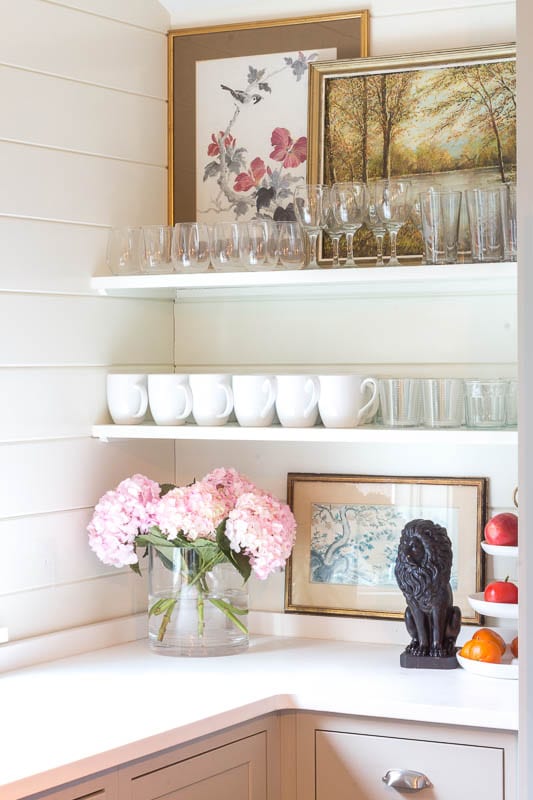 We are very thankful for this large kitchen area and truly spend the majority of our time here.
While the kitchen has a minimalist feel, quite honestly, the newly designed bedrooms more acurately fit my design aesthetic.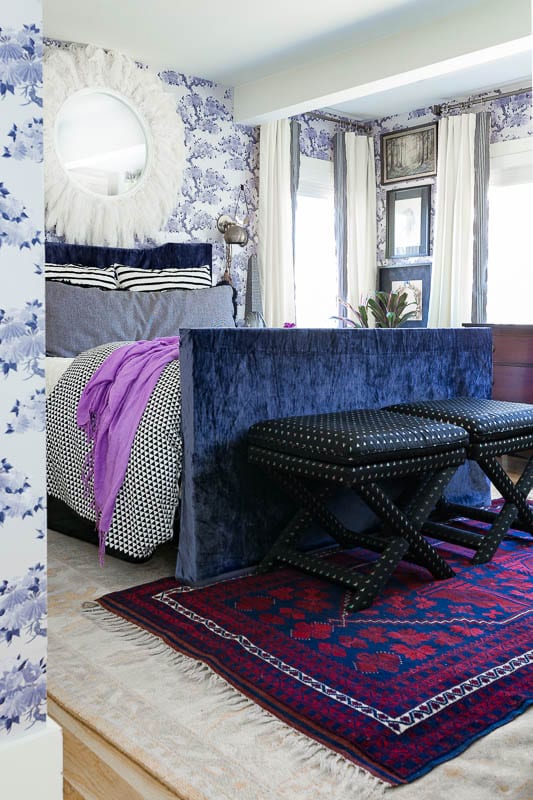 My favorite part of this room is the Kimono Removable Wallpaper made by Tempaper.  In addition to being high on style, this super-sized sticker-like product will come right down when we go to move this summer.  I am a huge fan of all renter friendly products ?.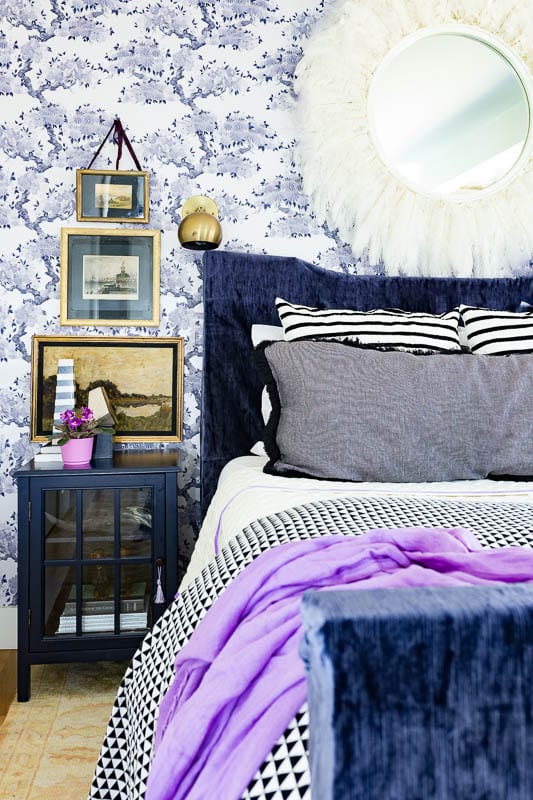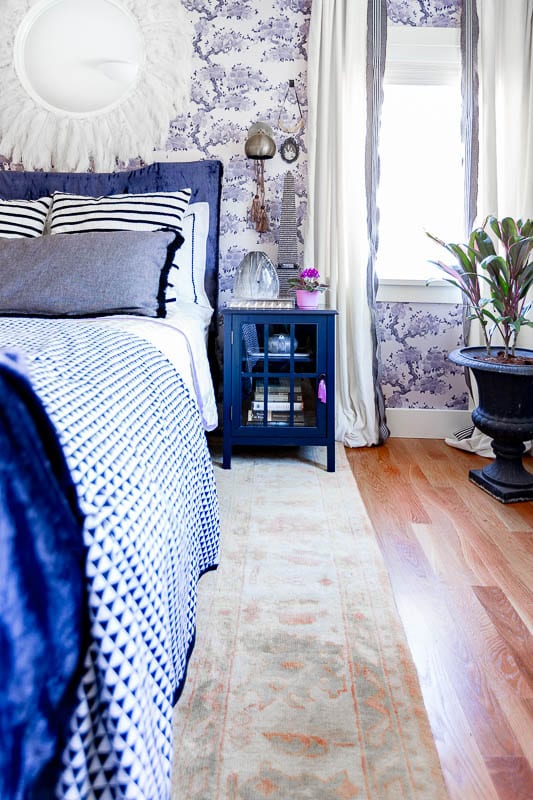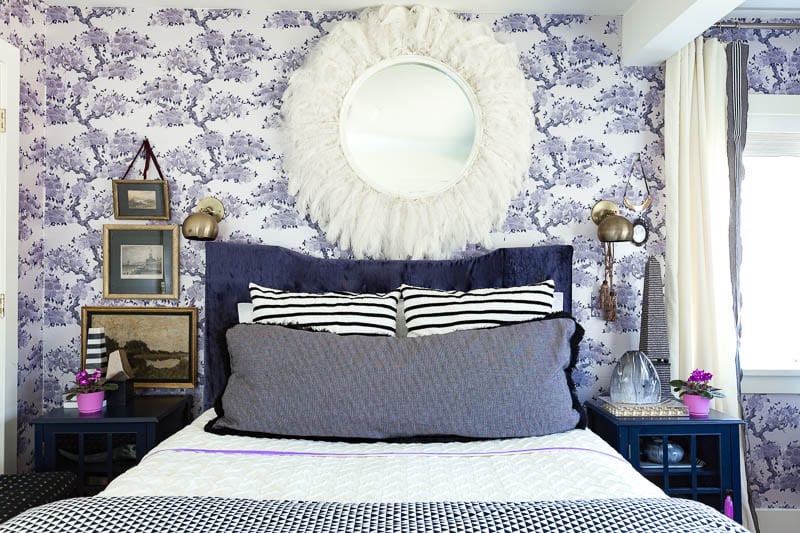 For shocking before and after pics and more detailed images click HERE after the blog hop.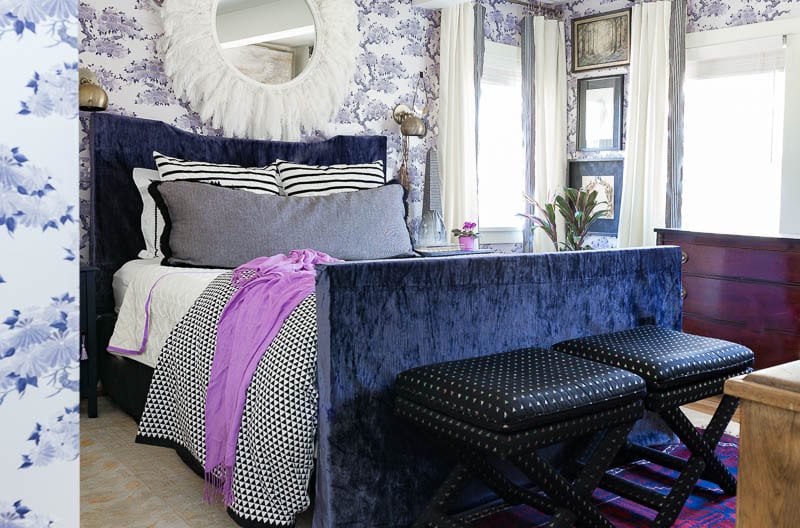 I completed this Tween Girls' bedroom this January as part of the New Year New Room Challenge.  I have to admit that I love the unexpected 1880's and 1980's mash-up, as do the cute tweens who live here!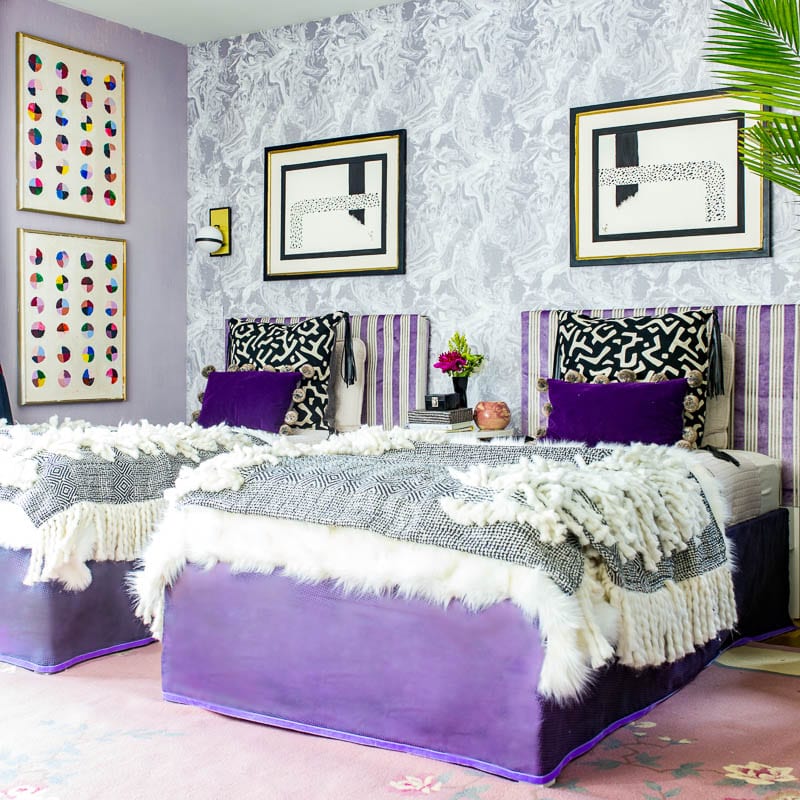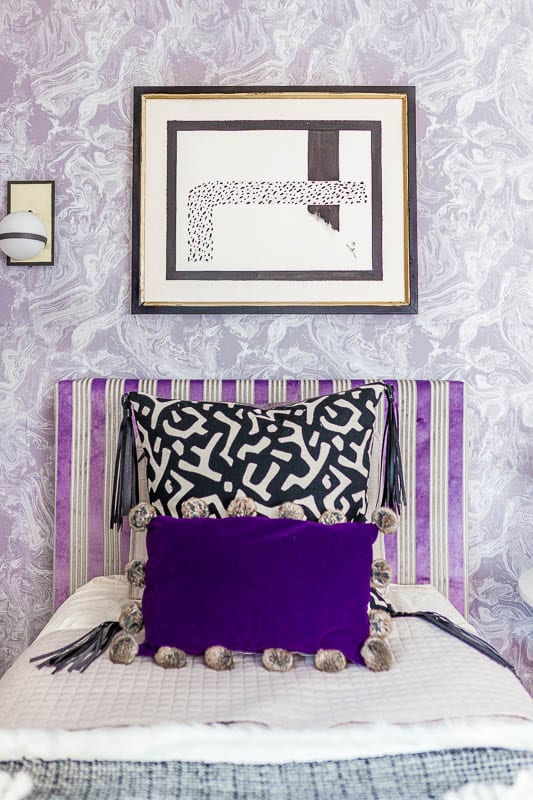 One of my favorite parts of this room are the Ace Sconces from Lamps Plus. Seriously!  I LOVE these bad boys.  They are such a fun addition to this space!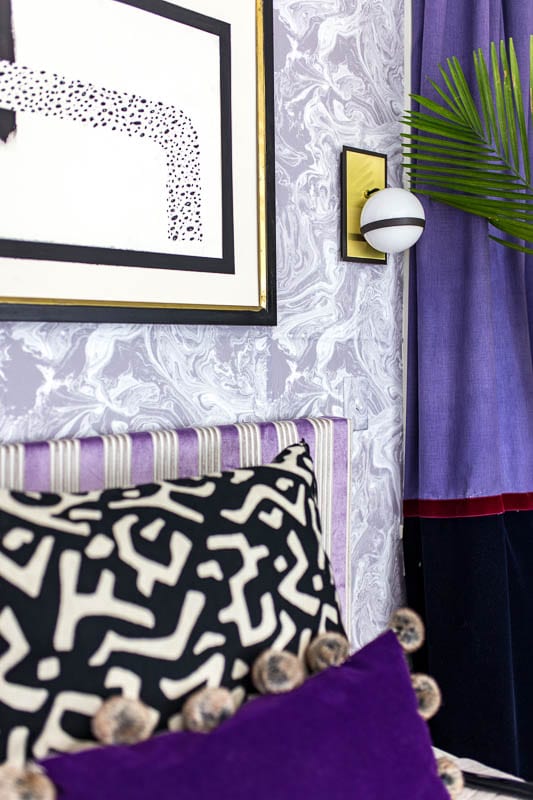 I DIY'ed a craigslist screen with a chinoisere pattern.  This is a fun accent wall behind their little vanity.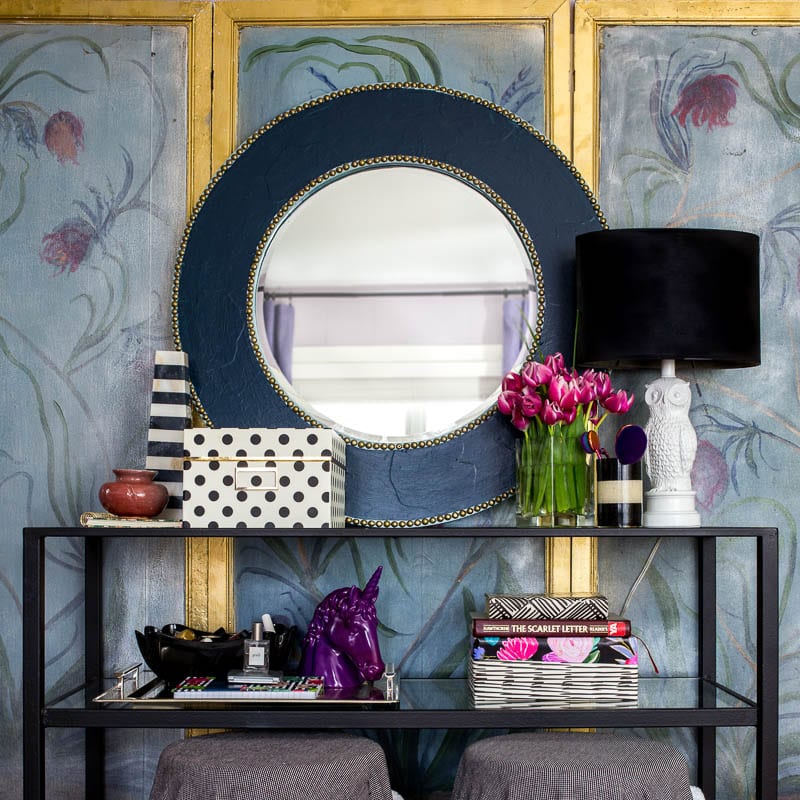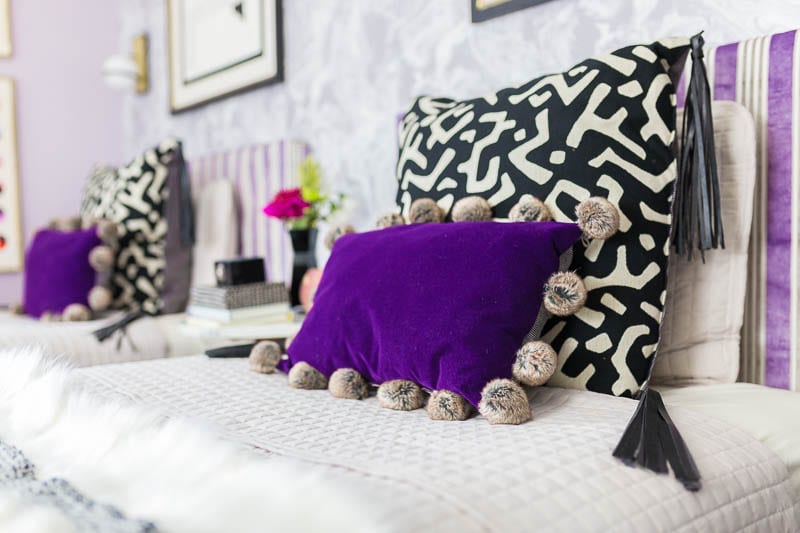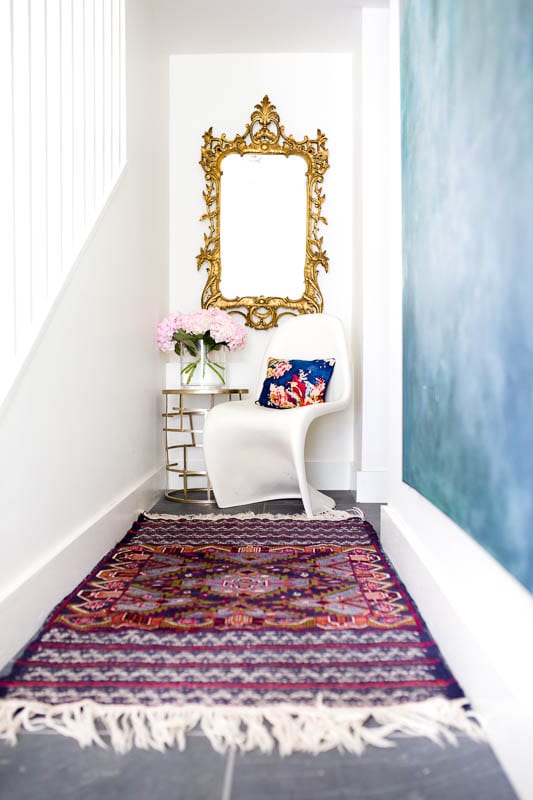 I haven't ever revealed any images from our downstairs.  So in it's grand debut… here are a few shots of our entryway.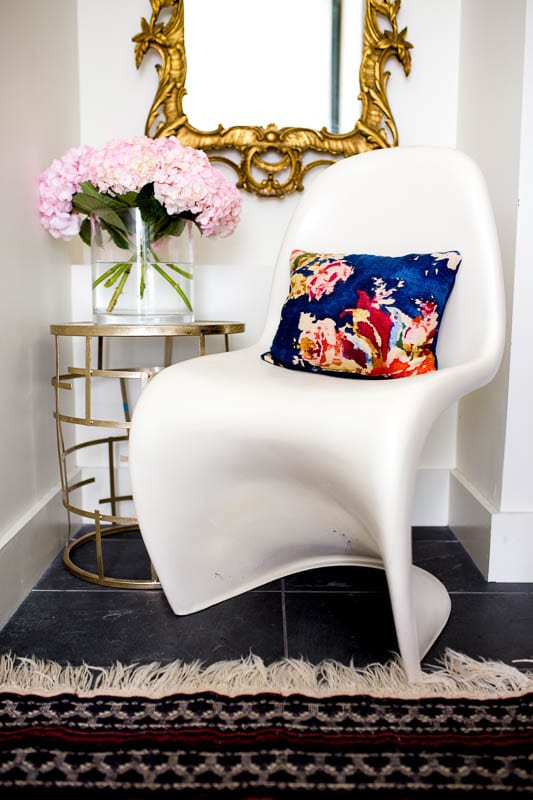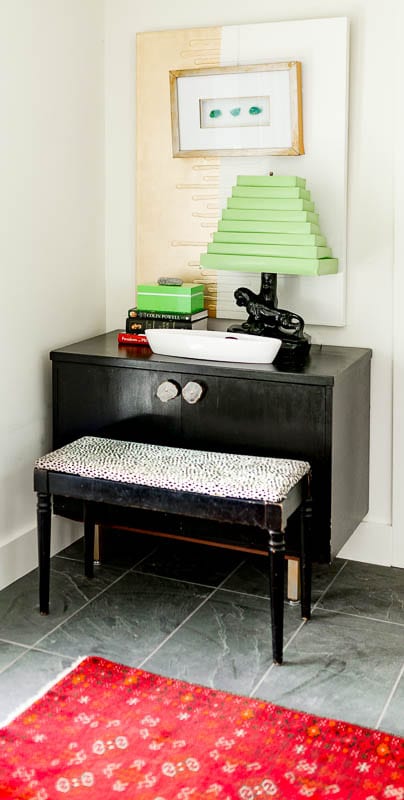 Perhaps my favorite part about this vignette is this MCM Panther Lamp…and its Atomic Shade…prrrrrrr.  Truth be told, however, I'm considering swapping this cabinet for a Victorian piece currently in one of the two bathrooms I'm redoing in the Bathroom Primp and Pamper which runs every Tuesday in the month of March!  I'm super excited to see these rooms come together.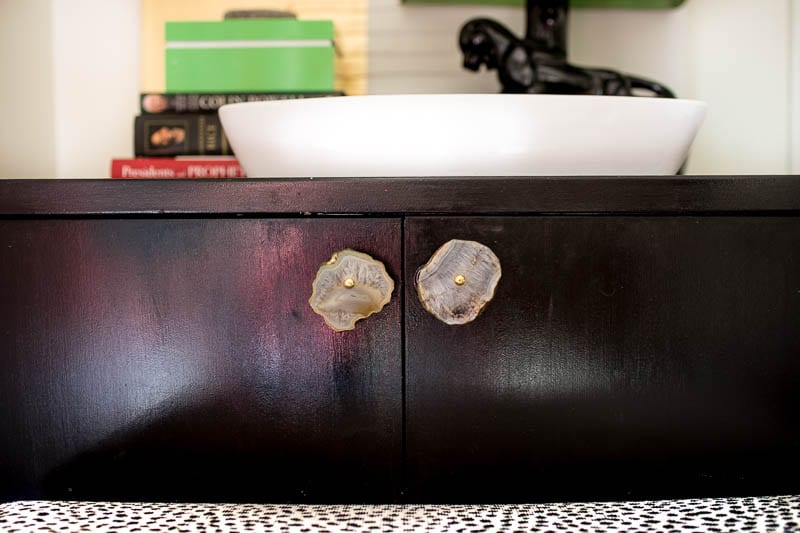 Ok…Now go head on over the oh-so-talented Palm and Prep!  I'm excited to see what Jenny has up her lovely sleeve on this tour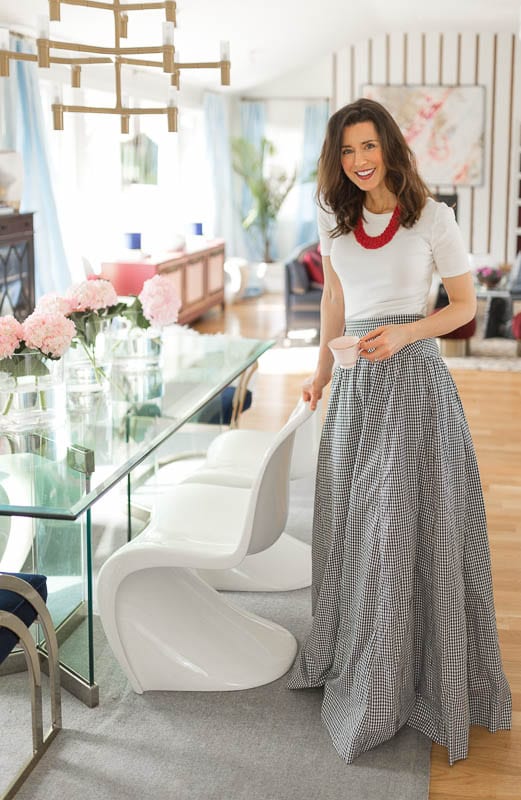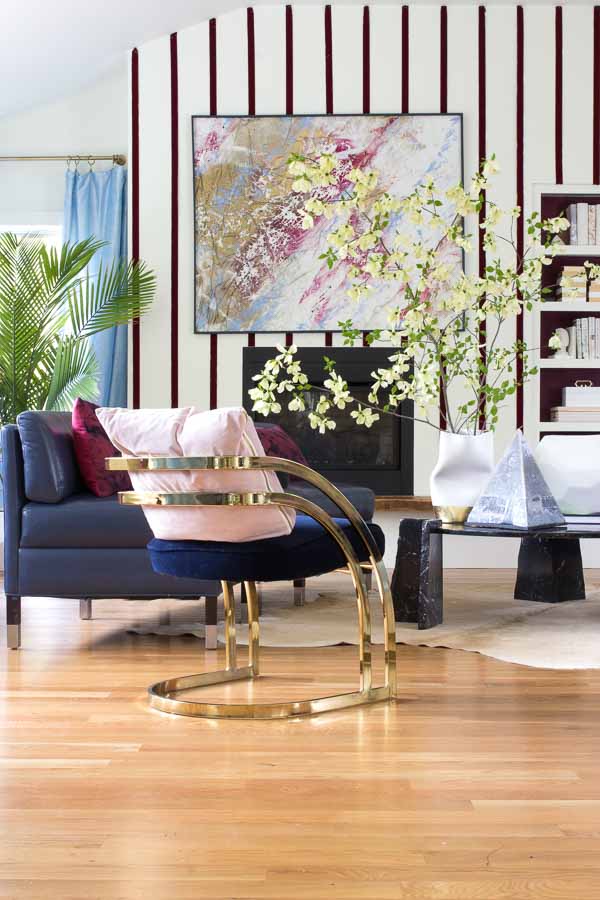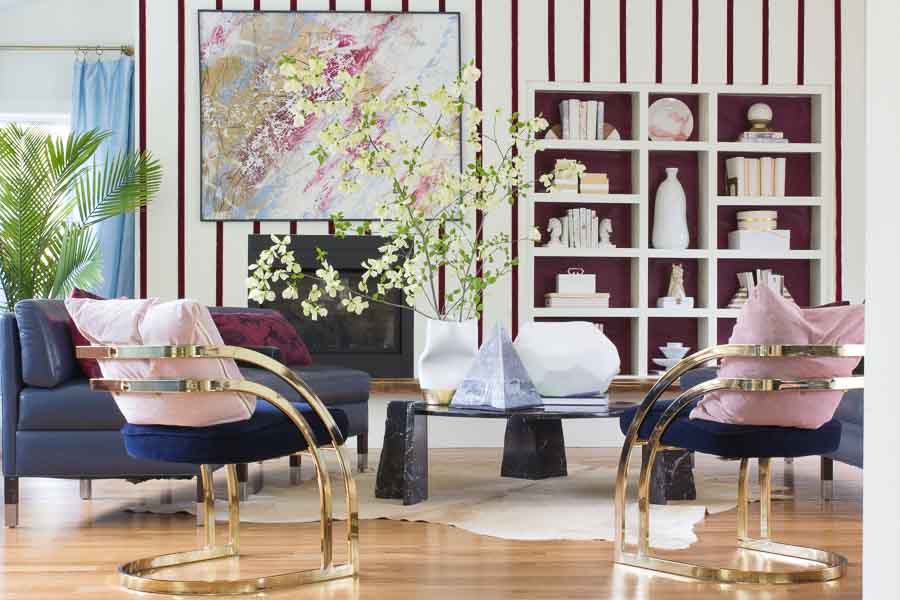 2018 Spring Home Tour Bloggers