Spring 2019 ORC – Farrow and Ball Paint (Setting Plaster)

 

  

AHHHH, Farrow and Ball Paint.  The Ferrari ? of all paint companies.  You know what I'm referring to, the paint used by our favorite designers, decorators, and bloggers. I have always heard so many fabulous things about F&B and have been intrigued by this product for a very long time.  I can't wait to tell you about my experience with Farrow and Ball Setting Plaster.

 
Week 1- The Plan | Week 2- The Moulding | Week 3- The Paint | Week 4- The Lighting | Week 5- The Door Hardware | Week 6- The BIG REVEAL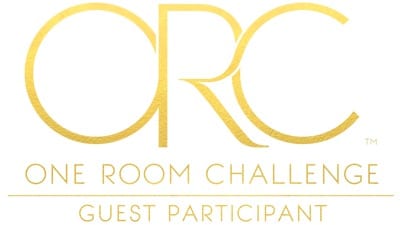 First, a huge thank you to Linda, from Calling it Home, for organizing the ONE ROOM CHALLENGE!
Surely by now you have heard of this exciting 6 week friendly event between 20 "Challenge Participants" and hundreds of other "Guest Participants" (like me).  All of us have the goal of transforming our spaces with only a month and a half to get it done.  As an added bonus Better Homes and Gardens will be the media sponsors for this challenge.
We are a military family of six and we are always on the move.  At the moment we live in a house that we actually own, and hope to call our forever home someday.  As such, we are systematically tackling each room and adding high-end features, such as moulding, door hardware, paint, and lighting to update and personalize the space.
We have lived in this Virginia home less than 10 months, but the bedroom needs to flow with the rest of the rooms in our home that have been completed so far.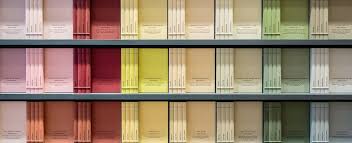 Note: Thomas Mach Interiors sponsored the paint in this post, but the opinions are 100% all my own.
Thomas Mach is a color expert, Farrow and Ball and Annie Sloan paint stockiest, international color consultant, and expert in the paint and color field. After hearing rave reviews about Thomas from some of my friends, I took a long trip from Rhode Island down to his cute Simsbury, Connecticut shop last year.  I wanted to meet Thomas, touch and feel Farrow and Ball, and chat with a THE color authority before I moved with our family down to Virginia.
I can honestly say that I thoroughly enjoyed the experience! I found his shop beyond charming and his expertise extremely helpful. I loved seeing the displays of Farrow and Ball, and he showed me some of the projects completed with this fabulous paint.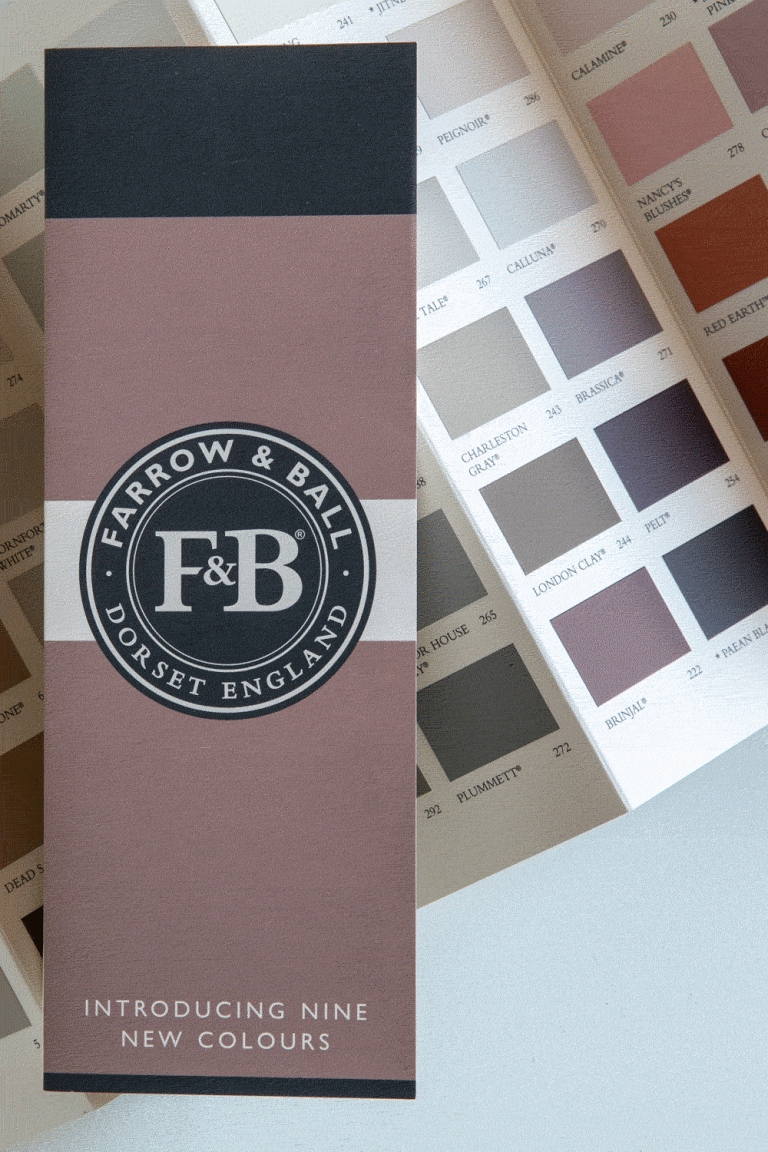 The good news for all of us is that we don't have to live in the Connecticut/New York area to use Thomas Mach Interiors products and pick his brain.  You can follow him on Instagram and DM him a request for a free color card full of beautiful paint samples, like Farrow and Ball Setting Plaster.  He also ships and gives free phone consultations with your order. If you are even considering making the switch to Farrow and Ball I would definitely start with an Instagram follow/DM and samples.  The fan deck is composed of actual paint, thus very accurate.
Here is another example of a room makeover using Thomas Mach Interiors product and expertise.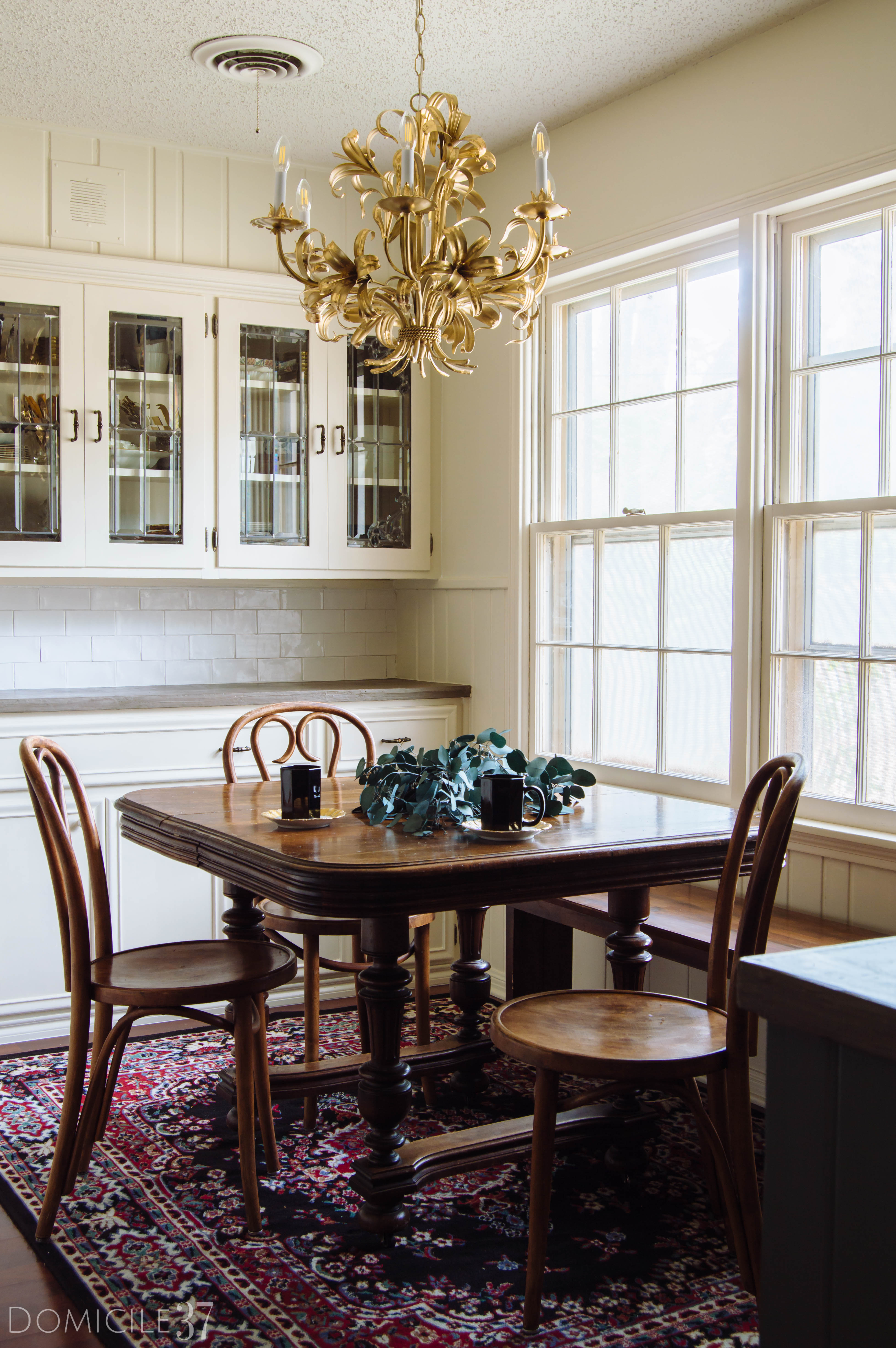 Kitchen Completed for the Spring 2018 ORC by Jess from Domicile 37
Before + After of My Space
Before adding Metrie moulding and paint, this is what is what I started with…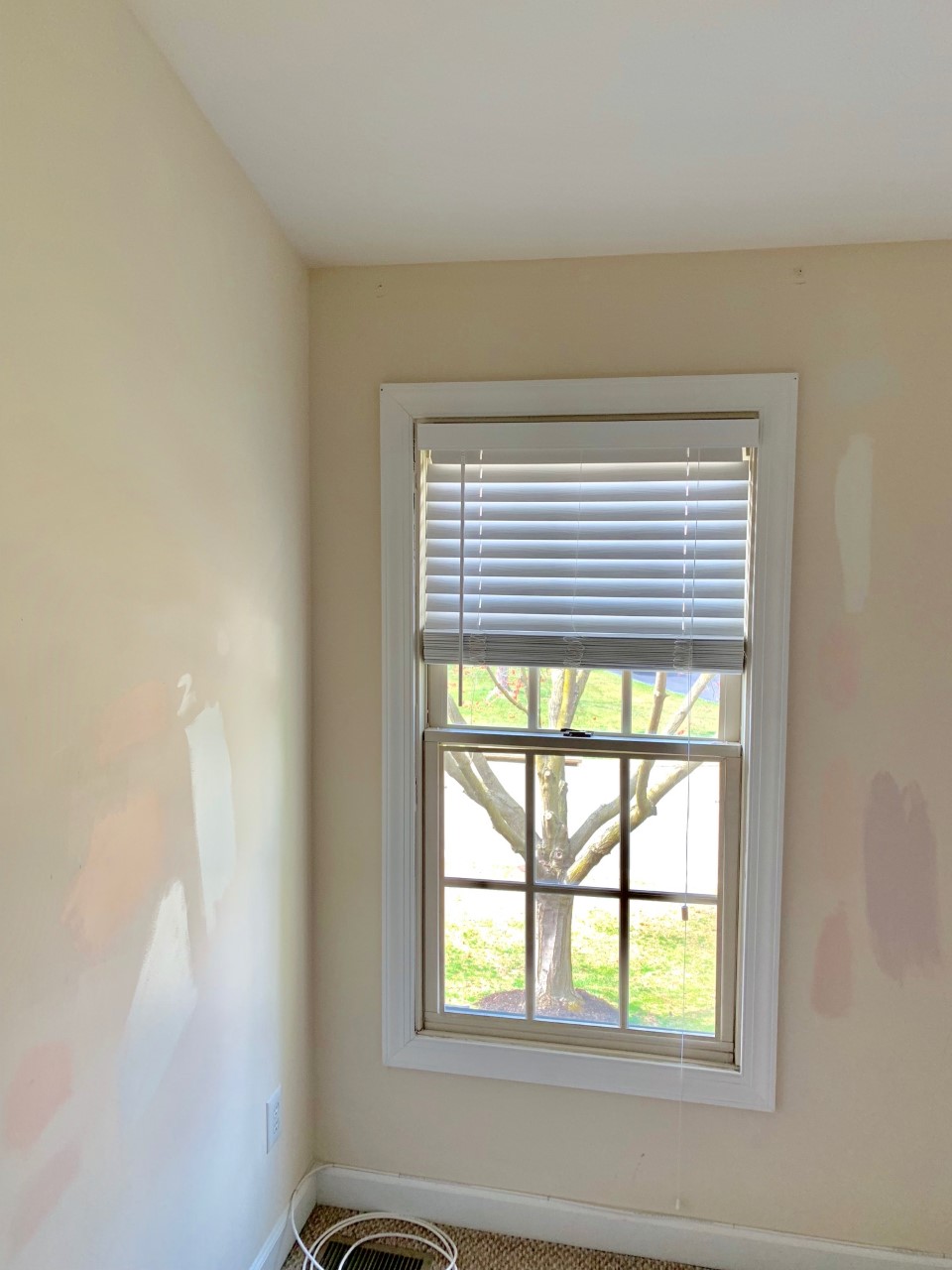 More before images of the room can be found HERE.
My consultation with Thomas Mach was very helpful.  During this conversation Thomas recommended that I use the Farrow and Ball primer over the complete room.  I wasn't initially convinced that this extra step would be worth it. You see, I HATE painting ceilings, especially 12 foot pitched ceilings ?. In an effort to give you an accurate assessment, however, I put aside my ceiling painting qualms, donned my epic painting clothes, and got to work.  See the lengths I go to…all in the name of the blog 🙂
Here is what the room looked like after a coat of primer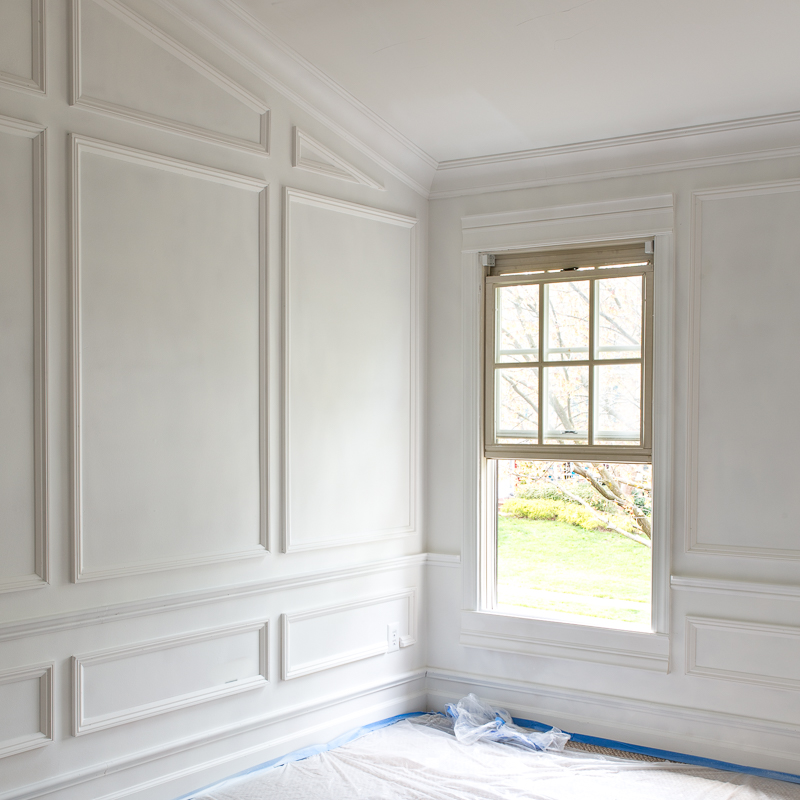 It looks pretty amazing, am I right?  Especially considering that this is a single coat of PRIMER!
It was sooo pretty, that I started to question my decision to add color to the room.  I began to ask myself, "Why didn't I pick a white?".   I tossed and turned all night with regret. Was my color choice (Farrow and Ball Setting Plaster) going to look too feminine?  Would I feel the need to repaint my walls when we rent out our home next year?  Would my husband hate it?
But my concerns immediately disappeared the moment I painted my first complete wall with Farrow and Ball setting plaster….
READY…
ARE YOU SURE?
OK….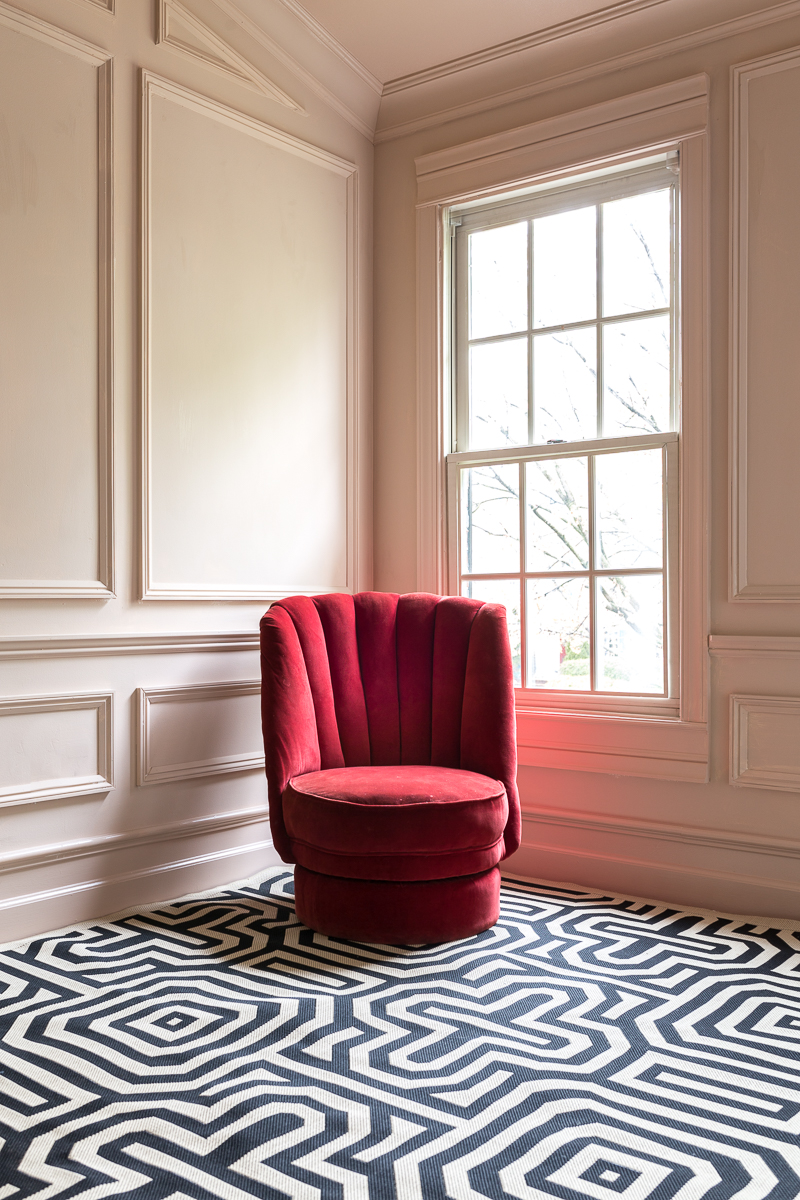 SEEEEEE!!!!  What did I tell you?  Spectacular, right?  This is after only one coat of paint!  A second coat will be even more amazing.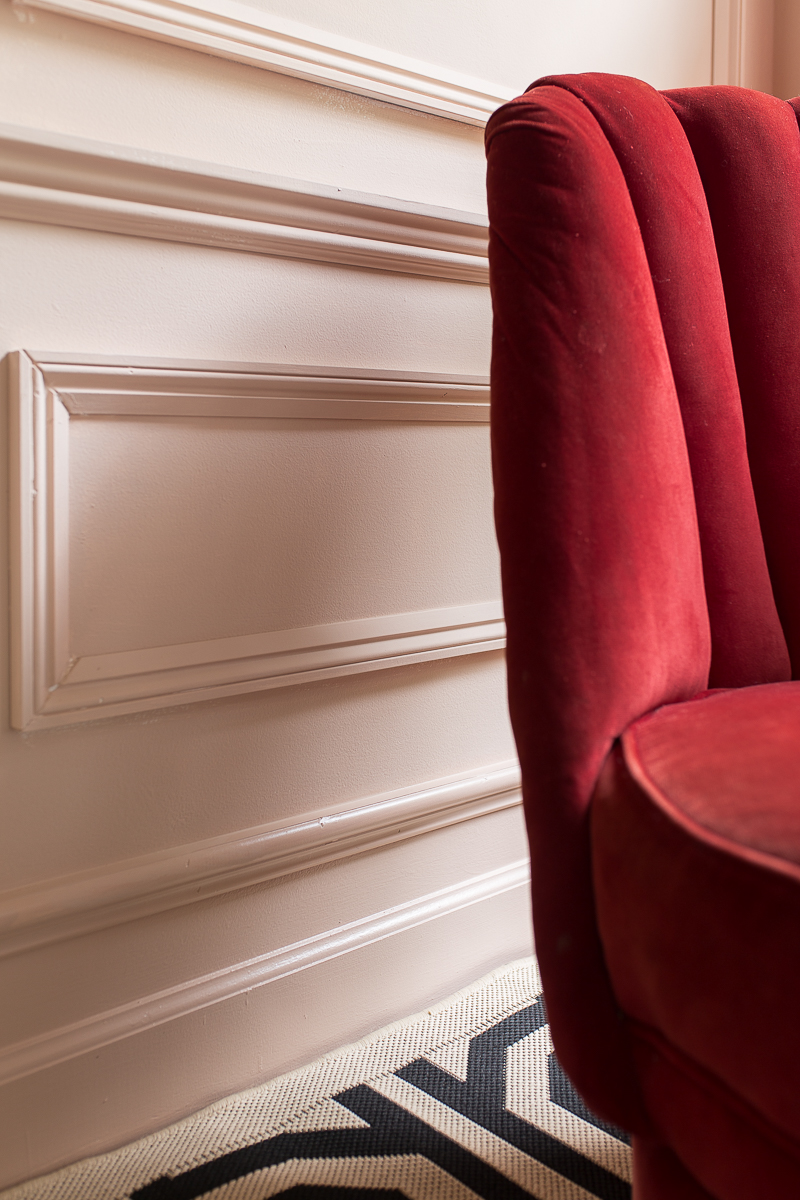 Thomas recommended that I use 20% Sheen (Estate Eggshell) on the doors because it is washable and wipeable.   I also opted to paint my base boards, casing, and architraves in the same smooth, velvety finish.  I love it!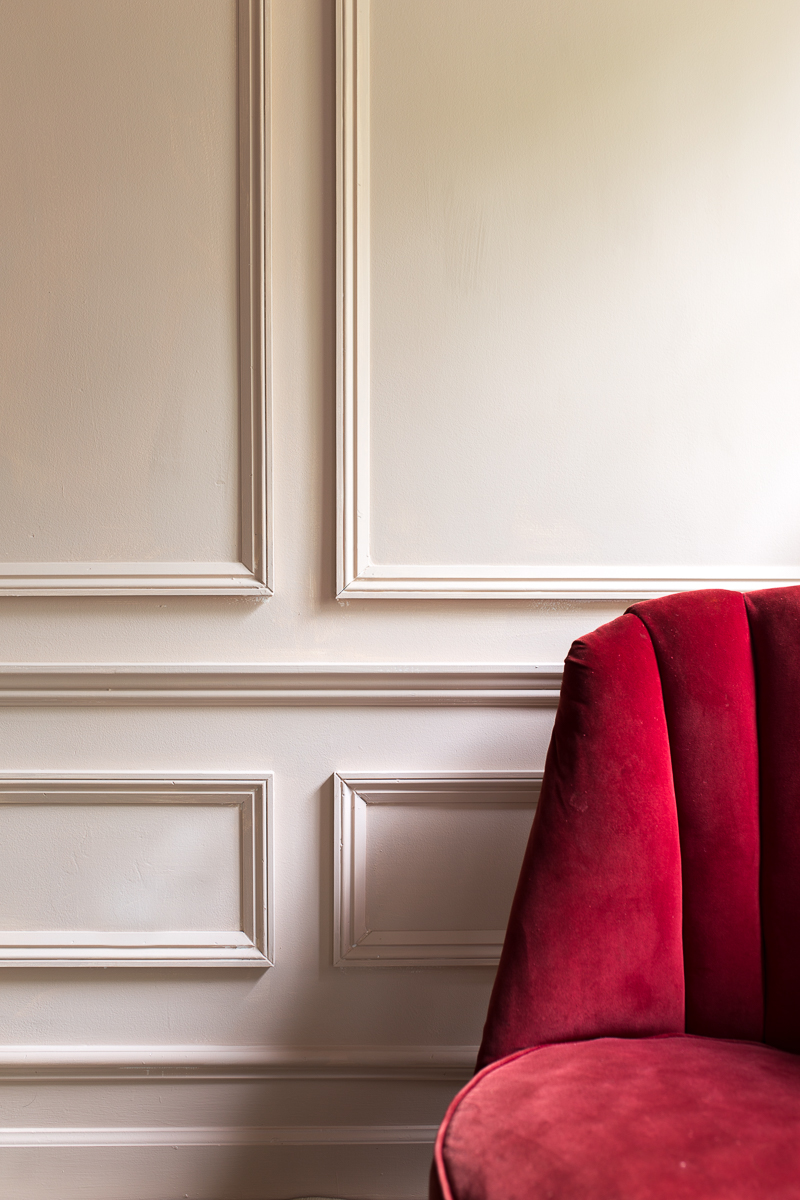 On the walls, I decided to go with the 2% Estate Emulsion.  This is their signature paint and I really wanted to have the complete Farrow and Ball experience.  This is their inexplicable chalky finish that has so much depth and character.  It immediately transports me back to our time touring British mansions and manor houses.  It feels so stately and gorgeous.
I told Thomas that I wanted a little drama to this space, so he encouraged me to paint a full gloss (95% gloss)  on the ceilings.  Despite my horrible paint gun which basically textured my ceilings, the little extra sheen does give it a fun edge.  I can't wait to see how it looks after we install the chandelier next week.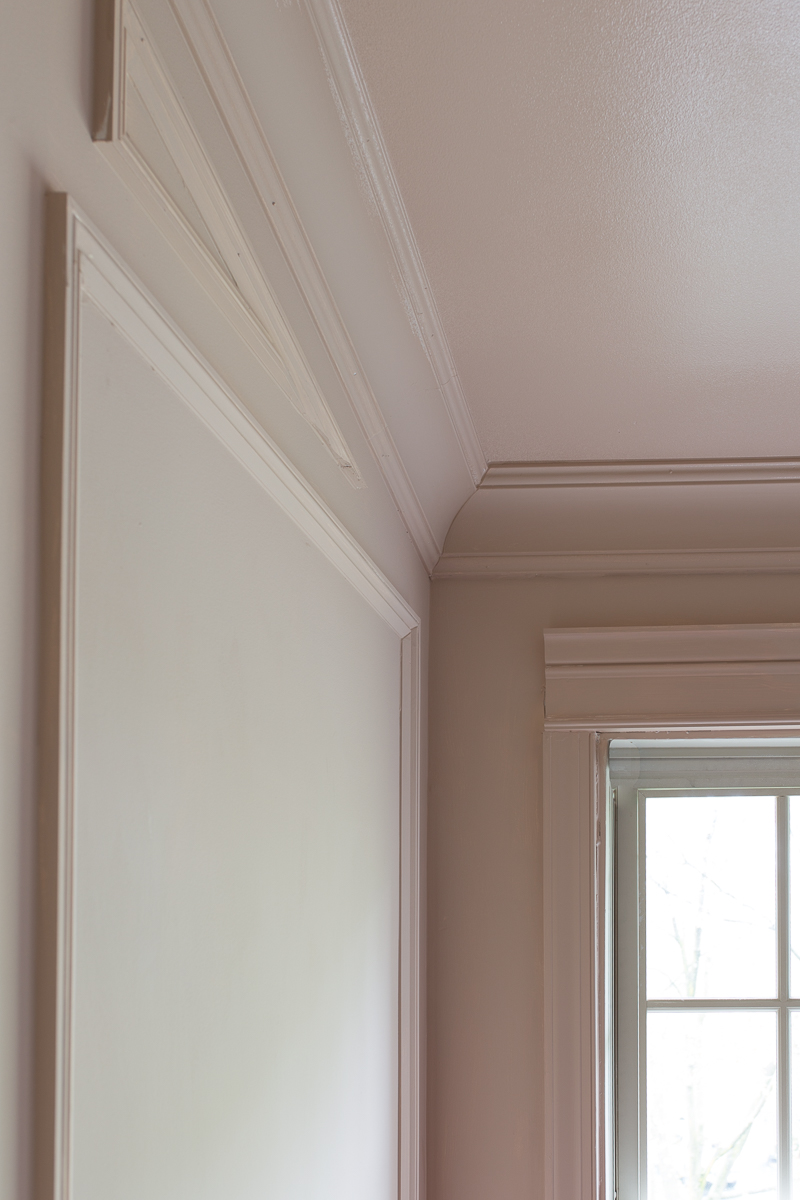 Farrow and Ball Paint Review
This is a good news, bad news story.  The good news is that this paint in UNREAL.  It's so good that I almost started to cry once I got the first coat on…It's that good!   The bad news is that even the top of the line of the other paint that I've used in the rest of my home pales in comparison.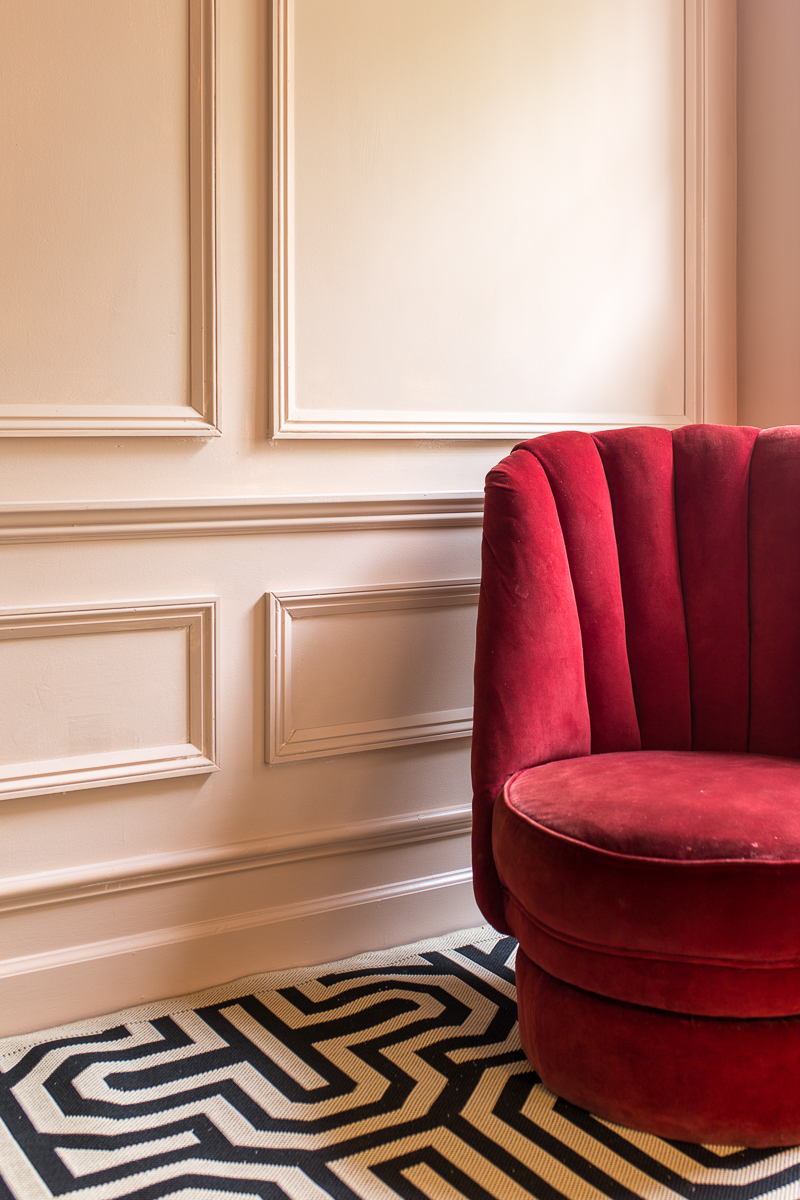 Here's what I NOTICED about Farrow and Ball:
– The primer is INTENSE!  It covers so much better than any primer I have used before.  It is also really hard to sand off. This stuff is tough as nails. I can see this working especially well in a high traffic area like a kitchen
-The paint and primer are super thick and go on like "butta".  
-The finish is more beautiful than any paint I have ever used.  The estate emulsion is perfectly chalky.
-The pigments are rich, deep, and intense, yet the color pallet is timeless and sophisticated.
-The paint changes color depending on the time of day.  More so than my other paints do.
Here's what I LEARNED about Farrow and Ball:
– There are 132 colors in 8 interior and exterior finishes
-The price isn't that much more than some of the other brand's top of the line paints
-The tints are made from high levels of organic natural pigments, have low VOCs and are water based.
–Thomas Mach Interiors will ship so I never need to leave my home to get this experience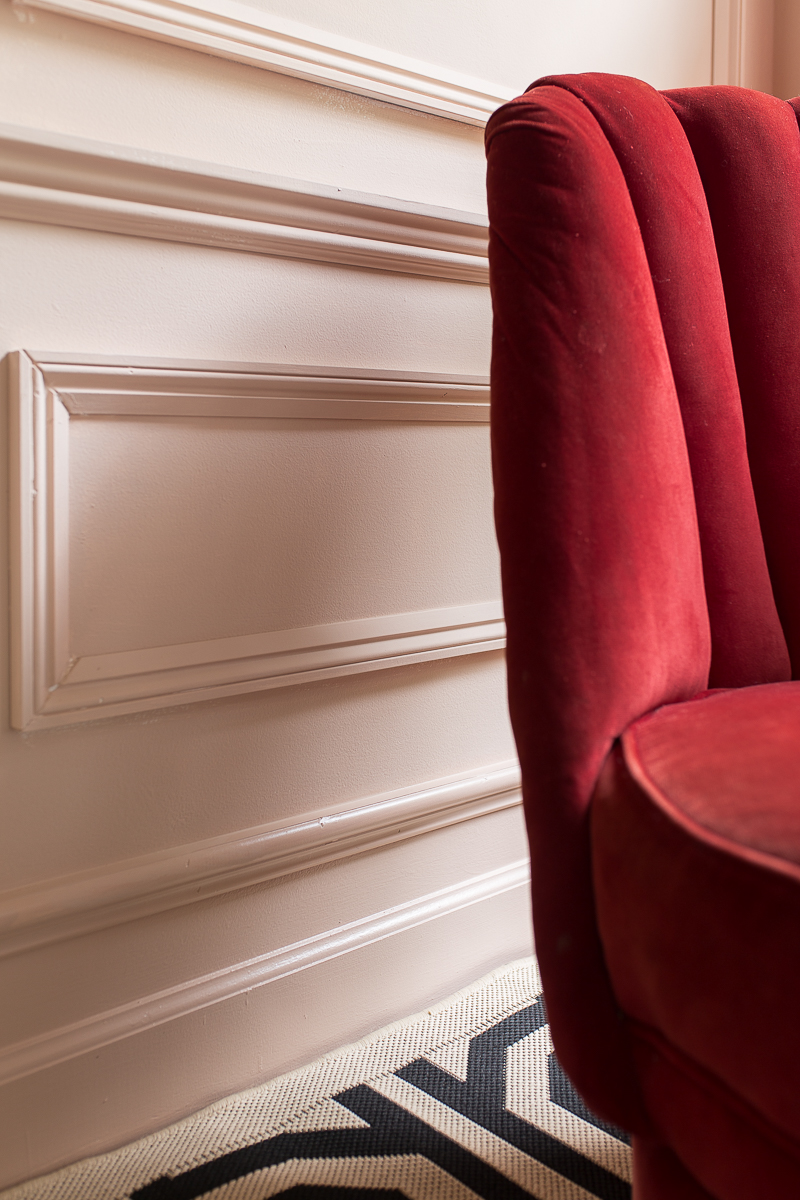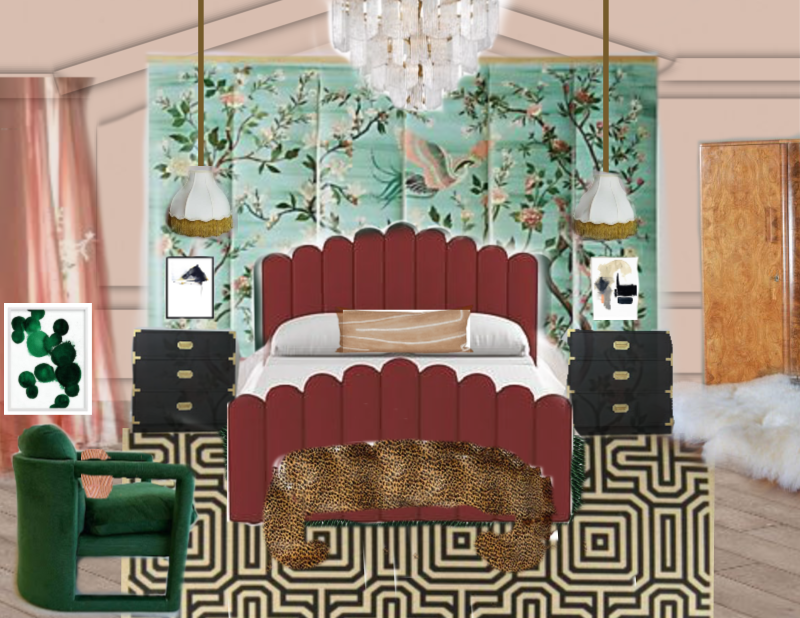 Thank you so very much for joining me on the Spring 2019 One Room Challenge- Week 1.  If you like what you see here don't forget to come back and poke around a bit after visiting the Challenge and Guest participants.  Oh, and following me is fun too ?. Don't forget to check in each week as build this maximalist, and show stopping bedroom
PINTEREST || FACEBOOK || INSTAGRAM
WE WILL BE DOING A THOMAS MACH INTERIORS FARROW AND BALL GIVEAWAY THIS FRIDAY.  DON'T FORGET TO GIVE US AN IG FOLLOW!