2019 Spring Home Tour | It's a Colorful LIfe Home Tour
Welcome!  I'm so glad to have you here!  You may remember waaaayyyy back to December when we did a It's a Colorful Life Holiday Home Tour?  Weeeellllll, we had SO much fun that we are at it again…This time, however, I'm teaming up with Jennifer, from Dimples and Tangles to bring you the SPRING Home Tour…So pull up a comfy seat, kick up your feet, and get ready to tour some incredibly lovely and colorful homes.  Make sure to check out each of the fifteen talented bloggers who will be opening their homes over the next 3 days (Links at bottom).

Note: Most of the products listed in the Spring home tour were originally sponsored.  I appreciate the support of the sponsors, and together we are teaming up to bring you unique design ideas.
I know this is an INTERIOR design account, but I've snapped a few pics for anyone interested the EXTERIOR of our home.  Plus, it gives me a chance to show you the new hardware I just installed on our front door.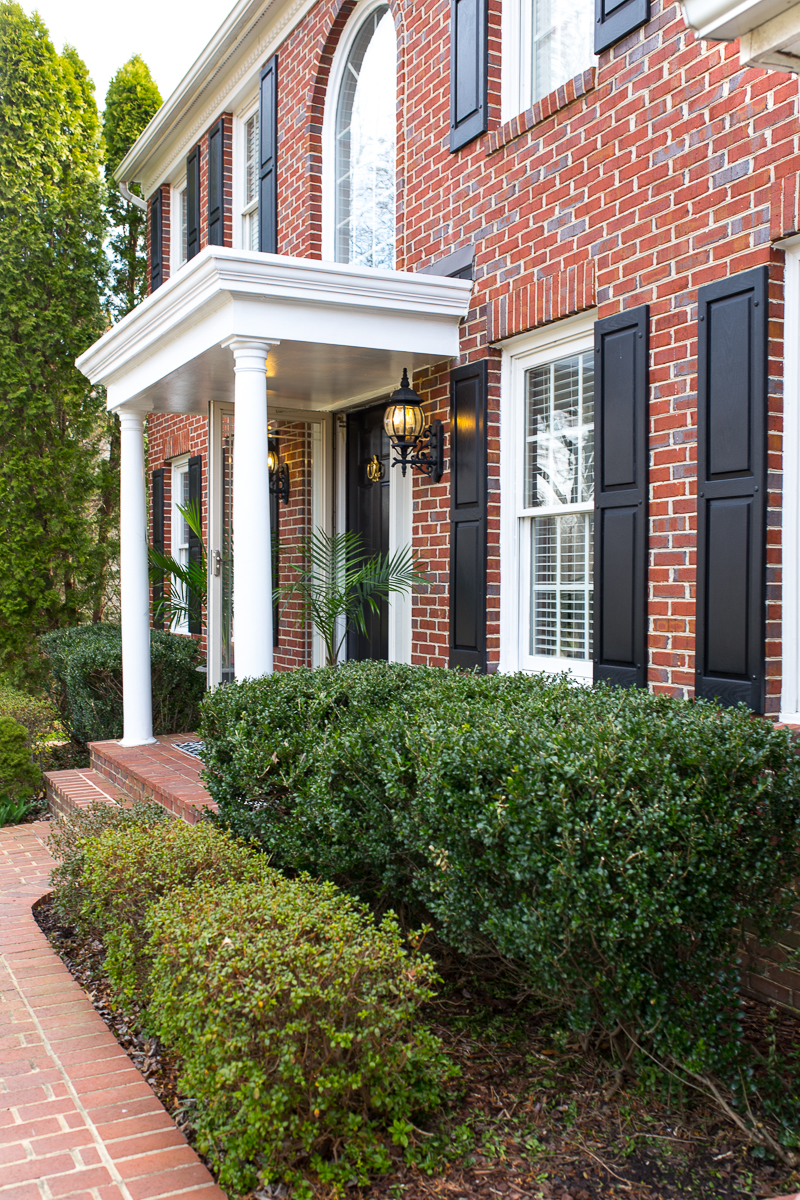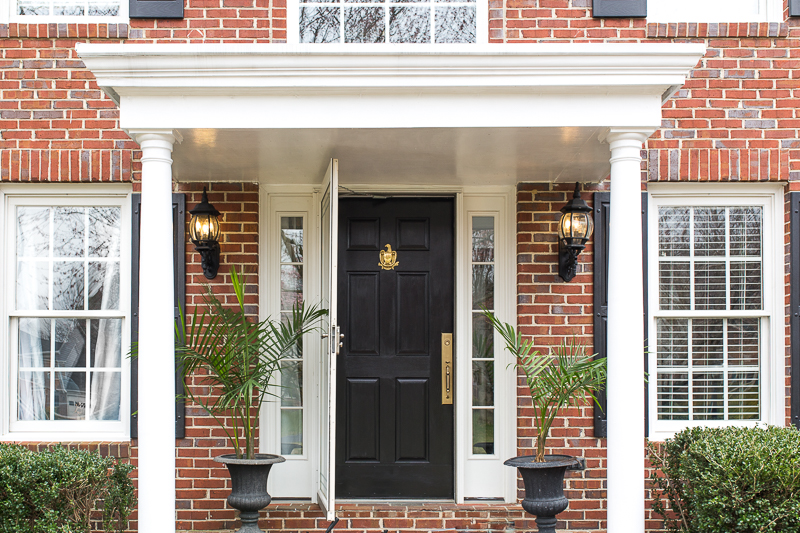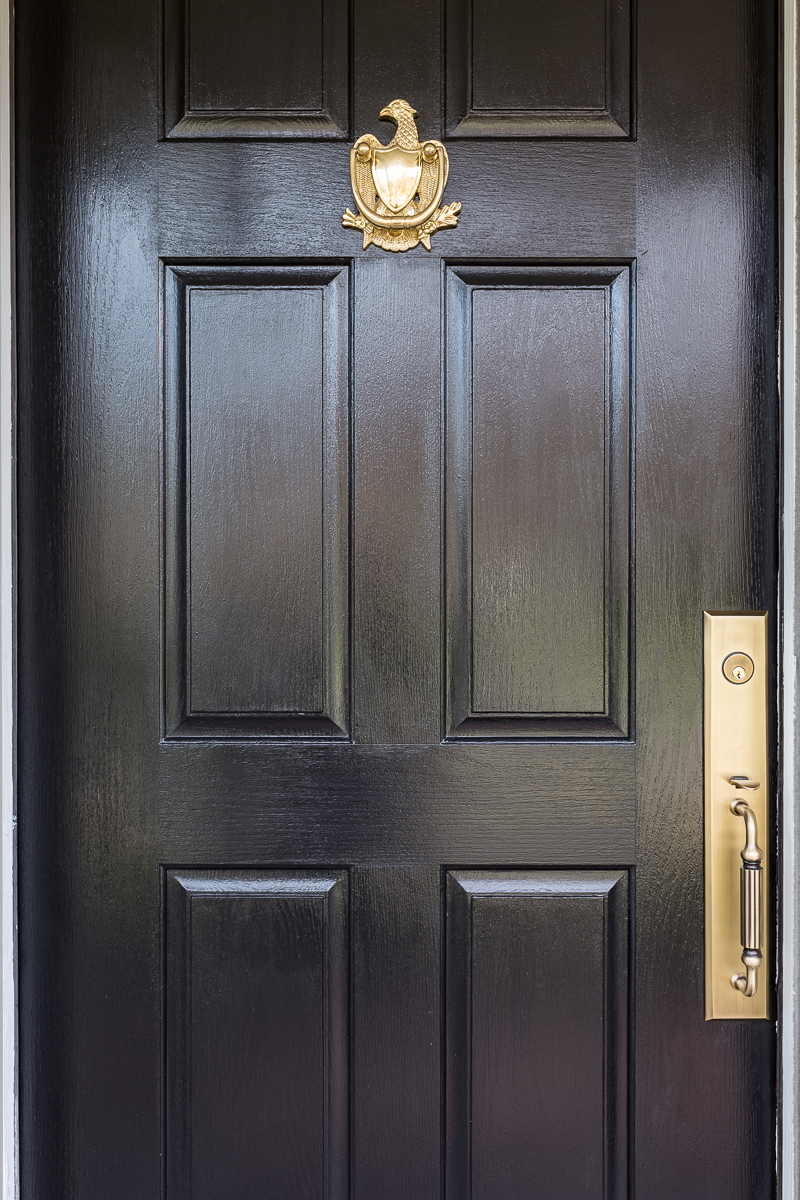 I recently purchased this vintage knocker from an Etsy shop.  While I almost went with a lion's head (shocker, I know), I instead opted for this Federalist Eagle.  Bonus "wife points" to me because my husband loves eagles (and most anything patriotic, and historic) and happily approved of this design change.
I (well, actually my aforementioned approving husband) also installed this GORGEOUS Fifth Avenue entryway handle from Grandeur Hardware. The quality is noticeable every time we open the front door, and it makes me want to do a happy dance. Also exciting, I was able to customize this handle to match my new interior doors in my entryway. See below.
The Month of February was a busy one, chocked full of Metrie Moulding, scaffolding, wallpaper, lighting, and paint.  Now that we are into late March, however, the pain has almost worn-off.  Walking into our new entryway only brings joy, and no more PTSD flashbacks.
Ok, scroll through these pics and tell me if you can believe I accomplished this in the short month of February.  It's all a blur, but I'm pretty sure that I did (with the help of the hubs again).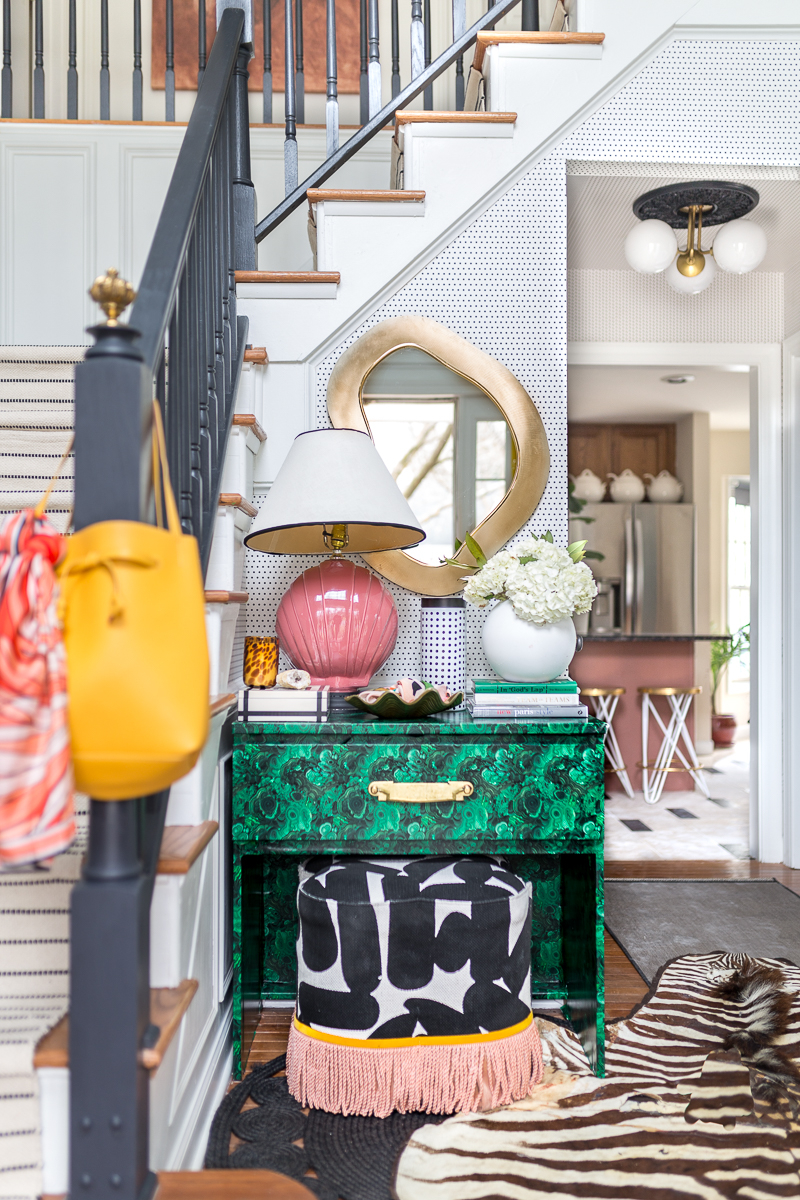 I'm still loving the transformation from of this former MALM Ikea dresser into its present day DIY malachite table state.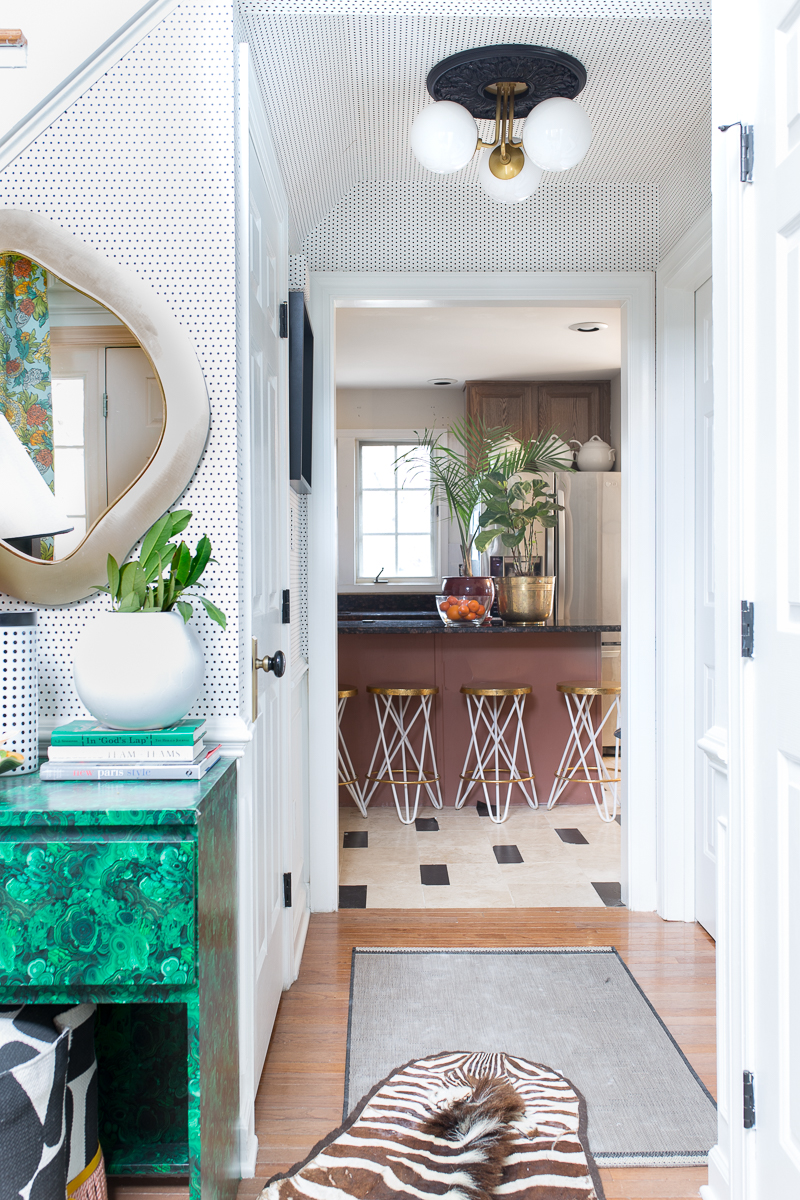 Some people were surprised that I used a simple black and white polka dot wallpaper in this space but I had three good design reasons why.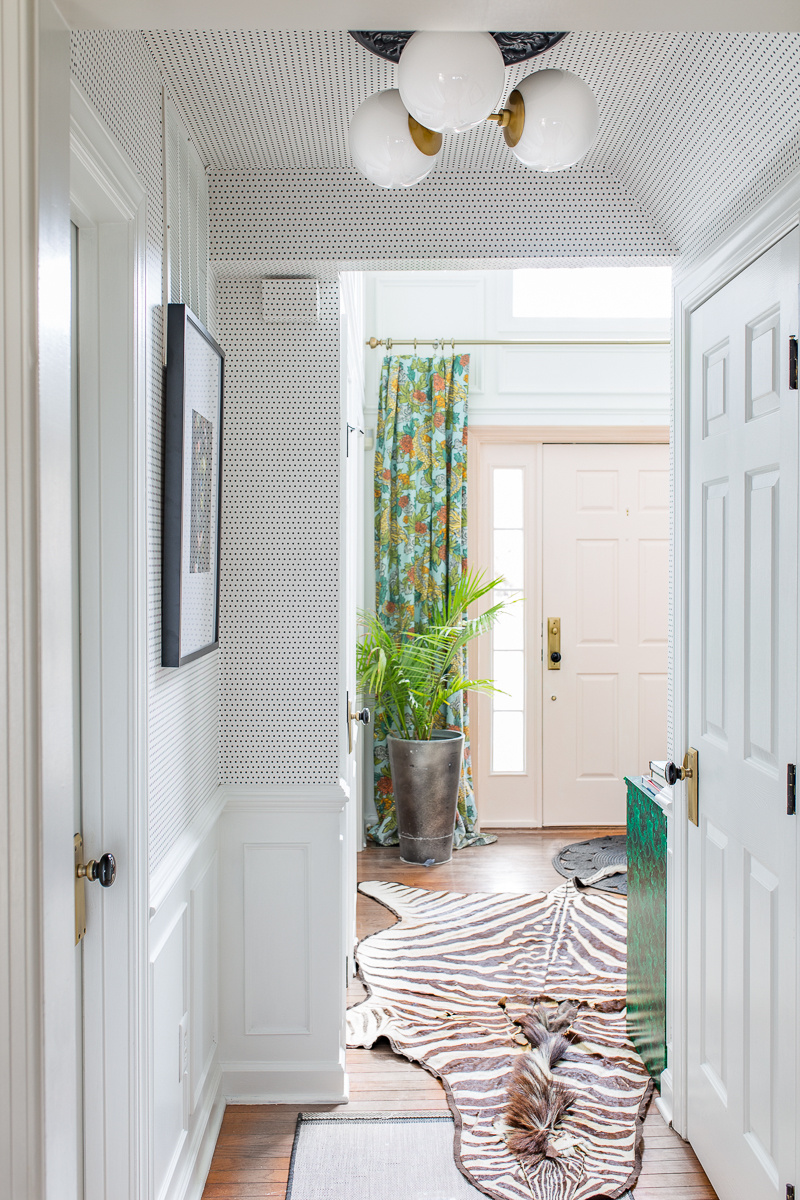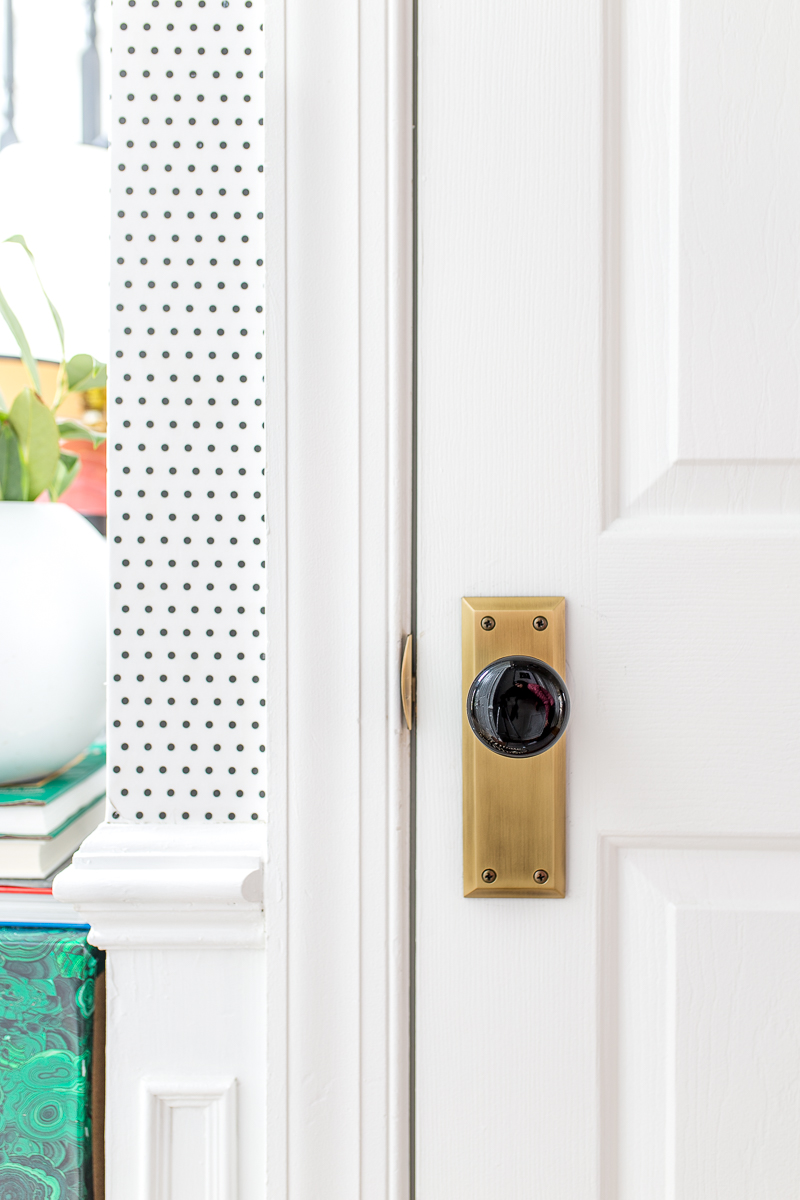 Another favorite design upgrade in this space has been the installation of stunning handles from Grandeur Hardware.  I underestimated just how much of an impact this simple switch out would make.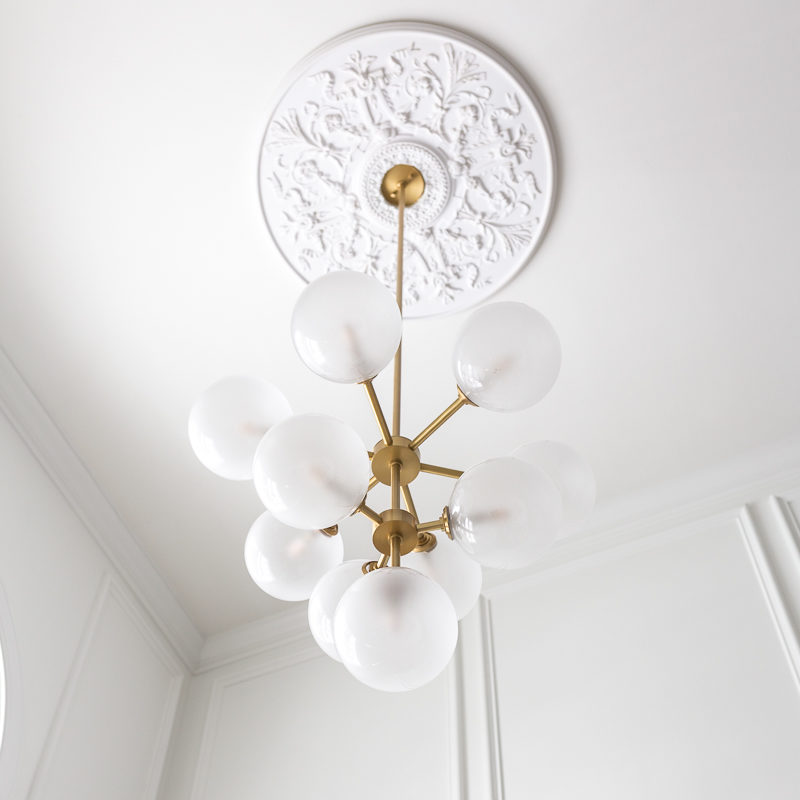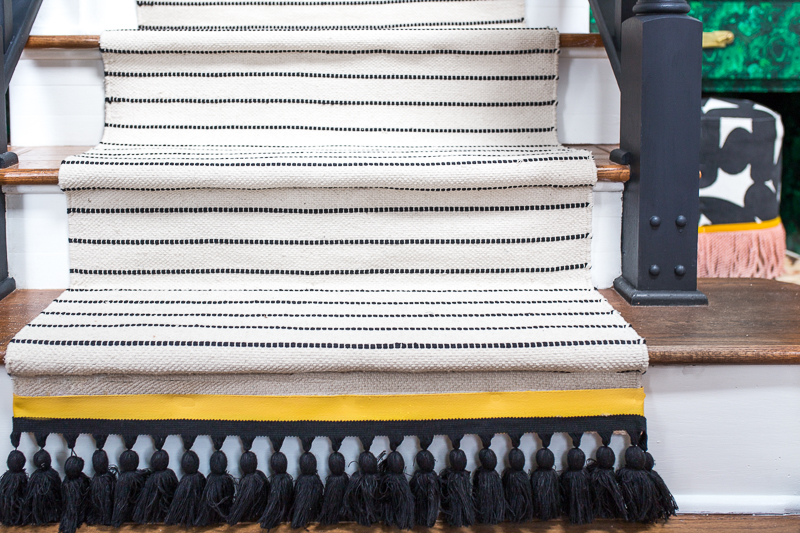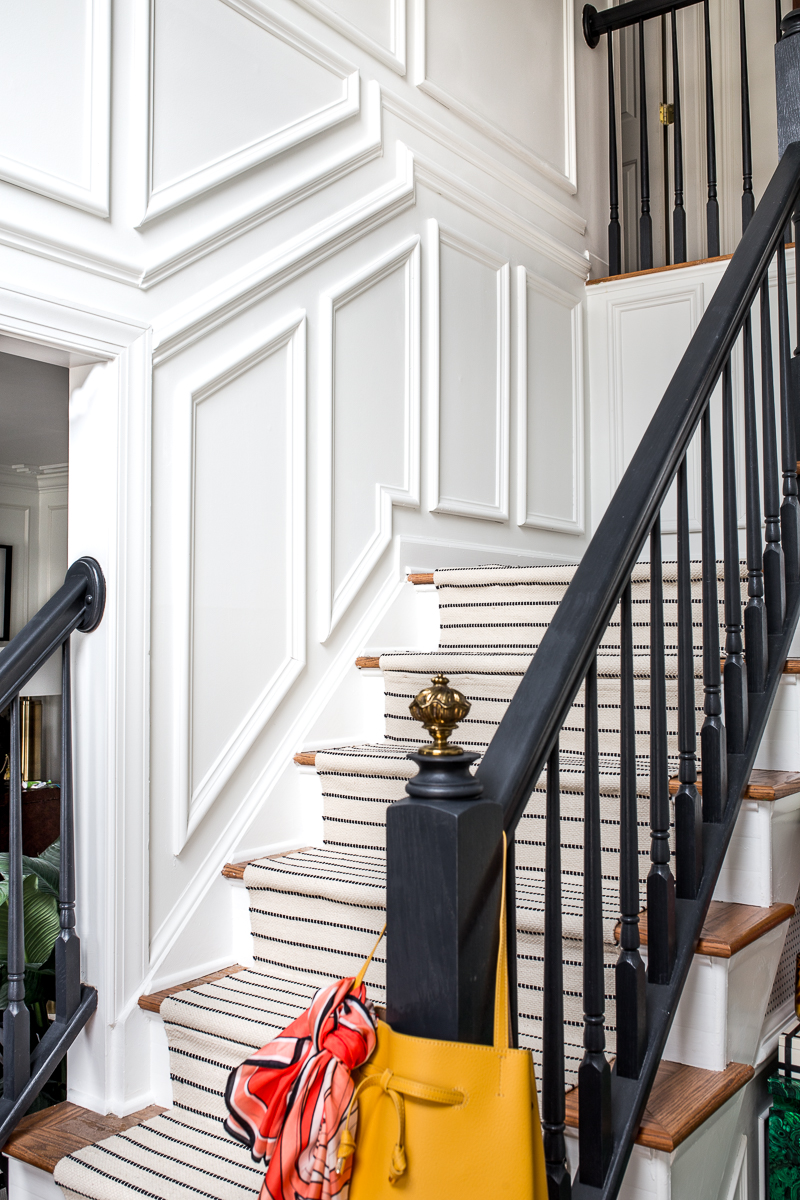 Sometimes it's the hardest projects that make the biggest difference.  This can definitely be said for the thick chunky Metrie Moulding that we installed in our 17 ft tall entryway.  I love that this will add value for years to come, and it was definitely worth the effort.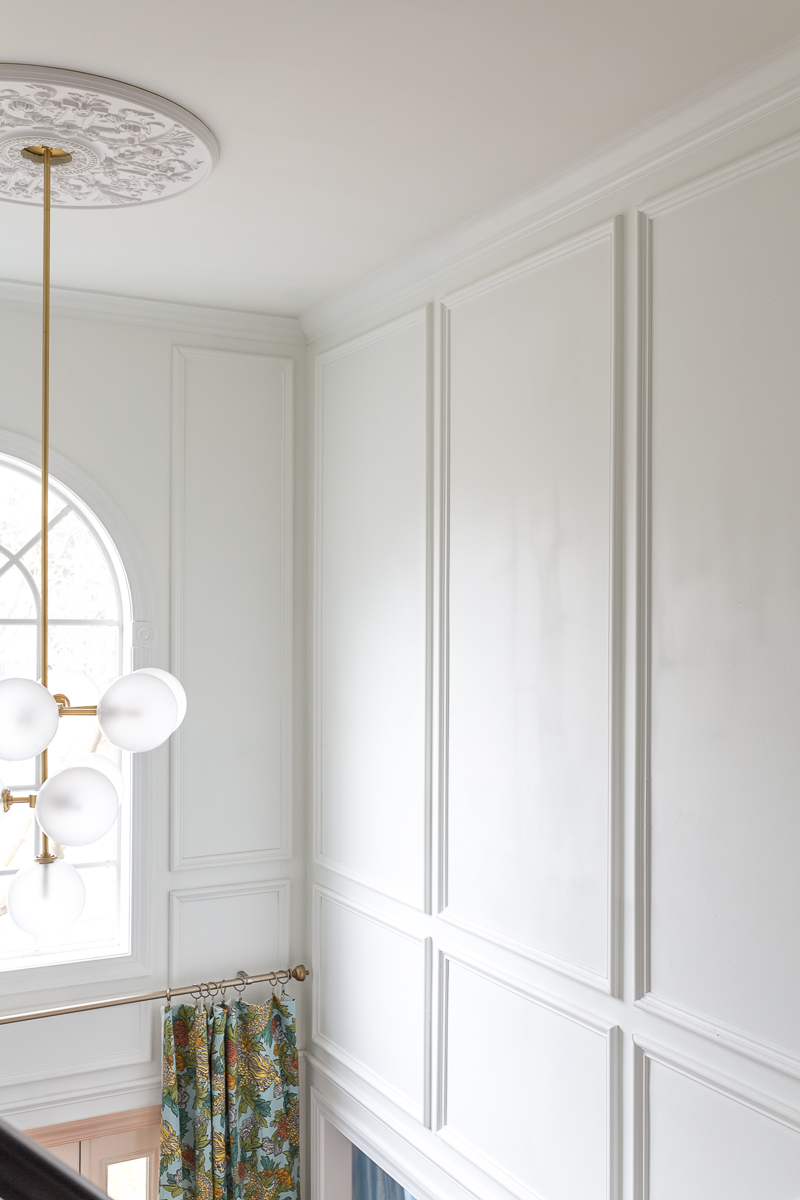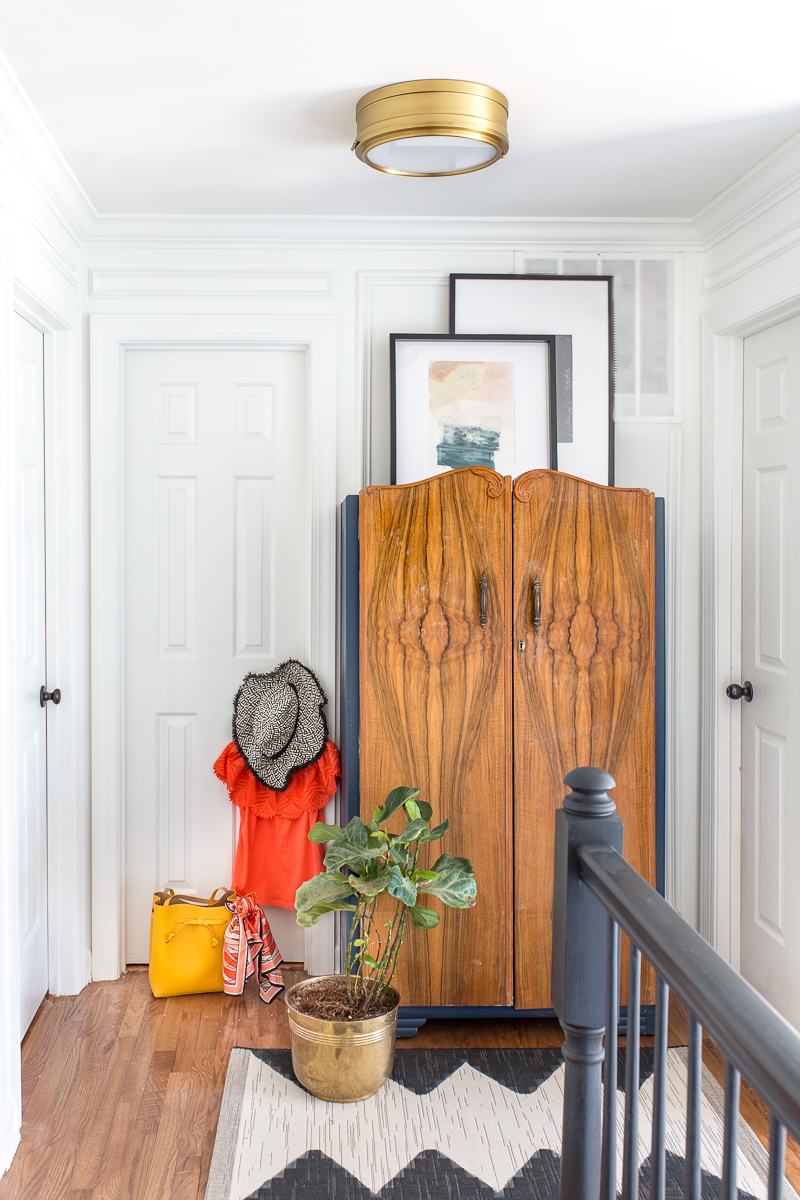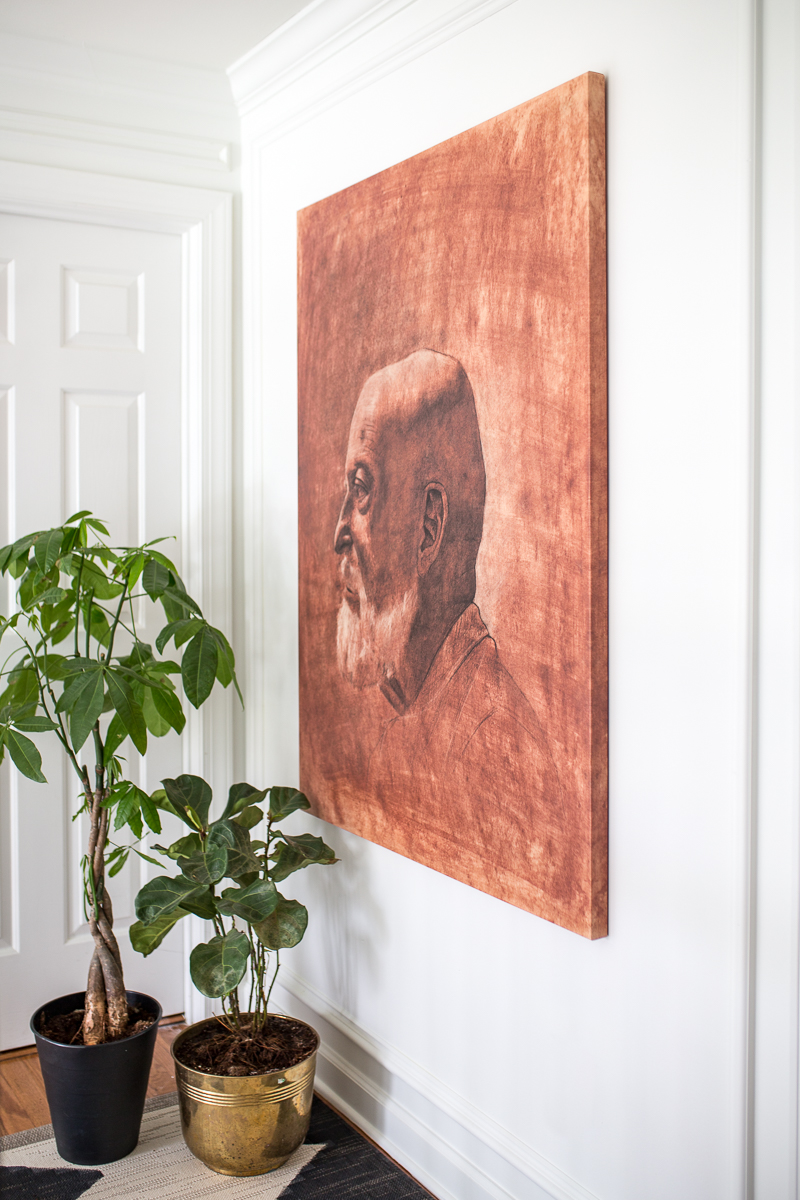 I'm ready to dive right into the Spring 2019 One Room Challenge.  We will be tackling our MASTER BEDROOM and I can't even wait.
Don't want to miss out?  Like to follow a colorful account with over half a house left to decorate?  Don't forget to sign up for updates below or follow me on Instagram.
Now, if you are anything like me, you might be chomping at the bit in anticipation over the other participants' tours.  I bet that they are going to be soooo good.  Let's go check them out, shall we?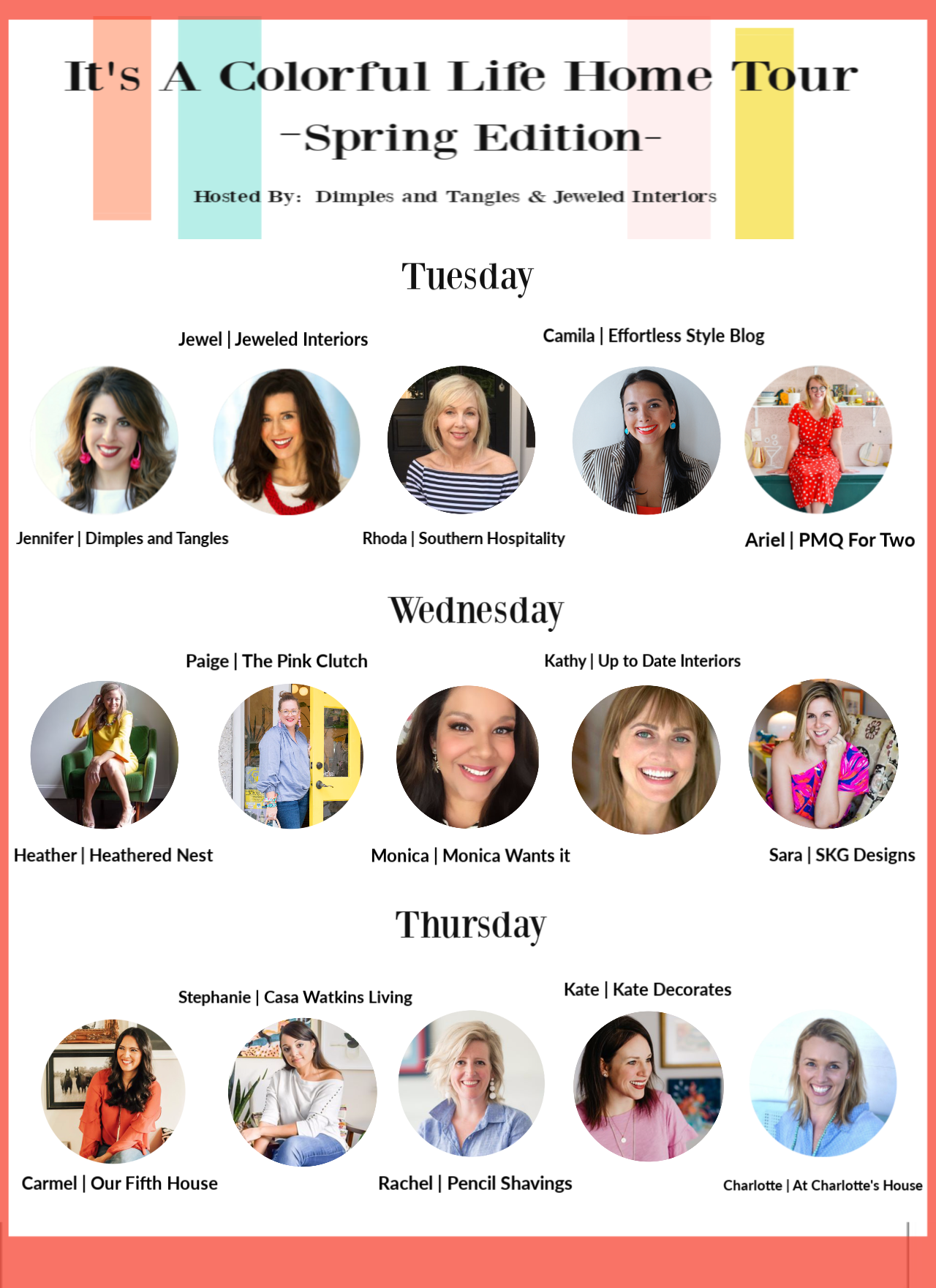 TUESDAY
WEDNESDAY
THURSDAY