Jewel Marlowe Fall 2019 One Room Challenge Week 1 – The Plan for the Living Room, Eat-in, and Kitchen

I am still in grateful shock and awe that Better Homes and Gardens chose me (and Girl and Grey) to be featured designers for the Fall One Room Challenge.  I've had several months to consider which rooms I want to tackle and what in the world I want to do to them.  It's been a big secret, so now I'm so excited to FINALLY get to share my plans with you!

Moderation?  What's That?

I come from a long line of hard-working women. My Grandma Jewel, now In her late 80's, still manages a farm and several head of horses. Last night I thanked her over the phone for her example of a strong work ethic.  I told her that I have never been the smartest or most talented person in any room, but that I can work as hard as the next guy. There is only one issue with living life with this single-minded, "I can do hard things" philosophy…You forget how to be balanced.

 

Let me tell you folks, there is nothing that makes me more enthusiastically unbalanced and energetically sleep deprived than the One Room Challenge.

  

You see, I think I secretly love the stress, pressure, and motivation to finish yet another room in our new home. Sure, I usually lose 1/3 of my hair, part of my muscle mass, eat a steady diet of Nutella and cheese, forget to shower for days on end, and flake on every other aspect of my life…but I really, really love a good challenge. So if you see me at soccer practice smelly, disheveled, and upholstering a seat cushion on the side lines…don't be alarmed….this is normal…for me.

 

This time is sure to be the MOST unbalanced One Room Challenge to date.  Instead of using moderation and tackling a manageable space in our home, I'm actually taking on our living room AND kitchen AND eat-in area.  You see, it's all one big space.  There will be plenty of time to sleep when I'm dead.  LOL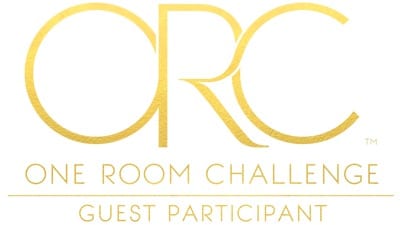 Before giving you my vision, I want to start out with a huge thank you to Linda, from Calling it Home, for organizing this…THE MONSTER TRUCK EXPEDITION of all link-ups…THE… FALL… ONE ROOM CHALLENGE???!
Surely by now you have heard of this uber-fun five week event featuring 20 "Challenge Participants" (see direct links below) and hundreds of other "Guest Participants."   All of us have the goal of transforming our spaces with only five weeks to get it done.  As an added bonus, Better Homes and Gardens is back for another season as the media sponsor for this event.
 We are a military family of 6 and we are constantly on the move.  Yep, this is our 13th home and we are only here 2 more years.
We have completed 8 rooms in the last 14 months…so what's another 3?  LOL
If you like color, pattern, and following other people's chaos,  Oh baby! You have come to the right place.  This is going to be one heck of a ride!  Don't forget to follow along.
As a lead-in to this 2019 Fall One Room Challenge, take a quick peek at some of my previous ORC adventures.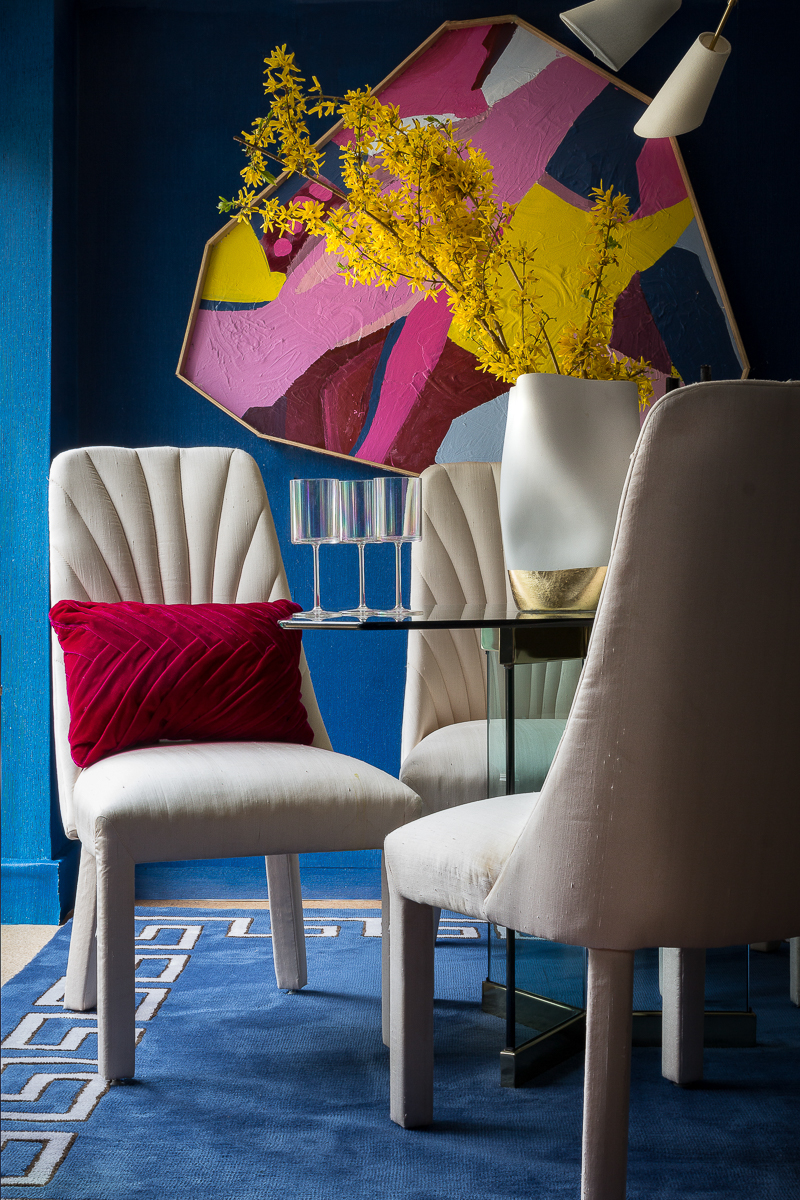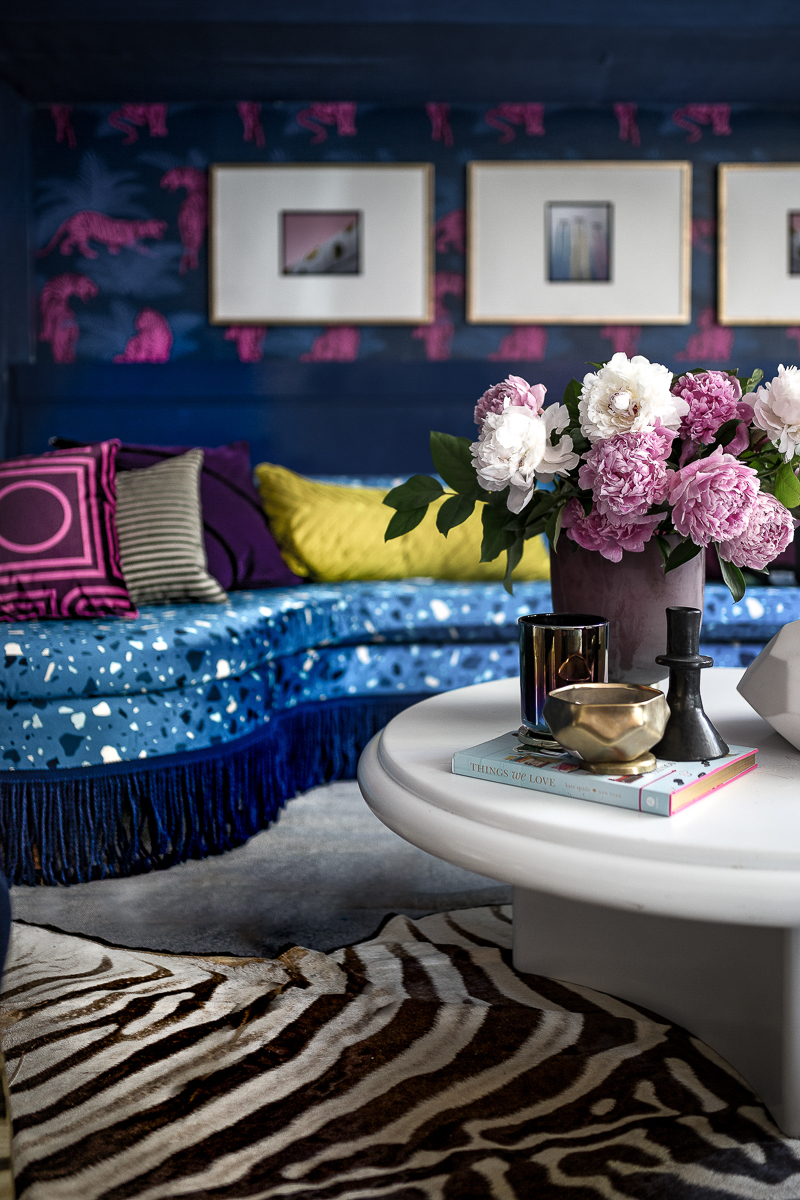 Photo cred: Amy Greene (IG: ContactAmyGphotography)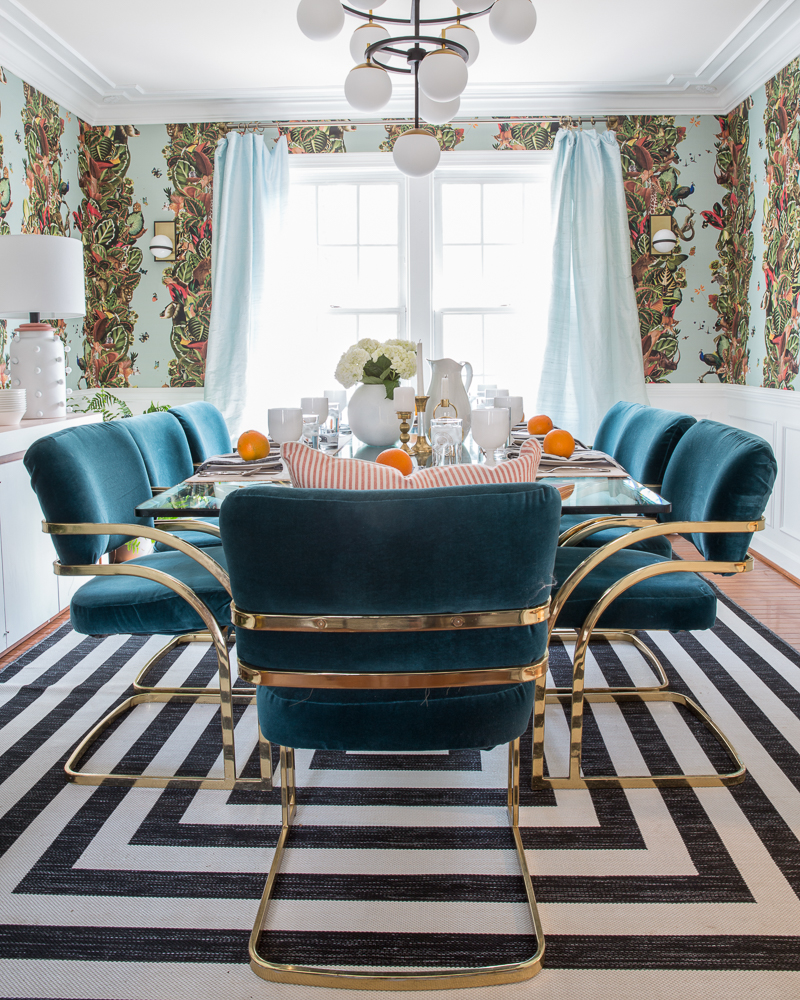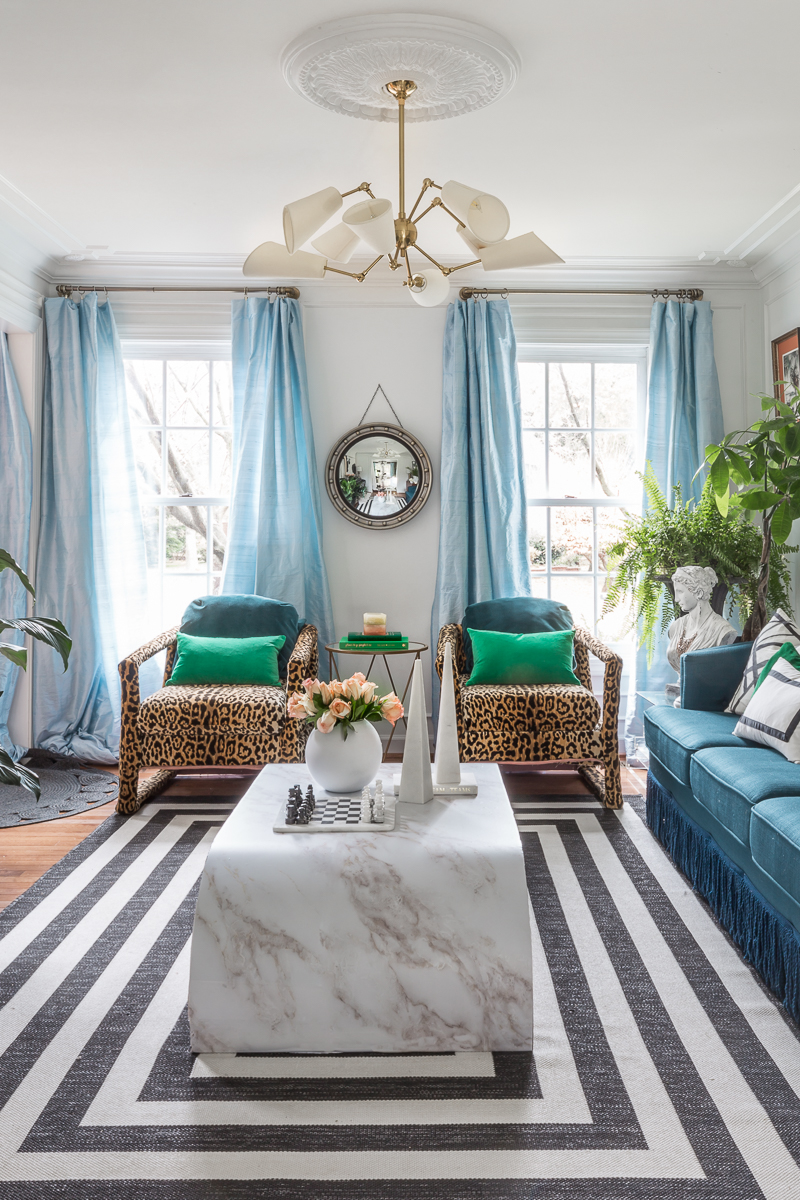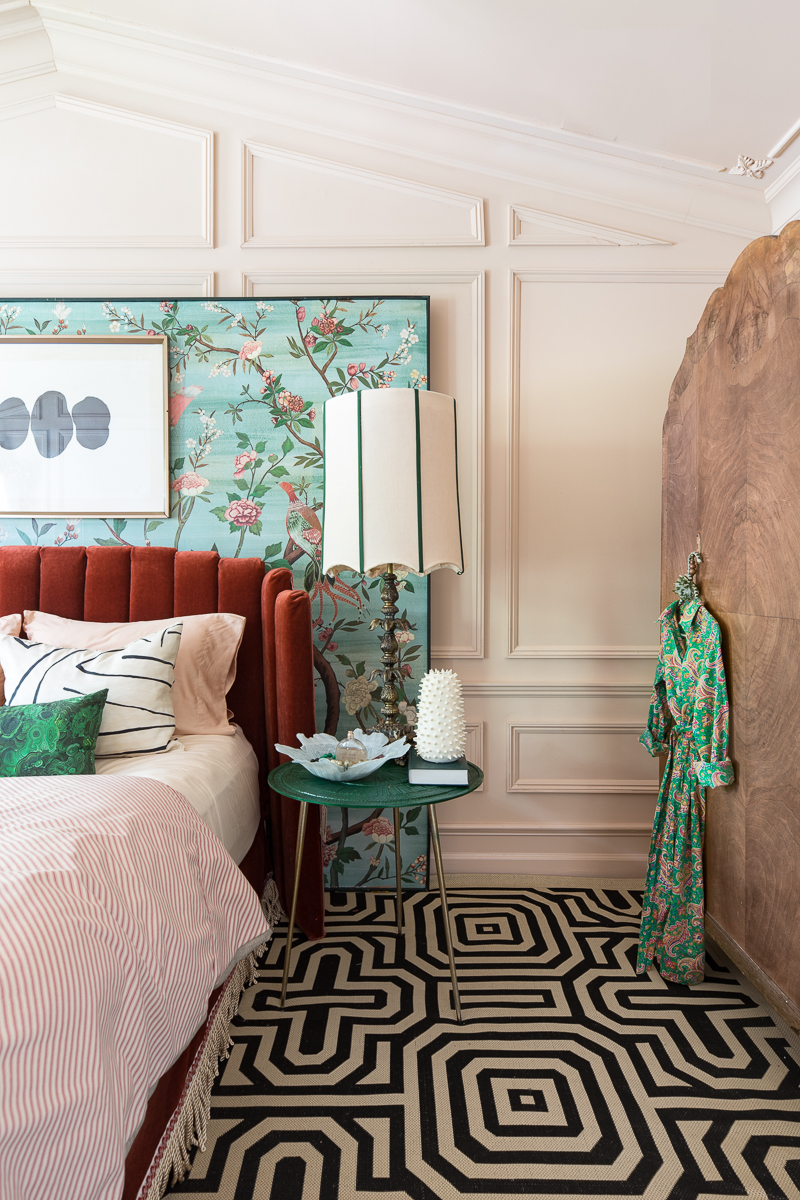 All right….Now the exciting part!  Here are the before pics of the Jeweled Interiors 2019 Fall One Room Challenge space…Brace yourselves…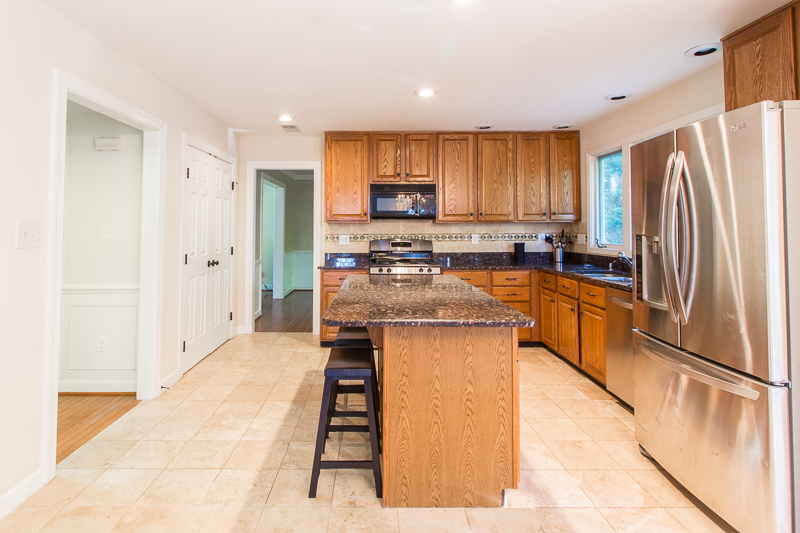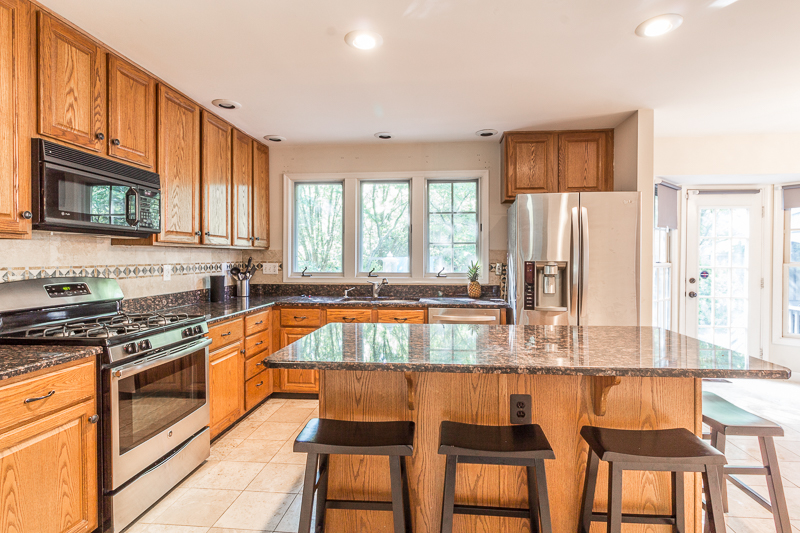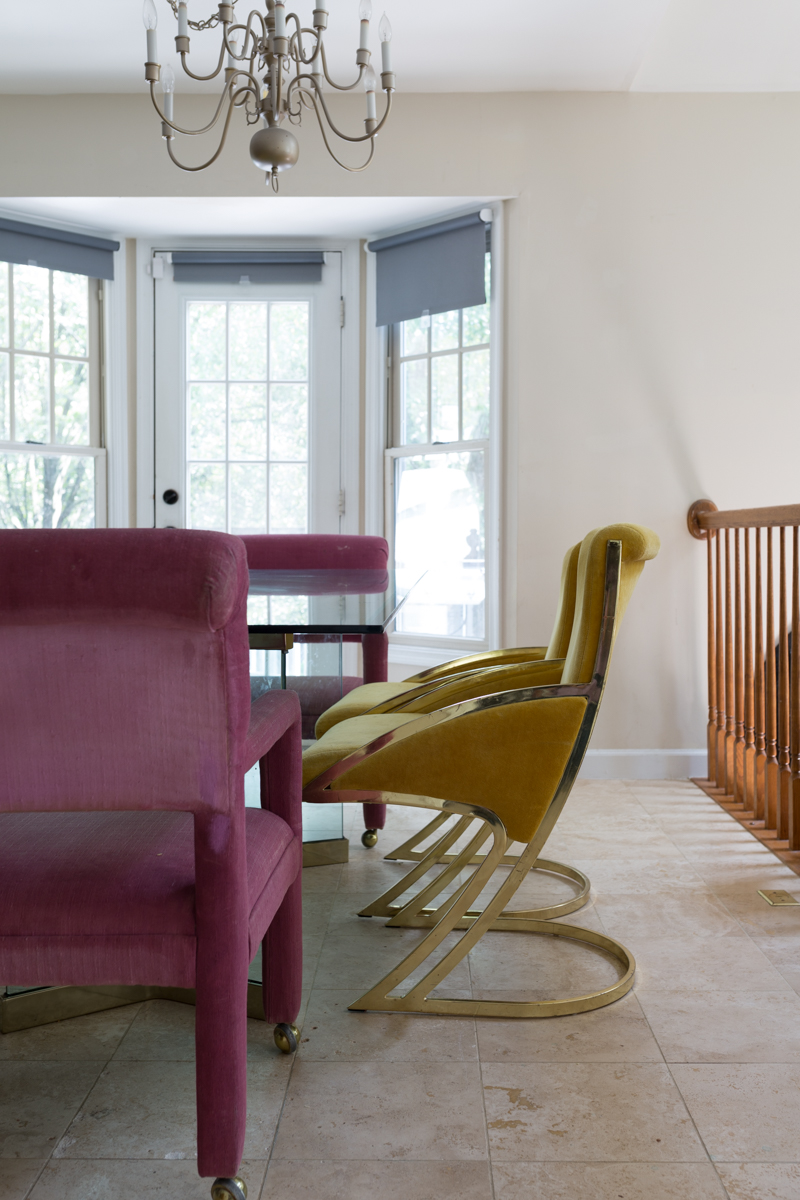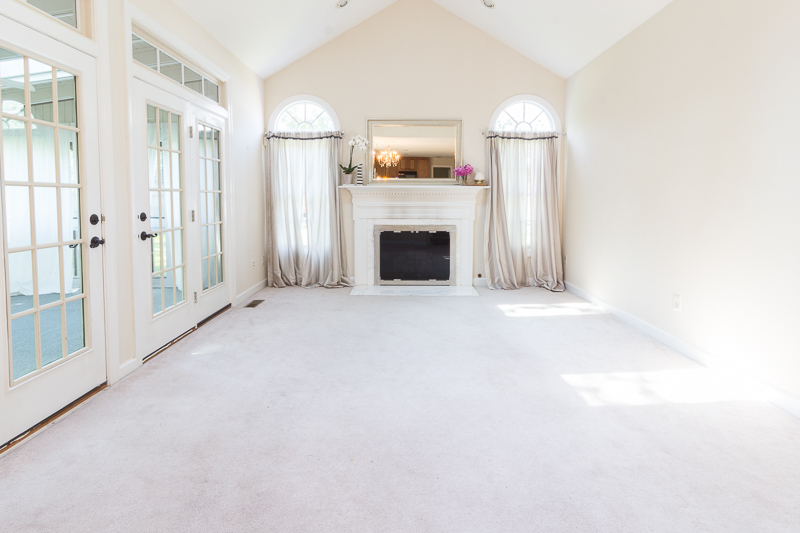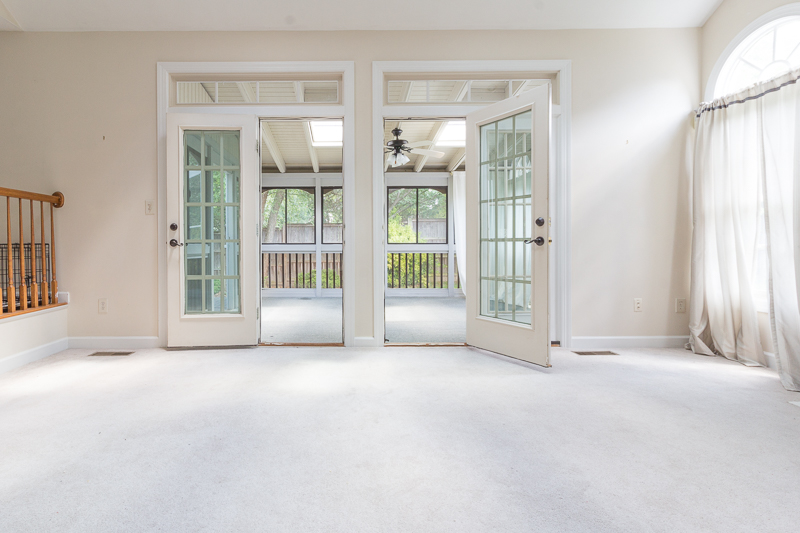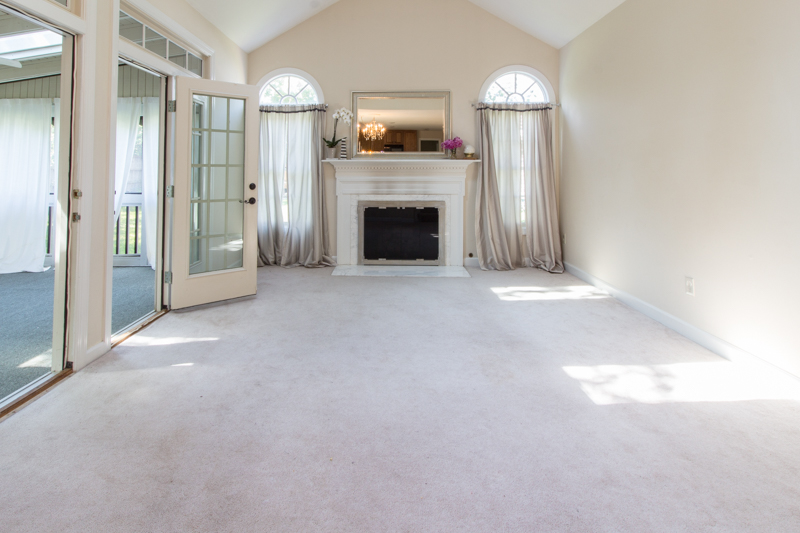 Are any of you staring at these 1994 blast-back pics and thinking…."Hey, that looks like my house." Well, if you are feeling my pain, maybe you will be inspired by the transformation that is about to take place around here. Fingers crossed 😉
Note: all products in this post are sponsored but the opinions are 100 percent my own.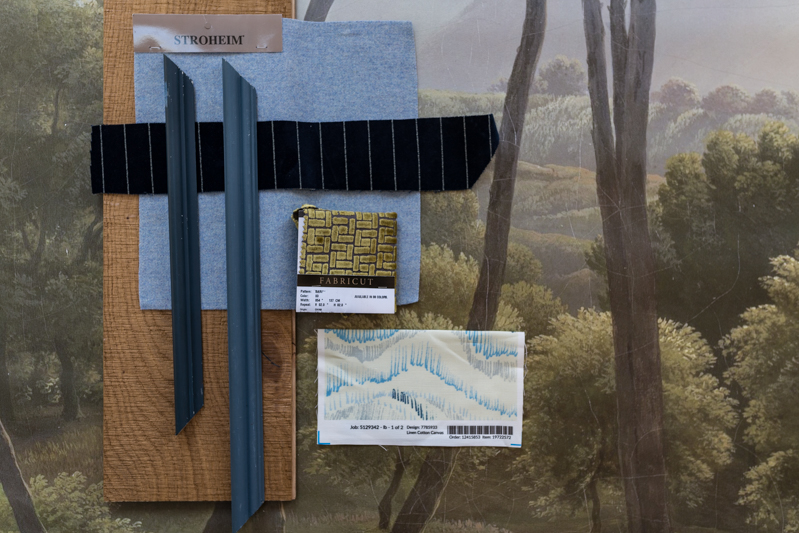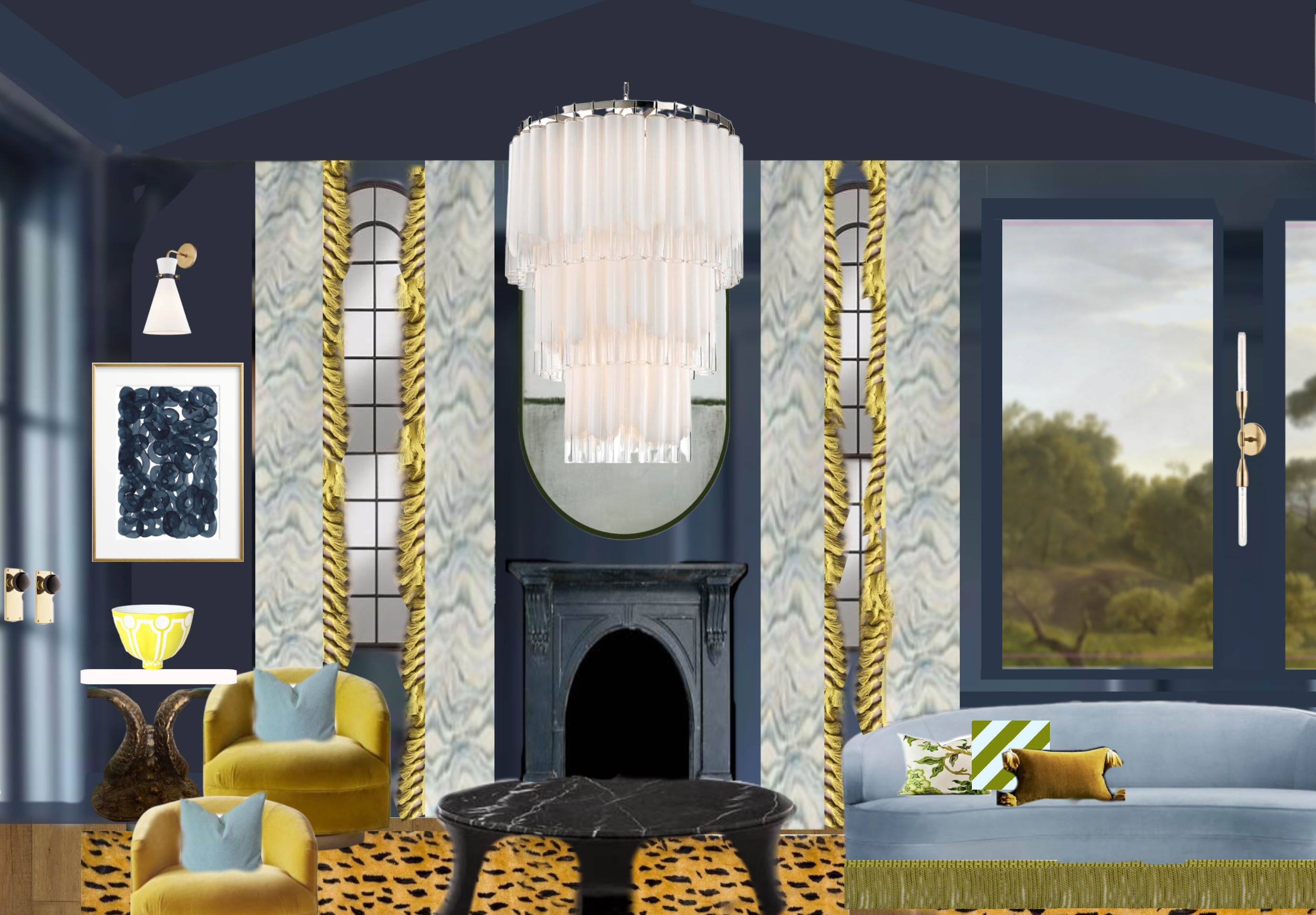 Wait…What?  Did you see that chandelier?  Yep, that bombshell of a statement maker is the Tyrell from Hudson Valley Lighting.  That beauty paired against the dark Rush Hour Behr Paint, and commissioned art from  Laura Gunn are here to make you stand up and take notice!
Let's not forget another important element in the living room, this stunning mural from Sarza Store – Robin Sprong Wallpaper.  It is an Italian landscape with umbrella pines, and it will span the entire wall.  I plan to have some Mitzi sconces in between the three panels.  I'm giddy just thinking about it.
One problem that needs immediate addressing is the 15 year old white carpet.  Sure it looks ok in the pics above…but trust me when I say it is NOT.  Watch my IG stories to see just how nasty it is.  In it's stead we plan to install something EXTREMELY beautiful, with low VOC's, Fresh Aire Lifecore flooring.  That should arrive in a few short days.
I recently purchased a lovely mid-century Italian sofa with all-the-curves.  The only problem is that it is pink.  You see,  I want it to be the powder blue  Arley Wool Blend from Stroheim Fabric.  This will be an adventure for sure.  I may need to enlist the sewing help of a friend. #sewingcurvessoundstricky
Another fun element in the space includes long statement making curtains from Spoonflower.  Once I customize and finalize the design I plan to trim them out in fringe from Fringe Market.
Other little details will include Minted art and Jill Rosenwald pottery.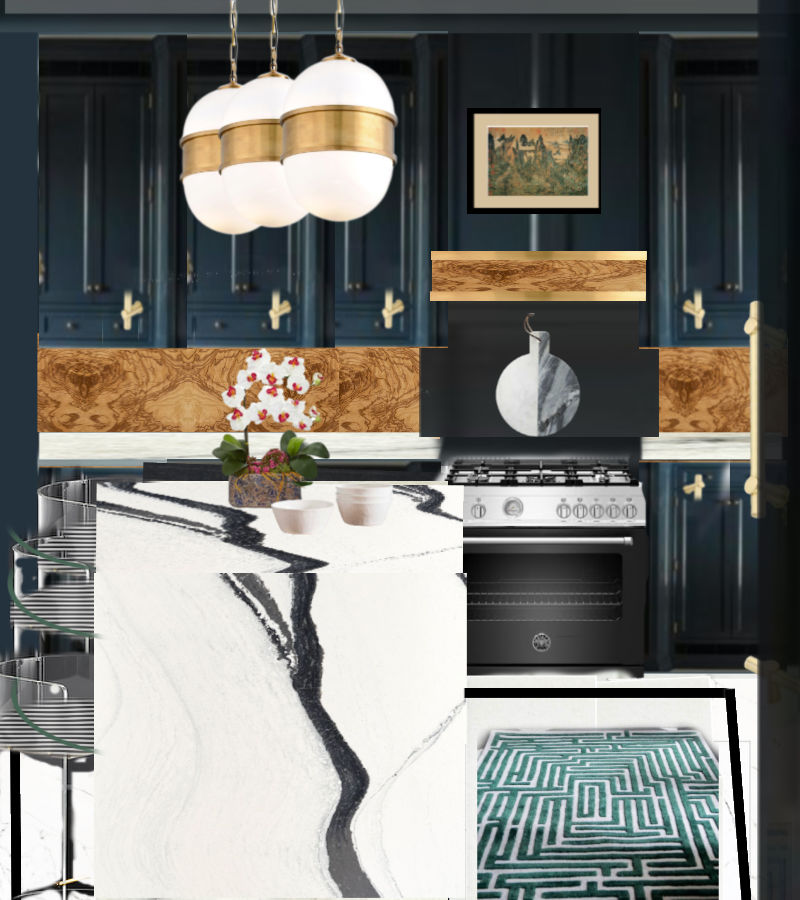 Ummm….Hello there beautiful!  Can we talk about some of the major elements in the space for a second.  I KNOW that the wood kitchen is coming back.  But here's the deal…Aside from hardwood floors, I don't really LOVE wood…Well, most woods that is.  The major exception being anything burl.  So when brainstorming where I wanted to put burl, I had the genius (if I do say so myself 😉 idea to do a burl backsplash and island front.  Who better to help me realize this dream than the ultimate experts on the subject, The Burled Co.  They are customizing these elements to fit my kitchen like a glove! I can't wait to see this!
The drama doesn't stop there!  Look at that dreamy Bentley Cambria quartz countertop.  That thick vein gives me all of the feels. In order to give it more presence in the space I am adding a cabinet supplied by Reico Kitchen and Baths.  That is where my original cabinets were purchased. Since they have held up so well, I went right back to the source.  The service was extremely helpful. My new 8ft Long Island will be so dreamy!
Ohhh….that's not all my friends…feast your eyes on that stunner of an oven range!  Hello matte black, sexy Italian design, all round stunner of an oven…Bertazzoni's Masters Series.  It is scheduled to arrive on Friday!  Happy Dance.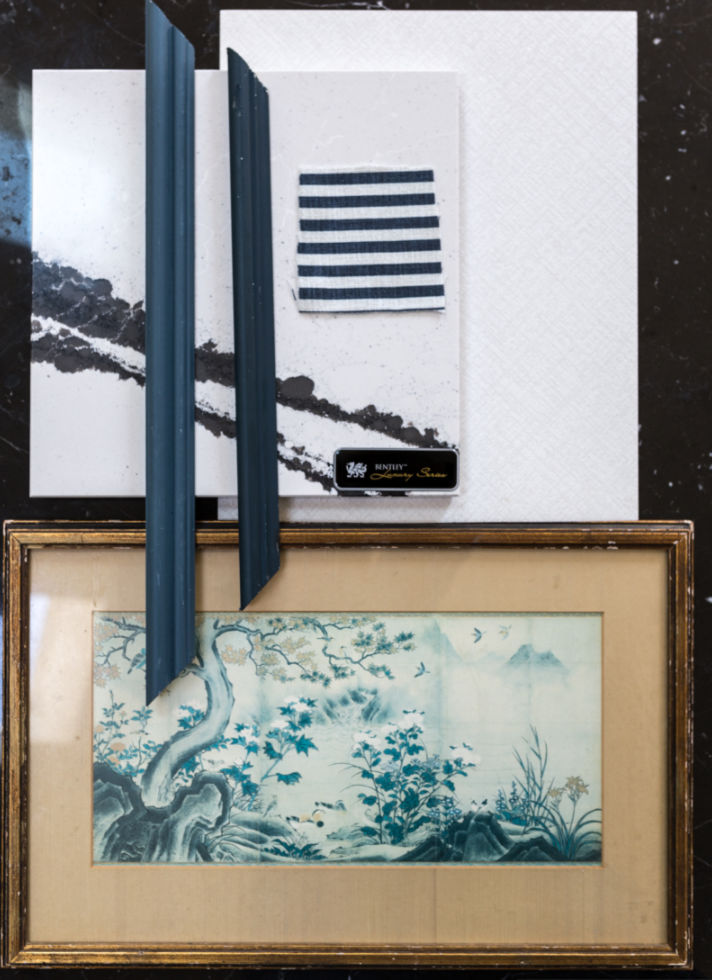 We are forgetting the elephant in the room.  Those kitchen cabinets, am I right?  I am so excited to be working with N-Hance of Mid Potomac who will be customizing my dated kitchen to look like it just came straight from the factory.  They use proper prep work, proprietary products, and attention to detail that will absolutely transform this space. I'll explain more later, but picture the UV light technique used in gel nails, but on your cabinets and floors.  WOAH!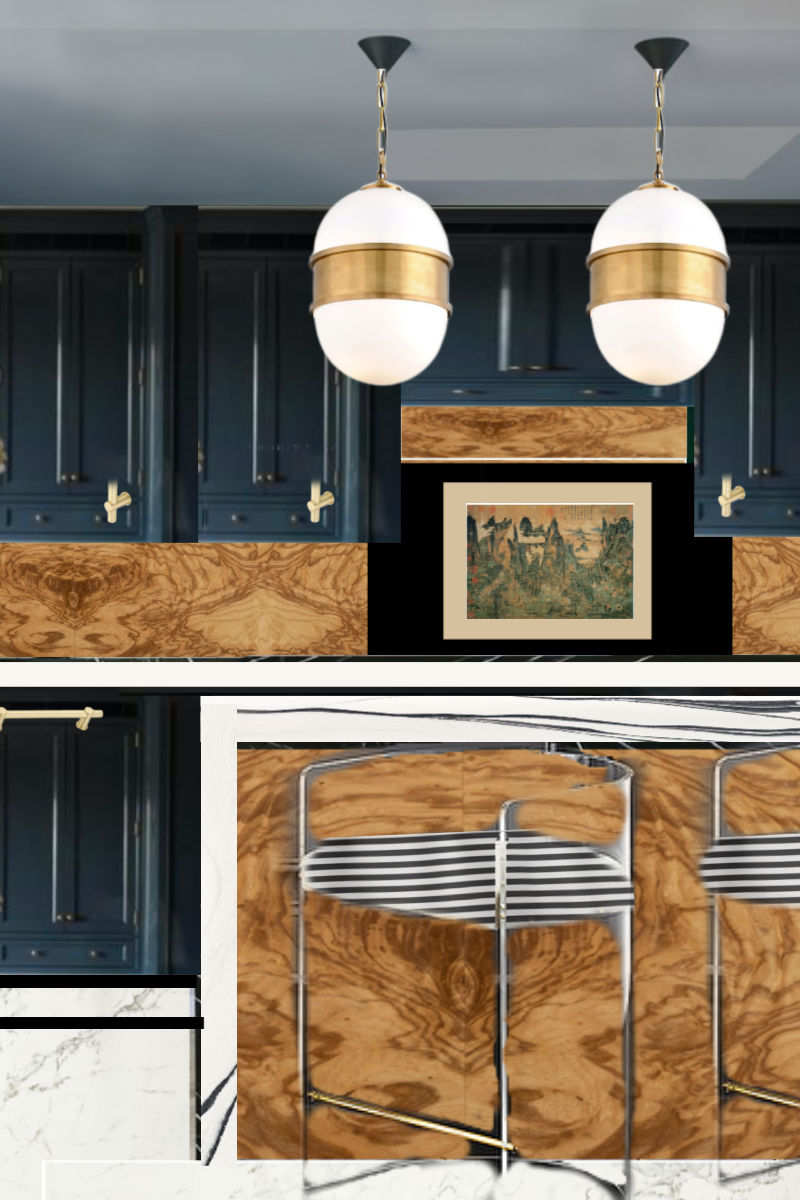 I recently bought these acrylic barstools, because I saw great potential.  Inspiration struck when I was browsing Milton and King's fabric section, and I came upon their striped fabric line. This velvet striped fabric was the catalyst for so many other design choices in the space.
We've fallen in love with the San Dona marble from The Tile Shop.  To add visual interest I plan to insert a small black boarder around the perimeter of the space.
To ensure that things don't feel too cool in the room, I plan to add brass tones. My contractor will hang these Broomley Pendents from Corbett Lighting. The  Pendents will also provide the extra light needed in the soon-to-be moody kitchen. You may remember the Corbett chandelier I hung over my bed last Spring. Prrrr.
Another brass element in the space is the beautiful Fonce line of pulls and knobs from Schaub and Company.  They will pop against the dark cabinets.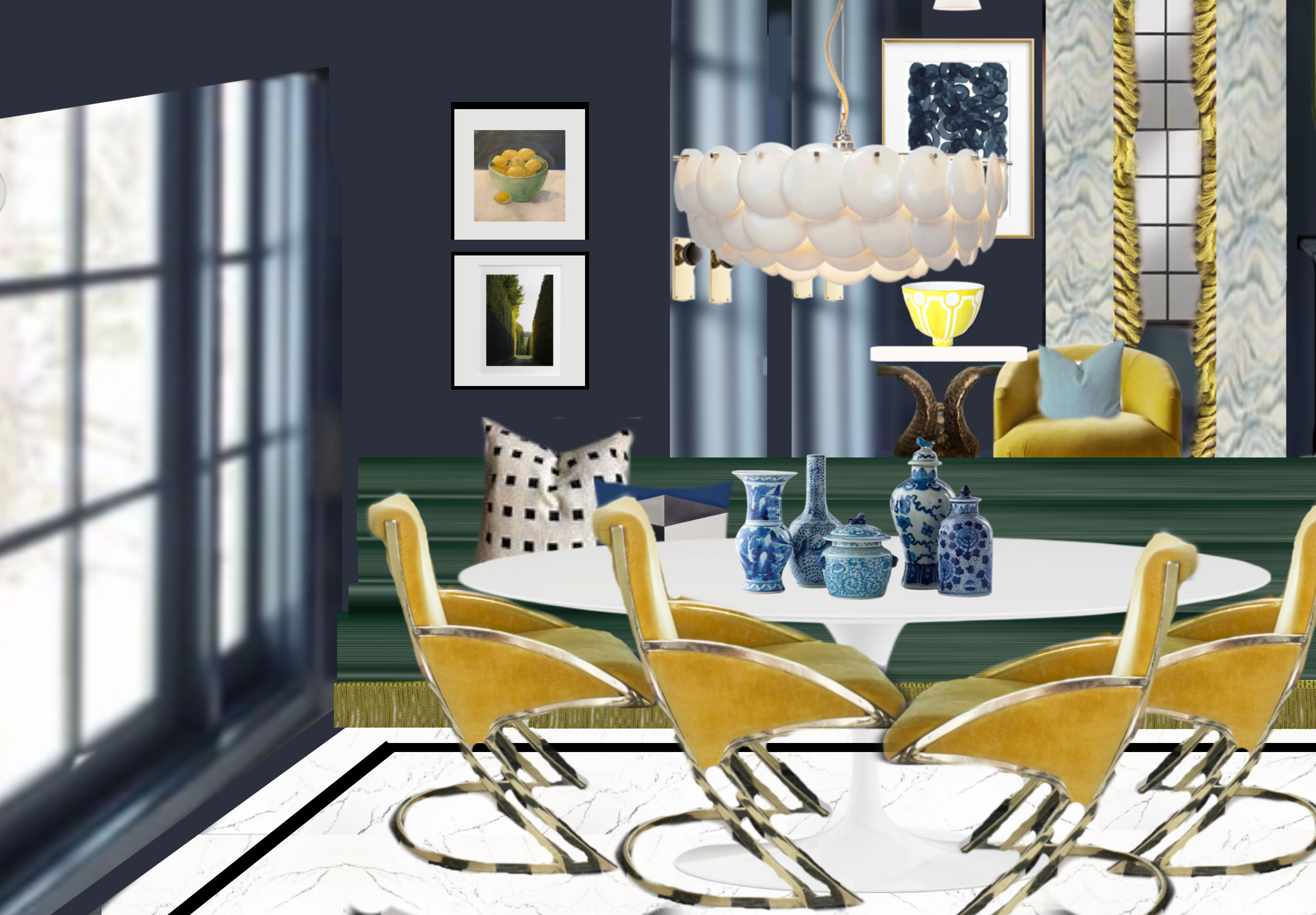 My current eat-in area that has a really dated hand rail.  Because I plan to expand my kitchen island, I asked my contractor to knock out the railing and build a banquette.  We will also need to push the table over and move/replace the current chandelier (you don't see me crying :). In it's place will be the show stopper for this space, the beautiful Pembridge Pendant from Original BTC Lighting.  I'm completely smitten by its layered bone china design. I can't wait to see it contrasted against a blue wall.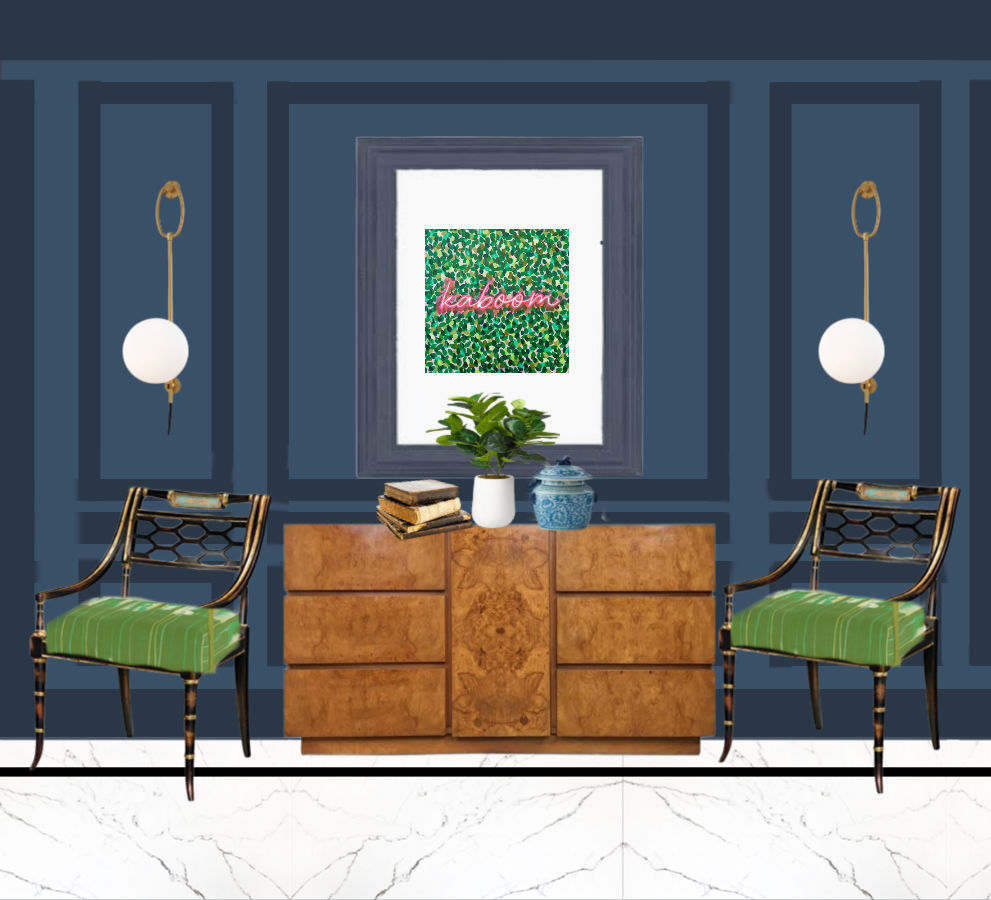 Let's not over look the moulding details, shall we?  I'll be working with Tart Lumber  to match the same line of moulding that I have in the rest of my home.  Hanging this much moulding will take much of my time in the next few weeks, but it will be sooooo worth it.
Also pictured in this killer space are Mitzi sconces and custom Spoonflower upholstery designed by Laura  Gunn.
See that cool art?  That piece is by Mioneplant and oh so cool.  I'm so excited to show you the other fun art from two other talented artists, Kaitlin Gray Art, Brittany Smith, Laura Gunn.  You are going to love it!!!