Jewel Marlowe- Fall 2019 One Room Challenge Week 3 – Stunning engineered hardwood floors and an outrageously gorgeous chandelier.
I have been waiting for this moment for years!  No really, I have!  I can't wait to show you our new kitchen table lighting and engineered hardwood living room floors.
Hold on…Did you miss the before pics and plan from the last two weeks?  No sweat!  I've got you covered
Week 1 | Week 2 | Week 3 | Week 4 | Week 5 | Week 6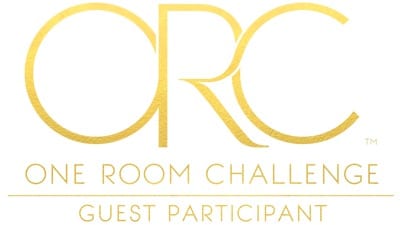 Thanks so much for joining me on this insane adventure known as the  ONE ROOM CHALLENGE???!  This five week event features 20 "Challenge Participants" (see direct links below) and hundreds of other "Guest Participants."   All of us have the goal of transforming our spaces with only five weeks to get it done.  As an added bonus, Better Homes and Gardens is back for another season as the media sponsor for this event.
Note: all products in this post are sponsored but the opinions are 100 percent my own.
 We bought this house as a foreclosure in 2011, lived in it for two years, and then rented it out until last year. I can remember arriving off the airplane from England to our home new home here in Northern Virginia.  
I had only seen the house in pictures and I have to admit that to my jet-lagged-eyes, I was a little underwhelmed. Everything looked soooo dated. The kitchen was straight from the 1990's and the carpet and lighting were less than desirable…far less.  However, we could not justify sinking money into a home that we planned to rent out so soon…Especially when it was at the top of our budget at the time.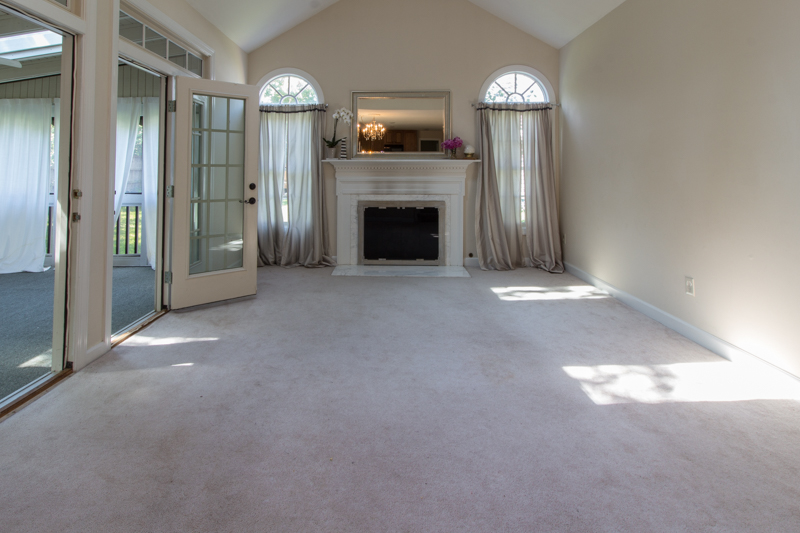 So this is the carpet the day we moved back in  last summer…Keep in mind it had been freshly steam cleaned.  Let me assure you though… Even a good steam cleaning doesn't stand a chance against 15 year old white carpet…Not in the long run.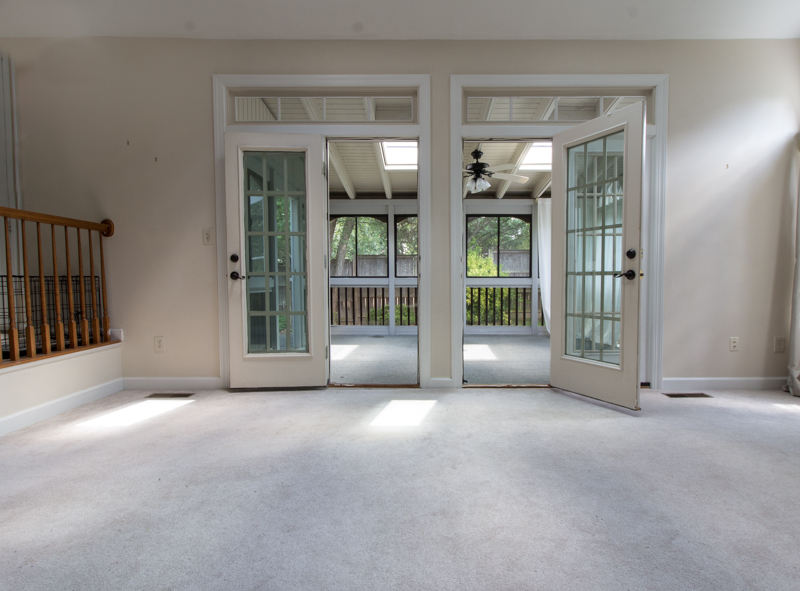 I snapped this pic of our kitchen table chandelier yesterday morning.  Notice the swag, the too small ceiling medallion, the builder's grade chandelier hung too high…we knew that there was room for improvement.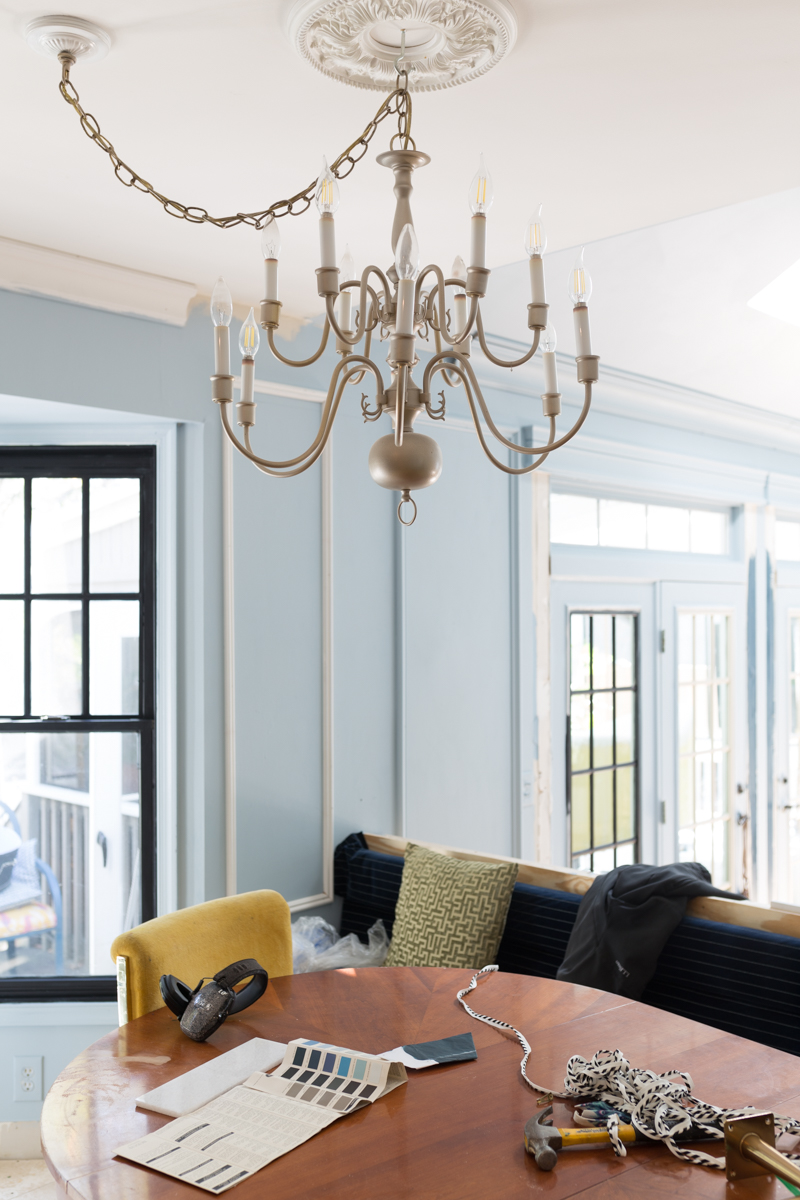 Fast forward to this week…  There is nothing like a deadline, and the realization that we plan to own this home for a long time to motivate us to action!
So with the help of Richard from P&N Decorating who provided the labor for both the chandelier and hardwoods, I have some much anticipated reveals!
LIFECORE Engineered Hardwood Floors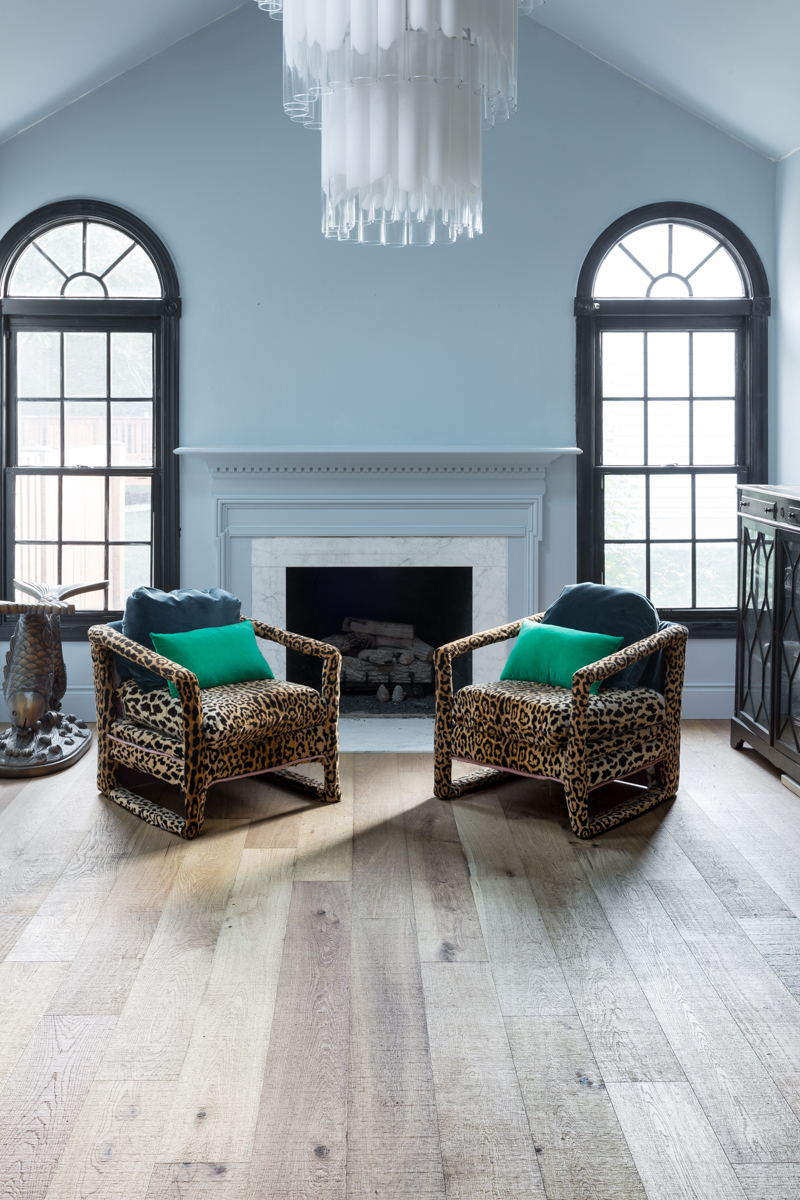 When I first started researching LIFECORE flooring I noticed two things that are both very important to me.
First, they have a great selection of engineered hardwood floors in a variety of beautiful colors, materials, and styles.  When my samples arrived, it was a close competition between two colors, but in the end Anton Fresh Aire LIFECORE flooring  stole my heart.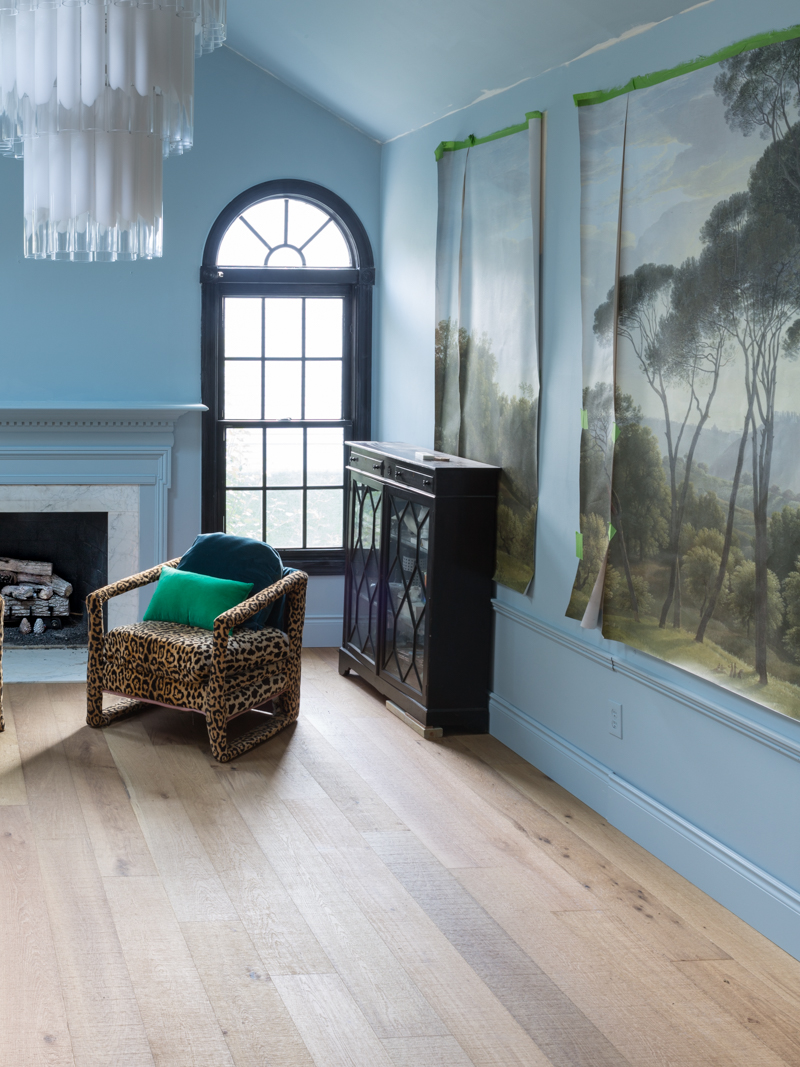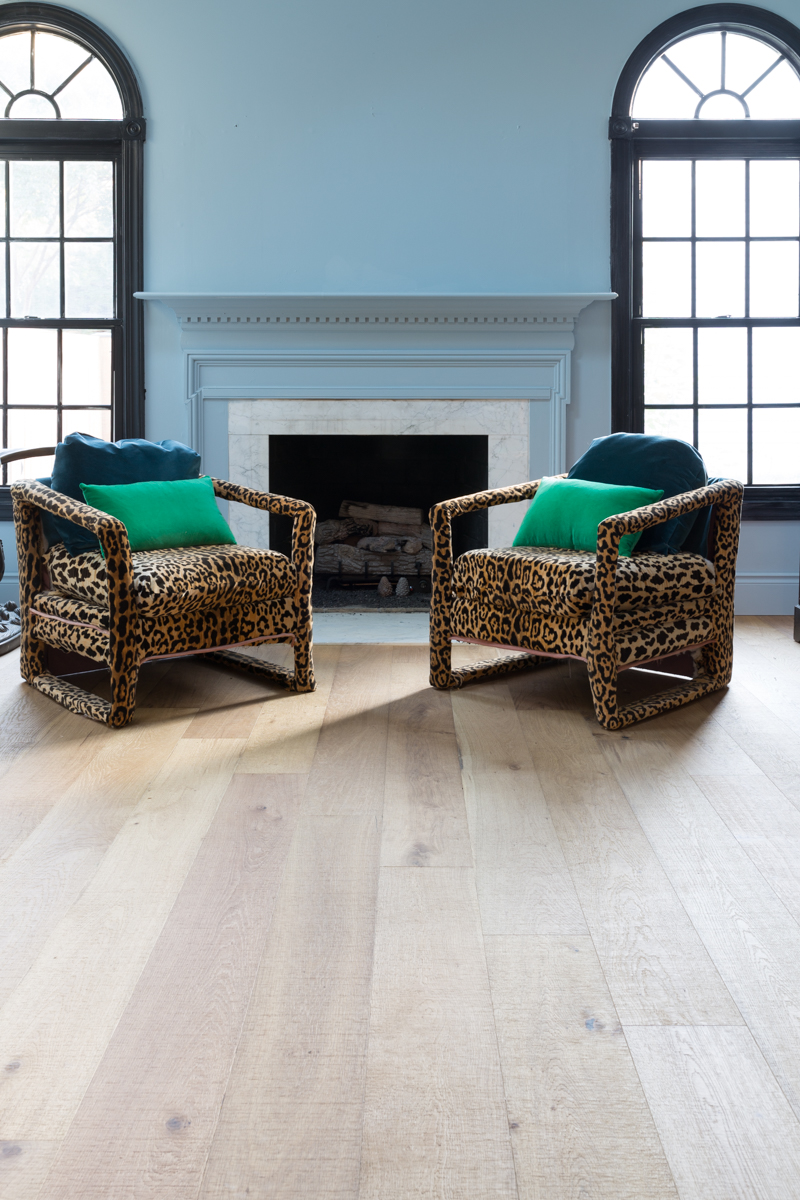 Another advantage is  LIFECORE's proprietary ZERO-ADD technology. I Iearned that this means no formaldehyde is added during the manufacturing process.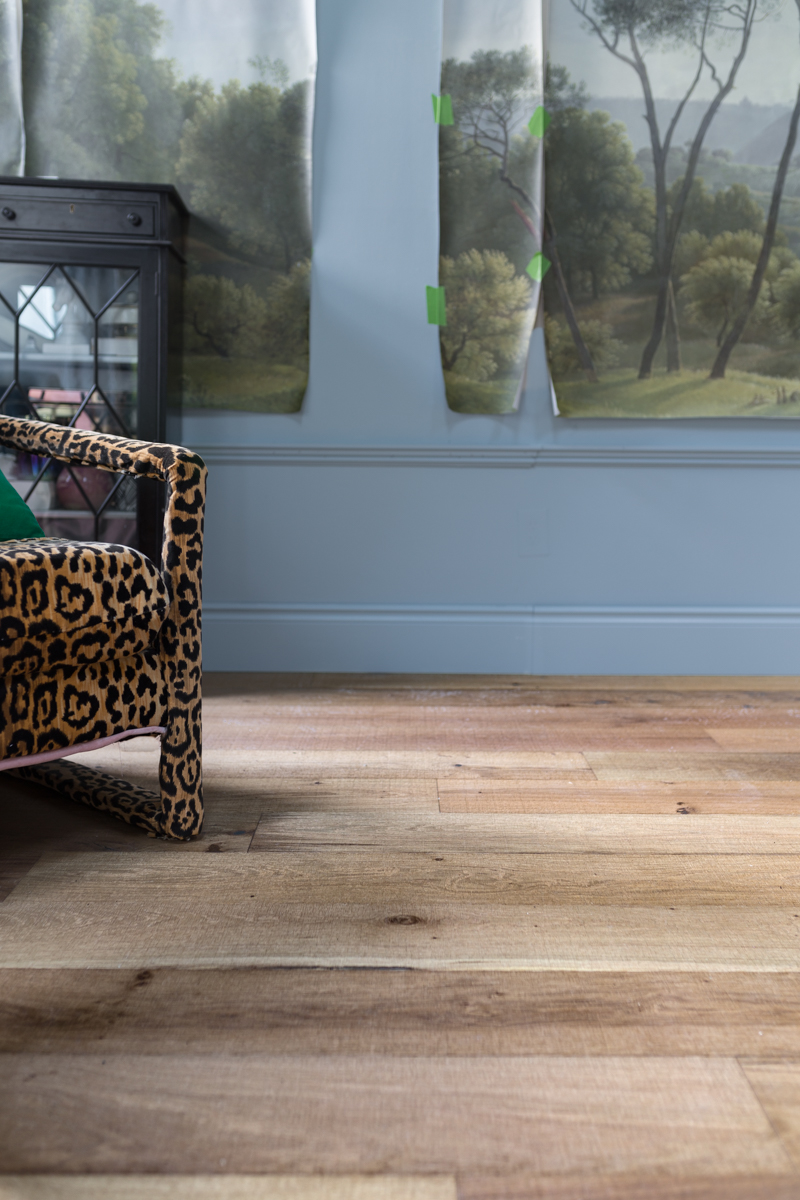 To put it short, when I opened the boxes I was blown away at how great they smelled…just like fresh cut wood.  When in construction do you find your materials to feel fresh and safe?  Um…Like never, right?  The only messy part of this process was the prep work it took to remove all of the revenants of the old carpet. After that, it was nothing but safe and happy smells emitted from our living room…especially since I hired this job out.  LOL. Thanks so much Richard!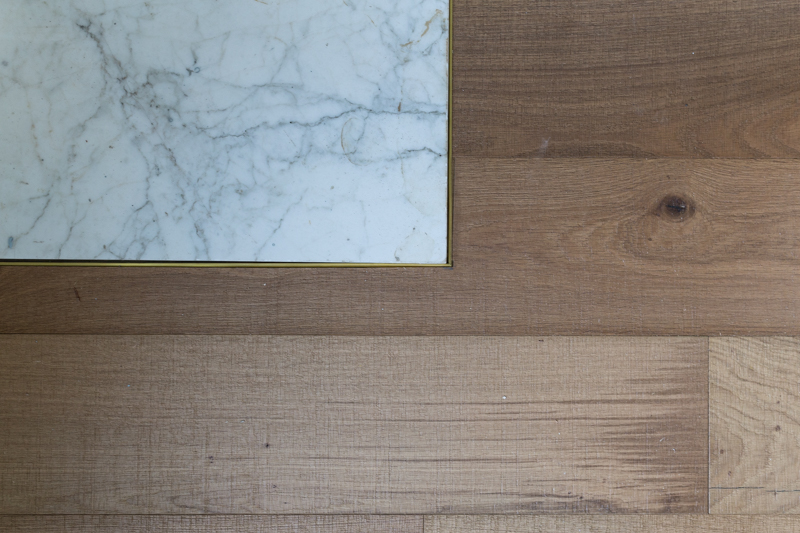 This earthy element is a lovely contrast to the other elements of the room.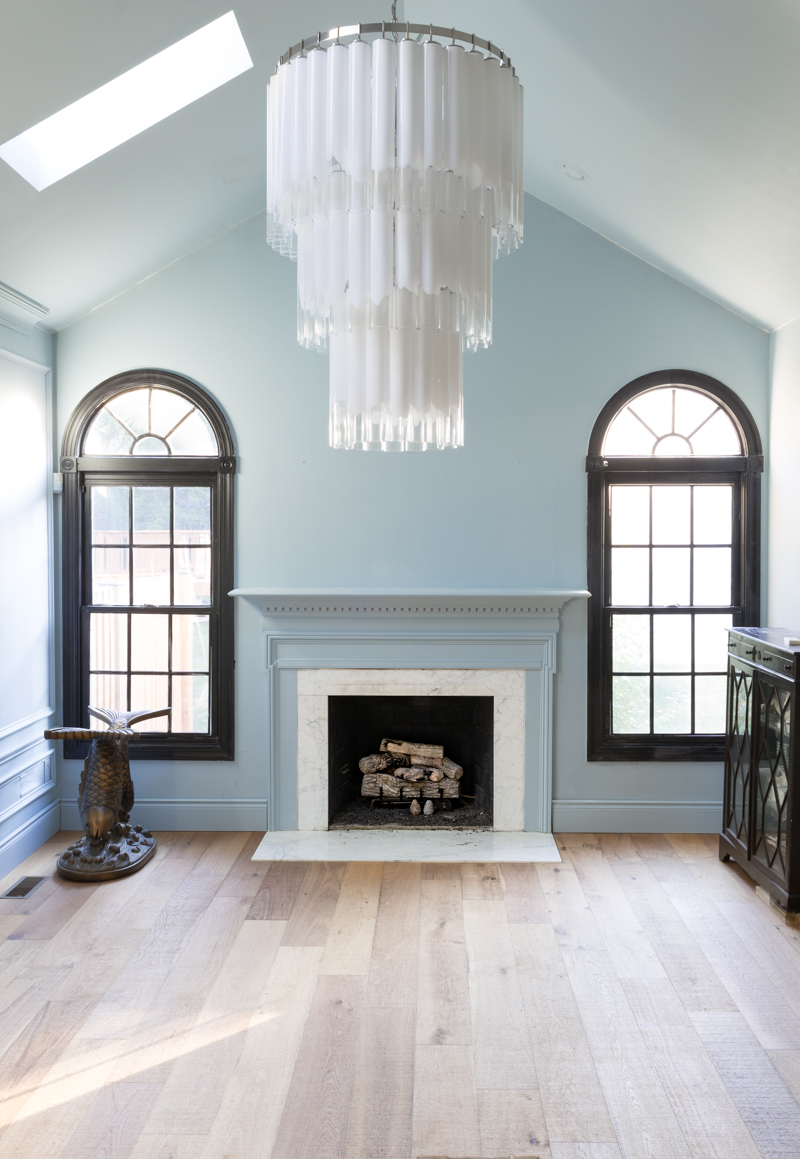 Good thing these floors are UV light resistant! This room has two sky lights, four windows, and two French doors….yeah…that is a lot of sunlight.  It's like these floors were made for this room.  I'd say these engineered hardwood floors are a pretty great match, wouldn't you? This product has a 50 year residential warrenty…so these bad boys will outlast me!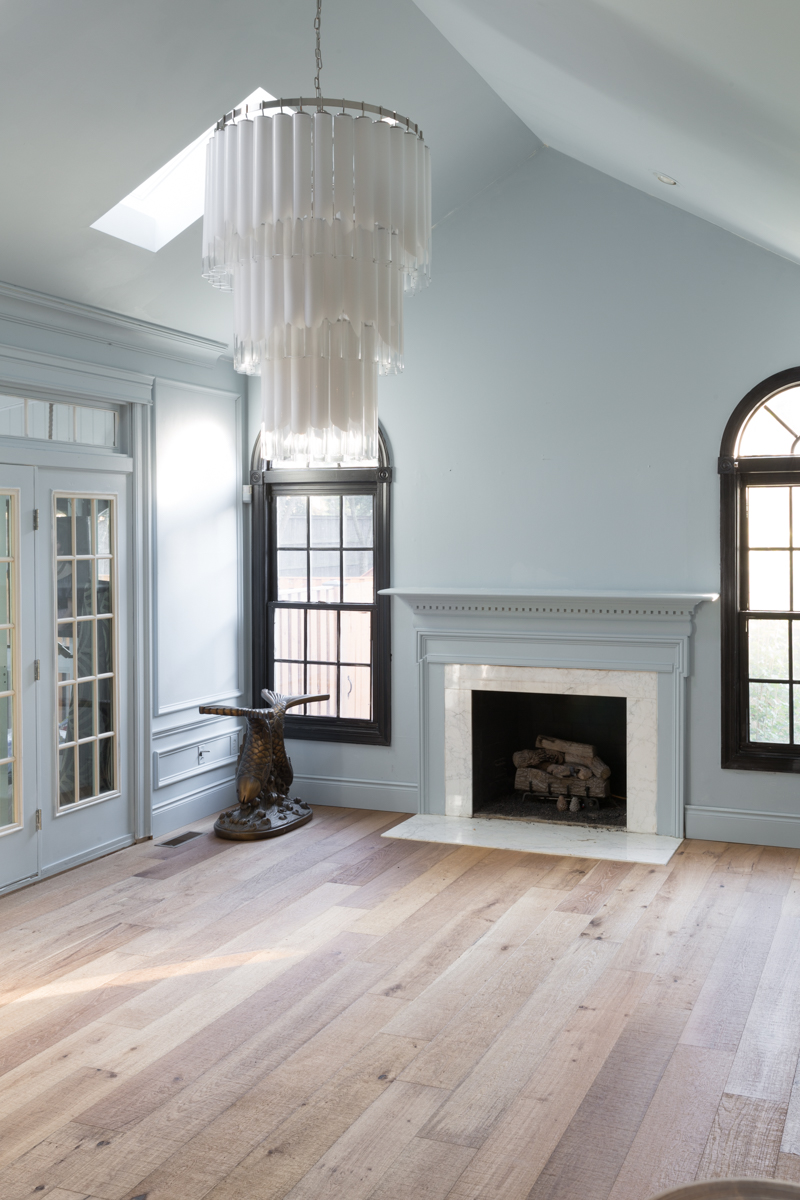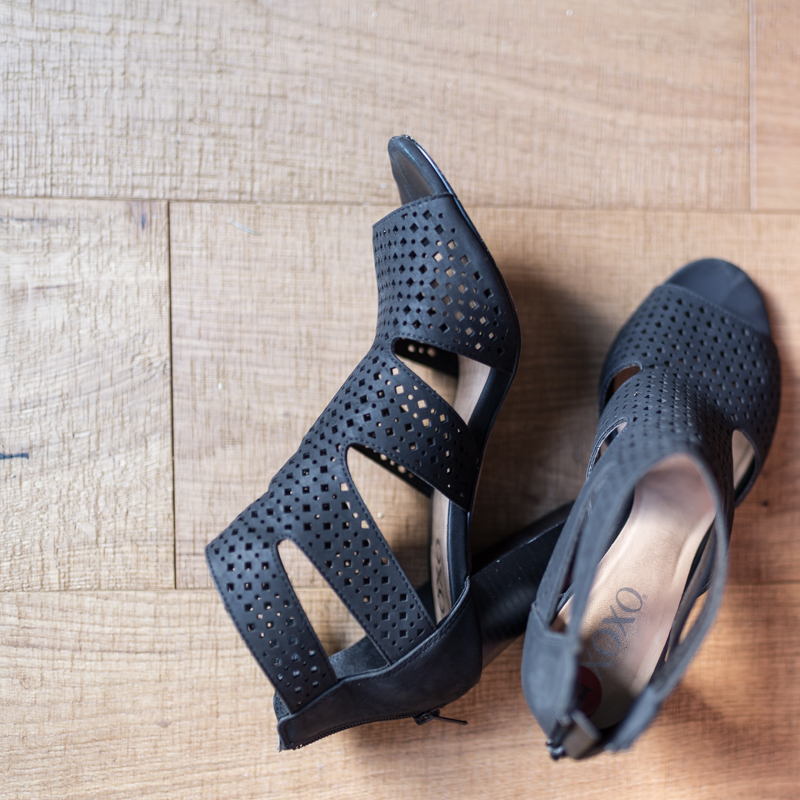 The fun doesn't stop there!  No sir!  We ended Tuesday night with the addition of a DREAMY kitchen chandelier!!!!  This breath taking addition is called the Pembridge Pendant from Original BTC Lighting.  All night long I kept finding excuses to walk back into my kitchen to gawk.  It is absolutely SPECTACULAR!!!!!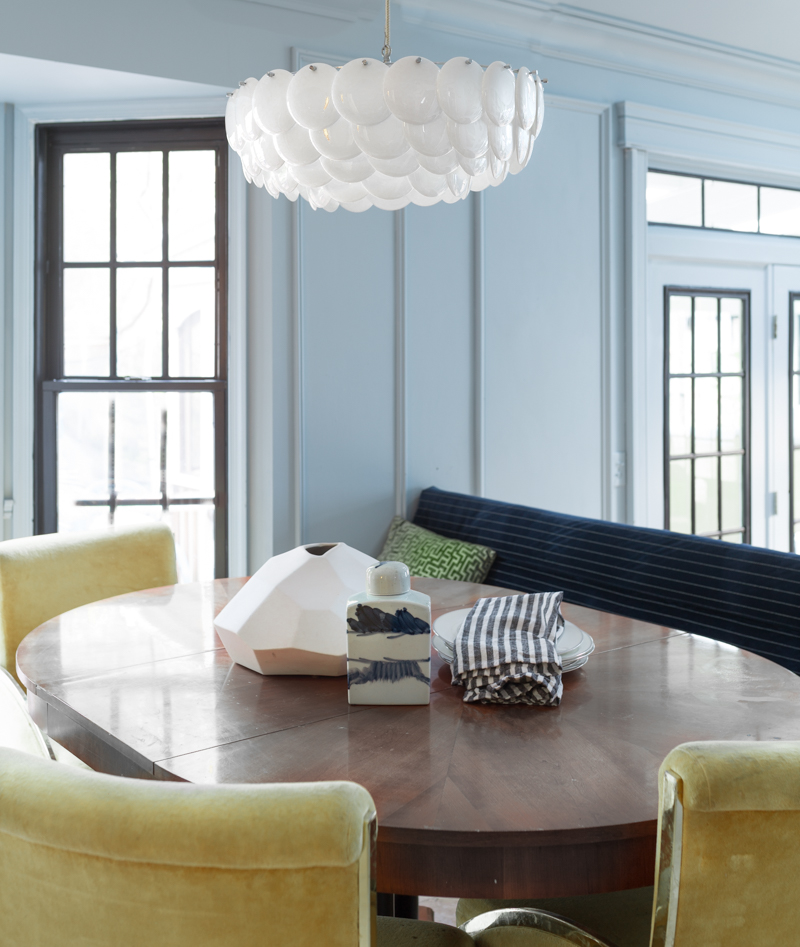 What I love most about this Pembridge Pendant is the mix of interesting materials.  I adore the contrast of the masculine stainless steel, raw woven cable, and the  feminine fine bone china.  For a girl who loves to decorate with opposites, this is perfection!
I can vouch that the quality is amazing.  For example, each of these bone china pieces are attached by tiny screws…not hooks.   Now that is attention to detail!   Richard was able to move the chandelier location and install this drop dead gorgeous lighting in a couple of hours.
The chandelier emits a warm glow which softly shines through each of the scalloped bone china "crystals".  It truly is a beautiful effect.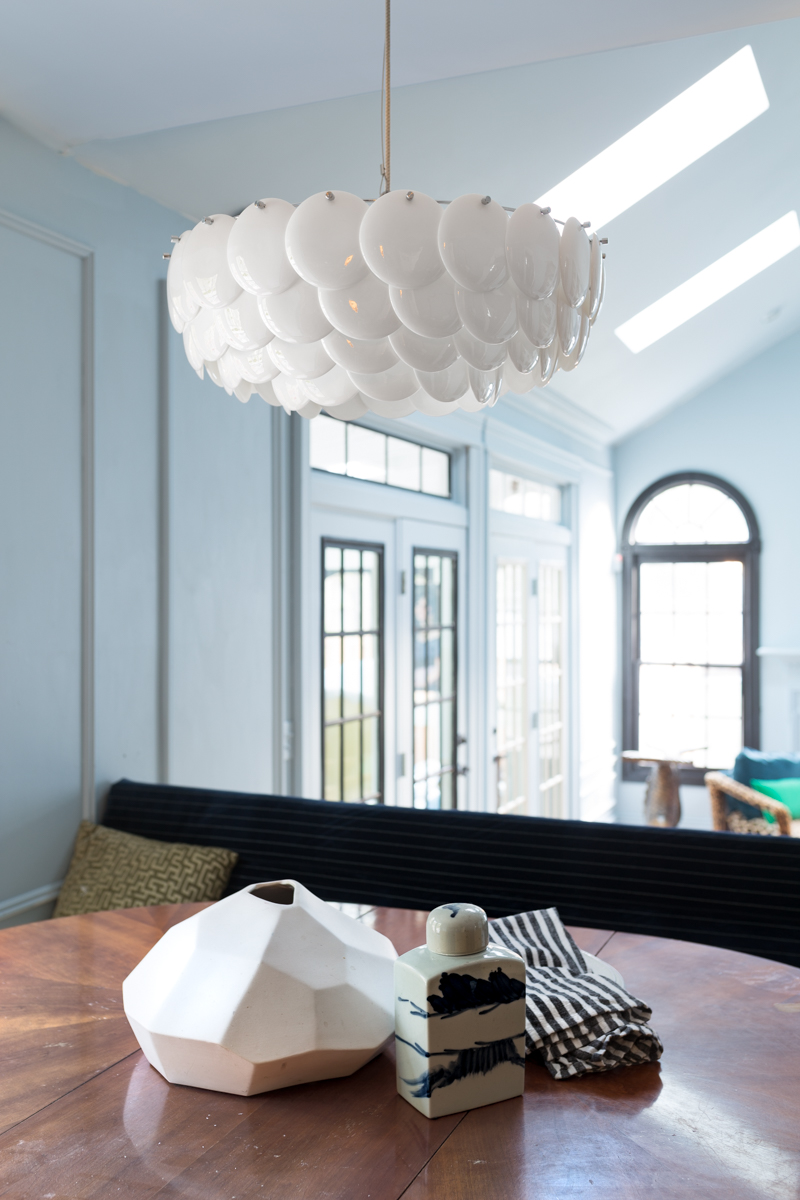 Speaking of fine bone china.  You may have heard me joke that I left for our two year military-assignment to England as a girl and came back a woman.  It was there that I learned my way around a British furniture auction and the Stoke on Trent china outlets.  The fact this chandelier from England is made with fine bone china conjures up endearing memories of my friends during this magical phase of life.  So for me, this beautiful chandelier is more than gorgeous lighting…It helps tell the story of our lives.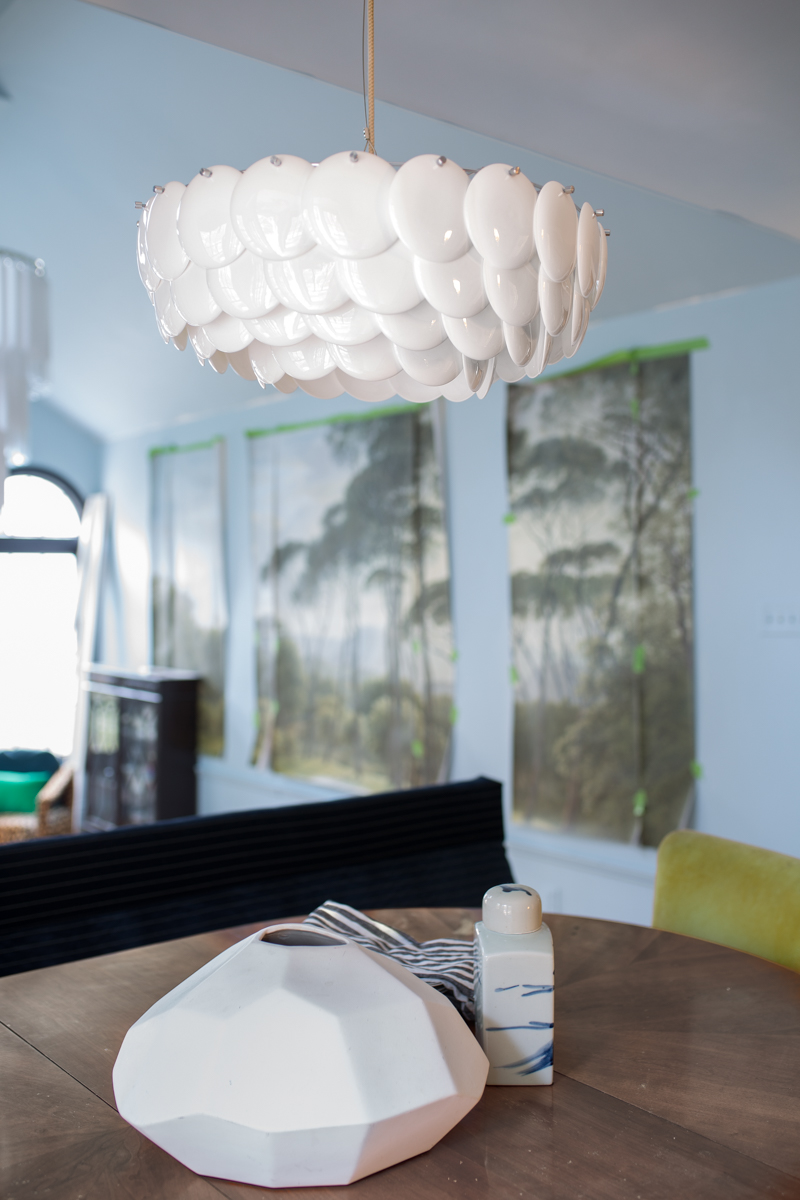 I hadn't heard of Original BTC until this summer, but I am blown away by their selection of chic mid century lighting with soul.  If you like this style, you will notice that it comes in several different sizes.  Also, they carry another bone china chandelier called the Cranton, which comes in larger sizes if needed.
Now I can't wait to get the rest of the house up to snuff to be worthy of this stunning Pembridge chandelier.
 Thanks to Richard from P&N Decorating for his hardworking installing the lighting and floors.  We hope to finish up the crown moulding tomorrow.  Other plans in the new future include hanging a mural, upholstering sofa, and chairs, lighting, new cabinets, and marble floors….Wow!
Ok, Now that you know my week 3 updates, bop on down below to check out all of the other participants' plans.  I can't wait to see what they are up to!
Wait! Don't stop there my friends…I always find fabulous inspiration with the Guest Participants as well!