Jewel Marlowe- Fall 2019 One Room Challenge Week 1 – Statement making lighting, moulding, and paint updates.
I have to admit something.  I've been keeping a secret from you…and it's not a little secret.  In fact, it is a HUGE doozy of a secret!   I'm so excited to FINALLY get to share my new statement making lighting, and new paint and moulding updates.
Did you miss the before pics and plan from last week?  No sweat!  I've got you covered
Week 1 | Week 2 | Week 3 | Week 4 | Week 5 | Week 6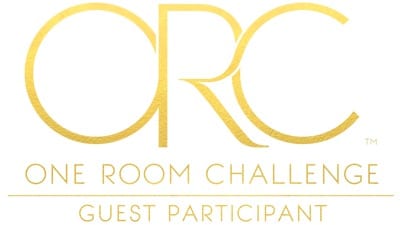 Thanks so much for joining me on this crazy roller coaster of a ride that we call the  
ONE ROOM CHALLENGE
???!  This five week event features 20 "
Challenge Participants
" (see direct links below) and hundreds of other "
Guest Participants.
"   All of us have the goal of transforming our spaces with only five weeks to get it done.  As an added bonus, 
Better Homes and Gardens
is back for another season as the media sponsor for this event.
Note: all products in this post are sponsored but the opinions are 100 percent my own.
Statement Making Lighting
Keeping this statement making lighting a surprise has  been a hard burden to bear.  So, without further adieu, I'd like to introduce you to my new living room chandy…Make sure that you are sitting down…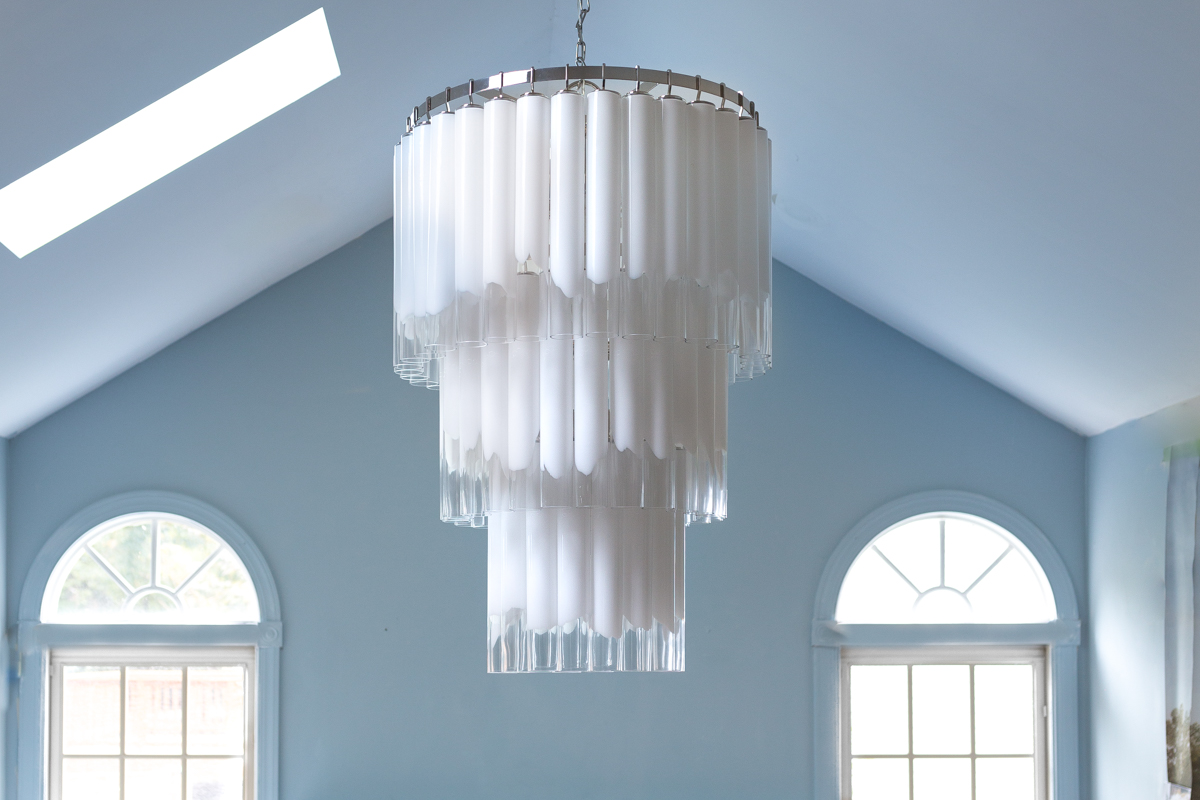 I KNOW, RIGHT?!?  This Hudson Valley Lighting Group chandelier is honestly the prettiest statement making lighting I have ever seen!  No hyperbole!  I'm dying! Ok…that part was hyperbole.
This three-tiered lovely is the largest member of the Tyrell line, and also coordinates with four other similar fixtures.  It is definitely worth checking out this collection!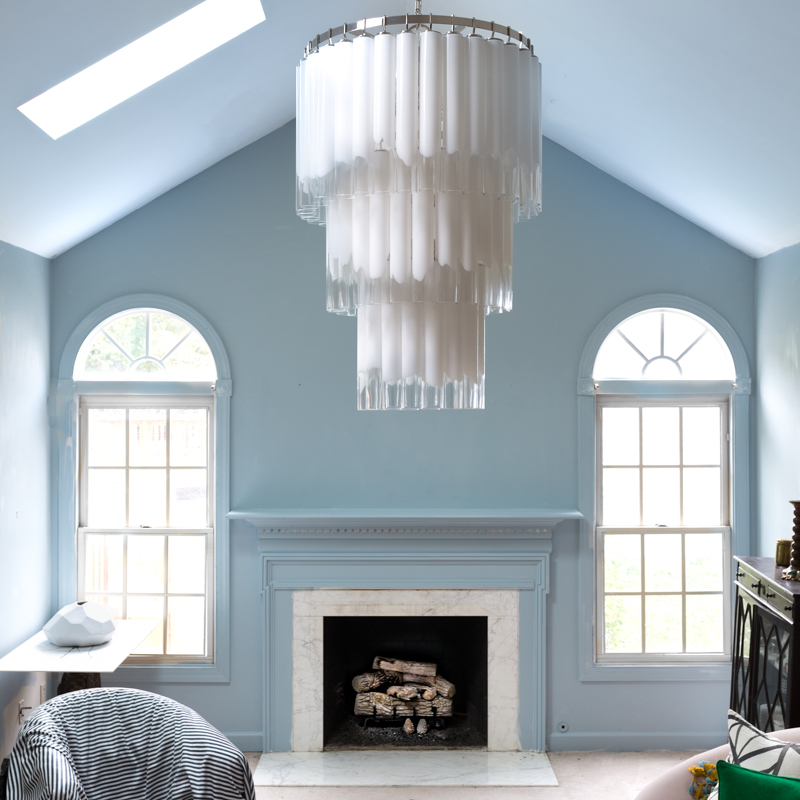 This statement making lighting is 31 x 49 inches and looks amazing with my 13.5 ft ceilings.  I love how each of the 81 glossy glass tubes looks like the inside was hand dipped in white wax.  This detail gives it the a'perfectly imperfect" look that I love about the Tyrell. Our living room use to feel so dim, but is now comfortable at night, thanks to its 16 light bulbs.
It's the quintessential glam element that I dreamed of for this space, and it looks like it was custom made to nestle between my two arched windows.  Wouldn't you agree?
If you have been following along in my  INSTAGRAM stories then you know that I have STRUGGLED to find the right paint color….There are so many elements to consider in this space (one really light living room, and one really dark kitchen, a purplish-blue mural, adjacent greenish dining room, a blue terrazzo sofa in the sunroom, etc).  In most aspects of my life I am NOT a control freak….paint colors being the major exception…apparently.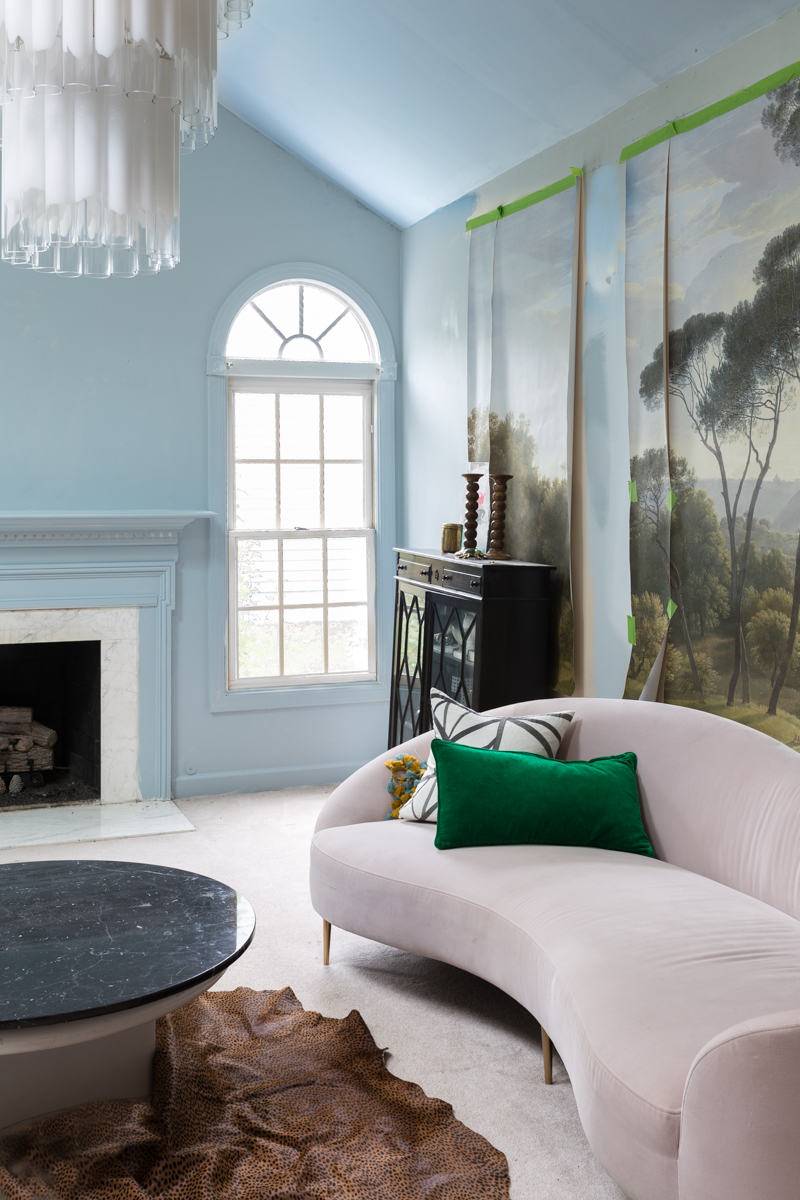 Yesterday afternoon I brought home this color (custom mixed and color matched by Behr Paint) and literally slapped it on the wall just in time to snap a few photos before it got dark. It was literally still drying here.  What do you think my friends? Picture it with a powder blue wool sofa, green curtains, and black and white accents.
Look at this Inspo pic of Tory Burch's living room.  Those greens with the robin's egg blue has always made my heart sing.  That yellow toned green is what I would hope to emulate with help from Spoonflower and their custom curtain line. More on those options this week in my  INSTAGRAM stories.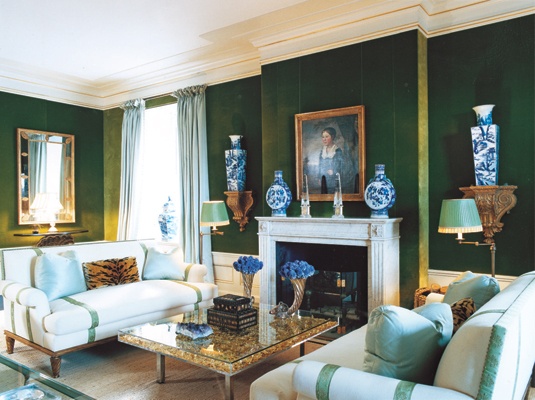 It's not too late to go with white paint…Speak now or forever hold your peace!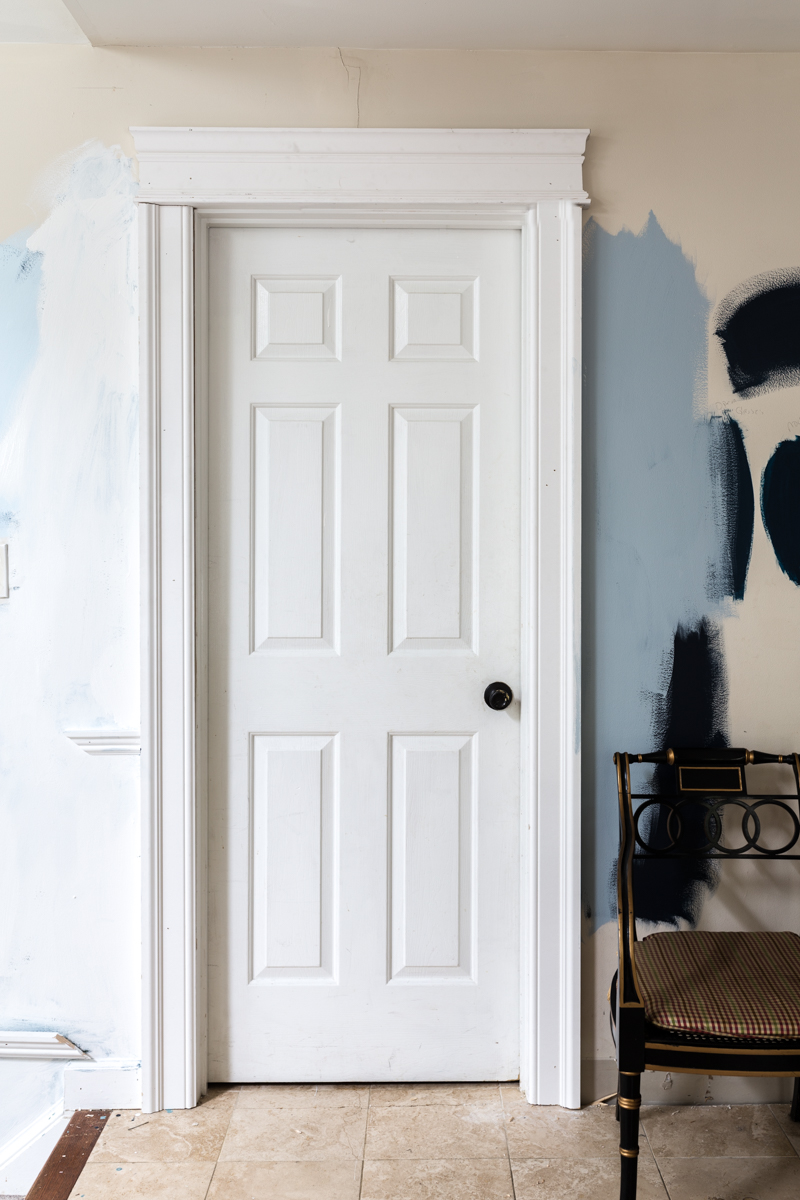 If you have been following me for a while you know that I have a thing for moulding….and lots of it.  To make our home cohesive, we will use the same line of stunning moulding that you will find in the
rest of our home
. Thanks to
Tart Lumber
for making this happen.  On Monday I bought a gargantuan miter saw and finally cracked the code on installing new casing and architraves above my door.  One down (minus paint and calk), five doors, and a window to go.  That, plus crown, chair, floor boards, and panel mould….and I should be a busy girl this week.
Once the moulding and paint are finished, I will be ready for new Fresh Aire Lifecore flooring. – (Installed by Richard from P&N Decorating) later in the week.
Ok, Now that you know my week 2 updates, bop on down below to check out all of the other participants' plans.  I can't wait to see what they are up to!
Wait! Don't stop there my friends…I always find fabulous inspiration with the Guest Participants as well!