Engineered Hardwood Flooring Updates 
 It is week five of the One Room Challenge, and we did things out of order in the most spectacular way possible.  This weekend Richard (our amazing contractor) came and installed gorgeous sawn oak engineered hardwood flooring from LIFECORE flooring in my client's dining room.  This is the exact same flooring I installed in my own home, and I still can't say enough great things about it.  I'm excited to show you the natural beauty that Anton Fresh Aire has given to her evolving space.
Note: Thanks to LIFECORE flooring for sponsoring this gorgeous engineered hardwood flooring.  The opinions are 100% my own.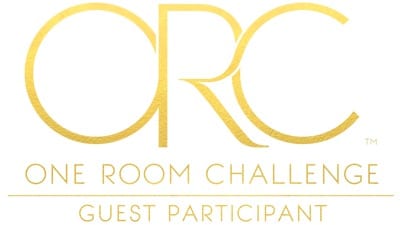 Before Engineered Hardwood Flooring
Flashing back to that oh so white corner…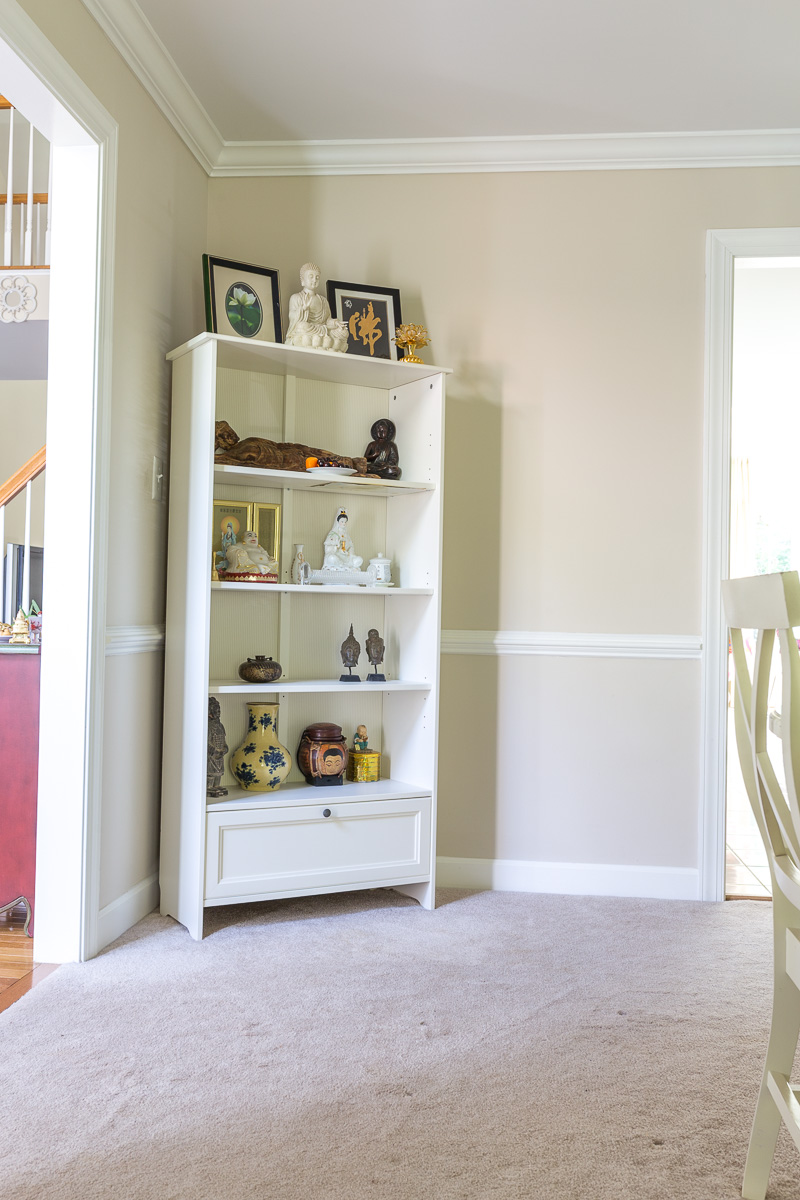 After new Engineered Hardwood Flooring
It is still hard for me to believe how far we have come in just over a month, and these engineered hardwood floors add so much beauty and value to this space.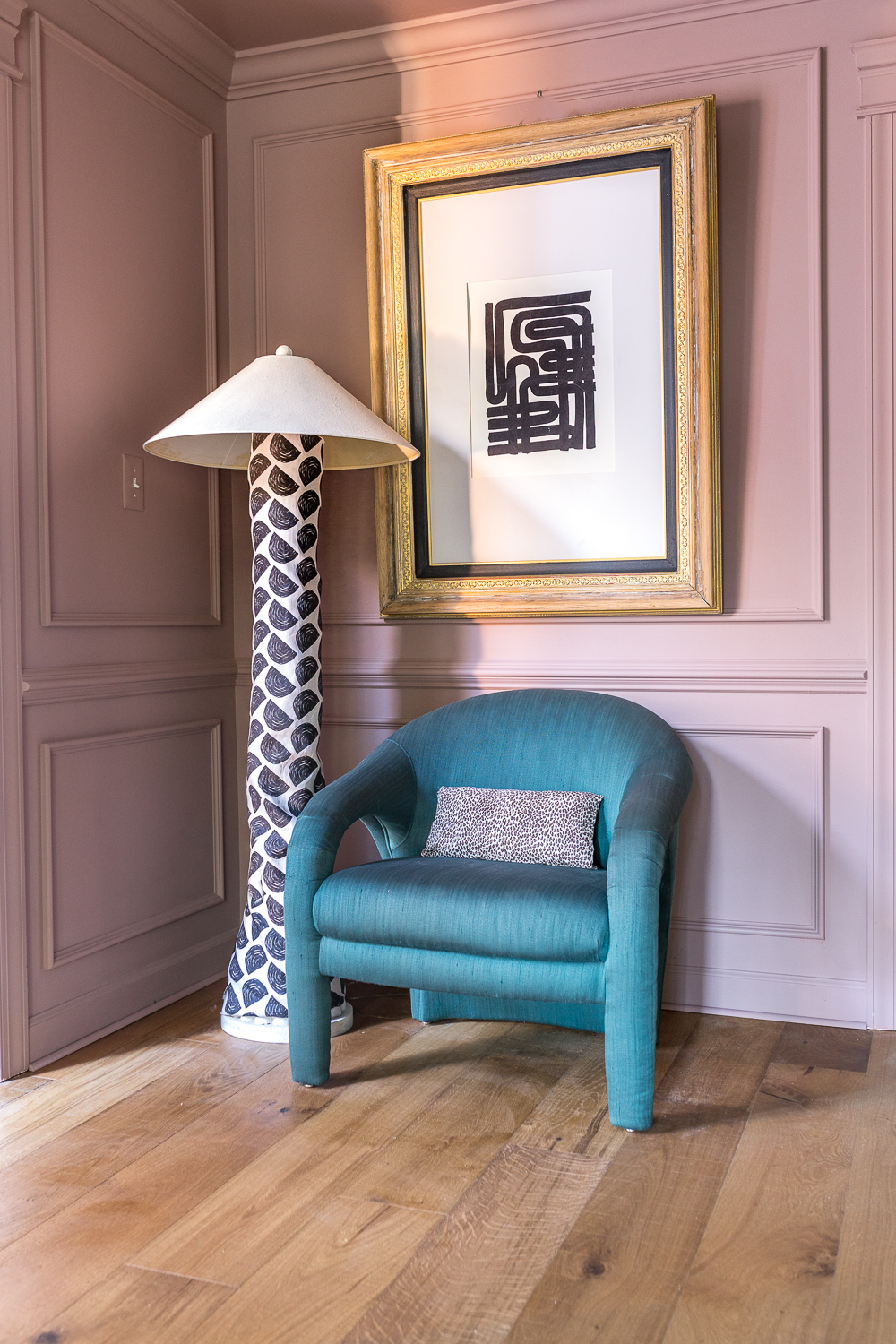 In my opinion, this flooring works well in the design.  The sleek gloss ceilings feel perfectly balanced by the hewn oak 7 1/2 inch planks.  The warm undertones of the Fresh Aire colorway will play off the gold elements and the upcoming Cambria table.
While on the lighter end of the color-spectrum, I feel like this is still a timeless medium brown color.  I personally like to choose flooring in the medium brown range because trends come and go, but these colors remain classic.  If you are looking for a different look, they have a large variety of other woods and finishes.
ENGINEERED HARDWOOD FLOORS
Here is how the process looked.  Richard installed these floors like the total pro that he is!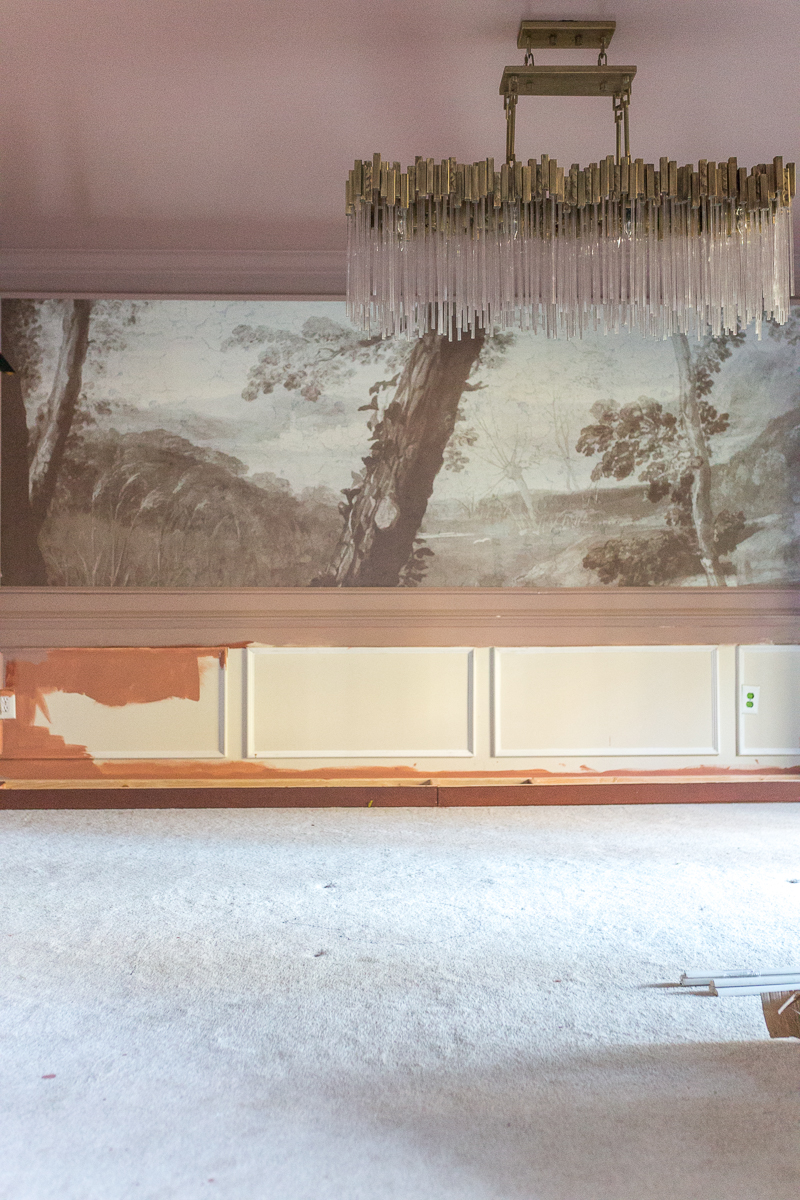 First he removed the old carpet.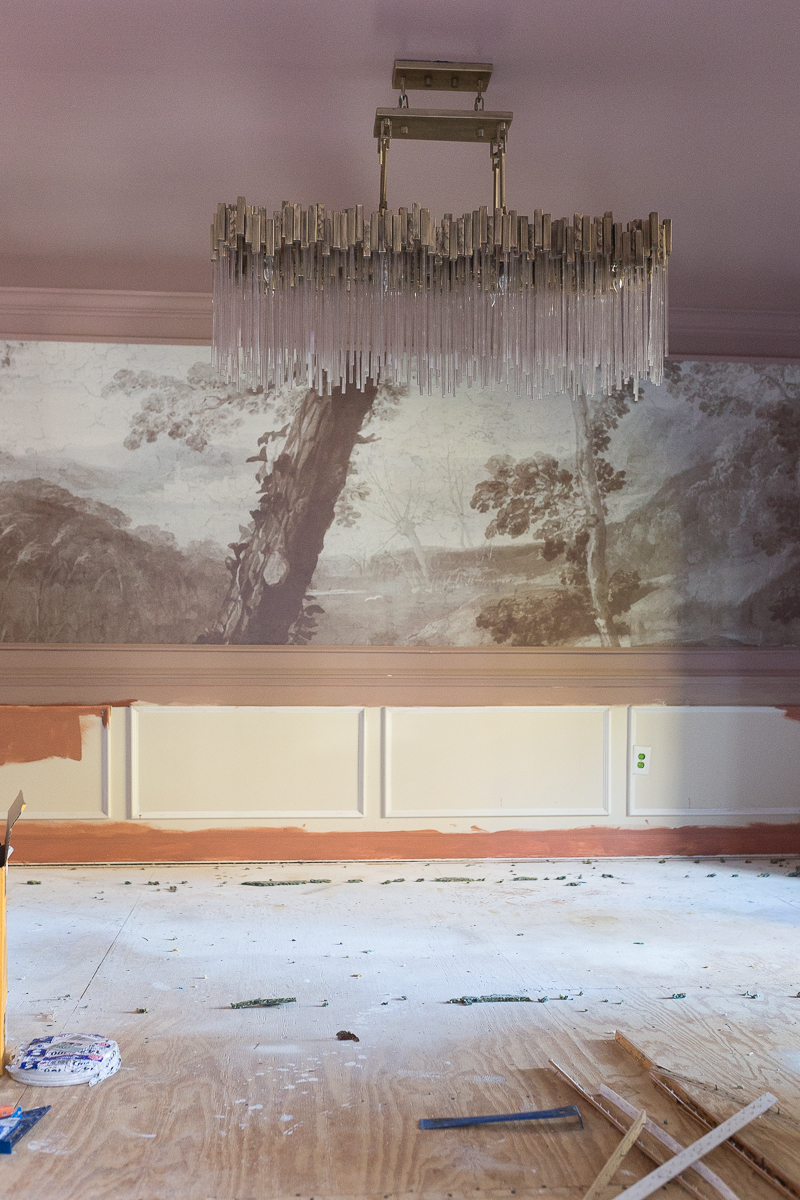 Then, after removing all staples and dirt he installed underlayment.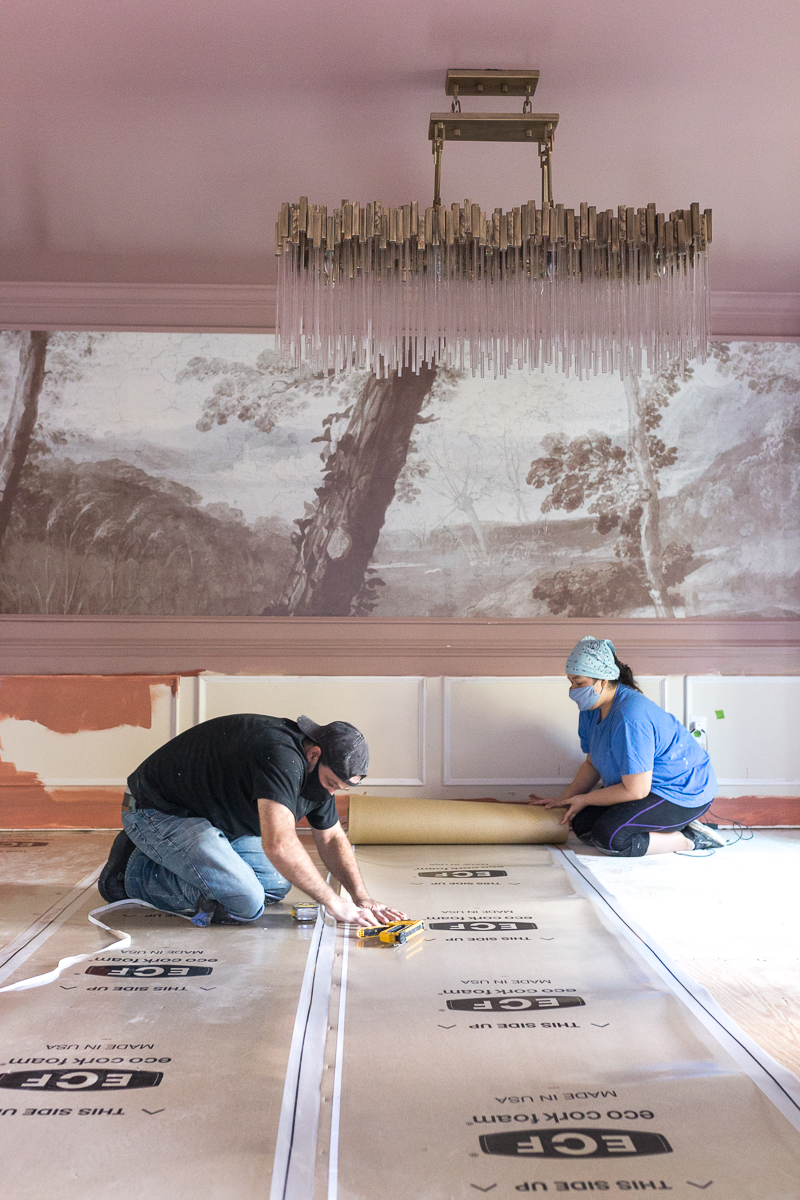 Next, he put down the hardwood flooring.  We ran the planks this way just in case the homeowner wants to continue the planks in the entryway and living room without an awkward seam.  She loves them so much and it trying to find a way to make this happen.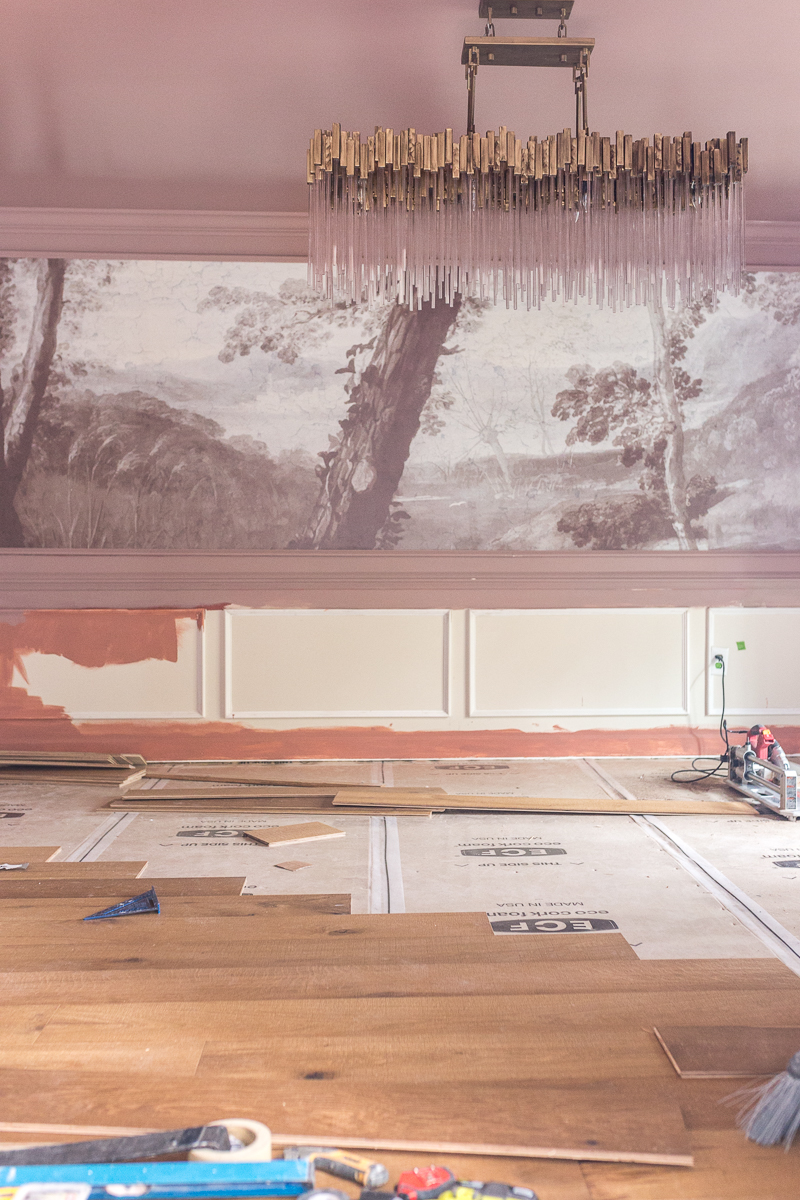 Why I LOVE this Engineered Hardwood Flooring
In addition to being beautiful,  LIFECORE Flooring Products, are HEALTHY!  They have zero-added formaldehyde and low VOC hardened finishes.  I still remember opening my boxes last year and feeling like I was in forest full of fresh cut trees.  No really, my house smelled great for three days.  LIFECORE also boast the Indoor Air Advantage Gold and GREENGUARD Gold certifications due to their healthy construction. Love that!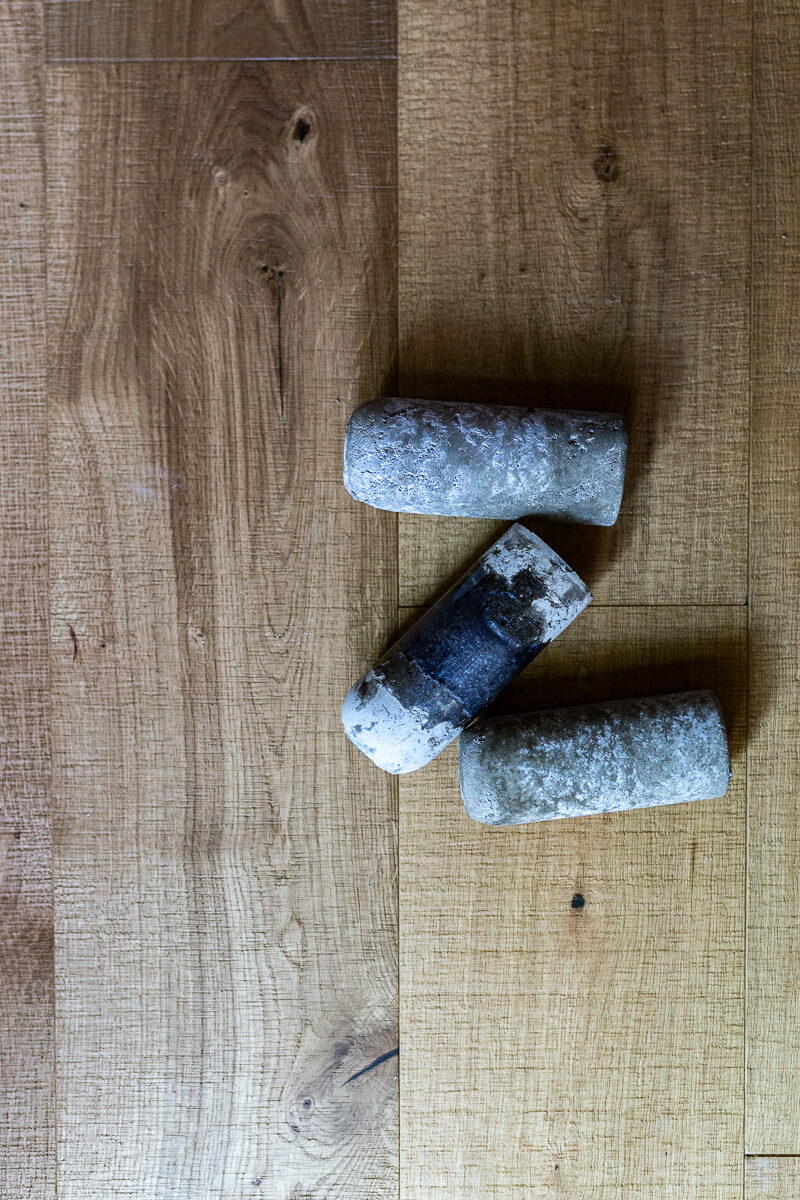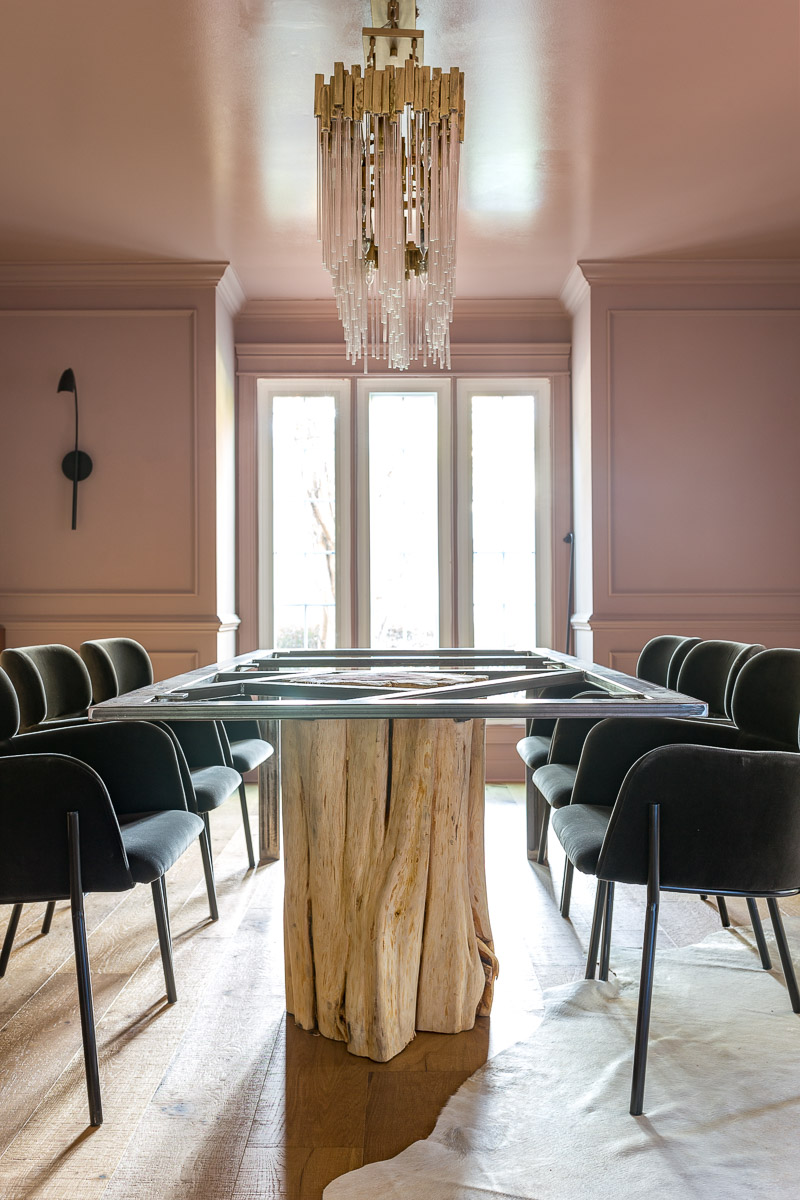 Lifecore floors are also certified Phase 2 Carb Compliant by the California Air Resources Board.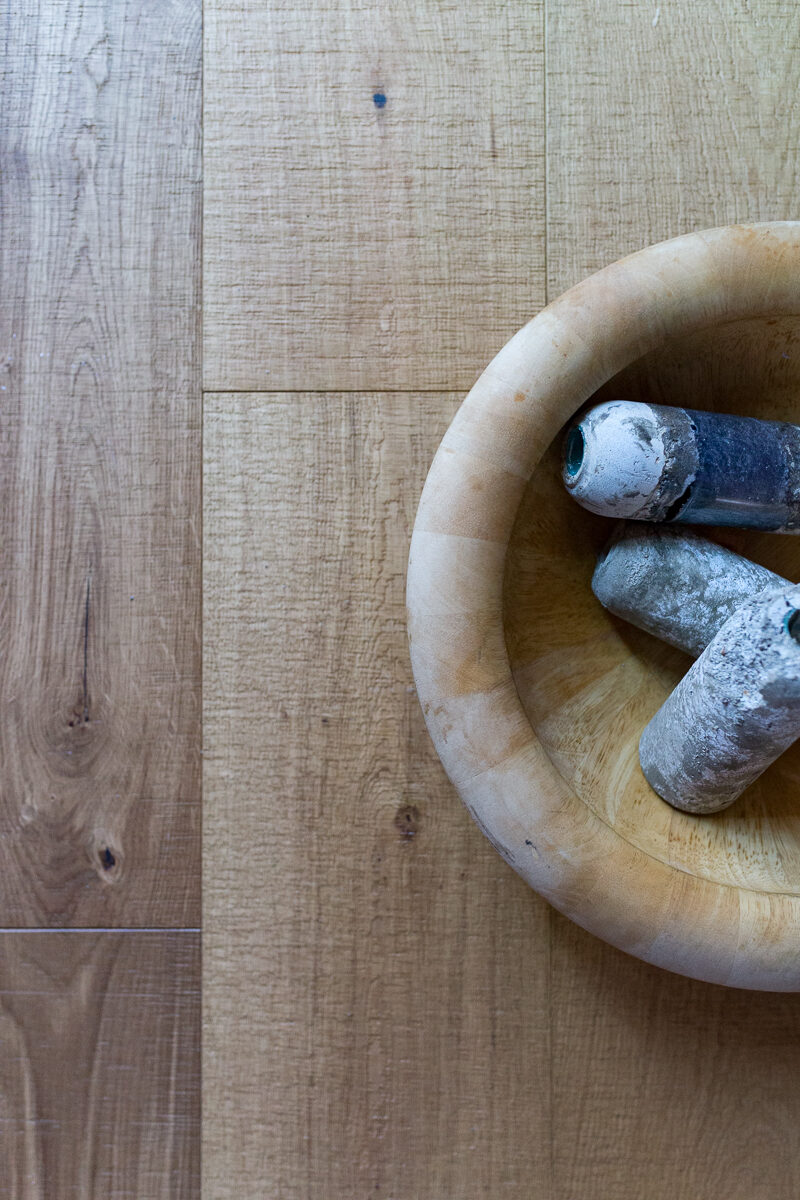 My LIFECORE floors have held up great to four kids and a dog.  I have learned that they are so durable because they include a nine-coat, UV-cured aluminum oxide finish.  Plus, engineered hardwood floors have a center core that makes them less likely to warp or flex, so they are resistant to cupping and bowing that solid hardwoods may experience.  They also come with a 50 year residential warranty. 
You can look for a dealer near you HERE.
Up next in the room
This is where is gets fun!  The custom table is well on it's way and I am working through the little details
 Still on my personal to do list?
Build two benches
Frame art
Hem Drapes
Coordinate the table construction
Style
Shoot the space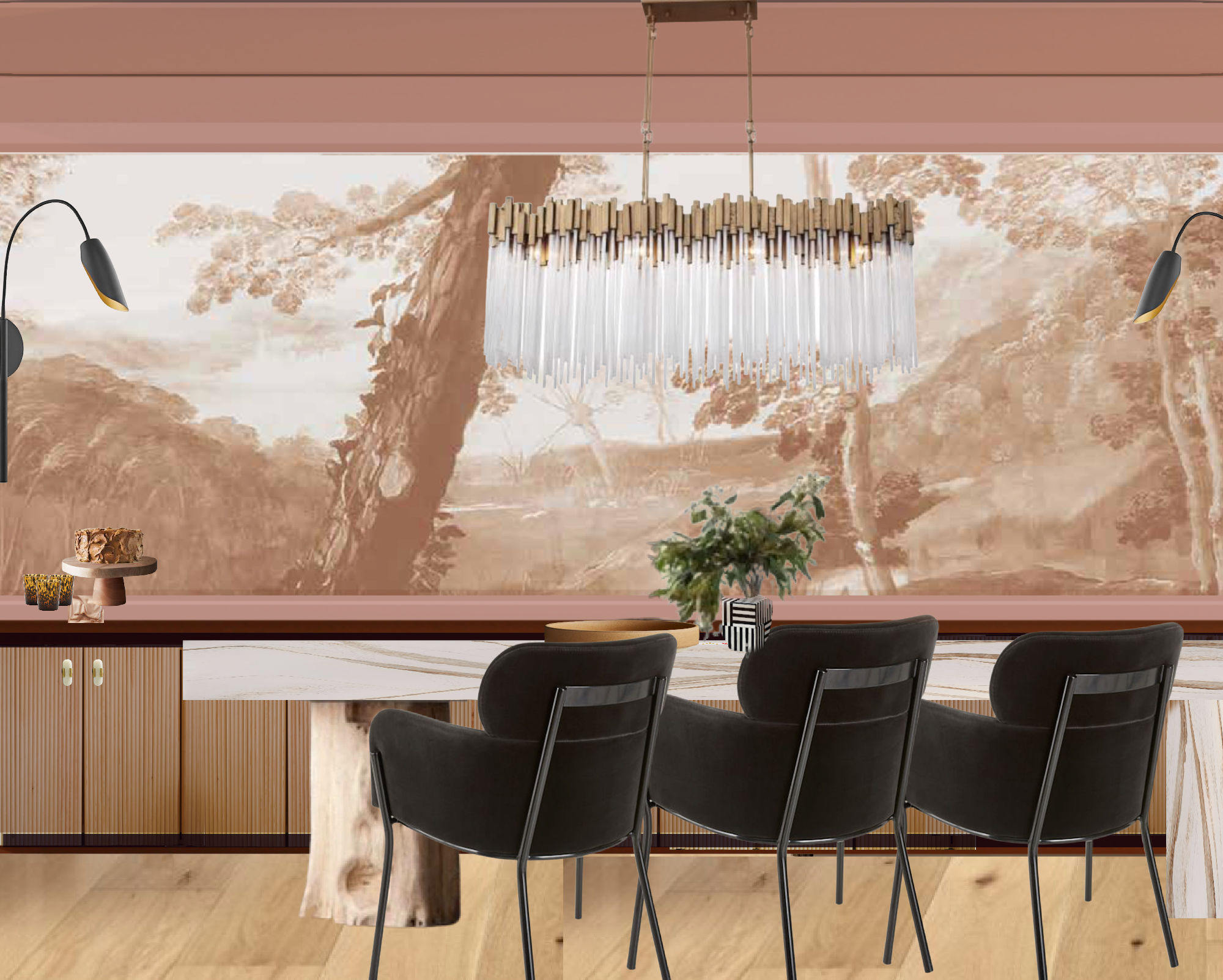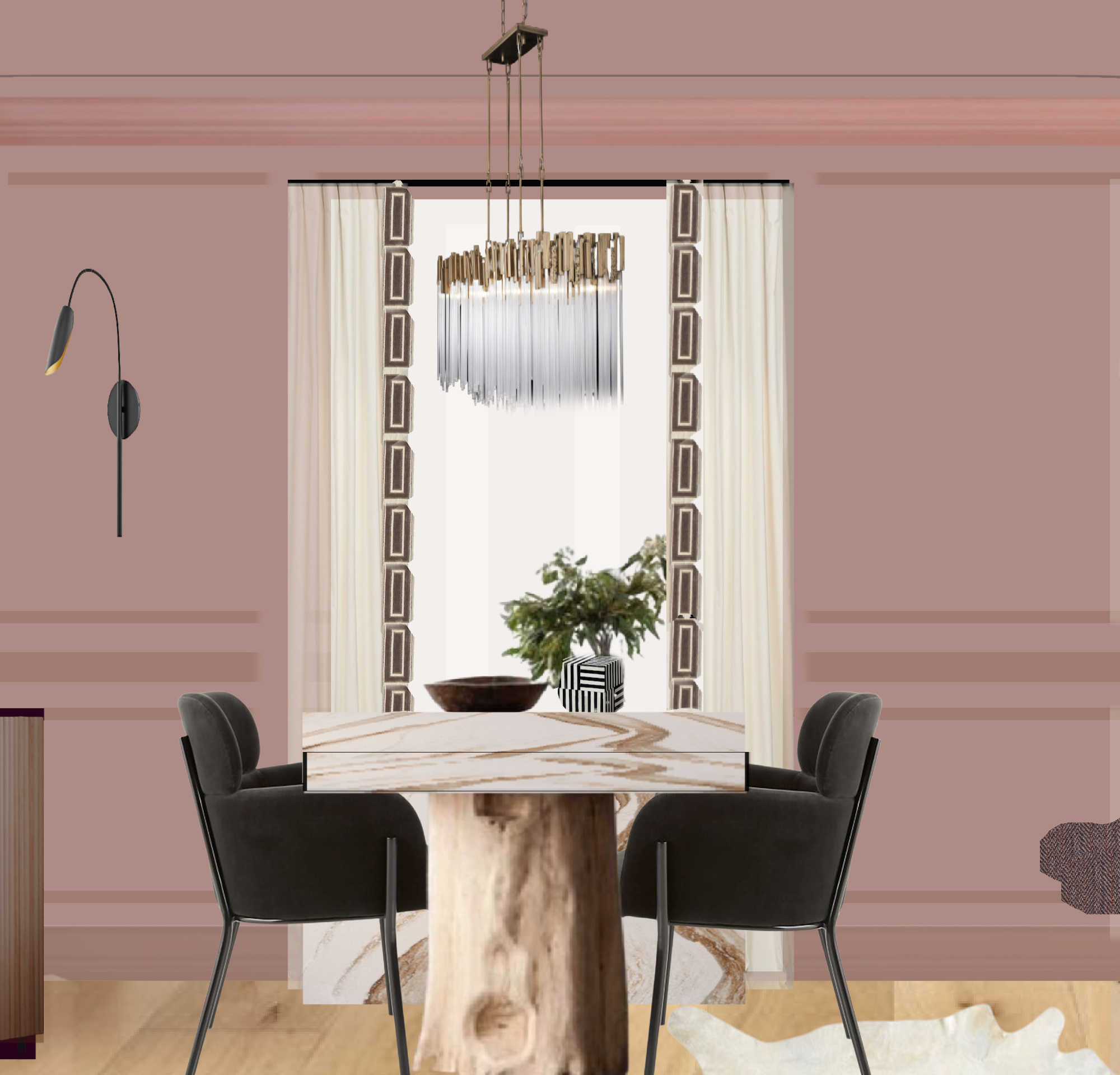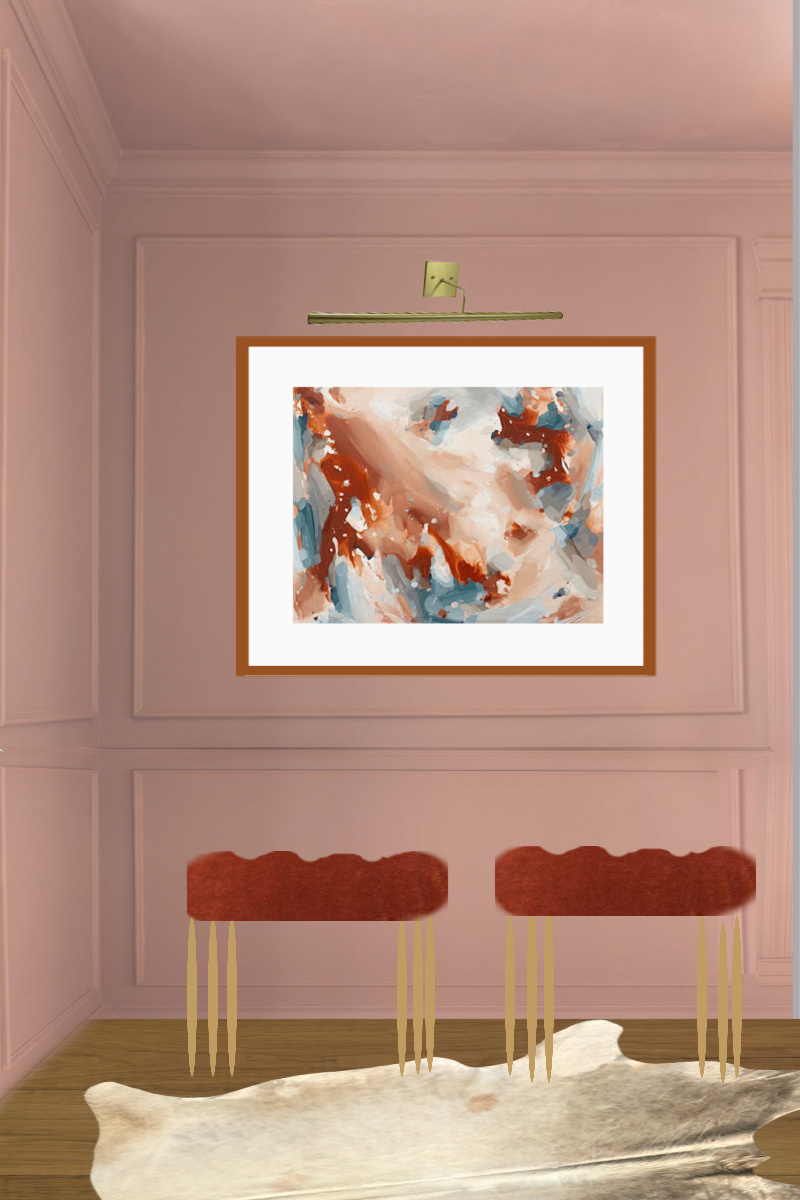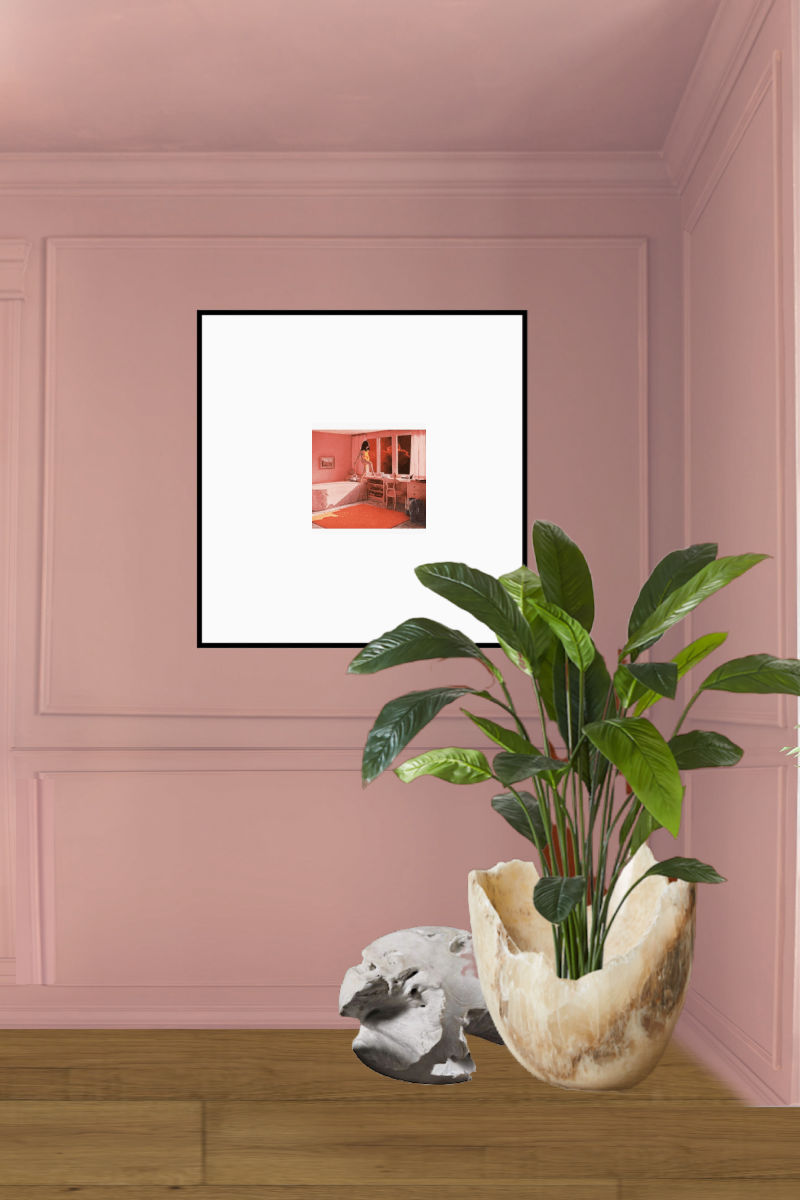 All of the products mentioned are sponsored or discounted but the opinions are 100% my own.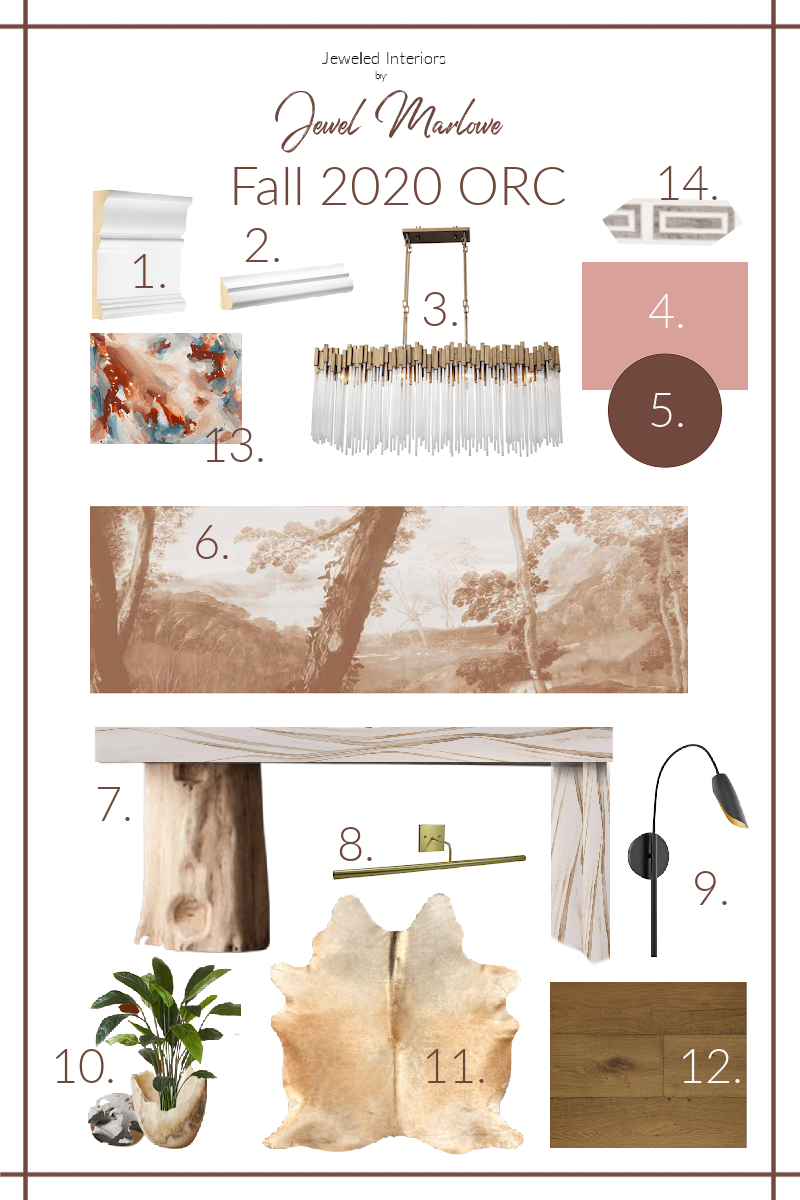 Thank you so very much for joining me on the Jeweled Interiors Fall 2020 dining room One Room Challenge.  If you like what you see here don't forget come back and poke around a bit after the link-up.  Oh, and following me is fun too.  Check back each Thursday as I transform this space into a colorful, soulful, and glamorous abode.